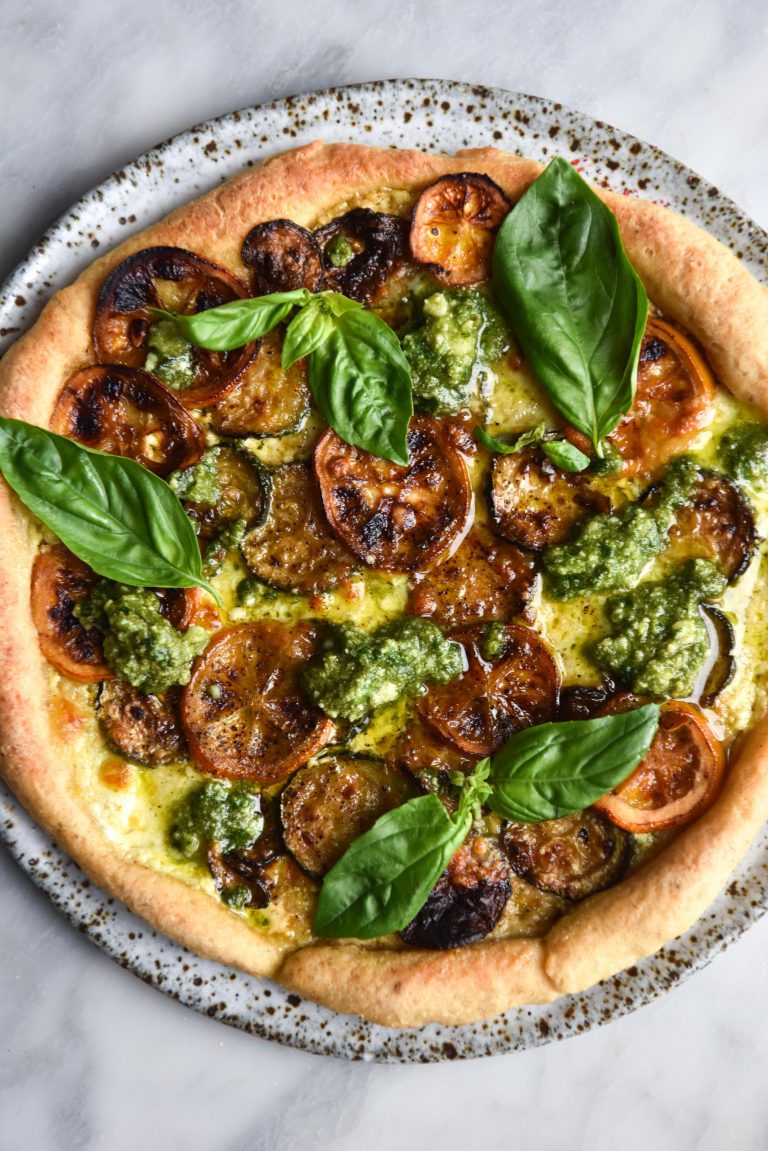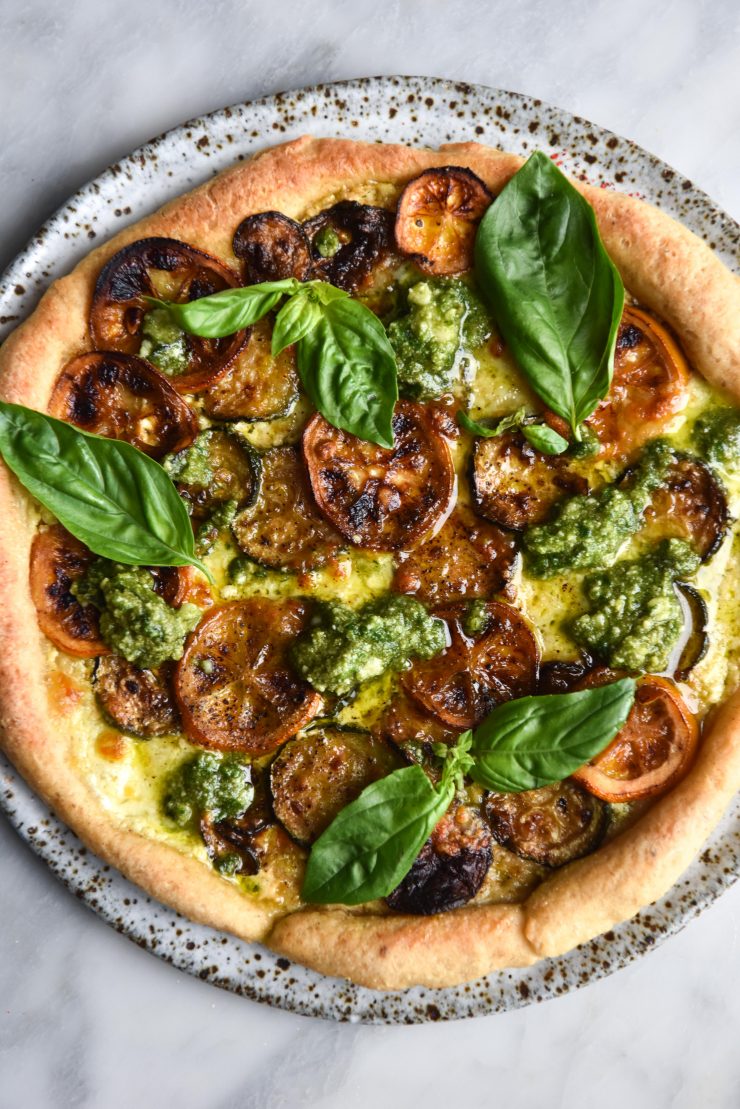 There's not much worse than getting stuck in a rut with dinners. What is worse, though, is feeling constrained by your dietary requirements and eating the same thing constantly as a result. To aid my fellow FODMAP friendly vegetarians out there, I have collated this list of my favourite FODMAP-friendly vegetarian recipes.
This is one of my favourite recipes – the one that started my obsession with frozen tofu. It's filling, protein packed and undetectably vegetarian. This recipe is nut free, egg free, dairy free and vegan.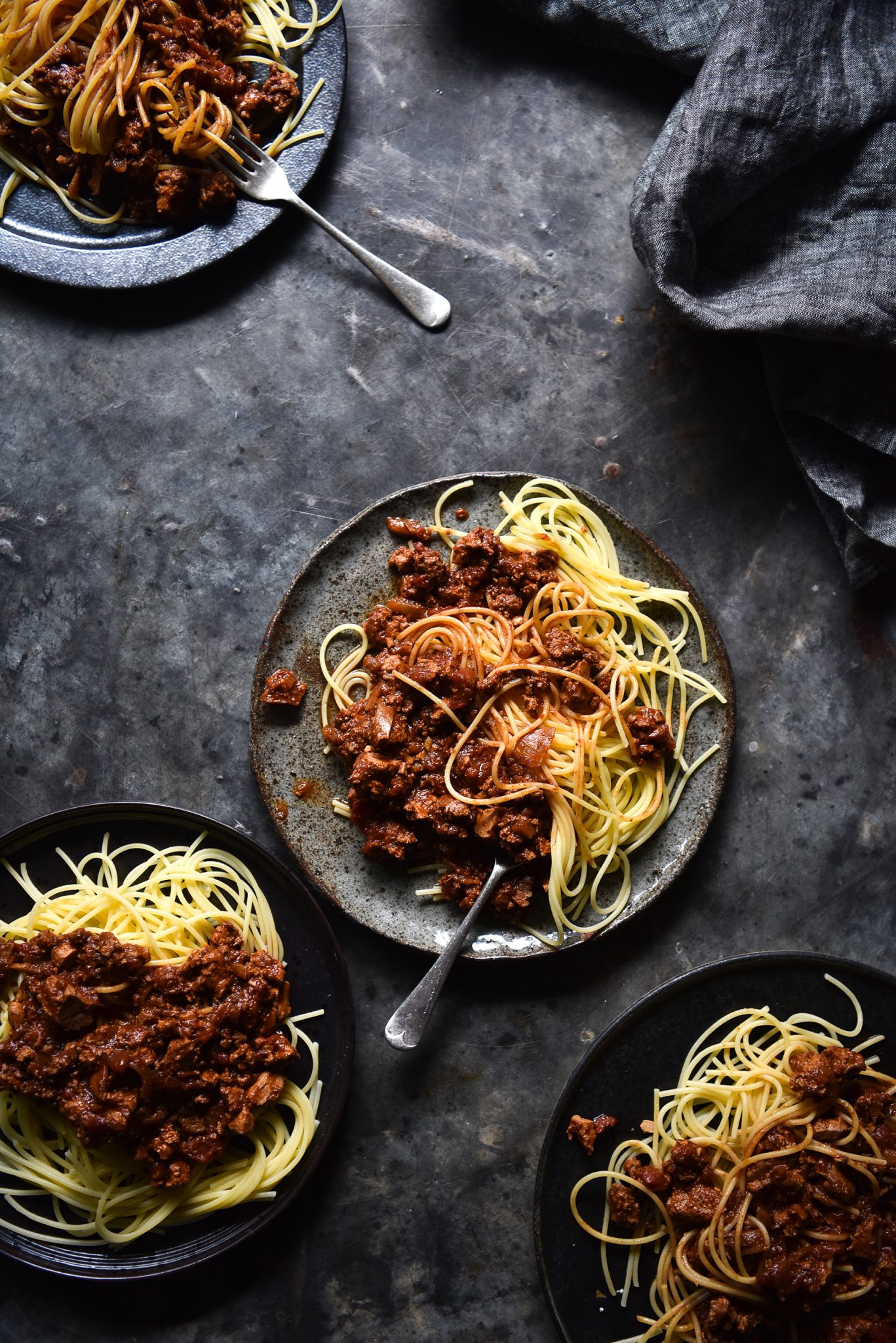 Once you've tasted furikake, you can never go back. This vegan version entails a mix of nori, sesame, sugar and salt, and it is the perfect accompaniment to this easy dish. This recipe is nut free, dairy free, egg free and vegan.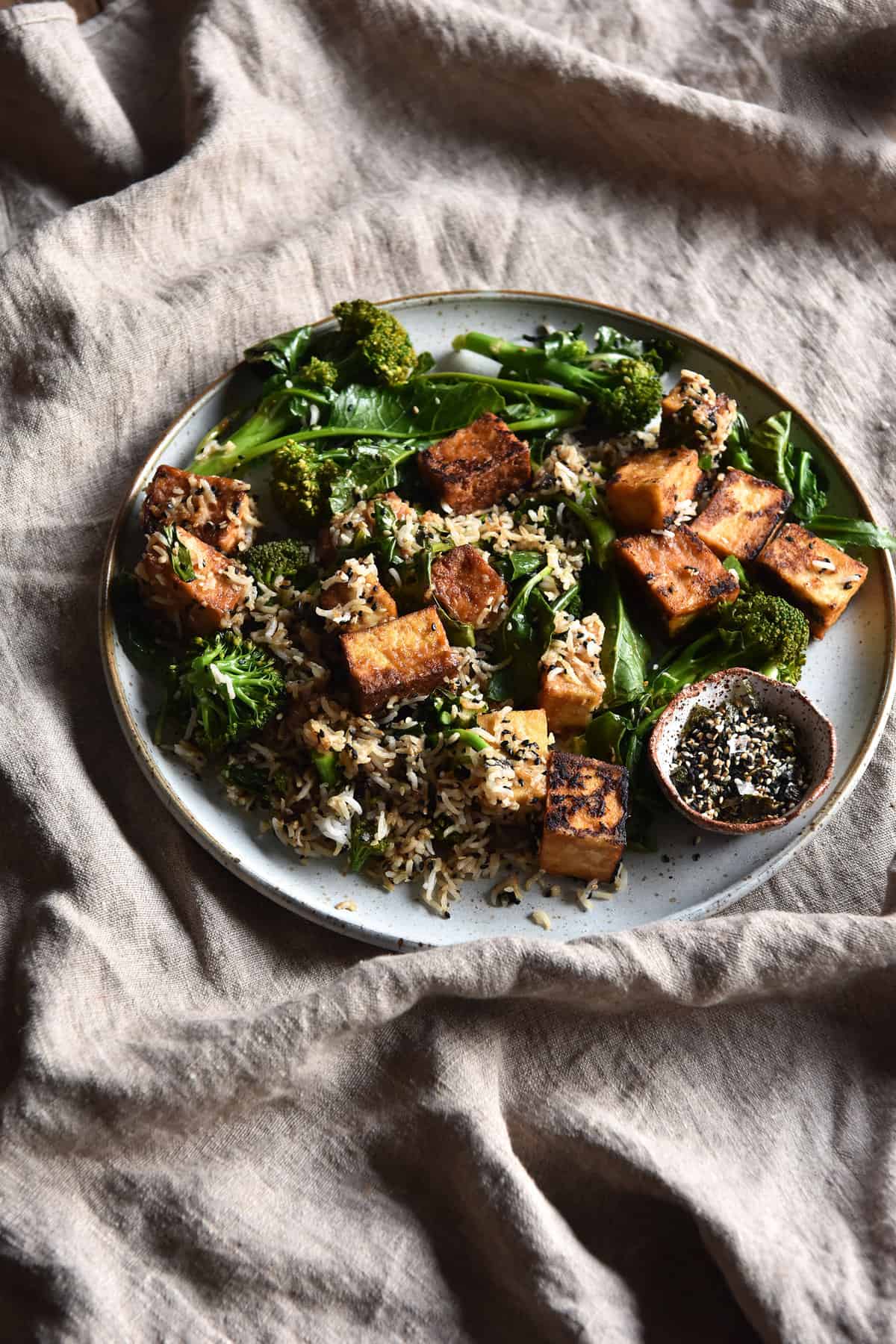 Beyond the noodles and sauce, this dish can be whatever you want it to be. I've added tofu, radishes and carrots, but you can add whatever you fancy or have on hand. This recipe is nut free, dairy free, egg free and vegan.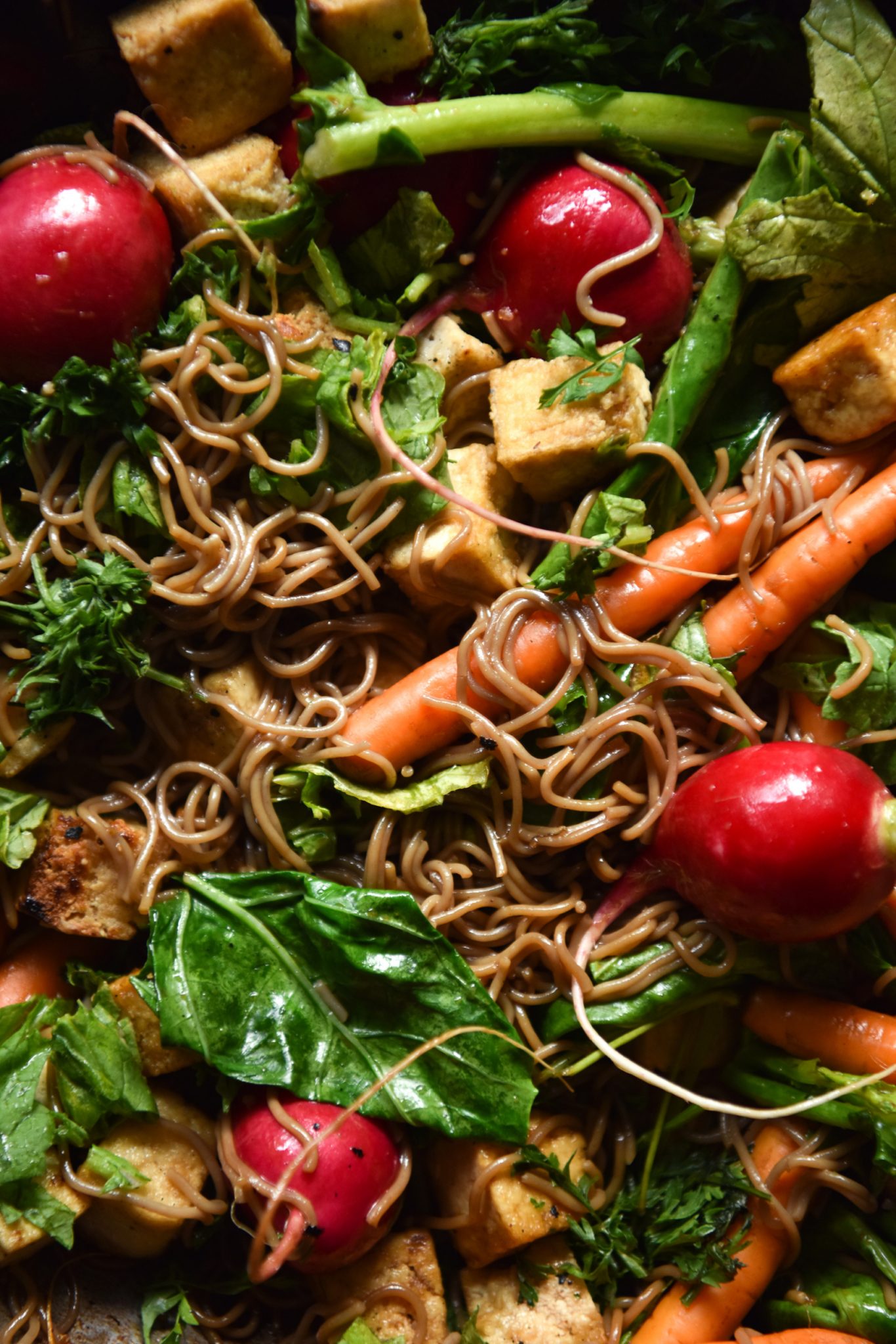 Arguably one of the best meal prep dinners, an afternoon of cooking makes for a week of delicious dinners. This moussaka is vegetarian, nut and egg free. It can be made vegan using a plant based cheese and milk in the bechamel.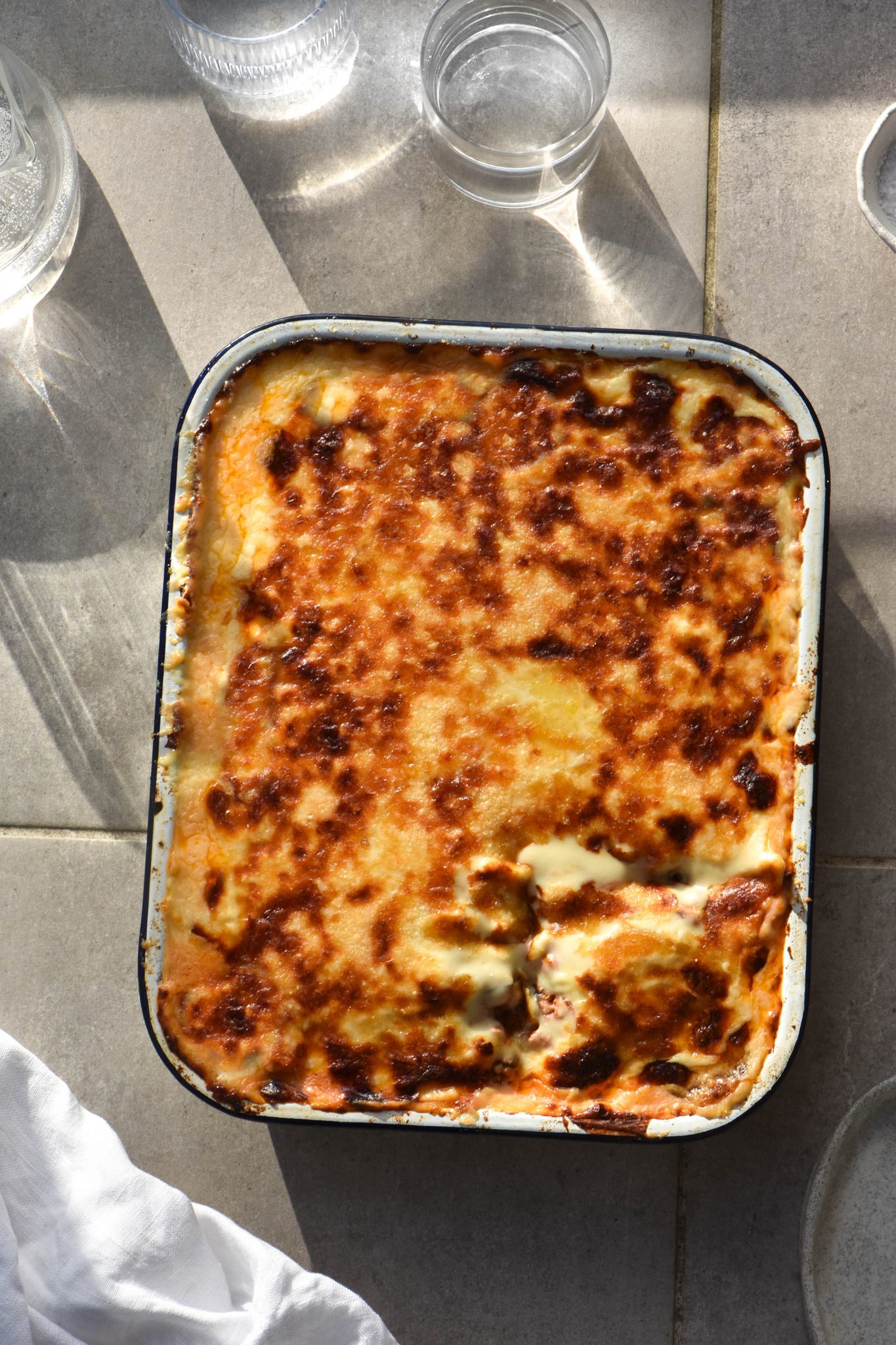 A delicious, hearty and warming soup for those cold evenings. Halloumi dippers might just be my favourite recipe concept to date. This recipe is nut free, egg free and vegan adaptable.
On the flip side: gado gado is the perfect meal for a hot summer evening. With a delicious and simple peanut sauce, this is the perfect low key dinner for the warmer months. This recipe is vegan adaptable.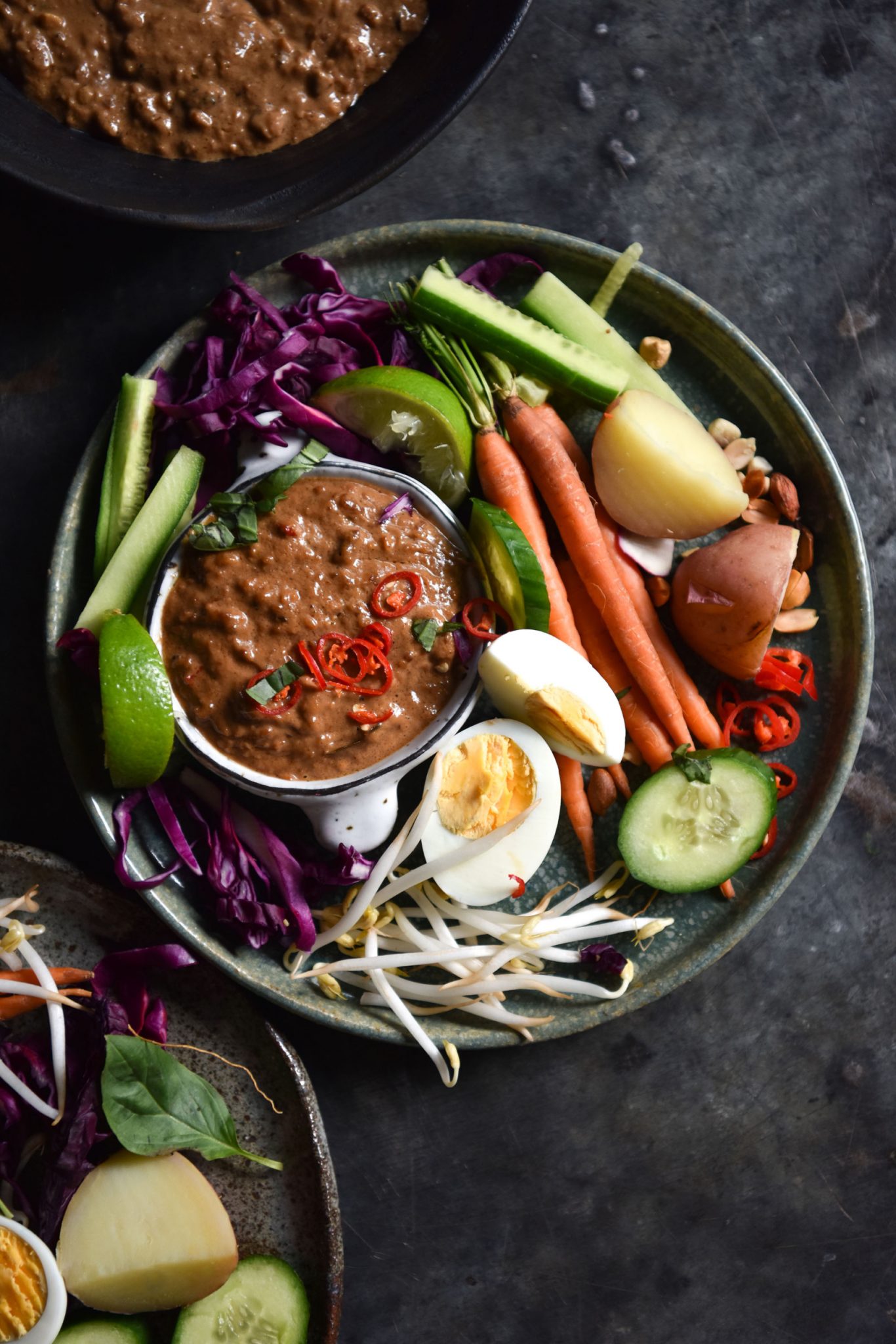 A super fresh and delicious weeknight dinner for everyone. This dish is vegan, FODMAP friendly and easily made nut free and/or grain free.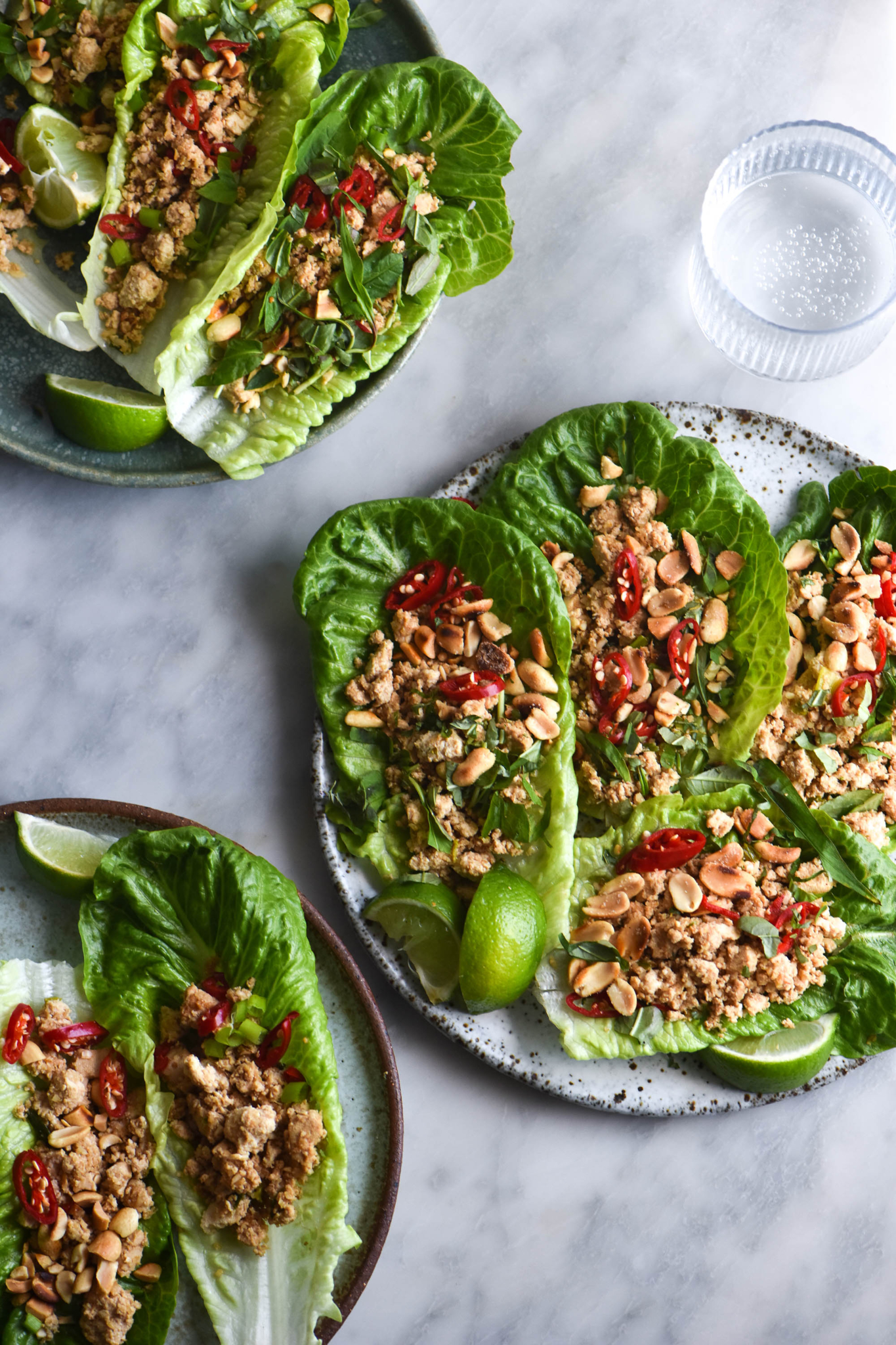 The trifecta of dinner recipes: winter dinner, summer dinner, TV dinner. These nachoes have all the components you know and love, made FODMAP friendly and vegetarian. This recipe is nut free and egg free.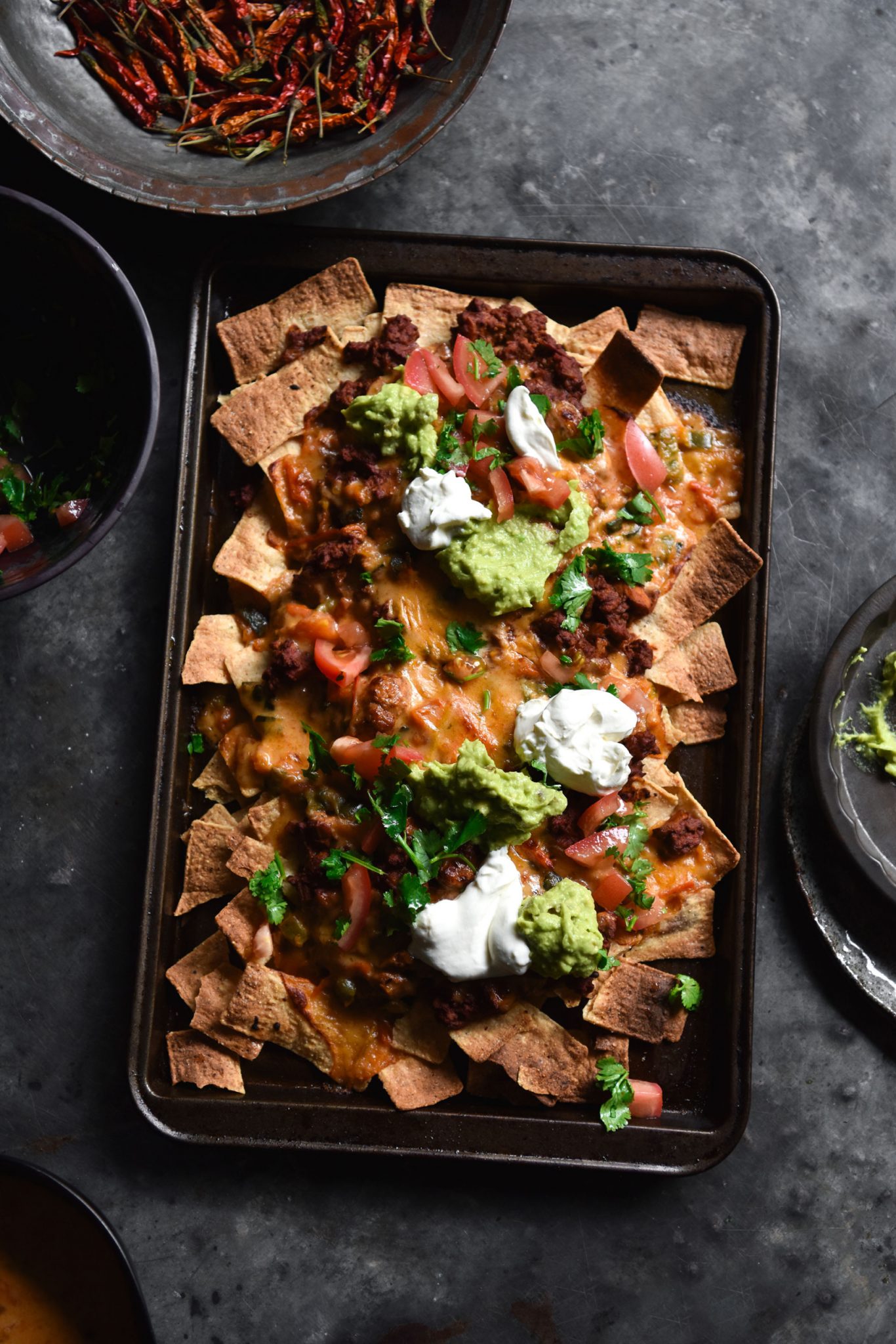 Aka pillowy, comforting little bites of heaven. This gnocchi can be made without starches and is naturally nut free. Bake it in my FODMAP friendly roasted tomato sauce topped with cheese for a wintery delight.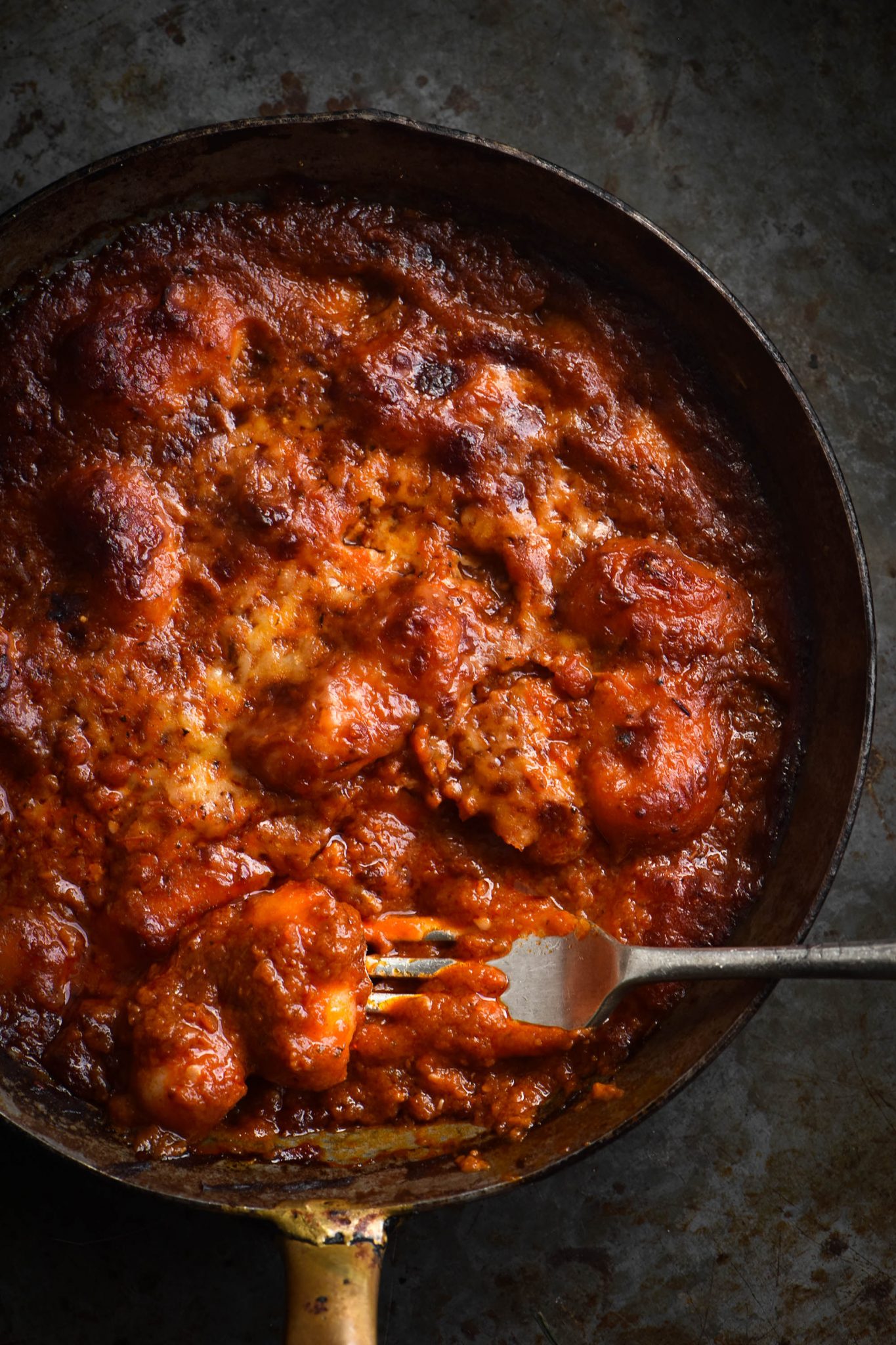 If you're keen to get a FODMAP friendly garlic hit in your life, this dish is for you. It uses garlic infused oil to achieve a delicious yet simple result. A classic pantry staple dish, this is nut free, egg free and easily made vegan. It is endlessly customisable and a great basic to have in your back pocket.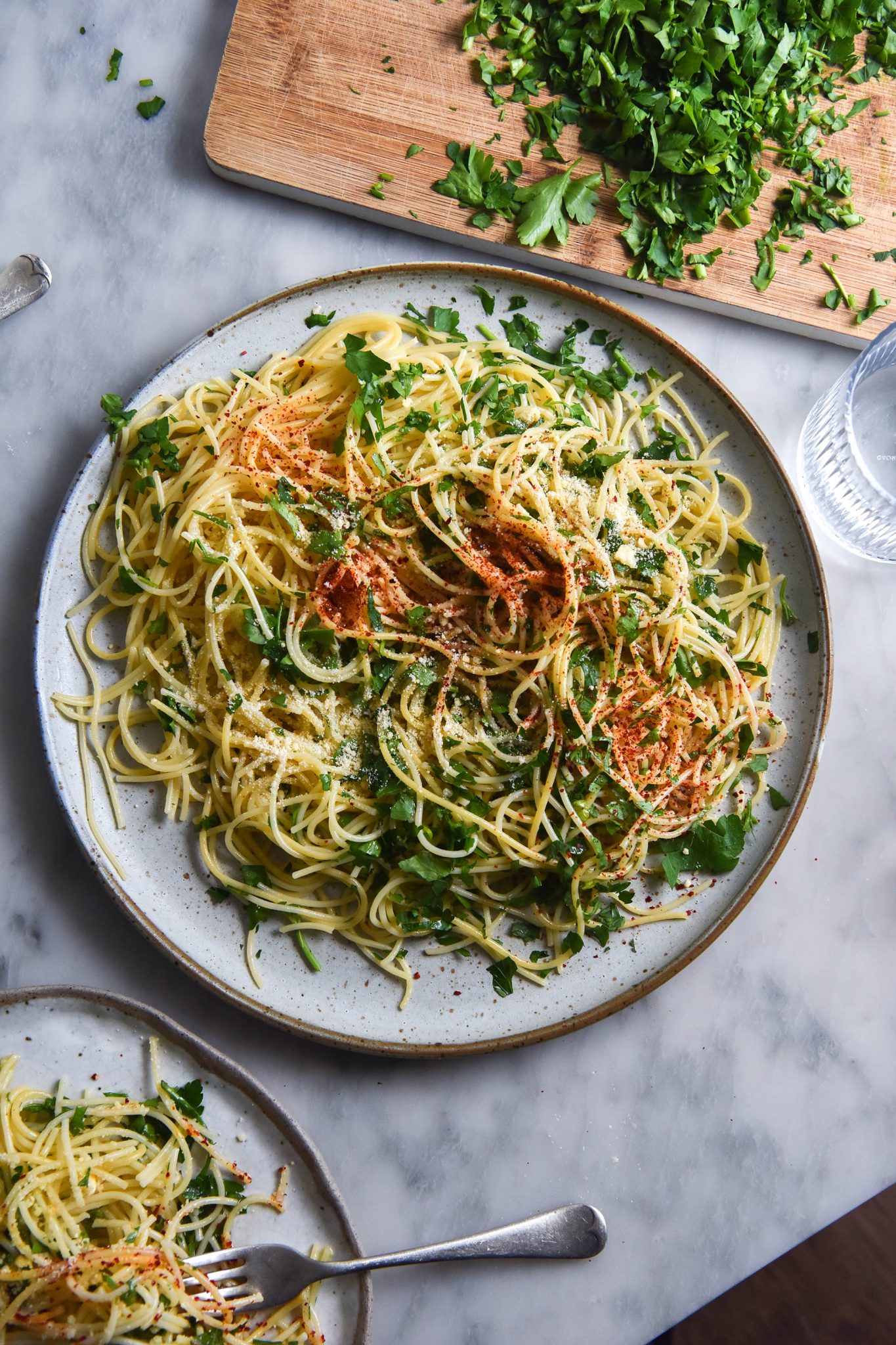 This South East Asian inspired salad is honestly one of my favourite recipes. It's such an unusual combination of ingredients that works so incredibly well together. This recipe is vegan and egg free.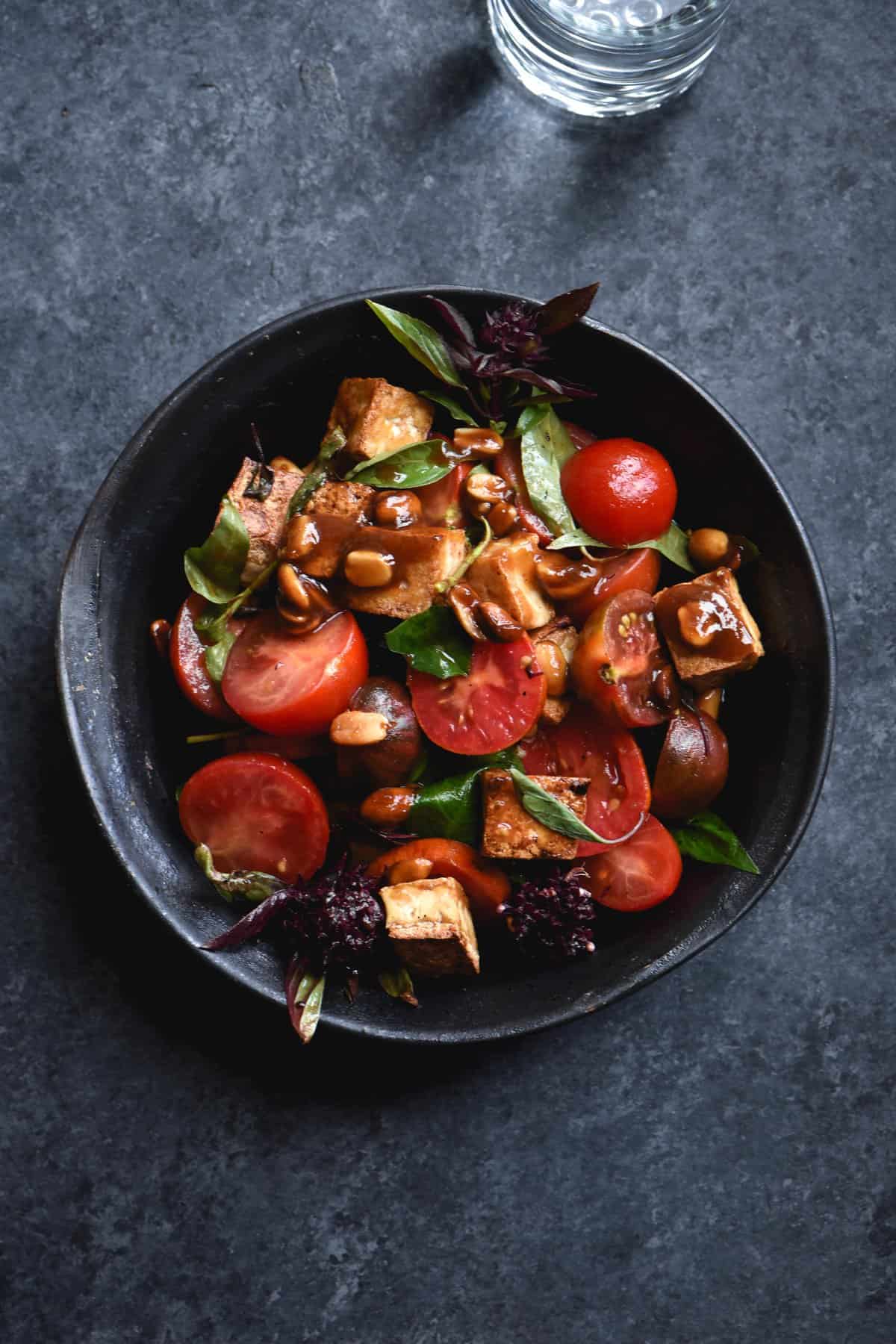 There are few things more satisfying than making your own pizza bases from scratch. These pizza bases are gluten free and gum free, completely homemade courtesy of the sourdough starter. Some accompaniments? My FODMAP friendly pizza sauce, or my non-sourdough gluten free pizza bases if you don't have a starter on hand.
Because in my world, potatoes are absolutely an acceptable main course. The flavours of fresh pepper and parmesan take this simple potato bake into a whole new realm. I like to serve it with a radicchio salad to provide a fresh contrast to the richness of the bake. This recipe is nut and egg free.
Apparently we love a bake! Vegetarian, gluten and grain free polpette are baked into an easy sauce for a delicious midweek dinner. This recipe contains eggs, nuts and dairy.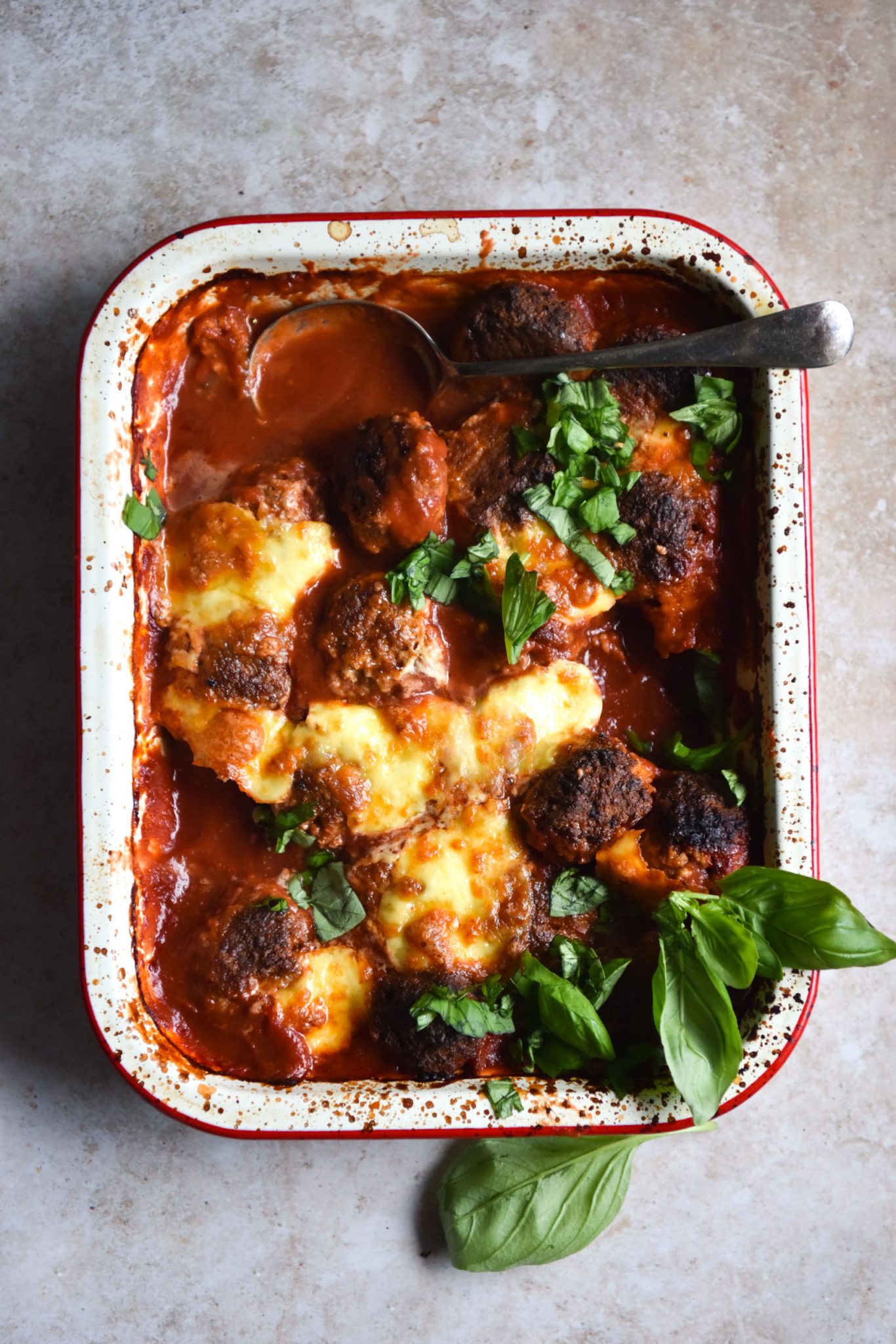 All the flavours of the classic spanakopita in an easy, gum free yoghurt pastry. This tart is equally at home at a picnic as it is in a lunchbox.
One of my personal favourite ways to make a complete dinner out of tofu mince. These stuffed capsicums can be flavoured any way you like, and make for excellent leftovers. This recipe is nut free, egg free and dairy free/vegan adaptable.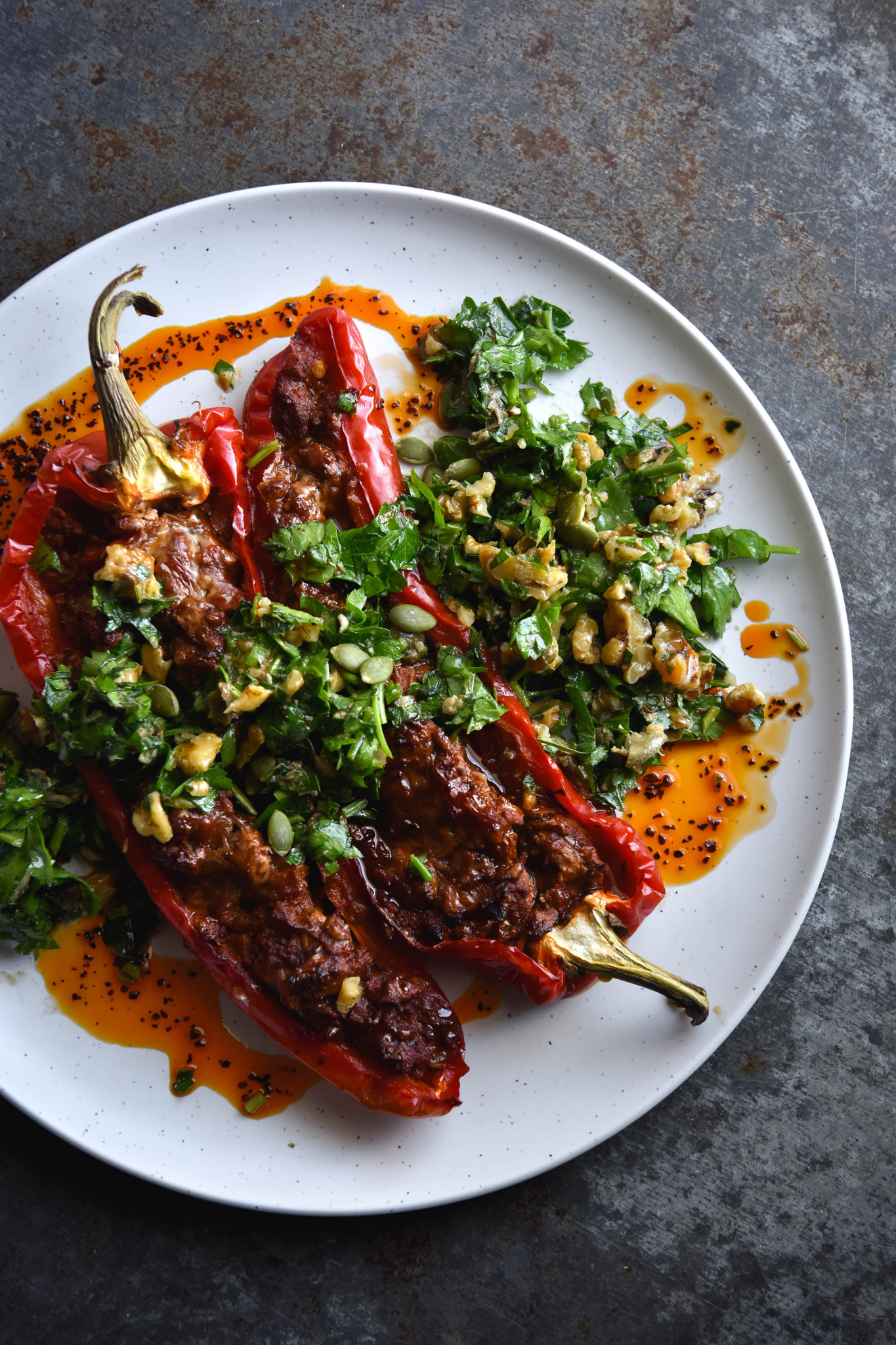 Making a big enchilada bake is such a good Sunday activity. Not only is Sunday night dinner popping, but you have leftovers to start the week. This bake is protein packed, big on flavour and a crowd favourite. It is nut free, egg free and easily adapted to be vegan.
Ok, but is there anything better than mac and cheese combined with hearty mince? I think not. This vegetarian dish is full on comfort food without any nuts of eggs.
I LOVE this vegetarian lasagne recipe. It packs a total punch without any meat, nuts or eggs. With a vegan bechamel, it is easily made vegan too.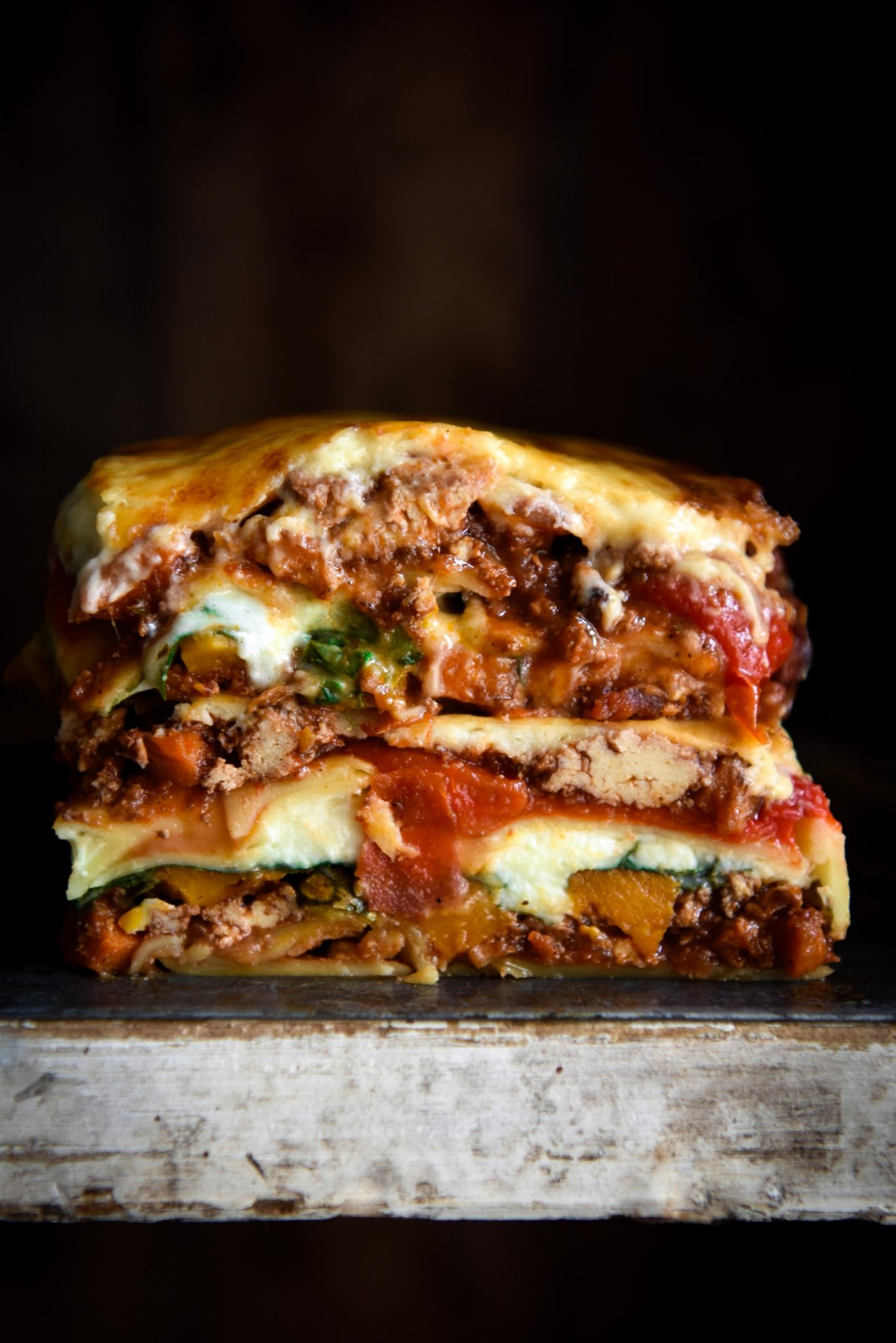 A hearty, vegetable packed curry that is full of flavour. It is nut free, egg free and easily made vegan.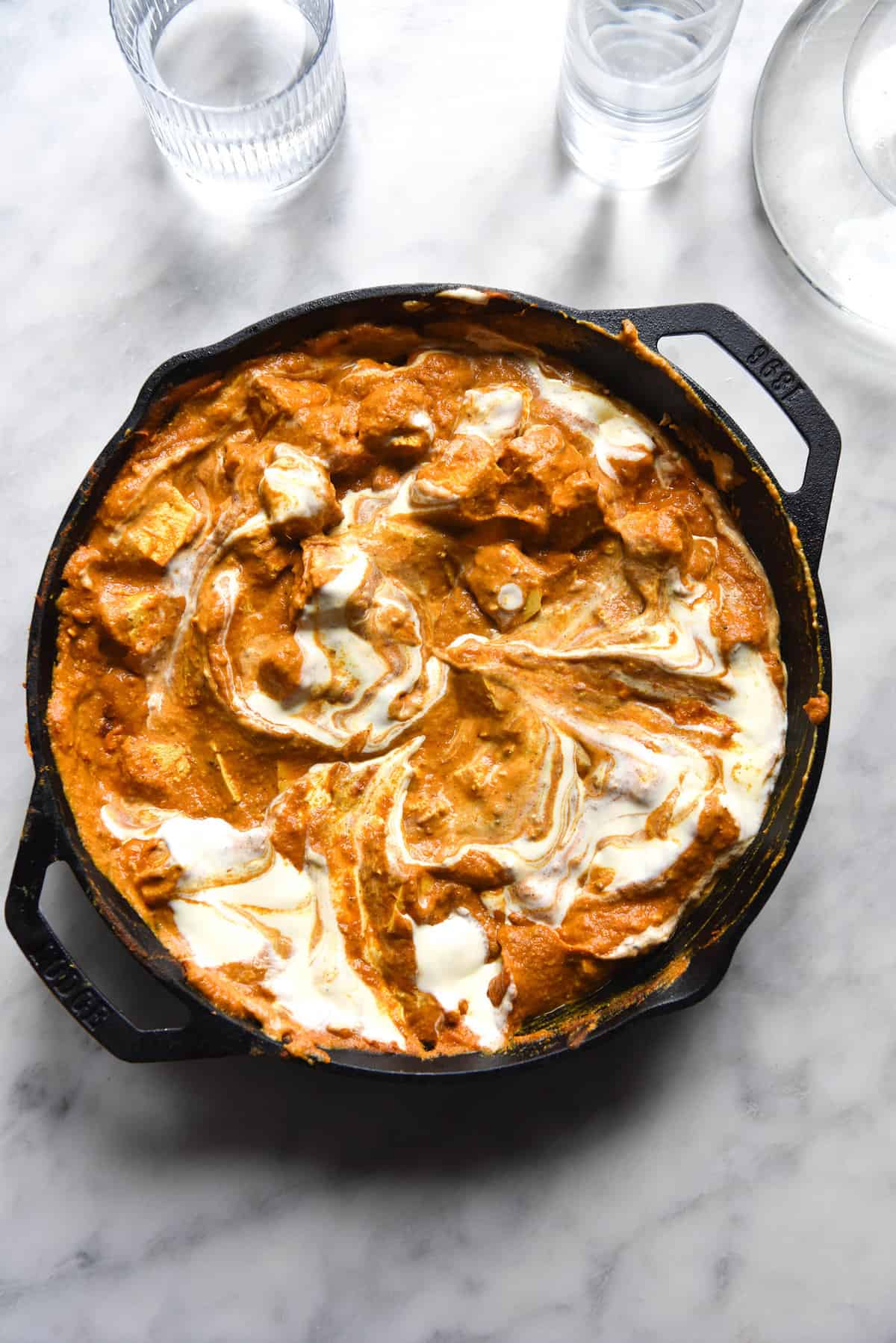 Not generally known for being FODMAP friendly, my take on the delicacy contains no onion or garlic. It is filling, easy and delicious, and contains no nuts.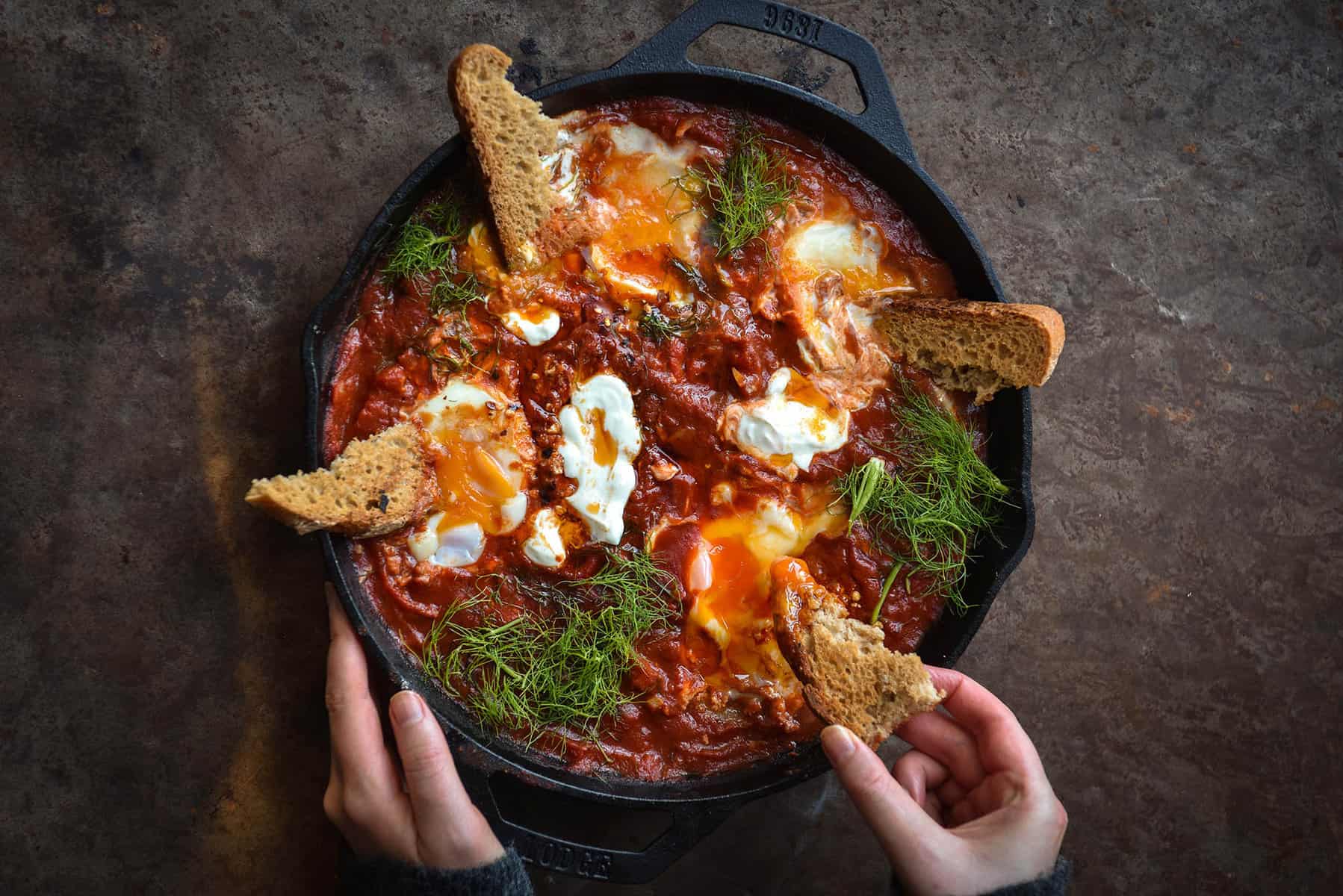 A delicious comfort food combination that keeps really well in the fridge as leftovers. This recipe is nut free and vegetarian.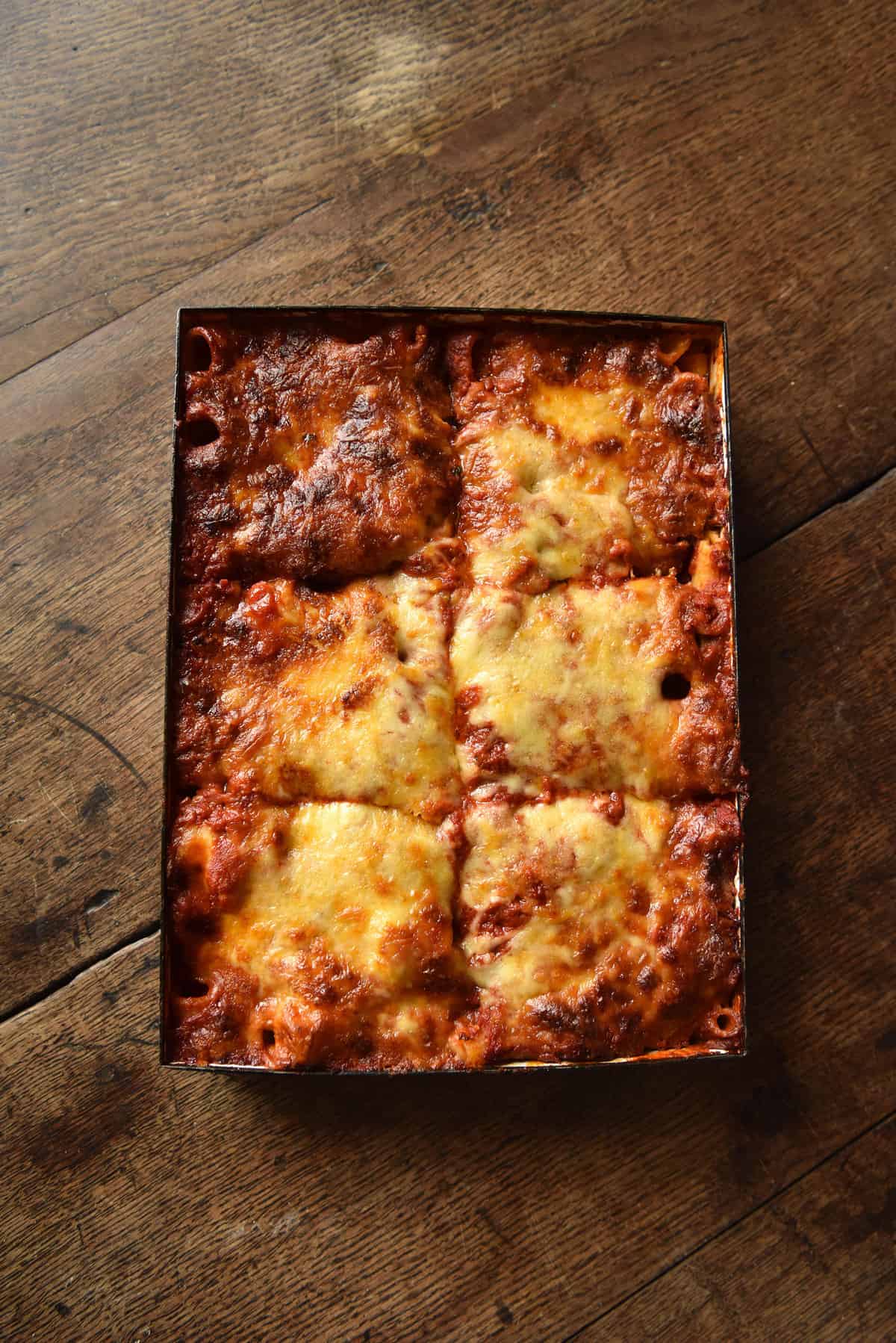 Another one of my proudest achievements to date, these sausages are nut, grain, starch, gum and weird ingredient free. They are packed with protein and absolutely addictive.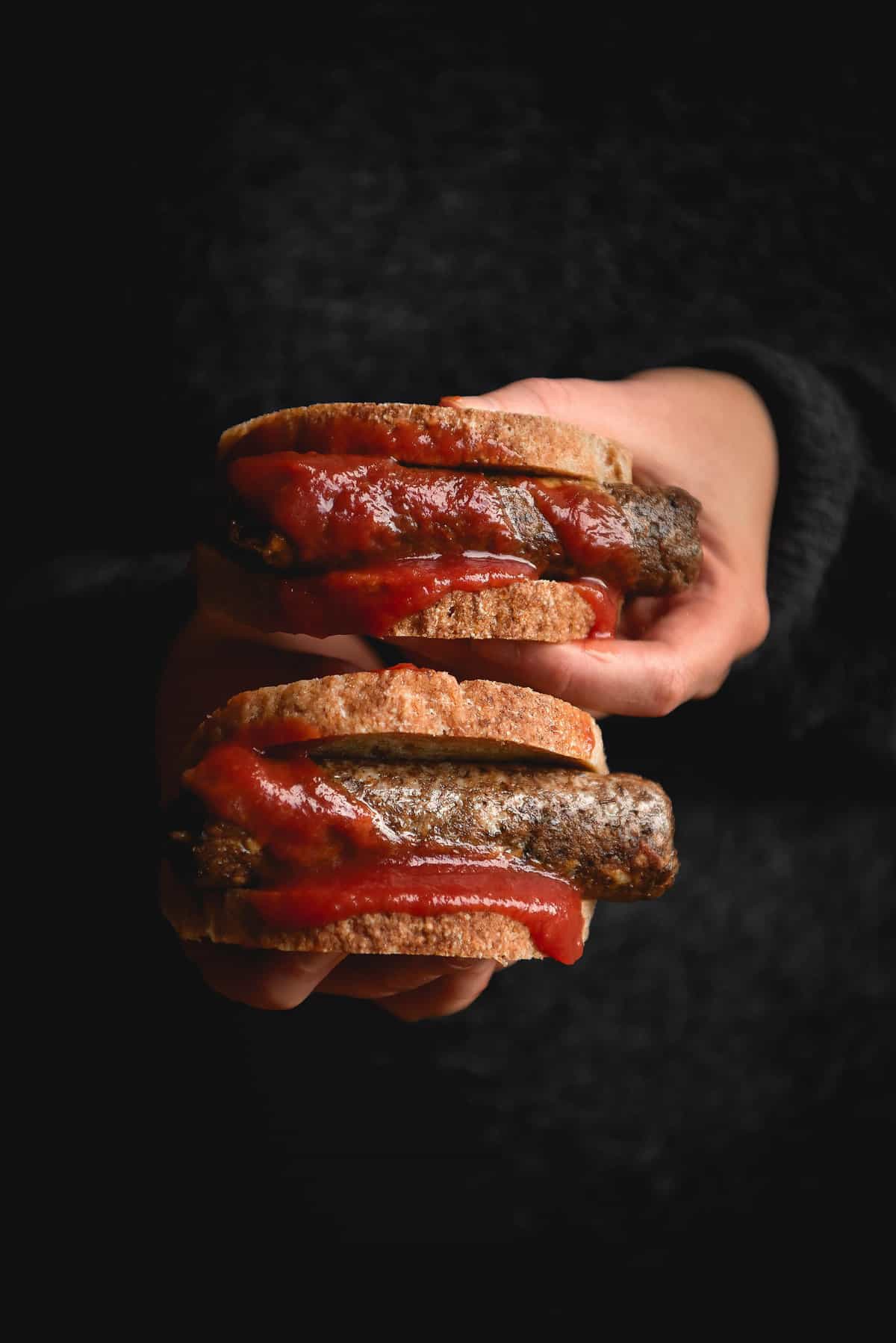 An easy, decadent and delicious take on the classic, this pasta is so vibrantly fresh and tomato-y.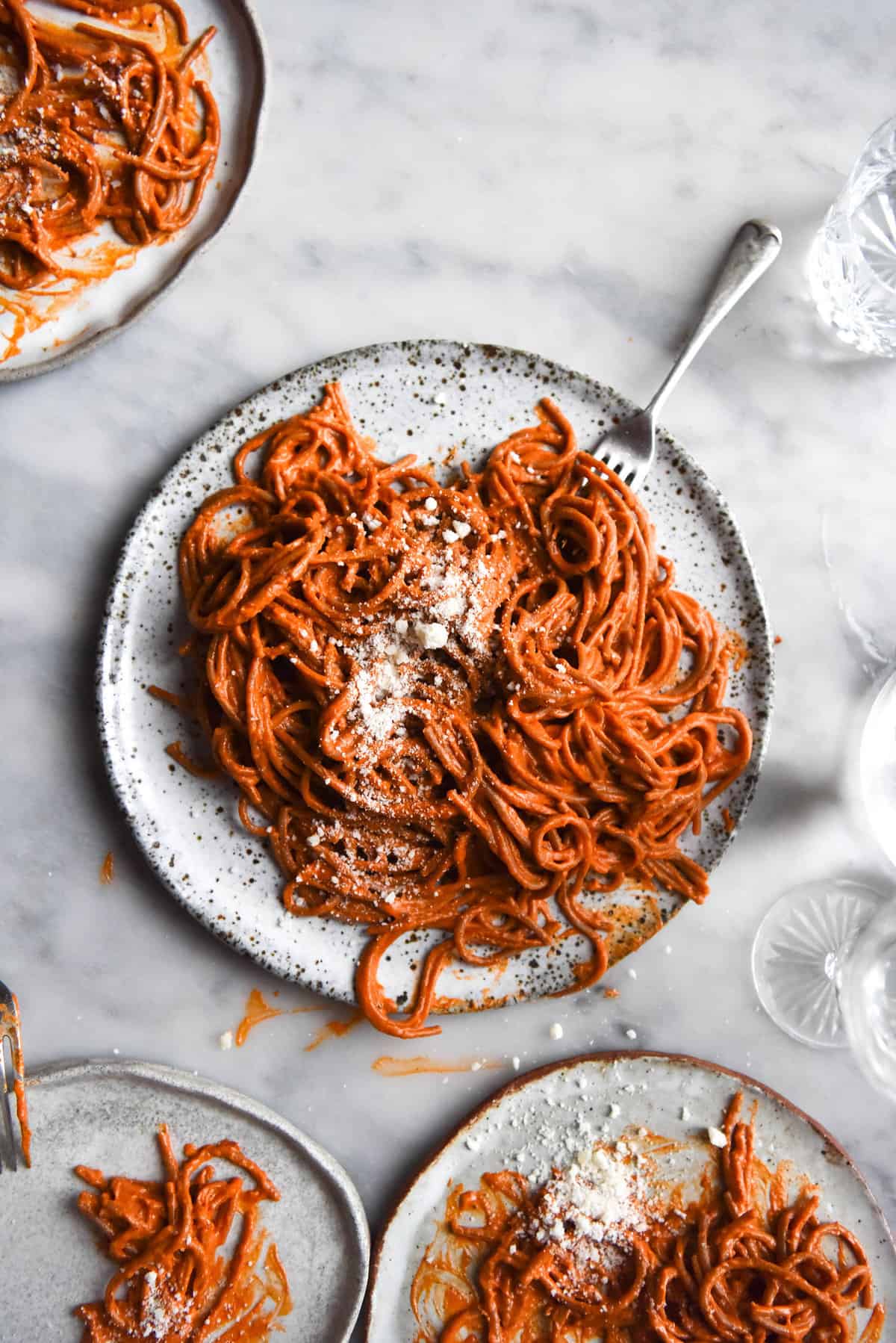 Sometimes you just can't beat the classic. Pure comfort food, this pumpkin soup is nut free, FODMAP friendly and vegan.
I mean? Do I need to say more?
Remember those vegan sausages I talked about? They're back in the form of this hearty and delicious vegetarian involtini bake. Use vegan cheese and you've got yourself a vegan, nut and egg free dinner.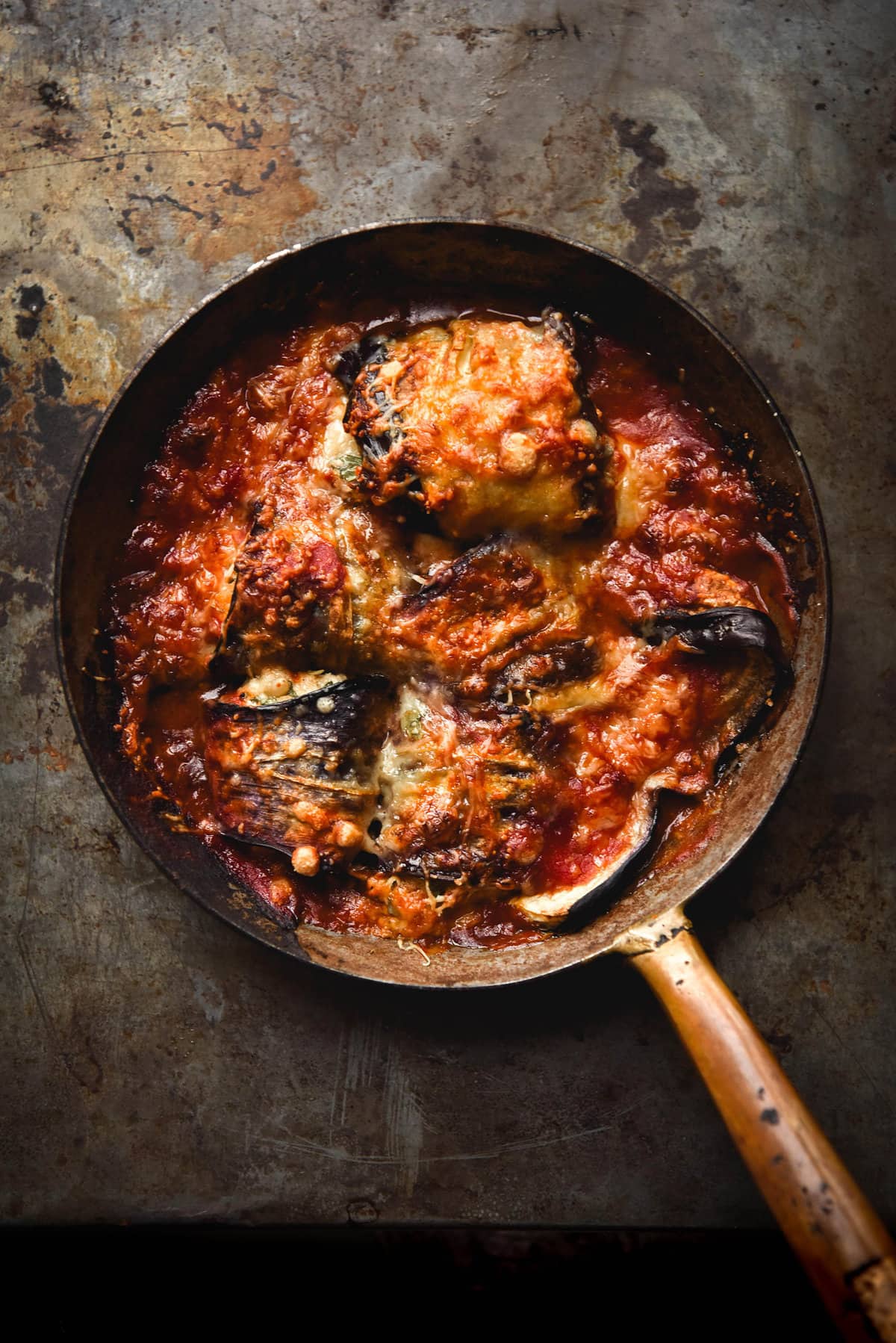 In need of some more ideas?
My favourite FODMAP friendly vegetarian Christmas recipes
My favourite FODMAP friendly Thanskgiving holiday recipes
A collection of all my favourite FODMAP friendly potato recipes