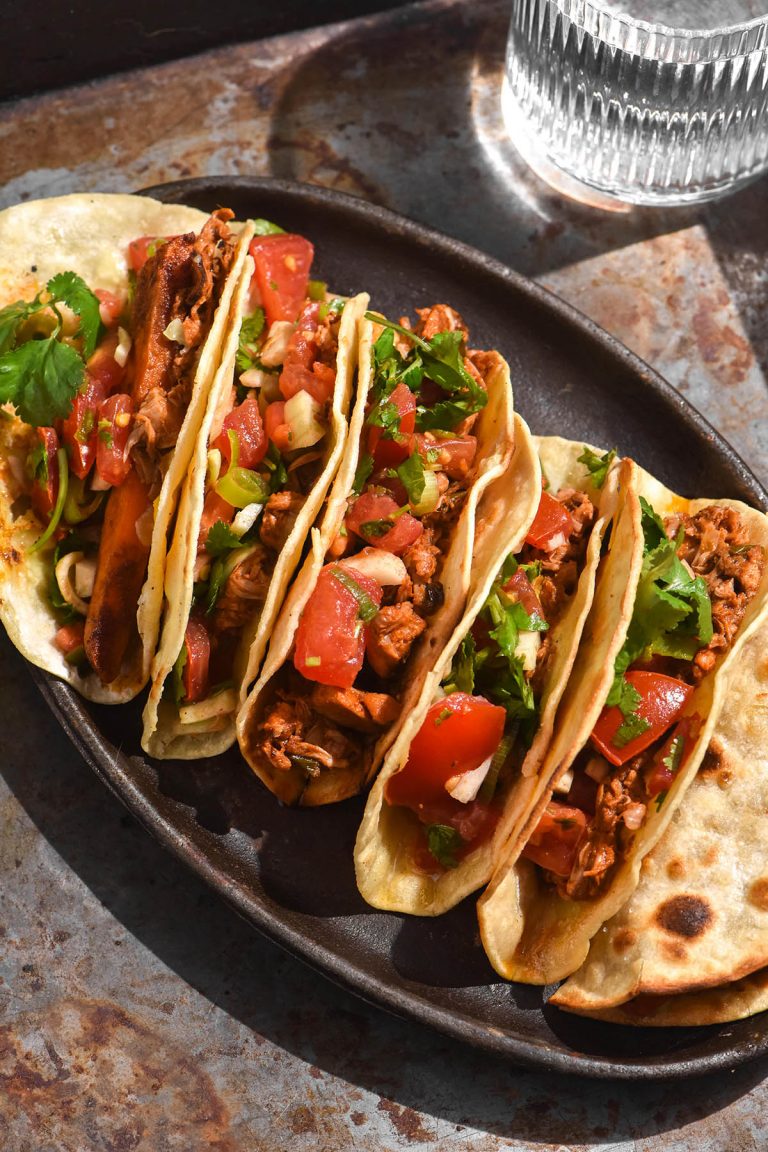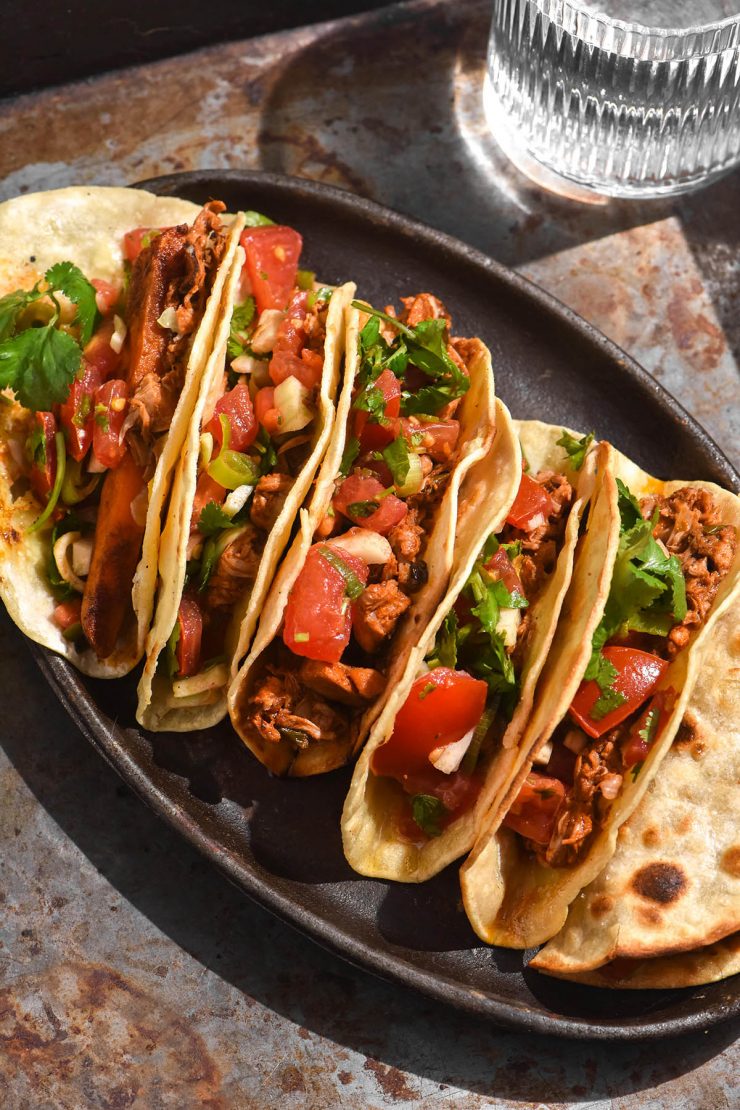 I love the vegetarian taco mince in my cookbook, but I do use tofu in pretty much everything. I know that some people can't eat soy, or need to minimise their soy intake. To switch things up a little, today we're making some low FODMAP jackfruit tacos. The 'mince' itself is vegan, and the entire dish can be vegan with a vegan cheese. All in all, It's a quick and easy vegetarian or vegan dinner that is also gluten free.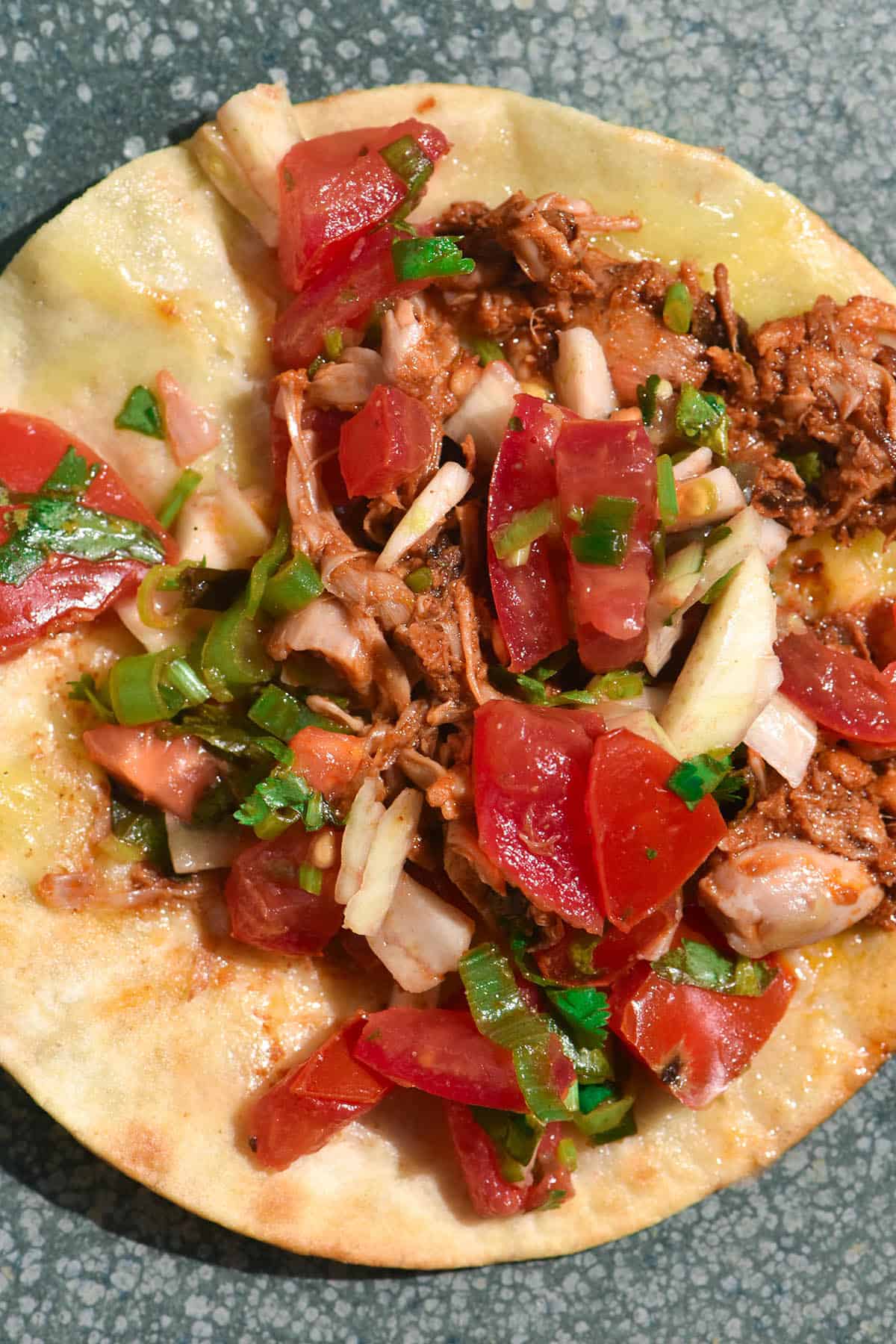 Low FODMAP jackfruit tacos
These low FODMAP jackfruit tacos are made with canned young jackfruit. In Australia, they're easily found in the health food aisle of the supermarket or at your local health food store.
As we'll go into below, young jackfruit is low FODMAP, which makes it a great vegetarian or vegan choice for the FODMAP adverse.
The taco 'meat' is accompanied by a quick and easy low FODMAP pico de gallo that is fresh and bright. It uses a few easy tricks to replace the onion that is in a traditional pico de gallo.
The tacos I like to use are corn tortillas, which are naturally gluten free. The trick to use corn tortillas is to heat them in a little bit of oil first. This makes them infinitely more flexible and gives them a really pleasant taste and texture.
Finally, we add some cheese. In this economy, I used the cheddar I had in the fridge. However, there are many more traditional cheese options for tacos that are still low FODMAP.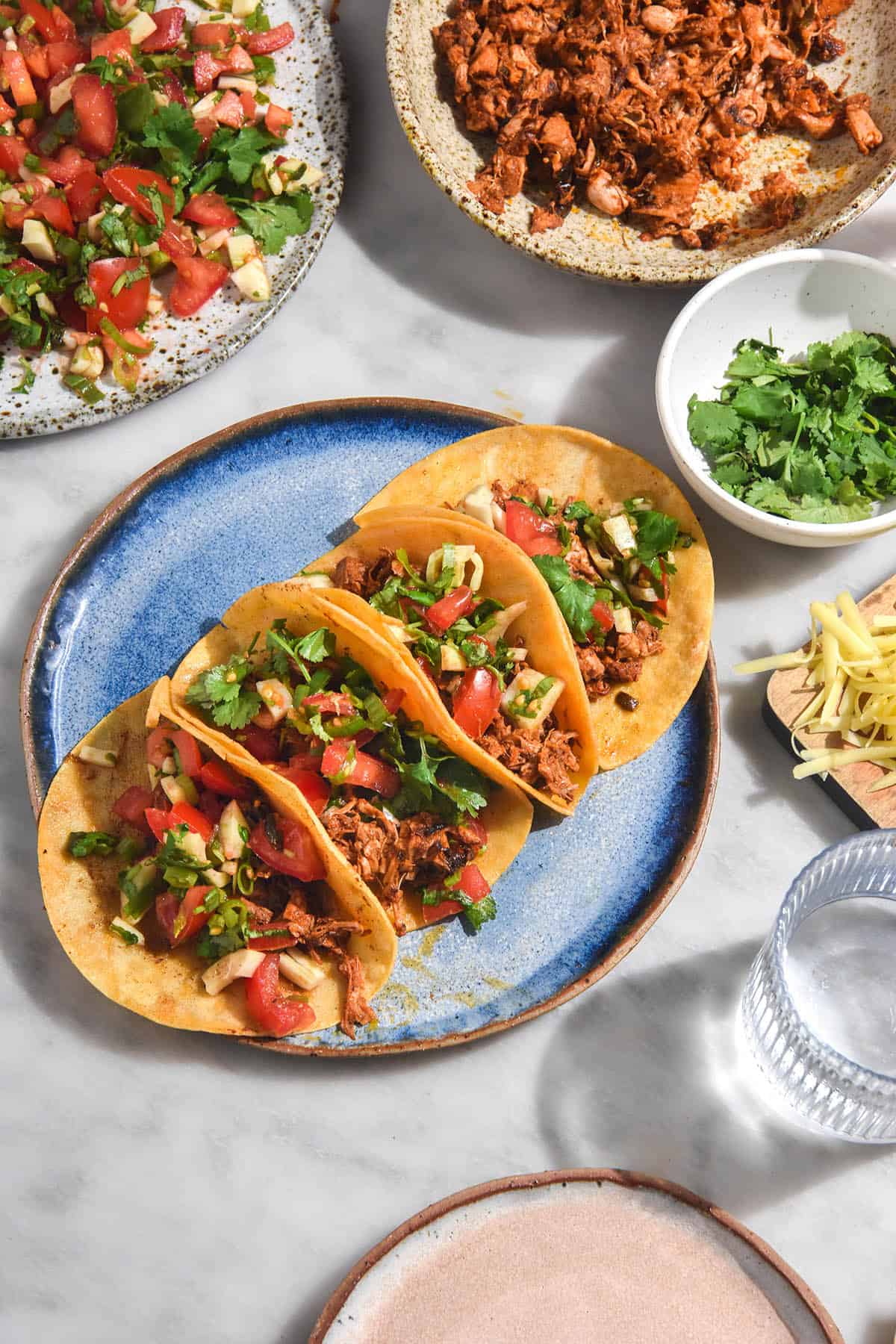 Is jackfruit low FODMAP?
Jackfruit has low FODMAP thresholds, but it depends on the sort of jackfruit. Young jackfruit that has been canned and drained, which is what we're using, has only trace amounts of FODMAPs detected. Monash writes that 100g is a low FODMAP serve, but that young jackfruit remains low FODMAP in serves of up to 500g per person. They don't specify which FODMAP is present in serves beyond 500g.
Yellow jackfruit that has been canned and drained is low FODMAP in 45g serves, or roughly 1/3 cup. In 60g serves, or around 1/2 cup, it contains moderate amounts of fructose.
Freeze dried jackfruit is high FODMAP in a small serve of 16g. It contains high amounts of fructose and moderate amounts of fructans.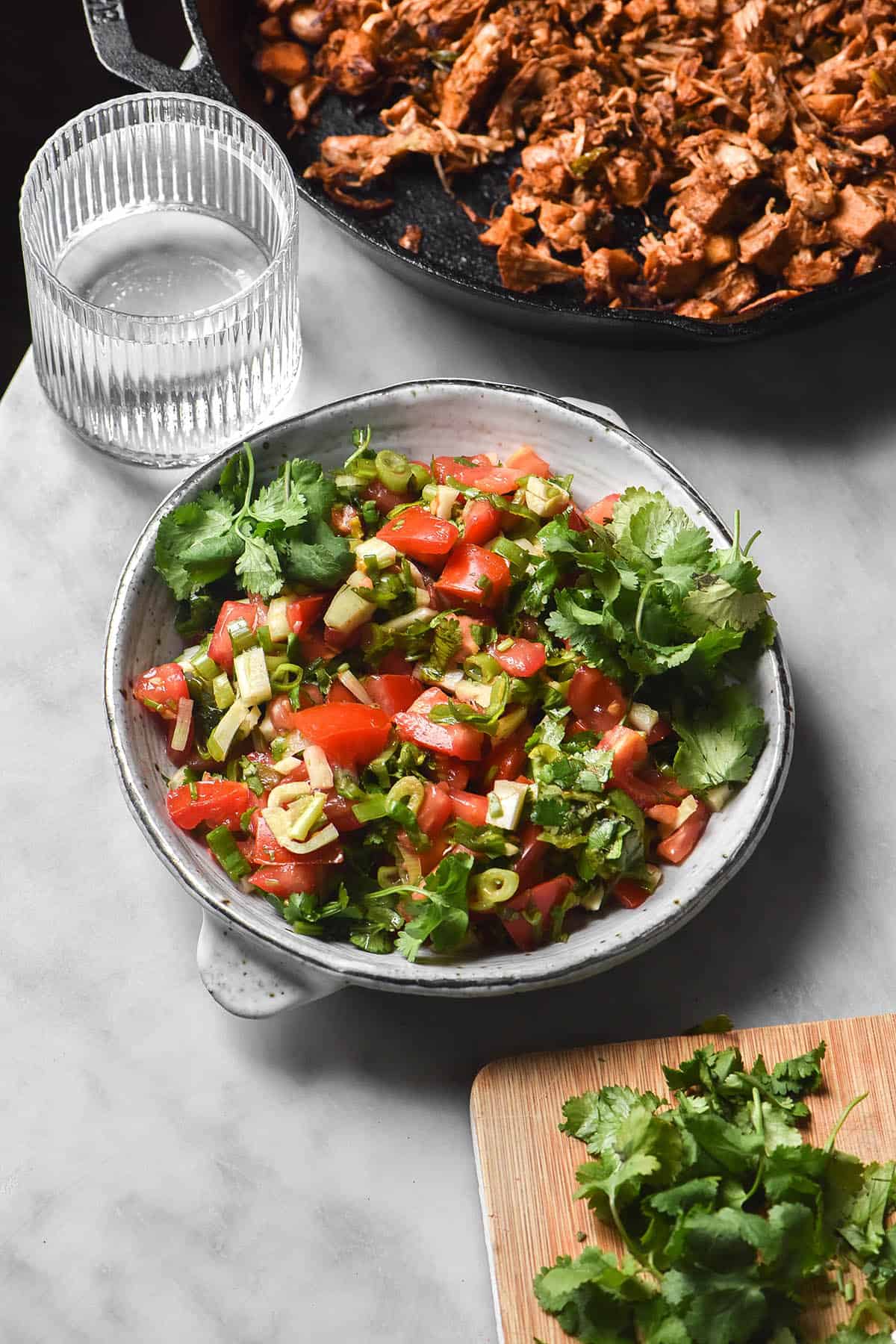 Low FODMAP cheese options
While I used cheddar here, it is definitely not an authentic cheese for tacos. In fact, lots of the resources I consulted said that most tacos don't use any form of cheese, Mexican or not.
If a taco uses cheese, it is generally cotija cheese. Cotija cheese is a firmer variety of cheese that is salty and crumbly. It comes in young and aged varieties. My research tells me that young cotija can taste similar to a mild feta and has a softer texture. Aged cotija, on the other hand, is much harder and tastes more akin to parmesan.
It's a little harder, although not impossible, to find authentic Mexican cheeses in Australia. This article from La Tortilleria is an excellent resource for find Australian substitutes for Mexican cheeses.
If you're not able to find cotija or are going for a Tex Mex vibe, the following is a quick list of low FODMAP cheeses. If you need the cheese to be vegetarian, see my list of vegetarian cheeses in Australia.
Cheddar cheese (only trace amounts of FODMAPs detected)
Monterey Jack (only trace amounts of FODMAPs detected)
Vegan coconut oil cheese (Low FODMAP in 40g serves, moderate in fructans in 350g serves)
Queso fresco (low FODMAP in 40g serves, moderate in lactose in 120g serves)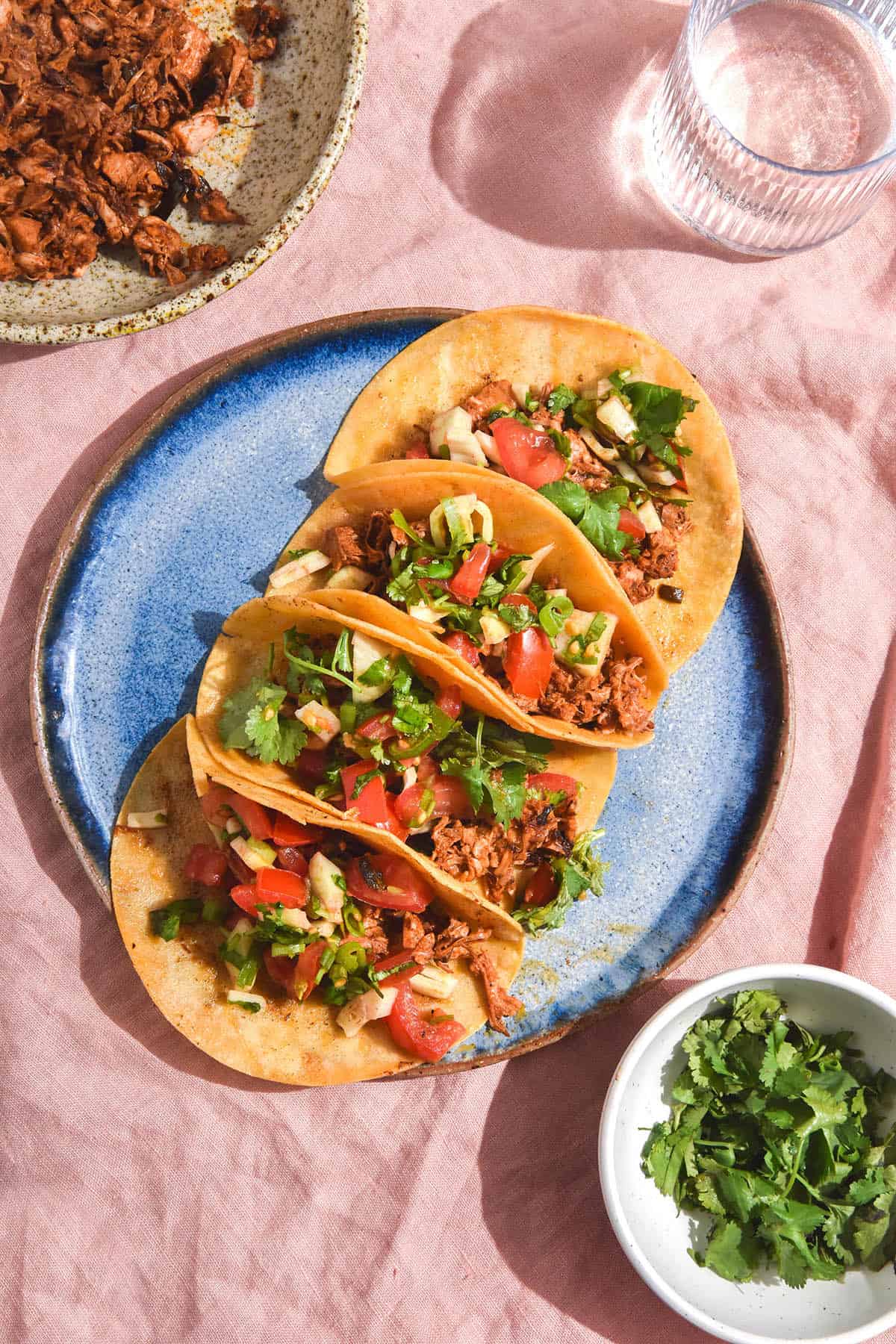 More low FODMAP Mexican and Tex Mex inspired recipes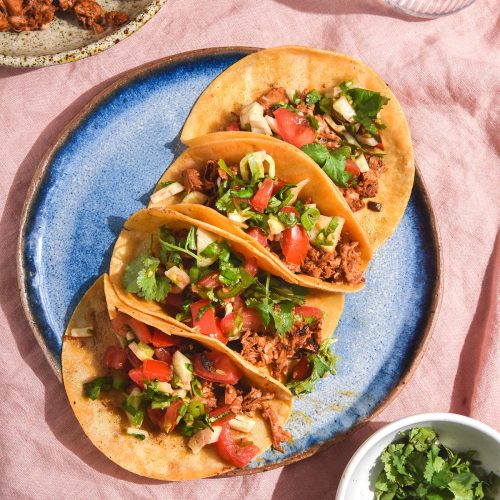 Low FODMAP jackfruit tacos
Ingredients
For the spice mix:
1

tsp

chilli powder (not American style chilli powder mix, pure 100% chilli, see notes)

6

tsp

smoked paprika

3-4

tsp

cumin powder

1

tsp

dried oregano

2

tsp

dried coriander seed (optional)

2

tsp

fine salt

1/2

tsp

asafoetida powder (optional, see notes)

1/2

tsp

white sugar

1

tsp

tajin (optional but highly recommended, see notes)
For the jackfruit tacos:
80-100ml

neutral oil (see notes)

40g (2

Aus tablespoons)

tomato paste (2 1/2 US, Canadian, NZ tablespoons)

3-4

Aus tablespoons

spice mix, above (4-5 US, Canadian, NZ teaspoons)

2 X

400g

cans of young jackfruit, drained (approximately 500g)

seasoning, to taste
To finish:
corn tortillas

Low FODMAP pico de gallo (see notes for recipe link)

Cheese of choice (see body of post)
Instructions
To make the spice mix:
Combine all ingredients in a small bowl. It won't be particularly spicy, but you can add more later (and the pico de gallo uses jalapeños).
To make the jackfruit taco mince:
Heat the oil in a skillet or large pan over a medium heat. Once warmed, add the spice mix and stir to bloom the spices in the oil. After about a minute, add tomato paste and the jackfruit and stir to coat. Add more spice mix if necessary.

You can cook the jackfruit for as long as you like. I like to get some charred spots on mine, but that's optional. Add a splash of water any time you feel like it's drying out.

Once you're happy, take the skillet off the heat and decant the jackfruit mixture. Return to the heat with a splash of oil and add the tortillas, 2-3 at a time. You can also fry them in a little more spice mix for colour and extra flavour. Cook each tortilla for 2-3 minutes or until soft and flexible.

Serve each tortilla with a spoonful of jackfruit taco mince and a spoonful of low FODMAP pico de gallo. Top with your cheese of choice.
Notes
This spice mix uses teaspoons only because I use Australian measures. An Australian teaspoon is very close in size to American, Canadian and New Zealand teaspoons, so this recipe can easily be used internationally.
British teaspoons are 5.9ml, which is larger than the average 5ml for other countries. You can use slightly less per tsp, or just use the 5.9ml worth for a slightly higher yield. 
This recipe uses 100% pure chilli powder. In American, chilli powder often has other added ingredients, including onion and garlic powder. Cayenne might be the closest readily available option in America
For a milder taco seasoning, use less chilli and use a milder variety, like Kashmiri chilli powder. Personally, I use 1 teaspoon Kashmiri chilli. You can always add more chilli to the finished dish, but you can't take it out. 
My recipe uses more paprika than most. This is because the taste of smoked paprika really adds a lot to vegetarian and vegan dishes, but also so that you can adjust the chilli content up or down as your spice preferences allow.
Tajin is optional but it has citric acid, which really brings a fresh vibrancy to the seasoning. If you don't have tajin but you do have citric acid or amchoor powder, use a pinch of either, to taste. If not, no worries. It will still taste good.
If you use larger flour tortillas, you'll probably need to double both the spice mixture and the jackfruit mixture. The jackfruit makes enough for 9-10 tablespoons in small corn tortillas.