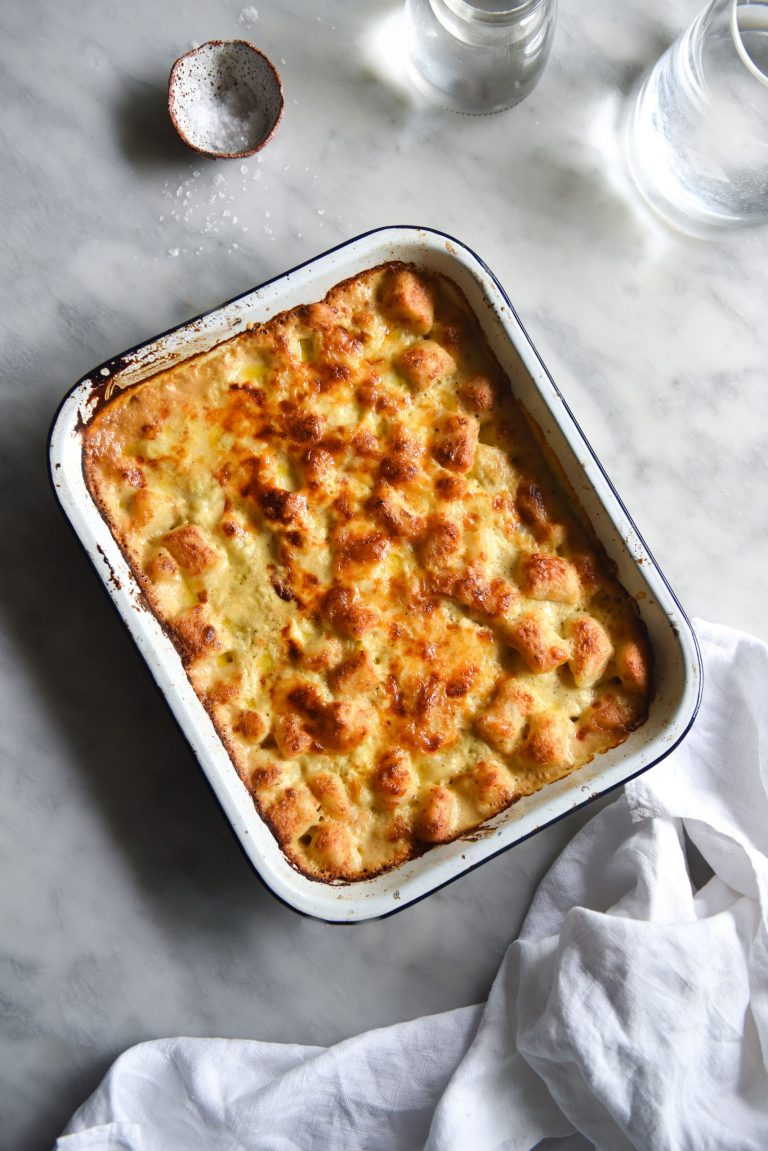 Gluten free gnocchi is a hard thing to master. Even harder? Gluten free AND vegan gnocchi. Yet here we are, friends, here we are. In all honesty, the vegan aspect of this gluten free gnocchi was an accident. In discovering my new favourite magic ingredient, I discovered a way to make super simple gluten free gnocchi, accidentally vegan, with only three ingredients. Just three! So let's dive straight in.
You should be approximately 0% surprised that my magic ingredient is potato. I love potatoes. I always will. May I present exhibit A, my salt and vinegar potatoes, as proof of my undying love. Exhibit B, my cacio pepe potato bake, is here if you need more convincing. May it also convince you of my love for cheese and creamy based bakes, because that's what we're about to get into.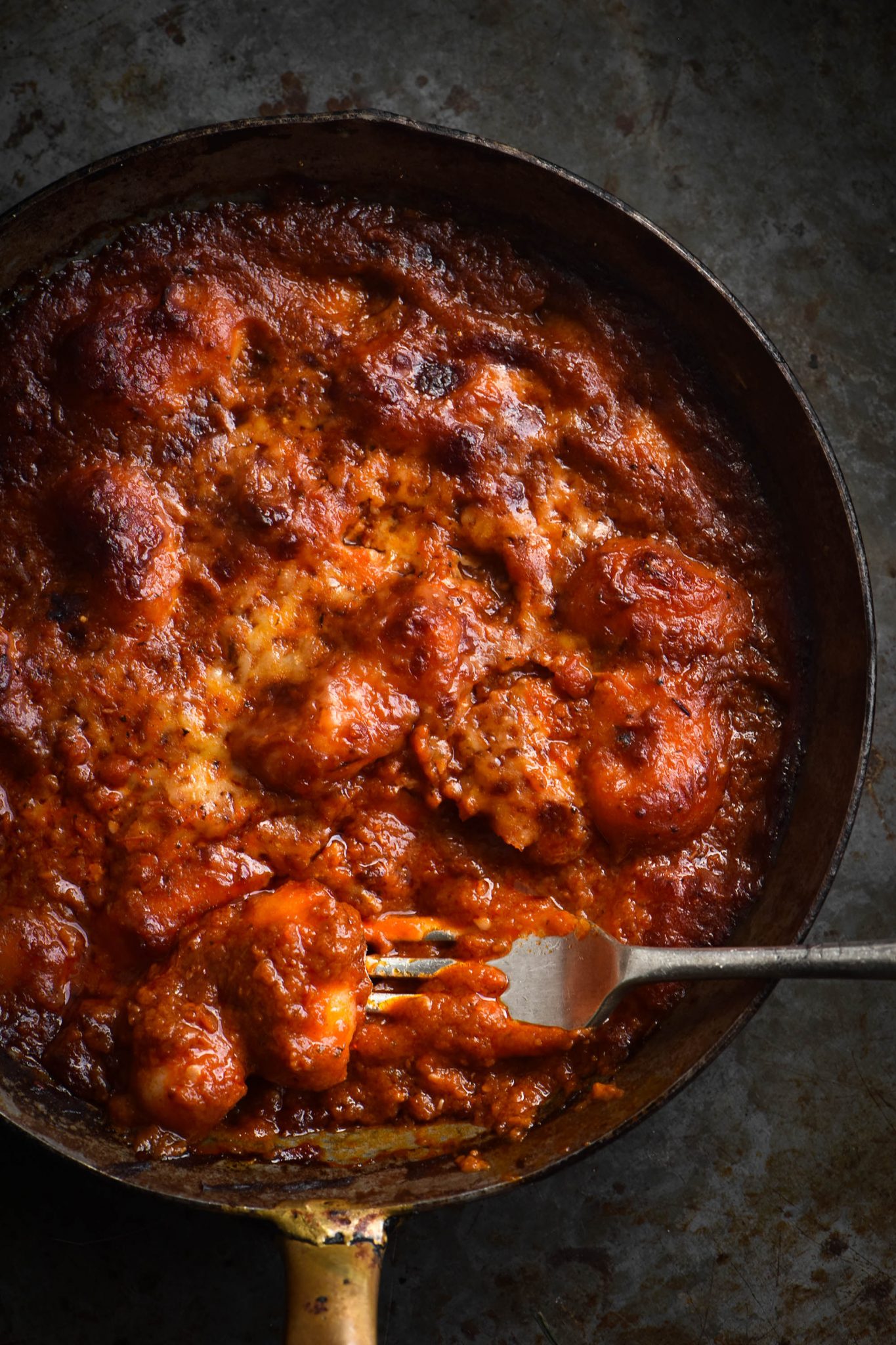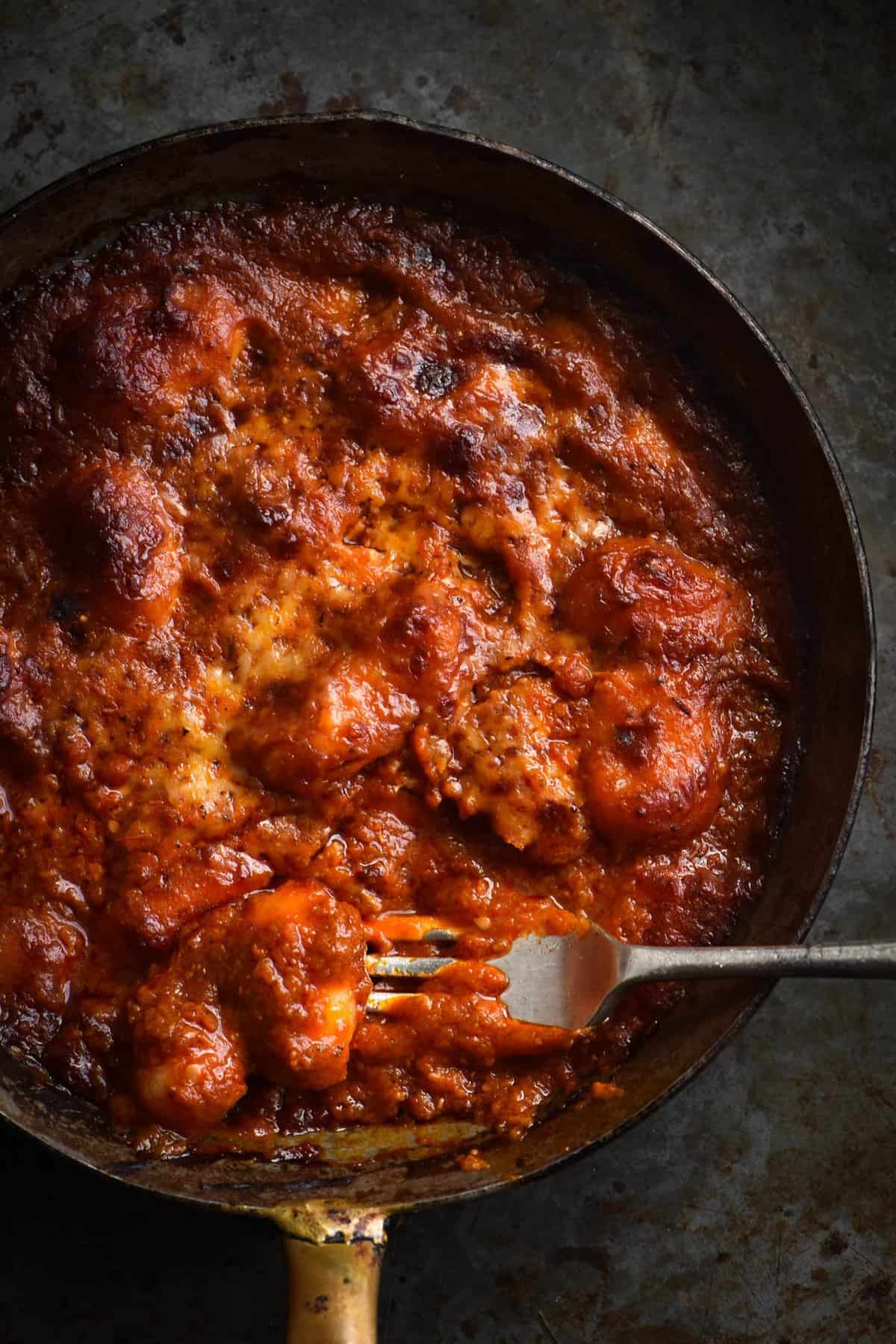 Gluten free vegan potato gnocchi without xanthan gum
This gluten free vegan potato gnocchi is made without xanthan gum or eggs. It is completely dairy free and vegan. The gnocchi uses rice and tapioca flours combined with a starchy gel made from baked potatoes to hold itself together.
This gnocchi is perfect wherever you generally use gnocchi, but I do have a few suggestions: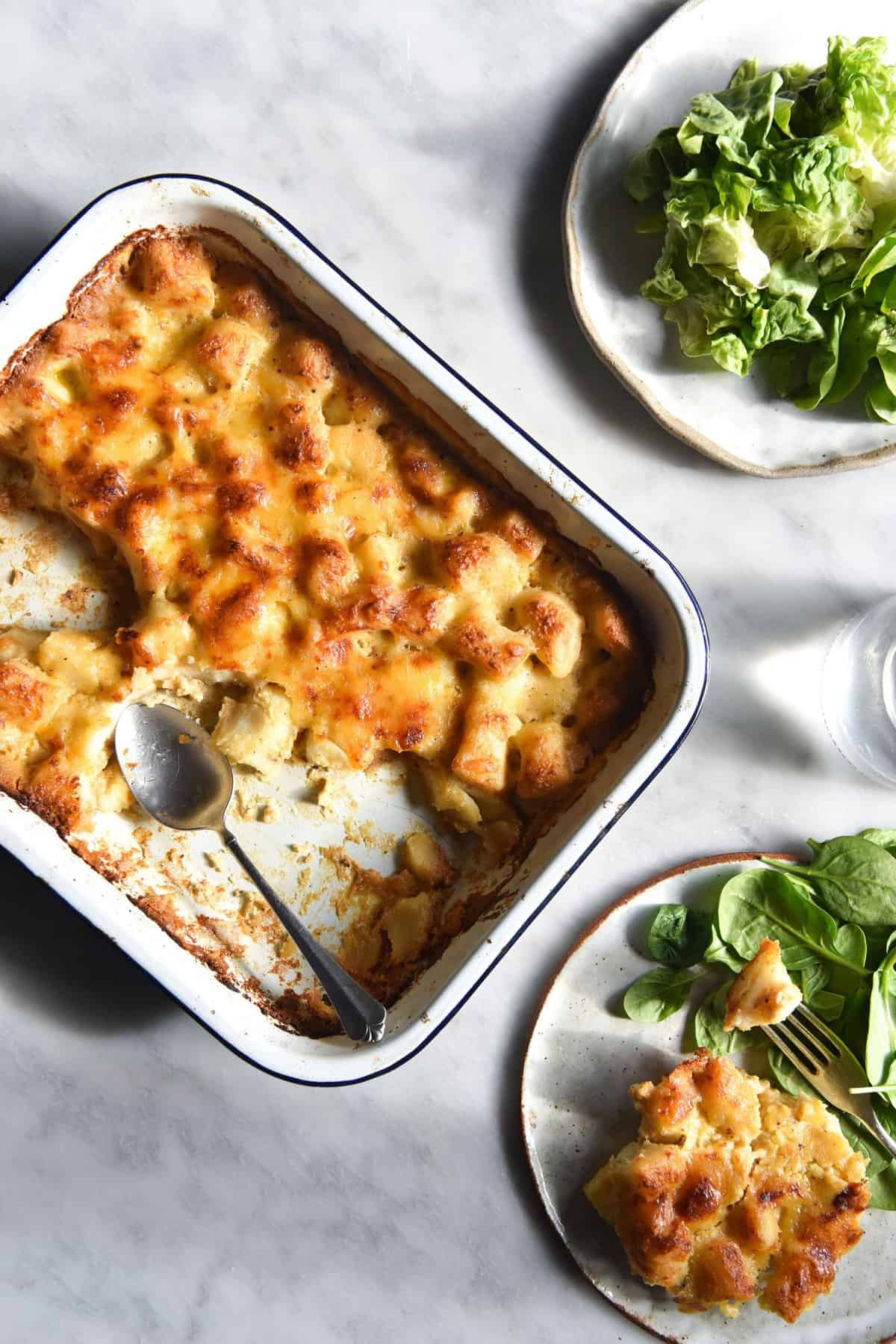 The magic ingredient: potatoes
There's nothing I love more than a bit of potato talk. This is opportune, because this magic ingredient requires a few directives:
Firstly, the variety of potato you choose is hugely important. For this purpose, we want a starchy (but not too starchy!) variety, and I have found Sebago to be perfect for this purpose.
In the event you can't find Sebago potatoes (although my links tell me they are common in the supermarket?) you could try another all rounder potato like Dutch Creams or maybe Desiree.
Baking the potatoes is an important step – not only does it make the gnocchi potato forward in taste, it stops them from overwhelming the gnocchi mixture with liquid. The mixture will turn claggy and awful, you'll add more flour, the gluten free gnocchi will be tough and chewy. Don't do it.
Blending the potatoes into a puree is really where the magic happens. I learned this the hard way when I once tried to make mashed potato in the food processor. Blending baked and peeled potatoes turns them into a gelatinous paste, which is essentially our vegan egg. It binds the gnocchi together perfectly, using naught but the transformed starch if the potato.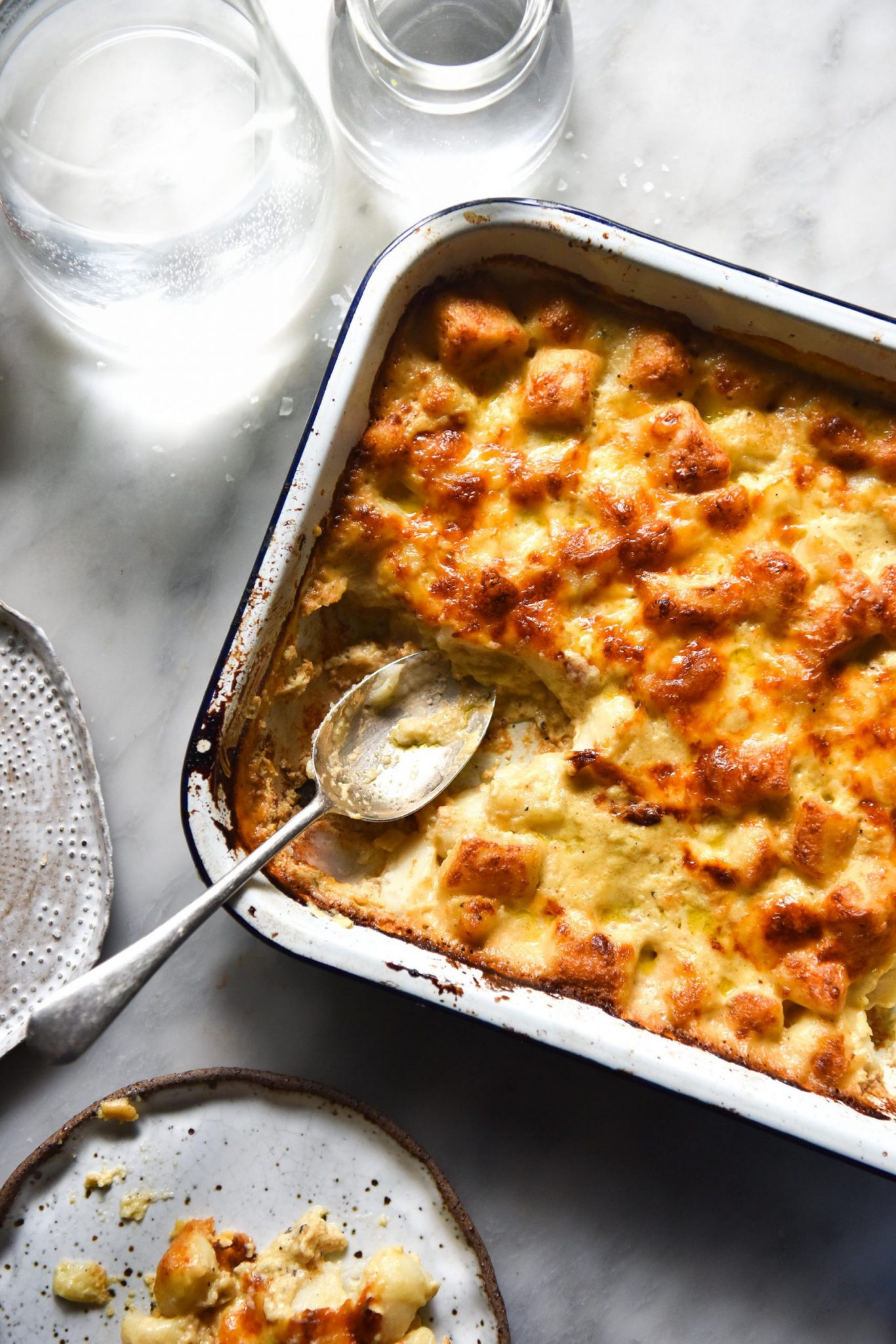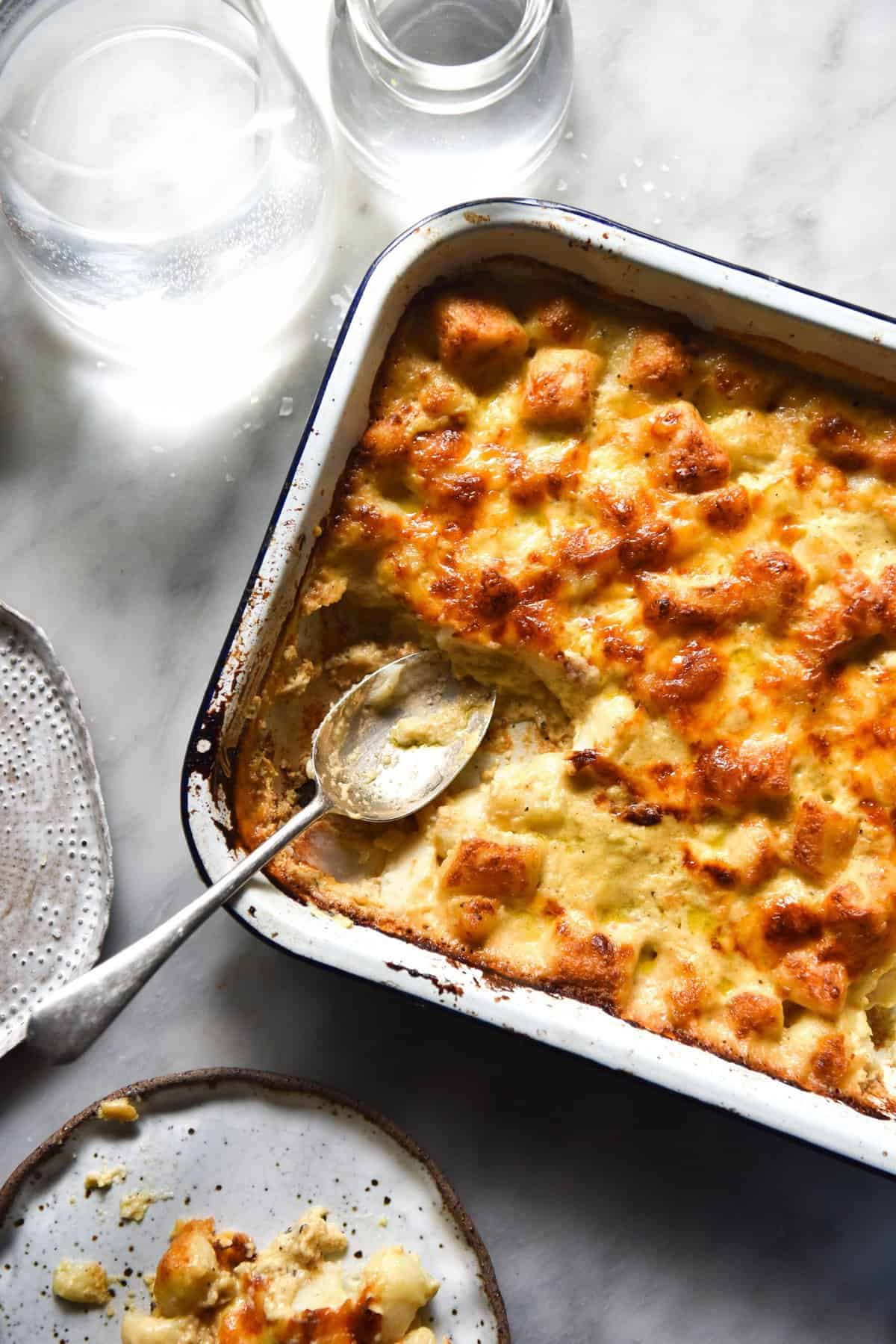 Potato notes and resources
Potatoes exist on a spectrum of waxy to starchy – waxy being the more watery potatoes that hold up well in bakes, starchy the more floury potatoes varieties that mash well. There are a huge amount of different potato varieties, and these will differ from country to country. Cruelly, Australia is not well known for it's plentiful varieties of potatoes.
Here is a list of potatoes available in Australia and their best uses. I'm yet to find a graph that really nails the explanation, but I'll link it if I ever do. If you're not in Australia, there are plenty of local guides if you Google them. Chances are you'll have more varieties to choose from than we do anyway.
I found this Bon Appetit Making Perfect episode handy in explaining the potato spectrum. Tune in from 10.55 minutes onward.
This article is good at setting out which potato varieties are best used for which purpose.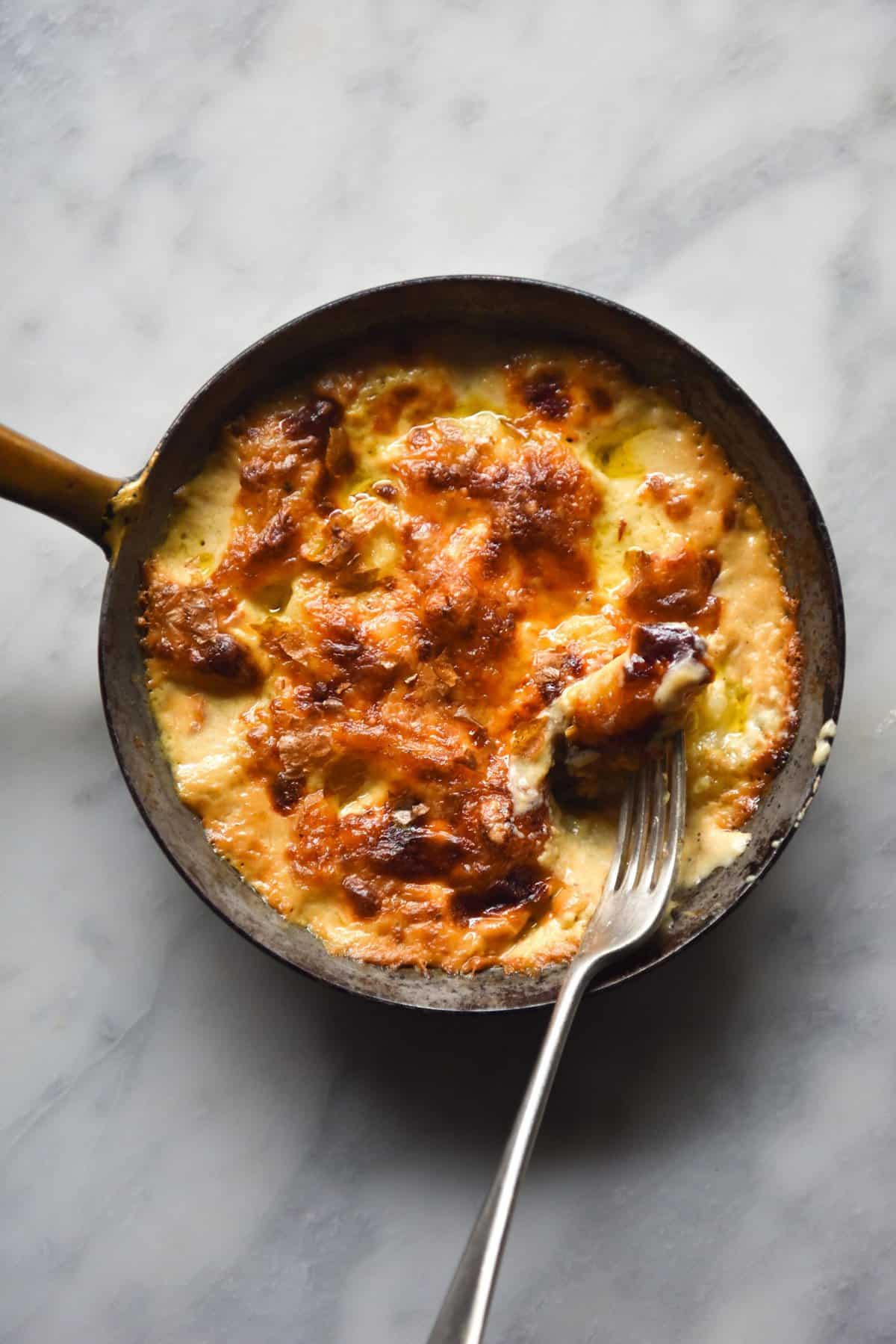 Gluten free vegan potato gnocchi ingredient notes
Aside from the above (please read 'the magic ingredient' for potato advice before you begin) here are a few handy recipe hints:
Make sure you buy finely milled white rice flour for this recipe. Because there are only 3 ingredients, this is really important as the taste and grit of a course rice flour will be evident. I HIGHLY recommend sourcing a good quality white rice flour from a health food store, or even better, a bulk food store. Save on the plastic. While you're there, buy your tapioca flour too.
Rice flour is a workhorse and not a flour I currently have a substitute for in this recipe. It's one of the most easily accessible gluten free flours and it works a treat in this recipe.
More gluten free vegan recipes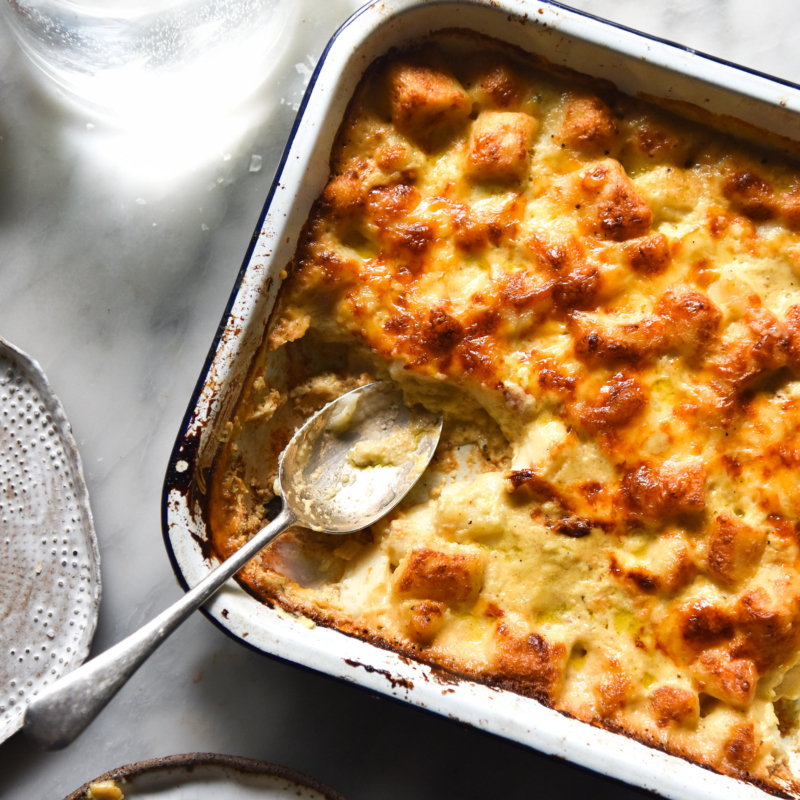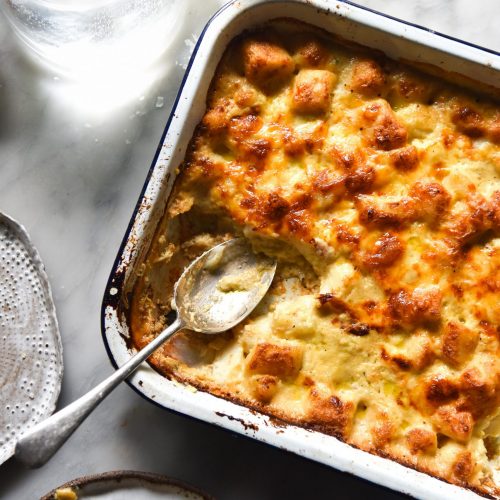 Gluten free vegan potato gnocchi
Gluten free, vegan, nut free, FODMAP friendly
Equipment
A high speed food processor

A lined baking tray, for the gnocchi pieces to sit on once cut
Ingredients
FOR THE GNOCCHI:
1

kg

Sebago potatoes

or another floury to all rounder variety

2 1/2

cups

(300g) fine white rice flour (see notes)

1/2

cup

(50g) tapioca flour, plus plenty extra to flour the bench

1 1/2

teaspoons

fine salt
Instructions
TO MAKE THE POTATO GNOCCHI:
Preheat the oven to 180C/356F. Lightly brush the potatoes with olive oil and space evenly on a lined baking tray. Once the oven is ready, bake the potatoes for 40 minutes to an hour (depending on their size) or until you can insert a knife through the potato. Remove from the oven and allow to cool.

While the potatoes are cooking, weigh out your flours into a large mixing bowl. Add the salt, and mix to thoroughly combine.

Once cooled, use your hands to peel off the potato skins. These leftover skins can be sprayed with oil and baked, to make delicious potato skin chips.

Once the potatoes are peeled, place them in a high-speed blender, and blend until a super sticky, gelatinous paste forms. It should be mostly free of lumps, but don't push your blender too hard because it is a very sticky mixture. I use a Nutribullet for this, and I ensure I give it a few breaks in between blending, particularly because there is nowhere for the hot air to escape.

Once you have a smooth, sticky paste, decant it into the flour bowl. Use a spoon at this stage to mix everything together. It will take a little while, but eventually you should have a shaggy, somewhat sticky ball of gnocchi.

Once it is mostly mixed, use your hands to get in there and finish the job. Add extra rice flour or tapioca flour to this mixture as you see fit. The mixture should be sticky but manageable. Note that the more flour you add, the chewier the gnocchi will become, so try to keep it to bare necessities.

Liberally flour a dry, clean bench space with tapioca flour, and divide the dough into four or so balls. Use floured hands to roll each ball out into a long, thin, gnocchi sized rope. Use a sharp floured knife to cut the rope into individual pieces. Place the pieces on the lined tray with space between each piece. Repeat with all the balls of gnocchi until you have used it all up.

Heat a medium to large saucepan of salted water over a high heat. Once boiling, carefully lower the gnocchi into the water, in batches of 10-12 pieces at a time (saucepan size dependent.) Once the gnocchi have risen to the surface, allow to cook for 2-3 minutes before removing from the water. Test one piece of gnocchi to check that they're cooked and adjust the cooking time for the rest of the gnocchi if necessary.

Drain each piece of cooked gnocchi well before transferring to large mixing bowl. Drizzle them lightly with olive oil as they go into the bowl – because they're filled with a mixture of starches, they will stick to each other if they're not oiled.

Repeat until all the gnocchi is cooked.