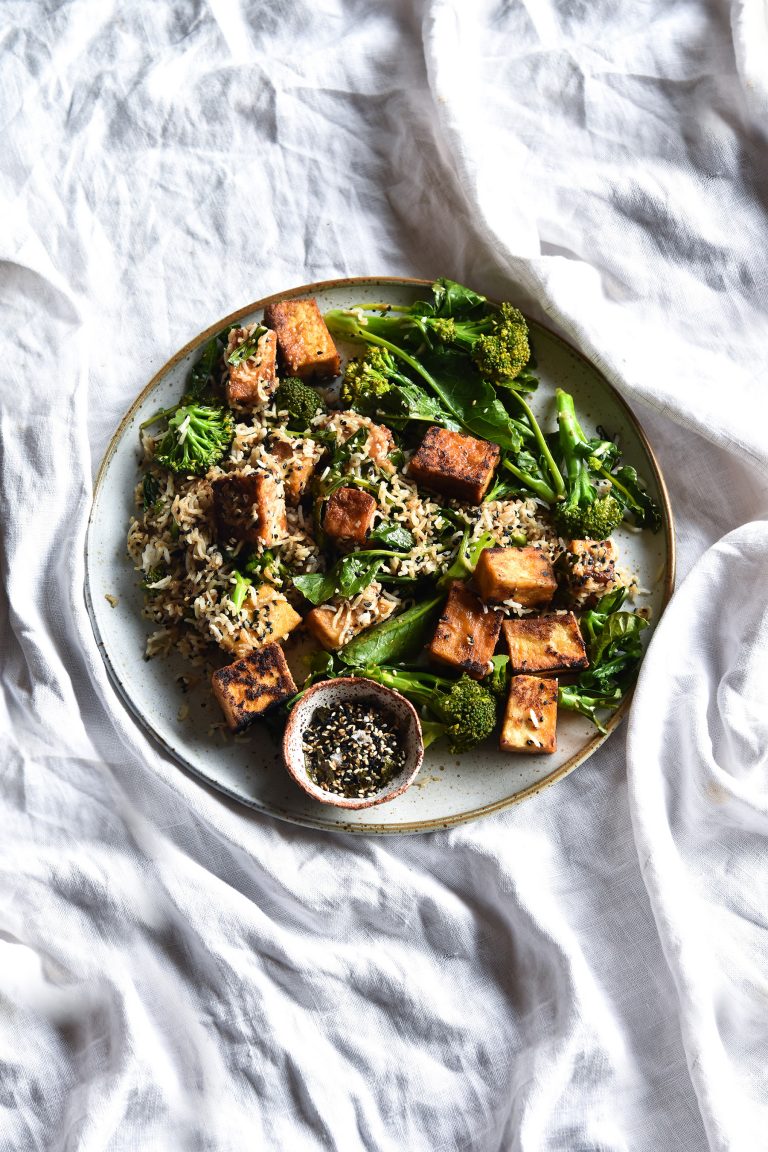 Hello, just back here like a broken record to talk about furikake a little bit more. As you would have identified, I go through food phases weekly. This week, obviously, is furikake week. It is also crispy fried miso tofu week.
I have spent a while dabbling with furikake rice as a delicious hangover cure, but over the weekend I decided to incorporate the broccoli I had bought at the farmers market. Success! Naturally, I was not satisfied with one success, but had to experiment with another addition, namely, that crispy fried miso tofu.
What have I learned on the communal behalf? I've learned that miso does not fare well when fried on tofu, is what I've learned. As a result, I also learned about the concept of the post fry saucing. By tossing crispy tofu in a dressing, you retain both the crispness, and all of the flavour. I've read a lot of blogs in my quest for crispy tofu, and it would seem the general consensus is that tofu doesn't marinate that successfully. Enter the post fry sauce. You are welcome.
These bowls are vegan, gluten free, and FODMAP friendly. Sesame seeds can become an unfriendly friend in quantities of 6 tablespoons per person per serve or more, so cool your jets on the obsessive sprinkling of furikake if you're concerned. If you're not into miso, you can try this salt and pepper crispy tofu instead.
Crispy fried miso tofu bowls – the FODMAP lowdown
A few quick notes on the FODMAP status of the dish:
Tofu is FODMAP friendly in 160g serves, which is fine if you cook this dish to serve 4.
Sesame seeds are FODMAP friendly in 1 tablespoon per person serves. This takes the furikake count a little over in terms of FODMAPs, IF you don't tolerate oligo-fructans very well. If that's the case, just make sure you only use as much furikake as you can handle, and season the rice accordingly.
Broccolini is FODMAP friendly in serves of 45g or 1/2 cup chopped. You can substitute with a lower FODMAP vegetable, such as pak choi, if you'd prefer.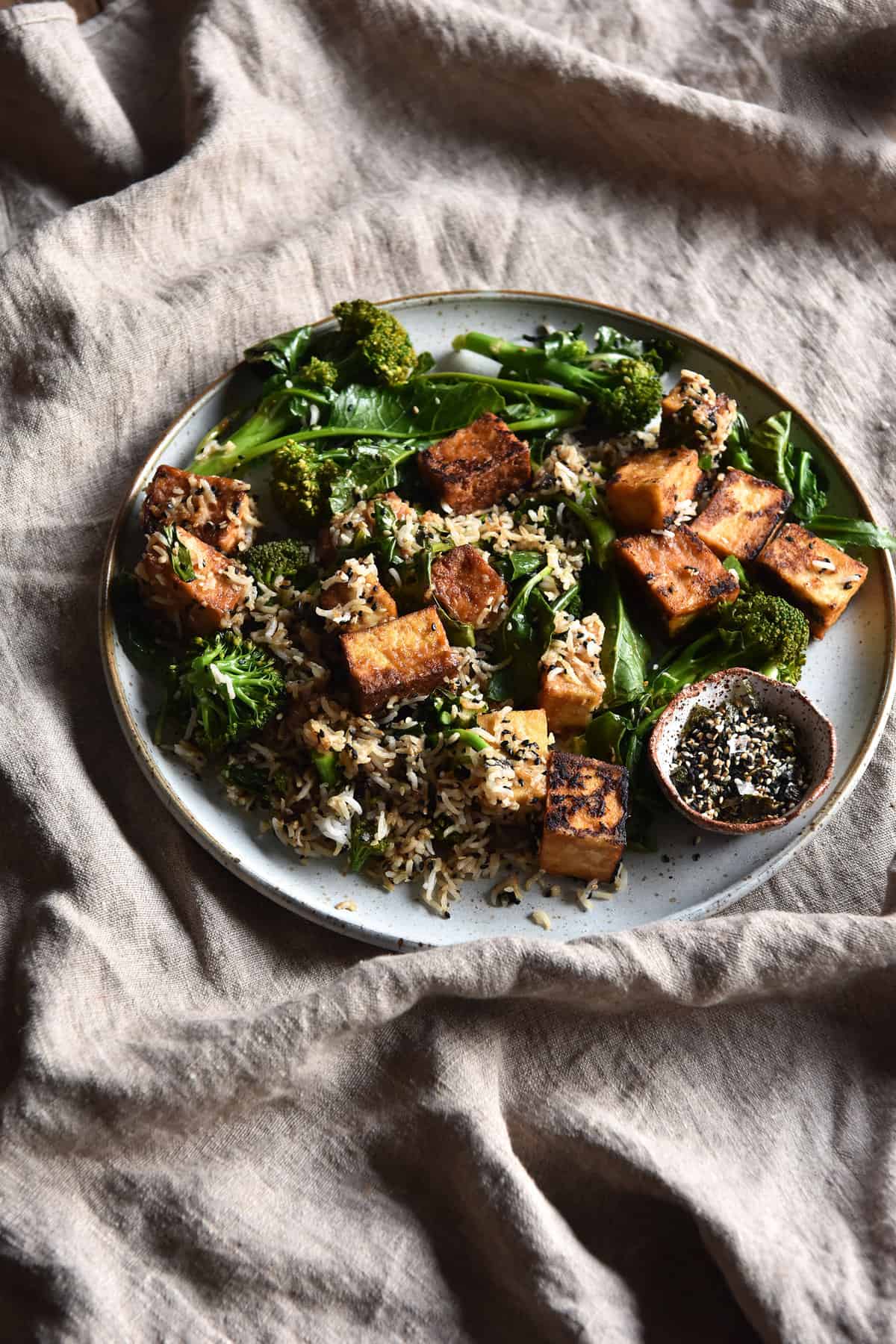 More tofu recipes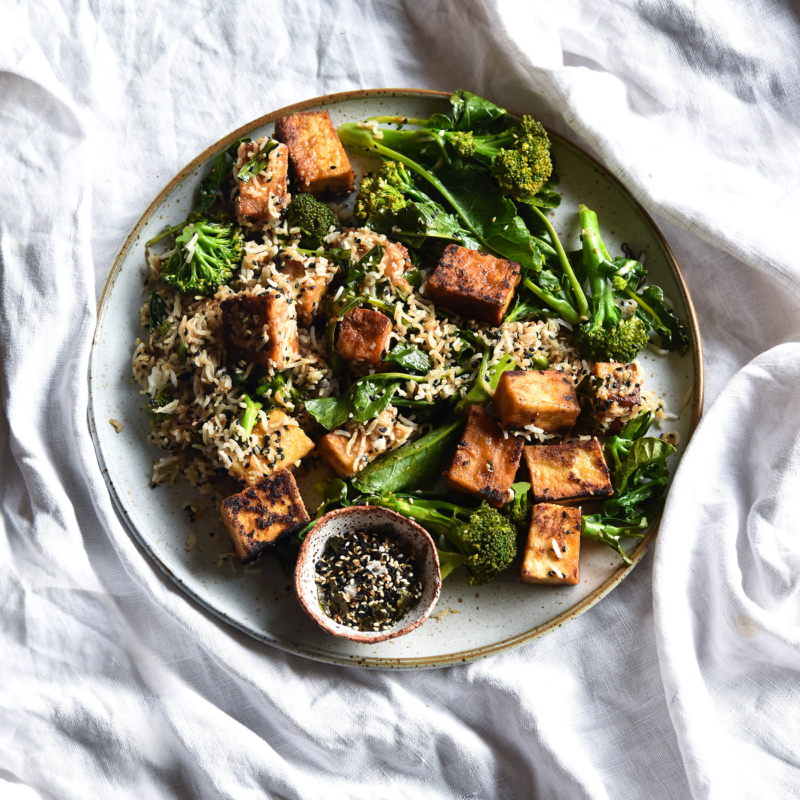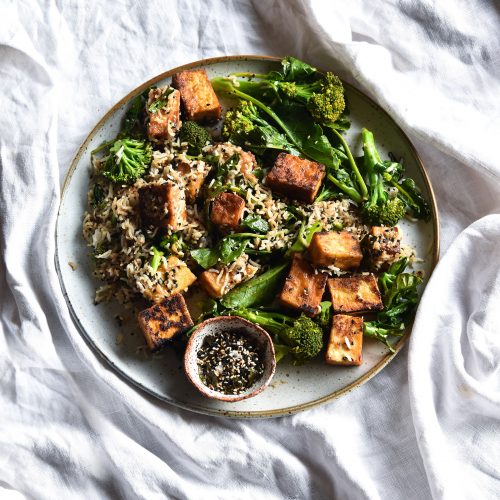 Vegan Furikake rice bowls with crispy miso tofu and broccoli
Vegan, vegetarian, gluten free, FODMAP friendly
Ingredients
FOR THE FURIKAKE BOWLS:
1

cup

roughly 200g white rice

1/2

cup

white sesame seeds and 1/2 cup black sesame seeds

or 1 cup white, if you can't find black

1-2

sheets nori or dried seaweed of your choice

chopped into tiny bits (I use scissors)

1

teaspoon

sea salt flakes

2-3

teaspoons

coconut sugar or brown sugar

200-400

g

broccolini

depends how much you like greens – I used 200g and 300g and would easily have eaten 400g
FOR THE CRISPY MISO TOFU:
450

g

firm tofu

1 1/2

tablespoons

miso

I used shiro aka sweet rice, but I also like genmai aka brown rice

3

teaspoons

fresh grated ginger

maple syrup, tamari, and sesame seed oil

2

tablespoons

gluten free cornflour

vegetable oil

for frying
Instructions
METHOD:
Drain the tofu by placing it between sheets of kitchen towel, and placing a heavy object on top. I use a saucepan filled with cans. Drain the tofu for an hour or so, and change the kitchen towel at least once in the process.

To make the furikake, toast the sesame seeds in a saucepan over a medium heat, until they are golden in colour. Add the chopped nori, and continue to toast for a minute or so. Finally, add the salt and sugar, and stir until the mixture becomes a little bit sticky. Set aside.

Cook the rice using your preferred method. I'm a lazy rice cooker, and I use the absorption method – I cook the rice in over a medium high heat in a medium-large pot of water for 10-15 minutes, or until soft, before draining. Set aside.

While the rice is cooking, coat the tofu in the cornflour, and heat the vegetable oil over a medium high heat. In batches (overcrowding the pan is the enemy of crispy tofu) fry the tofu in the hot oil, intermittently turning until all sides are brown. Set aside on a cooling rack, or continue to crisp in the oven, if you happen to have it on.

While the tofu is cooking, put a pot of water on to blanch the broccolini. Only cook it until just cooked.

The rice should be done, so drain it and set aside. While it's cooling and all the elements are coming together, whisk all the remaining ingredients for the tofu sauce together in a large bowl. Set aside.

Drain the broccolini. You have a few options here: you can toss the rice and broccolini (some chopped, some whole, for texture) and the rice into a large bowl, and toss furikake in to taste. I use about 1/2 to 3/4 of the batch (I'm a fiend) but you might like to use more or less. Toss the tofu into the miso sauce, and then serve either mixed together or separately.

Alternatively, you can heat a saucepan over a medium heat with a splash of sesame sauce, and add the broccoli, giving it a bit of char and crunch. From there, you can char the edges of the miso covered tofu, for extra crispiness, and you could even toss the rice in, for a few crispy grains. The world is your delightfully sesame seaweed flavoured oyster. Let's not talk about how many times I've used this line.