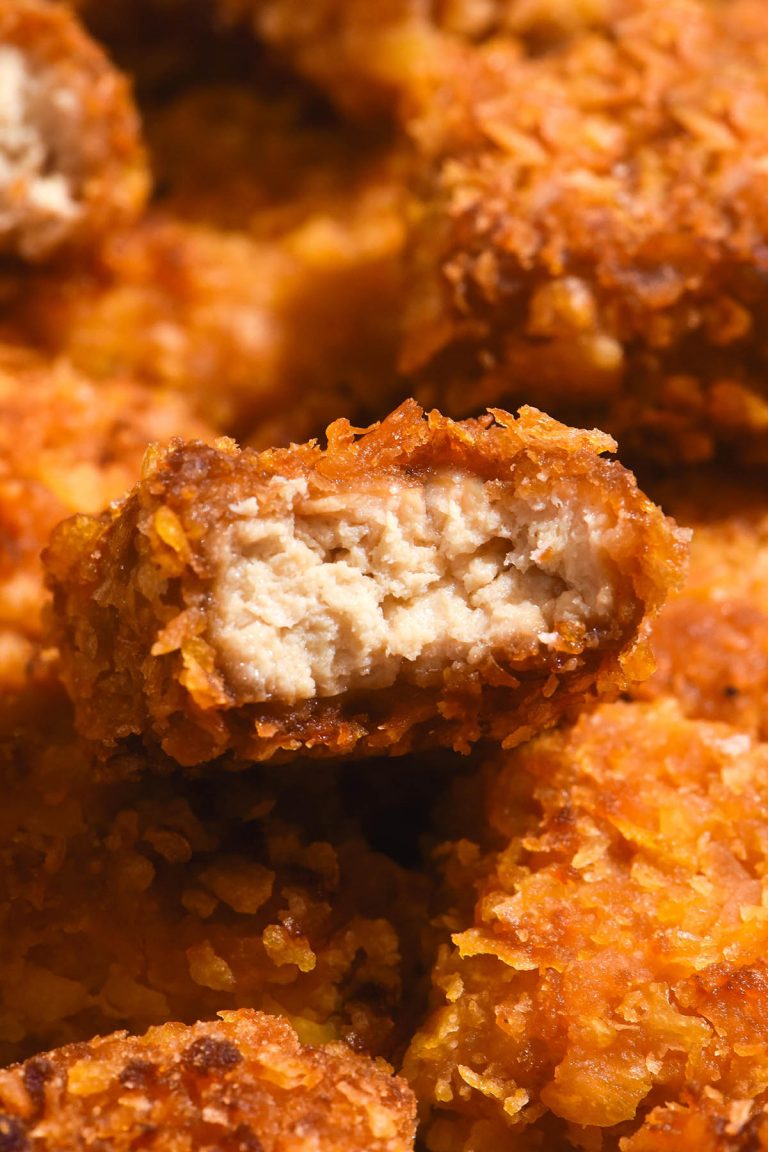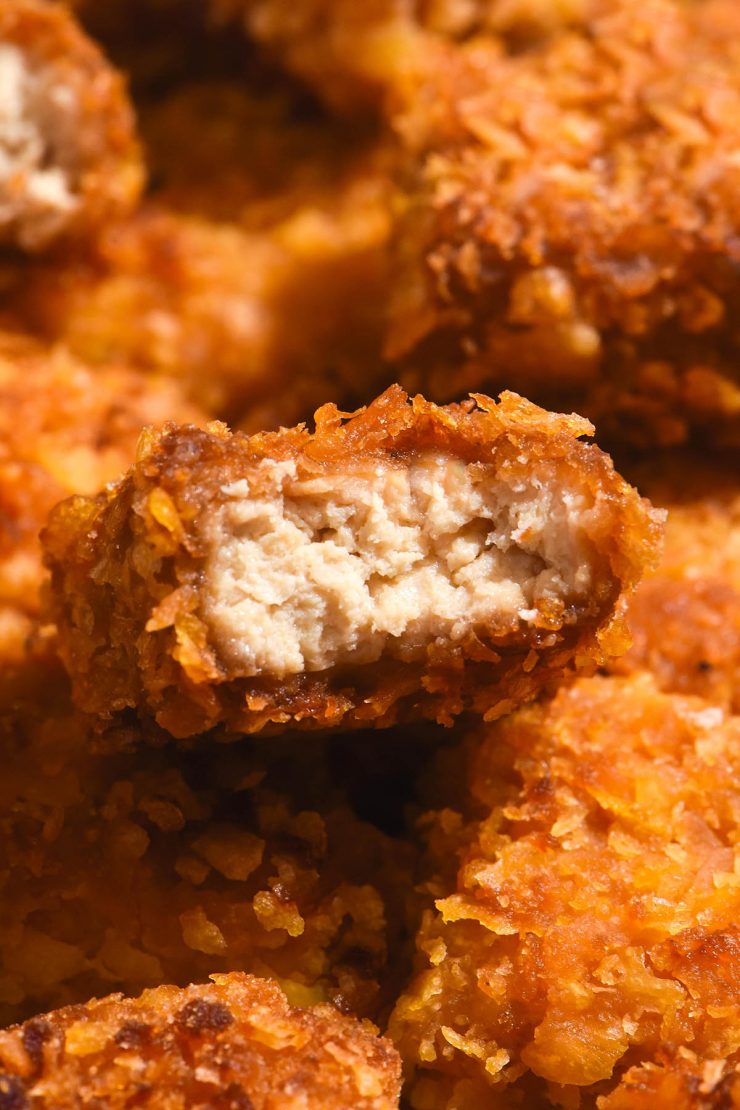 I have been testing these tofu nuggets for a LONG time now. I wanted them to replicate a chicken nugget – umami and salty but otherwise not a flavour explosion. A lot of recipes online have lots of smoked paprika and various dried herbs, but I wanted these to be those almost neutrally flavoured nuggets of my childhood. These tofu nuggets officially fit that bill.
Before we begin, a note: yes, making nuggets is a bit of a messy business. I was kind of amazed to see people vote down recipes for the faff involved. We're making nuggets! Of course there will be mess! Don't be surprised, and don't say you weren't warned 🙂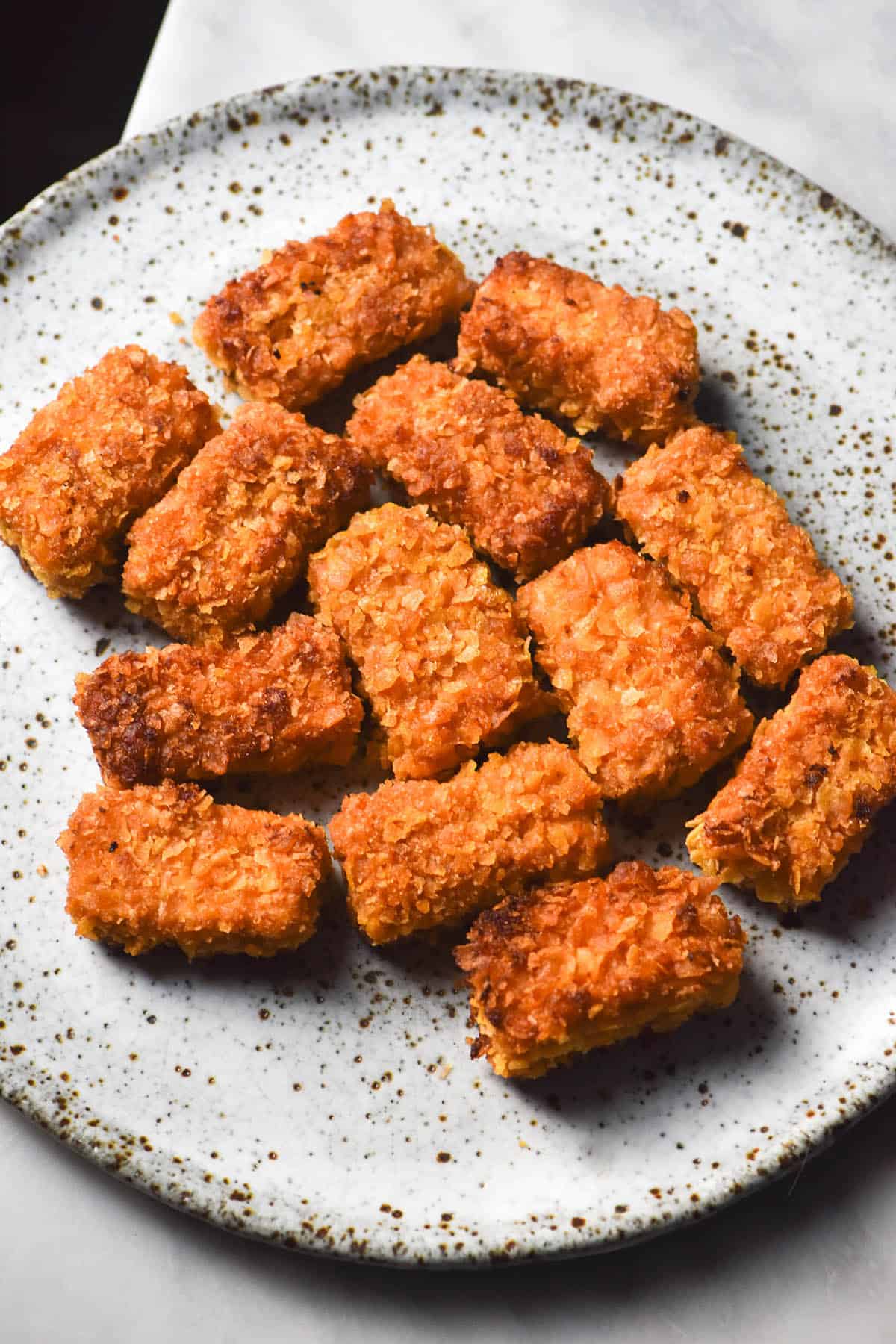 Tofu nuggets (gluten free)
These tofu nuggets are gluten free, vegan and low FODMAP. They are also nut free and xanthan gum free. If you don't need them to be low FODMAP, feel free to use garlic and onion powders.
The tofu is prepared by freezing it the night before. Frozen tofu has a much more meaty texture than regular tofu, so this really helps disguise it. Next, the tofu is boiled for 15-20 minutes. Like freezing tofu, boiling it creates a light yet chewy texture that makes it much meatier.
After the tofu has cooled, it is sliced into strips and then into nuggets. It is coated in a vegan buttermilk (although you could use regular milk if you're not vegan) and then in a seasoned flour. It is again dipped in the buttermilk before being dipped in the crushed cornflakes.
I like to shallow fry my nuggets – I find this is easiest way to get crispy nuggets without deep frying. I'm working on a separate oven baked nugget recipe, so stay tuned for that.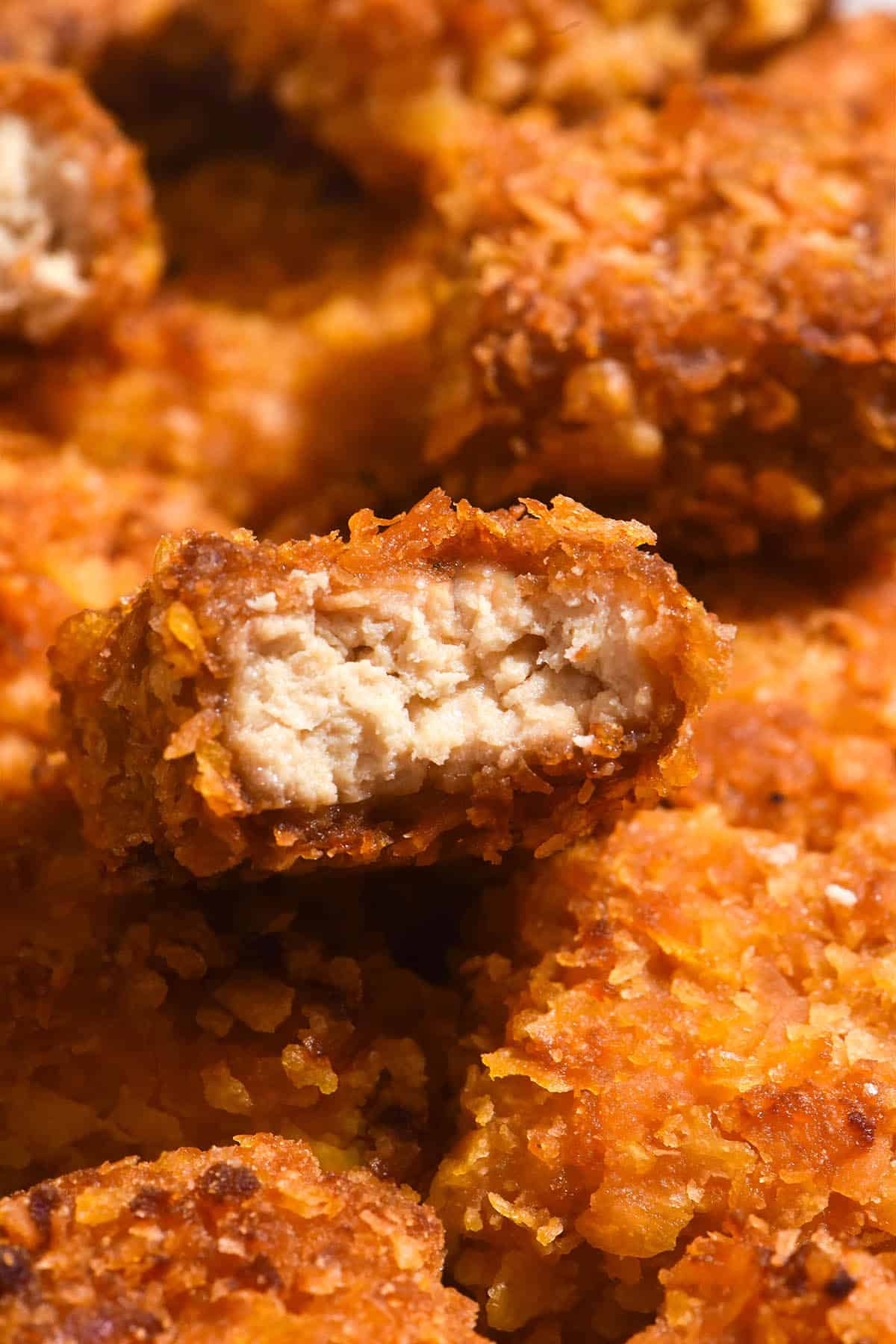 Notes on the cornflakes
I noticed when I was shopping for this recipe that a lot of commercially available cornflakes in Australia actually have wheat in them. This surprised me – I assumed they sold 'free-from' cornflakes just to charge extra money. Make sure you check the labels.
A big caveat for American readers – cornflakes in Australia contain sugar, but aren't sweet. They taste quite neutral in flavour. A sweet, frosted style of cornflake is not appropriate here. I can't tell you which brands are suitable as I live in Australia and don't know what is available to you.
For Australians – I used the Woolworths Free From cornflakes. Although the packaging says they contain sugar, they're neutrally flavoured.
To ensure enough crumb sticks to the nugget, I highly recommend blitzing the cornflakes in a blender. You can do it with a rolling pin, mortar or pestle or hands, but the crumb won't be as fine.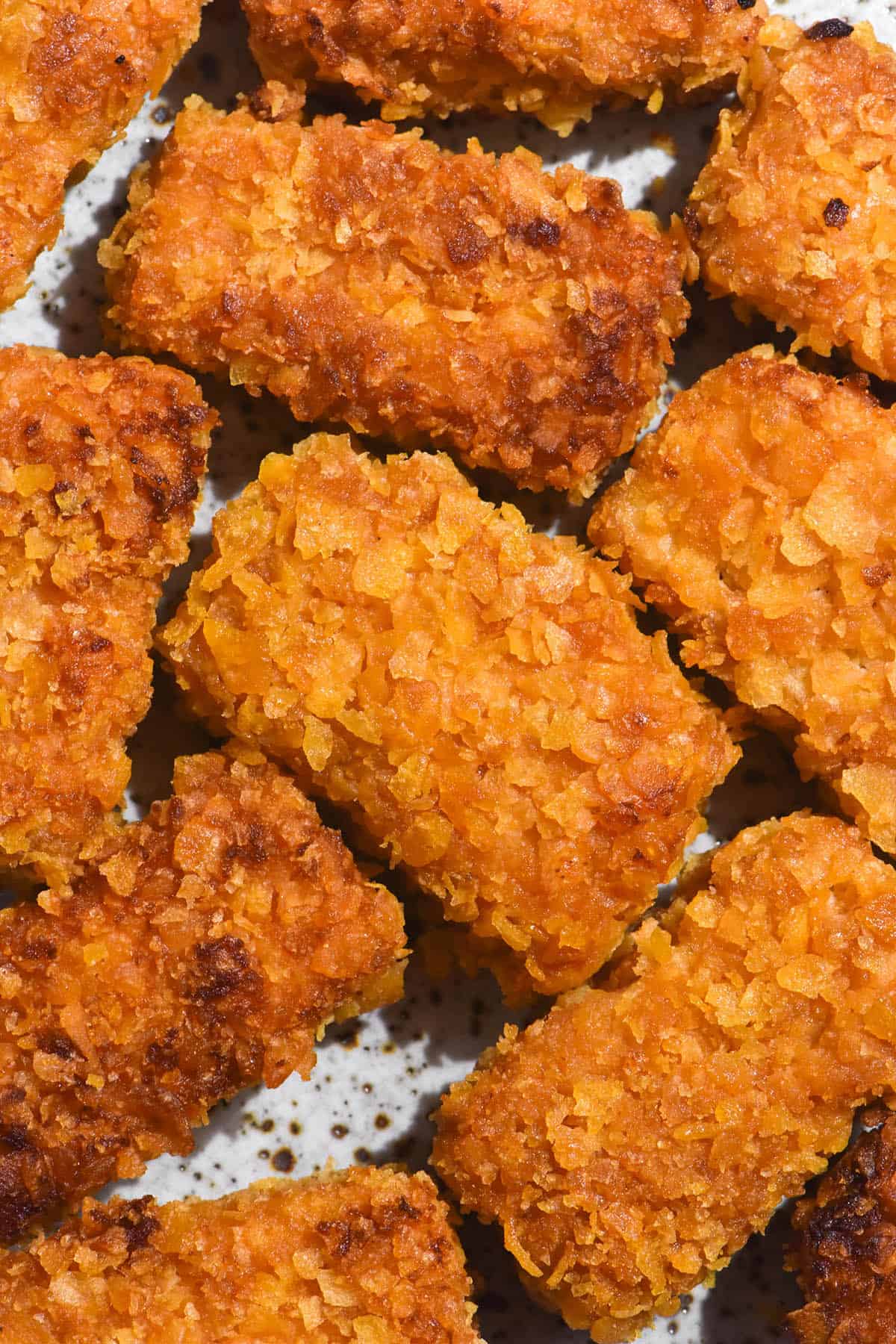 Substitution options for your tofu nuggets
Unfortunately, I don't have a soy free (or tofu free) option at the moment.
I have had limited success using rice flour in place of the corn starch, and rice flakes in place of the corn flakes. If you have a corn intolerance or allergy, both of these are suitable. Read the section below for more information on this sub (TLDR: I don't love it but it is an option).
I haven't tried gluten free breadcrumbs yet, but they might be a better option than rice flakes.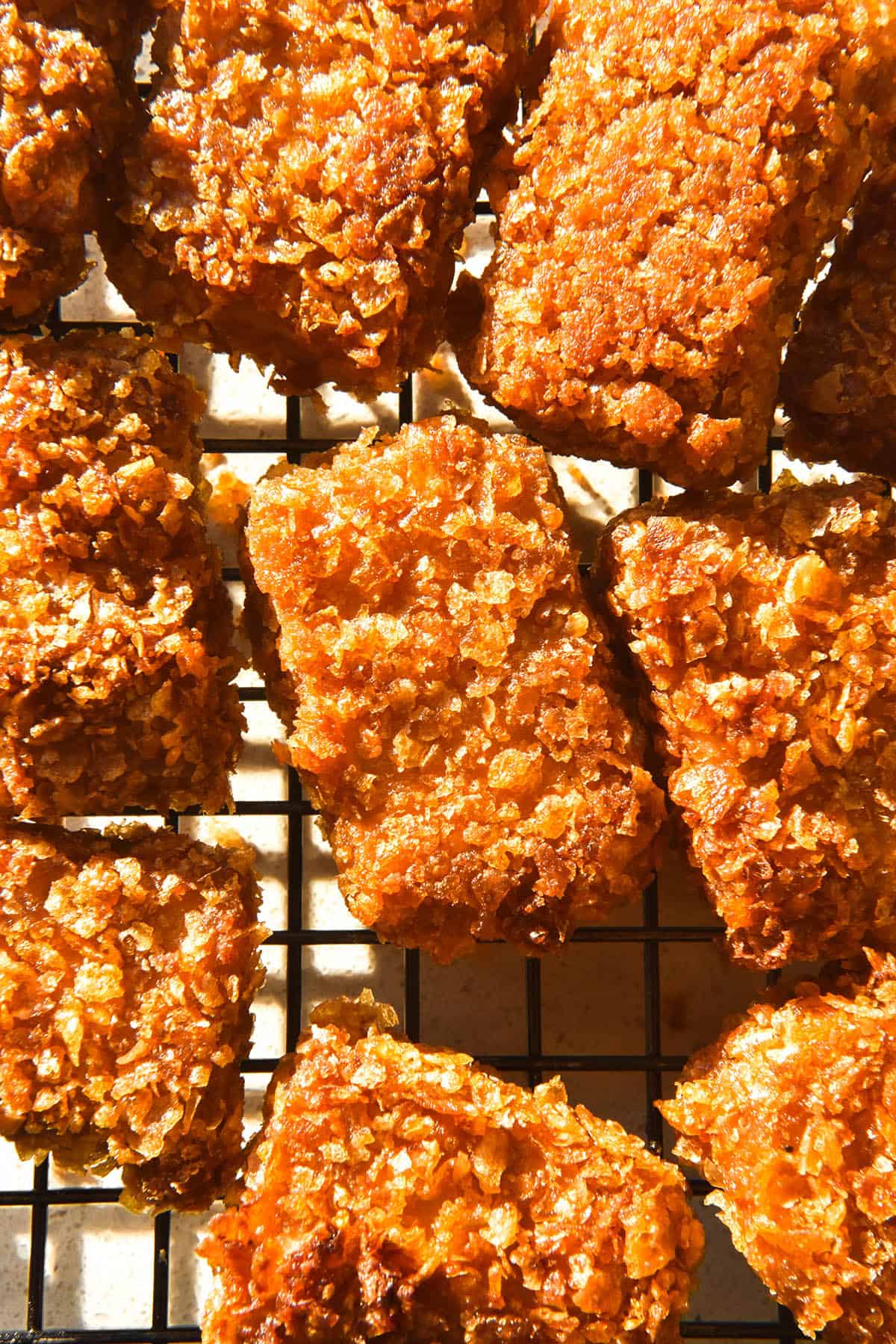 Using rice flour and rice flakes instead of corn starch and corn flakes
If you can't eat corn, you can use rice flakes and white rice flour in place of the corn products. I think the corn version is better, but obviously that means nothing when it comes to allergies.
With that said, a few big caveats on using rice products. Firstly, the batter will have no chew. I personally like this, so that wasn't a pleasant surprise. You could experiment with replacing a small amount of rice flour with tapioca flour, but I haven't tested it and I don't intend to.
Secondly, the rice flakes will absolutely need to be put in a food processor and processed until really fine. Chunky rice flakes taste raw even when cooked, which is not a pleasant sensation. Almost an almond meal consistency would be good here.
Thirdly, the rice flakes fall off the nuggets easily, which is a bit of a headache as you continue to cook them. The fallen rice flakes start to burn, which is an issue if you live in a poorly ventilated space. They also burn on the nuggets quite quickly, so you really need to keep an eye on the temperature as they cook.
I have to be honest and say I didn't love the rice flake option. I will test breadcrumbs as an alternative, so stay tuned.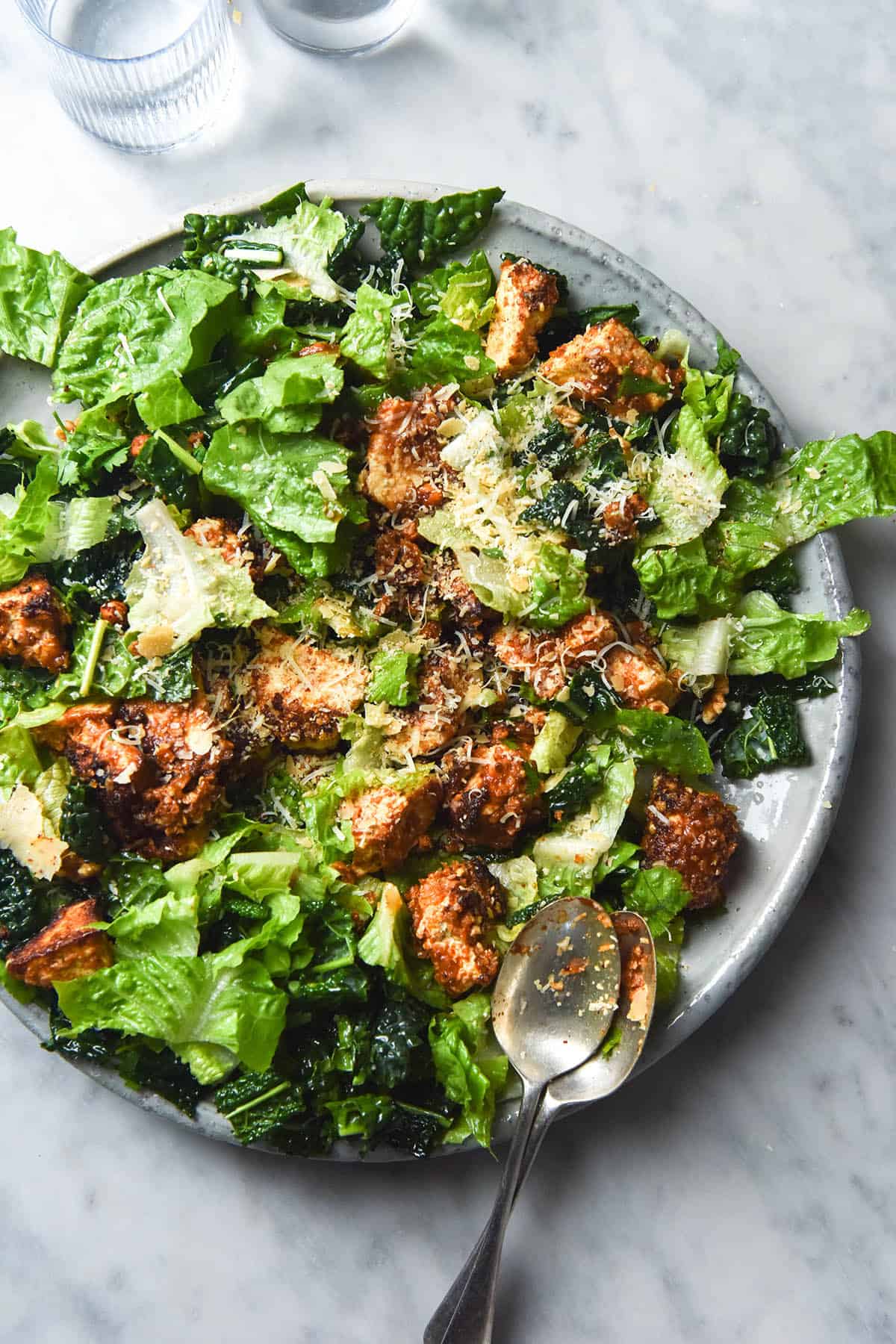 A note on MSG
MSG is an umami flavouring that has been given a bad name. MSG naturally occurs in foods like parmesan or mushrooms, and the packaged version is a distillation of that. Having experimented with MSG recently, I'd describe it as not overly salty (it has less sodium than salt) but deeply umami. It really is delicious, and is also incredibly helpful in replacing the savoury flavour of meat.
Whether or not you want to use MSG is up to you. I'm not here to debate it's merits or otherwise. If it doesn't work for you, don't use it. If you feel it's unhealthy, that's your prerogative. The fact is that we're trying to make meat out of tofu, and any help we can get is great. Plus, I'd say nuggets are a bit of a treat, so it's not like you'll be eating it every day.
Mushroom powder is a suitable replacement, so you can look into that if you would like. There are FODMAP considerations to mushrooms, however. I have tried porcini powder which I enjoyed.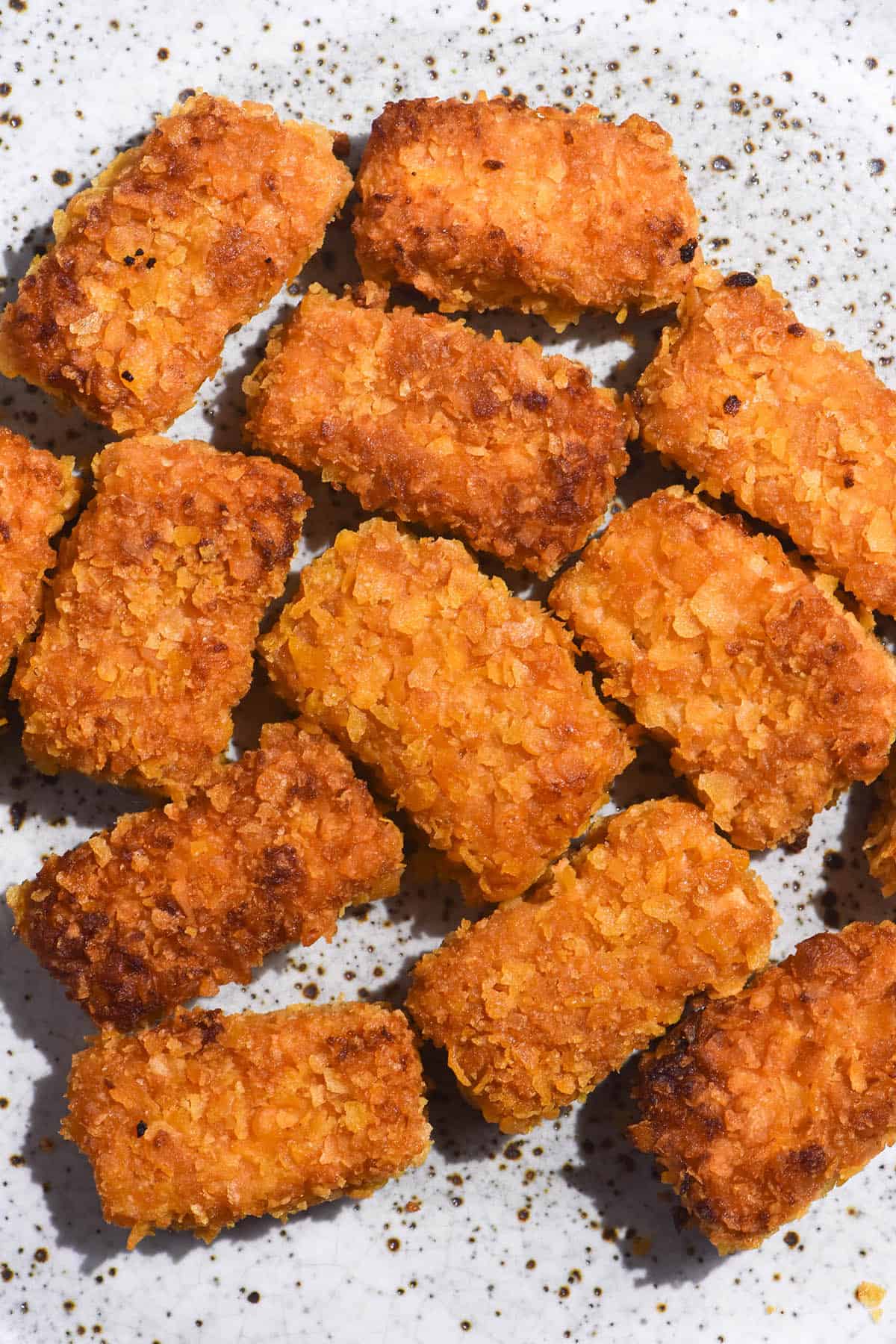 How to add flavour to your tofu nuggets
It's important to add flavour at every possible stage when making tofu nuggets. None of them are *the* spot for adding flavour, but they all add up to create enough flavour.
Firstly, you can salt your tofu boiling water. This will help flavour the tofu with salt from the inside out.
Secondly, the dipping mixture. I add Tamari and a small amount of liquid smoke to help add flavour to this element.
Thirdly, the dredging flour. I'd argue that this is probably the most important step. I like adding low FODMAP vegan 'chicken' stock powder (Massells brand) as well as porcini powder or MSG. I plan to develop a version that is flavoured with spices, so stay tuned for that.
Finally, the crumb. Not much can be done here, but I like to add some nutritional yeast to the corn flakes for a bit of a flavour hit. It doesn't do a whole lot, but we're layering!
Tips for your tofu nuggets
Don't skip the freezing and boiling! This is what gives your tofu a meaty texture. It helps to season the boiling water as well, for a little added flavour to the tofu.
The ideal tofu is firm but not too tight knitted of a crumb, if you know what I mean. This sort of tofu really comes up nicely texture wise.
Keep more corn starch and corn flakes on hand than you think you'll need. Over the time, the dredging mixtures get soggy and don't stick to the nuggets as well. It can help to have fresh ingredients on hand in case this happens.
Don't blitz your corn flakes too finely. I found that a fine dust (done by accident) didn't get nearly as crispy and soaked up more oil.
Make sure you fry each nugget twice on each side. It's important to cook the corn starch through.
Use vegetable or canola oil for frying (and open a window!). These oils have a high smoke point and neutral flavour.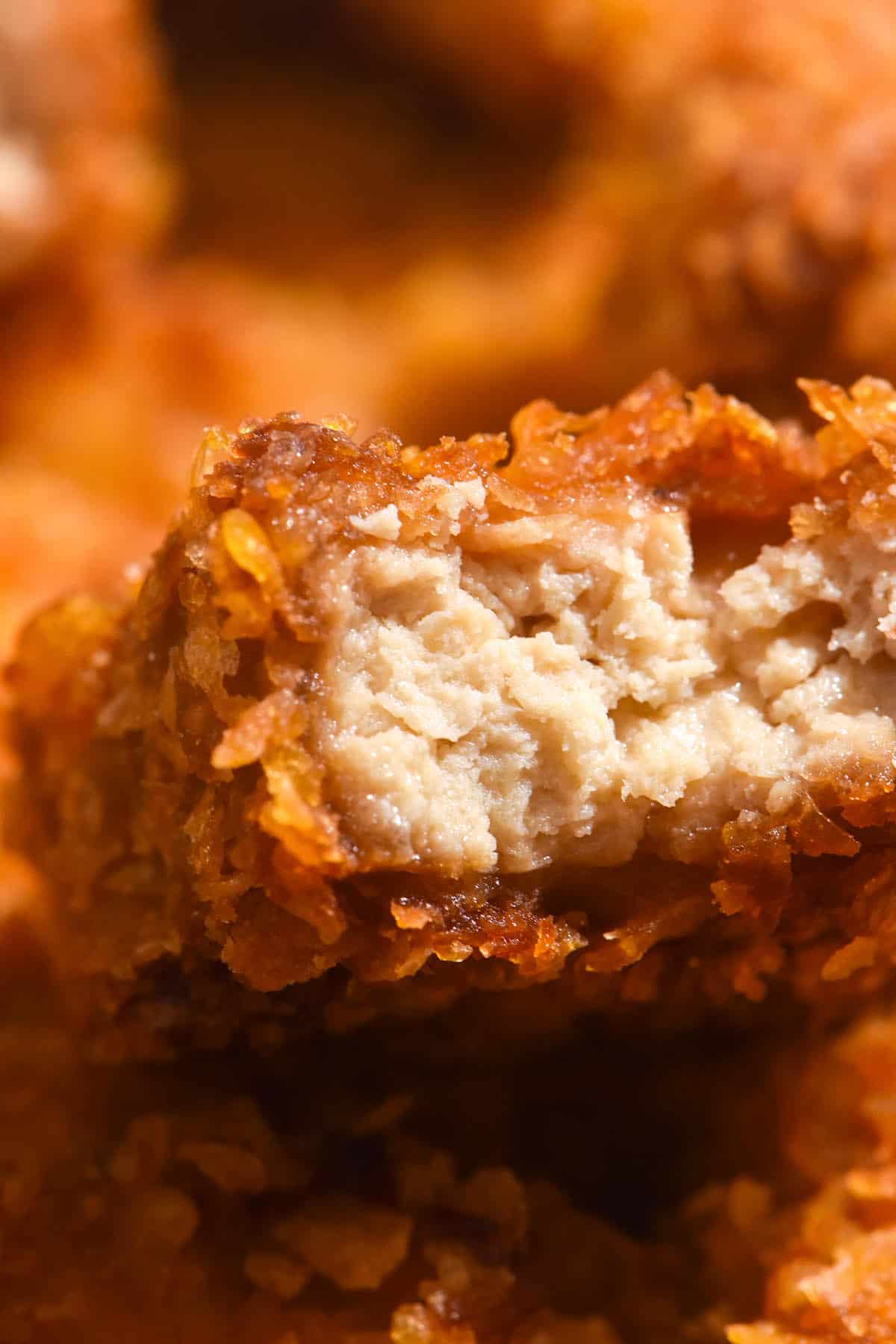 Tips for cooking your tofu nuggets
The most important tip I have for cooking these nuggets is to cook them properly. Corn starch has a tendency to remain pasty if it's not cooked through. This results in a floury and generally unpleasant tasting nugget. Make sure you have the heat at the right setting so that you can cook the nuggets twice on each side until golden. They shouldn't be burnt, just thoroughly cooked. You will likely need to adjust the heat to achieve this.
Another reason to cook the nuggets really well is that undercooked nuggets tend to be more oily than those that are properly cooked. It seems confounding since the properly cooked nuggets have spent more time in the oil. However, the end result feels crisp under your fingers instead of oily.
Another equally important tip is in regards to the oil temperature. The oil needs to be nice and hot and the nuggets should sizzle enthusiastically as they hit the oil. If the oil isn't hot, you're more likely to end up with oily nuggets. This is because the nuggets have time to soak up the oil before they start frying. When you use hot oil, the nuggets begin to fry immediately.
More gluten free vegan tofu recipes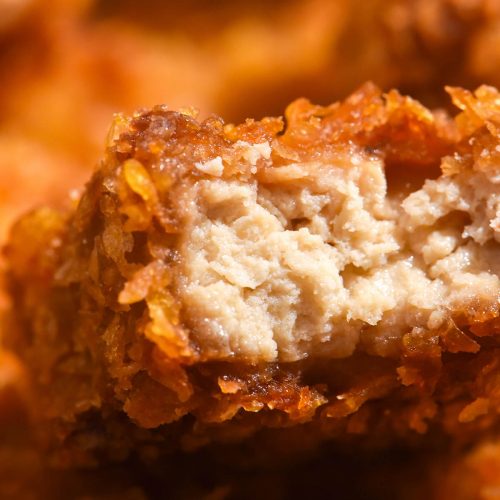 Tofu nuggets (gluten free)
Makes 4-6 servings of nuggets as a side dish
Ingredients
450-500g

firm tofu, frozen
For the dredging flour:
100

g

gluten free corn starch

see notes

8-10

g

fine salt

see notes – important!

1/2

teaspoon

(2.5g) smoked paprika

1

tablespoon

(5g) nutritional yeast

freshly cracked black pepper

to your tastes

1

teaspoon

(1.5g) porcini powder or mushroom powder (optional, see notes)

1/2

teaspoon

(2.5g) MSG (optional, see notes)

1/2

teaspoon

(2.5g) baking powder (not baking soda)
For the dredging liquid:
180

ml

(3/4 cup) milk of choice (I have tested soy and lactose free whole milk)

40

ml

(2 tablespoons) Tamari or gluten free soy sauce

1/2

– 1 teaspoon liquid smoke
For the crumb:
100-150

g

corn flakes

blitzed to a medium crumb
Instructions
Bring a medium pot of salted water to the boil.

Cut the tofu out of the packet and place it into the boiling water. Boil for 15-20 minutes or until the tofu is defrosted and the corners of the tofu have started to flick upwards. Place the tofu on a cake rack and allow to cool to a comfortable hand temperature.

Combine the ingredients for the dredging flour in a shallow but tall bowl (if possible). This makes it easy to dip. Do the same with the dredging liquid, and place the corn flake crumbs in a third bowl.

Place the cooled tofu onto a chopping board with the large surface area facing upward. Slice this into 6 rectangles, then slice each rectangle in 3-4 nuggets. This will depend a little on the shape your tofu comes in.

Place the first nugget into the dredging liquid and allow the excess to drip off. Place it into the flour mixture, then back into the liquid. Let go of the piece of tofu fully so that you don't leave dry nugget edges from where your fingers were.

Allow the excess liquid to drip off, then transfer the nugget into the corn flakes. Toss to coat completely, ensuring all sides are covered (if there's a bald spot, you can dip just that spot into the liquid and back into the corn flakes). Place your coated nugget on the cake rack.

Repeat with the remaining tofu pieces until all your nuggets are coated.

Pour a thin 1/2 centimetre layer of vegetable oil into a large solid bottomed skillet or pan over a medium high heat. Make sure your space is well ventilated.

Once the oil is shimmering hot, add about 6-8 nuggets (pan size dependent) evenly spaced. Crowding the pan will make for soggy, oily nuggets, so don't cook too many at once.

Allow the nuggets to cook for a minute or so, then turn them. They should be golden on the first side. Cook them for another minute or two, then turn them again. Cook them for ANOTHER minute or two, then turn them one last time. Cooking them twice on each side ensures the corn starch is cooked through and not pasty or floury.

Transfer the cooked nuggets to the cake rack to cool and repeat the process of cooking the remaining nuggets.

Best eaten fresh but keep well for a few days.
Notes
How much salt you add depends heavily on a number of factors. If you don't have the nutritional yeast, mushroom powder or MSG, your nuggets will be less salty tasting, so add the higher amount. With that said, salt is very subjective, so add salt based on your general preferences. You can always lightly salt each nugget at the end if you need to.
How meaty your tofu ends up is quite dependent on the brand. I have tried some that worked really well and some that were just ok (I don't remember which was which!). If your tofu doesn't have a meaty texture, try a different brand (and always make sure it is firm tofu!)
Read the notes in the body of the post about a corn free option.
Read the notes in the body of the post about oil temperatures and cooking. A nugget cooked on a lower temperature will end up soggier than a nugget on a higher temperature.