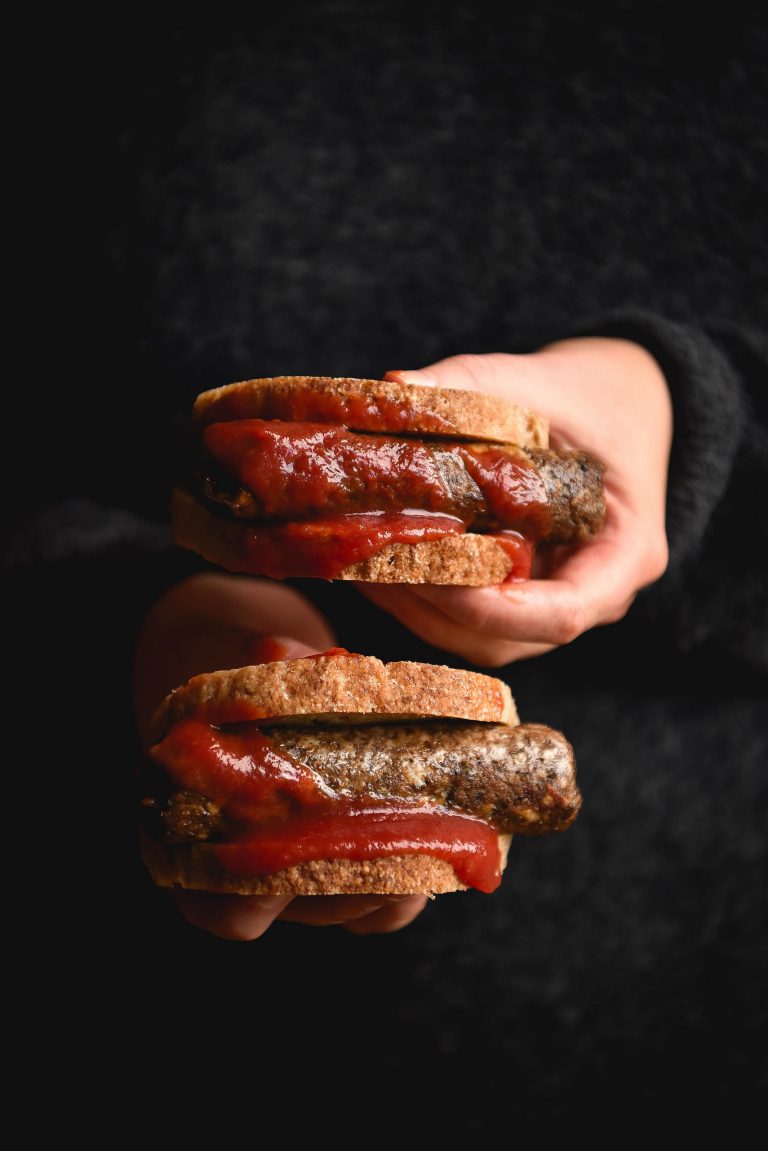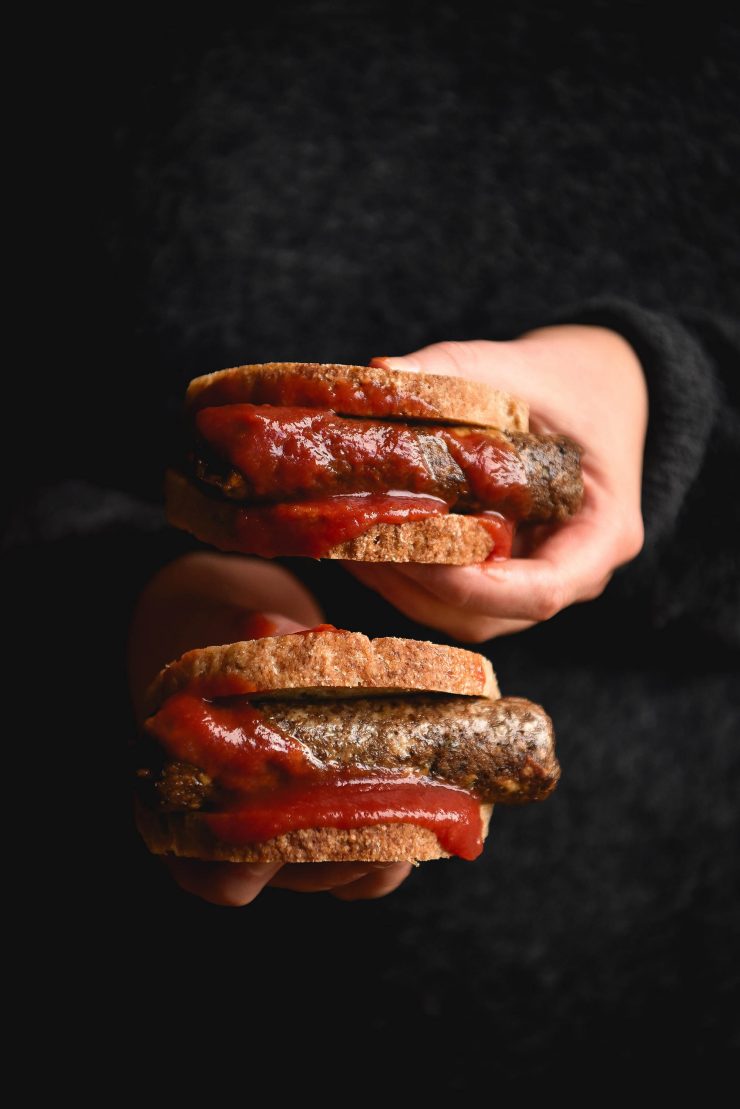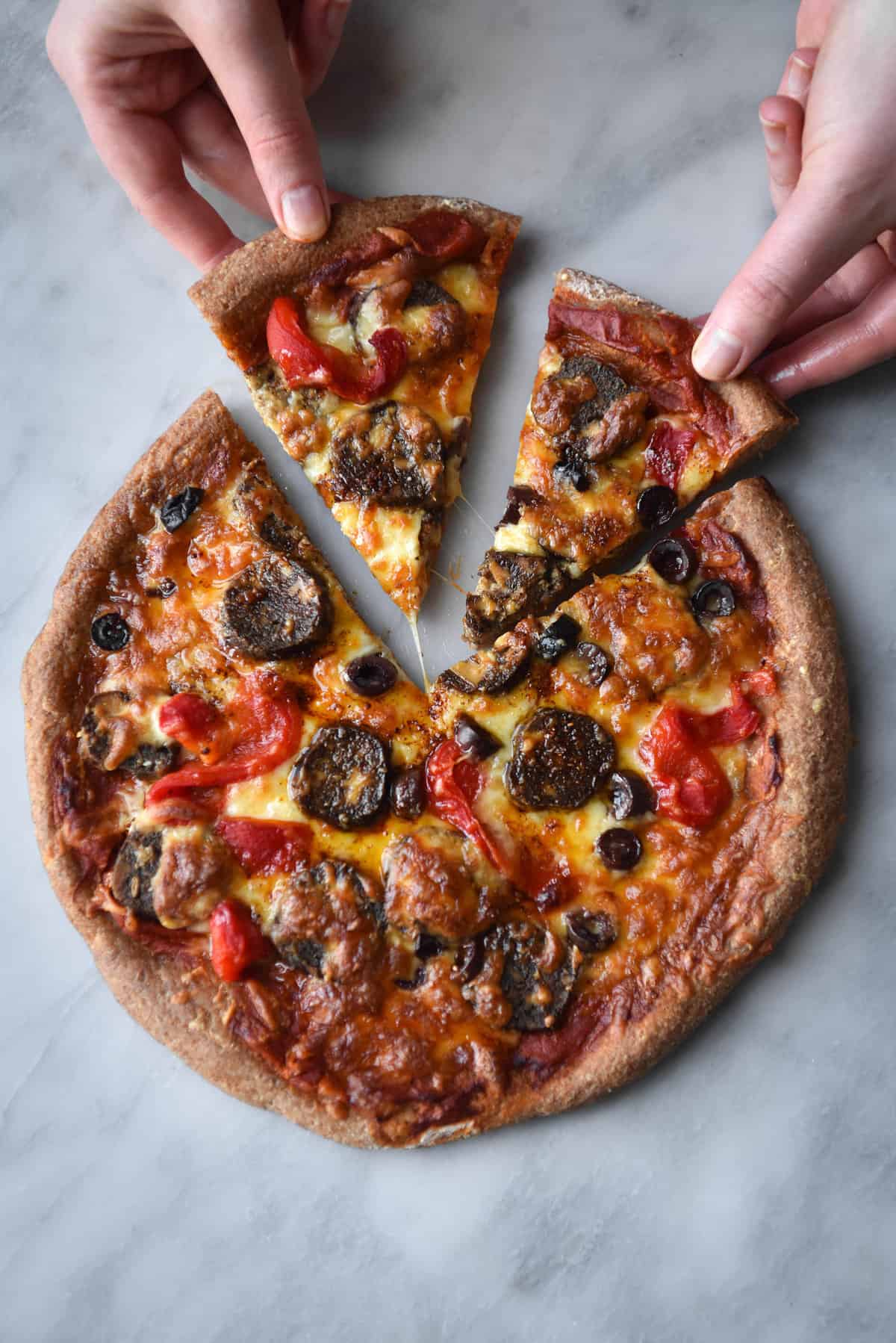 I only recommend products I use daily and all opinions are my own. This post contains affiliate links, and I earn a small commission for any qualifying purchases made through the link, at no extra cost to you
There are some recipes that get me more excited than others. Super excited. These gluten free vegan sausages are one of those recipes. As a University student, I lived on a reliable diet of vegetarian sausages and mixed greens. As my digestive system became progressively less reliable, however, I found that my beloved sausages started making me sick.
Fast forward to today, and I have cracked the code for gluten free vegan sausages that are FODMAP friendly, grain free and nut free. They are made without xanthan gum or any hard to find ingredients.
Their origins can be credited, at least in part, to my vegan bolognese and vegetarian sausage roll recipes. Somewhere between the mince tofu of the bolognese and the sausage roll sauce, these lil sausages were born.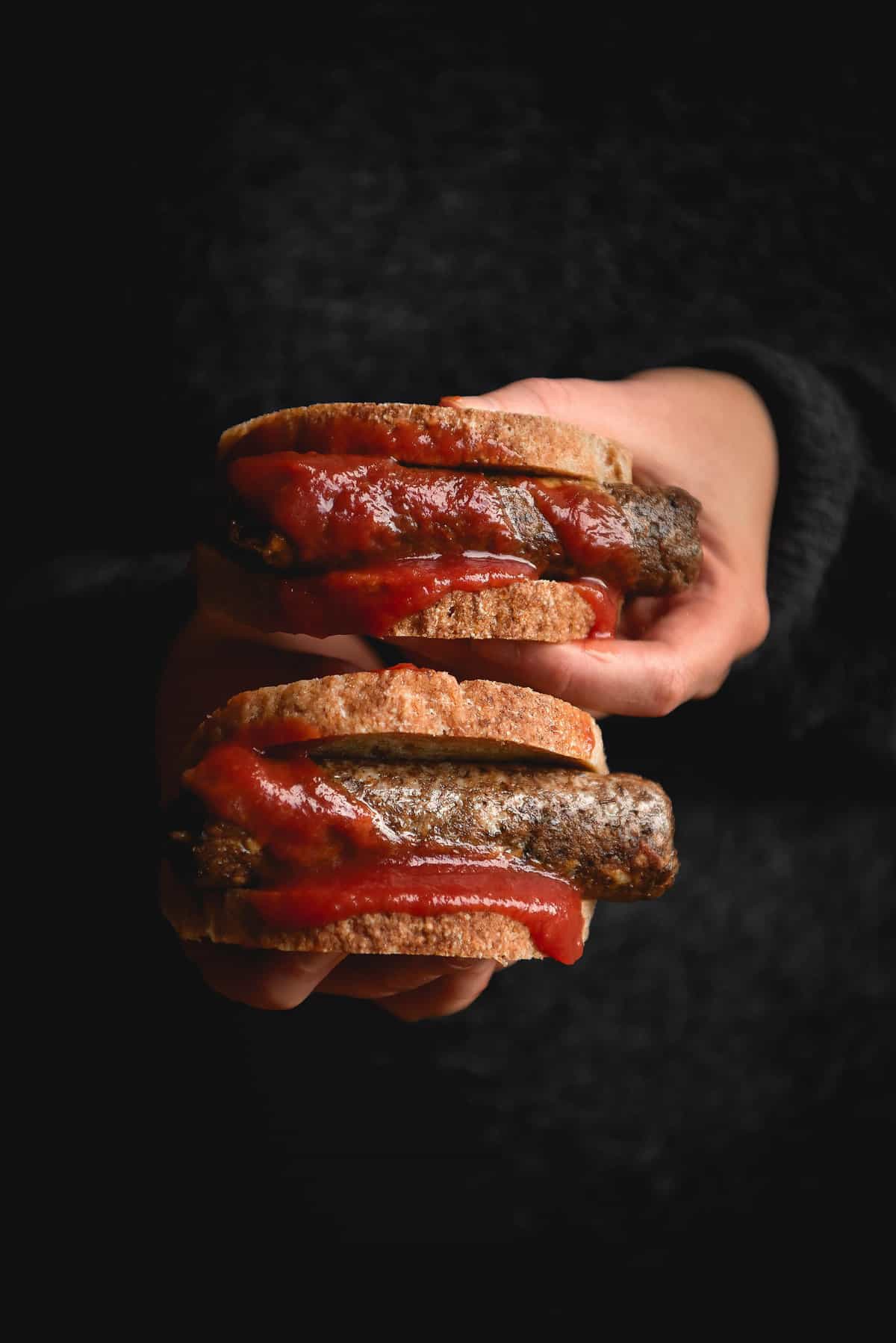 Gluten free vegan sausages (low FODMAP)
Many vegan and vegetarian sausages are made with vital wheat gluten. These sausages are made without wheat gluten because I needed them to be gluten free. I also wanted to develop a recipe with accessible and easy to find ingredients.
As such, my gluten free vegan sausages are made with firm tofu. When crumbled and flavoured, tofu can take on a bouncy, meaty texture with ease. It is an accessible, gluten free and low FODMAP ingredient that is available at most (if not all) supermarkets in Australia.
The tofu in these vegan sausages is flavoured with red wine vinegar, Tamari, miso paste and spices. It is held together with psyllium husk, a binding ingredient that is a great alternative to eggs, starches or gums. Speaking of, these sausages are xanthan gum free.
Recipe notes for your gluten free vegan sausages
This recipe is heavily dependent on a good quality firm tofu. Not silken, not semi firm, but firm. Anything less will not work.
It also relies on the psyllium husk for binding. I haven't tried the recipe with anything else and I don't intend to.
You can play around with the spices to some extent. If you don't want your sausages to taste even remotely sausage like then sure, go off grid. For those who do, however, I have written about each spice and it's role below.
You can freeze and defrost the tofu for a more meaty texture, if you're into that. Just make sure you thoroughly squeeze out the liquid from the defrosted tofu, or your mixture will be too wet to shape. This can be rectified by a rest time or a little extra psyllium husk, but that might impact the final taste.
Miso paste lends saltiness, umami and a depth of 'meatiness' to your sausages. It also adds a bit of bulk at 2 tablespoons. Make sure you use a gluten free variety if you need to.
These sausages go well with the gluten free white bread sourdough and my FODMAP friendly tomato sauce (aka ketchup).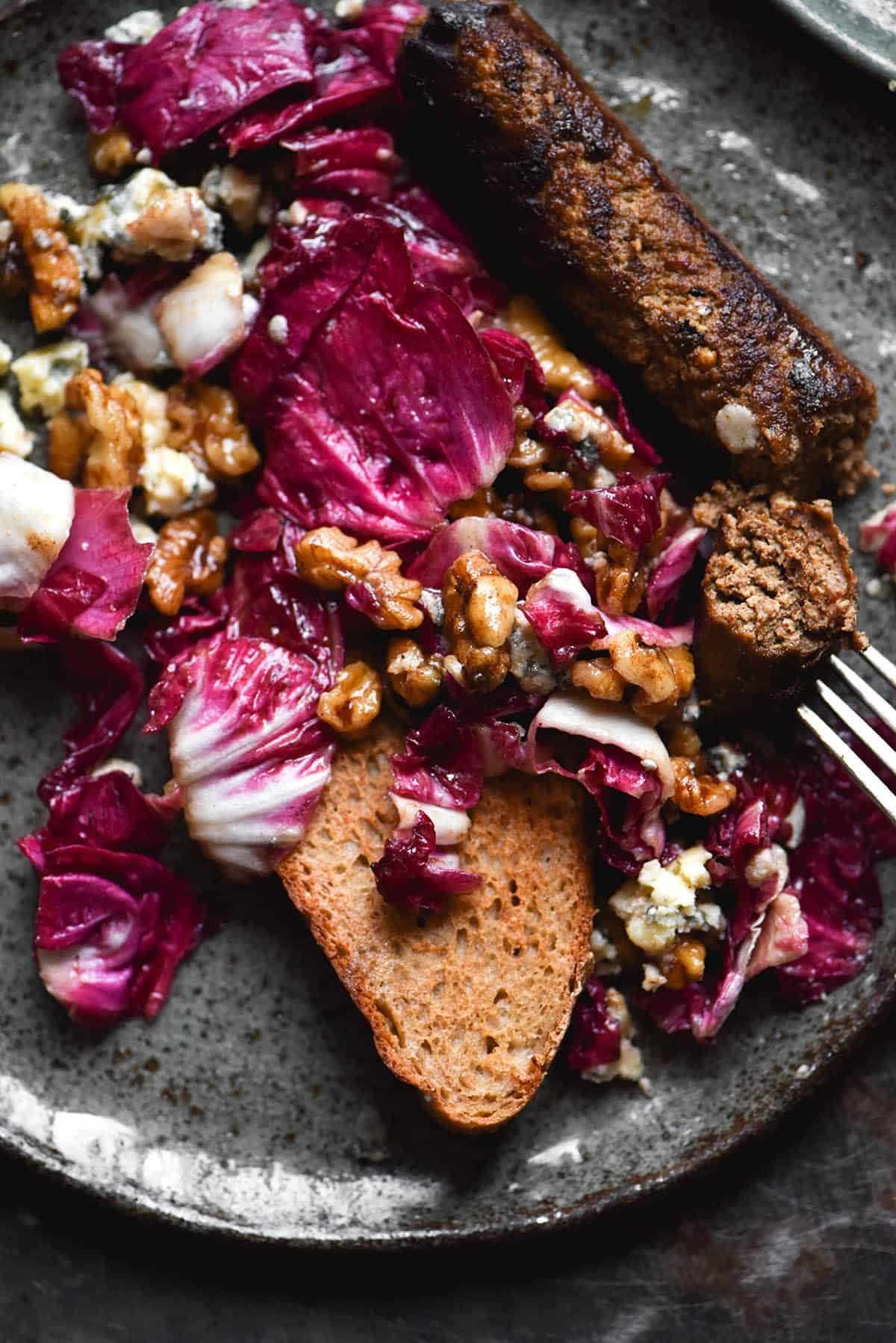 Tips and tricks for your vegan gluten free sausages
I make these sausages in my humble old Nutribullet. It really only succeeds in blending the bottom half of the mixture, which actually works really well. By leaving half (or ideally, a quarter) unblended, the resulting sausages have little 'meat chunks' which look really legit. I simply pour the semi blended mixture into a bowl and use my hands to squish the remaining pieces down to an agreeable size. There should be enough blended tofu to hold the mixture together, though. If not, return it to the blender and keep cracking.
Regular stop and stir is important when working with a Nutribullet. It takes a little patience but all up it's only 5 or so minutes of your time.
If you get to the end of the process and feel that your sausage mixture is too wet, just leave it be for 10 minutes. Chances are the psyllium husk will firm up the mixture in that time, leaving you ready to go. If not, add an extra teaspoon, stir and wait. You shouldn't need to do this unless you really didn't drain the tofu. Note that the sausages take on a stickier texture if you add extra psyllium, so it's a last resort option.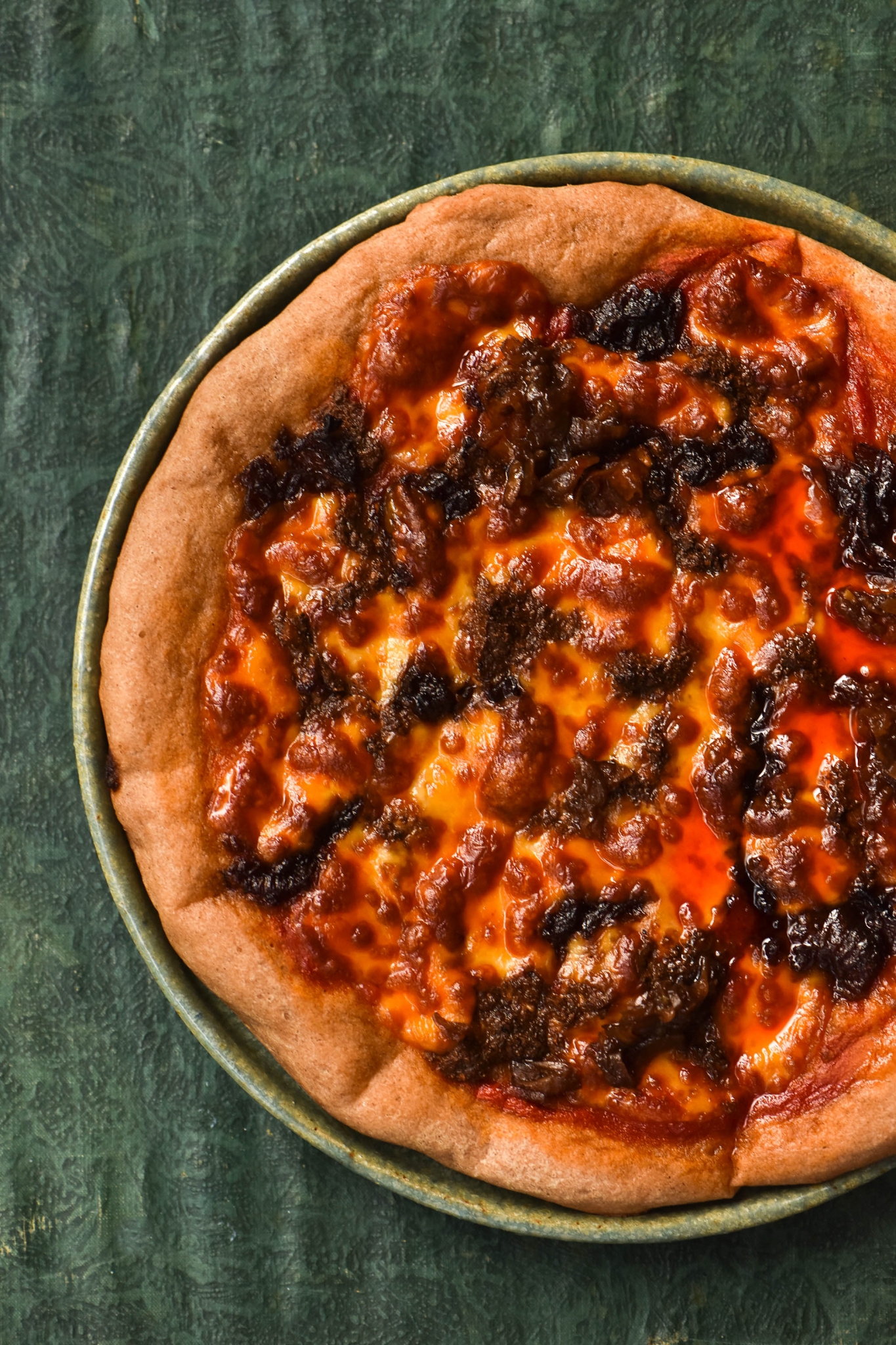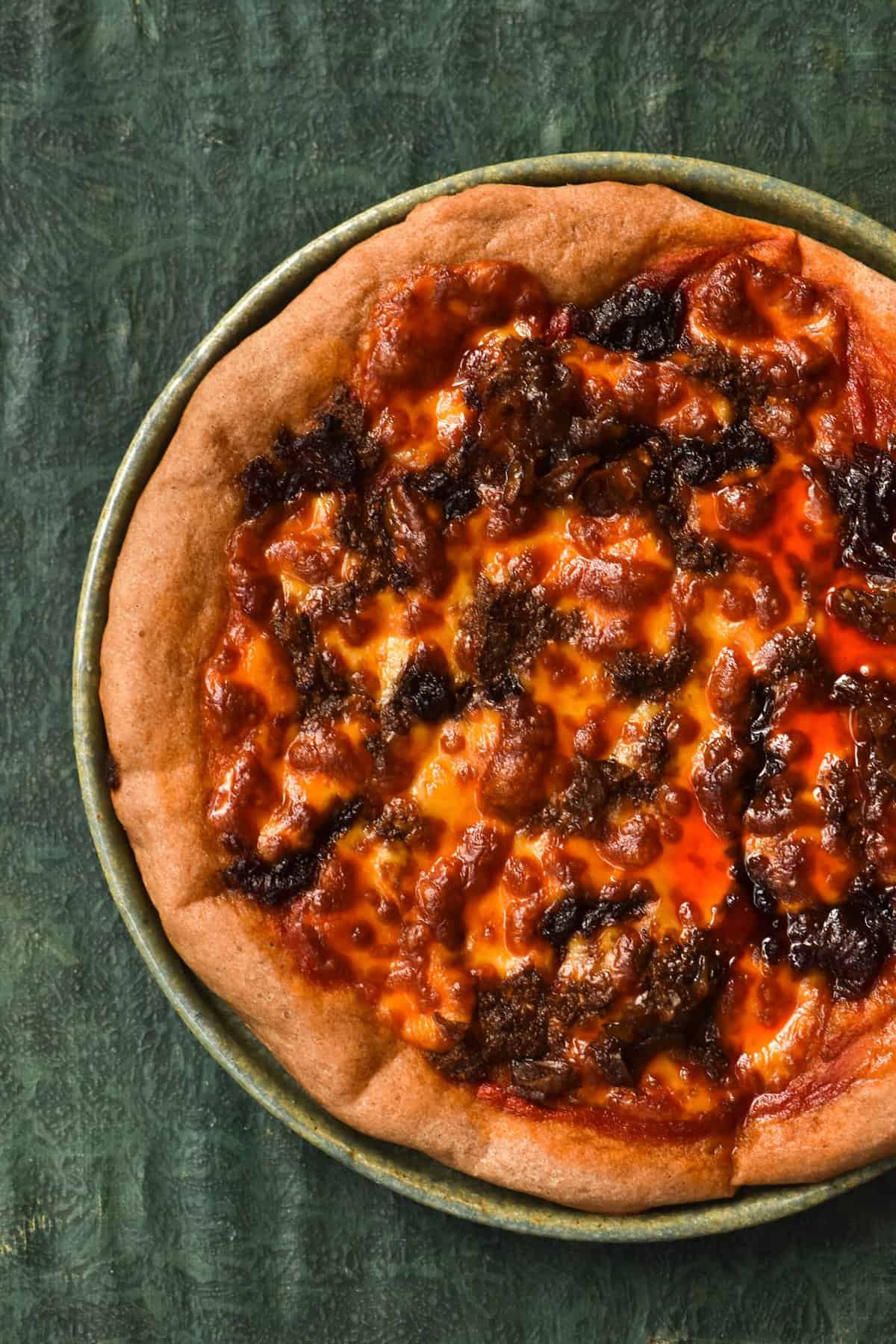 Substitution options and additional flavour suggestions
I can confirm that you could use balsamic vinegar or sherry vinegar in place of the red wine vinegar. I chose red wine vinegar because red wine is often added to things for a meat-like flavour. That said, they were also perfectly delicious with balsamic vinegar. I would not recommend white wine vinegar, plain white vinegar or apple cider vinegar.
I have used fresh, finely chopped rosemary in these sausages and the result was very pleasant. You could also try some fresh sage or other woodier herbs.
If you're a sausage aficionado, try some more traditional spice combinations. There are plenty out there.
I daresay you could use a liquid oil of choice in place of the olive oil, if you like. I wouldn't recommend coconut oil, though.
Which flavourings are compulsory for meaty tasting vegan sausages?
There are a couple of herbs and spices that I deem compulsory. The reasons for which I'll go into below. Without further ado:
Clove powder. Like in the vegetarian sausage rolls, this is a non optional. There's something about it that adds a lot to the taste. Clove can be quite strong, so you could experiment with adding 1/2 teaspoon instead of 1. I, however, like the bold flavour and spiciness it brings.
Dried sage powder. Ooof! I think this is honestly what brings the meaty flavour to the back of your mouth. Without it, they wouldn't be nearly as sausage like, or as legit. Do not omit!
Dried rosemary. Similar to sage, it really cements the whole 'I'm eating a sausage' kinda vibe. You can experiment with fresh too, if that's your thing.
Some form of dark vinegar, light brown sugar, miso paste. These are all non-optionals, sorry bout it. You could potentially use panela or coconut sugar, but sugar goes down the same way lovely people.
Psyllium husk. This binds all the ingredients together so yes, you absolutely must include it. Note that I always use psyllium husk, not psyllium husk powder.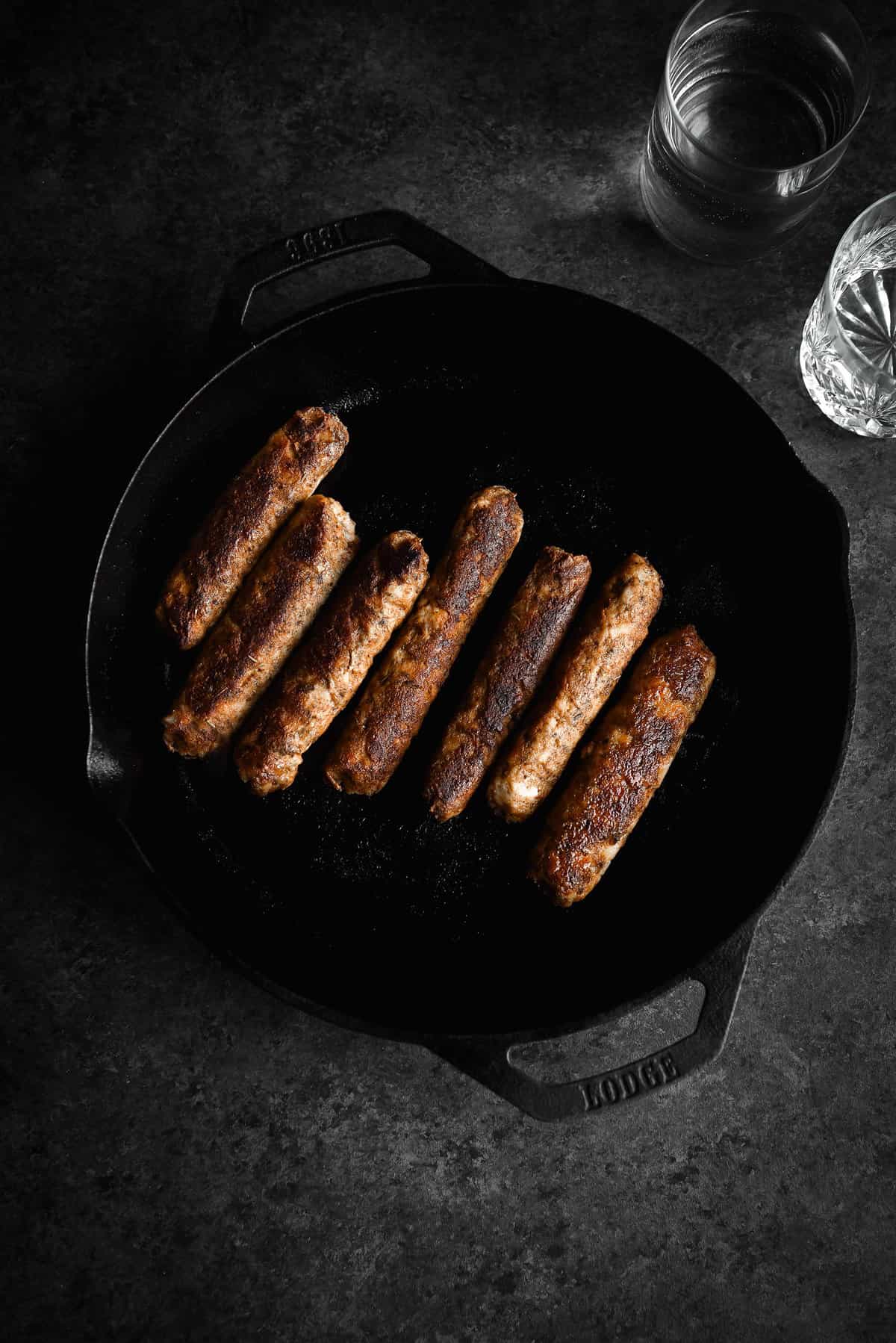 Do these vegan sausages fry up like regular sausages?
I have made A LOT of these sausages now, and I have figured out what I deem to be the best way to fry them up. Add a generous amount of oil to a skillet and place it on a high heat. While the skillet is still warming up, add the sausages and roll them around in the oil until oil sides are covered. Keep moving them around as the oil heats up. When the pan is hot, turn them constantly. I suspect the psyllium husk that binds them is prone to sticking, so if you want beautifully charred sausages, you'll need to keep moving them around.
Other vegan and gluten free 'meaty' recipes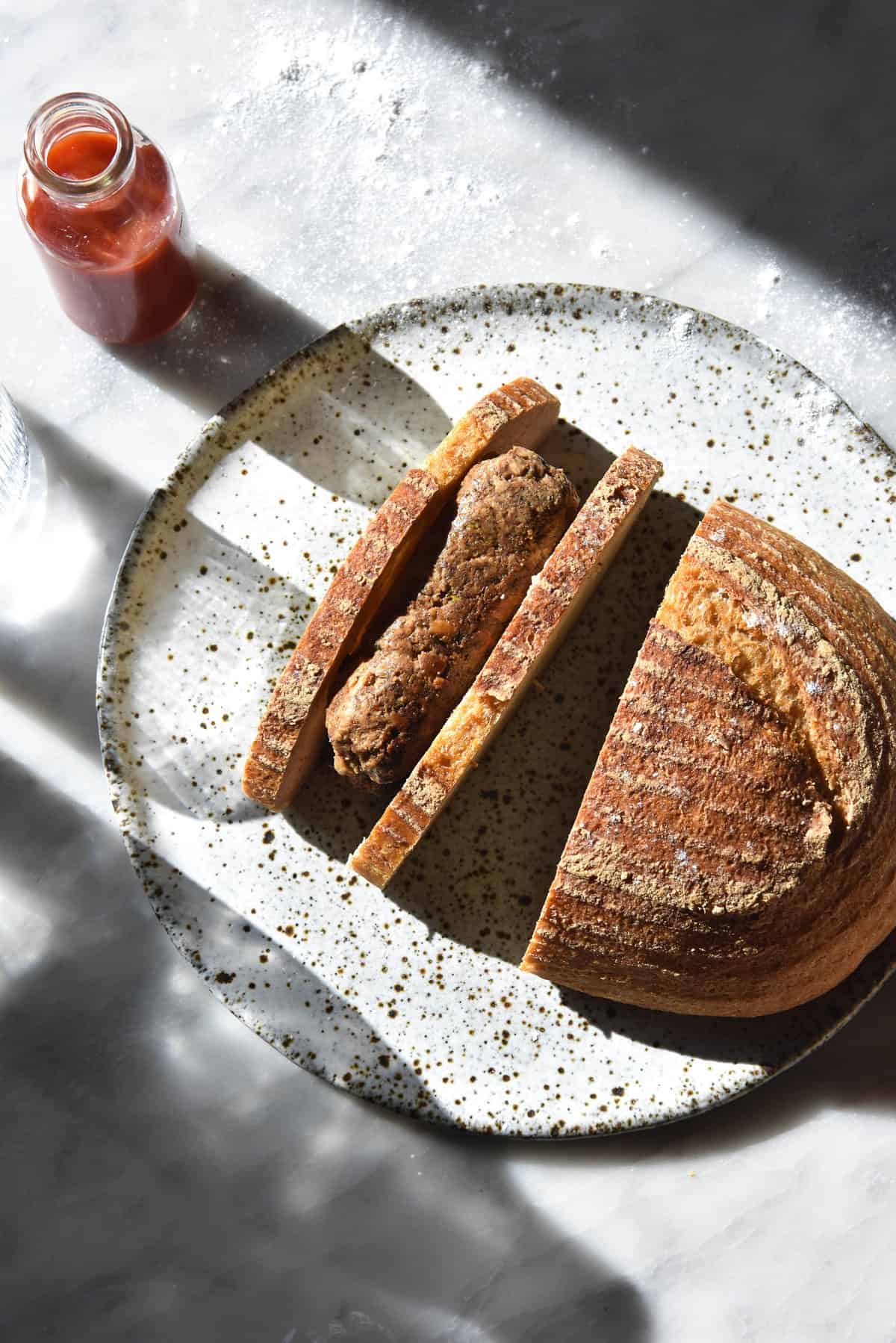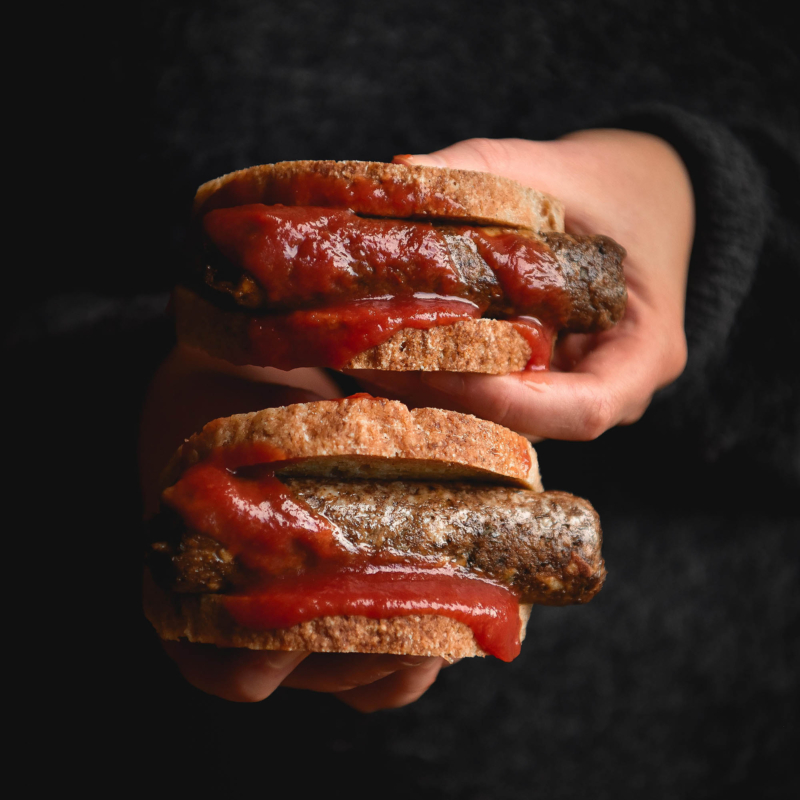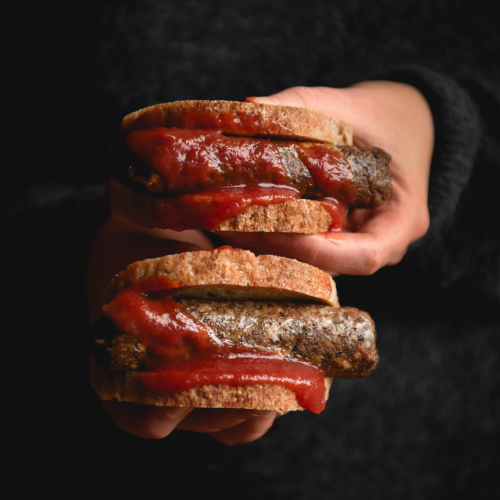 Vegan, gluten free sausages
Grain free, nut free, FODMAP friendly
Ingredients
500

g

firm tofu, drained

1-3

tablespoons

(20-60ml) red wine vinegar (to your taste)

2

tablespoons

(40ml) Tamari or gluten free dark soy sauce

2

tablespoons

light brown sugar

2

tablespoons

gluten free miso paste

1 1/2

tablespoons

(30ml) olive oil

1

tablespoon

+ 1 teaspoon psyllium husk

1/4-1

teaspoon

clove (to your taste)

3

teaspoons

dried sage

3

teaspoons

dried rosemary

1

teaspoon

smoked paprika

Freshly cracked pepper

Pinch

of chilli
Instructions
Make sure your tofu is very well drained. It works nicely for the meaty texture (and for draining) if you freeze the tofu the night before (see notes).

Place all the ingredients into a high-speed food processor and blend halfway. It's good if there are a few chunks of tofu left, although not strictly necessary if you accidentally over blend.

Tip the sausage into a bowl and use your hands to break up any bigger bits of tofu into smaller ones.

If the mixture is a little too wet to mould, leave it to sit for 10 minutes until it is.

Cut out 7-8 small rectangular pieces of baking paper, and 7-8 pieces of slightly longer rectangular tin foil. Half fill a large pot with water, and place a large metal/heatproof colander or sieve on top. You'll need a lid for the pot to steam the lil sausage packages.

Place 1/7th- 1/8th of the mixture in the centre of a piece of baking paper, and use your hands to form it into a sausage shape. Roll it up, and place the sausage, seam side down, into the tin foil. Roil the tin foil up tightly around the sausage, using the rolling as an opportunity further mould into a sausage esque shape.

From there, begin gently pinching the edges of the foil together. Start at the edges and move inwards towards the sausage, so that you don't squish sausage outwards. Once you hit the sausage, pinch firmly and twist the foil to secure. Fold the twisted edges up into the sausage (see the video if you're a visual kinda person.)

Repeat with all the sausages and place into the steaming basket over water, ensuring the water isn't touching the sausages. Place the heat to medium and the lid on, and cook for around 45 minutes. Depending on the pot you use, you might need to add extra water to the bottom during this time.

Once the sausages are cooked, carefully remove the foil packages from the sieve.

Unwrap carefully (mindful of both the steam, sensitivity of sausages and ripping of foil) – I highly recommend keeping the foil to use again on sausages. Less waste.

Place the completely unwrapped sausages on a plate and allow to cool a little. They firm up as they cool, so keep handling to a minimum for a while.

Once firmed up, you can either eat them as is, or grill up on a high heat, lightly oiled pan for traditional looking grill spots.

Keep in an airtight container.
Notes
This sausage mixture can also be made as sausage patties. To do this, form 7-8 balls of mixture and cut out medium rectangular pieces of baking paper, long enough to fold in half. Press the ball in between the baking paper, out into a patty shape. Wrap each patty in tin foil and steam for an hour as per the instructions. The patties fry up in the same way as the sausages.