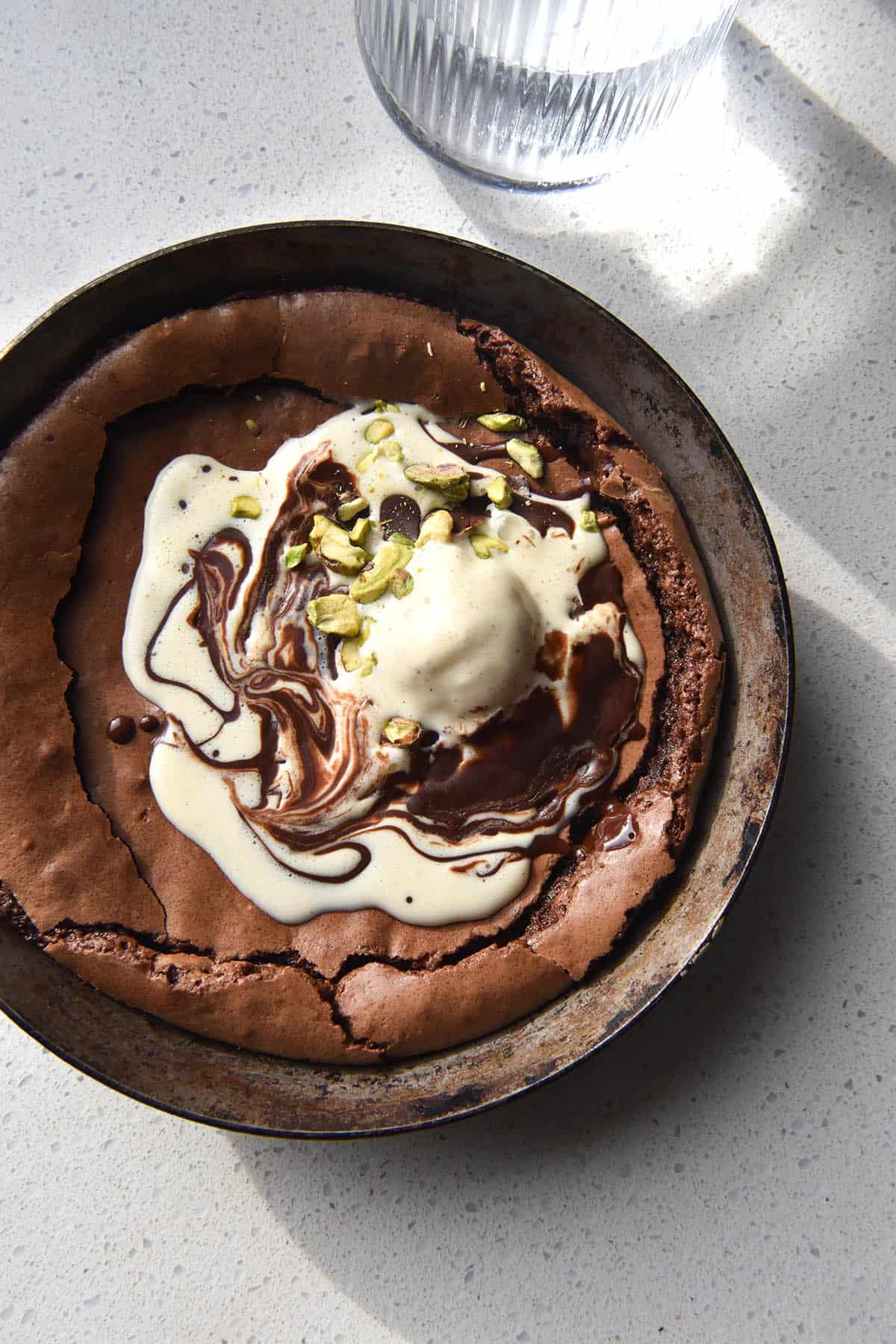 Gluten free dessert recipes. I've developed a few of them in my time, and posted a lot of them on Instagram. Today, I decided to round up all my favourite gluten free dessert recipes in one easy spot.
I always aim to cater to as many different food allergies and intolerances as possible with my dessert recipes. These recipes are mostly FODMAP friendly. Where possible, they are xanthan gum free, as many have vegan options or are naturally vegan.
There are a wealth of gluten free dessert recipes on my site, so I figured they would be easily searched in a list format. There are also 50+ gluten free dessert recipes (and 50+ savoury baking recipes) in my cookbook, Intolerance Friendly Kitchen.
1. My best ever brownies
Probably one of my proudest creations to date, these brownies are ridiculously fudgy and heinously good. They're gluten and grain free.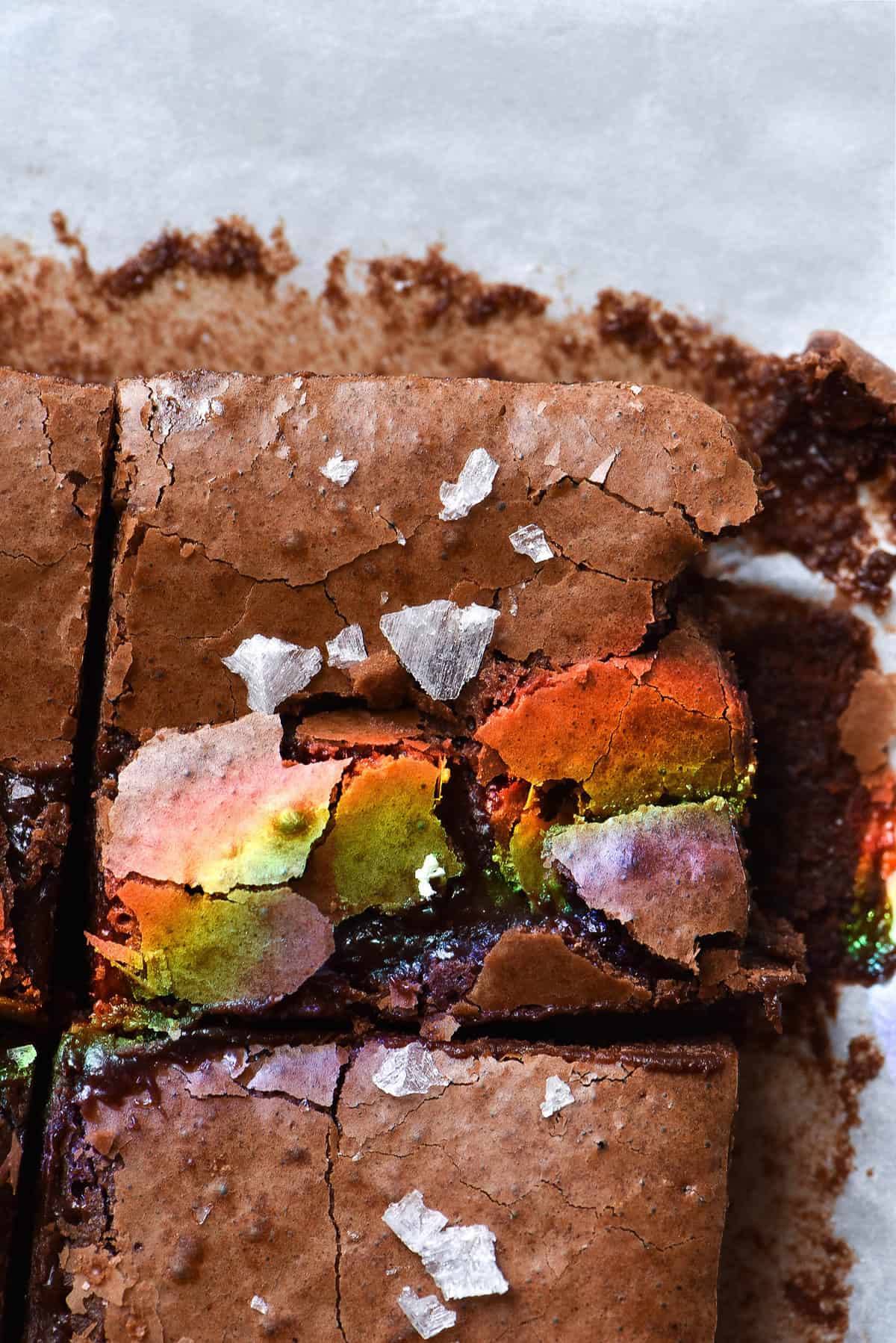 2. Vegan, gluten free brownies
Because gluten free vegans deserve brownies too! These vegan brownies are gluten and grain free.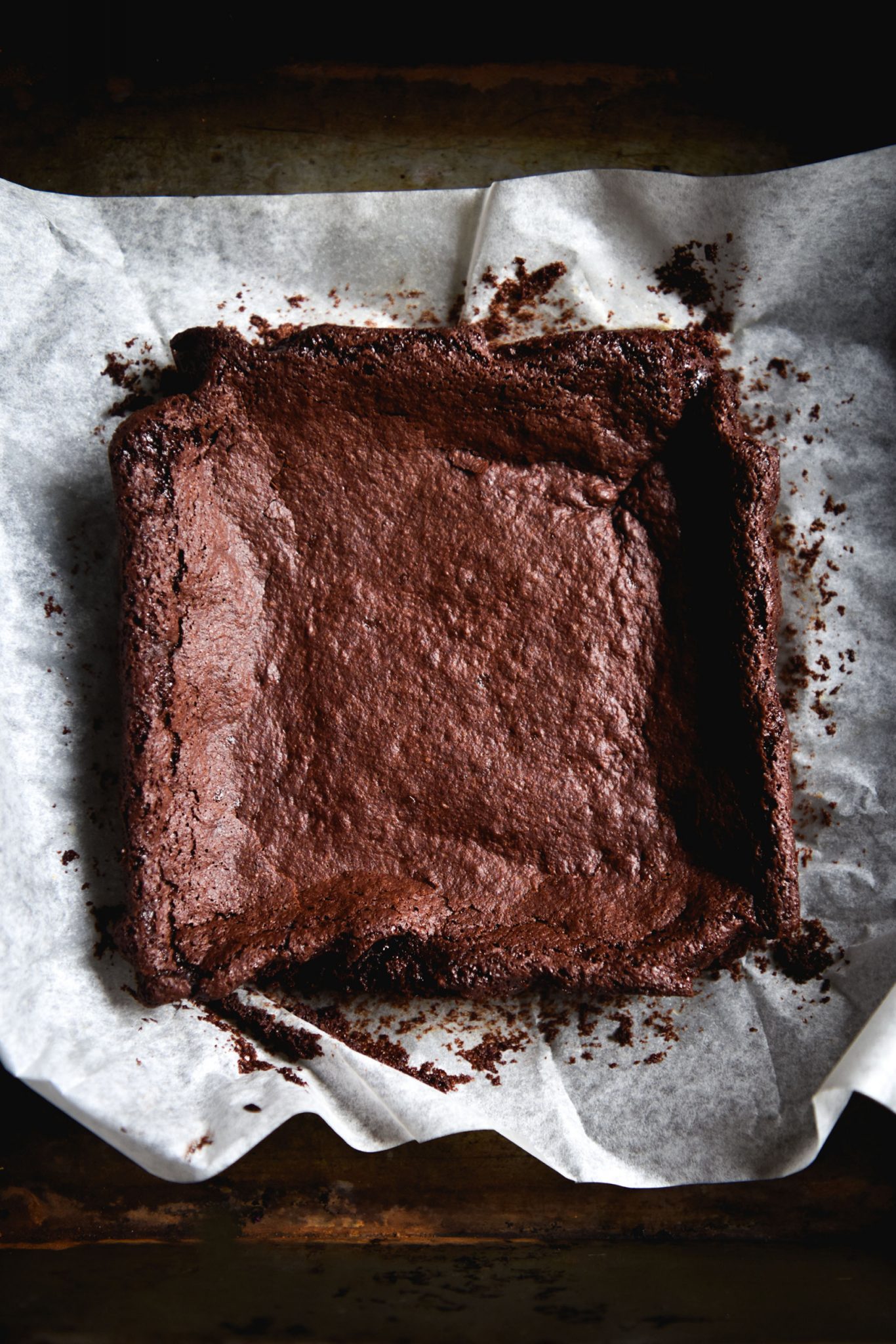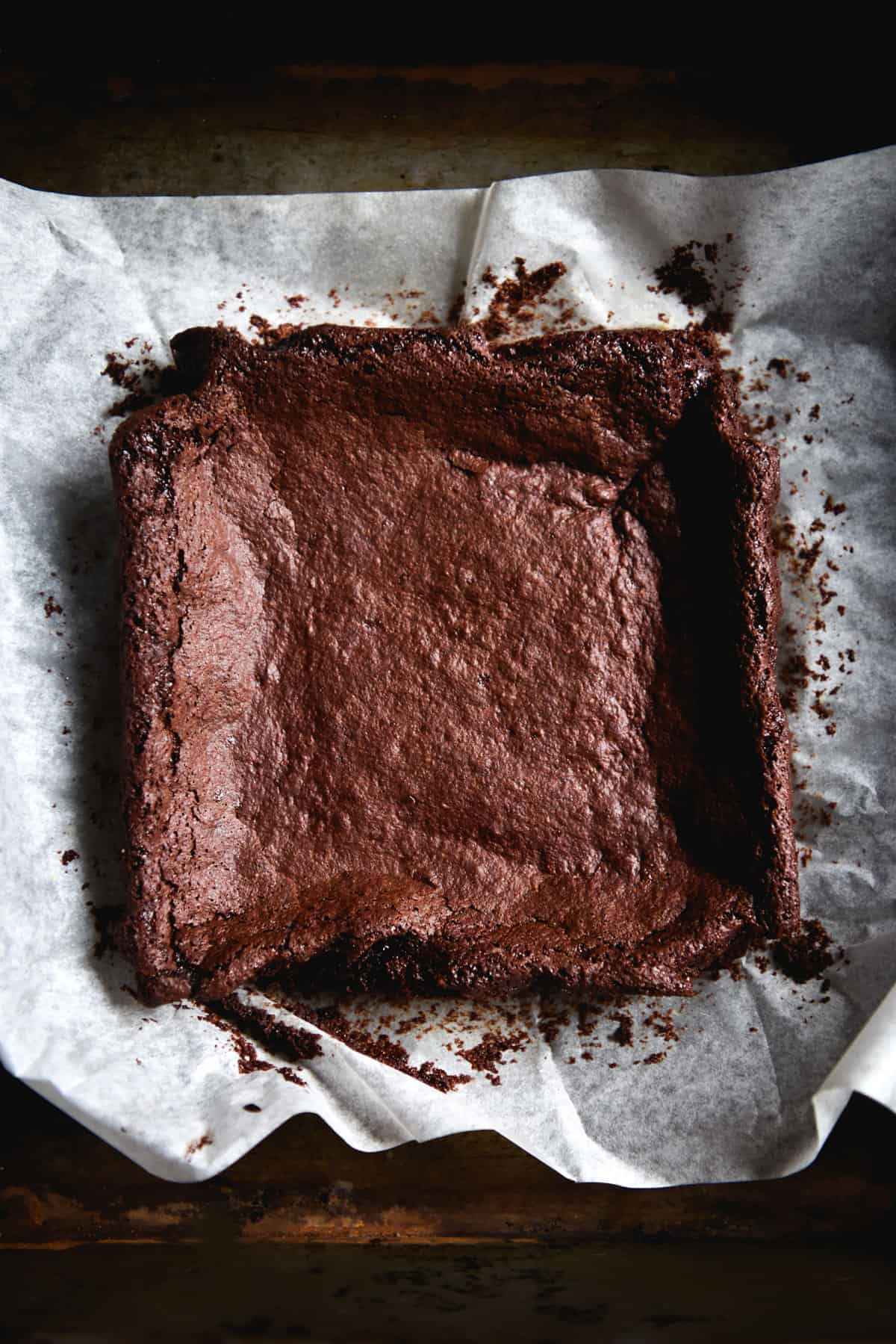 3. Gluten free strawberry cobbler
Cobbler is my new favourite dessert. It combines the sweet summery deliciousness of cooked fruit with a scone like topping. Add in some vanilla ice cream and it's a match made in heaven.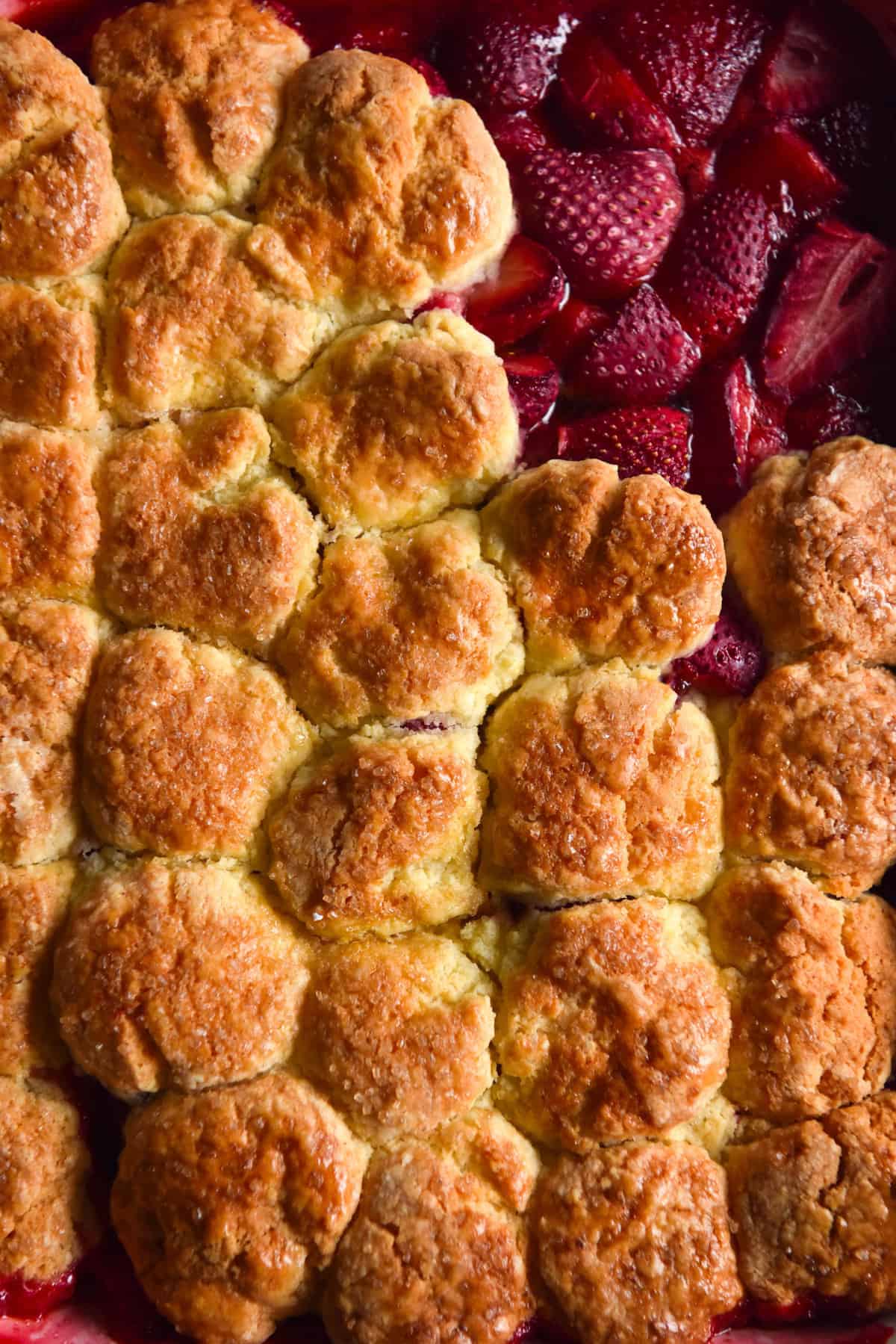 4. Gluten free pumpkin loaf with chocolate chai buttercream
A delicious gluten free pumpkin loaf with a gently spiced buttercream – the perfect dessert or morning tea in the colder months.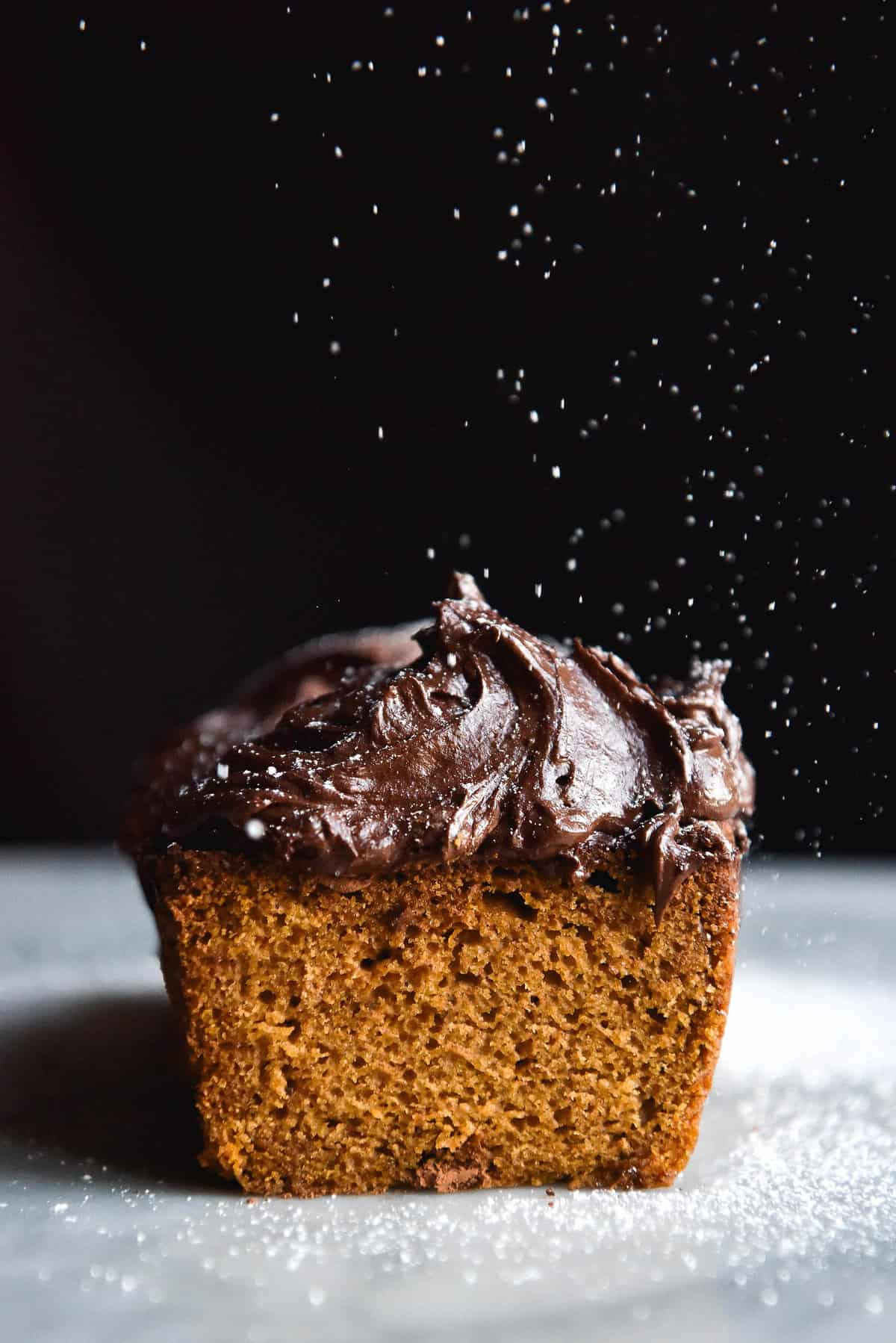 5. Easy gluten free funfetti cake
A gluten free funfetti cake that is FODMAP friendly, nut free, gum free and starch free. It uses only a single flour and can easily be made dairy free, too.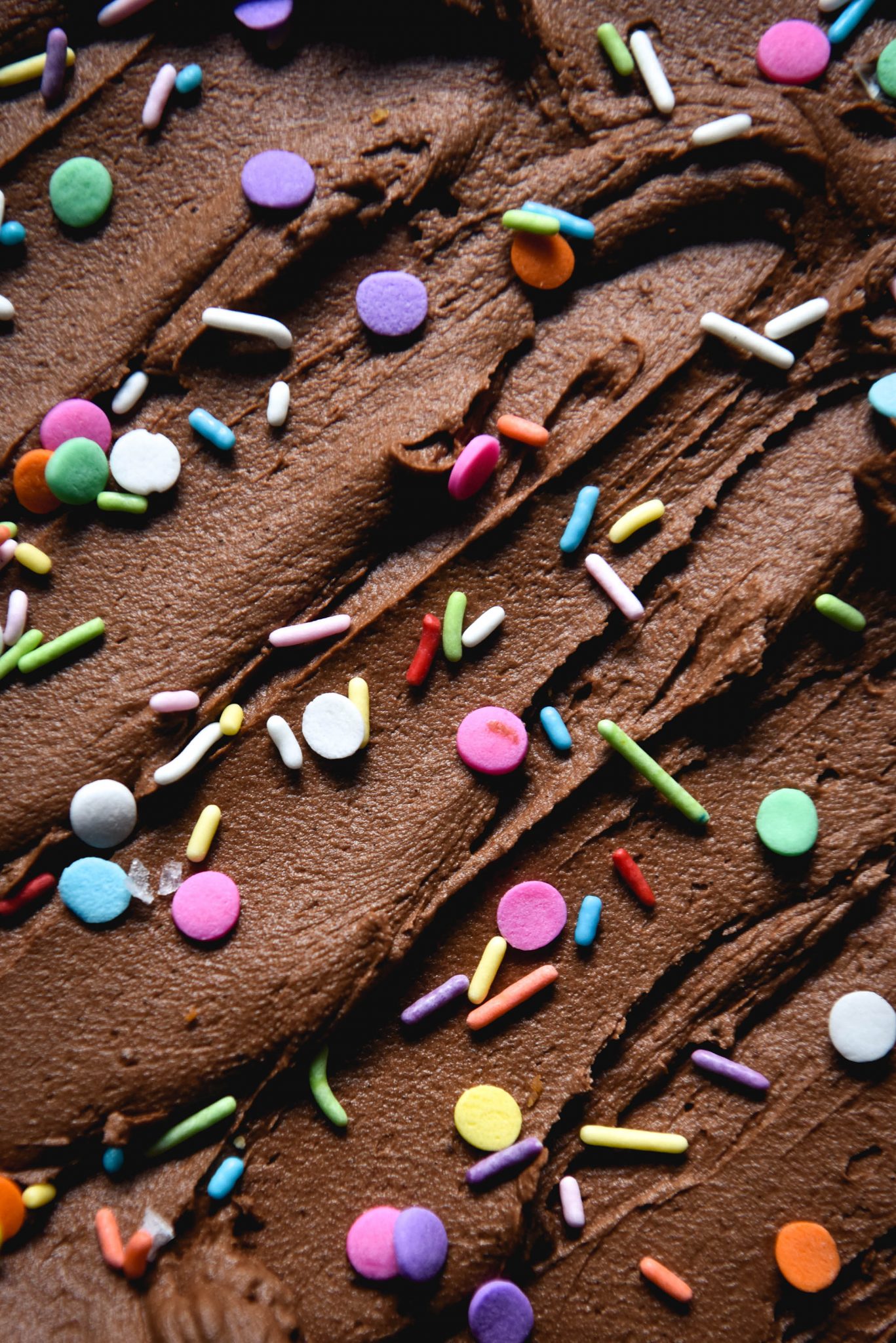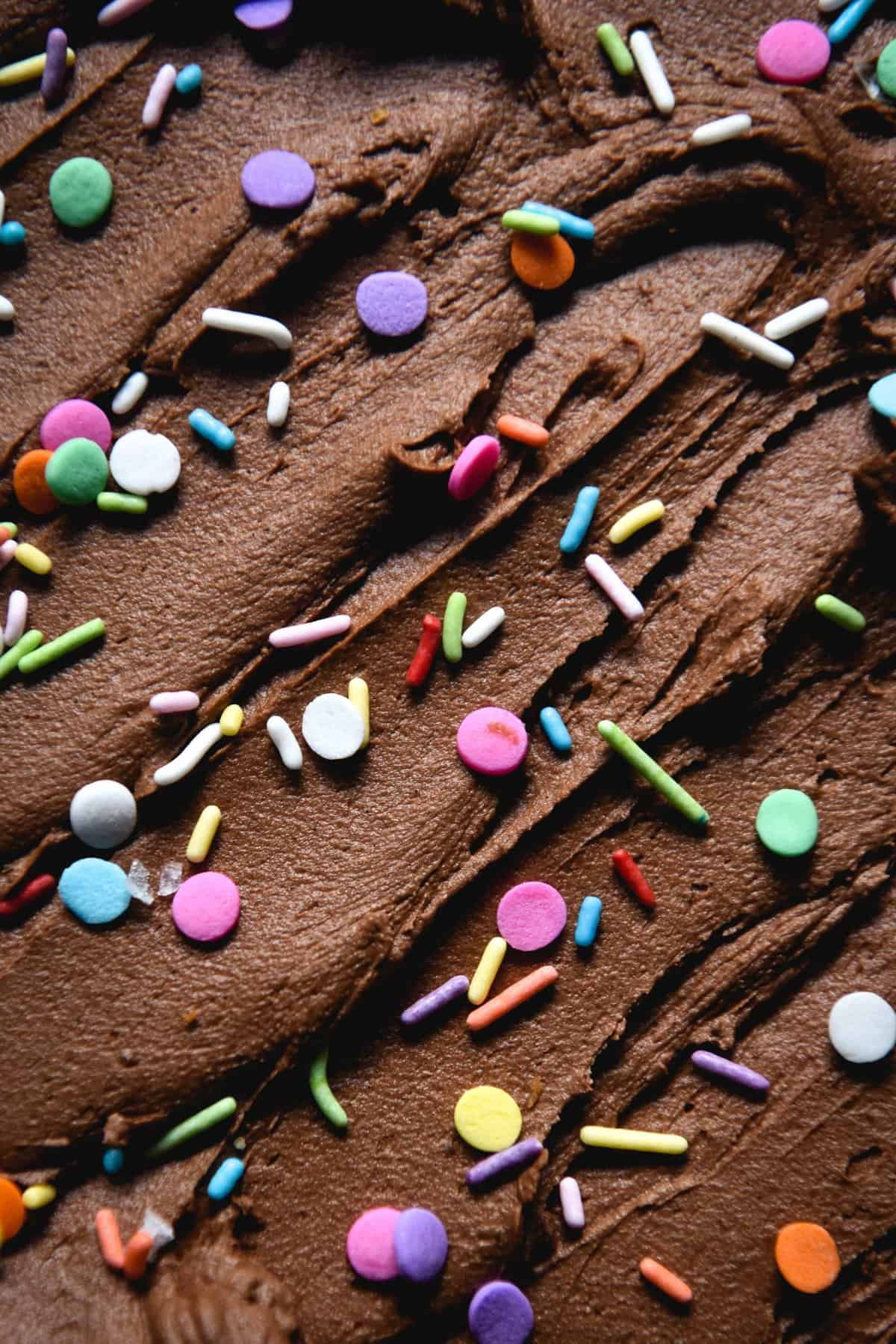 6. Vegan snickers cookies
A cookie that can do it all, these vegan snickers cookies are refined sugar free, gluten and grain free, and thoroughly addictive. As the name suggests, using a chunky peanut butter makes them taste very much like the original.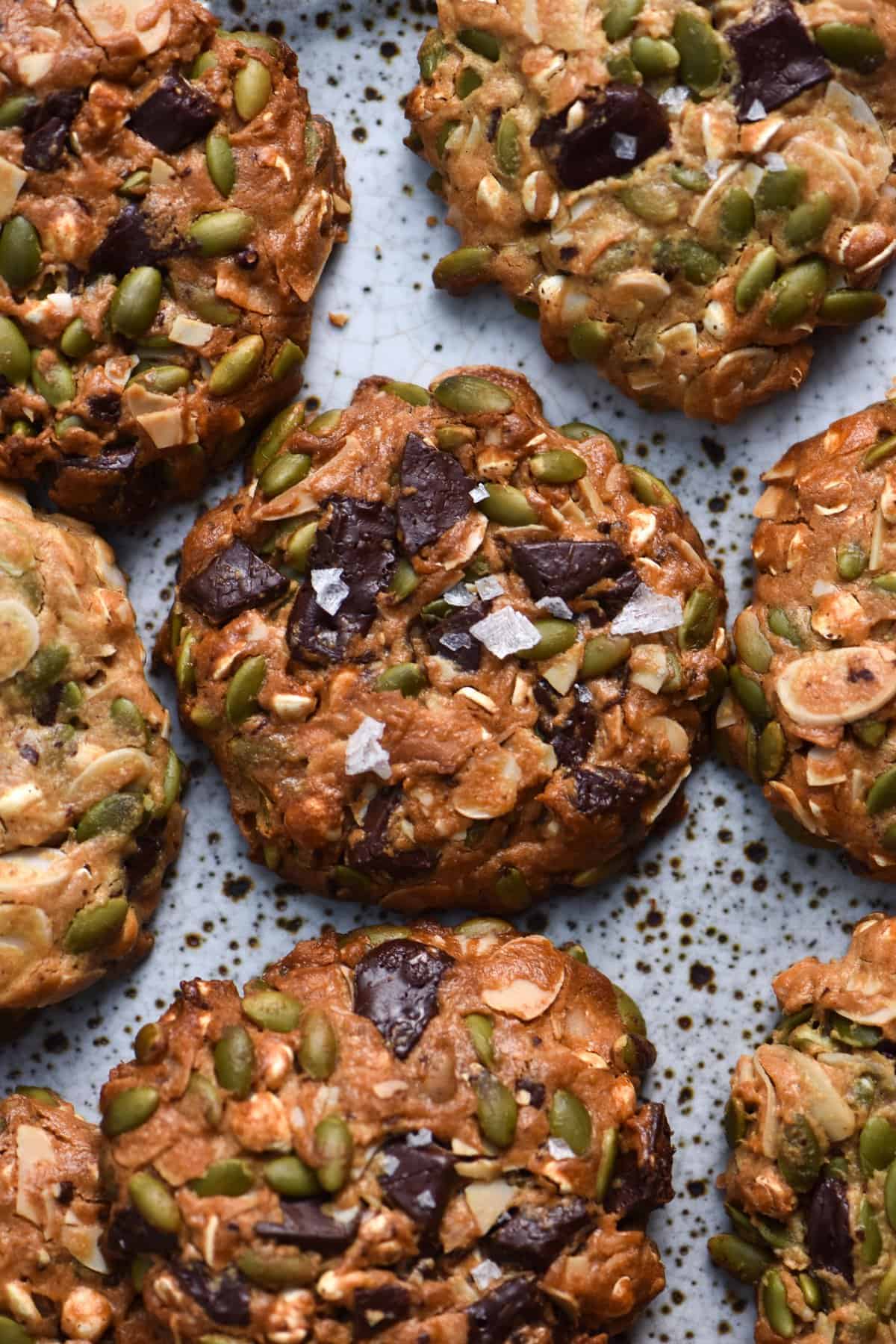 7. Vegan tahini cookies
Cousin to the snickers cookies, these vegan tahini cookies are gluten, grain, nut, gum, starch, egg and refined sugar free. Completely vegan and ready in 20 minutes.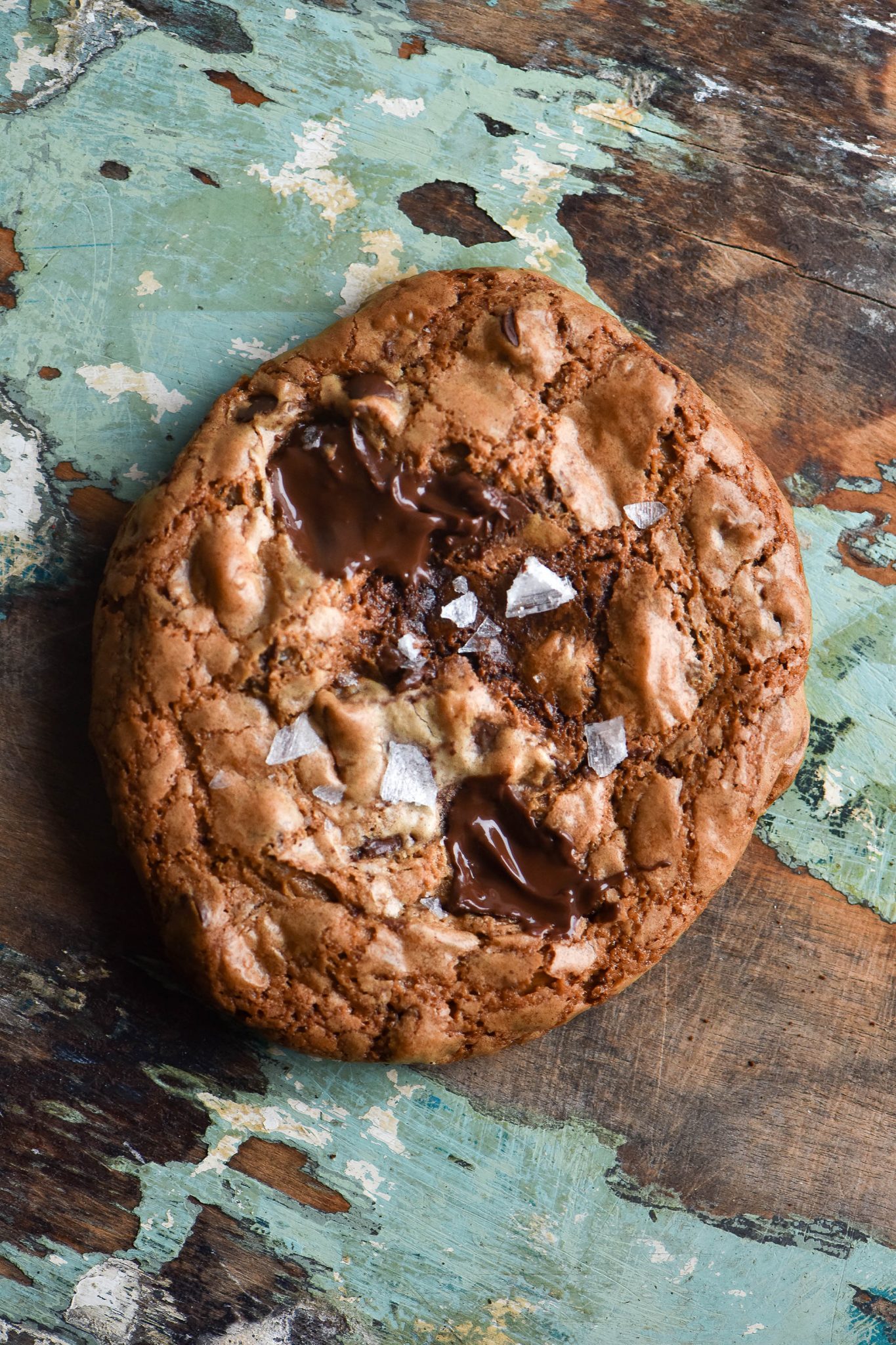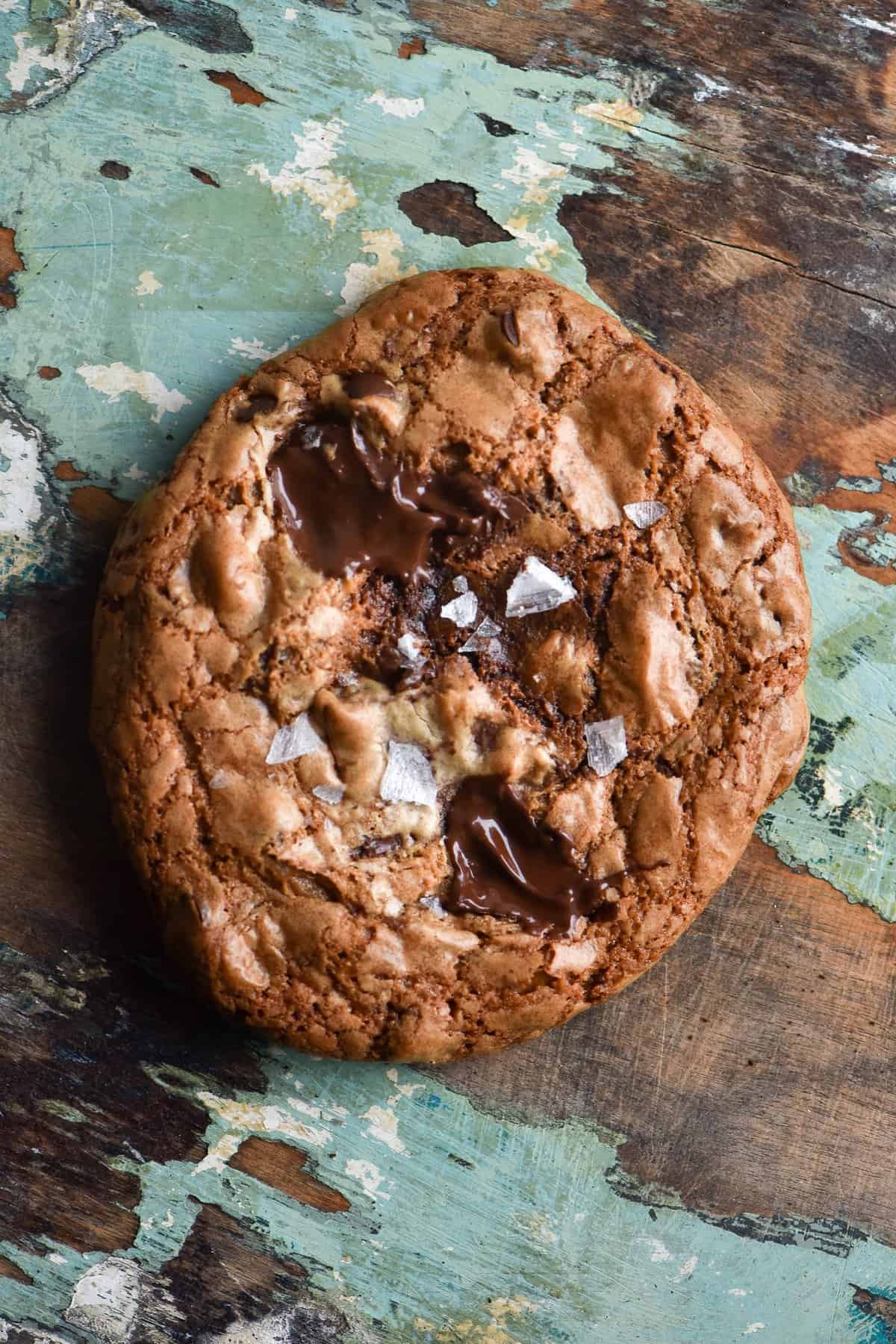 8. Chocolate mug cake
My go-to for a five minute dessert, this gluten free mug cake is the ultimate lazy dessert. It's vegan and ready in five minutes.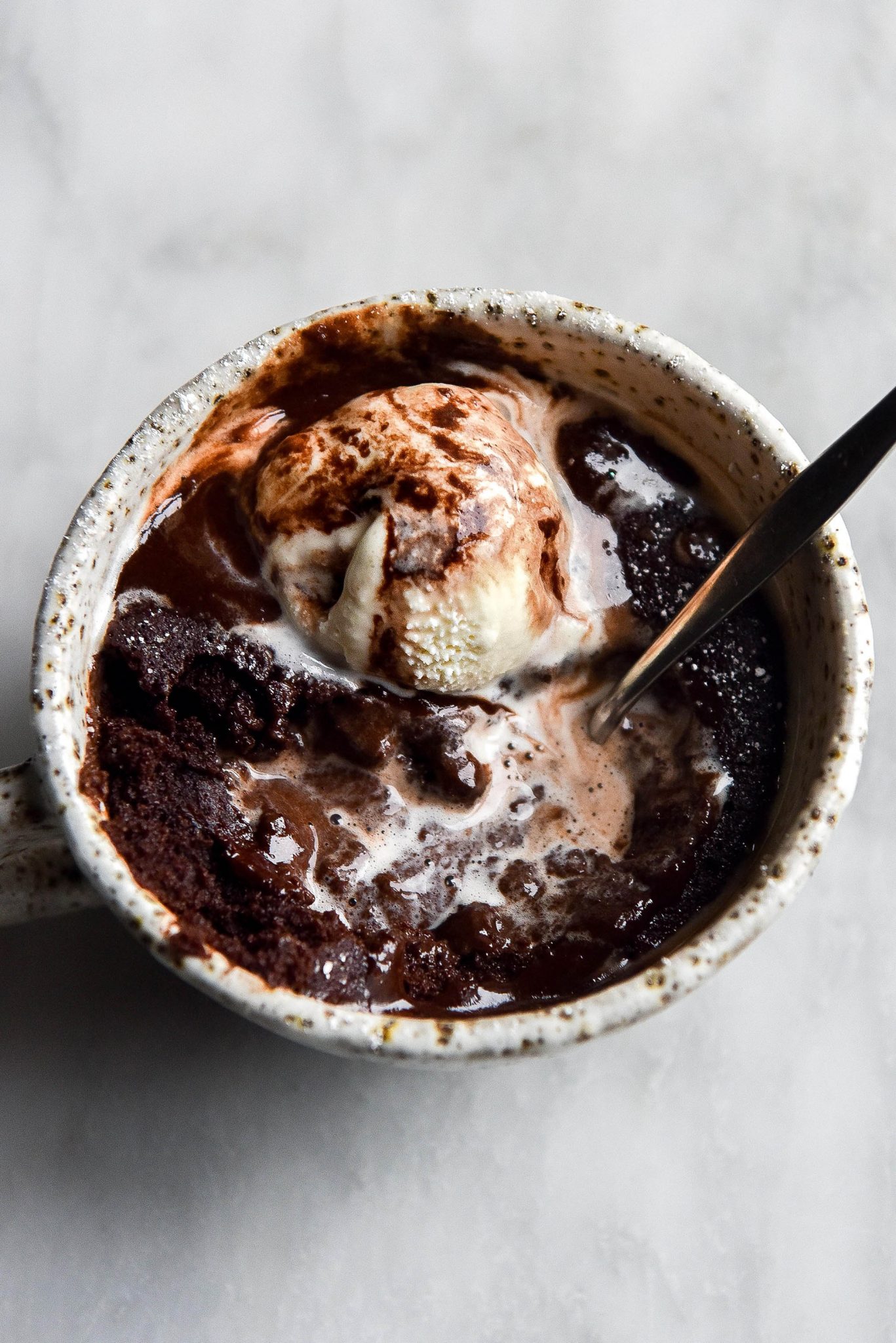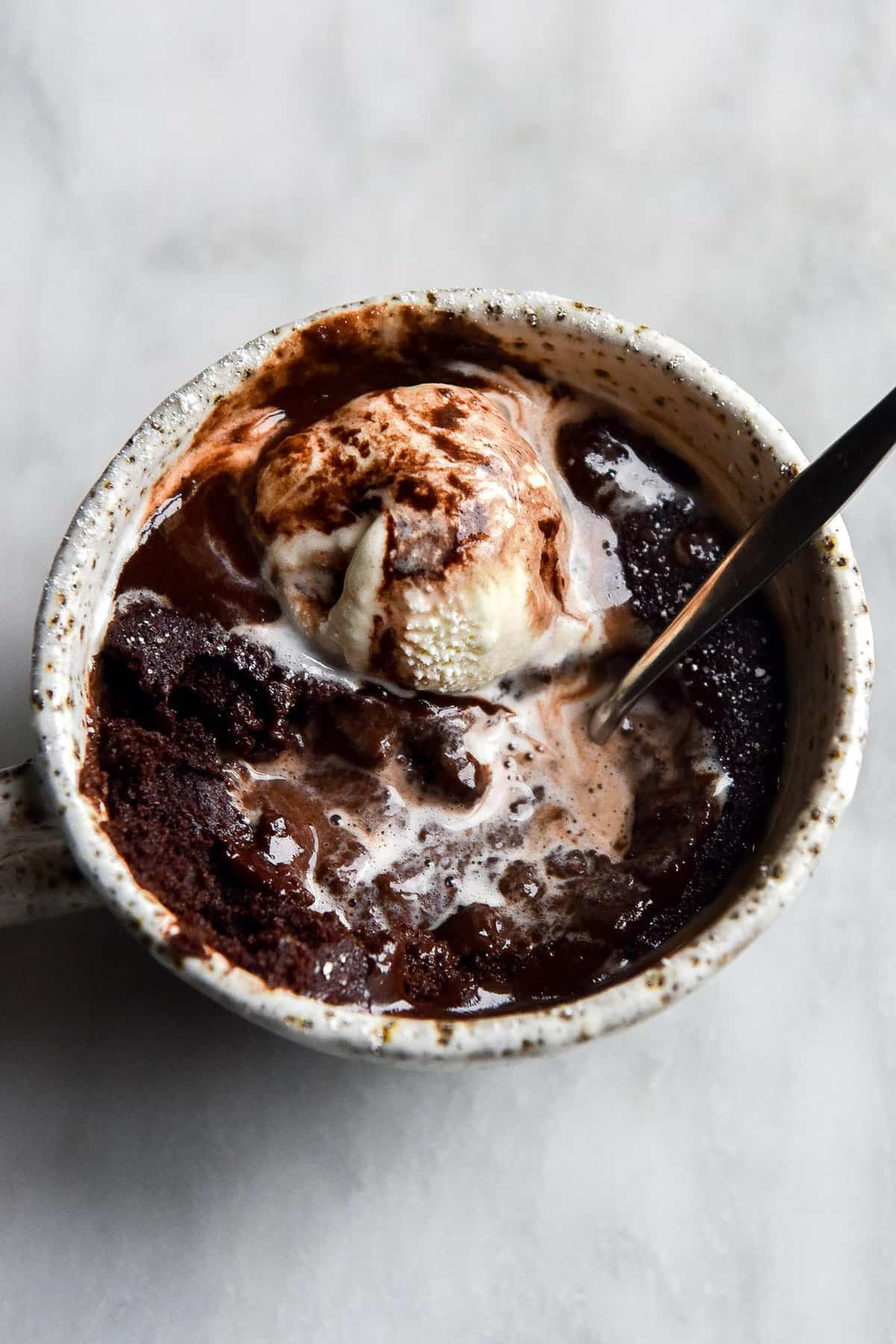 9. Flourless, nut free chocolate torte
This recipe was created through a happy accident – I was making the flourless torte from my cookbook and forgot to add in almond meal. The result? This deliciously rich cake that is both flourless and nut free.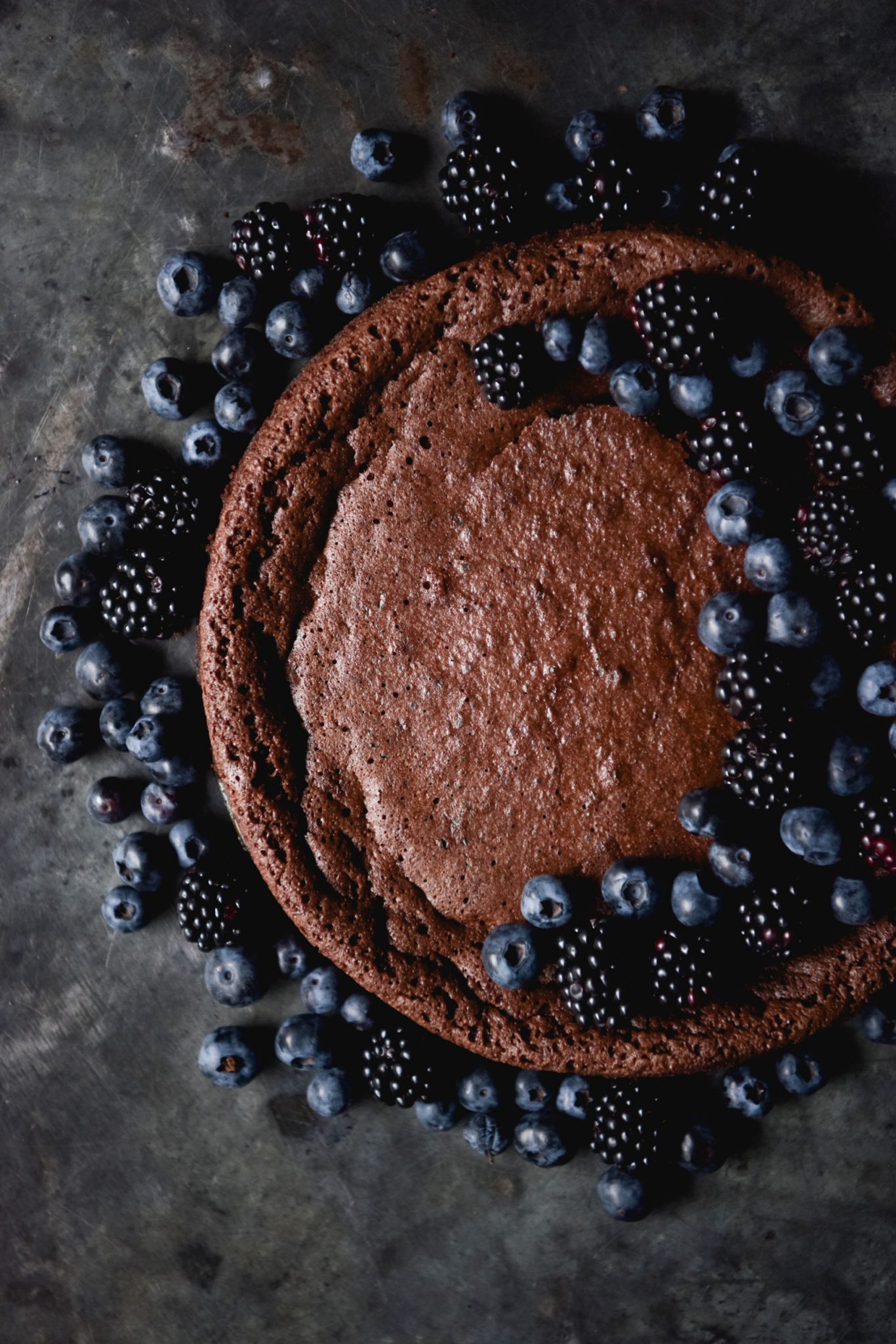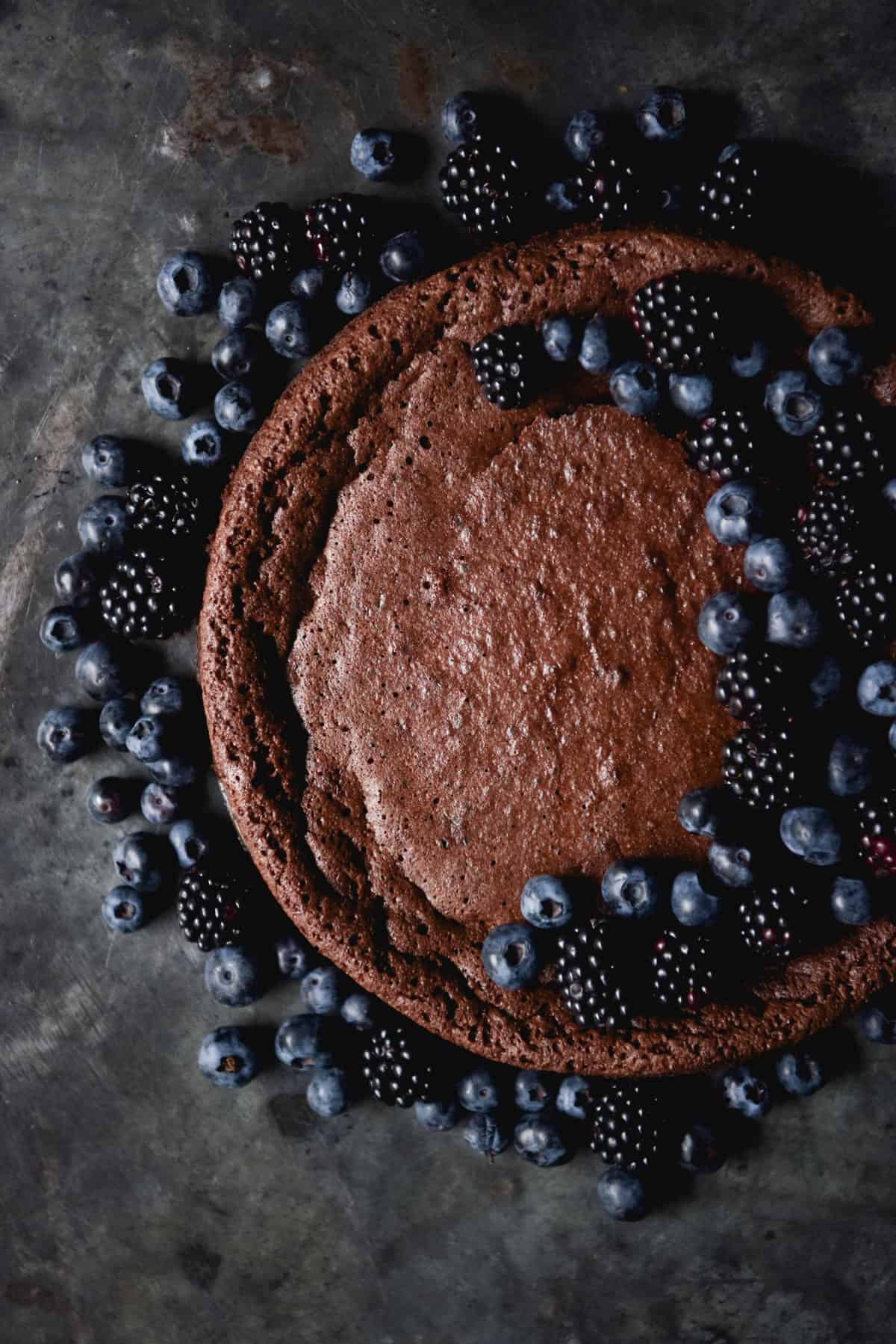 10. FODMAP friendly tiramisu
Everybody deserves tiramisu. This one is gluten, gum and nut free, FODMAP friendly and lactose free.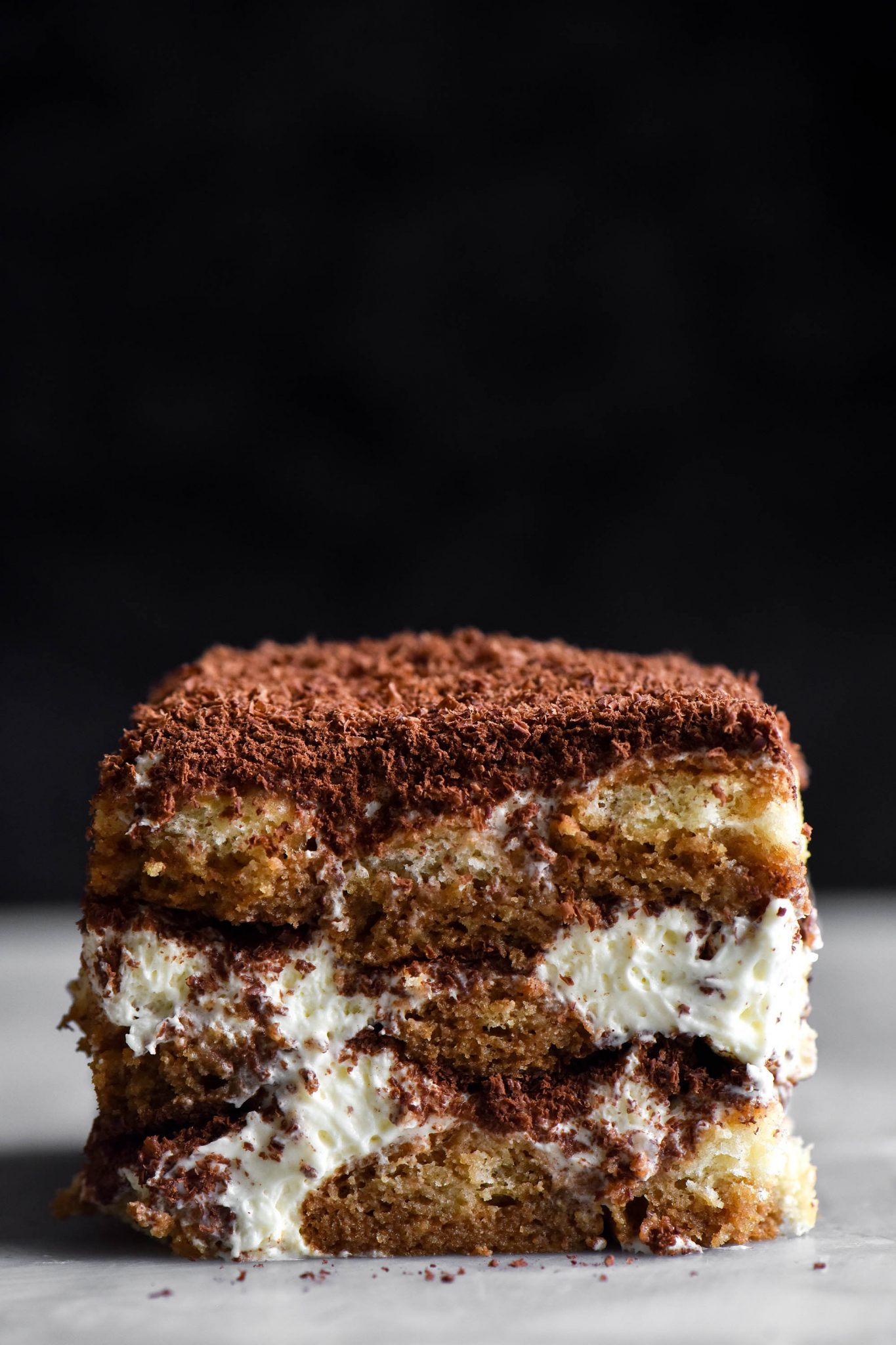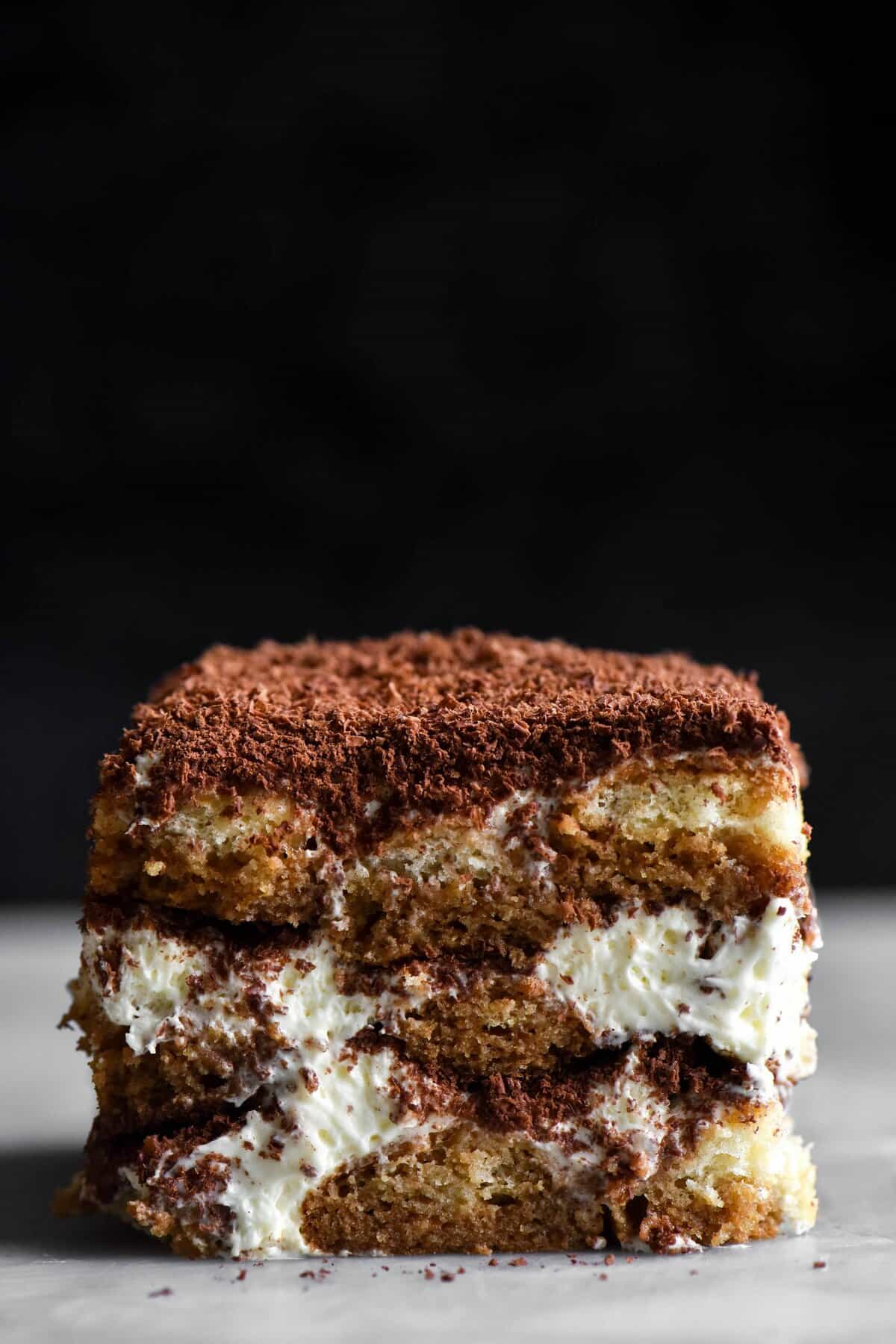 11. Vegan, gluten free banana bread
An easy and delicious gluten free and vegan banana bread. The overripe bananas on your counter are calling.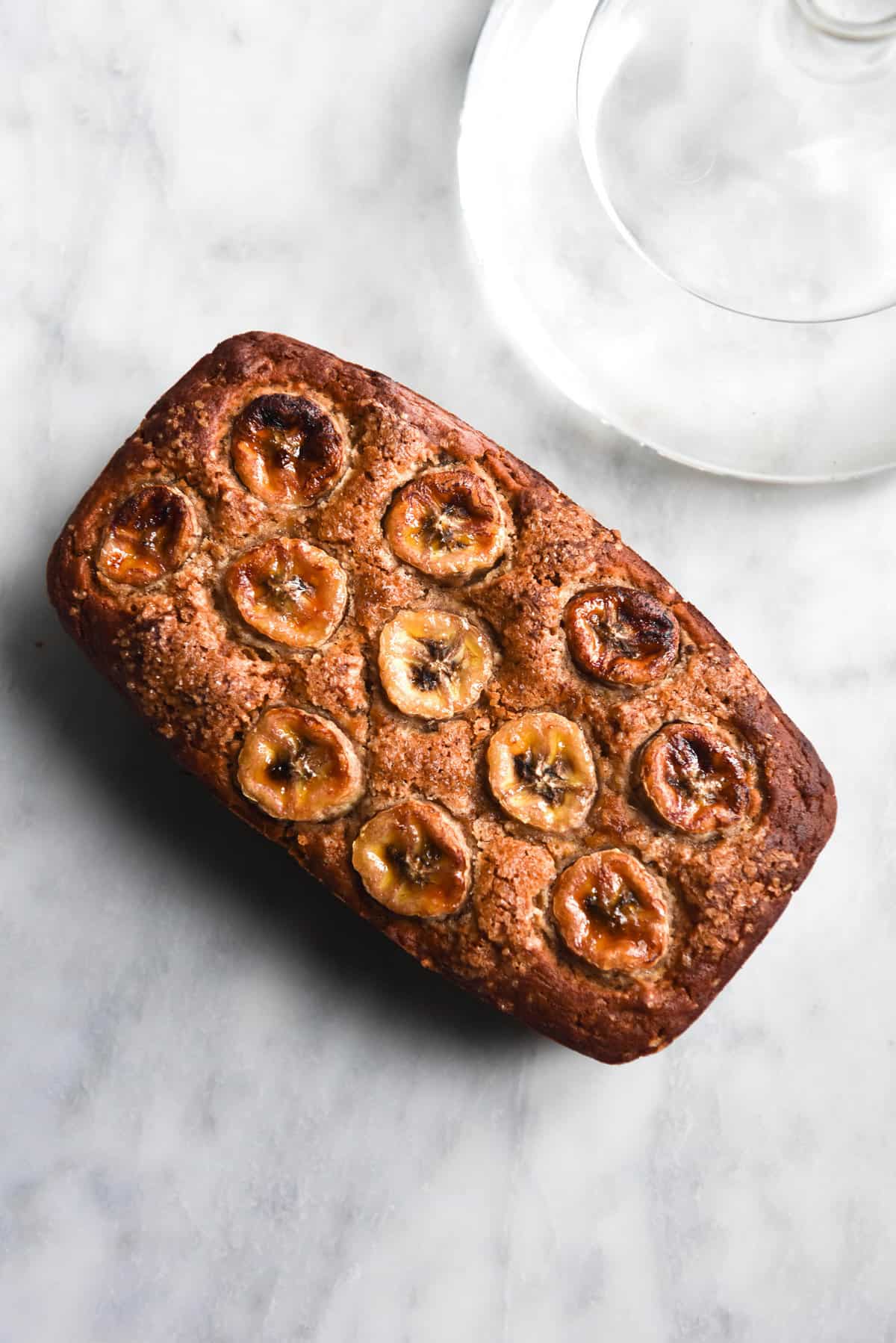 12. Chewy chocolate coated peanut butter bars
I can't make these very often as I end up eating an entire batch within a day or two. They are refined sugar free, vegan and FODMAP friendly are I absolutely dare you to stop at one.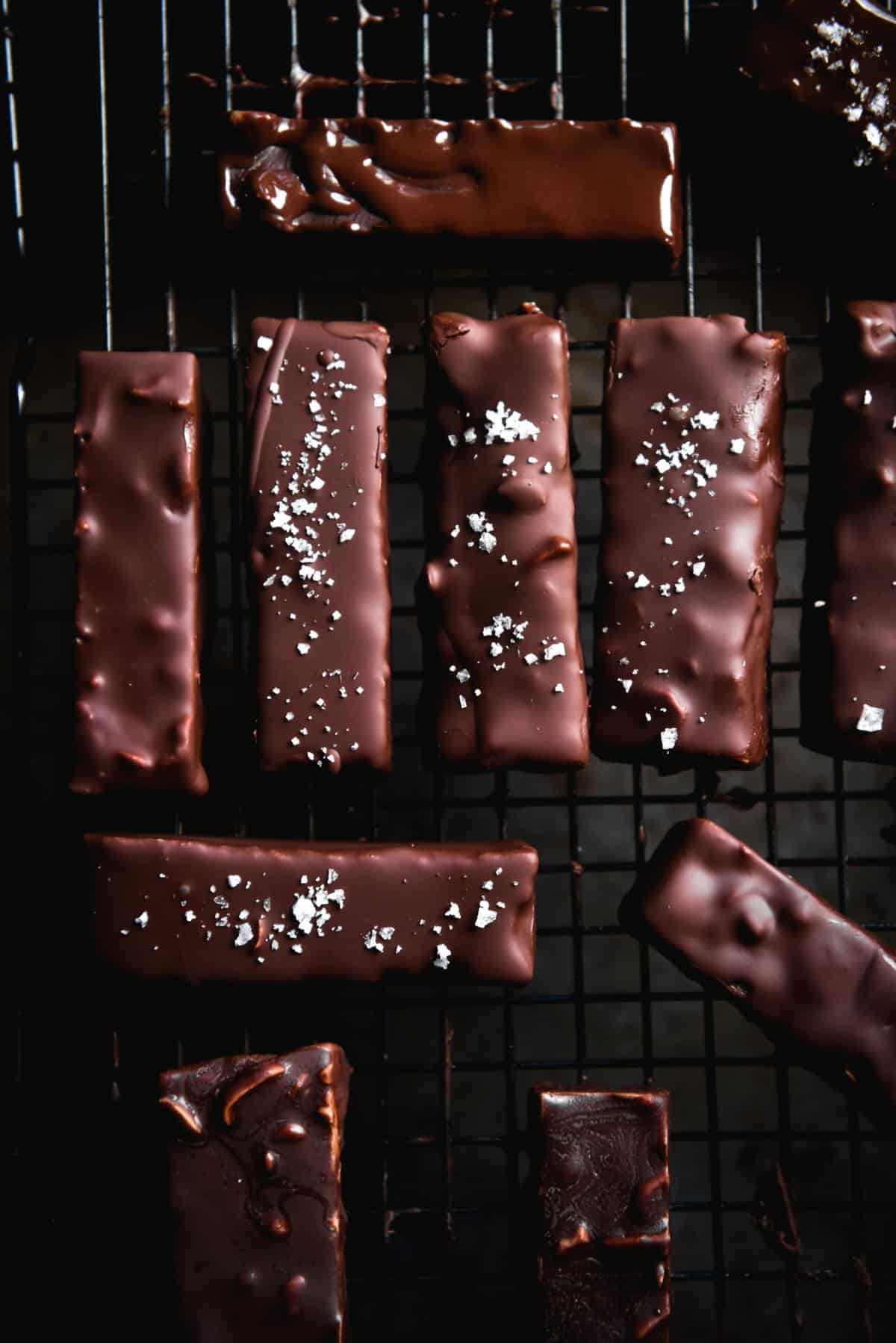 13. Egg free, gluten free choc chip cookies
Gluten free choc chip cookies that are gum free and egg free.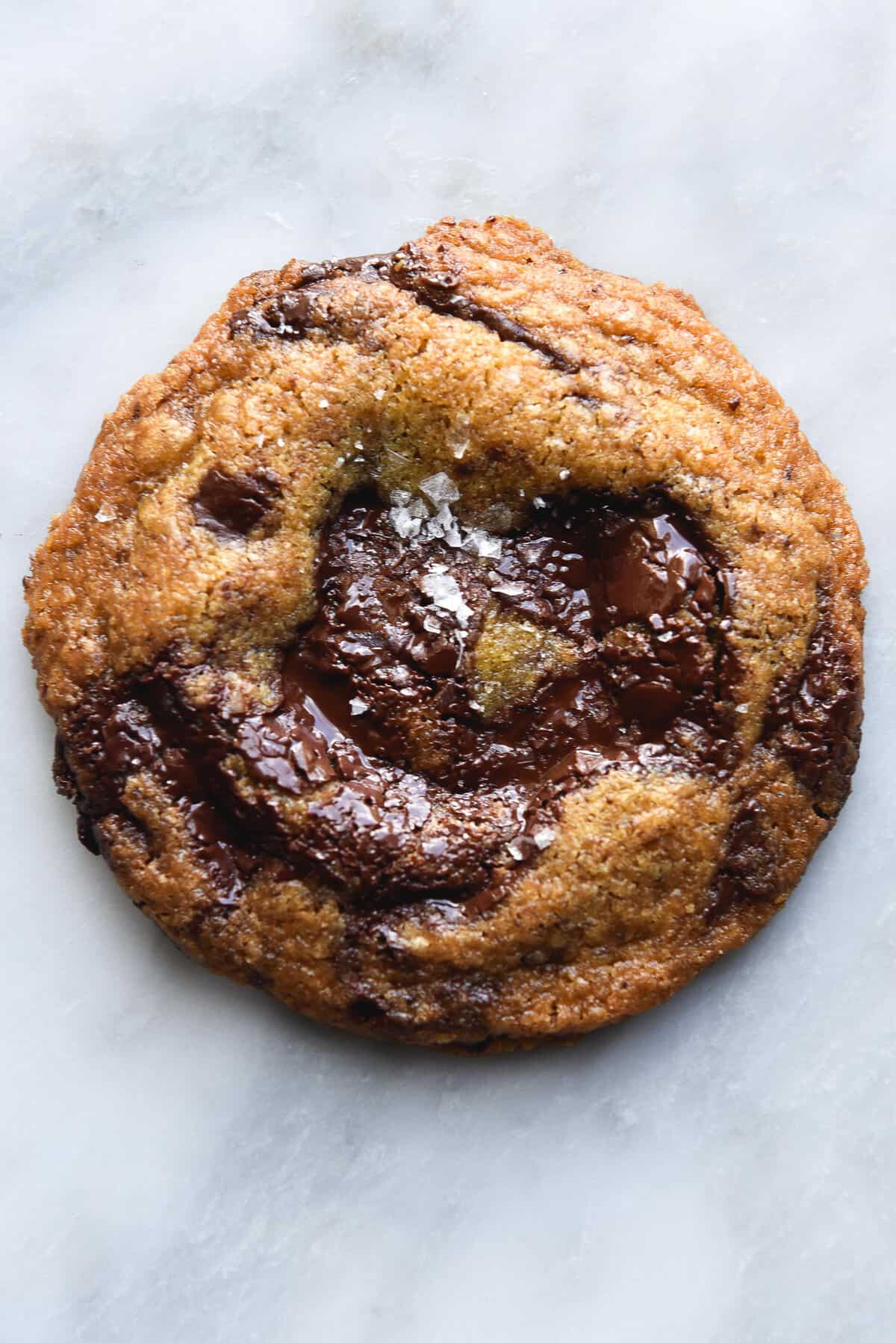 14. Vegan choc chip cookies
Gum free, gluten free and vegan, these cookies are a simplified version of my earlier recipe. They're quick to whip up and don't need a stand mixer.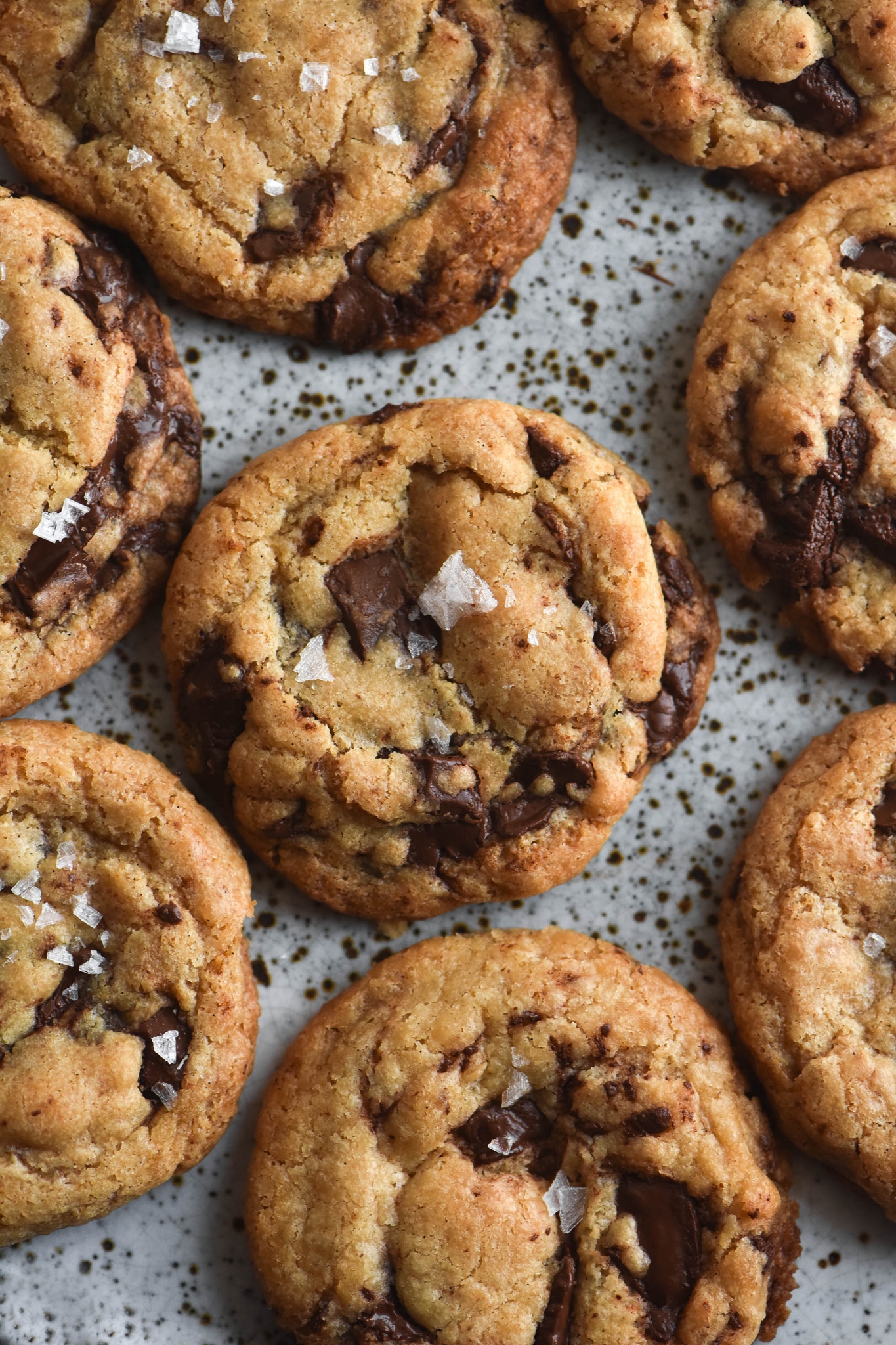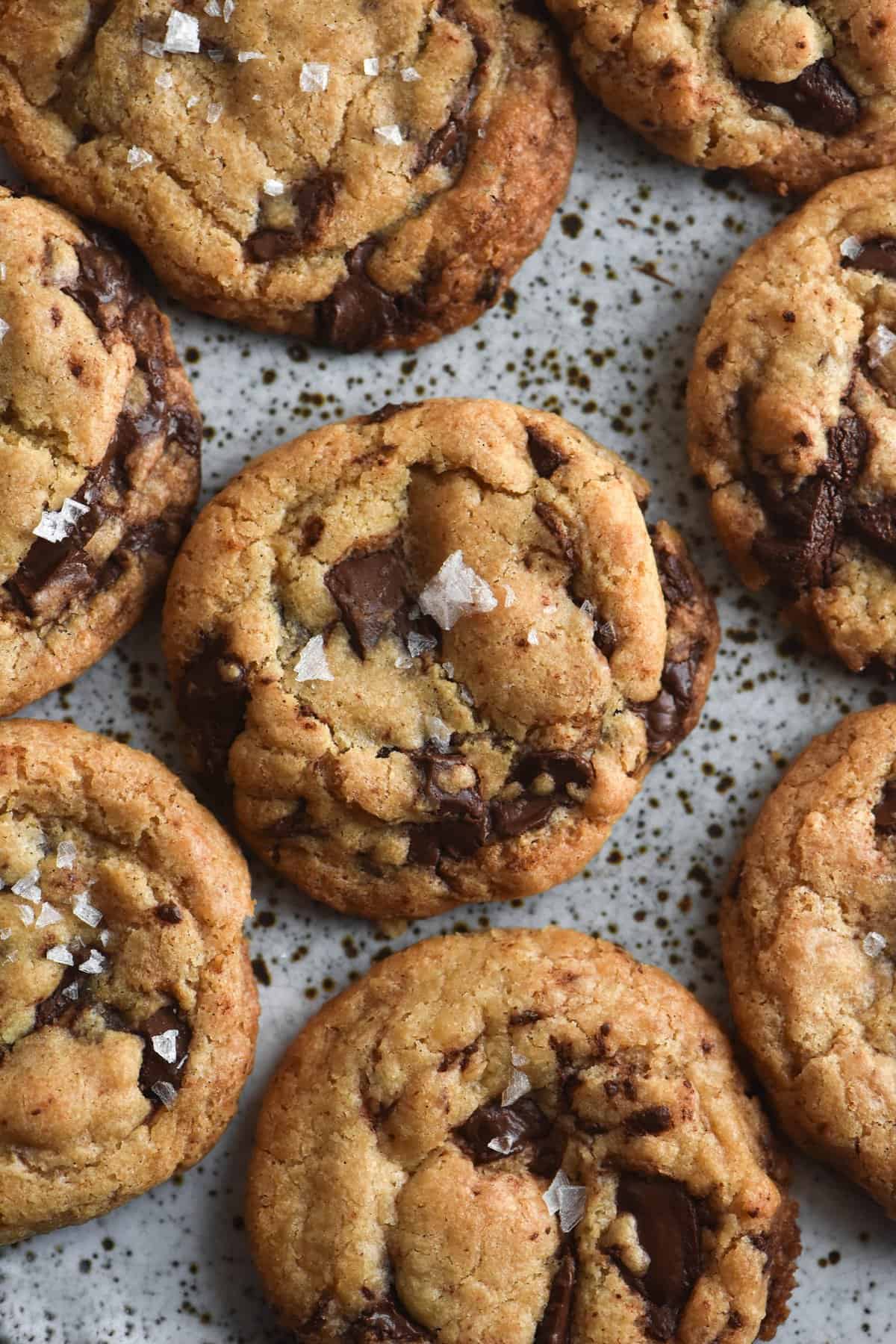 15. Gluten free pumpkin pie with a refined sugar free filling
A delicious and festive gluten free pumpkin pie that has a deliciously caramel flavoured maple and pumpkin filling.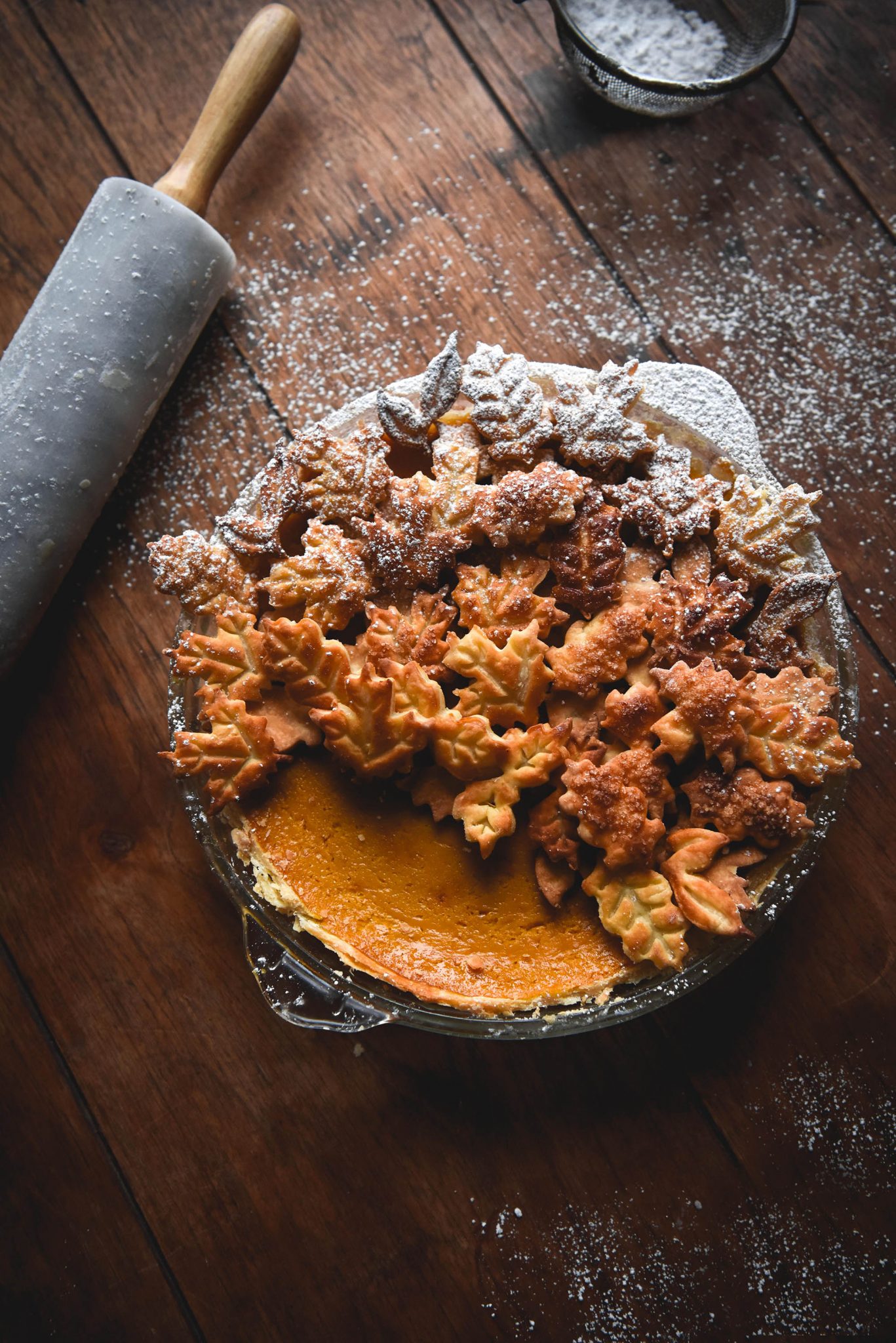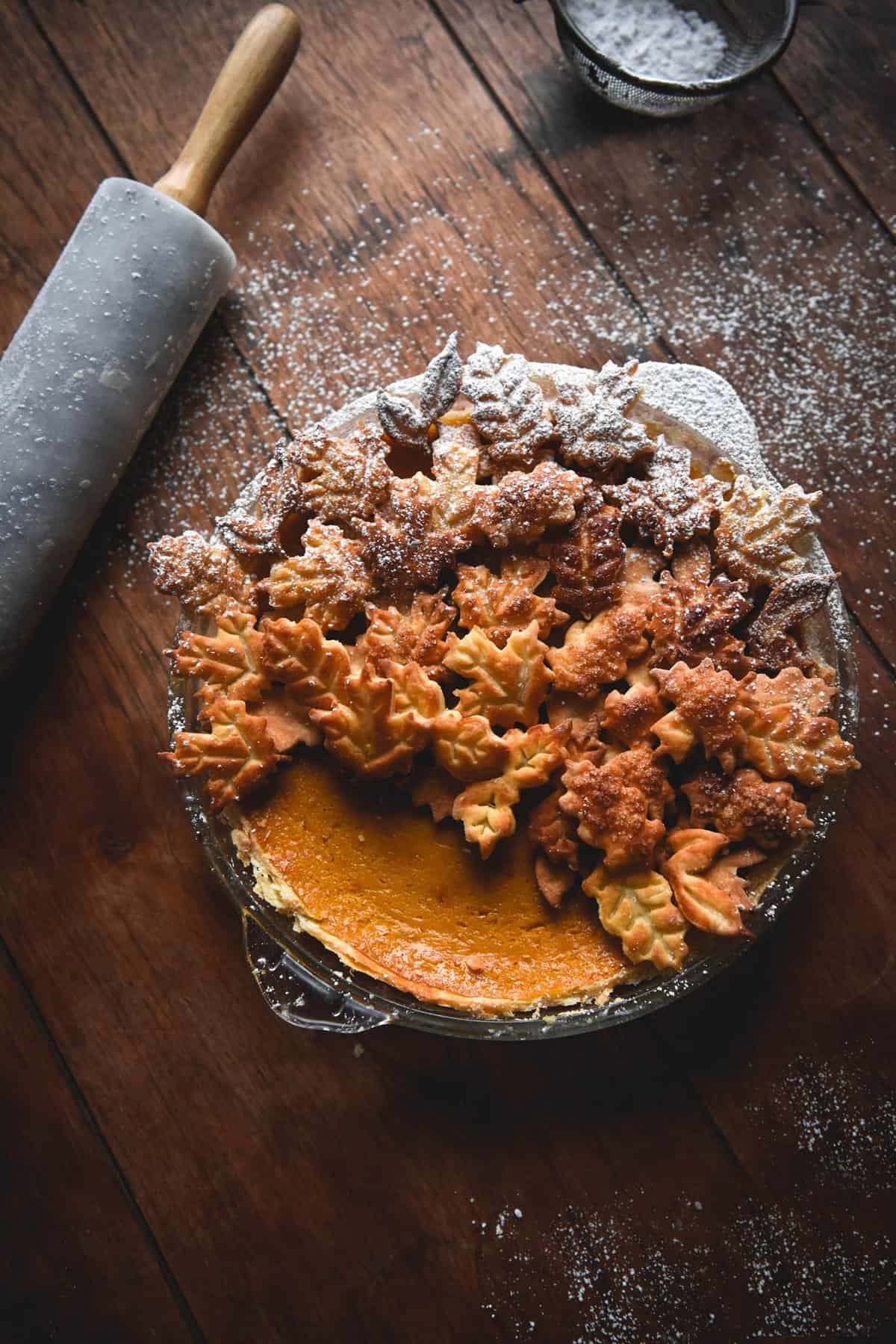 16. Gluten free peanut butter truffles
If you've never tried the combination of Caramilk and peanut butter – now is the time. The truffles themselves are vegan, though, so you can use whatever sort of chocolate suits you best.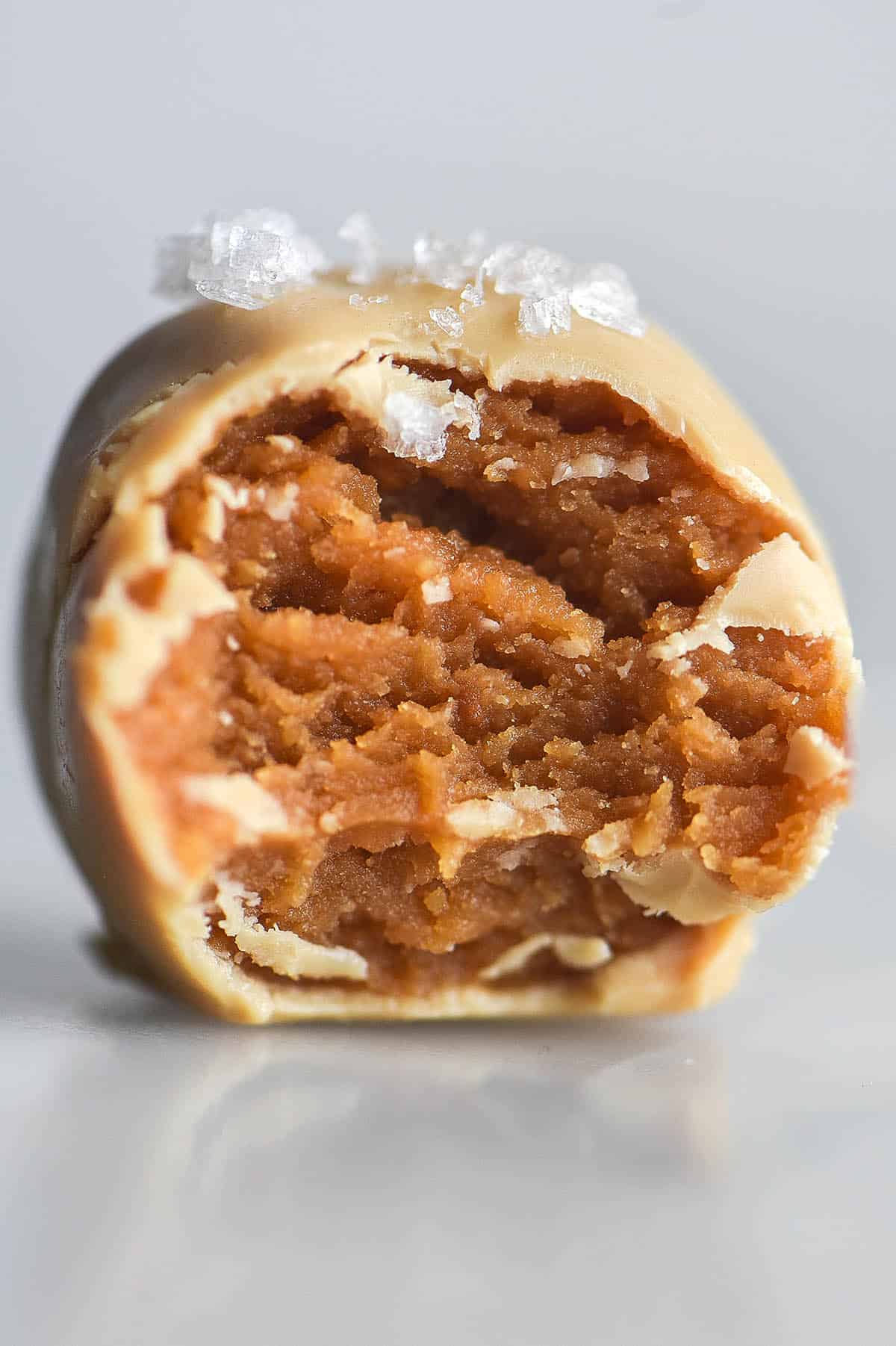 17. Gluten free shortbreads
Gluten free shortbreads that are gum free and nut free. Super rich and crumbly, as a shortbread should be. Bonus? With a few tweaks, they make a great base for cheesecake.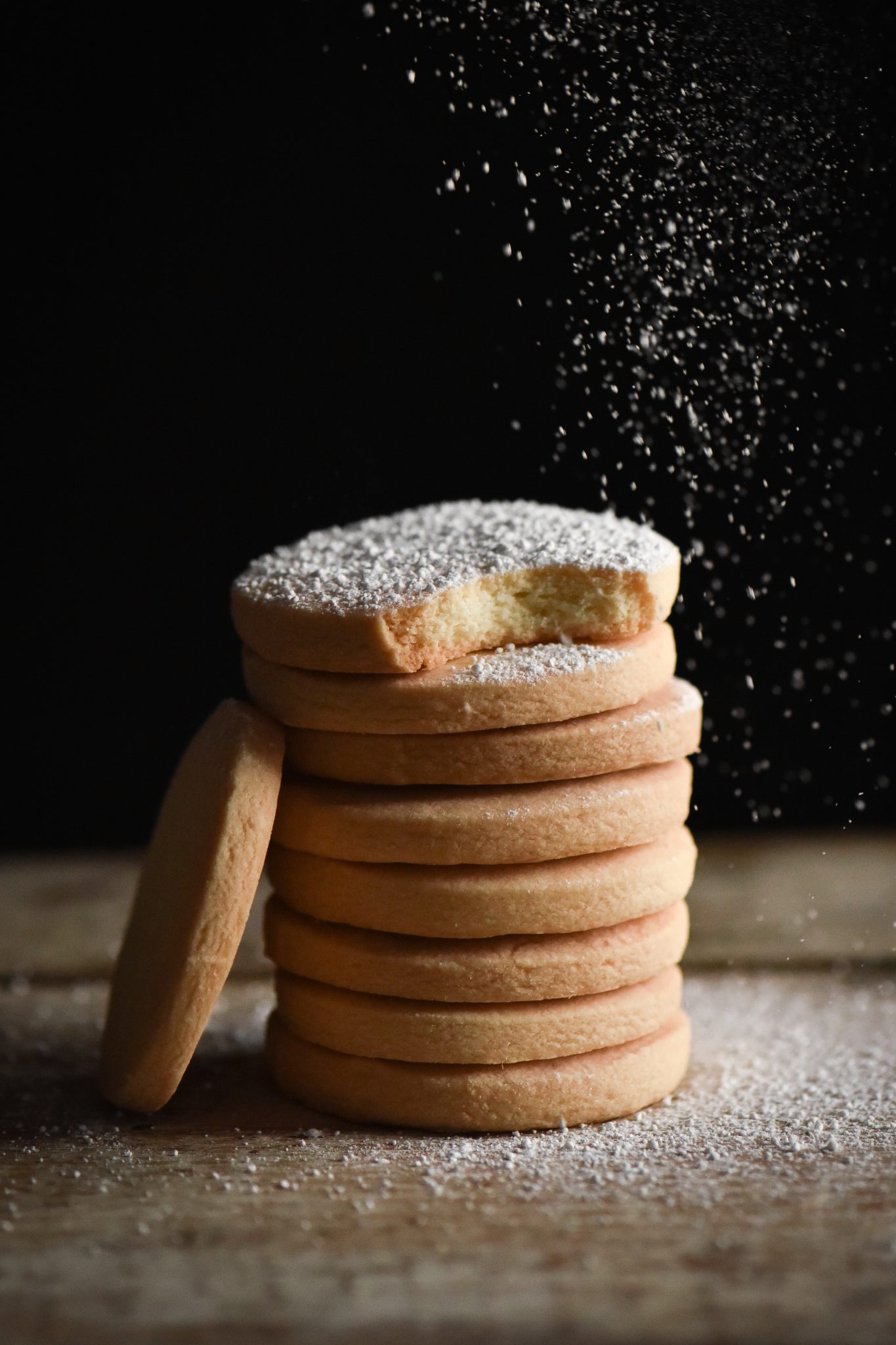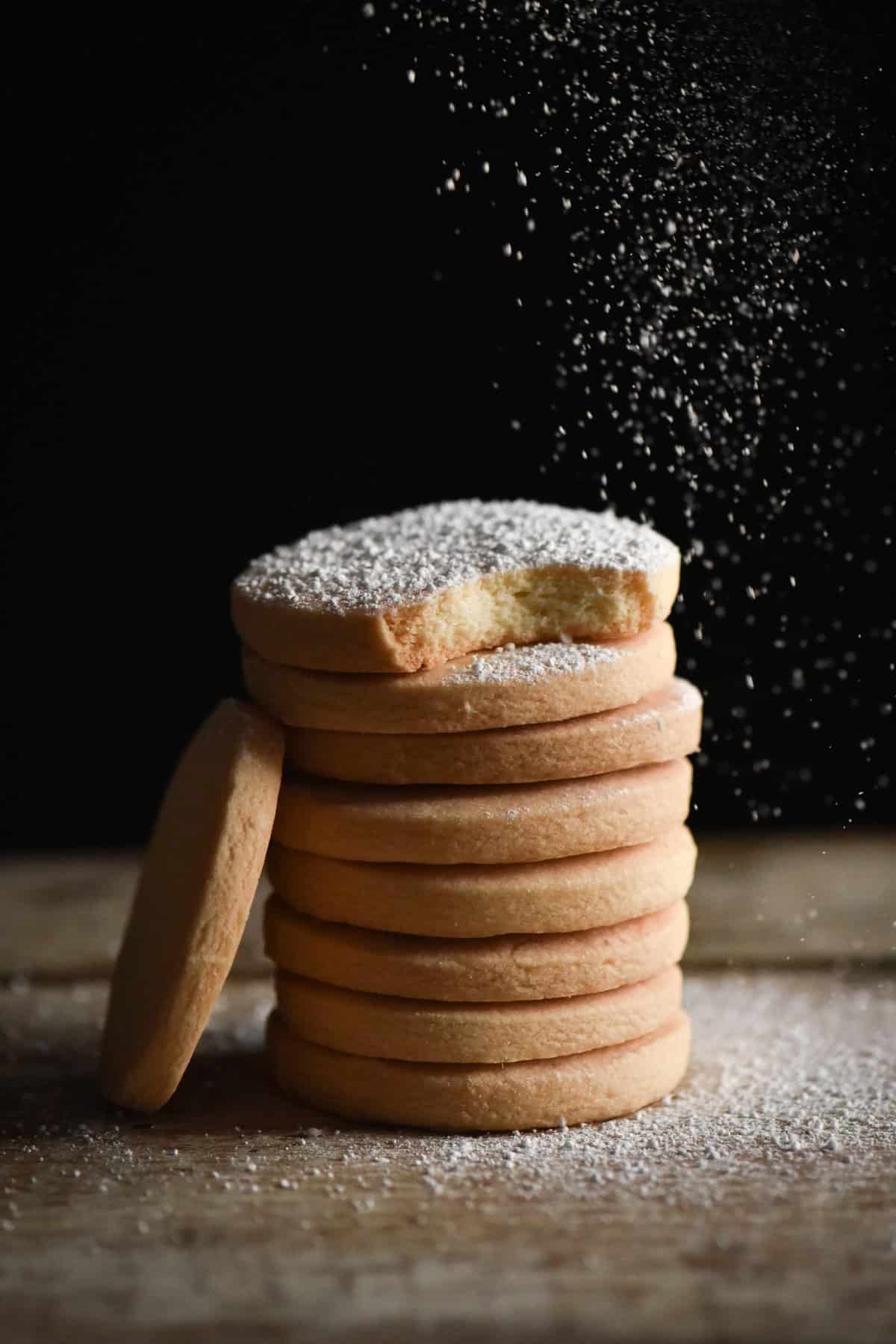 18. Lactose free cheesecake with a gluten free shortbread base
We love a festive treat! This lactose free (not dairy free) cheesecake sits atop a gluten free, starch free shortbread base for the ultimate festive delight.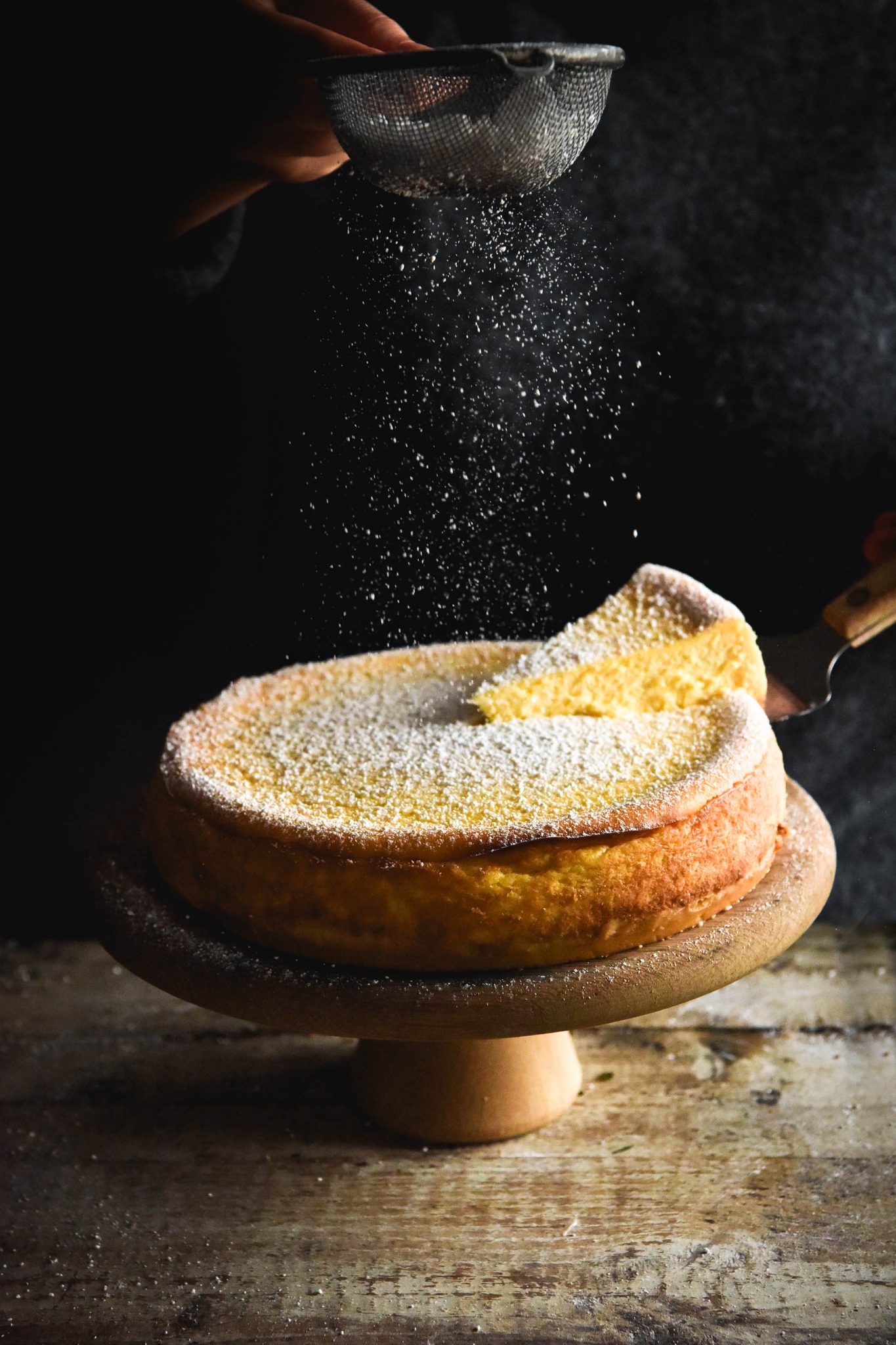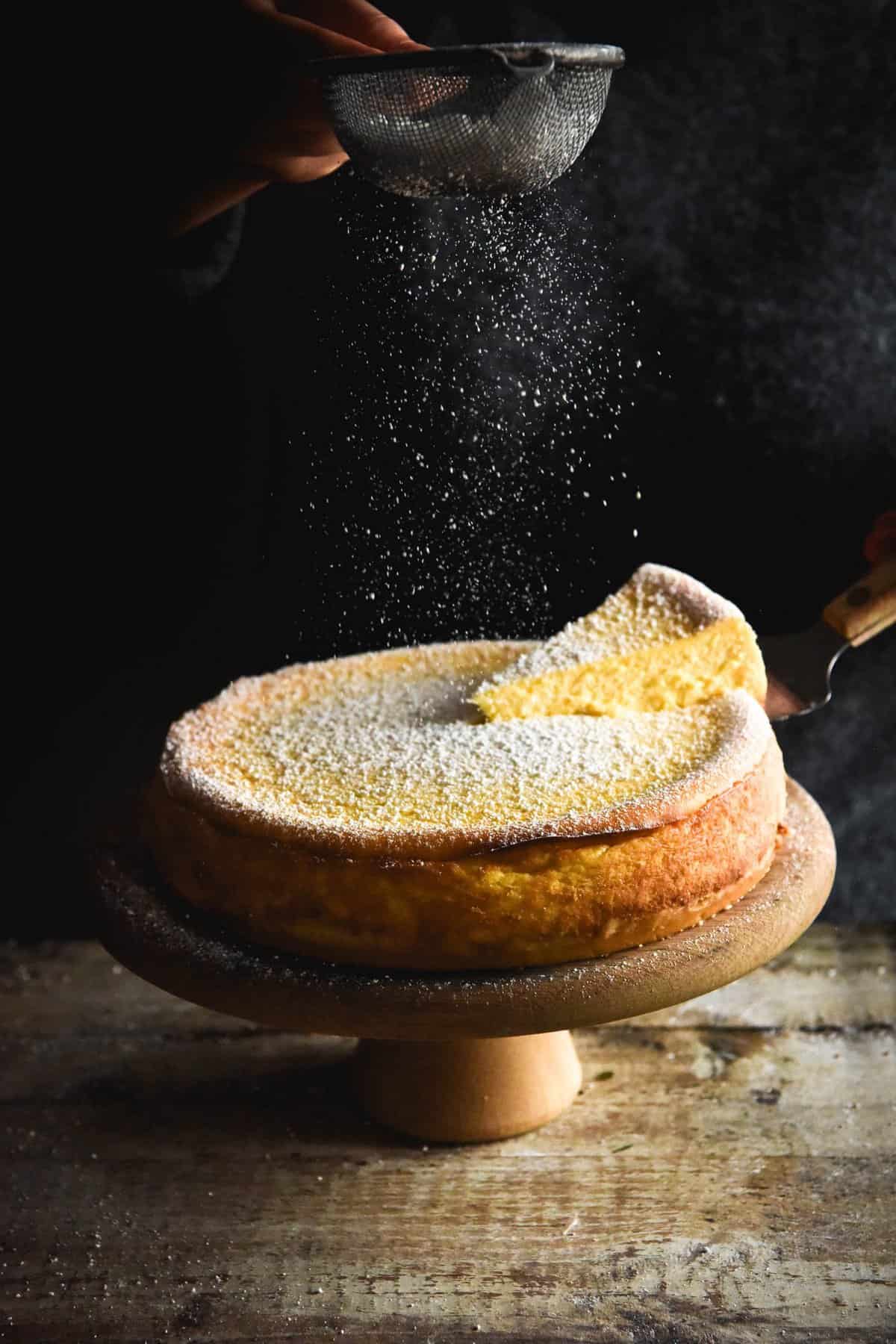 19. Super fudgy brownie cookies
Easy and delicious gluten free brownie cookies that combine the best of the brownie world and the cookie world. Nut and gum free, too.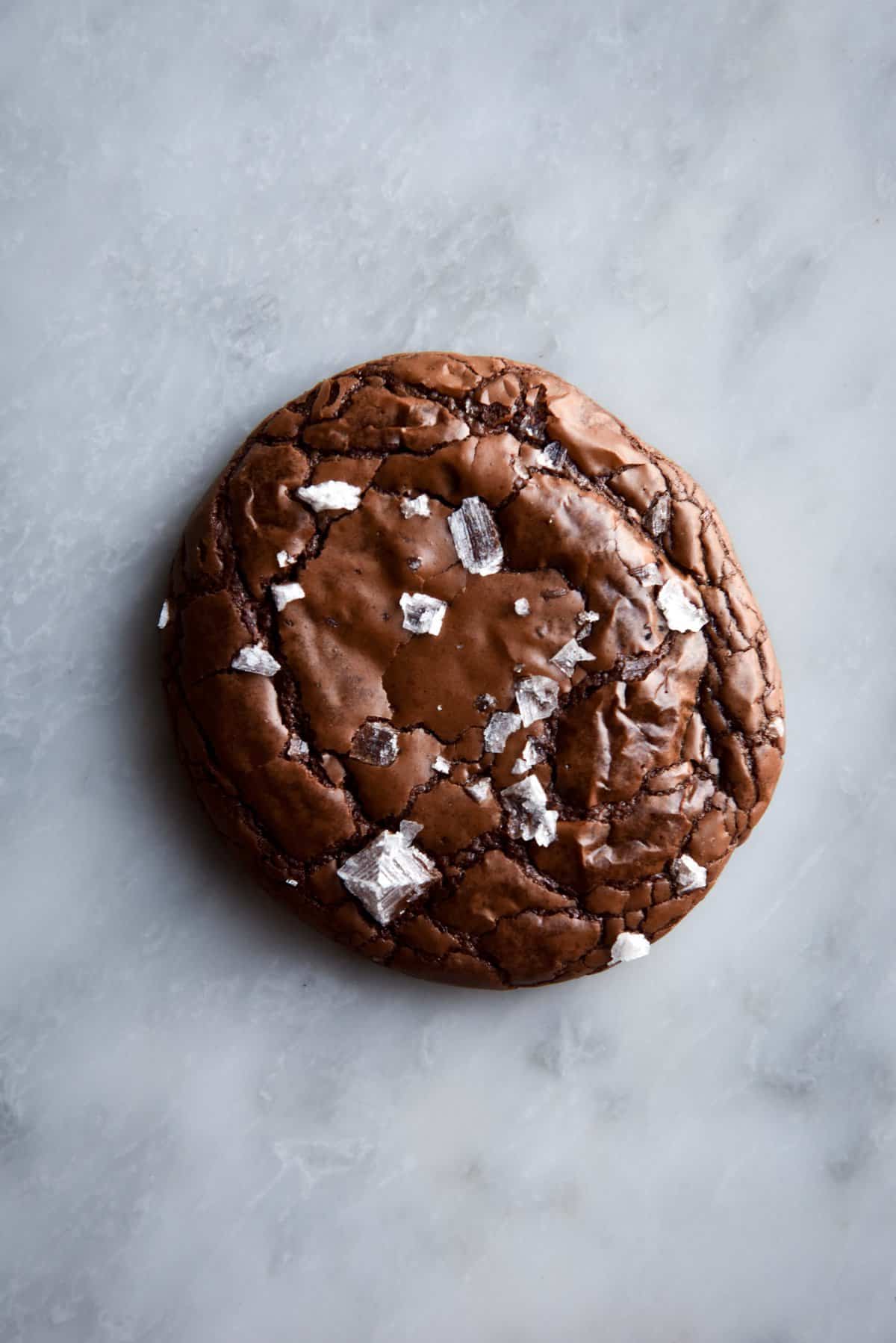 20. Flourless, nut free brownie cookies
The trifecta! Gluten free, nut free and completely flourless. These cookies are rich and chocolatey but suitable for a whole host of dietary requirements.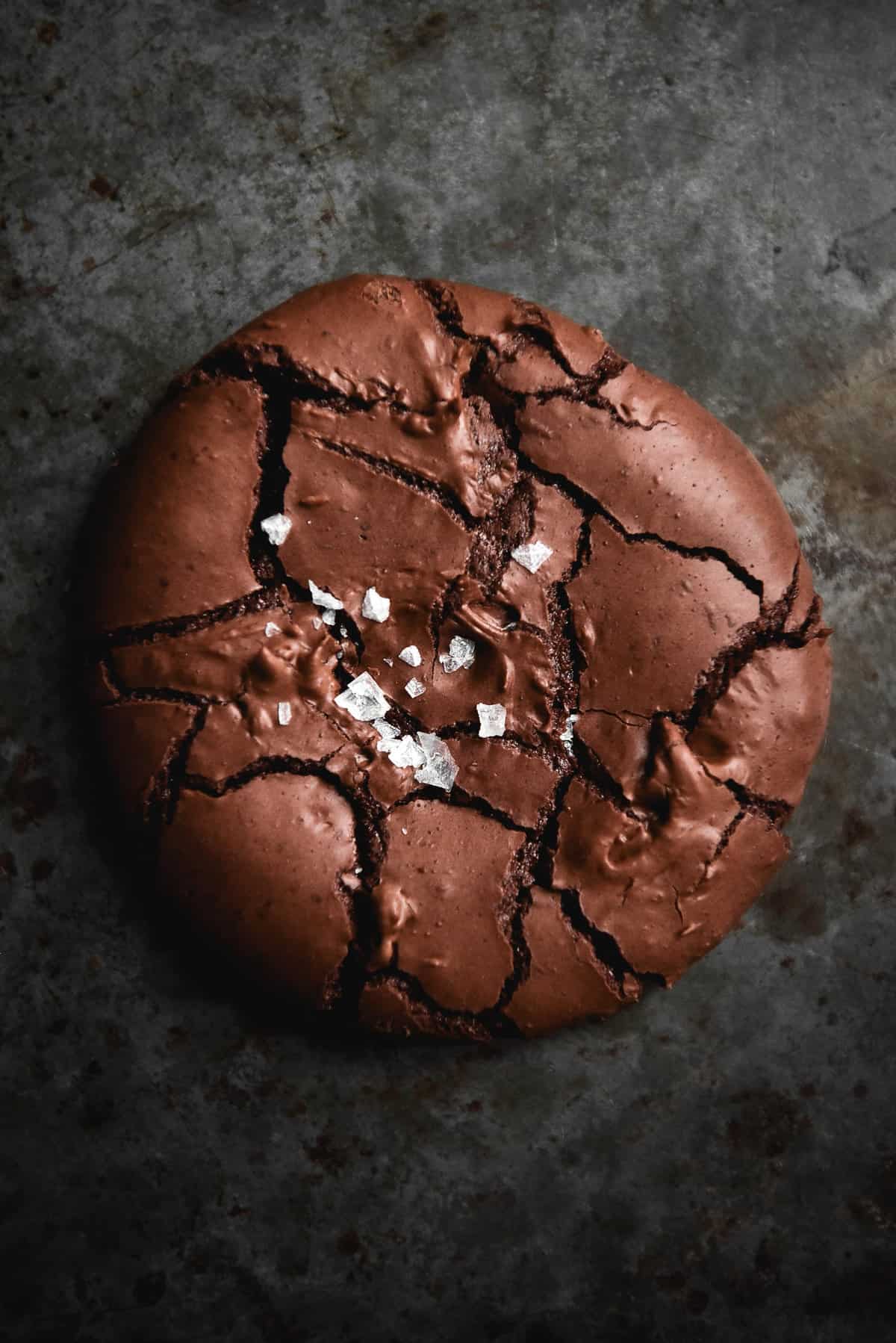 21. Vegan, gluten free brownie cookies
I post my brownie cookies at least once a month, so it only seemed fair to make a vegan version. They're crisp, delicious and everything you'd want them to be.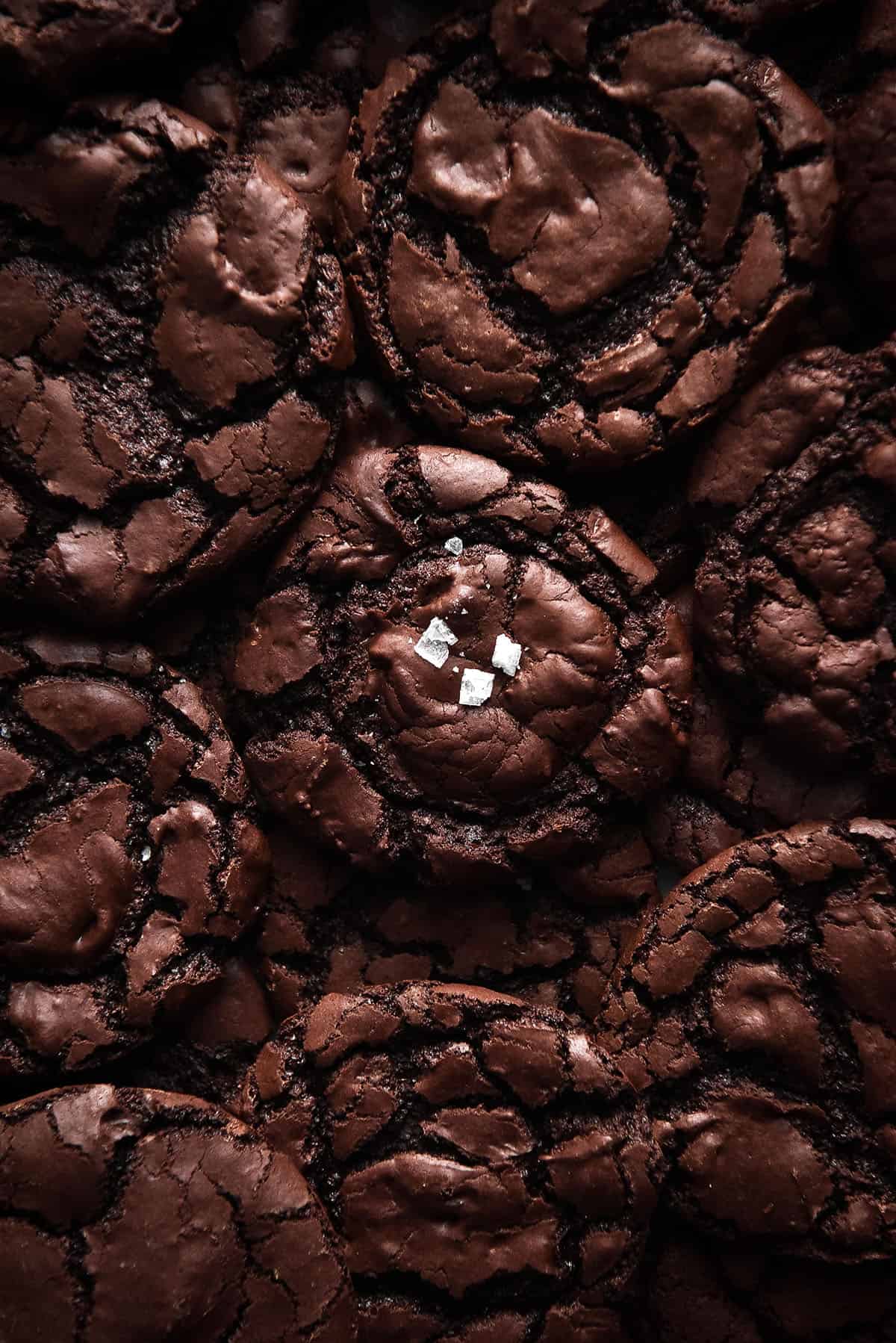 22. Gluten free carrot cake with lactose free cream cheese icing
A delicious gluten free carrot cake with a lactose free cream cheese icing. Decorative olive leaf branches optional but recommended.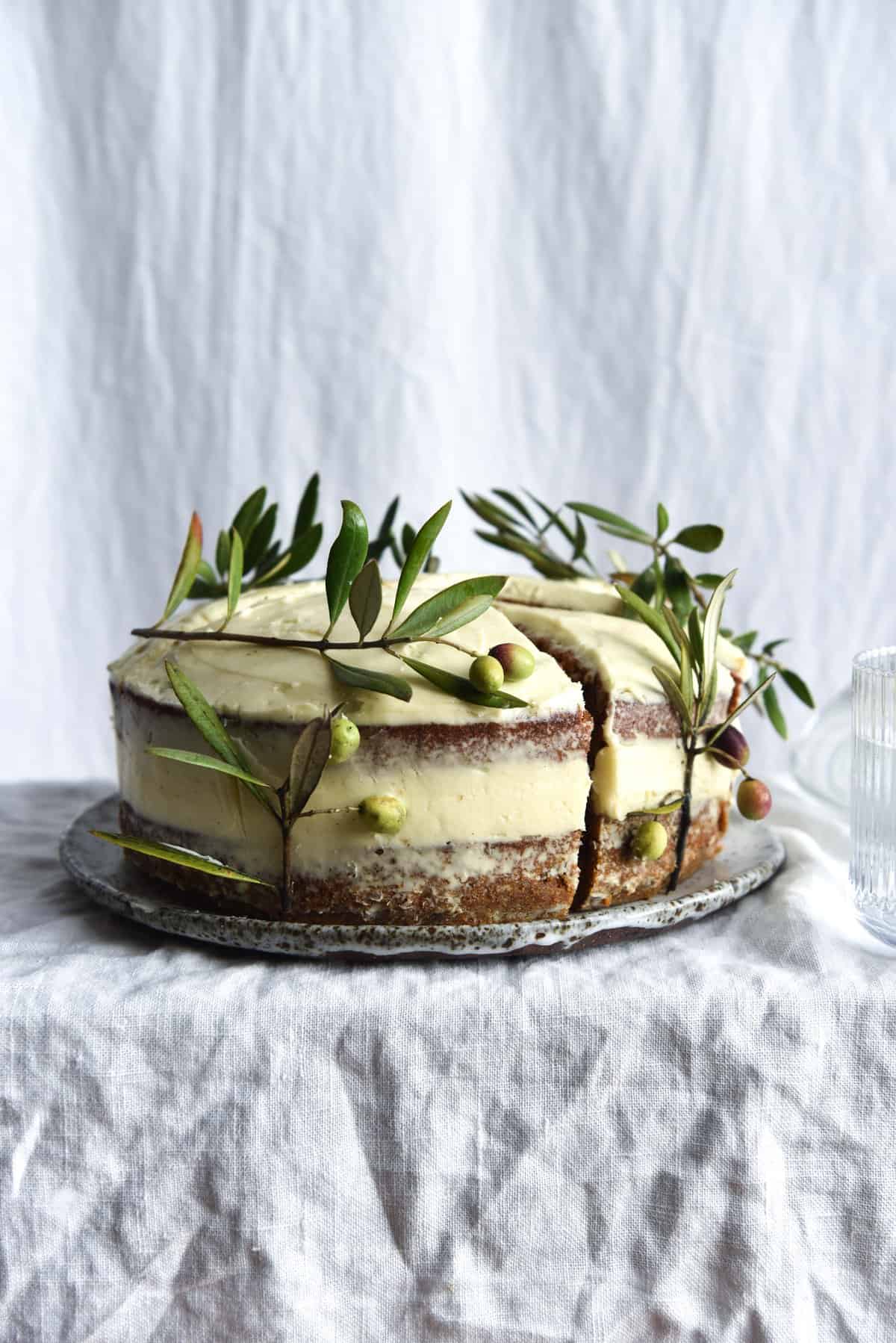 23. Easiest ever gluten free chocolate cake
The easiest gluten free chocolate cake you'll ever make. It uses a single flour, no starches and no gums, making it suitable for a whole different variety of dietary needs.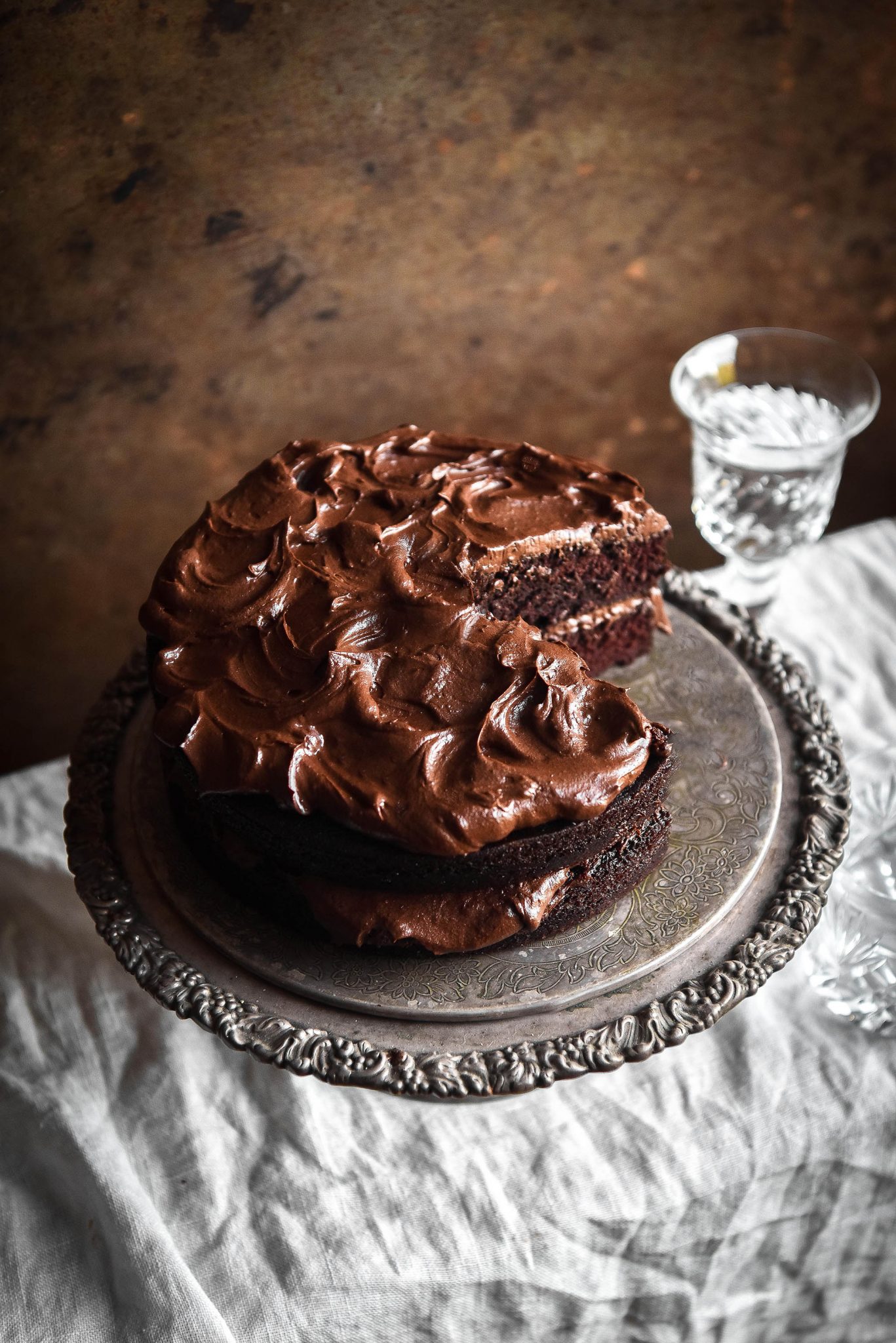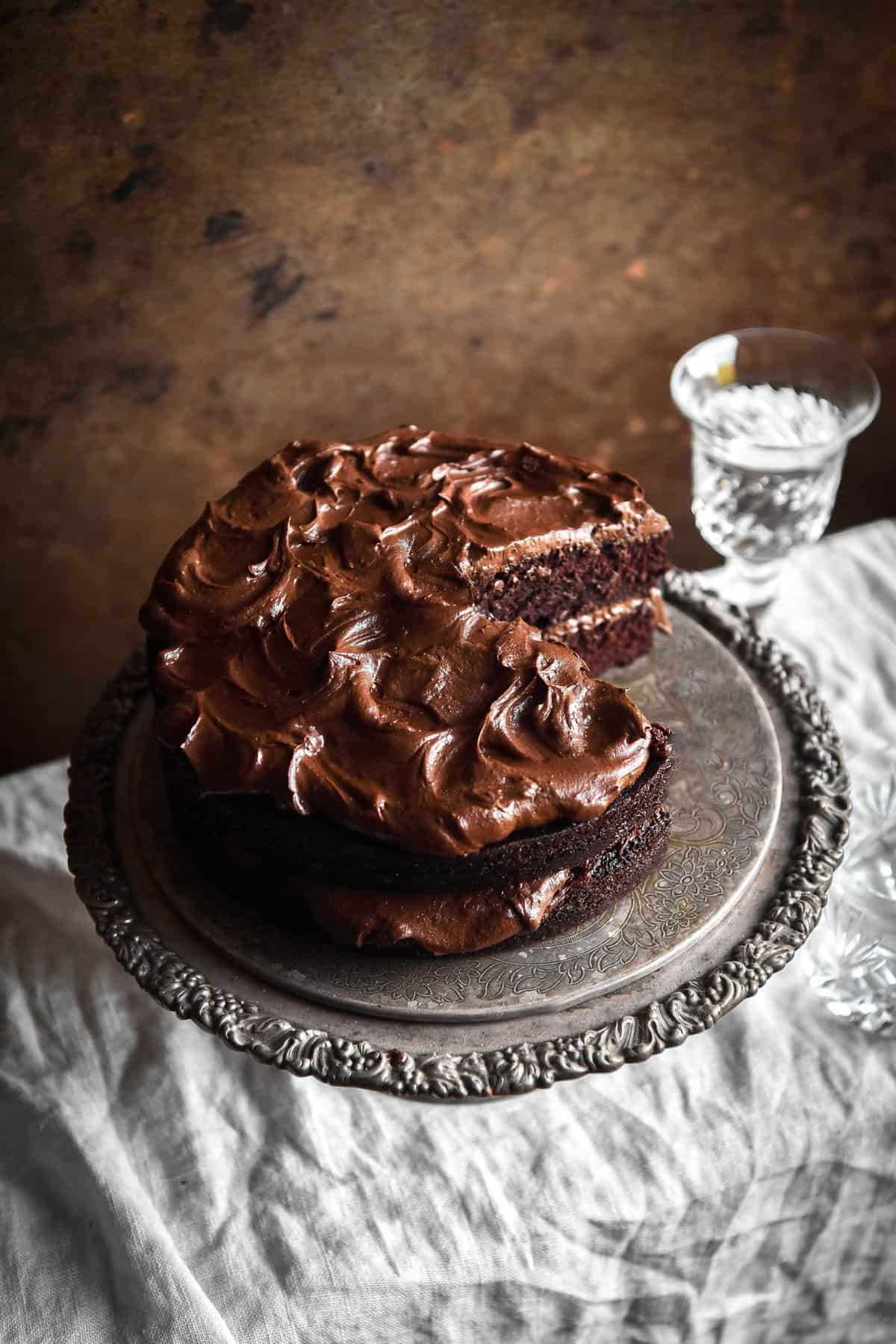 24. Lactose free creme caramel
One of my favourite desserts ever, this lactose free creme caramel is indulgent, delicious and impressive.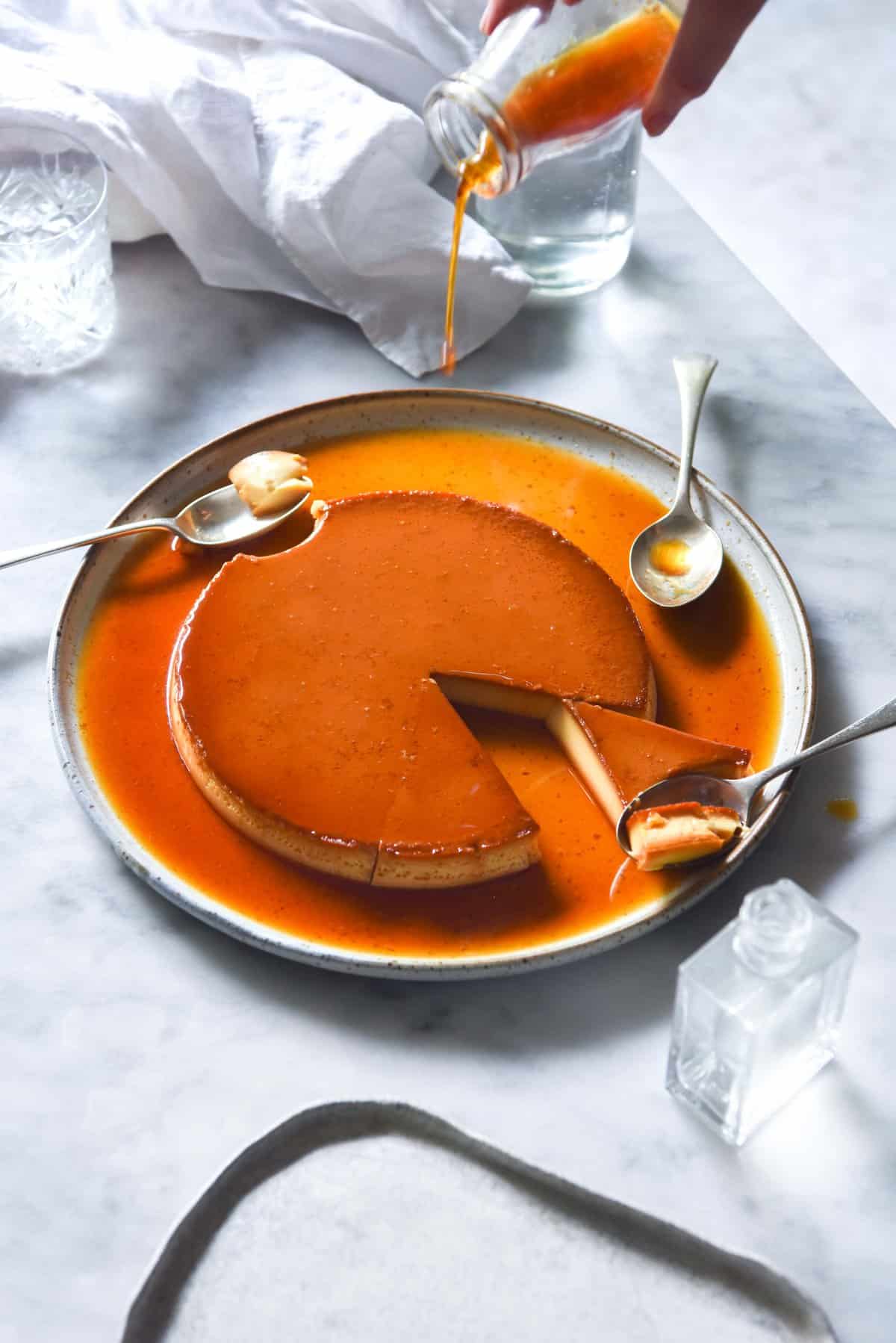 25. Cinnamon scroll mug cake
Fancy a cinnamon scroll but can't be bothered turning the oven on? I've got you. This vegan, gluten free microwave cinnamon scroll is ready in 15 minutes.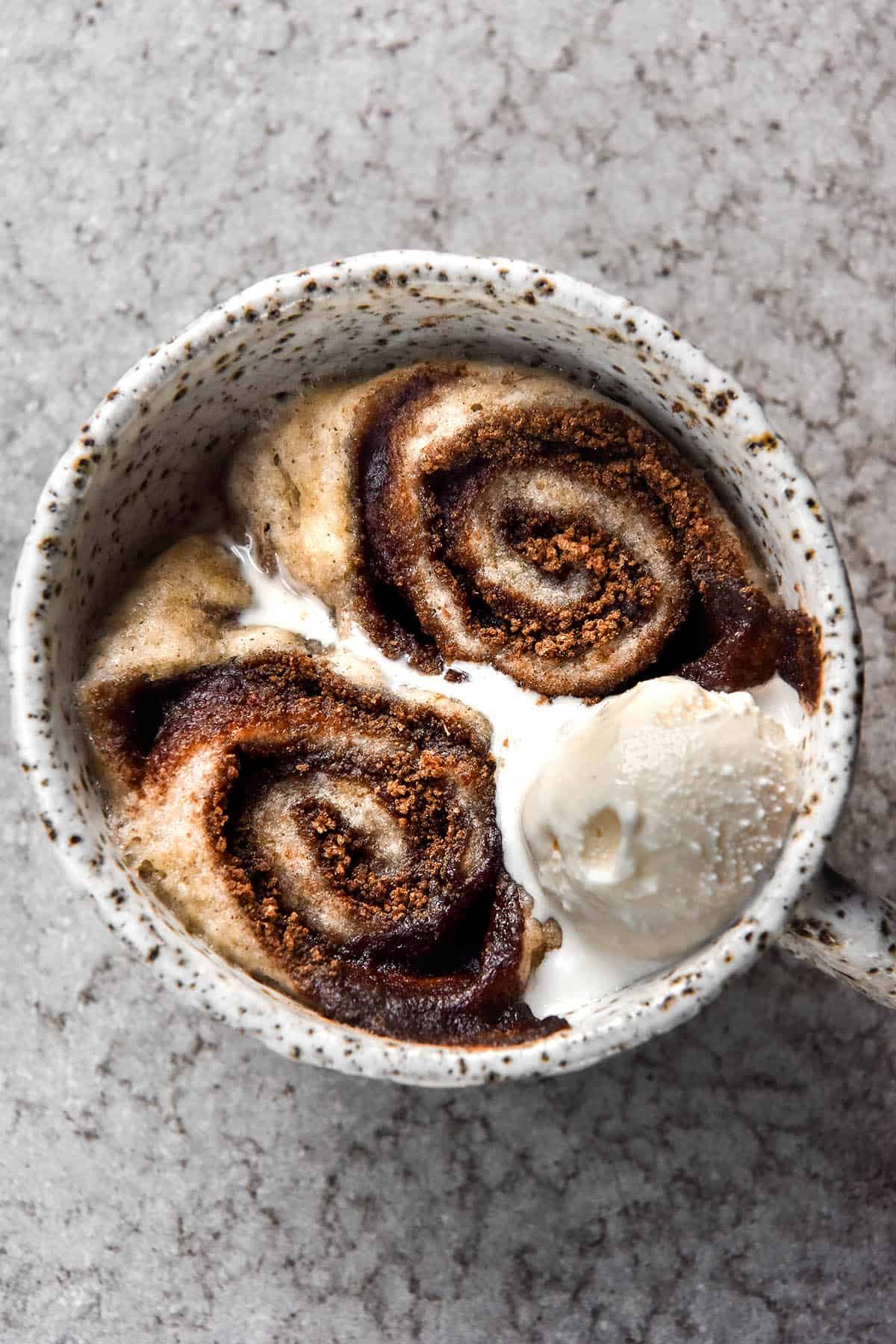 26. Homemade gluten free Graham crackers
These crackers can be used for s'mores, in Hedgehog slices or even as a crust for cheesecakes or tarts.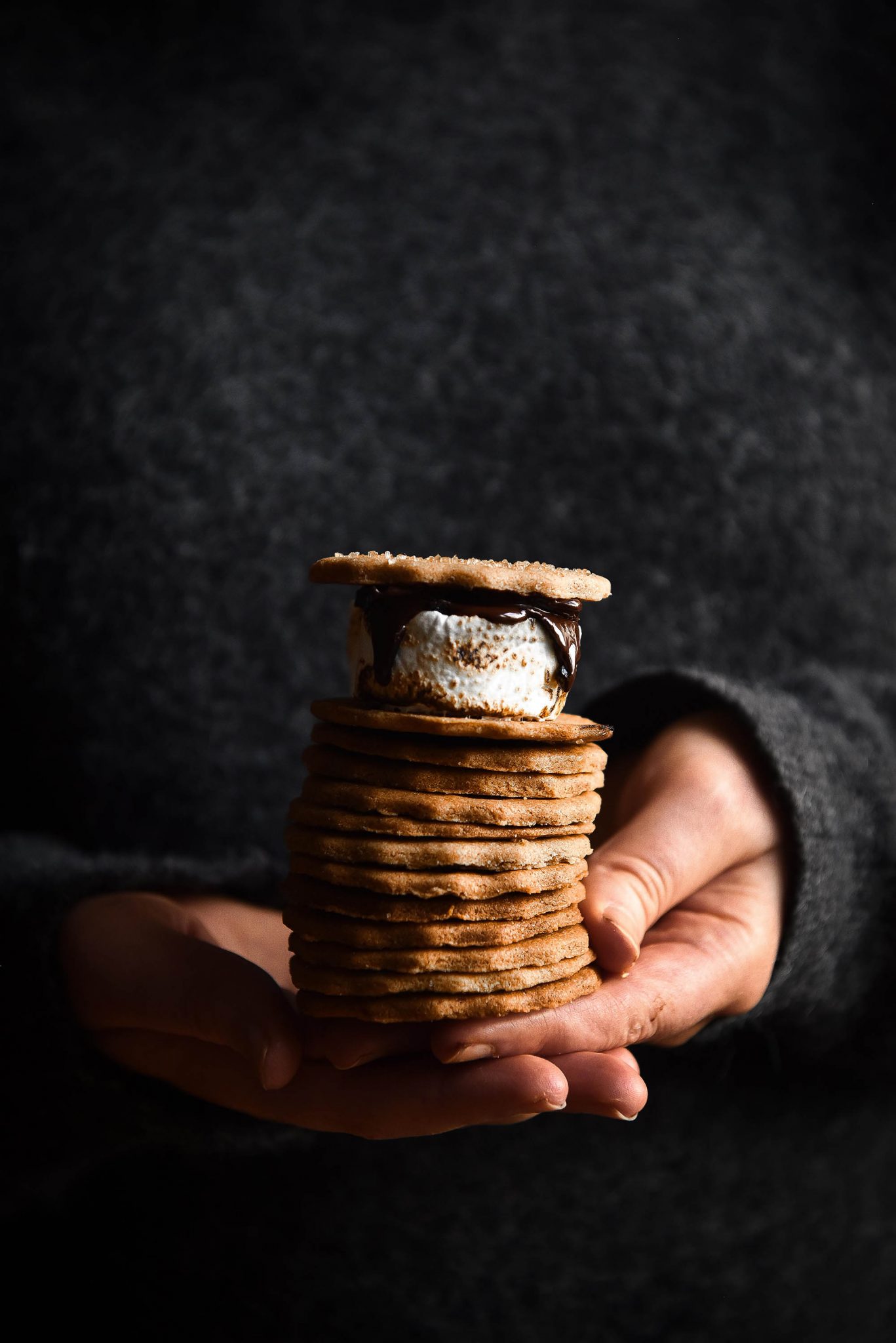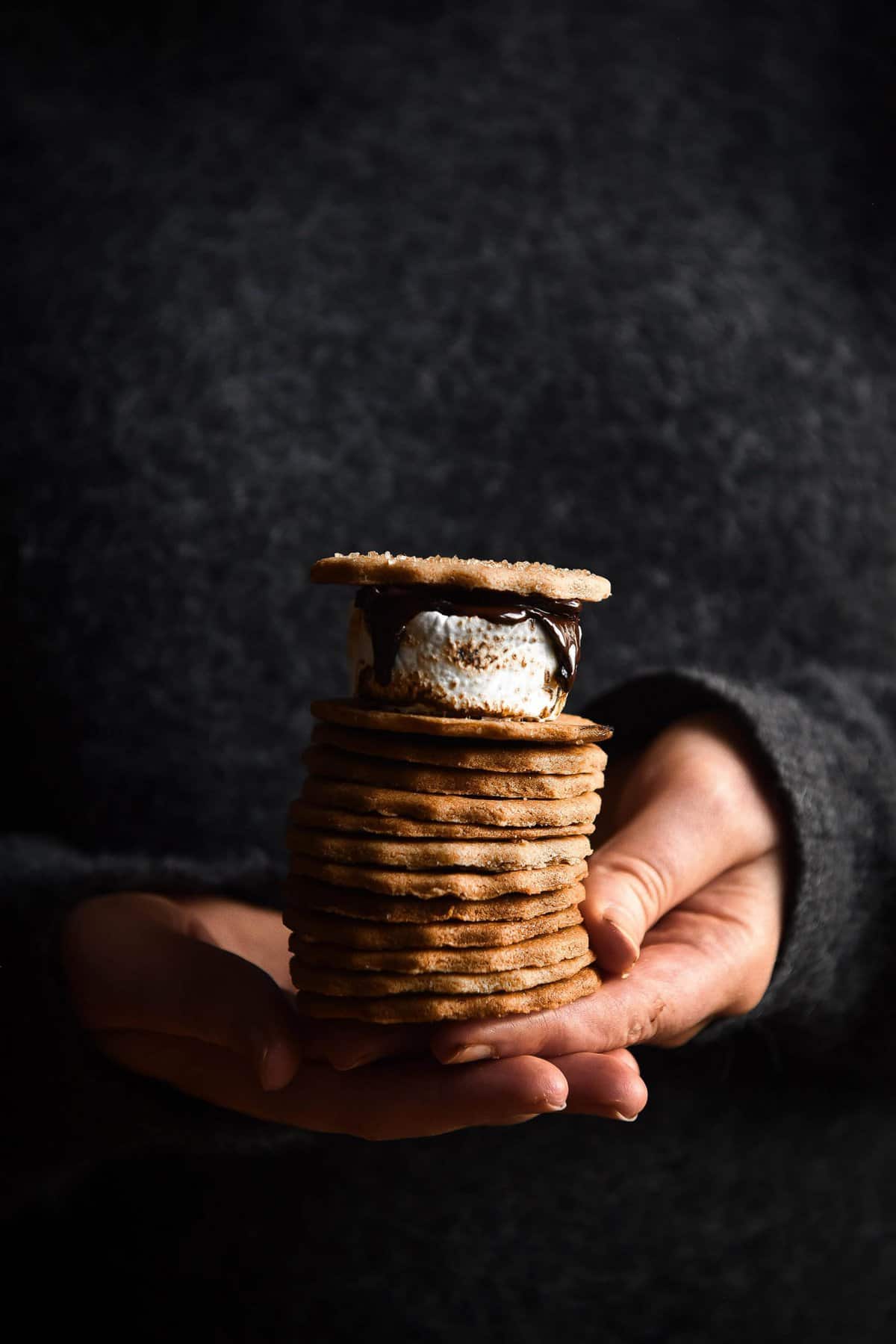 27. Vegan, gluten free cinnamon scrolls
Deliciously fluffy and light gluten free cinnamon scrolls that are vegan, gum free and nut free.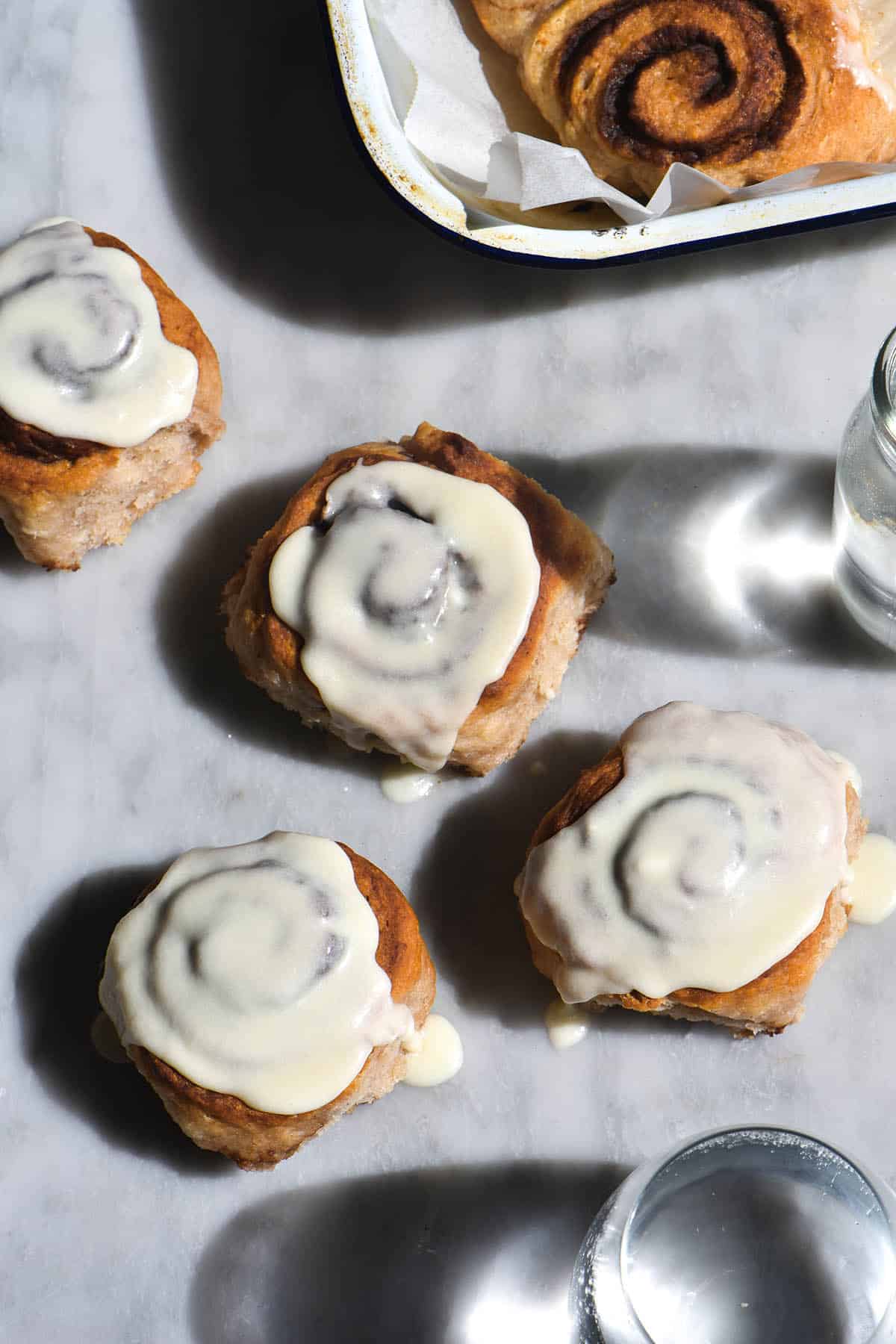 28. FODMAP friendly hedgehog slice
Hedgehog slice in Australia, chocolate salami elsewhere (for one!) this classic gets a FODMAP friendly twist from lactose free condensed milk and gluten free Graham crackers.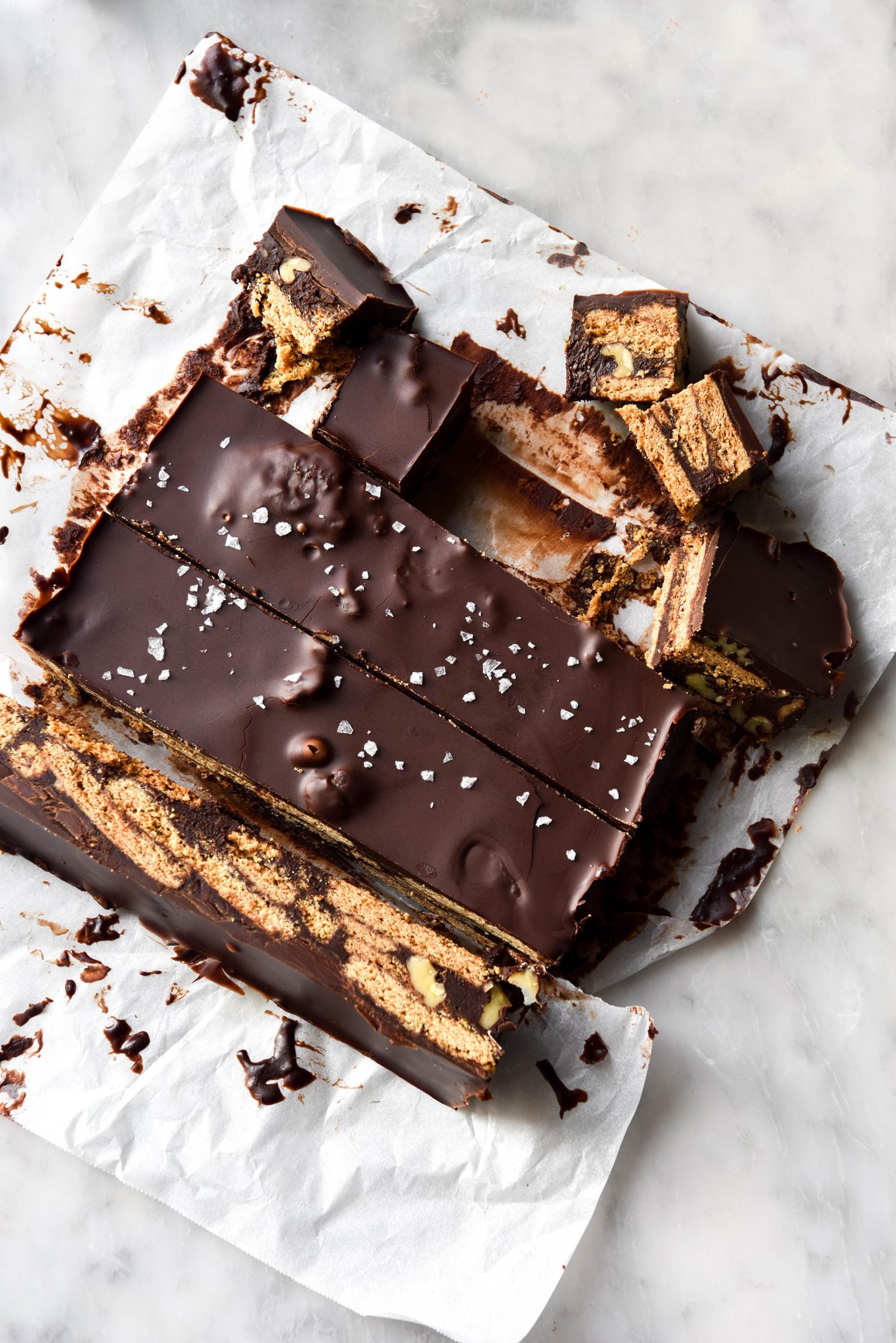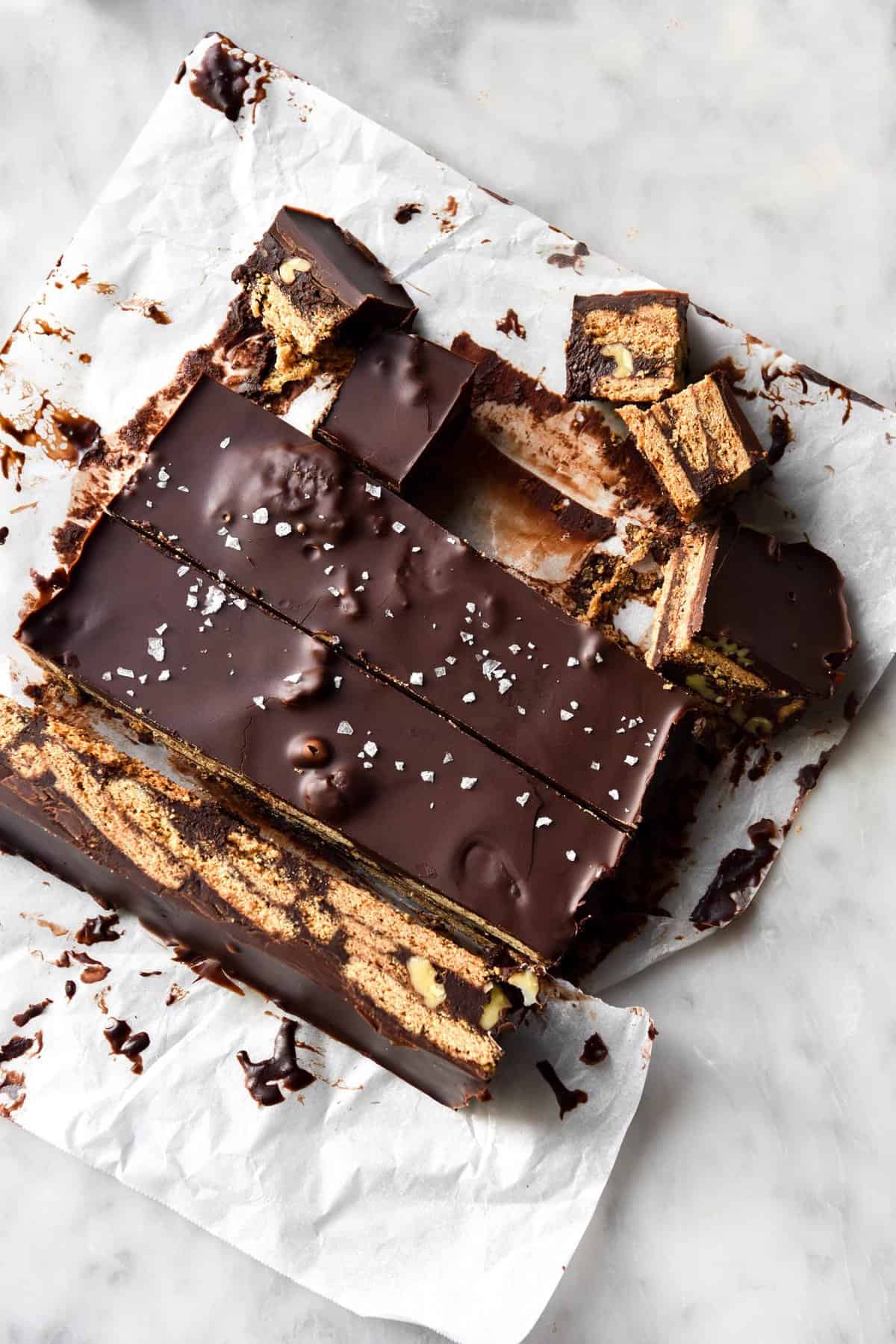 29. Vegan, gluten free hedgehog slice
I didn't forget those who are vegan, gluten free and FODMAP friendly! A store bought vegan condensed milk makes a quick shortcut for this delicious treat. It can also be made nut free.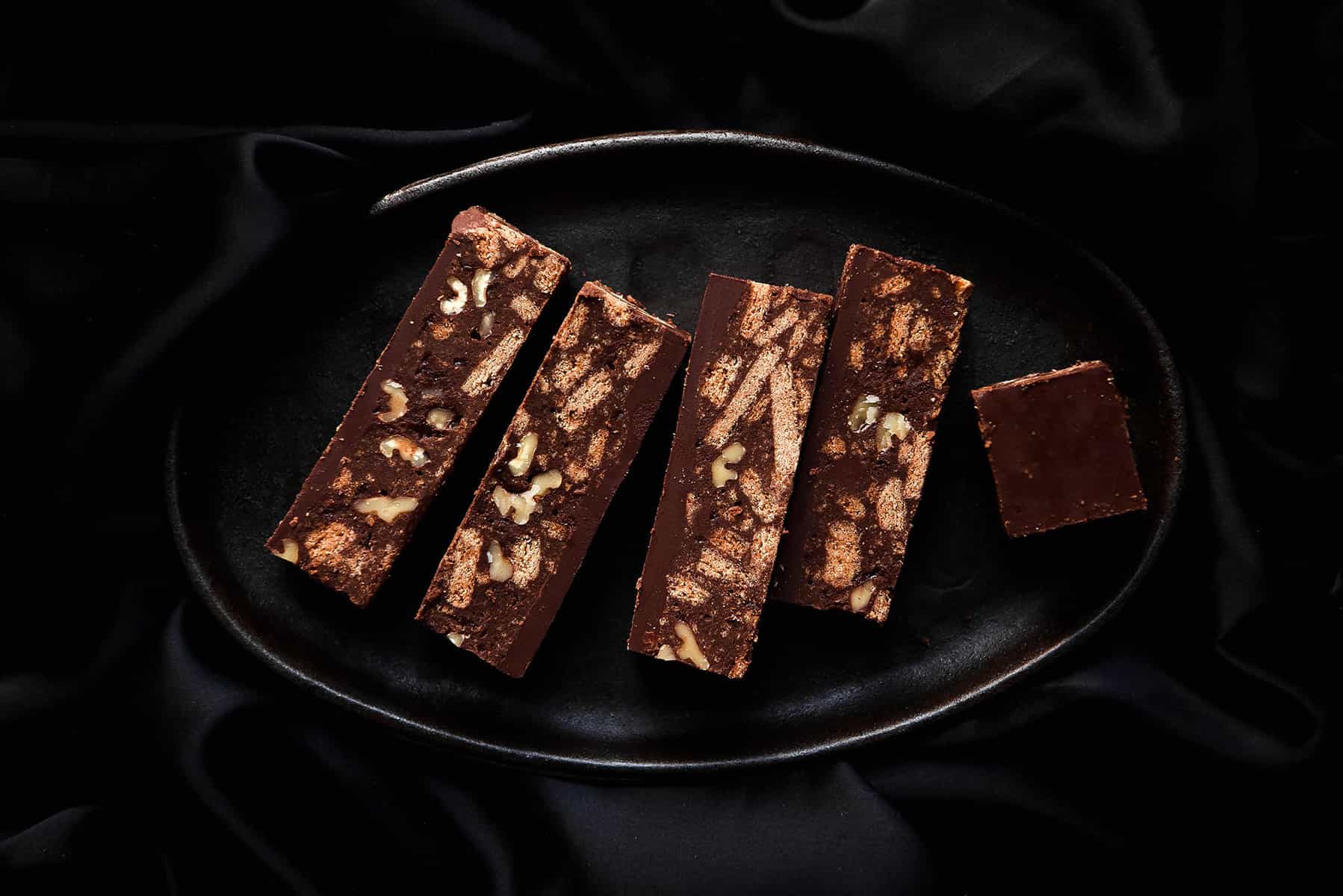 30. Vegan blueberry muffins
Delicious gluten free and vegan blueberry muffins that are starch free and gum free as well. A delicious fruity treat for multiple dietary constraints.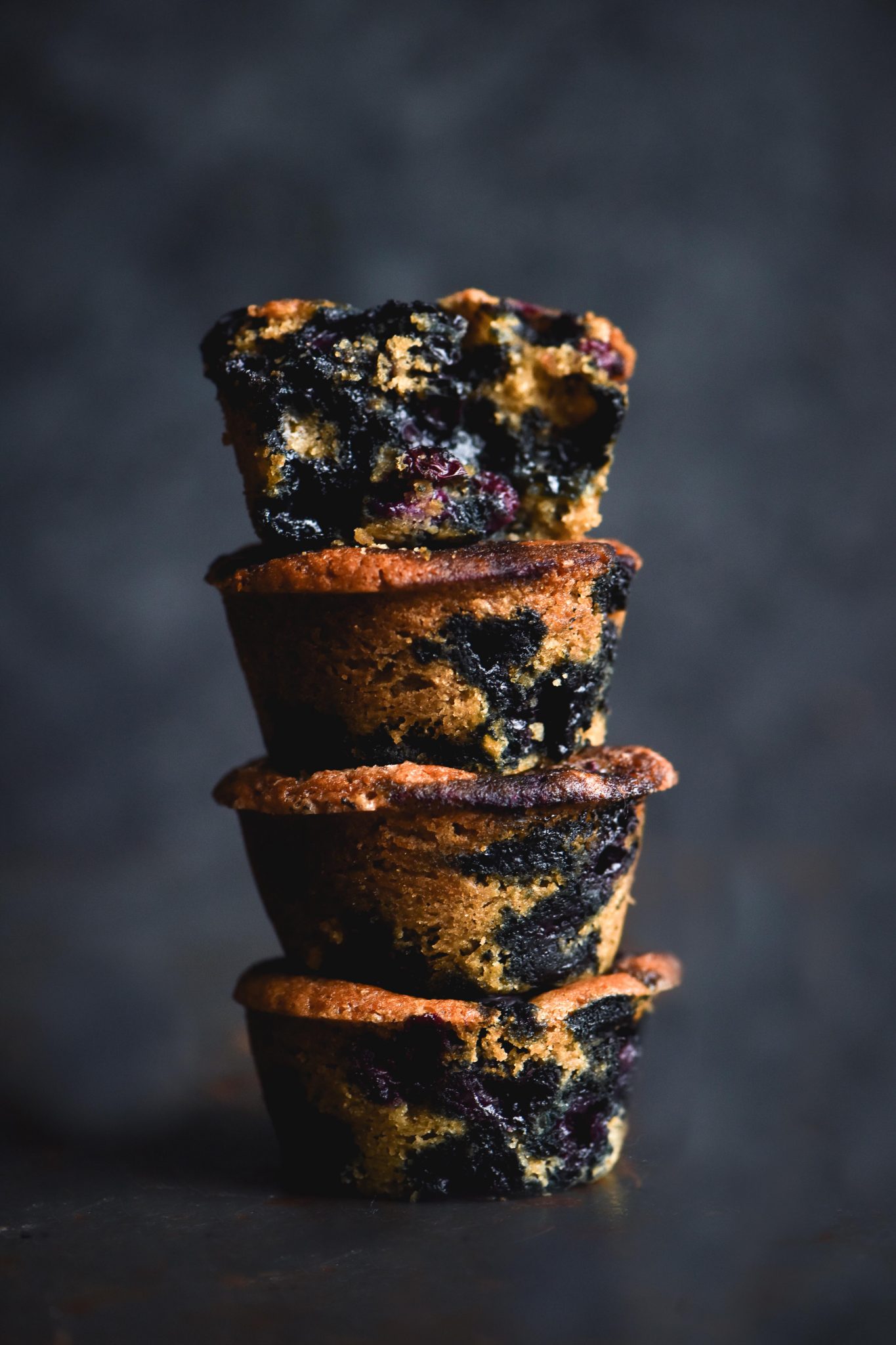 31. Small batch gluten free brownies – the creme de la creme of gluten free dessert recipes
Fancy some brownies but don't need an entire batch? Small batch brownies to the rescue. The perfect amount of fudgy deliciousness for a smaller crowd.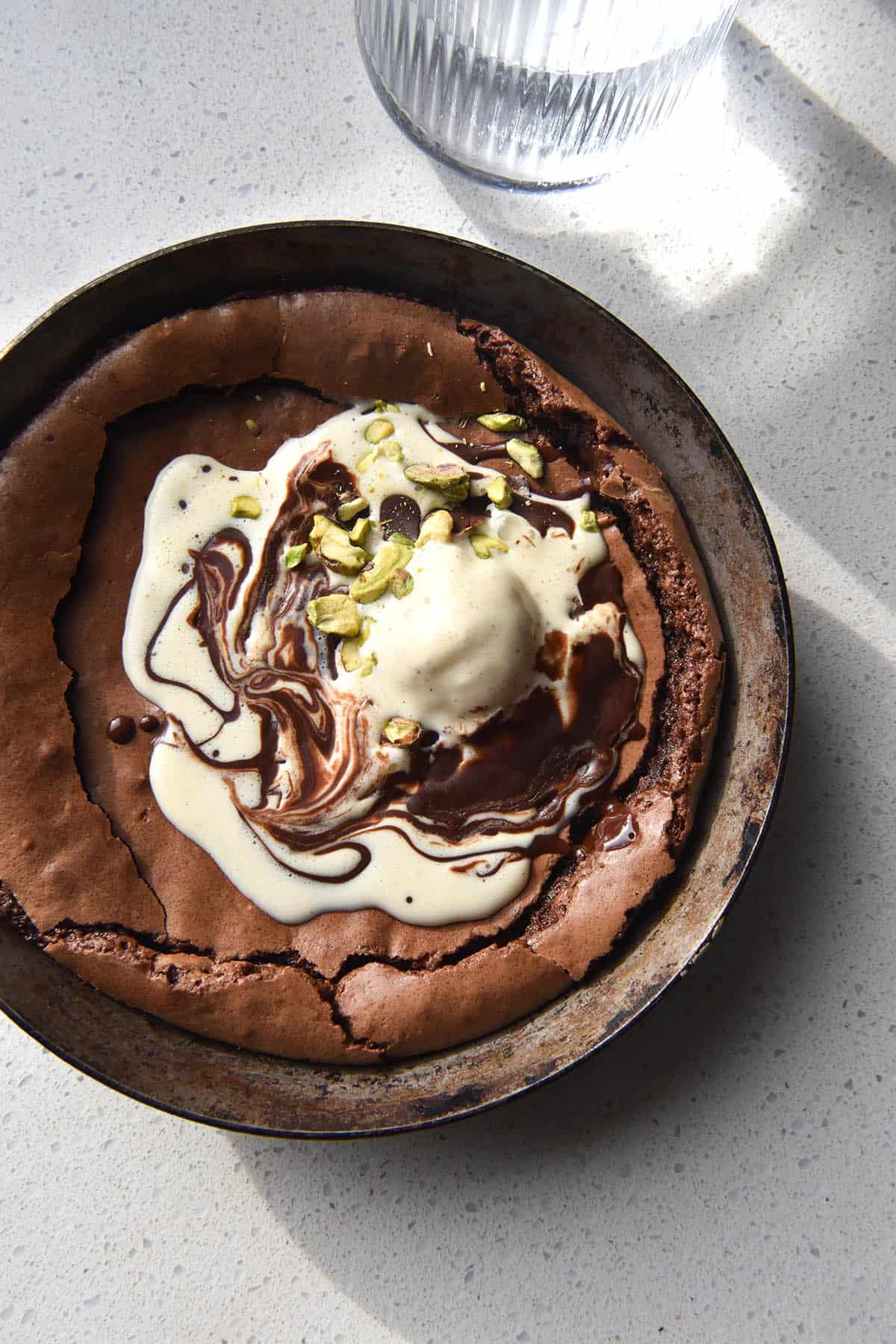 32. Gluten free lime curd tart with Graham cracker crust
A vibrant and delicious dairy free lime curd atop a gluten free Graham cracker crust. The gluten free FODMAP dream.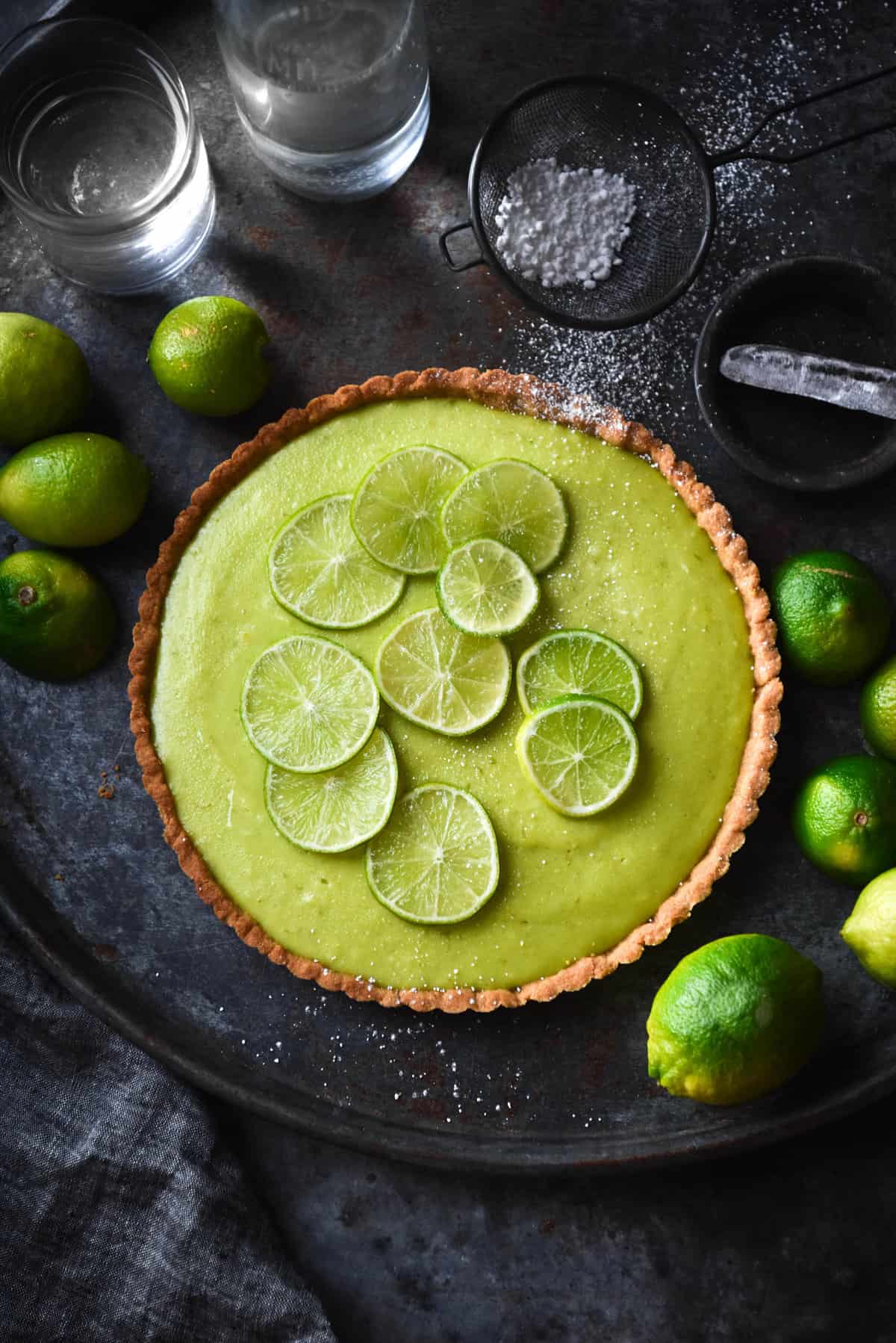 33. Sourdough banana bread
Got some sourdough starter leftover? Make this gluten free vegan banana bread.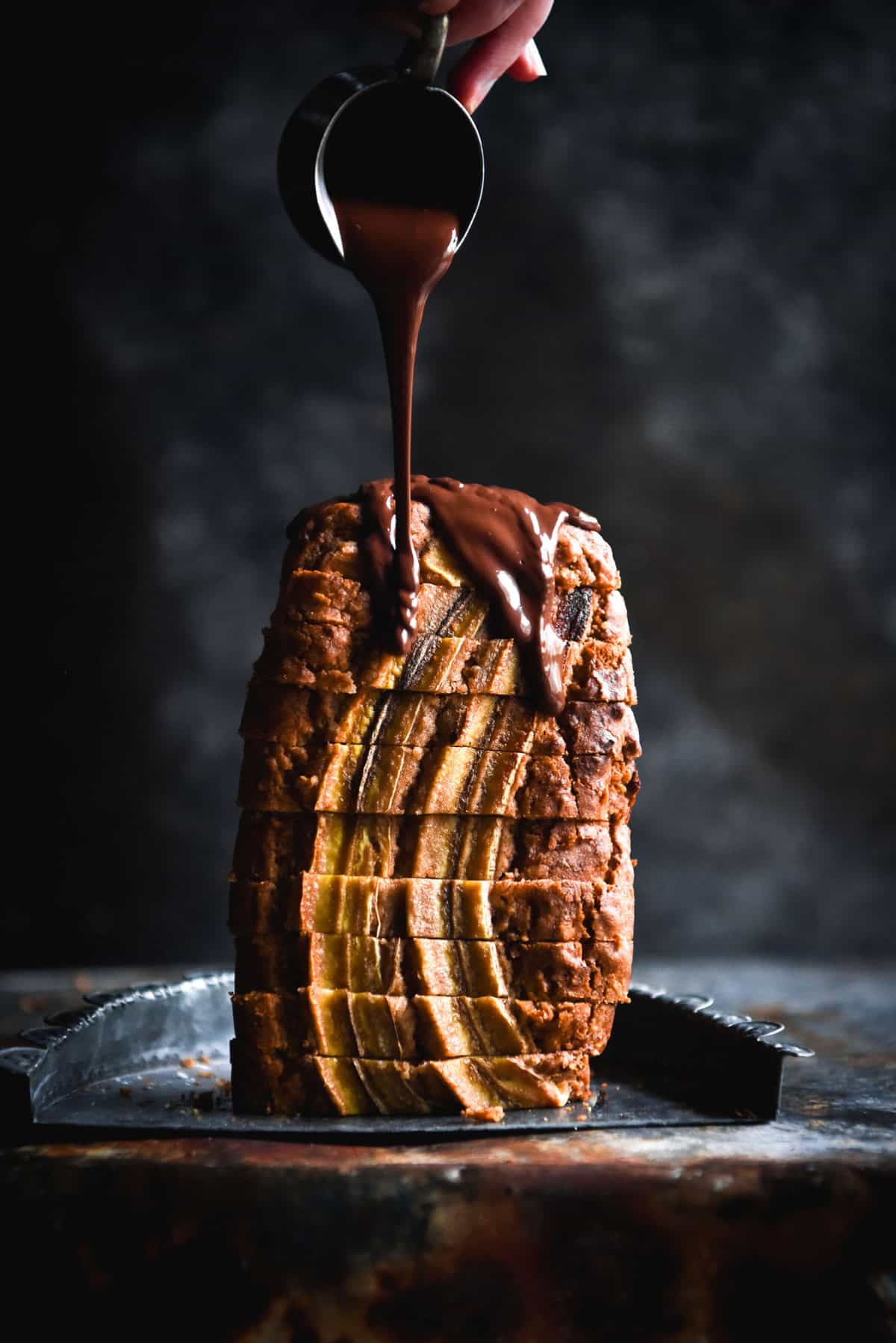 34. Pavlova with lactose free raspberry curd
A delicious festive pav with a no waste raspberry curd that uses the egg yolks leftover from the pav.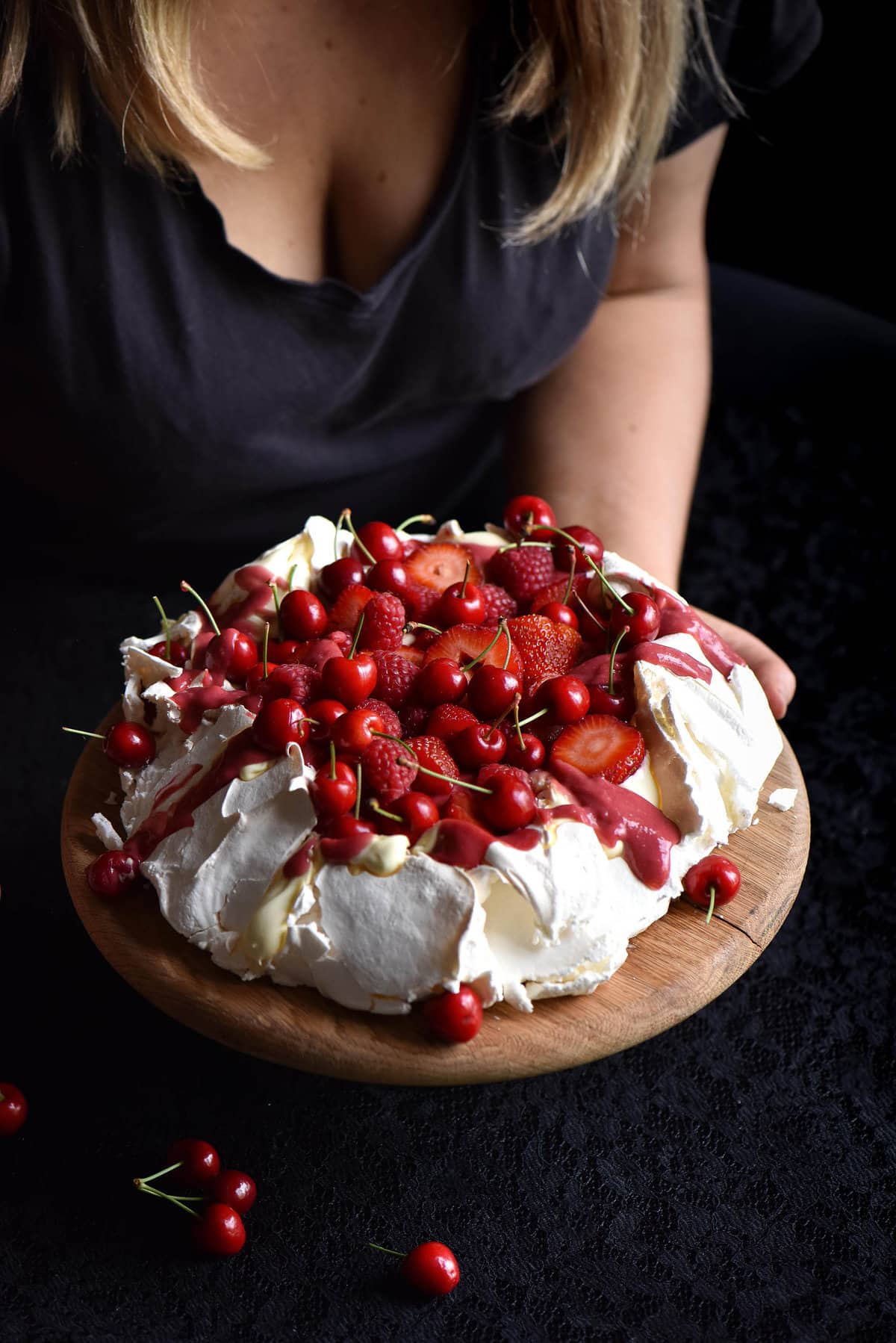 35. Gluten free lemon drizzle cake
A single flour, starch and gum free lemon drizzle cake that is equal parts beautiful and delicious. The loaf recipe can be used for any sort of basic vanilla cake – topped with fruit or a passionfruit icing would be my picks. One of my favourite gluten free dessert recipes.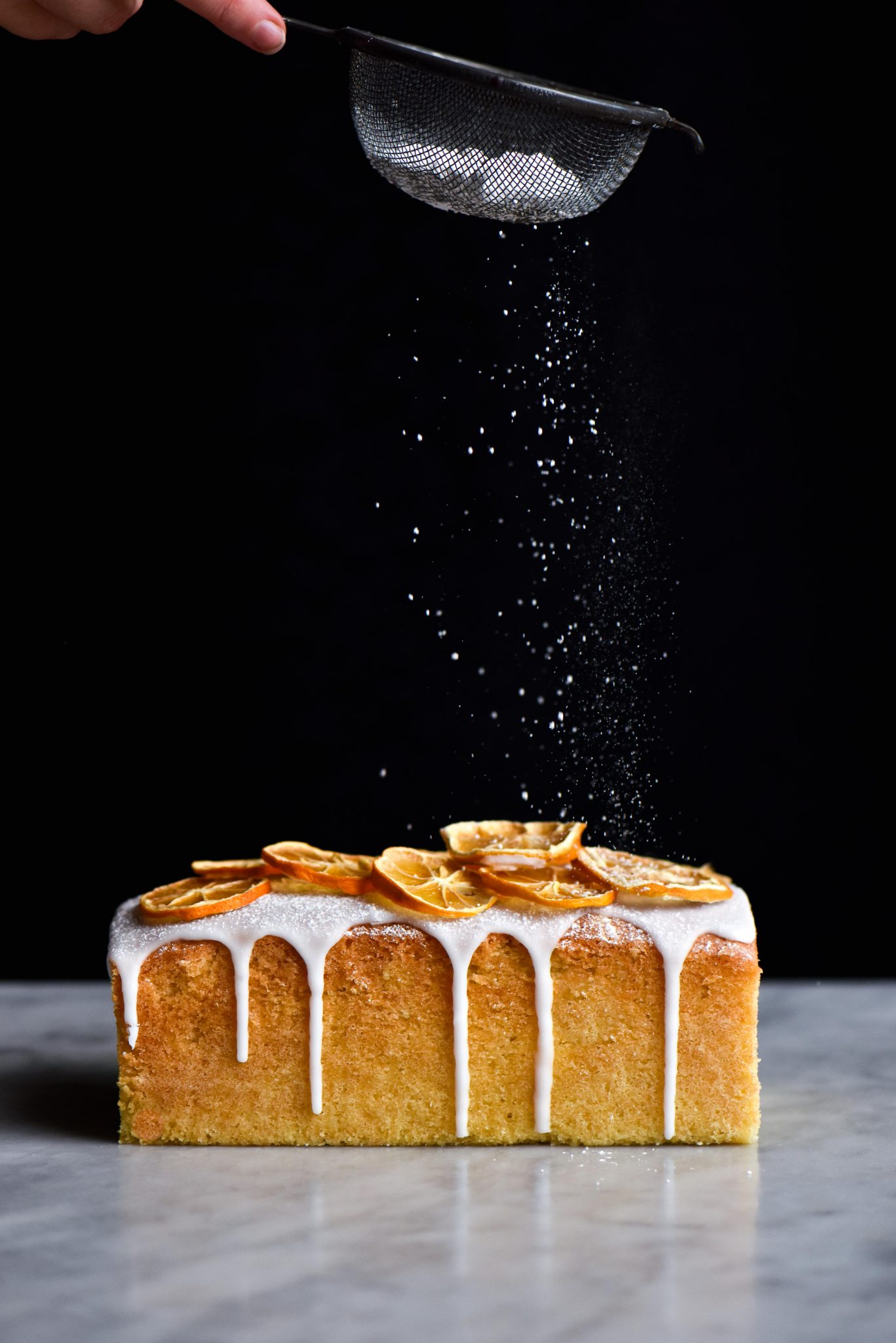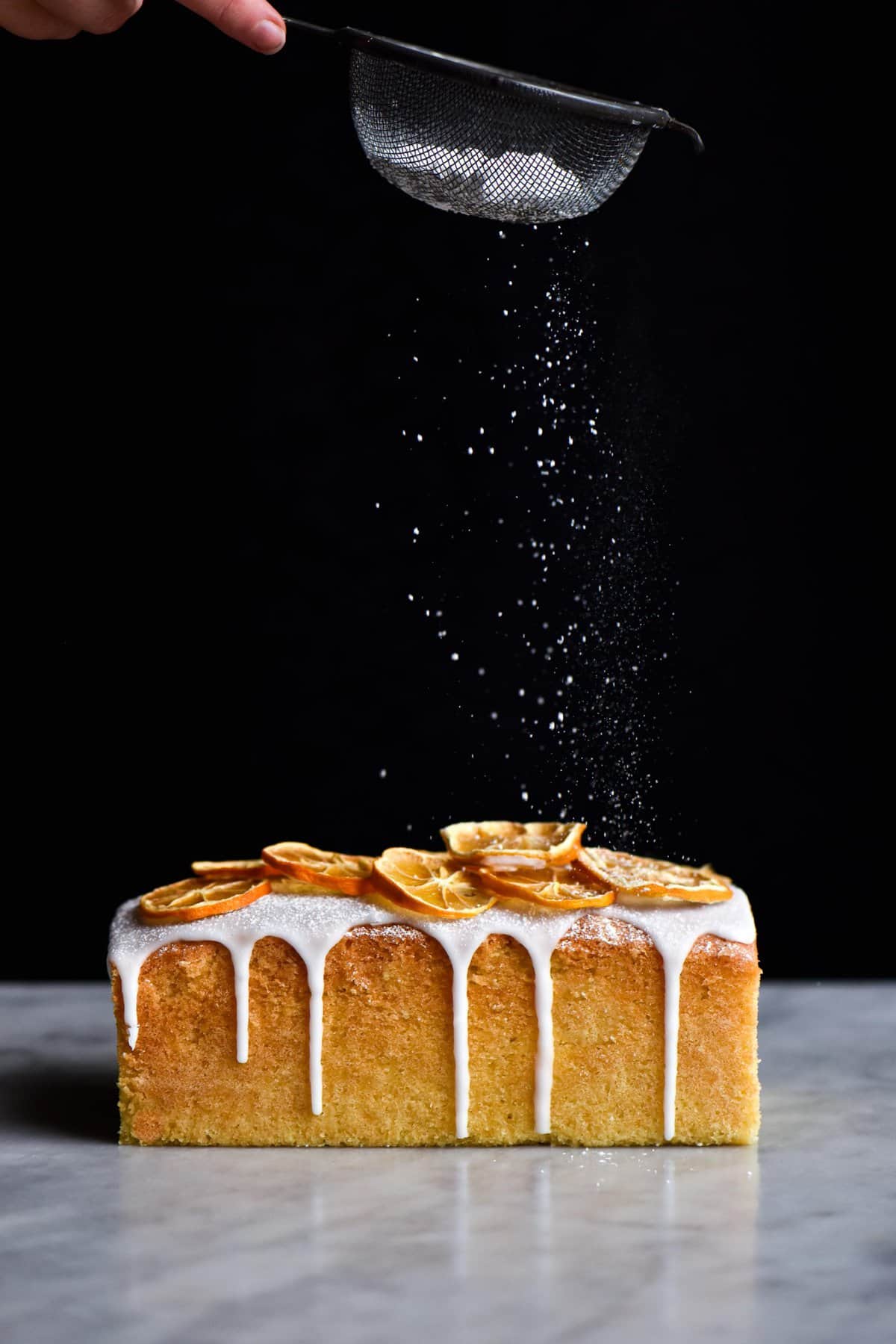 36. Starch and gum free linzer cookies
Fussy to make but delicious and festive to eat, these Linzer cookies are a triumph of the Christmas table.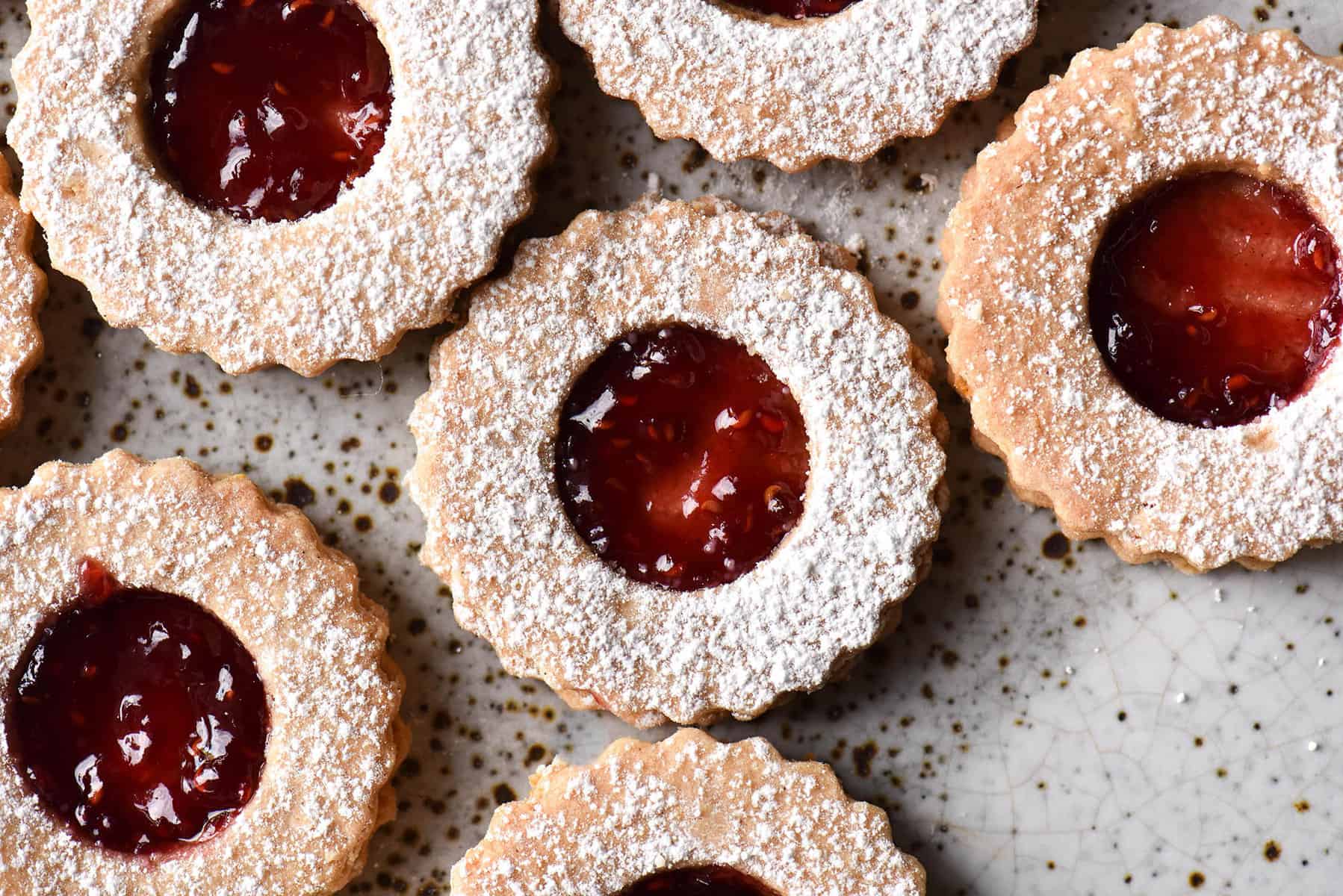 37. Three ingredient mini Basque cheesecakes (lactose free)
Fancy some cheesecake but not an entire cake? Got some cream cheese you need to use up? This quick little number is for you.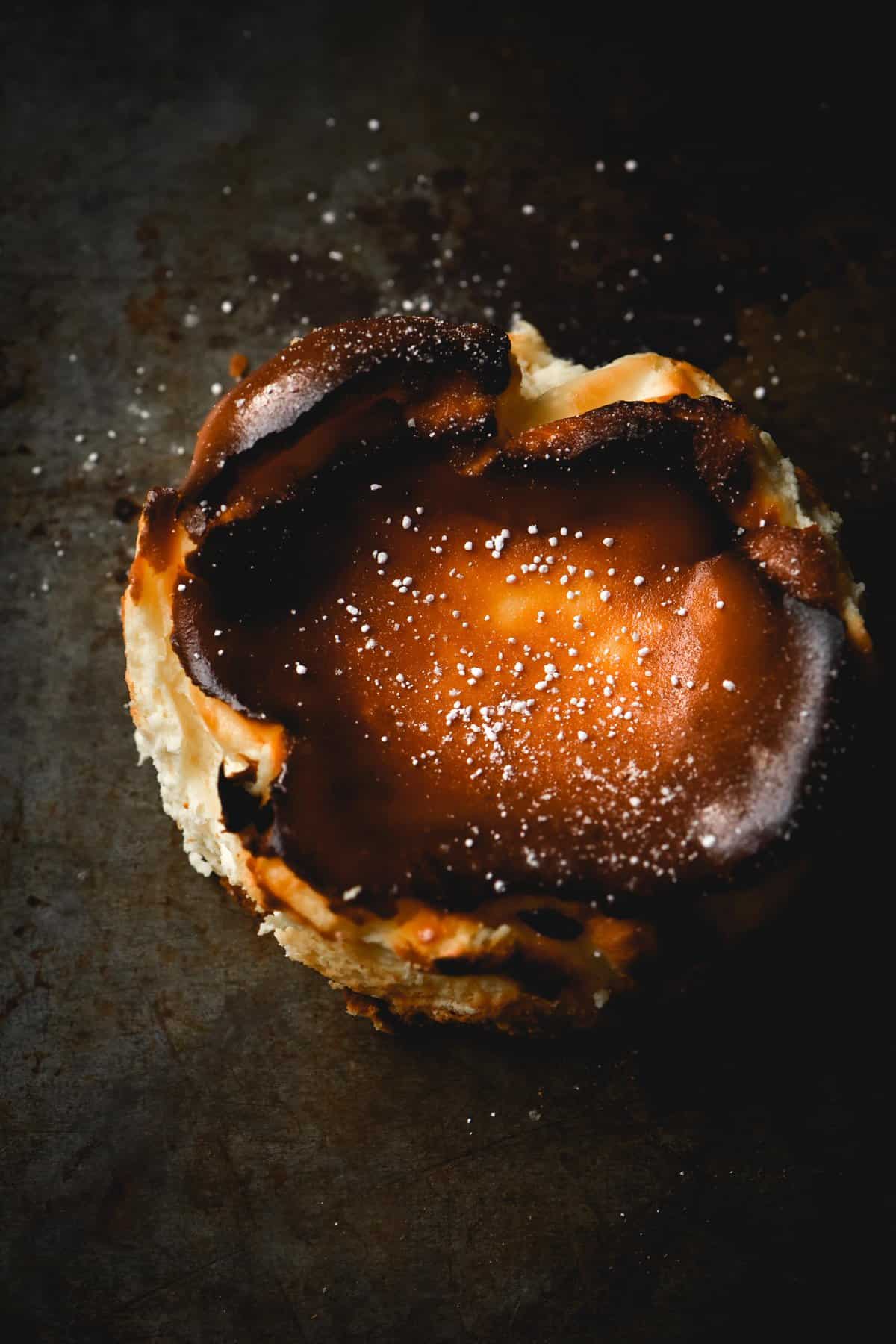 38. FODMAP friendly fruit crumble (vegan option)
A ridiculously easy gluten free crumble that uses a single flour and can easily be made vegan. Choose the fruit based on what's available and what works for your dietaries.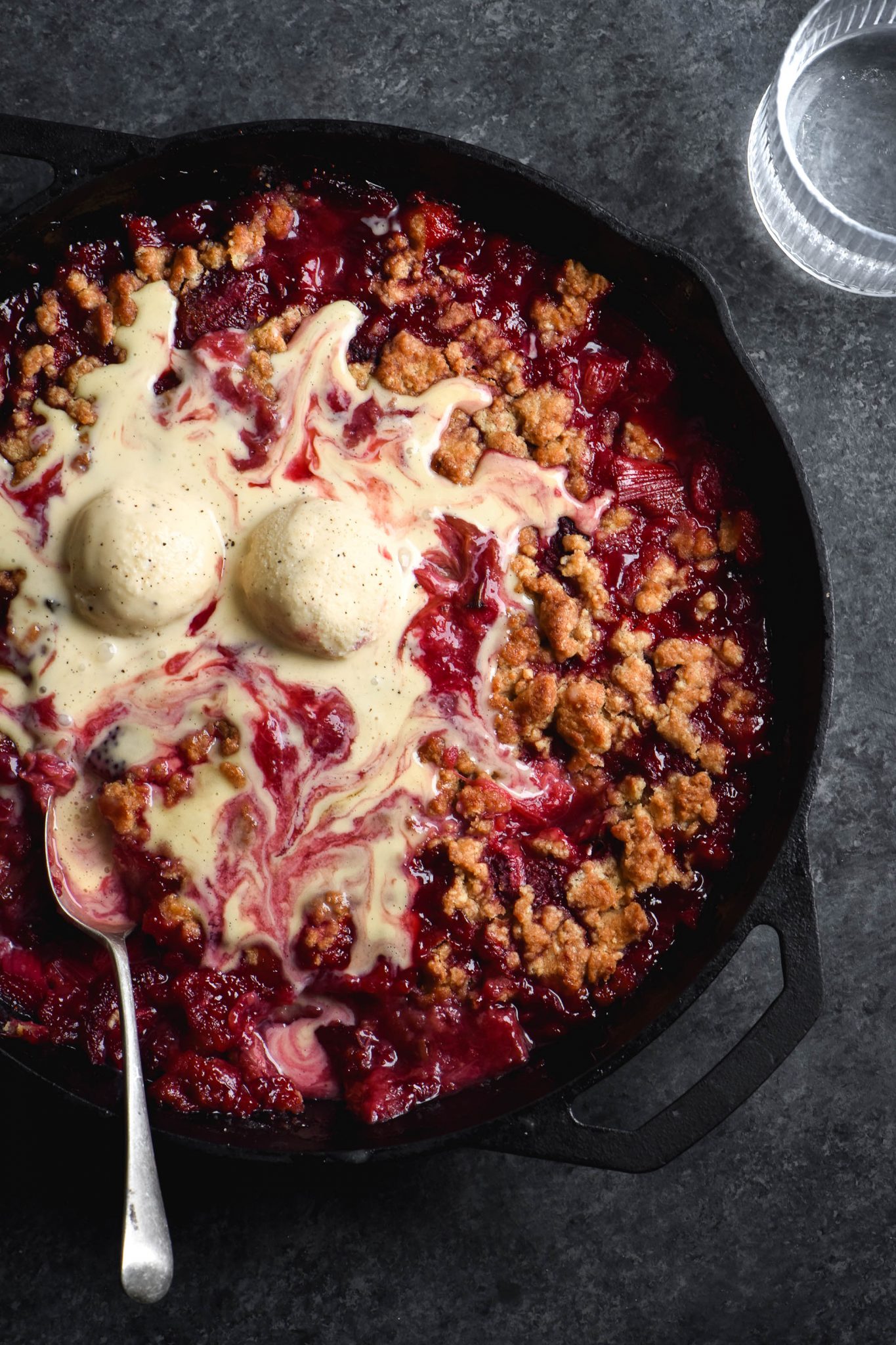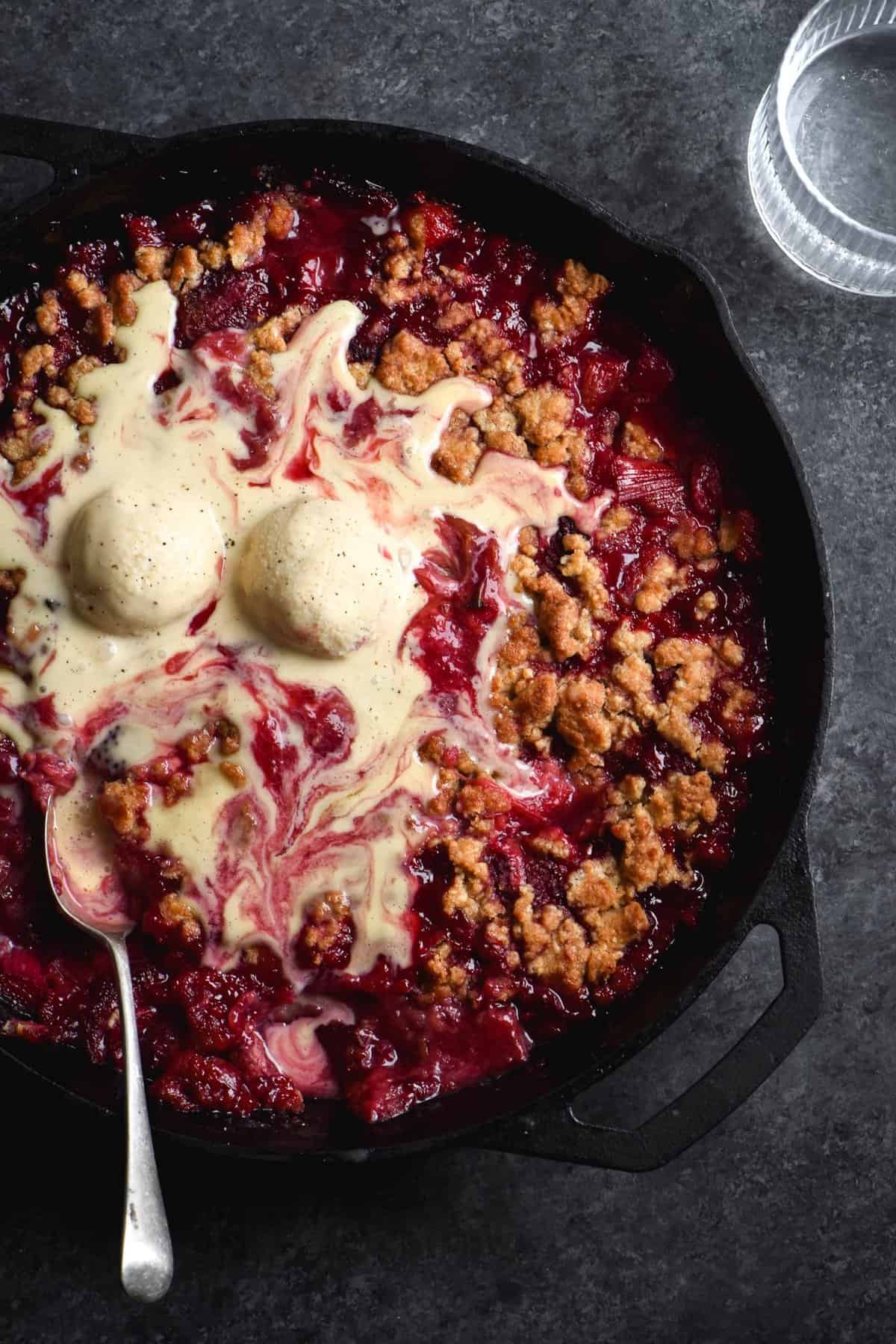 39. Gluten free zucchini loaf with lemon drizzle icing
Perfect for the summer seasons when zucchinis are eating you alive, this cake is moist yet light. One of the classic Gluten free dessert recipes in America.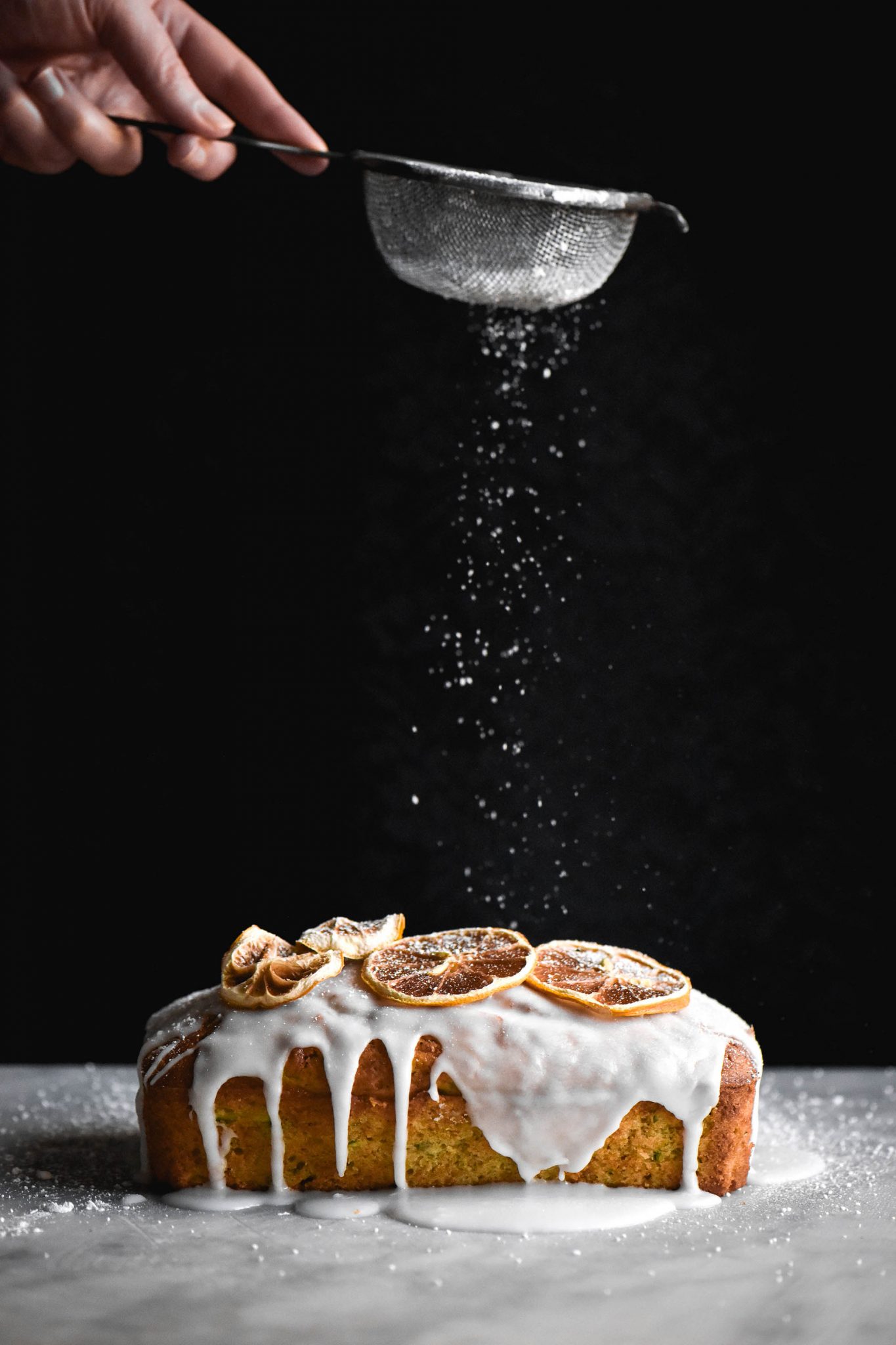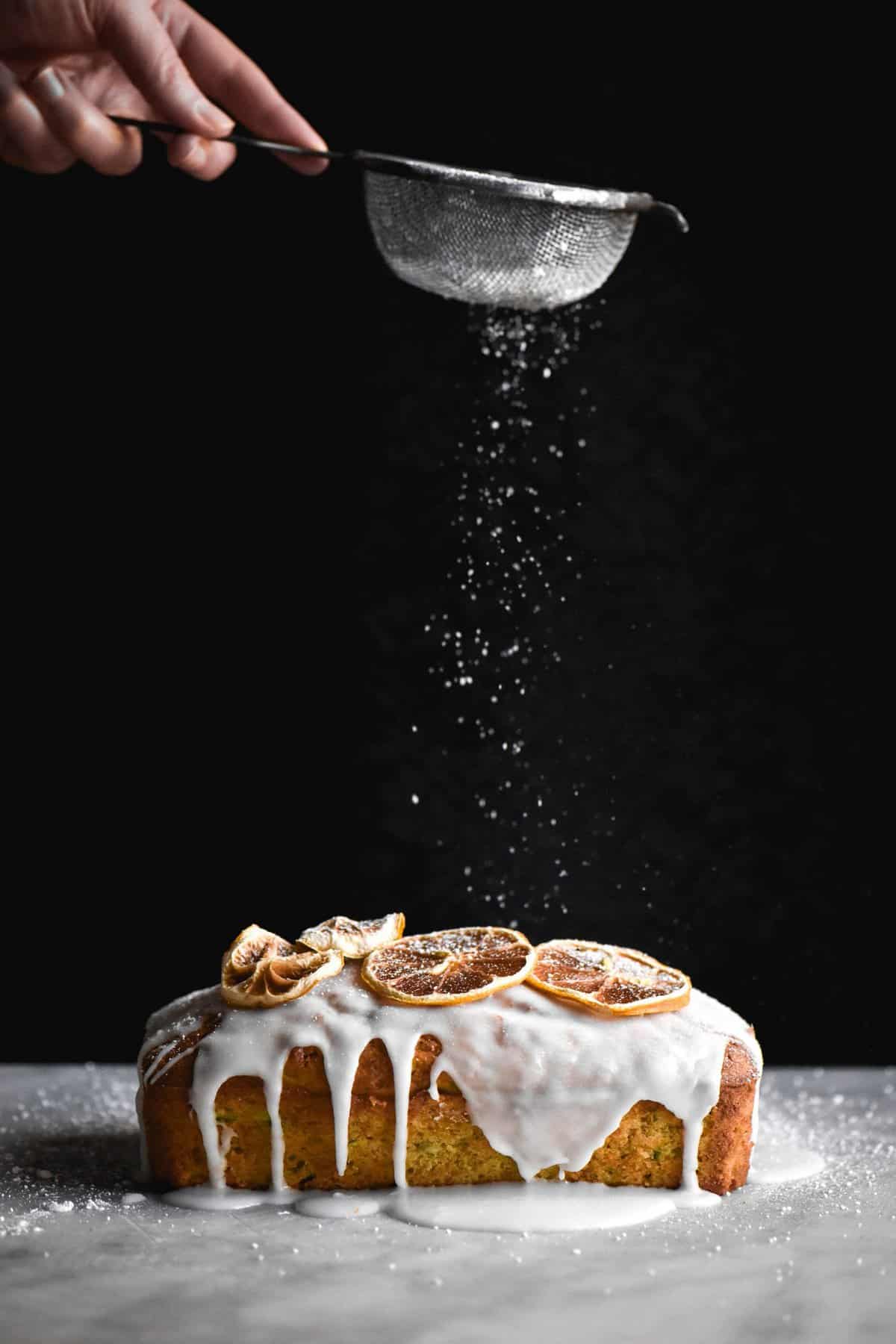 40. Gluten free blueberry scones
Deliciously buttery and flaky gluten free blueberry scones that have the option to be made without xanthan gum. A fruity and delicious summer treat.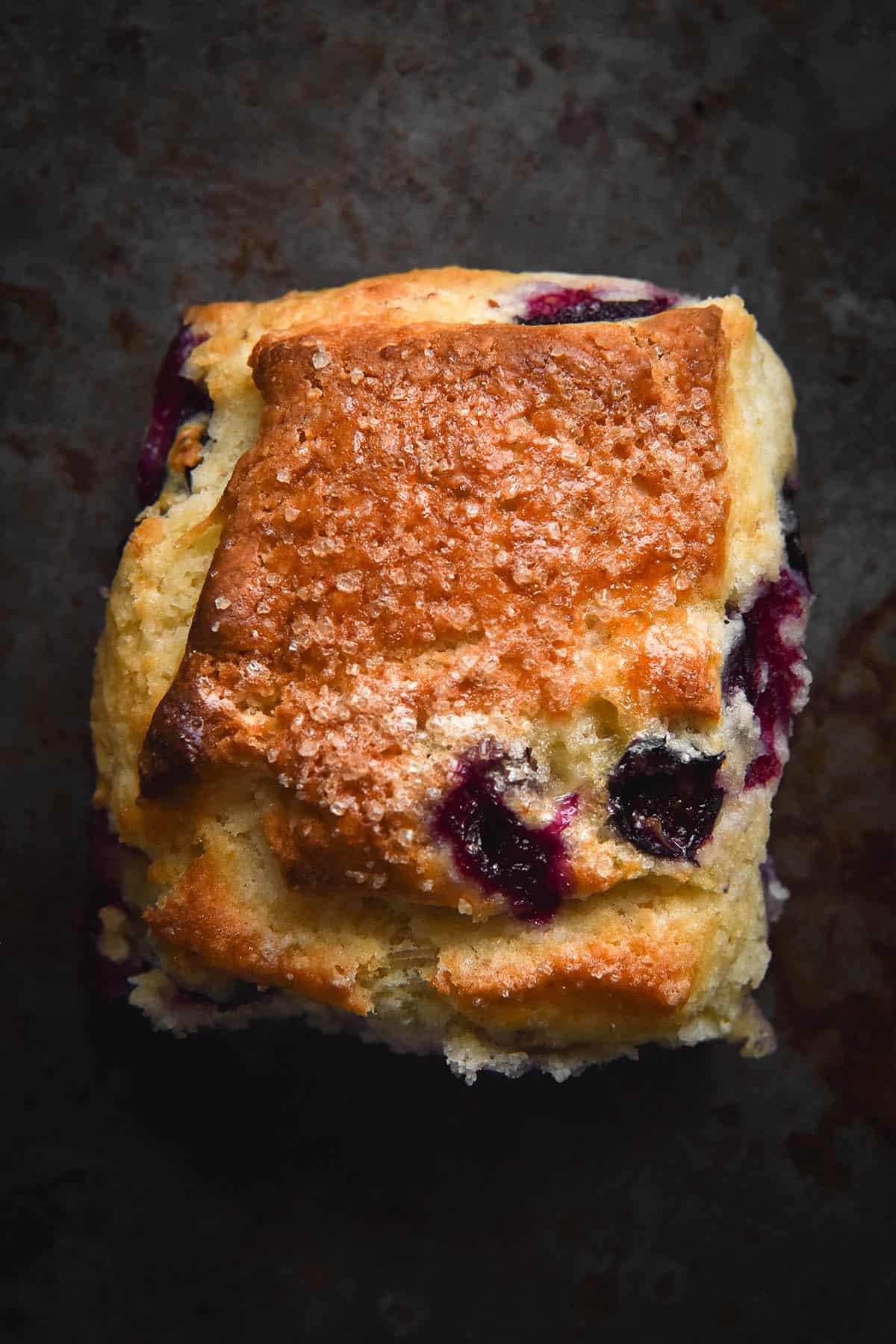 41. Gluten free cinnamon rolls
Easy and delicious gluten free and xanthan gum free cinnamon rolls.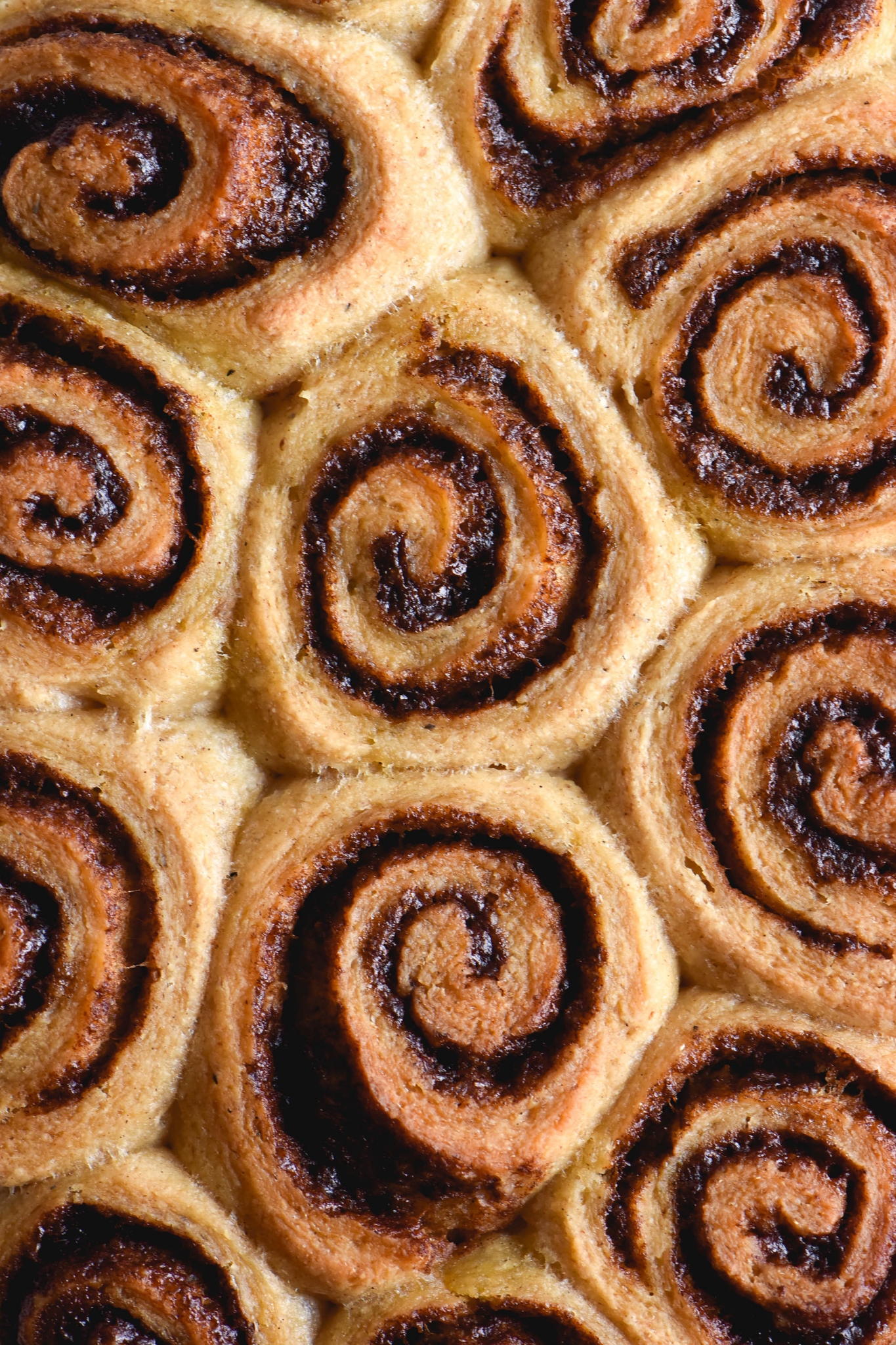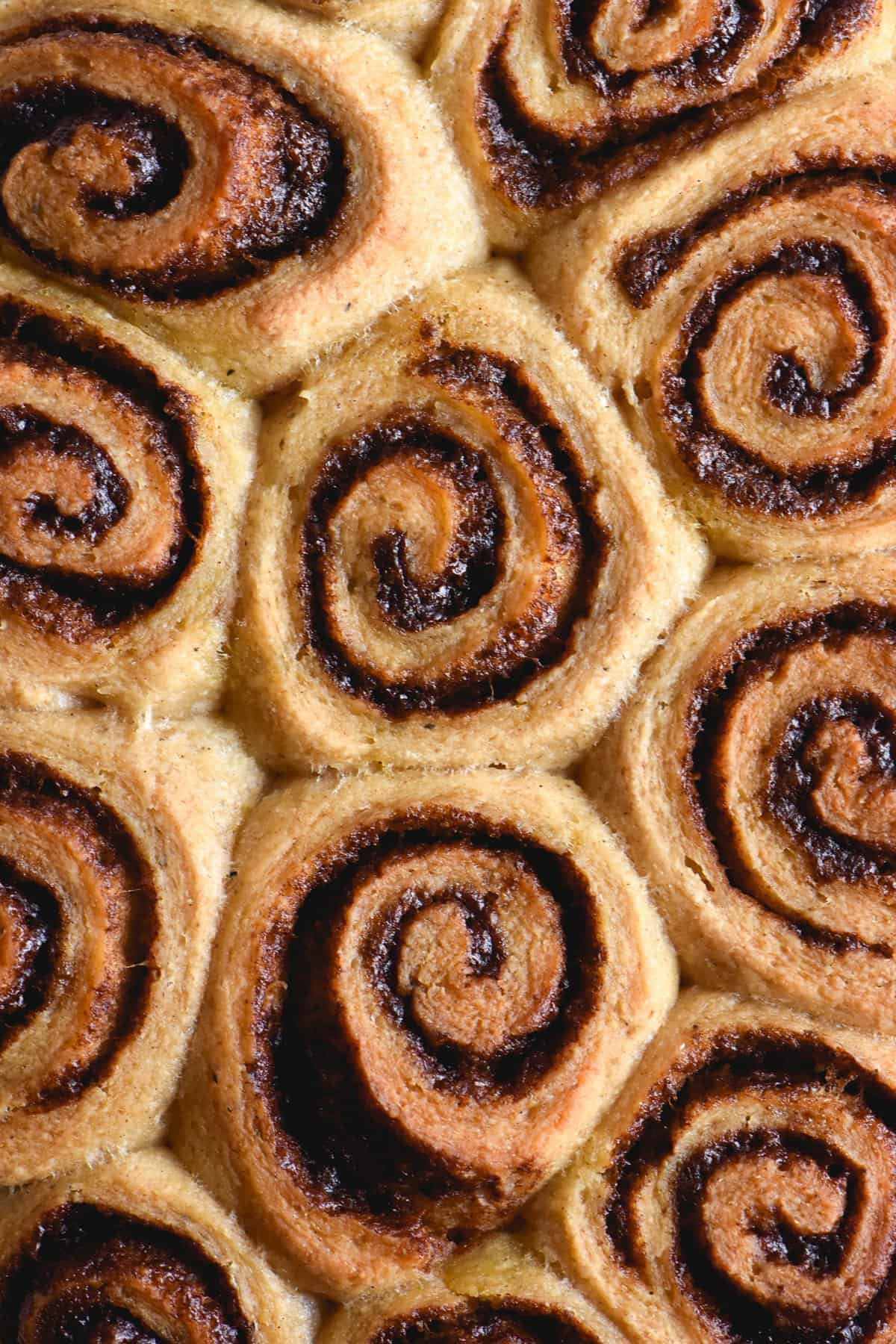 42. Pumpkin mug cake
A delicious autumnal vegan and gluten free treat.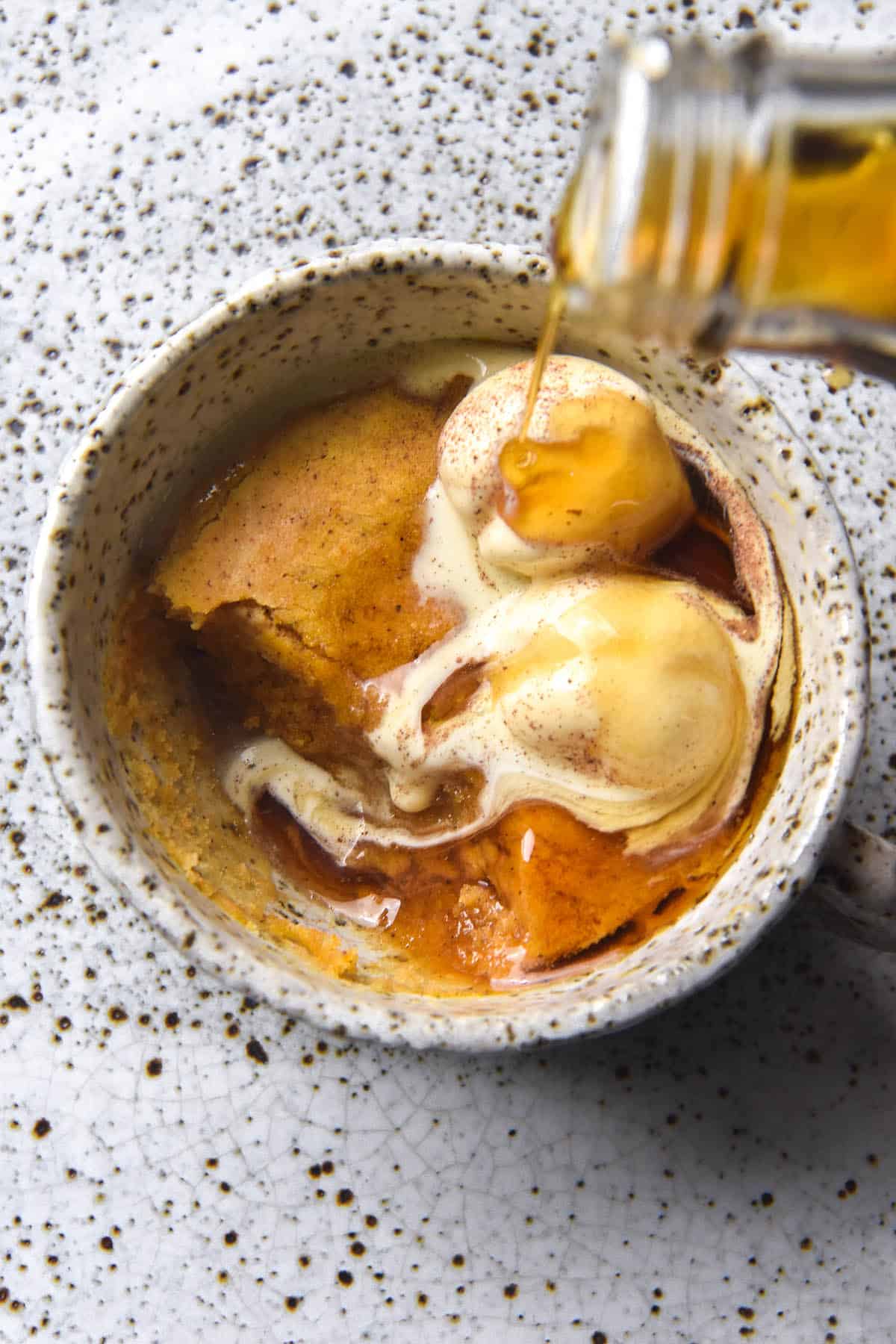 43. Gluten free chocolate olive oil cake
What's better than the combination of chocolate and olive oil?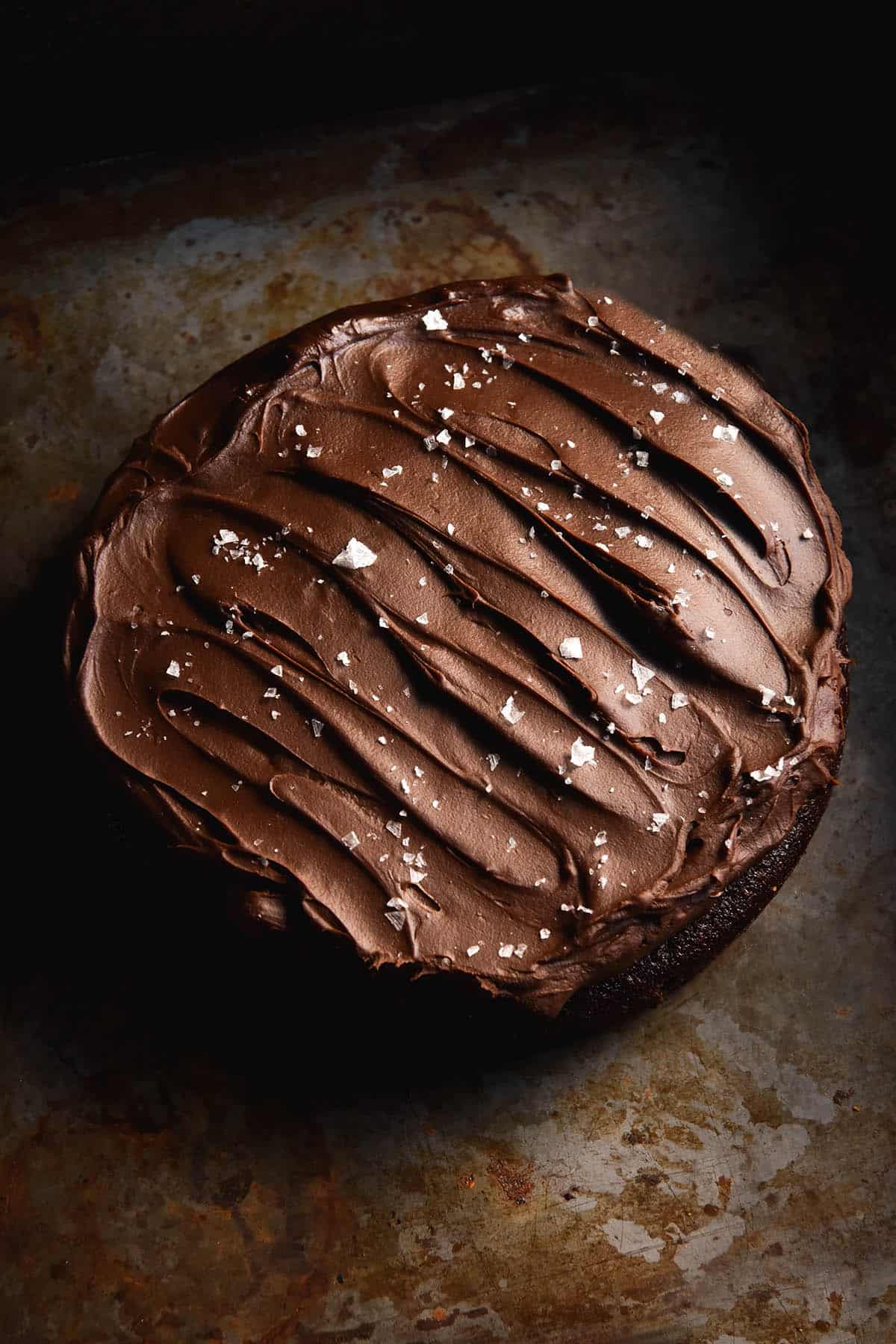 I couldn't get through this list without mentioning my favourite thing I've created: gluten free croissants. The recipe can be found in my cookbook, Intolerance Friendly Kitchen.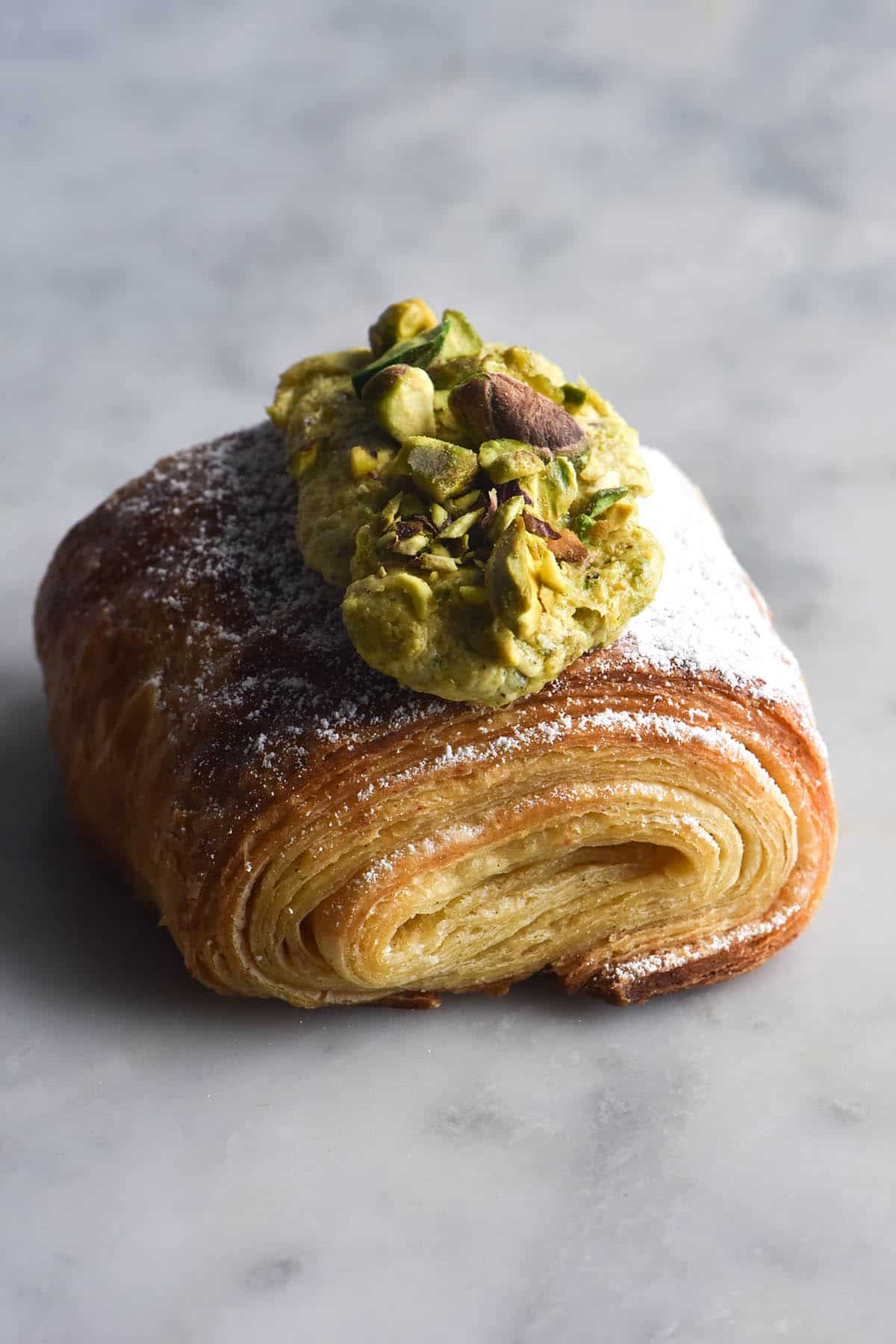 Same goes for my recipe for gluten free, xanthan gum free cream puffs. A recipe I'm incredibly proud of and I hope you will love as much as I do. You can find the recipe in my cookbook, Intolerance Friendly Kitchen.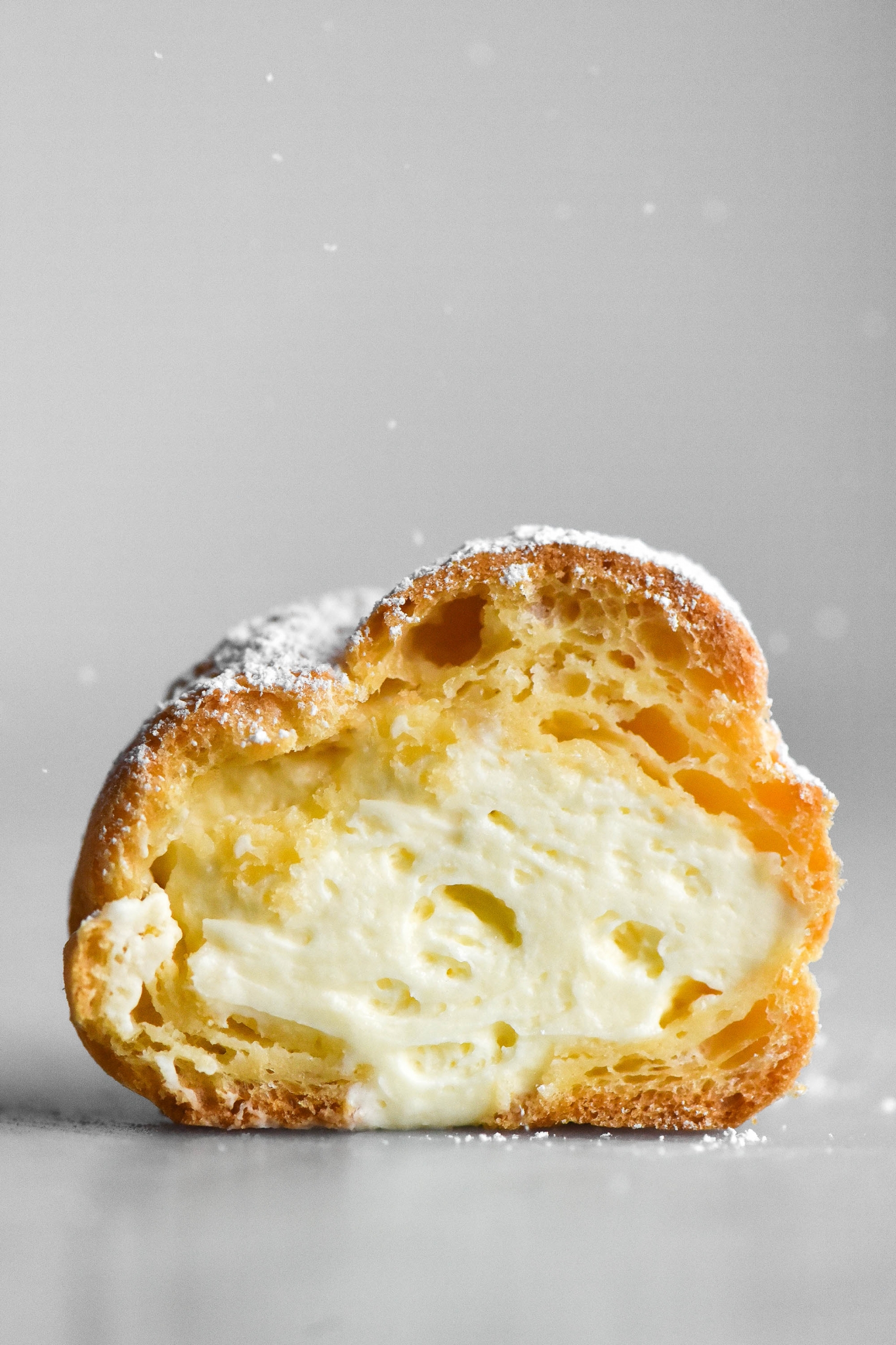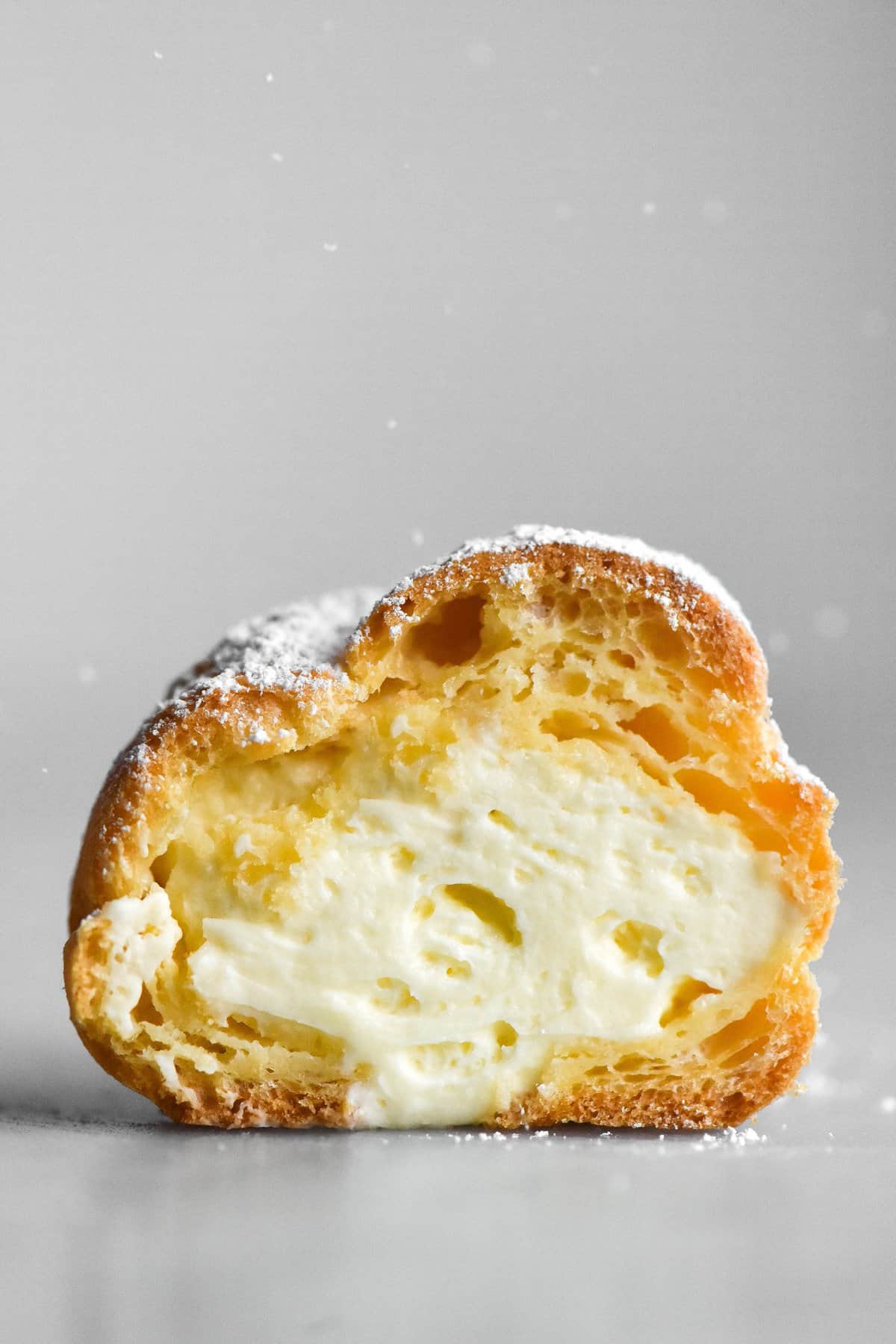 46. Gluten free zucchini 'apple' crumble
Apple crumble, but make it a little FODMAP friendlier with zucchini! Lemon, sugar and cinnamon disguise the zucchini for a delicious, apple like result. Great for using up a glut of zucchini, too.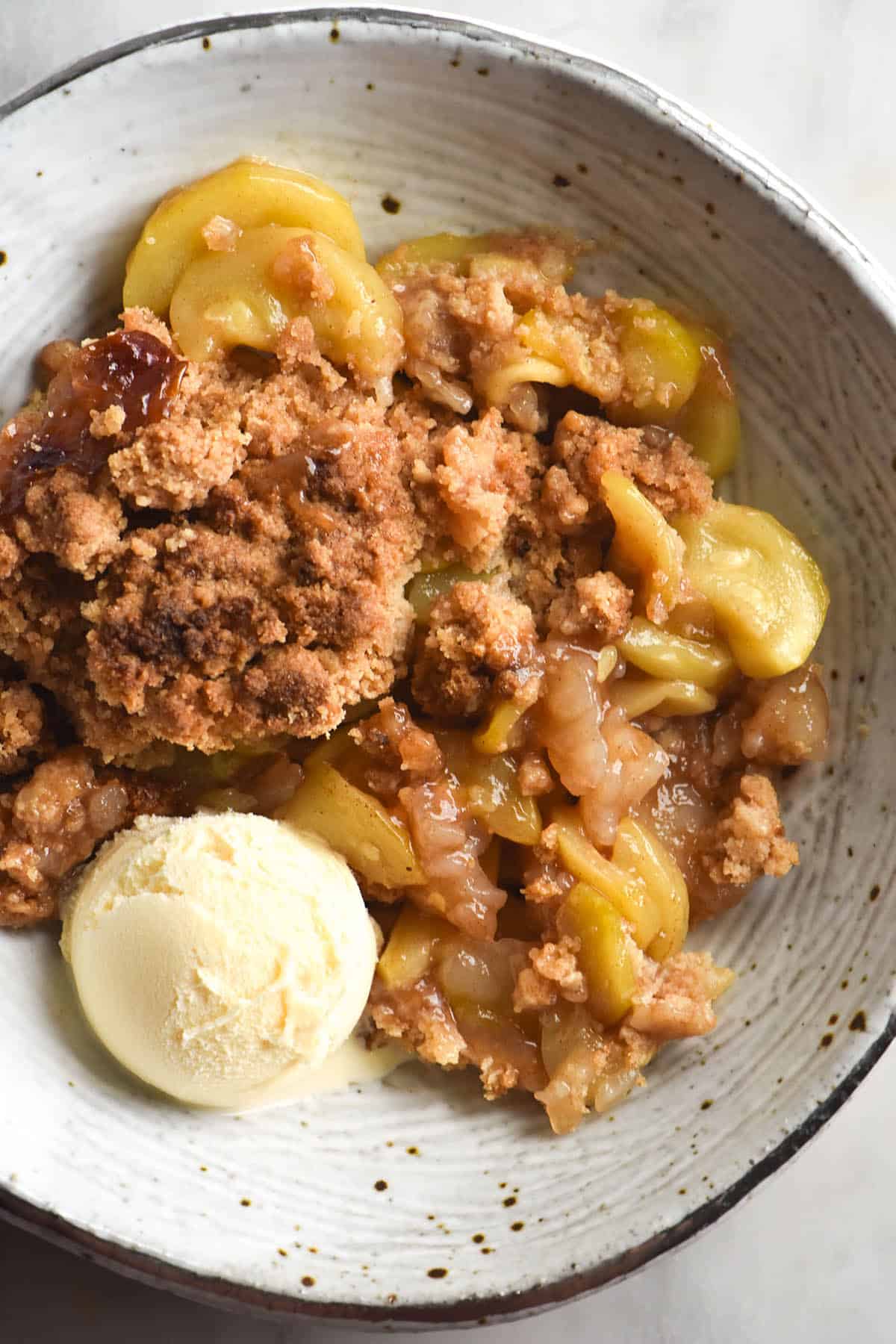 47. Classic blueberry muffins
A classic, buttery and delicious gluten free blueberry muffin made without nuts. Also has the optional to be xanthan gum free.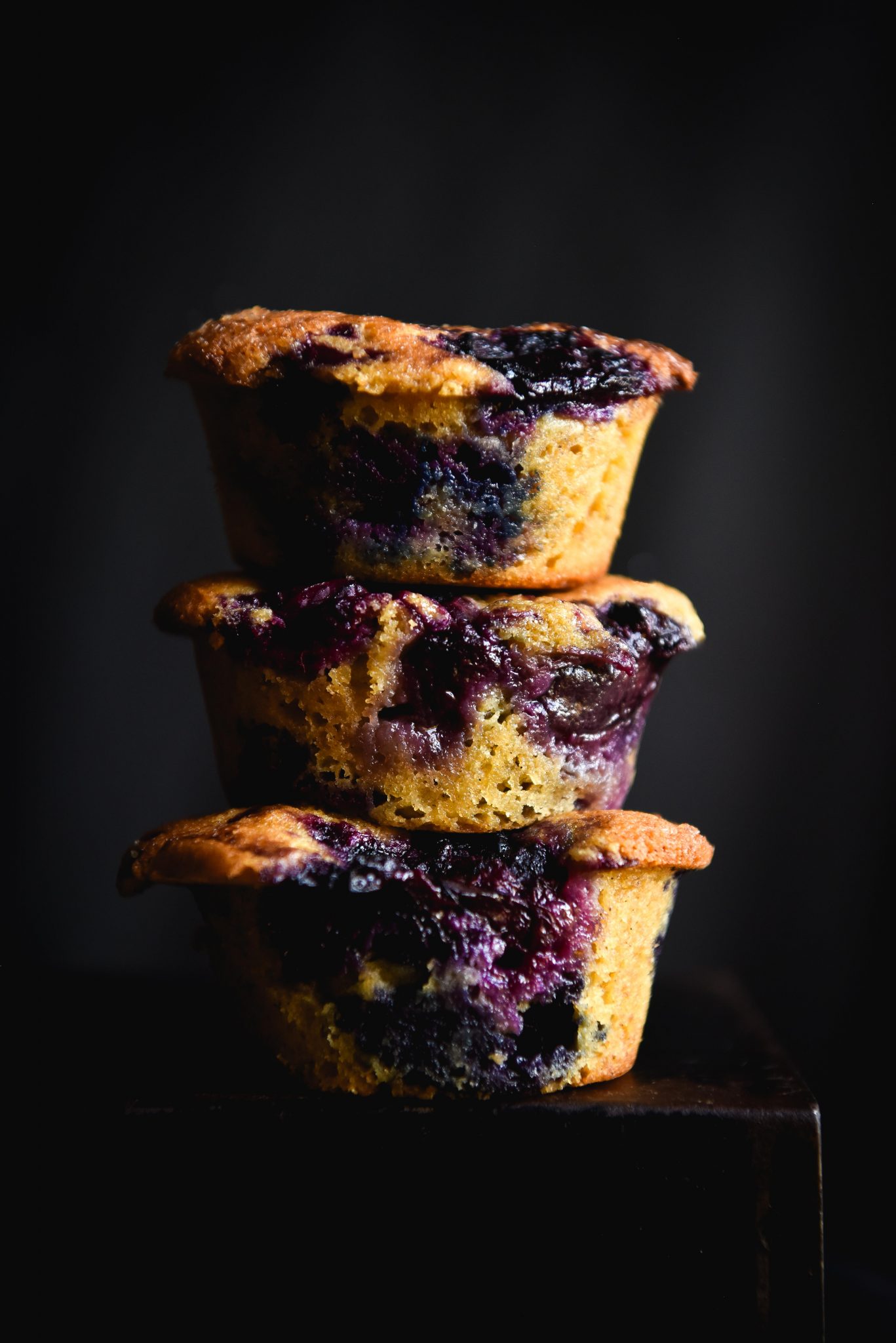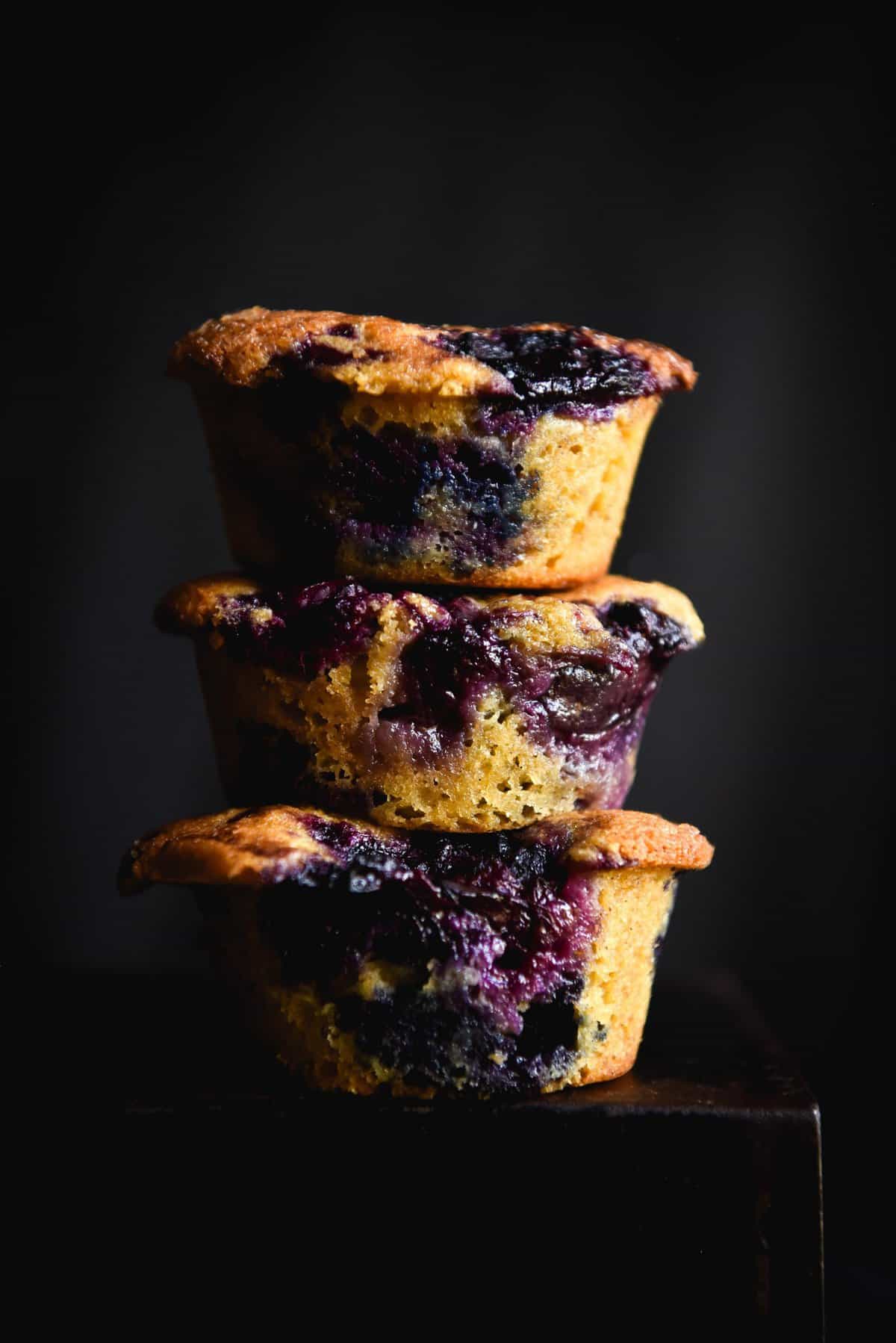 48. Refined sugar free chocolate mug cake
The cousin of my original gluten free and vegan mug cake, made with refined sugar free liquid sweetener (maple is my sweetener of choice here).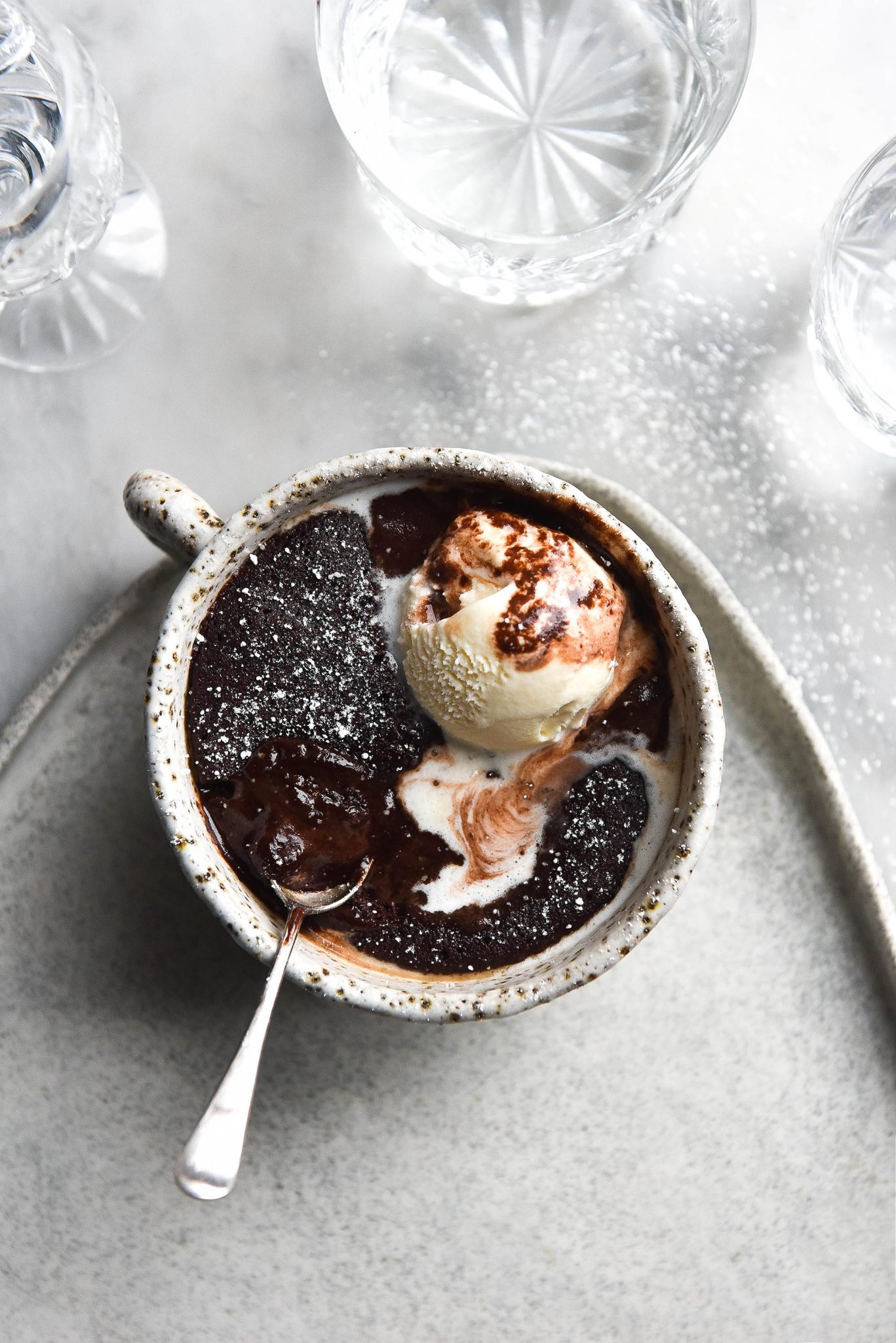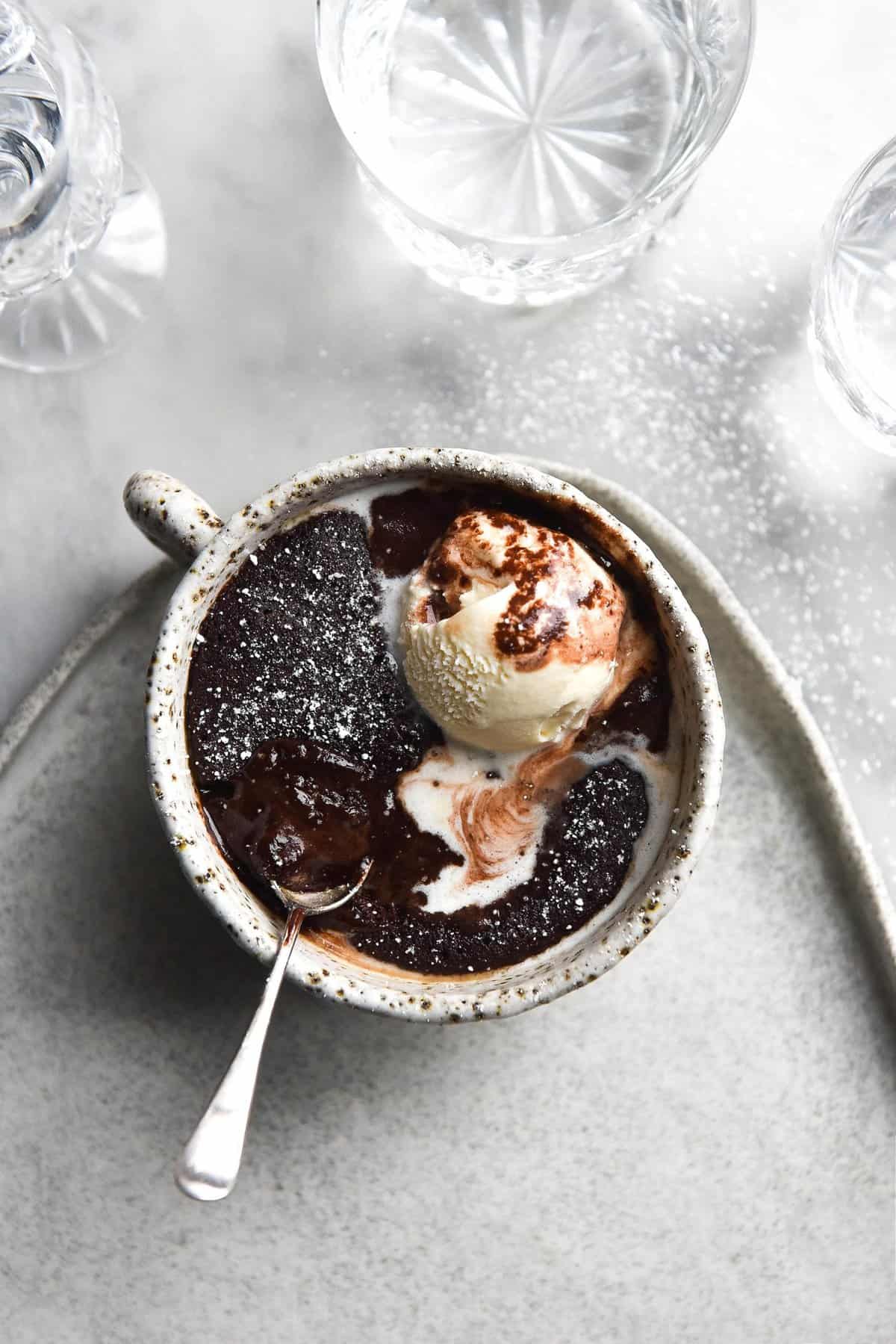 49. Halva and pistachio brownies
A special treat (pistachios aren't FODMAP friendly) that tastes as good as it looks. Whether or not you add the pistachios; gluten free brownies and halva are an elite combination.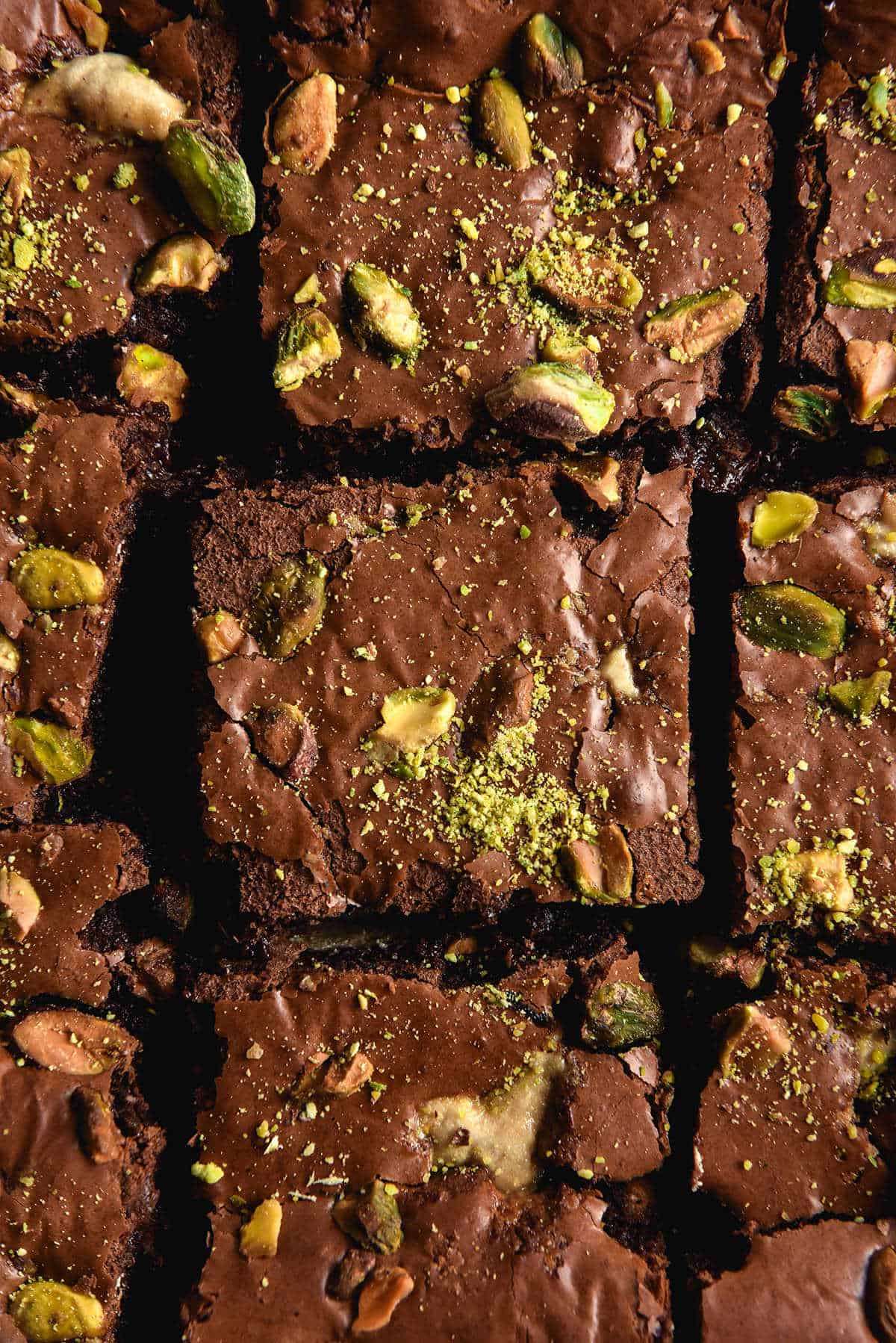 50. Small batch brownie cookies
Sometimes you just can't do a whole batch of brownie cookies, you know? That's where these gluten free brownie cookies (without xanthan gum) come in handy.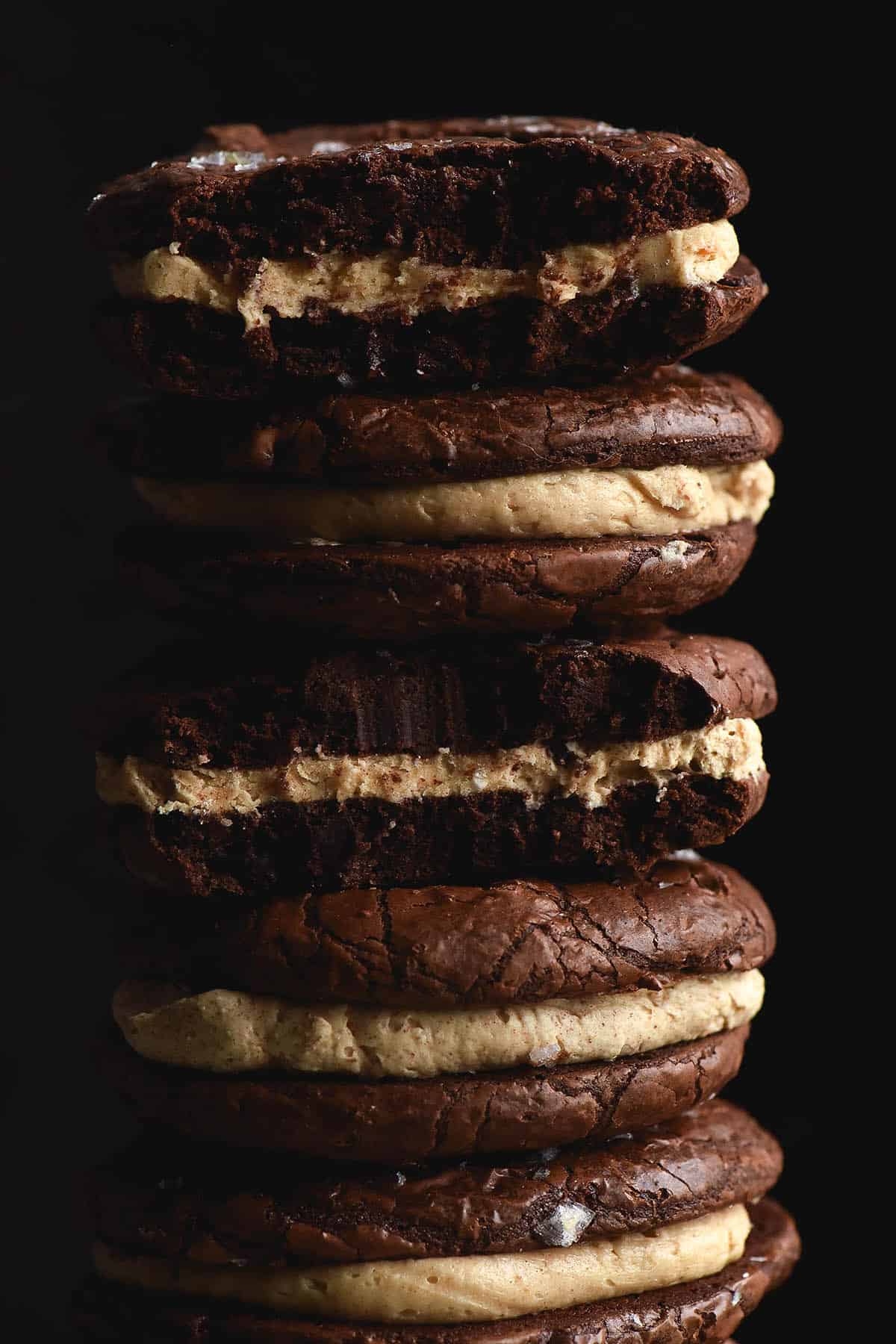 51. Celebration cake
The OG Celebration cake from my first cookbook, FODMAP friendly. It uses grain free flourless chocolate cake and meringue layers topped with peanut butter and extra chocolate.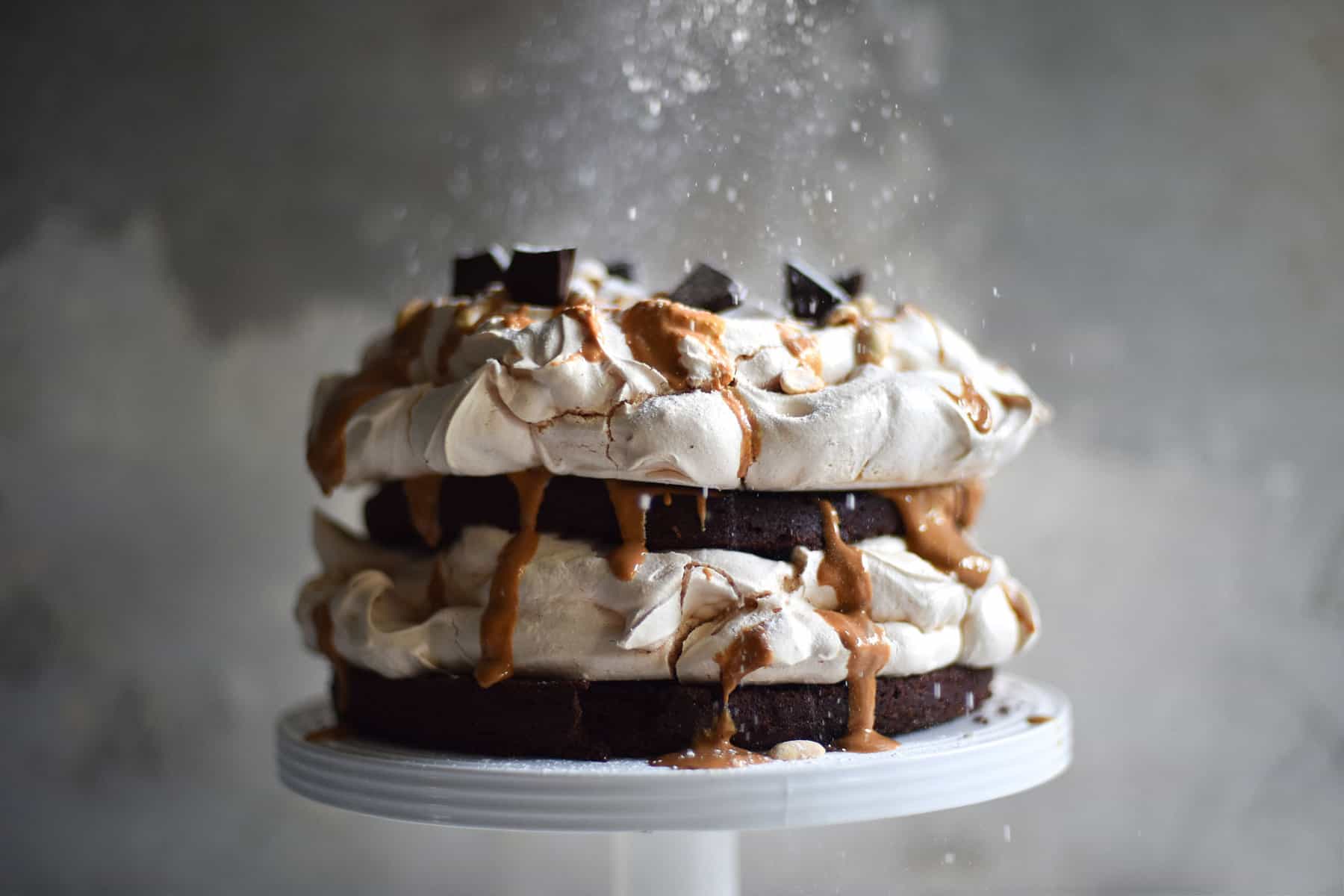 52. Easy gluten free vanilla yoghurt cake
An easy and delicious gluten free vanilla cake that uses yoghurt for a delicious and moist crumb.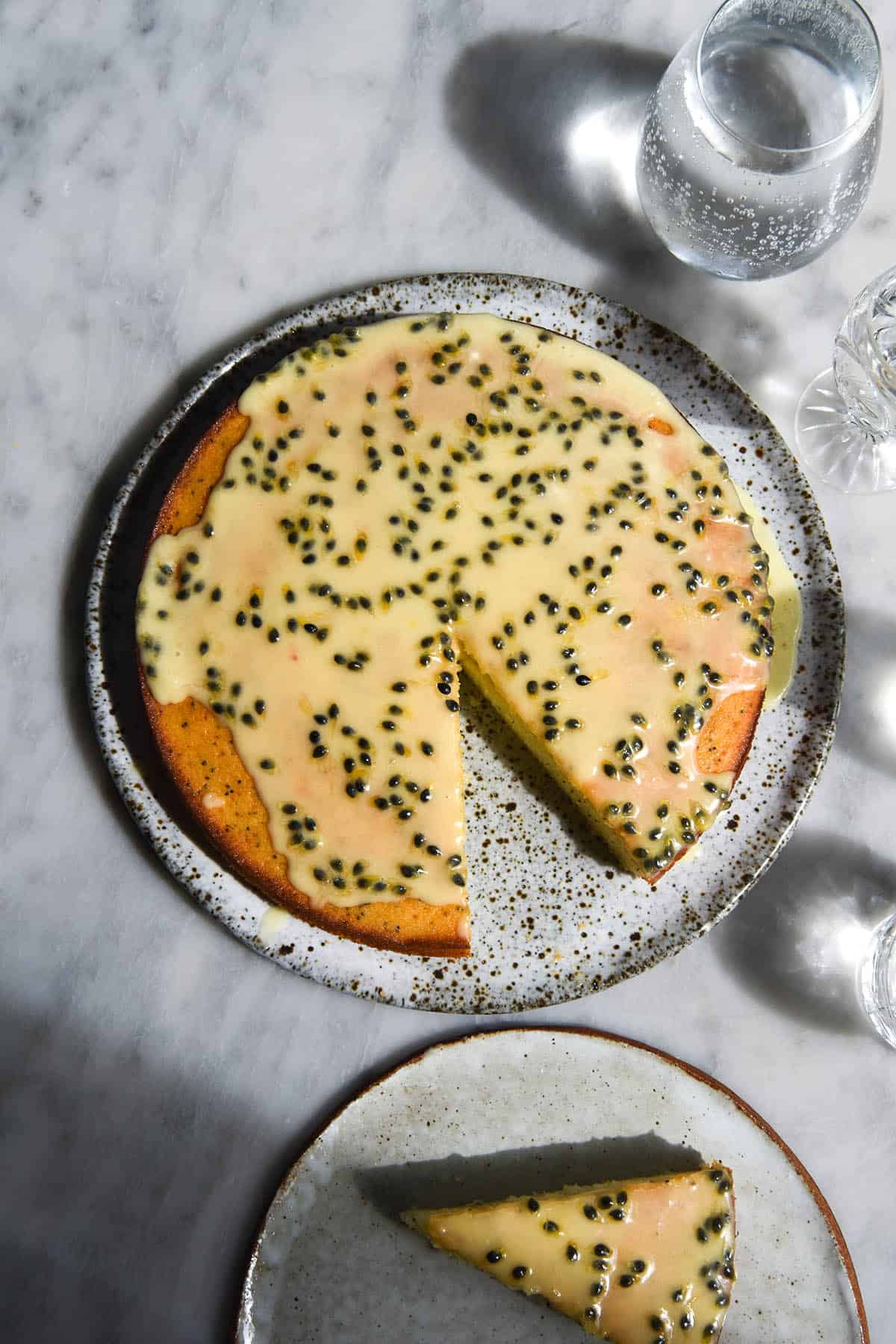 53. Brown butter chocolate buttercream
Petition for brown butter to be in everything ever: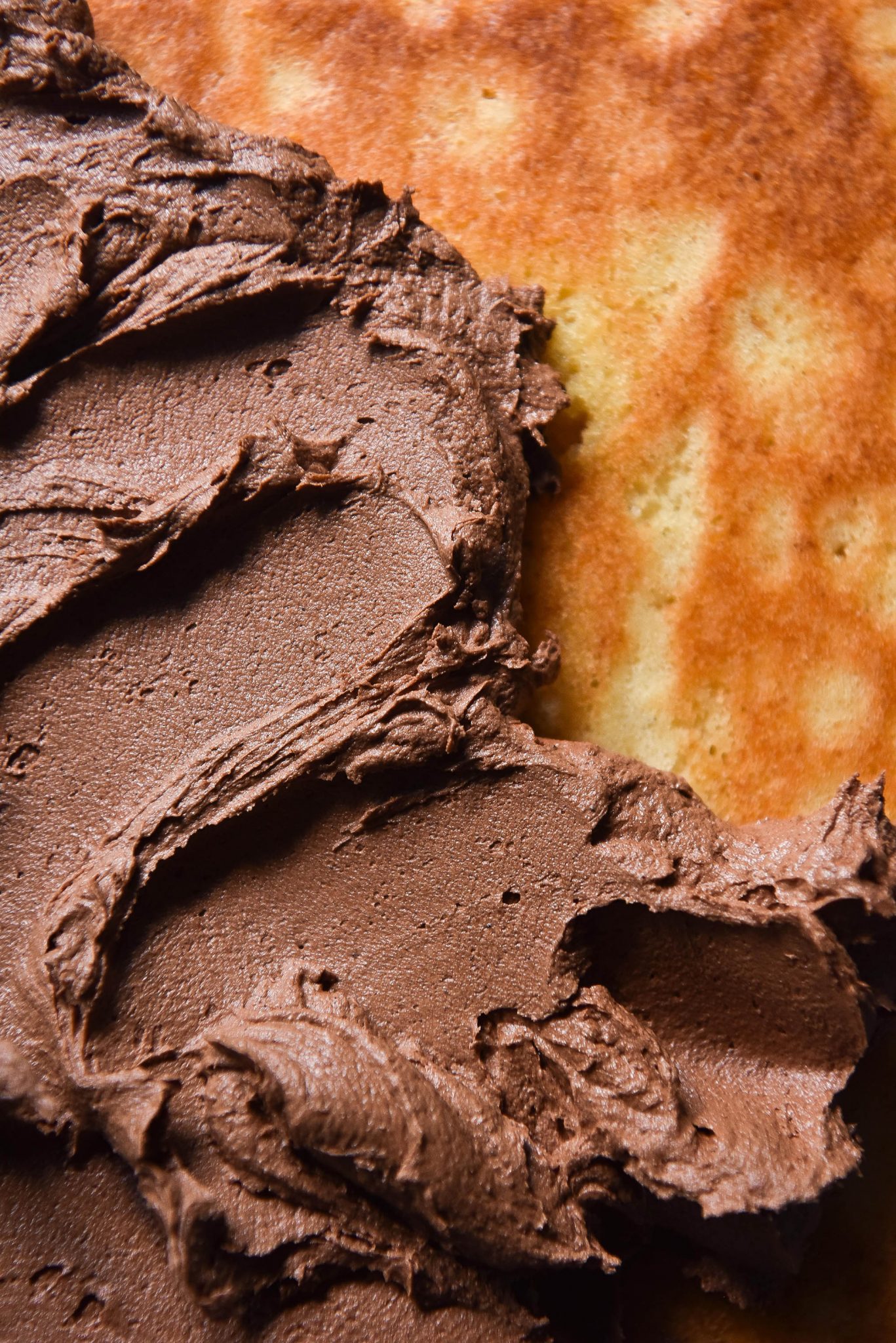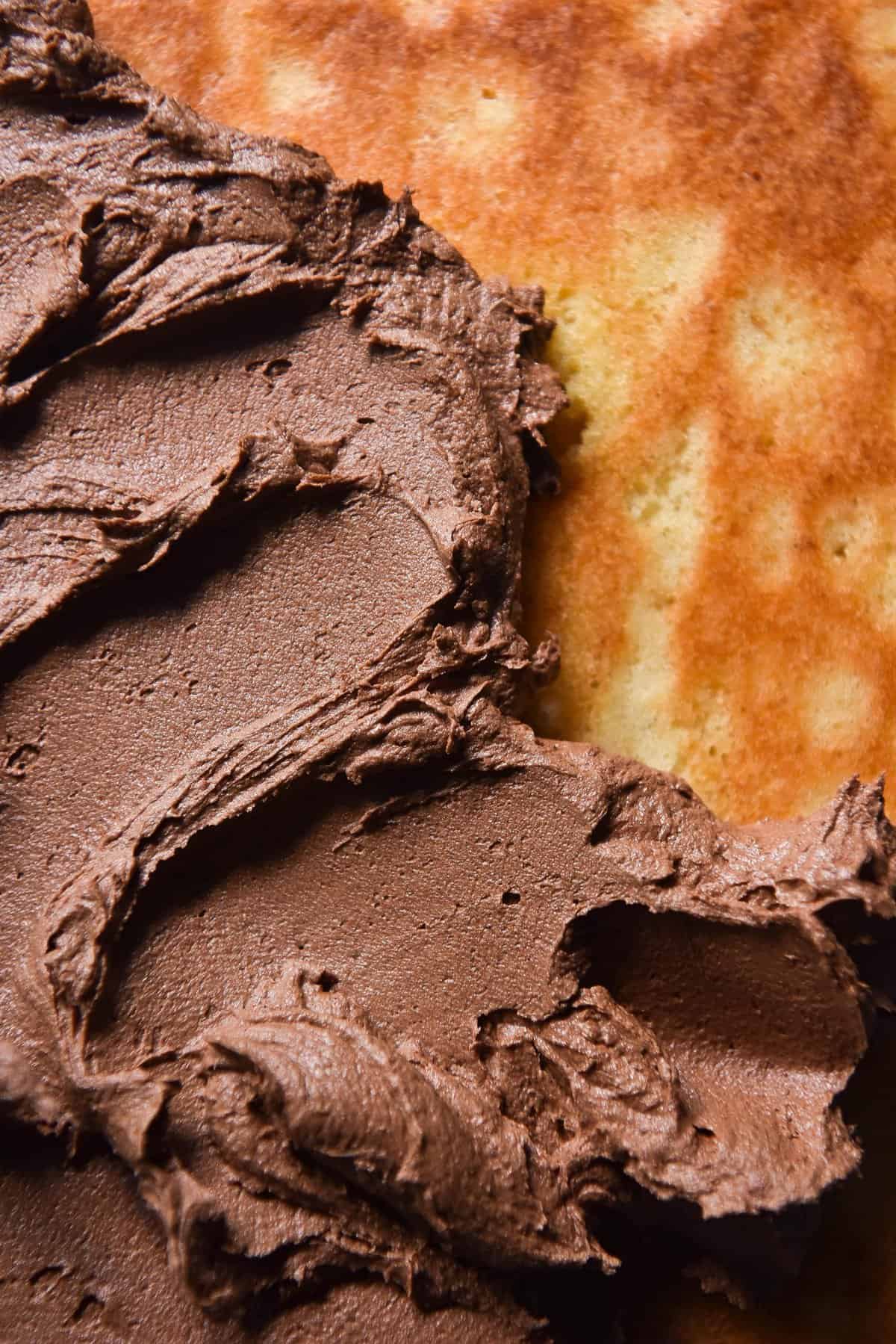 54. Gluten free upside down orange cake
Never not patiently waiting for blood orange season.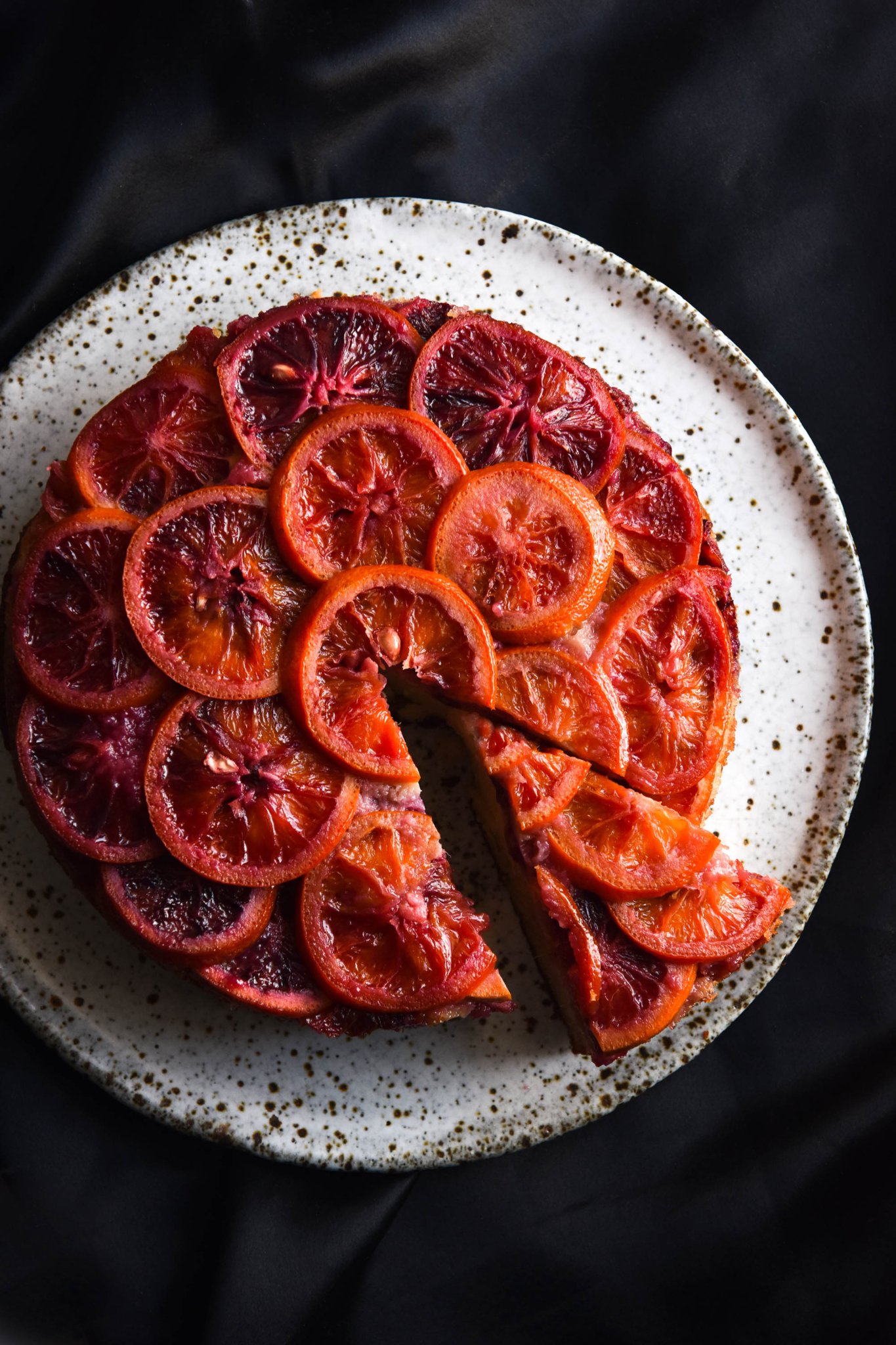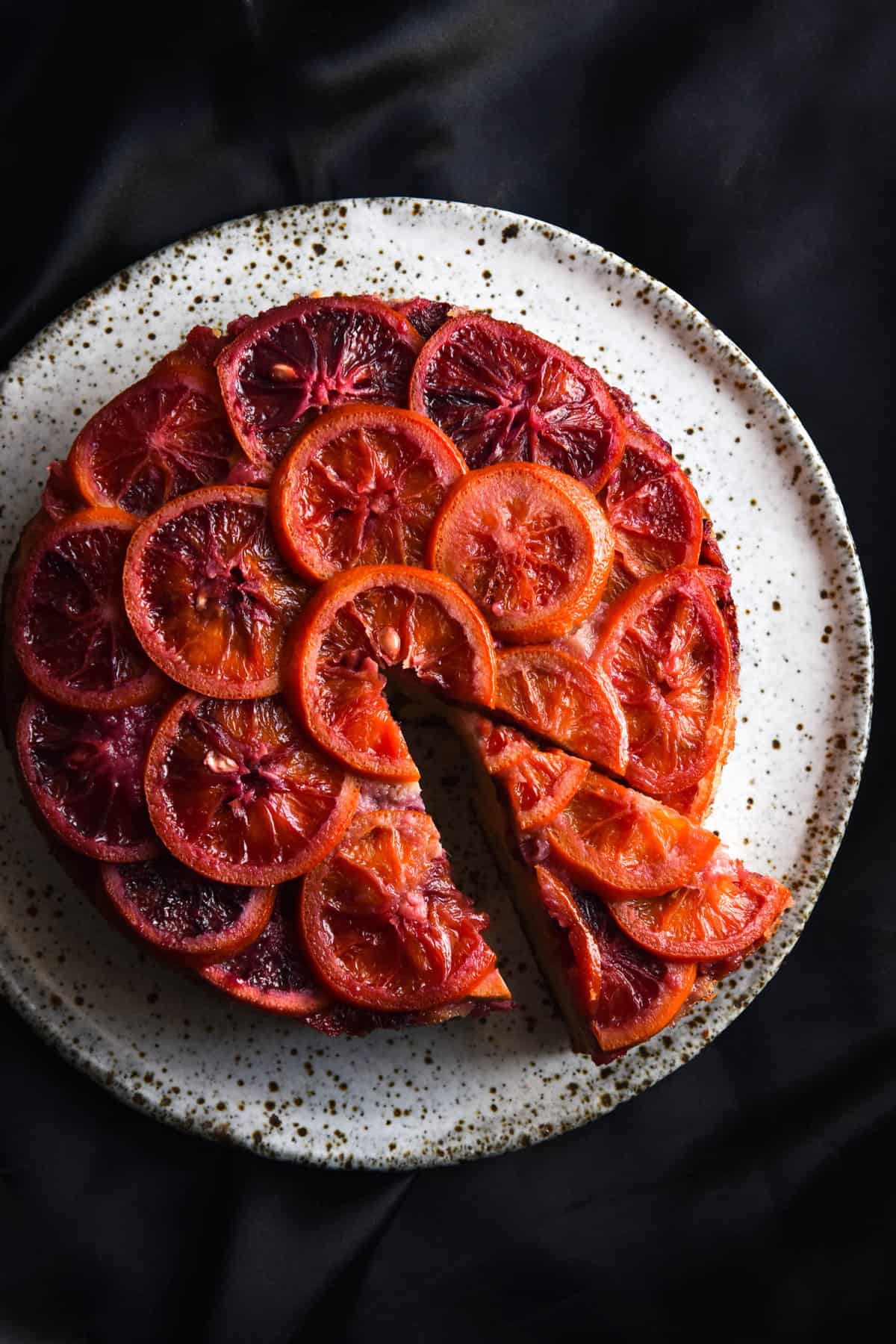 55. Vegan salted Nutella Truffles
Delicious, decadent and rich vegan salted 'Nutella' truffles.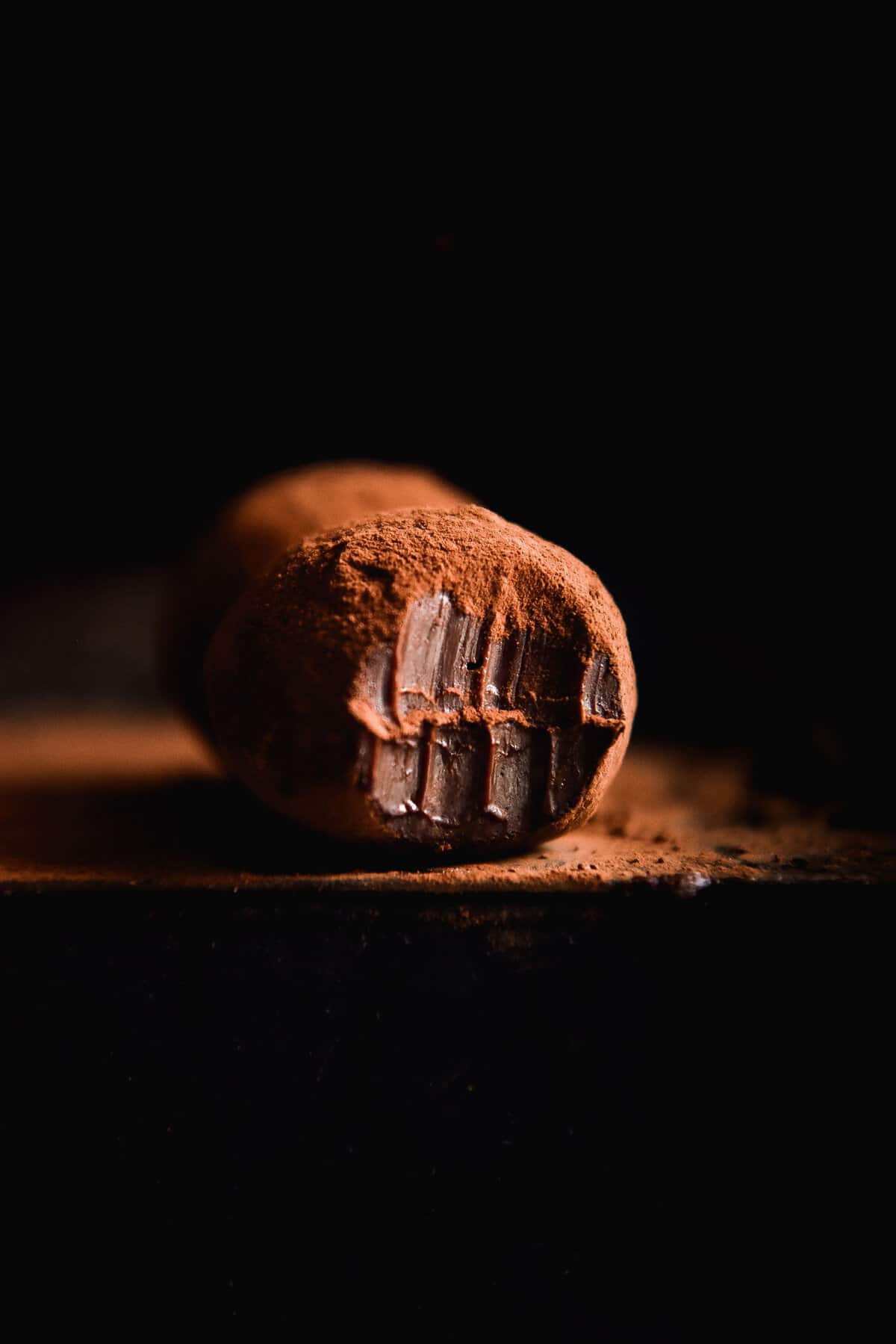 56. A gluten free version of Nigella's courgette cake with lime curd and cream cheese icing
An allergy friendly take on Queen Nigella's courgette cake – gluten free, xanthan gum free and nut free, filled with a dairy free lemon or lime curd and topped with a lactose free cream cheese icing.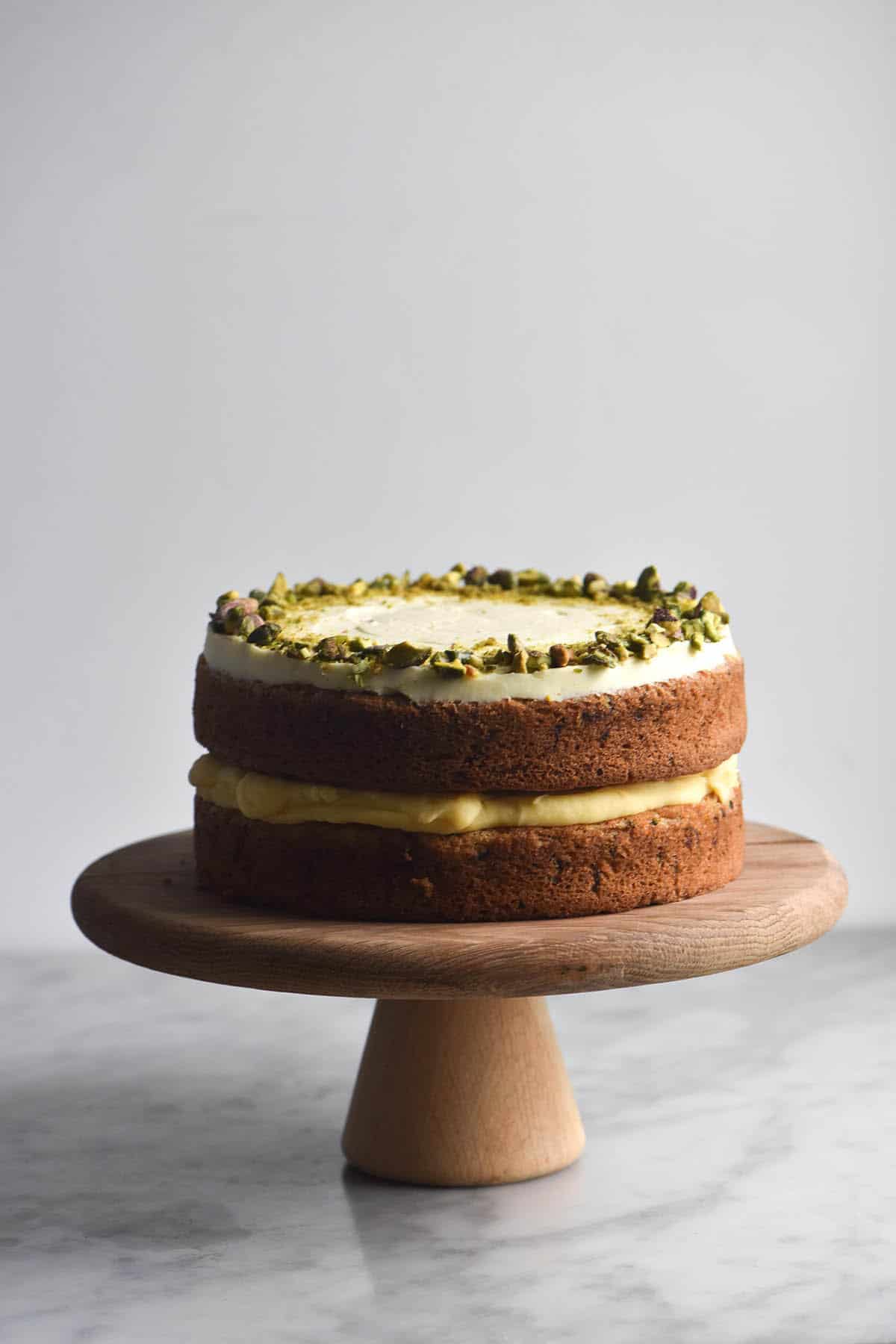 57. FODMAP friendly Christmas pudding
A miraculously FODMAP friendly, fruit free Christmas pudding that is also xanthan gum free and be made either grain free or gluten free. One of my favourite things I have made.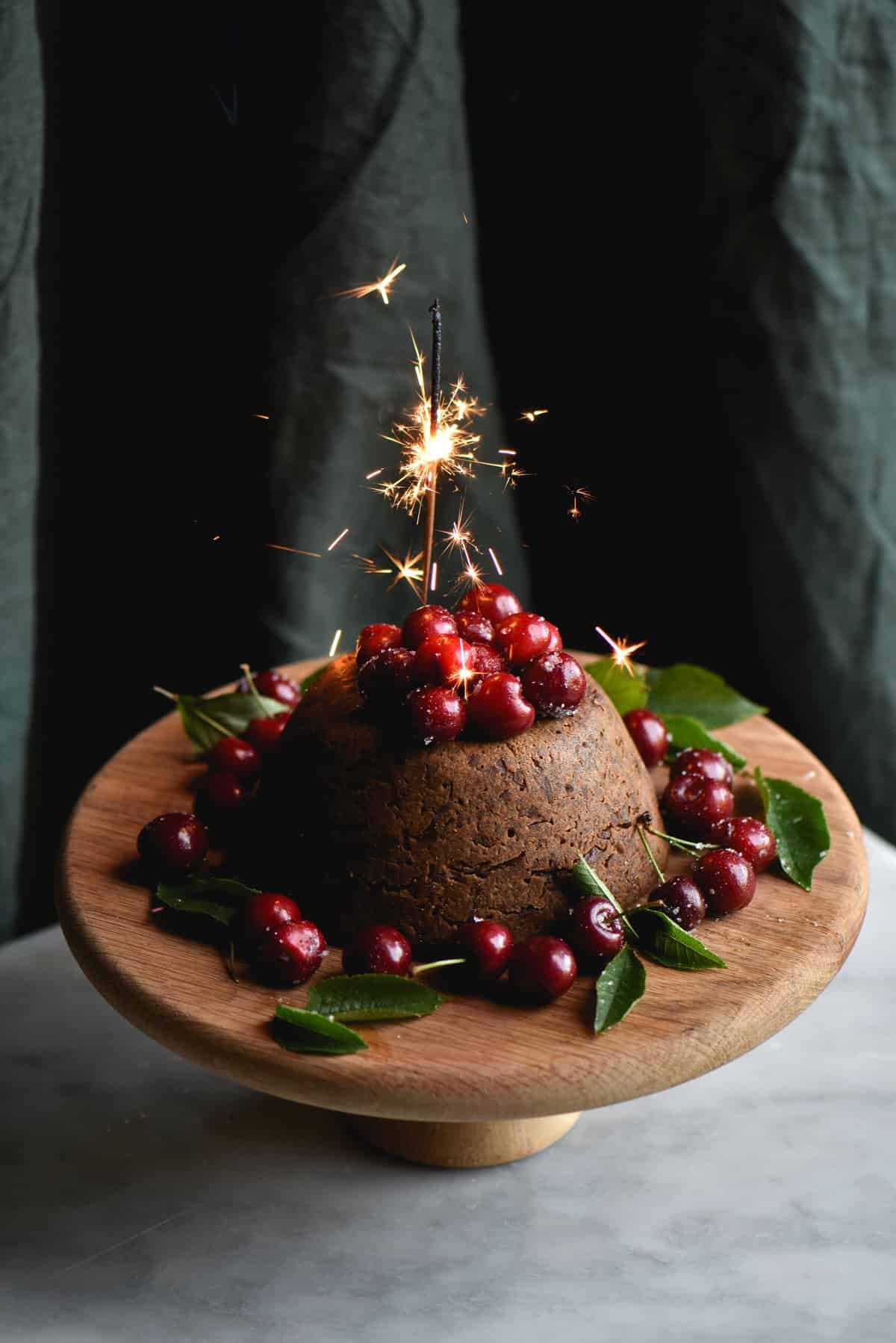 58. Gluten free, fruit free mince pies
Another favourite of mine that uses gluten free pastry and fruitless mince for an insanely good replica of a traditional mince pie.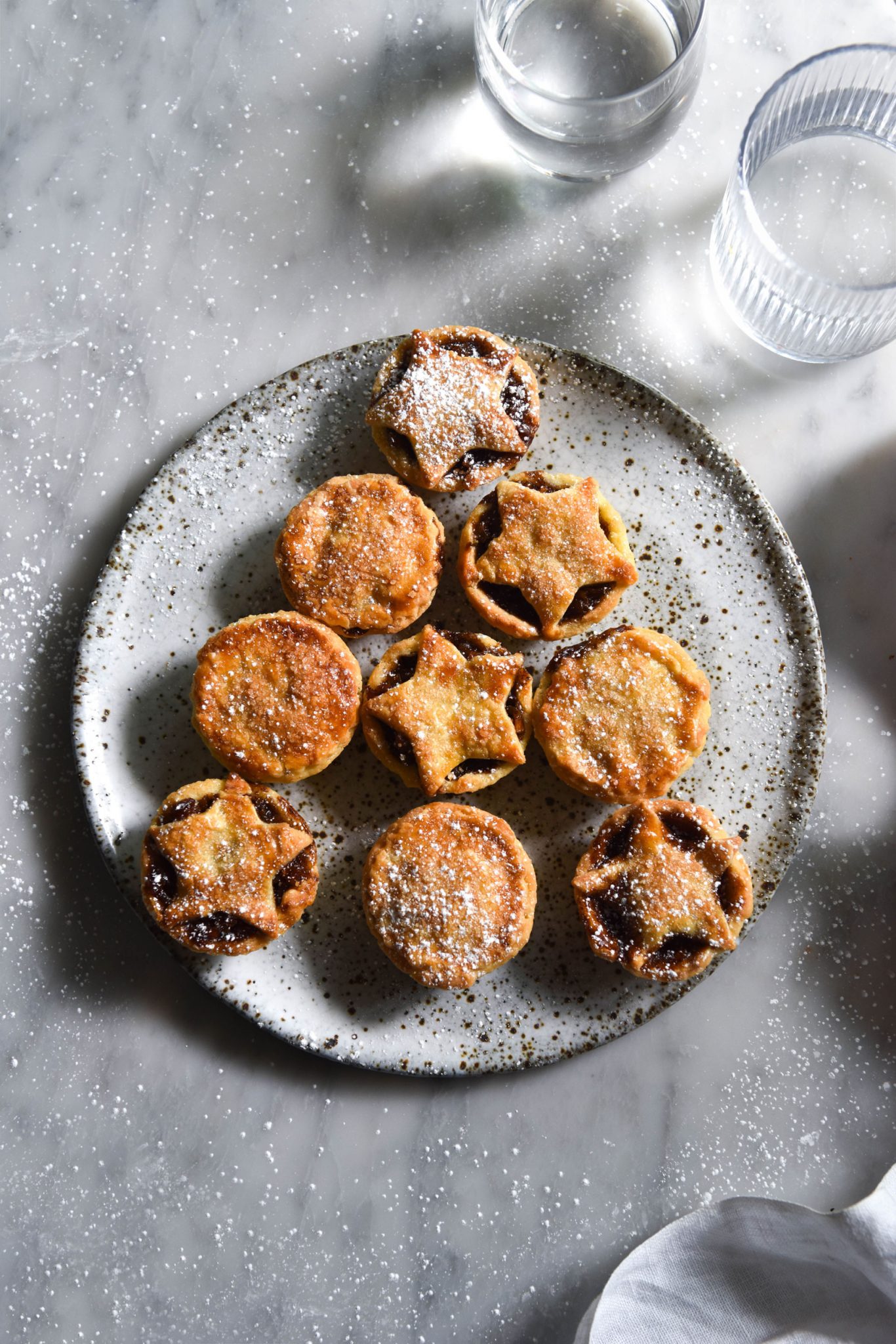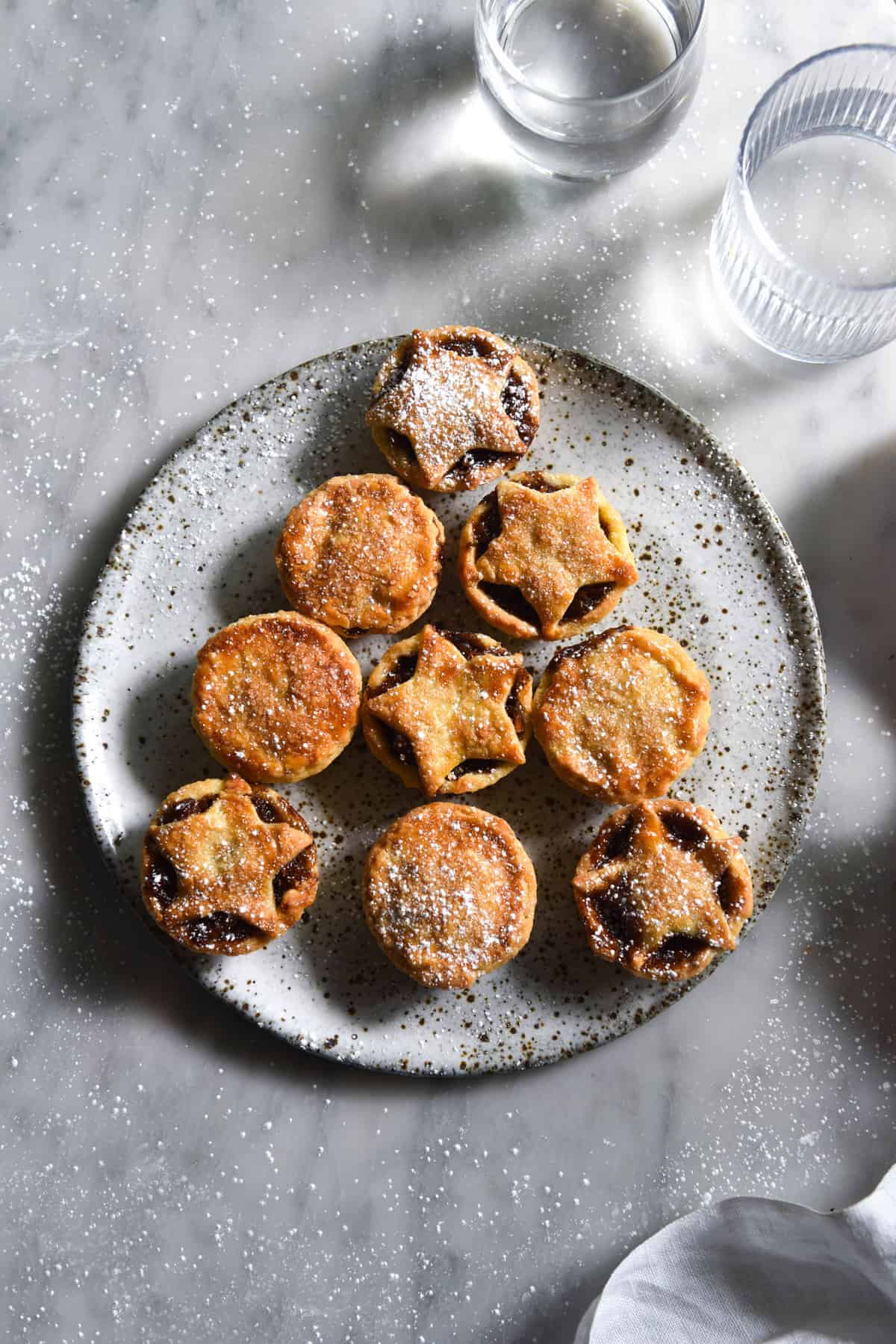 59. Almond butter cookies
Cousin to the aforementioned snickers cookies, these grain free, vegan and refined sugar free cookies are made from almond butter and maple syrup. So easy, so good.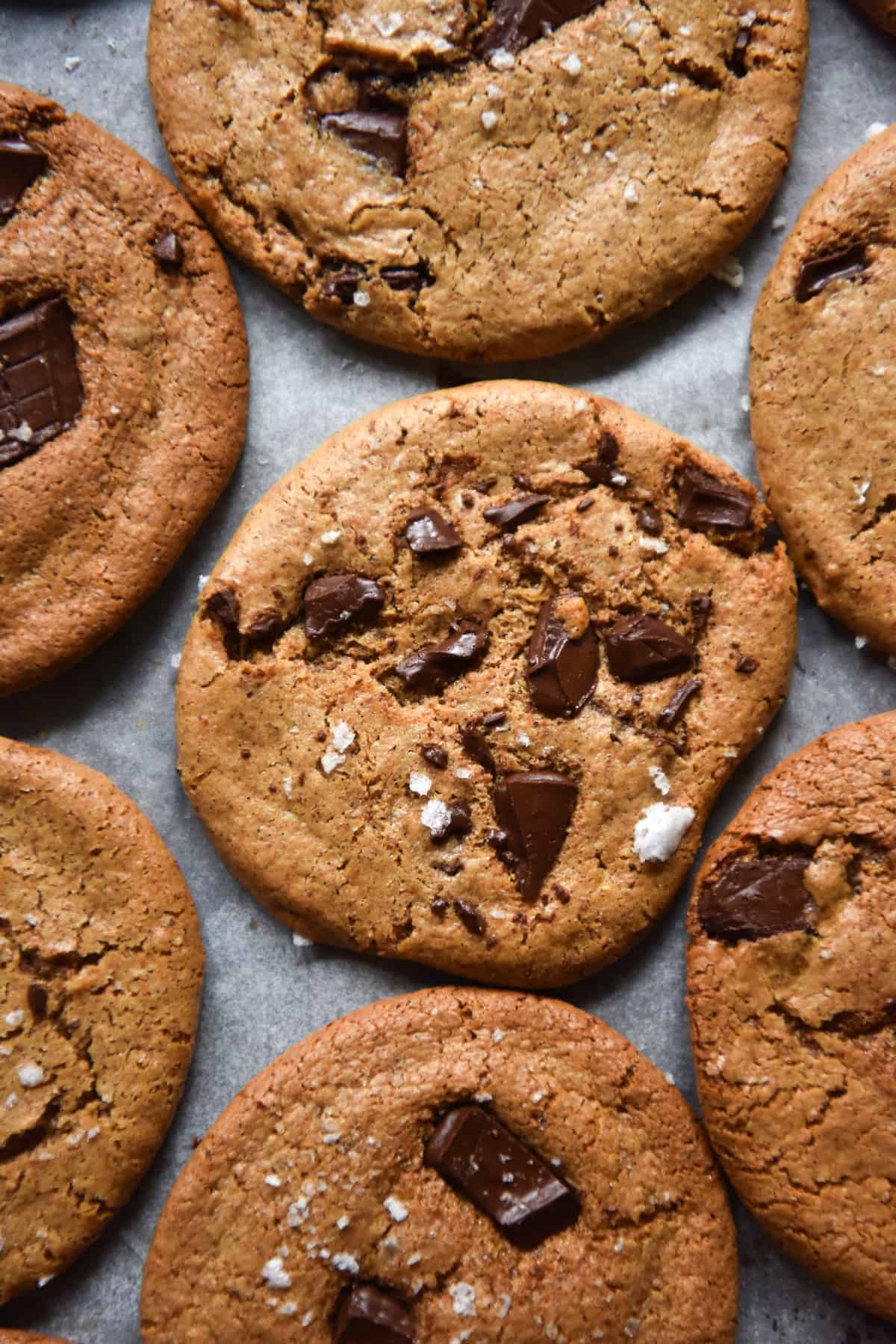 60. Grain free vanilla coconut cake
A classic from my first cookbook, FODMAP friendly, that goes perfectly with a lovely perch of chocolate buttercream.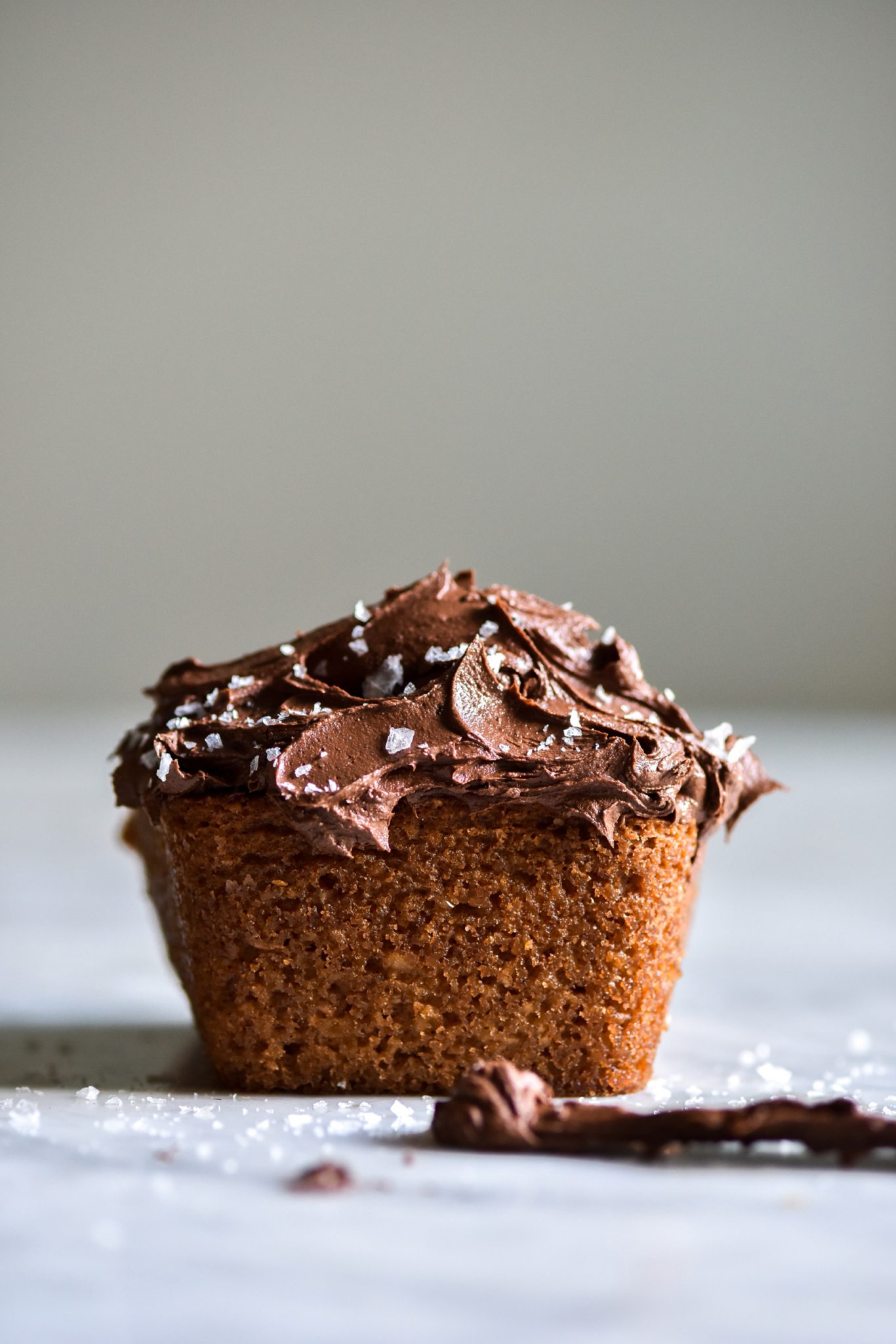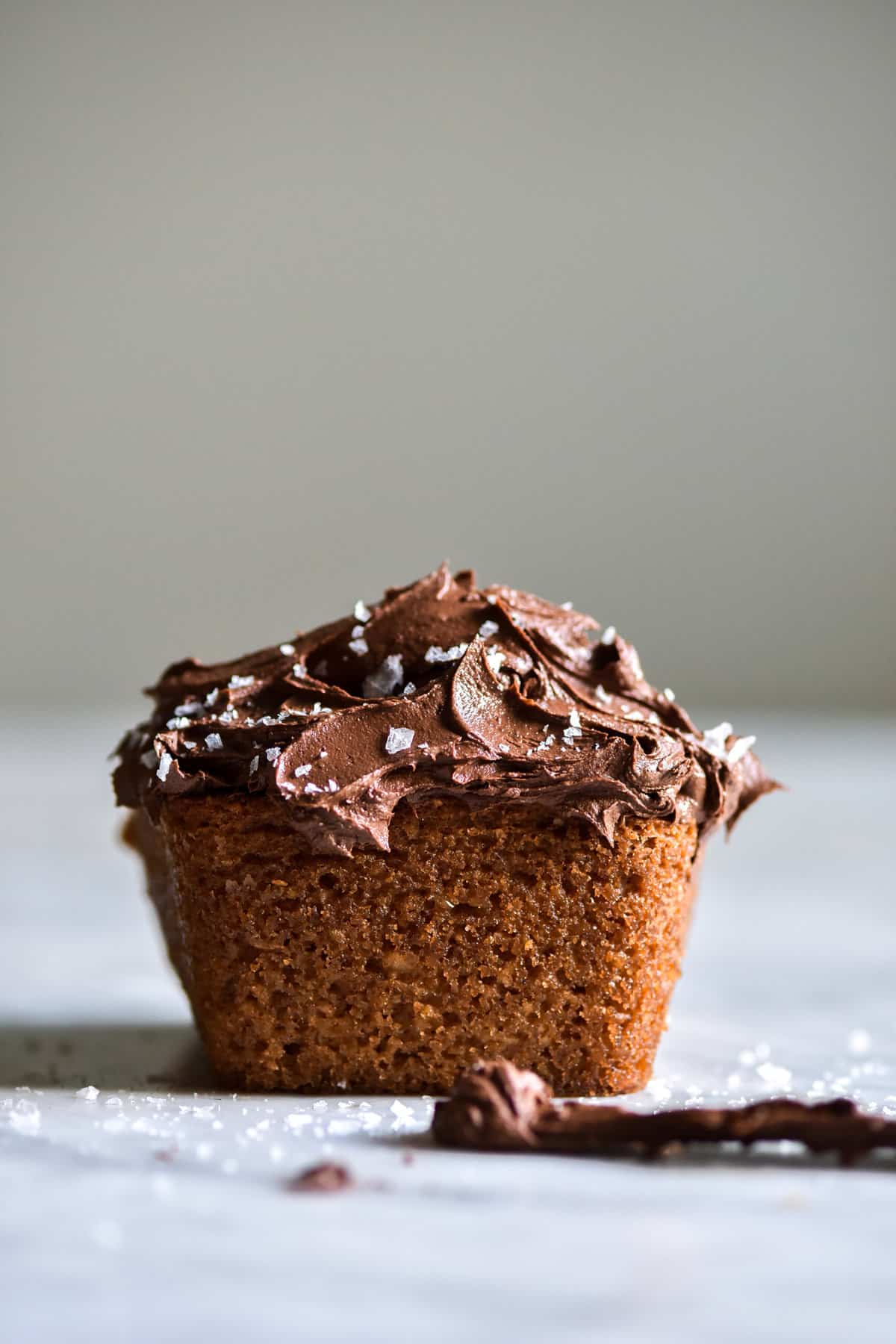 Another favourite from my cookbook, Intolerance Friendly Kitchen, is this FODMAP friendly and gluten free baklava (which really is a 'kind of' baklava as it uses the gluten free puff pastry recipe in the book, as opposed to phyllo pastry. Buttery and satisfyingly delicious.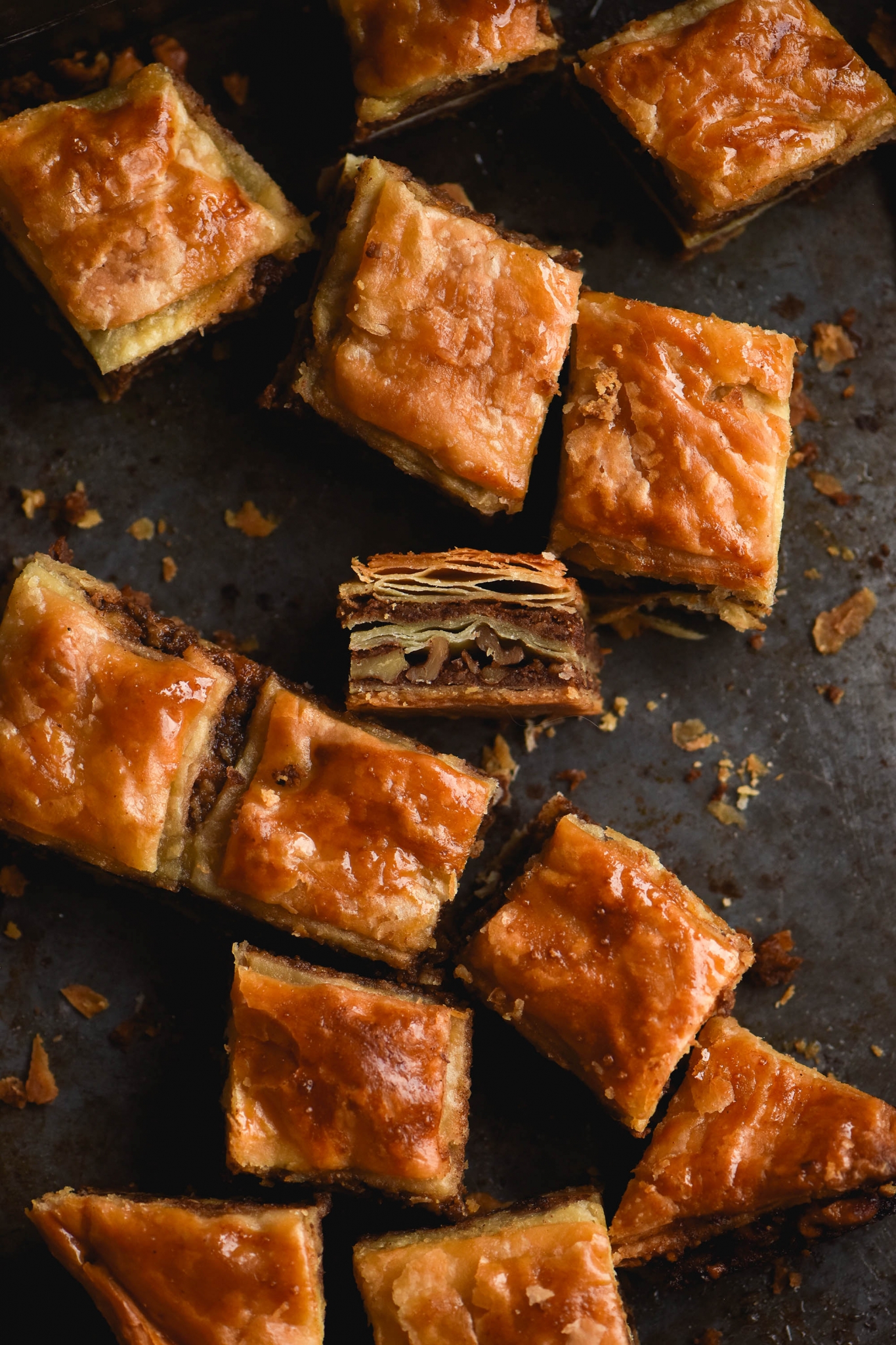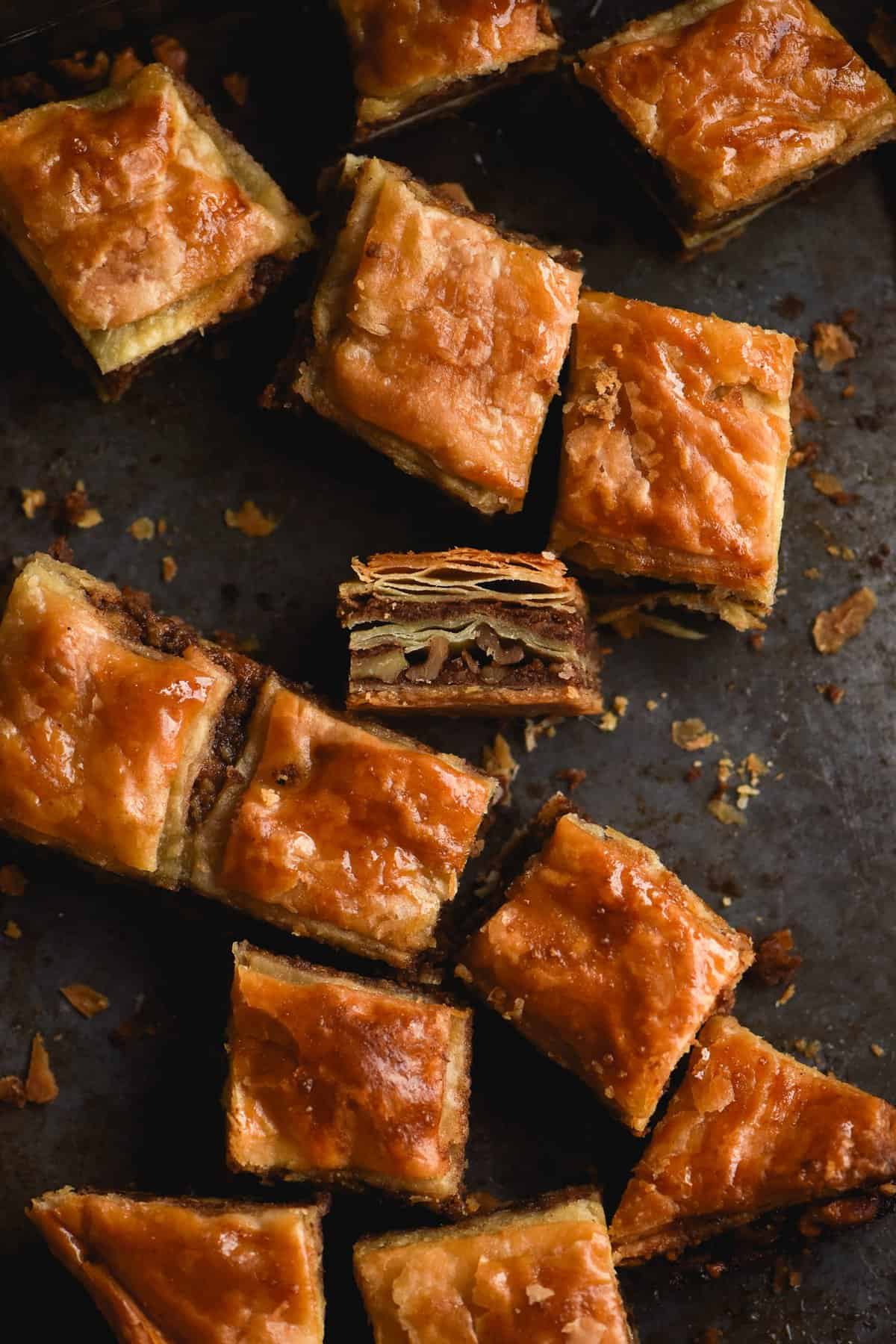 62. Gluten free olive oil cake
This fluffy and beautifully flavoured olive oil and lemon cake can be topped with nuts, fruit or even whipped mascarpone for a delicious and sophisticated treat.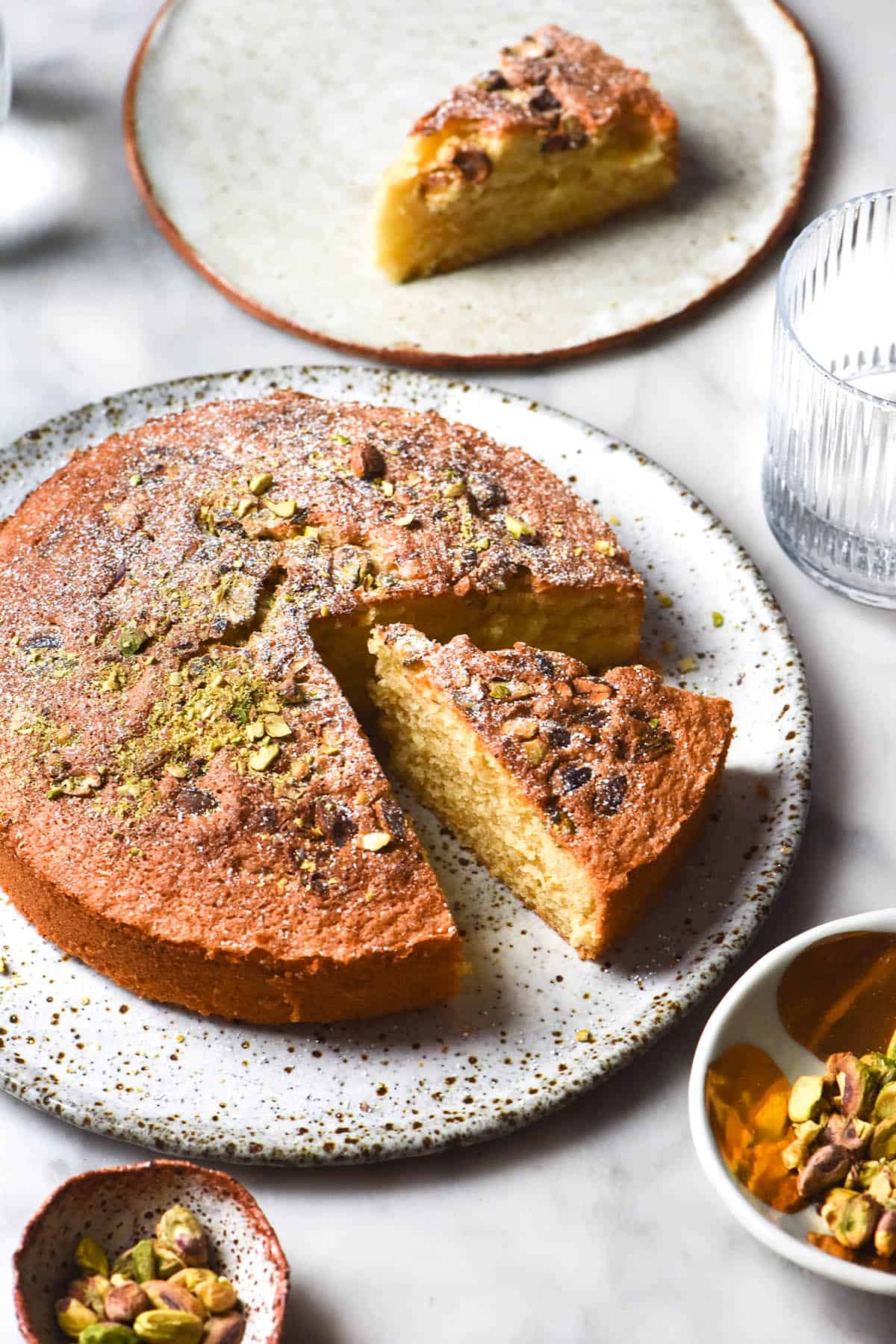 63. Gluten free gingerbread (grain free)
These delicious gluten free gingerbread are easy to make. They're also grain free, starch free, nut free and xanthan gum free. They are made without eggs and have a vegan option, too.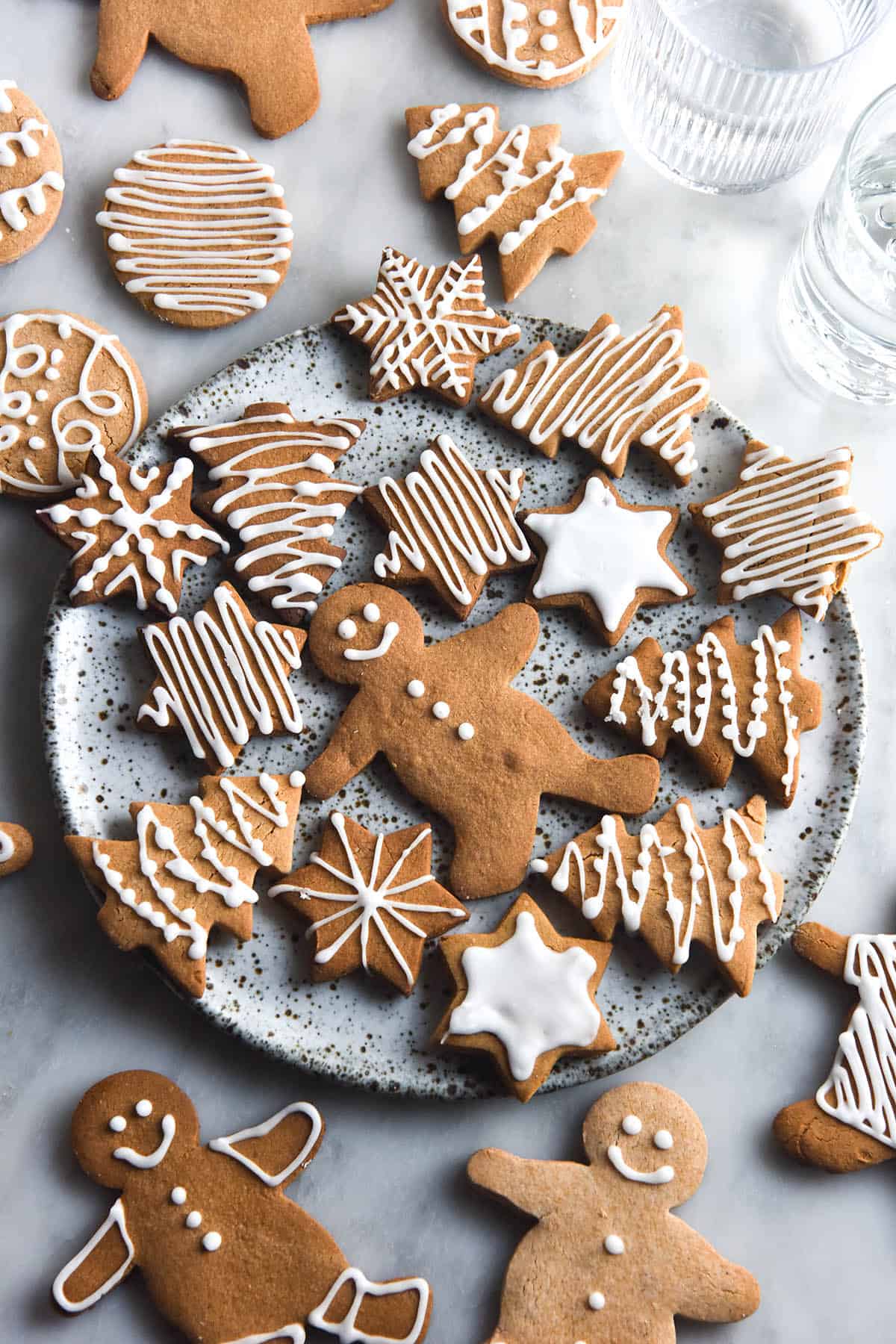 64. Gluten free banana cake
This gluten free banana cake is moist and dense while being egg free and vegan with the lemon icing option.