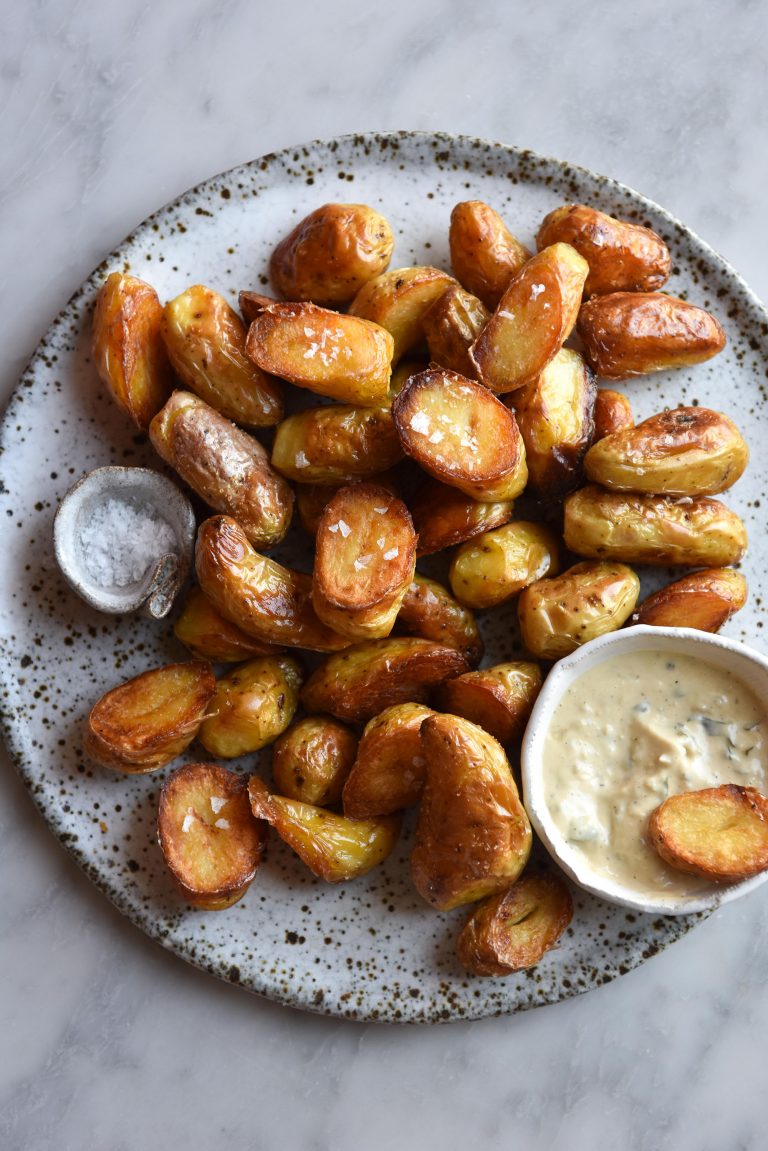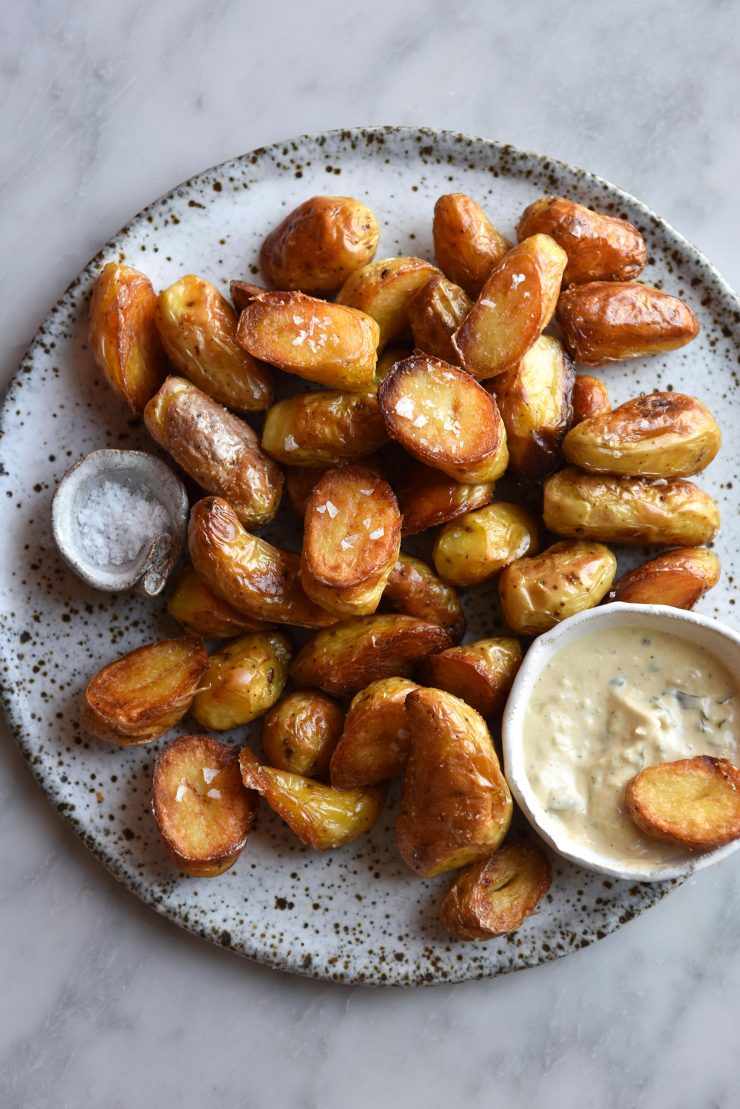 Last week I posted a recipe for a vegetarian Caesar salad with salt and pepper tofu 'croutons.' Given that the original recipe is easily made vegan, a vegan Caesar salad dressing recipe was the logical next step. So, here we are.
Vegan Caesar salad dressing (low FODMAP, gluten free)
This vegan Caesar salad dressing is vegan, FODMAP friendly, nut free (mayonnaise dependent) and very easy to make.
The dressing recipe uses pre-made vegan mayonnaise as it's base. Because I wanted the recipe to be FODMAP friendly, I had to steer clear of cashew based homemade varieties. Besides, I don't think pre-made vegan mayo can be beaten on taste or texture. I actually used it in my original (not vegan) recipe, just because I love it so much.
Although not a sponsored post, my preferred brand of vegan mayo in Australia is Vegenaise. Specifically, the original variety. It's nut free, gluten free, and free from onion or garlic. As an added bonus, it tastes like treat-food style mayo, which I'm not afraid to admit is my favourite variety. I buy it at the supermarket.
So what else does this vegan Caesar salad dressing contain? Capers for a hint of ocean and miso paste to replace the savouriness of parmesan. Finely ground sunflower seeds for that textural sensation parmesan adds. Nutritional yeast for a bit of cheesy flavour. Aside from that, the usual suspects – lemon juice, mustard and Worcestershire sauce. There are a number of vegan Worcestershire sauces on the market – I use this Melrose one in a pinch. However, I also have a recipe for a vegan, FODMAP friendly variety. Find it here.
FODMAP notes for your Caesar salad dressing
The main things to look out for are the ingredients of your chosen mayonnaise and Worcestershire sauce. While the quantity of Worcestershire in the recipe shouldn't impact you adversely even with some unfriendly ingredients, mayonnaise makes up the bulk of the recipe. So, make sure you choose wisely.
If you need the recipe to be nut free, make sure that your chosen mayonnaise doesn't contain nuts.
There are a few different varieties of miso paste – some are made with barley or wheat. Read the container to ensure you have a gluten free variety, if necessary. Personally, I like lighter miso pastes. The one I used in this recipe is Shiro miso, but I also like genmai (made with rice.)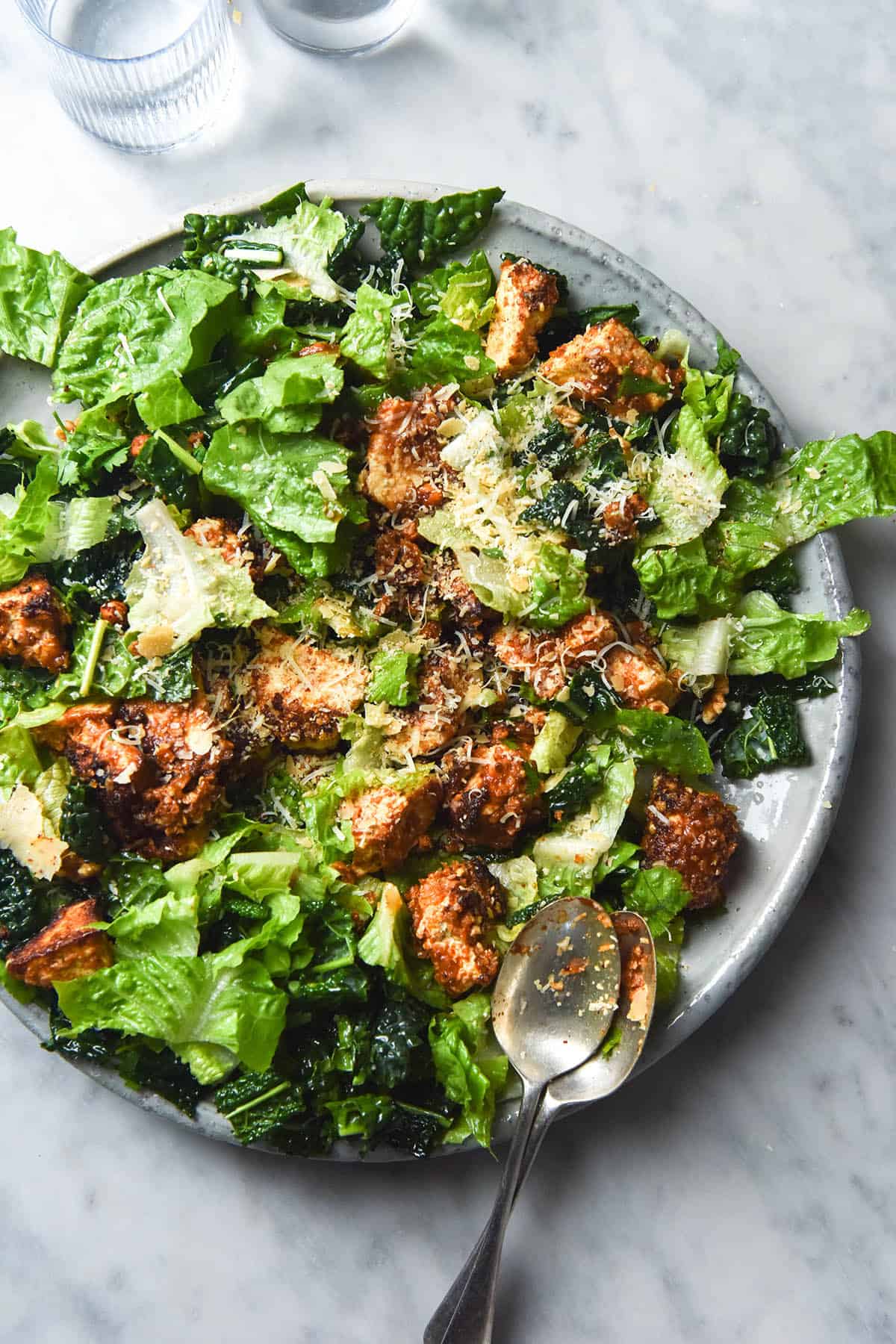 Vegan Caesar salad dressing recipe notes
The longer you allow the dressing to sit, the better it will taste. Time = the melding of all the delicious flavours you've added.
Make sure you grind the sunflower seeds up REALLY finely. Otherwise, they'll be more of an annoyance than a pleasure texture addition.
You can add as many capers as you fancy. I added more the second time I made it, but I suspect that has something to do with my love of tartare sauce.
This vegan Caesar salad dressing can be used on basically anything you'd like to dress. I have used it in a radicchio and potato 'Caesar' (pictured) and on roast potatoes, (also pictured) among other places. My suggestions? As a dip for crudite, on any salad you've ever made, or eaten with a spoon. It's that good.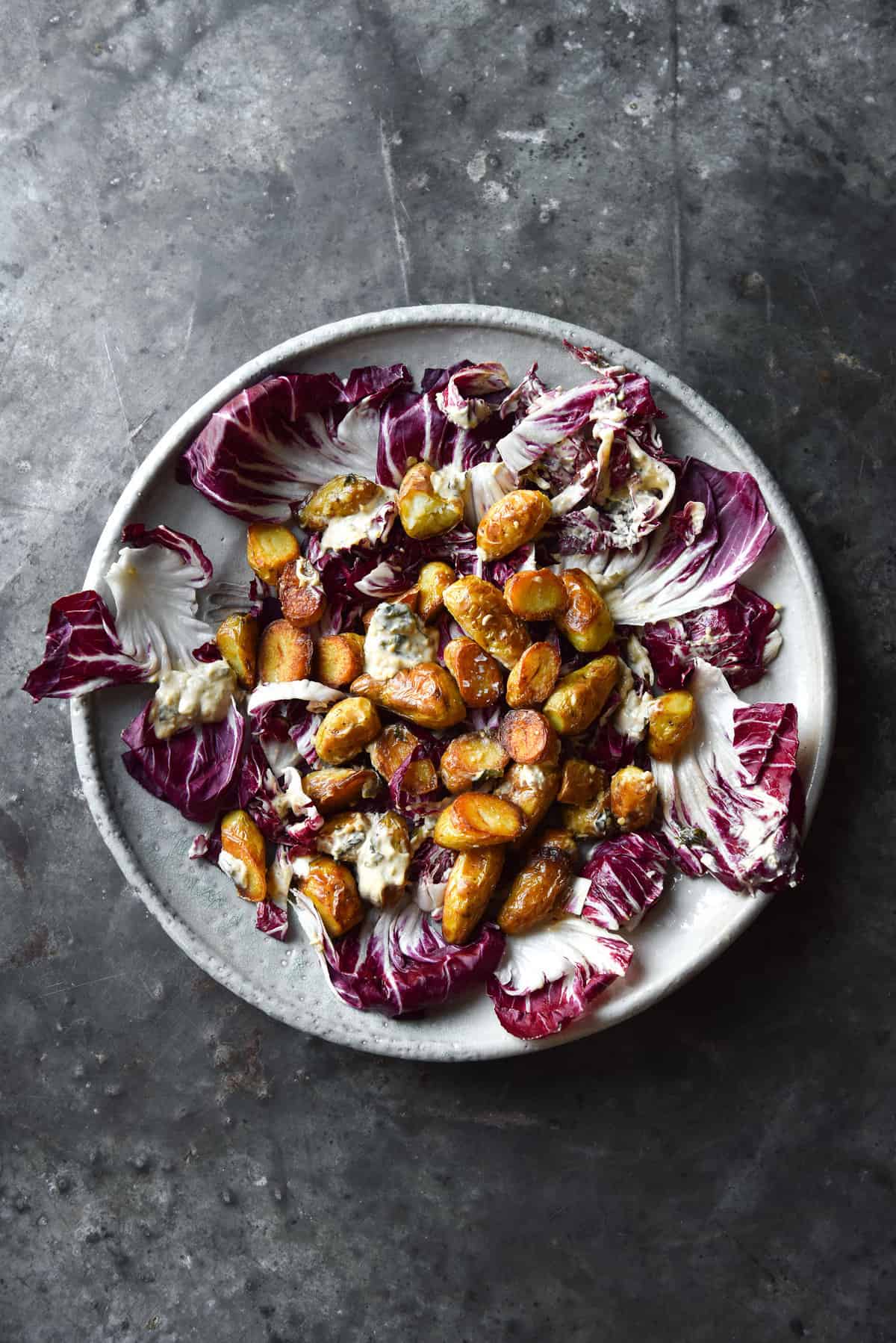 Places to use your vegan Caesar salad dressing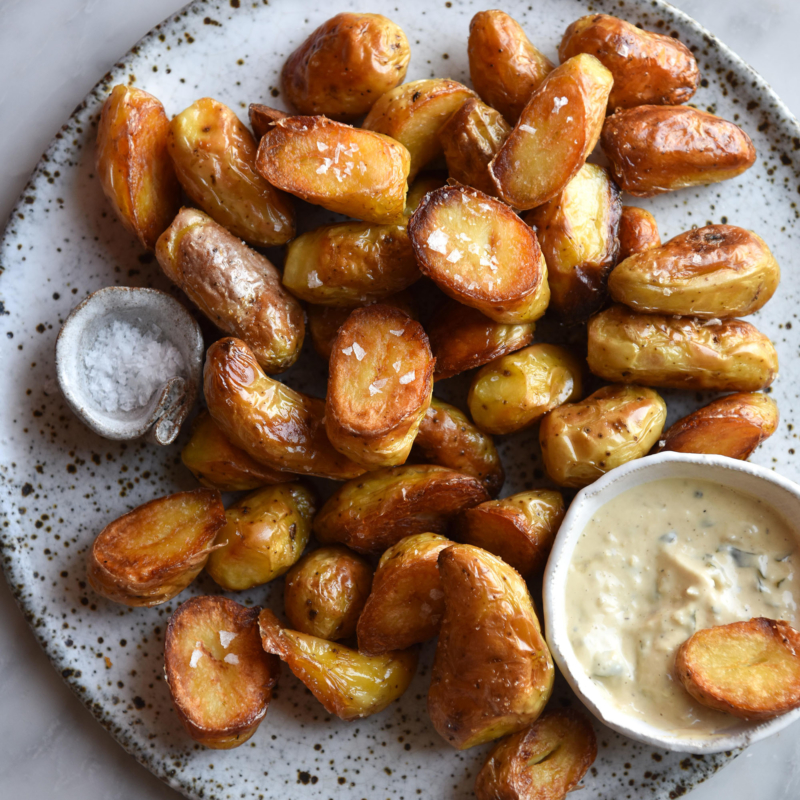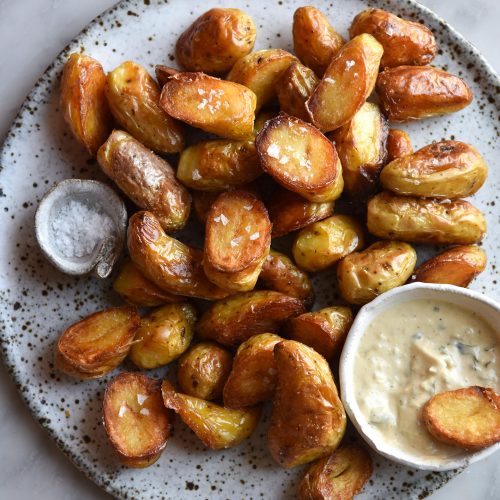 Vegan Caesar salad dressing
Vegan, gluten free, grain free, nut free, FODMAP friendly
Ingredients
1

teaspoon

light gluten free miso paste

2

teaspoons

boiling water

1

cup

vegan mayo

see notes, I use Vegenaise

2

teaspoons

vegan Worcestershire sauce

see notes

2

tablespoons

lemon juice

1

teaspoon

Dijon mustard

2

teaspoons

caper brine

1

tablespoon

chopped capers

plus extra if you're a caper fiend

1

tablespoon

nutritional yeast

Lots of freshly cracked pepper

2

tablespoons

finely chopped or pulverized sunflower seeds
OPTIONAL
1

teaspoon

dried wakame

this has an ocean taste to emulate the anchovies

1

tablespoon

boiling water
Instructions
Combine the miso paste and boiling water in a small vessel. Stir a little and then leave the miso to dissolve in the water.

If you're using the wakame (it's totally optional and pretty subtle) do the same with it as you did the miso.

Combine all the ingredients together in a medium sized mixing bowl. Stir thoroughly and adjust taste as you see fit – you might like it extra cheesy, peppery or capery.

For best results, make ahead to allow the flavours to meld. Store in an airtight container in the fridge. It keeps well, but I doubt it will last long enough to matter.