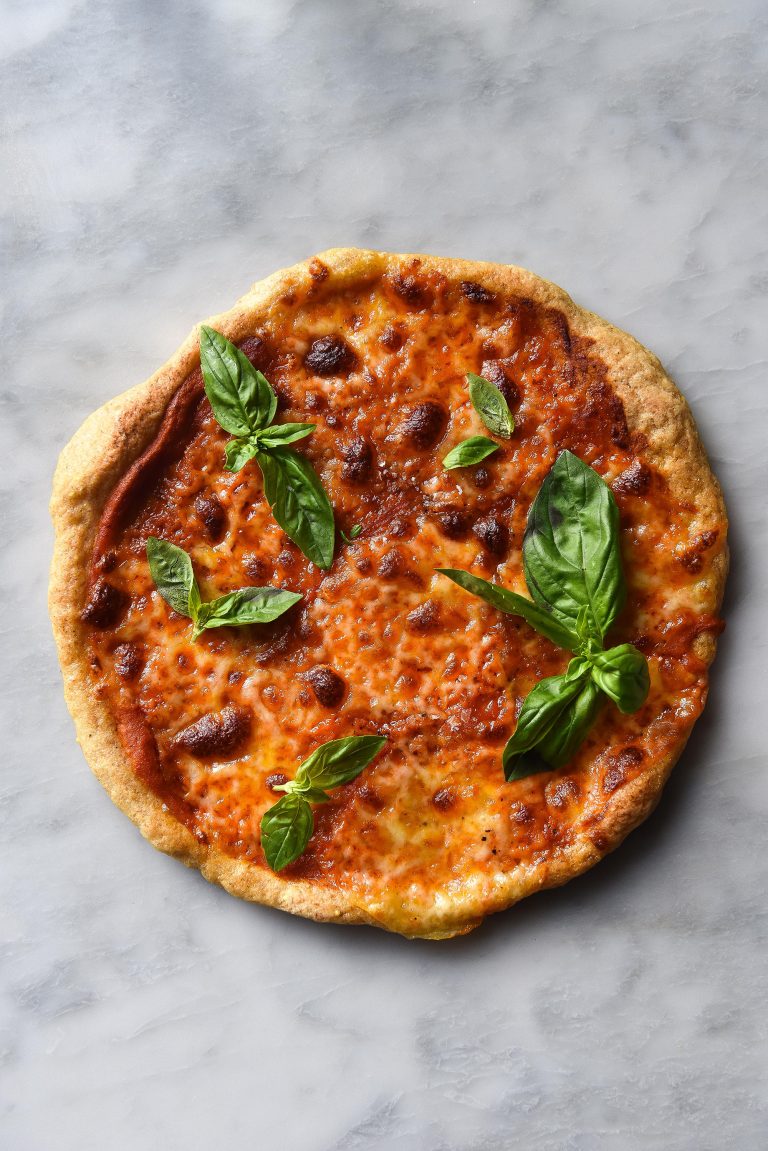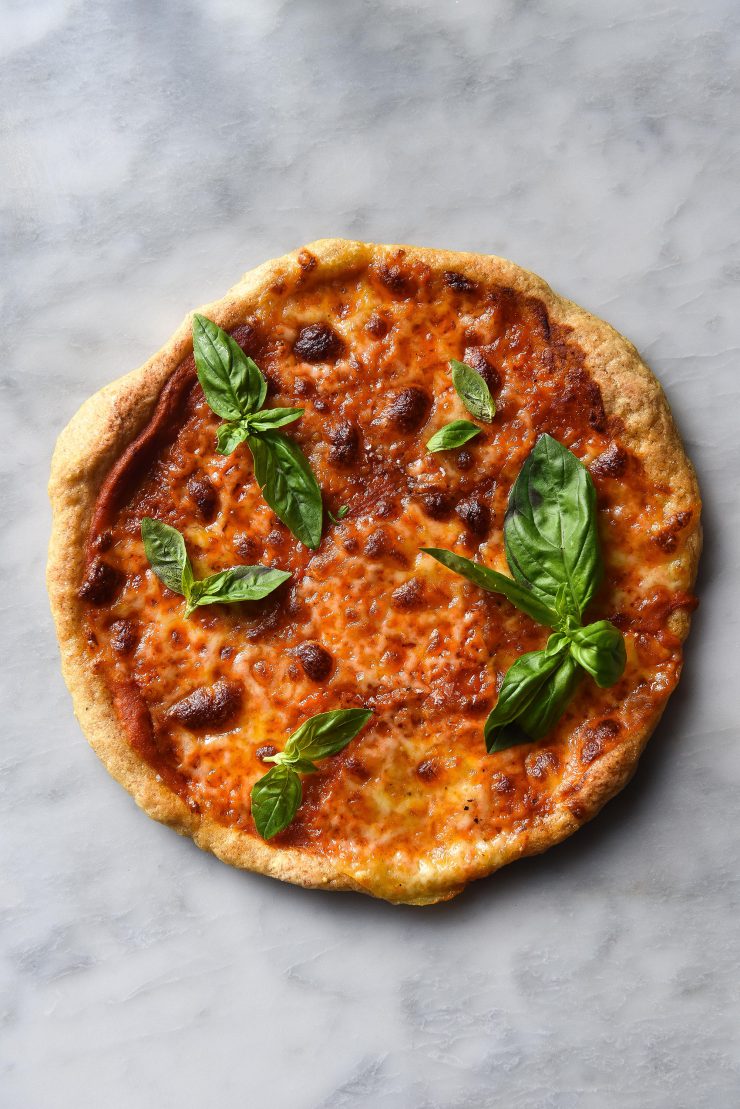 I was today years old when I figured out that people don't just spread tomato paste on pizza and call it a day. Who knew there was such a thing as pizza sauce? (everyone but me). Now that I have discovered this delightful trick, however, it would be rude not to share a recipe for FODMAP friendly pizza sauce.
Low FODMAP pizza sauce
My FODMAP friendly pizza sauce is ready in 5 minutes – made in a blender with pantry ingredients. There are plenty of options for additions and personal tweaks, and it can be cooked down for a richer topping.
The pizza sauce is made with a simple mix of tinned tomatoes, optional Parmesan and
FODMAP friendly pizza sauce notes
This sauce uses a can of plain tomatoes as it's base. While some sauces use predominantly tomato paste, I wanted a cost effective version.
You can also use my low FODMAP Nomato sauce recipe to replace some or all of the tinned tomato. One batch of Nomato sauce makes approximately 1.2kg, which is equivalent to 3 x 400g cans of tinned tomato. 
I use vegetarian parmesan or pecorino which adds immeasurable depth to the sauce. Personally, I like to blitz cubes of it in my Nutribullet to make 'blender parm'. It's akin to the restaurant version – super fluffy, light and fine. It blends like a charm into the sauce, and even bodes well when you cook it down.
I don't use it often, but in this recipe I love using half a teaspoon of asafoetida. Asafoetida is, according to BBC, a gum of a giant fennel. Generally found in powdered form, it tastes a whole lot like cooked onion and garlic. It adds a really nice traditional(ish) flavour to the sauce. It is also sometimes called hing. It is very popular in Indian cuisine, and can generally be found at Indian grocers. 
I use 1 teaspoon of honey in this recipe for a complex sweetness and balancing of flavour. You could also use maple syrup if you'd prefer. The sauce will still contain parmesan, though, so you'll have to replace the parmesan for a vegan option. 

Substitution options and optional additions for your FODMAP friendly pizza sauce
You can experiment with any herby flavouring you see fit. I really love the flavour profile as is, but I understand a trip to the shops for some dried oregano is not high priority right now.
Same goes with the fresh basil – if you must omit it, you can.
The chilli flakes really just add a bit of depth without adding heat. You can add more, less or none depending on your preferences.
A little extra tomato paste or some balsamic/sherry vinegar/red wine vinegar probably wouldn't go astray.
If you want to keep the sauce vegan, I suggest using a good quality vegan parmesan, blended as per the recipe. I haven't tried this, but I assume there's no issue. It might not cook into the sauce like regular does.
Please, NEVER use pre-grated parmesan from the fridge section at the supermarket. It contains fillers that are bad for digestive constraints, and that prevent it from melting properly. If you're pressed for time, I recommend buying fresh pre-grated parmesan from an Italian deli or perhaps the deli section of the supermarket.
Something that I add to the odd pizza sauce is roasted red capsicum (also known as red pepper in some parts). It adds a delightful new level of flavour and sweetness that I love! If you have any sad looking red capsicums, roast them to smithereens and add them to your next sauce.

Recipe notes
Depending on what you plan to do with the pizza sauce, you can either use it as is or cook it down for 5-10 minutes in a small pot. Be aware that it splutters like crazy, so be sure to use a lid. Cooking it adds a nice depth of flavour and would probably be good for something like a simple pasta sauce. I don't cook the sauce before going on a pizza, though.
Less is more when it comes to pizza sauce. A light spread is all that's necessary, otherwise you run the risk of a soggy bottomed pizza.
On the note of soggy bottomed pizza, see my tips in the next section.
I'm currently working on a gluten free sourdough pizza base recipe. In the interim, however, here's my regular gluten free pizza dough recipe. If you're after something a little more nutrient dense (and don't have issues with almond meal or broccoli) I also have a grain free broccoli pizza base recipe from many moons ago. They're green, fun and add a bit of health to pizza making.
Tips for crispy bottomed gluten free pizza bases
Less is more on the FODMAP friendly sauce front. If you smother the pizza in sauce, it will never cook through enough to get crispy.
Consider par baking your bases prior to adding the sauce. If not, consider par baking your bases WITH the sauce, but before adding other toppings.
Cook your pizza in a cast iron skillet, if you have one. I use my Lodge pan and it does a great job. Only catch is I find I need to grease it with both butter and oil to ensure the pizza comes out cleanly. Whether that's because I've mistreated my pan or that's just the way it is, I don't know. Something to be mindful of either way.
High heat is very helpful with pizza. I have been preheating my skillet in the oven on it's highest temperature for 30 minutes before baking. The results are good and I recommend this option if you don't have a pizza stone. Note: you can't do this with any pan with plastic elements, obviously. Skillets only please! You could potentially try just preheating an oven tray, if that's all you have.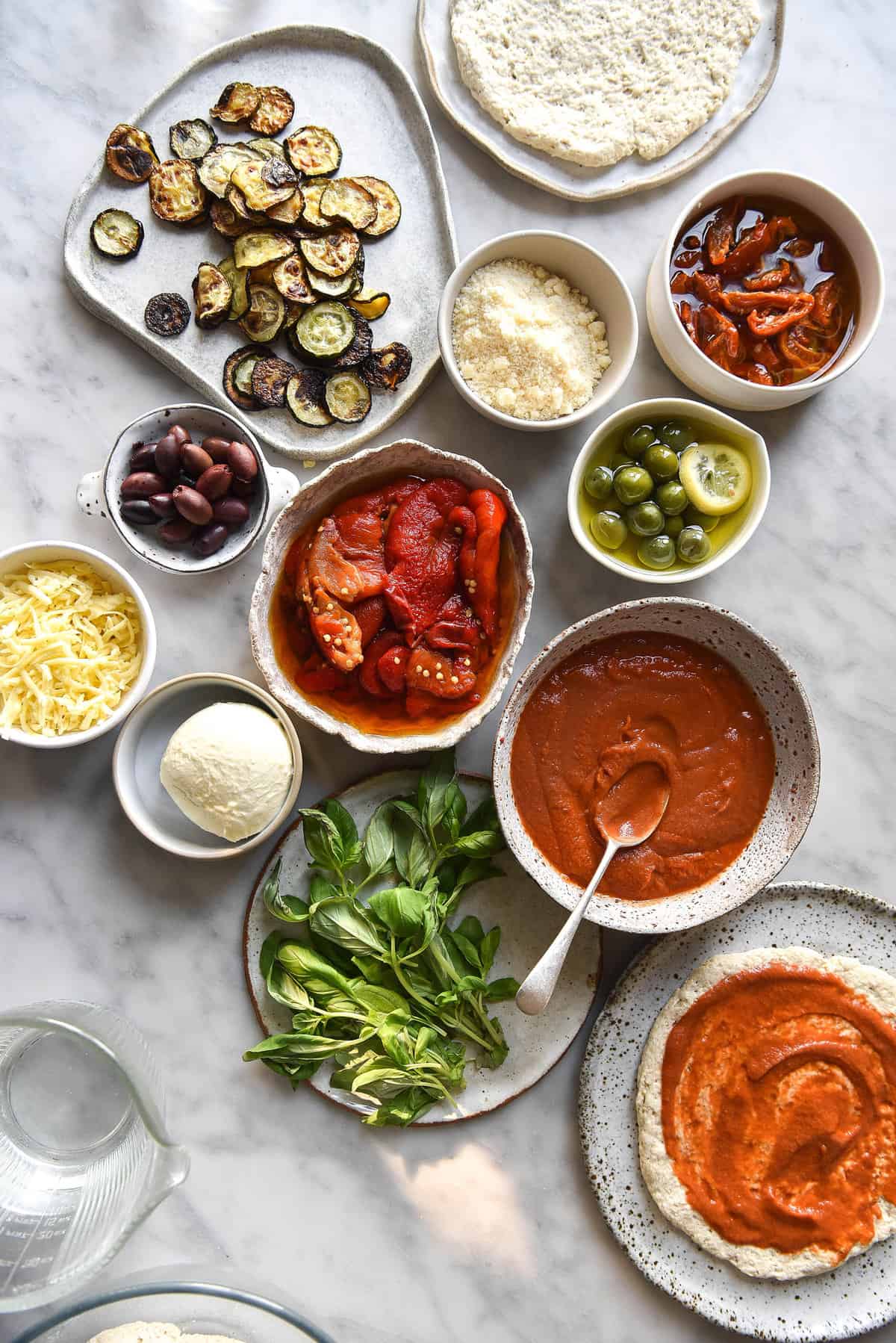 More low FODMAP pizza recipes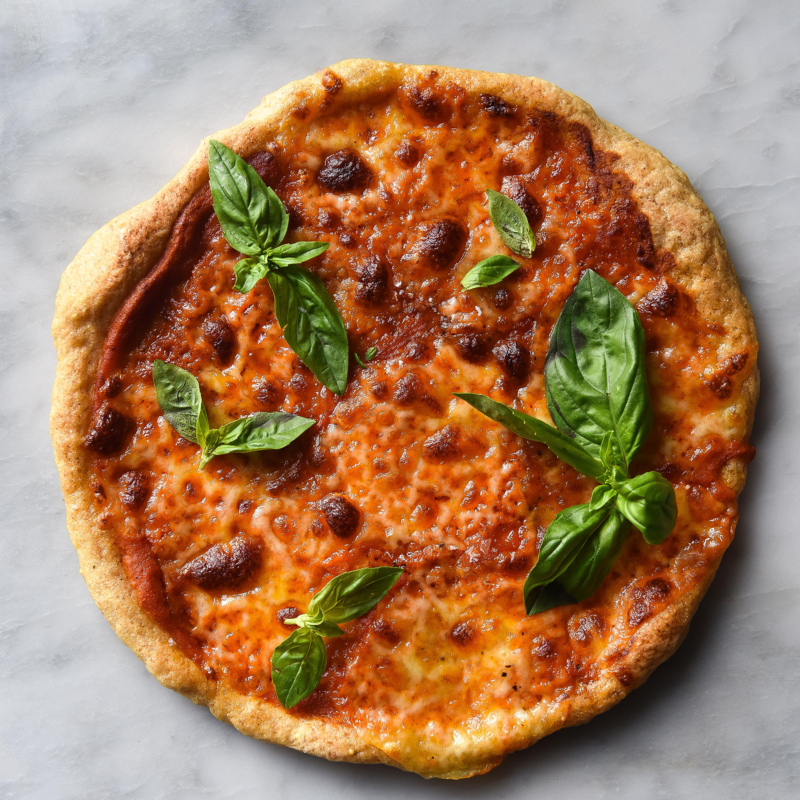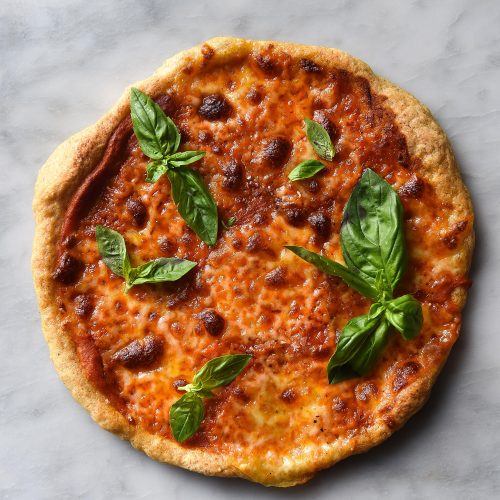 FODMAP friendly pizza sauce
Gluten free, FODMAP friendly, adaptable to be vegan
Ingredients
1

x 400g tin plain tomatoes

no flavourings

2

tablespoons

tomato paste

50

g

freshly and finely grated parmesan

1/4

teaspoon

dried oregano

1

teaspoon

honey

optional, omit for vegan

1/2

teaspoon

asafoetida

optional, see notes

4-5

basil leaves

keep the rest of the bunch for finishing the pizza

Small pinch of chilli flakes

Freshly cracked pepper

Pinch

of salt
Instructions
Place all the ingredients in a high speed food processor and blend until smooth. Adjust for taste.

Smear on par baked gluten free pizza bases (see notes for my recipe) and store the remainder in an airtight container. Keeps for a few days in the fridge.