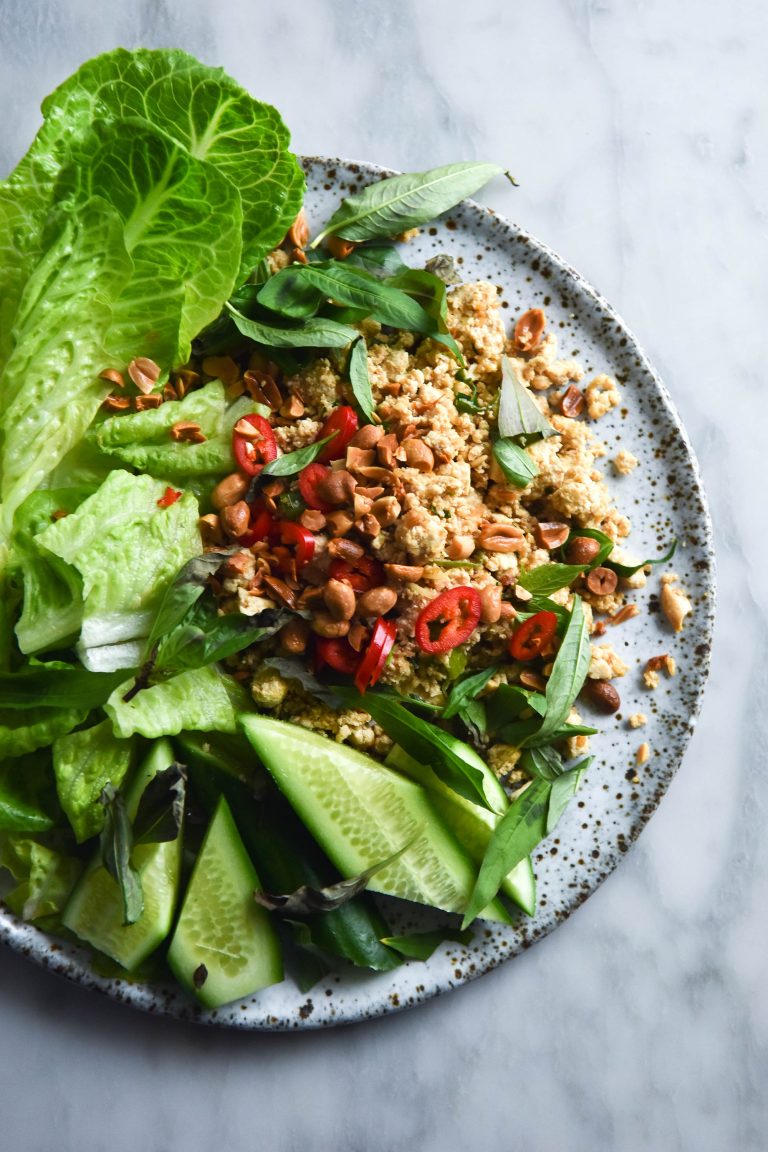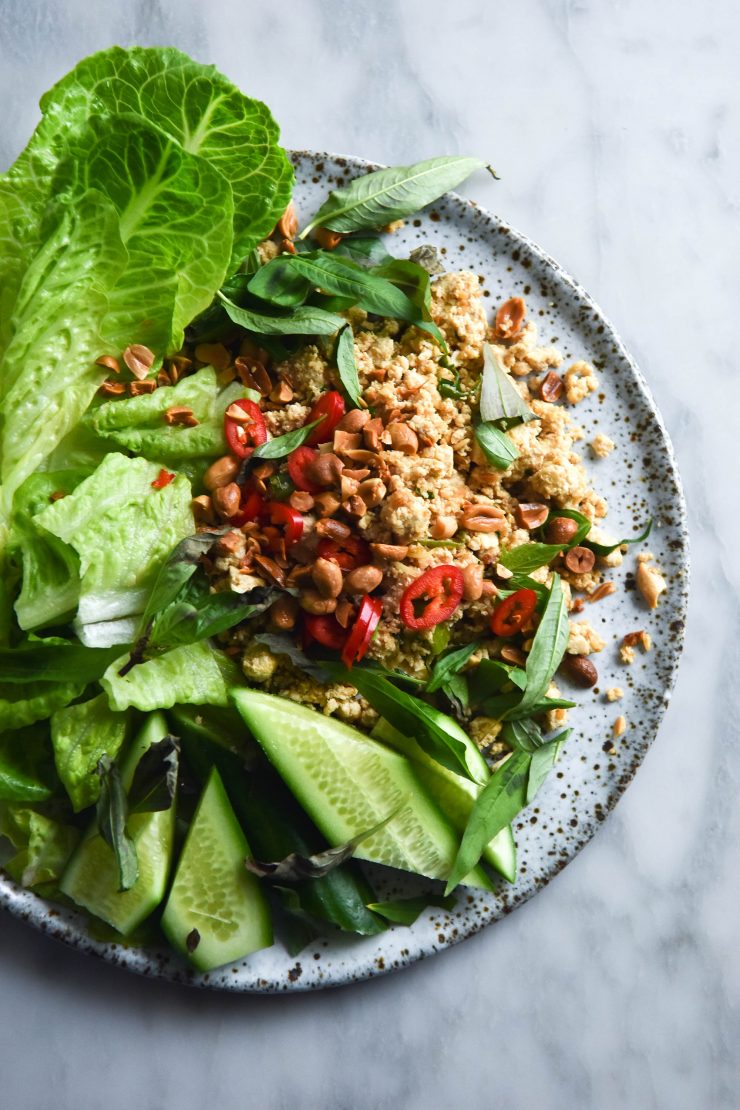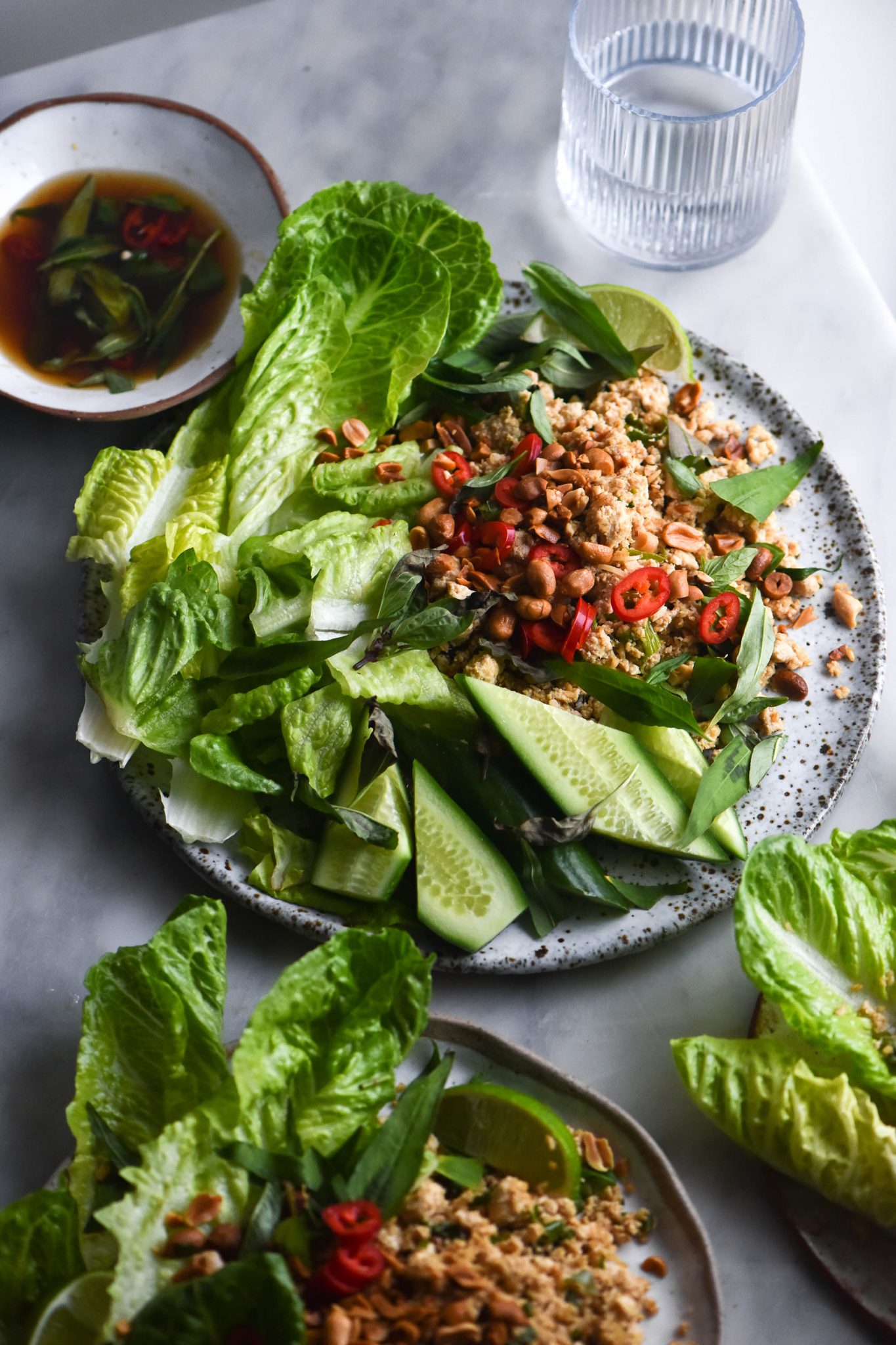 Larb is a a meat based salad traditional to Laos and Thailand. Although I haven't been to either Laos or Thailand, I developed a deep love of the South East Asian flavours when I visited Vietnam and Cambodia. Makrut lime, Vietnamese mint, Thai basil, lemongrass and galangal – does it get any better? I also have not eaten a traditional larb – I went vegetarian before I had the chance.
Low FODMAP tofu larb
So! This FODMAP friendly tofu larb is my best approximation of the dish. My version is different from traditional meat versions because tofu, unlike minced meat, doesn't have enough flavour to go it alone. It really needs the added glI have tried my best to keep it as close to the original as possible, while catering to vegan and FODMAP friendly requirements.
Larb is often served with a green papaya salad. In perhaps more Western interpretations it is often served in lettuce cups, kind of like san choy bow. I do enjoy larb in a letttuce cup, as evidenced by my photos. I will update the recipe with a papaya salad accompaniment soon, I promise.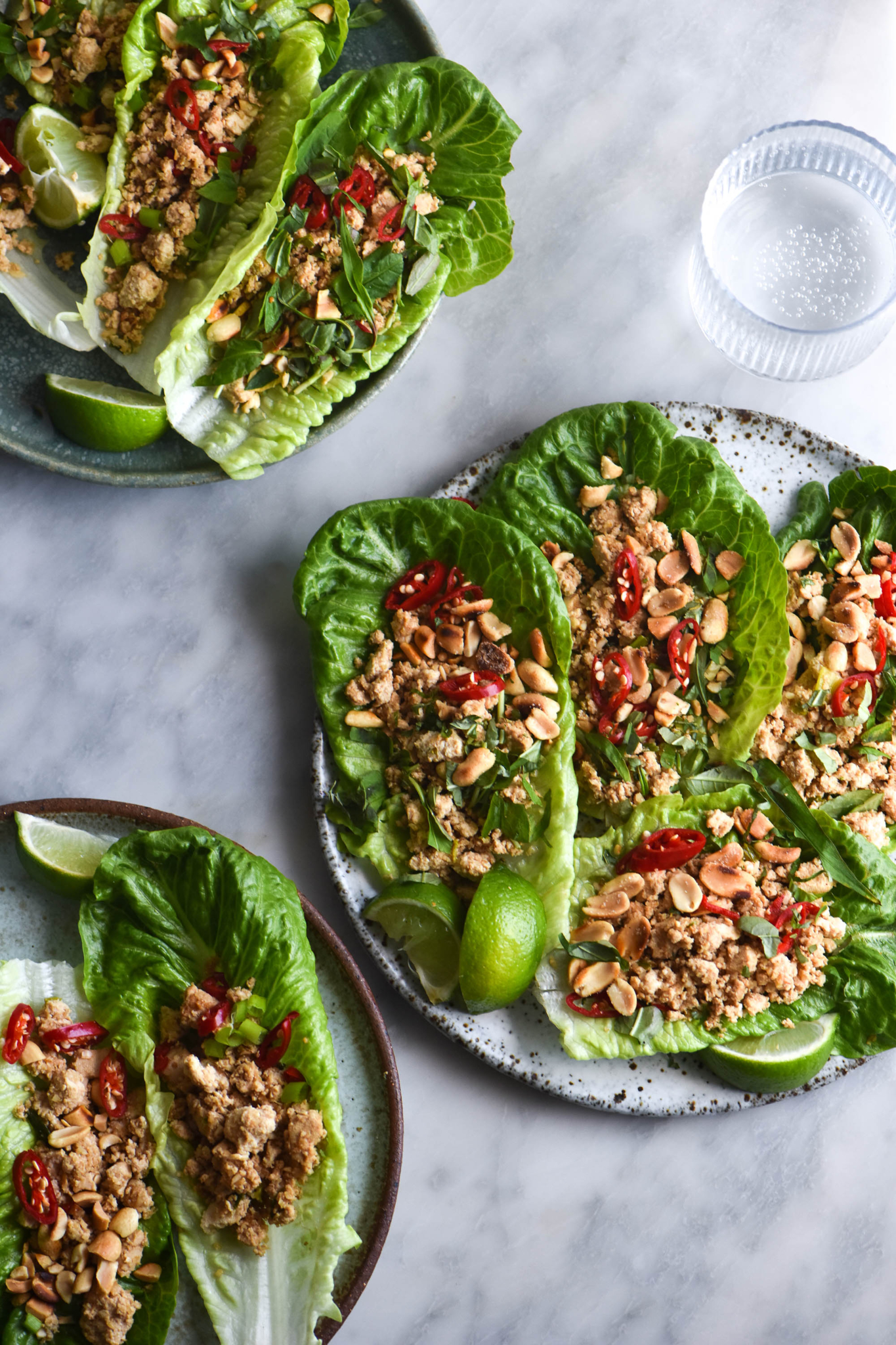 FODMAP notes for your FODMAP friendly tofu larb
Tofu is FODMAP friendly in serves of up to 170g per person. This recipe uses 450g, so you can safely eat over 1/3 of the larb without suffering any ill-effects. You could also consider bulking it out with some grated vegetables, but you will need to add more flavouring to compensate.
Spring onion greens (not whites) are given the green light by Monash. I'm relatively new to using them because I didn't really believe they would work for me, but they do! They are a really great way to add some flavour with any issues.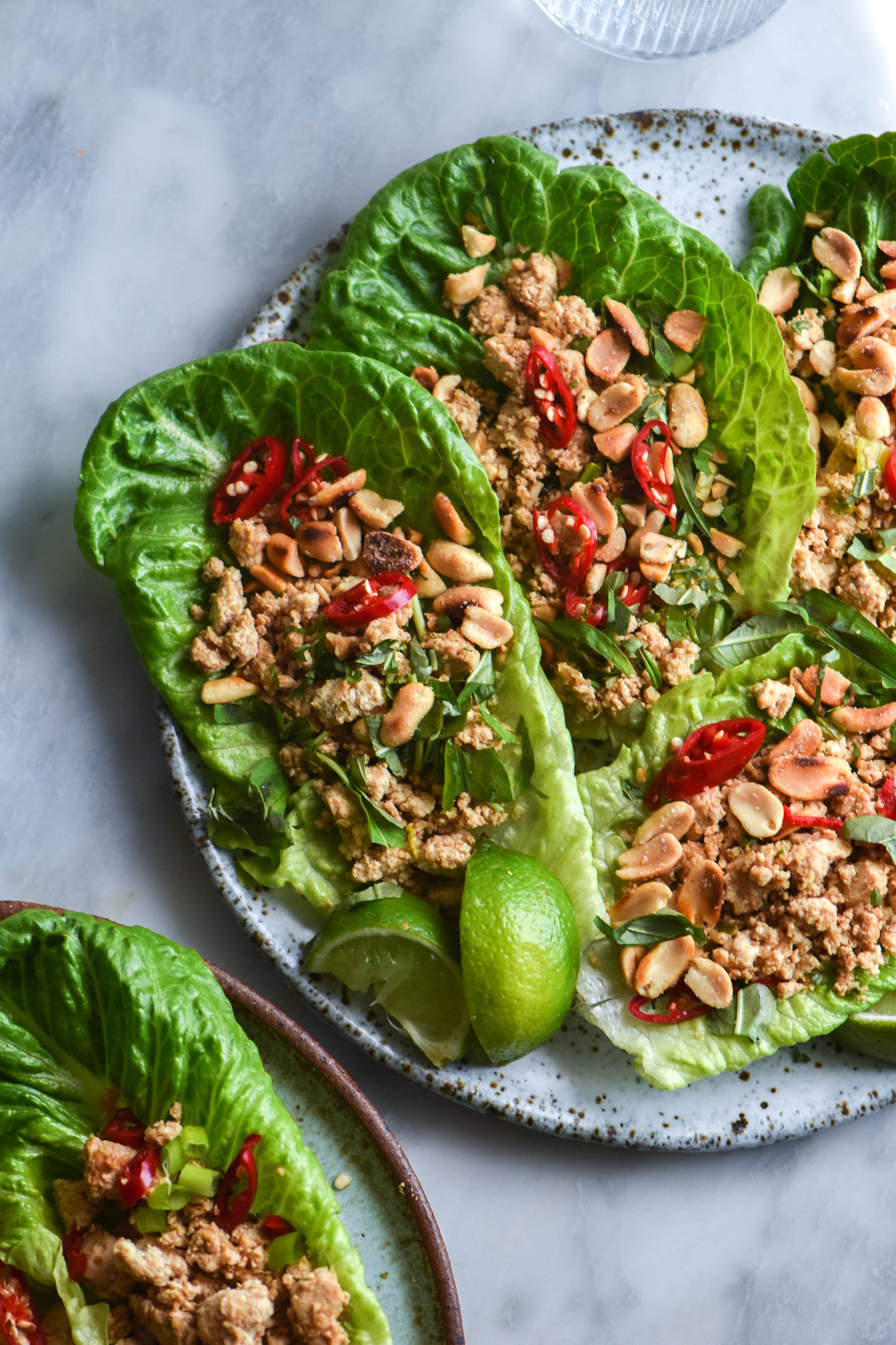 Ingredient notes
There are a few less common ingredients in this dish, so I wanted to quickly run through them. These days you can easily purchase lemongrass and often Thai basil at supermarkets. Galangal, makrut lime and Vietnamese mint are less common. Here's where I buy each:
I've found galangal at my local IGA and more boutique grocery stores. It has a really unique and lovely flavour, but I'd say you could substitute with extra ginger and lemongrass if you need to.
Makrut lime (also called kaffir lime, but this is considered an offensive term so I've stopped using it) is probably my favourite flavour, ever. It's so wildly unique – there is really nothing like it. Cambodian amok is what really cemented my love of this flavour. I have bought makrut limes at Abbotsford Farmers markets, Asian grocers, a few roadside stalls, and at Torello farm on the peninsula. I HIGHLY HIGHLY recommend you find some if you can – the flavour is truly that good. Personally, I like to buy a bunch of them whenever I see them chuck them in the freezer. Whenever I need some, I grate the lime zest straight from frozen.
Vietnamese mint is not really anything like mint. It's delightfully fresh, spicy and exotic. It is really easily purchased at Asian grocers and some fancier supermarkets. I have occasionally seen it at Coles, although in those tiny and infuriating plastic packets. I have also bought it at Torello.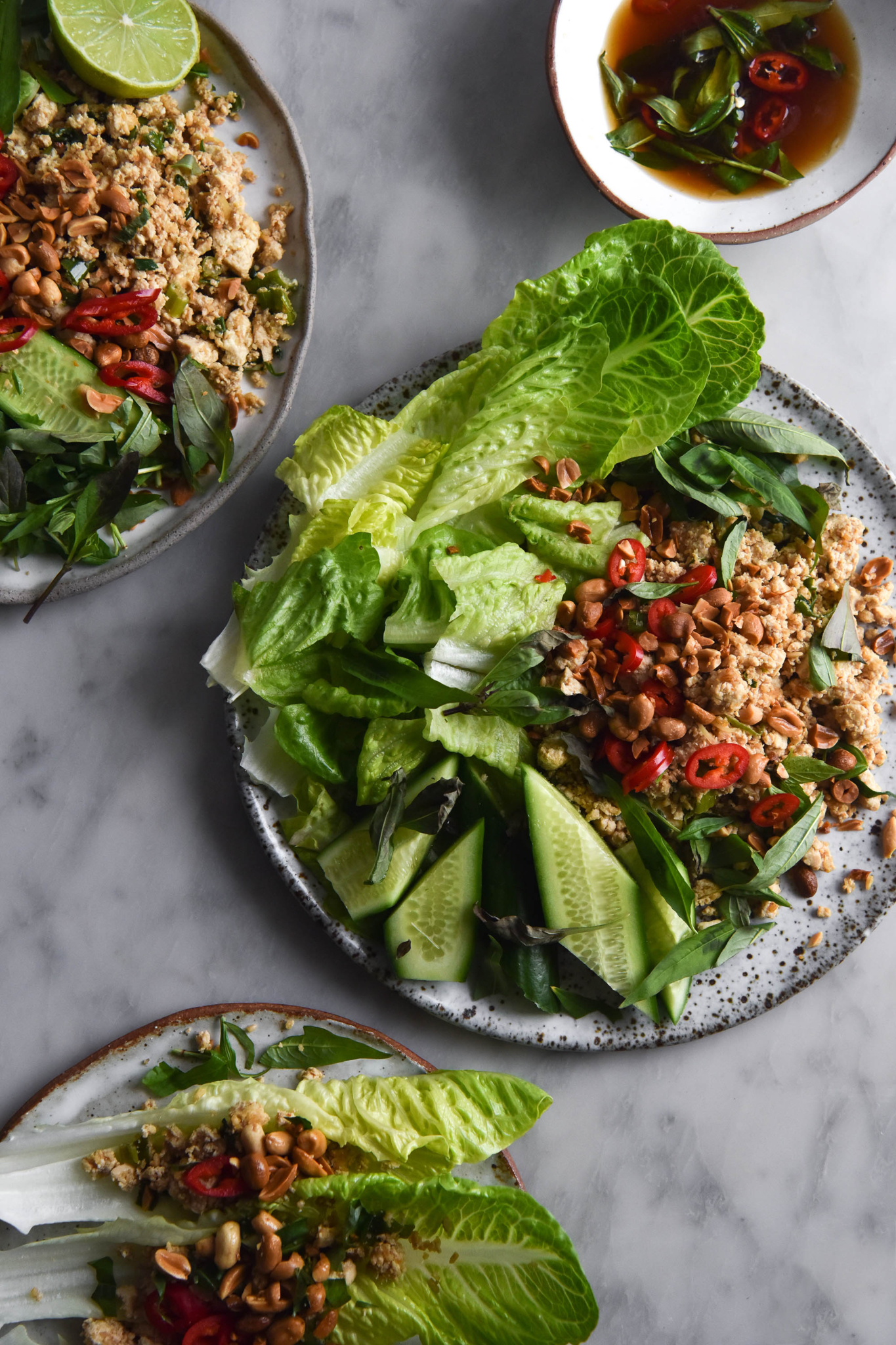 Substitution suggestions
Obviously, you can omit the peanuts for a peanut allergy. Make sure you use vegetable oil instead of peanut if you're catering to this.
To make this recipe grain free, simply omit the toasted rice.
That said, I honestly do believe the rice brings so much to the dish in terms of flavour, texture and complexity, so if you're just not in the mood to toast rice, please reconsider!
I currently have no substitution suggestion for the vegan fish sauce. It is really what holds this whole dish together so I really recommend finding some if you can. In Australia, I buy Niulife in the health food aisle of Woolworths.
As discussed, add some extra lemongrass to compensate for galangal if you can't find it.
The sugar really balances out all the salty flavour so I don't recommend omitting it.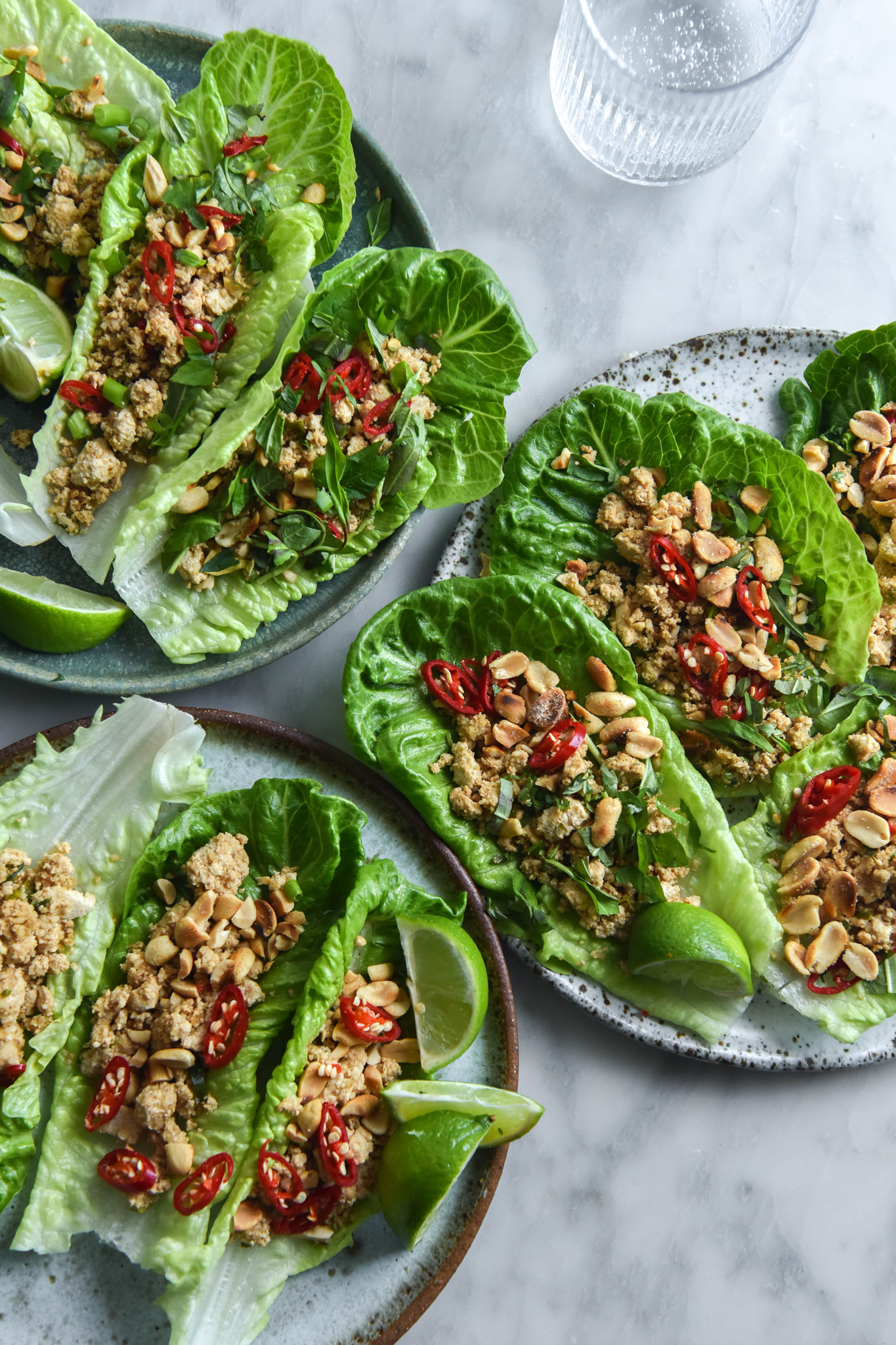 More low FODMAP vegetarian recipes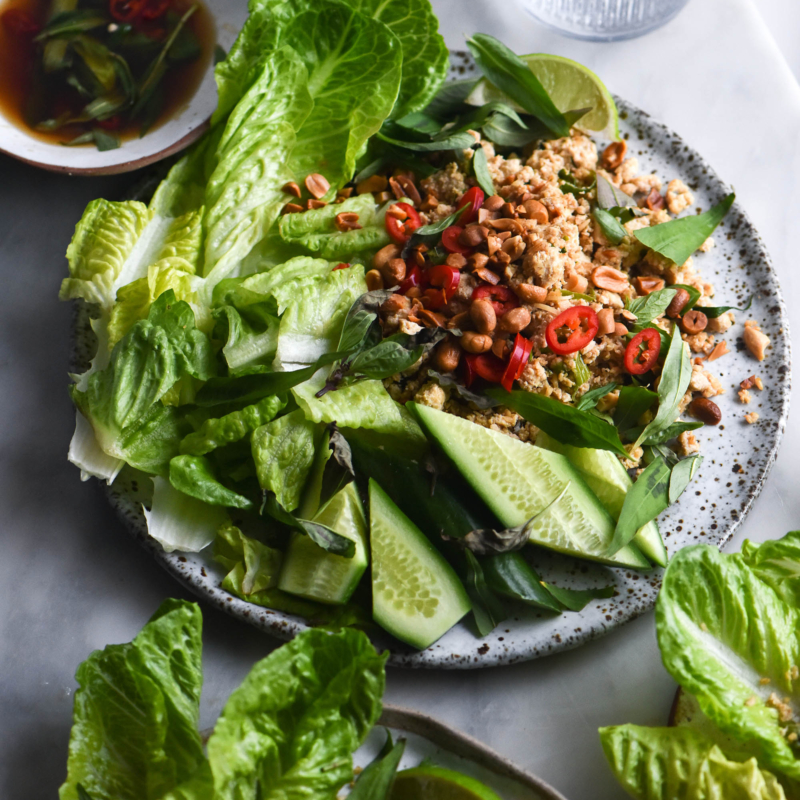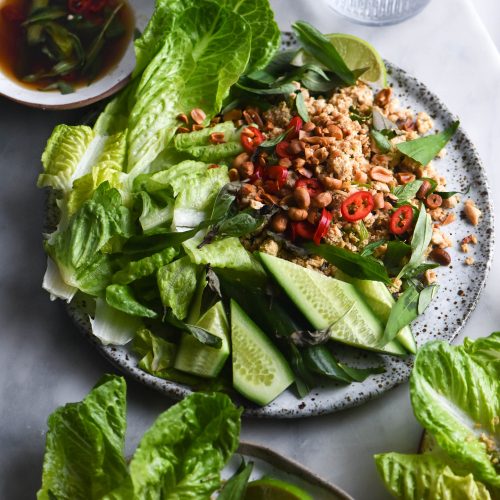 FODMAP friendly tofu larb (gluten free, nut free option)
Ingredients
For the vegan nuoc mam dressing:
1/4

cup

(60ml) fresh lime juice

1/4

cup

(60ml) vegan fish sauce

2

tbsp

caster sugar

1-2

tsp

Tamari or gluten free dark soy, to taste

Chopped chilli, optional

Small handful of Thai basil or Vietnamese mint, optional
For the tofu larb:
1/4

cup

toasted rice (see notes)

3

tbsp

vegetable (or another bland style) oil

30g

ginger, microplaned

2

tsp

galangal, microplaned (see notes)

1-2

stalks of lemongrass, microplaned or finely sliced

6-7

spring onion greens, finely chopped

Pinch of dried thyme and dried sage powder (see notes)

1/4

cup

(60ml) water

450g

firm tofu, crumbled

2

tbsp

Tamari or gluten free dark soy (see notes)

1

tbsp

vegan fish sauce (see notes)

1/2 – 1

tbsp

light brown sugar

White pepper, to taste

chilli powder, to taste (optional)

Grated makrut lime zest, to taste (I use about half a lime)
To finish:
Lettuce, for cups

1/2

cup

toasted peanuts

Chillies, chopped, to finish

Thai basil and Vietnamese mint, to finish
Instructions
To make the vegan nuoc mam:
Combine all the ingredients and adjust according to your tastes. Set aside to allow the flavours to mingle.
To make the tofu larb:
Toast the rice in a dry saucepan over a medium heat. Allow it to toast until a medium brown with a nutty scent, about 5-7 minutes. Once cooked, remove from the heat and allow to cool. Once cool, grind to a relatively fine powder in a spice grinder or a mortar and pestle. Set aside.

Heat the oil in a large skillet over a medium heat. Once warmed, add the ginger, galangal, lemongrass and spring onion greens. Cook for a minute or so until the mixture is verdant green and fragrant. Add the water and the ground rice and stir to combine, cooking for an additional minute or so.

Add the crumbled tofu and stir to incorporate. Add the Tamari or dark soy and stir again until the mixture is a uniform light brown colour. Taste for salt levels, as the mixture can be easy to over-salt with the vegan fish sauce. If you feel good about it, add the fish sauce. If it's already salty enough, omit it and save it for the dipping sauce. Add a little extra water if you'd like the larb to be a bit more juicy/

Add the brown sugar, some white pepper and chilli powder if you're using it, and stir to combine. Finally, add the makrut lime zest and stir again to combine. Taste for seasoning and adjust if necessary.
To finish:
Assemble the ingredients as you see fit. You can make lettuce cups or simply serve the greens as a salad. Sprinkle with the peanuts, fresh chillies and herbs. Serve the vegan nuoc mam alongside the larb.
Notes
Generally speaking, larb uses toasted glutinous rice. I was unable to find any in my 5km radius so I have used regular white rice here. If you can find glutinous rice, use that. The toasted rice adds such a unique, nutty flavour and I don't recommend omitting it. 
Galangal is a delightfully zingy and fresh addition, but you can omit it if you can't find it. I would suggest adding extra lemongrass to compensate. 
Dried thyme and dried sage powder are very untraditional ingredients here, but they serve to make the dish taste more meaty. You can omit if you don't have them, they're just a little bonus hit of umami-ish flavour. 
Make sure to taste the mixture before adding the vegan fish sauce. I have found that you can easily overdo it if you add too much vegan fish sauce. All brands have differently salinity levels so add accordingly.
On that note, use reduced salt Tamari or dark soy if you have it! That will give you more wiggle room if you want to add a bit more vegan fish sauce. 
You can also use regular fish sauce if you don't need it to be vegan. Again, add accordingly.