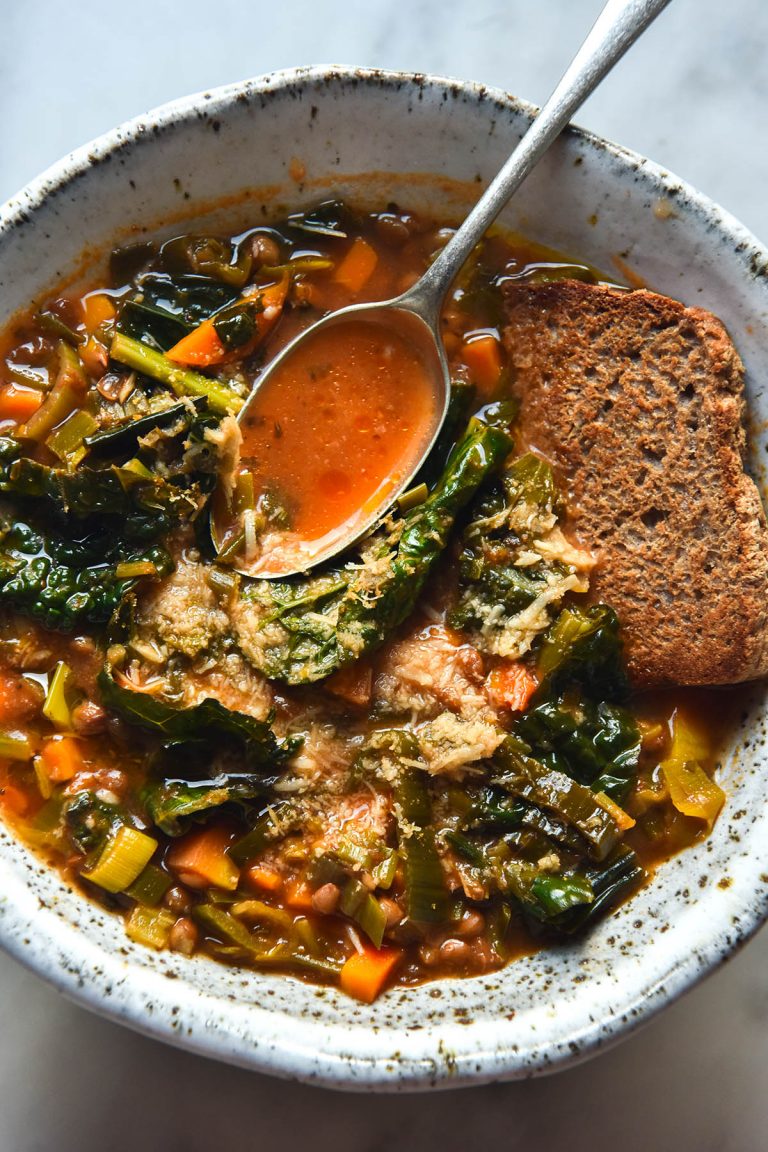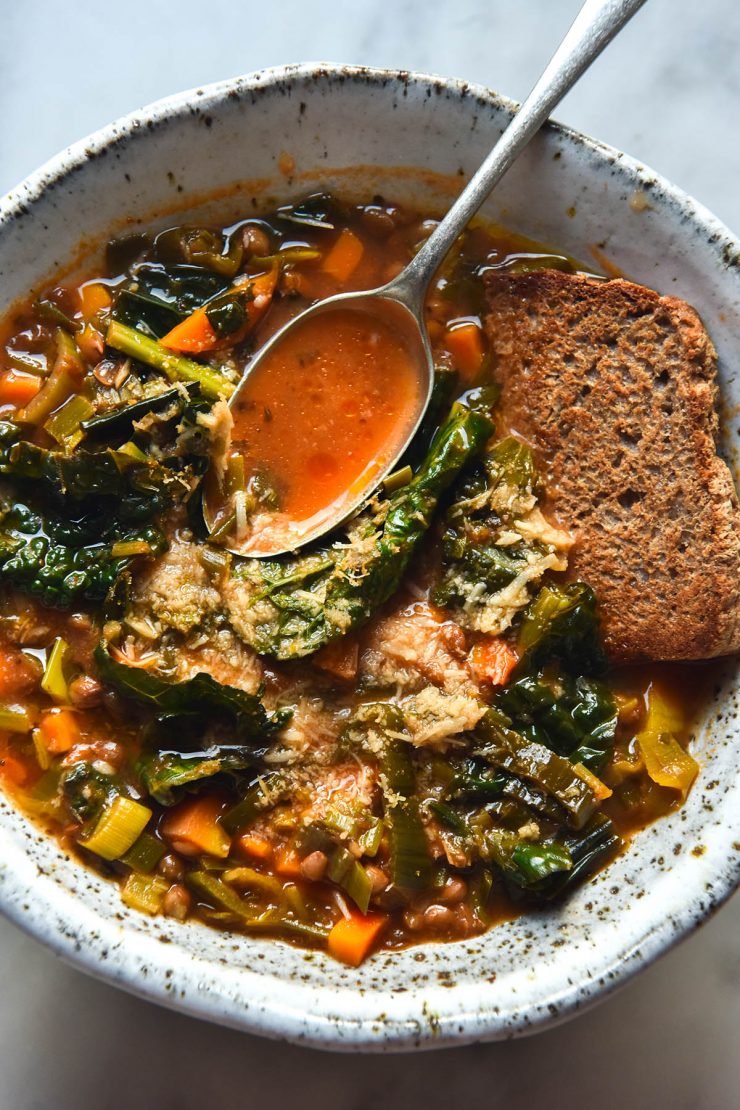 It might be summer here in Australia, but I'm already anticipating soup season. To add to my low FODMAP soup collection, today we're making low FODMAP lentil soup.
You might be thinking that 'low FODMAP' and 'lentil' shouldn't be in the same sentence. Think again! Thanks to appropriate serving sizes and canned lentils, this soup is suitable for those on the low FODMAP diet.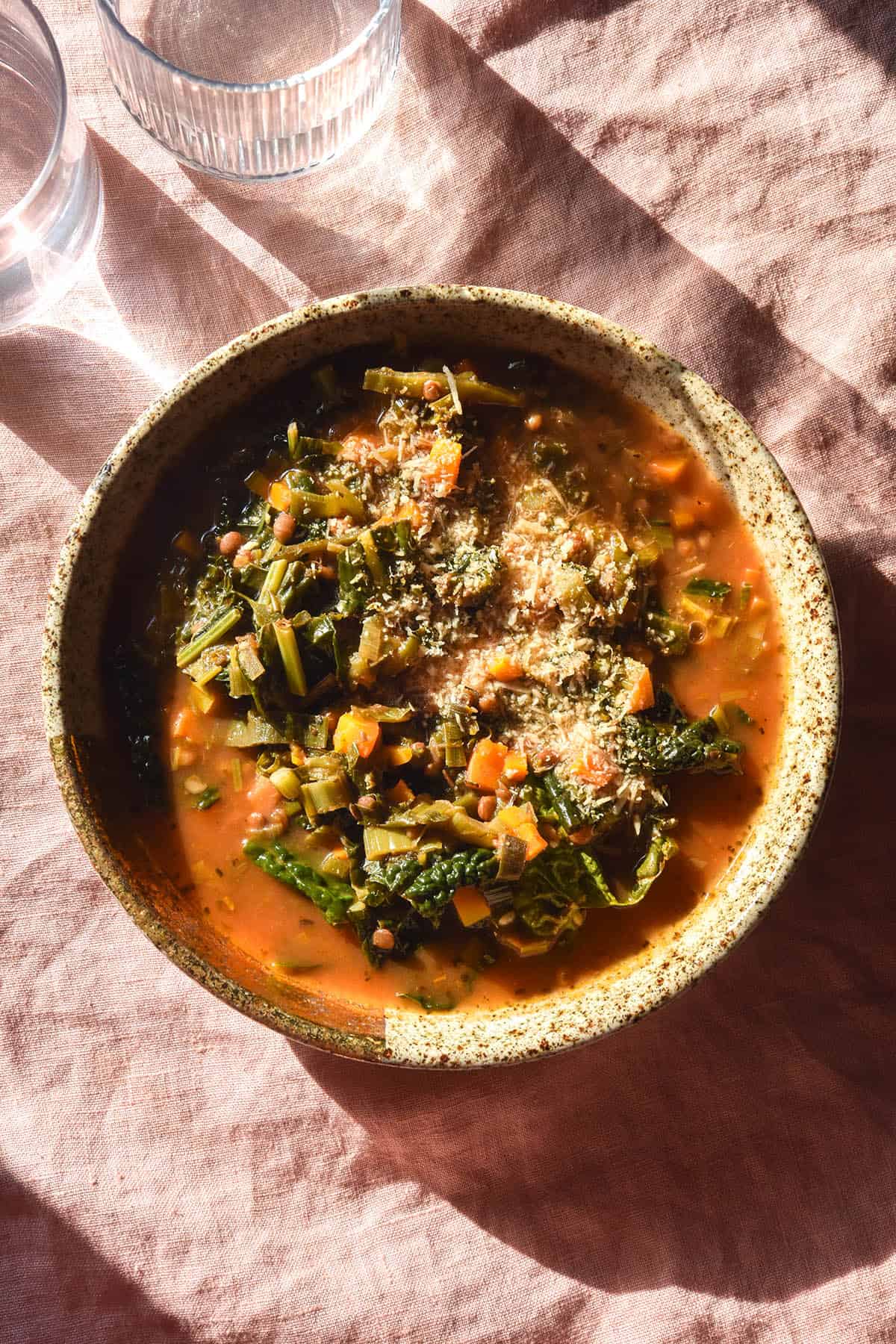 Low FODMAP lentil soup
This soup is made from a simple base of leek greens, spring onion greens and chopped carrots. Think of this as your low FODMAP mirepoux or soffrito – the base of the soup. From there, we add flat leaf parsley, tomato paste and dried herbs for flavour. Gluten free dark miso paste and nutritional yeast are an (optional) umami hit, and the canned lentils are for protein. I like to finish my lentil soup off with 1/2 – 1 bunch of Tuscan kale for greens, but any greens would work here.
This low FODMAP lentil soup is vegetarian or vegan, grain free and nut free. It takes 30 minutes to make, so it's a great weeknight dinner. Unlike minestrone, there's no pasta to go mushy over time, so this soup makes for a great freezer or meal prep option, too.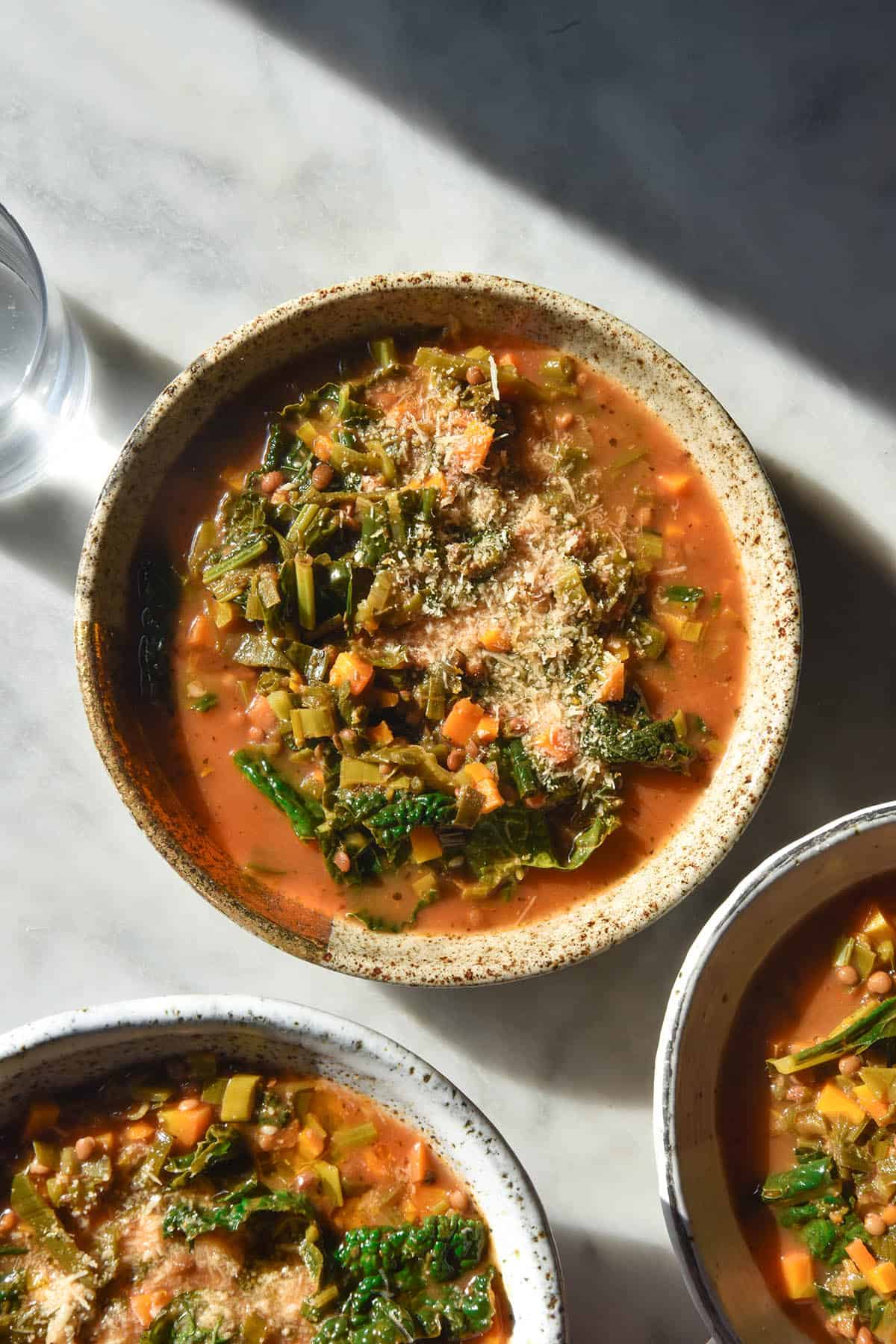 Tips for your low FODMAP lentil soup
The biggest tip I could give anyone for working with leek greens is to wash between every single leaf. You would be amazed at how much dirt lurks in the inner leaves of a leek. Peel them off and wash them one by one to ensure your soup is not gritty.
There is a section below specifically on the lentils and ensuring you get a low FODMAP serve of lentils.
However, I recommend draining and rinsing your canned lentils well. Canned lentils are lower FODMAP because the FODMAPs leech out into the canning liquid. As a result, you want to wash that right off.
I love using garlic infused ghee for the best of my low FODMAP lentil soup. I find the flavour carries through to the final dish, unlike with garlic infused oil. If you don't want to use ghee or need a vegan option, however, adding garlic infused oil to the top just before serving does add a garlic hit.
Because lentils contain starches, the soup will thicken as it cools. If you're using it for a meal prep situation, add some water or stock before reheating.
Notes on the lentils
Because the lentils are really the main FODMAP concern in this soup, they're worth chatting about. Firstly, I have used canned brown lentils for this soup. At the time of writing, Monash says that they are considered low FODMAP in 46g serves per person. A standard can of lentils in Australia is 400g net weight. However, the total amount of lentils once drained is approximately 240g.
So, 240g of drained lentils needs to serve 5-6 people. Canned lentils are moderate FODMAP at 65g, which means there might be a bit of wiggle room here. Assess your own tolerance to GOS and go from there.
To ensure you get a low FODMAP quantity of lentils, you can:
Make the soup serve 6. Depending on appetites, you might consider adding 100g extra carrot and the other 1/2 of the bunch of kale to bulk things out. I'd also recommend serving with some gluten free bread (my buckwheat bread, perhaps?)
Make the recipe serve 4-5, and use slightly less than 1 can of lentils. If you go this route, you can throw the remaining lentils into the bowl of anyone in the house who has no FODMAP issues. A win win.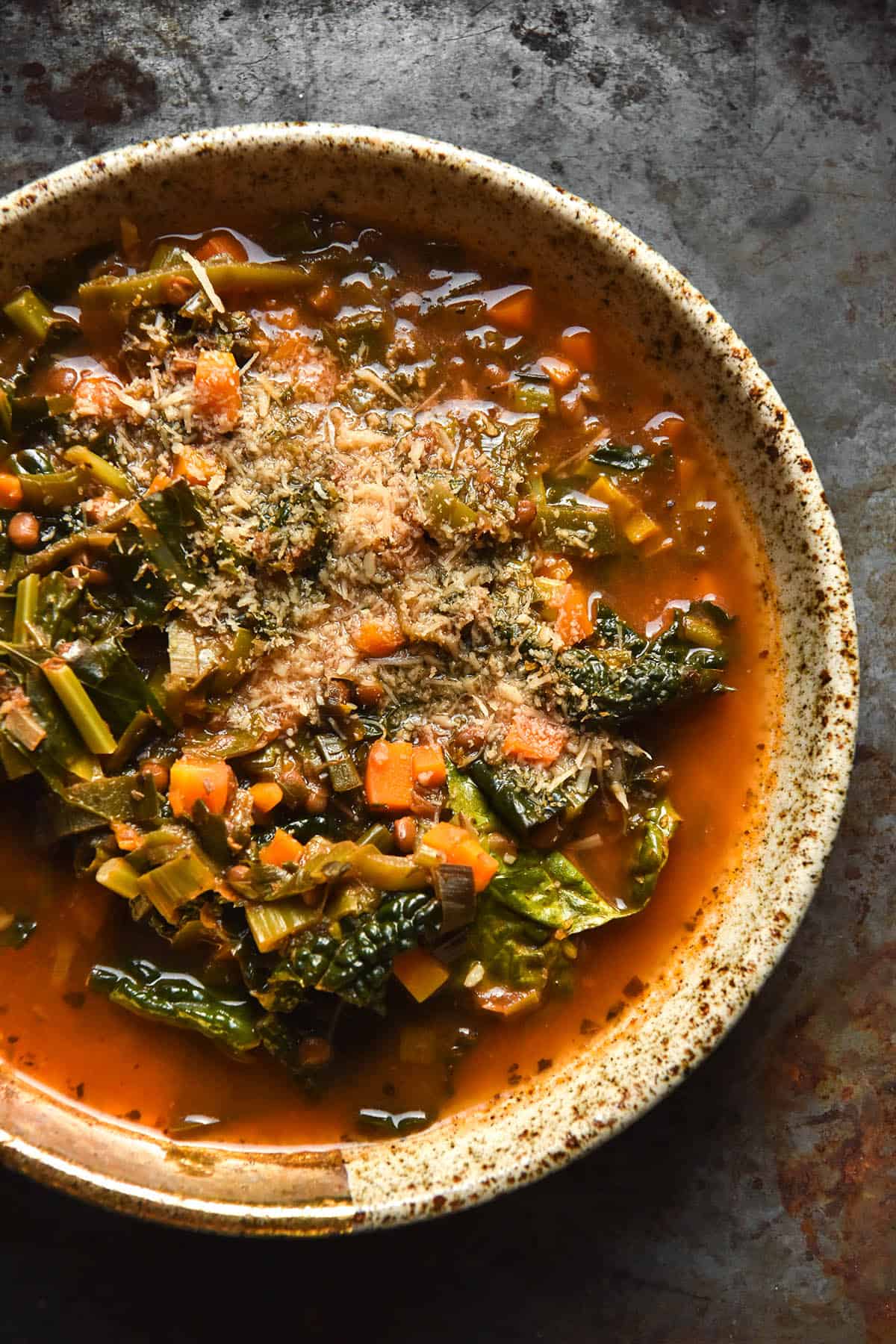 FODMAP notes
Spring onion greens and leek greens are low FODMAP and a great way to add onion flavour.
Tomato paste is low FODMAP in 2 tablespoon or 28g serves. This soup uses 50g, which is well under the FODMAP threshold when divided by 5-6 serves.
I have tried to keep everything else low or no FODMAP. Make sure you use a low FODMAP stock if you're using stock. Personally, I like using water here as the soup is already very flavourful.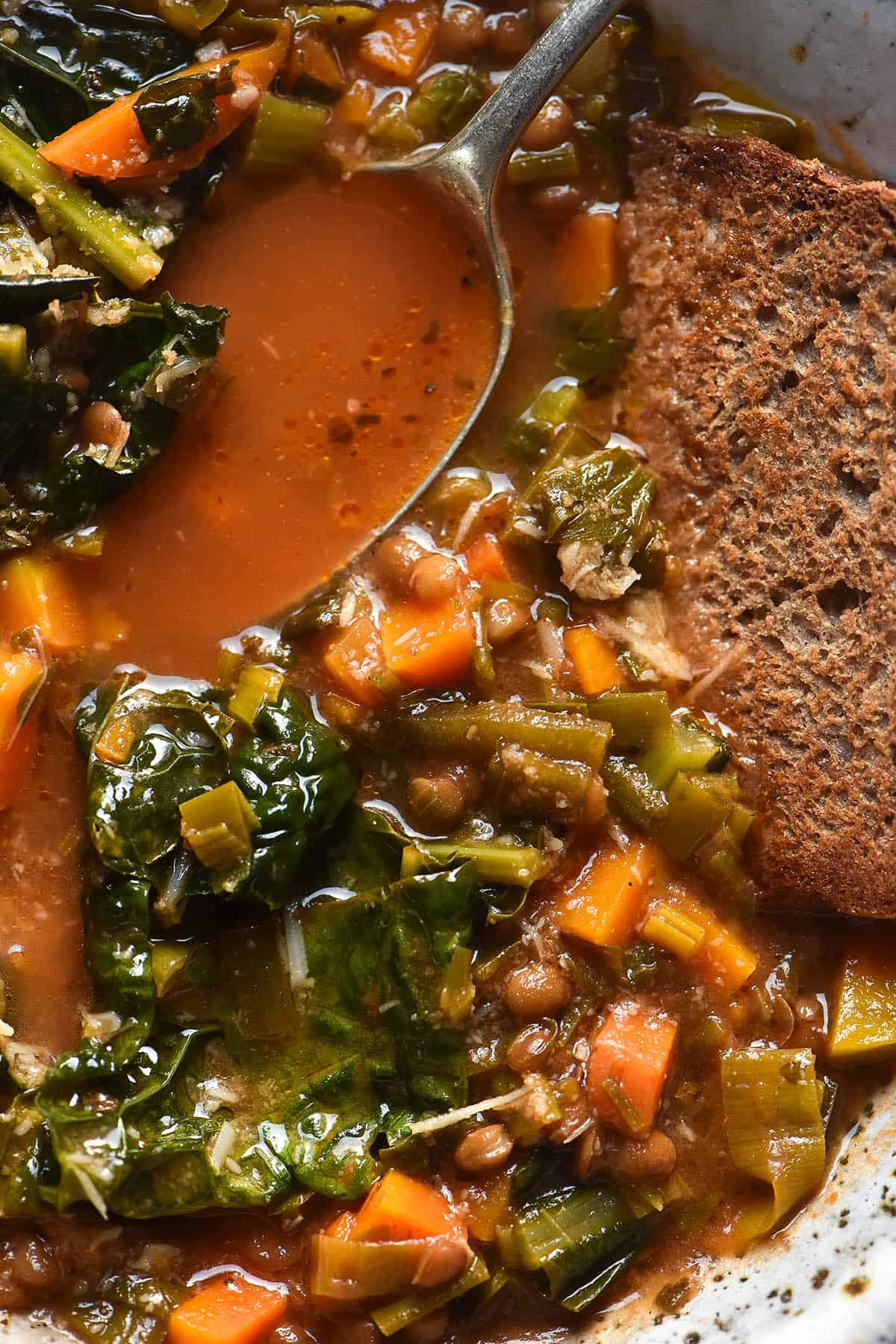 Optional add ins
The sky is the limit when it comes to adding in vegetables to this soup. You can substitute kale for another hardy green, add some zucchini, or really throw in any bottom of the fridge you've got going. I daresay some finely cubed pumpkin would go down a treat.
You can also another herb that works for you. I'd recommend basil or chives, perhaps a small amount of sage.
Personally, I like to finish my soup with a generous grating of vegetarian parmesan and some garlic infused oil. I have a list of vegetarian parmesan brands in Australia (yes, they exist). I have also recently tried Green Vie vegan parmesan and I think it's the best I have tried so far.
Because I really enjoy this soup, I am going to work on a curried version as well. Think part low FODMAP daal and part soup.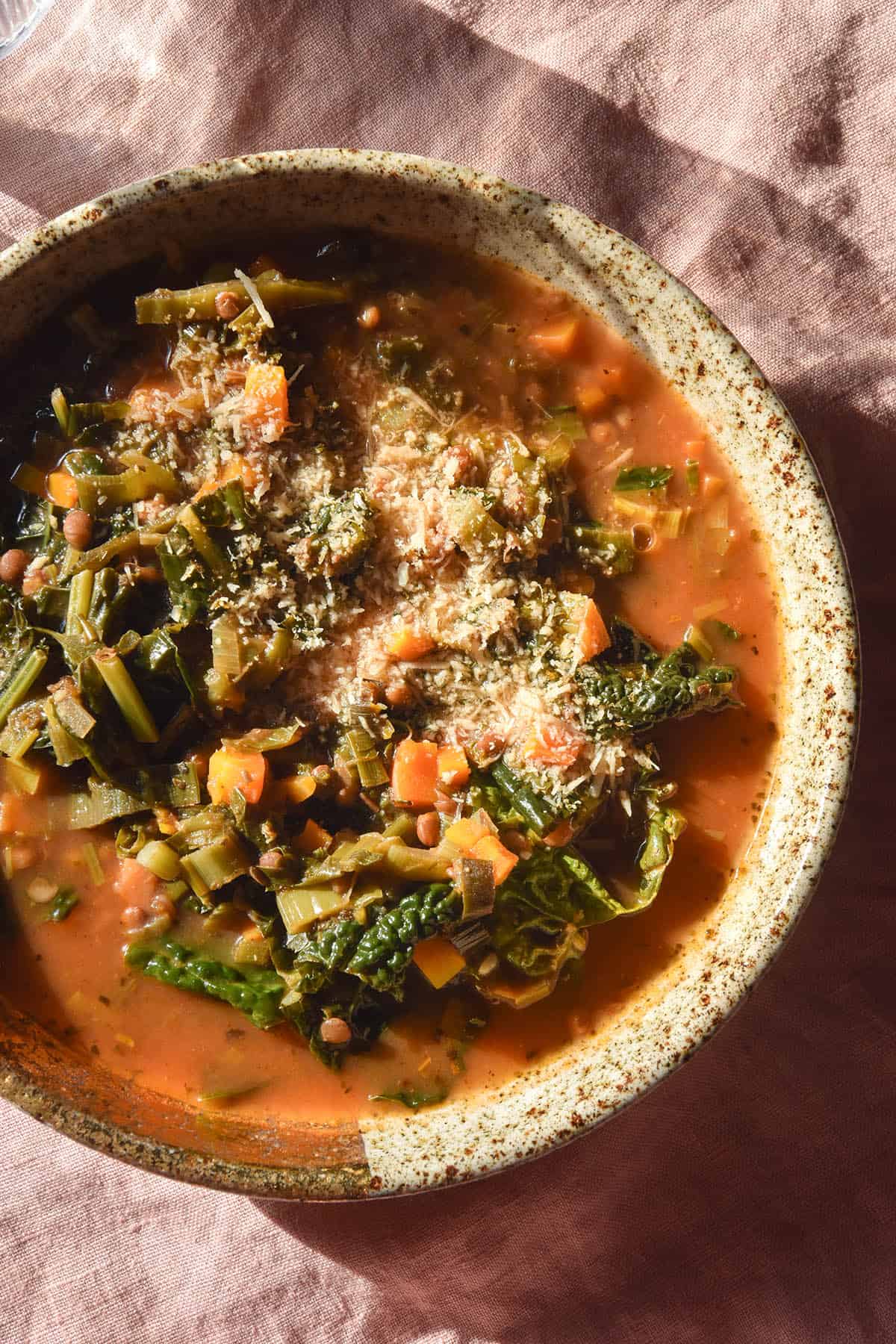 More low FODMAP vegetarian or vegan soup recipes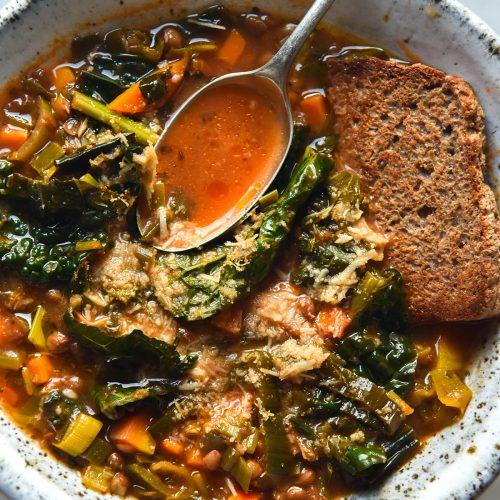 Low FODMAP lentil soup
Vegetarian, vegan option
Serves 5-6
*Measures are in Australian tablespoons.
1 Australian tablespoon = 4 Canadian, US and New Zealand teaspoons or 3 1/2 British teaspoons
Ingredients
For the soup:
60

ml

(3 tablespoons)* garlic infused ghee or olive oil

2

large leek greens thoroughly washed and sliced thinly

1

bunch spring onion greens sliced

1/2

bunch flat leaf parsley soft stems and leaves

reserve remaining 1/2 for serving

50

g

tomato paste

300

g

carrot small cubes

1

– 1 1/2 litres

(1000-1250ml) water or low FODMAP vegetarian stock

1-2

tablespoons*

nutritional yeast

1/2

– 1 tablespoon* gluten free dark miso

2-3

teaspoons

dried sage leaves

2-3

teaspoons

dried oregano

1

– 1 1/2 teaspoons salt to taste

to taste if you use stock

Fresh pepper to taste

Squeeze of fresh lemon juice

1

x 400g can brown lentils

drained and rinsed

1/2

– 1 bunch Tuscan kale or other hardy greens

woody stems removed and chopped relatively finely
To serve (optional)
Vegetarian or vegan parmesan

Garlic infused oil

Extra lemon juice
Instructions
Heat the ghee or oil over a medium heat in a large soup pot. Once warmed, add the leek and spring onion greens and cook for 3-5 minutes until softened and fragrant.

Add the parsley and stir to combine.

Add the tomato paste and dried herbs and stir to combine. Allow the tomato paste to caramelise for a minute or two before adding the carrots, water or stock, remaining flavourings and lentils. Cook for however long you'd like – you can leave the soup cooking away, or just until the vegetables are tender. I prefer just tender vegetables. Do whatever you prefer, noting you might need to add more liquid (and thus perhaps more flavourings) if you cook your soup for a longer time.

About 5-10 before serving, add the chopped kale. This way it will retain it's lovely green colour and a bit of bite.

Adjust for seasoning and lemon juice before plating up. Serve with the remaining parsley, and some parmesan and garlic infused oil if you like.
Notes
To make this lentil soup vegan, use oil instead of ghee and a vegan parmesan.