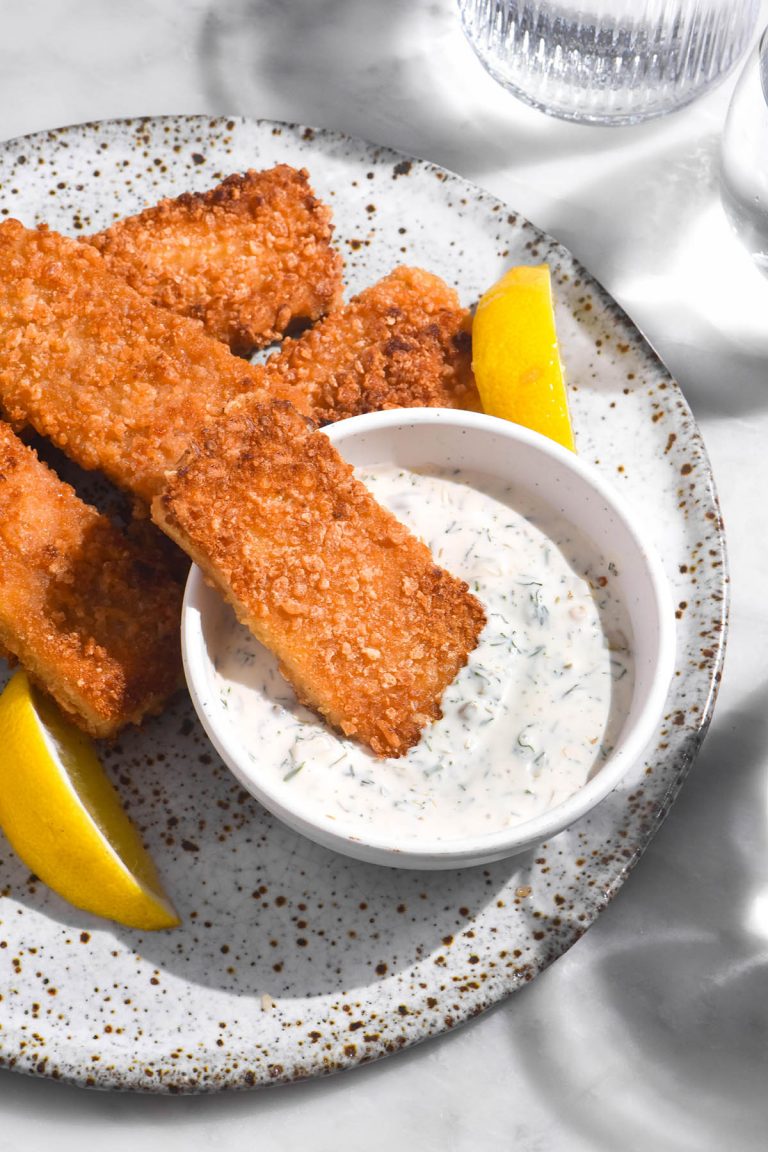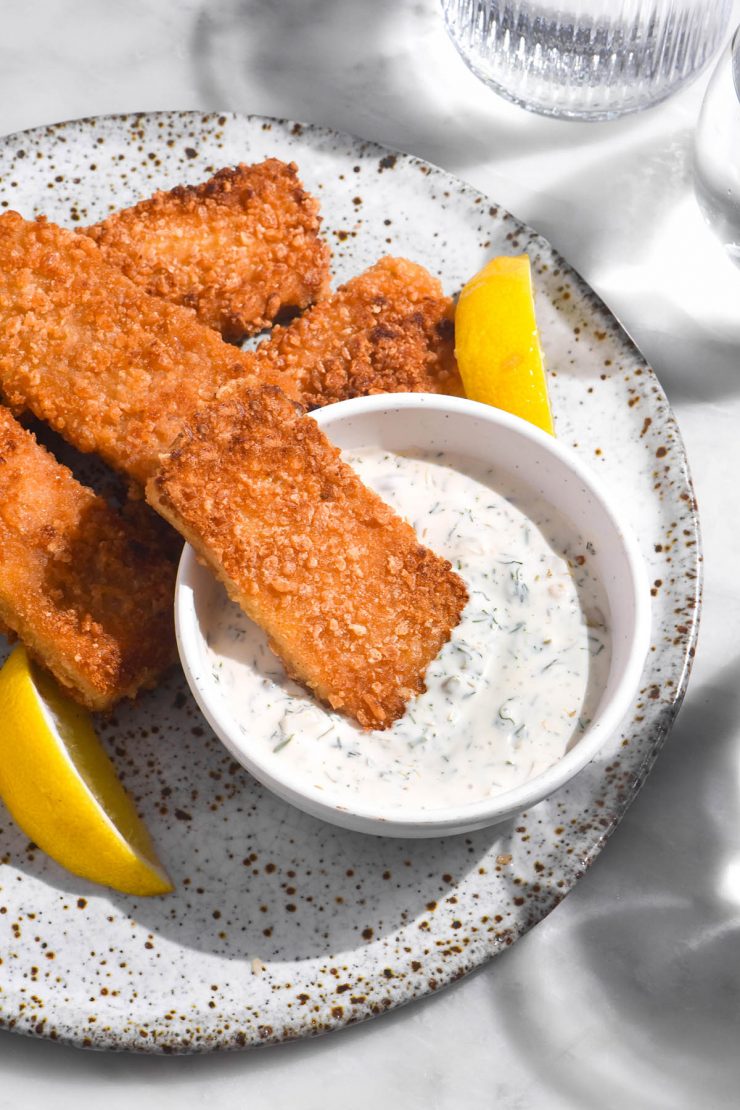 This low FODMAP vegan tartar sauce is here purely because of my recent recipe for vegan fish fingers. You can't have a fish finger without tartar, in my opinion, so I'm here to bridge that gap.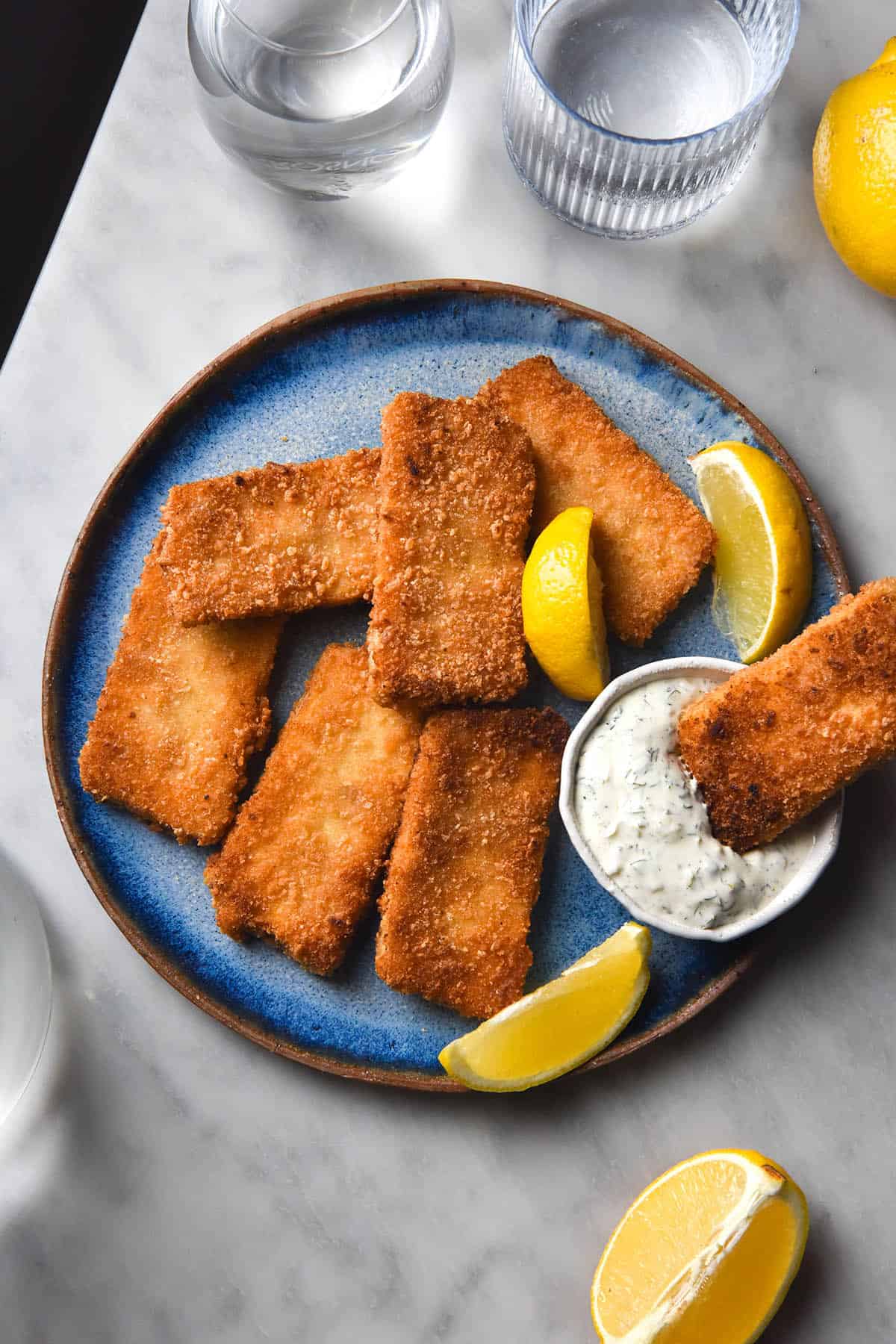 Low FODMAP vegan tartar sauce
This tartar sauce uses store bought vegan mayonnaise, which is easy to find these days. We'll go into which brands are suitable low FODMAP choices below.
The sauce is flavoured with fresh dill, chopped capers and pickles, dijon mustard, maple syrup and lemon juice. It comes together in 5-10 minutes, and gets better as it sits in the fridge. Of course, I highly recommend this tartar with with my vegan fish fingers, but you can really use it anywhere. On a salad, with some crispy potatoes – it adds a bright and punchy flavour with little to no effort.
This low FODMAP vegan tartar sauce is (mayonnaise brand dependent) nut free, xanthan gum free, dairy free and vegan. With the right brand of mayonnaise, it's also undetectably plant based.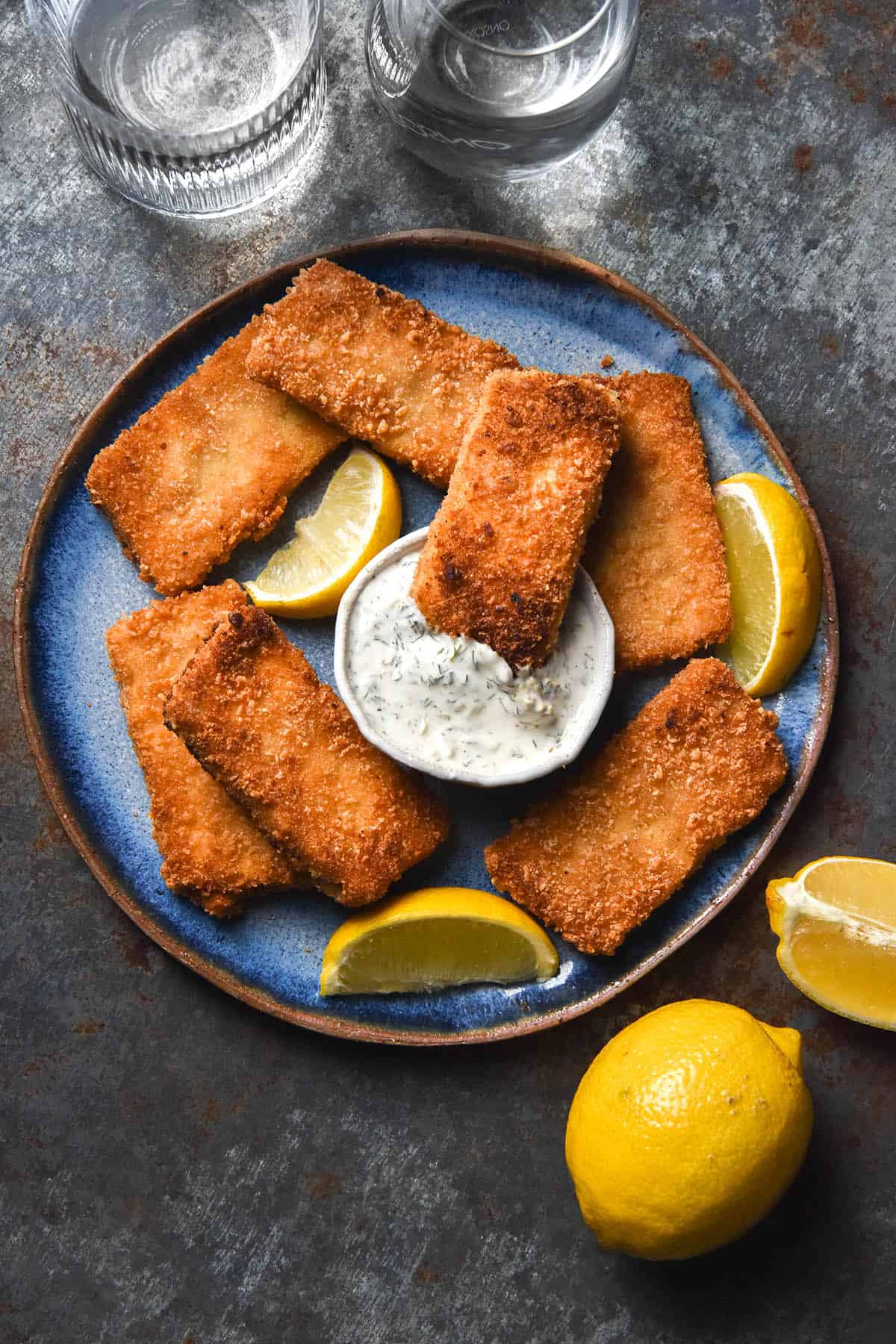 Which brands of vegan mayonnaise are low FODMAP?
Not all brands of vegan mayonnaise are low FODMAP, so it's important to choose one without onion or garlic if you need to. Some of them also have pretty weird and wonderful ingredients, which I personally prefer to avoid.
I tested this recipe with Hellman's vegan mayonnaise. It contains no onion or garlic powder, tastes good, and has been tested here. I also love Vegenaise, but it does contain soy protein. I'm not entirely sure when soy protein is and isn't low FODMAP (it is low FODMAP in soy milk, but might not be here) so assess what works for you and what is readily available.
I had a look at other commonly available brands in Australia and this is what I found:
Heinz brand contains pure fructose and onion powder
SW brand has chickpeas, aquafaba and pure fructose
Coles brand has faba bean protein, 'spice extract' and 'herb extract' (I'm not sure if these are onion or garlic)
Masterfoods has onion (presumably whole onion as it doesn't specify powder) and garlic powder
Celebrate Health has faba bean protein and 'natural flavours' (also, xanthan gum, which is not a FODMAP issue but can cause some people issues)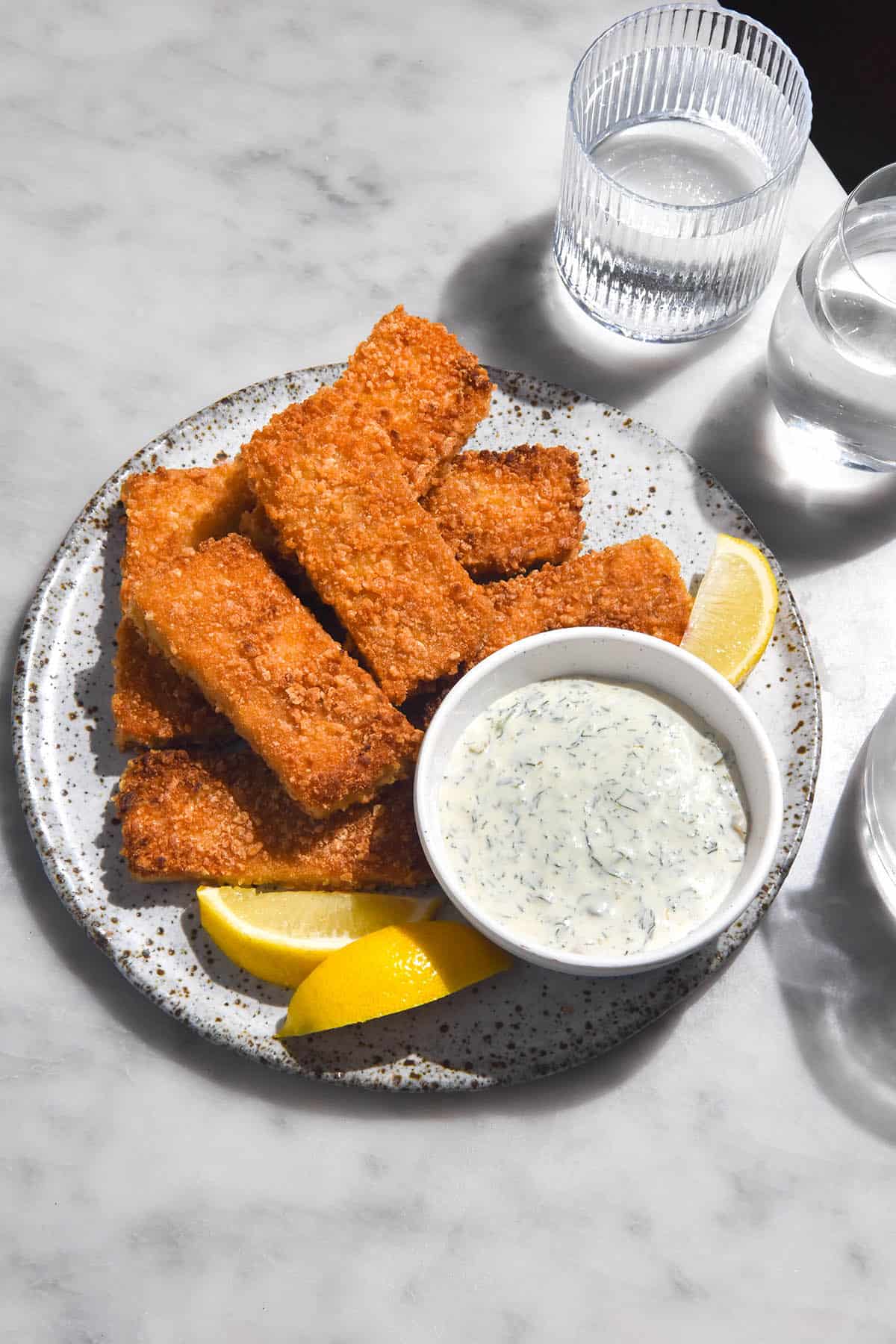 Tips for your low FODMAP vegan tartar sauce
Check the labels of all ingredients to ensure they contain no onion, garlic or other high FODMAP ingredients. In Australia, Maille dijon does not use onion or garlic and is widely available.
Different brands of vegan mayonnaise taste different. You might need to add more or less of each ingredient to achieve a balanced tartar sauce.
More low FODMAP vegan and gluten free recipes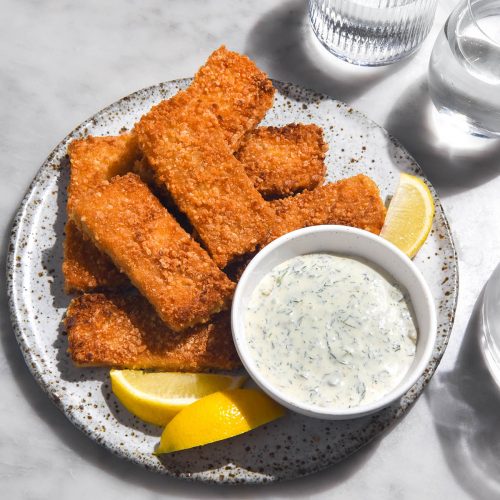 Low FODMAP vegan tartar sauce
Ingredients
250g

low FODMAP vegan mayonnaise (see body of post for suggestions – I used Hellman's)

15-25

g

fresh dill, finely chopped

25

g

capers in brine, drained and chopped

25g

dill pickles or burger pickles, finely chopped

1/2 – 1

tsp

maple syrup, to taste

2

tsp

lemon juice, to taste

1-2

tsp

Dijon mustard, to taste
Instructions
Combine all ingredients in a medium mixing bowl and adjust the taste to your liking. Store in a clean jar or airtight container and use within a week.