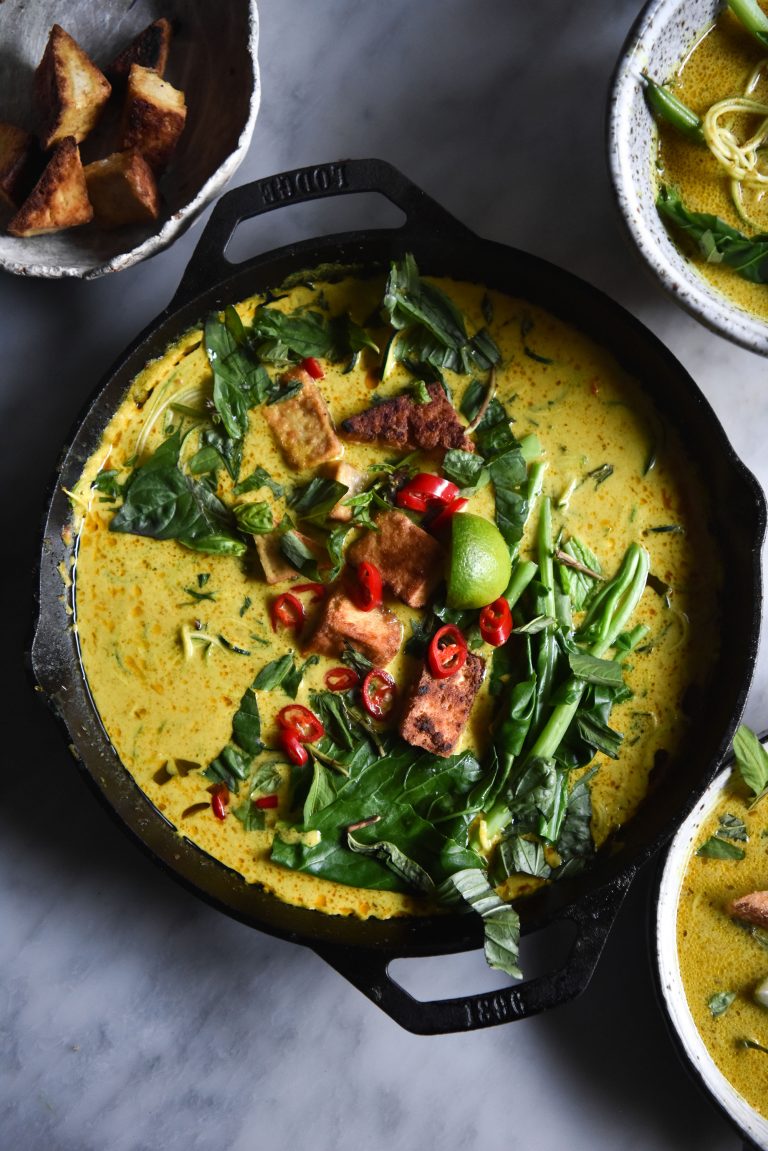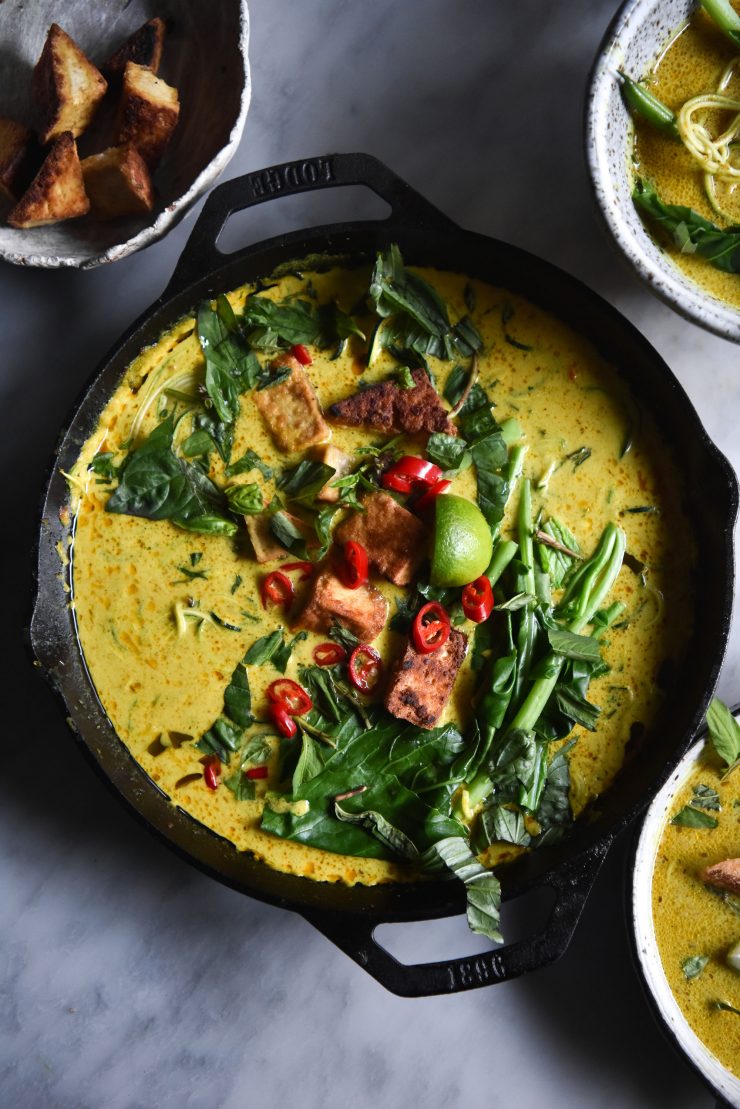 FODMAP friendly vegan laksa. From the outset, let's make it clear that this laksa is probably more 'laksa' than laksa. Because it is both FODMAP friendly and vegetarian (thereby inadvertently vegan) it is missing some components considered key. Namely, shallots, garlic, shrimp paste, fish sauce, generally some sort of seafood, and often a fried shallot topping.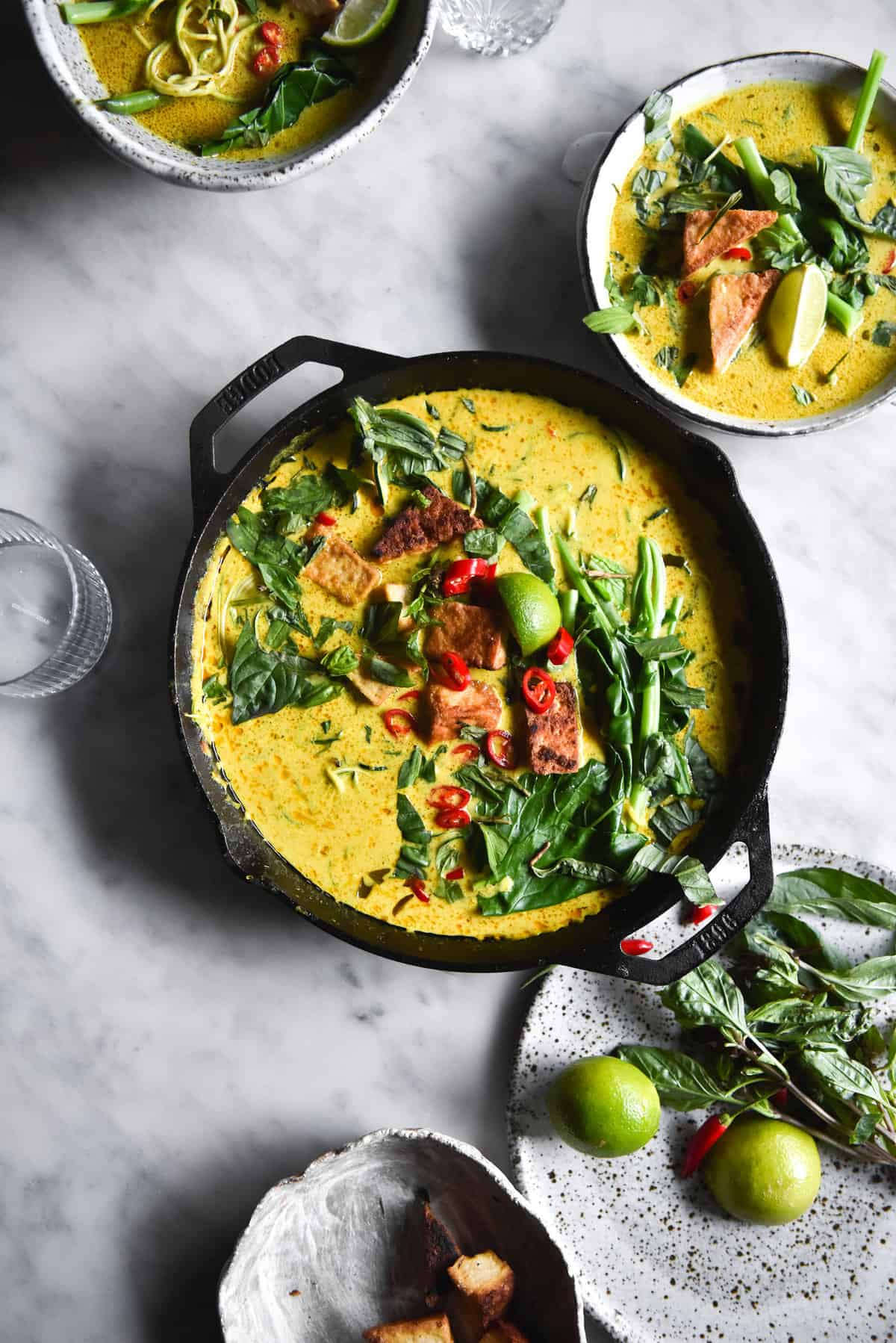 FODMAP friendly vegan laksa
Because of the aforementioned ingredients in traditional laksa, this dish could almost considered as 'laksa inspired.' There are many different types of laksa, but this recipe, due to the dietary niches it addresses, doesn't really fit into a box. To me, as somebody who hasn't tasted an authentic laksa in a long ass time, it takes like heaven. To somebody who is learned in the art of laksa, it might be average. Just trying to cater for the digestively challenged.
This laksa recipe is FODMAP friendly, vegan and vegetarian, grain free, gluten free, and nut free. I have tried to make it as friendly to as many diets as possible, but you can add in ingredients (nuts, noodles) as you see fit.
So! To make a FODMAP friendly laksa, we've made the following adjustments:
The onion, shallot and fried spring onion have been completely omitted
The fish sauce and any animal product have also been omitted
I decided not to include any nuts in the laksa paste. While candlenuts or macadamias are generally used, I noticed a lot of people had queries on recipes as to whether they could be omitted. So I omitted them.
I have used zucchini noodles instead of regular ones for this recipe. As far as I can tell, regular laksa uses wheat noodles, but you could substitute rice or gluten free ones, if you like.
I have made my own tofu puffs from scratch, as a lot of store bought ones seem to be less tofu and more unpronounceable ingredients. You could use store bought, or simply flash fry the tofu, if you like.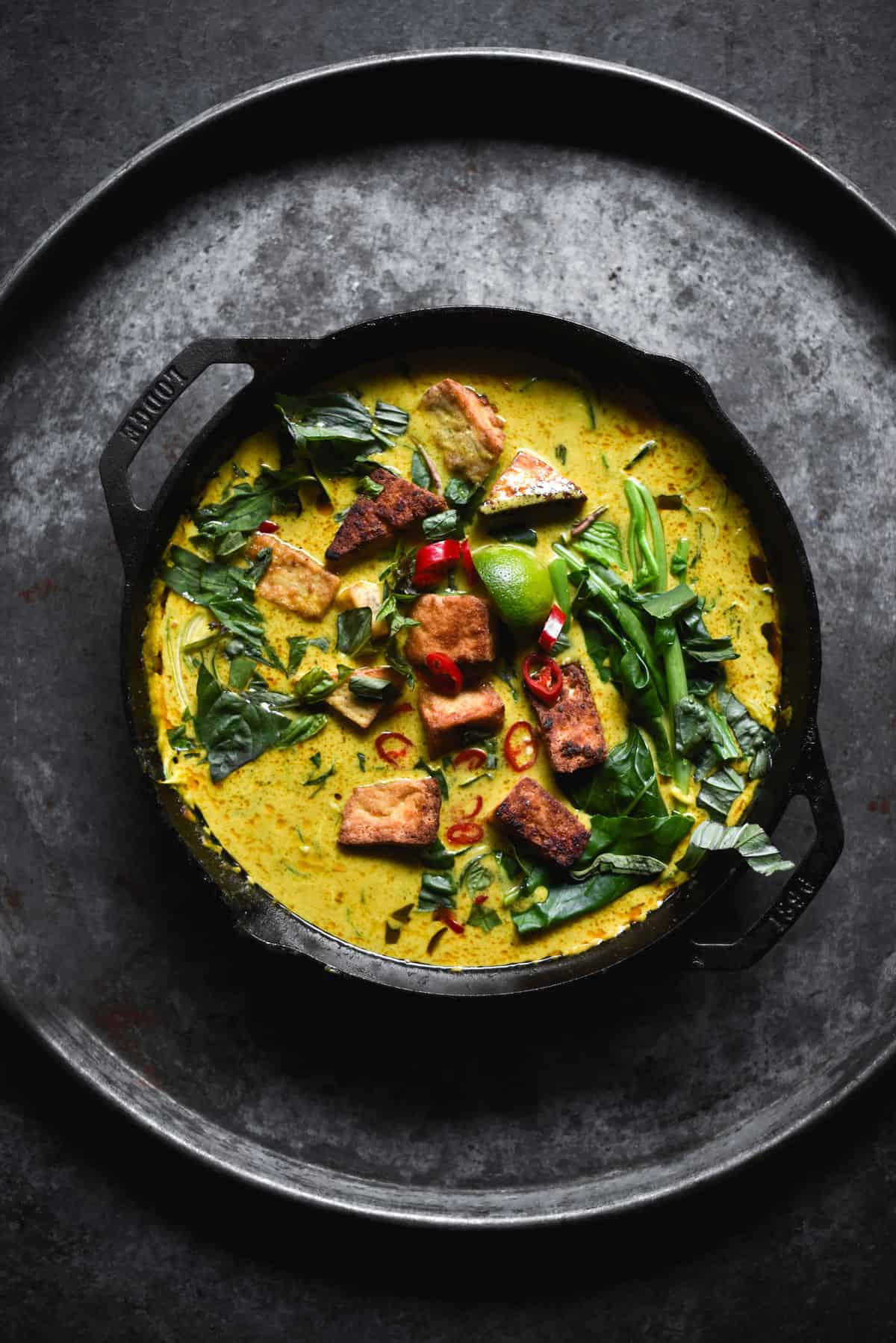 Recipe notes for your vegan laksa
You can use whichever vegetables you see fit. The other night I was in a rush and I spooned laksa broth over some steamed potato pieces. Can confirm, it is totally inauthentic and totally delicious.
Make sure you choose a full fat coconut milk with no stabilisers or additives. In Australia, I like the brand TCC, which is generally available at the supermarket.
You could make the curry paste ahead and keep it in the freezer for a quick weeknight dinner. The paste truly is the hardest part, everything else is a walk in the park.
Use a plain tasting oil, like vegetable or peanut. If you are cooking for someone with a nut allergy, though, do not use peanut!
I have left the quantities of noodles and tofu as guidelines, because I find soup to filling ratio very subjective. Feel free to add more or less.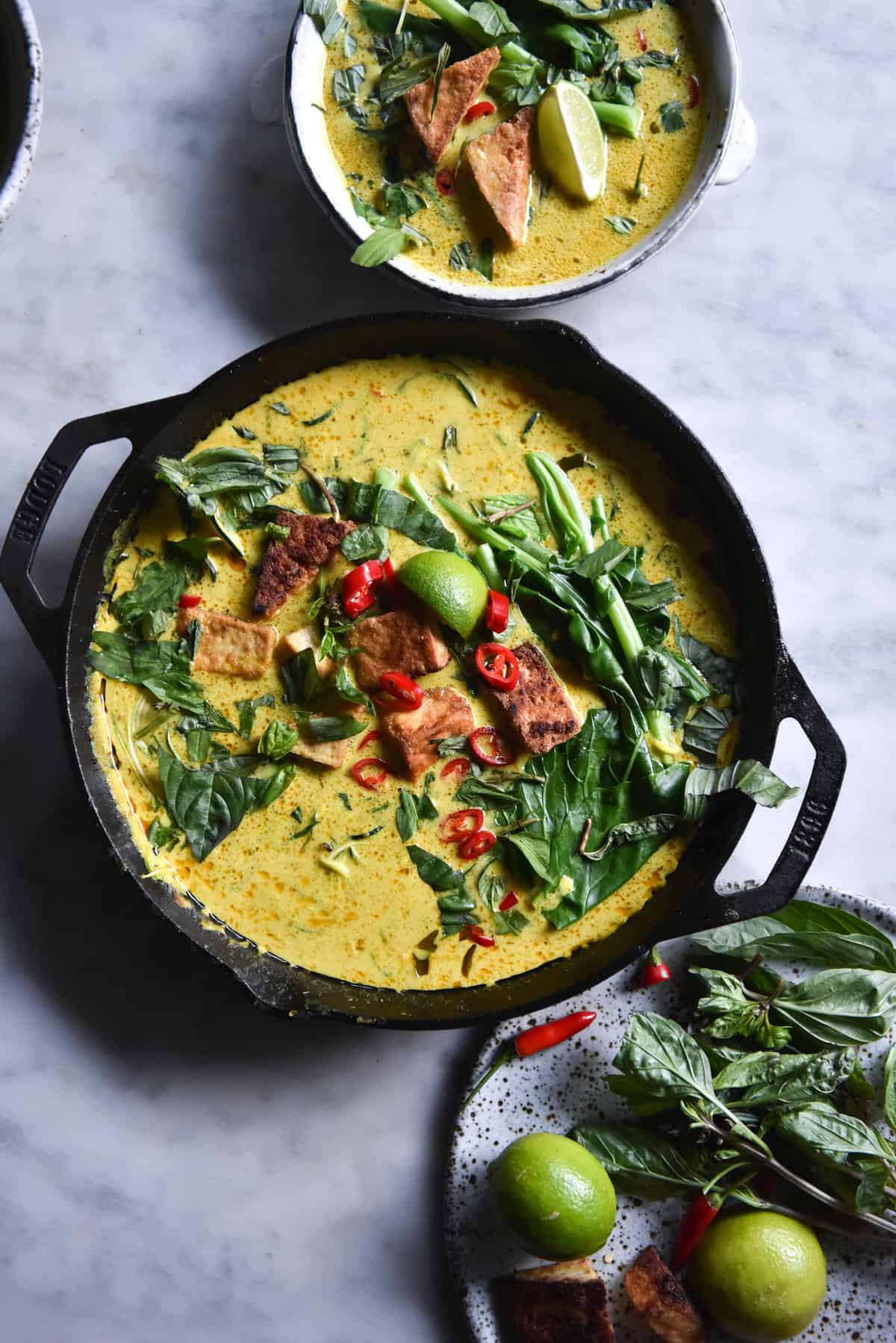 Tips for making your own crispy tofu puffs
I have spoken at length about crispy tofu and tips for achieving it in this post. However, I figured there's never a bad time to go over the basics, particularly because we're using a quick and easy dry batter for this tofu.
Make sure you press and drain the tofu in advance. I use a saucepan filled with jars and paper towel to wrap and press my tofu. The less moisture in the tofu, the crispier it will be. Because this tofu is atop a laksa (aka something wet) you can probably get away with a quick hand press, because the tofu will lose a bit of crunch when it hits the soup anyway. Up to you. If you have, I always recommend pressing it.
Make sure your oil is hot hot hot, otherwise the tofu won't get nearly as crunchy, and might stick to the pan.
Batch cook the tofu and never overcrowd the pan. It only takes 10 minutes batch cooking it, and the less steam in the pan, the crispier it will be.
White pepper is available at the supermarket and is integral to that exotic salt and pepper taste we know and love. Worth hunting down.
More FODMAP friendly vegan dinner recipes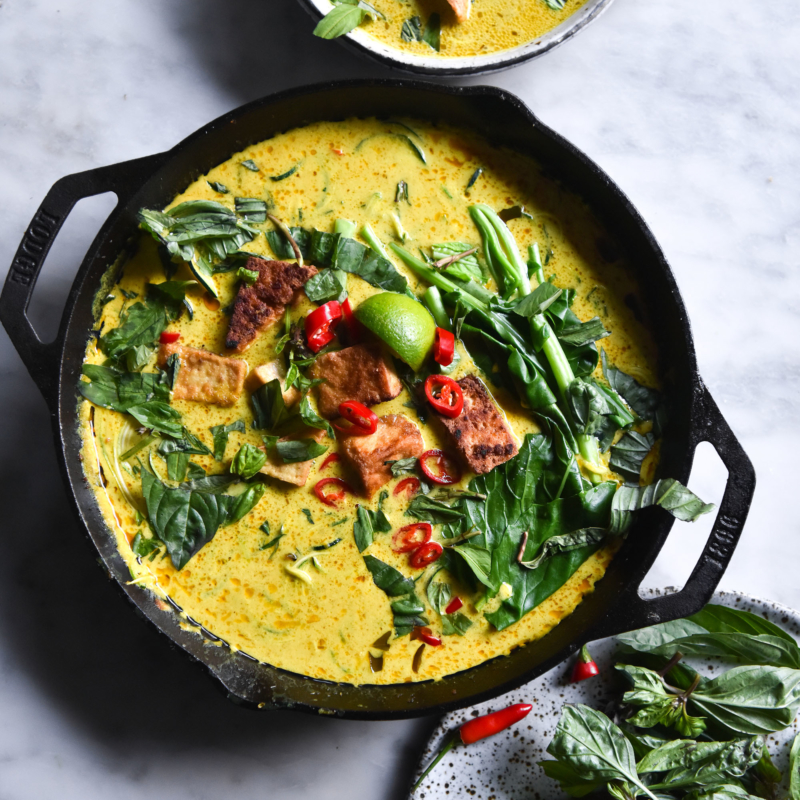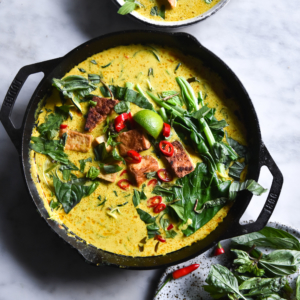 FODMAP friendly vegan laksa with zucchini noodles
Gluten free, grain free, vegan, FODMAP friendly, nut free
Serves 4
Ingredients
For the laksa paste:
4-5

bullet or birdseye red chillies

seeds removed and finely chopped

1

red chilli

seeds removed and finely chopped

30

g

galangal or ginger

galangal is much preferred finely grated

6-10

small fresh curry leaves

available at most Asian grocers and SO GOOD finely chopped

20

g

fresh turmeric

finely grated

3

teaspoons

finely grated lemongrass

I buy pre-grated bulk lemongrass at my Asian grocer because I despise grating lemongrass

2

teaspoons

coriander seeds

or coriander powder

1

teaspoon

Tamari

1

teaspoon

table salt

1

tablespoon

vegetable oil
To make into laksa:
4

cups

(1000ml) of FODMAP friendly stock

there's a recipe in my book or you can buy FODMAP friendly stock powder at your health food store or supermarket – Massell make a FODMAP friendly stock cube in Australia

1 X 400

ml

can of full fat coconut milk

no additives, I like TCC brand

2

teaspoons

brown sugar

or coconut sugar

1

teaspoon

tamarind paste

optional (I like it both with and without)
For the salt and pepper tofu:
1 X 400

g

packet of extra firm tofu

well drained beforehand (see introduction)

2

teaspoons

gluten free cornflour or potato starch

1

teaspoon

table salt

1

teaspoon

ground white pepper

vegetable oil

for shallow frying
To finish the laksa:
1

medium zucchini per person

made into noodles

1

bunch of Chinese broccoli

or whatever vegetables you'd like to add

Thai basil and Vietnamese mint

or your preferred herb

Chopped chillies

to taste

Lime wedges
Instructions
To make the laksa:
Add all the ingredients for the curry paste except the Tamari, salt and oil into a medium-large mortar and pestle, or a food processor that can blend small volumes of curry paste. Continue to pound or blend until a smooth paste forms.

Add the remaining ingredients, and continue to mix until smooth.

Place a large heavy bottomed skillet or a large wok onto a medium heat. Add a tablespoon of vegetable oil, and once it is warm, add the curry paste. Lower the heat and cook for 5 or so minutes until fragrant. Add the brown sugar, and continue cooking for a few minutes.

Add the stock to the curry paste, and return to a medium heat. Cook for 10 minutes until the flavours have melded together. Add the coconut milk, brown sugar and tamarind and continue to cook for an additional 10 or so minutes over a low heat.
To make the salt and pepper tofu:
While the laksa broth is cooking, place a non-stick saucepan over a medium high heat, and just cover the base of the saucepan with the vegetable oil. Allow it to heat until it is hot, shimmery and sizzly. Too early for oil adjectives sorry.

Chop the drained tofu into bite sized pieces. Combine the cornflour, salt and pepper in a large bowl, and toss the tofu pieces in the mixture until they are all well coated.

In batches (this will depend on the size of your saucepan) cook the tofu on all 4 sides until well browned. Remove from the pan once cooked, and set on some kitchen paper or a cooling rack. Continue until you have cooked all the tofu.
To assemble:
A couple of minutes before serving, cook your vegetables. If you're using Chinese broccoli or a pak choi type vegetable, you can steam them in a separate pot beforehand, or just cook them in the laksa and wait a few extra minutes.

Add the zucchini noodles last, and cook for a minute or so until they are just softening. Whether you like them crunchy or soft is up to you.

Divide the mixture between 4 large bowls (it may make more depending on how many vegetables you add) and top each bowl with crispy tofu, herbs, chillies, and whatever else you'd like to garnish with. Serve immediately.

You can freeze the laksa if you'd like, but I'd recommend freezing either the paste, or the soup without the zucchini noodles and tofu. Those are best fresh.