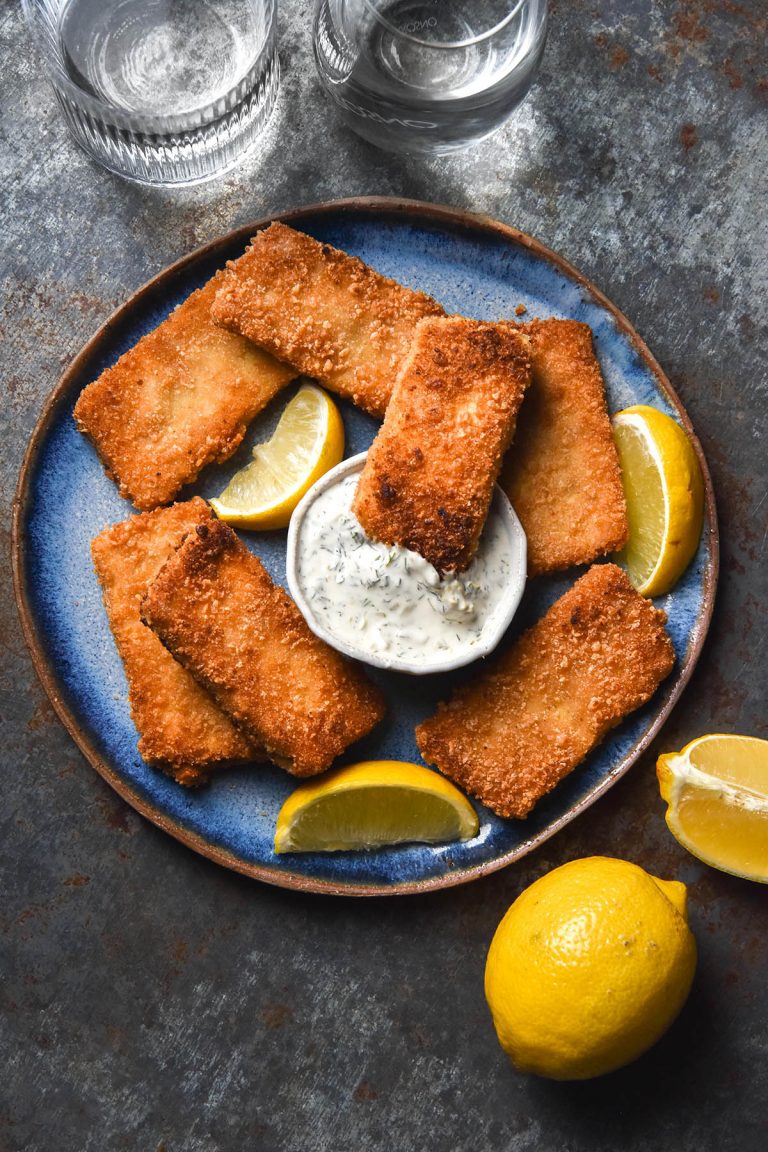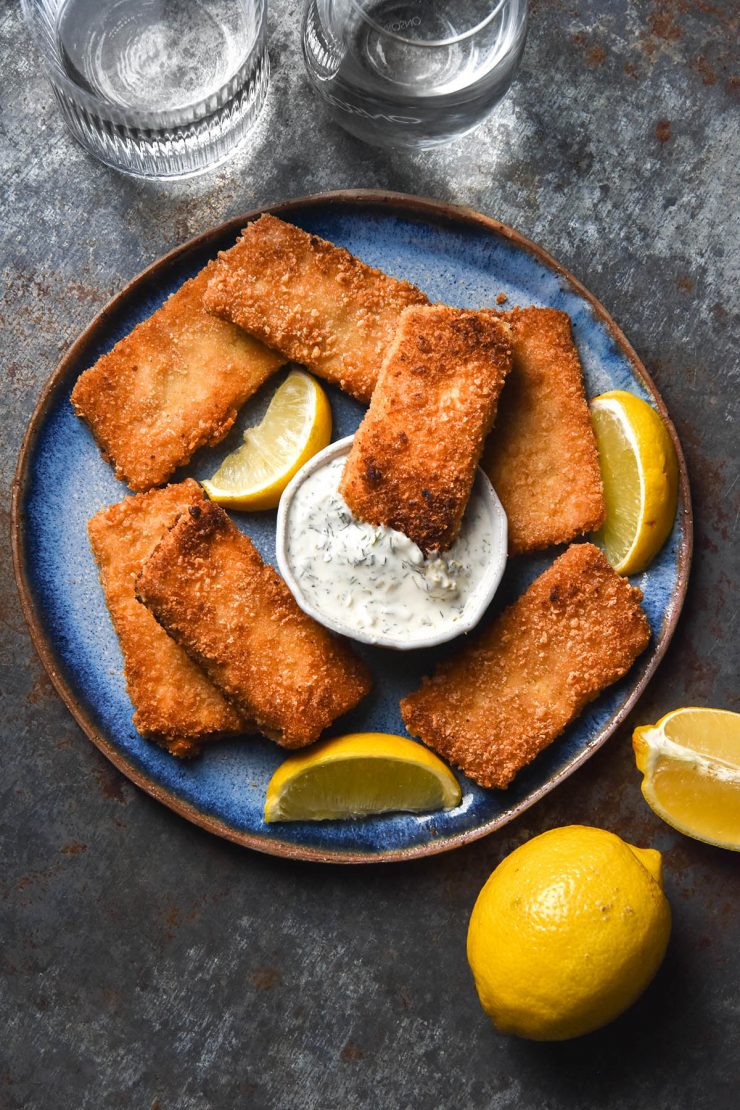 After I perfected my tofu nugget recipe recently, I knew I wanted to tackle fish fingers next. I have always enjoyed a good fish finger, and I wanted to give tofu the fish finger treatment. These are perfect served with a vegan tartare sauce or even just some good old tomato sauce. Nostalgic treat food at it's finest.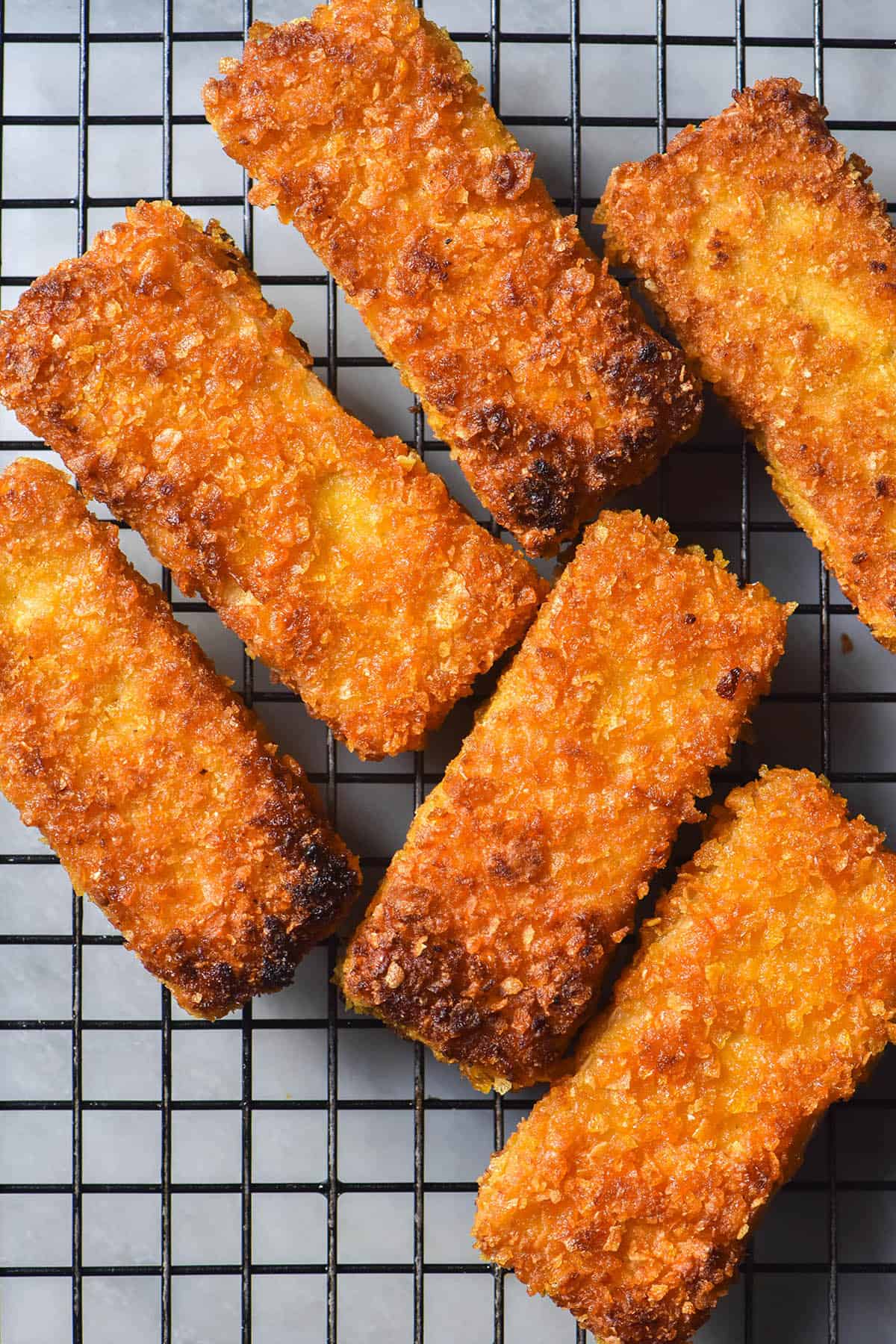 Vegan fish fingers (gluten free)
These delicious and easy vegan fish fingers are gluten free, low FODMAP and nut free. They make for a delicious vegan protein alongside a salad and are straightforward to make (if a little messy).
They use the same ingredients and process as my gluten free tofu nuggets. The fish fingers begin with tofu that has been frozen and defrosted, which creates a meatier, chewier texture. Tofu is an easy vegan, gluten free and low FODMAP protein, which is why I use it.
Next, the nuggets are coated in three separate things: A flavoured dredging mixture (that replaces egg) a flavoured flour mixture and a corn flake crumb.
These vegan, gluten free fish fingers get their flavour from a variety of different ingredients. I use mushroom powder, MSG and vegan fish sauce to create a deep umami and fishy flavour. The MSG is optional, and I'm not here to debate whether it causes headaches or not. The fact is that it is a great ingredient for creating depth of flavour. Use it if you want, omit it if you don't.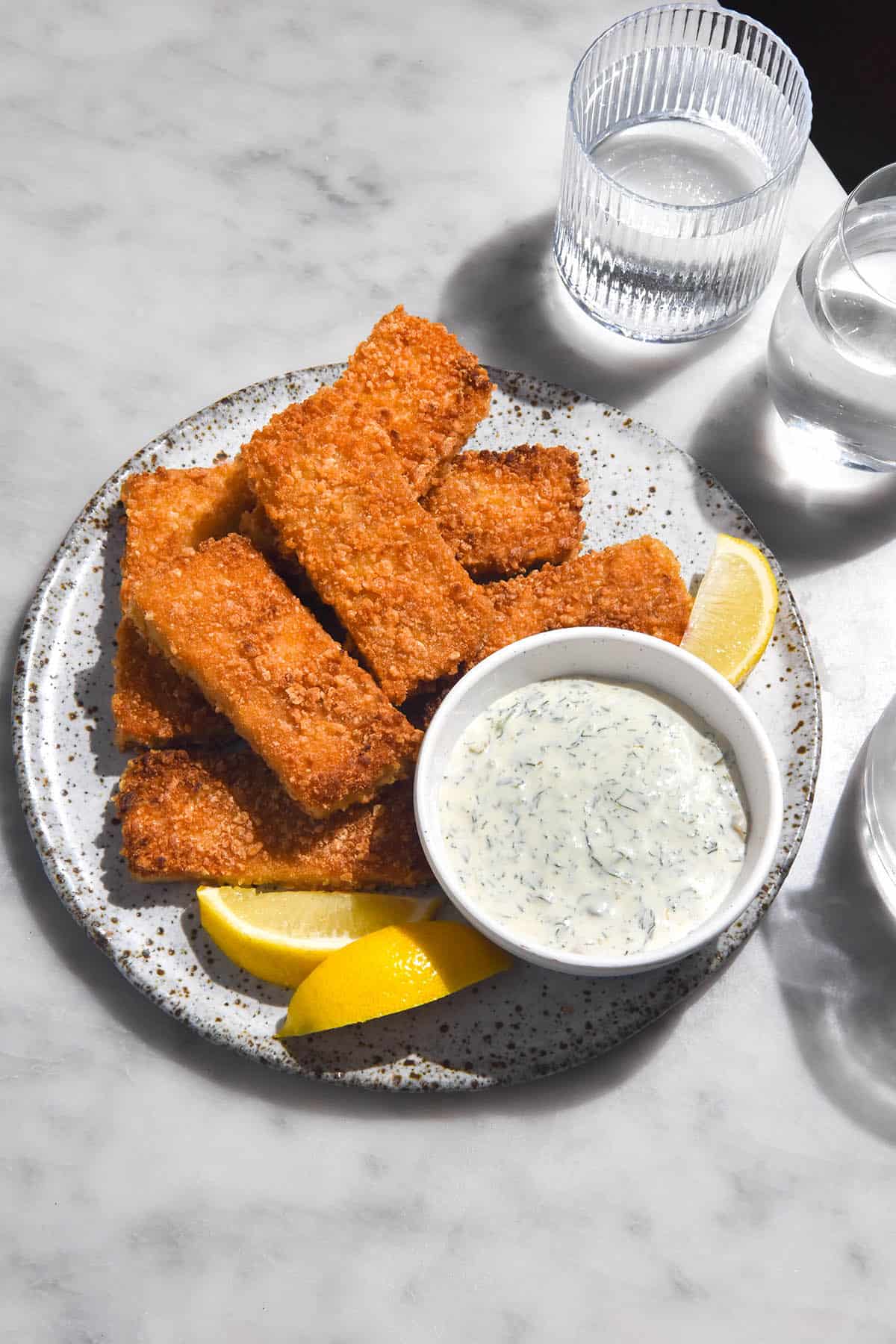 Tips for your vegan fish fingers
Adding flavouring to the dredging mixture and the flour is critical. Tofu doesn't take to marinade that well, so these are your opportunities to add flavour.
I highly recommend freezing and defrosting your tofu by boiling it. Both of these actions help create a meaty textured tofu that goes such a long way to creating an authentic vegan fish finger.
Your brand of vegan fish sauce matters. If you can find it, I highly recommend Vincent The Vegetarian brand of vegan fish sauce. It is super fishy and funky. Better yet, it is also jain, meaning it doesn't contain any onion or garlic (which is great for the low FODMAP amongst us).
A good squeeze of lemon juice and my vegan tartar sauce are what take this right into fish territory, in my opinion.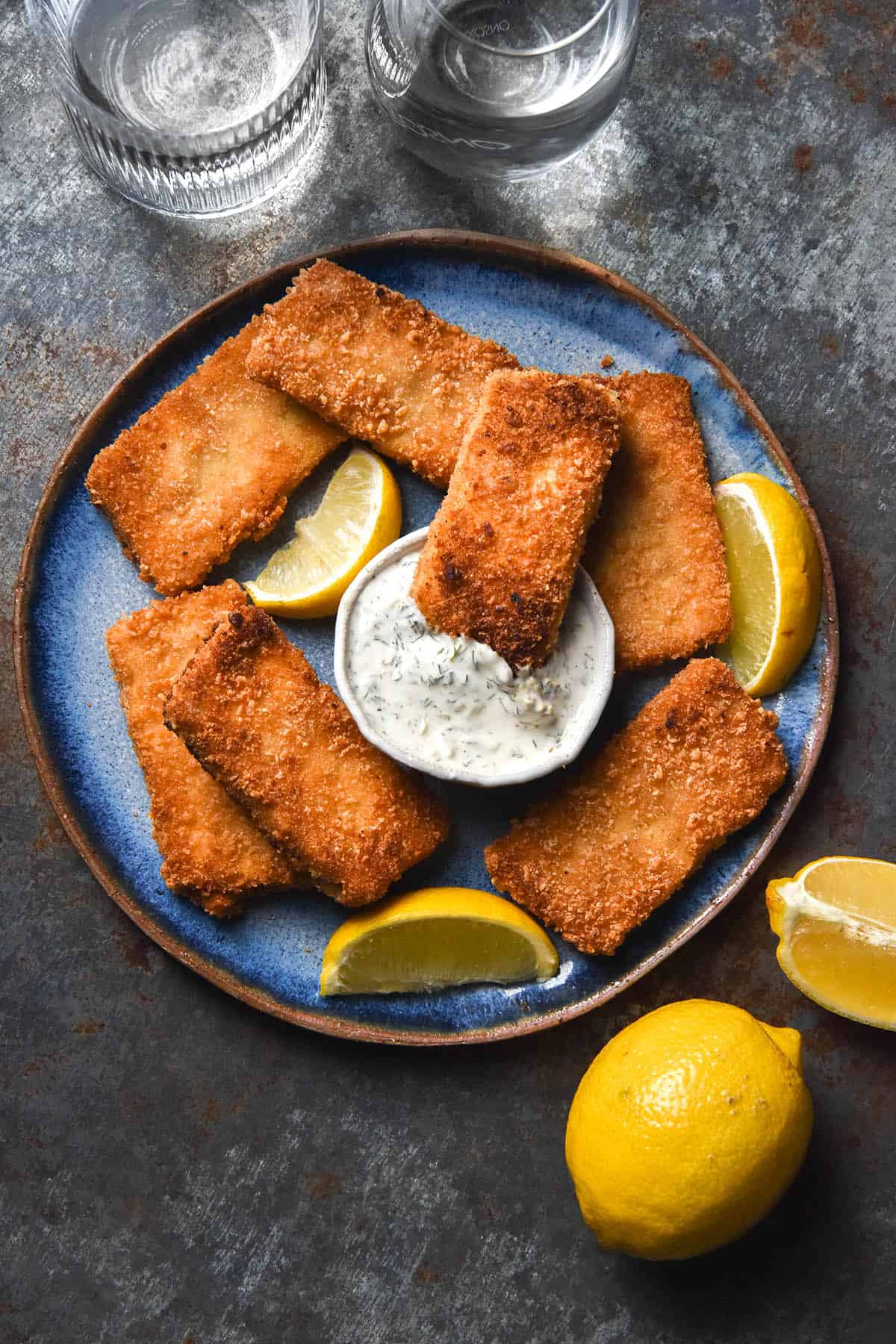 Can I use something other than corn starch for these vegan fish fingers?
Let me first say: corn starch is the best ingredient here. It fries up beautifully, becomes super crispy, and creates a great amount of chewiness. However, I'm aware that not everybody can have corn, so I have tested a few alternatives.
Firstly, rice flour. Rice flour does work, but it doesn't have any of that chewiness. I recommend using half rice flour and half tapioca flour. I found that combination worked well enough, although it was a little oily to the touch.
Secondly, potato starch. This my pick if you can't have corn starch. It still has chew, but it's not as gloopy as tapioca flour.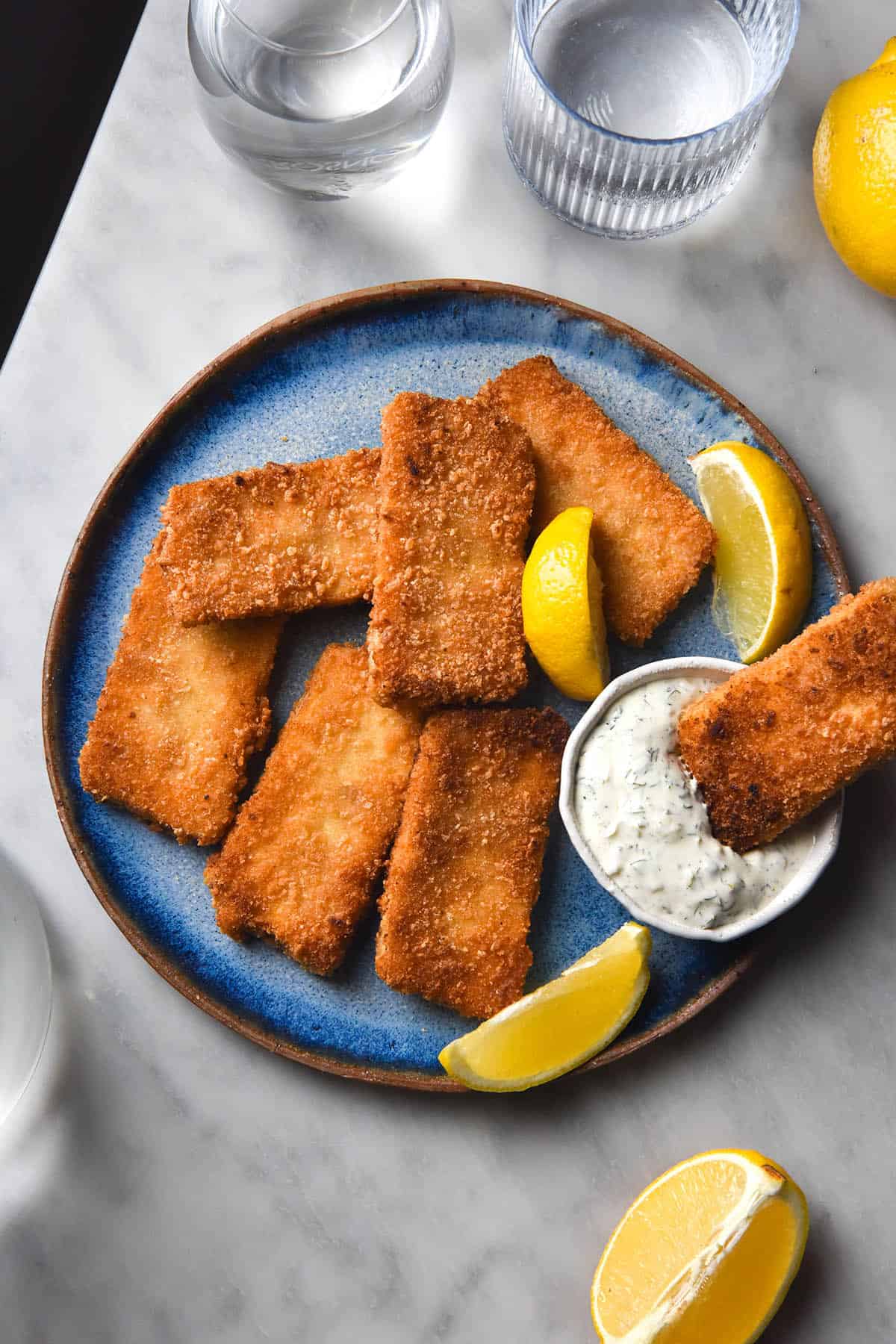 Is there an alternative to the corn flake crumb?
Although I offered blitzed rice flakes as an alternative in my nugget recipe, I'm tempted to rescind that suggestion. I found the rice flake version to be pretty lacklustre when compared to the corn flakes.
My new recommendations are either plain rice bubbles (sometimes called rice cereal) blitzed in a food processor or gluten free breadcrumbs. You can generally buy gluten free bread crumbs at the supermarket, but stay tuned for a recipe at some stage too.
Do I have to shallow fry these vegan fish fingers?
Although I haven't tested this yet (I'm off to Italy in a week!) I assume you can oven bake this vegan fish fingers. I will test the theory upon my return, I promise.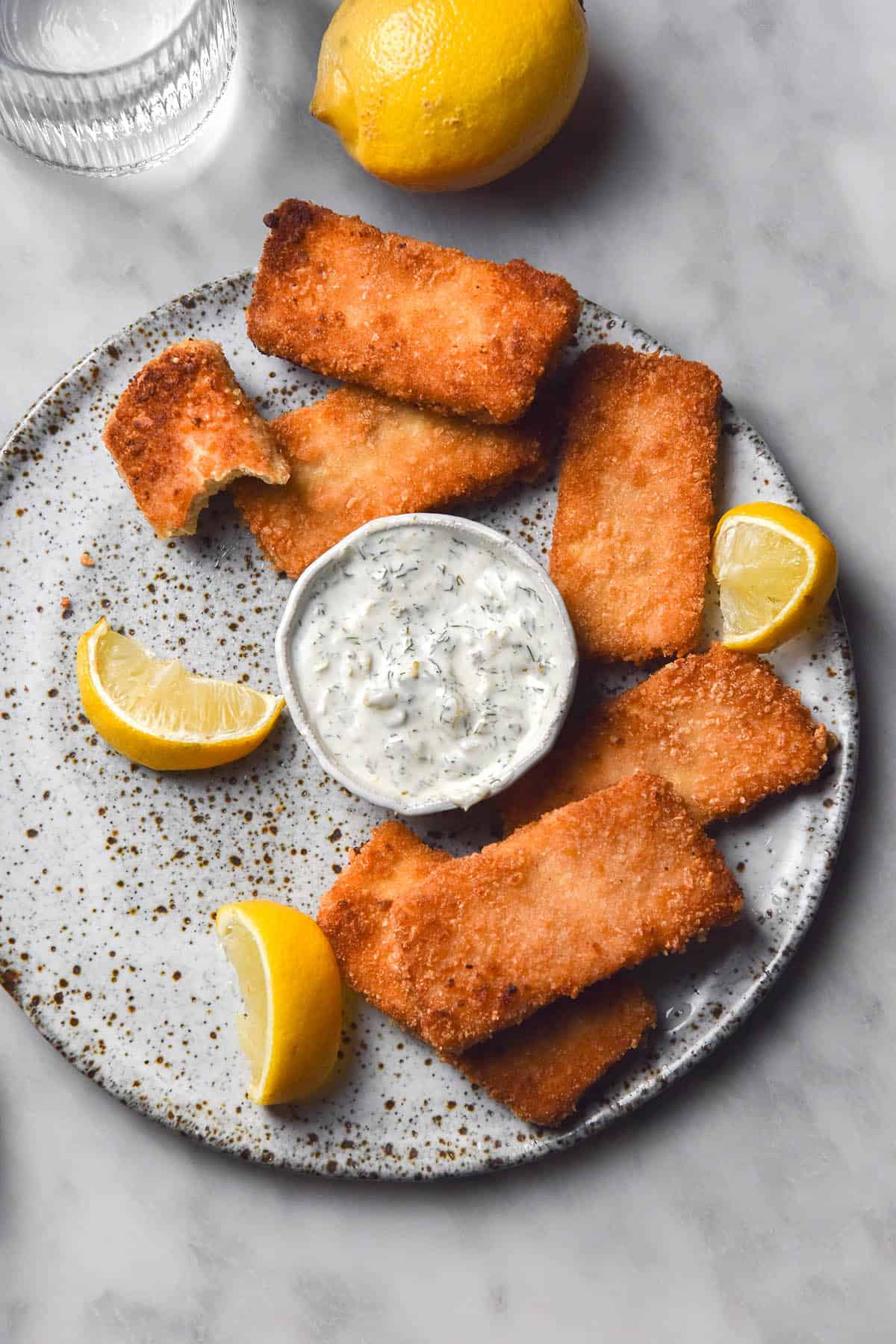 More vegan, gluten free and low FODMAP recipes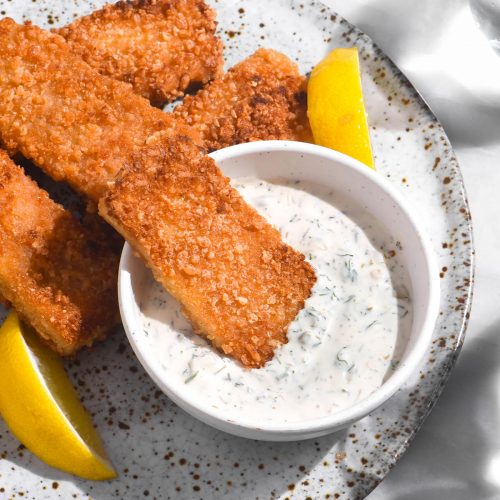 Vegan fish fingers (gluten free)
Gluten free, vegan, onion and garlic free
*Cups and measures are in Australian cups and measures. Use gram weights for international accuracy.
Ingredients
500

g

firm tofu

frozen

Vegetable oil

for shallow frying
For the flour mixture:
75

g

gluten free corn starch

(or 1/2 rice flour and 1/2 tapioca flour)

2.5

g

(1/2 teaspoon) MSG (optional, see notes)

1.5

g

1 teaspoon mushroom powder (optional, see notes)

3-5

g

fine salt
For the dredging mixture:
125

ml

(1/2 cup)* vegan milk of choice (I used Not Milk)

60

ml

(1/4 cup)* vegan fish sauce (I used Vincent the Vegetarian brand) see notes

10

ml

2 teaspoons white vinegar
For the crumb:
75

g

thoroughly crush corn flakes or rice bubbles
Instructions
Bring a medium pot of salted water to the boil.

Cut the tofu out of the packet and place it into the boiling water. Boil for 15-20 minutes or until the tofu is defrosted and the corners of the tofu have started to flick upwards. Place the tofu on a cake rack and allow to cool to a comfortable hand temperature.

Combine the ingredients for the dredging flour in a shallow bowl (if possible). This makes it easy to dip. Do the same with the dredging liquid, and place the corn flake or rice bubble crumbs in a third bowl.

Place the cooled tofu onto a chopping board with the large surface area facing upward. Slice into 8 fish fingers from the short end of the tofu.

Place the first fish finger into the dredging liquid and allow the excess to drip off. Place it into the flour mixture, then back into the liquid. Let go of the piece of tofu fully so that you don't leave dry edges where your fingers were.

Allow the excess liquid to drip off, then transfer the fish finger into the corn flakes. Toss to coat completely, ensuring all sides are covered (if there's a bald spot, you can dip just that spot into the liquid and back into the corn flakes). Place your coated fish finger on the cake rack.

Repeat with the remaining tofu pieces until all your fish fingers are coated.

Pour a thin 1/2-centimetre layer of vegetable oil into a large solid bottomed skillet or pan over a medium high heat. Make sure your space is well ventilated.

Once the oil is shimmering hot, add 4 fish fingers (pan size dependent) evenly spaced. Crowding the pan will make for soggy, oily fish fingers, so don't cook too many at once.

Allow the fish fingers to cook for a minute or so, then turn them. They should be golden on the first side. Cook them for another minute or two, then turn them again. Cook them for ANOTHER minute or two, then turn them one last time. Cooking them twice on each side ensures the corn starch is cooked through and not pasty or floury. This doesn't matter as much if you're using the rice flour option, but thoroughly cooked fish fingers actually tend to be less oily, so it's worth being patient.

Transfer the cooked fish fingers to the cake rack to cool and repeat the process of cooking the remaining fish fingers.

Best eaten fresh but keep well for a few days.
Notes
MSG is a powerful tool when trying to make tofu taste evenly remotely meat-like. I'm not here to discuss the merits or otherwise – if it doesn't work for you, don't use it. A lot of the hysteria around MSG has it's origins in racism and we're not here for that. 
If you don't use MSG or mushroom powder, consider using some extra salt or fish sauce to compensate.
HOWEVER! All vegan fish sauces have different salinities, so be aware. Some are very very salty, so add salt to your flour mixture accordingly. I used Vincent The Vegetarian brand vegan fish sauce and 3-5g salt with success. I like salt, though, and everyone's tastes are different.