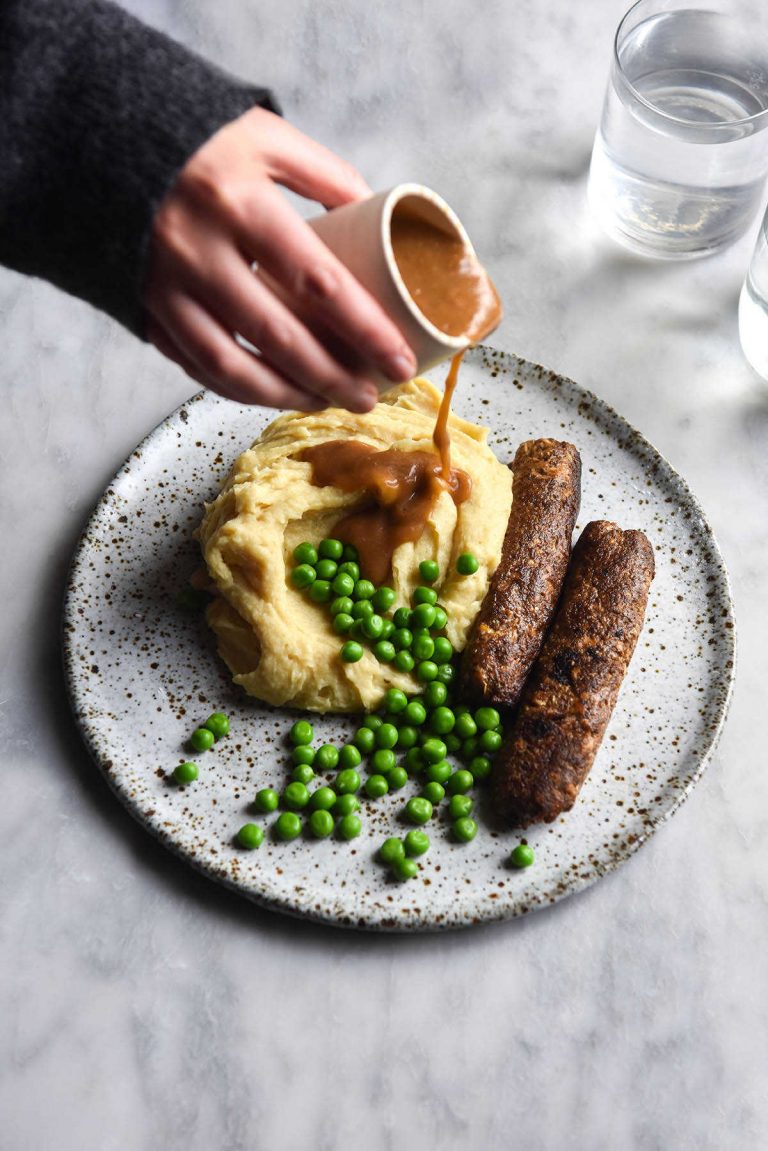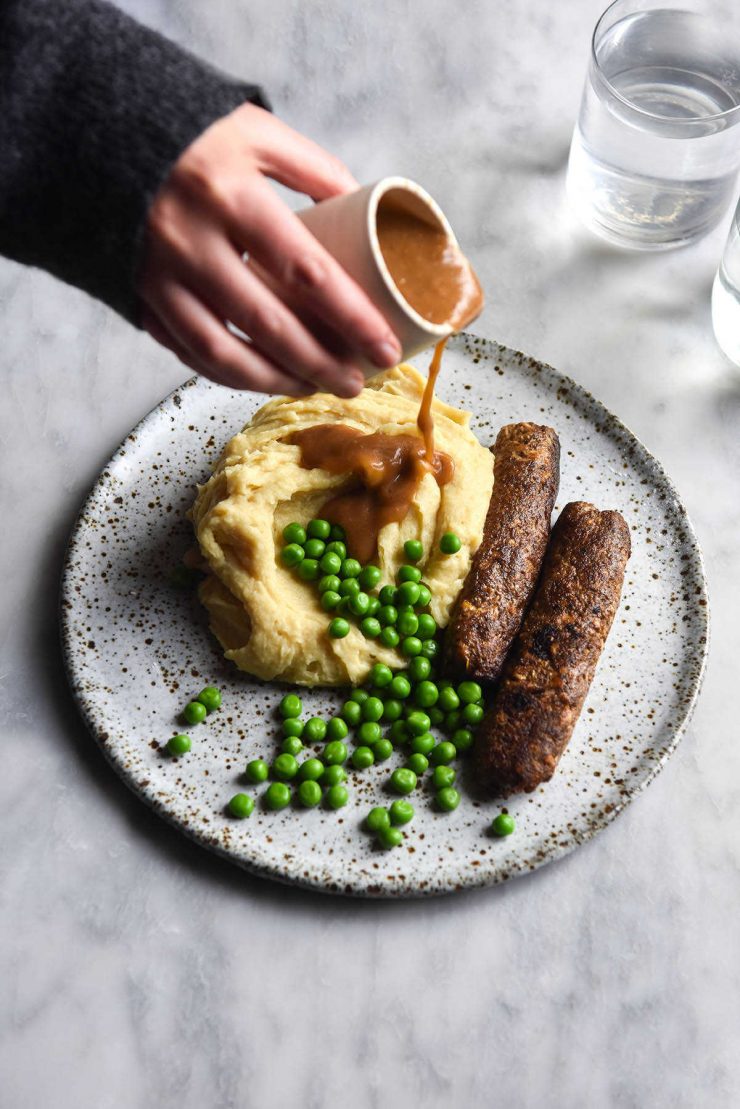 I'm very excited about today's recipe: vegan bangers and mash. If you're a 90's child like me, you may or may not have grown up watching Bangers and Mash. A story about the mischievous exploits of two chimpanzees, all I can honestly remember is the theme song. Every time I see this dish or hear it's name, I sing the theme song in my head. Now you can, too. You're welcome (sorry).
Vegan bangers and mash (FODMAP friendly, gluten free)
Onto business! The vegan sausages and mash, that is. The sausages are my favourite homemade ones. The entire dish is vegan, gluten free, grain free, FODMAP friendly and nut free. There is no xanthan gum in any components. Plus, it's comfort food at it's absolute best. Once you manage to get the Bangers and Mash theme song out of your head, that is.
Personally, I love a hybrid post of my old recipes, because it means I can copy and paste my recipe notes and call it a day. So, without further ado: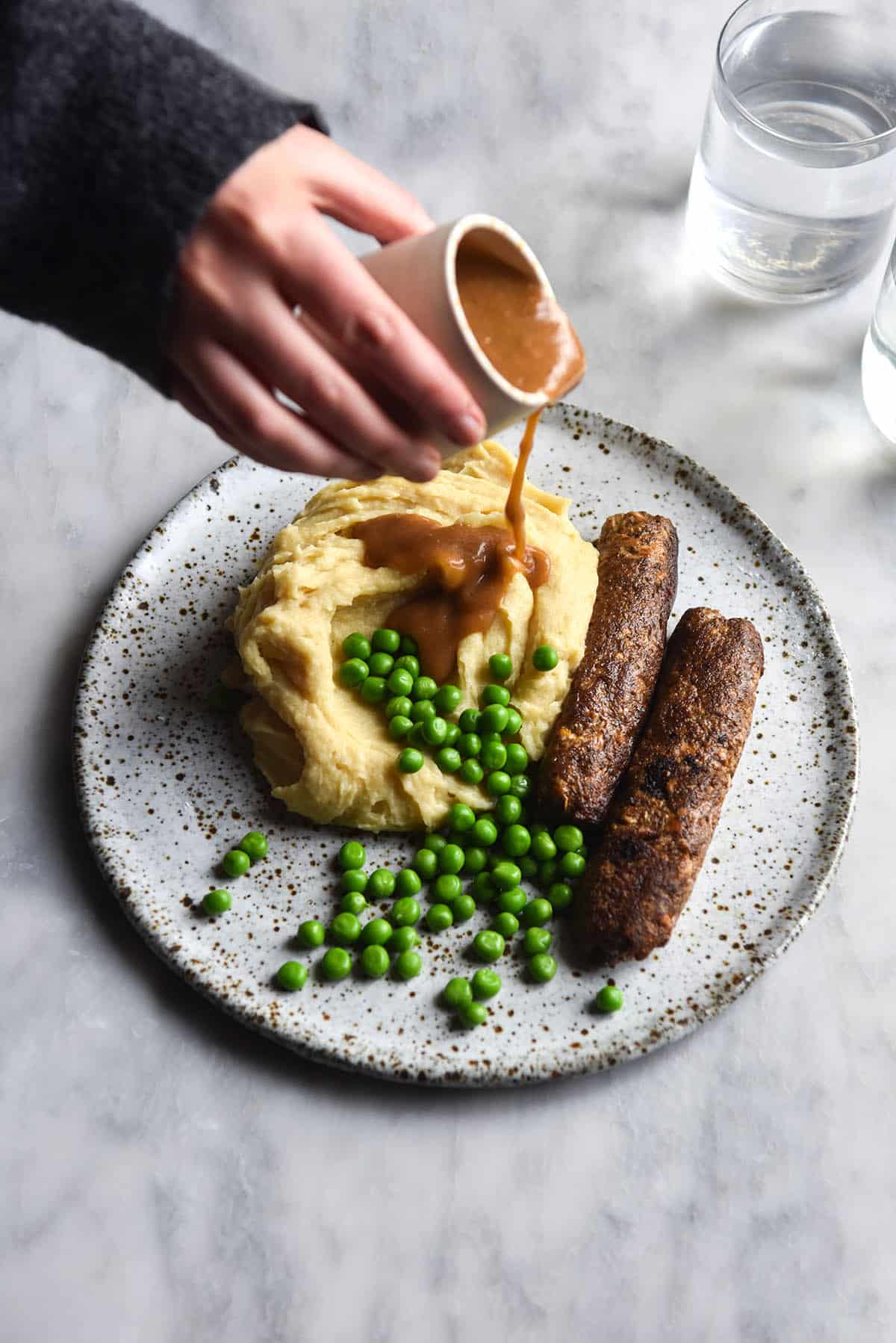 Recipe notes for your gluten free vegan sausages
This recipe is heavily dependent on a good quality firm tofu. Not silken, not semi firm, but firm. Anything less will not work.
It also relies on the psyllium husk for binding. I haven't tried the recipe with anything else and I don't intend to.
You can play around with the spices to some extent. If you don't want your sausages to taste even remotely sausage like then sure, go off grid. For those who do, however, I have written about each spice and it's role below.
You can freeze and defrost the tofu for a more meaty texture, if you're into that. Just make sure you thoroughly squeeze out the liquid from the defrosted tofu, or your mixture will be too wet to shape. This can be rectified by a rest time or a little extra psyllium husk, but that might impact the final taste.
Miso paste lends saltiness, umami and a depth of 'meatiness' to your sausages. It also adds a bit of bulk at 2 tablespoons. Make sure you use a gluten free variety if you need to.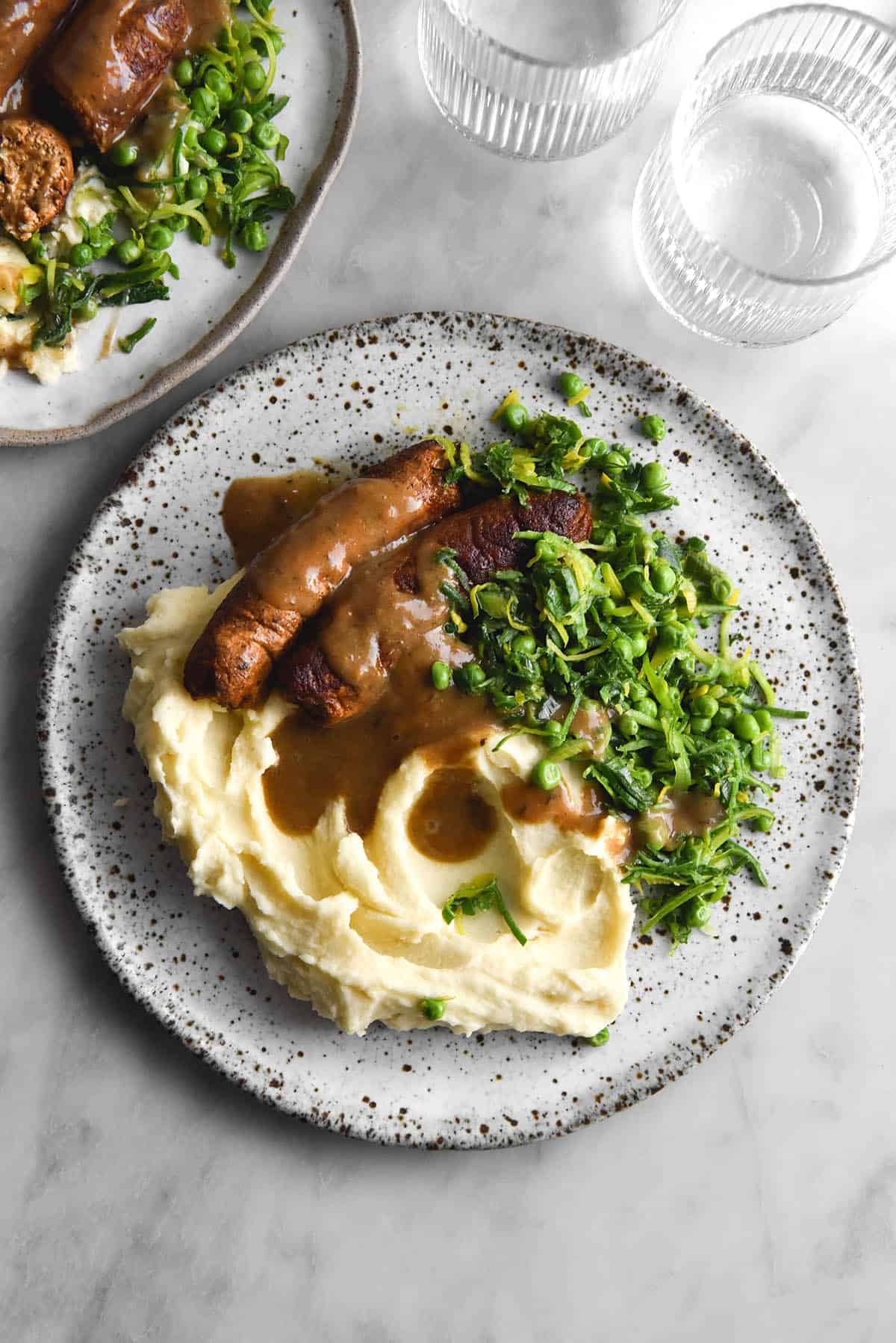 Recipe tips and tricks for your vegan sausages
I make these sausages in my humble old Nutribullet. It really only succeeds in blending the bottom half of the mixture, which actually works really well. By leaving half (or ideally, a quarter) unblended, the resulting sausages have little 'meat chunks' which look really legit.
I simply pour the semi blended mixture into a bowl and use my hands to squish the remaining pieces down to an agreeable size. There should be enough blended tofu to hold the mixture together, though. If not, return it to the blender and keep cracking.
Regular stop and stir is important when working with a Nutribullet. It takes a little patience but all up it's only 5 or so minutes of your time.
If you get to the end of the process and feel that your sausage mixture is too wet, just leave it be for 10 minutes. Chances are the psyllium husk will firm up the mixture in that time, leaving you ready to go. If not, add an extra teaspoon, stir and wait.
You shouldn't need to do this unless you really didn't drain the tofu. Note that the sausages take on a stickier texture if you add extra psyllium, so it's a last resort option.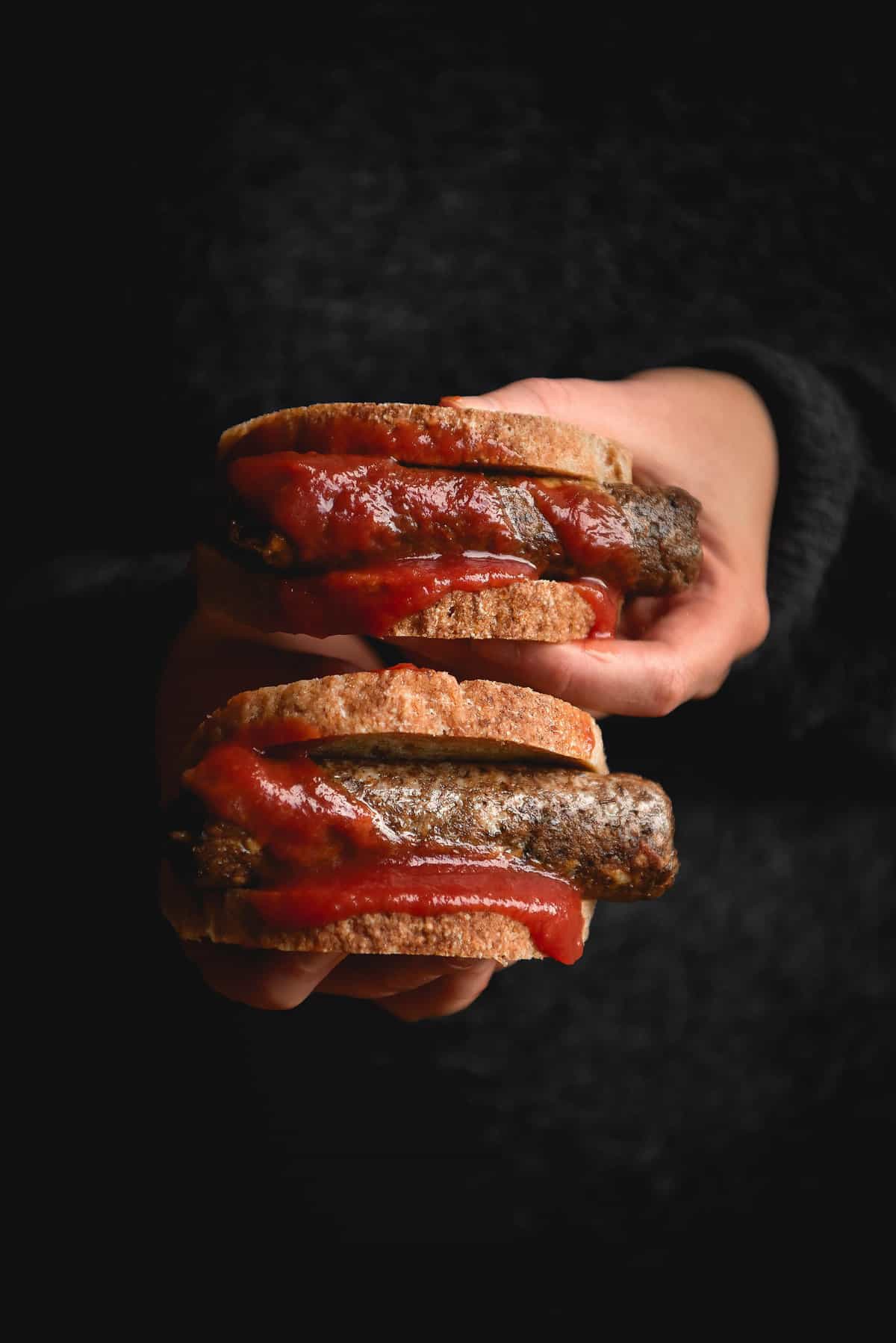 Non optional herbs and flavourings for your vegan sausages
There are a couple of herbs and spices that I deem compulsory. The reasons for which I'll go into below. Without further ado:
Clove powder. Like in the vegetarian sausage rolls, this is a non optional. There's something about it that adds a lot to the taste. Clove can be quite strong, so you could experiment with adding 1/2 teaspoon instead of 1. I, however, like the bold flavour and spiciness it brings.
Dried sage powder. Ooof! I think this is honestly what brings the meaty flavour to the back of your mouth. Without it, they wouldn't be nearly as sausage like, or as legit. Do not omit!
Dried rosemary. Similar to sage, it really cements the whole 'I'm eating a sausage' kinda vibe. You can experiment with fresh too, if that's your thing.
Some form of dark vinegar, light brown sugar, miso paste. These are all non-optionals, sorry bout it. You could potentially use panela or coconut sugar, but sugar goes down the same way lovely people.
Psyllium husk. This binds all the ingredients together so yes, you absolutely must include it. Note that I always use psyllium husk, not psyllium husk powder.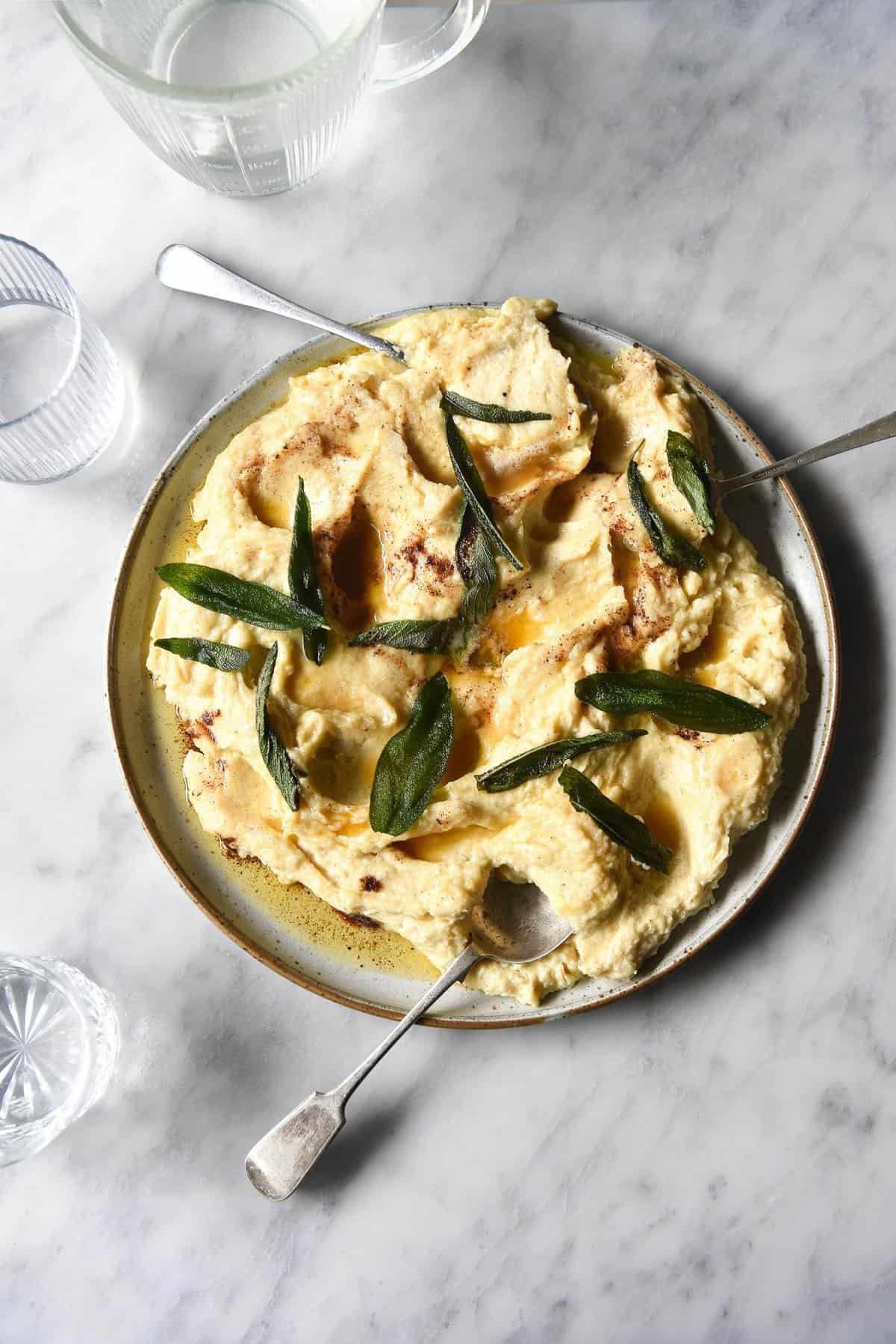 The mash component of your vegan bangers and mash
I've said it once and I will say it again: mash is an art. The type of potatoes, the fat and liquid you add, the cooking time, it all matters. Some quick tips for the best mash possible:
For a delicious, fluffy mash, it's gotta be a starchy or all rounder potato. The varieties that are best will differ from country to country, so if you don't like in Australia Google is your friend. If you are Australian, Sebago, Yukon Gold, King Edward or Russetts are a good bet.
It's important to boil the potatoes until a knife positively slips through. If they are even slightly undercooked, you'll end up with a lumpy mash.
I hate having more kitchen gadgets than necessary, but I am OBSESSED with my potato ricer. It makes the fluffiest, most delightful mash. If you don't have one and you consider yourself a mash enthusiast, I recommend the investment.
Boiling your potatoes whole means they won't be waterlogged, like they would be if you cut them up. I always boil mine whole and with plenty of salt in the water.
It's good practice to remove the skins and rice the potatoes while they are still hot. This makes for a super smooth and creamy mash.
Finally, the order you add the ingredients matters. Add the butter first, then the milk. Add milk gradually to reach your desired consistency, and season constantly.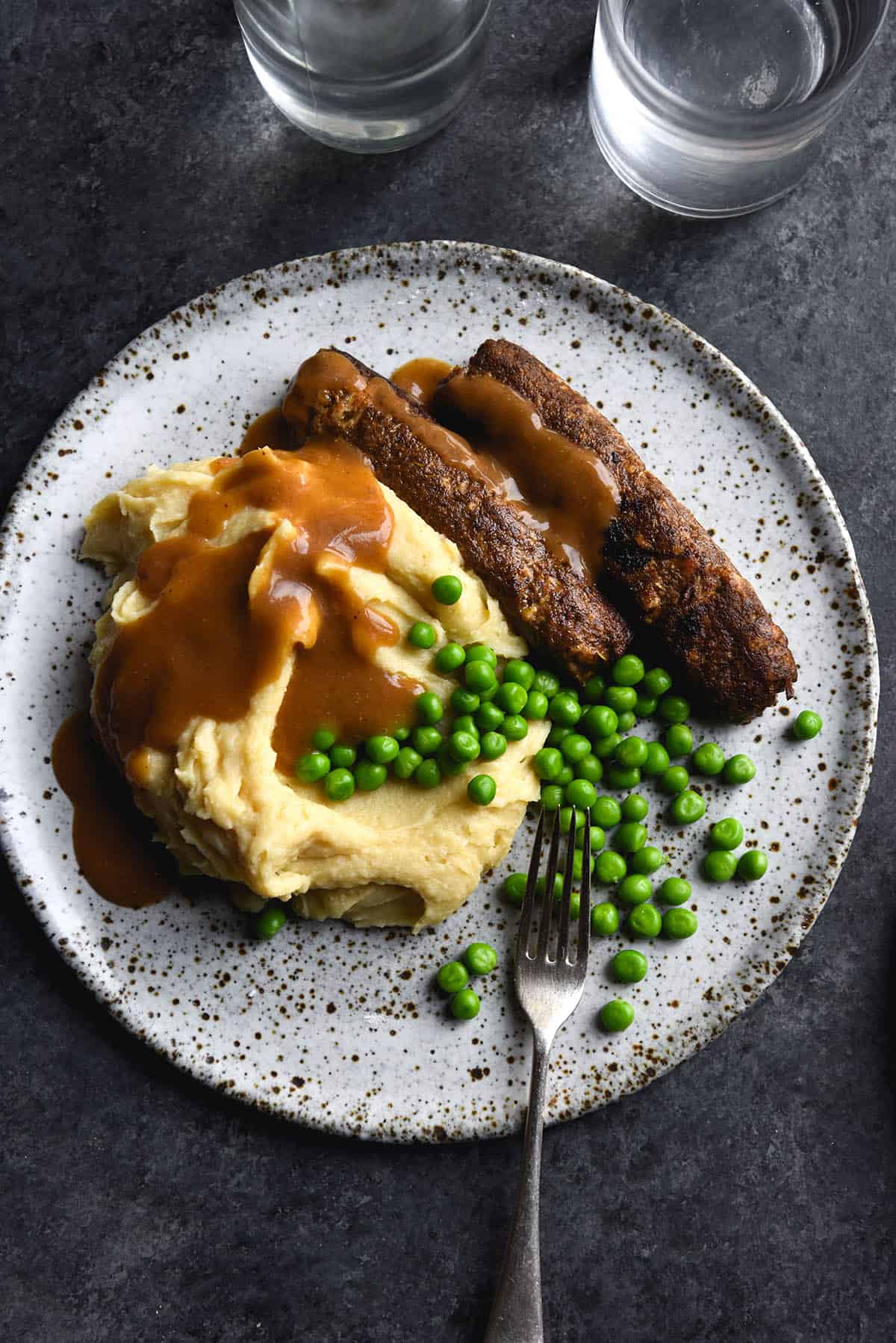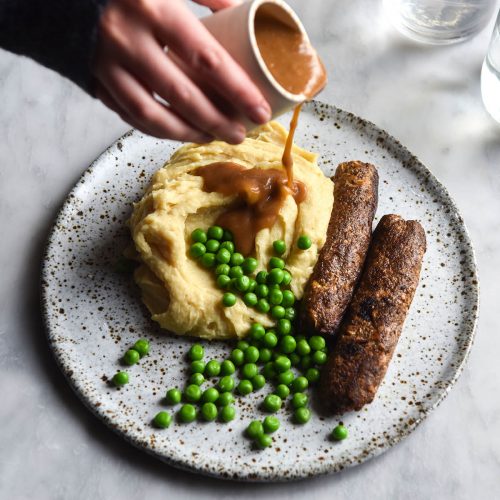 Vegan bangers and mash
Gluten free, grain free option, FODMAP friendly, egg free, nut free, vegan
Ingredients
For the sausages:
1

batch

gluten and grain free vegan sausages (recipe linked in the notes and the body of the post)
For the mash:
1kg

starchy potatoes (see body of post)

75g

vegan butter

Milk, to reach your desired mash consistency (I generally use 1 cup or 250ml)

fine salt, to taste
For the gravy:
2

tablespoons

nutritional yeast

1

FODMAP friendly vegan beef flavoured stock cube

(I used Massell)

1 1/2

cups

(375m) boiling water (you can always add more later)

1 1/2 – 2

tablespoons

potato starch, depending on how thick you like your gravy

1

teaspoon

sage powder

1

teaspoon

dried thyme

1/2 – 1

cup

(125-250ml) plant based milk, depending on how starch you add and how thick you like your gravy

2

tablespoons

gluten free dark soy sauce (or 1-2 tablespoons Tamari, to taste)
For the leek and peas (optional)
1-2

tablespoons

olive oil or vegan butter

Green parts of 2-3 large leeks, thoroughly washed and finely sliced or mandolined

1/3

cup

frozen peas

fine salt, to taste

Splash of water, as necessary
Instructions
To make the sausages:
Make the sausages as per the instructions on the recipe page, linked below. I figured it would be too overwhelming to add all the instructions here.
To make the mashed potato:
Place the potatoes in a large pot of well salted water over a medium high heat. Boil them until they are absolutely 100% cooked. Just cooked or undercooked potatoes will result in a lumpy or unpleasantly textured mash, so let them fully, absolutely cook.

Once the potatoes are cooked, remove them from the water and allow them to steam dry. Use gloved hands or a knife (they will be hot) to peel away just the skin, then use a potato ricer (I'm obsessed!) or a masher to process them completely into mash. Rice the potatoes into a heatproof bowl.

Add cubes of the butter and mix as they melt into the potatoes. Next, add the milk gradually, stirring after each incorporation. Continue adding milk until you reach your desired consistency for mash. This will be different for everyone.

Finally, season the mash with salt according to your tastes. Don't rush it – season, taste it and add more if need be.

Place the heatproof bowl of mash, covered, over a saucepan on a low medium heat. This will keep the mash warm while we finish the other components.
To make the gravy:
Pour the boiling water over the stock cube and allow it to disintegrate. Add water conservatively as you can easily adjust the thickness of the gravy later.

Put the nutritional yeast in your saucepan and toast for a minute or two until it darkens slightly in colour and smells fragrant. Watch it – it burns very easily. Once toasted, add the oil and whisk to combine.

Mix the potato starch and spices together in a small bowl. Add to the warmed oil.

Have a whisk at the ready and whisk thoroughly as the starch hits the pan. Cook it briefly until it bubbles a little, then pour the stock into the sauce and whisk until it begins to thicken.

Add the milk, a little at a time, and then the dark soy sauce, whisking to combine. Taste and adjust as necessary. Add a little maple syrup if you feel the gravy needs balancing out. Continue cooking until it reaches your desired thickness.
To make the leek and peas:
Add the oil or butter to a skillet on a medium heat. Once warmed, add the leeks, peas and a pinch of salt. Stir often and cook until just softened and light green. Add a splash of water at any time if necessary. Once cooked, taste for seasoning.
To bring everything together:
Fry the cooked sausages in garlic ghee or oil on a pan that has been very well heated. This helps prevent them sticking to the pan.

Give the gravy and the leek and peas another minute over the heat to ensure everything is warm.

Divide the mash between four plates and top each with two sausages. Finish with the leek and peas, and allow everyone to pour over their own gravy.