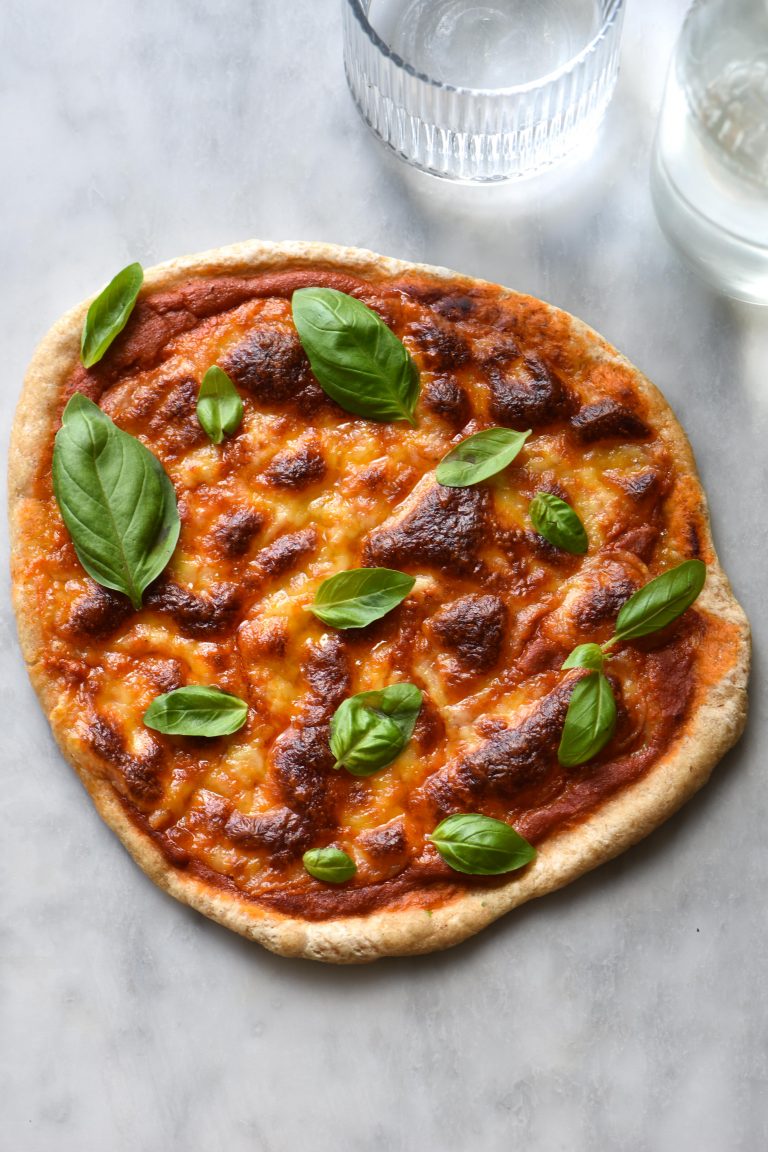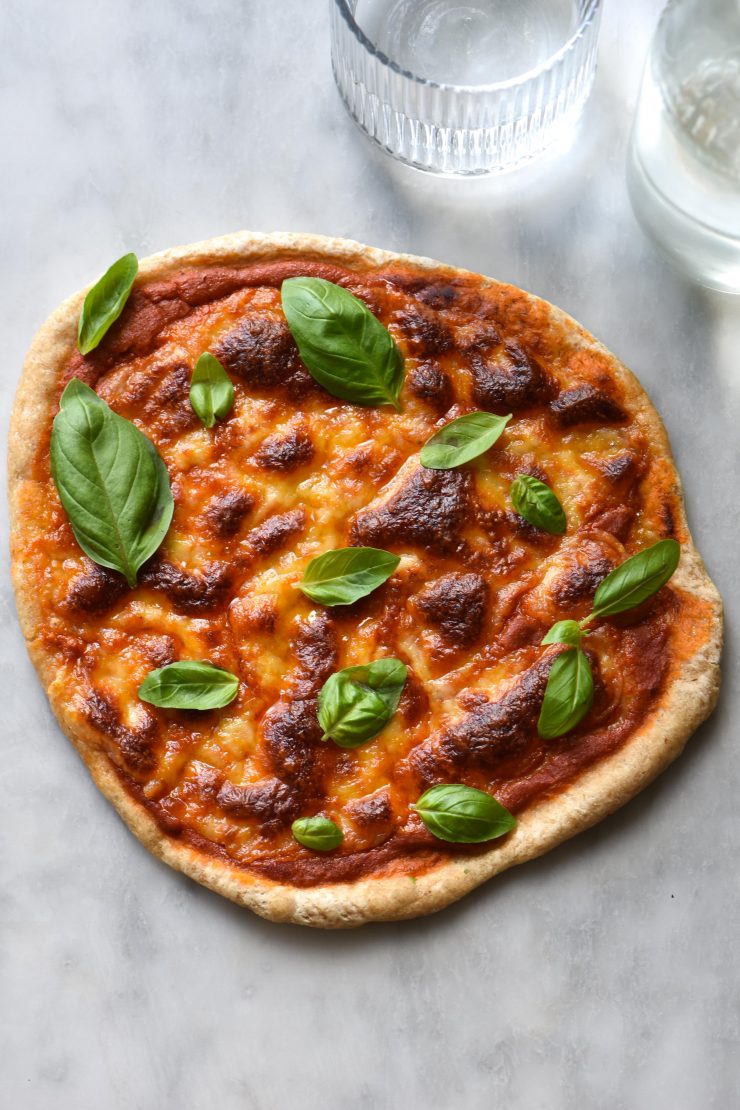 If you follow me on Instagram, you'd have seen me post a lot of pizzas to stories lately. Not only have been working on a FODMAP friendly pizza sauce, but also on these gluten-free sourdough pizza bases. This gluten free sourdough pizza recipe is simple, flexible and delicious and I'm so excited to share it with you.
Gluten free sourdough pizza bases without xanthan gum
Having worked on gluten free sourdough for a while now, I am honestly shocked by how simple sourdough pizza is in comparison. It is exceedingly low maintenance! Sourdough bread, much like an avocado, is ready one second and over-proofed the next. Gluten-free sourdough pizza bases, on the other hand, are the chilled out cabbages that can sit in your fridge for 1000 years (not quite but you get the drift). The dough can be left to it's own devices not just overnight, but for the whole weekend! It can also be (very gently) punched down, forgotten about for a bit, or otherwise left to do it's thing.
Before we begin, you'll obviously need a gluten free sourdough starter. If you don't have one yet, here is my guide to making a gluten free sourdough starter. Note that it really needs to be active and thick, like a thick, bubbly yoghurt. I wouldn't recommend trying this recipe with a starter in it's formative stages – the dough will end up too wet and unable to rise.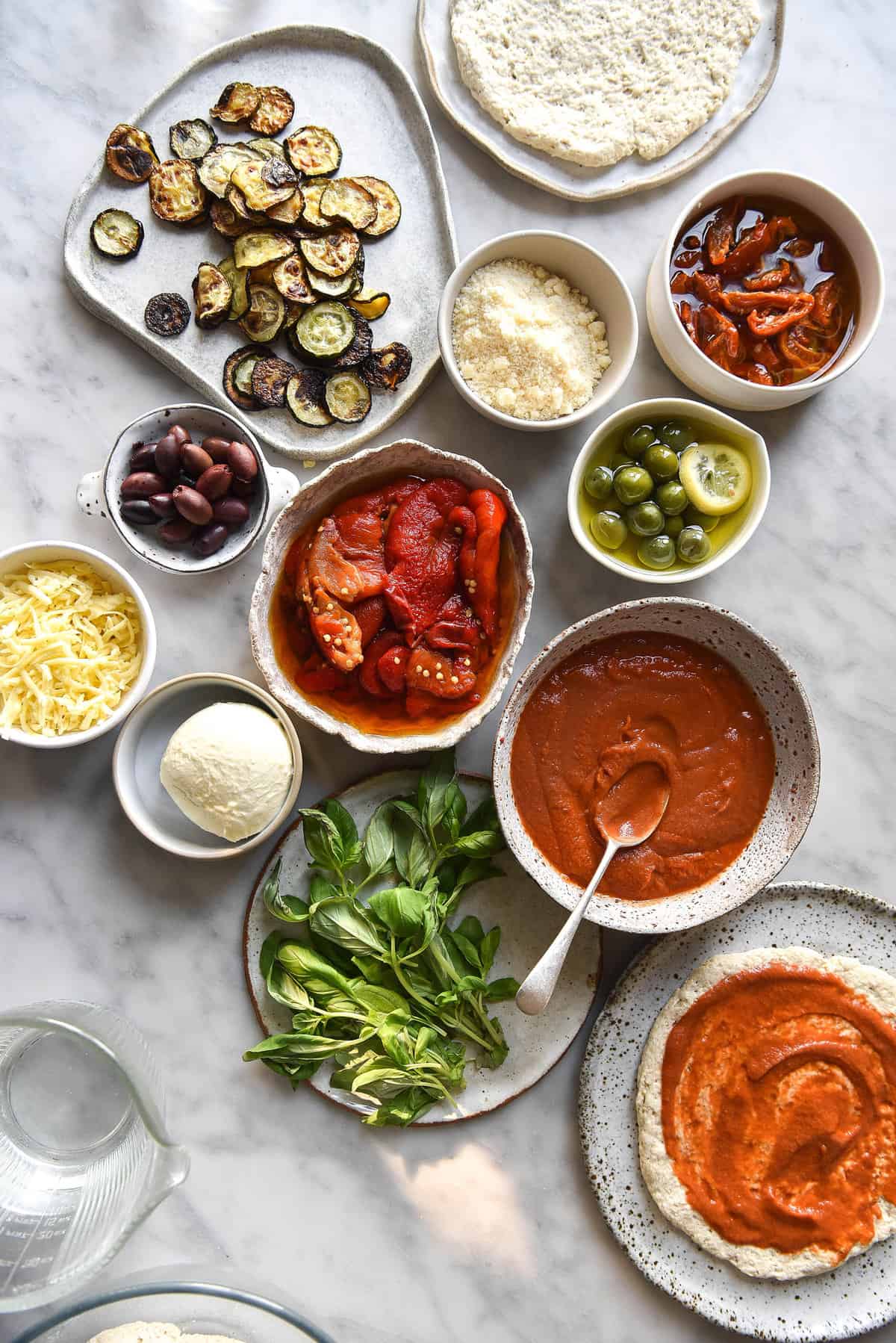 Ingredient notes for your gluten free sourdough pizza bases
I have only tried this particular blend of flours for these sourdough pizza bases. I will update the post as I make more pizza, but in the interim I have no substitution suggestions.
As with my loaves, I use psyllium husk (sometimes called flakes) as opposed to psyllium husk powder for all my recipes. I have not tried the powder so I can offer no guidance. Nor have I tried this recipe with any other binder.
As per all the other sourdough recipes, you'll need an active, thick sourdough starter. You will need to use the starter after it has been fed and is on a rise. In Australian winter, I have been feeding mine at around 6 or 7pm, and then popping it in the oven WITH JUST THE LIGHT on to rev it up. I then use it, fluffy and delightful, just before I go to bed.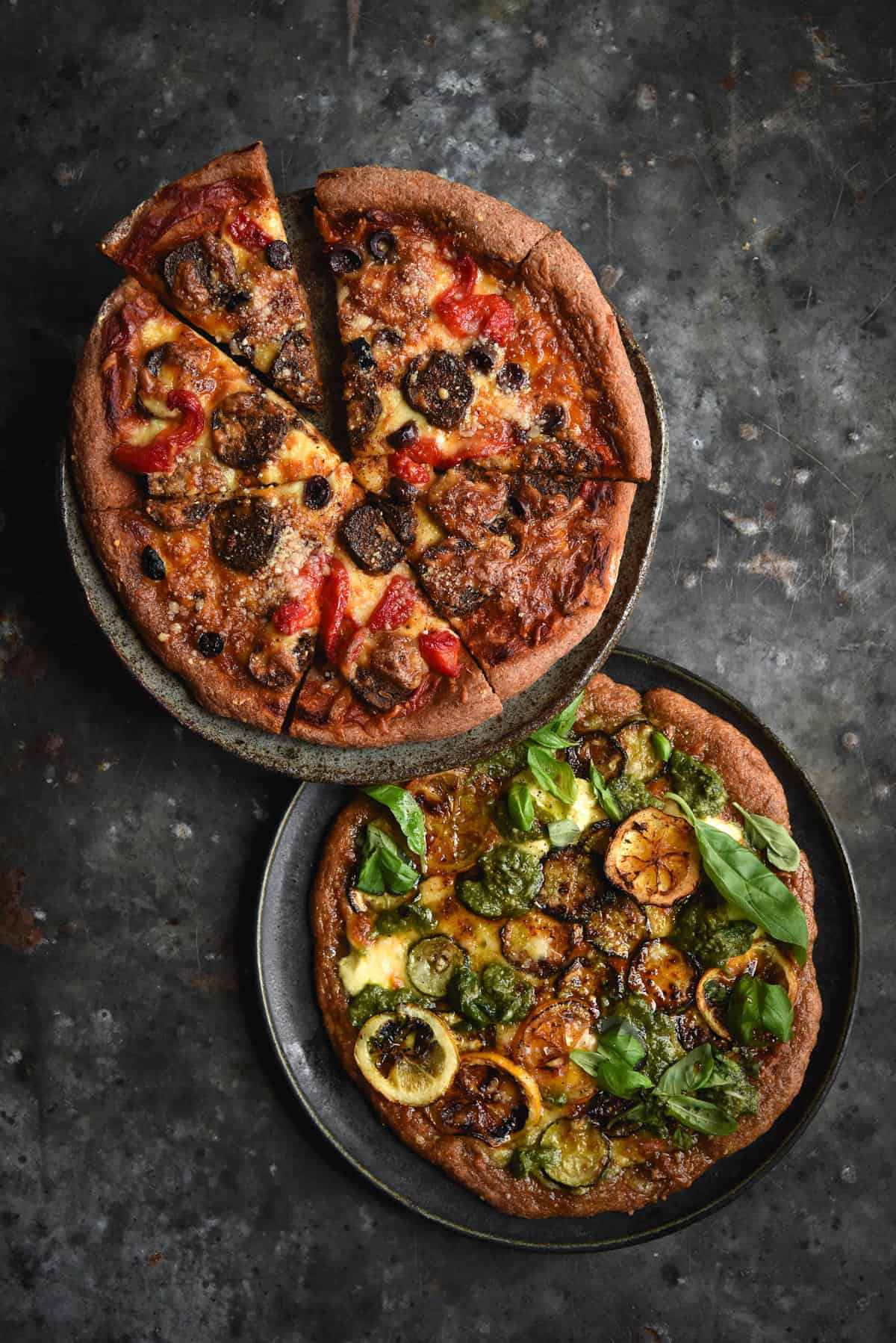 Making gluten free sourdough in different seasons
I cannot overstate how important I have discovered the seasons and temperature to be in sourdough making. The temperature in your kitchen will impact everything from the growth your starter to the proofing time necessary for sourdough. In discussion with readers, I also think the humidity of where you live will play a role in your proofing. So, needless to say, you should take indicated proofing times with a grain of salt.
I am working in a relatively warm kitchen in Australian winter. Come summer, my own specified proofing times will become obsolete for me personally. The yeast and bacteria in the starter thrive in heat, growing far more quickly than they do in the cold. In summer, when it becomes unbearably hot in my kitchen, I will probably need to proof this dough in the fridge overnight as opposed to the counter.
A lot of sourdough making is intuitive learning, so you need to read your own dough. Following instructions to the T won't make for a better sourdough, because every temperature, climate and starter is different.
If you're new to sourdough, I would actually recommend starting with pizza dough as opposed to a loaf. Pizza dough is a great entry level sourdough product that is essentially foolproof. You'll learn a lot about the climate and the needs of your dough, which will put you in good stead for the more finnicky sourdough loaf.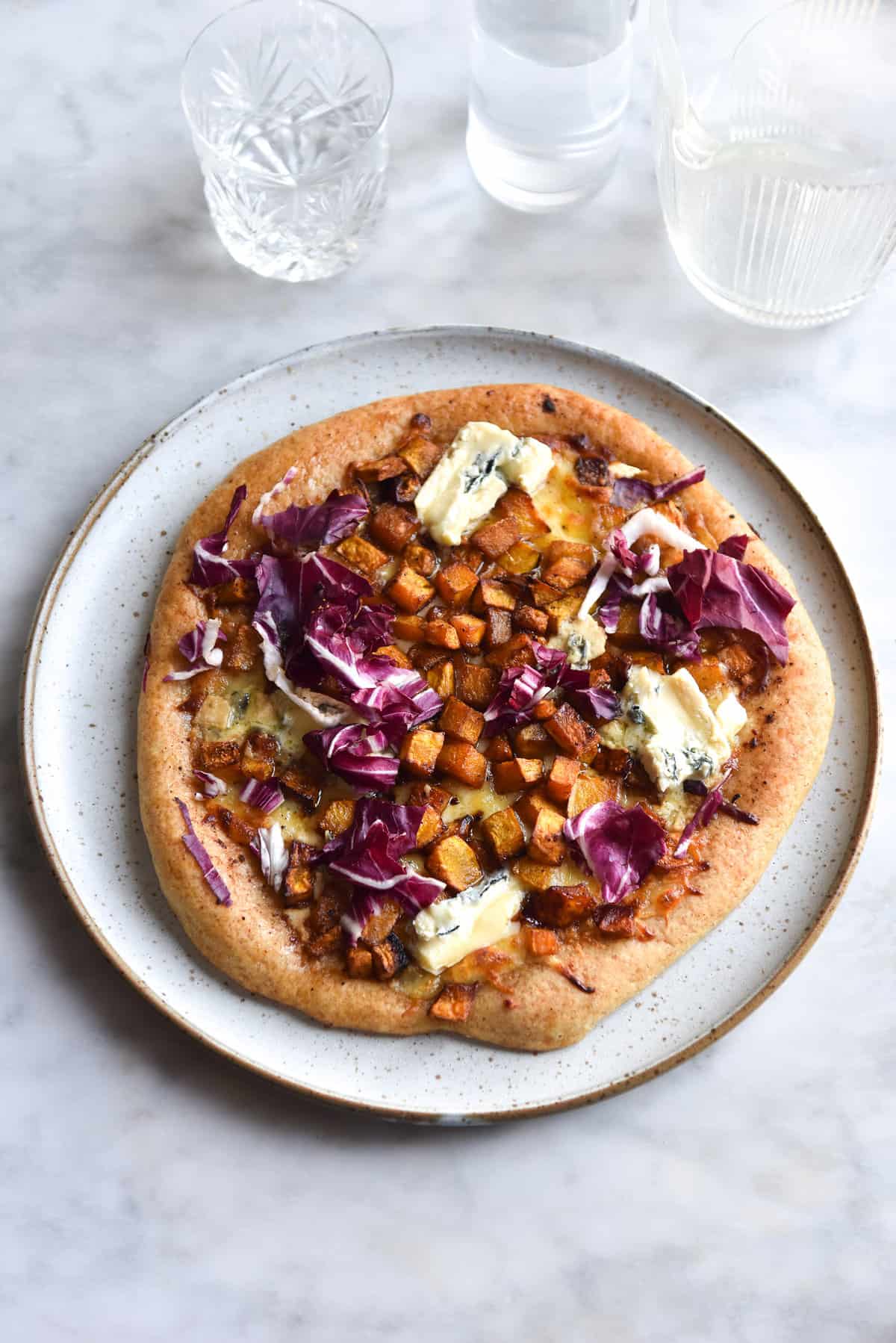 Tips for your gluten free sourdough pizzas 
Utilising the fridge for a cold ferment is a great way to develop flavour in your dough without over-proofing it. It's also a handy way to proof if you live in a hot or humid climate and you're concerned the dough will over-proof during the night. See the proofing notes section.
You can use the dough over the course of a weekend, if that's your thing. Simply mix up the dough and cold ferment it in the fridge, pulling off pieces to shape and proof on the bench as you go. I would recommend keeping it for a max or two or so days in an airtight container in the fridge. Personally I push on if the dough starts smelling a little alcoholic (it just means that it's getting hungry and it's totally safe to eat) but you do what is best for you.
I haven't tried freezing the dough, although I would suggest baking the bases and then freezing them, as opposed to freezing it raw. You might not be able to revive the rising qualities if you freeze raw dough.
Spread the dough as thinly as you possibly can, because it puffs up significantly as it cooks. If you're lazy with the spreading, you'll end up with a huge mouthful of doughy crust.
Tips for baking gluten free pizza in an oven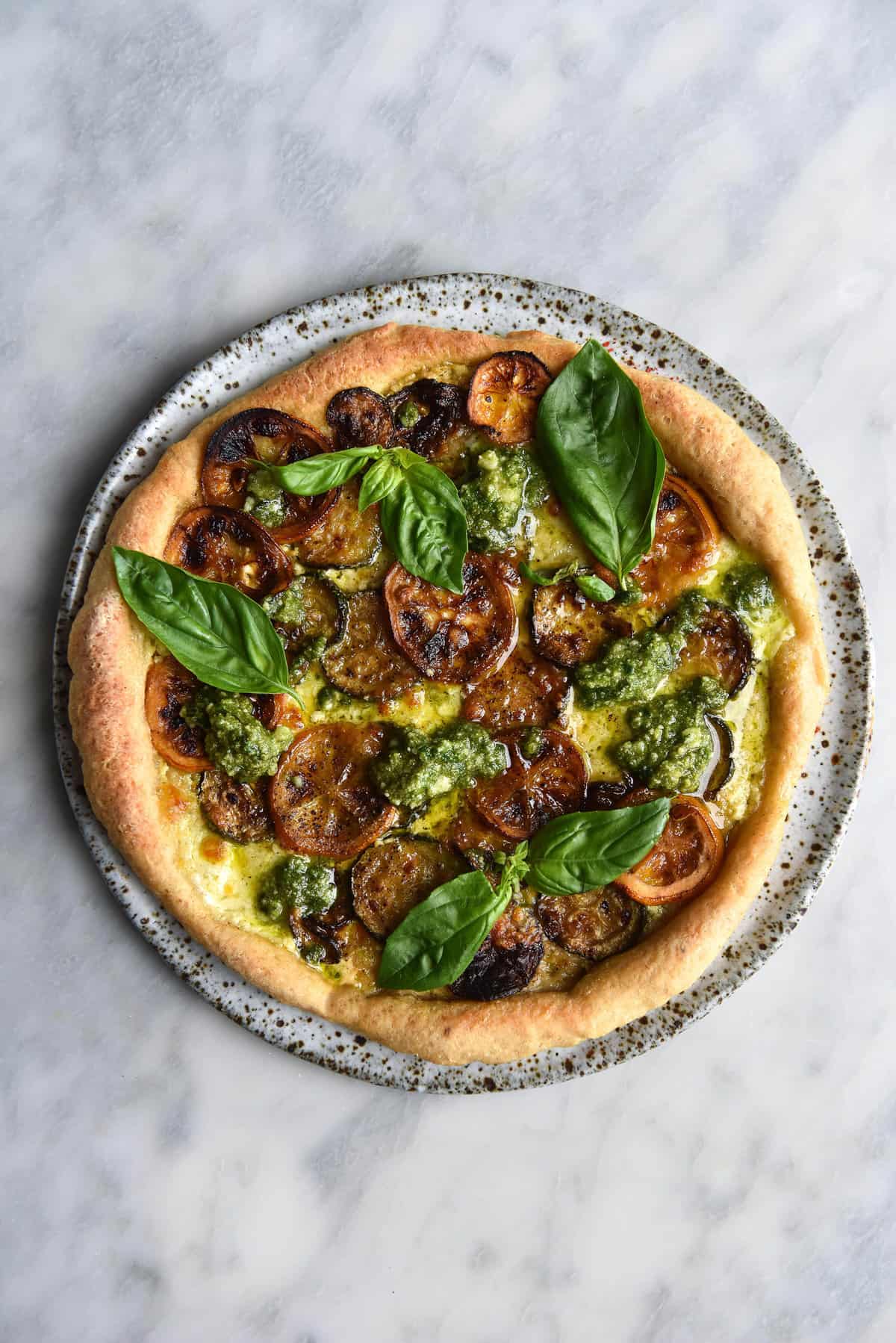 Proofing options for your gluten free sourdough pizza bases
Honestly, pizza is one of the easiest things to make sourdough. Because it doesn't need to be tall (like a loaf) it's virtually impossible (although possible) to overproof. I have made this recipe all of the below ways, so choose the version that suits your climate and schedule best.
Overnight on the c0unter
Mix the dough before bed and leave it on the counter to proof. In the morning, you can either shape the dough and leave it to proof for a lunchtime pizza, or pop it in the fridge and leave to retard until dinner. This is best in a colder climate or kitchen because it gives the dough time to develop a lovely sour flavour overnight (which takes longer in the fridge). Sometimes (weather dependent) I'm lazy with this method and leave it on the bench for a good chunk of the day, too. It might smell a little alcohol-ly if you leave it too long, but it won't impact the taste. That said, if you left the dough in a super hot or humid climate, it would likely over-ferment to the point of being inedible. Which brings us to:
Overnight in the fridge
Mix the dough before bed and proof it in the fridge. This method is best for hot or humid climates, as the dough would ferment too quickly if left out overnight. Whenever you're ready to use it, simply pull it out, divide into portions and shape it. Turn the oven on to preheat, and by the time it is ready the bases should be too. 
Same day on the counter
There's one last option for hot or humid climates, which is to make the dough in the morning and leave it to ferment on the counter. The reason this method only really works for hot climates is that there is the requisite warmth to sufficiently proof the dough during the day. This method requires that your starter has been fed and is on a rise prior to starting, so it will be an early morning for you. It is an option, but time = flavour, so I recommend the first two options over this one. 
Tips for making a gluten free, FODMAP friendly margherita pizza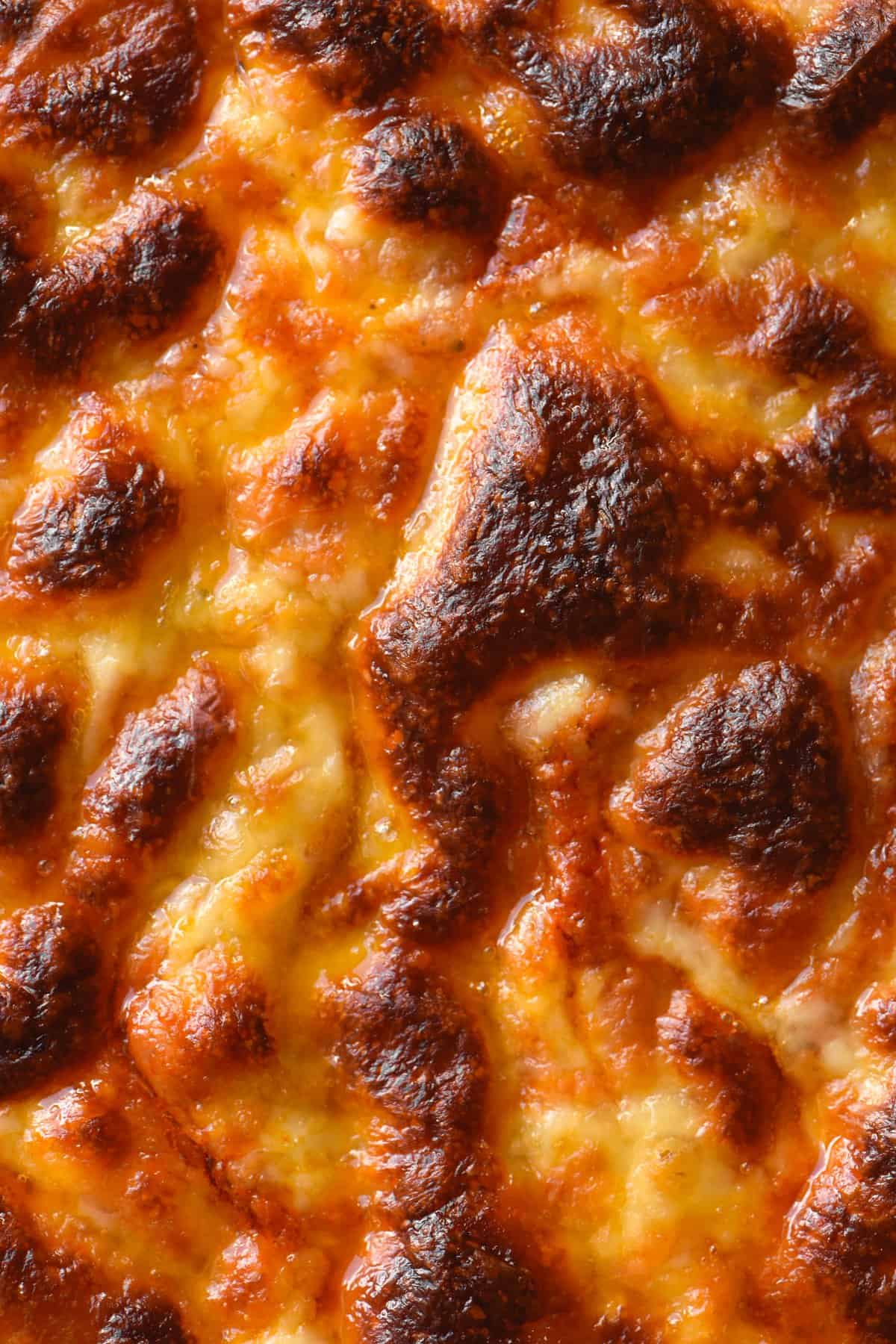 More gluten free sourdough recipes
More gluten free, FODMAP friendly pizza adjacent recipes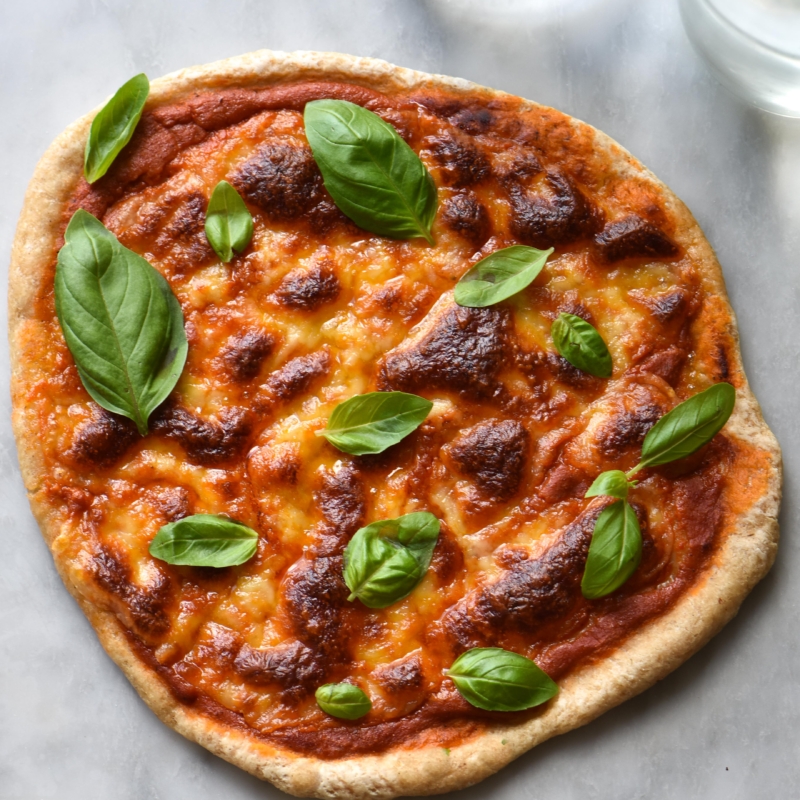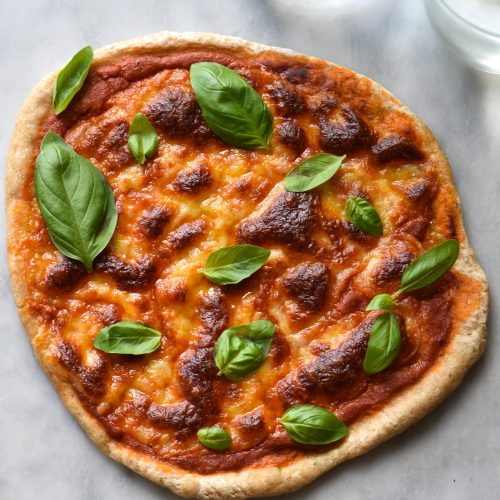 Gluten free sourdough pizza bases (FODMAP friendly, nut free, vegan)
Ingredients
Dry:
150

g

sorghum flour

150

g

tapioca flour

150

g

brown rice flour

12-13

g

2 1/4 teaspoons salt

1/4

teaspoon

ginger powder

optional (ginger powder is coffee for yeast!)

20

g

psyllium husk

not psyllium husk powder
Wet:
130

g

starter

thick, active and fed 3-4 hours prior

570

g

water

2

tablespoons

olive oil
Instructions
The night before:
Weigh out all the dry ingredients in a large glass or plastic bowl.

In another mixing bowl, combine the starter and water, whisking to combine and loosen the starter. Pour this into the dry mixture, and follow with the olive oil.

Whisk really well to combine. The mixture will look horribly runny – like it could never form a pizza dough. Fear not! Over the course of 10-15 minutes it will gradually thicken to the point where you could grab a ball of it. I promise.

Once the dough has thickened, cover it and either pop it on the bench or in the fridge to ferment overnight. See the notes on proofing section for the best option in your climate.
The next day:
If you left the dough on the bench, pop it in the fridge until you need to use it.

When you're ready to bake, take the dough from the bowl and divide it into 5 equal balls of dough. Lightly flour a sheet of baking paper, and use the palm of your hand to flatten each ball into a pizza base just smaller than a dinner plate. The dough rises as it cooks, so you can make the bases quite thin.

If you fancy, fold just the edges of the pizza dough up onto the pizza and press to secure, creating a raised crust around the edges. Flip the pizza over so the seams are hidden and you have a lovely raised crust.

You can top the dough raw or parbake it before topping. I usually top it raw, but I recommend par baking if you plan to use lots of heavy toppings which might leave the base uncooked.
To bake:
Preheat your skillet, pizza stone or maybe even just a pizza tray (I haven't tried this but it's better than nothing) at the highest heat your oven can go for 30 minutes. Nothing with any plastic parts though, please.

Either top your pizza base lightly raw or par-bake the dough first. Either way, turn the oven down to 200C/400F and place the pizza on the sheet of baking paper in the oven.

Par-baking the dough will take around 10 minutes. Cooking the pizza raw with the toppings on will take around 15-20 minutes, more if your toppings need to cook too. 15-20 minutes works well for a margherita or something equally simple.