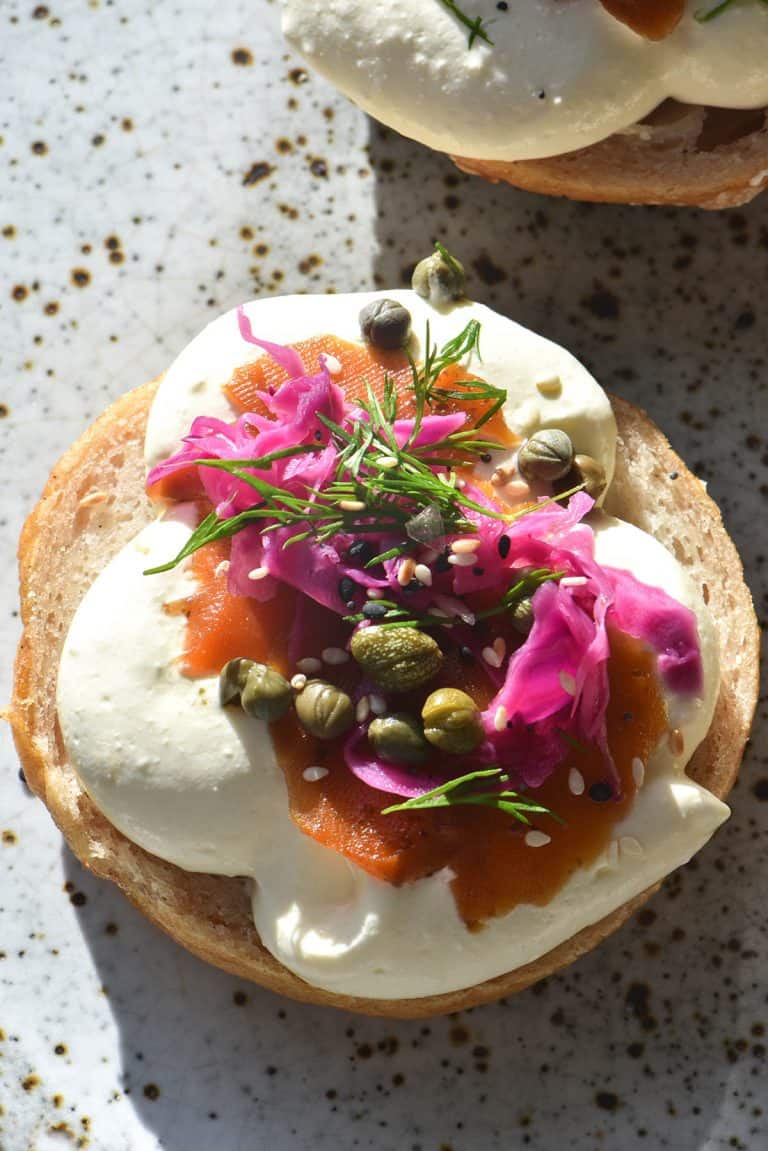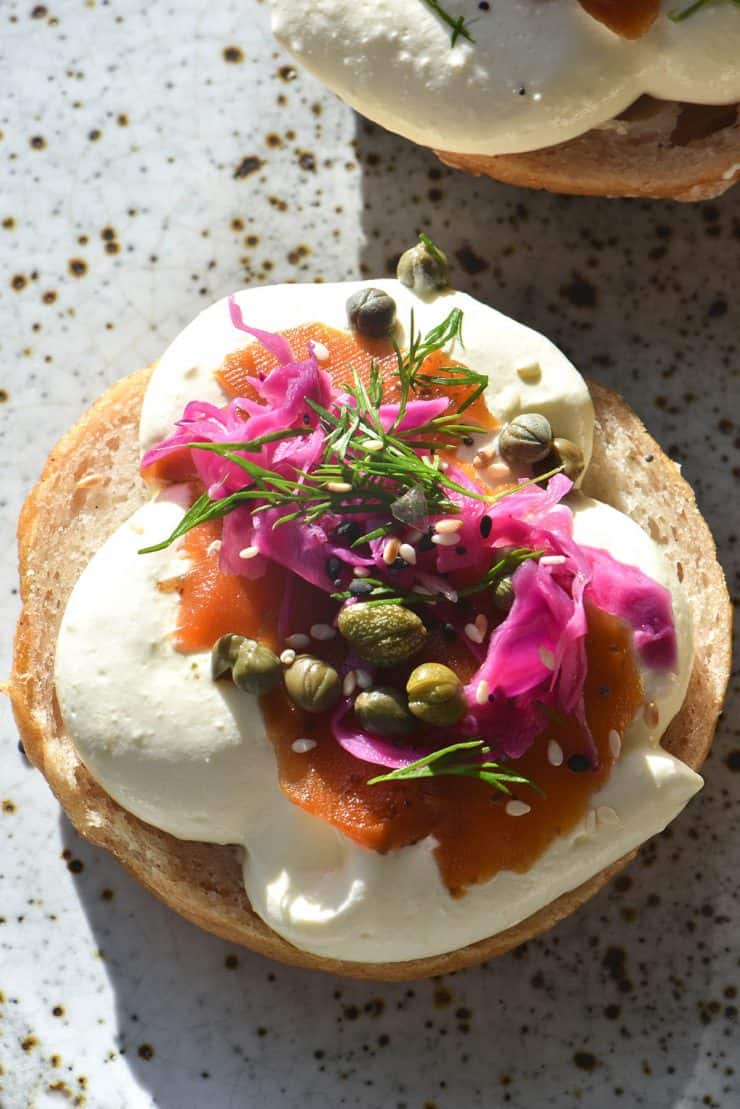 Easy carrot lox was a highly requested recipe on Instagram after I published my gluten free bagel recipe recently. I had made it from on bits and pieces from other recipes, based on how much effort I could muster up. In doing so, I found that there was quite a bit of variation from recipe to recipe, so I set about making my own.
I wanted this to be a quick and easy carrot lox, so I decided to boil the carrots, slice them thinly and marinate them in a quick and easy smoky fishy sauce. The result? Heaven on a bagel that is gluten free, vegan, FODMAP friendly and delicious.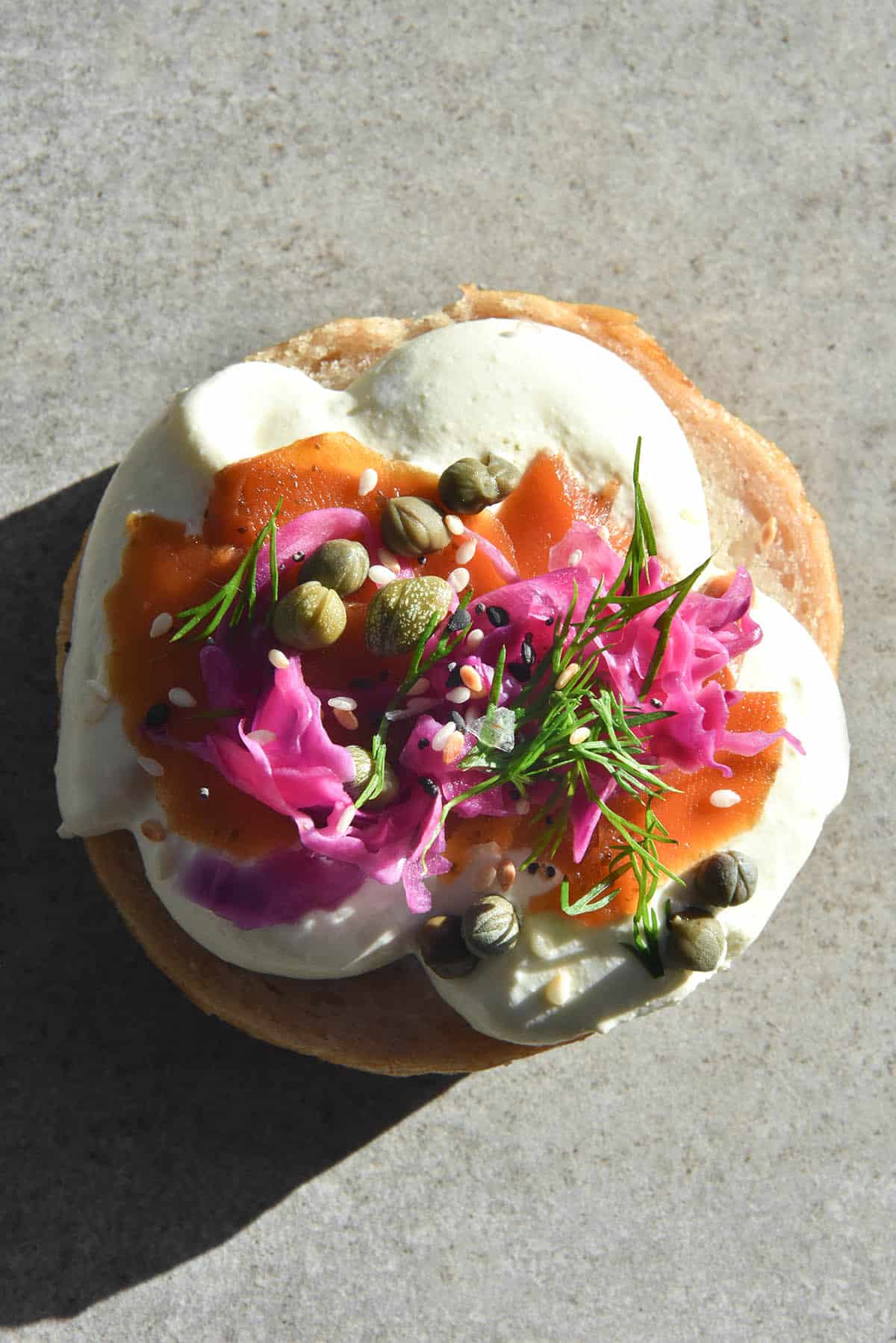 Tips for easy carrot lox
I found a mandoline on the thinnest setting to be the easiest way to slice the carrot. It could be that my peeler is super old and blunt, but I found the skin bunched up in the peeler and ruined my slice slices. Both work, just something to keep in mind.
It's also worth mentioning that shorter pieces of lox tend to look more realistic and are more practical than longer, carrot length pieces. Don't stress it too much!
The slices should be as thin as possible to best emulate a piece of smoked salmon.
To that end, the carrots need to be boiled enough that they are flexible but not mush. This will depend on your carrot sizes. A knife should pierce the thickest part of the carrot relatively easily, perhaps with a bit of resistance.
To allow the easy carrot lox to reach it's full potential, make it the day before. This gives the flavours time to meld.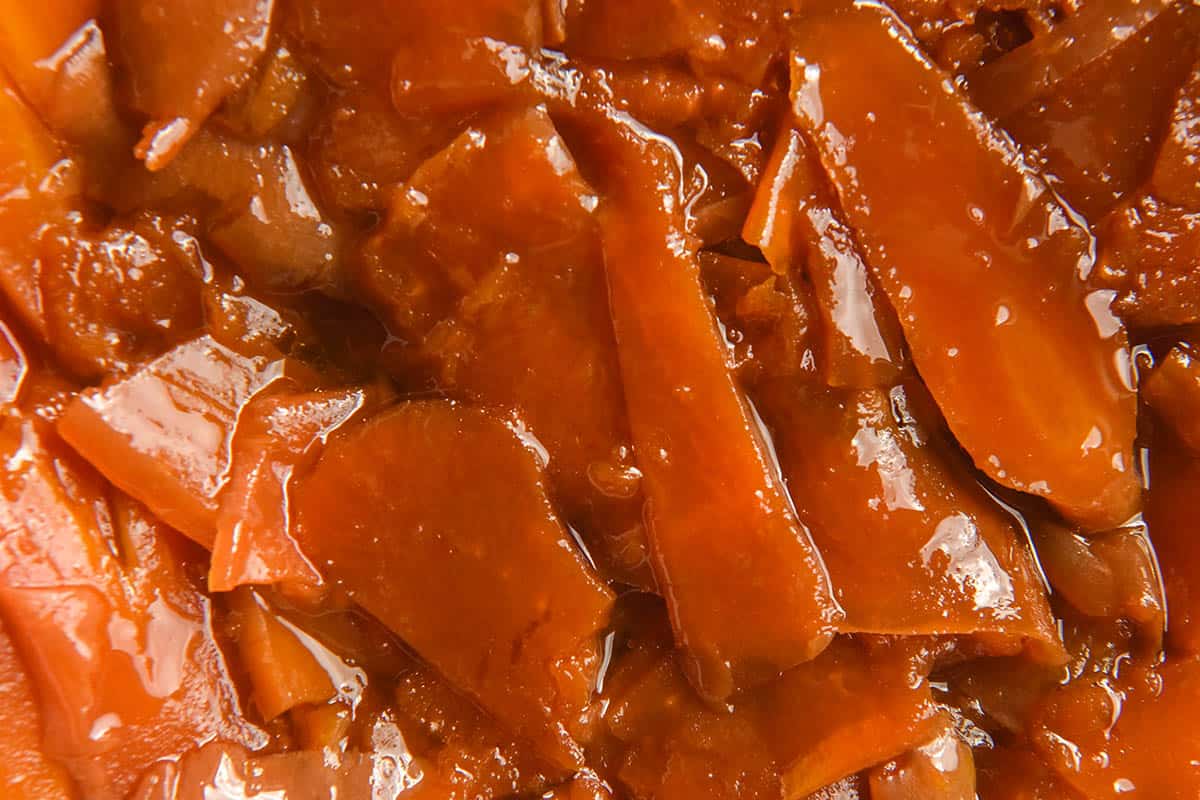 Ingredient notes for your easy carrot lox
Large, straight carrot are the easiest to work with, but any will realistically do.
Add the marinade ingredients to your taste! Vegan fish sauce and liquid smoke can vary tremendously in their potency and flavour. Taste and adjust as you go, so you get the best tasting easy carrot lox possible.
I used Vincent The Vegetarian brand fish sauce here. There aren't too many brands available at the supermarket, and although Niulife is good, I find Vincent The Vegetarian more fishy.
Niulife is coconut amino based, so it has a sweeter, syrupy taste when compared to Vincent The Vegetarian. Use less maple syrup to compensate, if you go that route. Keep in mind also that Niulife is quite dark in colour, which might impact the appearance of your carrot lox.
You can use Tamari, gluten free dark soy or regular soy sauce if you don't need this to be gluten free.
I find maple syrup the easiest sweetener to work with here. The sauce emulsifies really quickly and is ready to go in a minute, whereas a granular sugar would take longer to dissolve.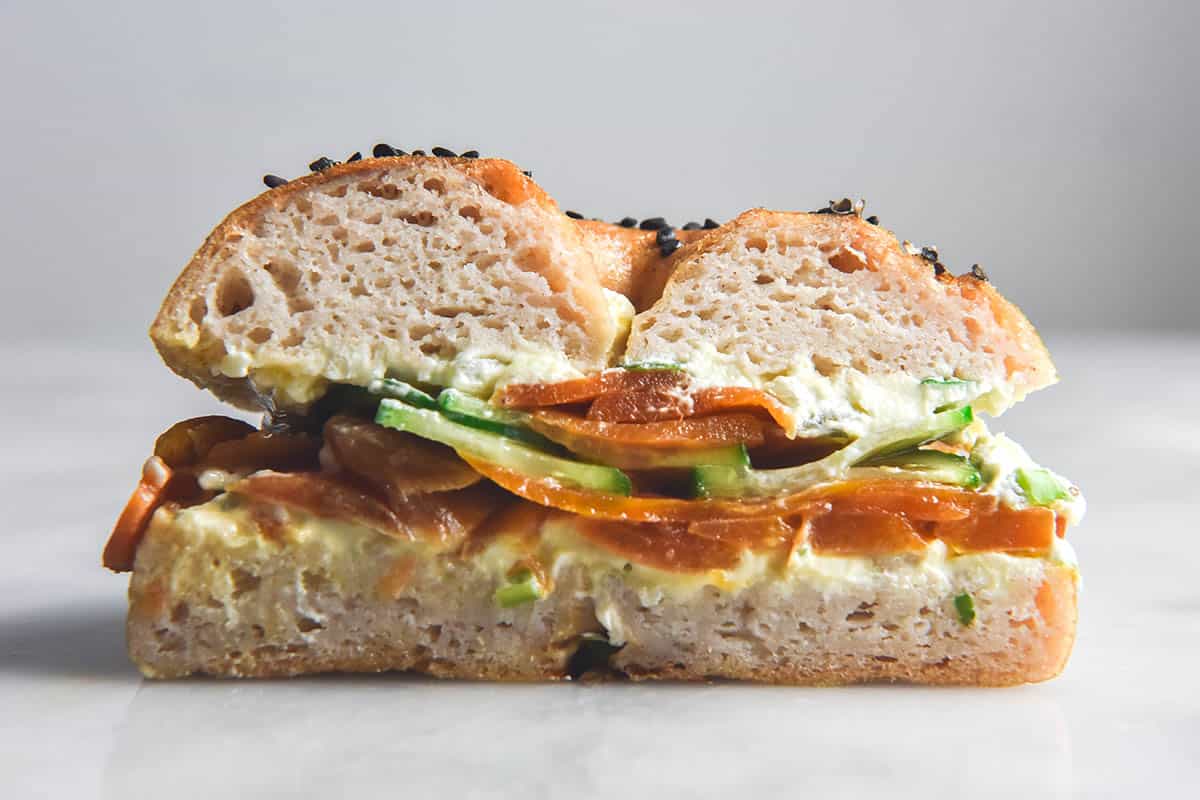 A note on liquid smoke
In my experience using liquid smoke, I have found that brands vary enormously. Some recipes use a huge amount, and I found that the brand I had at the time was way too potent. A lot of the recipes I looked at were American, so I did wonder if there is a huge variance between American and Australian liquid smoke. Either way, add it to taste. It can become bitter very quickly, which is a surefire way to ruin your easy carrot lox.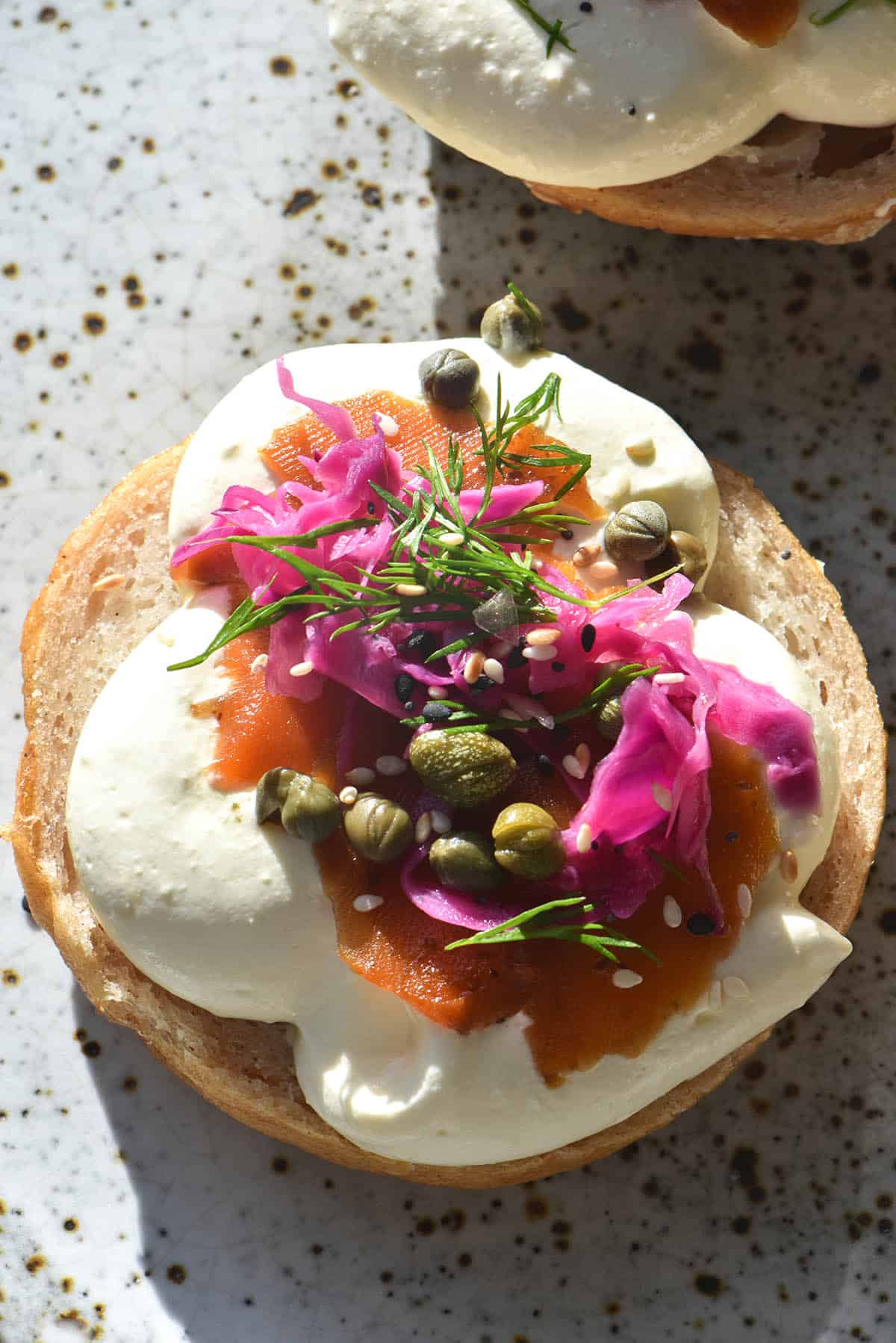 More gluten free bread recipes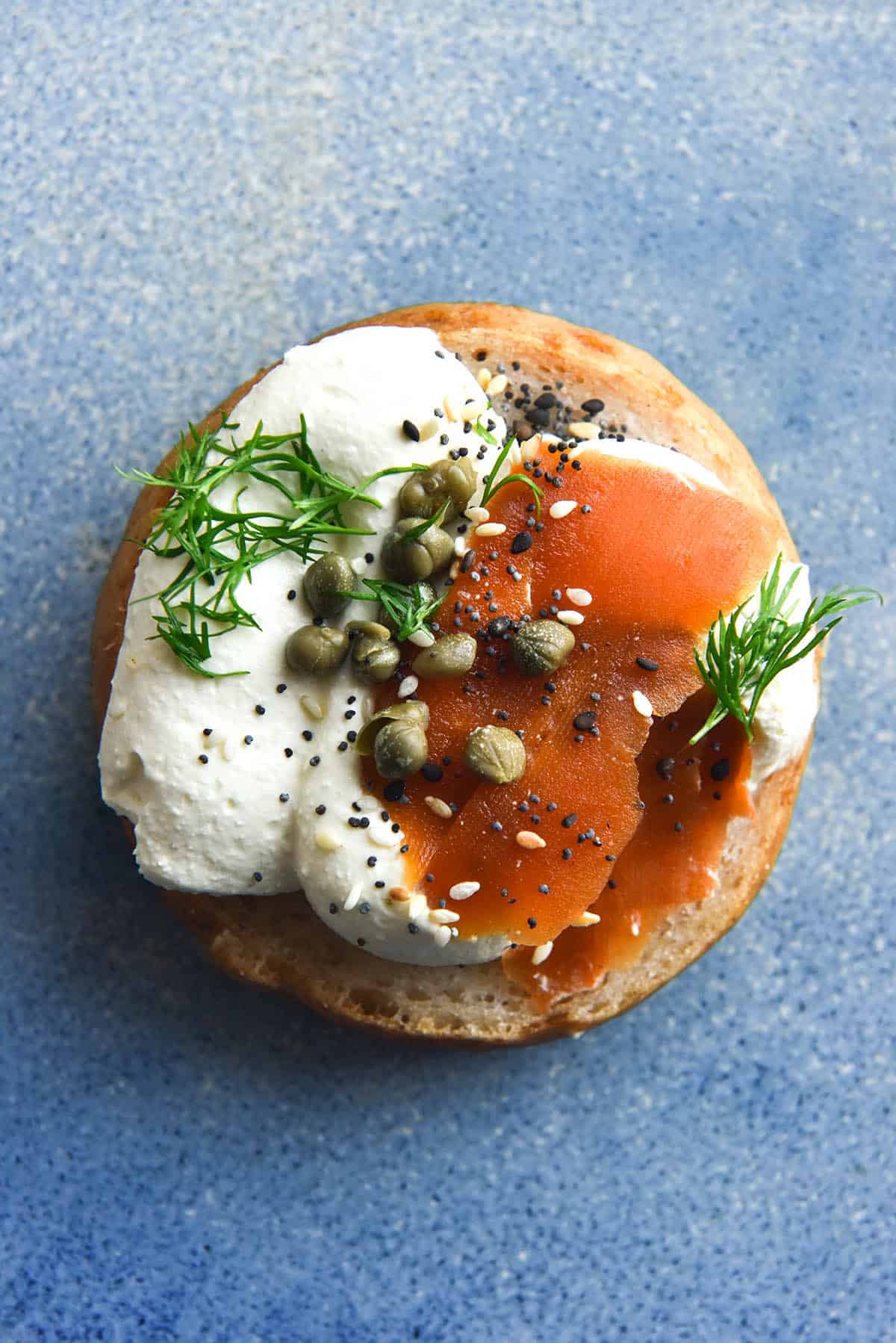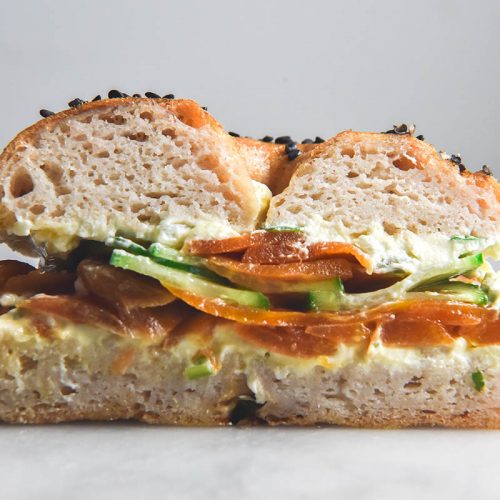 Easy carrot lox recipe
Gluten free, vegan, FODMAP friendly
Ingredients
300

g

carrots

preferably big, long and straight ones (lol)

2

tablespoons

(40ml) olive oil

3-4

teaspoons

(60-80ml) Tamari or gluten free dark soy

to your tastes,

1

tablespoon

(20ml) vegan fish sauce

to your tastes

2-4

teaspoons

(40-80ml) maple syrup

to your tastes

1/2 – 1

teaspoon

(5-10ml) rice vinegar

Liquid smoke

to taste (I used about 20 drops or 1/2 teaspoon)
Instructions
Bring a medium sized (long enough to fit your carrots) saucepan filled with well salted water to a simmer. Add the carrots and cook over a medium heat for 10-15 minutes. A knife should pierce the carrot with a small amount of resistance. The carrots will need to be bendy and flexible like lox, but not puree. You can also steam them over the water in a heatproof strainer topped with a lid if you prefer. Once they're cooked, remove from the water and allow to steam dry.

Whisk together the ingredients for the marinade in a medium sized bowl or a fridge container. Taste and adjust as you add the ingredients to get the taste you're after.

Use a mandoline or a peeler to slice thin, long strips of carrot. Repeat until you have used all the carrot. Add the carrot pieces to the marinade and mix well to combine. You can serve immediately, but I prefer to allow it to marinate overnight before serving with a bagel. Keeps well in an airtight container in the fridge for a number of days.