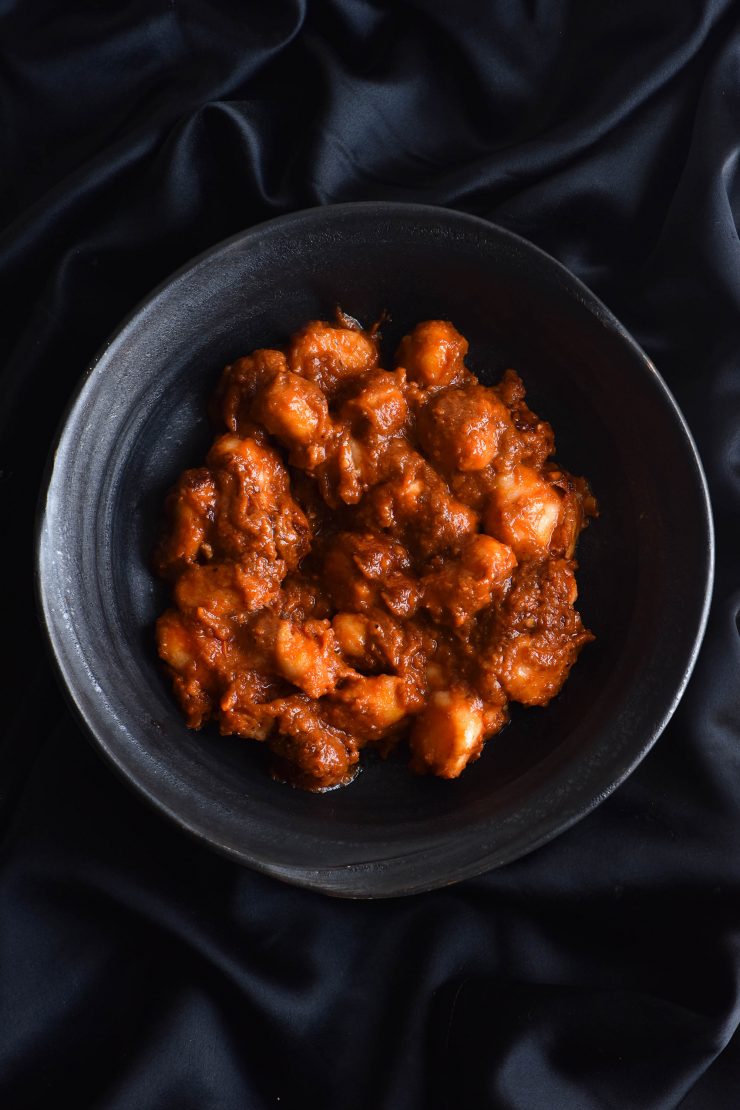 This recipe initially started as a winter caprese salad, so excuse me if you find any references to such a thing. I'm trying to do as little work as possible and not delete this huge chunk of text I've written, you see. I'm very busy, I have a bowl of pasta to eat. Topped with, conveniently enough, FODMAP friendly pasta sauce.
There are some recipes so simple you tend to overlook them, and I believe a good FODMAP friendly pasta sauce is one of them. Particularly in my early days of blogging, I had a tendency and an urge to make everything fancy. These days, I'm keen to create simple and delicious basics. Comfort food, vegetarian and vegan adaptions of classic favourites. Because salted banana caramel macarons are delightful and all, but I suspect a good FODMAP friendly pasta sauce recipe might be slightly more handy. Just a guess.
If you're not in the mood to make your own garlic oil and slow roast tomatoes? My FODMAP friendly pizza sauce recipe works very nicely on pasta, I can confirm. 

FODMAP FRIENDLY PASTA SAUCE – FODMAP NOTES
Common tomatoes have no upper limit according to Monash, so make sure you're buying the regular variety. Roma and cherry have a higher fructan content. 250g of Roma tomatoes and 220g of cherry tomatoes are given an amber light. 
Garlic oil is deemed FODMAP friendly by Monash. I'm incredibly into it these days for it's ability to add a subtle hint of garlic to dishes. You can also add onion to the oil for an extra layer of flavour. 
Make sure you use gluten free pasta, if you need to. My favourite, as always, is Green Olive Organics, followed by Barilla if I can't get to the health food store.
THINGS YOU CAN ADD TO YOUR PASTA SAUCE
In the spirit of making this as easy of a recipe to use and adapt, the following is a list of things I think would make excellent, FODMAP friendly additions to the sauce.
Spices! A classic bit of dried oregano would go nicely, but you could use a bit of smoked paprika for a smoky edge, or nutmeg or a wintery feel.
Chilli. I'm not a huge chilli pasta girl, but I think it would go amazingly well here. If you get the right tomatoes, the sauce is beautifully sweet, so some heat would balance it out nicely.
Things to add to the sauce once it has cooked: roasted vegetables, some greens, literally whatever you fancy.
Cheese, obviously. I have used mozzarella, a generous grating of pecorino and the same of parmesan. All work nicely, although I think the hard cheeses are better. Finely and freshly grate them from a block – some of the pre-grated varieties contains fillers that aren't necessarily FODMAP friendly.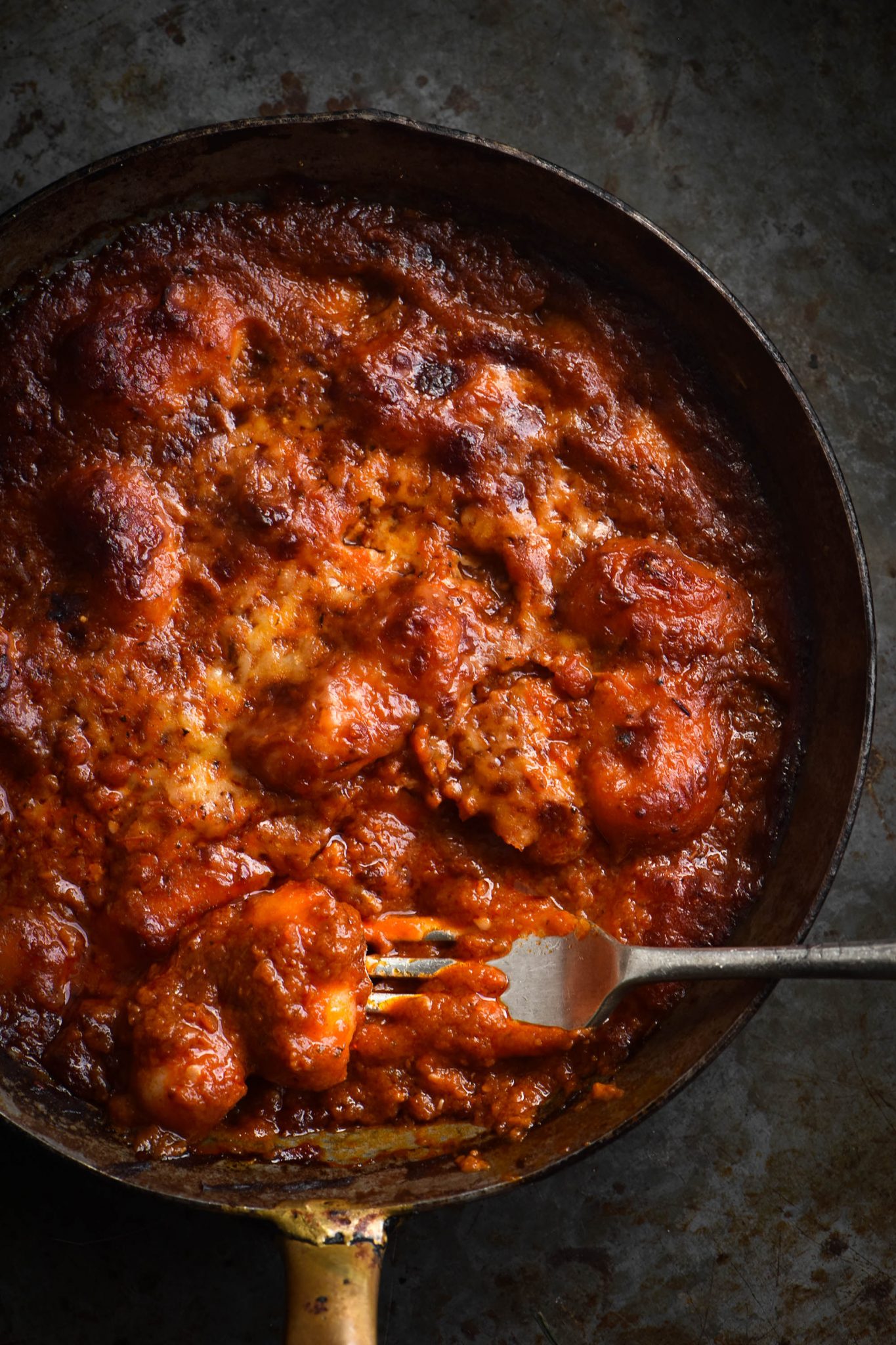 Recipe notes 
The red capsicum is a helpful addition to the sauce for sweetness and a nuanced flavour. It is particularly relevant during winter, when tomatoes aren't quite at their sweet and seasonal best. If you don't like capsicum (A: I promise you can't taste it but B: you can also use a tablespoon or so of maple syrup). 
Make sure your olives are pitted and non flavoured. I tried this sauce both with and without olives and I found the olive version far superior. 
Sage and rosemary are a delicious and hardy combination, perfect for roasting. You could also blend some fresh basil into the baked sauce (a la my pizza sauce) for extra flavour.
Same goes for some finely grated parmesan: add it into the blender for extra flavour. Make sure the mixture is 100% cool if you choose to do this so the parmesan don't congeal on the edges of your blender.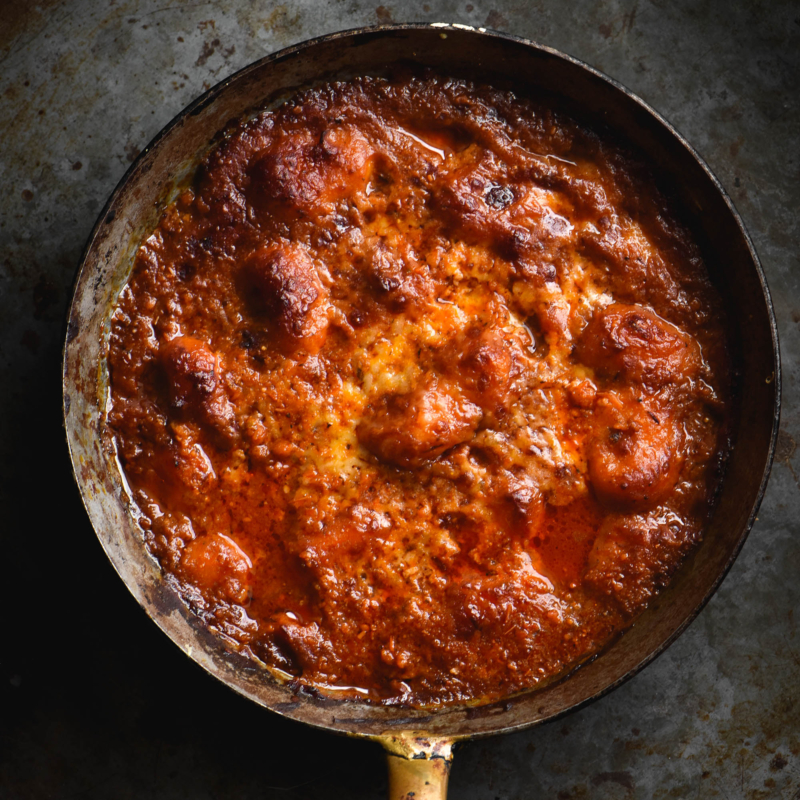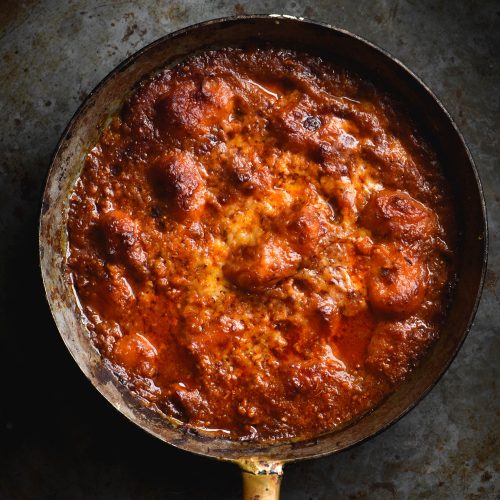 FODMAP friendly pasta sauce
Gluten free, FODMAP friendly, nut free, vegan
Ingredients
For the garlic oil:
5-8

garlic cloves

1/2

cup

(125ml) olive oil
To finish:
1 - 1.5

kg

regular tomatoes

the best quality you can find

1/2 - 1

small red capsicum (optional, see notes)

1

tbsp

capers in brine

1/4

cup

pitted olives (any kind)

Herbs (I like sage and rosemary)
Instructions
To make the garlic oil:
Add a tablespoon or two of the oil to a small saucepan and place on a medium heat. Add the garlic and cook for a minute or two, stirring, until fragrant. Don't crush or smush the garlic.

Add the remaining oil and turn the heat to low. Cook, stirring occasionally, for five or so minutes to infuse the garlic flavour. Turn the heat off and allow to cool slightly.

Strain the garlic oil into large baking tin. Leave it to drain - don't smush the garlic cloves to get the extra oil off. Keep the cooked garlic as a treat for one of your non FODMAP garlic deprived loved ones.
To finish:
Preheat the oven to 170 degrees Celsius or 338 degrees Fahrenheit. Place the tomatoes in the baking dish. Stir to coat them in the garlic oil.

Add the remaining ingredients stir gently to cook. Bake for 1-2 hours or until beautifully soft and tender. Set aside to cool completely before blending. Take out any woody herbs such as rosemary before blending.

Once blended, adjust for seasoning. You might need to add a little salt since we haven't added any, but often the capers and olives are sufficient.

You can strain the sauce, but I don't mind the texture of a little tomato skin. You can also cook the sauce down a little to develop the flavour a little more.