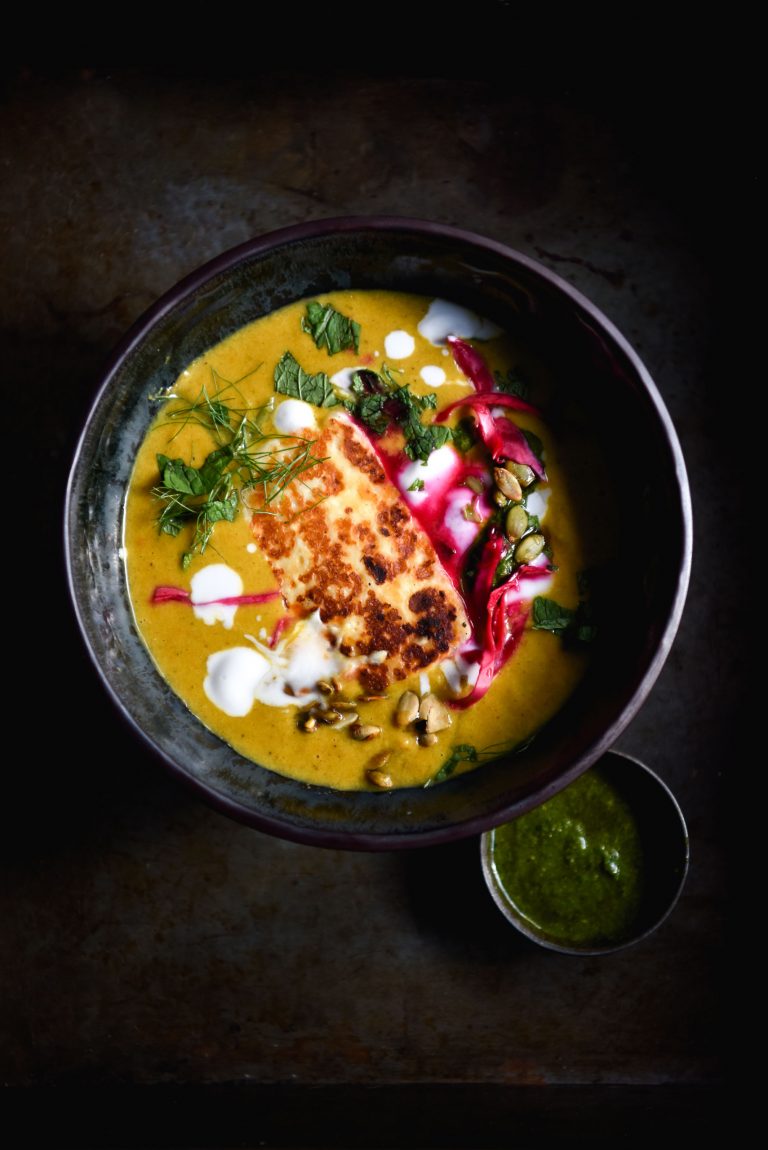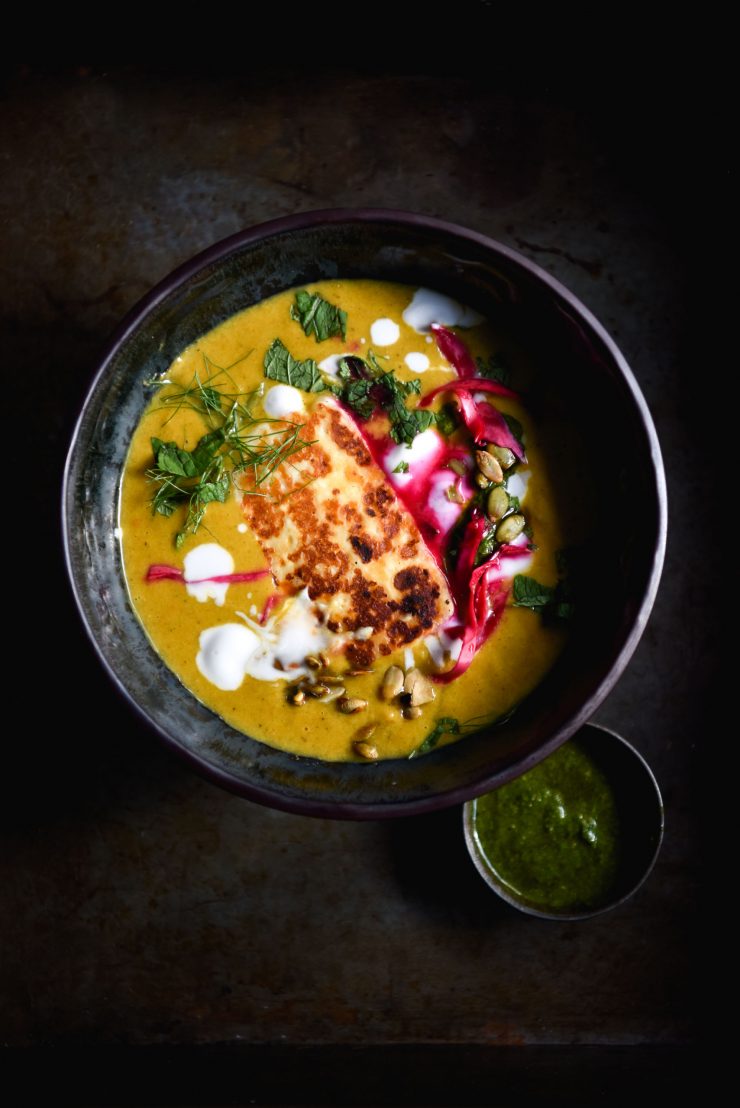 Winter feels like it's here in Melbourne, and I personally couldn't be happier. Not only is it the season of me wearing pyjama tops disguised under fancy coats, it is the season of soup. And why not kick of the season of soup with a Moroccan spiced pumpkin soup? Written, conveniently, whist in pyjamas?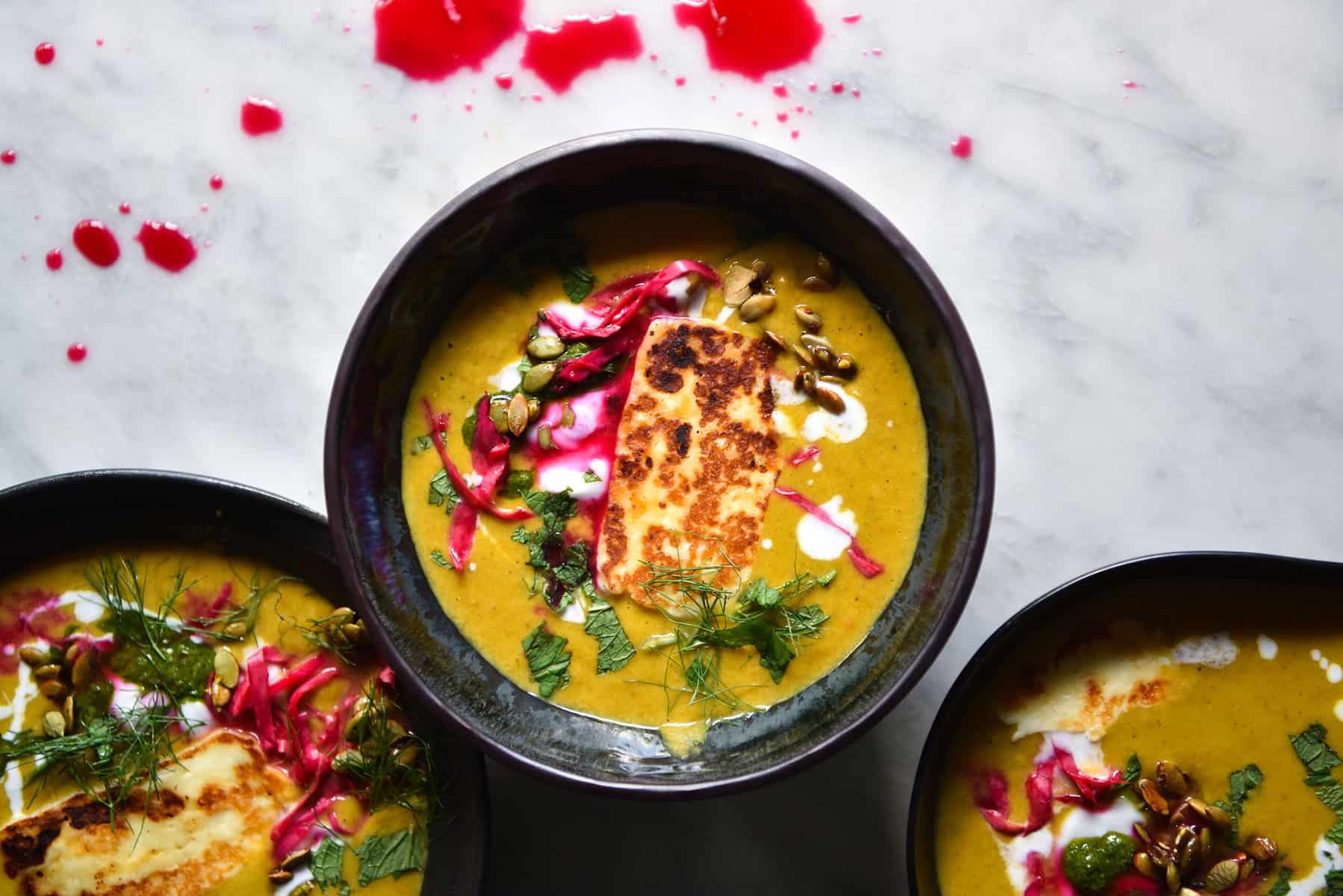 I have dabbled in the FODMAP friendly spiced soups before. Namely, with this Thai inspired carrot soup. However, testing Easter recipes as I have been, I wanted to get off carrots, and get right into pumpkin. 'Tis the season, after all.
This Moroccan spiced pumpkin soup is gluten free, FODMAP friendly and officially vegetarian. However, it is designed to be adapted to be either dairy free or vegan.
While I, on the grain free experiment that I am, have used halloumi dippers, you can absolutely use bread. You could also, for a grain free vegan option, use some pan fried Tamari tempeh, as I did in the Thai carrot soup number.
I should note, finally, that while the ingredients list looks overwhelming, it's a very easy soup. You don't have to include all the fun add ons for it to be delicious. You could just as easily have it as is.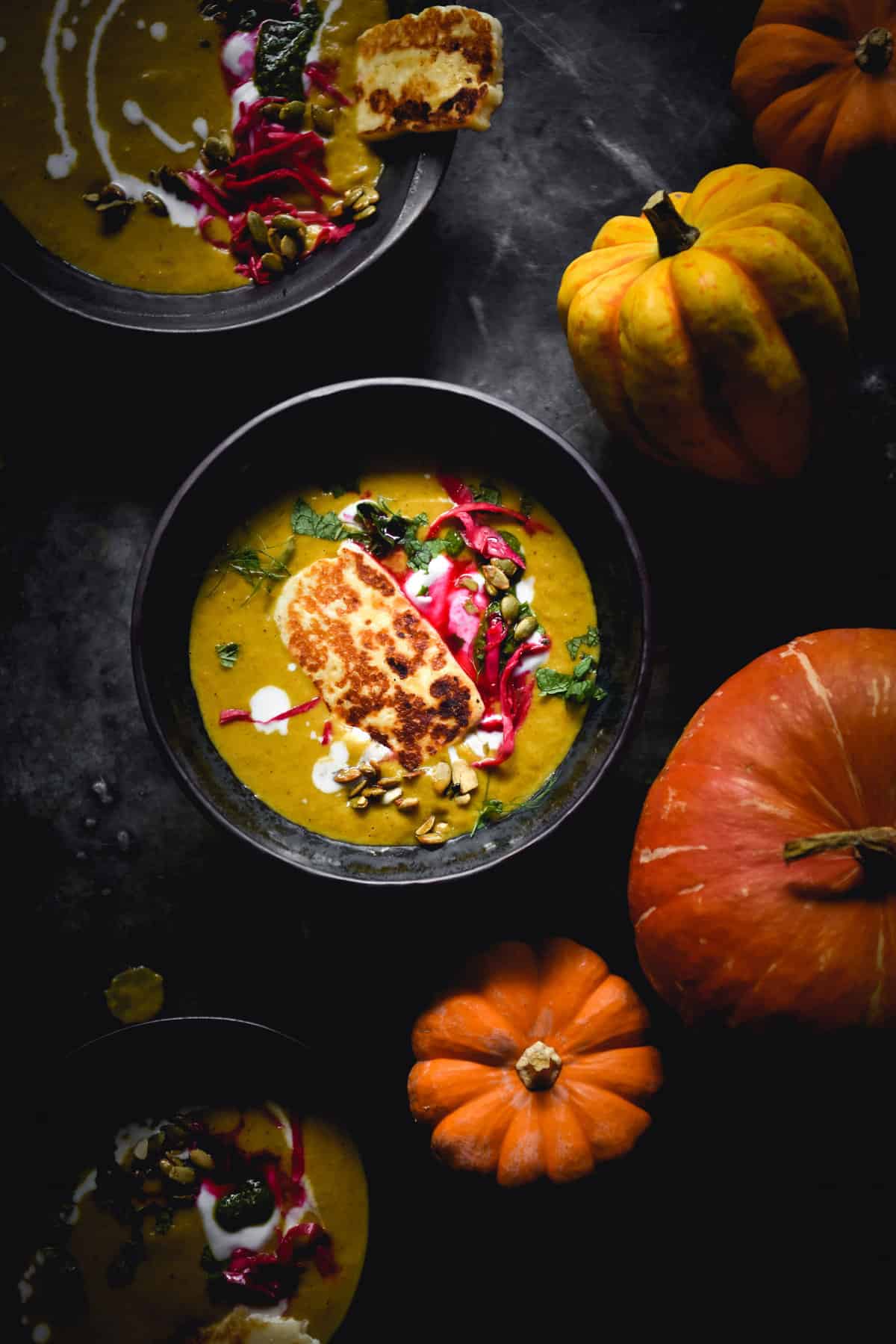 Moroccan spiced pumpkin soup FODMAP notes
To keep the soup as FODMAP friendly as possible, use Kent or Japanese Pumpkin, not butternut.
The honey, both in the soup and on the pepitas, is optional. It can be replaced with maple syrup or rice malt syrup.
To make the soup dairy free, omit the ghee and use oil. Ensure you use a dairy free milk.
For a vegan Moroccan spiced soup, omit the ghee and honey, replacing them with oil and maple syrup respectively.
The more preserved lemon the better, in my opinion. Don't skip it!
If you don't need the soup to FODMAP friendly, feel free to add onion and garlic. Top it with Greek yoghurt, while you're at it.
You could experiment with using a little asafoetida powder. I find the smell too triggering but maybe it works for you.
Fennel, along with carrot, form the aromatic base of the soup. This is in place of onion. Fennel shouldn't be an issue in this quantity.
In terms of milk, use whatever you want to. Lactose free full cream would be great. I used coconut.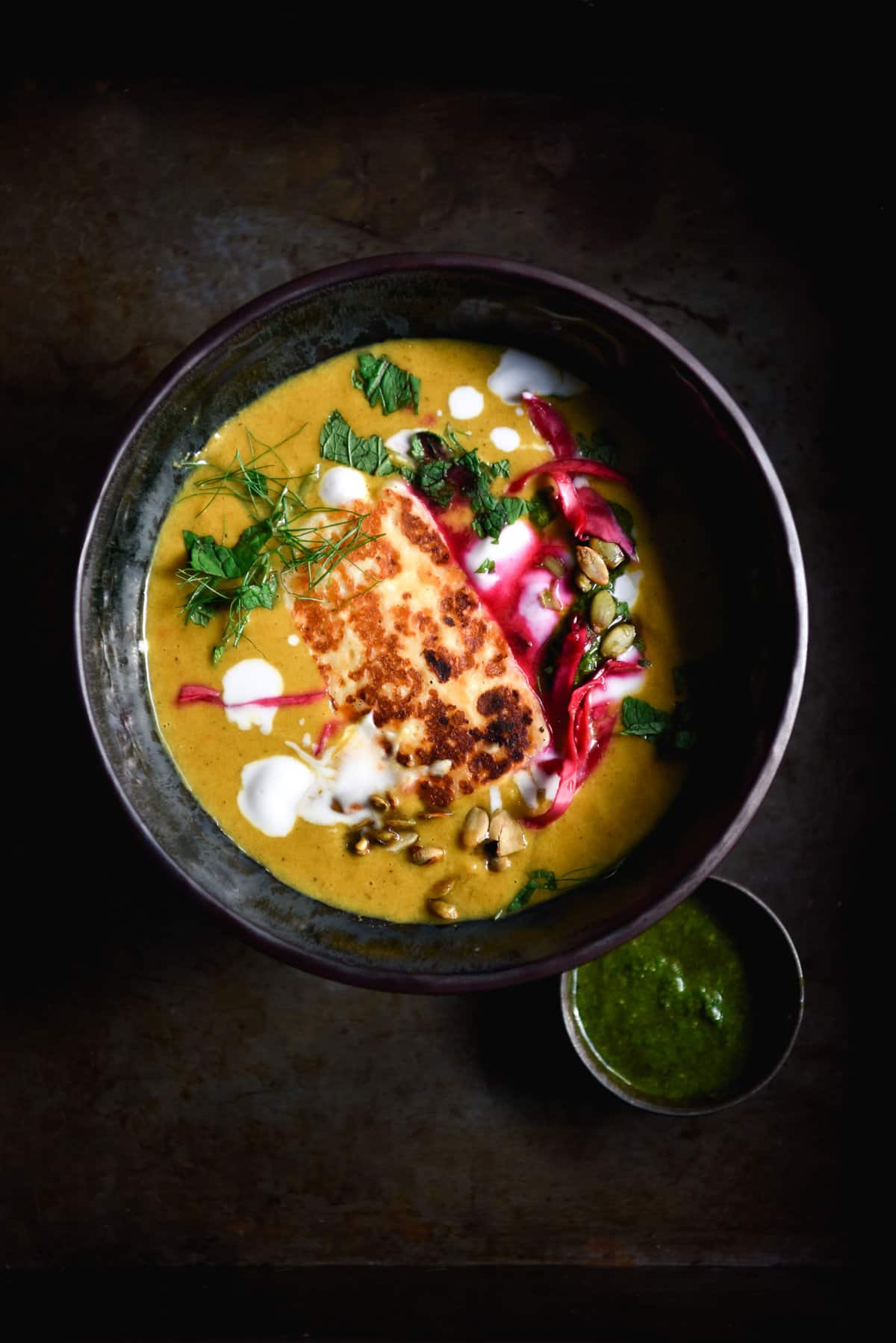 More pumpkin recipes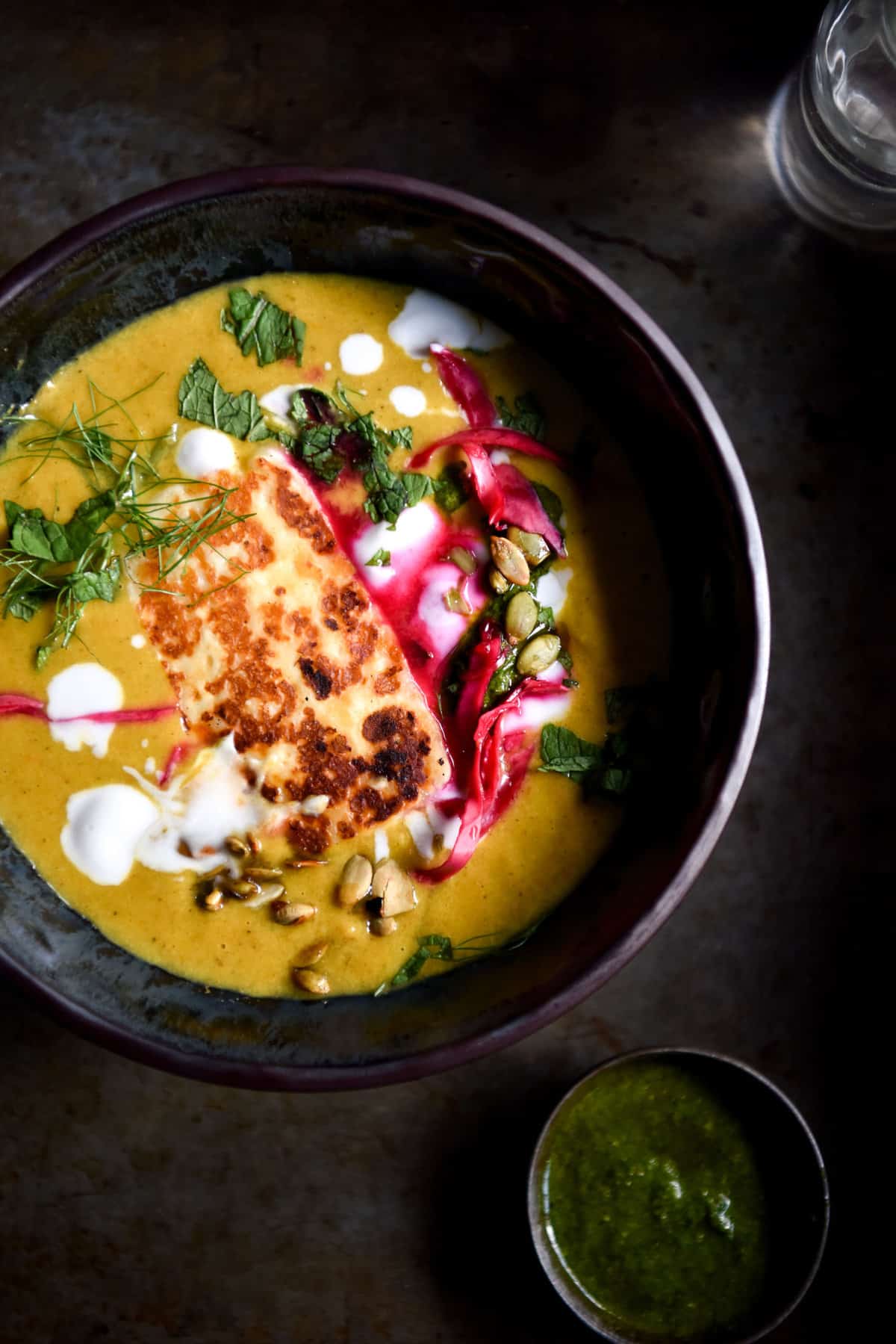 FODMAP friendly Moroccan spiced pumpkin soup
Gluten free, FODMAP friendly, vegetarian, dairy free option, vegan option
Serves 4-6
Ingredients
For the soup:
4

+ tablespoons ghee or oil

1

large fennel bulb

chopped

1

large carrot

chopped (about 200g)

2

teaspoons

ground nutmeg

2

teaspoons

cumin

2

teaspoons

ground coriander

1

teaspoon

ground cinnamon

1

teaspoon

allspice

Chilli flakes

to taste

1

kg

Kent Pumpkin

chopped

50

g

preserved lemon

brine or actual lemon

2

tablespoons

apple cider vinegar or lemon juice

2-3

teaspoons

freshly grated ginger

1 1/2

litres of FODMAP friendly vegetarian stock

milk

to thicken (optional, and you can use any milk – I used coconut)

1

tablespoon

honey or maple syrup

2

tablespoons

fresh lemon or lime juice
For the honey and sea salt pepitas:
1/4

cup

raw pepitas

1

teaspoon

honey

Chilli flakes

to taste

Sea salt flakes

to taste
For the preserved lemon mint sauce:
1

bunch of mint

1/4

piece

of preserved lemon

the whole thing, rind included

1/4

cup

vegetable oil

Juice of 1/2-1 lemon or lime
To finish:
Halloumi

cut into dippers and cooked (or flatbread if you can tolerate grains, or fried tempeh for a grain free vegan option)

Coconut yoghurt

to taste

Extra mint or coriander

Freshly cracked pepper

A sprinkle of hemp seeds for extra protein

Sauerkraut

inauthentic and optional

Fennel fronds

to decorate (optional)
Instructions
To make the soup:
Heat the ghee or oil in a large soup pot over a medium heat. Once warmed, add the chopped fennel and carrot. Cook until the vegetables are browned, softened and cooked through, about 10 minutes.

Add the spices and fresh ginger, and cook until fragrant. If at any time they begin to burn or stick, add a splash of ghee, oil or water. I generally like to add chilli at the end when I can taste it, but you do you.

Add the preserved lemon, apple cider vinegar and pumpkin pieces, and stir until coated. Put the lid on and allow to the flavours to meld a little.

Add the stock and pop the lid on. Cook on a medium heat for 20 minutes.

Once the time is up, check your pumpkin is cooked through. If it is, stir through the milk (if you're using it) and adjust the soup seasoning to your taste. The amount of salt necessary will depend on the stock you use.

Allow to cool slightly before using your immersion blender to blend the soup until completely smooth. If you're using a regular blender, ensure the soup is fully cooled before you attempt to do so. I won't have any blender explosions on my watch.
To make the pepitas
Preheat the oven to 180 degrees Celsius or 356 degrees Fahrenheit.

Mix the honey, chilli and pepitas in a small bowl. Alternatively, warm the honey slightly, and pour it over the pepitas on a lined baking tray. Season with sea salt, and place in the oven for 10 or so minutes, or until browned. Allow to cool before crunching up.
To make the preserved lemon mint sauce:
Blend all the ingredients together in a small blender like a Nutribullet. Season according to your taste and set aside, ready to go.
To finish:
Prepare the halloumi sticks or bread as per your regular method.

Divide the soup into 4-6 bowls, and top with the coconut yoghurt, preserved lemon mint sauce, toasted pepitas, and whatever else you're topping with. Serve with the halloumi or bread. Leftovers keep well in the fridge for a few days.