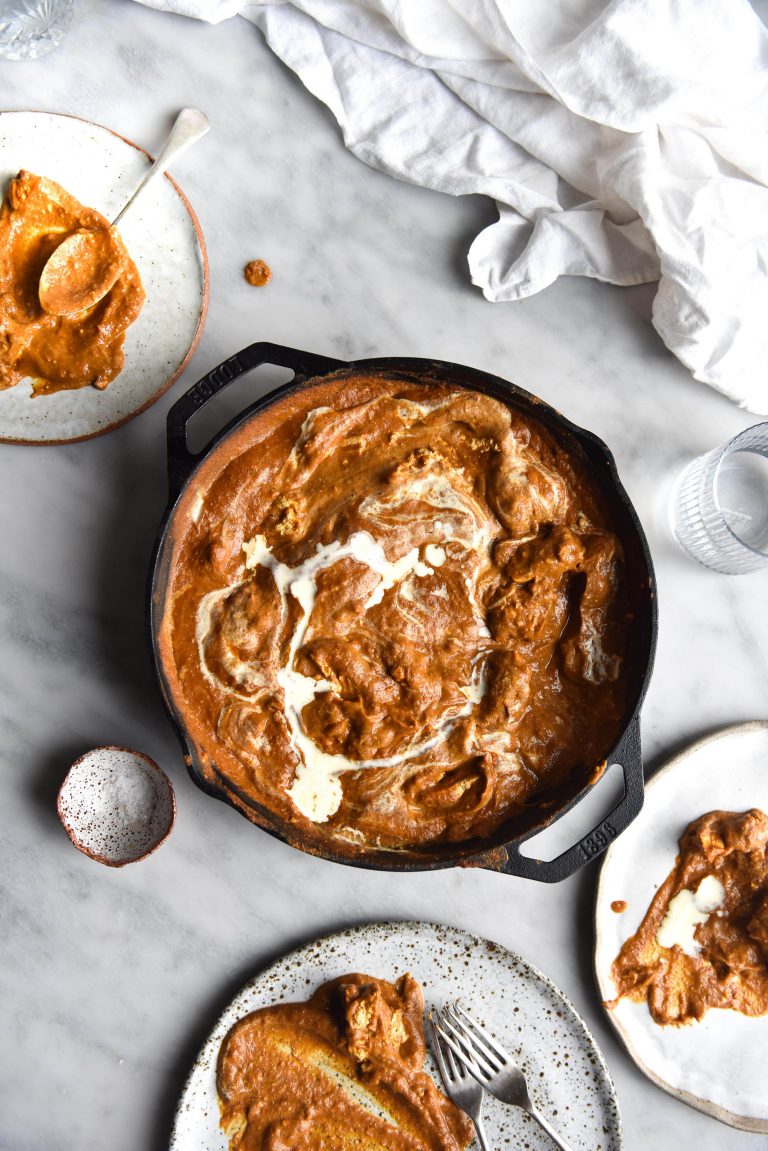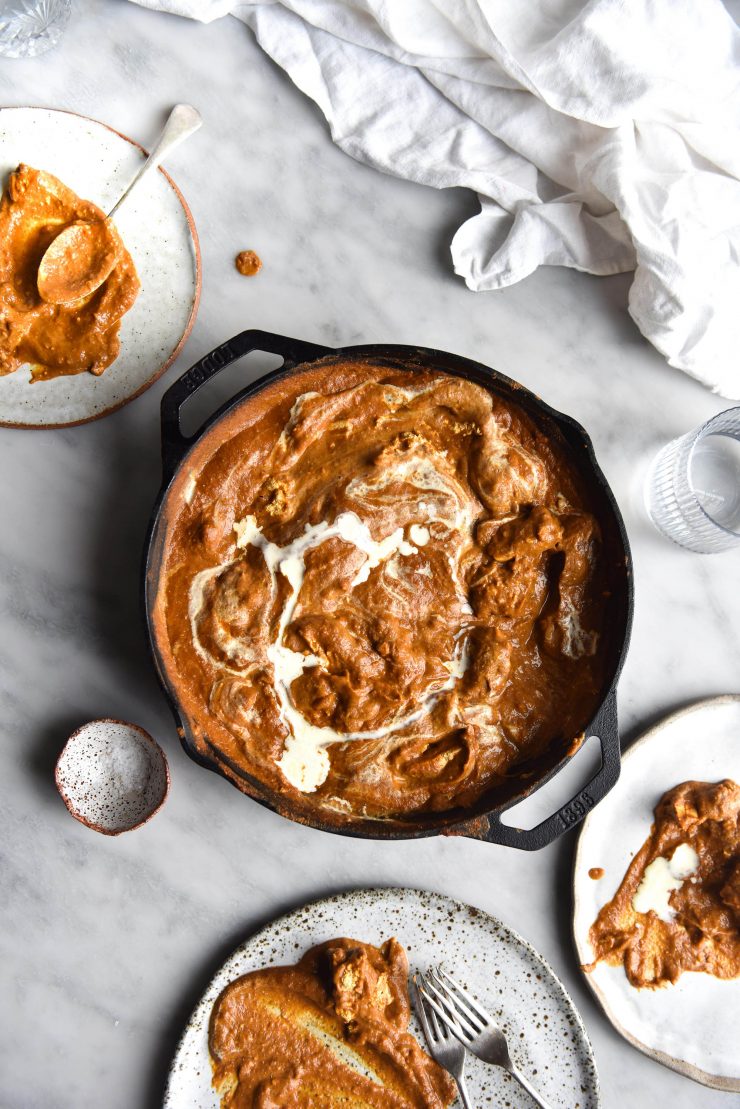 My personal affinity for curry began when I was studying at University. There was an Indian restaurant near our house that made the most amazing food, and their takeaway punctuated many ~important moments~ (mostly me getting dumped) in my young adult life. Shahi paneer was the order of the day for both my sister and I. I loved it so much that I developed a version for my cookbook.
I have shared a recipe for FODMAP friendly shahi paneer, But today, I wanted to share a recipe for a curry that you could make your own. So, allow me to introduce my FODMAP friendly vegetarian curry.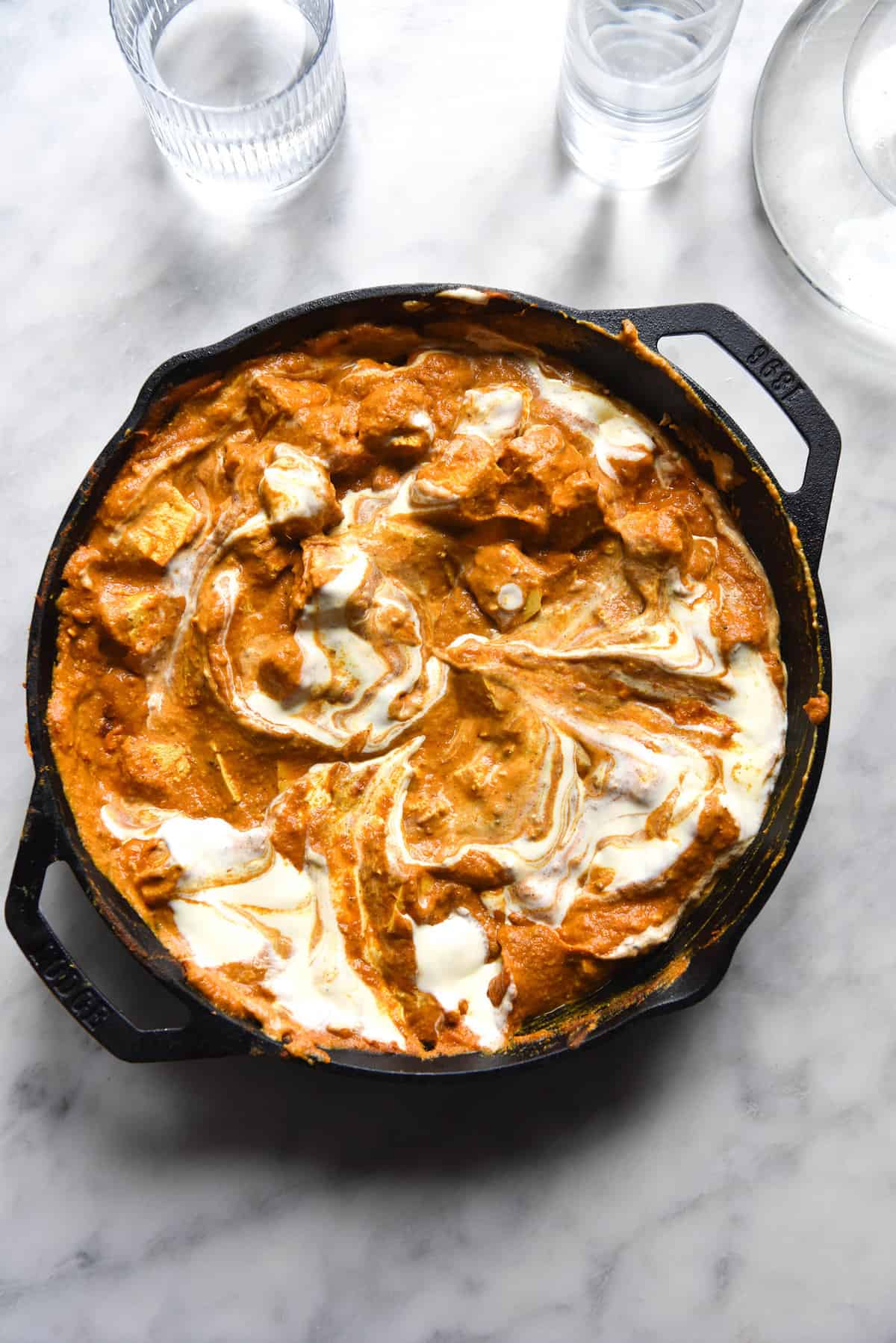 FODMAP friendly vegetarian curry
I know that curry is a vague term and I'm sorry. When I started developing the recipe for this curry, I intended for it to be a tofu tikka masala. After making it a couple of times, however, I decided that it needed cardamom. Bon Appetit uses cardamom in their tikka masala, other websites do not. I myself don't know what strictly constitutes a tikka masala (given that it is British Indian origin) and I don't want to bastardise a cuisine. So! FODMAP friendly vegetarian curry that is 99% tikka masala and 1% rogue.
This FODMAP friendly vegetarian curry is gluten free, nut free and adaptable to be vegan. It comprises of a sauce base – a whole host of vegetables, cooked together with spices. The curry base is just about the easiest way I can think of to jam a whole bunch of vegetables into a dish. It tastes decadent, authentic, and not at all like that 7 a day.
The curry is made without any onion or garlic. It uses a combination of spices and aromats to achieve a beautiful gravy without these ingredients.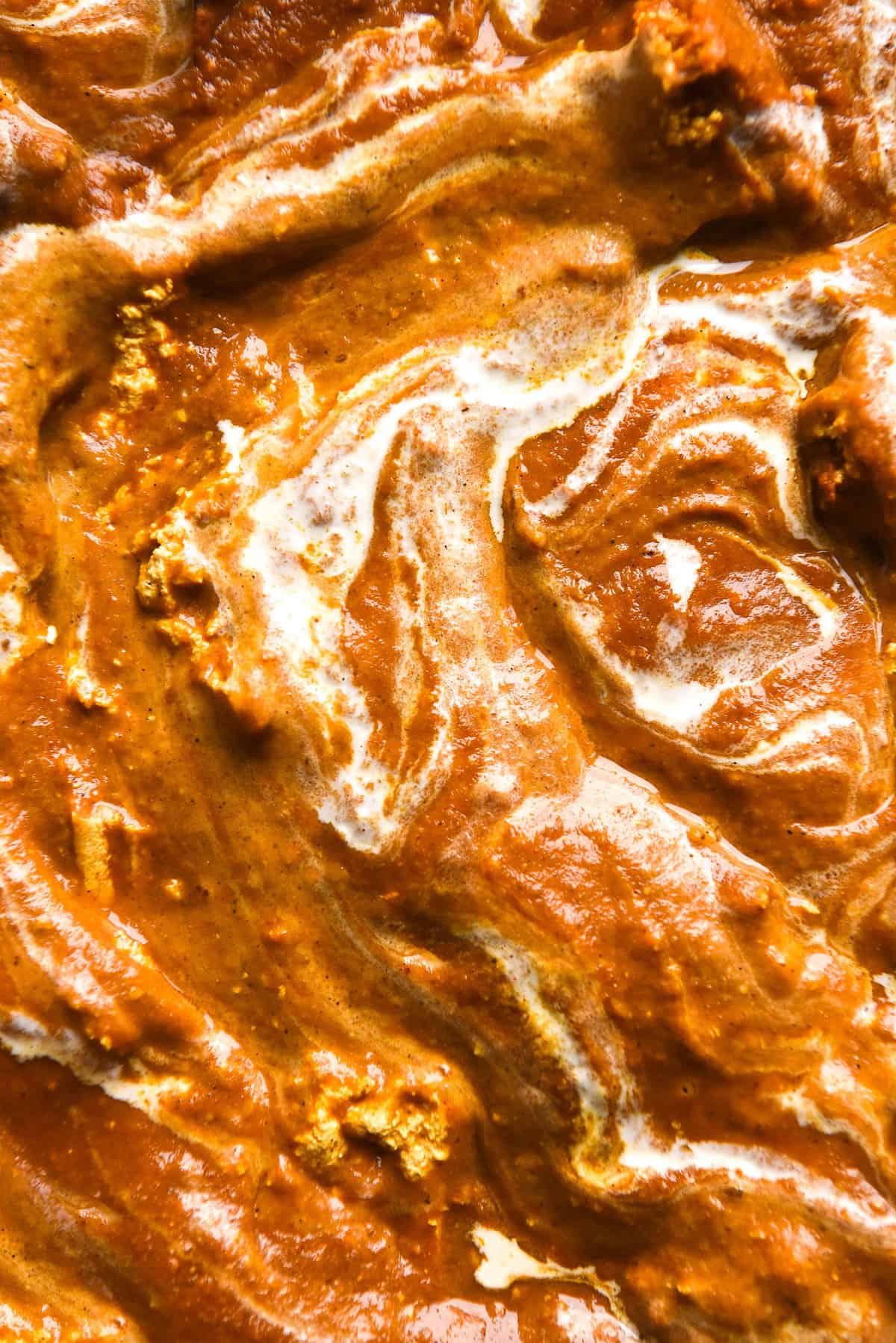 FODMAP friendly vegetarian curry notes
To make this FODMAP friendly vegetarian curry vegan, simply use a plain flavoured oil in place of ghee, and either coconut milk or another plant based milk in place of the cream. If you want it to taste as authentic as possible, I recommend using soy milk or a plain flavoured milk as opposed to coconut. Coconut is delicious, but it will add a unique taste.
You can replace the tofu with whatever protein you see fit. However, I'm no expert on cooking other proteins, so you'll have to figure out the timing for yourself.
You could also omit a protein entirely and load up on vegetables. The choice is yours!
I developed this recipe in 2020 times, and I found it quite difficult to acquire fenugreek. If you're in the same boat, just omit it. The truly necessary spices are garam masala, cumin and turmeric. If worst comes to worst, coriander powder and paprika can be omitted. Paprika is mostly for the classic red colour, anyway.
The amchoor (mango powder) is an optional bonus, if you have it. I have read that citric acid is a more common replacement, but honestly you can just add some extra lemon juice.
Kashmiri chilli powder is a mild chilli powder – similar in heat to Aleppo pepper but less smokey. I like it because A) it gives off a lovely red colour and B) it's the perfect level of heat for a spice wimp like me.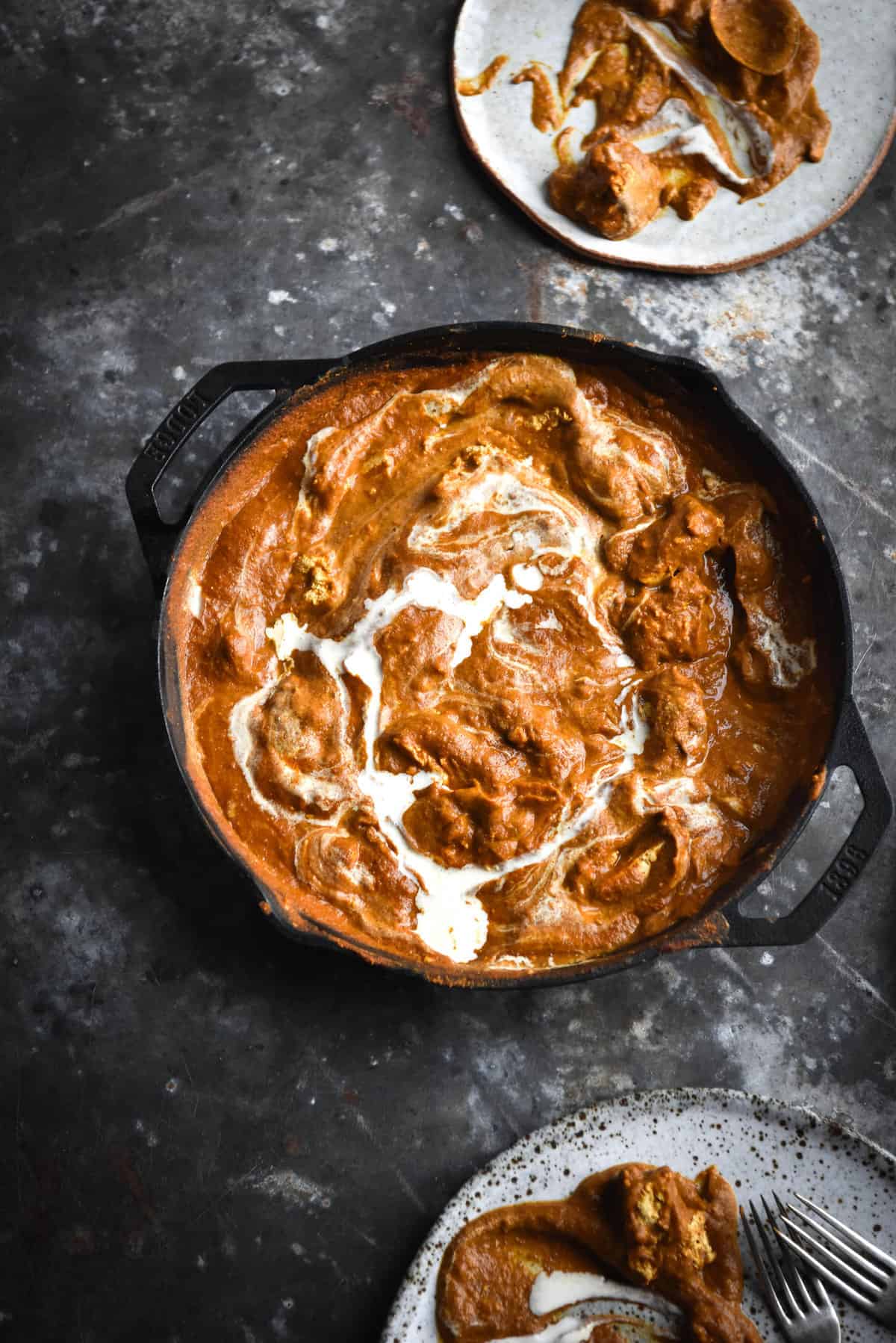 FODMAP notes for your low FODMAP curry
Although this curry doesn't use onion or garlic, there are a few ingredients worth discussing in this recipe.
Fennel is low FODMAP in 48g or 1/2 cup serves. I used it in this recipe originally as a replacement for onion. It has an onion like texture and a sweet, mild flavour. However, these days I like to use a bunch of spring onion greens instead. It's lower FODMAP and gives more flavour.
A year or two ago, Monash lowered the FODMAP threshold for red capsicums (red peppers) to 1/3 cup or 43g per serve. This curry uses 1 small red capsicum and serves 6-8 so is within acceptable fructose thresholds.
Green capsicums/peppers are lower FODMAP than red ones. A moderate serve is 250g, so one green capsicum is well within FODMAP limits.
Common cabbage is low FODMAP in 75g or 3/4 cup servings. This curry uses 250g.
Finally, tomatoes. Common tomatoes are low FODMAP in 1/2 tomato or 65g servings. This recipe uses 2 tomatoes. If you are very sensitive to fructose, you could consider replacing the tomatoes with my low FODMAP Nomato sauce.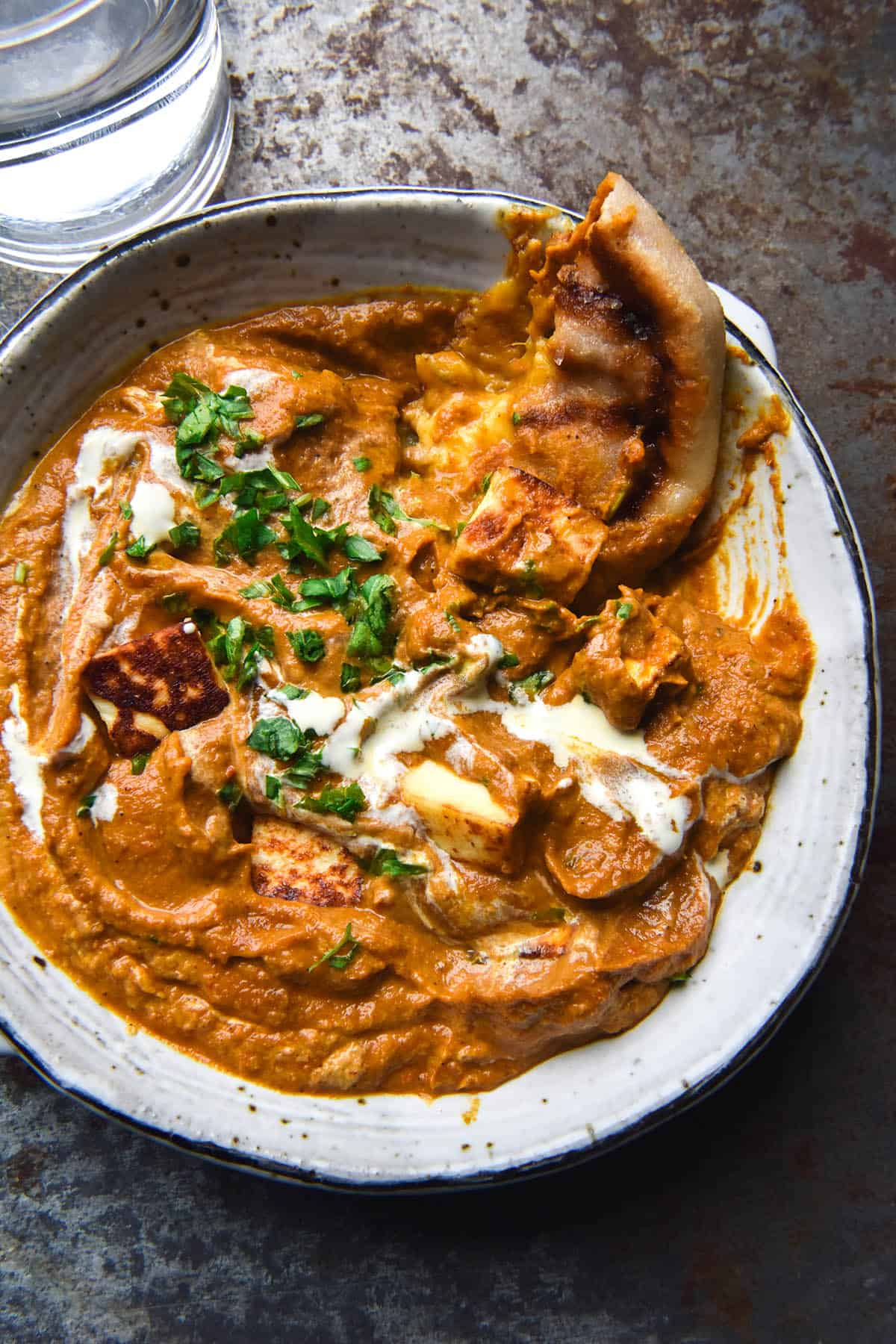 Adding flavour without onion or garlic
I have written a whole article on this topic which you can find here. However, I wanted to briefly discuss this in relation to our low FODMAP curry.
Firstly, you can use my garlic infused ghee recipe for the base of this curry. This adds flavour early on in the piece.
Secondly, use spring onion greens in the curry base to amp up the onion flavour. You can also use leek greens for this purpose, although I recommend washing and cooking them thoroughly.
As the recipe card discusses, asafoetida is a great flavour enhancer for low FODMAP dishes. It is a powder made from wild fennel that has an onion and garlic like flavour.
Adding loads of ginger is another excellent way to add flavour. The spiciness cooks out, but a base note of flavour remains.
Finally, a new ingredient recently added to Monash's repertoire. Pickled garlic is deemed to be low FODMAP by Monash in 1 clove or 3g serves. The moderate limit is 30g or 10 cloves, which suggests there is some wiggle room. Try it and see what works for you.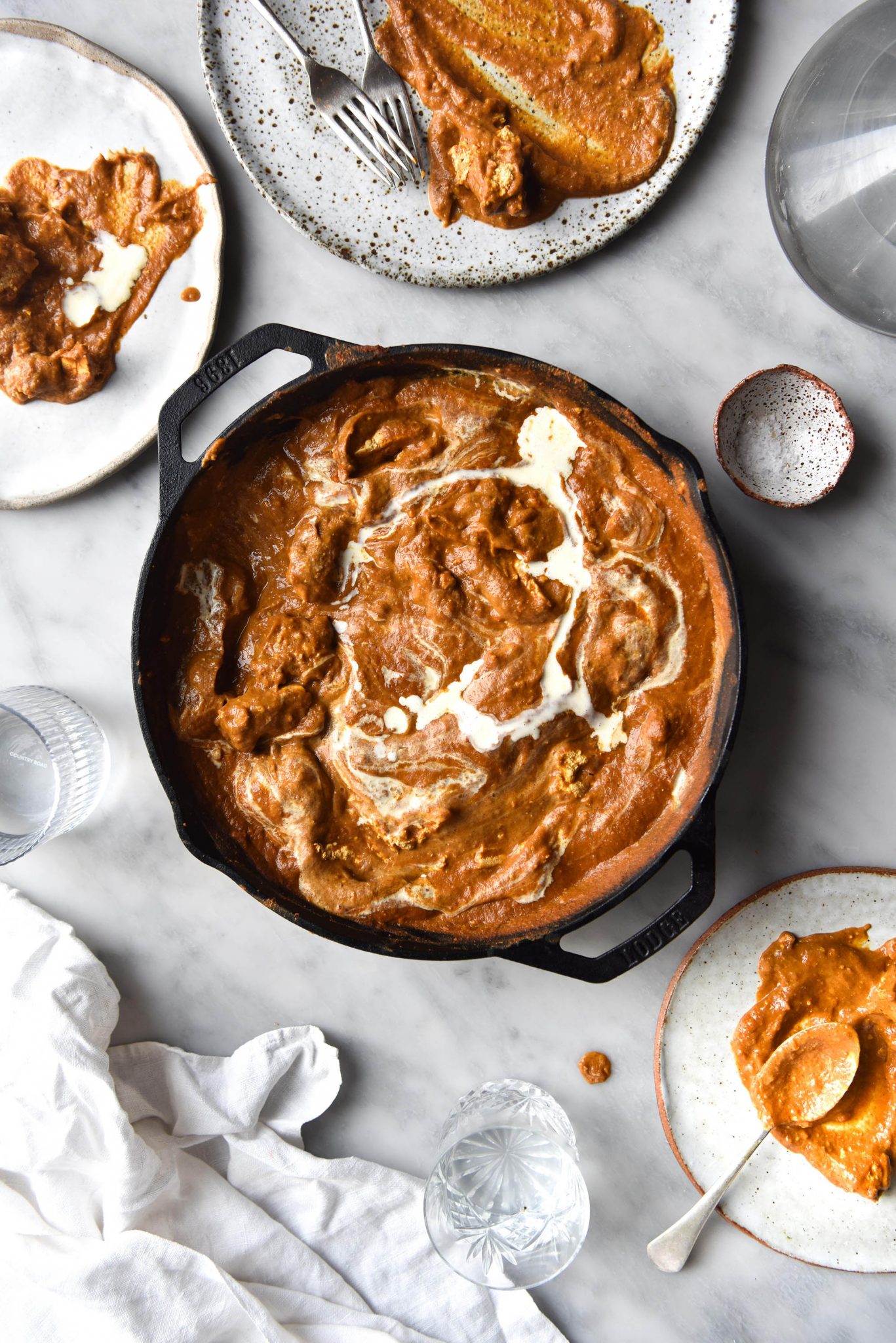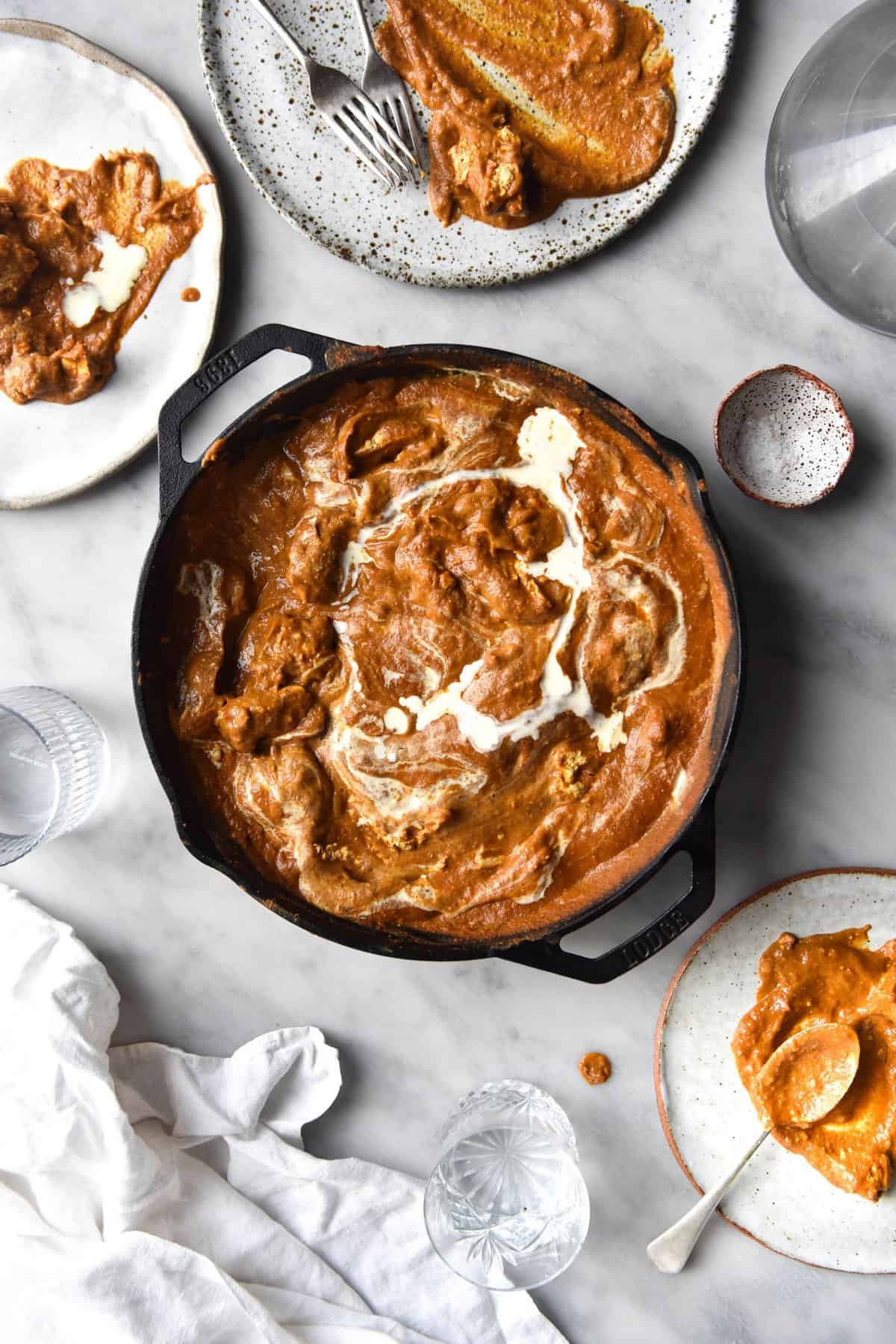 Is rice gluten free?
This might be obvious to those seasoned in dodging gluten, but it is a common question. Yes, rice is naturally gluten free. This includes any variety of rice (brown, black, Jasmine, Arborio) and rice flour. These are all safe to eat on a gluten free diet, and go really well with this curry.
Other recipes on my site that champion rice and rice flour include:
More FODMAP friendly vegetarian Indian recipes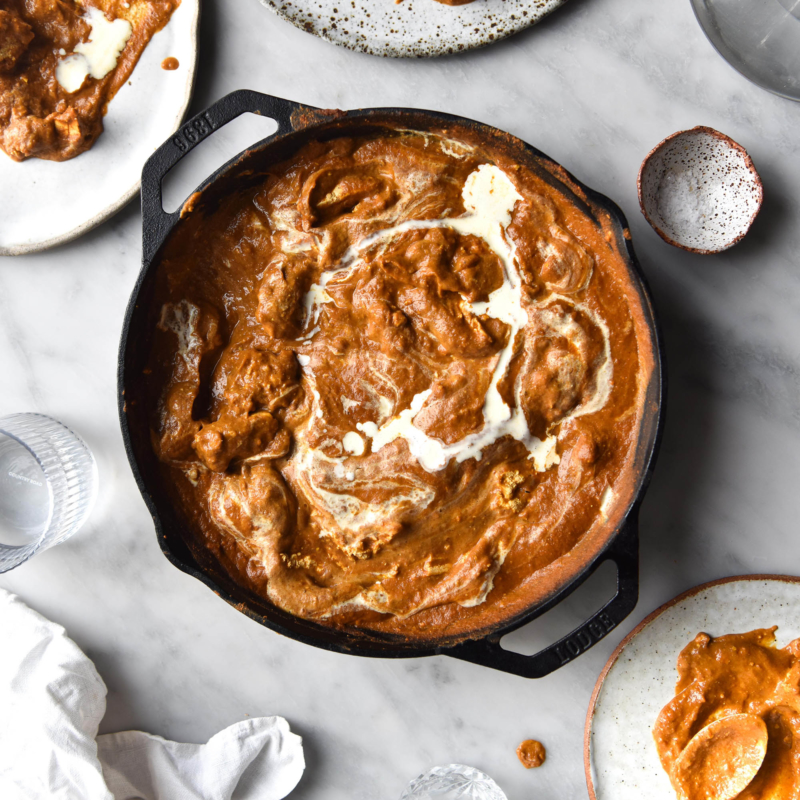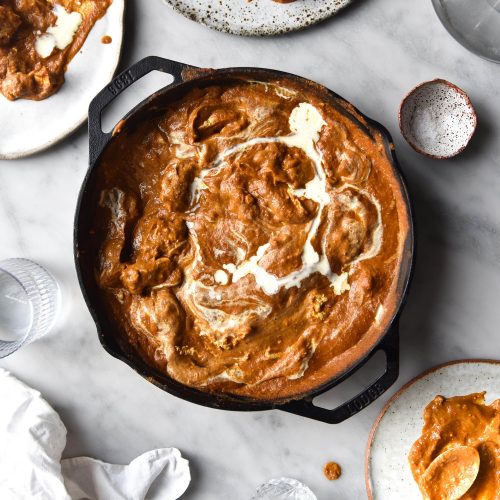 FODMAP friendly vegetarian curry
Gluten free, low FODMAP, vegan option
Serves 6-8 people
Ingredients
For the curry sauce base
3

tablespoons

ghee or oil

1

fennel bulb or 1 bunch spring onion greens

finely chopped

1

large (or 2 small) carrots

reasonably finely chopped

40-50

g

ginger

chopped

1

small red capsicum

chopped

1

small green capsicum

chopped

250

g

common cabbage

chopped

2

large tomatoes

chopped

2

teaspoons

ground garam masala

1

teaspoon

ground cumin

1

teaspoon

ground coriander

1

teaspoon

sweet paprika

1/4-1/2

teaspoon

Asfoetida

(hing) powder, optional (see notes)

Water

to cover (anywhere from 3 cups to 1 litre works, it will just determine the thickness of the sauce)
For the curry paste
8

cardamom pods or 1/2 – 1 teaspoon cardamom powder

1

tablespoon

sweet paprika

1

tablespoon

cumin

2

tablespoons

garam masala

1

tablespoon

fenugreek seeds

1

tablespoon

coriander powder

1

teaspoon

turmeric powder

1

teaspoon

Kashmiri chilli

(see notes)

1-2

teaspoons

amchoor

optional (see notes)

2

tablespoons

tomato paste

Juice of 1 lemon
To finish
1 x 500

g

packet of tofu

drained

Whatever low FODMAP vegetables you fancy

125-250

g

lactose free full cream (you could also use yoghurt

milk or a plant based substitute, see notes

Seasoning

to taste
Instructions
TO MAKE THE CURRY SAUCE BASE:
Place the ghee in a very large cast iron skillet, pan or wok over a low-medium heat. Add the fennel and carrot, and cook for 15-20 minutes, stirring intermittently, until soft and caramelised in colour. I like to add some salt here to encourage the vegetables to release their own liquids – this will mean adding less water. Add the ginger, capsicums and cabbage and cook until soft – an additional 10 or so minutes. Do add water whenever the vegetables are sticking and you sense they need it.

Add the tomatoes and spices and stir to combine. Top with the water, stir and place a lid on. Allow to cook for 15-20 minutes.

Once the vegetables are completely soft and the mixture is fragrant, set aside to cool. Once sufficiently cool, place the mixture in a high speed food processor and blend until you have a smooth curry gravy.
TO MAKE THE CURRY PASTE:
Combine all the spices (except for the cardamom seeds) for the curry paste in a bowl or a small blender. If you're using cardamom powder, you can add it in with the other spices. We're cooking the cardamom seeds first because they can get lost in the curry paste otherwise. By cooking them in the ghee first, they have more of a chance to become fragrant and flavour the curry.

In a food processor or a mortar and pestle, add the spices and all remaining ingredients for the curry paste. If you're using a blender and are having trouble getting it to blend, add a cup or so of the curry base mixture. Blend until smooth.
TO FINISH THE CURRY:
Wash and reheat the large skillet or wok and return it to the heat. If you like, you can dry fry your tofu over a high heat to develop some texture in the form of crispy edges. If you're going down this path, fry the tofu in batches and then place on a plate.

Add the ghee to the skillet and place over a medium heat. If you're using cardamom seeds, add them to the skillet and cook for a minute or two until fragrant. Add the curry paste and fry off for a minute or two until fragrant. Add some curry base to keep it from sticking, if necessary.

Once the mixture is fragrant, add all the curry base and stir thoroughly to combine. Add the vegetables you fancy in order of how long they will take to cook. Add the tofu last and gently stir to combine.

Finally, add the cream or milk as you see fit. You might not want to add any, you might add more than the recipe suggests. It's up to you.

Allow the curry to cook for 5 or so minutes before adjusting for seasoning, spice level and lemon juice. Continue cooking until all the vegetables are cooked through. You can serve with a swirl of cream on top if you're feeling fancy.