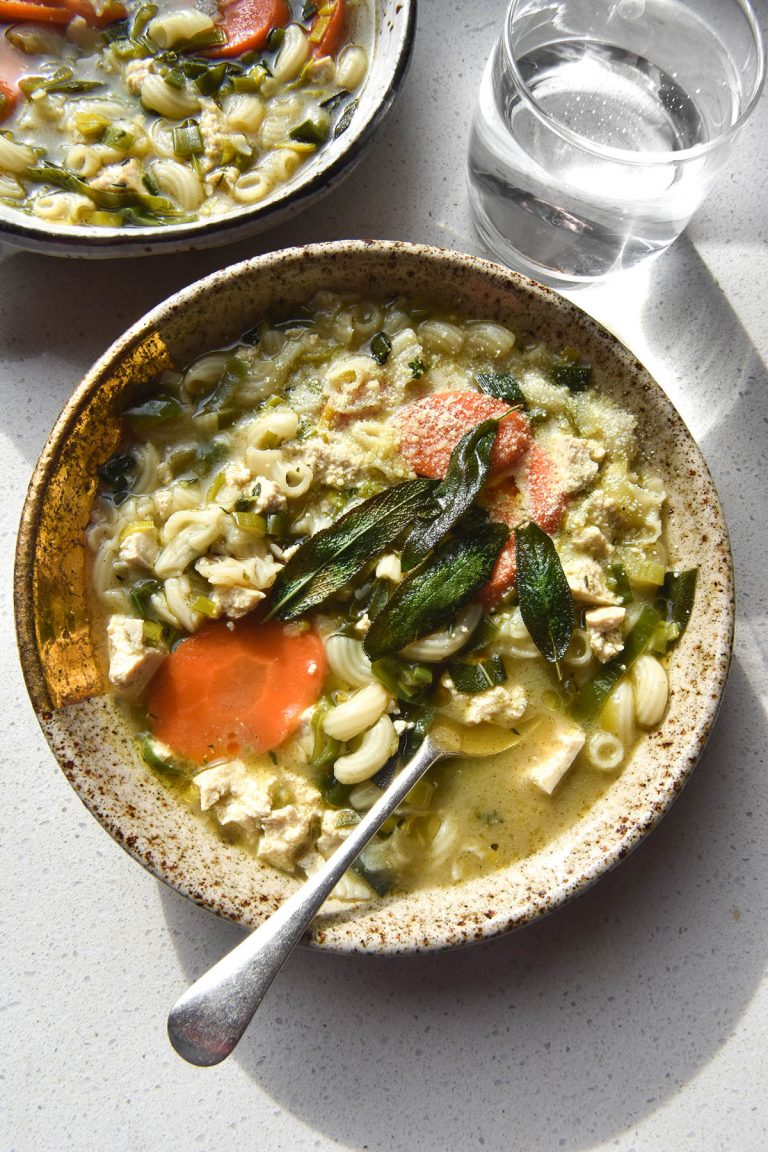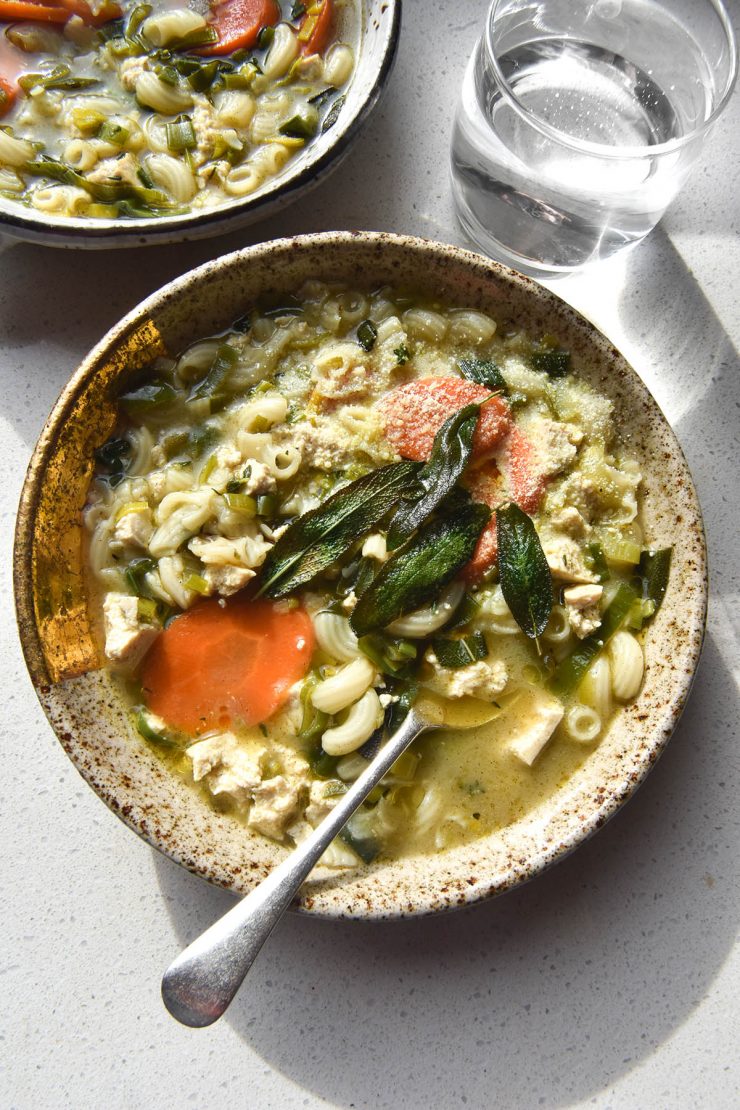 Vegan chicken noodle soup has been something that I've always wanted to make. It's a comfort food for a lot of people, so I wanted to open it up to niche dietaries. I've tested this a few times before settling on this version. Although I haven't actually had chicken noodle soup, this is what I imagine it tastes like.
Vegan chicken noodle soup without onion and garlic
This vegan chicken noodle soup is FODMAP friendly, gluten free and vegan. It uses vegan, FODMAP friendly chicken stock combined with fresh and dried herbs to create a meaty flavour.
Spring onion greens and leeks provide a FODMAP friendly, onion like depth of flavour, without the need for onion or garlic.
Firm torn tofu provides the protein and meaty chunks. This is a super quick and easy way to include gluten free and vegan protein to the soup.
Finally, gluten free pasta or noodles are used to keep this dish gluten free. Of course, regular noodles can be used instead if your household has no issues with gluten.
All in all, it's a filling, well rounded soup that comes together in no time. A delicious weeknight meal for everyone.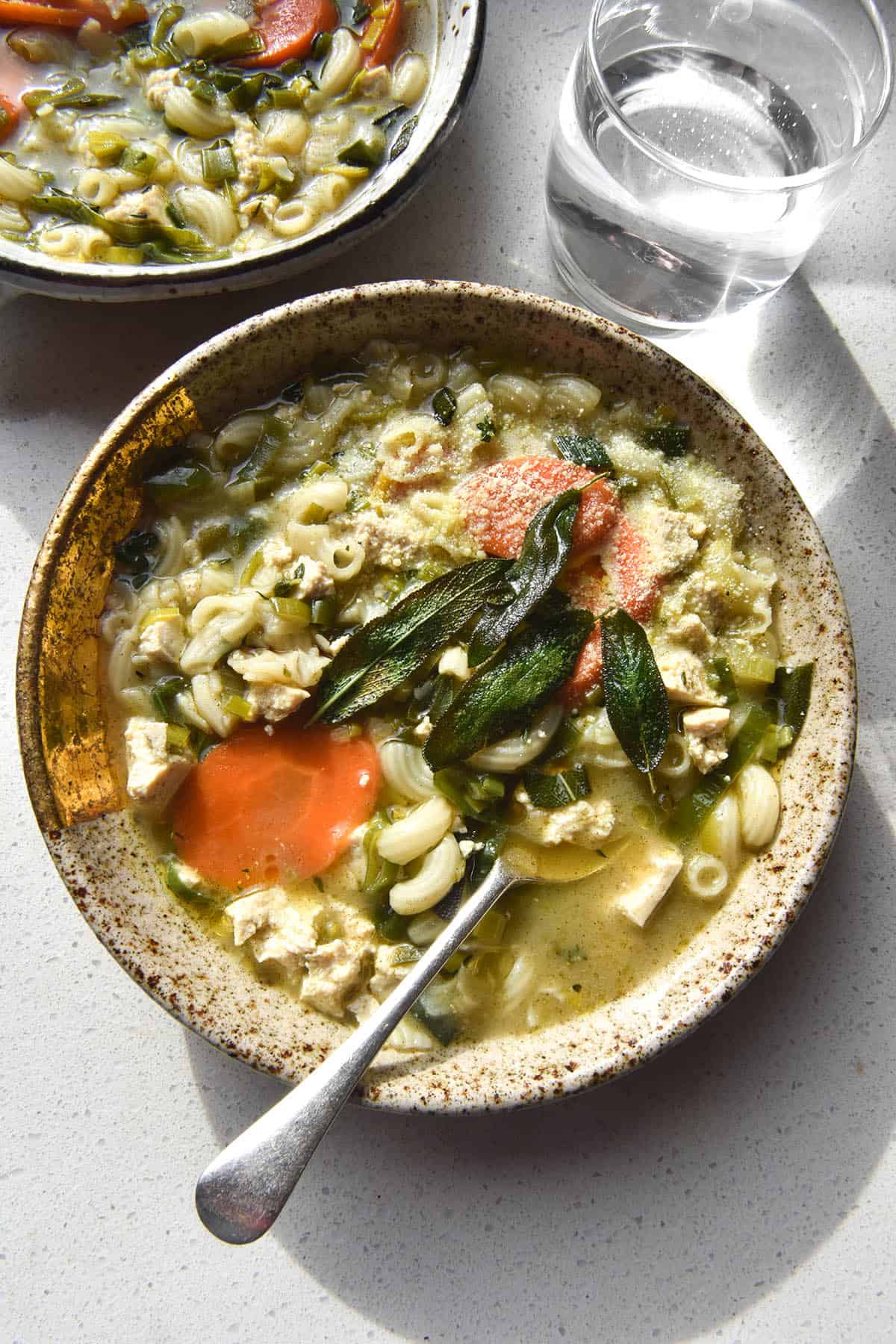 Vegan chicken noodle soup notes
Noodle means pasta in other countries. Just an FYI to my fellow Australians.
Any sort of pasta works well here. I quite like macaroni for some reason, but use whatever you prefer. I like Green Olive Organics for spaghetti and Casalare for macaroni. If you don't need this to be gluten free, you can use regular pasta.
Dried and fresh sage and thyme help create a meaty flavour in this soup. I don't recommend omitting them or it will be a very basic broth.
Vegan, FODMAP friendly chicken stock is very helpful in adding extra flavour. I use Massell vegan chicken flavoured stock which is FODMAP friendly.
Nutritional yeast works like a charm in adding salty umami without adding too much salt. It's tempting to use lots of vegan chicken stock to get a chicken flavour, but (speaking from experience) it's easy to overdo it.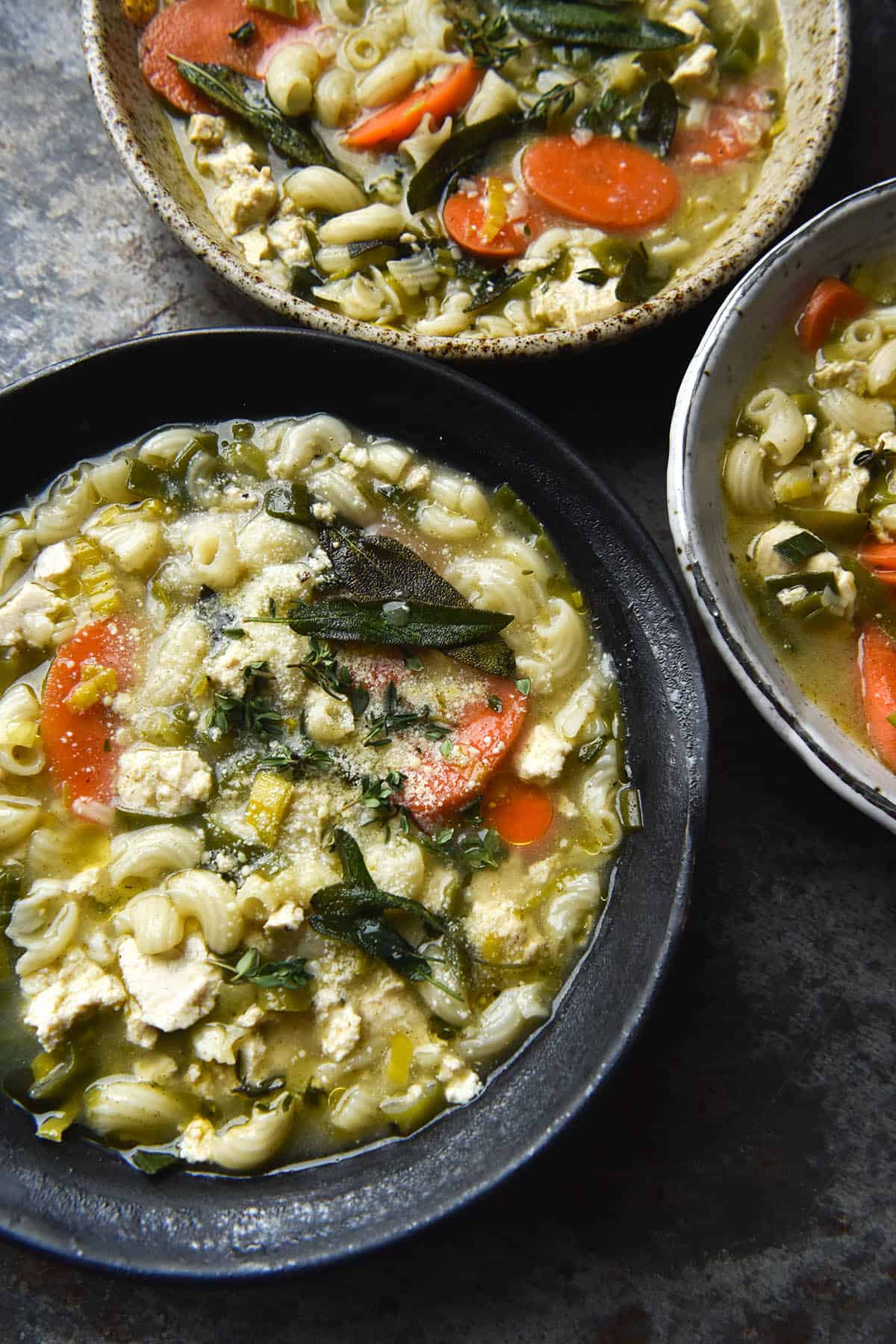 Tips for your vegan chicken noodle soup
This is a very easy recipe, but I do have a few quick tips. Firstly, I highly recommend adding flavourings and seasoning gradually and to your tastes. Stock powders vary in their salinity, so it's important to add the amount of salt that works for you. Enough to pack in the flavour, but not so much that you're thirsty after dinner.
My second tip is to slightly undercook the pasta. It will be sitting in hot broth until you eat it, which gives it plenty of time to finish cooking. Overcooked pasta (and gluten free pasta in particular) will turn to mush in your vegan chicken noodle soup.
My third and final tip, following on from tip two, is to be aware that the broth will thicken as the soup cools. The starches in the pasta are the culprit for this thickening. If you are reheating yesterday's vegan chicken noodle soup and find that the soup is more like a thick sauce, thin it out with some water.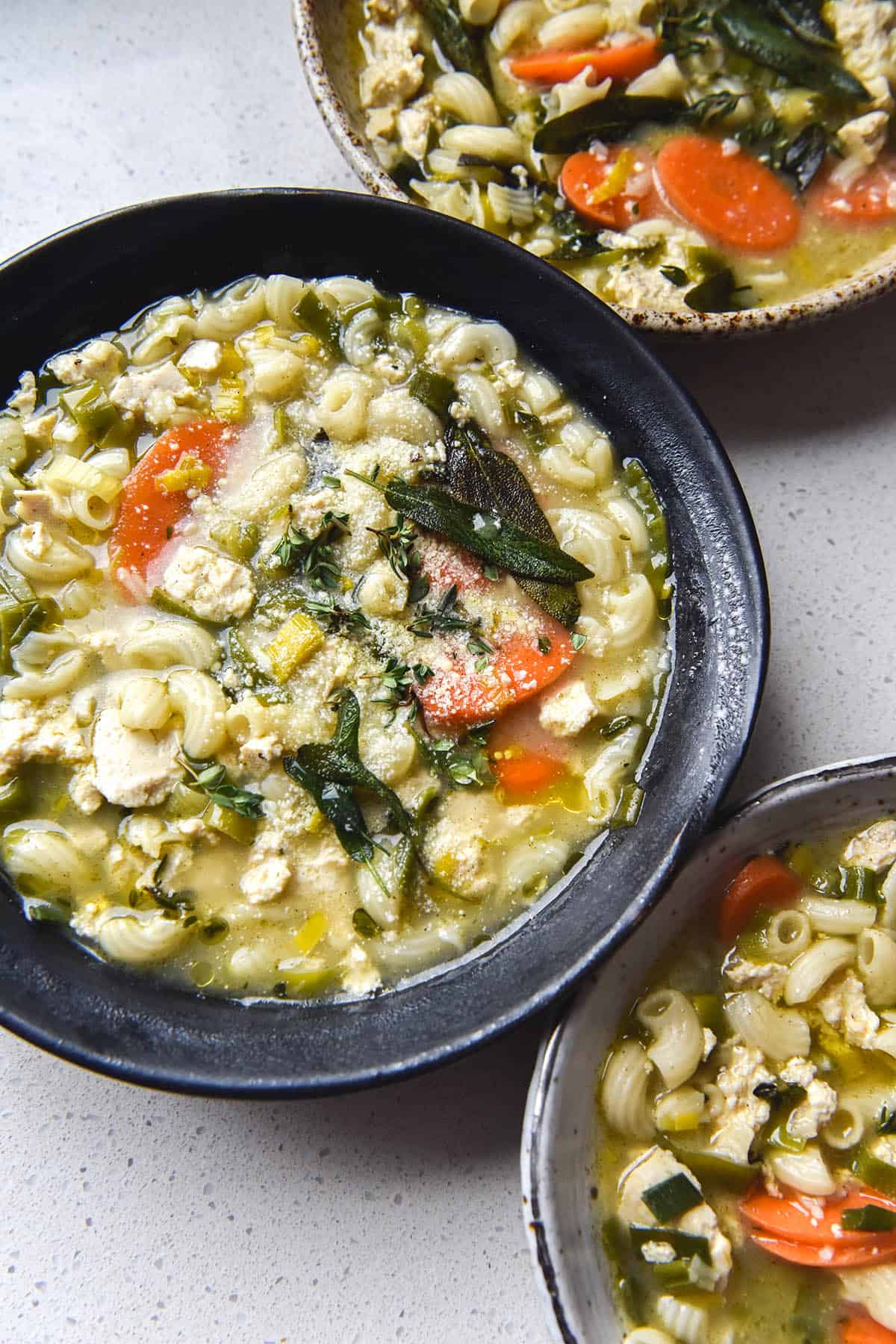 Optional toppings
I really like finishing this soup with a drizzle of truffle oil. It adds a meaty funk that I think really rounds out the soup.
If you don't need the soup to be vegan, some vegetarian parmesan (or Gran Kinara) or extra nutritional yeast adds a nice cheesy finish. If you're in Australia, I have a list of vegetarian cheese brands, including parmesan, here.
If you don't need to be vegan again, some garlic infused ghee drizzled over the top adds a delightful garlic hit. I also have a recipe for garlic infused olive oil, which is perfect for drizzling. I find the garlic flavour dissipates when you use infused oil to cook, but not when you drizzle it fresh (as in my FODMAP friendly aglio e olio recipe).
In addition to toppings, you could also add some extra greenery into the soup. Some wilted spinach, flat leaf kale or parsley would all work nicely here.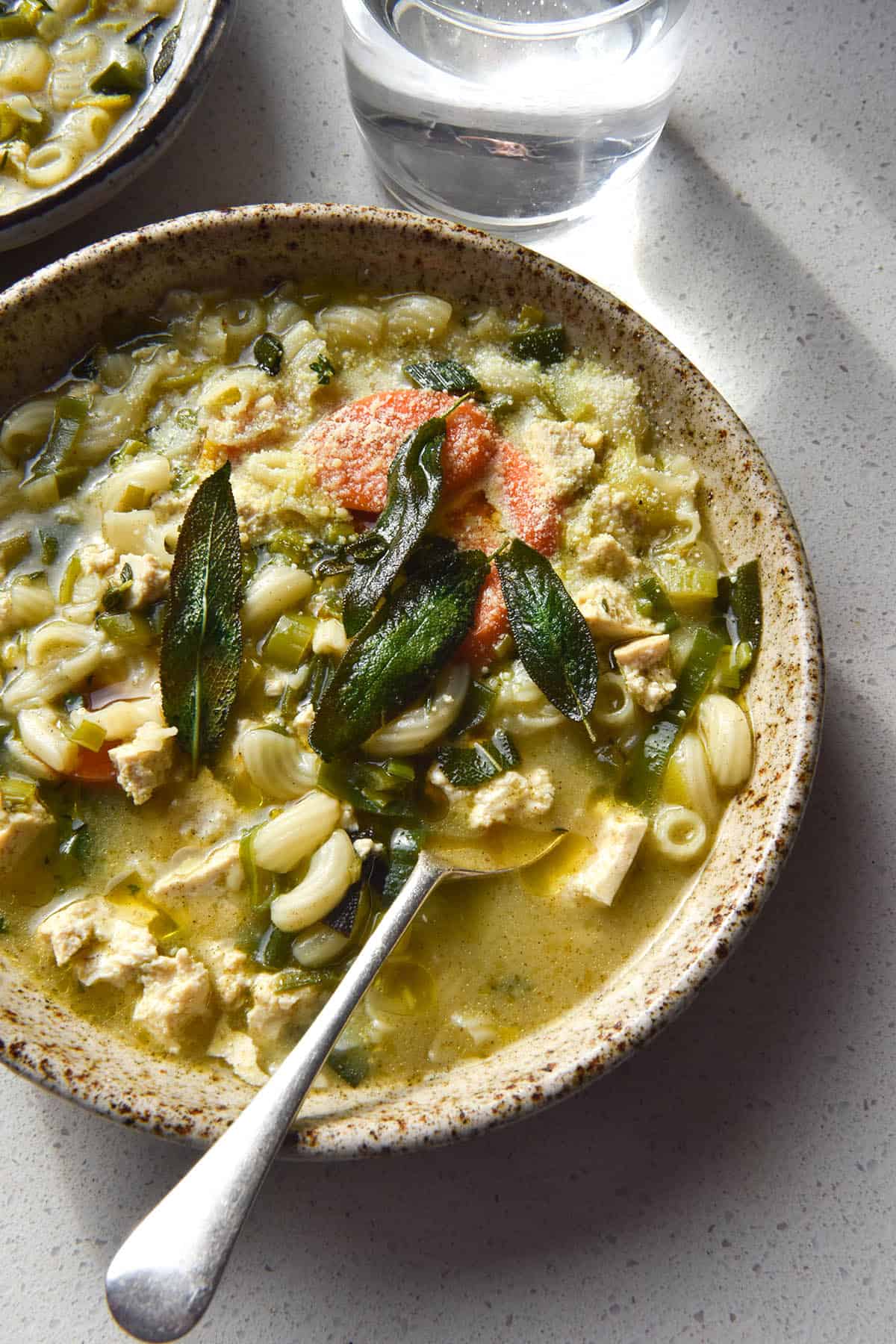 Other vegan alternatives to traditionally meaty dishes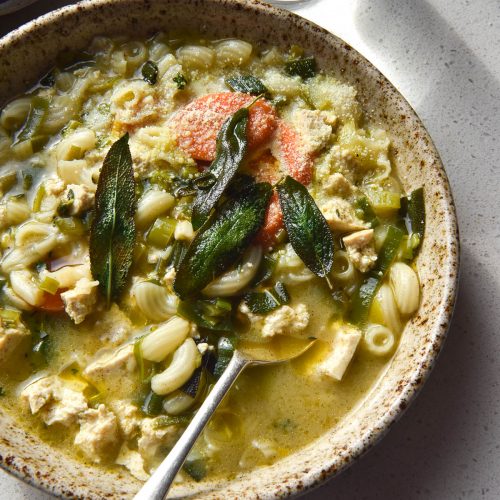 FODMAP friendly vegan 'chicken' noodle soup
Ingredients
3-4

tablespoons

olive oil

or vegetable oil

1

bunch spring onion greens

chopped

1-2

leek greens

thoroughly washed and chopped

1

smaller bunch sage

1-2

tablespoons

fresh thyme

chopped

2 1/2

litres (2500ml) water

2

teaspoons

FODMAP friendly vegan chicken stock powder

I used Massell

2-3

large carrots

sliced on a bias

450

g

tofu

torn into small cubes

250

g

gluten free pasta

I used macaroni

3-5

tablespoons

nutritional yeast

1-2

teaspoons

dried sage powder

seasoning

to taste
Instructions
Preheat the oil in a soup pot over a medium heat. Add the spring onions, leeks, sage and thyme and stir to combine. Cook for 2-3 minutes or until soft and fragrant.

Mix the stock powder with 1 litre (1000ml) of boiling water and add it to the soup pot. Add another 1 1/2 litres (1500ml) of water straight to the pot. Turn the heat to high.

Add all the remaining ingredients to the pot except for the seasoning. Cook for 8-10 minutes or until your pasta is nearly cooked through. The residual heat will finish cooking it.

Season well and continue adjusting for taste. You might need some extra nutritional yeast or dried herbs. Continue until you're happy, making sure you add salt gradually to ensure it doesn't become too salty.

You can serve as is or with some truffle oil and vegetarian parmesan/Gran Kinara (or a vegan alternative). Best on the day of making, as some brands of gluten free pasta tend to disintegrate in the liquid.
Notes
Just undercooking the pasta will help ensure it doesn't turn to mush in the final soup.
Some pasta brands are more susceptible than others to going mushy once cooked.
Make sure to season gradually to ensure the soup isn't too salty. Add flavourings as per your own tastes.
The more fresh herbs the merrier, as far as I am concerned. I find this combination really emulates a chicken like flavour, so I don't recommend omitting the herbs.
Same goes for the nutritional yeast – it adds umami and a nice golden colour. It's easily purchased at supermarkets these days and is great for vegan cooking.