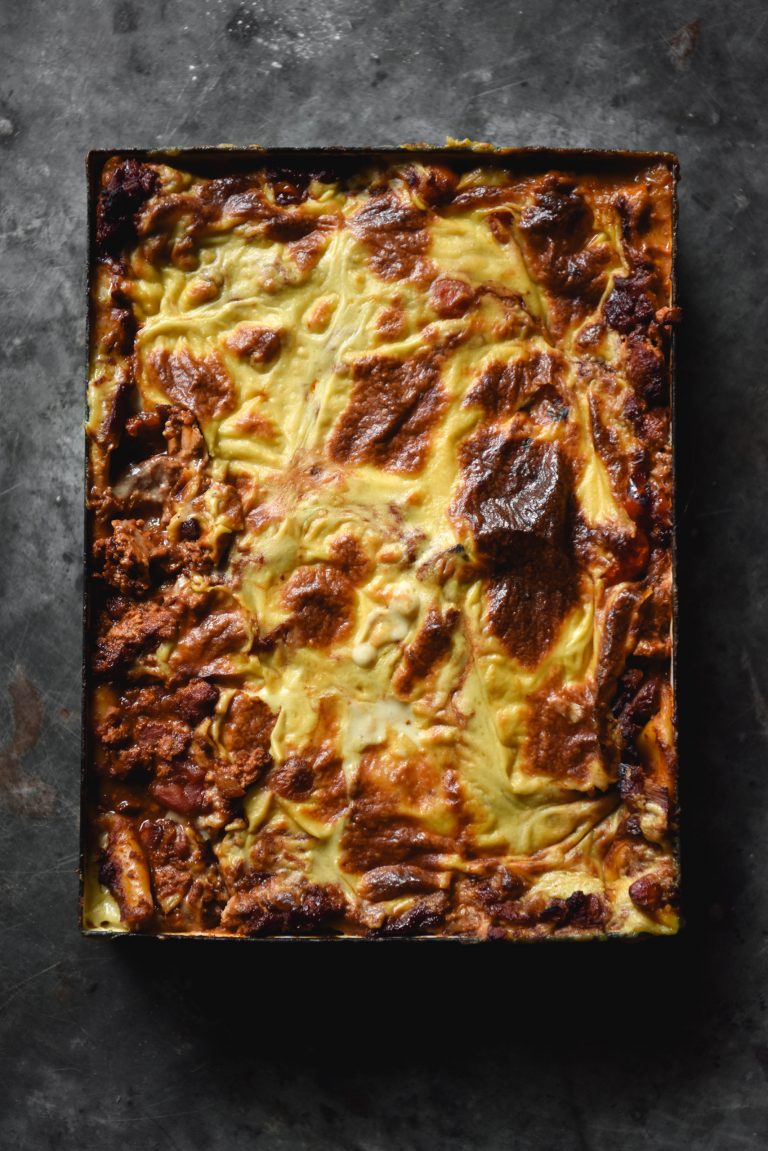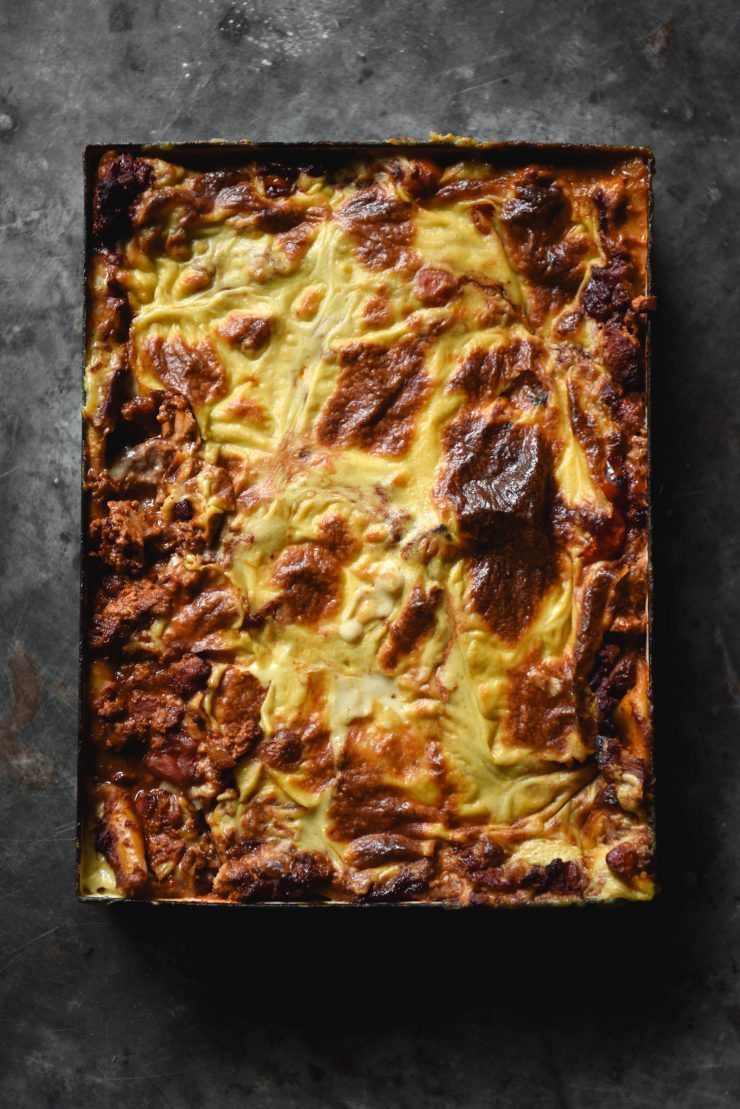 We've done FODMAP friendly vegan bolognese. We've done FODMAP friendly vegan mac and cheese. It's about time we put them together, and made a FODMAP friendly lasagne that is also vegan and gluten free. ABOUT DAMN TIME.
As a single person who cooks for a living, I generally don't ponder too much about what constitutes an easy make ahead meal. There's always food available at Casa de George. Upon recent reflection, however, I came to the realisation that I am absolutely the exception to the rule. I love creating extravagant and interesting salads, but the reality of the busy and modern society we live in is that convenience is Kween.
I've been keeping a big ol' stash of the vegan bolognese in the fridge for weeknight dinners. Why not, I figured, go one step further, and create a FODMAP friendly lasagne with it?
FODMAP FRIENDLY LASAGNE
As I've mentioned a bunch of times, this lasagne uses the recipe for FODMAP friendly bolognese found here. It is delicious, rich and precisely akin to the original, meaty version. Ain't nobody going to miss the meat, nor will they miss the garlic and onion. I have used a slightly larger, slightly different version of that recipe here for a full bodied vegan lasagne.
As for tinned tomatoes: there are more than generally would be acceptable for FODMAP purposes. If fructose is an issue, you have two options: use 2 tins of tomatoes and add extra water to loosen the mince as you see fit or make the portion sizes smaller. The last one seems pretty unrealistic because you're making a whole lasagne too, but anyway.
I've used gluten free lasagne sheets from the supermarket for this recipe. They're easy to find, easy to use, and keep the wheat related FODMAPs at bay. See the section below on gluten free lasagne sheets for notes.
To keep the lasagne vegan, I have used a quantity of the white sauce recipe used in both my vegan mac and cheese and cheesy baked hasselback recipes. I decided it was the easiest, simplest way to make a cheesy low FODMAP vegan lasagne. If you'd like to top it with some melty vegan cheese that you like, go right ahead. Again, there's a section below on my preferred vegan melting cheeses.
The white sauce uses soy milk, gluten free cornflour and nutritional yeast to form a simple, FODMAP friendly cheese sauce. I have found soy milk to be the creamiest option for a good roux, but check that your brand of soy is milk with soy protein and not whole soy beans. Using a milk with soy protein means that the FODMAPs are far less of an issue, as opposed to using the whole bean.
In terms of extra additions, I have kept it pretty simple, with some optional spinach and basil. In a particularly contradictory way (with my tofu bolognese and 'cheese sauce') I am a bit of a traditionalist when it comes to lasagne. No pumpkin, no eggplant, no nothing else. Not today sir. You, however, could take a few creative liberties, if you wish.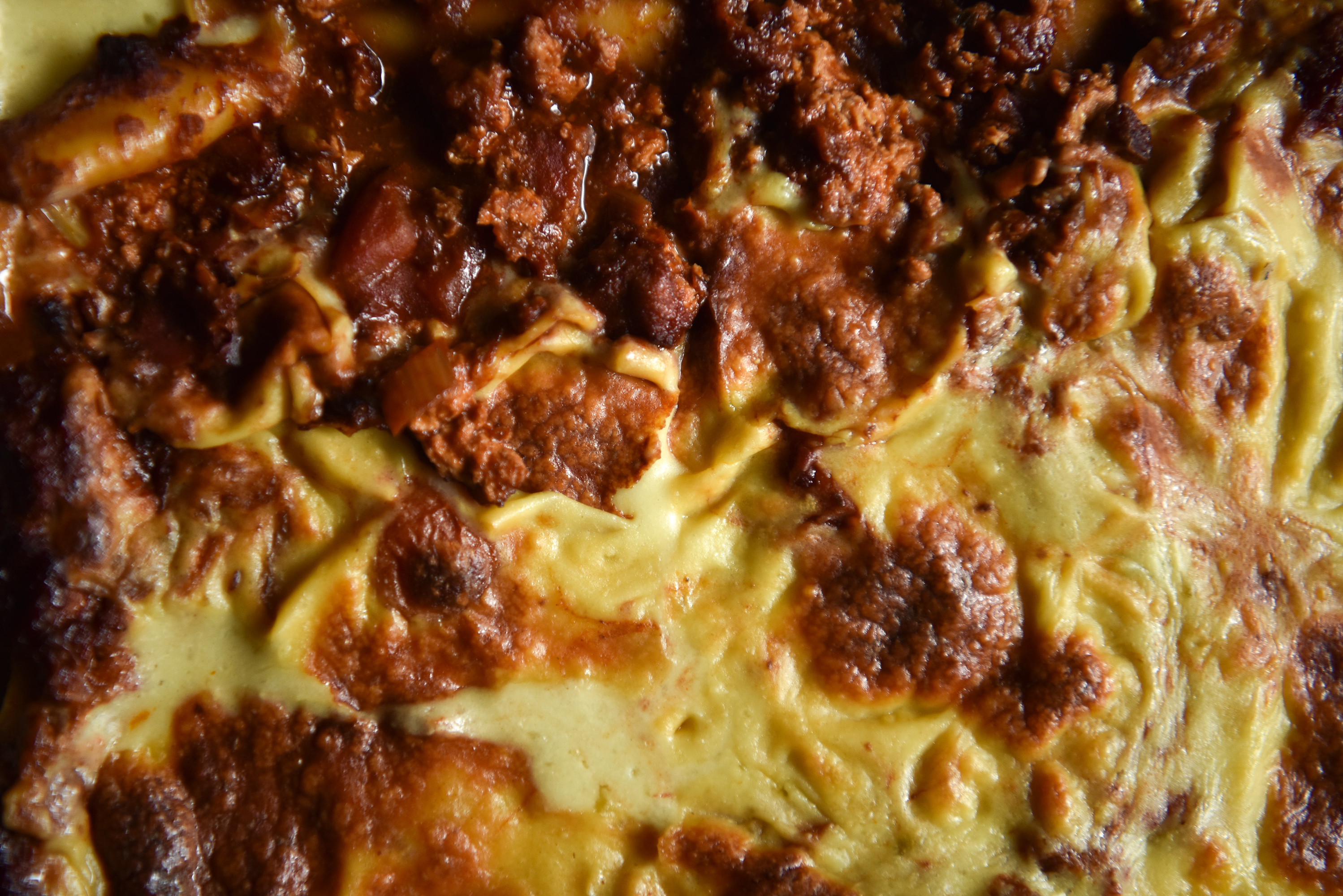 TIPS FOR USING GLUTEN FREE LASAGNE SHEETS
Sorry, gluten free lasagne sheet makers. No matter what your packets say, I'm yet to find a brand that says 'ready to use' and means it. I have fallen victim to the 'instant use' tag too many times before. What I end up with is a desert dry lasagne with sheets that have curled up and look like the Opera House. So you don't suffer the same fate, here are some tips.
The best method I found: boil some salted water in a saucepan and cook the lasagne sheets for 2-3 minutes, 2 or 3 at a time. Transfer them to an oiled baking tray and then use reasonably quickly. I found it helpful to cook them in batches of 6 or so (enough for 1 layer) – this way they don't start to dry out.
The second best method was soaking them in boiling water with a bit of olive oil to stop them sticking. They took 3-5 minutes or so – best transferred onto an oily tray too.
If you desperately don't want to cook them, make sure you weight them down VERY WELL. This recipe gives you the option of using an extra layer of lasagne sheets, or putting the final layer of bechamel straight on top of mince. If you haven't cooked the lasagne sheets, absolutely omit the last layer of lasagne sheets. Bechamel isn't enough to weigh them down and stop them curling.
The worst method? Soaking them in cold water. While it worked OK for some brands, others ended up with a thick, goopy gelatinised layer of starch on their outsides. Not even a subsequent boil could alter their odd texture. As I say, it worked for some brands but I wouldn't risk it.
HOW MANY TO BUY?
I have noticed that basically all gluten free lasagne sheets are different sizes. What's more, some brands expand length and width wise during the boiling process. Personally, I find it is always prudent to buy double what you think you'll need. This accounts for different sized sheets, different sized baking dishes and breakages. There is nothing worse than having to go to the shops mid-cook!
WHICH BRAND TO BUY?
I have tried a number of different brands of gluten free lasagne sheets available in Australia. Honestly? My foolproof solution is the San Remo lasagne sheets. They are hardy, easy to find, and stand up well to par-boiling and then cooking. I've found other brands can become weirdly starchy and then break up when cooked, but the San Remo tend to work a treat.

THE VEGAN MELTING CHEESES I HAVE TRIED SO FAR
Aside from simply omitting the cheese and baking the bechamel top (as in some pictures) I have tested a few vegan cheeses on this lasagne. While I love the taste of vegan cheese, I've tested a lot that didn't melt very well. These are the ones I have treid:
Sheese cheddar (note this isn't gluten free as it contains oats.) I used this on a bake to give to a friend and it was just OK. Didn't do a remarkable job – I think my bechamel looked better. By the time I got it to brown it just looked a bit dry.
My Life Bio. This one is another that melts in little globs. I think I'm probably asking too much but I just want a vegan cheese that melts like real cheese!
Notzarella. I had to go to the city to get my hands on this one, but it was well worth it. Although the block is a bit of an odd texture, it melts exactly like I wanted it to. That said, you have to crank your grill/broiler to the highest setting to get it melting. If you're in Melbourne, I bought it at The Cruelty Free Shop in Fitzroy.
Whichever brand you buy (if you buy any!) I highly recommend buying a block instead of pre-grated. The irony of pre-grated cheese is that it often contains fillers that prohibit it from melting well. Much better off grating your own (there will be less weird stuff in your cheese, too).
I will also say (which people who use vegan cheese will probably know) that you need to blast your oven to get it to melt. Anecdotally, I found that covering the lasagne with foil tended to result in some vegan cheeses cooking solid in their grated form as opposed to melting. I would suggest leaving the foil off for this reason. I would also suggest pre-cooking the lasagne sheets as I have mentioned. This means that the sole purpose of the oven time is to melt the vegan cheese, allowing it to melt as effectively as possible.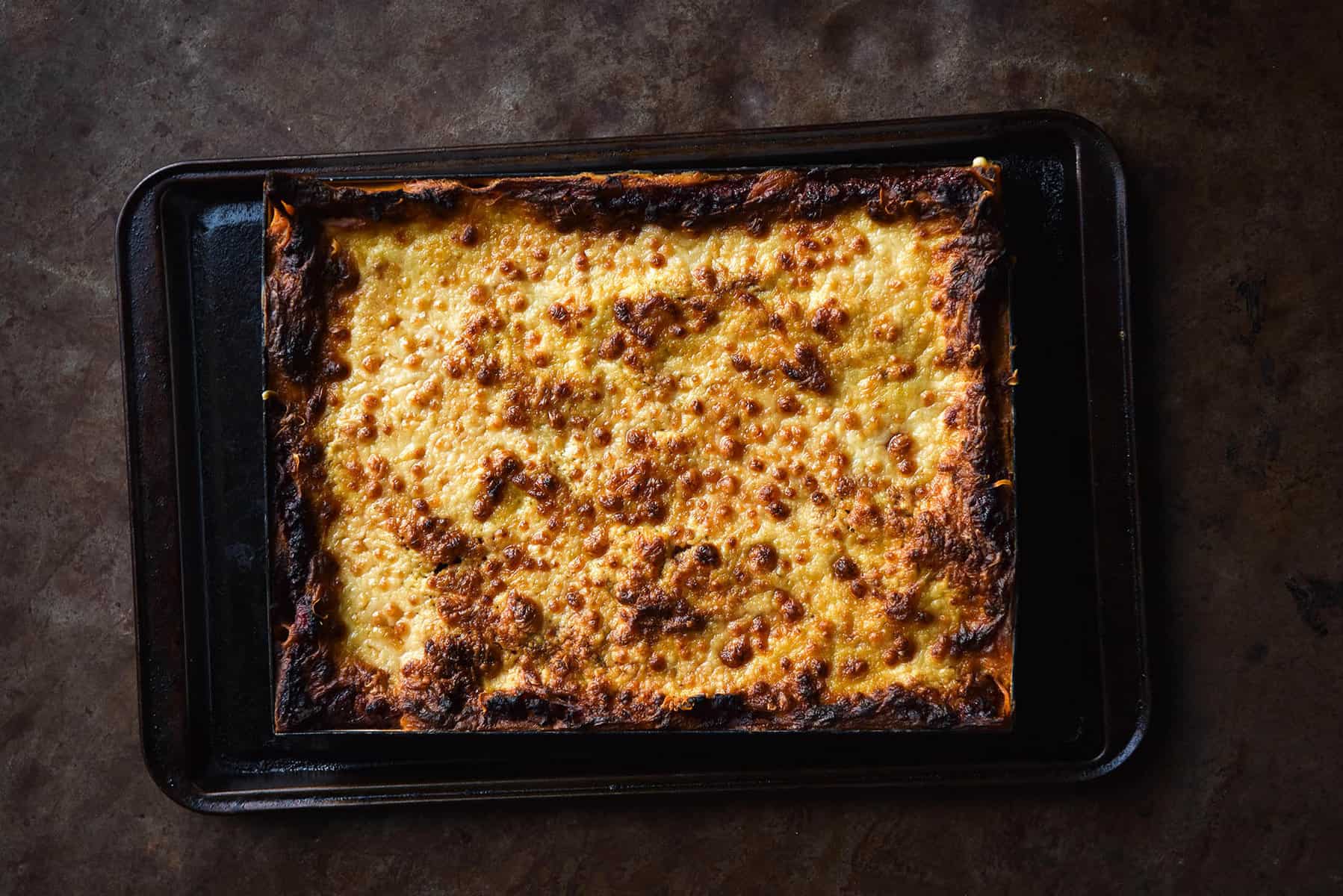 TOFU MINCE: A REFRESHER COURSE
Freezing tofu expels the moisture from the tofu block, leaving behind the physical product that has been wrung of water. This results not only in a textural change, but also in the ability for the tofu to absorb more sauce and thus flavour.
Frozen and defrosted tofu is texturally very akin to mince meat once cooked. You can also use the process for any tofu dish, torn or not. Marinating the tofu after freezing and defrosting will allow it to infuse with far more flavour than it would otherwise.
Freezing and defrosting the tofu is optional, but it goes a long way in creating a mince-like texture. Make sure you buy completely firm tofu for this purpose – anything less will not work.
So, the steps:
Place the tofu block in the freezer (inside it's packet) the night before you want to use it. I keep a few in there (as you would mincemeat) so they're ready whenever I fancy bolognese.
When you're ready, defrost the tofu. I have found the easiest method for defrosting is to throw the block (still in the packet please!) in the sink as you're doing the dishes. The water has to be hot, obviously. Allow it to sit for around half an hour or so – the longer the better. There are a few more defrosting suggestions in the original post.
Once the block is completely defrosted, remove it from the packet and wring it out semi-thoroughly with your hands. Once a considerable amount of liquid has been removed, tear the tofu into mince meat like little chunks. Voila! Your mincemeat is ready to go.
Gluten free, vegan and FODMAP friendly 'mince' lasagne
Ingredients
For the 'mince':
2-3

medium carrots

finely chopped

500

g

tofu

frozen the night before

2-3

tablespoons

Tamari

2

tablespoons

light brown sugar

2

tablespoons

balsamic vinegar

2

tablespoons

miso paste

check that it's gluten free

3

tablespoons

tomato paste

1

cup

red wine

or 1/2 water and 1/2 wine, although it won't be as flavourful

2-3

x 400g tins of plain tomatoes

no added flavours (see notes)
For the 'cheese' sauce
5

tablespoons

vegan butter or olive oil

4

tablespoons

gluten free cornflour (the starchy stuff, it might be called cornstarch where you live)

5

cups

plant based milk

2-3

tablespoons

nutritional yeast

1

tablespoon

light miso (I used shiro)

Optional, but adds cheesy umami

fine salt

to taste
Optional:
1

teaspoon

oregano

1

teaspoon

cinnamon

1

teaspoon

allspice

2

teaspoons

dried sage

1-2

teaspoons

dried rosemary
To finish:
2

packets gluten free lasagne sheets

she's a big one

Basil and spinach

optional

Vegan cheese, freshly grated
Instructions
To make the 'mince'
Add the olive oil to a large heavy bottomed saucepan over a medium heat. Once warmed, add the chopped carrot, and cook for about 15 minutes, or until it begins to shrivel and is starting to brown. While you're waiting, drain the tofu and tear it into small-ish mince like pieces.

Add the Tamari, light brown sugar and balsamic vinegar and stir really well to combine. Once the liquid volume has decreased, add the tomato paste and miso paste, and stir to combine.

Add the red wine to the pan, and stir well, collecting all the little browned bits at the bottom.

Next, add the tinned tomatoes, and stir thoroughly. Season with generous freshly cracked pepper, and follow with the tofu and herbs/spices, if you're using them.

Adjust the seasonings if necessary, and continue cooking for 10-15 minutes, until the tofu takes on some of the redness of the sauce, and looks like mince. You can add a bit of water to thin the sauce out, if necessary. If you're using the spinach and basil, you can mix it in here, or you can add it in the layering stage.
To make the white sauce:
While the mince is cooking, melt the vegan butter in a large saucepan. Once melted, add the cornflour, and whisk to combine until a paste forms.

Add the soy milk or plant based milk of choice. Once the mixture is smooth, add the nutritional yeast, miso and salt, adjusting for taste as you go.

Cook the white sauce for 10-15 minutes, until it is thick and spoonable.
To assemble:
Preheat the oven to 180 degrees Celsius or 356 Fahrenheit. Layer sheets of lasagne on the bottom of the baking dish. I used six and they fit perfectly, but this will depend on your dish size.

Follow this with half the 'mince' mixture, before adding another layer of pasta. Quickly follow this up with the white sauce (gluten free lasagne is quite dry and tends to curl up if you don't put something wet on top quickly.)

Lay more pasta on top of the white sauce, and quickly follow with the remaining mince. You can add another layer of pasta if you like, but because of the curling thing I like to spoon the white sauce right on top of the second layer of mince, and omit the last layer of pasta entirely.

Place the lasagne on a tray (to catch any overflow) and place in the oven for 30 minutes. You can serve warm, serve the next day, or freeze for meals during the week