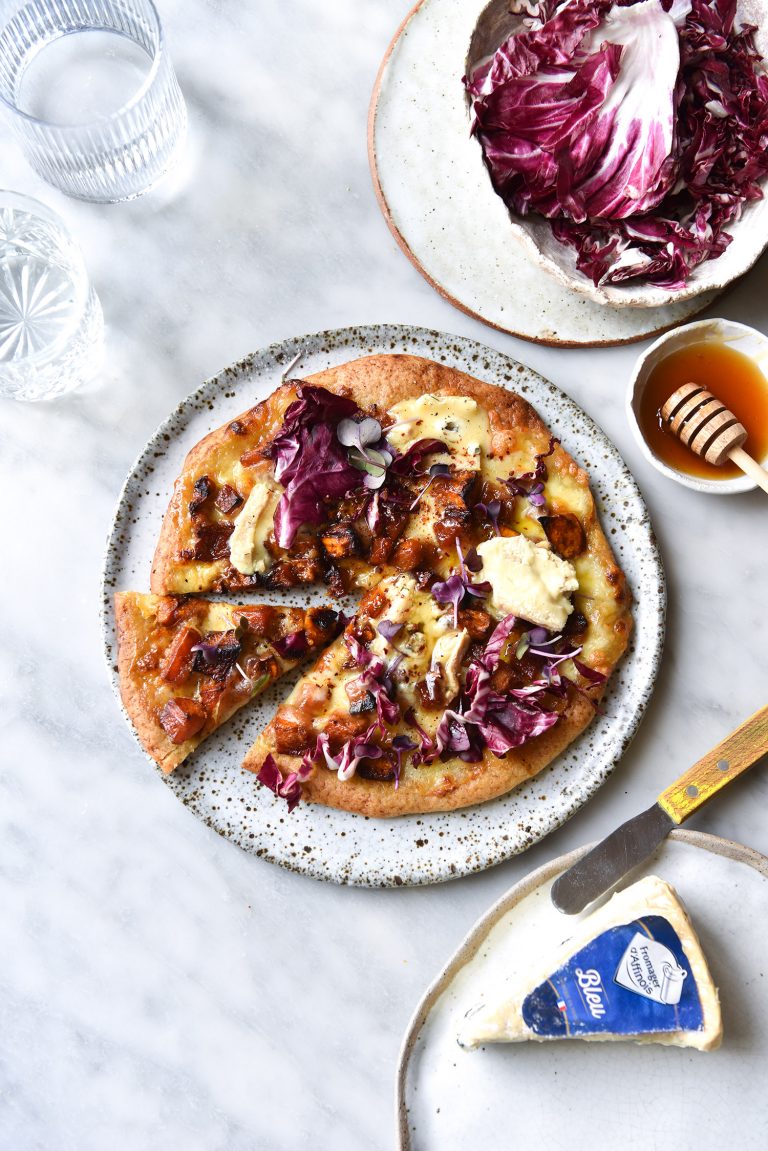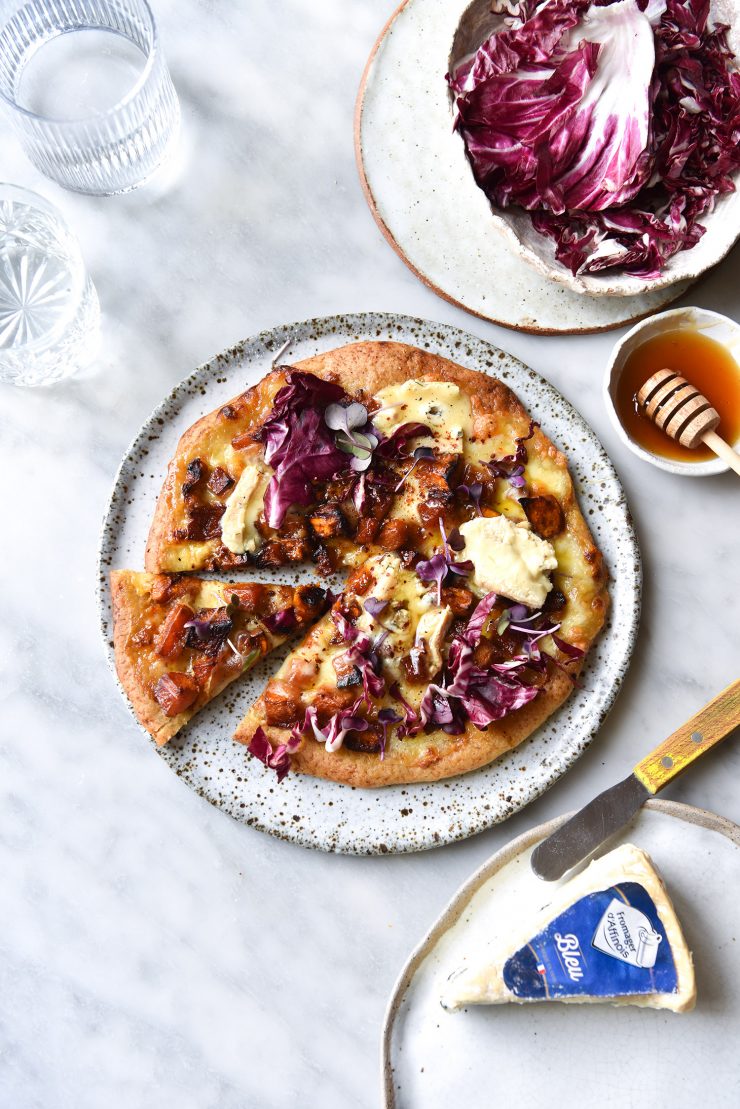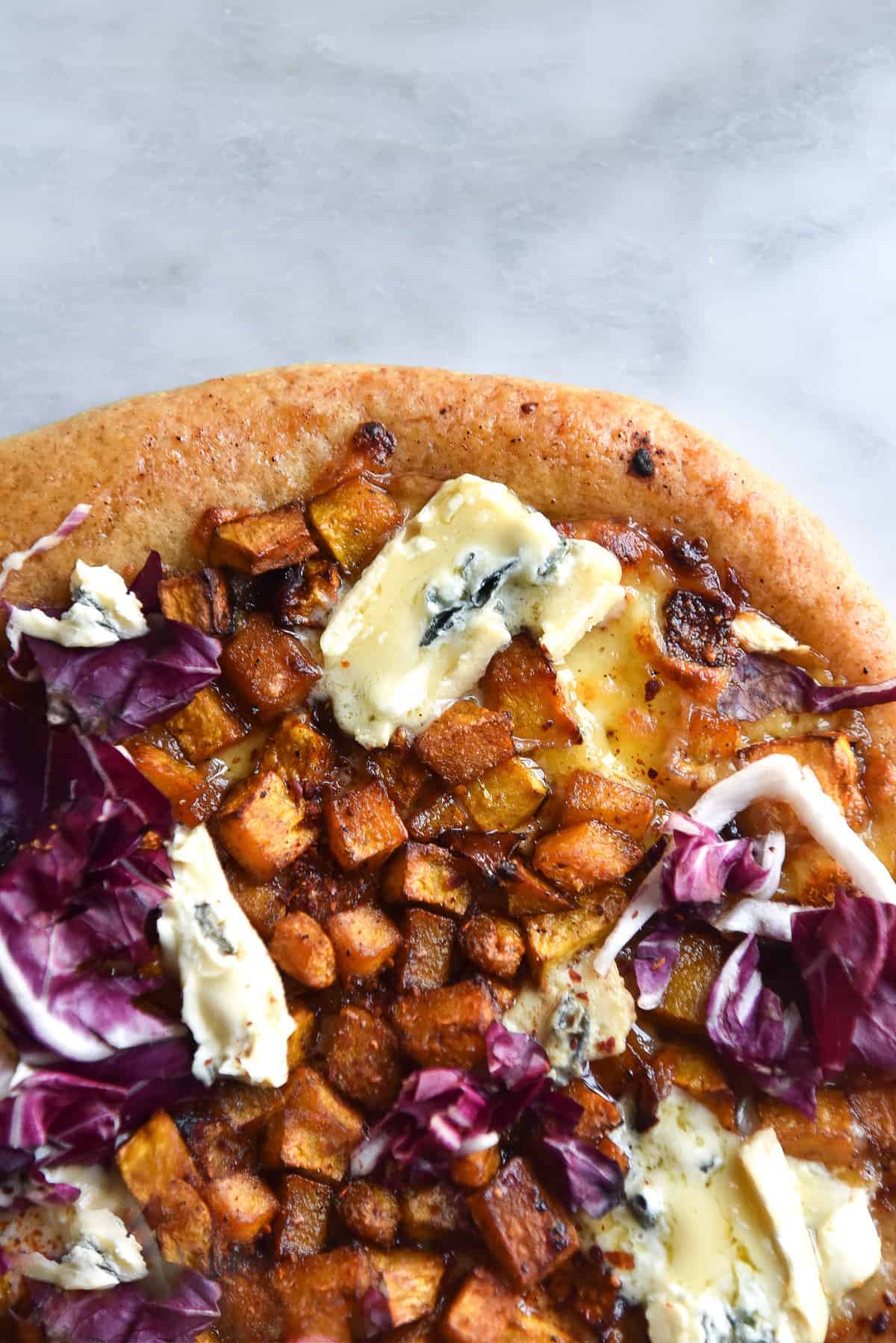 With Easter on the horizon and no end to social distancing in sight, comfort food is the order of the day. That's why I'm super excited to partner with Fromager d'Affinois to bring you the recipe for these gluten free pizza bases topped with Fromager d'Affinois Bleu, caramelised honey roasted pumpkin, radicchio and pals. It is my dream pizza, made a little bit more special courtesy of the Fromager d'Affinois. This pizza really is the perfect dish for an Easter weekend at home (Tiger King optional.)
If you're unfamiliar with Fromager D'affinois Bleu, let me lay it out a little. It is the perfect hybrid between a triple cream brie and a tangy blue cheese – ultra rich, silky and delicious with a touch of blue. It's the perfect Blue for someone who might be on the fence, as it combines the best of all worlds.
A few other super cool facts? D'Affinois Bleu uses a 'microbial coagulant' which means that it's suitable for vegetarians. Plus, at <0.1g of lactose per serve, d'Affinois Bleu is considered basically lactose free (and thus FODMAP friendly).
Cheesy, delicious pizza that's gluten free, vegetarian and FODMAP friendly? SIGN. ME. UP.
If you're after other ways to get more blue cheese in your life: try these fig, ricotta basil and blue cheese tarts (one recipe I developed pre-FODMAP days). Alternatively, this pumpkin, lemon thyme and blue cheese galette hits all those comfort food notes.

Gluten free pizza FODMAP notes
As we've discussed, Fromager D'affinois Bleu has low levels of lactose and is thus FODMAP friendly
To keep the pizzas as FODMAP friendly as possible, use Japanese or Kent pumpkin as opposed to butternut.
You can use a full flavoured, pure maple syrup in place of the honey if you'd like to keep the FODMAP content down.
Fructose tolerance dependent, you could consider adding a slice or two of fig per pizza as a fancy Easter treat.

RECIPE NOTES
You can use rocket, spinach or any other green suitable if you'd prefer not to use radicchio. I'm obsessed with it, but it can be an acquired taste.
As I've mentioned, you can use rice flour in these bases, although the liquid ratios are a little different. You can find that recipe in my book
You can use a red or white base pizza. Choose whatever suits you best!
You can make 2 extra large pizzas, 3 large pizzas or 4 small pizzas. Try to spread the dough as thinly as you can, because it does puff up in the oven.
GLUTEN FREE PIZZA BASES
Make sure you weigh your flours, as always!
Sorghum flour is my new favourite flour. It works in a similar fashion to rice flour, but is much more nutritionally beneficial. There's a recipe for pizza bases using rice flour in my cookbook, if you'd prefer to go down that route.
Ginger powder (not fresh ginger) and apple cider vinegar are dough enhancers, which is why they're included in the recipe. They help give the yeast a little extra boost – but you could probably omit them if you can't find them.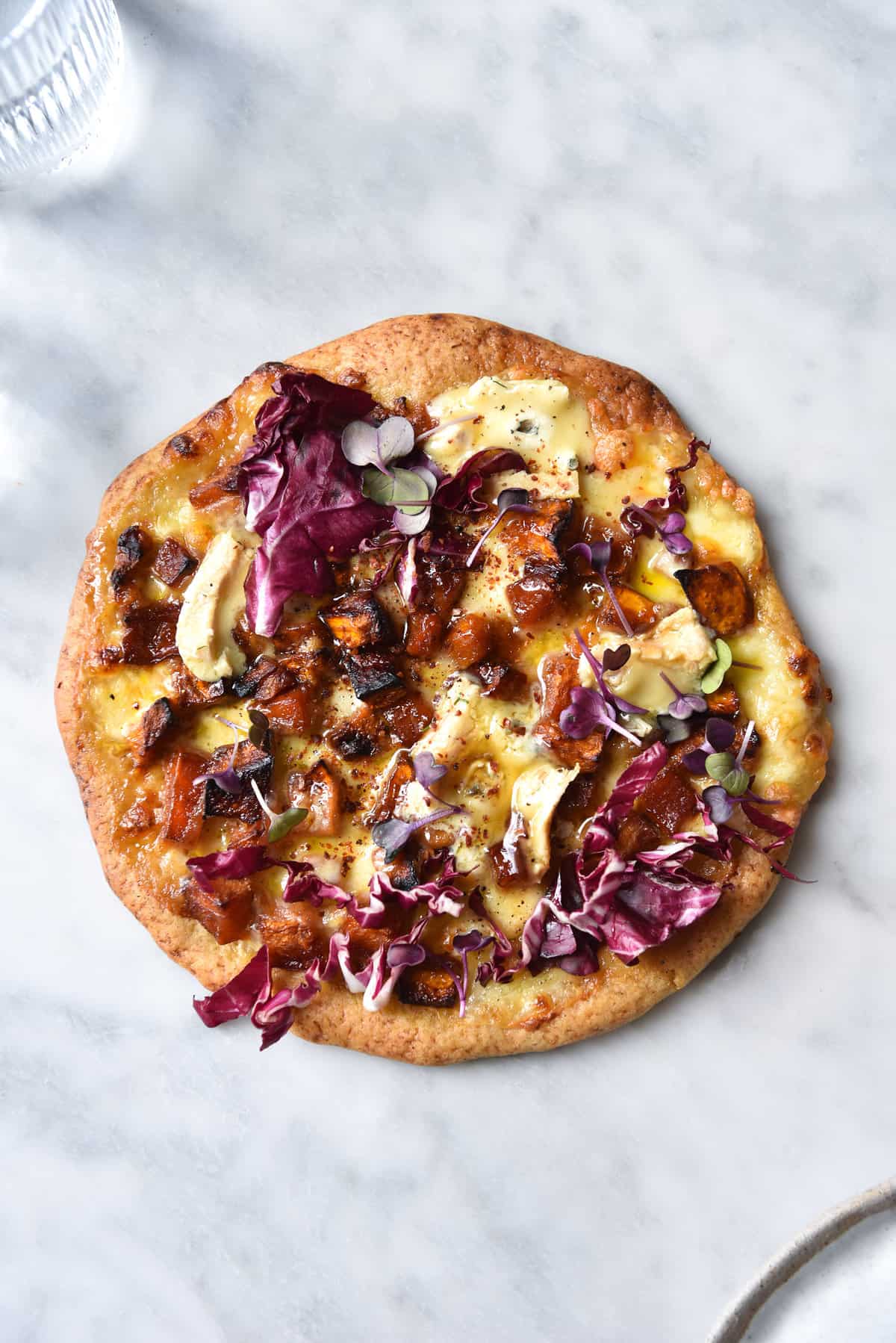 Gluten free pizza bases without xanthan gum (vegan)
Gluten free, FODMAP friendly, nut free, vegetarian
Ingredients
For the yeast mixture:
1

cup

warm water

2

teaspoons

sugar

1/4

teaspoon

ginger powder

1

sachet yeast
For the binder:
1 1/2

tablespoons

psyllium husk

4-5

tablespoons

olive oil (depending on how chewy you like it)

6-7

tablespoons

warm water (depending on how chewy you like it)

2

teaspoons

apple cider vinegar
To finish the pizza bases:
160

g

potato starch

100

g

sorghum flour

25

g

tapioca flour

1 1/2

teaspoons

fine salt

1/4

teaspoon

ginger powder
For the caramelised pumpkin:
750g

Japanese or Kent pumpkin

2 1/2 – 3

tablespoons

olive oil

2

tablespoon

floral honey

or maple syrup

2

tablespoon

balsamic vinegar

Freshly cracked pepper and a sprinkle of salt

to finish
For the remaining toppings:
Mozzarella

freshly grated (I buy a 250g firm piece)

Finely and freshly grated parmesan

to taste

Sprinkle of olive oil or chilli oil

Radicchio or rocket

to taste

An extra drizzle of honey

to taste

Fromager D'Affinois Bleu

to finish
Instructions
To make the pizza dough:
Combine the ingredients for the yeast mixture in a large, non-reactive bowl. Put it in a warm spot (in winter, I like to use my oven with just the light on) and allow to sit for around 10-20 minutes. The top of the mixture should be slightly domed and very bubbly. Discard this mixture and start again if this doesn't happen as it means your yeast is inactive and it will not raise the pizza dough.

Combine the ingredients for the binder in a medium sized mixing bowl. Whisk to thoroughly combine, and then set aside to firm up. It should become a gloopy paste, with most of the oil incorporated.

While you're waiting, combine the remaining ingredients in a large, non-reactive mixing bowl. Add the yeast and binder to the mixture and use a spoon to stir thoroughly until no lumps remain. The dough should be quite wet. Cover it with a shower cap or cling film and allow to rise in a cool, non-drafty place for 1 hour or until doubled/tripled in size.
To make the pumpkin:
Preheat the oven to 180 degrees Celsius. Combine all the ingredients in a bowl and mix to coat before pouring everything onto a lined baking tray. Place in the oven and cook for 30-40 minutes or until lovely and brown. Remove from the oven but leave the oven on.

To cook the pizza bases:

Once the dough is risen and ready, line your baking trays with baking paper. Cut the dough into two or four pizzas using a blunt knife as it sits in the bowl. Thoroughly oil your hands (tops of fingers included) and pick up one piece. Place it in a baking tray, and use your hands to press it out into a pizza shape. You can make the pizza thinner or thicker depending on how you like it, but remember that this will affect cooking time.

Use one hand to guide the edge of the dough as you press it out so you have nice smooth edges. You can also flip the very edges of dough back onto the pizza and secure them with a gentle press, before using baking paper to flip the entire pizza over. This will create the puffed edges of traditional pizza.

One at a time, bake the pizza dough in a 200 degree oven for 10-15 minutes, thickness dependent. Remove it from the oven, ready to top. I like to put a little tin of water in the oven with the dough to give it a bit of lift (the steam will help the dough puff up, but this is optional).
To finish the pizzas:
Top the pizza with the mozzarella and parmesan, followed by the pumpkin pieces and drizzle of oil. If you like, you can brush the edges of the pizza with honey mixed with water to give it a beautiful caramelised finish.

Return the pizza to the oven (on a hot grill function) until the cheese is melted and browned. Remove from the oven and finish with radicchio, seasoning, extra chilli oil and d'Affinois bleu.