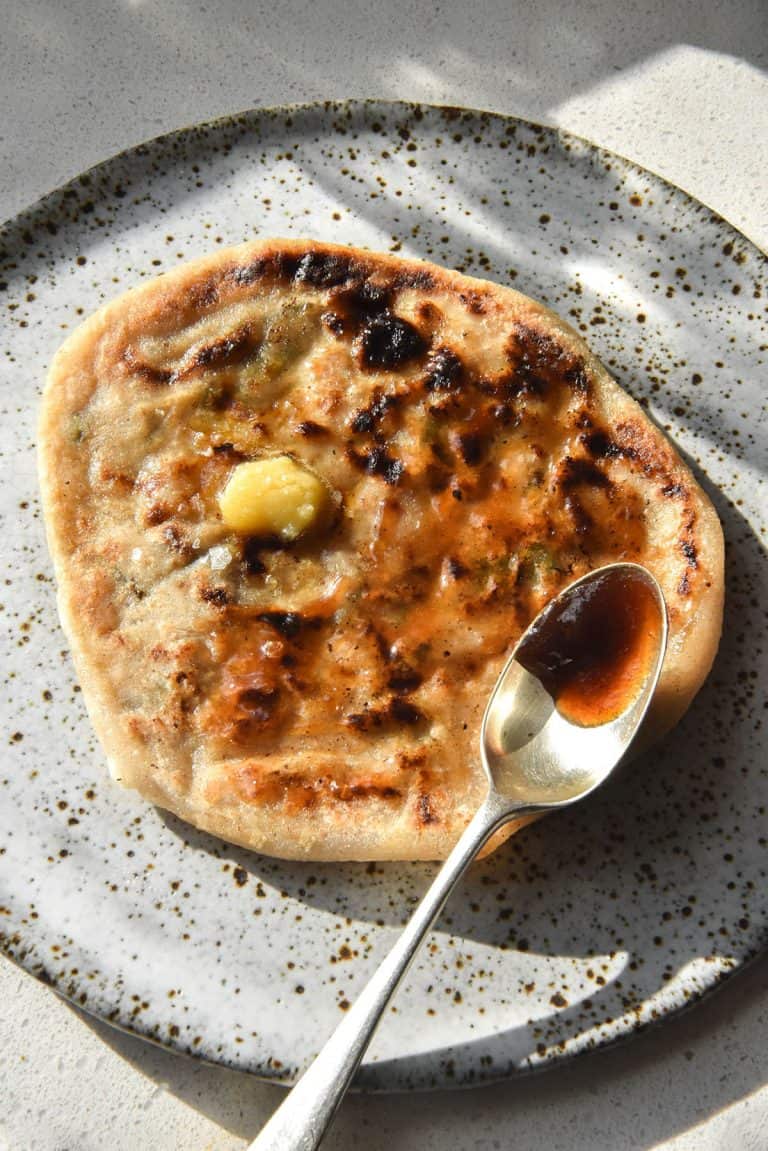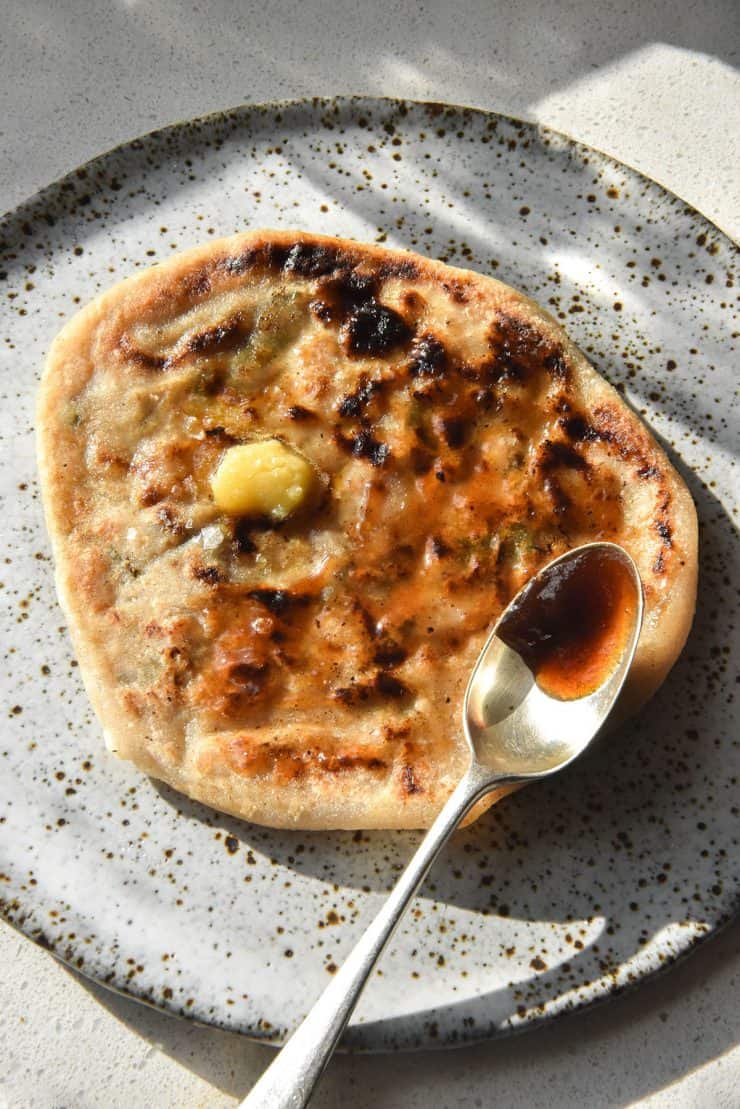 I decided to try my hand at gluten free aloo paratha with some leftover boiled potatoes recently. I had always eyed aloo paratha off while eating out, but had been unable to order them for fear of wheat based stomach recriminations. After posting my gluten free yeasted flatbread recently, I figured I had enough of a framework to give it a whirl. What a whirl it was! With a few small adjustments, I made these gluten free aloo paratha egg free and yeast free with a vegan option. They are also made without onion and garlic and FODMAP friendly.
Gluten free Aloo Paratha
The gluten free Aloo Paratha are made with a simple mix of tapioca flour and white rice flour. Psyllium husk powder binds the flatbreads together, and yoghurt helps to create a light and fluffy dough.
The potato filling is made with all rounder potatoes, spiced with garam masala and flavoured with coriander and ginger. The filling is made entirely without onion and garlic.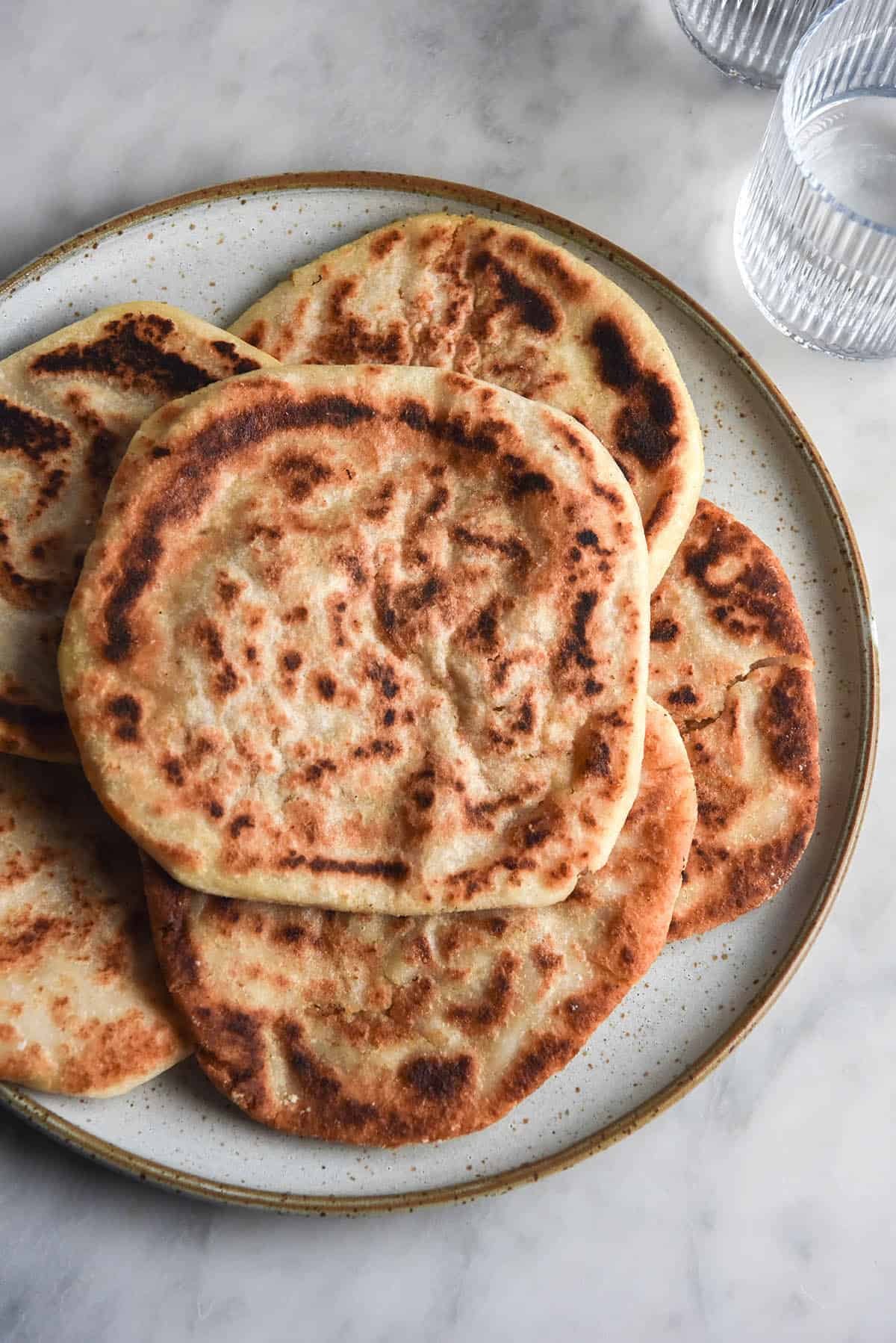 Recipe notes
Make sure you choose a starchy or all rounder variety of potato for a fluffy and delicious filling. Make sure, too, that the potatoes are 100% utterly boiled before you mash them. Uncooked potato makes for a lumpy unpleasant mash.
I like to spice my potatoes more significantly than traditional recipes call for. This is because it is often harder to get gluten free dough to roll as thinly as wheat based dough. In turn, each cooked gluten free paratha has a higher ratio of flatbread to potato than a regular one. Adding more spice helps the flavour stand up to a thicker flatbread.
As with both the yeasted flatbread and yeast free, egg free flatbread recipes, I recommend using the thickest yoghurt you possibly can. I love using Jalna full fat lactose free Greek Yoghurt. It is super thick, pot set and lactose free. If you use a thinner yoghurt, you will probably need to use less water.
Lots of fresh ginger is a super easy way to add flavour to FODMAP friendly dishes. I recommend using this much even if you don't like ginger.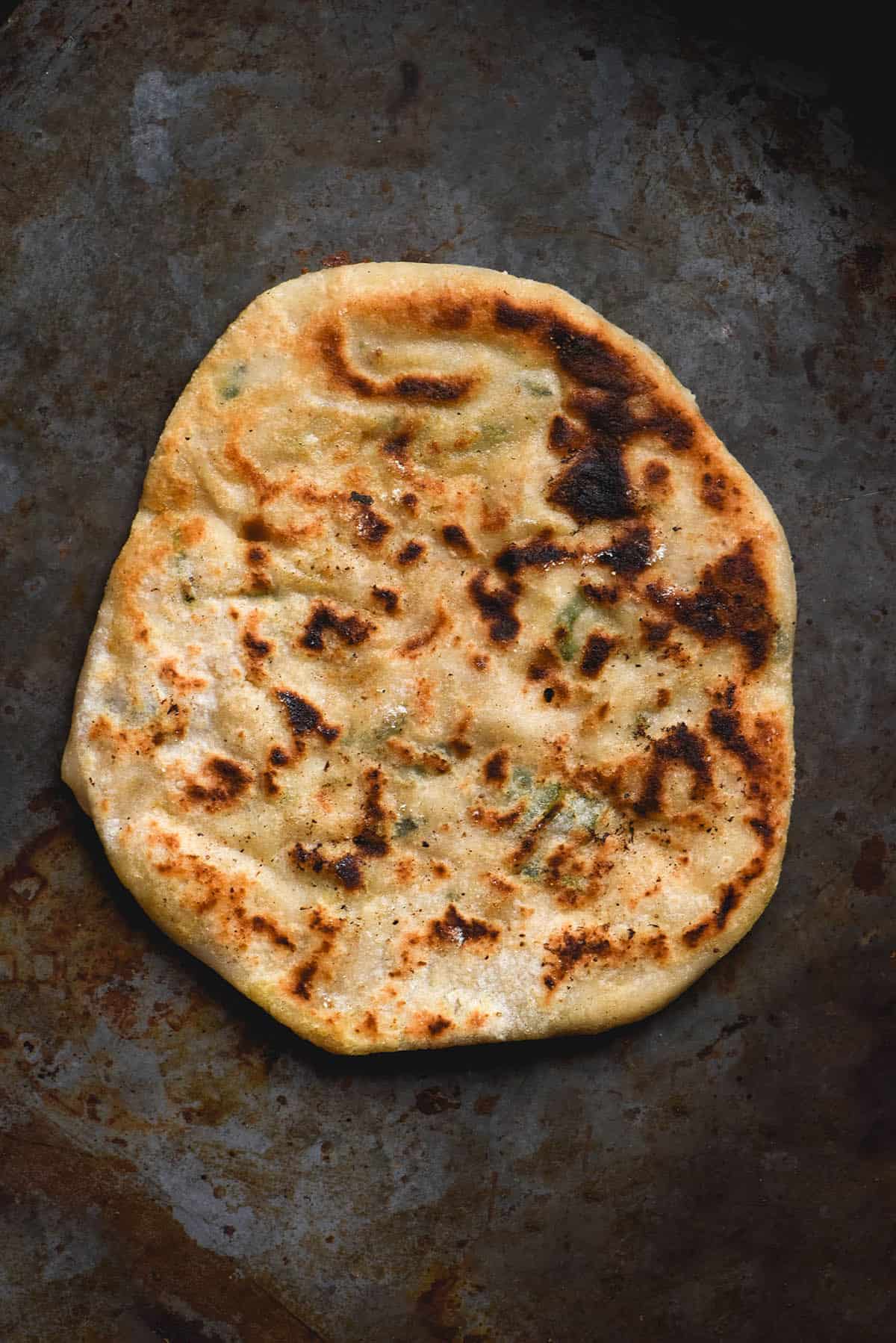 Notes for the flatbread
Psyllium husk powder is more absorbent than the flakes. I recommend the powder for these wraps, as it's finer and has less of an impact on the appearance. I grind flakes into a powder using my spice grinder.
How much water you need for this recipe depends on how absorbent your flours are and how thick your yoghurt is. If in doubt, add the lesser amount of water as you can always add more.
I have tested with recipe with thick, full fat, lactose free Greek Yoghurt from Jalna and Nakula coconut yoghurt, which is nice and thick. You can experiment with your preferred dairy free yoghurt, but you might need to adjust the water content to suit (as dairy free yoghurt is generally thinner). Keep in mind that vegan yoghurt often contains gums or nuts (Nakula uses guar gum).
The sugar is for taste and browning. It's not much, so I don't recommend omitting it.
Your dough, after being in the fridge, should be plump and moist, not cracking or dry. Add more water if you need to.
Tips and tricks for your gluten free Aloo Paratha
Make sure you have extra tapioca flour on hand for rolling out the flatbread. The idea is to get the flatbread nice and thin. This ensures there is a good ratio of flatbread to potato filling. Thickly rolled flatbread means you will taste less of the potato and the flatbread is more likely to be gummy.
When folding the edges of the flatbread up over the disk of potato, I like to wrap very loosely (while still completely encasing the potato). Wrapping it loosely means that the potato is less likely to strain out through the flatbread as you roll it out. This isn't the end of the world, but it does make these gluten free aloo paratha harder to pick up and move.
On that note: roll very gently. The flatbread are delicate without gluten or gums. Take it slowly and gently for best results.
These flatbread don't take kindly to being rolled too thinly. I recommend making them roughly a hand span or the size of a side plate.
Stop rolling if/when the filling starts to strain out of the flatbread, or proceed very gently.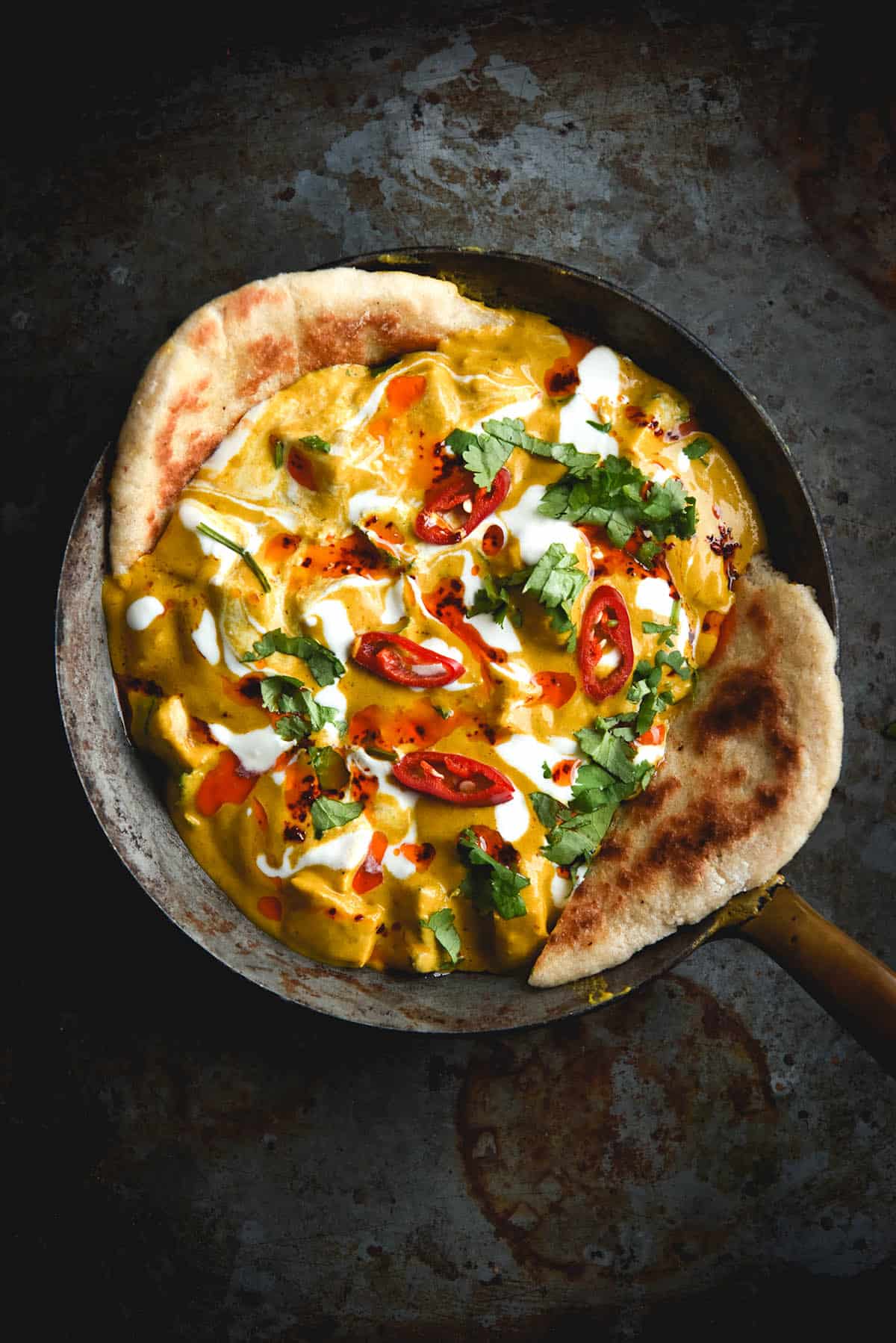 What to serve with your gluten free Aloo Paratha
Traditionally, Aloo Paratha is served as a breakfast dish with chutneys, raita, curry and butter, among other things. I am no authority, but some of my recipes that I think pair nicely are: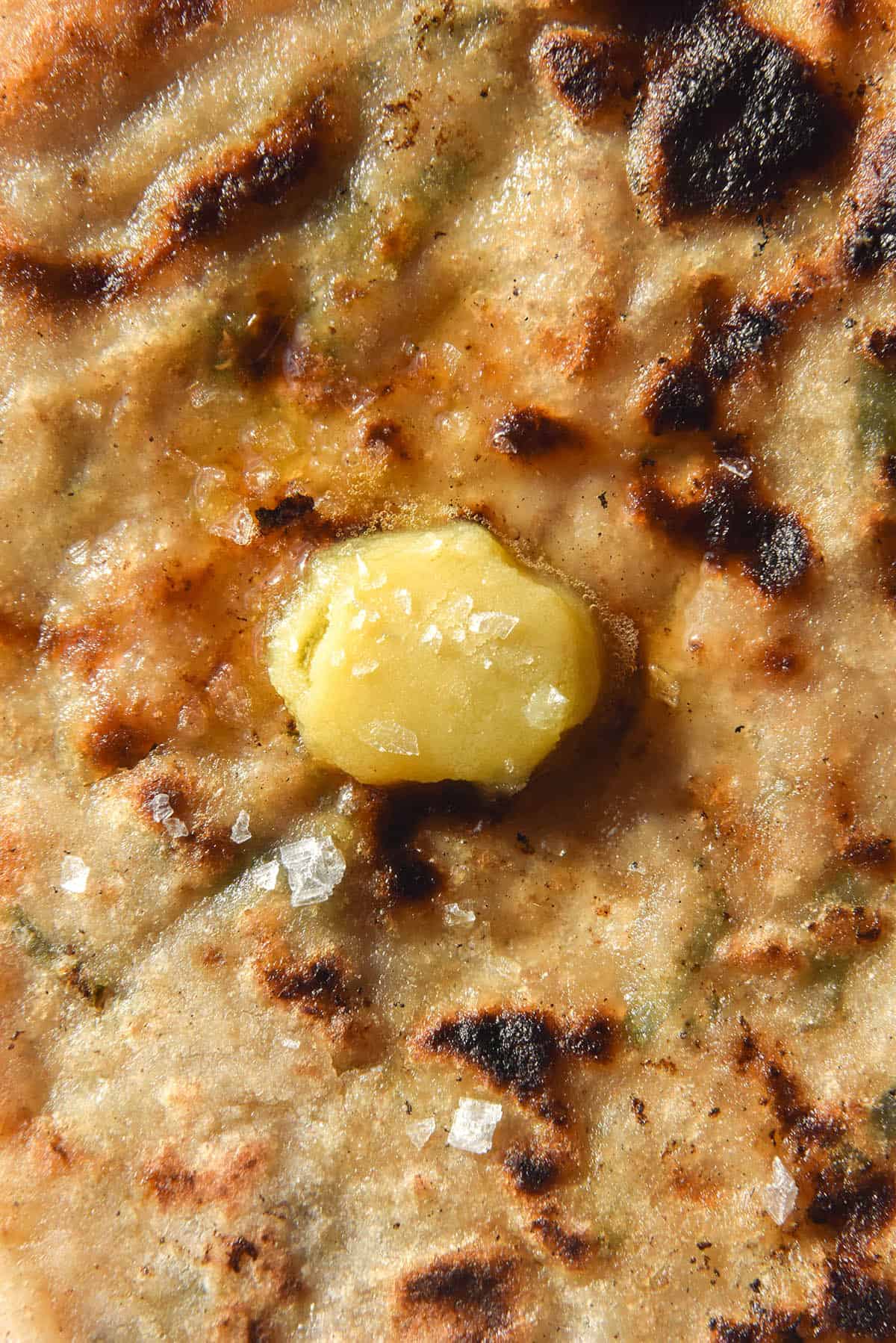 A collection of my favourite gluten free bread recipes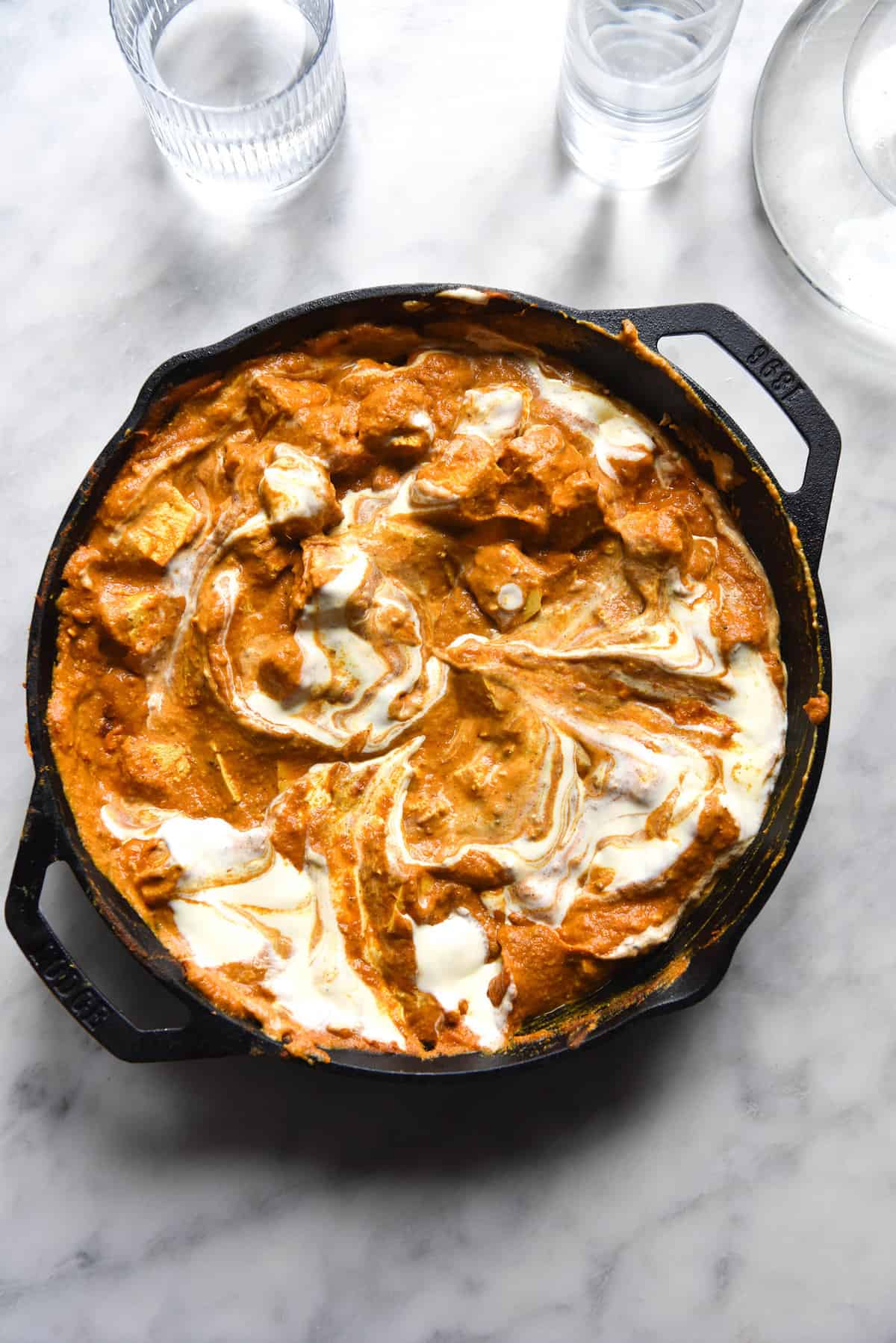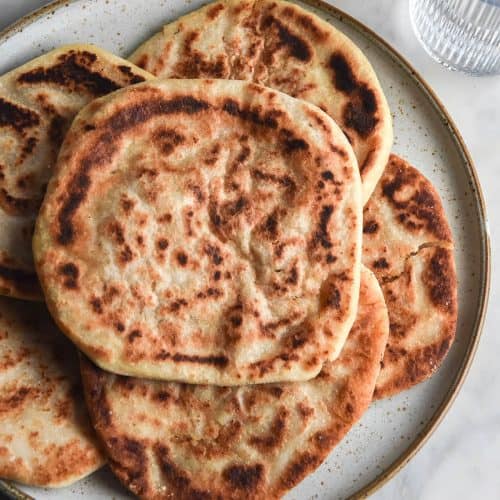 Gluten free aloo paratha
Nut free, gum free, egg free, vegan/dairy free option
Ingredients
For the potato filling:
800

g

starchy potatoes

25g+

grated ginger

I use more because I love ginger

1/2 – 1

green chilli

seeds removed and finely sliced, to your taste

1/2

bunch coriander

chopped (to taste, optional)

2-3

teaspoons

garam masala

to taste

2-3

teaspoons

ground cumin

to taste

1

teaspoon

salt

or to taste

1

teaspoon

sugar

or to taste

1/2 – 1

tablespoon

lime juice

to taste

Pepper

to taste (I used white pepper)
For the flatbreads:
320

g

(2 cups) white rice flour

120

g

(1 cup) tapioca flour

15

g

psyllium husk powder

1 – 1 1/2

teaspoons

fine salt

2

teaspoons

sugar

200

g

thick yoghurt

see notes

3

teaspoons

oil

see notes

1

cup

(250ml) water
Instructions
To make the potato filling:
Boil the potatoes in a medium/large pot of salted water until completely softened. Remove from the water and allow to steam dry before carefully peeling the skins off the potatoes using gloved hands or a knife.

Once peeled, process the potatoes into mash using your preferred method. I love my potato ricer.

Add the remaining ingredients to the mash and adjust according to your personal tastes. Keep in mind that the flavour will be pared back once encased in flatbread, so make sure it tastes bold now. When you're happy, set aside.
To make the flatbread:
Combine the dry ingredients in a large bowl, then add in the wet. Whisk or mix to thoroughly combine. The dough should form a ball but perhaps feel a little wet. Place in the fridge for 30 minutes to firm up.
To assemble:
Divide the dough into 8 even sized balls, and divide the potato mixture in 8 even sized balls.

Generously flour a clean, dry work surface with tapioca flour, and begin rolling out the first ball. Roll the flatbread thinly – about 3-5mm. Use your hands to flatten one ball of potato into a disk, then place it in the centre of the flatbread, ensuring the flatbread has been rolled big enough to loosely encase the potato disk completely . Begin folding the edges of flatbread loosely up over the potato in the same way you fold pastry up to form a galette. Gently pinch any edges together to lightly seal. The potato should be completely encased.

Flip the paratha over so the smooth side faces up. Ensure again that the bench has been well floured to prevent any sticking. Carefully begin rolling out the paratha to about 2cm thick and the size of a handspan or a side plate. Roll slowly to ensure the potato filling doesn't start spilling out. Repeat with the remaining paratha.

Preheat a skillet or saucepan over a medium high heat. You can fry the paratha with or without oil or some ghee.

Cook each paratha for about 2 minutes on each side (heat dependent) or until it is no longer translucent and has lots of lovely brown spots. Repeat with the remaining paratha.

Serve warm or store in an airtight container in the fridge. Leftovers keep for 2-3 days and are best microwaved or steam baked to restore them to their former glory.