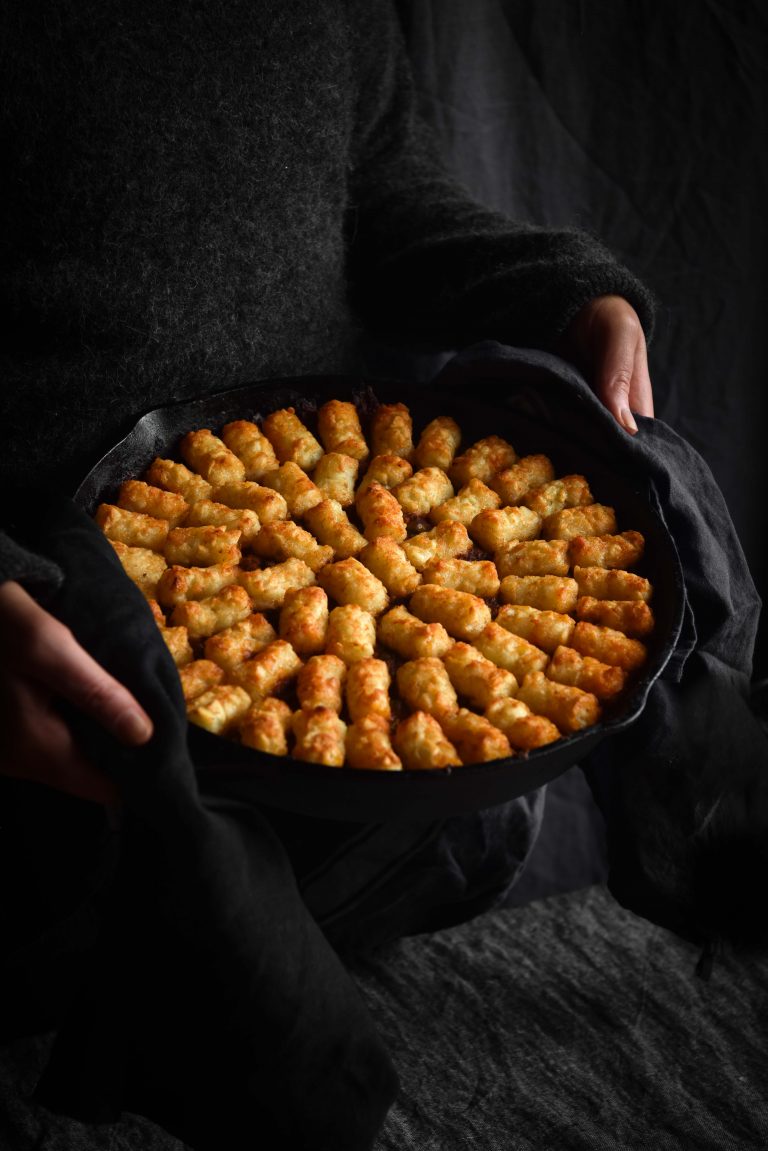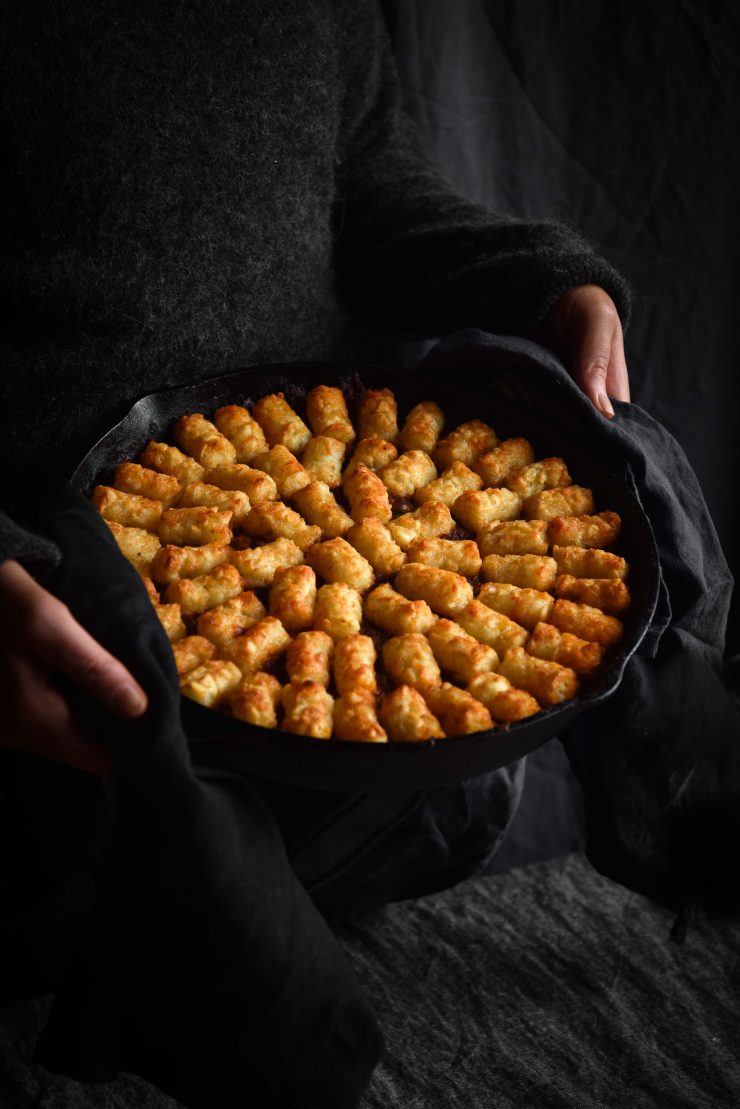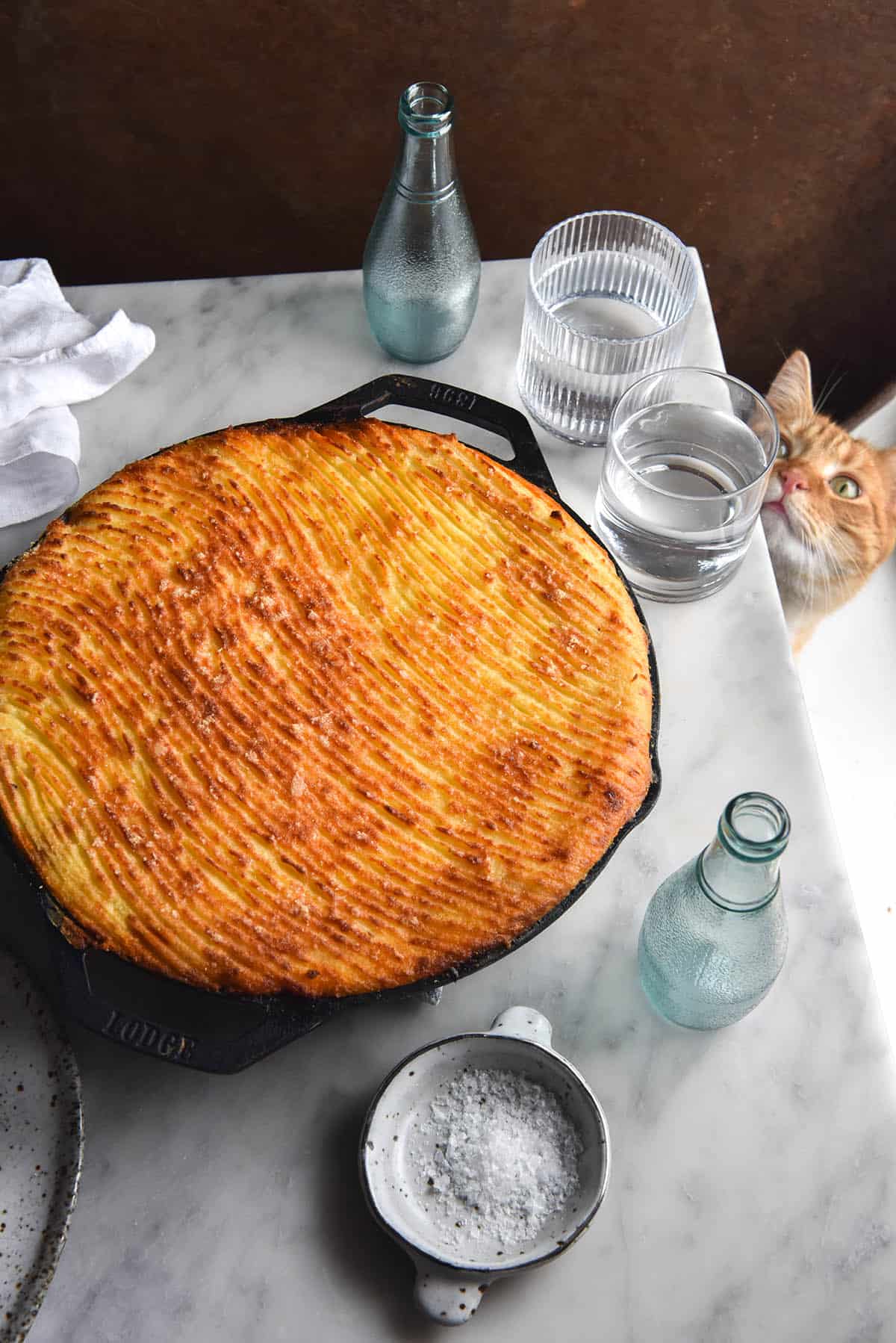 Ever since I saw Claire from Bon Appetit recreate tater tots, I have been determined to get my fix of them. The allowance of tater tots as a meal was not common in my house as a child, so naturally I remain fixated on them as an adult. In what is essentially an excuse to buy and consumer tater tots, today I am sharing a recipe for FODMAP friendly vegan Shepherd's pie. It's vegetarian, gluten free, easy and truly delicious.
FODMAP friendly vegan Shepherd's Pie
The 'meat' aspect of this FODMAP friendly shepherd's pie is a variation on my vegan bolognese recipe. It uses frozen and defrosted tofu, which develops an alarmingly mince meat like texture once the defrost is complete. The pie uses a number of flavourings to develop a meat like umami, and is finished with the heart and soul of the dish, tater tots (or mash). Tater tots are essentially a lazy person's version of mash – no manual labour required.
Of course, if you'd prefer, there is an option to use mashed potato instead. I'll go into that below. I have also used Impossible Meat in this recipe just to try it out. Although it was scarily real to me (as a 7+ year pescetarian) it worked really well.

What to top your FODMAP friendly vegan Shepherd's Pie with
This recipe includes an option to top your Shepherd's Pie with homemade mash or tater tots. An impossible choice, right? But a choice to make. Tater tots make for an easy and quick Shepherd's Pie, but mash is traditional and equally delicious. In Australia, it would seem that a fair few brands of tater tots (potato gems) are gluten free. They might not be everywhere, though, so check the labels.
If you're opting for the mash version, a few things to note. Firstly, you can easily make the mash vegan. Use vegan butter and milk. Either use a vegan cheese on top or simple omit the cheese.
On the note of cheese, you can add some cheese into the mash to make it extra fancy. A nice sharp cheddar would make an excellent addition (dare I say, perhaps even a truffled cheese?)
Which potato variety is best for mash?
For a delicious, fluffy mash, it's gotta be a starchy or all rounder potato. The varieties that are best will differ from country to country, so if you don't like in Australia Google is your friend. If you are Australian, the following are some good choices:
Sebago (generally the washed white variety at supermarkets) are a great all rounder
Yukon Golds (a starchy potato with a beautiful yellow flesh)
Russett potatoes
King Edward potatoes
Mash potato tips and tricks
I hate having more kitchen gadgets than necessary, but I am OBSESSED with my potato ricer. It makes the fluffiest, most delightful mash. If you don't have one and you consider yourself a mash enthusiast, I recommend the investment.
To make a good mash, there are a few important things to consider. Firstly, it's important to boil the potatoes until a knife positively slips through. If they are even slightly undercooked, you'll end up with a lumpy mash.
Boiling your potatoes whole means they won't be waterlogged, like they would be if you cut them up. I always boil mine whole and with plenty of salt in the water.
Next up, it's good practice to remove the skins and rice the potatoes while they are still hot. This makes for a super smooth and creamy mash.
The final few tips come to you courtesy of Bon Appetit:
Add the butter before adding the milk
Add the milk gradually, and as much as necessary
Season it constantly 
FODMAP friendly Shepherd's Pie recipe notes
You can buy vegan Worcestershire sauce but I also have a recipe which you can find here.
Make sure you buy firm tofu for freezing. Anything else will not work in the same way.
I like to buy a few packets of tofu while they're on sale and pop them in the freezer. That way I have frozen tofu ready to go whenever I need it.
My preferred method of defrosting it is to throw it in the sink (with the packet still intact) while I'm doing dishes. The hot water defrosts the tofu in around 20-30 minutes. You can also use firm tofu without freezing it – freezing it just creates a more meaty texture.
If you need a frozen tofu refresher, have a read of this article.
You could really throw whatever vegetables you have on hand into this pie. Some rocket or spinach wouldn't go astray, nor would some grated pumpkin or chopped tomatoes. Feel free to use it as an opportunity to sneak vegetables into your children by disguising them with tater tots.
I have used Massell Beef stock cubes for this recipe. They're vegan (just beef flavoured) and FODMAP friendly.

FODMAP notes
Firm tofu is FODMAP friendly 100g serves per person. This vegetarian or vegan shepherd's pie serves 6-8, which puts it within acceptable FODMAP limits.
Same goes for tinned tomatoes – they are FODMAP friendly in 100g serves. We're using one 400g tin in this dish.
You can also use my low FODMAP Nomato sauce recipe to replace some or all of the tinned tomato. One batch of Nomato sauce makes approximately 1.2kg, which is equivalent to 3 x 400g cans of tinned tomato.
I love using leek greens and spring onion greens in my recipes these days. You don't have to, but they add a lovely onion-esque sweet jamminess and extra flavour.
Peas are FODMAP friendly in 15g serves per person. I've added some but you can leave them out if you want to.
Last thing to note is that you will need to make sure your stock is FODMAP friendly. When I used the Impossible Mince, I actually just used water in place of stock because I found the sauce was already sufficiently meaty. You can also do this with the tofu option, if you'd prefer not to use stock.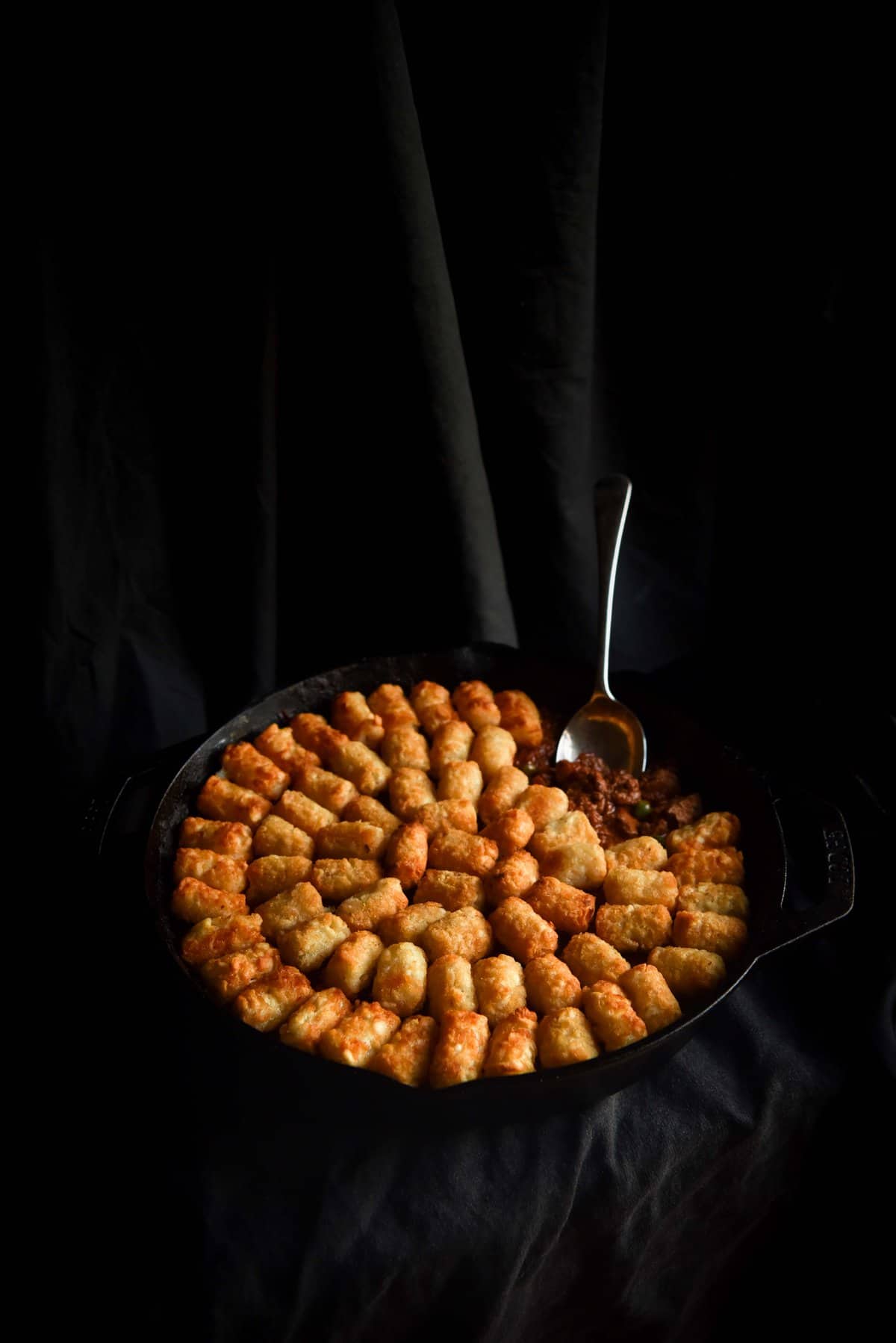 How to add flavour and umami to this vegan Shepherd's Pie
Because this is a vegan dish, it requires a hit of umami to recreate the depth of a meat variety. Aside from the beef stock cubes, there are a few ways to bump up the umami in a vegan dish. These include:
Miso paste. Half a tablespoon of (gluten free) miso paste can add a lovely umami boost.
Red wine. Red wine is huge in developing an umami, meaty depth of flavour. I never recommend omitting it for this reason. The alcohol cooks off and you are left with a delicious, flavoursome sauce.
Tomato paste and balsamic vinegar.
Vegemite, nutritional yeast, mushrooms, sundried tomatoes and seaweed are more options. They're not in this recipe, but you could add some to your next pie if you're into it.
Green tea is another umami booster. If you have a random cup of cold green tea lying around (or even if you don't) throw that in for a umami boost.
Impossible Meat did have a meaty flavour when I used it, so that's an easy way to add some authenticity. I probably wouldn't use vegan meat everyday (mainly because my digestive system would likely crack the sads) but it is a really cool, easy thing to have every now and again.

Tips for a golden mashed potato topping on your FODMAP friendly vegan Shepherd's Pie
If you're using the mashed potato option, I learned some great tricks from Recipe Tin Eats. Firstly, create some texture on the mashed potatoes by marking them with a fork. You can drag the prongs around, make little dents as you would a yoyo biscuit – whatever you like.
Next, melt some butter and dab it onto the textured surface using a pastry brush. Cover the whole surface in the butter. Finally, sprinkle over some finely and freshly grated parmesan cheese. I like to use my Nutribullet for this to create a super fine sprinkle.
Lastly, cook the pie at 200c/400F for about thirty minutes or until golden brown. Because (in a mash version) all elements are already cooked, this is purely about browning.
Notes on using impossible mince
As I mentioned in my reel on Instagram, I have also used Impossible Mince for this Shepherd's Pie. I really liked the taste and texture! It was surprisingly meaty and I would definitely serve it to non-vegetarian people as it's more of a dupe than tofu. On the FODMAP side, there's nothing that stood out to me as being particularly dangerous. It's gluten free and made from soy protein. Anecdotally, I felt fine after eating it each time. I'd say it might be down to personal tolerance, but it was fine for me.
To use it in this Shepherd's Pie, simply sub it in for the tofu. Add a little less stock (I actually just used water because I wasn't needing to add in beef flavour). That's about it! It's a really delicious fill in for tofu and I recommend it every now and again.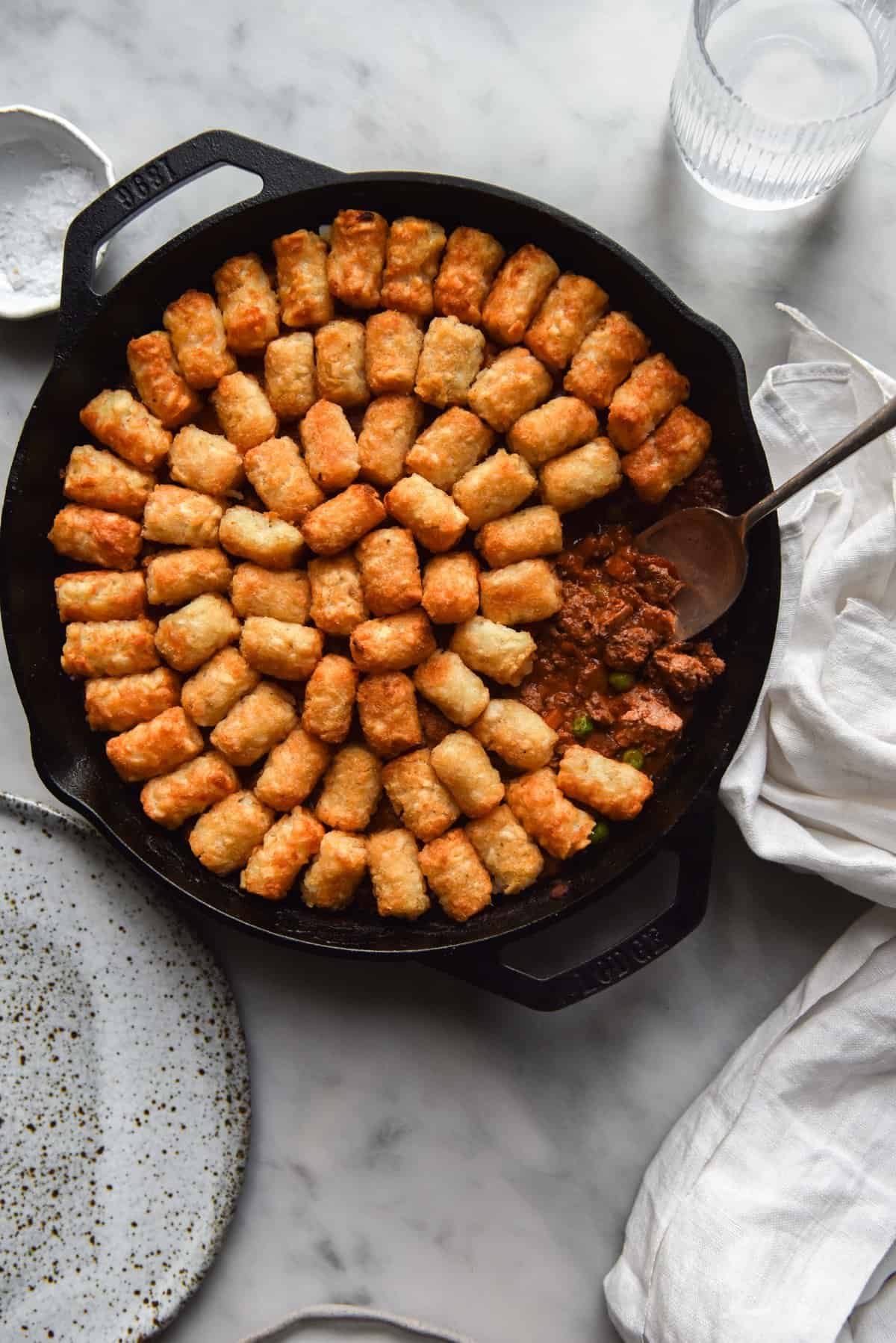 More low FODMAP vegan recipes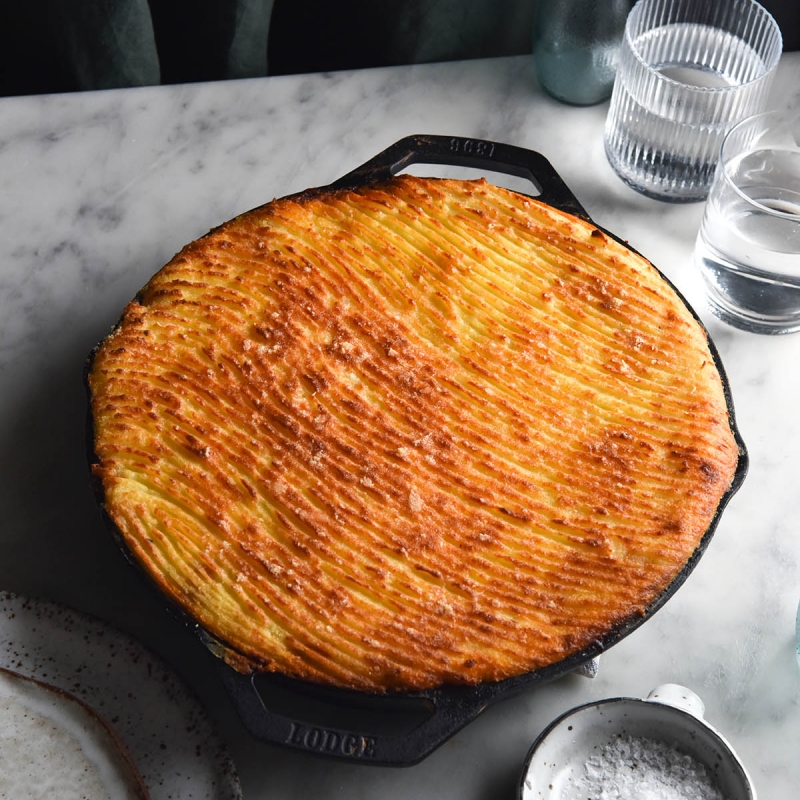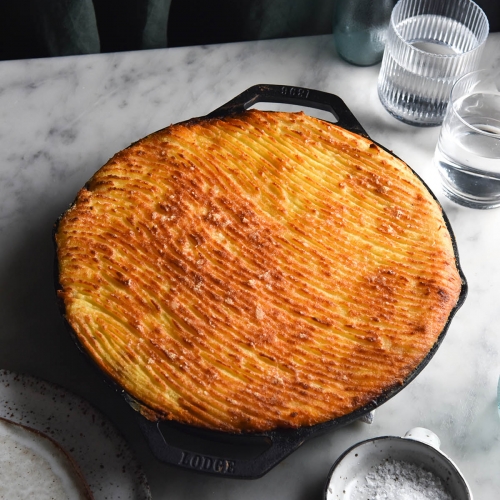 FODMAP friendly Shepherd's Pie (vegan, gluten free)
Gluten free, vegan, nut free, one pot
Preparation and cooking time for the mash potato option is 30-45 minutes longer
Equipment
1 x 31cm cast iron skillet
Ingredients
FOR THE VEGAN SHEPHERD'S PIE
3

tablespoons

olive oil

350

g

(3ish large) carrots, cut into small cubes or grated

Greens of 1 leek, thoroughly washed and chopped

Spring onion greens, thoroughly washed and chopped

Couple of bay leaves if you have them

Freshly cracked pepper

Good pinch of salt

1/4

cup

+ 1 tablespoon tomato paste

1

tablespoon

(20ml) Tamari or gluten free dark soy sauce

2-3

tablespoons

(40-60ml) vegan Worcestershire sauce, to taste

1

tablespoon

light brown sugar or pure maple syrup

1/2 – 1

tablespoon

light gluten free miso paste (optional)

1 1/2 – 2

cups

(375-500ml) stock

(I used 2 Massel FODMAP friendly 'beef' cubes in boiling water)

1/2 – 1

cup

(125-250ml) red wine

1

x 400g tin of plain tomatoes

(see notes)

1

x 500g packet firm tofu, frozen and defrosted

(see notes)

1-2

tablespoons

gluten free cornflour

1/3

cup

frozen peas

(optional)
For the potatoes:
1

x 1kg bag of tater tots (check that they don't have gluten containing ingredients if necessary)

OR

1.5 -2 kg

all rounder or starchy potatoes, boiled to oblivion

50g

butter

1/2 – 1

cup

(125-250ml) milk of choice (to form a smooth and spreadable mash)

fine salt, to taste

25g

butter, melted (for the top)

freshly and finely grated parmesan (for the top)
Instructions
If you are making the mash topping:
Cook the potatoes, whole, in salted water until completely cooked through. This will be about 15-20+ minutes, depending on the size of the potato. Once a knife slides through the largest potato effortlessly, remove them from the water and allow to steam dry a little.

Carefully peel the skins off the potatoes. You can use gloved hards or a fork (they will be super hot). Mash the potatoes into a large mixing bowl using your preferred method. I like to use my potato ricer.

Add the butter and stir to combine, then add the milk until you reach your desired consistency. You want the potatoes to be spreadable and smooth, about the consistency of buttercream. Season to taste and set aside while you make the mince. If you're using the tater tot topping, proceed to the next step.
To make the vegan mince:
In a large 31cm skillet, heat the olive until shimmering before adding the chopped carrots, bay leaves, cracked pepper and a good pinch of salt. The salt will draw out moisture from the carrots so they will cook without browning. The pepper will mellow as it cooks. Cook for 15-20 minutes until soft.

Meanwhile, mix together the tomato paste, balsamic, Tamari, Worcestershire sauce, miso and light brown sugar in a medium bowl. Whisk to combine and adjust for taste as you see fit. Add the cocoa, asafoetida and spices here if you're using them.

At this point, preheat the oven to 230C or 445F.

Once the carrots are cooked, pour the tomato paste mixture into the skillet and use a silicon spatula to combine it with the carrots. Deglaze the pan with the red wine.

Allow to cook for a few minutes before crumbling in the defrosted and drained tofu. Stir to combine and allow the tofu and stir to combine, cooking for a minute or two. Add the stock and tinned tomato and stir to combine. Cook for 10 or so minutes until the tofu has taken on colour and flavour. Turn off the heat and add the frozen peas if you're using them. Allow them to cook slightly before adding the cornflour. If you add them together the cornflour will clump to the peas.
If you are making the tater tot Shepherd's Pie
Take your 1kg bag of tater tots and arrange them around the top of the dish. I had about a cup worth left over, so unless you're using a significantly bigger skillet don't panic about not having enough.

Place the shepherd's pie into the oven for 30 minutes. If necessary, turn the oven to grill in order to brown the tater tots in the last few minutes. Remove from the oven and serve.
If you are using the mash topping
Arrange the mash on top of the mince and spread it evenly with a spatula. Use a fork to create a pattern on the surface, as this will create crispy edges. To aid in browning, you can brush the top with melted butter and sprinkle it with some finely grated cheese.
Notes
Impossible Mince also works well in this dish. You can use a little less stock (and water instead of beef stock, as it already has a meaty flavour). 
You can also use my low FODMAP Nomato sauce recipe to replace some or all of the tinned tomato. One batch of Nomato sauce makes approximately 1.2kg, which is equivalent to 3 x 400g cans of tinned tomato.