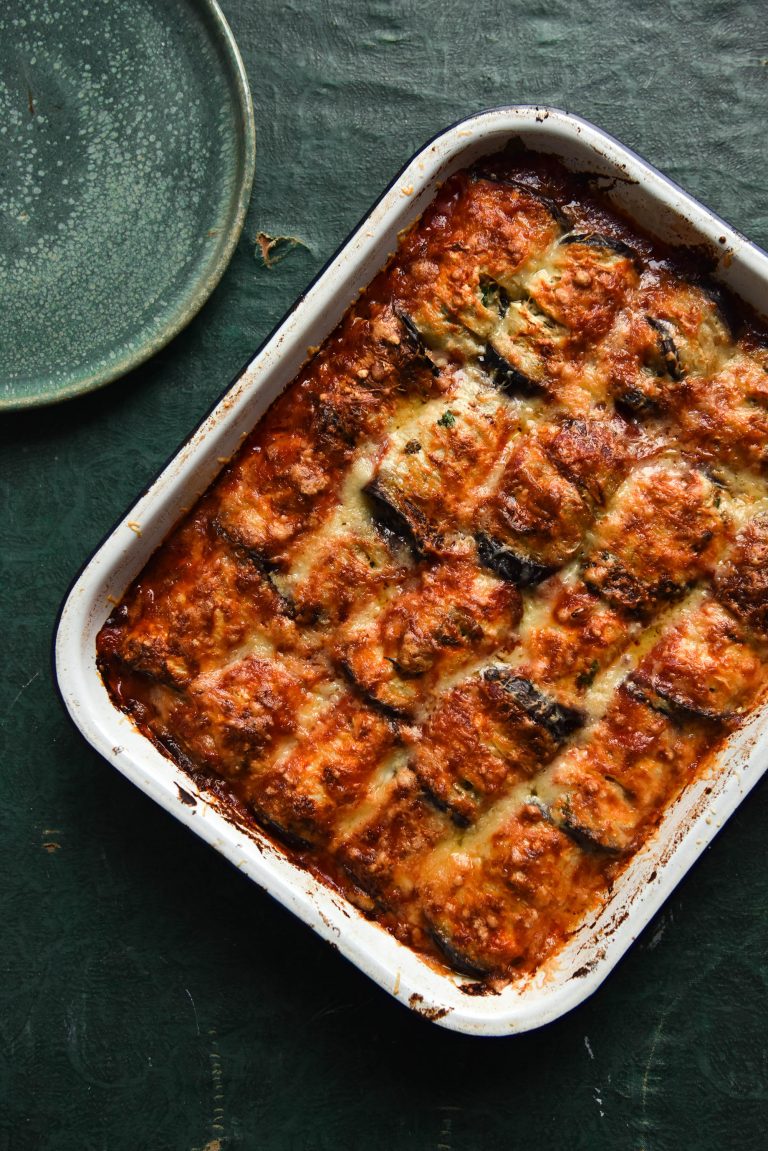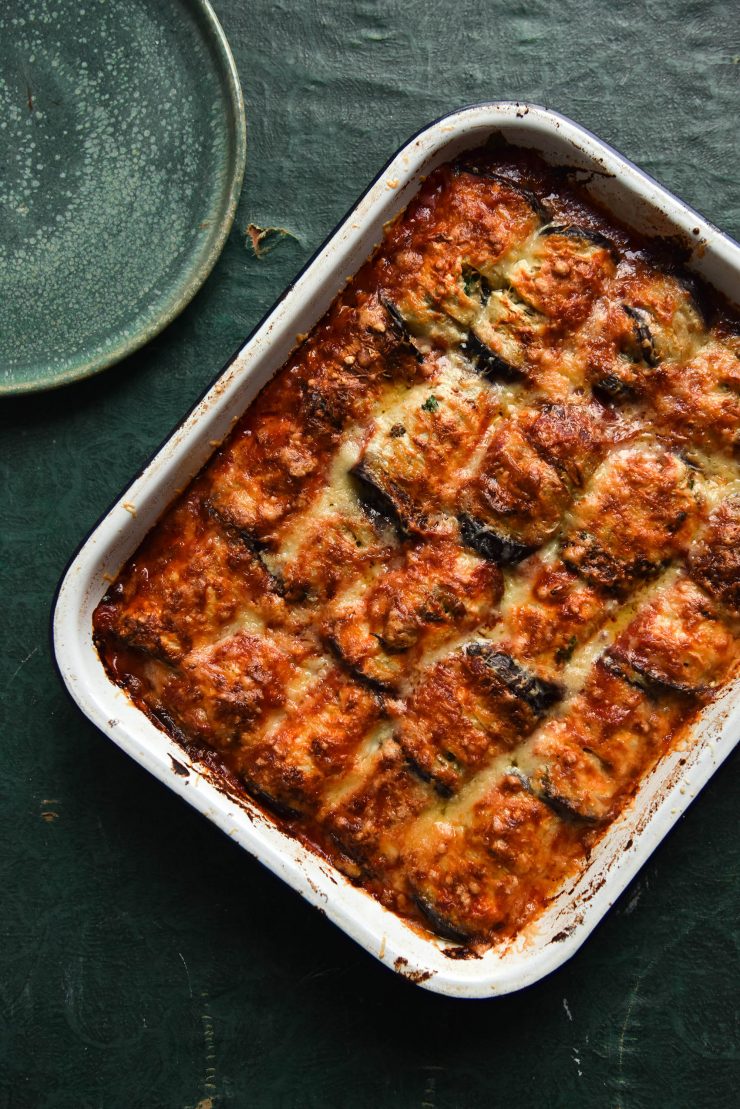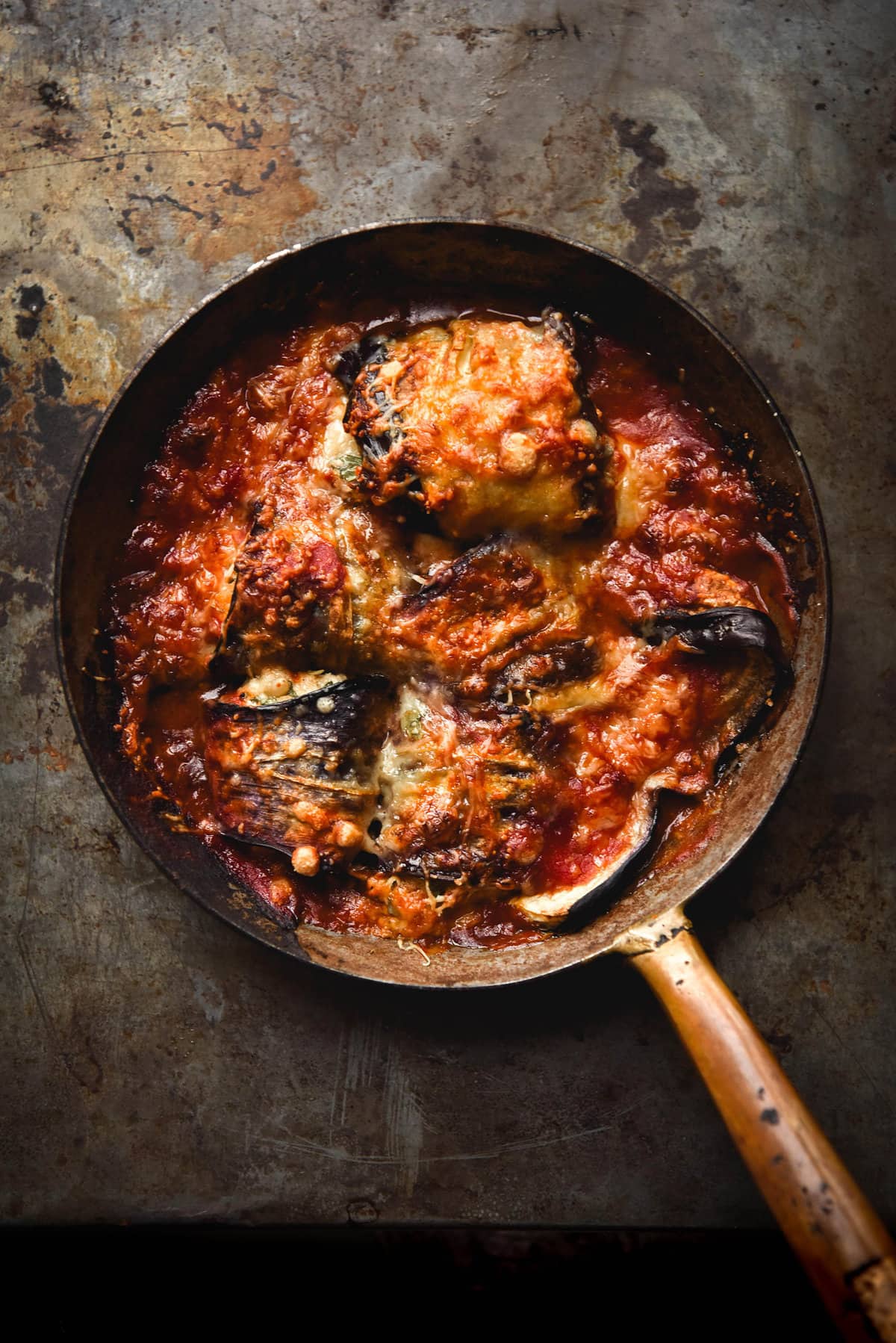 I've been on a real involtini bender the last few weeks. As a result of my current adherence to an elimination diet, grains are off the menu and eggplant is their stand in. First, I made the involtini from my cookbook using tofu in place of ricotta. Second, I made an involtini version of my enchilada dish (exact recipe coming soon). And today I'm here, sharing my next addition to the family, vegan sausage involtini.
A note before we continue: I have used regular cheese in the photos for this recipe. Not vegan, I know! This is because I can currently only eat aged cheese. Vegan cheese, as noble as it is of an achievement, often contains ingredients unsuitable for an elimination diet. So, because I'm not about food waste, I have used regular cheese.
Fear not, though, this dish is completely vegan, save for your choice of cheese. If you would prefer to use vegan cheese, go for it. Regular cheese? It works a treat, too.
Vegan sausage involtini that's low FODMAP
All in all, this vegan sausage involtini is FODMAP friendly, nut free, gluten/grain free and SIBO bi-phasic stage 2 friendly. It's also quite reminiscent of a sausage roll baked into involtini format. What's not to love?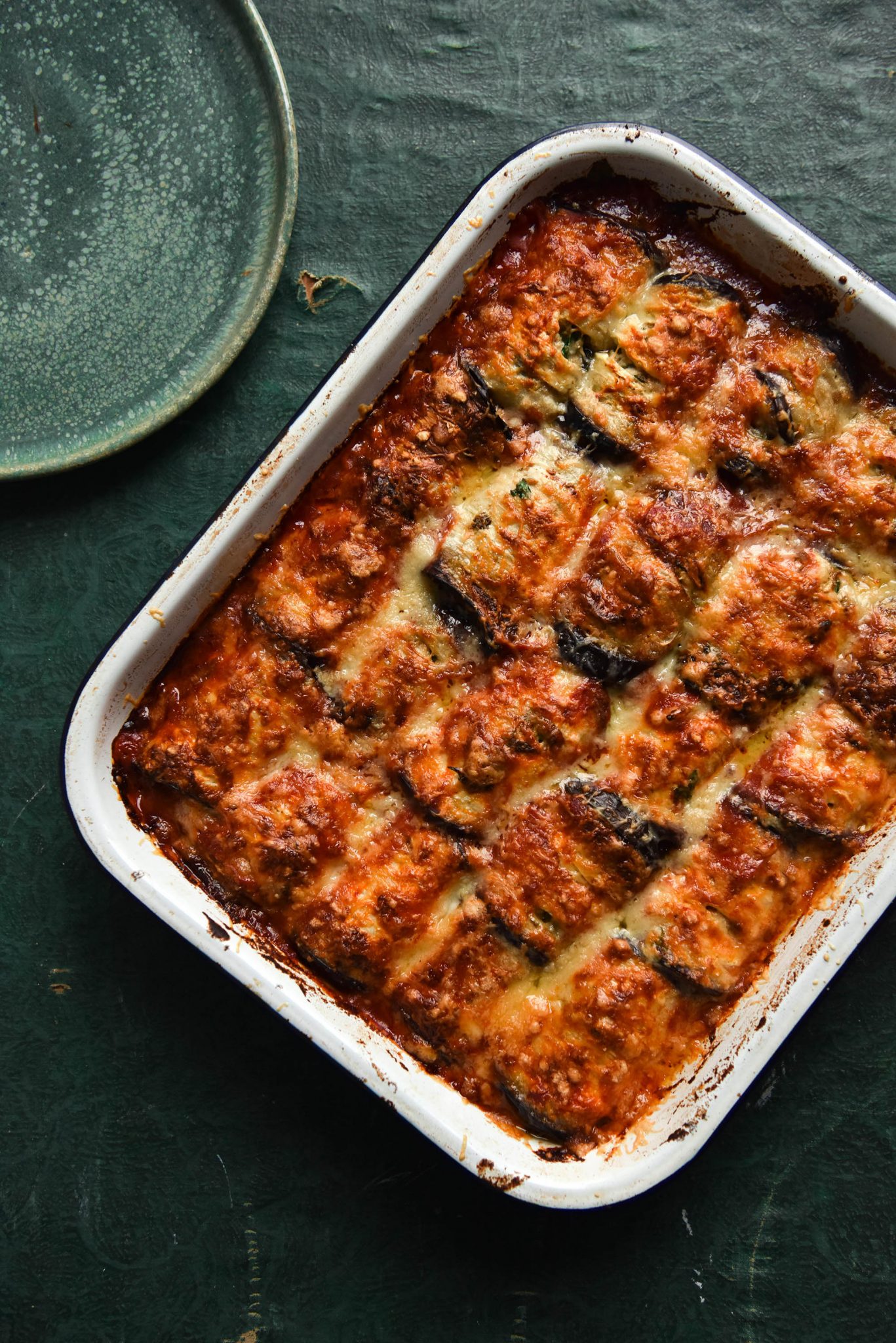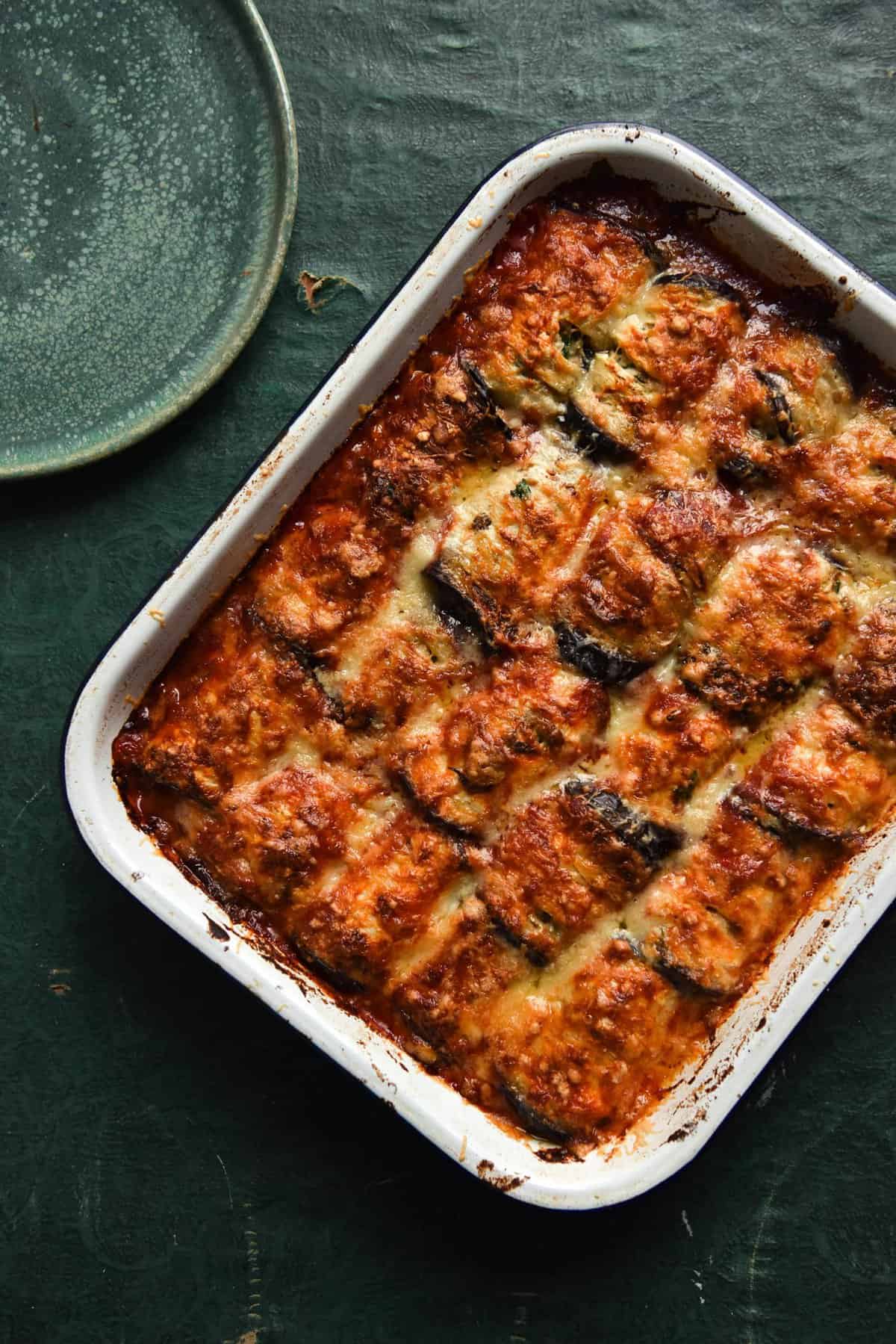 Recipe notes for your vegan sausage involtini
This sausage part of this recipe was inspired in equal parts by my vegetarian sausage roll and my vegan sausage recipes. If those are more your thing, nothing but respect.
I have used coconut aminos in place of the sugar in this recipe to ensure it's SIBO diet compliant. You can use light brown sugar or maple syrup here, if you prefer. The sweetness really is necessary to round out the 'meat' taste of the sausage filling, I promise.
Make sure you buy firm tofu – not semi firm and especially not silken. This recipe relies on the firmness of the tofu, blended, to create a filling that is firm enough to withstand cooking.
For those without any FODMAP restrictions, I daresay you could add a bit of onion in with the carrots, and garlic with the spices. For FODMAP eaters, you could use some garlic infused oil or a little bit of asafoetida powder (which tastes like onion and garlic). Note that asafoetida powder isn't allowed on the SIBO diet and it can sometimes contain gluten. Check the labels if you can't eat gluten.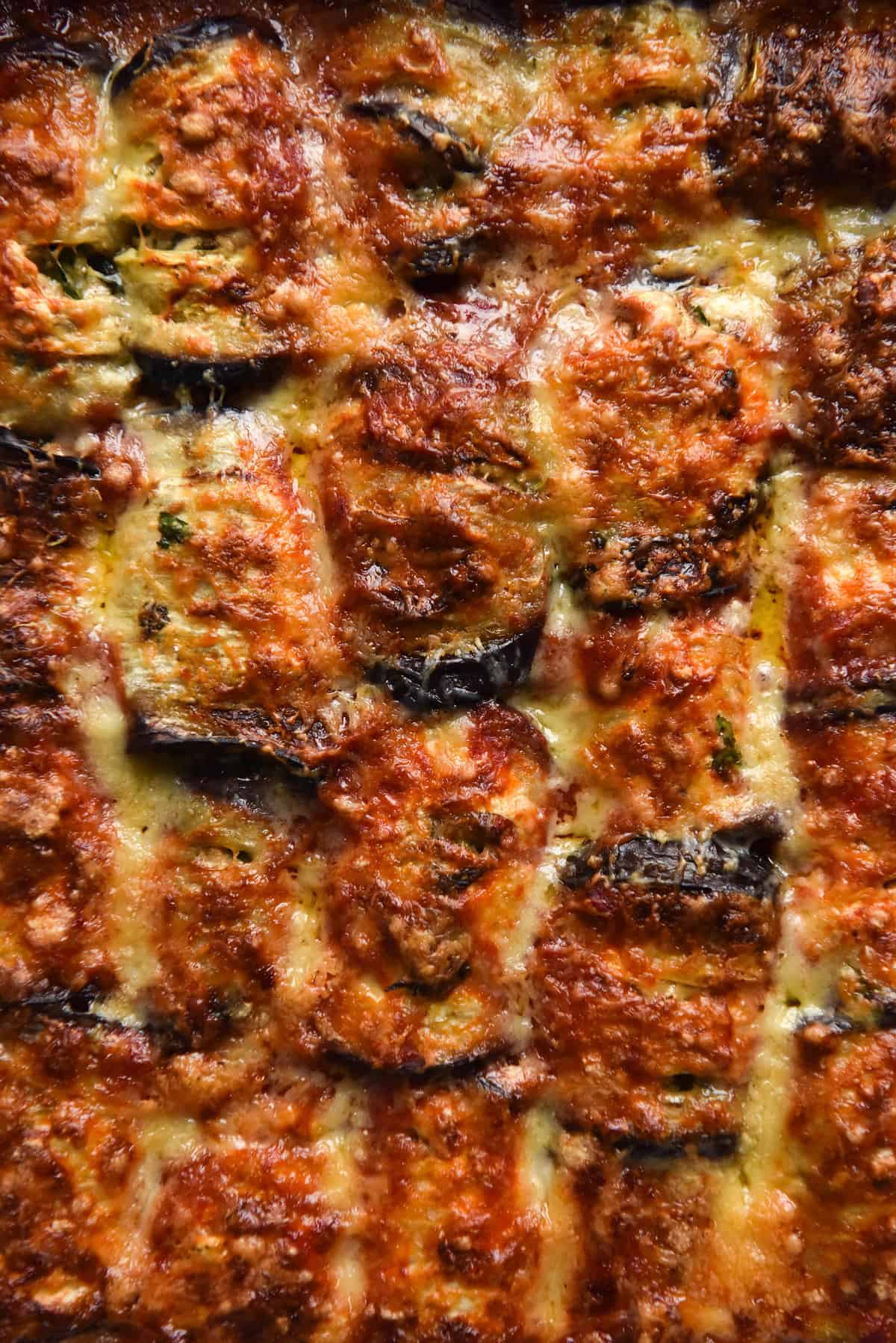 A note on spices
There are some spices included in this recipe that are totally compulsory. They are responsible for the faux meaty taste that makes the sausage meat so good. They are clove powder, dried oregano and dried sage powder. Combined, they replicate a meaty depth of flavour incredibly well. Tarragon and allspice are important too (and I don't want you to omit any of them!) but I understand that not everyone cooks for a living. If you can only buy 3 spices, make them clove powder, dried oregano and dried sage powder.
After you've made the sausage filling once, you can play around with adding new spices as you see fit. Smoked paprika lends an interesting flavour, for example. I'm planning to make a Thai-inspired version with lemongrass, ginger and makrut lime, so keep your eyes peeled for that.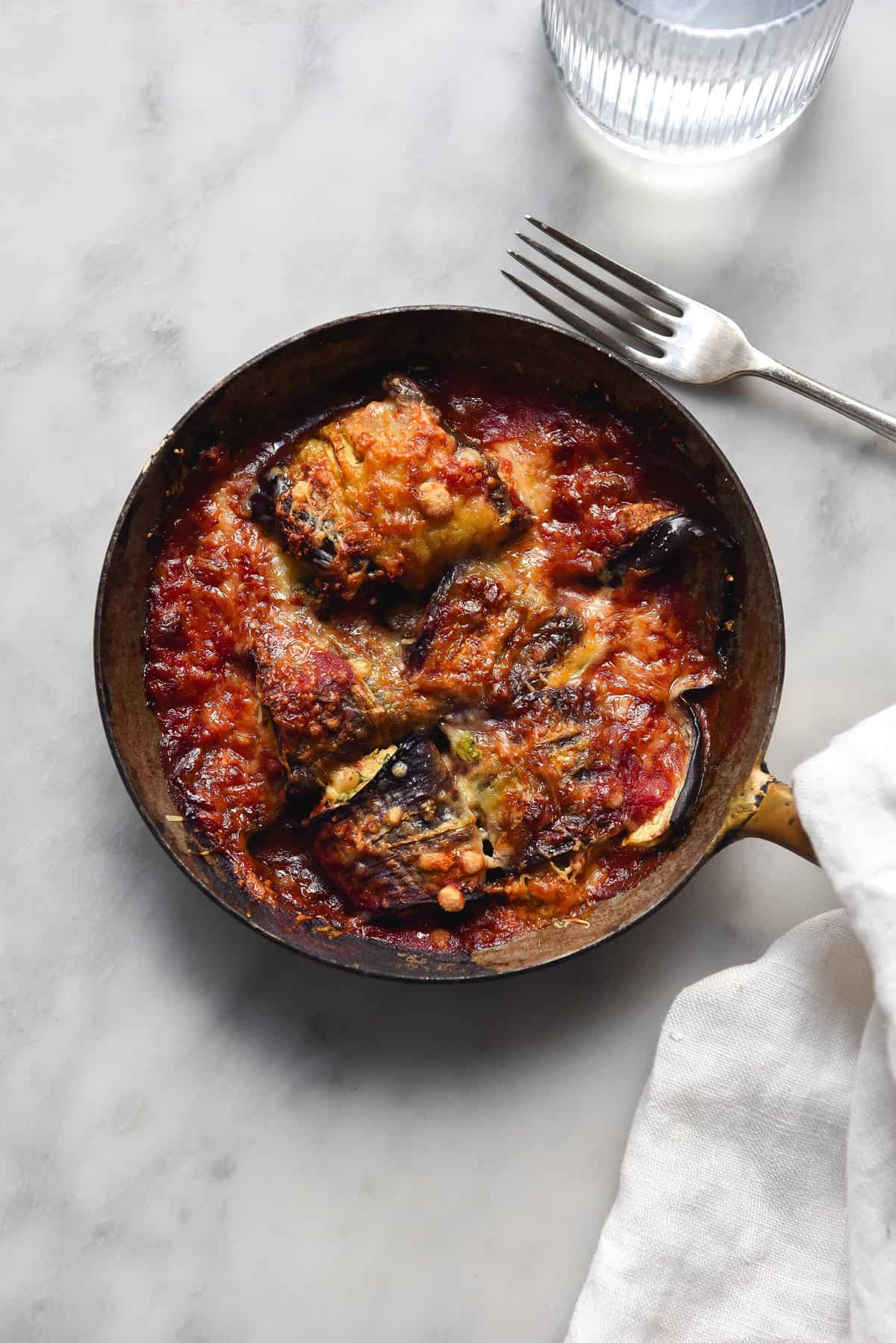 A note on cooking the eggplant
It has been brought to my attention that the eggplant involtini recipe in my book has a couple of omissions in the instructions. Sorry guys! The book was such a whirlwind of development, styling and shooting, it was bound to happen.
First and foremost, let it be known that you have some options with the eggplant. You can either slice it thinly and use it raw (a mandoline is your best bet here). You can also salt the eggplant and allow it to drain for an hour or so (this makes it more flexible).
Although I haven't tried this, you could potentially microwave the slices. They can be pan fried, but they tend to absorb A LOT of oil in the cooking process, which makes the dish unnecessarily rich.
Basically, you want any sort of cooking method that will steam the eggplant without needing too much oil. This brings me to my preferred – cook it in a sandwich press. A sandwich press is ideal here because it cooks the eggplant as well as quasi-steaming it. This makes it flexible in no time at all.
Next! A note on the oven temperature. Honestly, anything above 180C or 356F is absolutely fine. You can cook it faster (200C/400F plus) or slower, depending on your time schedule. I always like to finish it off with a quick grill just to brown the cheese, but it's not strictly necessary.
If you've cooked the eggplant prior to baking, you're really only grilling the cheese and heating everything up, anyway. Because the bake it vegan it could hypothetically be eaten raw!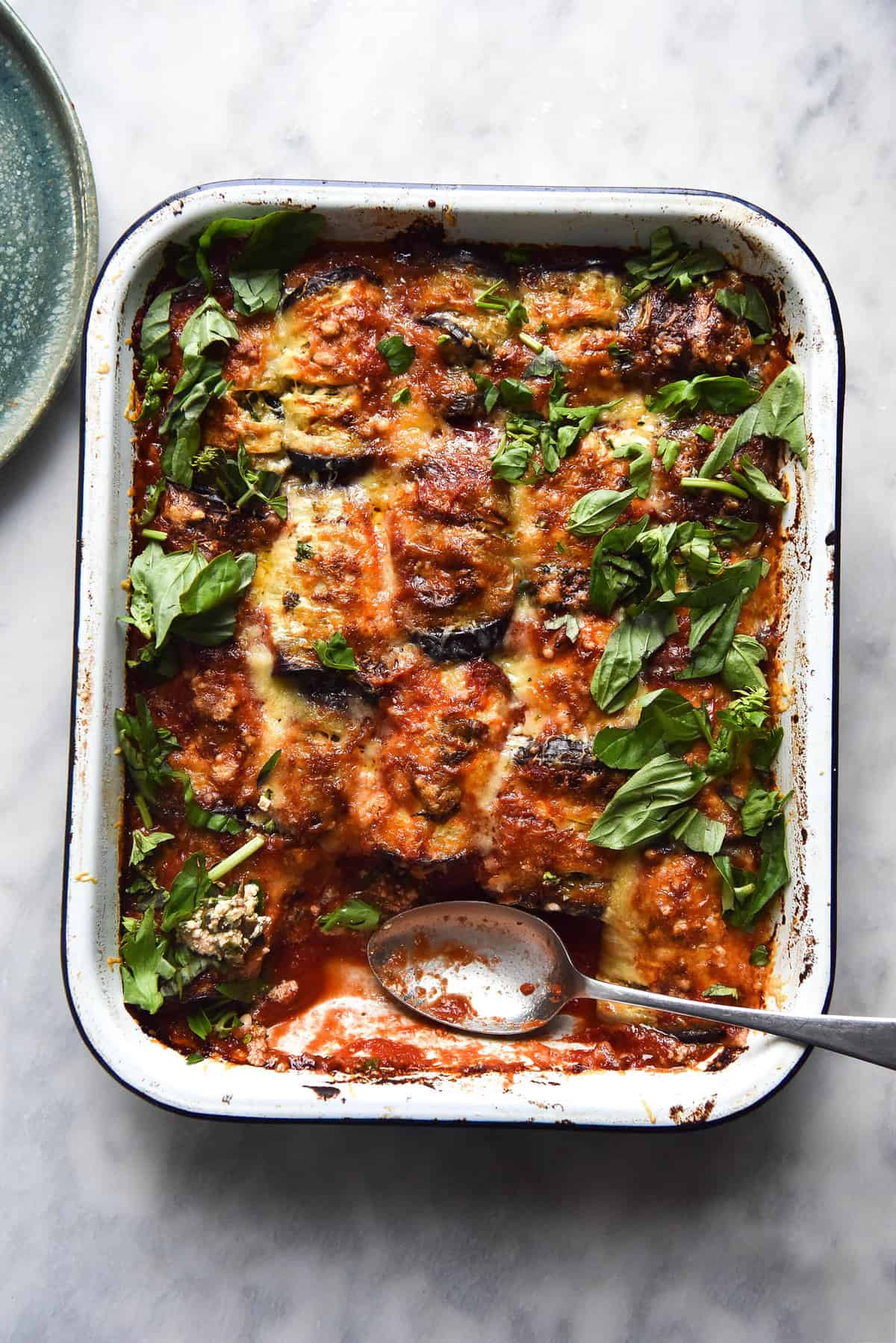 Notes for different blenders
The best way to make this mince is with a good quality, high speed food processor. I use a Nutribullet and while it's definitely doable, it is a little tedious to get it all blended. S
On the note of Nutribullets (or anything without a steam valve) ensure that you let the mixture cool before blending if you're using one. Because there is nowhere for the steam to escape it can build up and explode. Better safe than sorry etc.
More vegetarian or vegan sausage recipes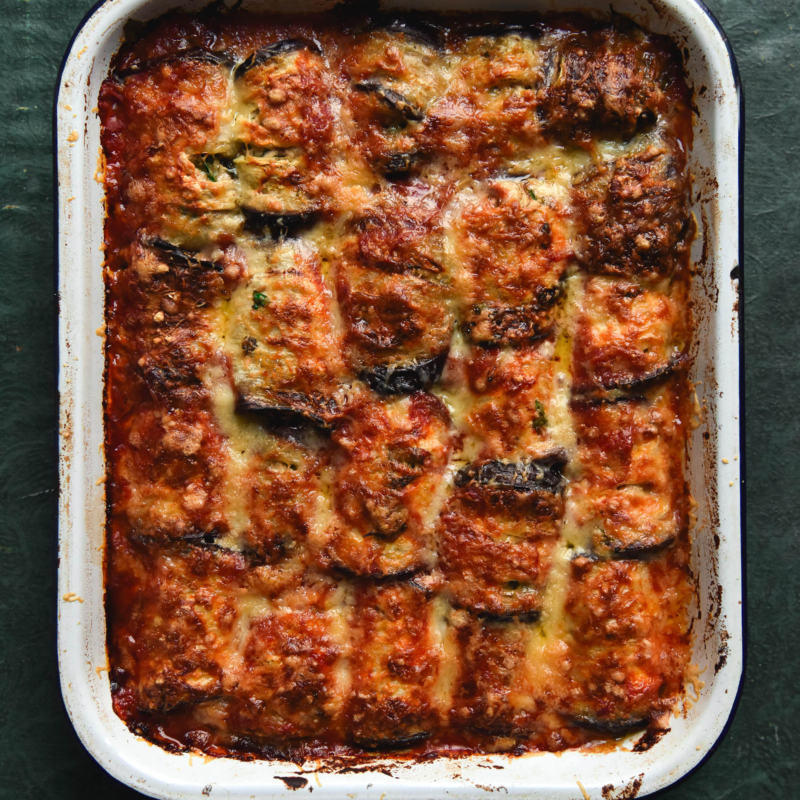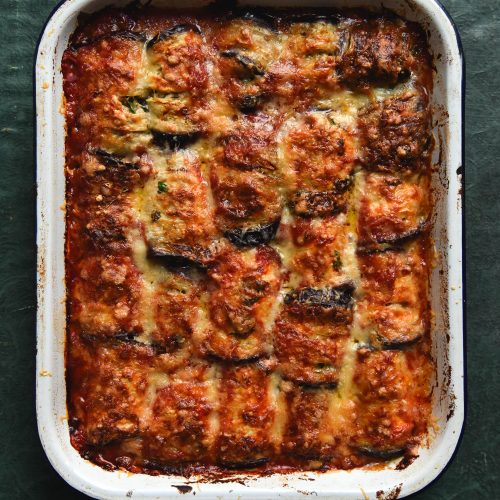 Vegan sausage involtini
Vegan/vegetarian, gluten/grain free, nut free, SIBO bi-phasic friendly
Equipment
L31cm x W25cm x H6cm baking dish
Ingredients
For the involtini:
3-4

large

symmetrical eggplant
For the vegan sausage filling:
2-3

tablespoon

oil I used olive

2

large carrots

3

tablespoons

balsamic or red wine vinegar

use red wine vinegar for SIBO diet

3

tablespoon

coconut aminos

you could use 2-3 tablespoons maple syrup if you don't need to SIBO diet compliant, see notes

1-2

tablespoon

tamari

1 1/2

teaspoons

dried oregano

1 1/2

teaspooons tarragon

1 1/2

teaspoons

allspice

1 1/2

teaspoons

ground clove

1 1/2

teaspoons

dried sage powder

1 1/2

teaspoons

dried rosemary

1/2

tablespoon

miso paste I used a sweet brown rice miso paste

but any gluten free one will work

500

g

tofu

crumbled into small pieces

1/4

cup

olive oil
To finish the involtini:
1/4

– 1/2 jar of passata

Vegan melting cheese

to finish

OR

Cheddar cheese

finely and freshly grated

Herbs to finish with

if you fancy them
Instructions
To prepare the eggplant:
Slice the eggplant lengthways into thin, even pieces that are about 1/2 centimetre thick. Cook the slices in batches in your sandwich press until it is nice and pliable. If you don't have a sandwich press, you can salt the eggplant slices thoroughly and allow them to drain for an hour. See notes above on cooking methods. Once cooked, set aside until the sausage mixture is ready.
To make the vegan sausage filling:
Place a large skillet over a medium heat and add the oil. Once warmed, add the finely chopped carrot and cook for 10-15 minutes or until it has shrivelled and browned.

While you're waiting, mix together all the remaining ingredients except for the tofu and olive oil.

Once the carrot is ready, add the flavouring mixture and cook for an additional few minutes until the liquid becomes syrup like. You might need to smush up the miso paste with your spatula to dissolve it.

You can add the tofu to the pan, or pour them separately into your food processor. Either way, add them to the blender along with the olive oil. If you're using a Nutribullet you will need to wait until the mixture has cooled before blending.

Blend until the mixture is 90% smooth, adding a little extra liquid if you're having trouble. Once it is smooth, decant the mixture and adjust for seasoning and spices. I like mine quite spiced, so I often add an extra 1/2 teaspoon of each spice.
To assemble:
Preheat the oven to 180C or 356F.

Take a large L31cm x W25cm x H6cm baking dish and spread a little passata on the bottom. This dish doesn't need much tomato, so you can leave the bottom dry if you prefer.

Place about 1 1/2 tablespoons of mixture into each eggplant side. Place the mixture on one end of the eggplant, and then roll it up into your little involtini. Place each involtini into the tray, seam side down. Repeat until you have filled all the involtini – the quantity should fit nicely in the tray. See notes on what to do with any leftover eggplant.

Top the snug involtini with a very thin layer of passata and a very generous layer of freshly and cheese. If you're using regular cheddar, use the small side of the grate, because the fine shreds of cheddar melt a lot better and more aesthetically than thick ones.

Place the involtini in the oven for 20-30 minutes, or until the cheese is bubbly and golden. I like to place it under the grill for a few minutes just to finish it off.

Serve warm. Involtini keeps well in the fridge for a few days.