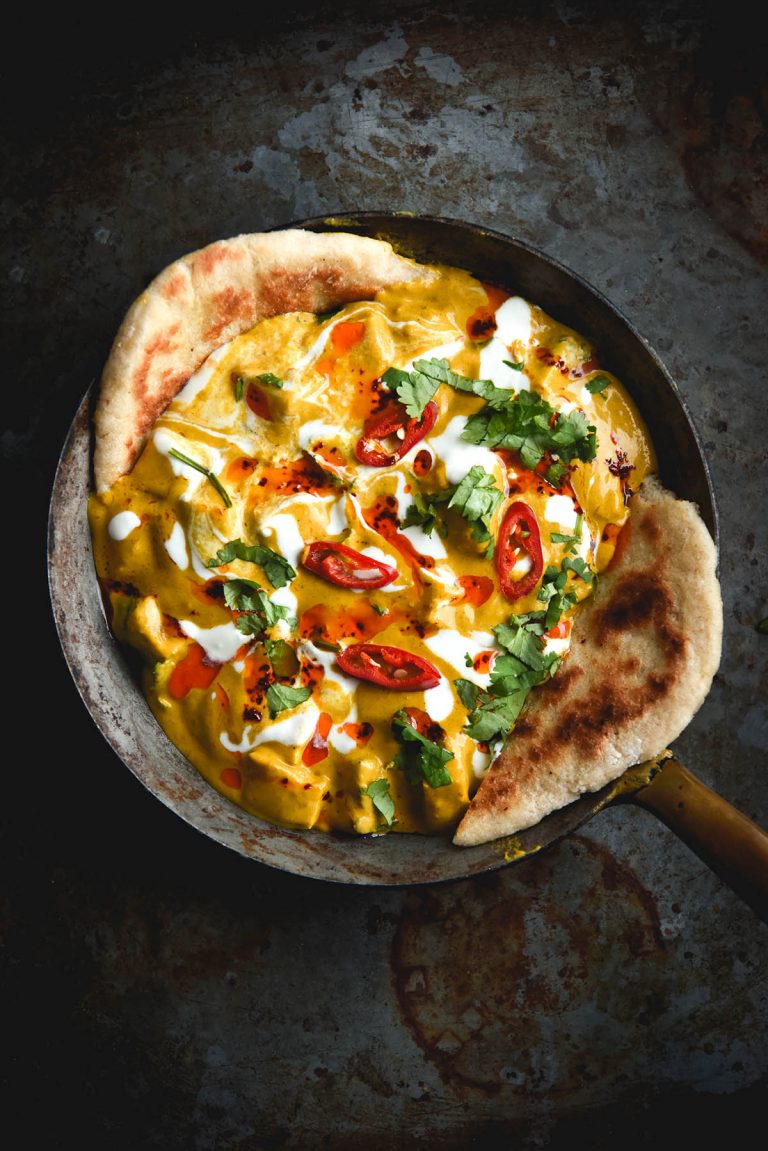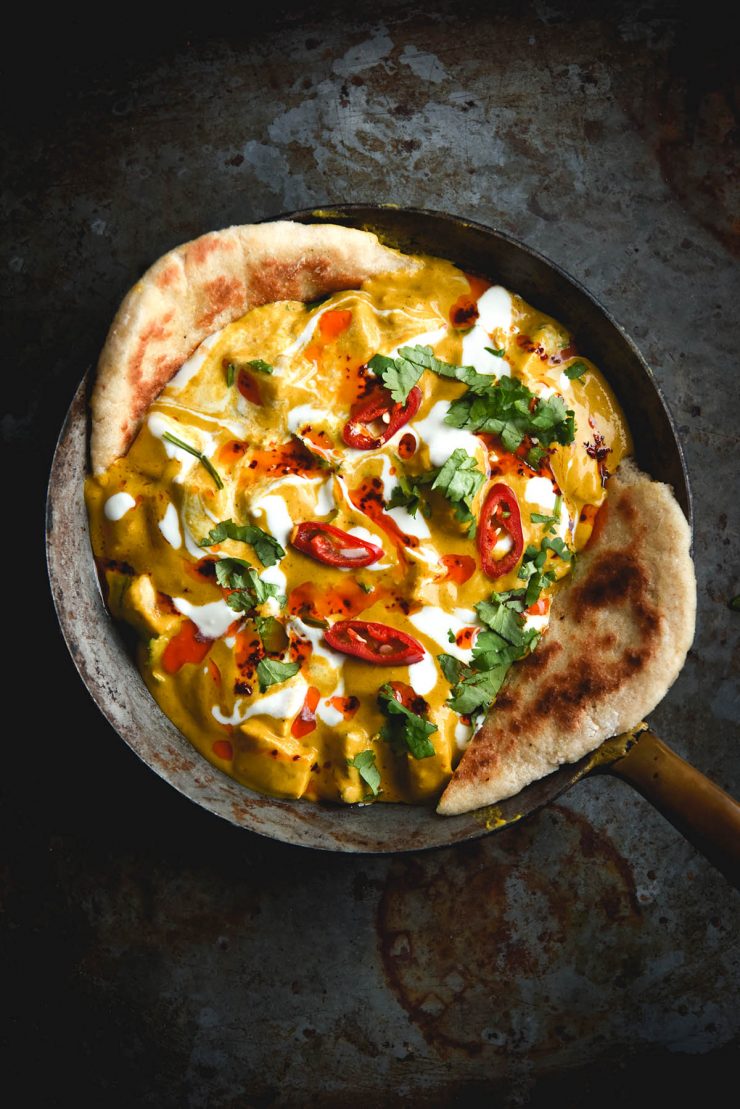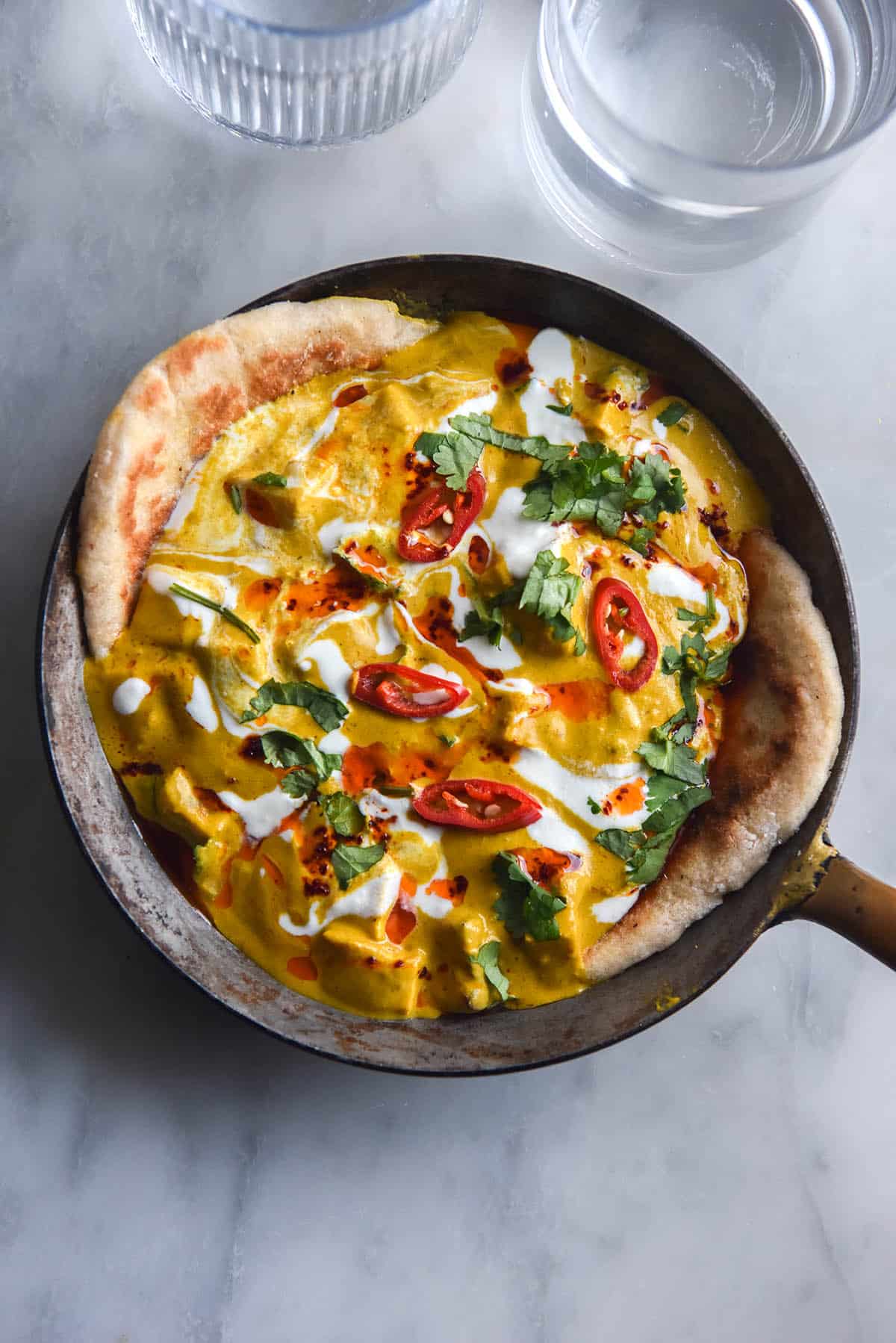 This FODMAP friendly shahi paneer was a crowning glory of my first cookbook. A dish that I used to order all the time, I was really proud to have nailed down my own version. Long story short, the version in the book contained onion, which is not the version of this recipe I hoped to take to print. So, here we are today with the FODMAP friendly shahi paneer I intended to share. With a few tweaks, too, because I have learnt even more tricks since the book was published (and because Monash recently changed the threshold for tomatoes).

FODMAP friendly shahi paneer
This shahi paneer is made without onion and garlic to make sure it is FODMAP friendly. It uses spring onion greens and asafoetida to replace the rich onion and garlic flavour. To keep the lactose content down, you can also make your own lactose free paneer. It's a delicious and cost effective way to add paneer to your curry.
This dish is vegetarian and can be made vegan with a plant based milk/cream and tofu instead of the paneer.
How this recipe differs from traditional shahi paneer
The onion and garlic are replaced with spring onion greens and the option to add asafoetida
Tomatoes have the option to be (half) replaced with grated carrot and pumpkin for sweetness and bulk
I have omitted the nuts to ensure people with nut allergies and FODMAP concerns are included
Cardamom doesn't seem to be included in recipes online, but the shahi paneer I've always had had a hit of cardamom. I'm not sure if it's an inauthentic addition or whether it's more of a matter of choice
There is the option to use plant based milk, yoghurt and tofu in place of the milk, cream and paneer

FODMAP notes
I should note re: the original recipe: onion (and everything else) can be eaten on a FODMAP diet if you don't react to it. The point is never to exclude everything long term. In fact, it is to include everything that works for you long term. If that happens to be onion, eat onion! (lucky you, I'm jealous).
As annoying as it to add another component, I have swapped out some of the tomatoes for steamed pumpkin here. This is to keep the recipe in line with Monash's update of the fructose in tomatoes. If you don't have any issues with tomatoes, absolutely feel free to use them instead (I have included this in the recipe notes).
I use lactose free cream in this recipe. You can use regular cream if lactose is not an issue, or a dairy free alternative if that is what works for you. Needless to say, use a dairy free alternative to make this vegan.
Again, for lactose concerns, you can use cubed firm tofu instead of paneer. I quite like using tofu and paneer to add a bit of extra protein in.
Interestingly, activated cashews are FODMAP friendly at 10 per serving, whereas regular are not. You can use activated cashews here or macadamia nuts, but more on nuts below.

A note on the nuts
Nuts are used in curry bases to thicken and add creaminess. Needless to say, nuts aren't for everyone, so I decided not to use them in this FODMAP friendly shahi paneer. If you'd like to add something to thicken it up a little, I have done a bit of digging as to some nut substitutes. Some suggestions I have found are:
Chickpeas (use canned for FODMAP purposes) for that bland creaminess and thickening
A little tiny bit of cornstarch to thicken the gravy up
Add a little less liquid or compensate with cream. Thick cream would be good, if you don't have any lactose concerns
Tomato paste
Tomatoes or pumpkin?
If you're not new to the FODMAP diet and Monash app, you'll know that the FODMAP friendly threshold for tomatoes was recently lowered. This means that only half a common tomato (65g) is allowed per serve, IF you have issues with fructose and/or with tomatoes. The change in FODMAP status elucidated to some people that they could in fact eat more than half a tomato, despite the change. So, if you're a person who can eat tomatoes with no issue, use the tomato option.
If tomatoes create issues for you, there's an option! To replace half the tomatoes, you have the option to use grated pumpkin and a good splash of lime juice. The pumpkin will help replicate the sweetness and bulk, while the lemon/lime juice will add the acidity. I find with the pumpkin option that it's good to add a little extra spice to help disguise a vague taste of pumpkin soup.
I would suggest adding 3-5 extra cardamom pods and 1 teaspoon extra of garam masala powder. You might even add a little extra green chilli, if you enjoy a bit of spice.

More FODMAP friendly vegetarian recipes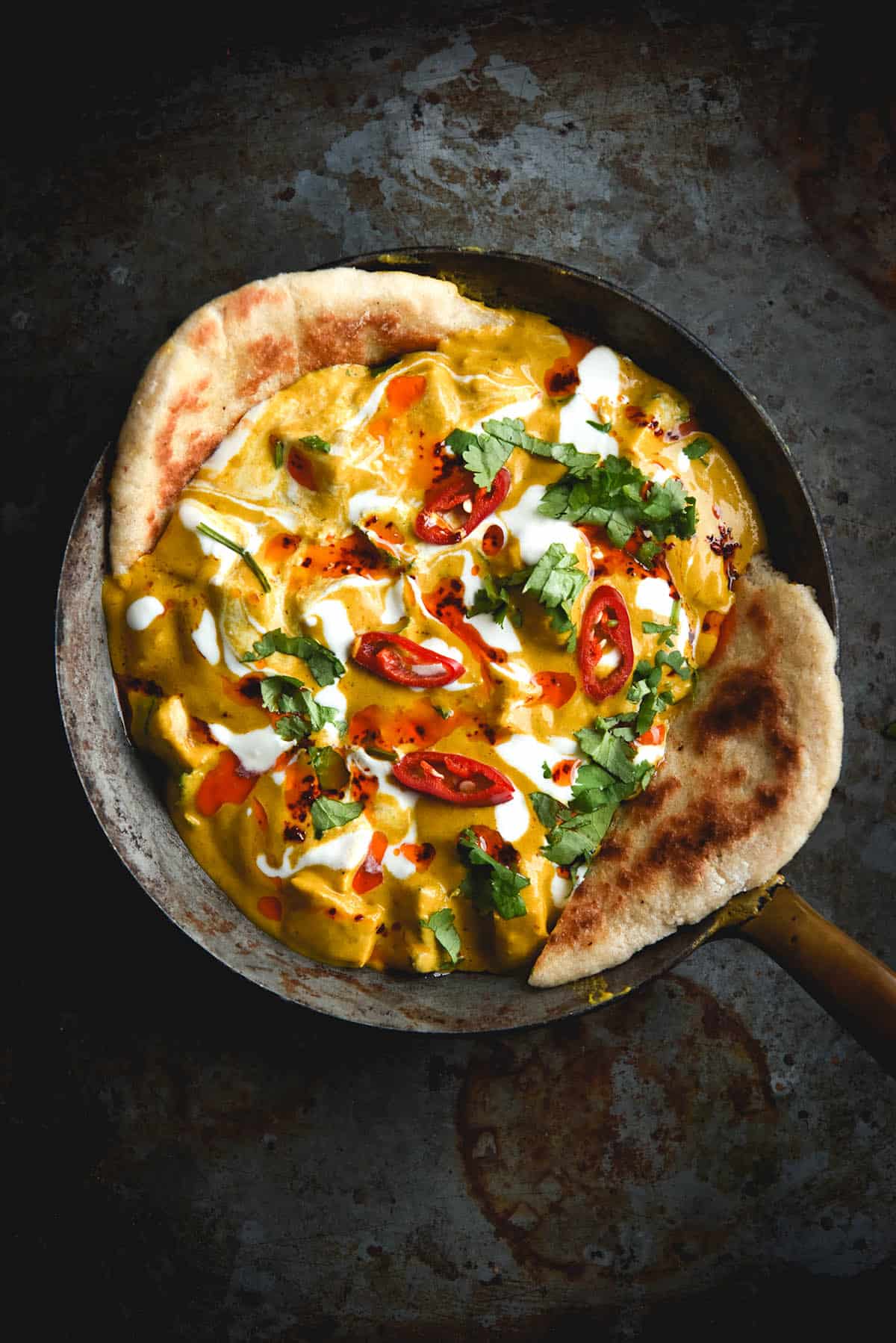 To make the accompanying gluten free flatbreads, follow this link here and enjoy!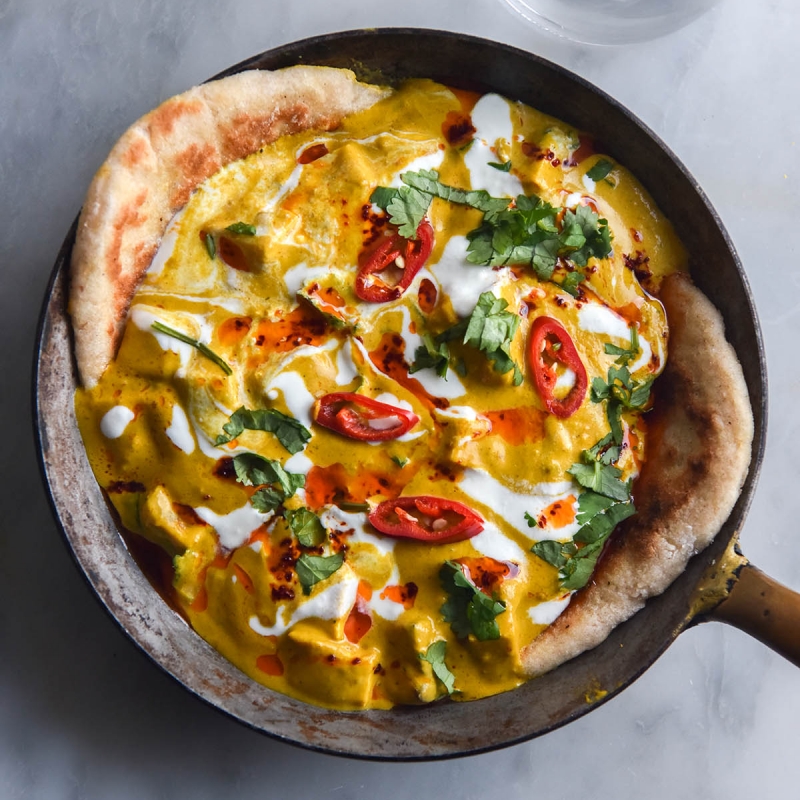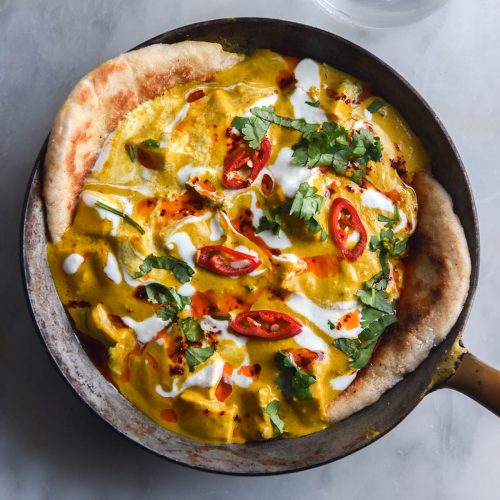 FODMAP Friendly shahi paneer
Serves 4-6 people with rice
Ingredients
For the shahi paneer:
200-400

g

paneer

cubed (see notes)

200-400

g

firm tofu

cubed (optional, see notes)

3

tablespoons

(60ml) plain tasting oil

I used vegetable

1

bunch of spring onion greens

chopped

Greens of 1 leek

thoroughly washed and finely chopped (optional, see notes)

1

bunch of coriander roots

thoroughly washed and chopped (optional, see notes)

150

g

1 medium/large carrot, grated

4

common tomatoes OR 2 common tomatoes and 150g grated Kent pumpkin

see notes

50

g

ginger

grated

1-2

green chillies

de-seeded and chopped (see notes)

1

tablespoon

+ 1 teaspoon coriander powder

1/2

teaspoon

turmeric powder

15-20

cardamom pods

crushed, husks discarded, seeds reserved

2-3

teaspoons

garam masala

1

cup

(250ml milk) of choice (I used full cream lactose free)

1

cup

(250ml) lactose free cream

Seasoning

to taste

Juice of up to 1 lime

to taste
To serve:
Remaining 50g cream

from a 300g/ml tub

Coriander

1

red chilli

very finely chopped (optional)
Instructions
In a dry pan over a medium high heat, dry fry the paneer and/or tofu cubes until golden.

In a large skillet over a medium heat, heat the oil. Once warmed, add the spring onions and optional leeks and coriander roots. Cook for 3-4 minutes or until softened and fragrant, then add the carrot and tomatoes (as well as the pumpkin if you are using it).

Cook until completely soft, about 10-15 minutes. Once it is, transfer the mixture to a blender with a steam valve. Blend until smooth, about 3 minutes. If you are using a Nutribullet or anything with a hole for steam to escape, wait until the mixture is cool. The pressure will be too much and you will probably explode the blender and hurt yourself. Once silky smooth, set aside.

Combine the ginger, chilli and spices in a small food processor until smooth. You can also use a mortar and pestle. You might need to add a little water to make a paste consistency.

Add a tablespoon extra oil to the (currently empty) skillet and add the ginger spice paste. Cook for a minute or so until fragrant, then add the blended vegetables back into the skillet. Stir thoroughly to combine and cook for a few minutes.

Add the milk and cream and stir to combine. Season to taste and adjust for anything you think is missing. Add the lime juice to taste. Finally, add the paneer and/or tofu cubes to the pan and cook for a few minutes until they are heated through. Serve with a drizzle of cream (tubs are generally 300ml in Australia, so you will have 50g left) some finely sliced red chilli and the remaining coriander. Goes very well with the gluten free flatbread linked in the body of the post.
Notes
NOTES


You can use as little or as much paneer as you would like. If you'd like to keep make this vegan or keep the lactose down, use tofu or half paneer and half tofu.
Leek greens add another layer of onion flavour to this dish. They're often really dirty, so give them a good wash before use and slice them finely. They are optional.
If you are topping your dish with coriander, chop the roots and add them in with the spring onions. They add another layer of flavour.
Monash recently updated common tomatoes as being higher in fructose than they were previously. If you have no issues with tomatoes, use 4 tomatoes. If tomatoes don't work for you, use 2 tomatoes, 150g of grated Kent pumpkin and some extra lime juice. See the body of the post for more information.
Add chilli to your taste. If you prefer more spice, add 2 chillies.