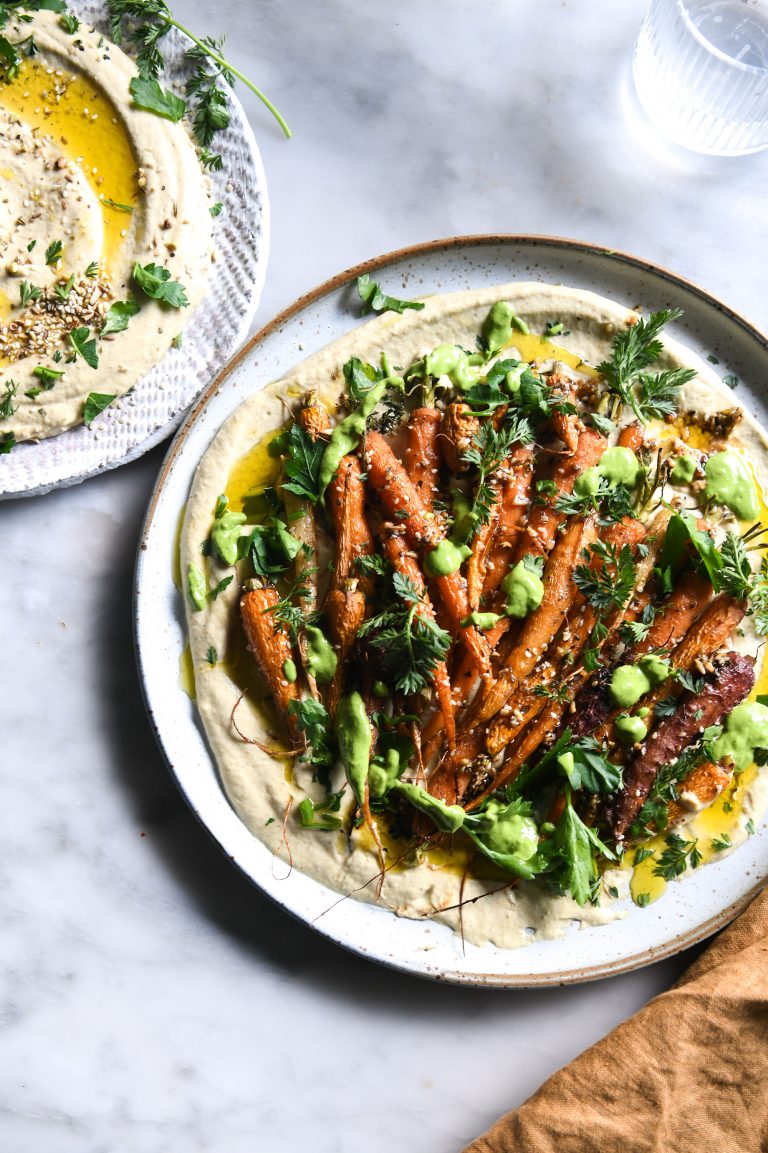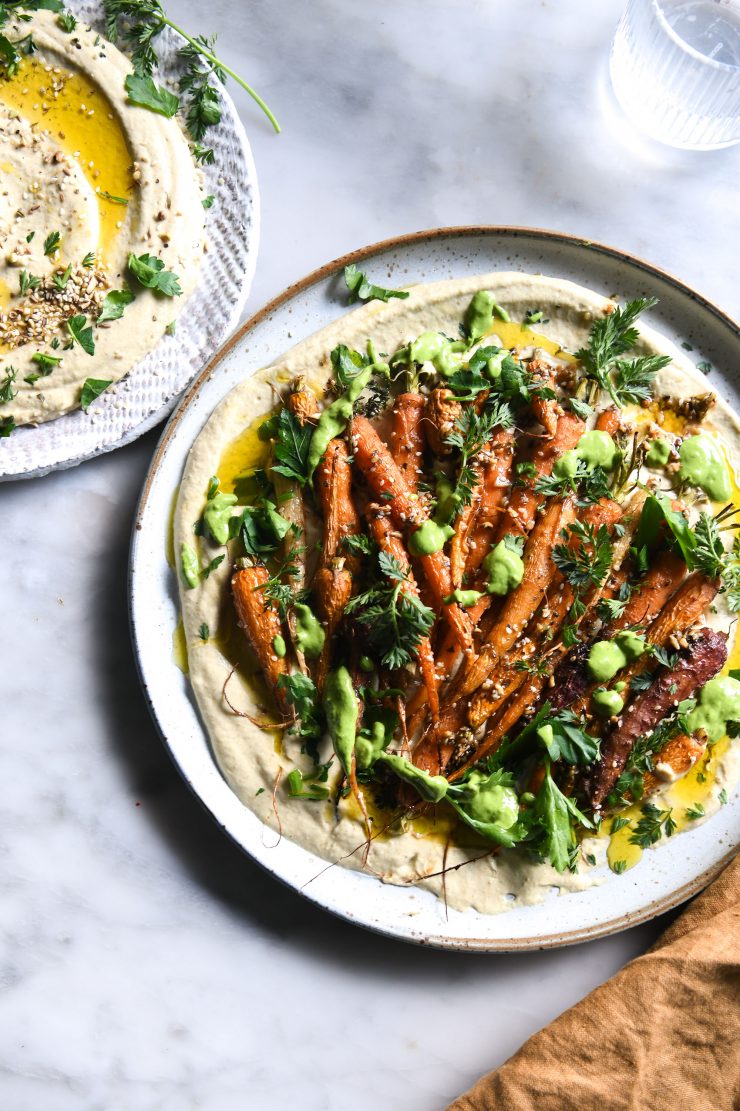 I've demonstrated before (on Instagram, in my cookbook) that I love a good dukkah roasted carrot salad. I also tried to demonstrate my love for hummus in my cookbook, but I ended up inadvertently making baba ganoush. So today is a groundbreaking day for my FODMAP self: I've made zucchini hummus (and since, tofu hummus)
Don't get me wrong, the dukkah carrots are delicious. Obviously. What else but delicious would be the result of roasting carrots with dukkah and honey (or maple syrup?) However, the star of the day here is really the zucchini hummus.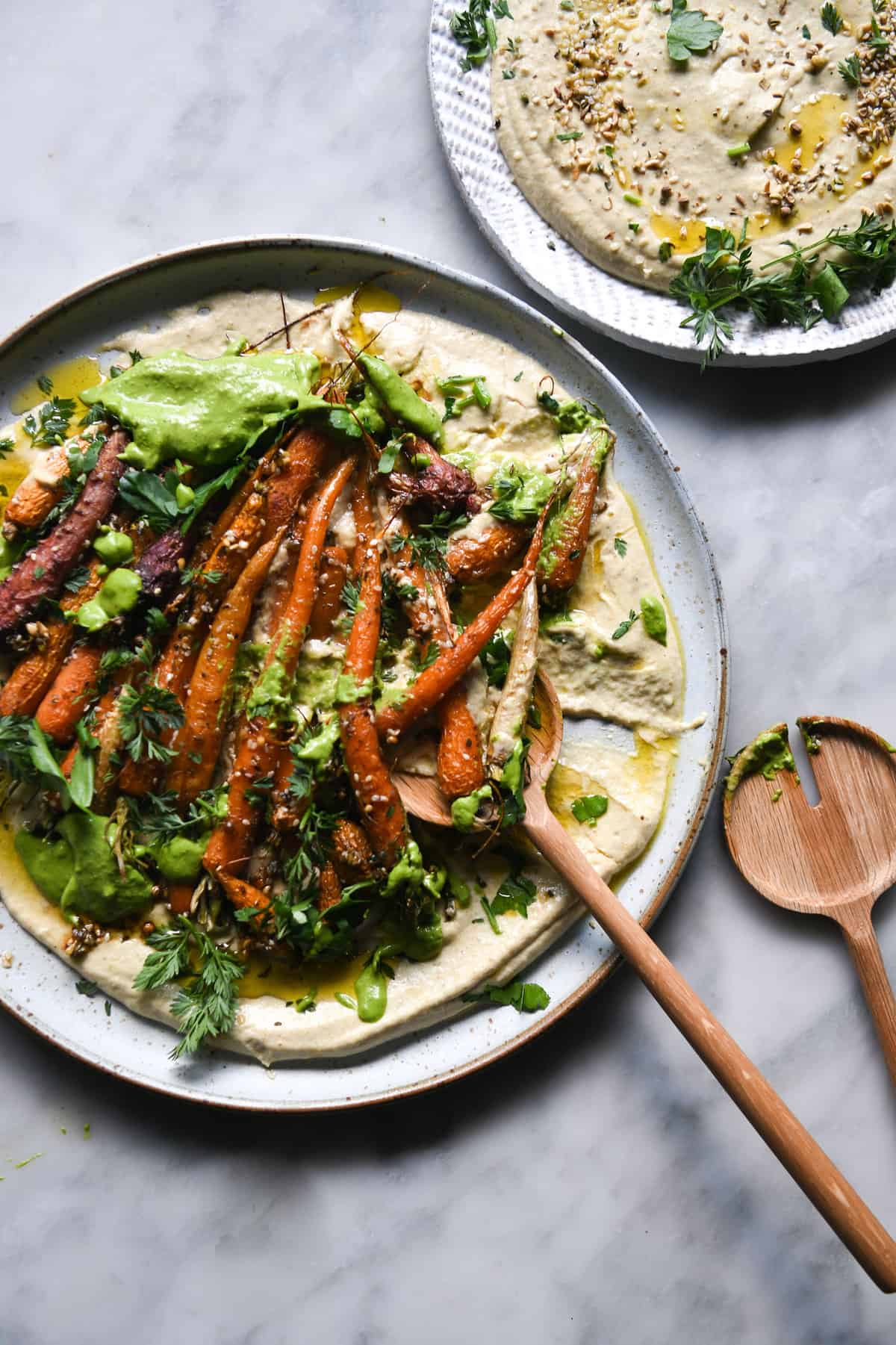 Dukkah roasted carrot salad notes
I like using Dutch baby carrots for this recipe. They're cute, bite sized and a little less clunky than regular carrots. Their size makes them perfect for a sharing salad. In Australia, bunches are normally sold at the supermarkets in 250g sizes. If you can, find a farmers market or market door that sells heirloom carrots for extra pizzazz.
To make this recipe vegan, simply sub maple syrup for the honey on the carrots.
For a nut free option, find a nut free variety of dukkah (or make your own!) If you need a FODMAP friendly dukkah recipe, there's one in my cookbook.
Preserved lemons are a MUST HAVE in intolerance cooking, as far as I'm concerned. I can't even suggest you omit them. You can purchase preserved lemons in specialty grocers, fancy supermarkets, Middle Eastern grocers and online. Alternatively, you can make your own! They're made with just salt and lemons but they're an incredible flavour enhancer.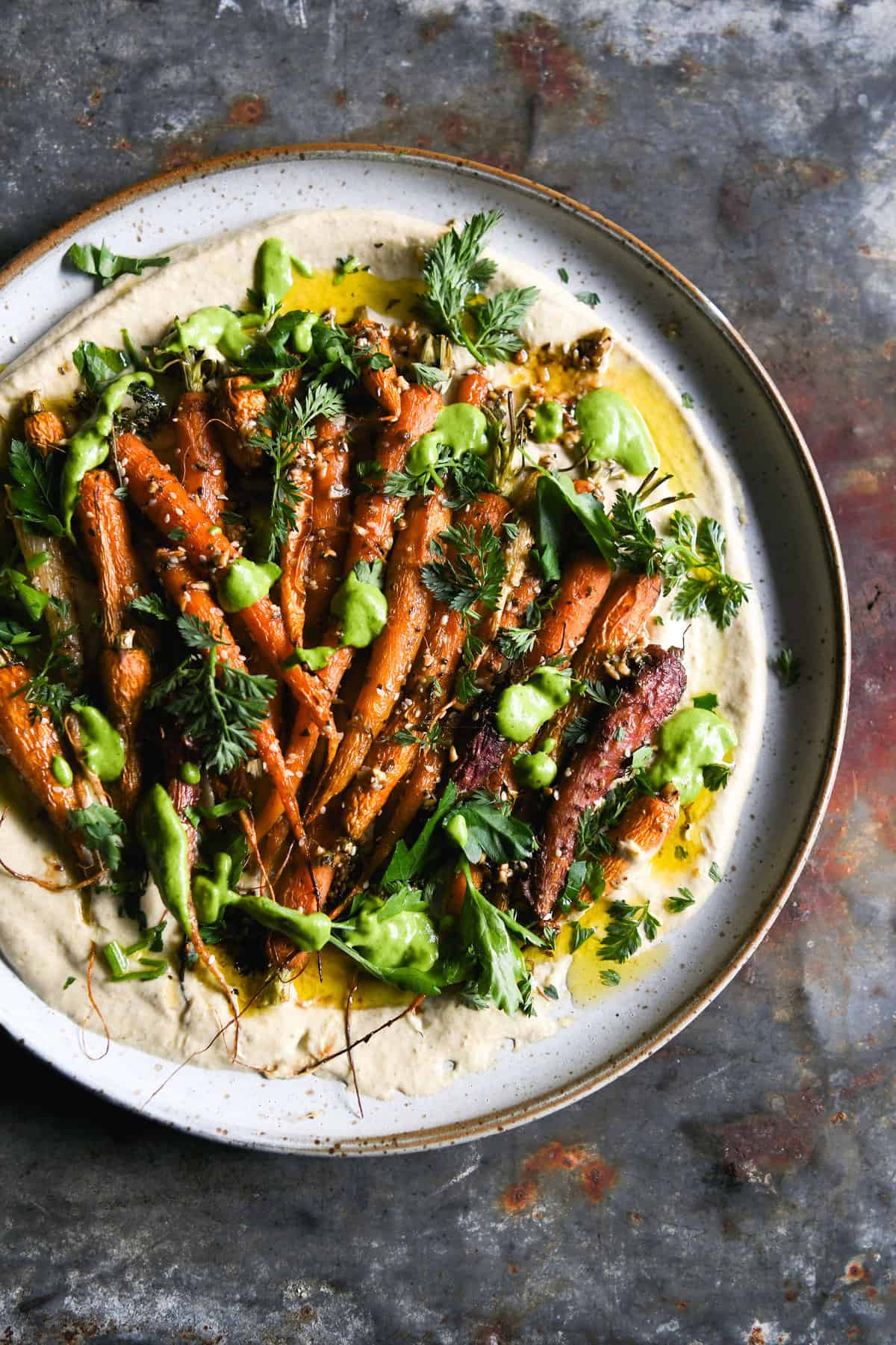 Zucchini hummus notes
For those without too many dietary restrictions, you may be wondering: why not regular hummus? Regular hummus, my dear friends, is basically a FODMAPpers worst nightmare, with the primary ingredients being legumes and garlic. It's basically a textbook 'what not to eat' on the FODMAP diet. If you're ok with regular hummus skip right ahead, but if not, this FODMAP friendly hummus is for you.
Zucchini, being bland and watery as it is, makes an excellent base for hummus. It takes on the flavours of the tahini and spices excellently. It is thickened up really well by the psyllium husk, and so good you can get away unscathed by serving it. If you're up for it, you can try adding some garlic infused oil to spice it up a bit. I generally don't find this makes a huge difference, but each to their own.
Because people have asked: the psyllium husk serves to thicken and bind what might otherwise be a more watery hummus. It absorbs the liquid given off by the zucchini and holds everything together. Kind of like an egg in baking. You can probably omit it, but your hummus will be more watery than intended.
Enough about hummus now, let's talk salad. The salad is FODMAP friendly, vegan, and gluten free. You can substitute the hummus for coconut yoghurt, or omit the green sauce.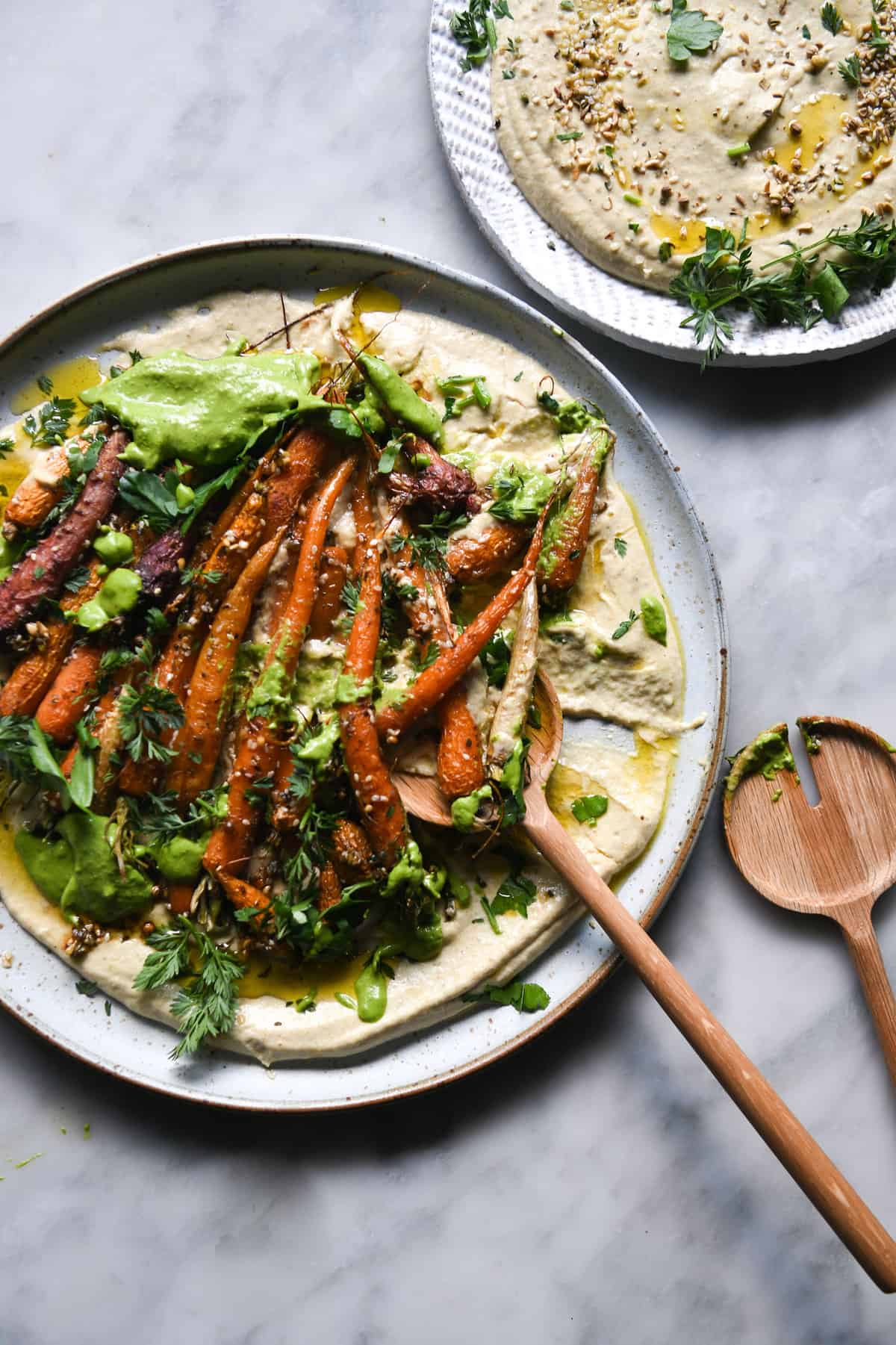 SIBO bi-phasic notes
If you're on a SIBO diet, you can make this salad with a few easy adjustments. 
Psyllium husk isn't on the 'must avoid' list but flax and co are, which makes me think mucilaginous foods are no good. Simply omit the psyllium from the hummus – it will be thinner, but for these purposes that doesn't matter too much.
If you're on stage one, omit the miso paste from the hummus. It won't be quite as creamy, but it will work.
You're permitted 2 tablespoons of sesame seeds and that Tahini is just ground up sesame seeds. So, I'm working on the assumption that you can have 1-2 tablespoons per serving (way less than the content of the salad).
Omit the honey from the roasted carrots. Simple!
In terms of dukkah – you can make your own to control what's in it, or read the labels of the dukkah.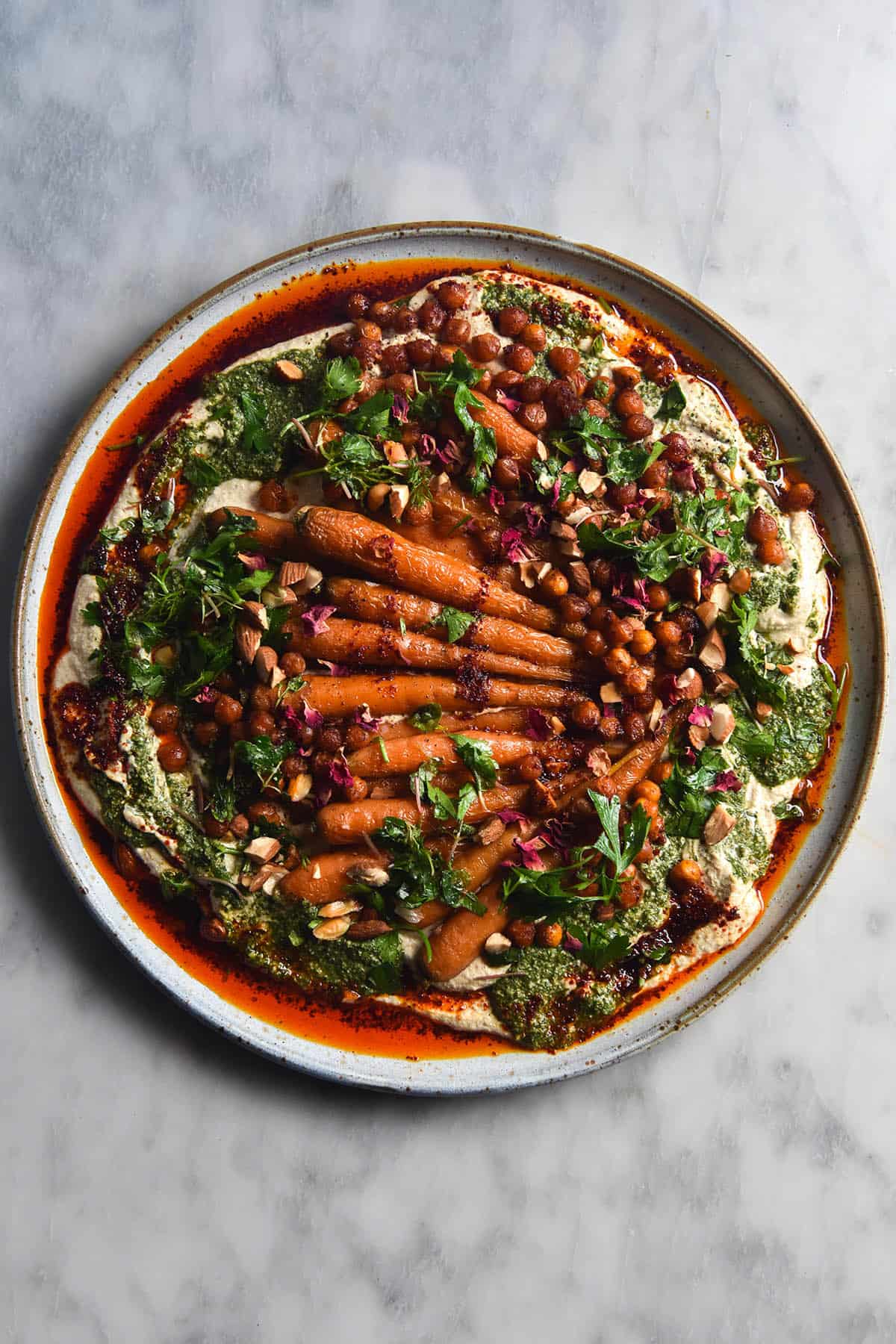 Substitution and addition suggestions for your dukkah roasted carrot salad
I have used my FODMAP friendly tofu hummus as the base of this dish, which I really enjoyed. Because of the protein content of the tofu, it takes this dish from a lighter salad to a more substantial one.
Another thing I am enjoying is the addition of some smoky chickpeas. Although legumes get a bad FODMAP wrap, the tinned ones can be eaten in moderation. I roast them up with smoked paprika, oil, maple syrup, chilli and seasoning. They're a nice way to add some extra texture, protein and visual interest.
If you don't have any dukkah, some chopped nuts are an easy solution. I used toasted almonds and they were delicious.
These days, I am a huge fan of a quick chilli oil. I use Korean chilli flakes, which have a mild, fruity flavour and are bright red in colour. I pop some chilli flakes into a heatproof bowl and heat some oil to a shimmering heat. Not too hot or you'll burn the chilli flakes, but not too cool or it won't release the colour. Pour the oil over the chilli flakes and you should have a quick, vibrant chilli oil. You can add whatever flavourings you like – I add salt, but that's optional. 
More salad and roasted vegetable recipes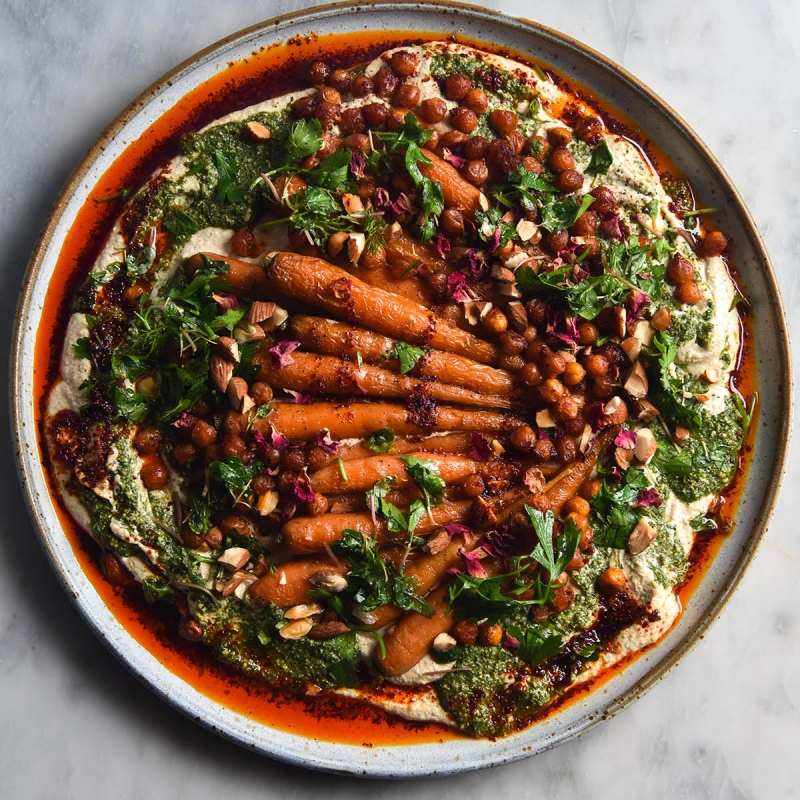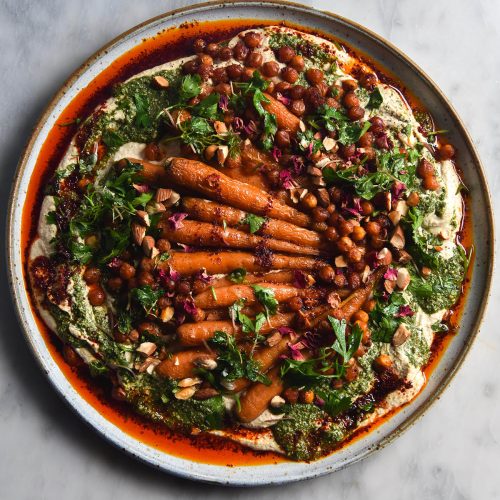 Dukkah roasted carrots with green tahini sauce and zucchini miso hummus
FODMAP friendly, gluten free, grain free, vegan
Ingredients
For the zucchini hummus:
500

g

zucchini

peeled (about 3 large)

4

tablespoons

tahini

1

tablespoon

light miso paste

I used genmai

1-2

tablespoons

olive oil

1-2

tablespoons

lemon juice

to taste

50

g

preserved lemon

about 1 medium – large piece, roughly a large lemon quarter

1

tablespoon

ground cumin

2

teaspoons

cumin seeds

1

teaspoon

sea salt

Generous freshly cracked pepper

1-2

teaspoons

psyllium husk
For the carrot salad
500

g

dutch baby carrots

1/2

tablespoon

oil

1/2

tablespoon

honey

substitute maple syrup for a vegan option

2

tablespoons

dukkah

Sea salt

to taste
For the green tahini sauce (optional)
1

medium bunch flat leaf parsely

1

medium bunch coriander

or just one large bunch parsley

50

g

preserved lemon

2-3

tablespoons

tahini

2

tablespoons

vegetable oil

2

tablespoons

water

plus extra, if you like a thin sauce

Juice of 1 lemon or lime

1

teaspoon

fennel seeds

optional

2

teaspoons

dukkah

optional

Sea salt flakes and pepper

to taste
Optional extras:
Toasted almonds

chopped

Cucumber ribbons

Olive oil and lemon juice

for drizzling
Instructions
Preheat the oven to 200C/400F and line a baking tray with baking paper. Lay the carrots on the baking paper, and coat them with the oil, honey, dukkah and salt.

Place the ingredients for the hummus in a high powered blender and process until a hummus consistency forms.

Place the ingredients for the green tahini in a high powered blender and process until a smooth green sauce forms, adjusting water for consistency.

Place the carrots in the oven for 15-20 minutes or until crispy and cooked through.

To assemble, spread a layer of hummus across the bottom of your serving plate, and lay the carrots on top. Finish with the leftover dukkah from the oven tray, a squeeze of lemon, some olive oil, and the green tahini sauce, if you're using it.