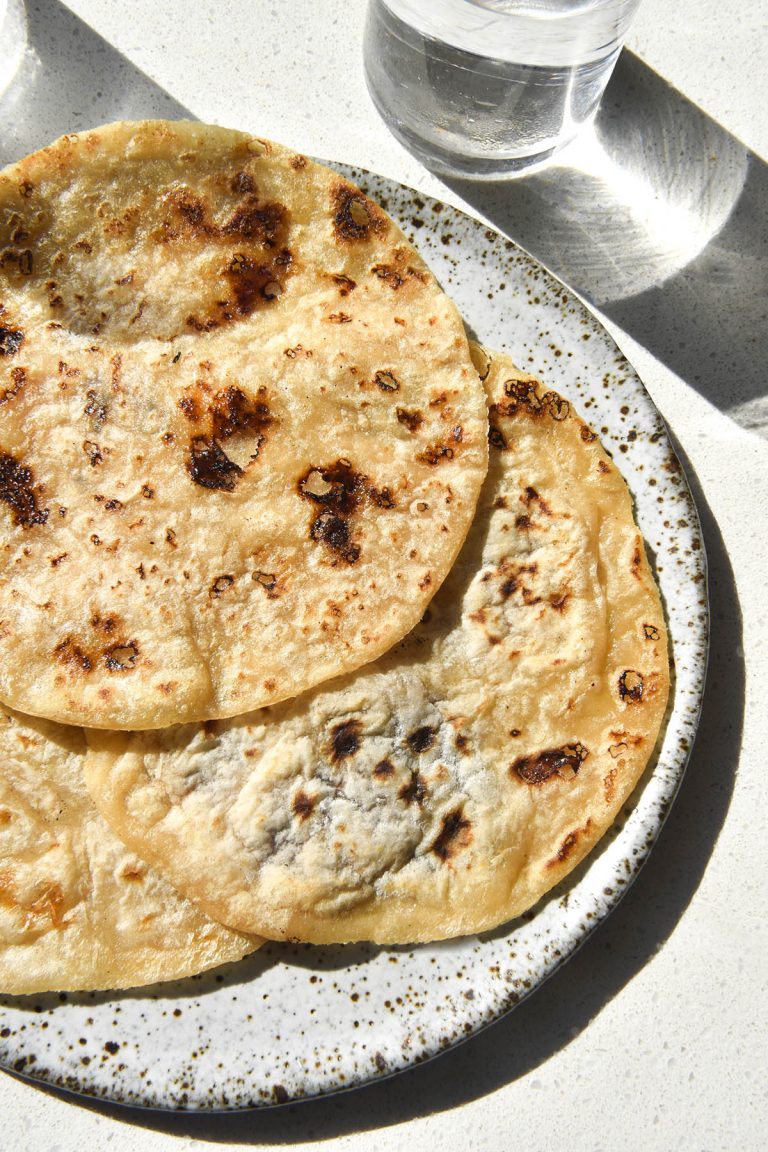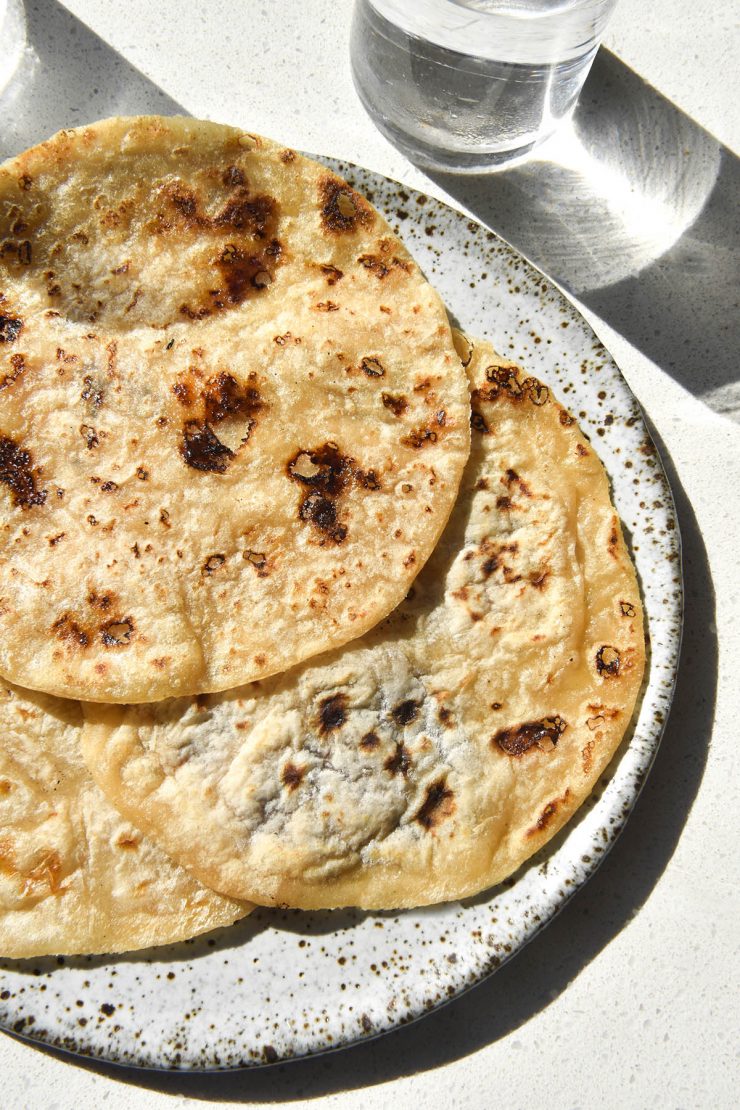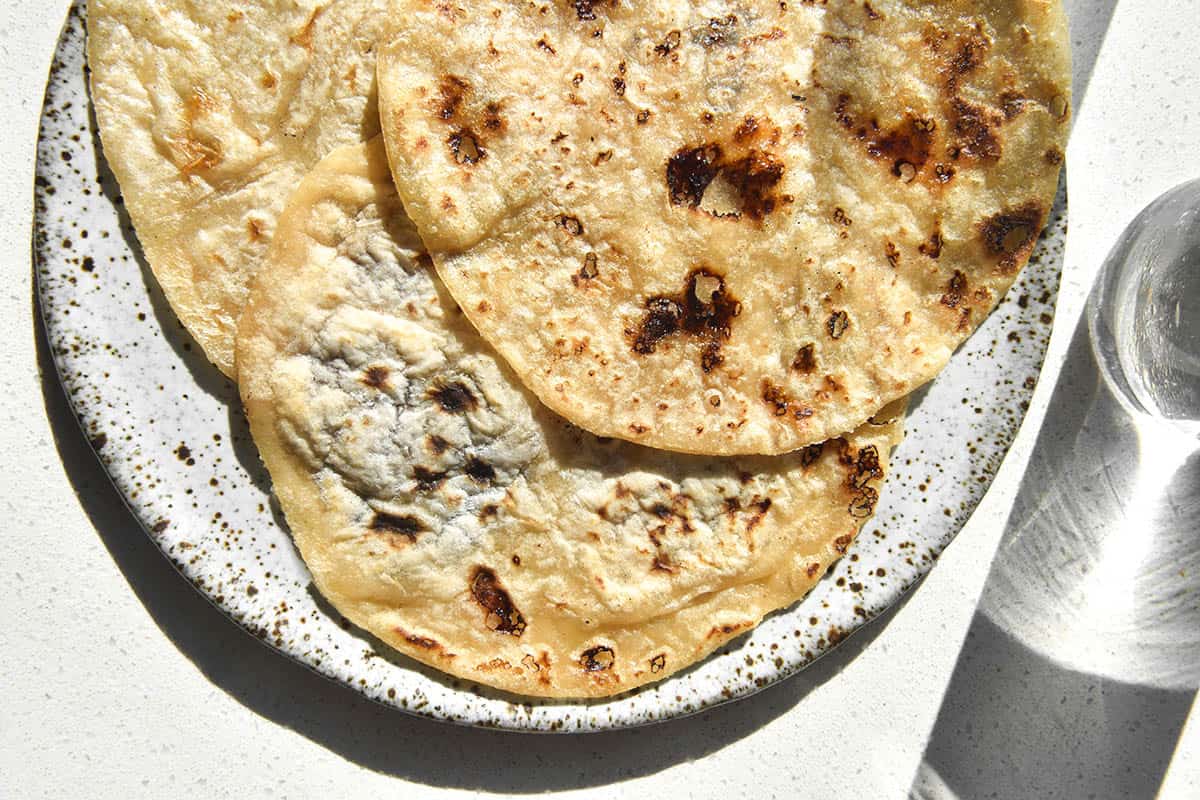 Grain free tortillas without xanthan gum
My favourite gluten free tortilla recipe will always be the one in my cookbook, Intolerance Friendly Kitchen. I think it nails the flour ratios for a chewy yet light and soft tortilla. Today's recipe for grain free tortillas, though, caters to the grain free amongst us. While a little chewier than my original recipe, they still make an outrageously good gluten free tortilla. They use only cassava flour and contain no nuts, eggs, xanthan gum or starches. A super quick and simple recipe that is ready to go in 10 minutes flat.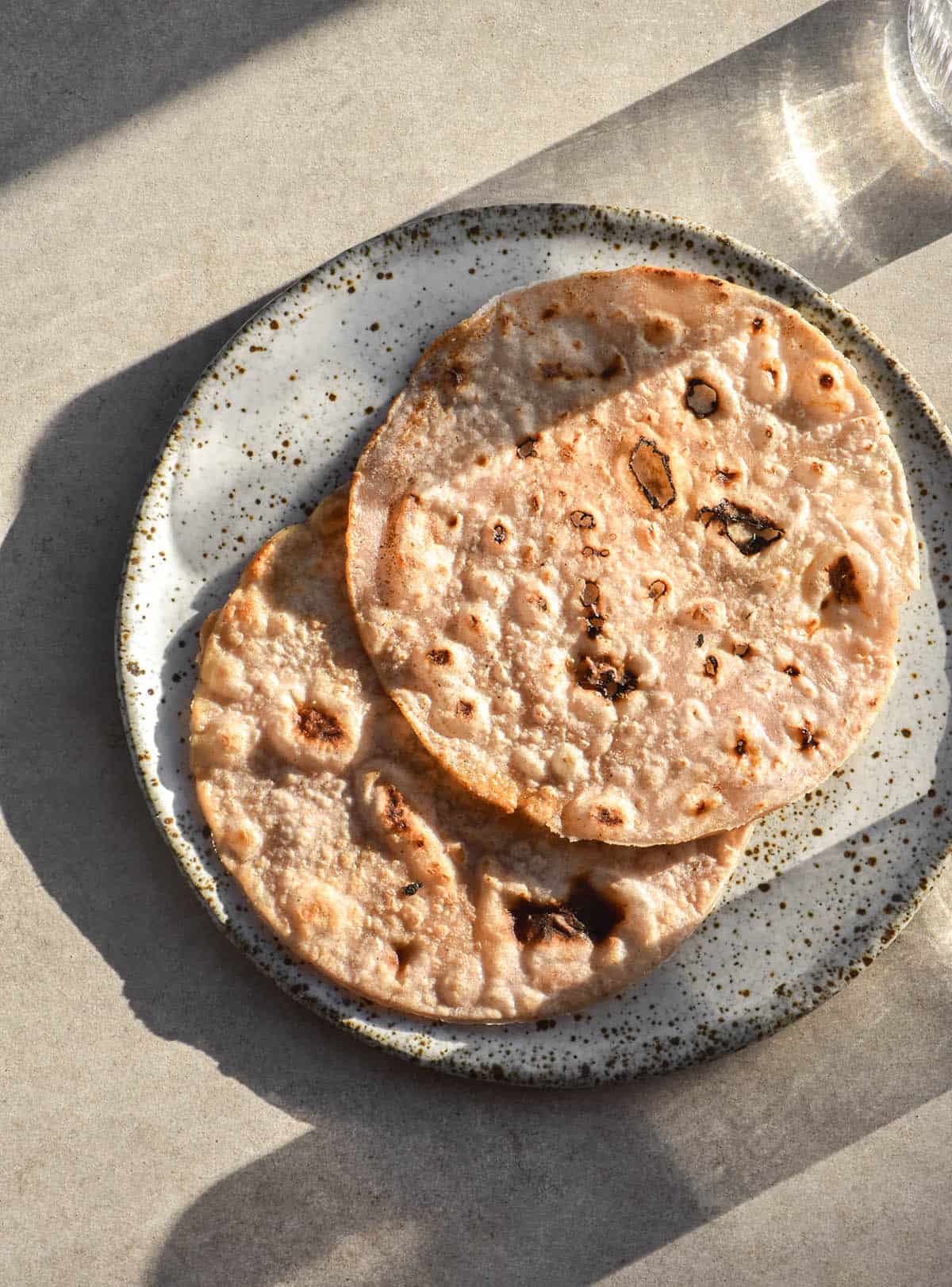 What is cassava flour?
I promise I'm not writing this section for the sake of filling space. I do think this warrants an explanation, because cassava flour is really unlike any other gluten free flour and cannot be substituted. If you don't have, don't want to use or can't access cassava flour, see the recipe in Intolerance Friendly Kitchen.
Cassava flour is made from the whole root of the cassava plant. Tapioca flour is made from the starch of the cassava plant. Cassava flour, in baking terms, combines the wholegrain backbone of, say, rice flour, with the elasticity, stretch and lightness of tapioca flour. Some people say it performs most similarly to wheat flour out of all the gluten free flours.
One thing I have learned about cassava flour in my experiments is that it behaves like tapioca flour if over hydrated. That is, if you add too much liquid, it will turn into a starchy, jelly like mass.
So while the two are related, they are distinctly different and cannot be substituted.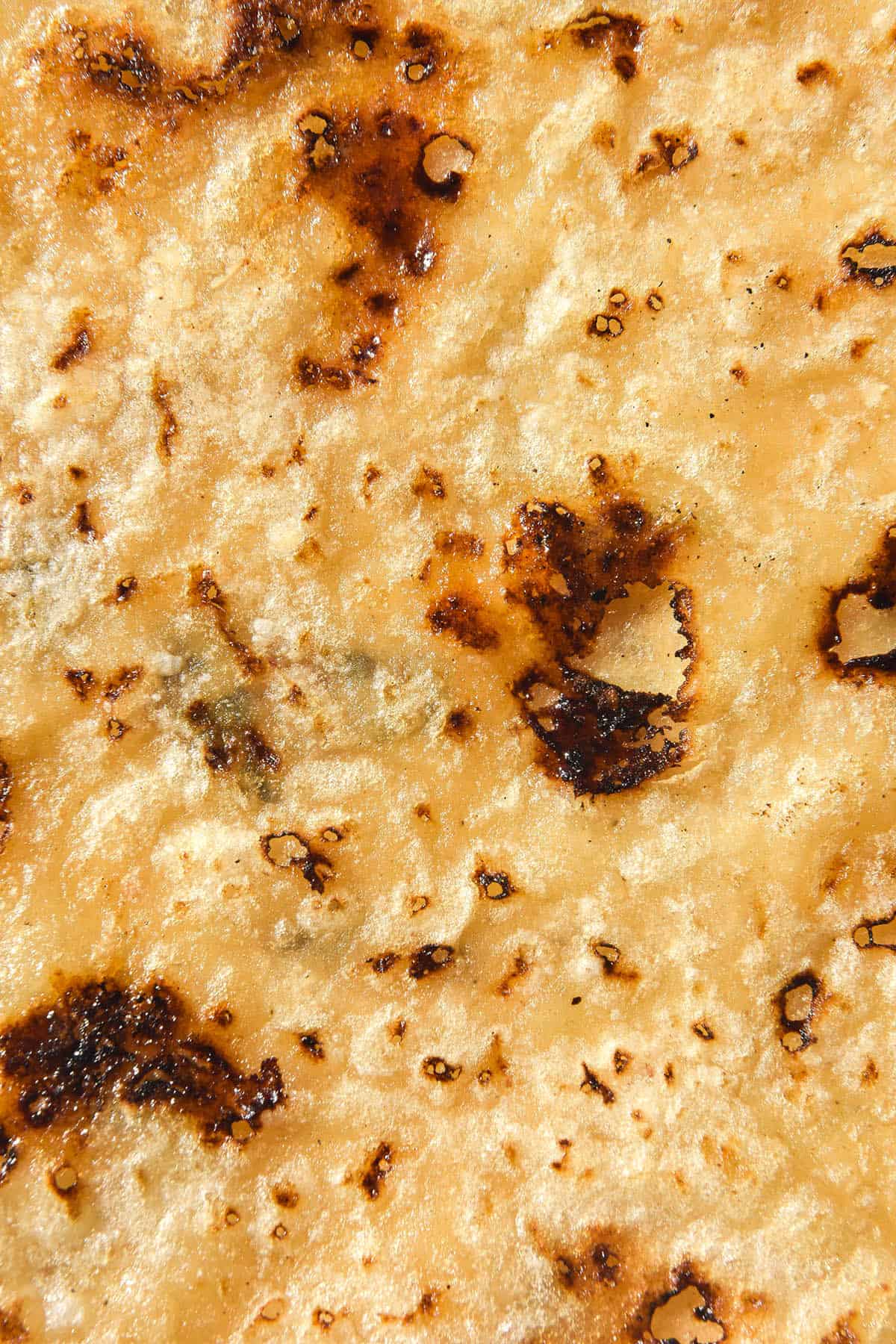 Grain free tortilla notes
There is no substitute for cassava flour in this recipe.
Apparently different brands of cassava flour need very different amounts of water, and can behave differently depending on how they are processed. I have been buying mine at my local bulk food store.
You can use a plant based butter to make these tortillas vegan. I daresay you could also use oil, but I haven't tested the theory yet.
This batch makes 4-5 tortillas. I chose to make a small batch because cassava flour is expensive, and these tortillas are best fresh. You can easily scale the recipe up, but add the last half cup or so of boiling water according to your dough.
This is a grain free recipe, not an overtly FODMAP friendly recipe. Cassava flour has an upper limit for FODMAPs. If you want a gluten free and FODMAP friendly tortilla, please see the recipe in Intolerance Friendly Kitchen.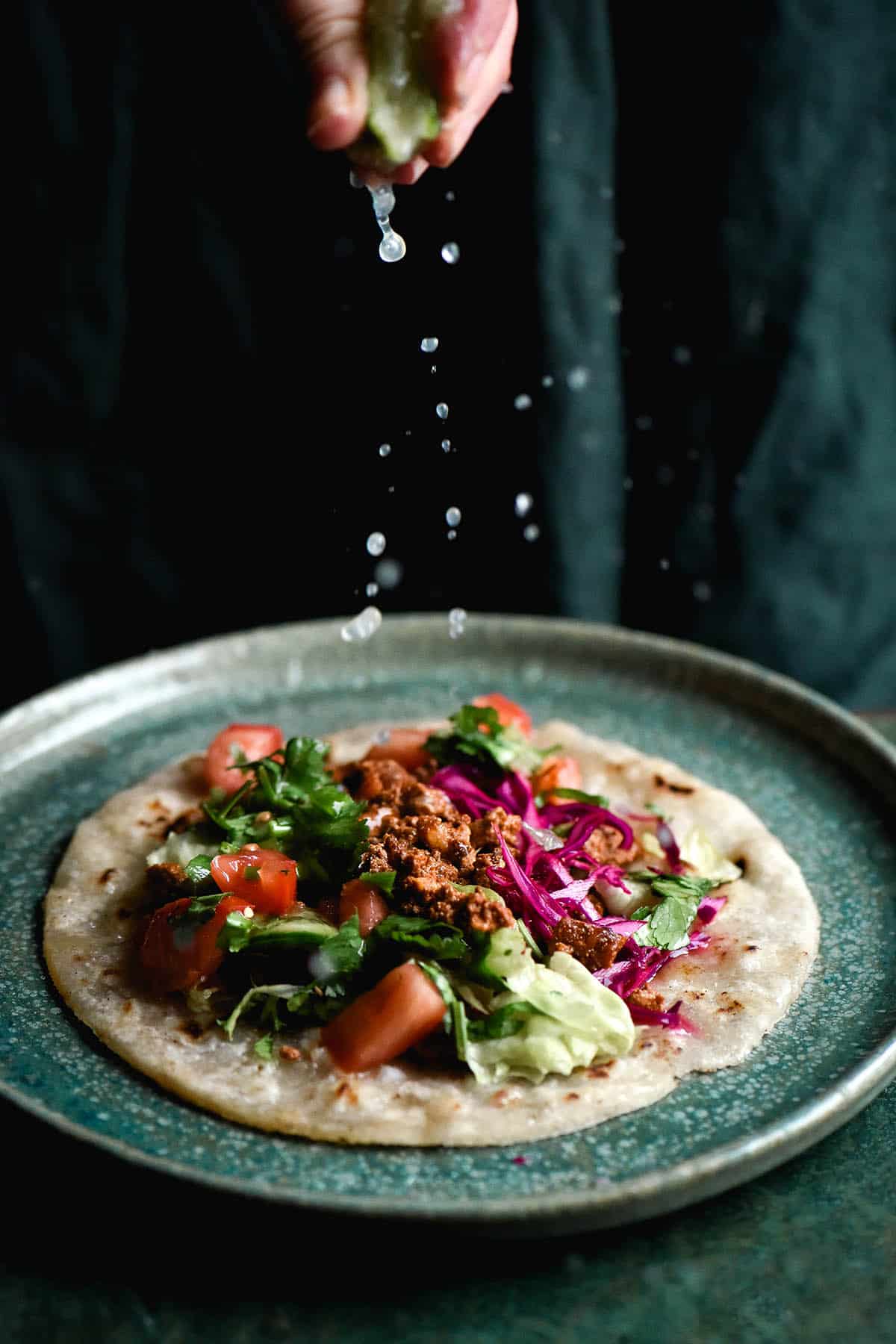 Tips for your tortillas
The thinner the better with these tortillas. Although they are flexible either way, they have better flexibility and more air bubbles when they're thin.
Add water according to your cassava flour. They vary in thirstiness, so your dough might need more or less than mine.
Once you've made the first tortilla, you will get a sense of how hot the pan needs to be and hot much oil you need.
Be careful of the hot dough and your hands! I'm used to it by now, but you might not be.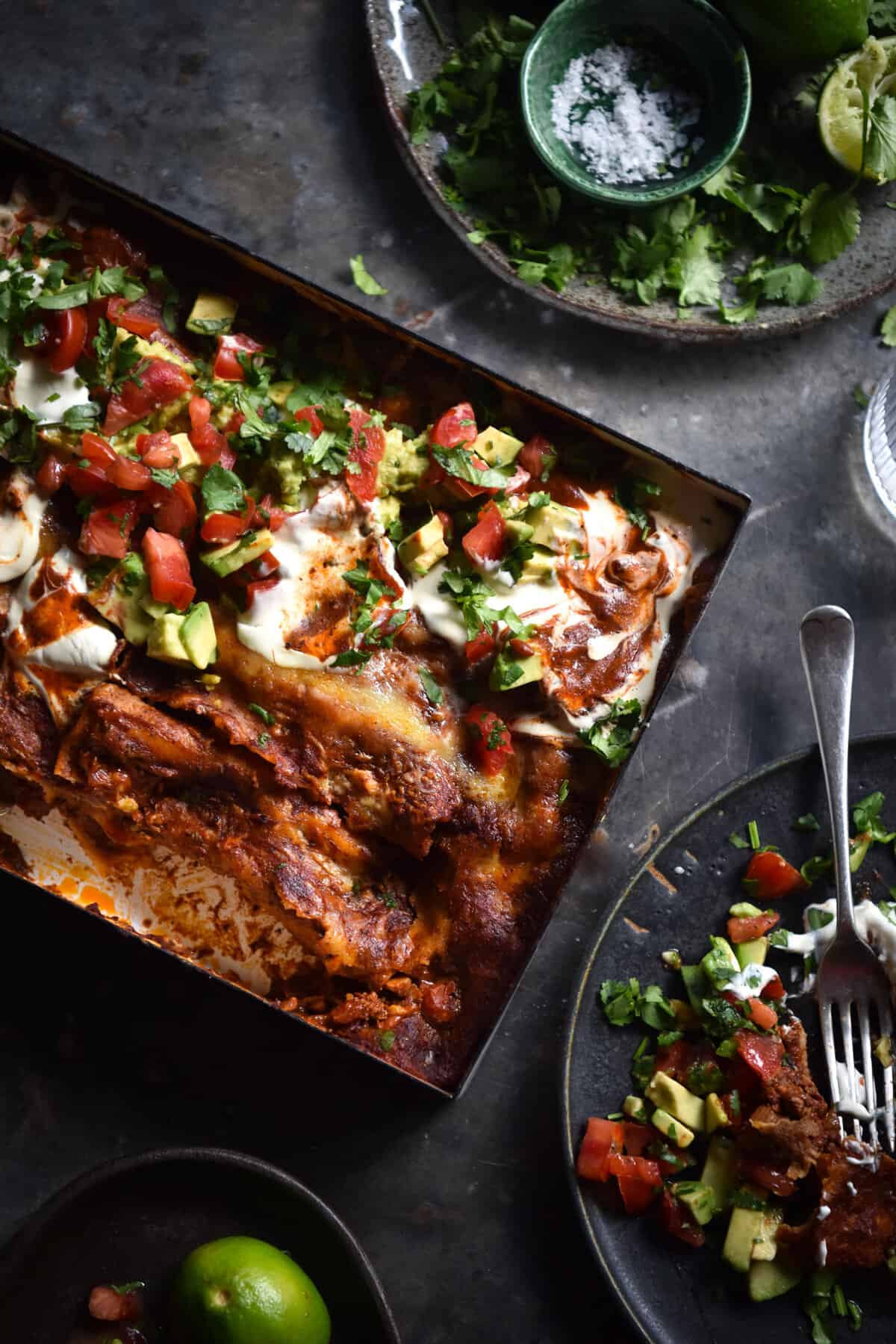 Recipes to use the grain free tortillas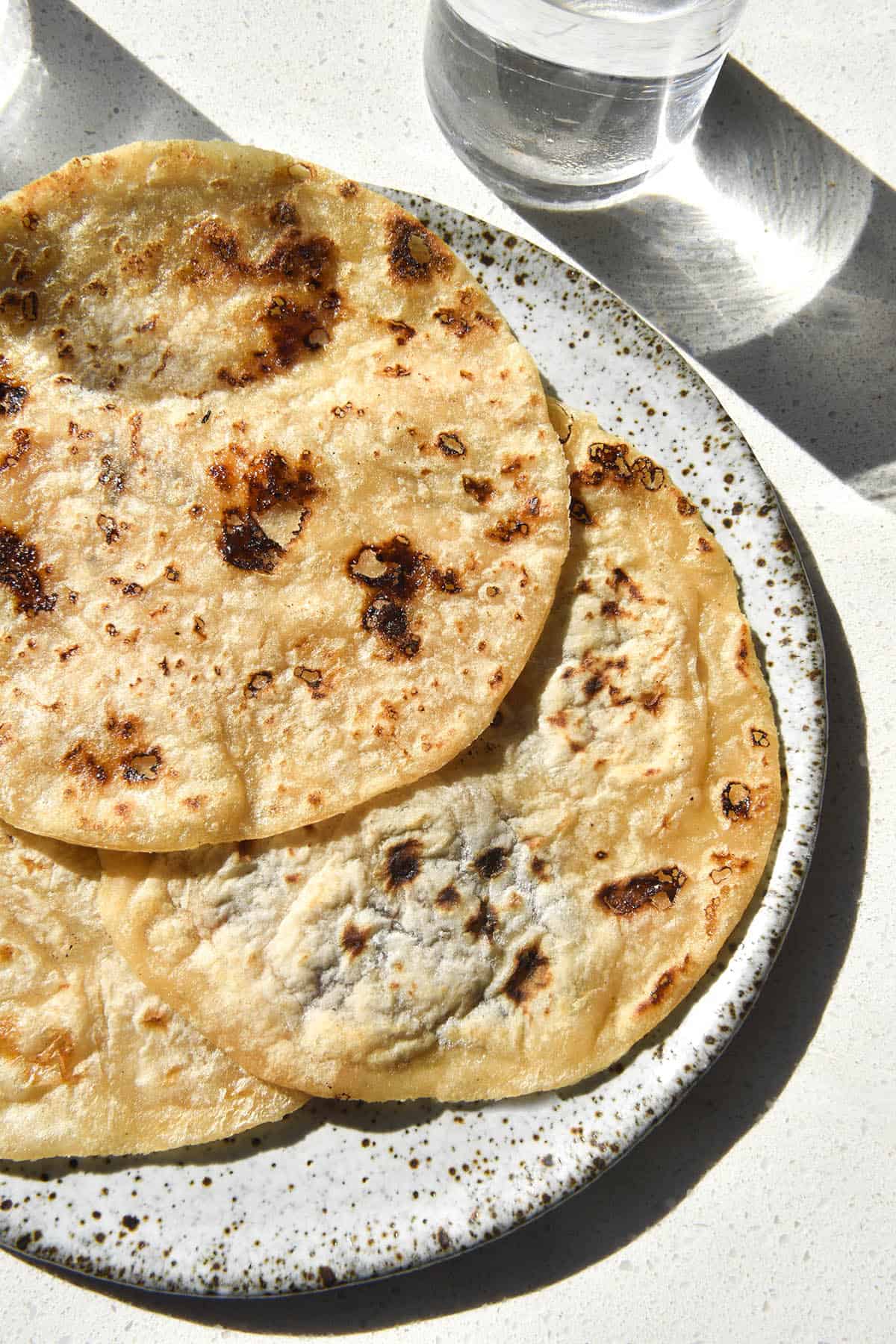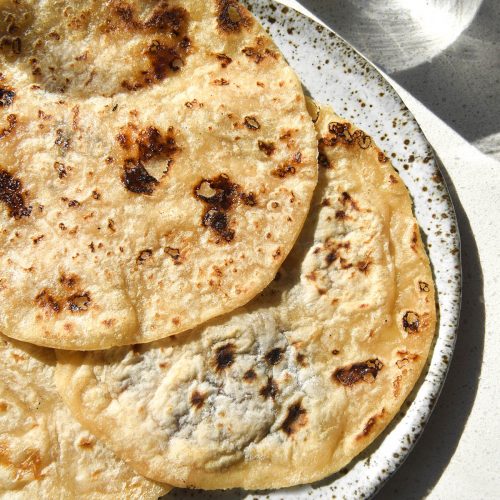 Grain free tortillas
Gluten free, nut free, gum free, vegan
Ingredients
160

g

(1 cup) cassava flour (see notes)

7.5

g

(1 1/2 teaspoons) psyllium husk powder

1/2

teaspoon

fine salt

2

teaspoons

white sugar

25

g

butter

melted or soft (regular or vegan)

3/4 – 1

cup

(180-250ml) boiling water

Tapioca flour

for rolling

Vegetable oil

for cooking
Instructions
Combine all the ingredients except the boiling water in a mixing bowl and whisk to incorporate.

Add the boiling water, starting with 1/2 cup (125ml). Stir quickly and add more water as necessary. The dough should be slightly sticky and moist with no dry flour on the bottom.

Once it is cool enough to handle, knead the dough into a smooth ball and cover. Leave for 5-10 minutes.

Liberally flour a clean, dry bench top with tapioca flour. Divide the dough into four tortillas. The offcuts from each will form the fifth tortilla, so set those aside as you work.

Roll each tortilla to your desired width (about 2-3mm – any thicker and they become too chewy). Use a large circular cutter or the lip of a circular bowl to cut each tortilla into a round. Set them aside without touching each other, and finish by gathering all the offcuts for the last tortilla.

Preheat a pan to a high heat for 2-3 minutes. Add a splash of vegetable oil to the pan once hot, and cook the first tortilla. Cook for a minute or so before flipping (this will depend on how hot your pan is). Flip and cook on the other side, before transferring to a cooling rack. Repeat with the remaining tortillas.

Serve warm or store in an airtight container. The tortillas are best fresh, but reheating them in the microwave or a steamy oven will restore their flexibility.
Notes
There is no alternative for cassava flour in this recipe. See the recipe in my cookbook, Intolerance Friendly Kitchen, for a grain based recipe without cassava flour. 
Cassava flour is distinctly different from tapioca flour or tapioca starch. They are not interchangeable in this recipe. 
The butter can be melted or softened. It will melt in the boiling water either way.