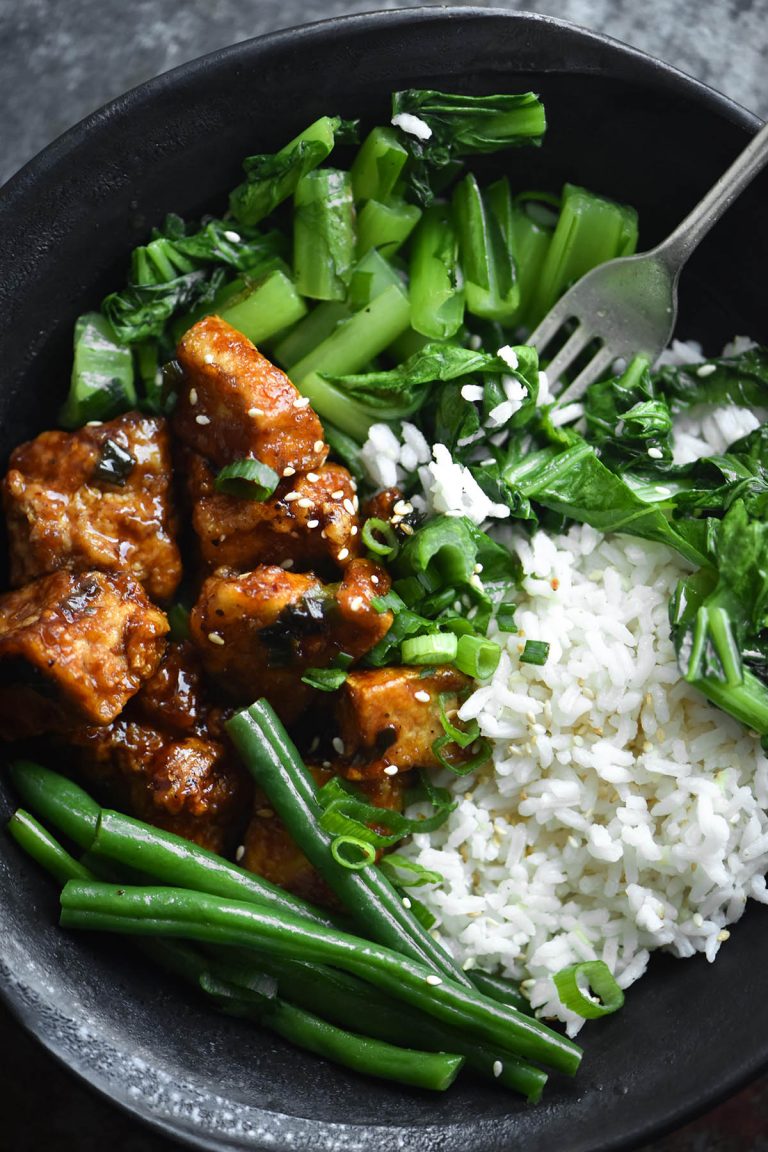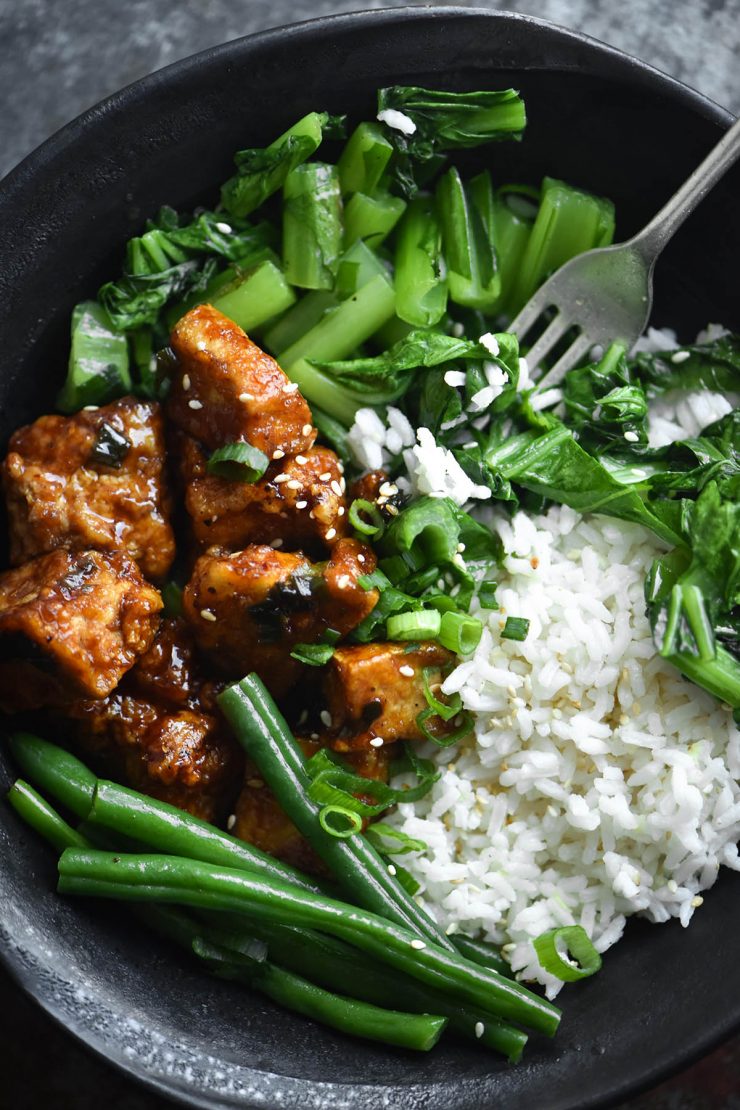 This sweet and sticky ginger tofu has been something I've been teasing for a while now. It fell to the wayside a little as a result of my recent trip to Thailand, but we're back on topic. It's a quick and easy weeknight dinner that is FODMAP friendly, gluten free and easily made vegan.
Sweet and sticky ginger tofu (low FODMAP)
This sweet and sticky tofu is made with firm tofu that is pan fried. A sauce of Tamari, honey or maple syrup, rice vinegar, chilli oil and ginger coats the tofu before serving, for a crispy, saucy and delicious tofu. Spring onion greens bring a dose of FODMAP friendly flavour.
I love the simplicity of this tofu and how it's bold flavour pairs so nicely with a simple plate of rice and greens. I daresay the sauce and method of cooking would also work for things like cauliflower or other vegetables, if you would prefer not to use tofu.
The only thing of note for FODMAPpers is the tofu: 170g per serve is deemed a green light portion by Monash. This means that the tofu component will need to be divided into three portions.
Honey is FODMAP friendly in 1 teaspoon (7g) serves. If you'd prefer, use maple syrup.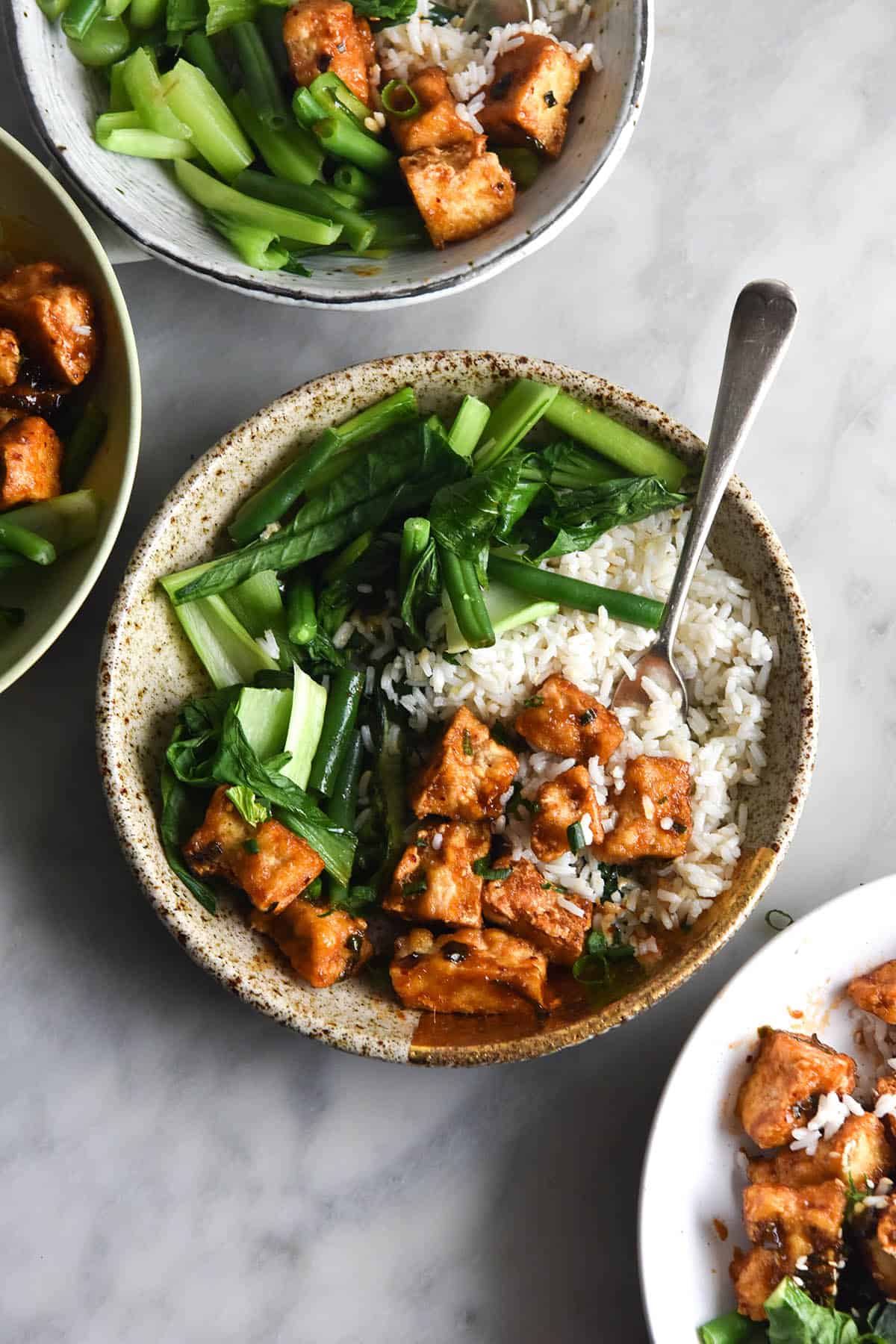 Ingredient notes for your sweet and sticky ginger tofu
If you can't have corn flour/corn starch, I have found potato starch to be the next best option. Tapioca is too gooey.
The easy swap to make this dish completely vegan: use maple syrup instead of honey.
Toasted sesame oil is so much more tasty than un-toasted, so try to find it if you can. The default at Australian supermarkets used to be untoasted, but I get the sense that is changing.
That said, you can always use a plain flavoured oil if you can't have sesame. Make sure you use vegetable oil or another bland flavoured oil for any peanut allergies as well.
Firm tofu only! Anything less will not hold up to frying.
You can use any rice and any green you have on hand. Spring onion greens are a FODMAP friendly but optional addition. I like to cook some with the tofu and add some to garnish, but you can do what you prefer.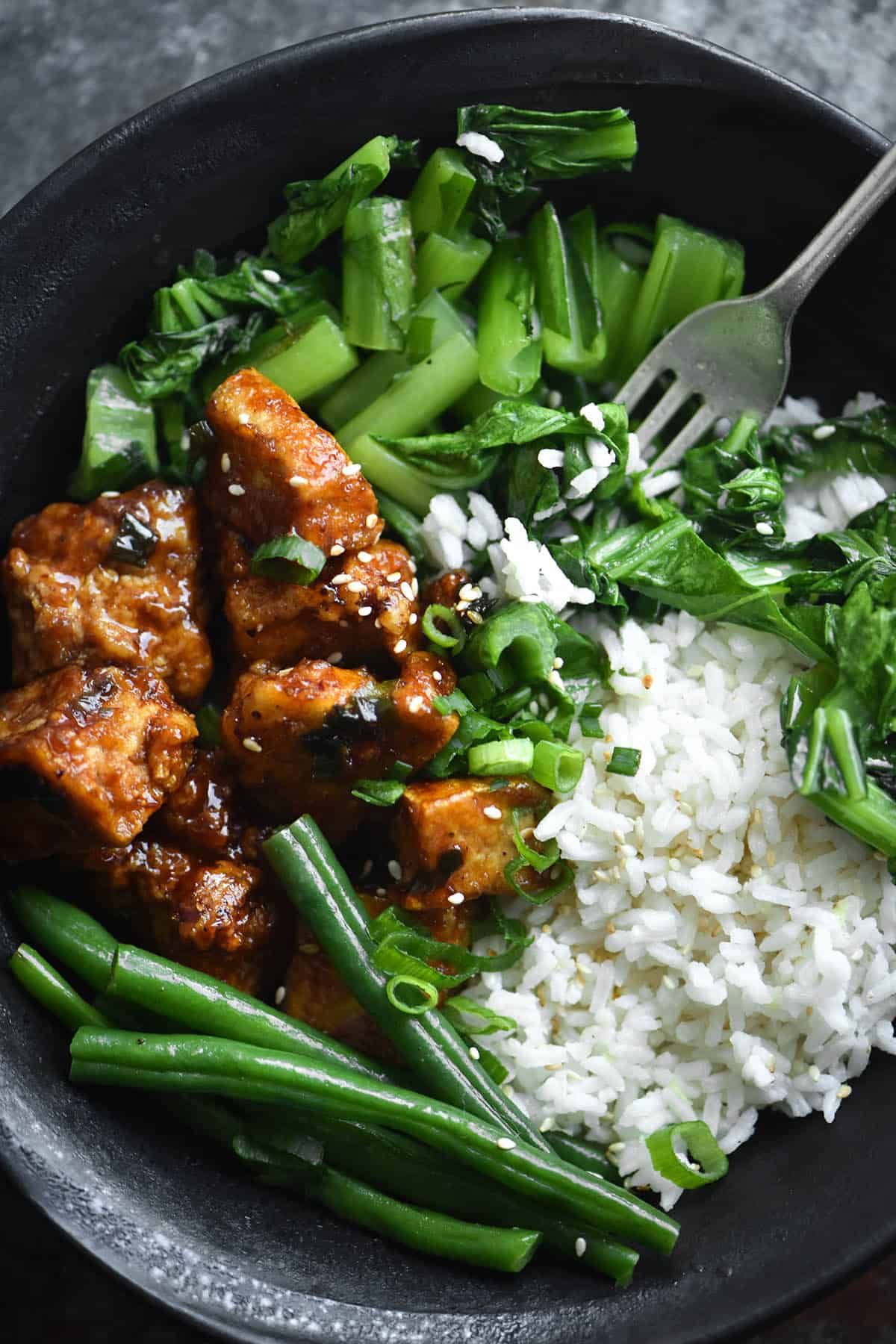 Recipe notes for your sweet and sticky tofu
I am loathe to make you wash more dishes than you need to. However, in this instance, I recommend using two saucepans. The tofu needs enough oil to get nice and crispy, without under or overdoing it. It also needs a higher heat. The result? When you pour the sauce into the saucepan, it quickly starts to cook and potentially burn. It might also get too much oil from the pan. I find the best and most surefire way to cook this tofu is to do it in two saucepans.
Personally, I prefer to tear the tofu into bite sized chunks for this dish. The different sized chunks present a visual and textural interest that I like. Plus, the craggy bits get nice and crispy, and it's just quicker and easier to do.
I love ginger, a lot. In the absence of onion and garlic, I think it really delivers on flavour. I add a lot of ginger to this dish – in the sauce, raw over the tofu and raw into the rice. I personally don't think it's overpowering, and I got the stamp of approval from my ginger apathetic sister. Add to taste if you're not into ginger, though.
I have found it is quite easy to take this tofu into too salty territory. All soy sauces and tamari brands seem to have different salinity levels, so I would recommend adding to taste and adding conservatively. If you find your tofu comes out too salty, simply mix it into the rice and greens and it should all even out.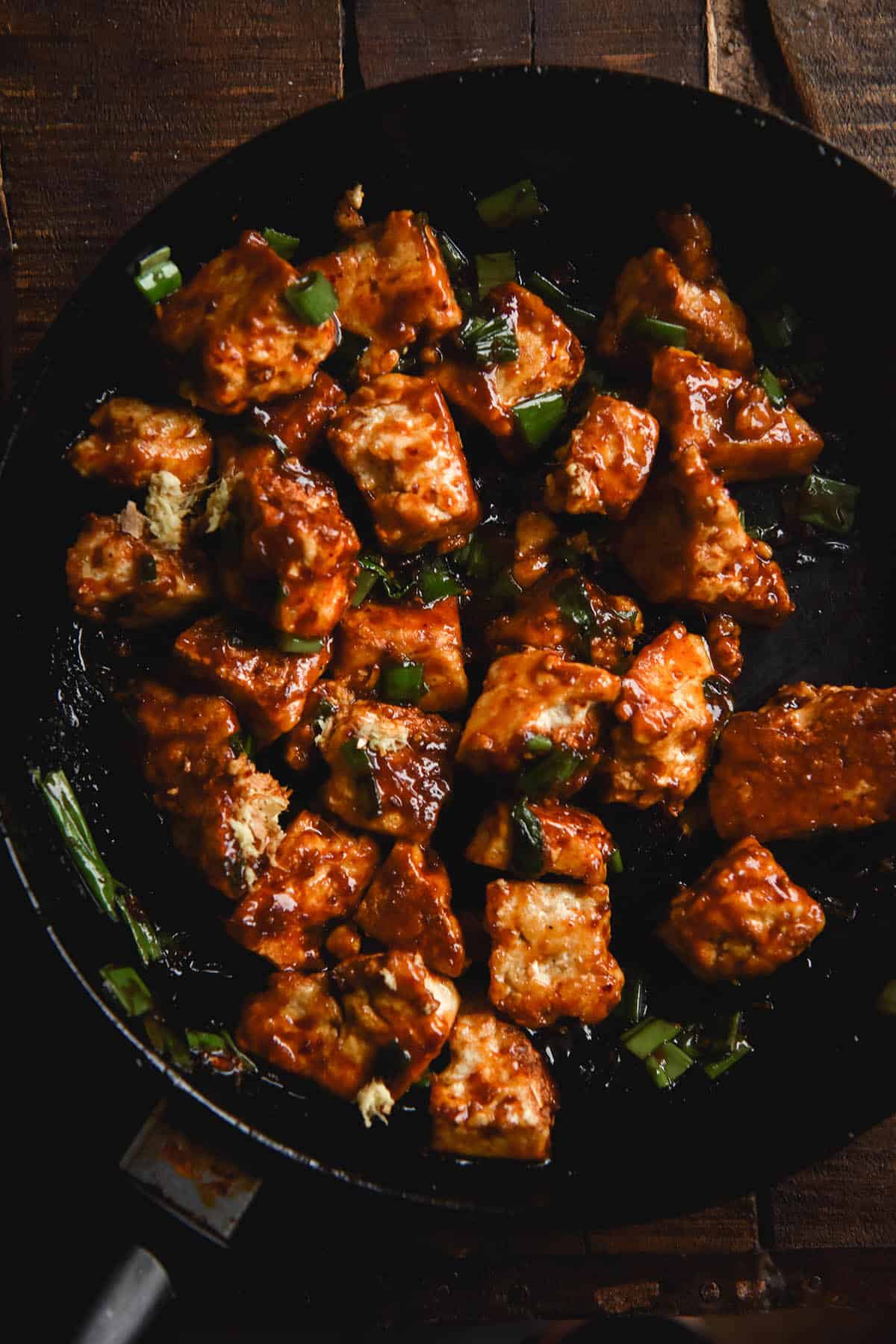 How much rice do I need to serve with this tofu?
I'm not really into telling people how much rice to cook. Firstly, it's entirely a preference thing and an appetite thing. Secondly, I never measure it anyway. Thirdly, you might want leftover rice! Who am I to make that call for you?!
What I will highly suggest, however, is how to serve your rice. Add toasted sesame oil, toasted sesame seeds, salt and freshly microplaned ginger, to taste. An incredibly easy way to jazz up rice, if you'd like to jazz it up. It's not always necessarily, obviously, but because the sauce of the tofu coats only the tofu it is a nice injection of flavour.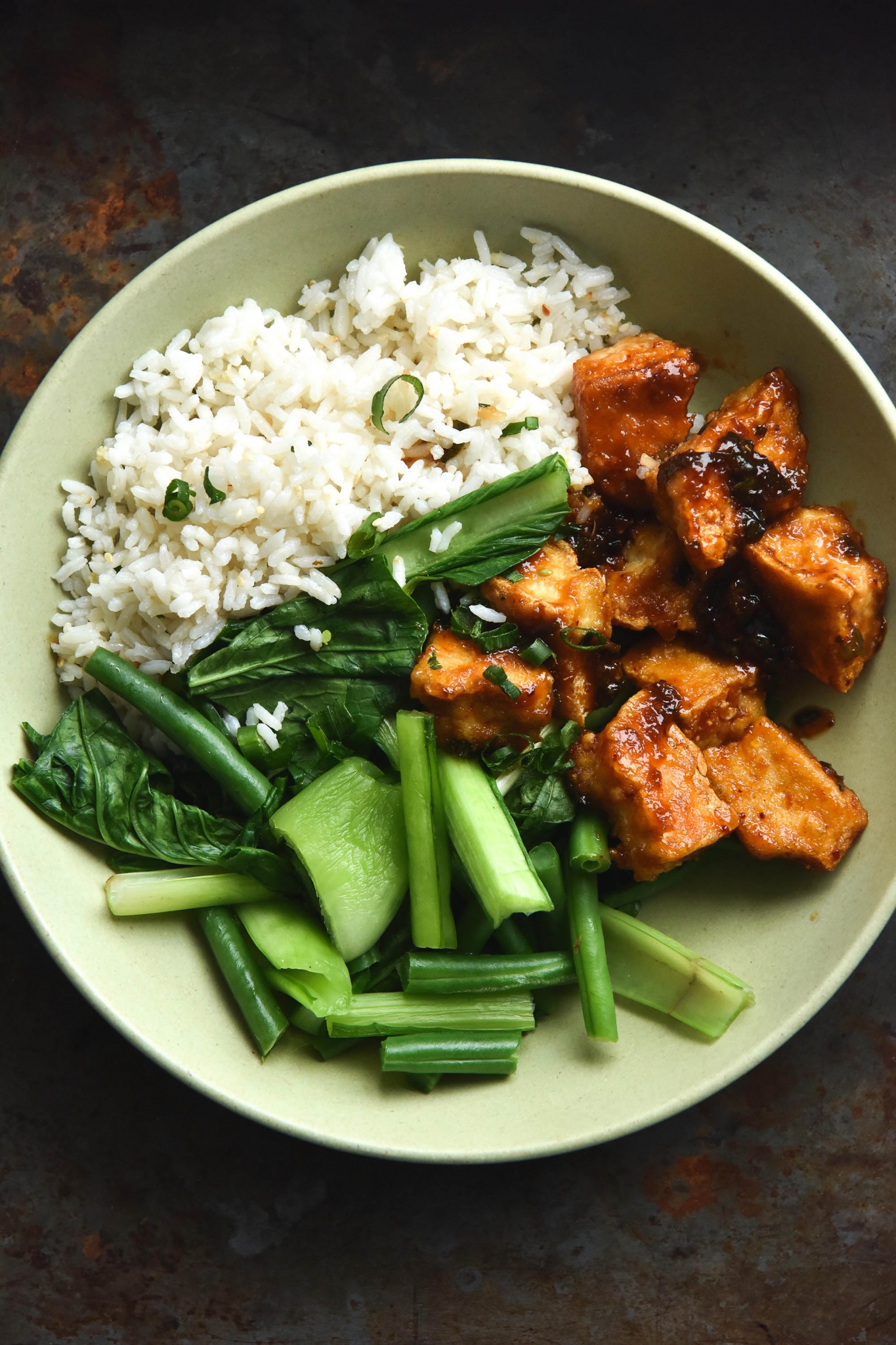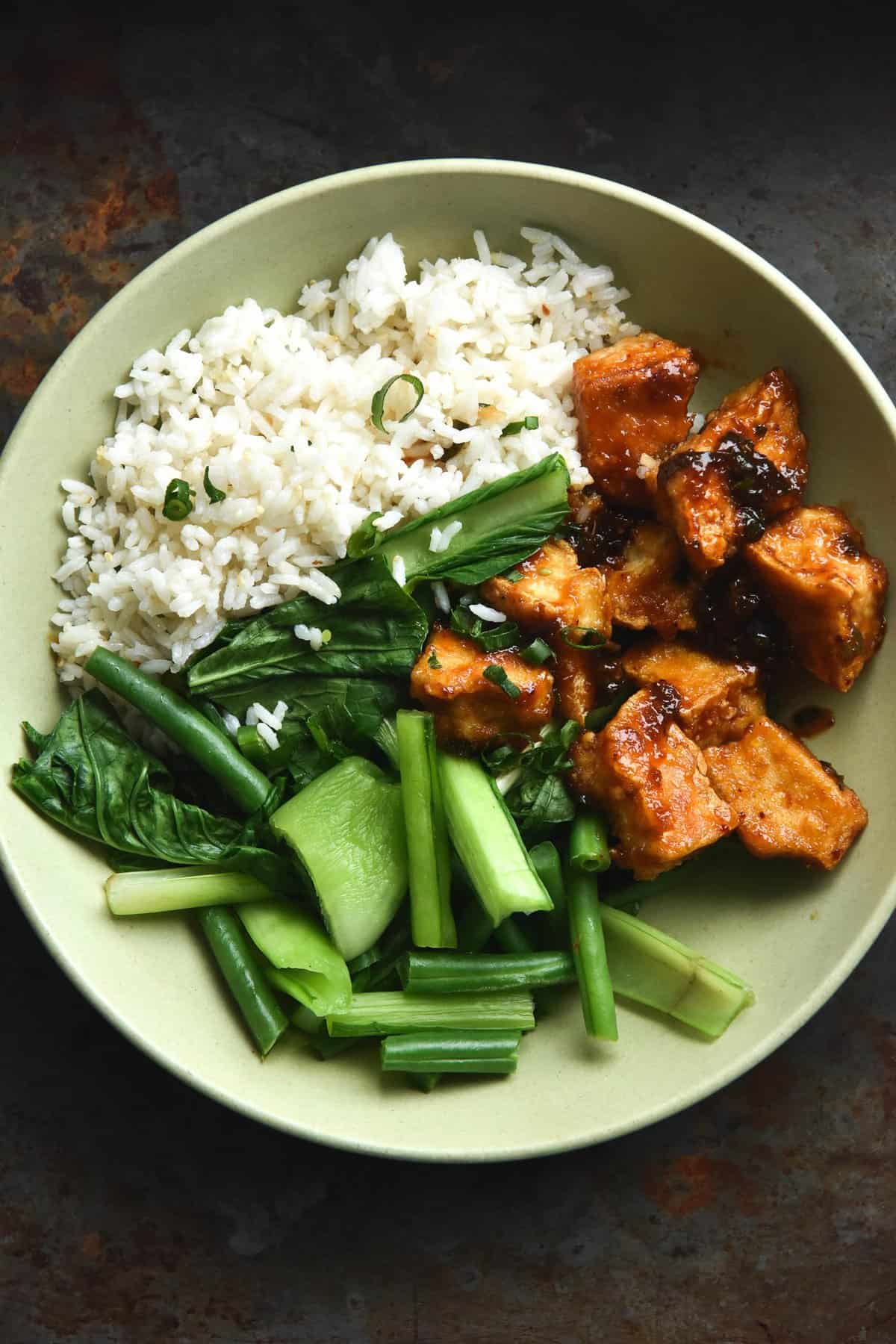 Is rice gluten free?
A commonly asked question is whether rice is gluten free. Yes, rice of all varieties (even glutinous rice) is gluten free. Like quinoa, sorghum and buckwheat, rice is 100% gluten free and a great addition to these sweet and sticky ginger tofu bowls.
Some other rice and rice flour based recipes on my site include: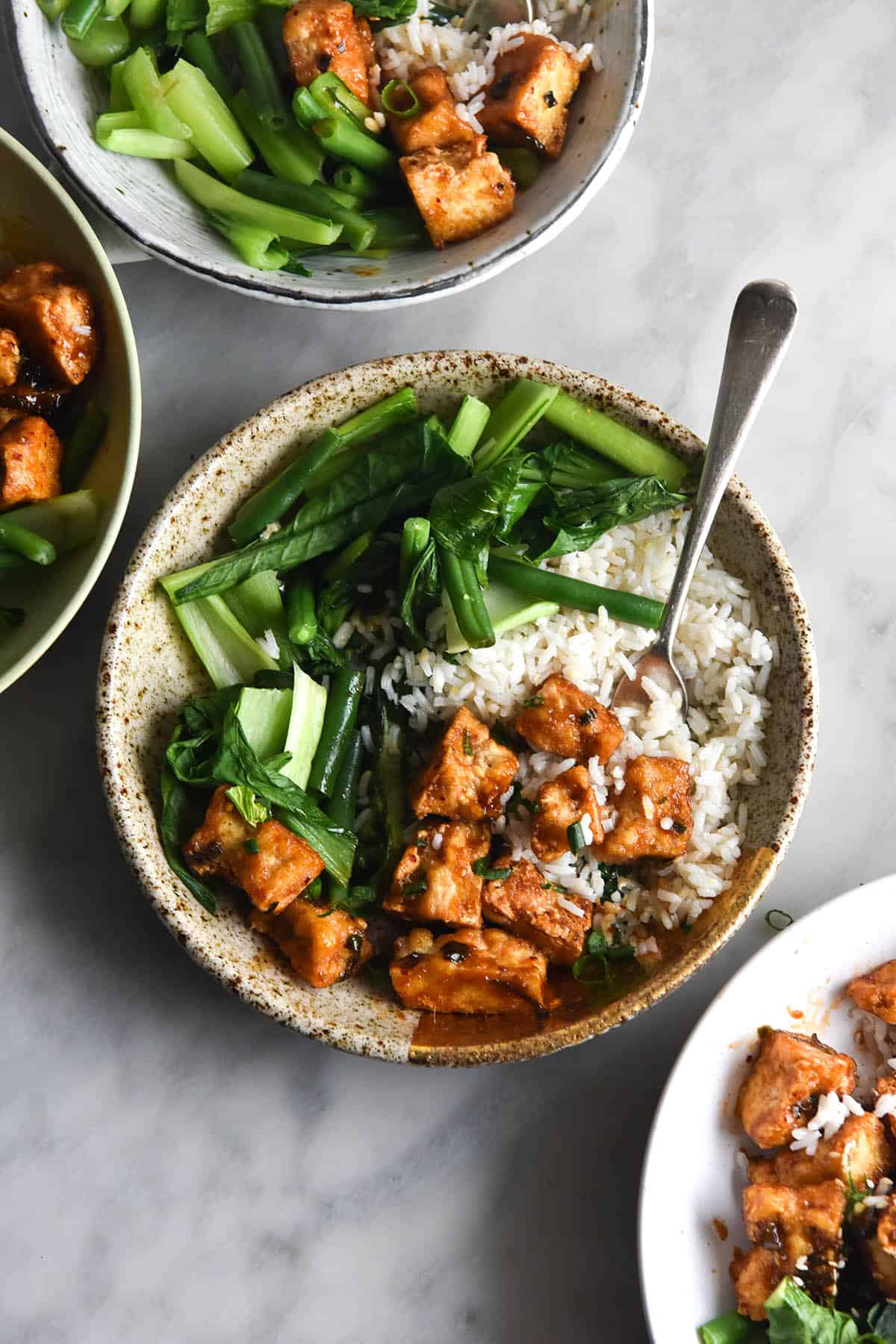 More FODMAP friendly tofu recipes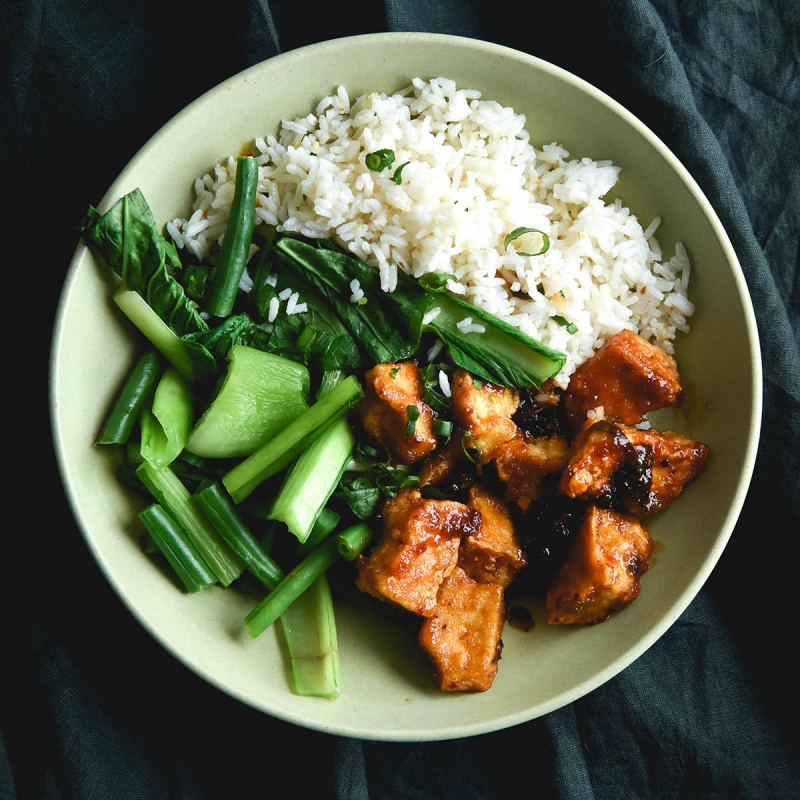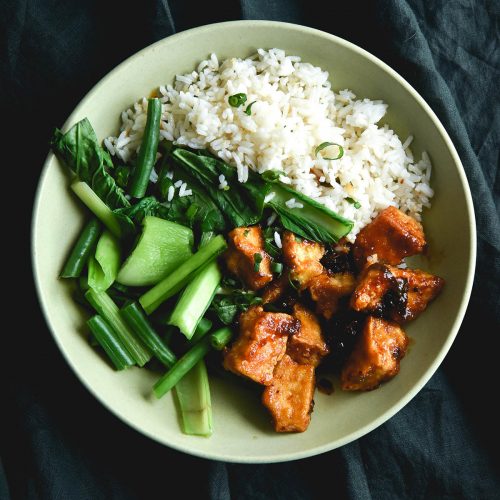 Sweet and sticky ginger tofu
FODMAP friendly, gluten free, vegan option
Ingredients
For sweet and sticky ginger sauce:
2-3

tablespoons

tamari or gluten free soy sauce

see notes

1-2

tablespoons

maple syrup (or honey for a non-vegan option)

1 – 1 1/2

tablespoons

rice wine vinegar

to taste

1

tablespoon

chilli oil

I use quick sesame oil based one or sesame oil

Freshly grated ginger

to taste

1/2

bunch spring onion greens

chopped

White or black pepper

to taste

Chilli flakes

to taste (optional)

2

teaspoons

cornflour

see notes

Extra fresh ginger

to finish (optional)
For the crispy tofu:
Vegetable or peanut oil

for cooking the tofu

2-3

tablespoons

cornflour

Good pinch of white or black pepper

500

g

firm tofu
To finish:
2-3

bunches of Asian greens

thoroughly washed and chopped (I like to use pak and bok choi)

A handful of green beans

trimmed and chopped (optional)

Cooked rice

seasoned with salt

Toasted sesame oil

Toasted sesame seeds

Extra microplaned ginger
Instructions
Steam or cook your rice and thoroughly drain it. Season with salt, sesame oil, sesame seeds and freshly microplaned ginger and set aside.

Whisk together the ingredients for the ginger sauce in a medium bowl. Add the Tamari/soy sauce conservatively, as I find it quite easy to make this dish borderline too salty. Adjust for taste and set aside.

Heat a large skillet with a thin coating of vegetable or peanut oil over a medium high heat.

Mix the cornflour and pepper together in a medium bowl. Pat the tofu dry lightly, then tear it into bite sized chunks and add it to the bowl of cornflour. Toss to coat the tofu thoroughly.

Carefully add half the tofu to the pan and give each piece a bit of space. Cook until golden brown, then flip and repeat until all sides are golden. Repeat with the remaining tofu, adding more oil if necessary.

Add a teaspoon or two of oil to a new large saucepan and place it over a medium heat. Once warm, add the sauce and cook for a few seconds until it begins to thicken. Add the tofu cubes and toss quickly to coat in the sauce before removing from the heat.

Wilt the Asian greens and beans with a bit of sesame oil and water. Once verdant green and beginning to soften, remove from the heat.

Plate everything up and serve with leftover spring onion greens, some extra sesame seeds and perhaps an extra drizzle of sesame seed oil.