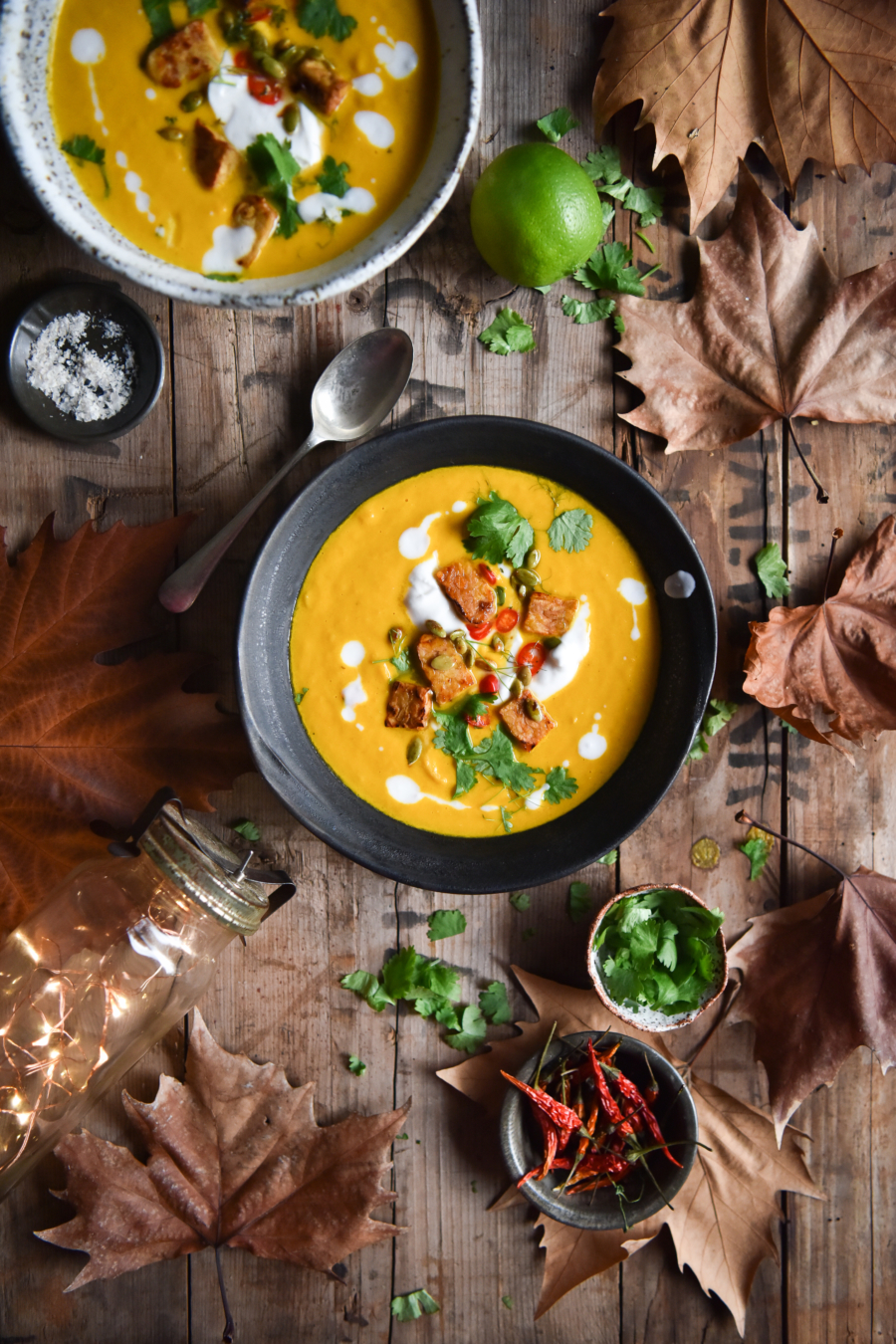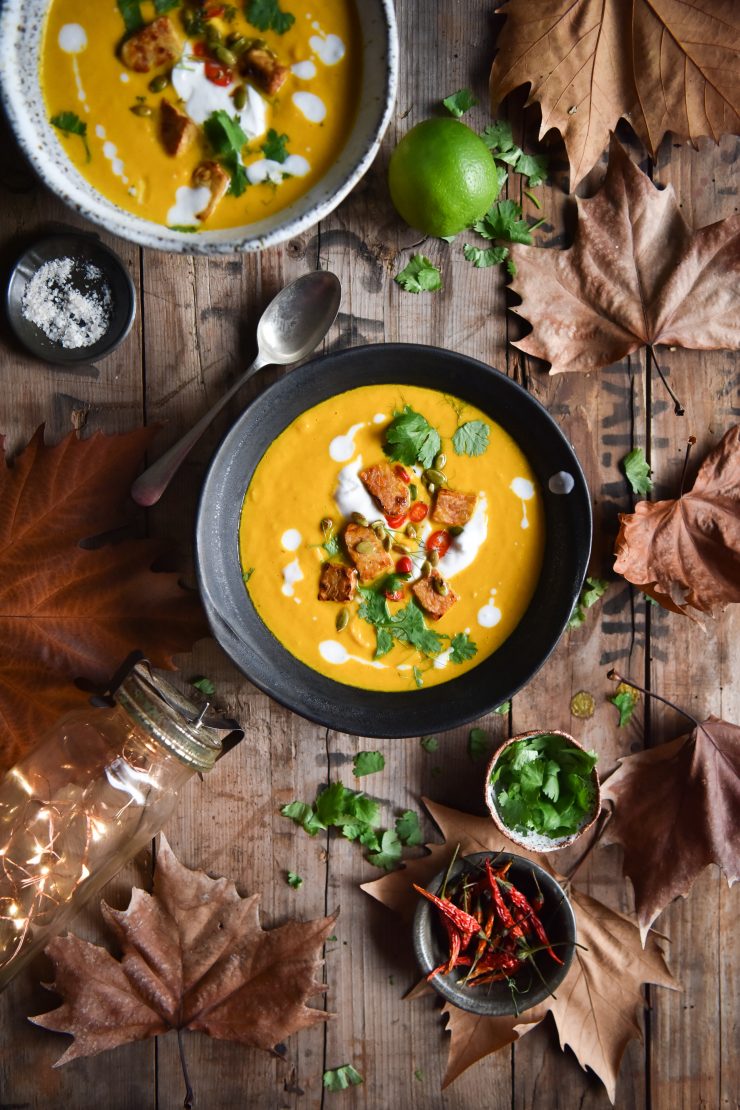 It's officially soup weather here in Melbourne. Personally, the IDEA of soup generally seems like a good one.  That is, however, until reality hits and I'm either raiding the fridge an hour later. That, or unwittingly consuming enough onion and garlic to keep me in bed for the week. Neither are ideal.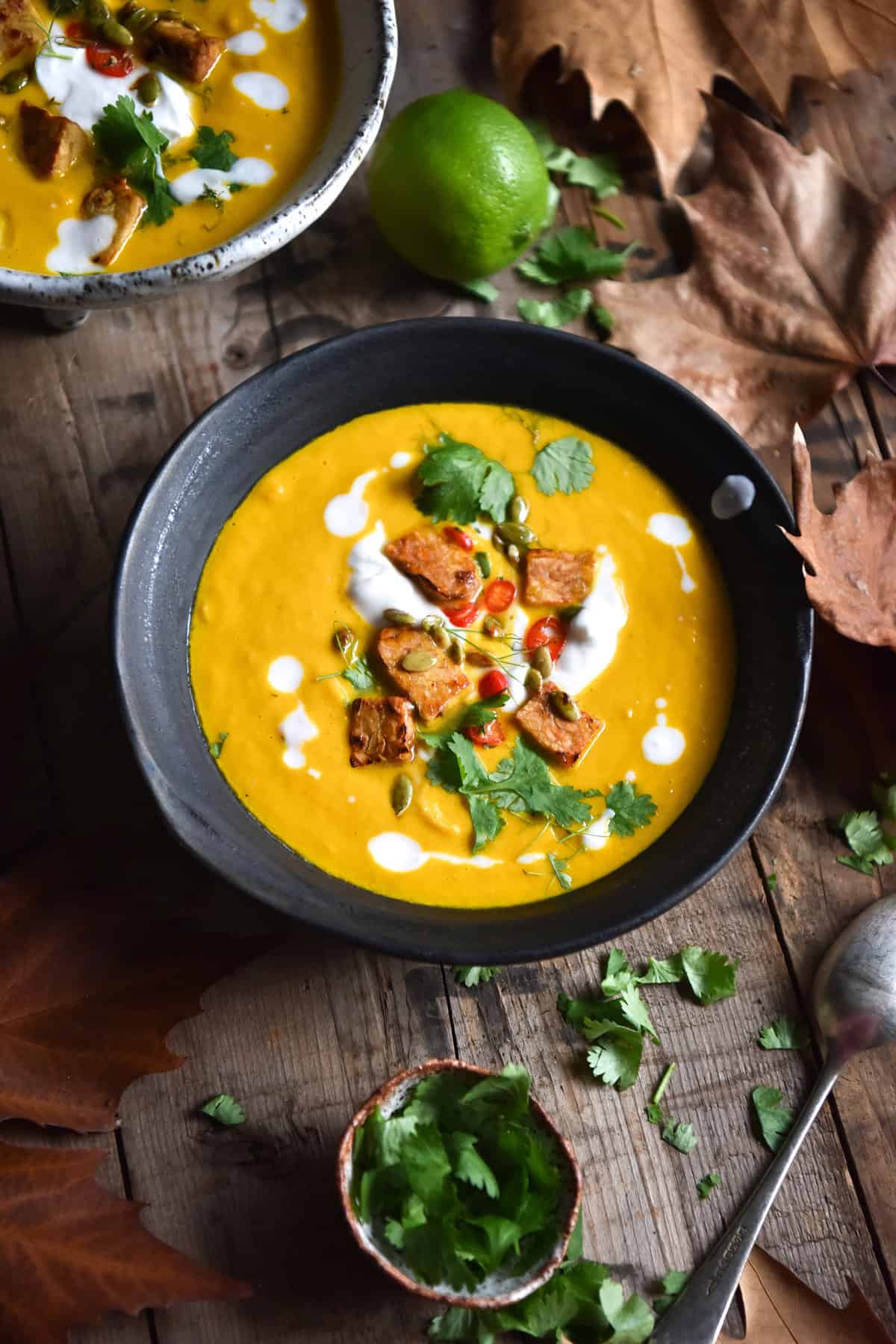 Thai inspired carrot soup
This Thai style carrot soup is actually an adaption of a recipe I uploaded on my old website about 5 years ago. Up until about a week ago, I've been wildly working on a personal project, and haven't had time for much else. Much else includes rephotographing (because I can't handle my photos from 2 months ago, never mind 4 years ago) and uploading old recipes. Much to my surprise, I received a number of emails and messages asking as to the whereabouts of this recipe. As a result, it has been fast-tracked for rephotographing.
This vegan Thai style carrot soup is thick and creamy, courtesy of old mate coconut milk. I've also added an optional protein boost in the form of the pepitas and tempeh, in case you're a fellow constantly-ravenous being. The original recipe, although vegan, does contain shallots and garlic – neither of which I can currently eat comfortably. In the efforts of providing something for everyone/not being a selfish witch,  I've included both the old recipe, and a FODMAP friendlier version.
FODMAP notes for your Thai inspired carrot soup
Make sure you buy a coconut milk without added inulin. I find that the Thai brands your best best. Fillers like inulin are not FODMAP friendly, and don't really need to be in coconut milk.
Obviously, use the FODMAP friendly version of the recipe. The original is included because people asked for it.
I love Mae Ploy Green Thai curry paste. I did a lot of research back in the day and it's pretty authentic. The quantity used in this Thai style carrot soup shouldn't impact you FODMAP wise. I do, however, have a recipe for low FODMAP green Thai curry paste which you can find here.
Check the Monash for stocks that are FODMAP friendly, or make your own. I have a recipe in my first cookbook.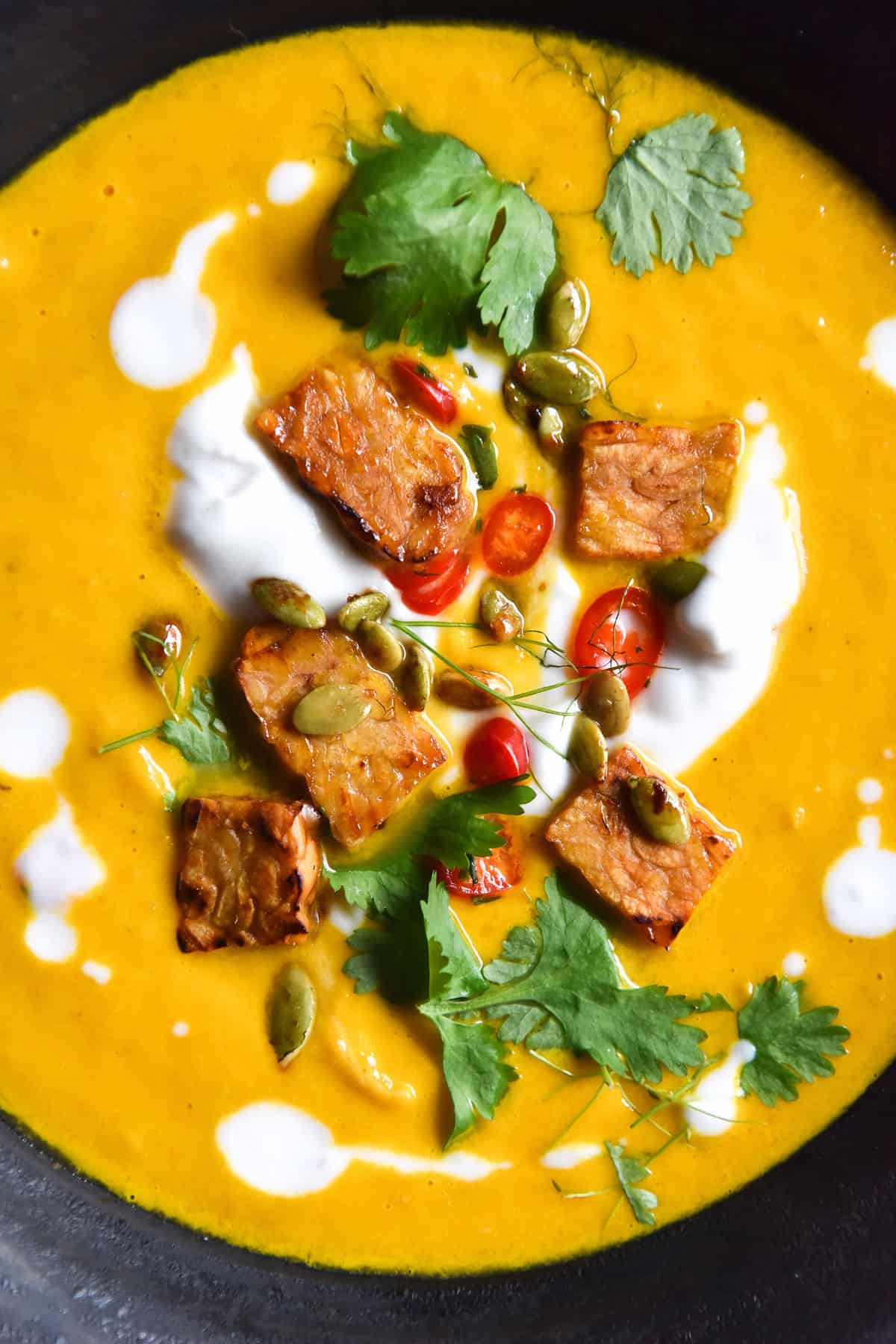 More soup recipes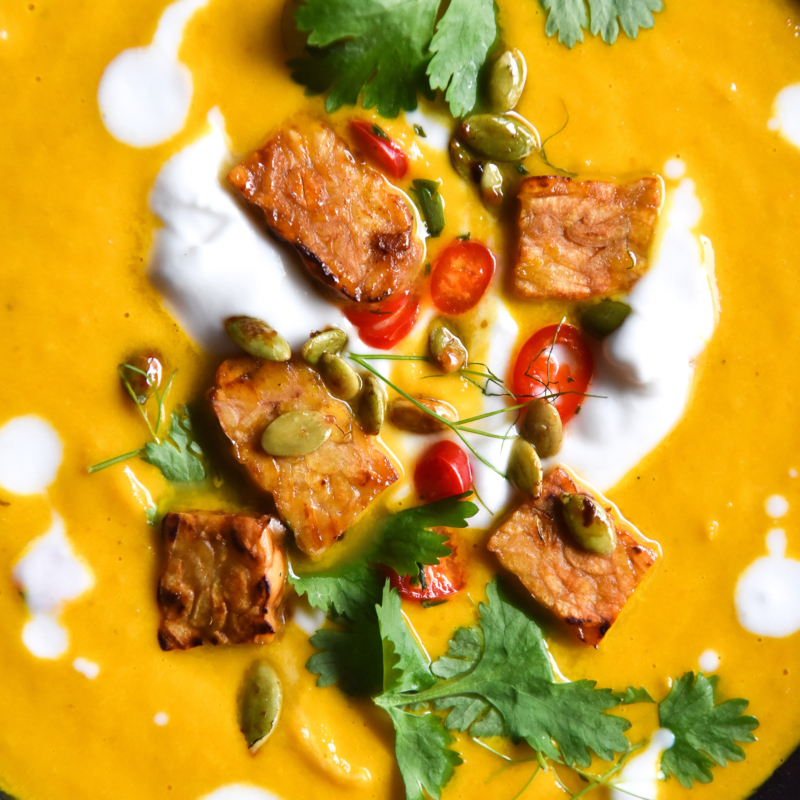 Thai carrot soup, two ways (the original and a FODMAP friendly version)
Gluten free, vegan, FODMAP friendly version
Ingredients
FOR THE ORIGINAL CARROT SOUP:
4

tablespoons

peanut oil or vegetable oil

45

g

roughly chopped shallots

1

stalk finely chopped lemongrass

and 1 stalk bruised lemongrass

750

g

carrot

chopped

10

g

ginger

finely chopped

3-4

cloves

garlic

finely chopped

2

tsp

stock powder + 4 cups of water OR 4 cups of stock

as much chilli as you can handle

1

teaspoon

sriracha

1

can of coconut milk

Chilli

coconut yoghurt and coriander, to garnish
FOR THE FODMAP FRIENDLY CARROT SOUP:
4

tablespoons

peanut oil or vegetable oil

1

stalk finely chopped lemongrass

and 1 stalk bruised lemongrass

30

g

ginger

finely chopped

750

g

carrots

chopped

4

cups

of FODMAP friendly stock

I make my own using fennel and carrot as the aromats, sea salt and Tamari for saltiness, and whatever else is in the bottom of the fridge

1/2-1

teaspoon

green Thai curry paste

check that it's vegan – these most often have onion and garlic, but I have no issue with it in this tiny quantity – sub in extra lemongrass, kaffir, shopped coriander roots or ginger if you're not keen, plus extra salt

Grating of 1/2-1 kaffir lime zest

or about 6-8 kaffir lime leaves

1

can of coconut milk

check it contains no inulin to keep it FODMAP friendly

Chilli sauce

to taste (Tabasco is garlic free)
Instructions
METHOD (FOR BOTH SOUPS):
Chop all ingredients and have them ready to go. So much easier later when there's things burning.

In a large pot, warm the oil over a medium heat. Once it's warm, add the shallots, lemongrass and ginger (original) or the ginger and lemongrass (FODMAP friendly) and cook for a few minutes, until they begin to colour. Add the garlic for the original recipe, and cook an additional few minutes.

Add the chopped carrots, and cook until they begin to develop colour, even stick to the bottom of the pan a little. Use a bit of stock to deglaze the pot, if necessary. Once everything is sizzling and browned, add the remaining stock, and cover with a lid. Add the kaffir lime leaves and/or zest and curry paste for the FODMAP version here. Allow to cook for around 15-20 minutes.

Once the carrots are cooked and easily pierced with a fork, add the chilli sauce and coconut milk and stir to combine. Use a stick blender to blend the soup to a silky texture, adjusting the seasoning and chilli as necessary. Pls note: if you don't have a stick blender and are using a regular blender, LET THE SOUP COOL FIRST. I don't want any first degree burns on my conscience if I can avoid it. Also, I personally have made that mistake with bulletproof coffee and a protein shaker way too many times. Cleaning the roof ain't fun.

For the optional pan fried tempeh, heat some peanut oil over a medium high heat. Add the tempeh, and cook, turning intermittently, until the tempeh is brown. Pour over a good splash of Tamari (it will sizzle) followed by a good splash of maple syrup. Add a handful of pepitas to the mix, and stir to combine. Sprinkle this mixture over each bowl of soup, along with some coconut milk or yoghurt, chilli, and coriander. Serve with a lime wedge, if ya feelin' fancy.