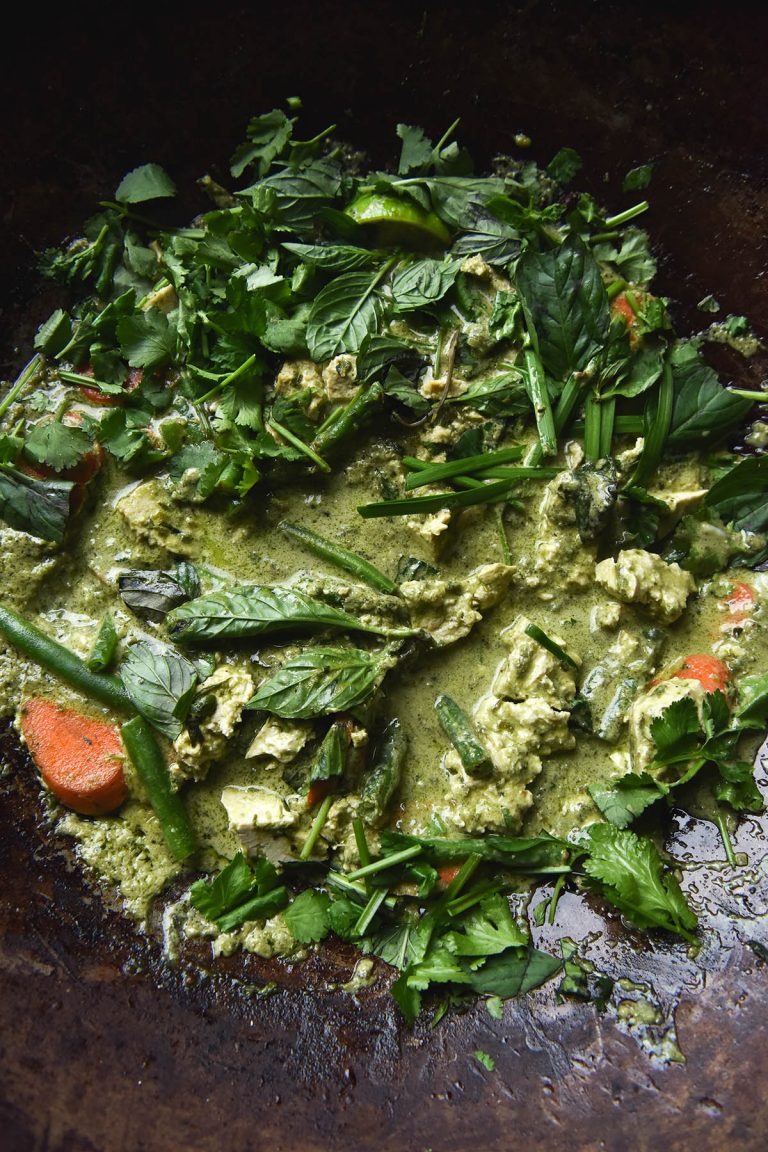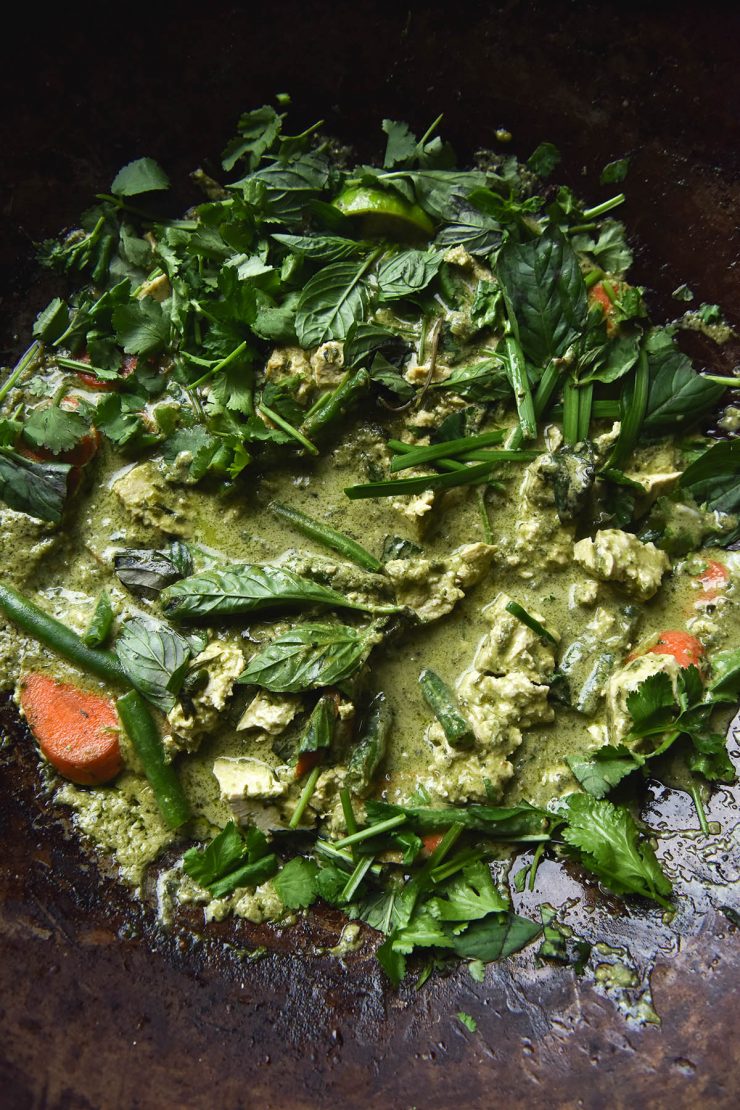 It has been a while since my trip to Thailand, and I haven't forgotten all the delicious food I ate. I have been quietly working away on a suite of Thai inspired dishes, including Pad Thai, Red Thai curry and this FODMAP-friendly Thai green curry. I say inspired, because although I have tried to keep them as authentic as possible, garlic, onion and shrimp paste are mainstays of Thai cuisine. As a fructan adverse vegetarian, this is naturally a bit of a barrier. 
Each recipe has been researched and aims to stay as true to the original as possible. I will include links to authentic Thai versions of each dish and Thai recipe developers. My only wish in tweaking recipes from other cultures is to allow people with digestive constraints to experience the dish without feeling sick. I am obviously no expert in Thai cuisine, just a lifelong devotee.
FODMAP-friendly Thai green curry
This Thai green curry is vegan, making it a great low FODMAP vegan dinner option. It is made without shallots, onion or garlic to keep the FODMAP content down. Spring onion greens and optional garlic chives (which are low FODMAP) replace the flavour of onion and garlic.
The paste uses a combination of Thai aromats and is finished with coconut milk, cubed tofu and some vegetables for a filling and delicious low FODMAP dinner.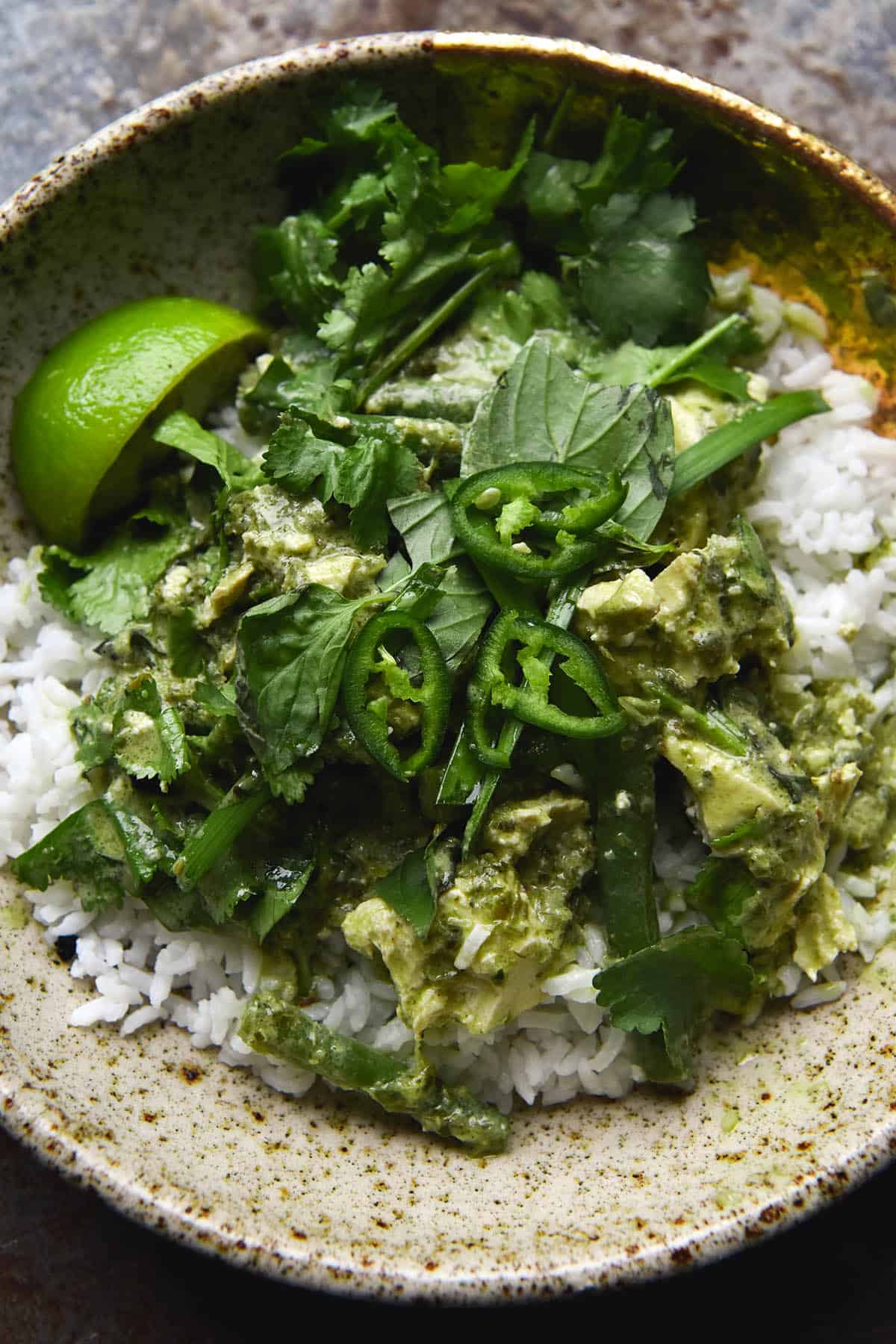 My inspiration for this low FODMAP Thai green curry
I took a Thai cooking class when I was in Bangkok, and we made our own Thai green curry. Needless to say, that inspired me to create a FODMAP friendly version upon my return.
One thing in particular that I learned from the class is to use the coriander leaves in the curry paste. Thai green curry uses the roots of coriander, but not the leaves. However, using the leaves adds to the nice green colour of the paste. It also means you're not wasting the leaves, which is great.
I also learned a lot from this website, Eating Thai Food, in regards to the makeup of a green curry paste. My recipe has a different ratio of ingredients (to make up the flavour lost without shallots or garlic) but this recipe was my inspiration.
The Guardian has done a deep dive into different curry paste recipes. I'm not sure about their suggestion to omit the dried spices, but it's a good round up of recipes out there.
I have David Thompson's cookbook, Thai Street Food, which I really love.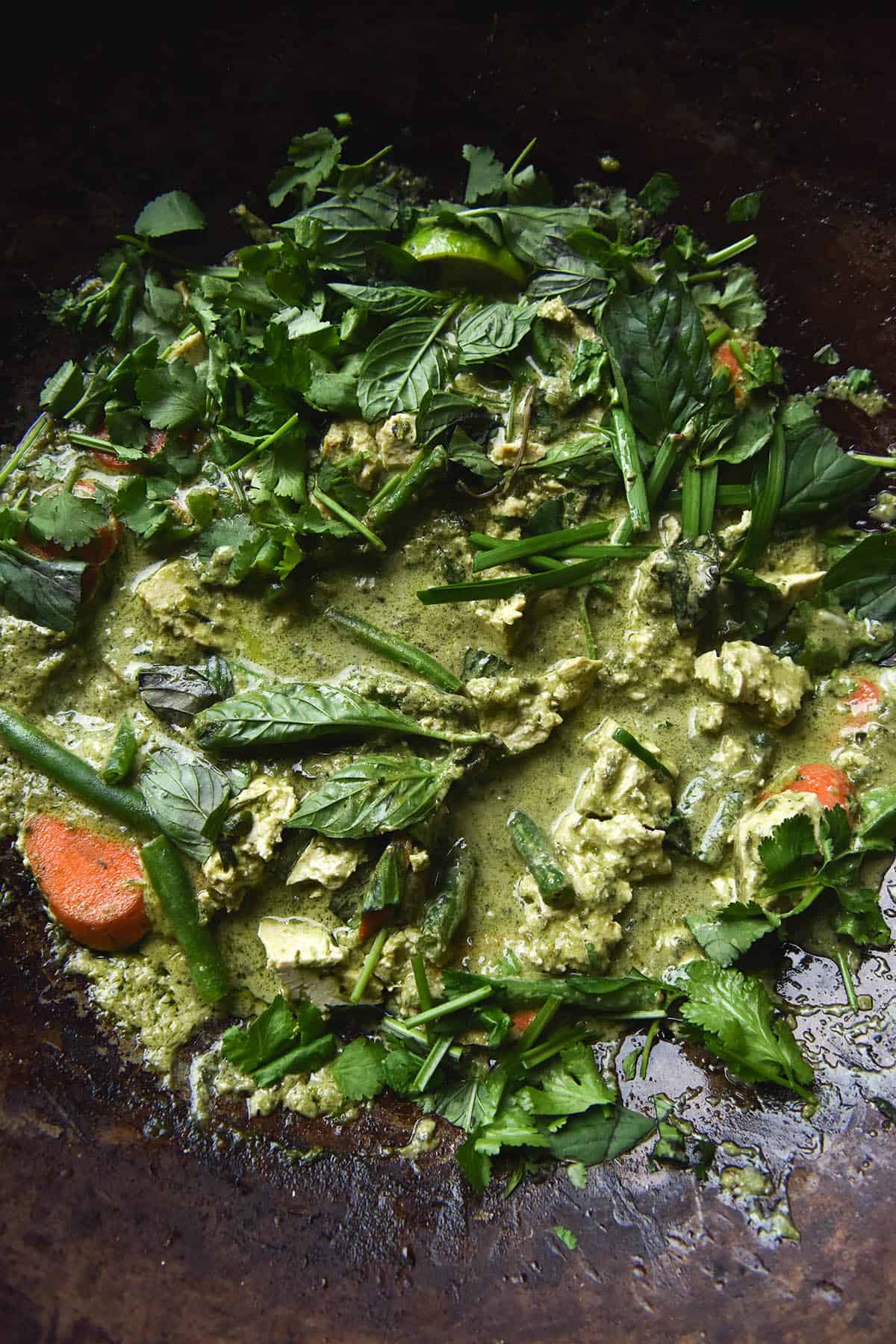 How do you make Thai green curry low FODMAP?
Garlic and shallots are replaced with garlic chives and spring onion greens. Garlic chives are something I learned about while working on a Pad Thai recipe. They're somewhat akin to chives, but with a garlic flavour. Garlic chives are available at Asian grocers. They're also great in a basil pesto.
Shrimp paste is replaced with a dark miso. It's not the same, but it adds funk and saltiness. I also read that fermented tofu makes a great substitute, but I haven't tried that yet. If you don't need the dish to be vegetarian or vegan, you can use shrimp paste. I recommend adding it to taste or researching how much other people generally add. Miso is very different to the shrimp paste (shrimp paste is very strong) and I have not tried using it in this FODMAP-friendly Thai green curry paste.
Vegetarian/vegan fish sauce replaces traditional fish sauce. This is for vegetarian purposes rather than FODMAP purposes. If you are pescetarian, you can use traditional fish sauce, too.
Finally, I should state the obvious: I am a chilli wuss. I cannot fathom that some curry pastes use 10+ chillies. This curry paste uses regular, non-Thai chillies (which are far hotter). It also uses far less chillies than other recipes out there. This is for my own personal preferences, but also for FODMAP reasons.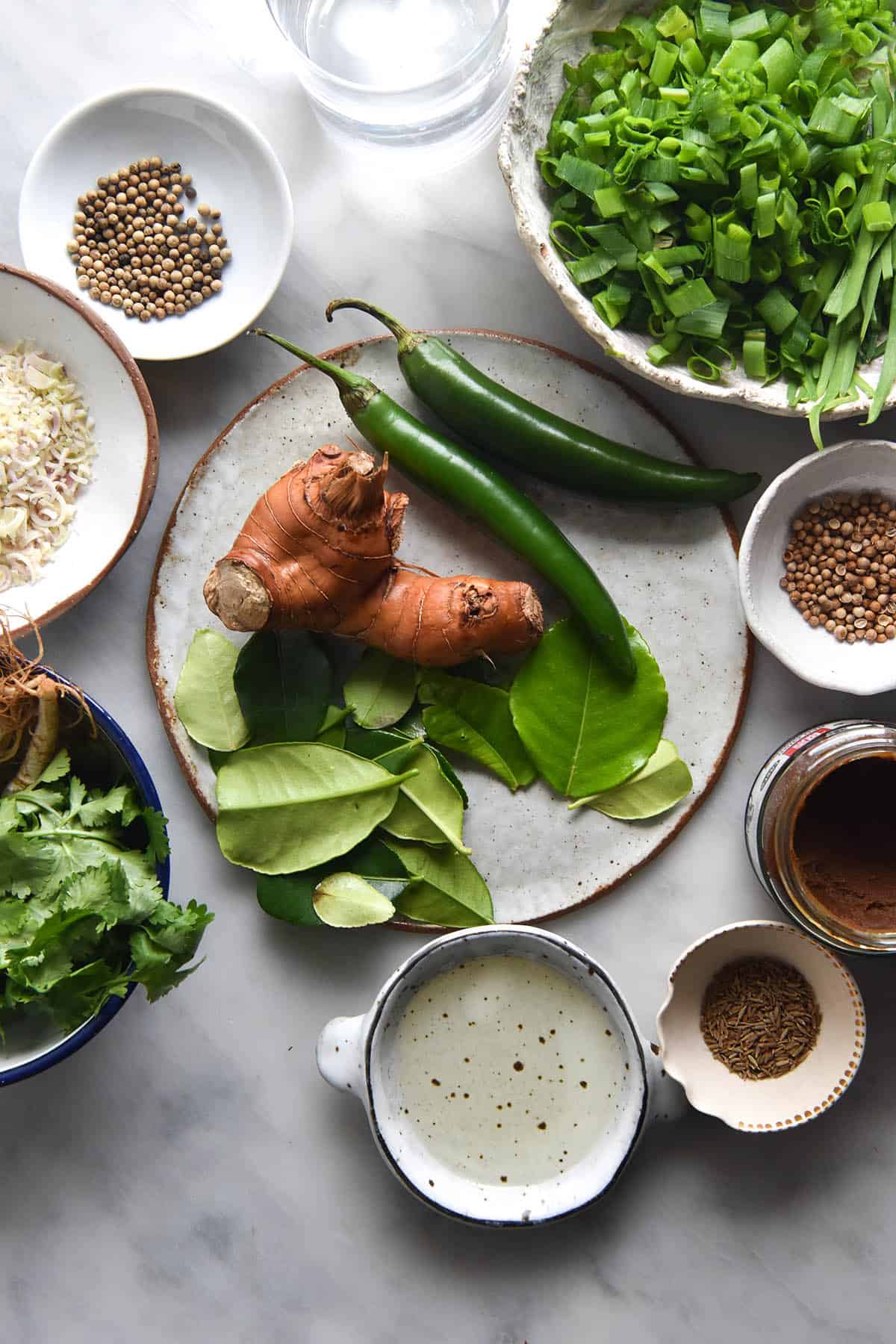 Recipe notes for your Thai green curry
Because we're already changing things up quite a bit, I recommend trying to find the ingredients if you can. These days (in Australia, at least) lots of these ingredients are increasingly accessible.
You can make the curry paste ahead of time. I haven't tried freezing it, but I'm sure it would work.
Personally, I like making this in a small blender suited to curry pastes. You can make it in a mortar and pestle, but it will take a lot longer. Eating Thai Food website says they spent 1 1/2 hours grinding their paste. I am absolutely certain it would make for a far better curry paste, but I just don't have that much time right now.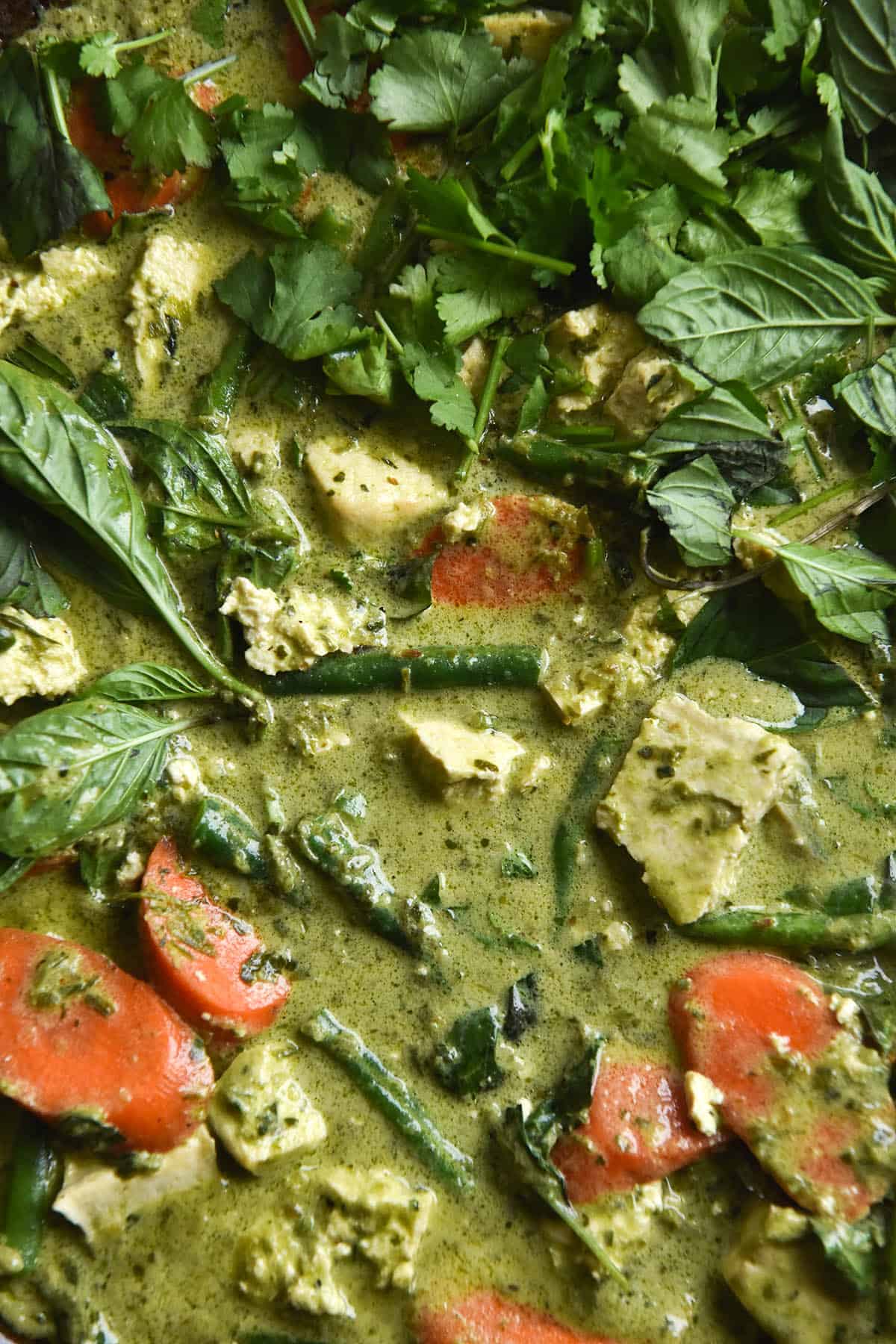 Tips for finishing your vegan Thai green curry
If you're not looking to make an authentic Thai green curry, you can throw in any vegetables you like. A hot tip, though: if you use potatoes or any hard vegetable, you might consider par-boiling them first. Because they take a while to cook, your curry will go from a lovely green to a muddy green. If you don't care for aesthetics, this is of course no issue. If you do, it's something to consider.
When using tofu, I highly recommend tearing it into small bite sized chunks. It adds visual and textural interest to your curry. Craggy edges are also more likely to pick up delicious flavours.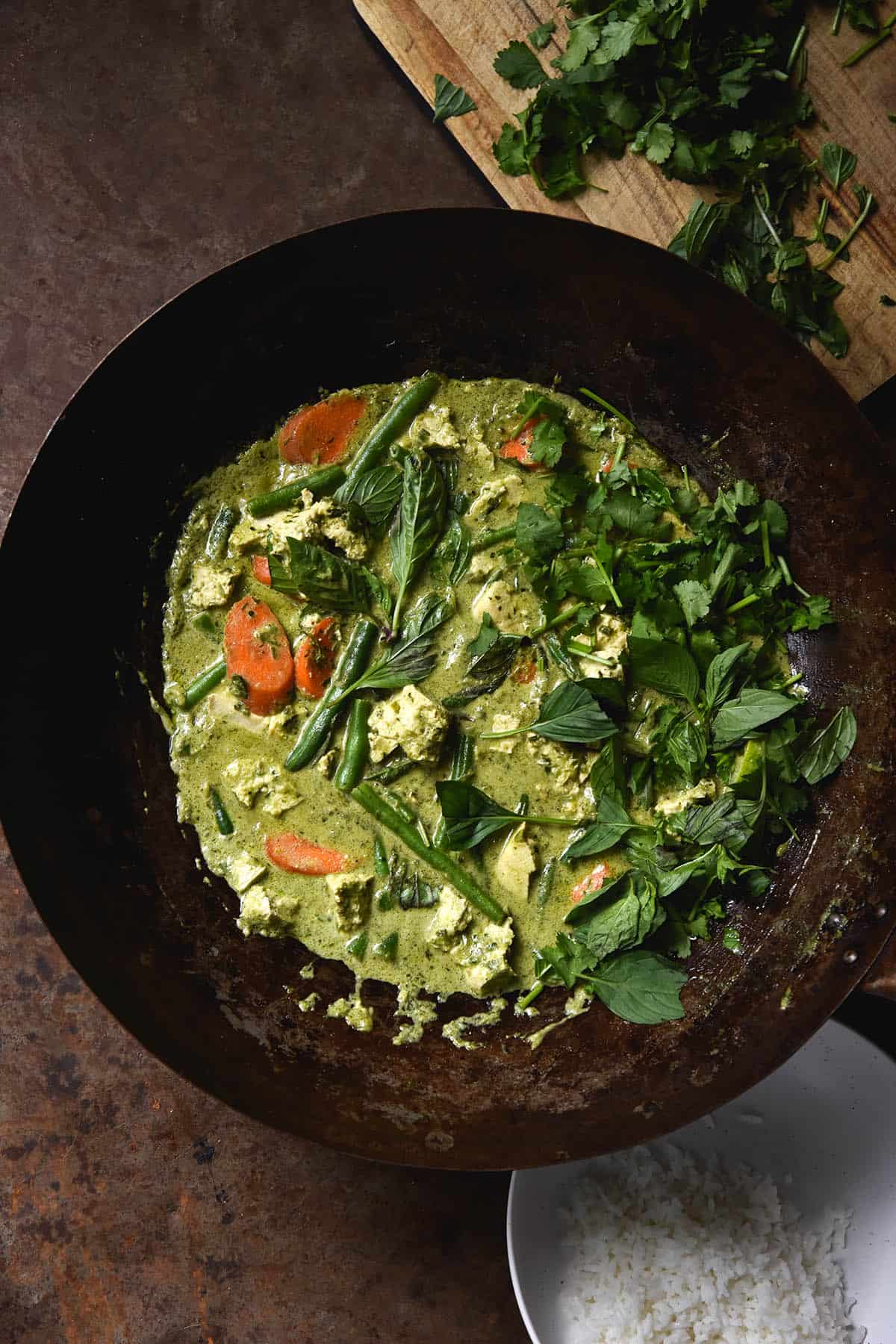 Substitution suggestions
I have never understood the suggestion to use regular basil instead of Thai basil. Personally, I think they are world's apart in terms of flavour. I'd be more likely to suggest the leftover coriander leaves, or just to omit a herb altogether.
Makrut lime leaves (formerly, kaffir lime leaves, a name which has offensive connotations) are often sold in Australian supermarkets under the name 'lime leaves'. If in doubt, take one out and rub it between your fingers. It should be fragrant and bright and obviously makrut. There is nothing like these delightful leaves, so I recommend sourcing some. They are easy enough to acquire in supermarkets these days. You can also buy pickled ones in the Asian aisle, but I can't vouch for them.
Something that is generally harder to find is the makrut lime itself. The limes are like a very knobbly version of a regular lime, but generally about half the size. In Australia, I have most luck finding them at farmer's markets and Asian grocers in the summer. I buy as many as I can during their season and then freeze them. That way I have access to their unparalleled deliciousness all year round.
Many experts in the cuisine will tell you that ginger is not a good substitute for galangal. I would be inclined to agree. Galangal has a citrusy, light sort of flavour and isn't as spicy or pungent as ginger. I would perhaps suggest extra lemongrass, or maybe half lemongrass and half ginger. Others disagree and say ginger is a good substitute, so you can make that call for yourself. I would recommend allowing the paste to cook off thoroughly if you use ginger to mellow it out.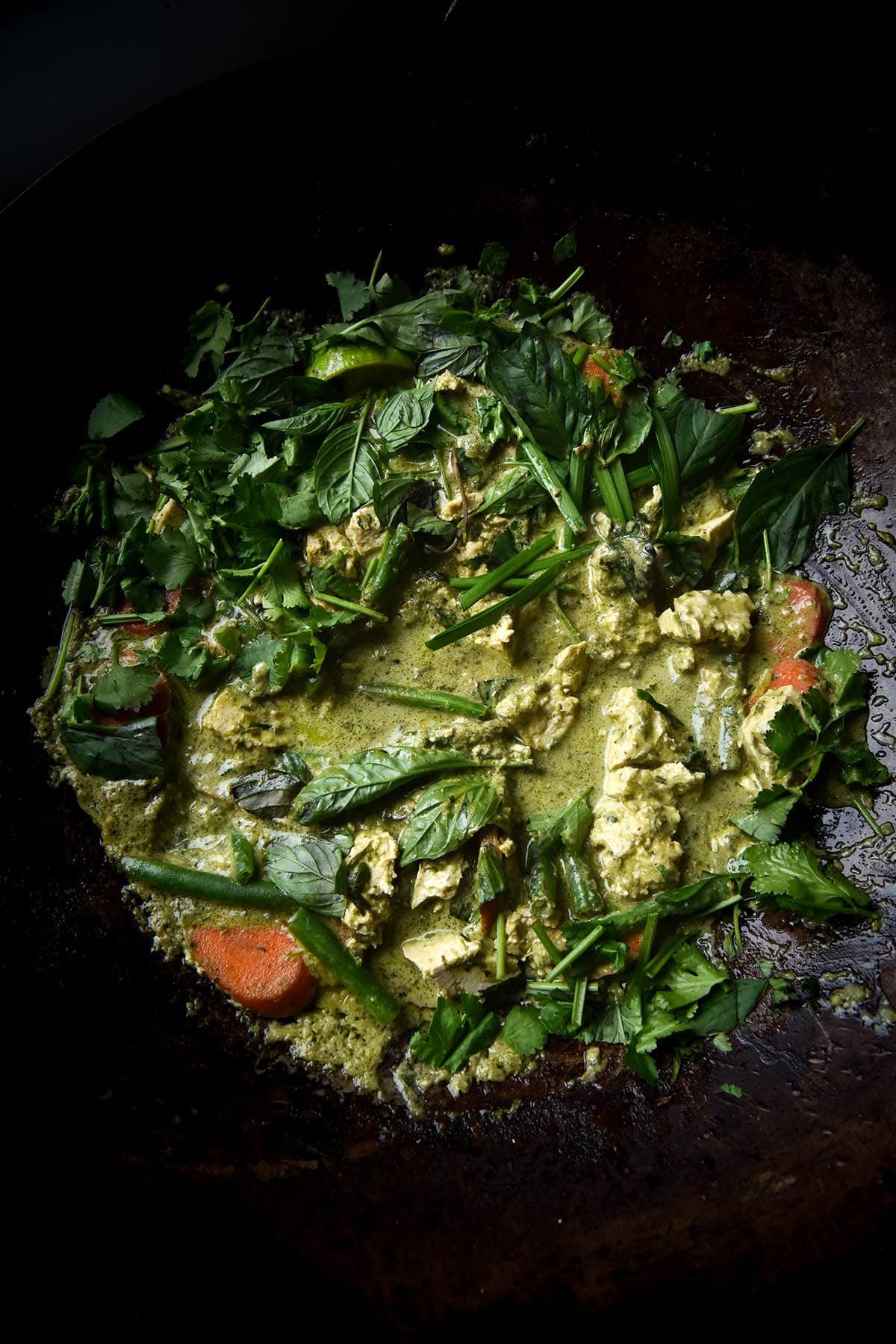 How many people does this FODMAP friendly Thai green curry serve?
I find this question tricky, because although it's critical information it is also extremely subjective. My best estimate is that this curry serves 4-6 people when served with rice. This depends on how many vegetables you add, what sort they are, how much rice you cook, etc. It also depends on how much you generally eat. But 4-6 people is as an accurate of an answer as I can give. 
You can make the curry go a little further by adding more water to the sauce, and subsequently more vegetables. Adding potatoes helps make it particularly filling, too.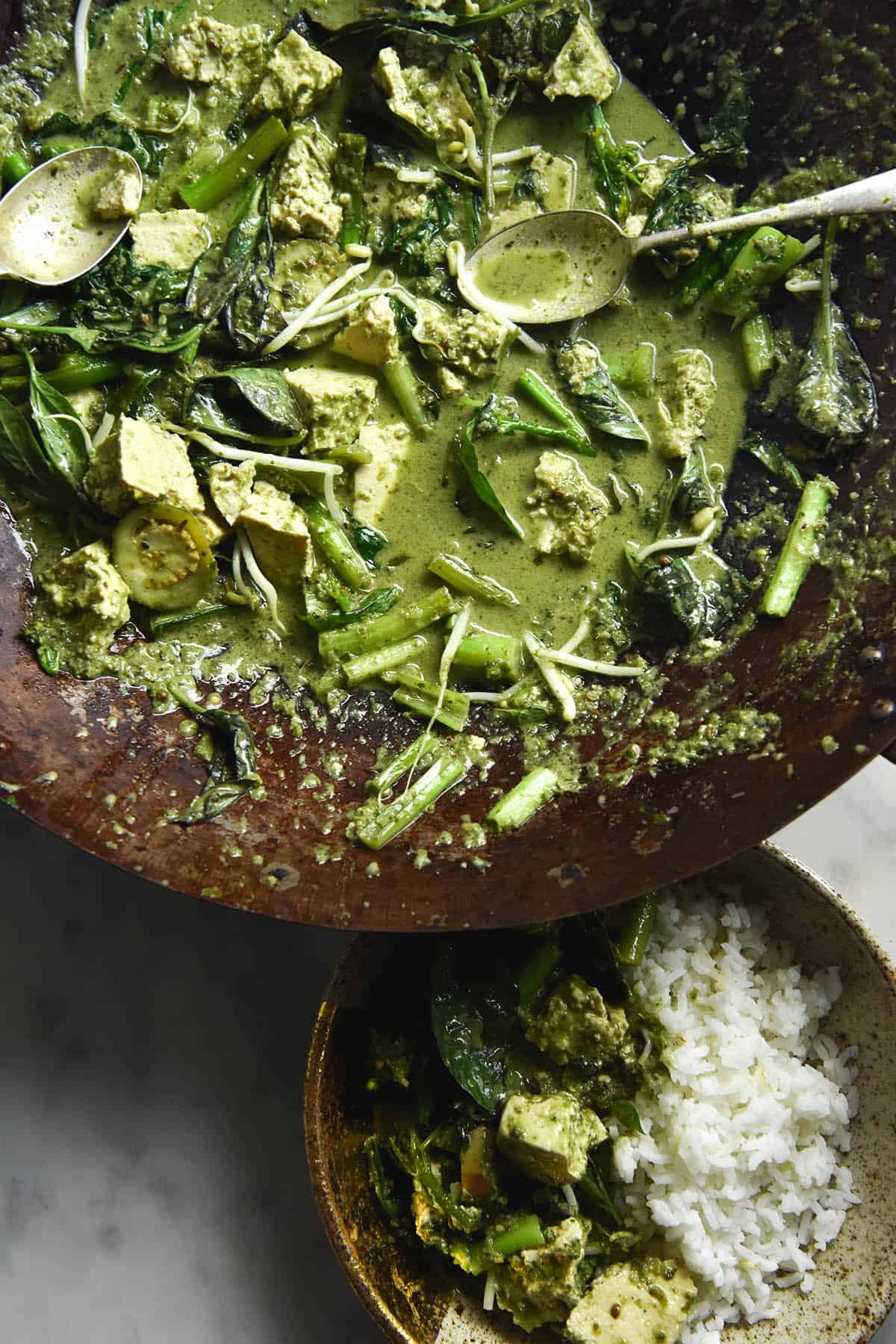 More low FODMAP vegan dinner recipes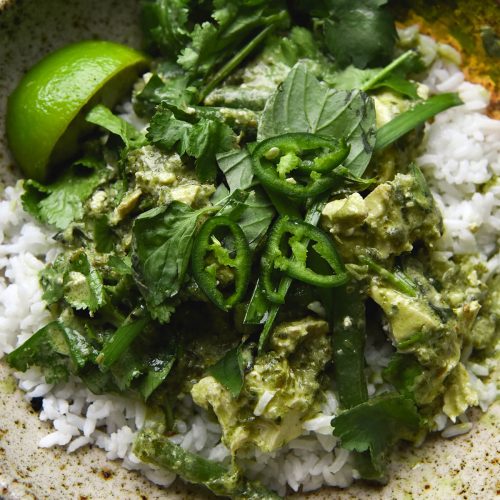 FODMAP friendly Thai green curry
Vegan, gluten free, nut free
Serves 4-6 with rice
Ingredients
For the curry paste:
1

teaspoon

cumin seeds

2

teaspoon

coriander seeds

1

teaspoon

white peppercorns

1-2+

green chillies

see notes

1

bunch spring onion

green part only, chopped

1

tablespoon

garlic chives

2

tablespoons

of chopped galangal

20-25g once grated

Zest of 1 makrut lime

see notes

3-4

makrut lime leaves

stem removed and chopped

3

stalks lemongrass

white part only, chopped

2

teaspoons

dark miso

Bunch of coriander roots

thoroughly washed and chopped

Handful of coriander leaves

1

tablespoon

oil

Water

as necessary to loosen
To finish:
3-4

tablespoons

vegetable oil

1

X 400ml tin coconut cream

check to see it has no fillers

1/2 – 1

1 cup

125-250ml water, as necessary

3-4

tablespoons

vegetarian fish sauce

1/2 – 1

tablespoon sugar

to taste

Tamari or salt

to taste

Lime Juice

to taste

500

g

tofu

torn into small bite sized chunks

Any vegetables you would like to add (about 1-2 cups)

see notes

Bunch of Thai basil

or the leftover coriander
Instructions
To make the curry paste:
Toast the cumin seeds, coriander seeds and peppercorns in a dry pan until fragrant. A little browning or a very light char is welcome – it will add a smoky flavour.

Crush the seeds up a little and add them to your food processor. You can also make this paste in a large mortar and pestle – see the notes below.

Add the remaining ingredients to the blender and process until a paste forms. Add water as necessary (try not to exceed 2-3 tablespoons) to help with blending.

Once you're happy, you can put the paste into a container and store in the fridge or use straight away.
To make the curry:
Heat the oil over a medium high heat in a wok or large pot.

Once hot, add the curry paste and stir. Cook for a minute or two until it is lovely and fragrant. Add the coconut cream and stir to combine. Add some water (remember, you can always add more but you can't subtract, so be conservative with it) and stir until combined.

Add the fish sauce, sugar Tamari or salt and lime according to your tastes. These are all subjective flavours, so make sure you are happy with your own flavour balance.

When you are, add the hardiest vegetables first and repeat until all the vegetables and tofu are added. Cook until the vegetables are just soft. If your sauce is too runny, continue cooking to reduce it down a little.

To finish, stir through the Thai basil and serve with freshly cooked rice.
Notes
• As I have mentioned in the introduction, I am a chilli wimp. I have only added 1 1/2 long green chillies to my curry – a spice level I am very happy with. If you like more, add more!
• Add miso according to your penchant for saltier foods. If you don't like salt, add less and taste before adding any Tamari or salt in the wok.
• Any vegetables work in this curry. If you use potatoes, consider parboiling them as their cooking time tends to make the curry paste muddy in colour.
• Needless to say, use chicken or meat if you don't need this to be vegetarian. You can also use regular fish sauce and shrimp paste in place of the miso. Add shrimp paste to taste, though – it's very strong so not a direct sub for the quantity of miso outlined.
• See the body of the post for a run-down of ingredients and where to get them.