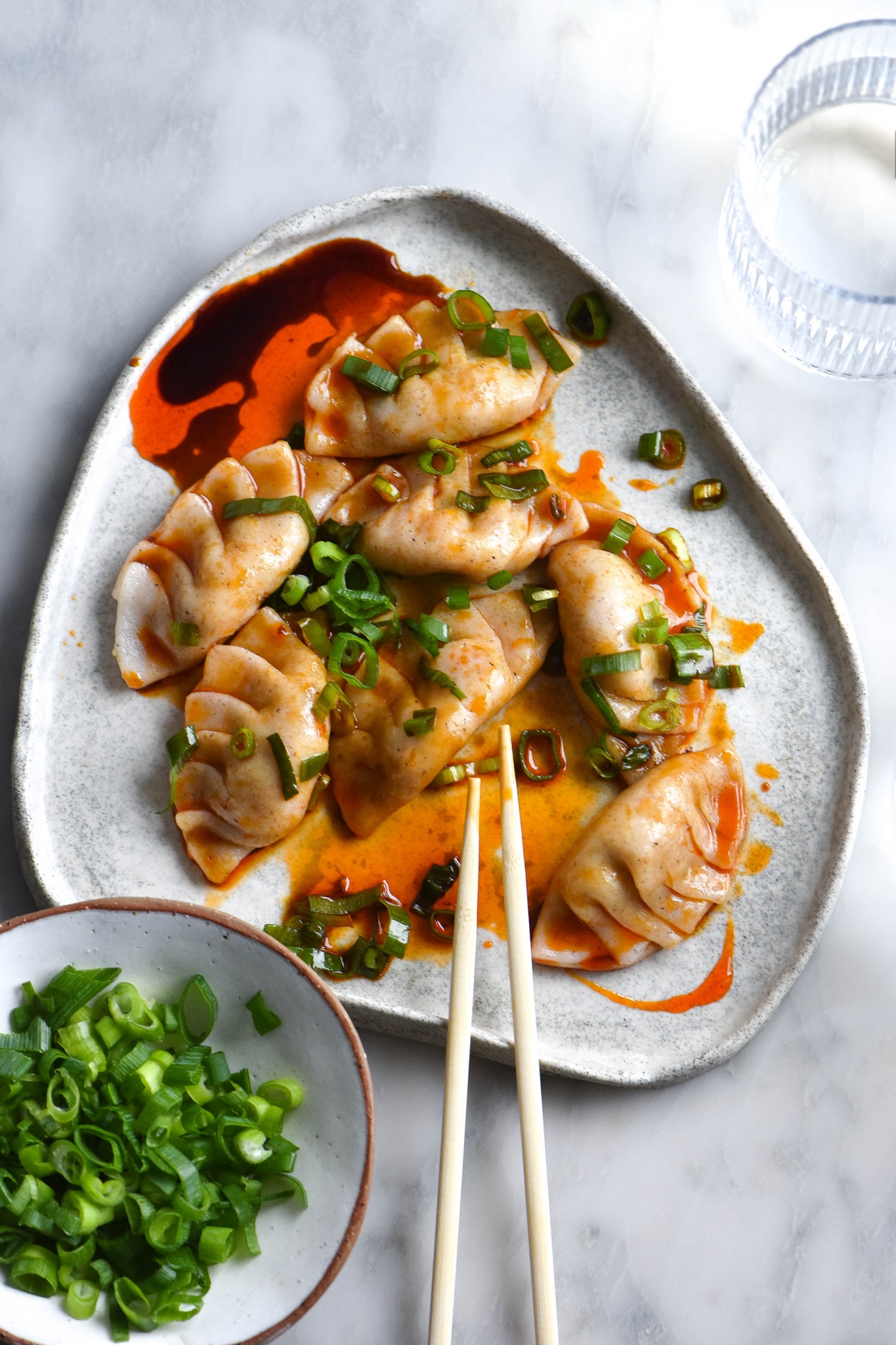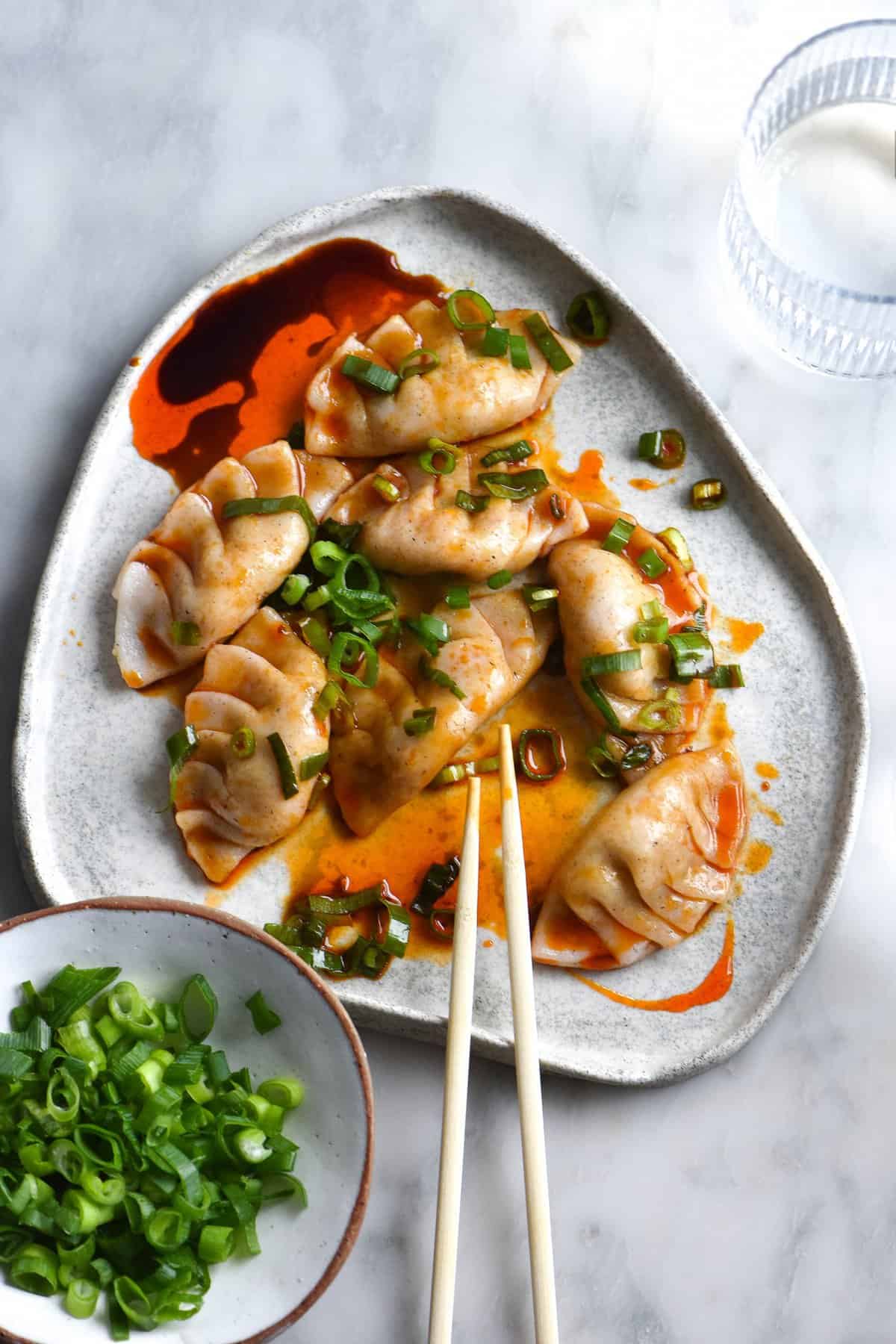 These gluten free dumpling wrappers are one of my absolute favourite recipes from my cookbook, Intolerance Friendly Kitchen. They are out in the world on SBS's website, so I figured I would house them here, too. The wrappers are made using a scald, so they don't need any gums to hold them together. The perfect recipe if you're after gluten free dumpling wrappers without xanthan gum.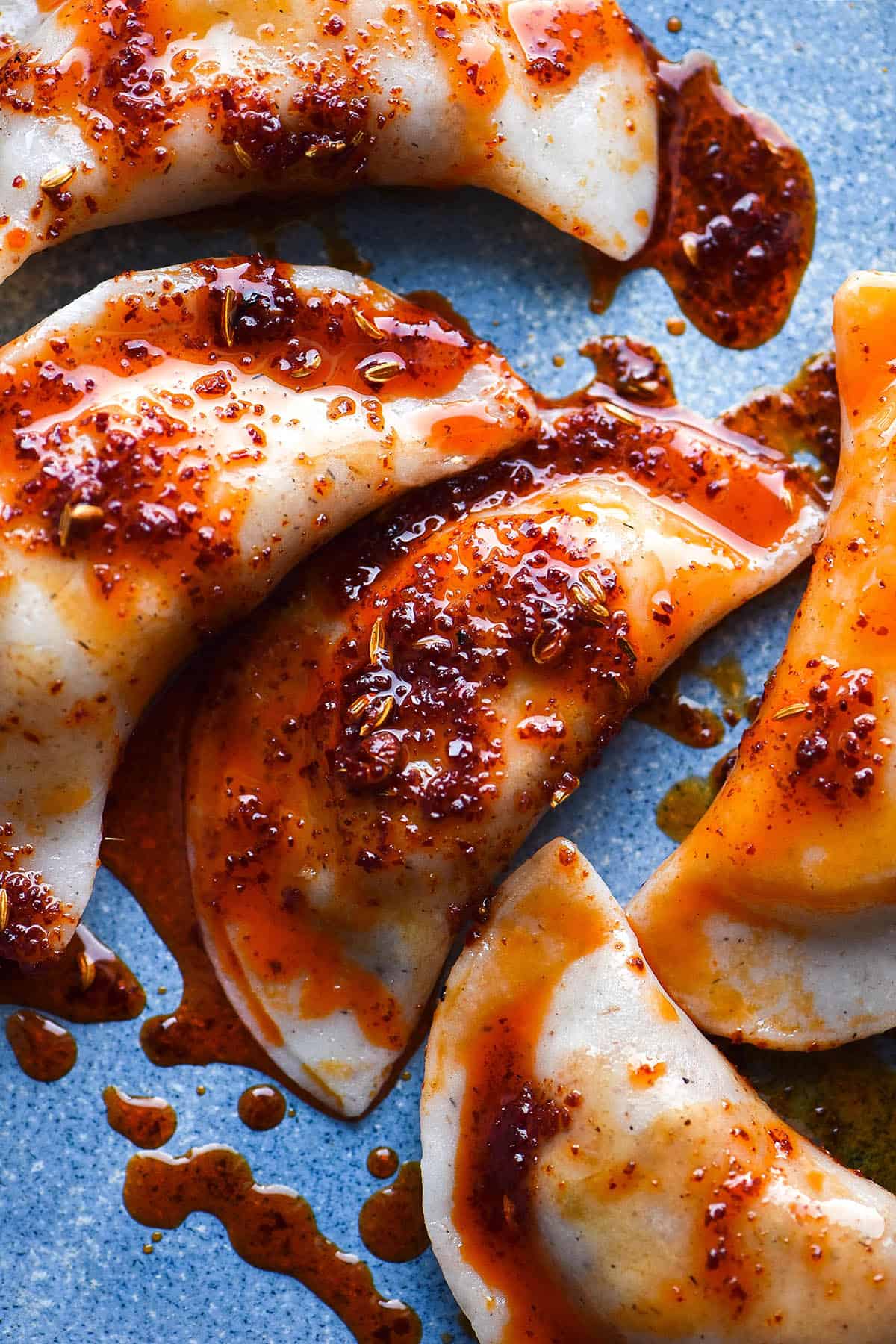 Gluten free dumpling wrappers without xanthan gum
These dumpling wrappers are gluten free and vegan. They are also low FODMAP, nut free and super customisable. The flours outlined in the recipe card make for the most 'neutral' flavoured dumpling, but we have options which we will go into below.
These wrappers use a simple mix of gluten free flours, psyllium husk, salt and water.
So, how does one make a dumpling wrapper without gluten or xanthan gum? Simple: by scalding the flour.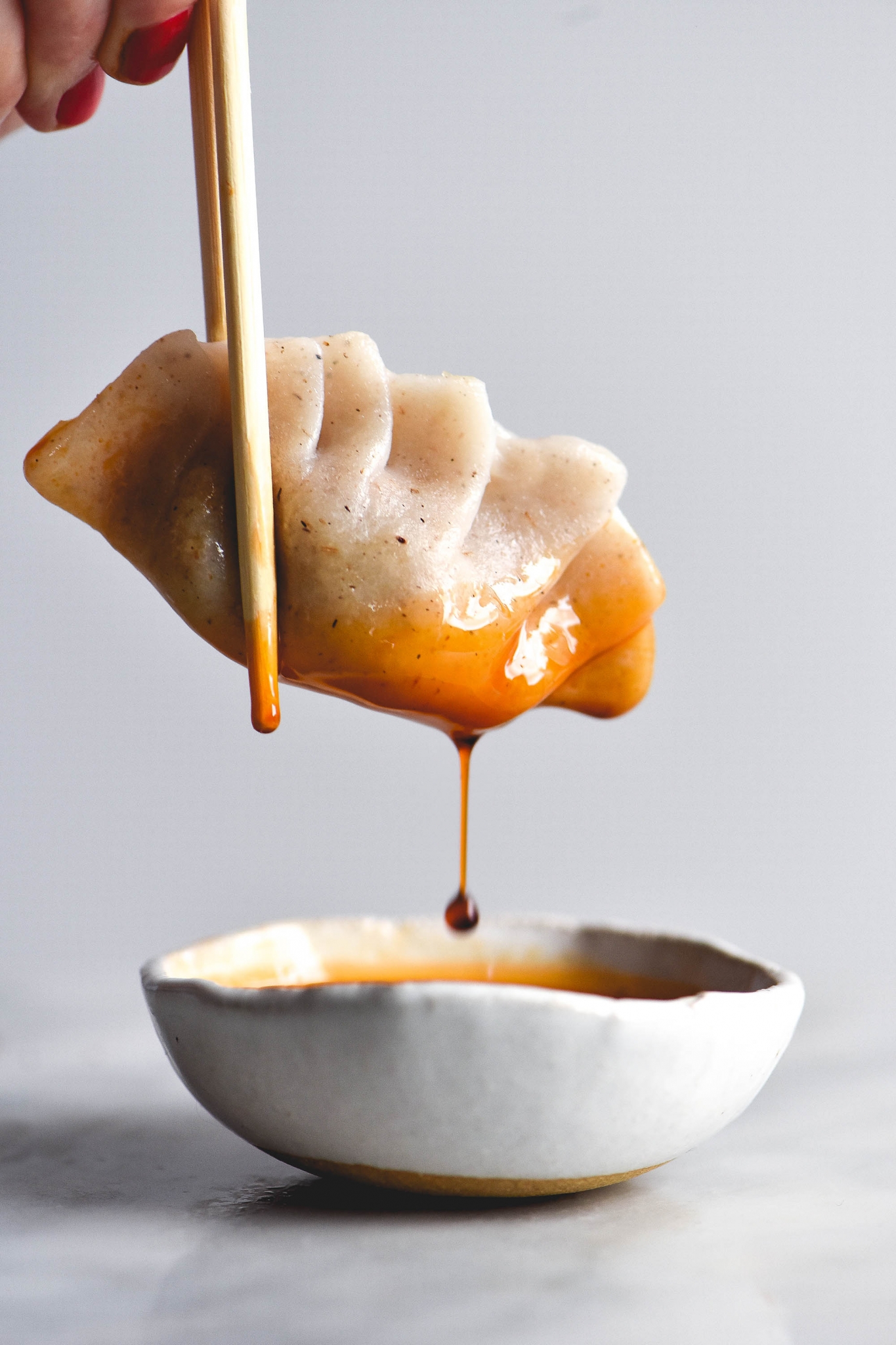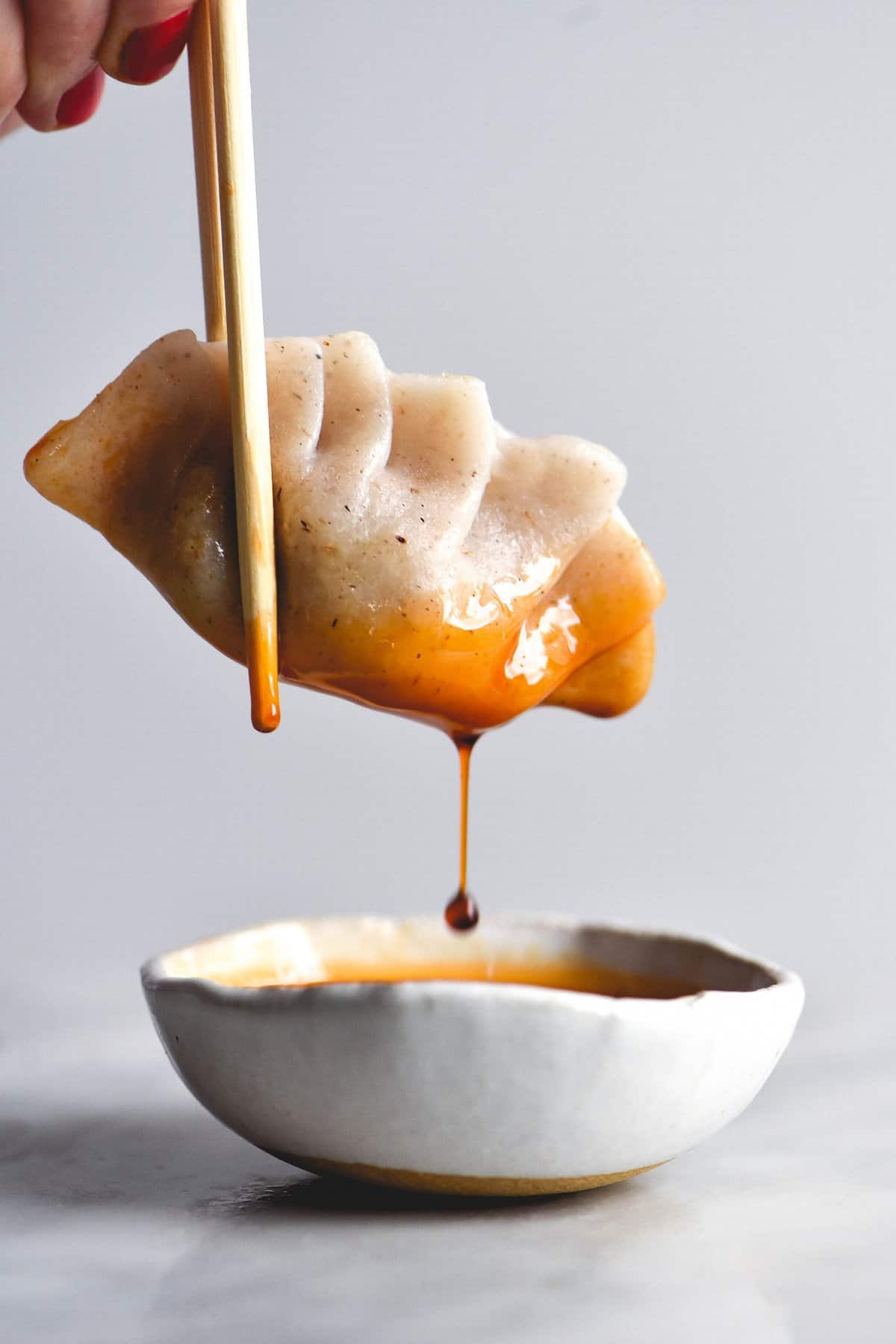 What is a scald?
A scald is made by pouring boiling water over flour. The boiling water gelatinises the starches in the flour, which makes them more elastic and pliable. In this case, the entire dough is a scald. In gluten free baking, generally a smaller proportion of scald is used in addition to fresh flour.
Once the dough has been scalded, it is poured out onto a clean work surface to knead into a juicy ball of dough. From there, the dumpling wrappers are cut out and you're ready to fill and shape them.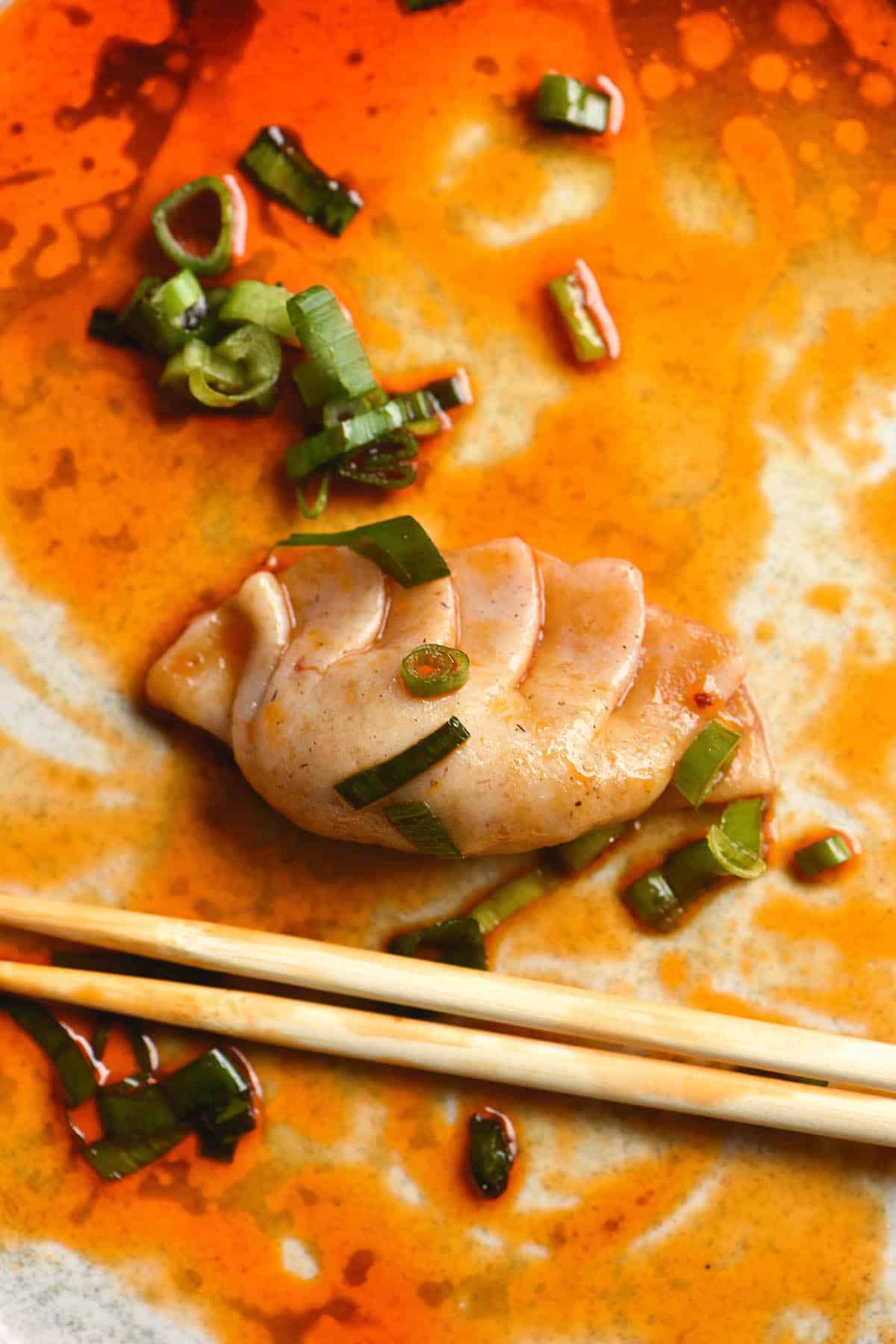 Tips for your gluten free dumpling wrappers
Immediately after you pour the boiling water onto the flour, the dough will be HOT. Be careful and give it a bit of time before you start to knead the dough. Don't wait too long or it might not come together. If you want to get started immediately, use gloves.
It really helps to tip the shaggy dough out onto a clean kitchen top. This will give the dough a chance to cool. It also makes it really easy to knead the dough into a ball and incorporate all of the dry spots into the dough ball.
Have plenty of flour on hand for rolling the wrappers out. The dough can be rolled incredibly thinly, but it does need a well floured surface in order not to stick. I like to use tapioca flour here because it's soft and inexpensive.
If a wrapper is rolled too thin and it breaks, simply ball it up and roll it out again. Easy.
I use a sharp edged (not scalloped) scone or biscuit cutter for my dumpling wrappers. However, you can use anything dumpling sized, including an upside down glass.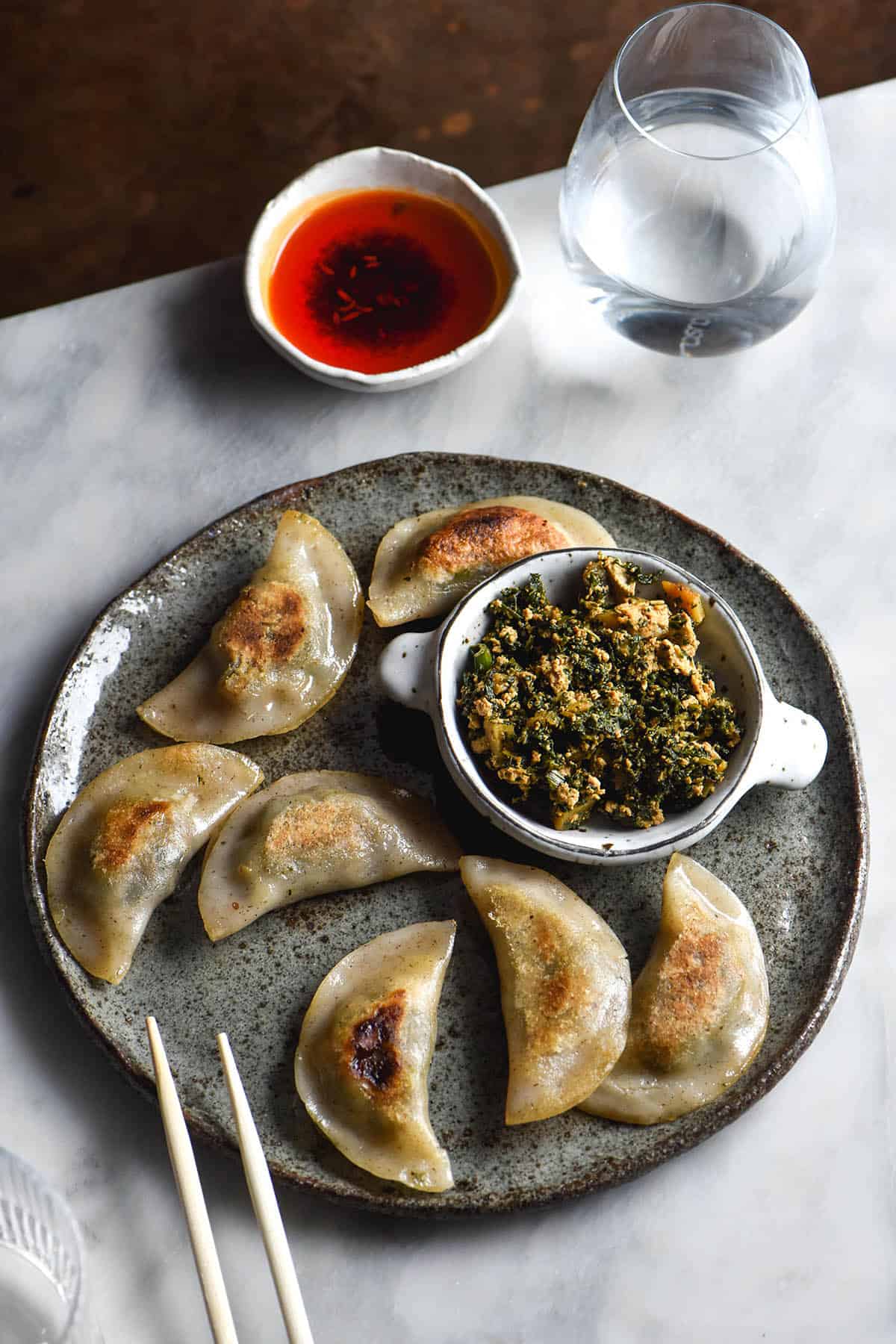 Ingredient notes for your dumpling wrappers
Make sure you choose fresh, fine white rice flour if you're using rice flour. Gritty old rancid rice flour will make your dumplings taste unpleasant.
I have tested these dumpling wrappers with a multitude of different gluten free flours and they have all worked well. This does not include gluten free flour blends.
To experiment, I recommend using the same ratio of starch to wholegrain. However, they also work with all wholegrain flours. To make a wholegrain version, use 1/2- 1 extra tablespoon of psyllium husk powder and water to suit.
You can use psyllium husk powder instead – try using 1 1/2 tablespoons (it's more absorbent than the flakes).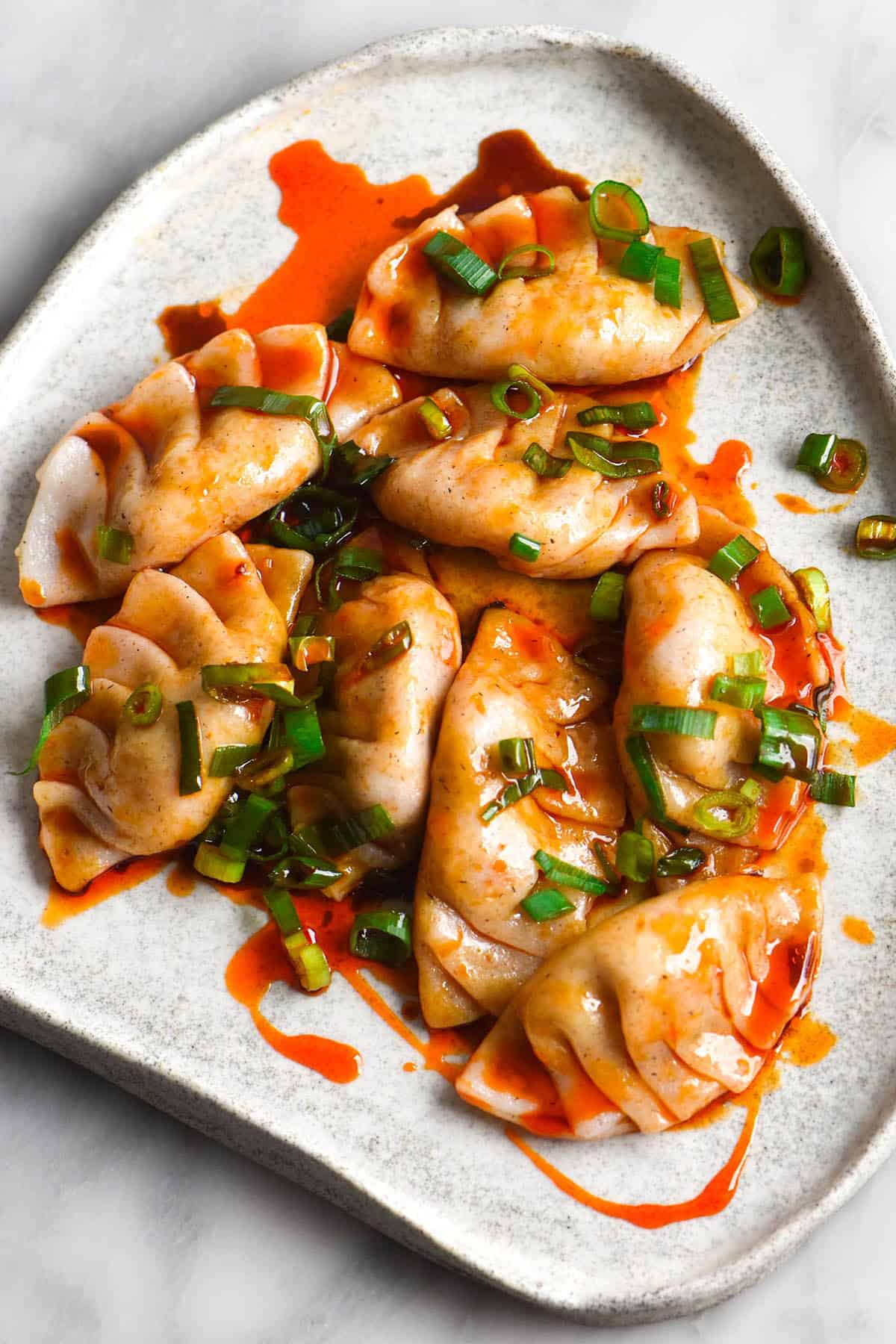 Rolling out your dumpling wrappers
Rolling your dumplings should be easy breezy once the dough is nice and moist yet firm. However, here are a few tips to ensure dumpling success.
First and foremost, ensure that you have plenty of flour for rolling. I use tapioca flour here because it is inexpensive, very fine and soft. Other flours, like rice flour, are a little too course for rolling out wrappers finely.
Secondly, roll the dumpling wrappers as thin as you possibly can. Nobody wants to eat a thick, half cooked dumpling wrapper. These wrappers can be rolled really really thinly without tearing, so really go for it.
Personally, I think these are easiest to handle when you're rolling and folding them at the same time. This is as opposed to rolling out all the dumpling wrappers and THEN filling them. I prefer to do them at the same time because the wrappers are more moist and malleable when freshly rolled. How you do it is up to you, but this works best for me.
One final tip: you can patch up any number of dumpling wrapper holes with some water and your fingers. Too easy!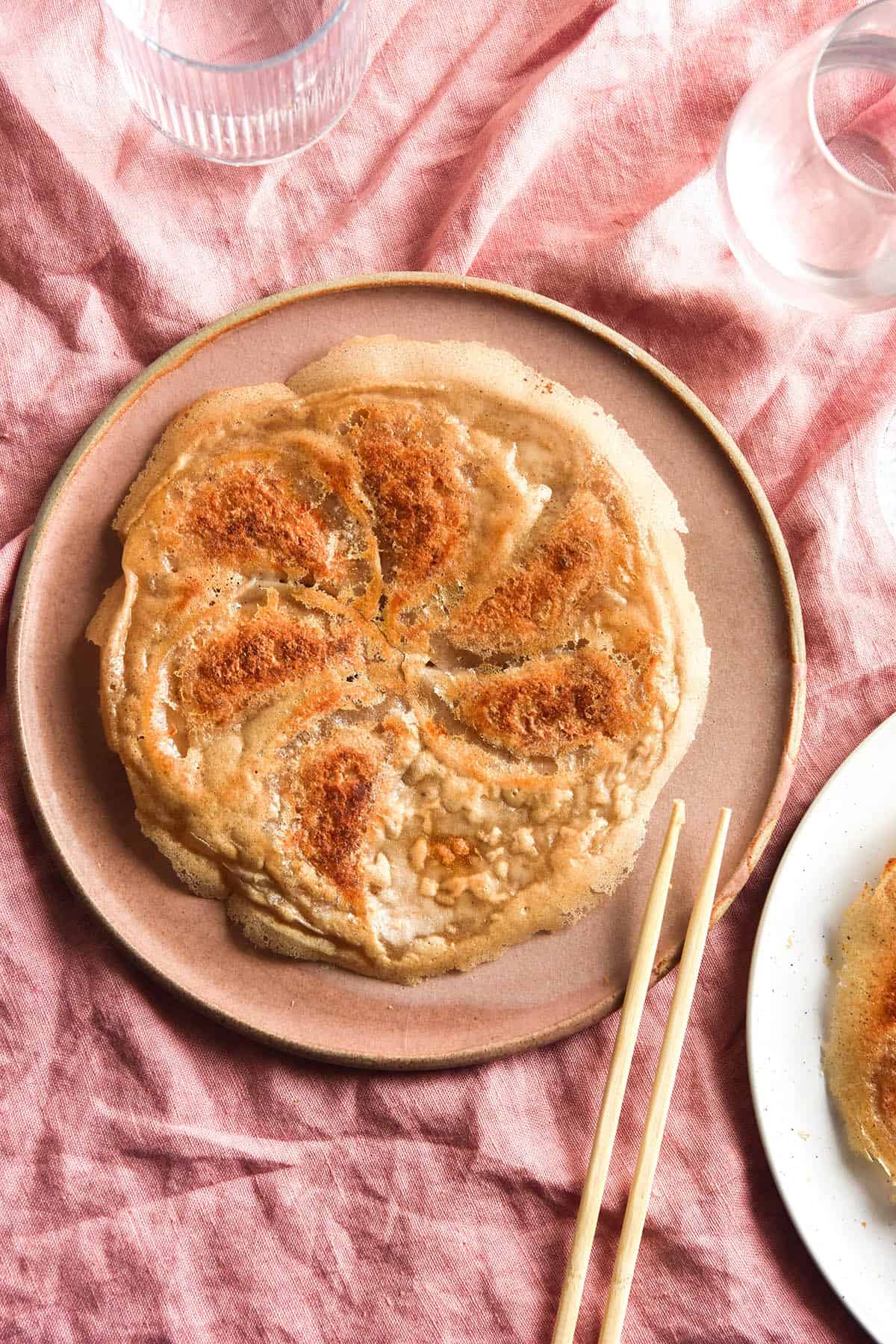 Cooking your dumpling wrappers
These dumpling wrappers can be fried and then steamed, steamed or boiled. You can also make a gluten free dumpling skirt for the dumplings or place them in a soup.
To boil the dumplings, follow the recipe as written after you fill your dumplings. To fry and then steam, use the instructions in Intolerance Friendly Kitchen. There are lots of dumpling recipes in there, including:
Gluten free skirt dumplings
Low FODMAP ginger and tofu filling
Low FODMAP spinach and water chestnut filling
Vegan dumpling soup (low FODMAP)
Low FODMAP chilli oil
Low FODMAP dumpling dipping sauce (that uses the chilli oil)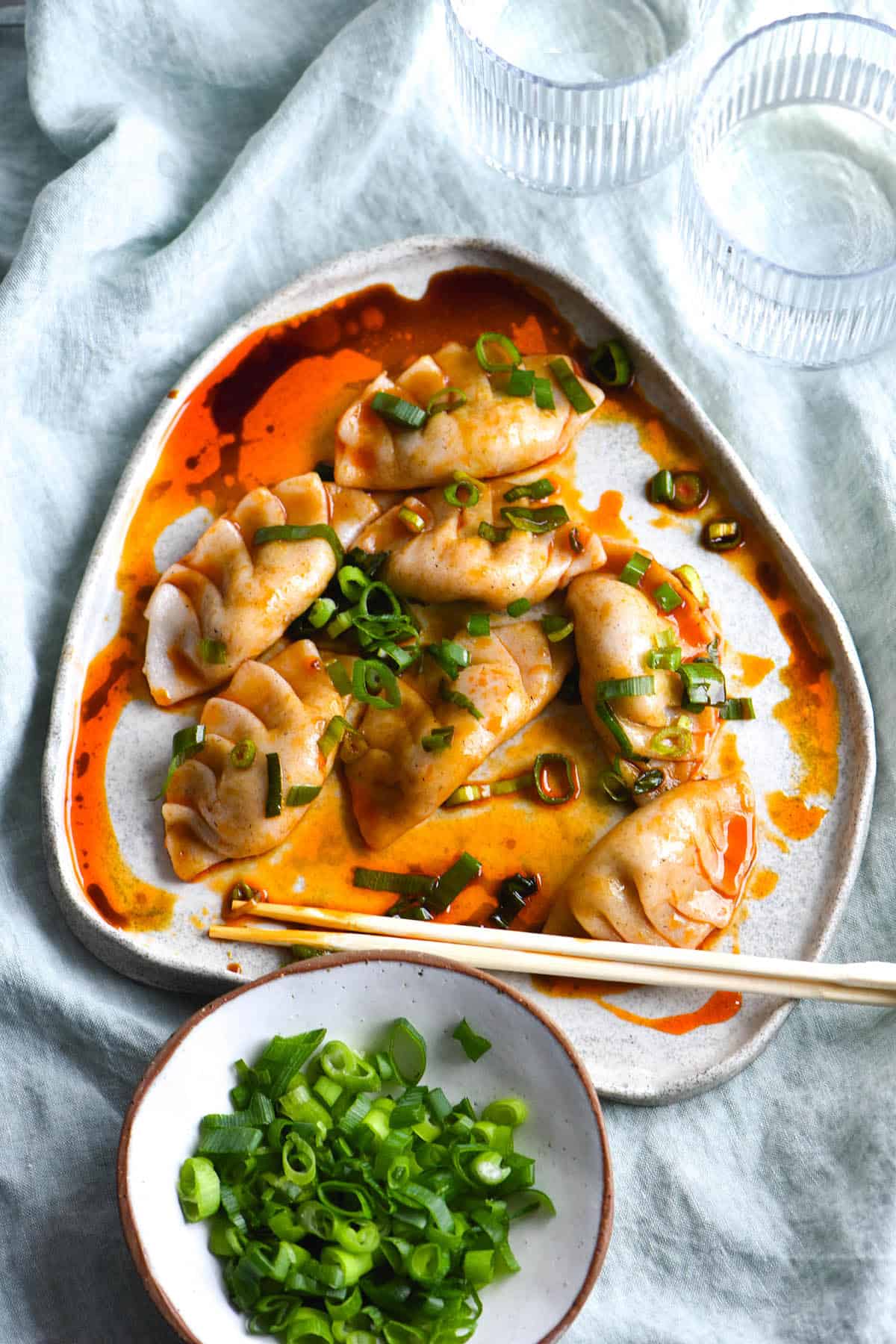 More gluten free dumpling style recipes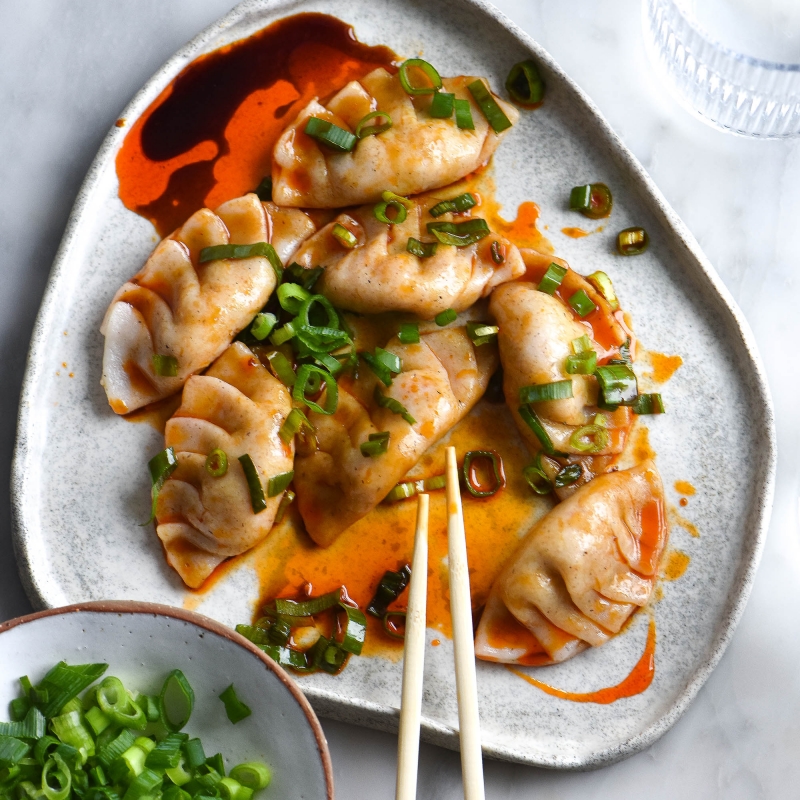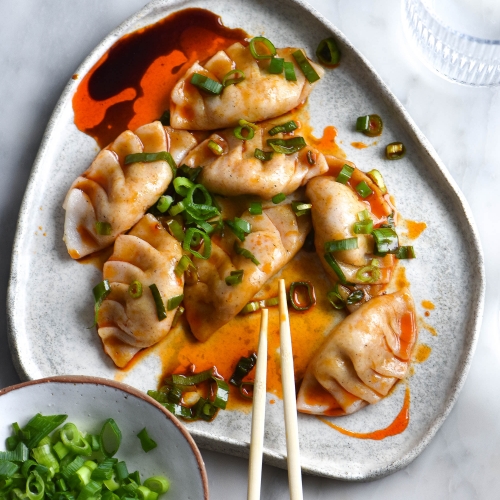 Gluten free dumpling wrappers
Makes 40-50 medium dumpling wrappers
Xanthan gum free, vegan, low FODMAP
Equipment
1 x 9.5cm circular cutter (see notes)
Ingredients
240

g

(1½ cups) fine white rice flour

120

g

(1 cup) tapioca flour

Pinch

of salt

2

tablespoons

(20g) psyllium husk

2

tablespoons

oil

vegetable or peanut work well, but really any oil will work

250

–375 ml

(1–1½ cups) boiling water, just enough to form a dough extra tapioca flour, for rolling
Instructions
Combine flours, psyllium and salt in a large bowl. Whisk in the oil and enough boiling water to form a damp but crumbly dough. If in doubt, err on the side of caution – you can always add more water later.

Turn the mixture out onto a clean, dry bench top. Allow it to cool for a minute or two before beginning to knead with your hands. It will be hot, so be really careful. Continue kneading until a smooth and pliable dough forms. If it doesn't, add half a tablespoon of hot water at a time until you reach a good consistency.

Tear off a golf-ball-sized piece of dough and cover the remainder. Roll dough out on a well-floured surface (I use tapioca flour) until it is as thin as you want it, keeping in mind that it swells a little during cooking.

Use a medium-sized circular cookie cutter (or an upside-down glass) to cut out rounds of dough. Mine is 9.5 cm. I like to fill and shape the dumplings as I work, but you can roll them all out before filling if you prefer. Just make sure to flour in between the rolled-out wrappers well and keep them covered if you choose the latter option.

Re-roll any excess dough as you work. You might need to moisten trimmings with wet fingers to return it to its pliable glory. Repeat with the remaining dough until it is all used.

Fill your dumpling wrappers with a teaspoon or two of your filling of choice. Use water to thoroughly seal the dumpling edges together in any sort of pleating style you like. I like to really squish the edges together to ensure the dumplings won't split upon cooking. Repeat until you have filled all the dumplings.

To cook, boil a medium pot of lightly salted water. Once it is boiling, reduce it to a simmer and add 5-6 dumplings to the water. Stir very gently to ensure they don't stick to each other, and reduce the heat if it returns to a rolling boil at any point.

Cook each batch of dumplings for 2-3 minutes or until the wrapper starts to look a bit translucent. Remove from the water and place into a strainer to cool. Very lightly oil each batch of dumplings with toasted sesame oil to ensure they don't fuse together. Repeat until you have cooked all the dumplings you need.