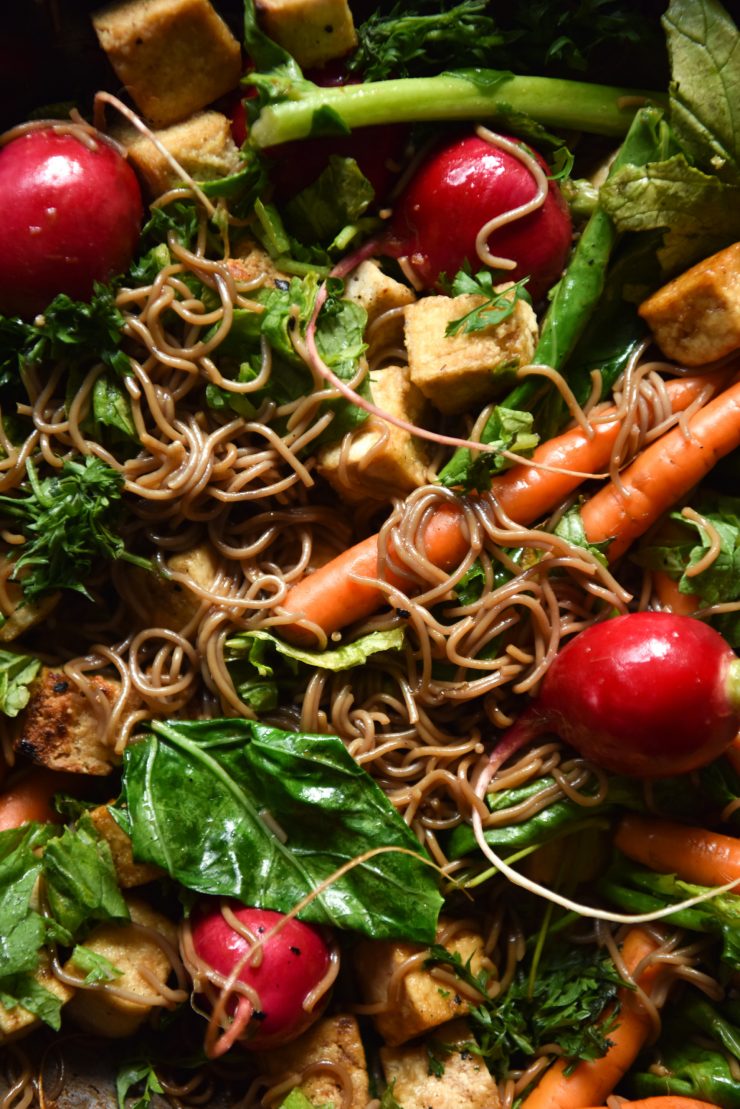 Can we quickly address the fact that the word sticky suddenly becomes desirable when discussing (buckwheat) noodles? Great, thanks. I needed that.
Because of my sensitivity to grains, I have not provided you with many noodle recipes. Now that I've (re)discovered 100% buckwheat noodles, however, that's all about to change. I recently bought some 100% buckwheat ramen on a whim, and I was so impressed with the result. Previously, I've found them to be notoriously sludgy, but this variety were completely legit. Out of the need for a quick and easy dinner, I whipped up some sweet and sticky ginger buckwheat noodles. And oh boy, WHAT A TREAT.
Sweet and sticky ginger buckwheat noodles
Like a parent, I hate to (openly) name favourites, but this is one my 'most preferred' recipes I have created in a while. It's easy, gluten free, FODMAP friendly, refined sugar free, DELICIOUS, vegan, and technically grain free, depending on how you view pseudo grains. It is also particularly customisable – the sauce and is really the only things that is non-negotiable. Even the buckwheat noodles are negotiable.
The recipe for these sweet 'n sticky buckwheat noodles is also low waste. I buy (unwrapped) radish and dutch carrot bunches for this recipe, and use the greens as well as the vegetable itself. Carrot greens have a somewhat bitter yet delicious taste (sort of like the taste of roquette with the texture of dill.) Personally I find radish greens to be reasonably bland (more like spinach) but my bunches might have been unlucky. Either way, this dish is root to stem and an easy, cheap way to get extra greens in.
The sweet and sticky ginger sauce is probably my favourite sauce I've made to date. It tastes very much like something you'd find at your local takeaway (the highest compliment for any dish in my opinion.) It's easy to whip up, easy to pour on everything, and approximately 100% fancier than the regular old 'tamari and sesame oil' combo.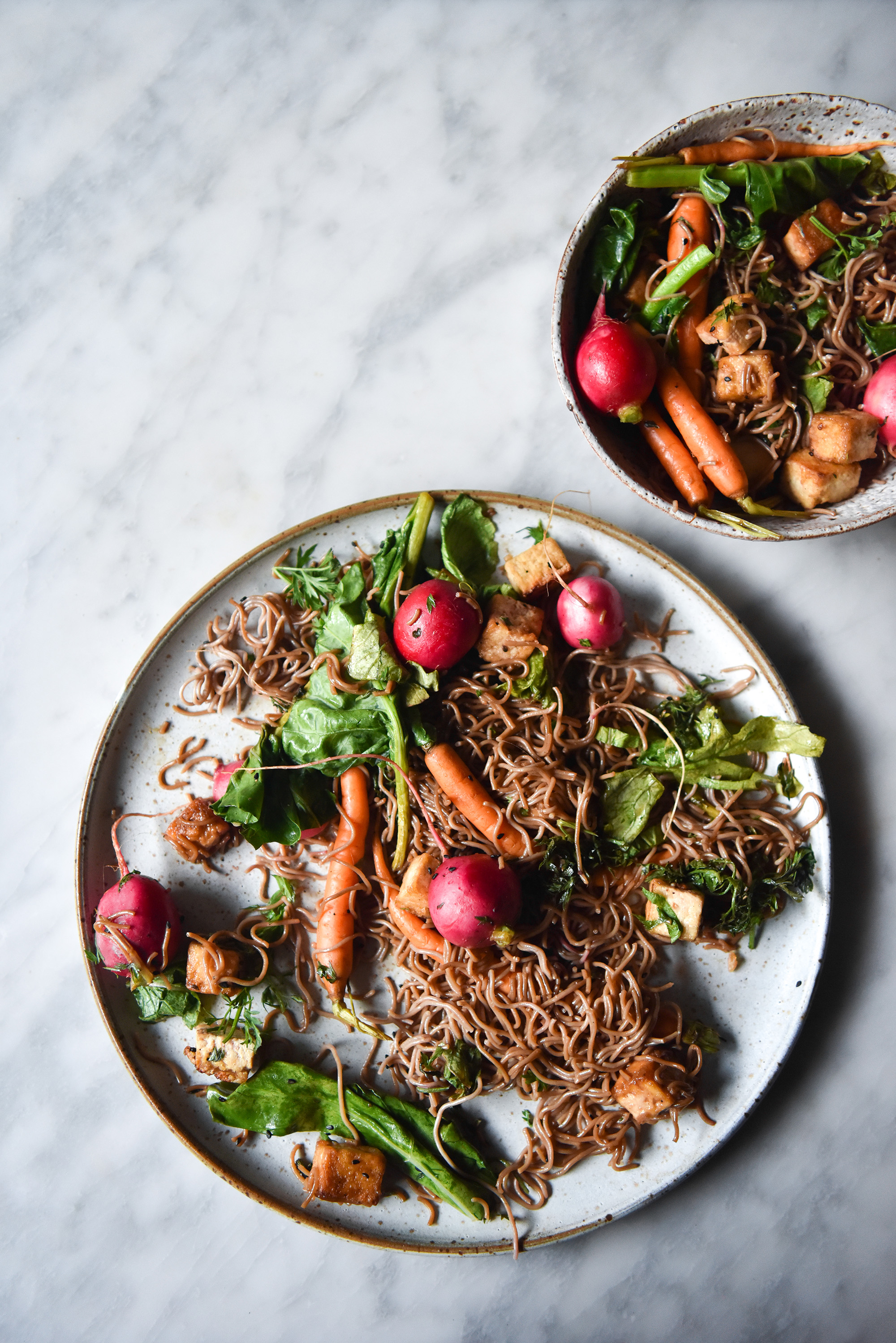 Notes on finding gluten free buckwheat noodles
Firstly, buckwheat noodle makers, may I just say that most of your packaging is quite deceptive? More than once I have purchased 'buckwheat soba' only to return home and discover their primary ingredient is wheat.
So, I suggest a thorough reading of the packaging, despite what the front says. I'd recommend this for FODMAPers in general, but I'm not here to preach. If I'm being honest, 'more than once' means 'more than twice.' Ahem.
A word from an experienced buckwheat noodle purchaser: 100% buckwheat noodles are a lot more expensive than the sneaky wheat laden variety. That's generally how you tell the difference, which is unfortunate but true. If you're on a budget, you could try making this dish with rice noodles instead of buckwheat, although I haven't tested that before. You could also omit noodles. Controversial but true.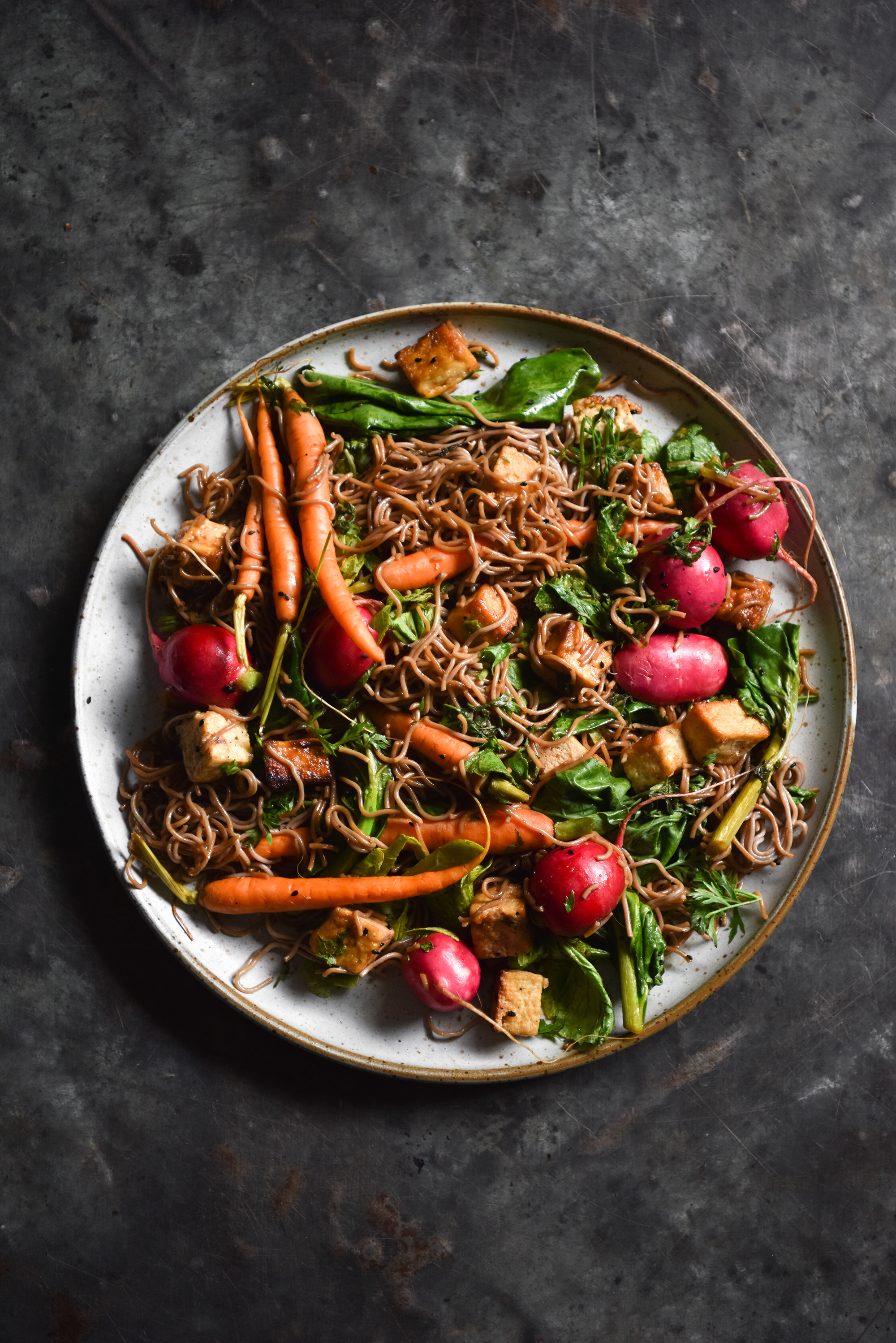 Suggested additions to your buckwheat noodles
As you can see in the recipe, I have chosen to add crispy tofu, pak choi, radishes and carrots to my sticky ginger buckwheat noodles. However, these are merely suggestions. You can add whatever is in the fridge, you can add your favourite vegetables, you can add an egg. You could potentially even omit the noodles altogether, and use the sauce as a midweek stir fry fancifier. Chilli is also a fun addition if you're into it, or maybe a bit of tamarind paste for a pan-asian twist. Nothing you can't do tbh.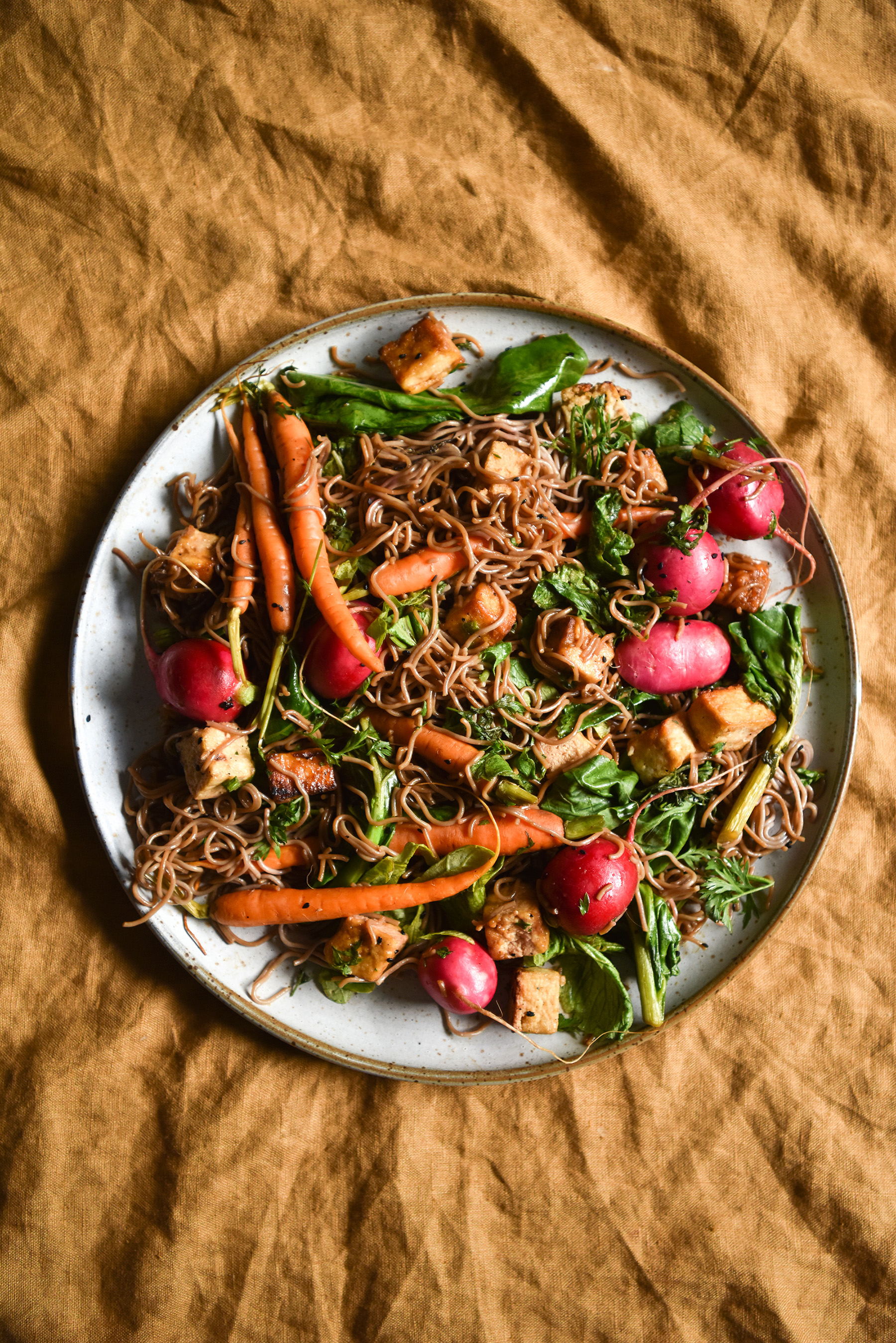 More vegetarian and vegan noodle dishes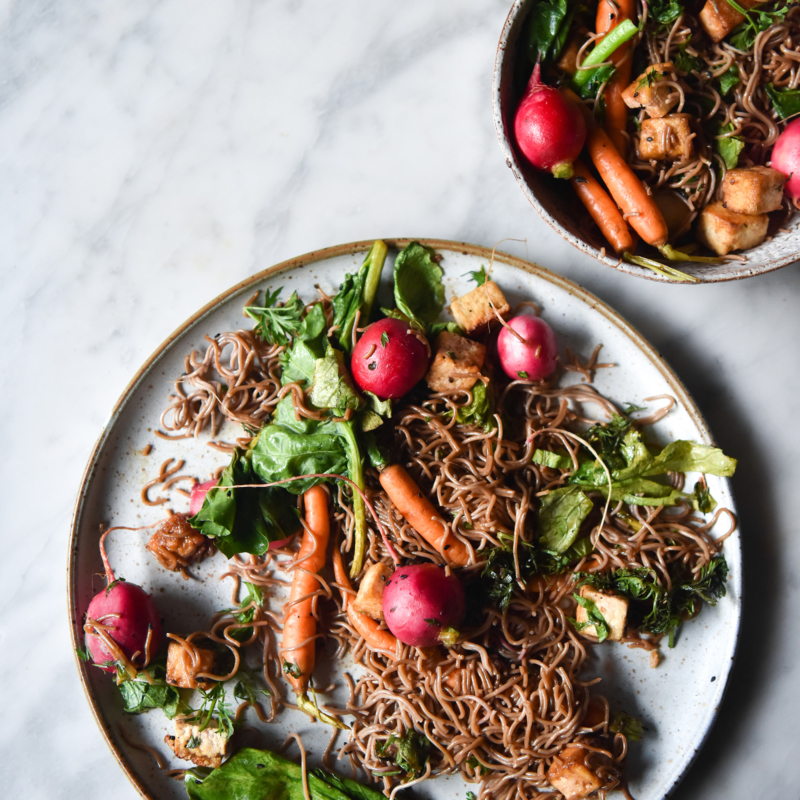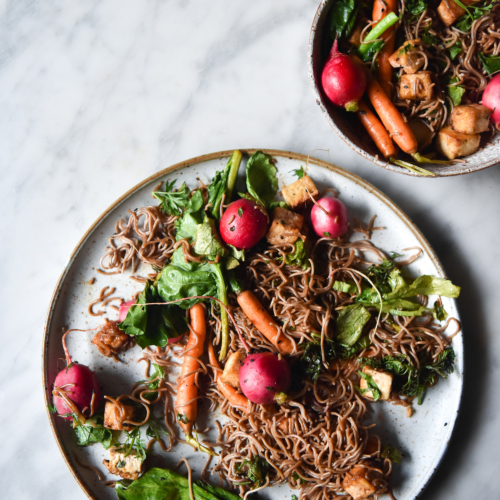 Sweet and sticky buckwheat noodles with tofu and radishes
Gluten free, vegan, FODMAP friendly, can be served hot or cold
Ingredients
For the sauce:
1/2

cup

(125ml) white rice vinegar

1/4

cup

(60ml)Tamari

1/4

cup

(60ml) pure maple syrup

check that it's 100% maple

Generous grating of fresh ginger

1-2 packed teaspoons
For the crispy tofu:
300

g

firm tofu

well drained and cubed

1

tablespoon

cornflour

make sure it's gluten free if it needs to be

2

tablespoons

sesame oil
To finish:
250

g

100% buckwheat noodles

see intro

1

bunch radishes

vegetable and leaves, thoroughly washed

1

bunch Dutch baby carrots

vegetable and leaves, thoroughly washed

1

bunch pak choi

Black or white sesame seeds

lightly toasted

Drizzle of sesame oil

Fresh or dried chilli flakes

optional
Instructions
Place the ingredients for the sauce in a small saucepan over a low-medium heat. Cook for about 10 minutes, or until the liquids have thickened slightly and become saucy. Set aside.

In a medium sized bowl, tossed the drained and cubed tofu pieces in the cornflour. You could also add some sesame seeds and sea salt, if you like.

Prepare the buckwheat noodles according to the instructions on the packet. If you use the brand I did, I like to cook them in boiling water. Some noodles tend to become mush when you do that, however, so read your packet and follow suit. Once they're cooked, drain, drizzle liberally with sesame oil (to stop them sticking) and cover with a lid, to trap the steam and stop them from drying up.

In a large heavy bottomed saucepan or wok, heat the sesame oil over a medium high heat. Add the coated tofu cubes in batches, and cook until each side of the cube is golden. Don't overcrowd the pan or the tofu will become soggy. Place the cooked tofu on a plate to the side.

Once you have cooked all the tofu, keep the wok on a medium high heat, and pour in the sauce. It will bubble and spit, so be careful. Allow it to thicken for a minute or so, before adding the buckwheat noodles.

Gently break up the noodles with your fork, and then add the carrots. Depending on how cooked you like your veg, you might want to add the carrots and radishes before the noodles.

Add the pak choi, radish and carrot greens and the tofu, and gently toss to coat. Once cooked to your liking (be aware that buckwheat noodles can be fickle, so don't overcook them) remove from the heat.

Sprinkle with toasted sesame seeds, drizzle with extra sesame oil and serve.