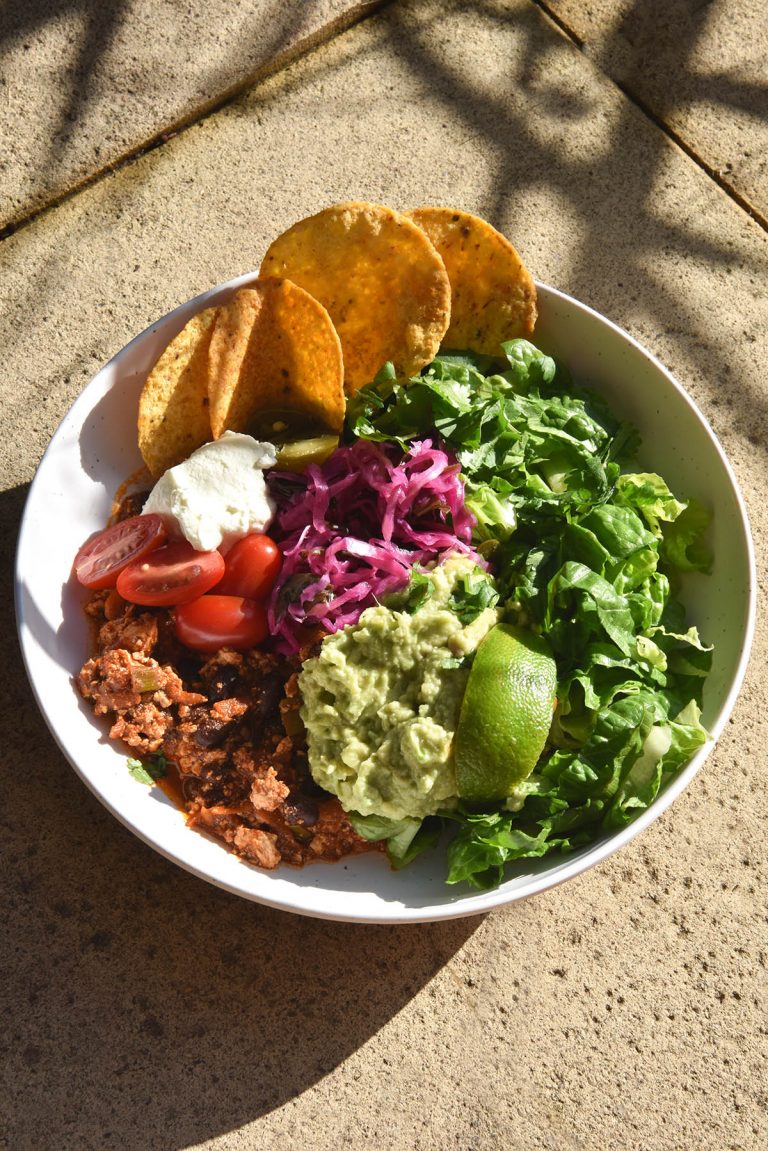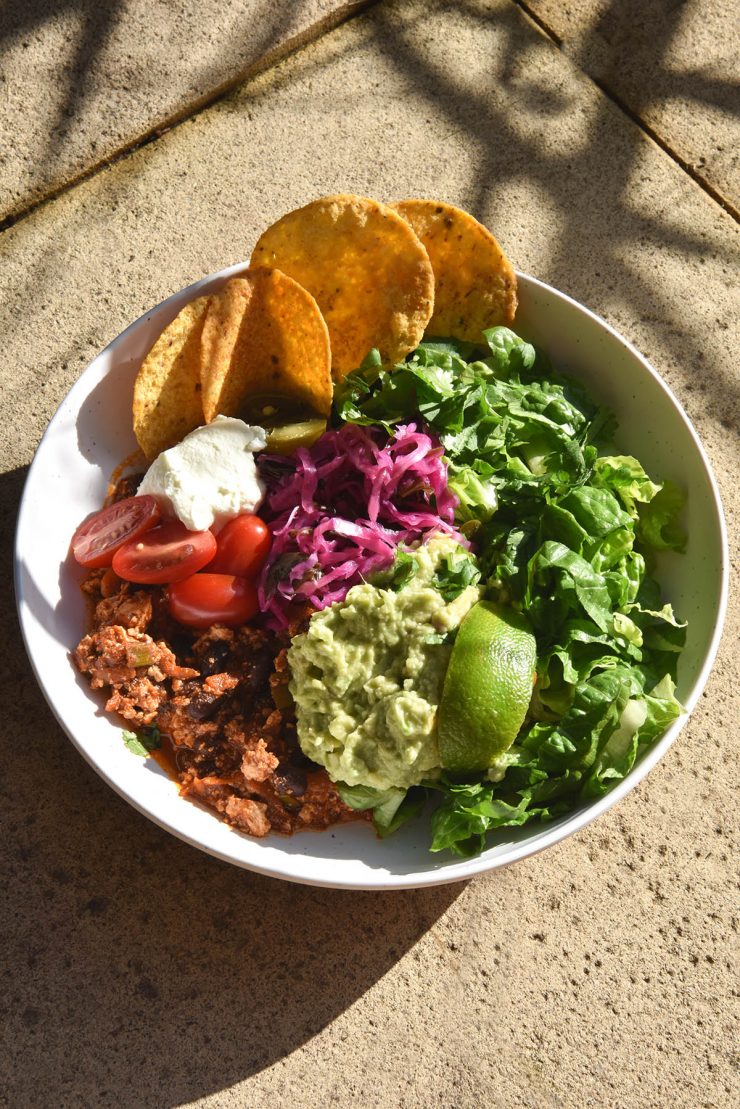 I only recommend products I use daily and all opinions are my own. This post contains affiliate links, and I earn a small commission for any qualifying purchases made, at no extra cost to you.
It is COLD in Melbourne right now, and all I fancy is some warm comfort food. Enter, this FODMAP friendly vegetarian chilli (which is actually vegan, topping dependent). We have quite the collection of tofu based recipes here, so I figured it was about time to add another one. The difference here, though, is that we're also using black beans (if we want to!)
FODMAP friendly vegetarian chilli
I have been trying to diversify my vegetarian proteins, so legumes are a logical choice. I have been afraid of beans for a while now, given their propensity to wreak havoc on my digestive system. And although I can't imagine hoeing into a large can of baked beans anytime soon, I am enjoying the addition of smaller quantities. Enjoying things like my FODMAP friendly daal without issue has emboldened me to try more beans, hence the black addition.
I will say, though: the black beans are optional! If beans are absolutely beyond redemption for your intestines, they can easily be left out of this FODMAP friendly vegetarian chilli. We'll go into it below, but for now, some TLDR dietaries. This chilli is FODMAP friendly, vegetarian, vegan, grain free, gluten free and nut free. I will also try and work on a bean only version, for FODMAP people who can't have soy.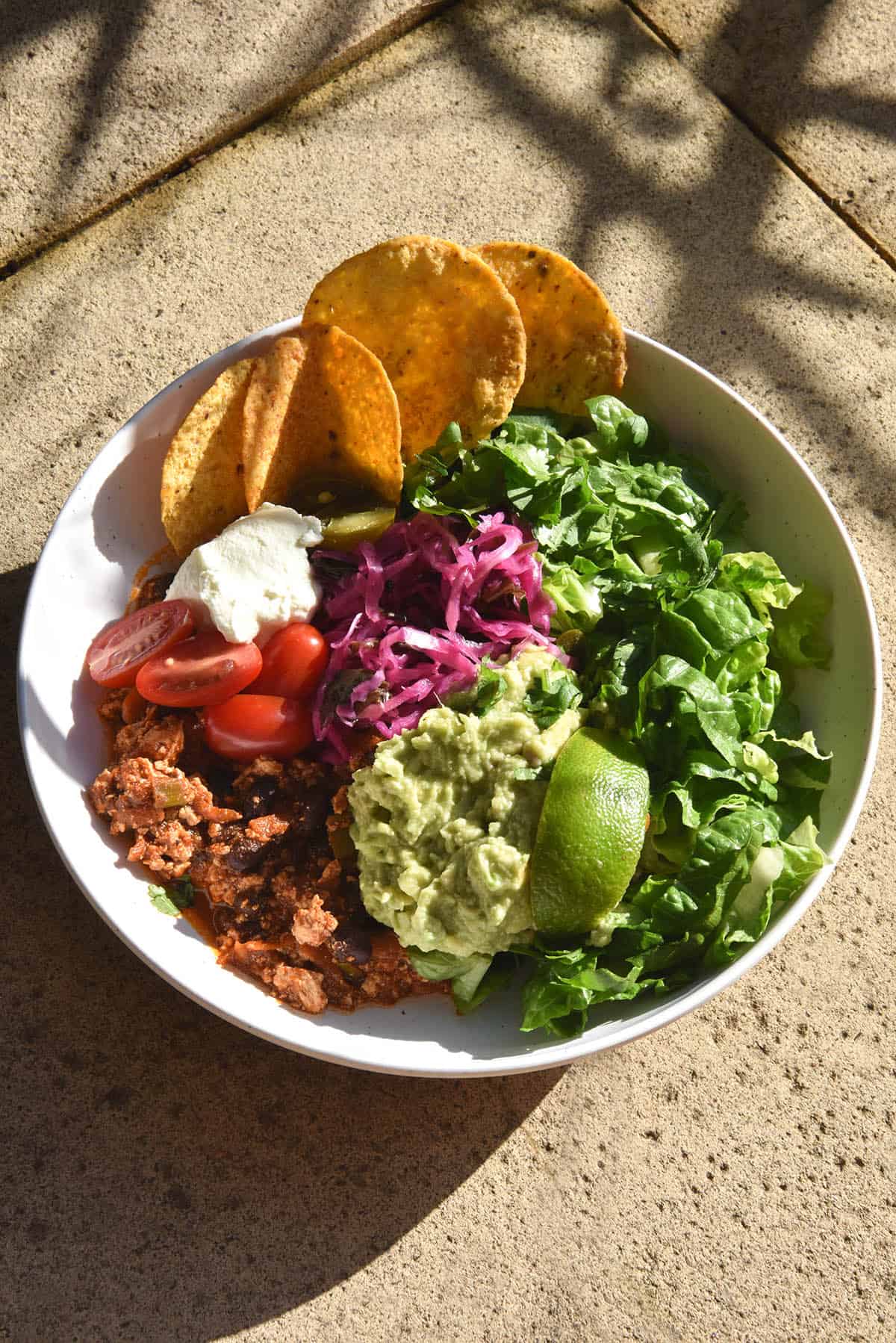 FODMAP friendly vegetarian chilli notes
To safely balance the tofu and bean quantities in this chill, serving it as a side to rice, salad, roasted vegetables or somethin' else is a must. This will help ensure you're not getting too much of anything per serving. The more proteins you've added, the more the FODMAP threshold pushes upwards. So I highly recommend that you view it is a side however you're making it.
If you'd prefer to eat only chilli, I would suggest bulking it out with lots of extra FODMAP friendly vegetables. This, in turn, would likely mean you would need to add extra spices, seasoning and flavouring to suit. Again, I will try to develop a version that suits these needs in future, and I will update the post when I do.
The FODMAP friendly vegetarian chilli is vegan with vegan toppings. Think vegan sour cream (or yoghurt) and vegan cheese. Or, whatever you want to top it with.
The chilli is also gluten and grain free without toppings or rice. To bulk it out in a grain free way, I would suggest adding some extra veg to the chilli, and serving on jacket potatoes or roasted vegetables.

Tips for your l0w FODMAP vegan chilli
If you're adding beans, I recommend squishing some up before adding them to the dish. They will thicken up the sauce nicely. This can also be achieved by using a stick blender to blend a small portion of the chilli. I just squish the beans up in (clean) hands – one less thing to wash.
I am reluctant to admit this as a sour cream lover, but a nice thick yoghurt works as a substitute. When you're in the thick of eating chilli, you can't tell – it's just about the cooling creaminess. I really like Jalna lactose free full cream Greek yoghurt – it's thick and delicious.
Make some of my FODMAP friendly pickled 'red onion' for the top. It's delicious and it also looks delightful.
If you have a Mexican spice mix you like (and that fits your dietaries) feel free to use it place of the spices here. Make sure it's gluten free and FODMAP friendly if it needs to be (onion and garlic powders are often in mixes).
As you can see, I cook my chilli (and most things) in my Staub skillet. Highly recommend.
FODMAP notes
A 420g can of black beans has a net weight of 240g once drained and rinsed. a 40g serve of black beans is considered FODMAP friendly, so this chilli needs to serve 6. Of course, you can add half a can, 3/4 of a can – whatever works for you. You could also consider leaving some black beans out and stirring them directly into the plates of housemates/family members who can eat beans without drama.
Tofu is FODMAP friendly in 170g serves per person. This chilli contains 450-500g tofu (depending on your packet size).
Because of the recent change in tomatoes, I have chosen to add just one 400g of tinned tomatoes. With all the vegetables, tofu and beans, you don't really need more.
You can also use my low FODMAP Nomato sauce recipe to replace some or all of the tinned tomato. One batch of Nomato sauce makes approximately 1.2kg, which is equivalent to 3 x 400g cans of tinned tomato.

Options for the protein source in your FODMAP friendly vegetarian chilli
Options! We've got 'em. I like to make this recipe with both tofu and black beans, because it's very filling and goes a long way. However, some people have a lower tolerance for legumes, and some can't have soy. It is easy to simply omit the black beans for this chilli, because they make up less than the tofu. To omit the tofu, however, requires a tiny bit more tweaking.
So, to recap: Option A) use both tofu and black beans. Option B) omit the black beans, and use a little less water OR some extra grated vegetables. Option C) see (or C) below.
To make the chilli with black beans only
Add 500g extra grated carrot and pumpkin (or a FODMAP friendly vegetable of your choice) to suit. Add brown sugar to taste only – pumpkin and carrot are sweet.
Add liquid to suit (this will change based on your vegetables of choice)
Season accordingly (you might need to add extra spice to disguise the vegetable heavy base). 
Squish some of the beans or blend a small portion of the sauce to help thicken it up. The starches in the beans will work their magic. 
Other vegetarian protein options
This chilli uses firm tofu and/or canned black beans as it's sources of protein. Firm tofu is important for texture (it can be crumbled and has a texture similar to mince meat) and it is the most FODMAP friendly of the tofus. Canned black beans are used for their lower FODMAP content when compared to dried ones. Some of the FODMAPs leech into the canning liquid, meaning that they are a friendlier option. An added bonus: they're dead easy to use and require no forethought.
As I mentioned in my Shepherd's Pie recipe post on Instagram, I recently tried Impossible Mince. I was really impressed – it tasted and looked meaty, and had nothing that I overtly identified as a FODMAP issue (I'm not a food scientist though, so if have better insight than I do, let me know). It is also gluten free, which is quite rare for a meat alternative.
If I were making this for non-vegetarians, non-FODMAPS or someone I wanted to impress, I would probably use Impossible mince. It has a meaty taste that tofu doesn't. I try not to include too many processed foods on a regular basis because of my ever so sensitive digestive system, so I probably wouldn't have it every night, but it is a really cool to have every now and again.

Flavour boosters to add to your chilli
Below are some options to experiment with adding extra flavour to your chilli.
Asafoetida powder (make sure it's gluten free if it needs to be). It adds a cooked onion and garlic like flavour which is really handy for FODMAP cooking.
Caramelising your tomato paste. I saw this tip recently and thought it was really cool. Cooking your tomato paste down until a rusty brown colour (about five minutes) supposedly adds a really nice flavour dimension. Mine kept sticking to my skillet so I moved along, but definitely something to consider.
Some dried coriander powder, cinnamon, or any other spice typically used in Mexican cuisine.
The pickling brine of jalapeños or the FODMAP friendly 'pickled onion'.
A little bit of really dark chocolate (maybe 2-3 squares) adds a lovely depth of flavour
Liquid smoke – a really easy way to add some meat like smokiness and interest to any vegetarian dishes
To serve the chilli:

More hearty FODMAP friendly vegetarian/vegan and gluten free recipes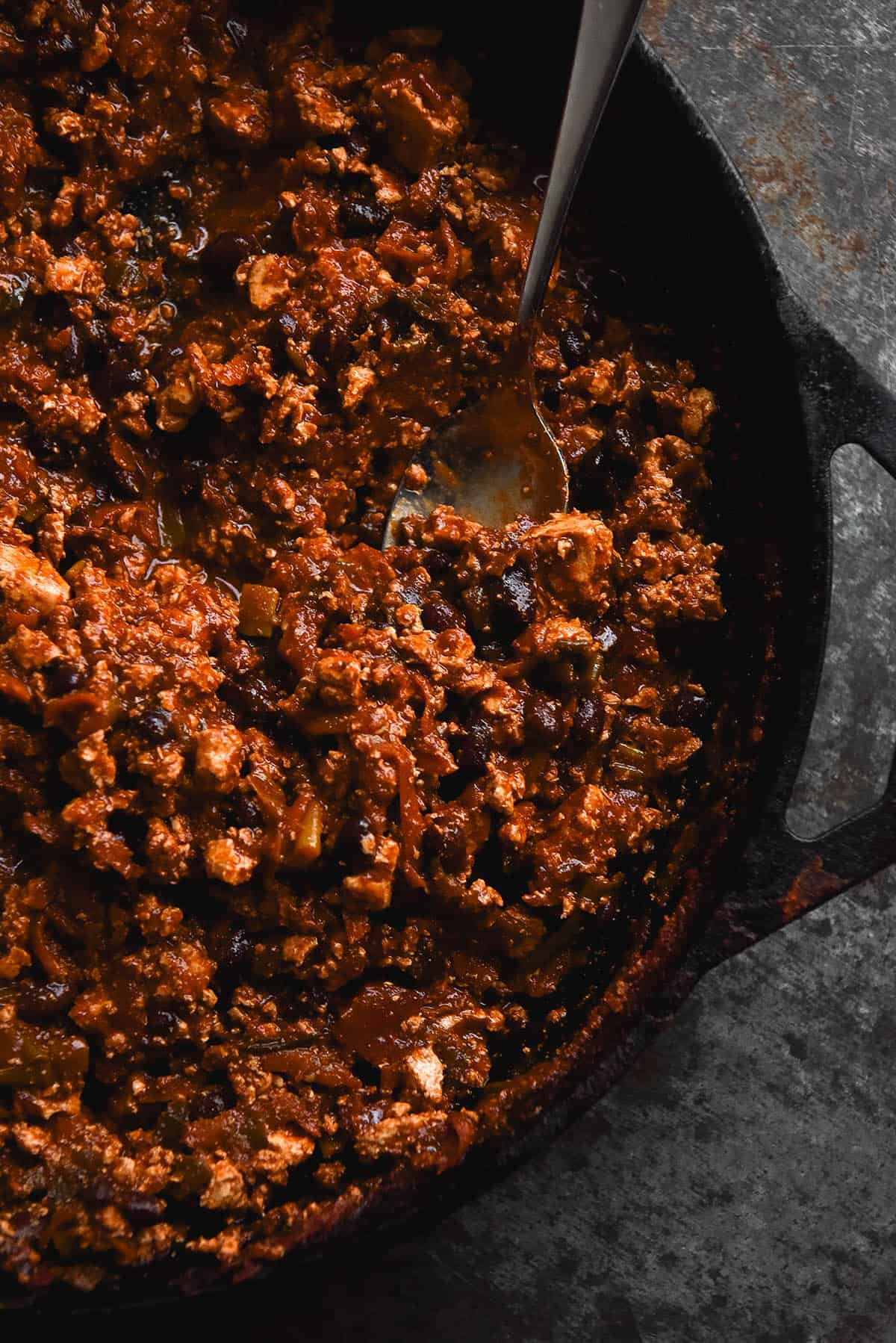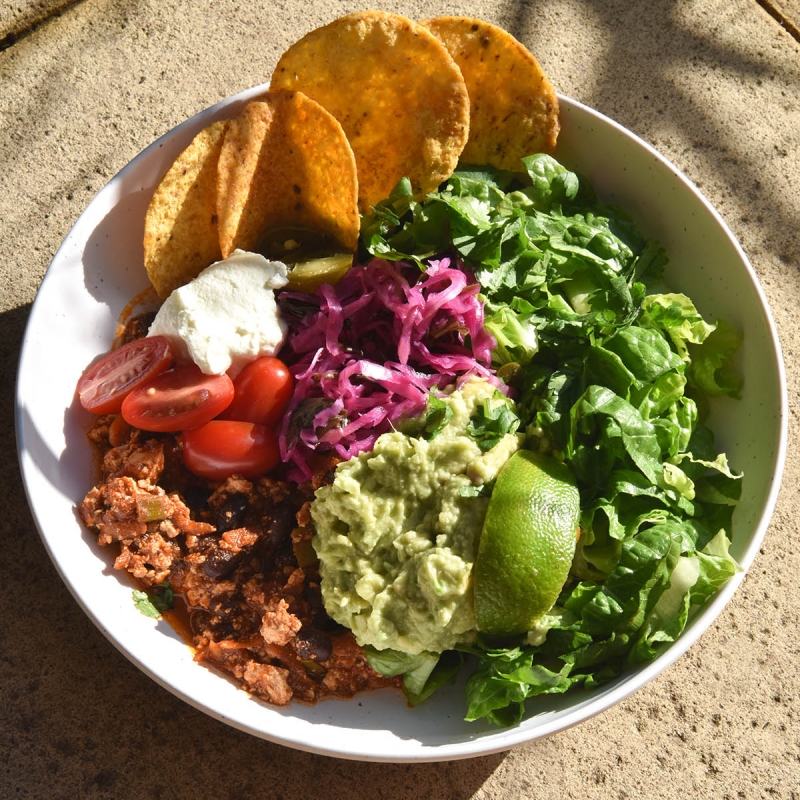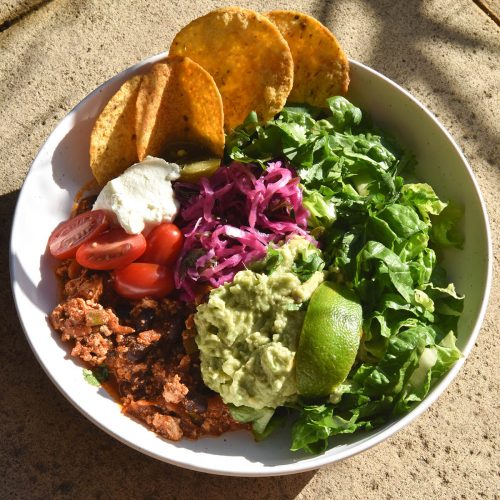 FODMAP friendly vegetarian chilli
Ingredients
3

tablespoons

(60ml) plain oil

I used vegetable

1

bunch spring onion greens

chopped

2

medium carrots

grated

Coriander stems

washed and chopped (if you're garnishing with coriander, see notes)

1

tablespoon

cumin powder

1

tablespoon

smoked paprika

1

tablespoon

light brown sugar

1

teaspoon

dried oregano

2

teaspoons

unsweetened cocoa powder

see notes

Jalapeno

fresh or pickled, chopped, to your taste (I use 1 fresh or pickled)

3

tablespoons

tomato paste

450-500

g

firm tofu

torn into small chunks (see notes)

1

x 400g can of tinned black beans

drained (drained weight 240g, see notes)

1

x 400g tin plain canned tomatoes

2-3

tablespoons

gluten free dark soy sauce or tamari

1/2 – 1

cup

(125-250ml) water

see notes

Seasoning

to taste
Instructions
Preheat the oil in a large skillet over a medium heat. Once hot, add the spring onion greens, carrot and coriander stems, if you're using them. Cook until softened and fragrant, about 2-3 minutes. Add a splash of water if it ever starts to stick.

Mix the spices and cocoa together in a small bowl. Add the spices, tomato paste and chopped jalapeno to the skillet and stir to completely combine. I find it helps to cook the spices for a minute or so and then pour a bit of water over them to get everything combined.

Once the mixture is combined and a vibrant red, add the finely crumbled firm tofu. Coat the tofu in the paste – it adds colour to the tofu to make the mince look legit. Once the tofu is coated, add the black beans, tinned tomato and dark soy and stir really well to combine.

Add the water according to your preferred consistency for chilli. Keep in mind that the starch in the beans will thicken it considerably, particularly once cooled. Cook 10 or so minutes or until the chilli is the consistency of your liking.

Serve with rice, as nachos, with salad, or, if you have really bulked it out with extra vegetables, on it's own. I like to top mine with the remaining coriander, some FODMAP friendly 'pickled onions' (see the body of the post) and some lactose free yoghurt or sour cream, at a minimum.
Notes
Coriander stems are an easy way to add a complex level of flavour to a dish like this. When you buy a bunch of coriander, simply remove and wash the light green stems at the base of the bunch. They tend to have a bit of dirt in the crevices, so really get in there. These are optional if you don't like coriander.
Cocoa adds colour and a savoury flavour to this chilli. Make sure it's unsweetened (although in this quantity it probably wouldn't matter much).
I have given options for this recipe to be bean free, soy free, or to use both. See the body of the post if you would prefer to only use one protein source.
Tofu is FODMAP friendly in 170g serves per person.
Canned black beans are FODMAP friendly in 40g serves per person. Using the full 240g drained weight of a can means you will need this chilli to serve 6, at least. You can use any amount of beans – whether that be half a can or more/less. Simply add water to the chilli to suit the amount you add/subtract. You can also make a bean only version – see the body of the post for more details.
Add water to suit your preferences and the volume of proteins/vegetables you have used. Keep in mind that beans help thicken the chilli.