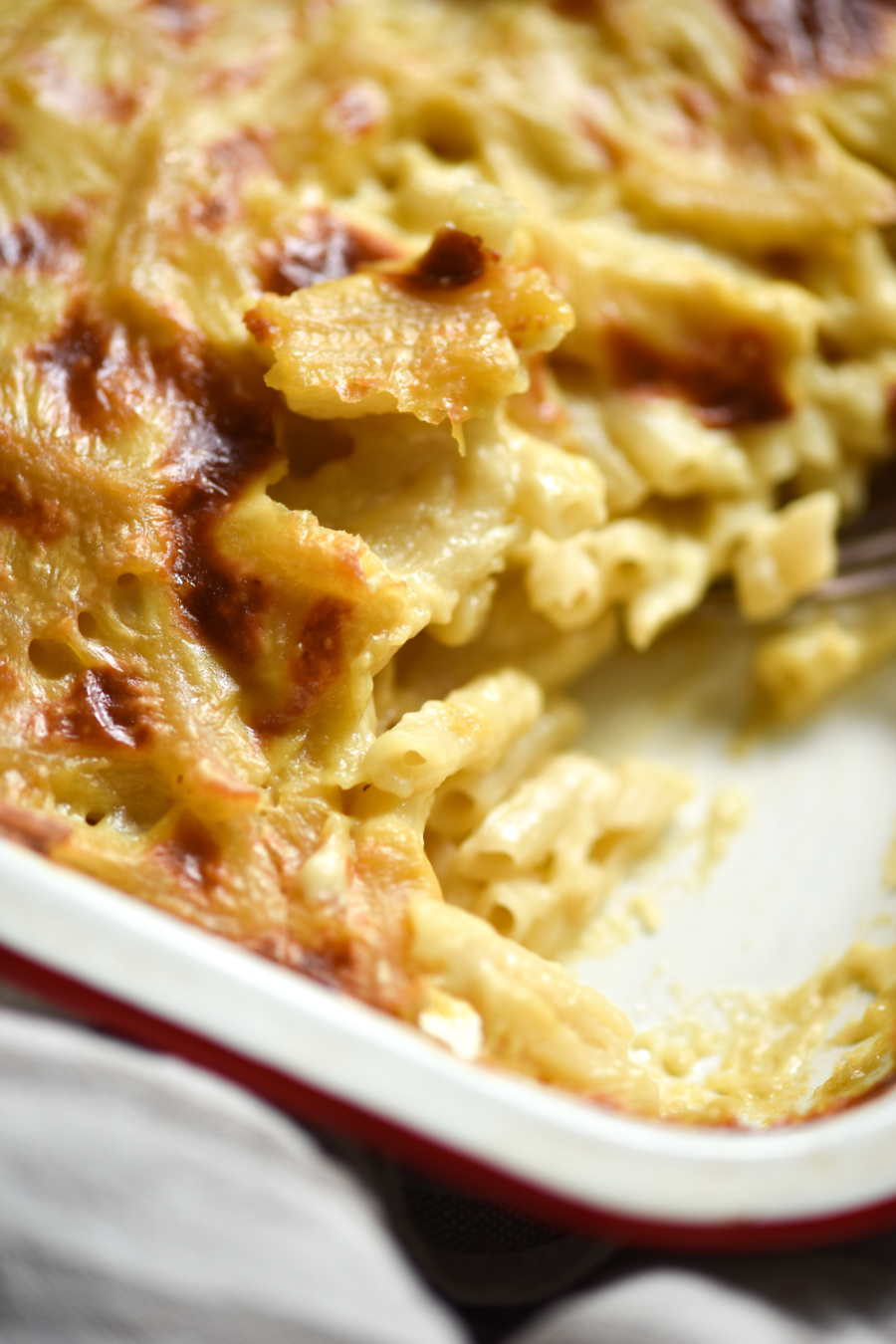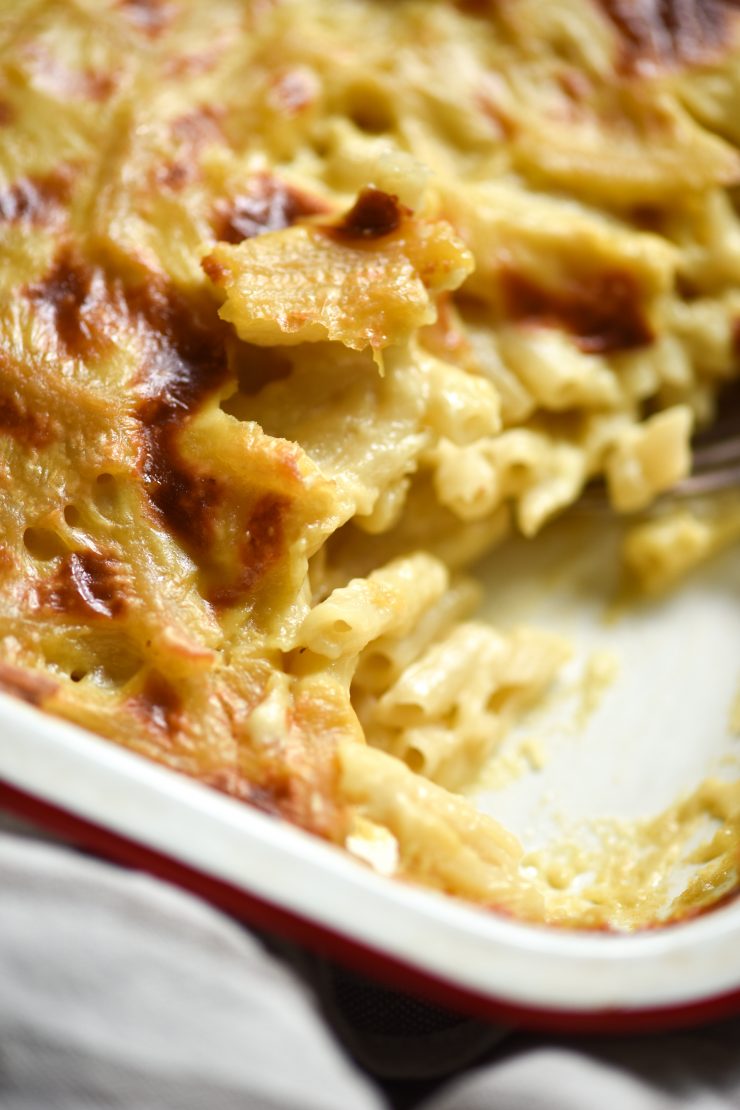 Whenever I'm feeling sorry for my FODMAP self, I think of the low FODMAP vegans. As a general rule, the vegan diet often incorporates a lot of of fruit and legumes – both heavily restricted on the FODMAP diet. If I couldn't rely on eggs, cheese, and the odd bit of fish, I don't know where I would be. A whole lot crankier than I currently am, at the very least. So, when I set out to create a gluten-free mac and cheese, I knew it had to be vegan.
A token of appreciation for my FODMAP vegan friends, if you will. A lot of vegan mac and cheese recipe that I've come across on the 'gram rely heavily on cashews and cauliflower, neither of which are particularly FODMAP friendly. Besides, even if cashews were the friendliest FODMAP in the world, ain't nobody got time for soaking cashews when they're in the mood for mac n' cheese. This is a totally cashew-free vegan mac and cheese.
Vegan mac and cheese without cashews
This mac and cheese is vegan, gluten free, FODMAP friendly, easily nut free, and whipped up in about 15 minutes. You can bake it, eat it straight out of the pot, or even use the sauce for lasagne, a vegie bake, or (from personal experience) a toast spread. So damn good.
I'd say this vegan mac and cheese is akin to Kraft Mac and cheese. It is a mild tasting yet satisfying and delicious vegan comfort food.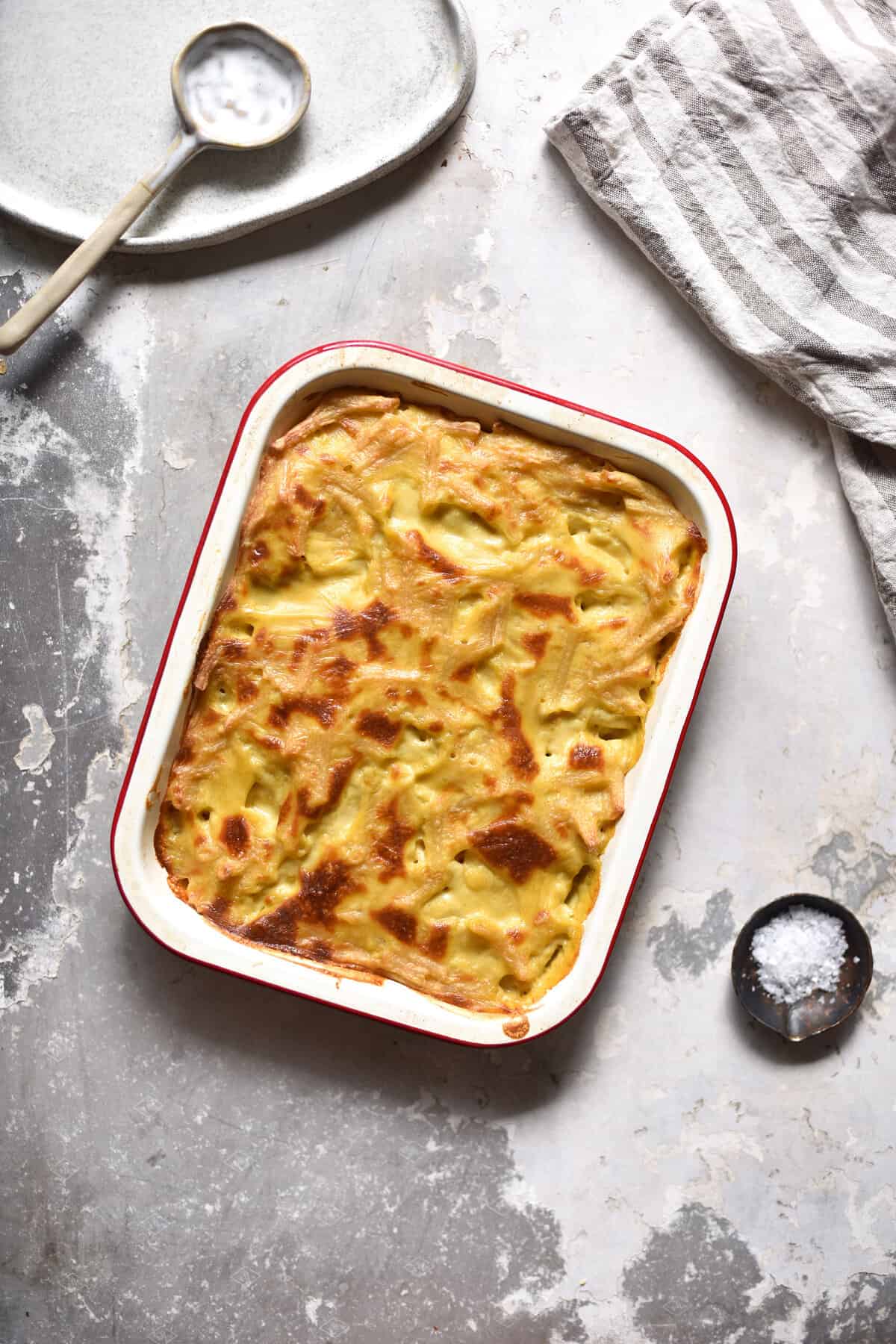 Vegan gluten free mac and cheese notes
First and foremost, it's important to say that this dish doesn't need to be gluten free if you don't require it. You can obviously use regular pasta – nothing else would change in the recipe regardless.
I have used a number of different milks for this recipe. In my experience, I've found that soy milk made for the creamiest cheese sauce without adding unwanted flavour. My votes go to soy and almond, although if you're not gluten intolerant you could also try oat milk.
Since I developed this recipe, there have been a lot of advances in vegan butter. I use Nuttelex Buttery because I know it's easily accessible in Australian supermarkets, but you might have a personal favourite. I have also recently used Naturli and I really enjoyed the flavour and texture. When I can, I plan to get my hands on some Miyokos – I've heard great things.
In a similar vein to the last point, vegan cheese is a lot more accessible than it was. The vegan, gluten-free mac and cheese tastes delicious as it is, but you could consider stirring through (or topping) it with some vegan cheese. Make sure it's good quality and suitable for any dietary requirements you have.
Salt is super important to making this dish taste mac and cheesy. That said, because this is vegan, I recommend adding 1 teaspoon, tasting it and going from there. This is particularly important if you're adding vegan cheese. You can always add more salt but once you've over salted, there's not much you can do.
If you want to make it into a bake, you could sprinkle some gluten free sourdough breadcrumbs atop and bake in a dish. For a large crowd, I'd probably recommend doubling the recipe.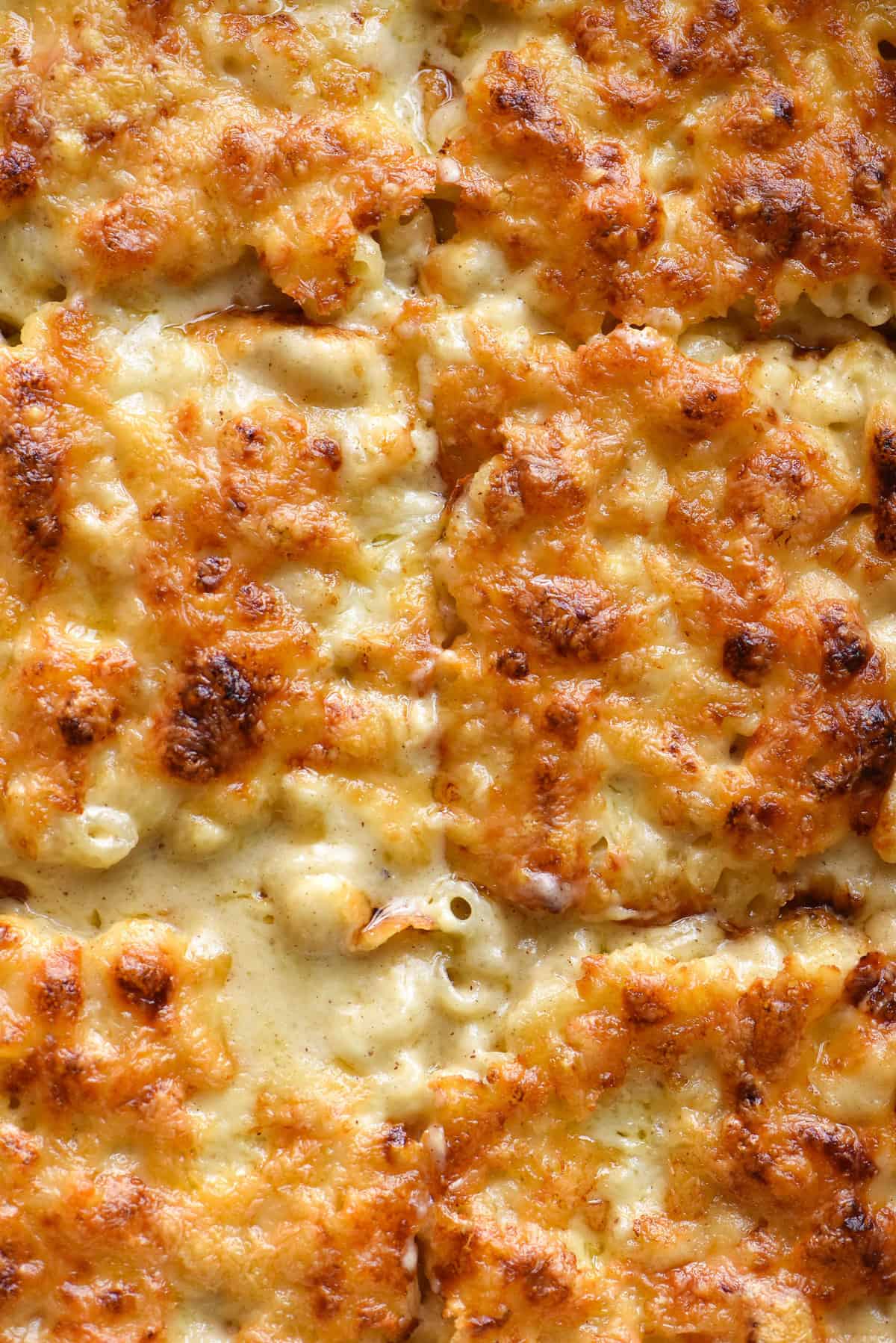 Vegan cheese notes
Similarly to vegan butter, vegan cheese has made many advances in the past few years.
I would recommend googling a list of the best melting vegan cheeses where you live. There are lots of brands available internationally that we can't get in Australia, so I hesitate to recommend any one brand.
Asides from doing a bit of research on meltiness, I highly recommend grating your own cheese where possible. As with regular cheese, store bought grated cheese can often contain fillers that ironically inhibit it from melting properly. Said fillers can also be irritating to sensitive digestive systems. So! No matter the sort of cheese, grate it yourself where you can.
On the note of grating: use the smallest side of your grater! Small, fine shreds of cheese tend to melt into a nice even cheesy top. Big pieces tend to have their individual outlines showing as they melt. Doesn't matter if you don't care about aesthetics, but it does if you do.
One brand in Australia that I have found to be an excellent melting cheese is Notzarella. It's a coconut oil and soybean based cheese, so it has nothing FODMAP unfriendly.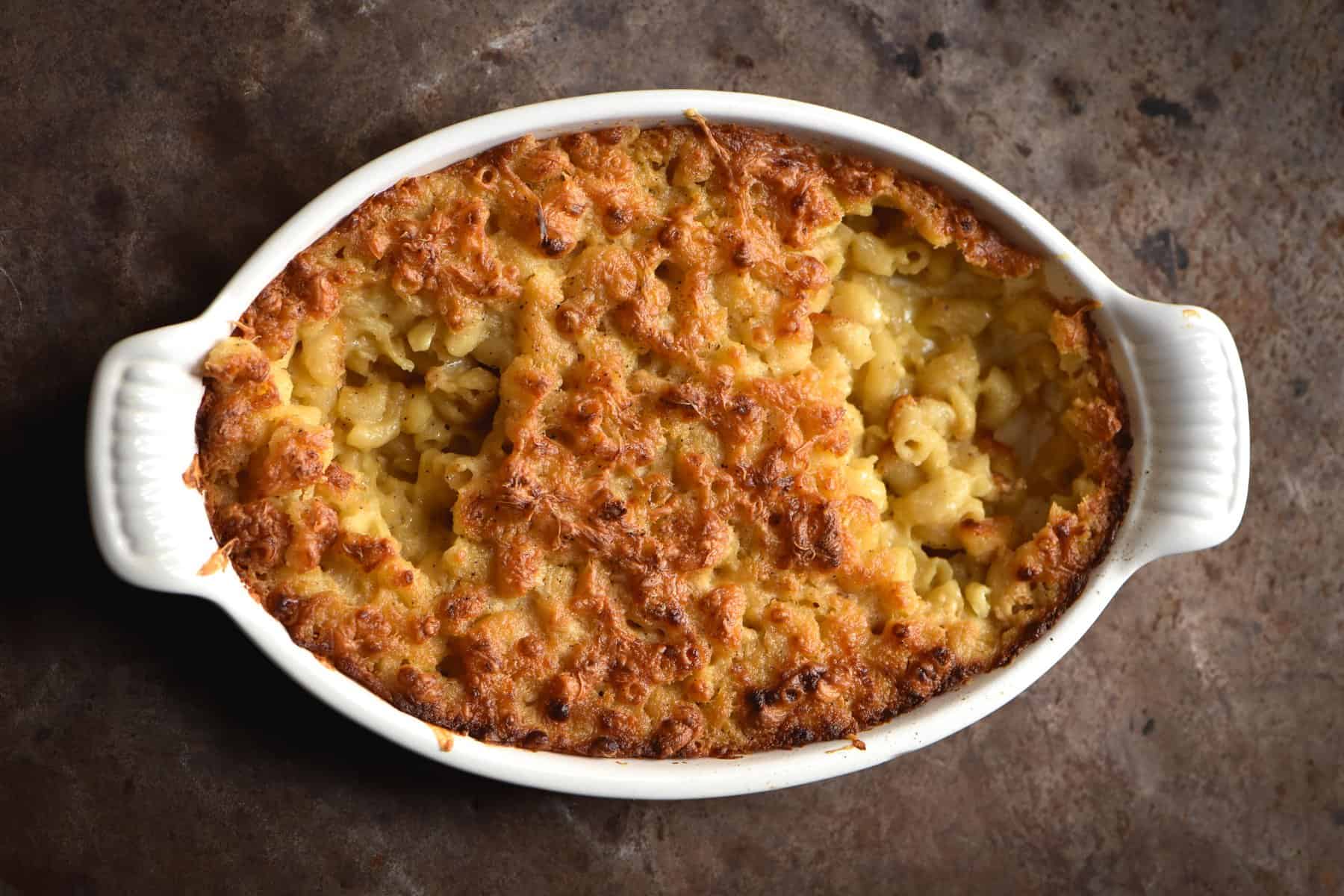 Optional additions for your vegan gluten free mac and cheese 
All this chat about vegan cheese brings me to my next point: the optional additions.
I should note that adding vegan cheese is entirely optional. The mac and cheese is still cheesy and delicious without it. In fact, that's how I developed the original recipe. So if you can't find vegan cheese near you or you don't want to add any, no stress.
Light miso paste is another optional ingredient. It adds an umami, parmesan like layer of flavour to the dish. Much like the vegan cheese, though, it's entirely optional. My original recipe didn't include it, so you don't have to either. Note that miso paste adds saltiness, so add less salt to compensate if you do include miso.
Next on the list is Dijon mustard. Just a hint of dijon adds a piquancy akin to a sharp cheese.
If you have any spare pumpkin puree, I love adding around 250g to the sauce once it thickens. It is a yummy and festive addition that also bulks out the vegan mac and cheese.
Finally, truffle oil! Personally I'm a huge fan of a truffle and a truffle mac and cheese. You might not be. This is an entirely optional way to fancy up the dish but absolutely not a necessity.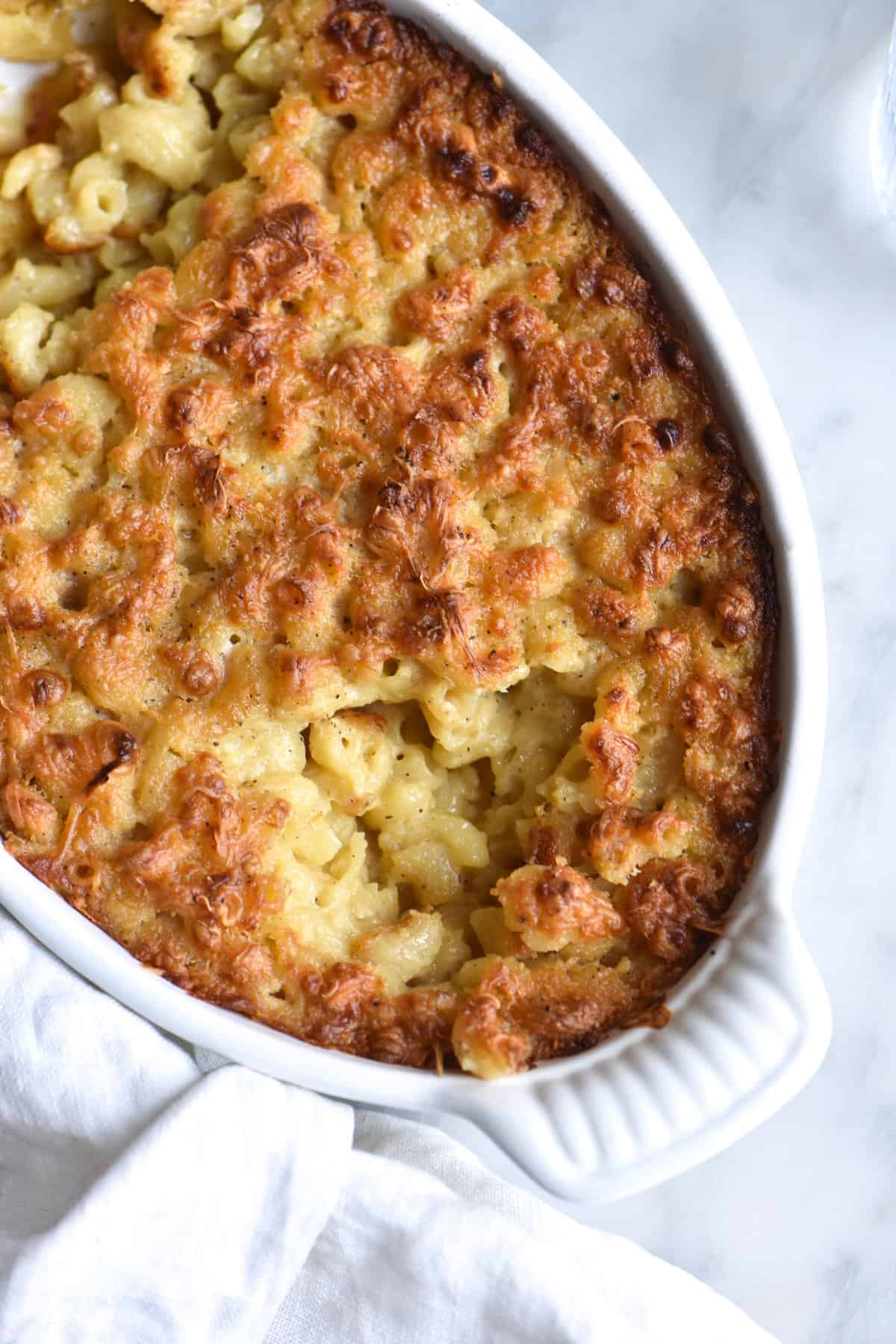 A hot tip: try toasting your nutritional yeast
I learnt this trick when I was working on my vegan gravy recipe. Dry toasting your nutritional yeast in a saucepan before adding it to anything gives it a lovely deep umami flavour. Be careful because it goes from toasty to burnt very quickly. Keep it moving in the dish until it smells fragrant and looks golden brown.
Then, simply add it to the vegan mac and cheese! An easy, cheap and quick way to add extra flavour.
More FODMAP friendly and gluten free pasta recipes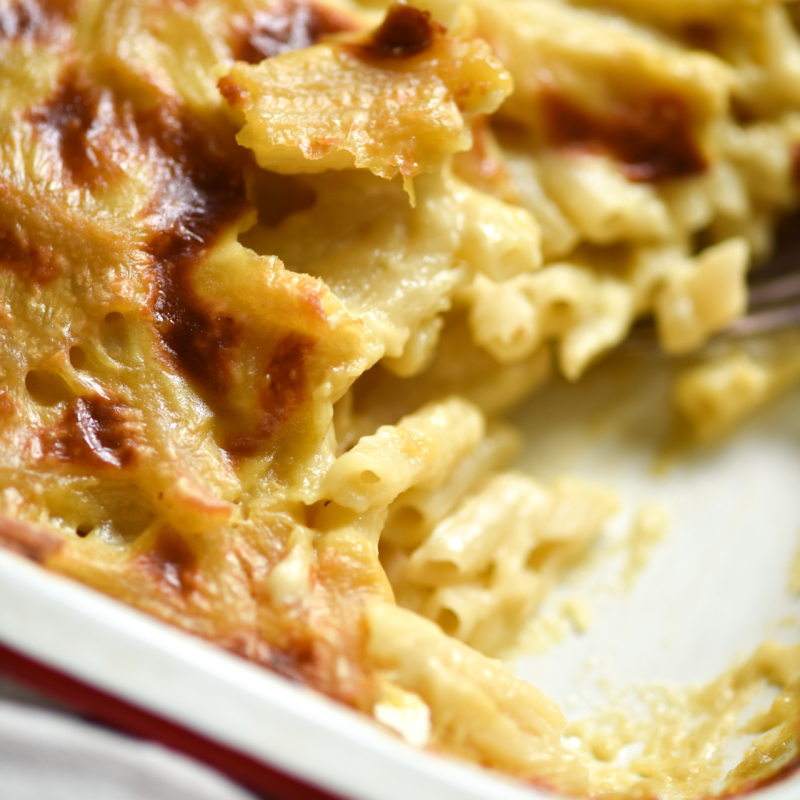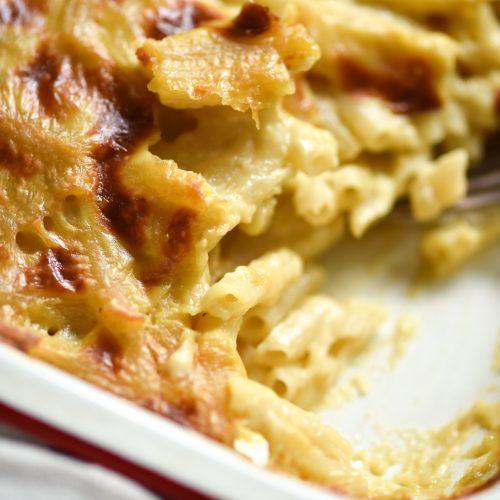 Vegan Mac and Cheese (that is FODMAP friendly and gluten free)
Vegan, FODMAP friendly, gluten free
Ingredients
For the vegan mac and cheese:
300

g

gluten free pasta

I used a rice and amaranth blend

6

tablespoons

(125g) vegan butter substitute

see notes

3

tablespoons

gluten free cornflour

625

ml

(3 1/2 cups) plant based milk

see notes

5-6

tablespoons

nutritional yeast

1-2

teaspoons

sea salt (add salt to taste, specifically if you're using vegan cheese)
Optional extras
100-200

g

vegan cheese, freshly and finely grated (optional)

1/2

tbsp

light miso paste (make sure it's gluten free if it needs to be

1/2 – 1

tsp

Dijon mustard

drizzle of truffle oil
Instructions
If you intend to make a mac and cheese bake, preheat the oven to 200C or 400F.

Heat a large pot of salted water over a high heat until it reaches boiling point. Add your pasta and cook as per packet instructions – only cook it half way if you intend to make a mac n' cheese bake. Drain and reserve a little starchy pasta water to add to the cheesy sauce.

While the pasta is cooking, place a medium pot over a high heat. Measure out all your ingredients separately for smooth sailing – the milk, vegan butter, cornflour, nutritional yeast and the salt, plus the optional extras, if you're using them.

Add the vegan butter to the pan and allow it to melt completely. Add the cornflour and whisk thoroughly to combine. Allow the resultant paste to cook off for a minute or so before adding the milk. Whisk intermittently for 10 or so minutes as the mixture thickens into a roux. You're looking for the consistency of a custard on the thinner side.

While the mixture is thickening, add the nutritional yeast and seasoning. If you're using them, add the miso paste, mustard and salt here, too. If you're using miso paste, add less salt and season to taste.

Once the roux has almost completely thickened, stir in half the vegan cheese if you're using it. If not, take it off the heat. From here you can serve immediately as a classic mac and cheese, using the remaining half of the cheese to sprinkle over the top.
To make into a mac and cheese bake:
In a large baking dish, combine the pasta and the cheese sauce. If the sauce is looking a little too thick, add some of the reserved pasta water. If you're using it, sprinkle the remaining half of the vegan cheese over the top of the bake.

Place the bake into the oven for 10-20 minutes or until the top is golden brown. The bake doesn't really need cooking per se – all the components are already cooked. The oven time is just about browning the top of the bake.

Once golden, remove from the heat and serve. You can drizzle the bake with a little truffle oil prior to serving if that's your thing. The bakes keeps well in the fridge for about a week.
Notes
NOTES: I have tried a number of different vegan butters and oils in this recipe, so I thought I'd impart a lil bit of wisdom. At the end of the day, a turmeric coconut oil butter worked well, as did olive oil, if you're desperate. My favourite was Nuttelex buttery, although you may have your own favourite vegan butter brand. You could hypothetically use butter if you're not vegan, but then you hypothetically could add cheese as well. Hypothetically, there are better classic roux recipes out there than to substitute into this one.