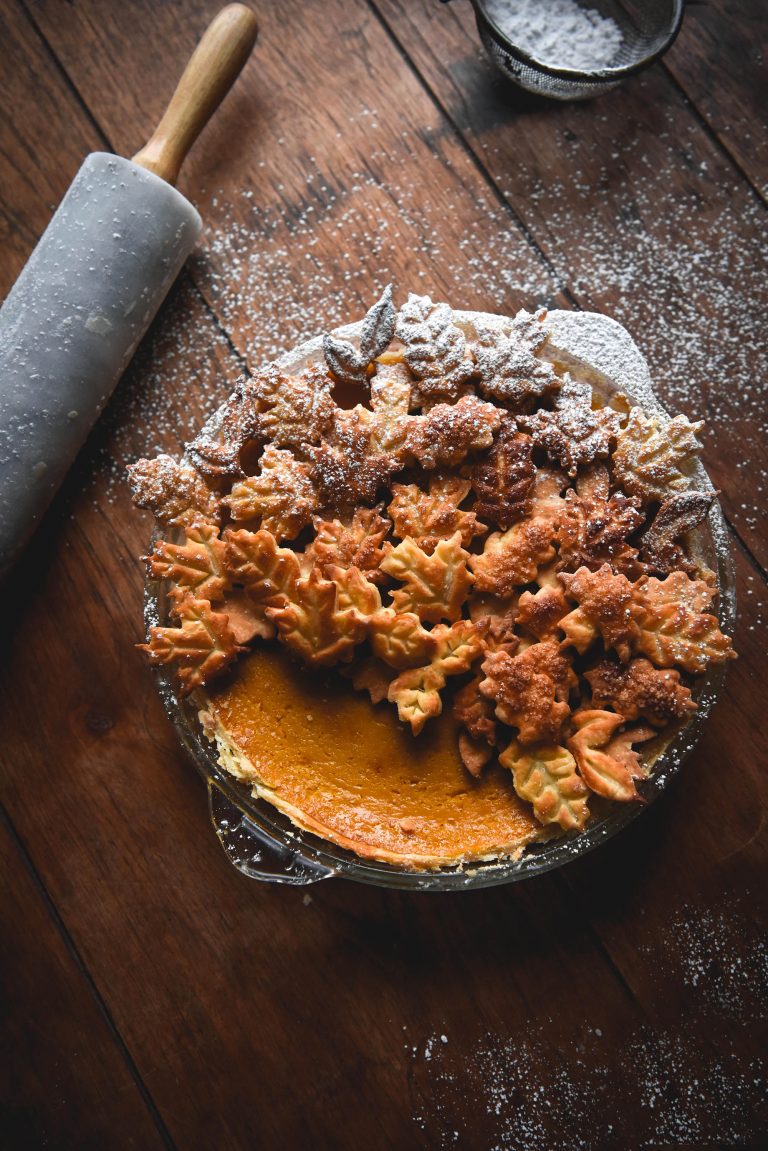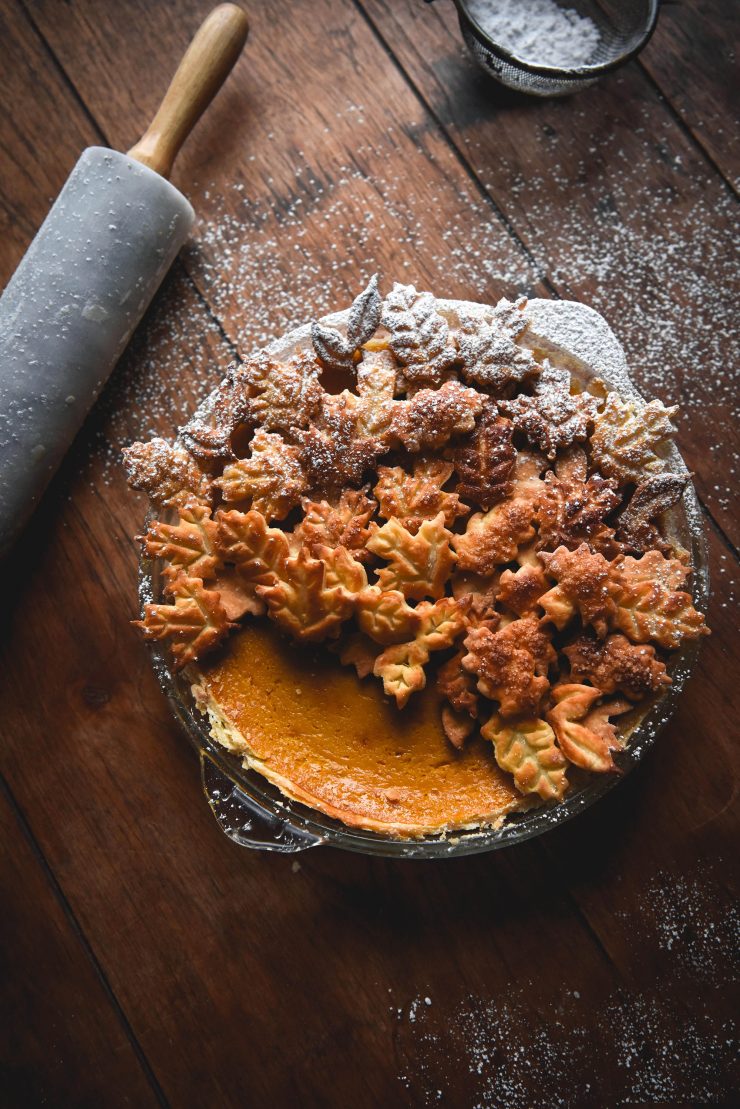 Living in Australia, I have a significant amount of Thanksgiving envy. While I have never actually had a Thanksgiving, I love how it seems to embrace the season and the cosy autumnal vibe. With that in mind, I'm publishing this FODMAP-friendly vegetarian Thanksgiving roundup. I believe they call this 'living vicariously.'
Catering for vegetarians can sometimes be a challenge for newbies – never mind vegetarians with FODMAP concerns or gluten intolerances. So, allow me to present my most seasonally appropriate recipes – all FODMAP friendly, all gluten free and all vegetarian. Some vegan, too, just in case.
So, without further ado:
A FODMAP-FRIENDLY VEGETARIAN THANKSGIVING FROM START TO FINISH
STARTERS
As far as I'm concerned, no party is a real party without some form of bread. This gluten free white bread sourdough caters to the gluten free crowd and vegan crowds alike, and it tastes a whole lot like regular bread. I like to use it for dipping (particularly the antipasto) and the staled bits on to top the mac and cheese.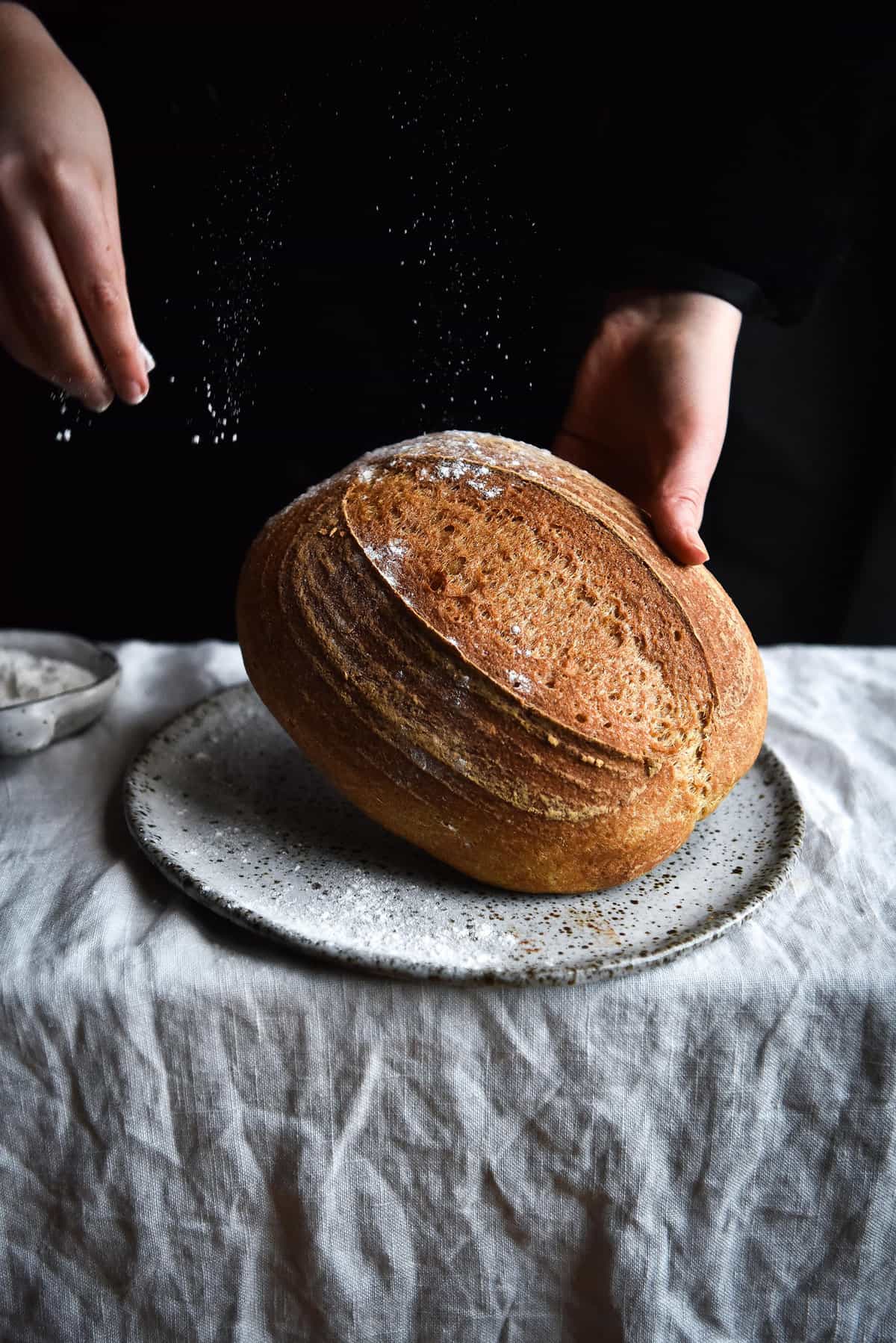 These crackers are embarrassingly easy to whip up. They are paleo, keto, gluten free and grain free, meaning there's something for everyone. They keep well and are as at home with cheese as they are dips.
If you happen to have a gluten free sourdough starter on hand, why not make sourdough crackers? They're vegan, gluten free, nut free and FODMAP friendly. If you have a batch on hand along with the paleo crackers, you've covered all bases.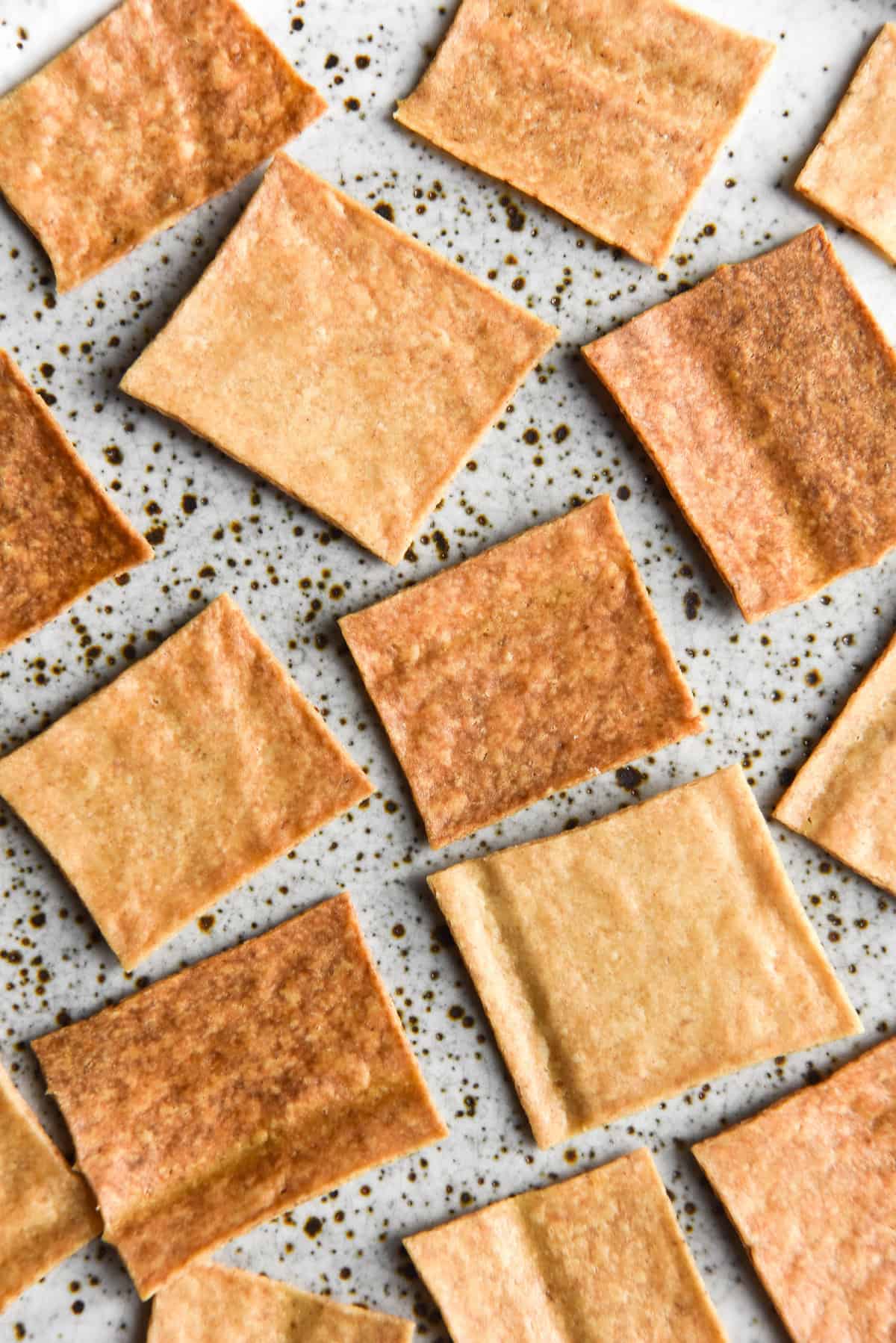 The original recipe for this galette uses tomatoes, although they're not super seasonal. That said, you can use the pastry as a base (namely, the pastry) and top it with whatever you like. A galette makes for a super easy dinner party starter – just slice it up and set it on the table.
Cranberry and brie wreath with easy, flakey gluten free pastry
Cheesy, sweet, flakey and buttery – this one covers all bases. It's FODMAP friendly, too (contrary to how it might look) and makes for a particularly pretty table centrepiece. I can confirm: this is a starter that will disappear very quickly.

SALADS
This is my new personal favourite salad. It's got bitterness from the radicchio, sweetness from the honey, richness and piquancy from the blue cheese and crunch from the walnuts. Plus, it's ready in 10 minutes and all the ingredients keep well, so you can buy them in advance. Ticks all the boxes.
Blood orange, burrata and pine nut salad with christmas spiced dressing
Take advantage of citrus season with a festive blood orange salad. The blood oranges lend acidity and colour while the burrata and pine nuts lend richness and depth. The salad is finished with a sweet and tangy festively spiced dressing. It's a FODMAP-friendly vegetarian thanksgiving salad done right.
Honey and lemon thyme roasted pumpkin with blue cheese, radicchio and toasted pine nuts
Can you tell I like radicchio and blue cheese together? This recipe combines all the classic, rich and autumnal flavours you'd ever need in a salad. It can easily be customised to suit dietary requirements. Use maple and vegan cheese for a vegan option, or pumpkin seeds for a nut free option. It's an easy, FODMAP friendly salad that looks beautiful on the table.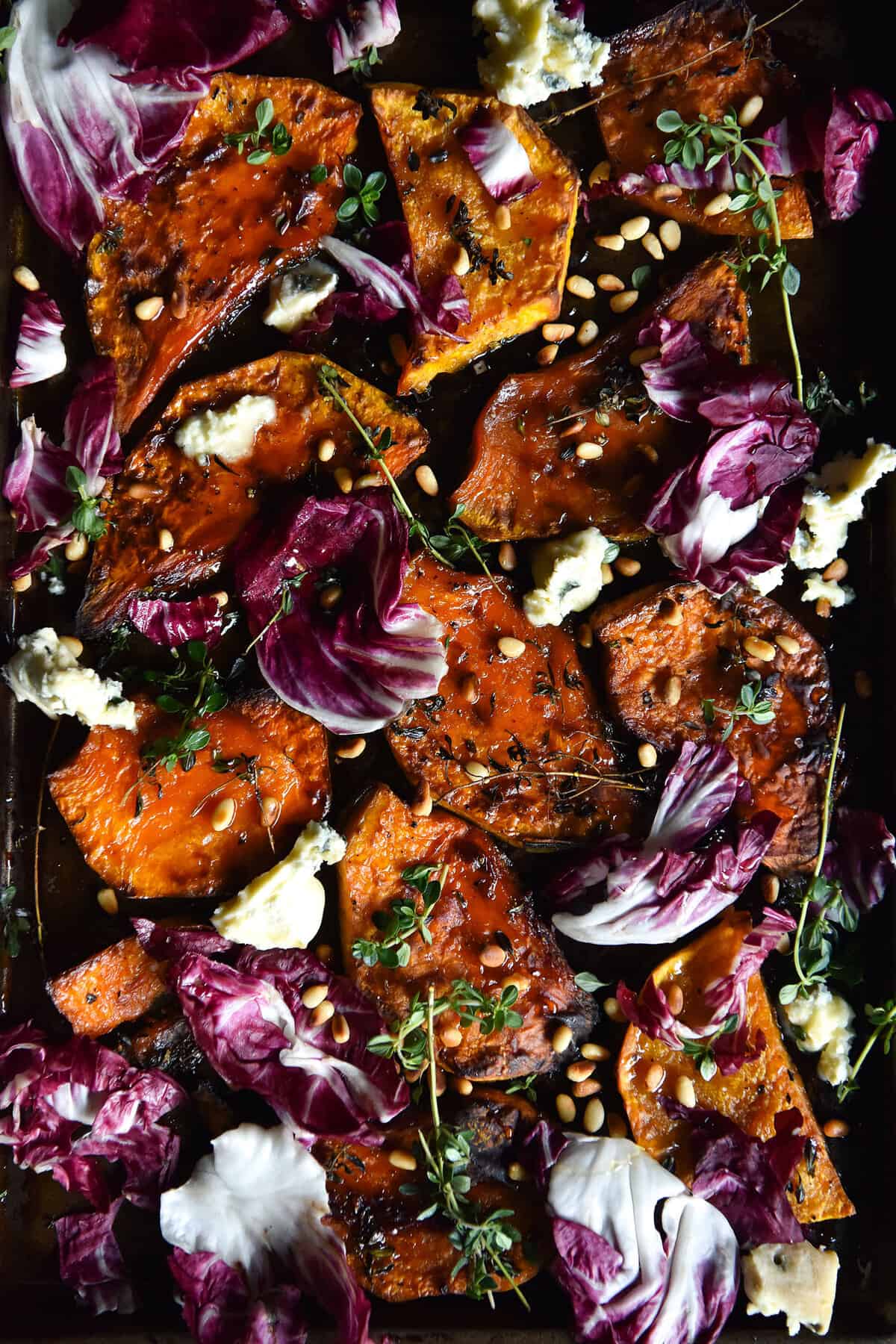 Spice roasted pumpkin salad with haloumi, pomegranate and preserved lemon herb sauce
I don't think I've ever made a recipe roundup without including this salad. Bold, beautiful and delicious with halloumi to boot. Pomegranates add a beautiful festive touch and are FODMAP friendly in serves of 45g (roughly 1/4 cup) per serve.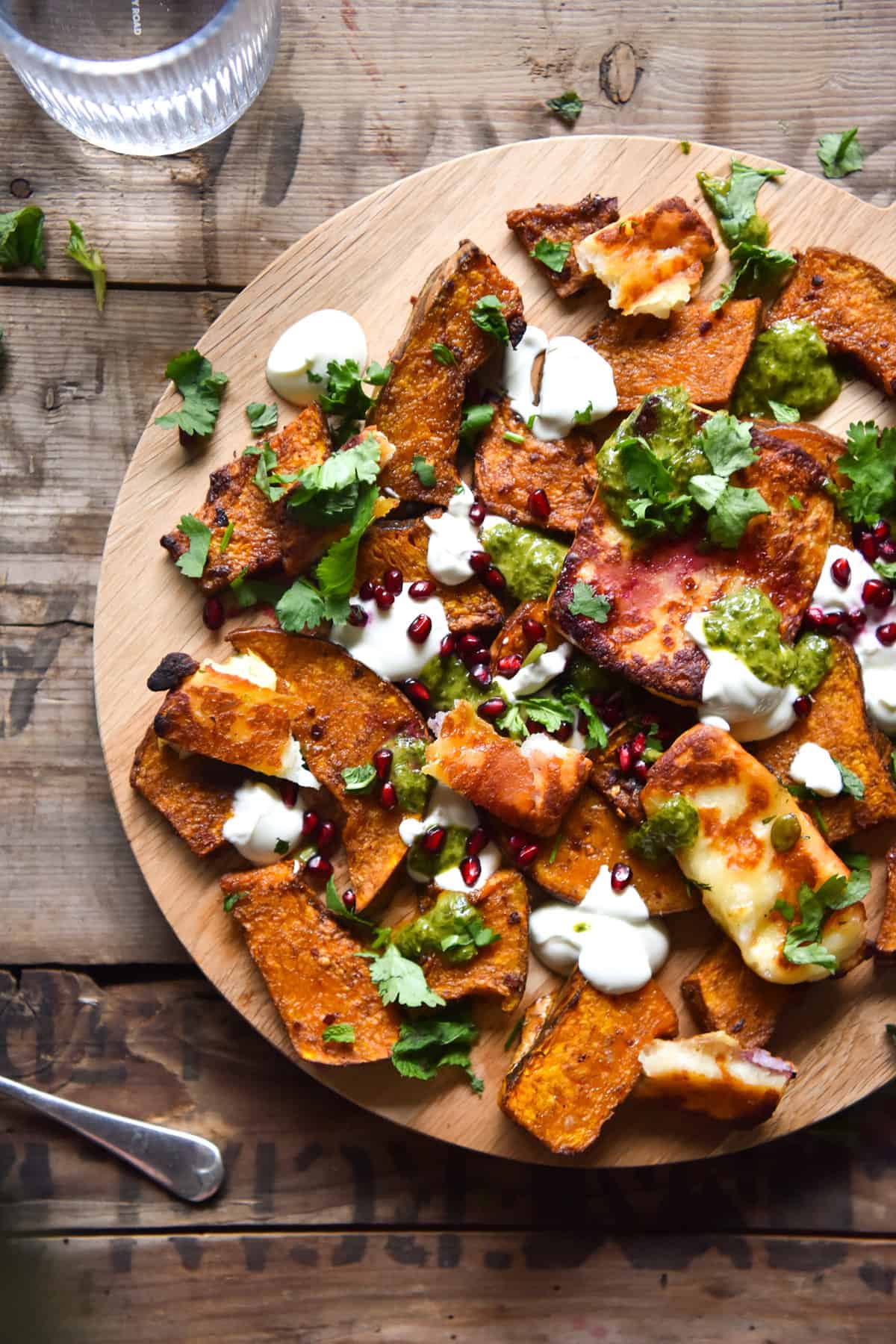 Quinoa salad with spiced butter, roasted pumpkin and inca berries
This quinoa salad is a hearty, grain based addition to the holiday table. The lemon spiced butter adds richness and freshness at the same time. The inca berries are a delicious pop of tartness, but they can be substituted for fresh cranberries, sultanas or pomegranate arils.

POTATOES
Crispy roasted kipfler potatoes (vegan)
These kipflers are one of my all time post popular recipes for a reason. Not much beats a crispy potato with a fluffy interior, and these kipflers tick both those boxes. Can't find kifplers? This method works on basically any potato you can get your hands on. Never eat substandard roasted potatoes again.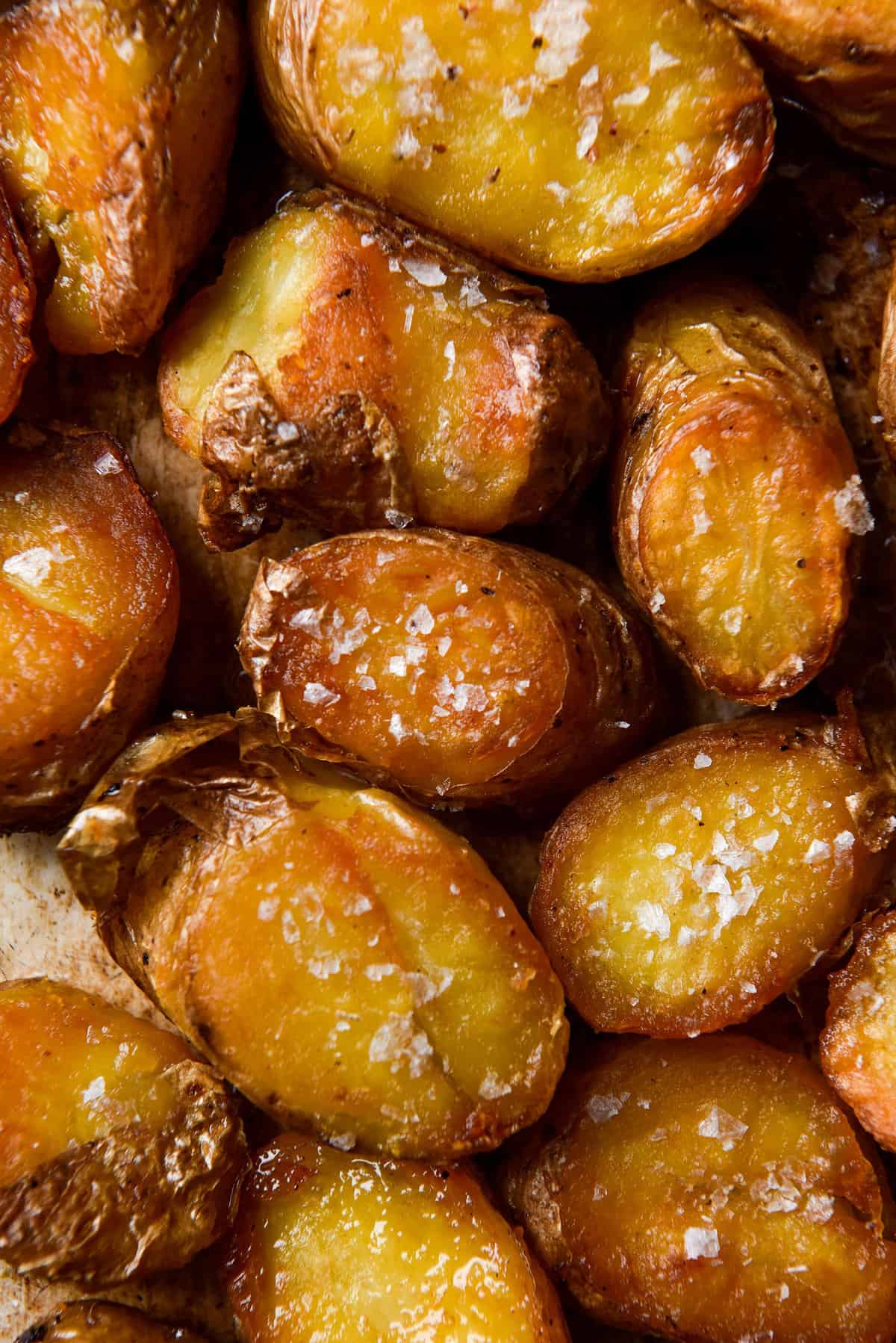 Lemon and herb roasted potatoes (Greek style) (vegan)
Greek style potatoes are surprisingly simple but undoubtedly delicious. The potato flesh is fragrant with lemon and herbs, creating a bright and fresh end result that goes with everything.
Salt and vinegar smashed potatoes (vegan)
Salt and vinegar chips are a thing, so why not salt and vinegar potatoes? Another one of my most popular recipes, these salt and vinegar potatoes are always a hit. The perfect balance of fluffy potato, vinegary twang, salt and crispiness, these are like the chips you love but 100x better.
Brown butter mashed potatoes with crispy sage (vegetarian)
It would be rude not to include a mashed potato, right? Adding brown butter to these mashed potatoes creates a subtle nuttiness that can't be beaten. Add some crispy sage to the mix and you have yourself a real party. The mashed potatoes are made with low lactose dairy, making them suitable for FODMAP friends. The perfect addition to your FODMAP-friendly vegetarian Thanksgiving.
Cacio pepe potato bake (vegetarian)
Fancy something a little different? Try this FODMAP friendly cacio e pepe potato bake. A magnificent combination of a low lactose potato gratin and a cacio pepe pasta sauce that goes down a treat every time.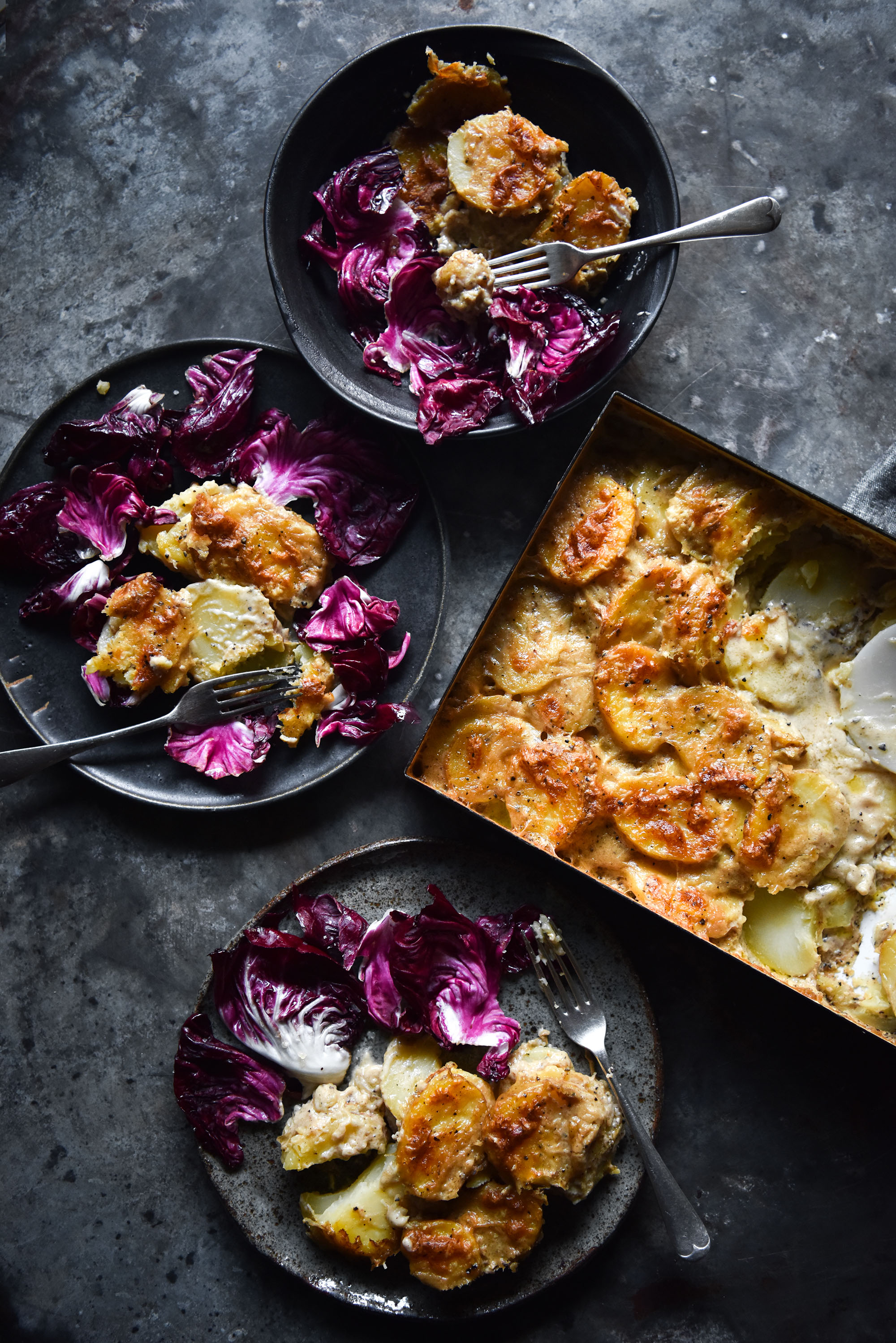 Vegan, FODMAP friendly potato salad (vegan)
Everyone needs a good potato salad recipe in their repertoire, and this one is a goodie. It's vegan, gluten free and FODMAP friendly.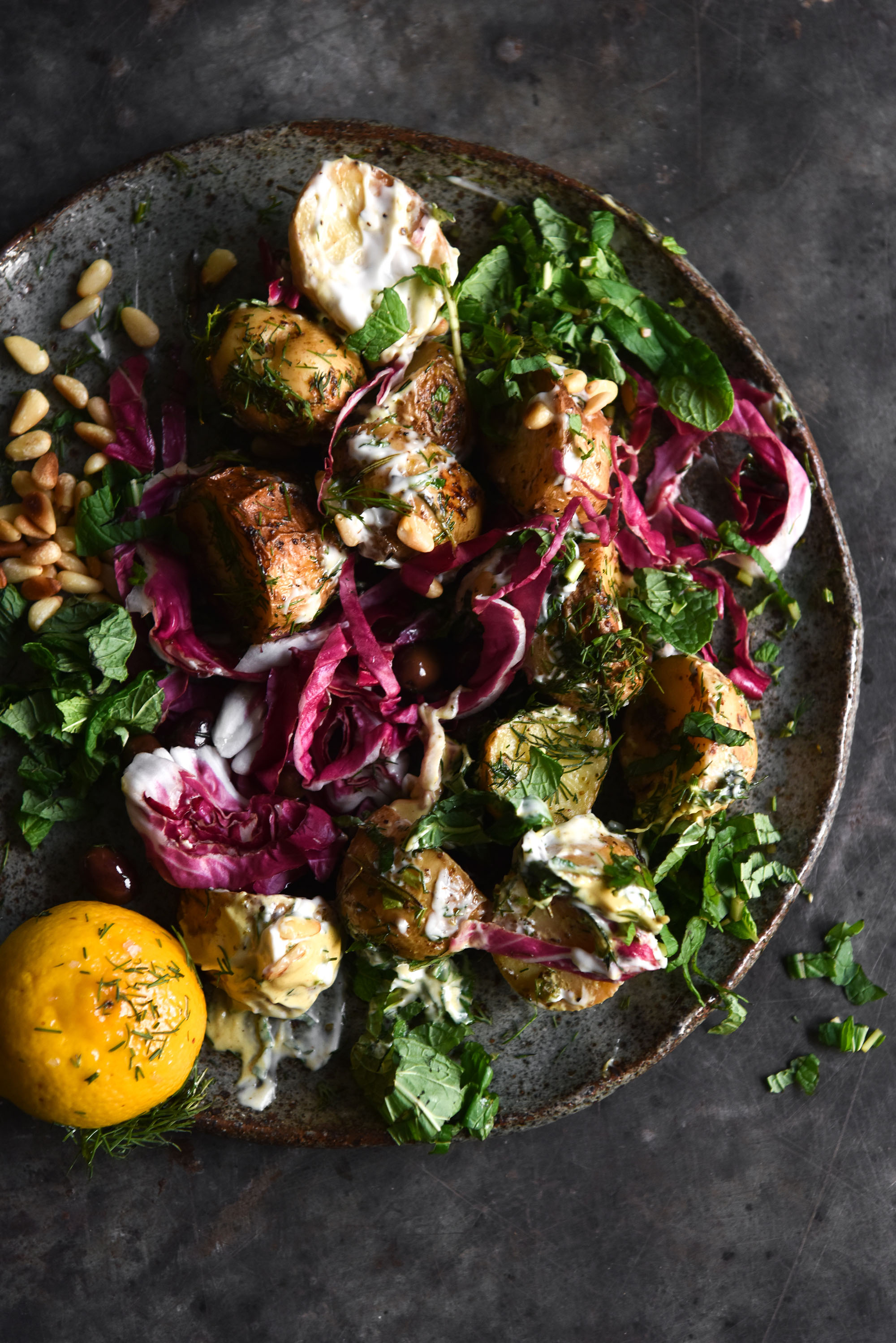 Cheesy vegan hasselback potatoes

MAIN EVENT AND SIDES
Vegan, FODMAP friendly stuffing
Because vegans need mac and cheese, too. This is an easy nut free, gluten free, 10 minute mac that you can whip up in a flash. You can also add some freshly and finely grated vegan cheese, but cut back on the salt you add if you do.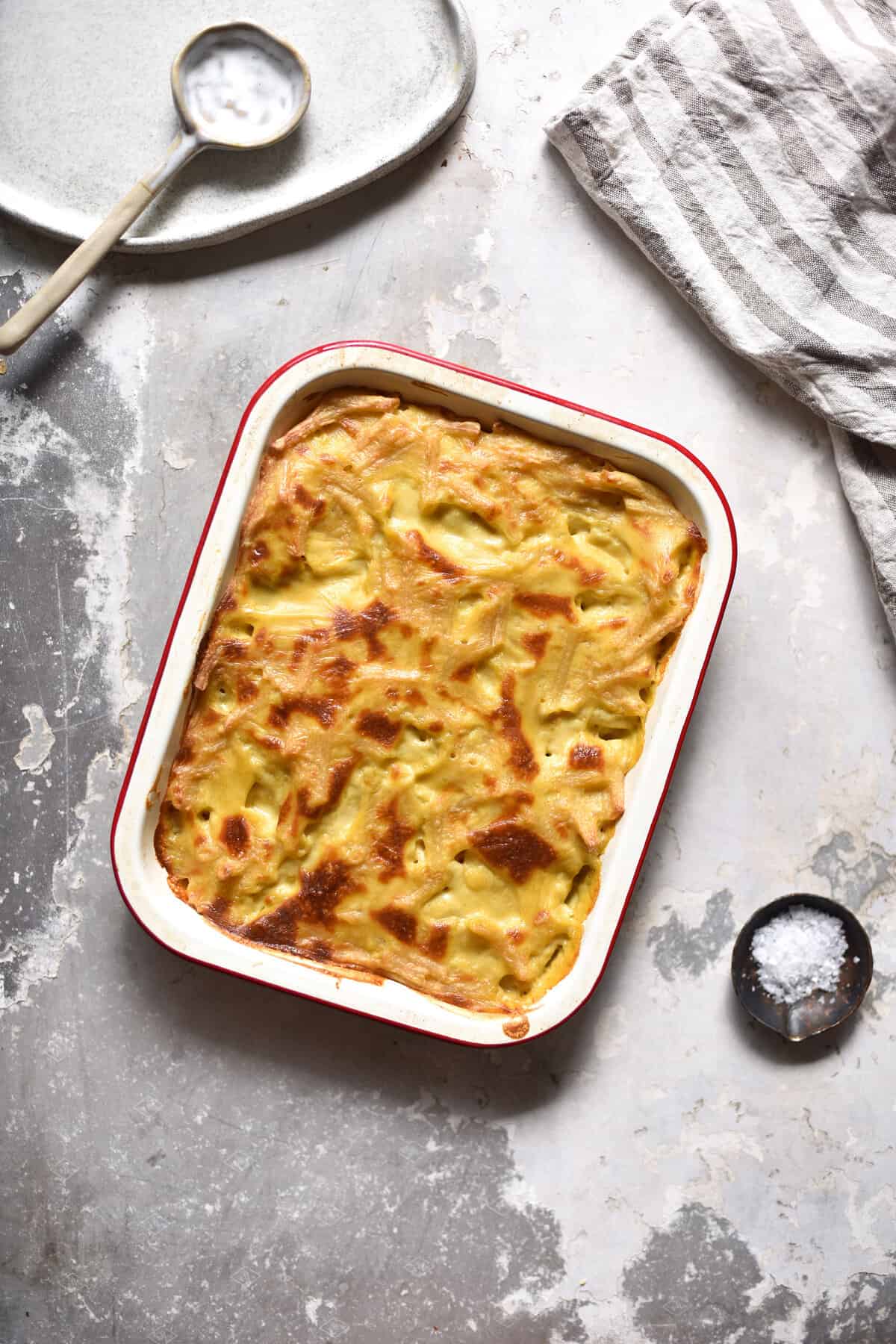 Eggplant involtini
A hearty, delicious tray bake that can be assembled ahead of time, eggplant involtini is something everyone will enjoy. It takes somewhat like junk food in the best possible way. The best part? The only aspect of it that changes when swapping between vegan and vegetarian is the cheese topping. This means you can top half with vegan cheese (or the cheese sauce from the mac and cheese bake) and half with regular cheese.
Gluten free savoury pumpkin tart with ricotta, sage and gruyere
I mean, I definitely have a type. This pumpkin tart is the cousin of my original zucchini version, but adapted with Thanksgiving flavours. It's FODMAP friendly, gluten and grain free, and looks beautiful on the table.
Vegetarian hamburger helper bake
Part mac and cheese, part vegetarian mince, all delicious. This vegetarian hamburger helper is FODMAP friendly, gluten free and nut free. The mac and cheese element stands alone, as does the mince (although it's somewhat less festive solo.) You can also make it vegan by using the vegan mac and cheese recipe (use a big baking tray, or use two.)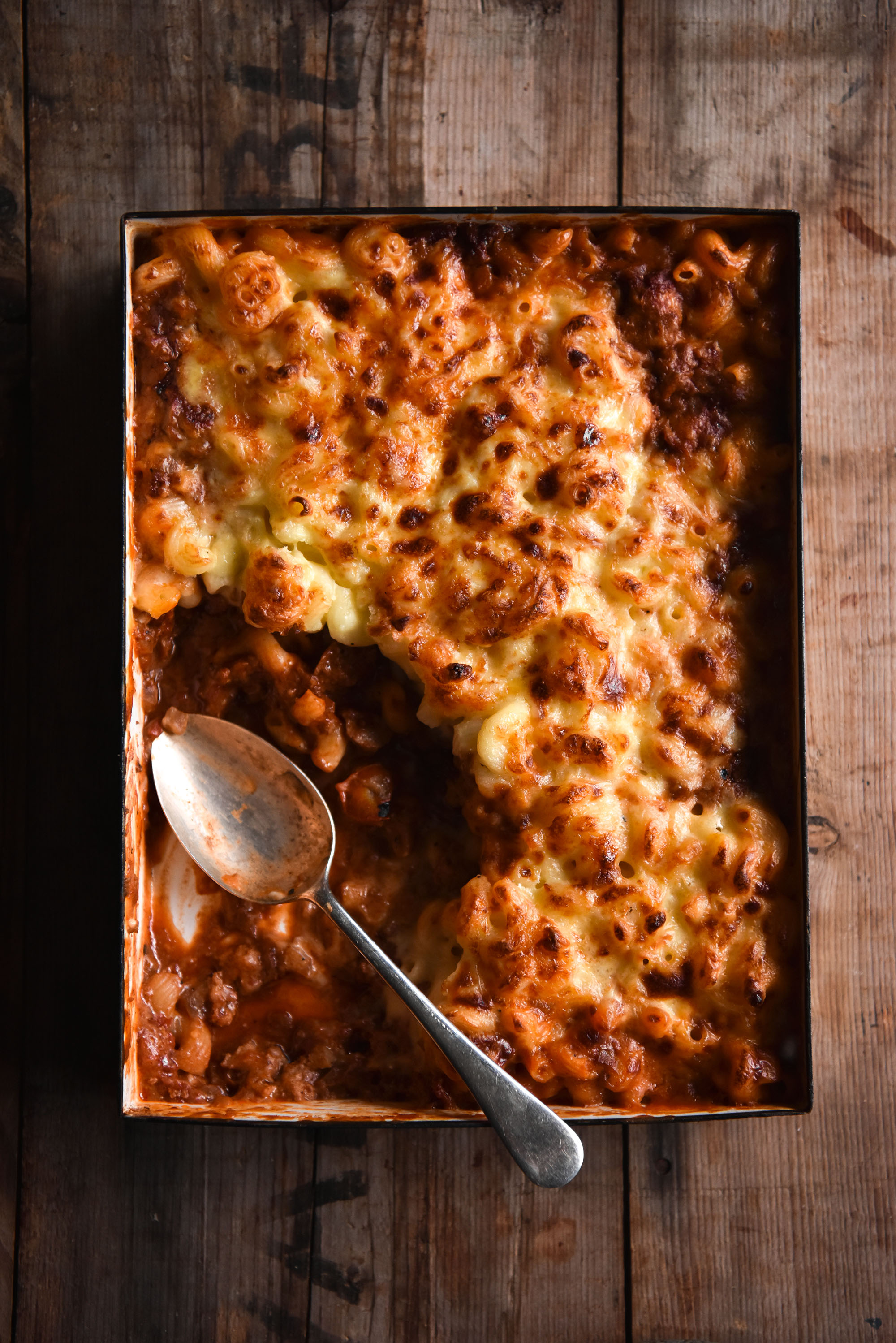 Zucchini and ricotta swirl tart
The recipe so nice I made it twice! This grain free zucchini swirl tart is a hell of a lot easier than it looks, but is still a real centrepiece. As I've mentioned, there are two versions: this original version and the vegan version, which you can find here. They are both FODMAP friendly and gluten free. The prettiest edition to any FODMAP-friendly, vegetarian Thanksgiving table.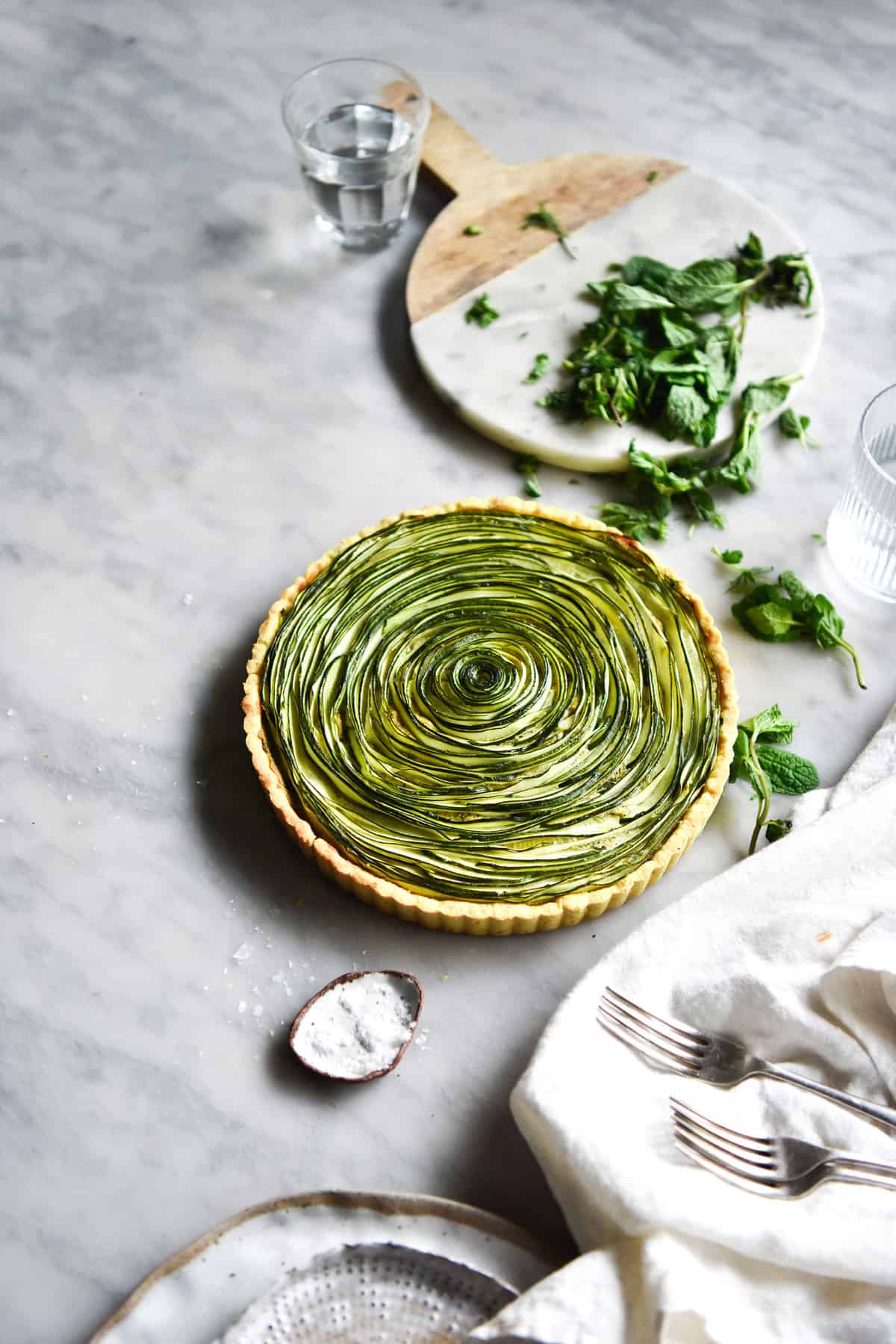 Pumpkin, lemon thyme, blue cheese and honey galette with gluten free quinoa pastry
An easy gluten free galette with festive, autumnal flavours. You can use this quinoa flour pastry or the flakey sour cream pastry in the cranberry wreath recipe. If you prefer, you could also use a different type of cheese – a truffled brie would be lovely.

SWEET THINGS
Pumpkin pie with flakey gluten free pastry and a refined sugar free filling
Ridiculously easy gluten free pastry encasing a maple flavoured pumpkin custard – does it get better? You can make the pastry ahead of time and store it in the fridge or freezer, ready for use. I suggest making two batches if you intend to decorate as intensely as I have.
Pumpkin loaf with chai spiced icing
One of the most popular recipes on my site with good reason! A sturdy, easy and delicious pumpkin loaf that uses easy to acquire gluten free flours. You can use the spiced icing, regular chocolate icing, or even the browned butter chocolate icing from my chocolate cake recipe.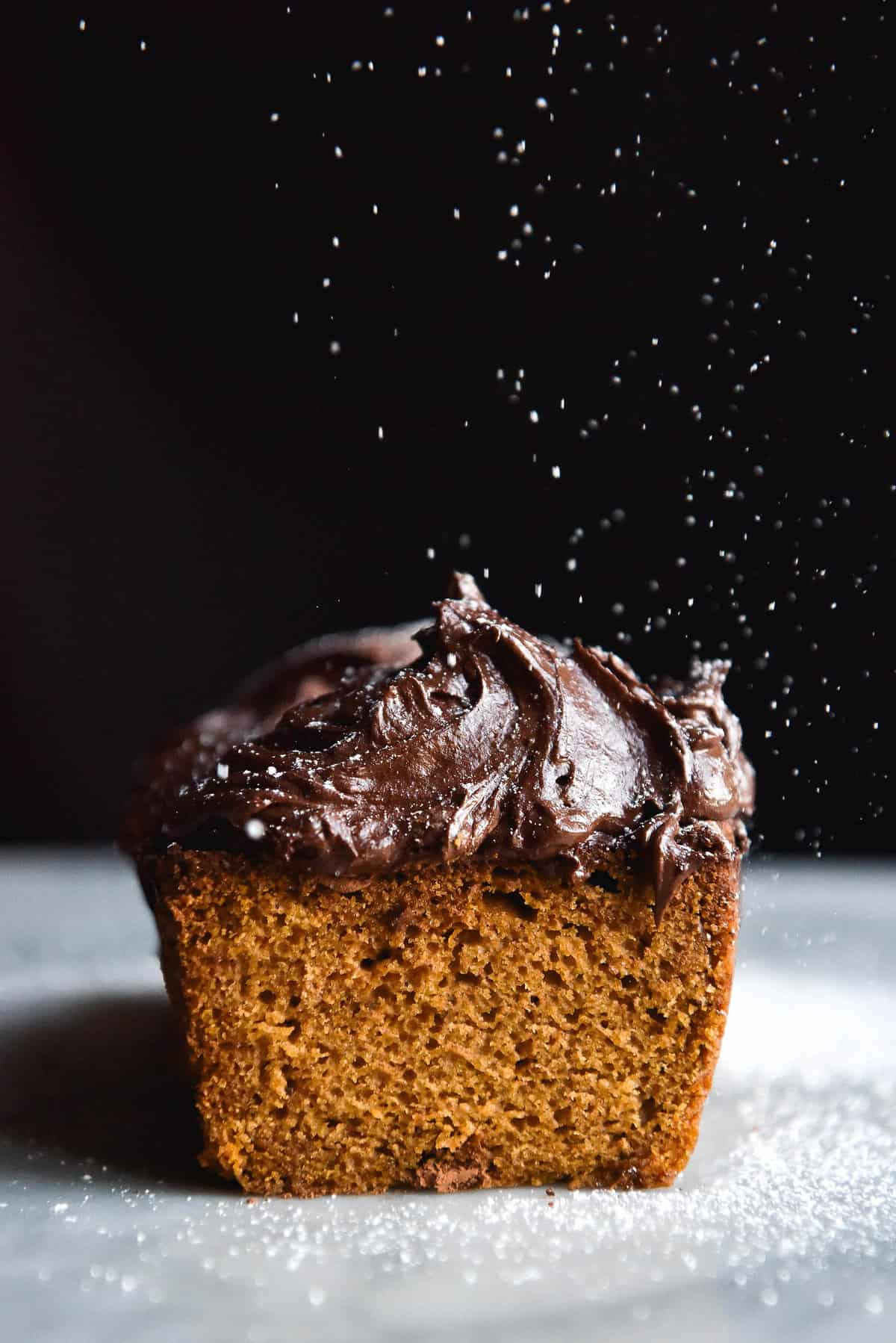 Gluten free pumpkin spiced muffins
Are these muffins the same recipe as the loaf? I haven't bothered to check. Regardless, they're gluten free, delicious and perfect for individual serves.
Salted 'Nutella' truffles (vegan)
Richness, decadent, FODMAP friendly and vegan. These truffles tick all the boxes. As a result, you can pop them on the table and not have to worry about who can eat what. That said, a note: vegan Nutella still contains nuts – just something to be aware of if you have a diner with a nut allergy.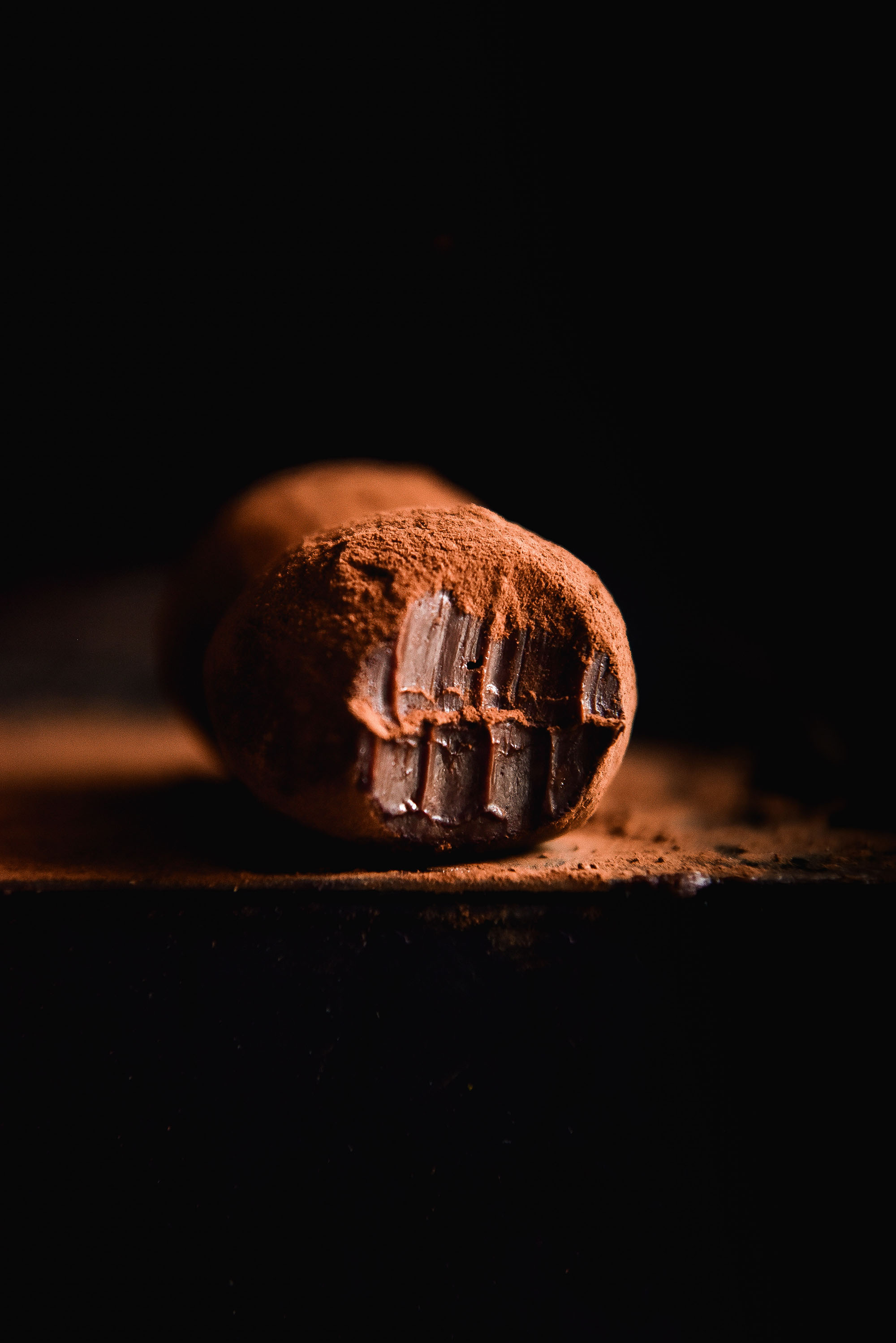 Flourless chocolate bundt cakes with chocolate rum cream
Would you look at these cute little bundts?! Rich, decadent, flourless and slightly boozy, they're the perfect single serve dessert. Because they use almond meal, they're perfect for a gluten or grain free diner. They're also great when you don't generally bake gluten free, because they are easy to make and don't require a menagerie of flours.
Nutella, white chocolate and hazelnut chocolate bark
This is my favourite dessert to bring when I'm running short on time. It's offensively easy, quick and impressive to look at. Plus, it's really just a guide: use dairy free chocolates for a vegan version (Lindt 70% is easy to buy at the supermarket.) Omit the Nutella and add more chocolate for a nut free version. The world is your oyster, and your FODMAP-friendly vegetarian Thanksgiving is slightly more aesthetic.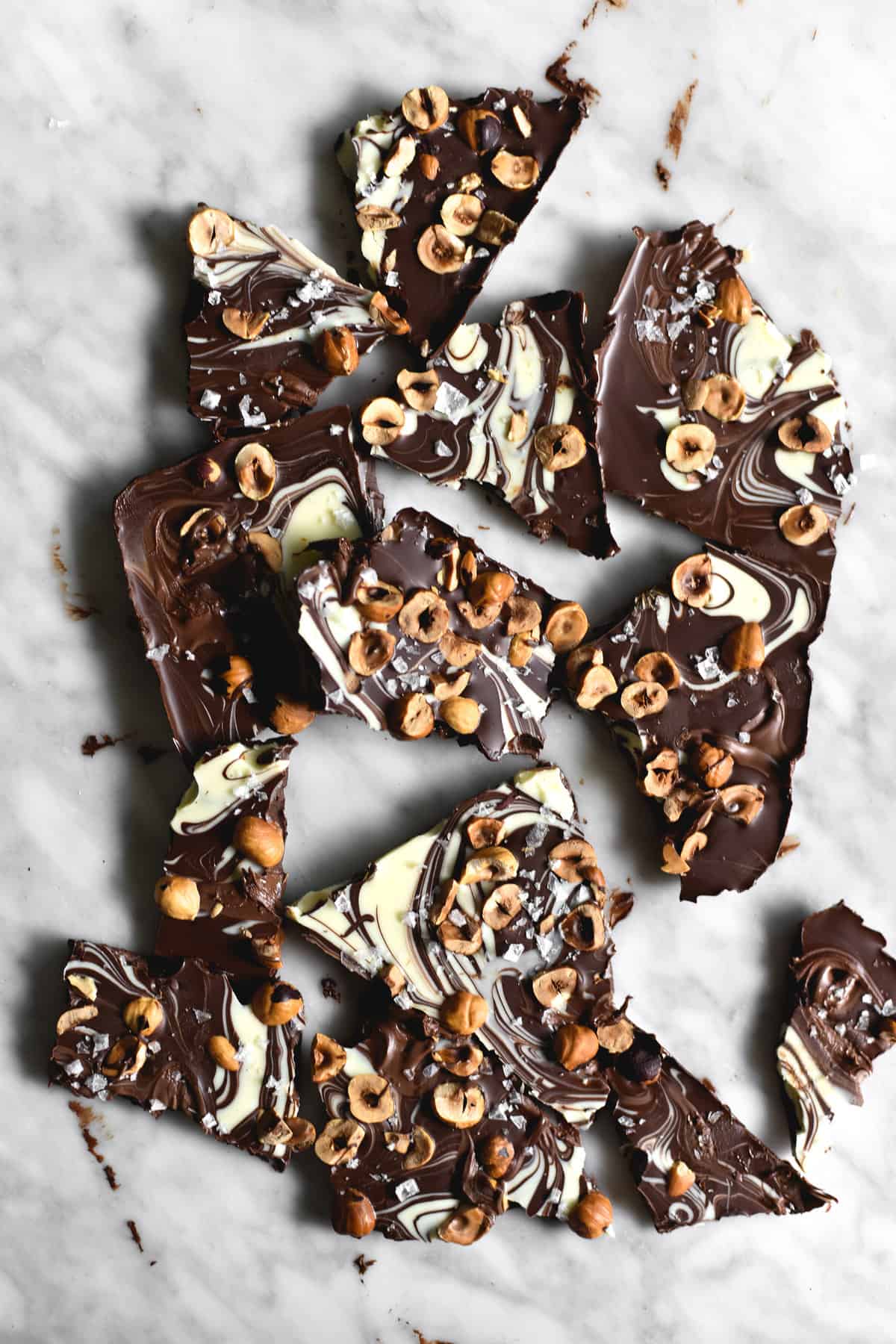 Pastry for everything – sweet or savoury
This pastry can be use in any application – pecan pie, apple pie, savoury pie. The method, tips and tricks will guide you through this easy recipe ahead of schedule, so you can just roll it out on the day.
Vegan Hedgehog slice
I'm not sure if Hedgehog slice has reached American shores. However, name me a person who doesn't enjoy the combination of chocolate, biscuits and nuts? I will wait. This version is vegan and gluten free, complete with homemade Graham crackers. Make it ahead and simply slice it up on the day.