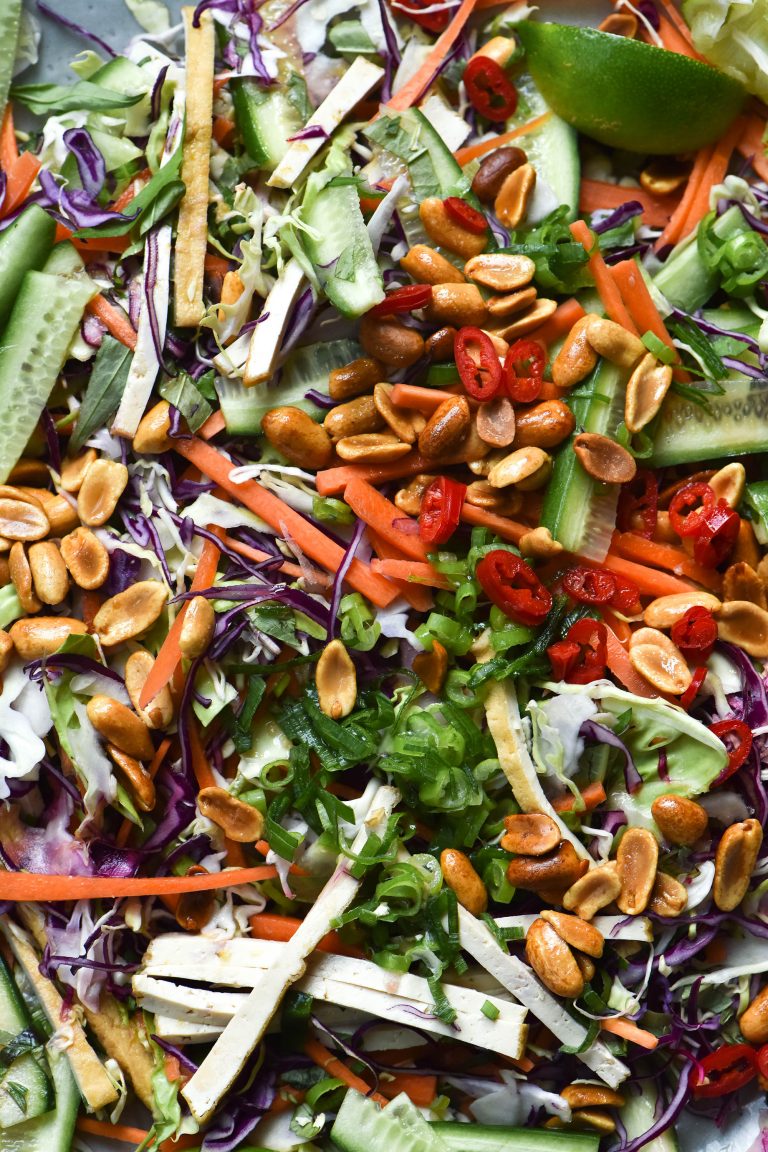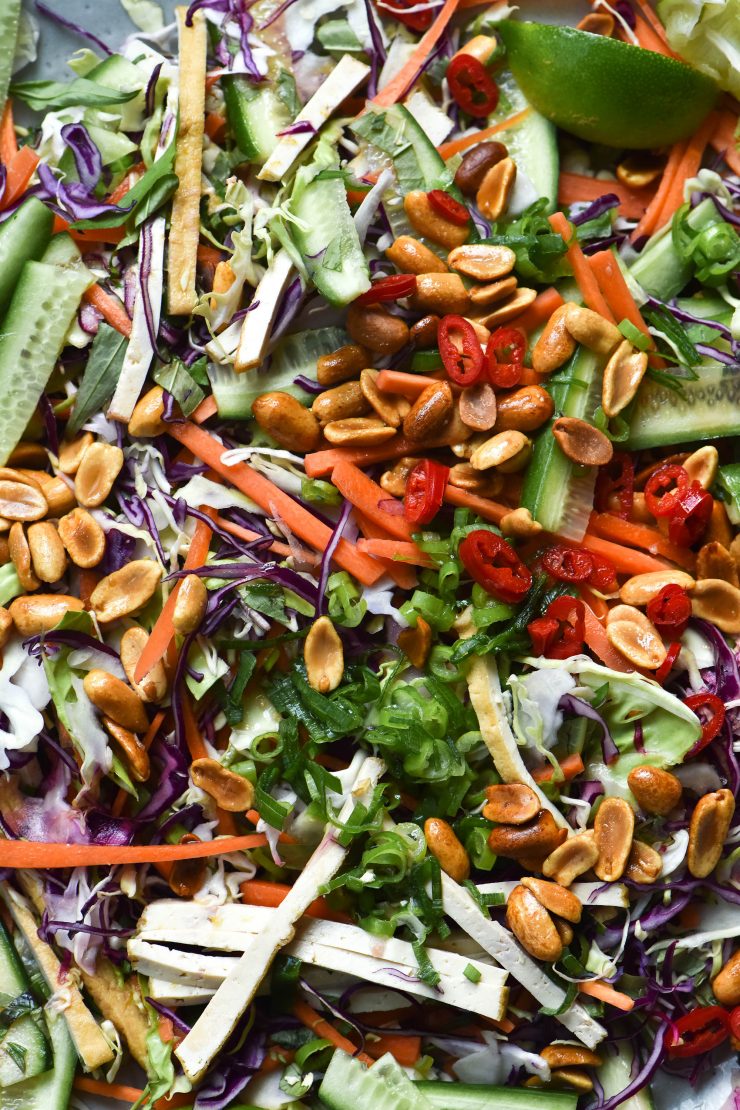 If you have any experience with digestive illness, you might be familiar with the euphoric moment when you eat out and don't feel terrible. For me, the clearest memory of that euphoria was after eating a vegan Vietnamese coleslaw at a local Vietnamese restaurant in Melbourne. Hence, this recipe for FODMAP friendly vegan Vietnamese Coleslaw.
FODMAP friendly Vegan Vietnamese coleslaw
While going out for dinner is generally viewed as a treat, I view it as a necessary sacrifice to my digestive system. I want to see my friends and to enjoy in the communal experience, but I also know that I'm most likely to feel terrible either immediately after, or the next day.
Tracking what makes me sick and/or bloated is a near impossible game when I cook my own food – never mind when I have no idea what has gone into it. So when I went out for Vietnamese and BYO with a friend, I had rather low expectations of my preceding health. It was hot, so I decided to order a vegan Vietnamese coleslaw – a big pile of fresh, crunchy veg dressed in a vegan nuoc mam, and topped with nuts and tofu. WHAT A REVELATION.
Not only did I feel ok after the meal – I felt great. I felt lighter than usual, as if my body had been craving a good old vegan Vietnamese Coleslaw for two years. As if that was the golden ticket.
Obviously this salad won't solve all your digestive woes, but it is a great, incidentally low FODMAP dish for warmer summer nights. And if you can't take anything else away from this post, just know that ordering the Vietnamese coleslaw (without fried spring onion) is generally a safe and delicious bet.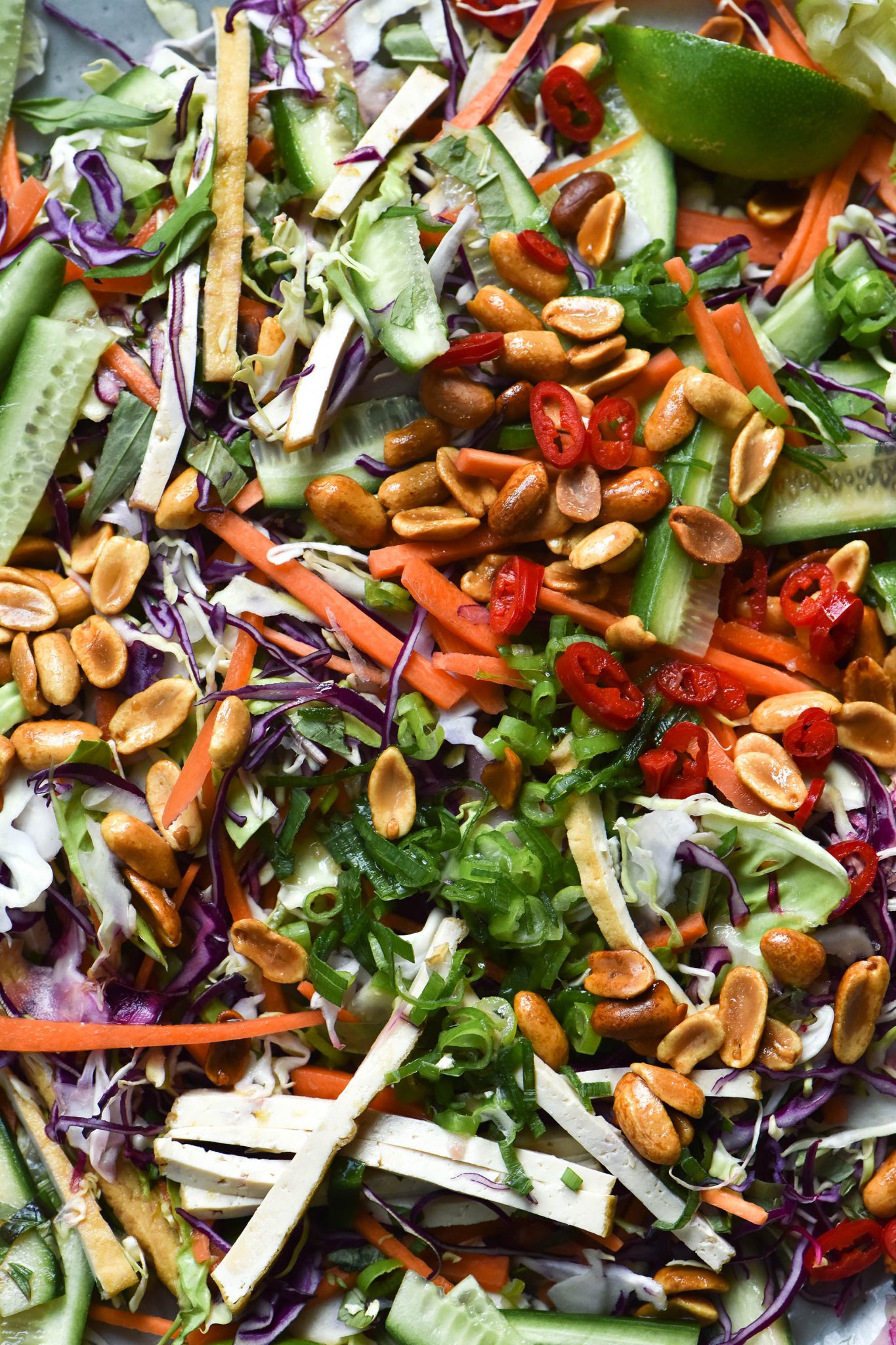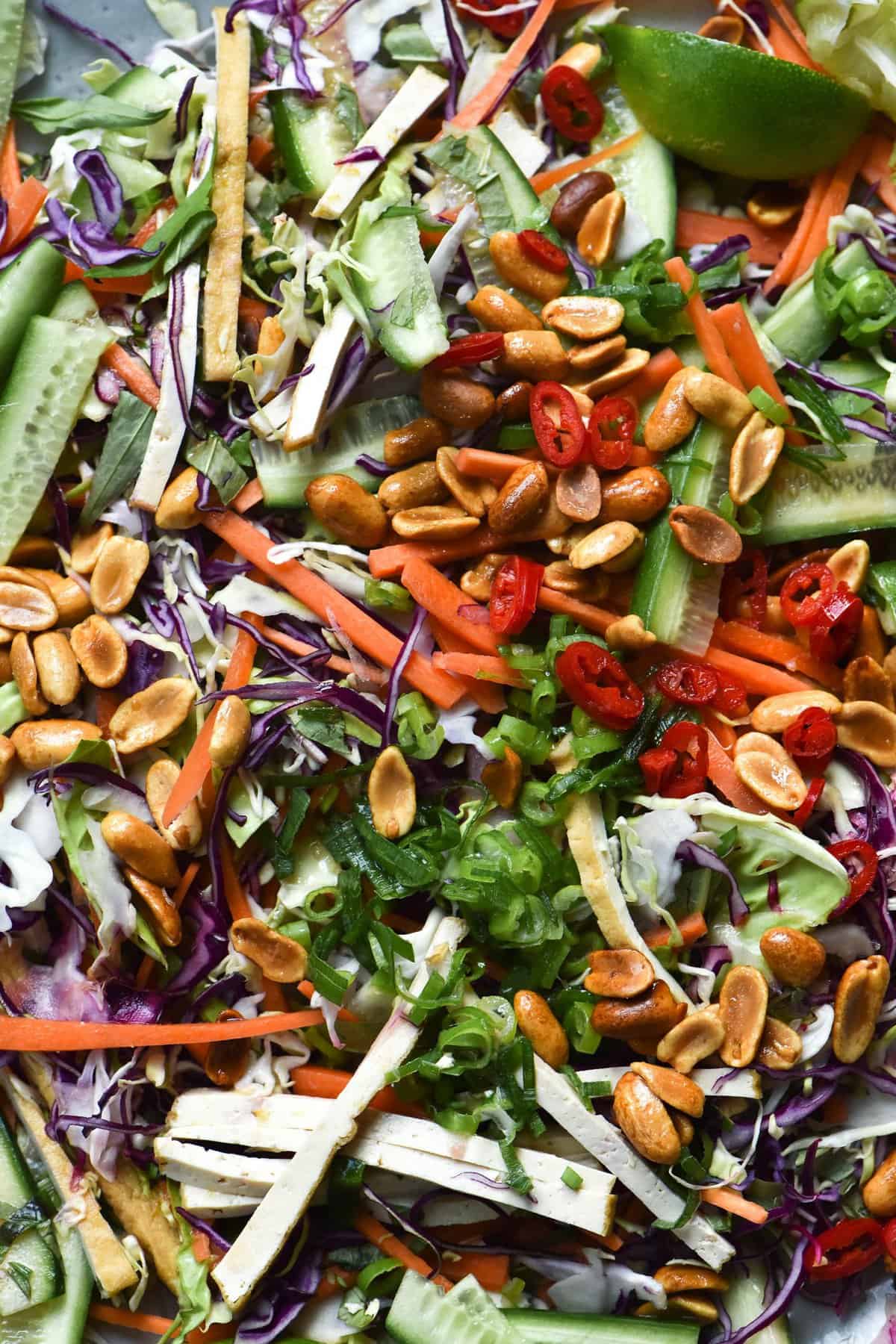 FODMAP notes for your vegan Vietnamese Coleslaw
Let's talk coleslaw and FODMAPs. All of the vegetables involved (red cabbage, common cabbage, carrot and cucumber) are naturally FODMAP friendly within acceptable servings. Note that Savoy cabbage is less friendly than the common variety, so make sure you pick up the right one.
Tofu is friendly in 170g or 2/3 cup servings. The dressing contains no onion or garlic, and nothing untoward. Happy days.
I have added some mango, just because it's mango season and I have a mango. I have really enjoyed adding a bit of mango back in, on occasion. Monash suggests that in 1/5 cup serves (40g) mango is fructose friendly. Whether or not you'd like to add some mango to your salad is completely up to you.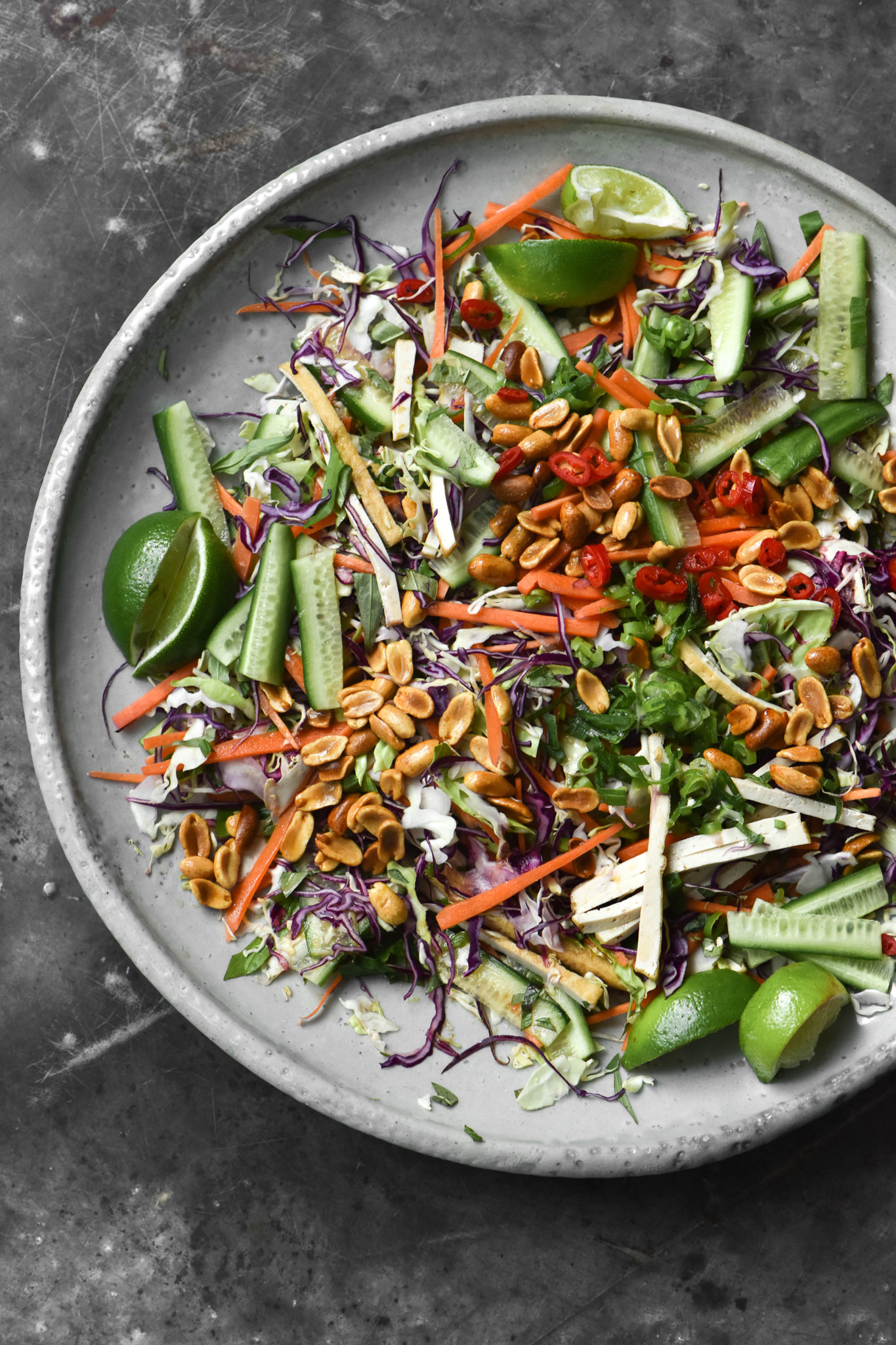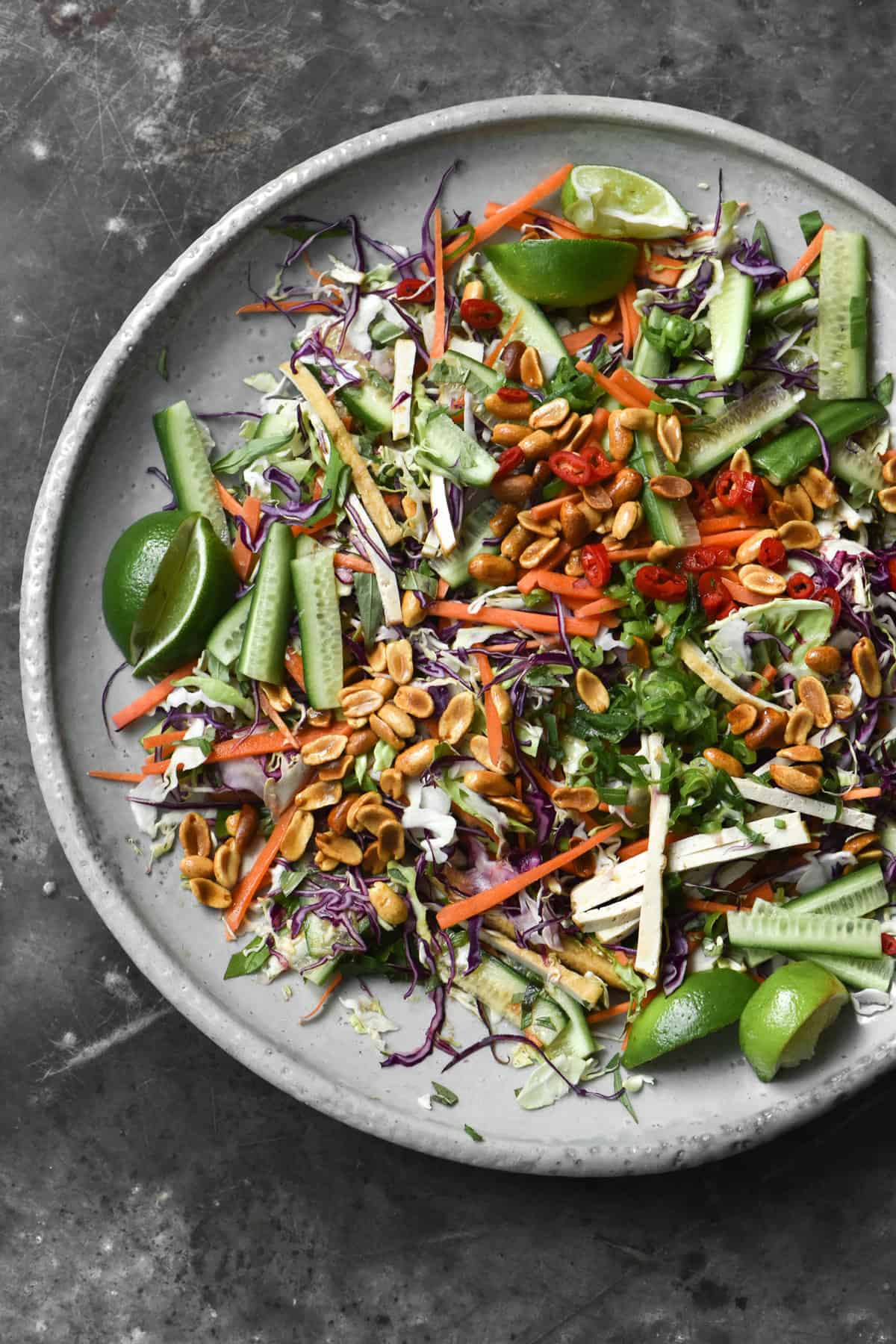 Tips for making crispy salt and pepper tofu
I have gone into tofu in depth in this post. From the original fried salt and pepper tofu recipe, you'll know that my preferred method is frying. Nothing beats the shattering crunchy crispiness of a shallow fried piece of tofu. However, a lot of people asked how to achieve a similar result in the oven. Aka with less oil. So! Today we're talking oven baked tofu.
I realise that oven baking tofu may defeat the purpose of a hot weather dish. Feel free to shallow fry the tofu instead, by using the method in the linked salt and pepper tofu recipe. You could also potentially BBQ the tofu if you're an outdoorsy sort – here are a few tips on BBQing tofu. I would suggest making double the dressing, and using that as a tofu marinade. I don't think cornflour would fare very well on a BBQ.
Ingredient notes for your FODMAP friendly vegan Vietnamese coleslaw
Vegan fish sauce is becoming more readily available these days. I can confirm it is absolutely worth the price/seeking out. I have been using Vincent the Vegetarian brand and it tastes pretty reminiscent of the real thing. It is harder to buy outside of Asian grocers, however. Niulife is a brand that I have bought at the supermarket (IGA) which isn't a bad substitute.
If you'd prefer to skip the tofu frying, use store bought! No harm done. I bought a block of lightly fried tofu from a local Asian grocer and it worked a treat.
To keep it nut free, use vegetable oil and omit the peanuts on top.
Spring onion greens are Monash approved in a limitless quality. Just make sure you don't use the whites for a FODMAP person.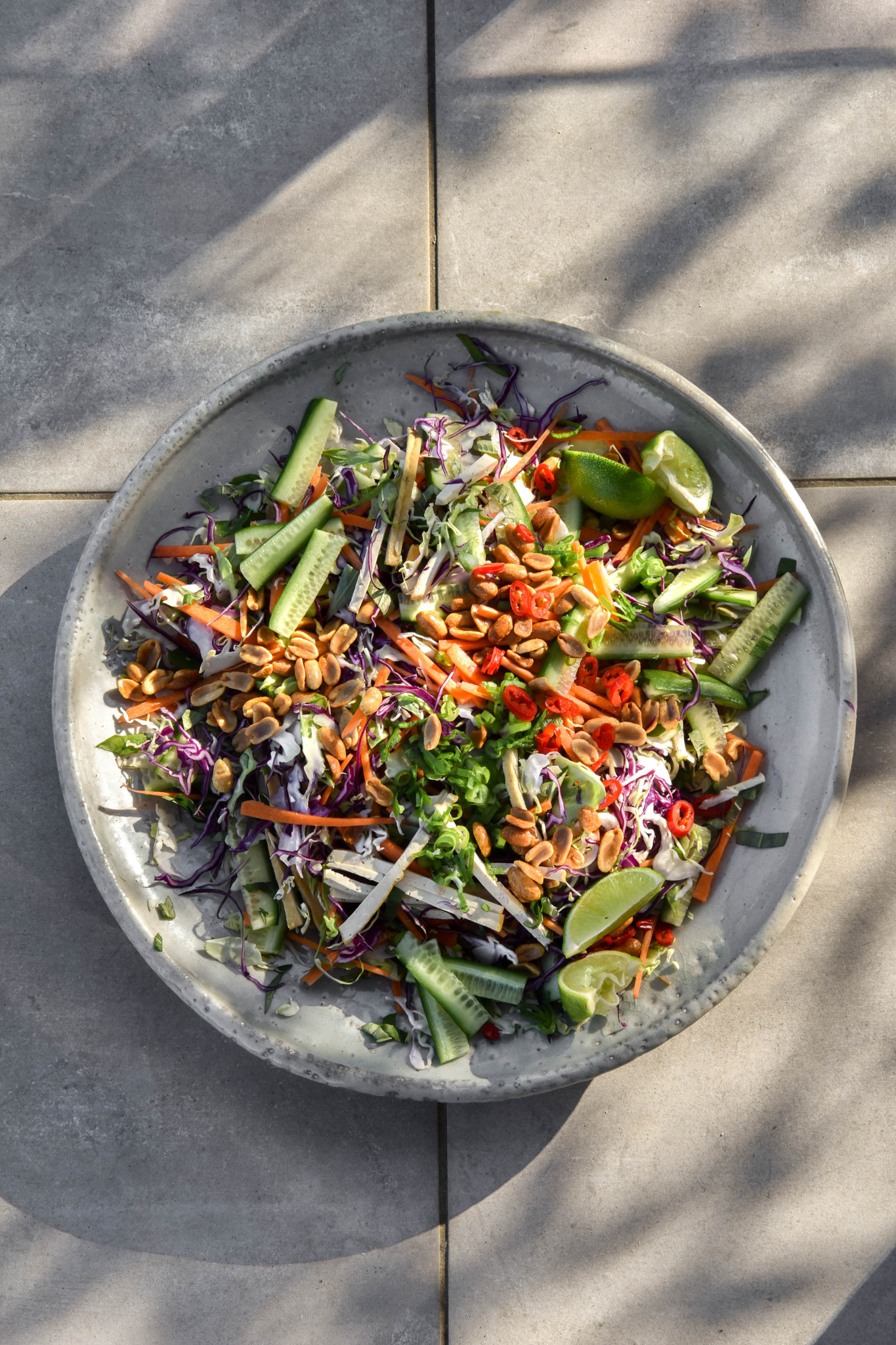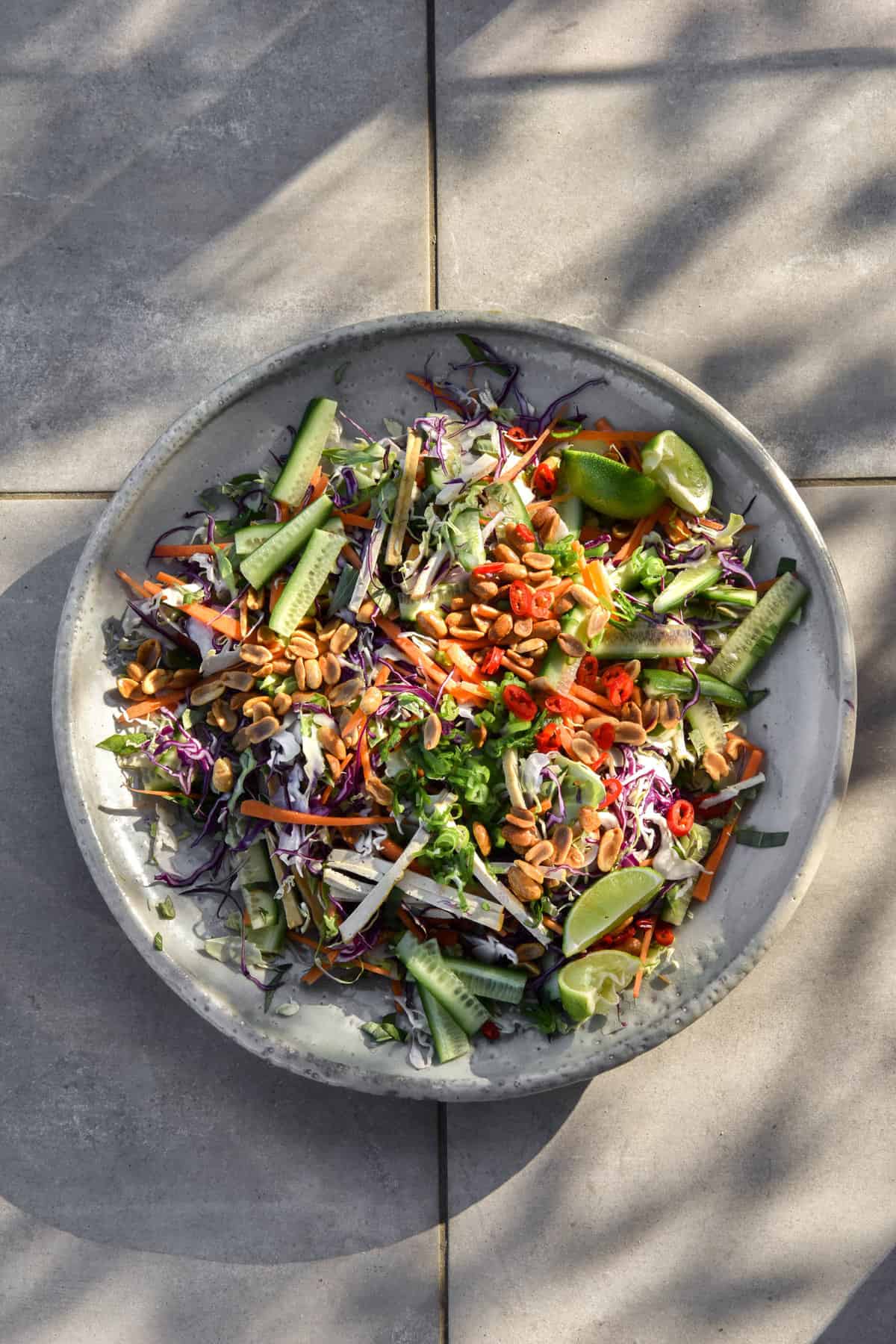 More low FODMAP vegan recipes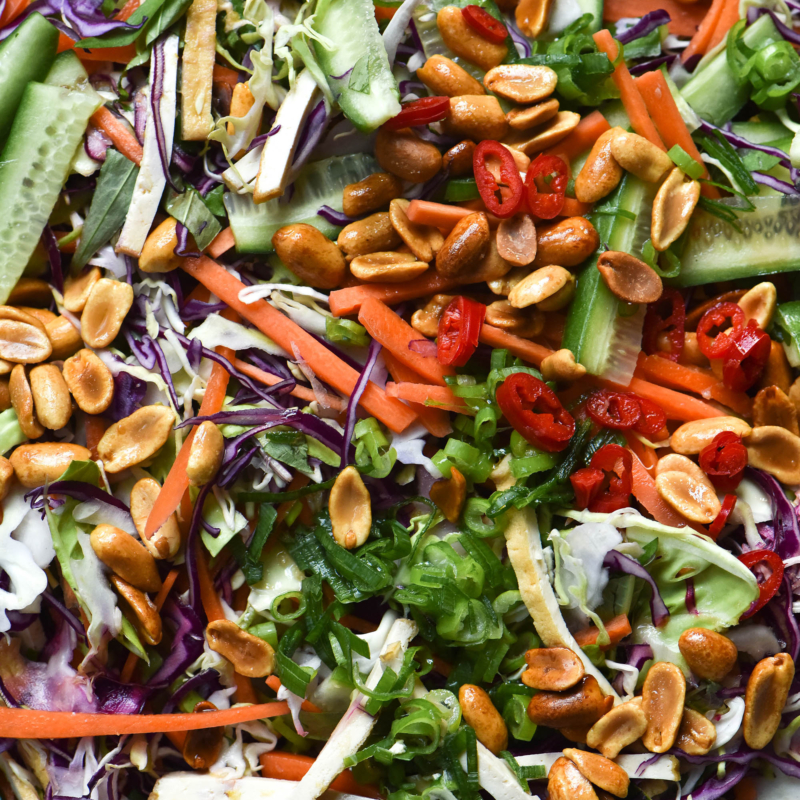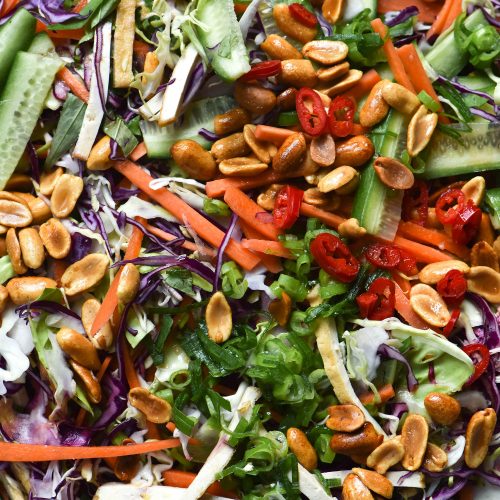 Vegan Vietnamese coleslaw with baked salt and pepper tofu
Gluten free, vegan, FODMAP friendly
Ingredients
For the salt and pepper tofu:
400-450

g

tofu (just use the whole packet, whatever the size)

1

tablespoon

gluten free cornflour

1

tablespoon

(20ml) peanut or vegetable oil

1

teaspoon

table salt

1

teaspoon

ground white pepper
For the salad:
1/8

of a red cabbage, mandolined or very finely sliced

1/8

of a white common cabbage, mandolined or very finely sliced

2

medium carrot, finely julienned

2

Lebanese cucumbers, sliced

1

small bunch of Thai Basil

1

small bunch of Vietnamese mint

1/2

a mango

optional
To finish the salad:
1/2

cup

toasted peanuts

1

red chilli
For the salad dressing:
1/4

cup

(60ml) lime juice

1/4

cup

(60ml) vegan fish sauce (I used Niulife)

2

tablespoons

caster sugar

1-2

teaspoons

Tamari, to taste
Optional extras for the dressing:
Freshly chopped chilli

to taste

Grating of makrut lime

Grating of fresh ginger
Instructions
Press your tofu by slicing it and placing it in some kitchen towel under a heavy weight. For me, the weight is a large saucepan filled with cans. Allow it to drain for at least 10 minutes – the longer the better.

When your tofu is drained, preheat the oven to 180 degrees Celsius or 356 Fahrenheit. Line a baking tray with baking paper.

Cut your drained tofu into bite sized cubes, and place it in a large bowl. In a small bowl, combine the cornflour, salt and white pepper.

Spoon the tablespoon of oil over the tofu, and use your hands to coat each piece evenly. Add the seasoned cornflour mix, and gently mix to coat all the pieces. Spread them onto the oven tray, ensuring they're not touching.

Place the tofu in the oven for 15 minutes. Once the timer goes off, use tongs to move the pieces around. Cook for an additional 10-15 minutes. If you like a bit of browness, you can turn the grill on after that time.

While the tofu is finishing, mix together all the ingredients for the dressing, and cut the vegetables. The easiest way to do this is with a mandoline, but you can do it by hand if you're a real masochist.

Just before serving, combine the vegetables with the dressing, and use your hands to gently massage. Add the herbs, nuts, mango, chilli, and finally the tofu. Note that because of the cornflour, the tofu can go gummy when at the bottom of the salad. You might want to arrange the tofu on top, or save it for last if you're picnic bound.