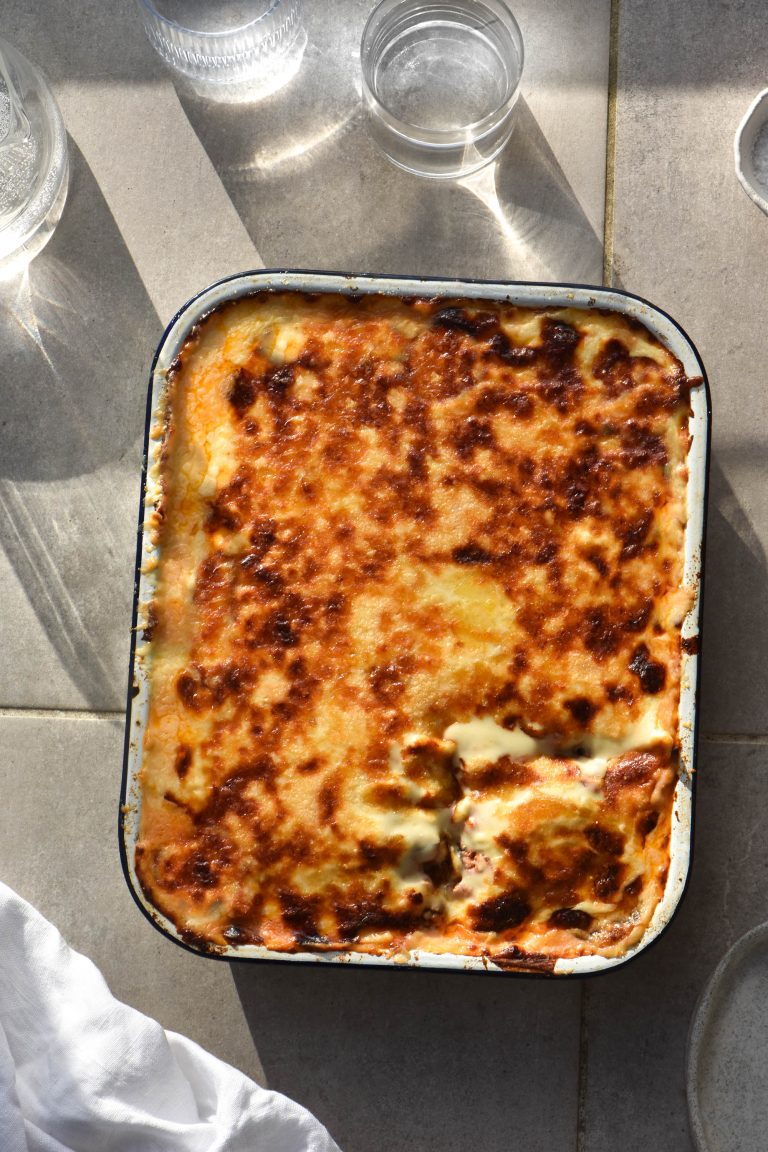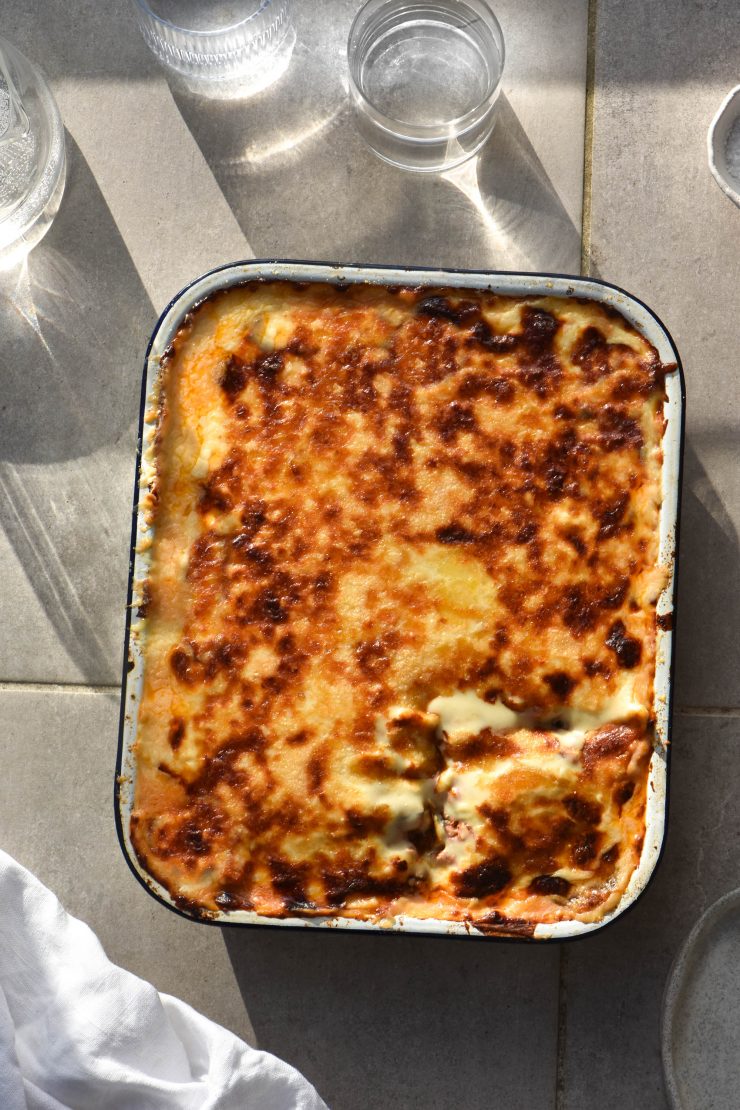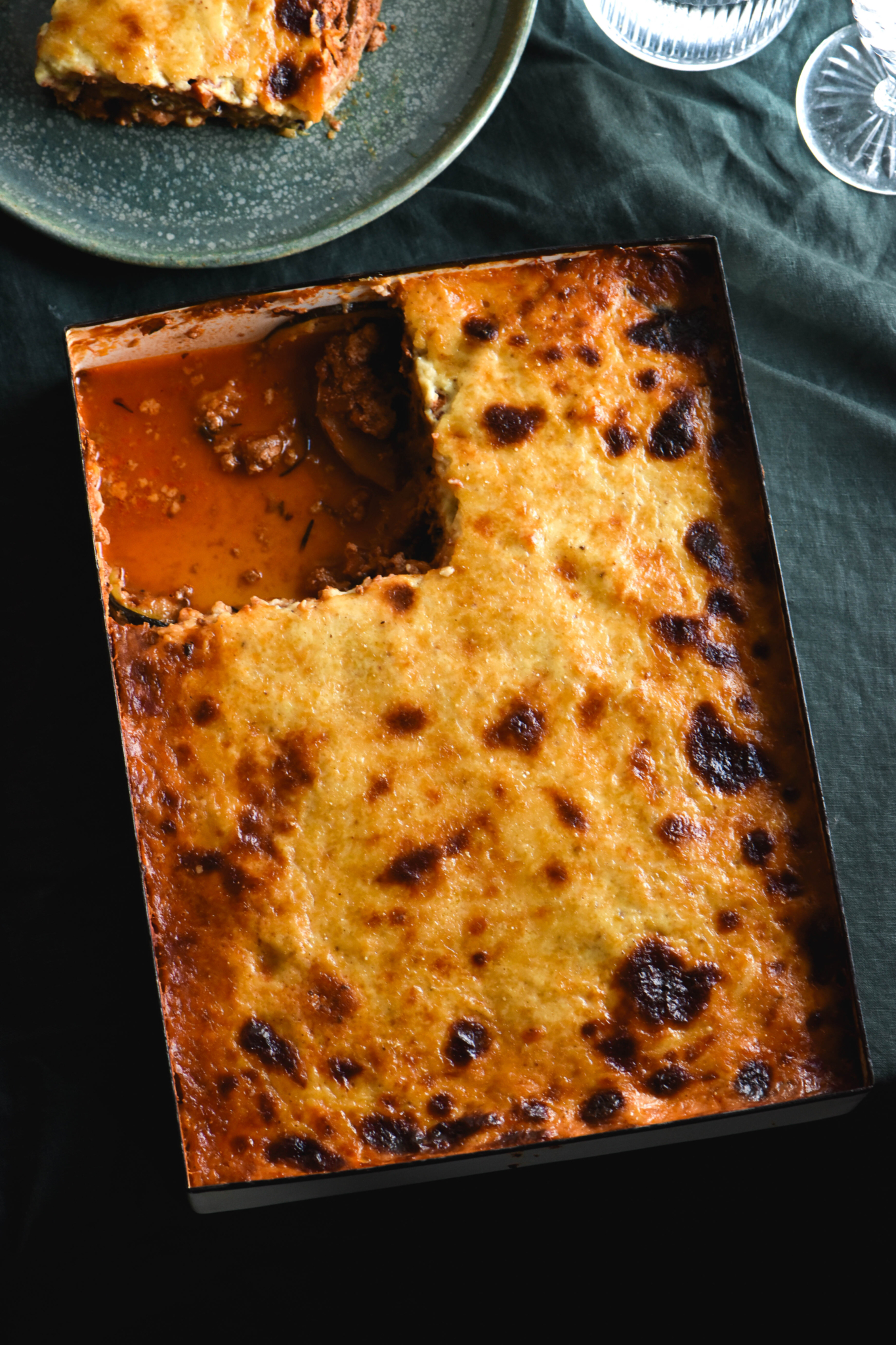 I have wanted to make a FODMAP friendly vegetarian moussaka for about as long as I've been making tofu mince. Finding more ways to use that simple tofu 'mince' a la my bolognese and lasagne is my part time job, after all. So when Val Verde asked me to develop a recipe using their passata, I knew what I had to do.
Low FODMAP vegetarian Moussaka
This FODMAP friendly vegetarian moussaka uses tofu mince with a flavour base of carrots and spring onion greens. From there, we add a touch of umami with Tamari and vegetarian oyster sauce along with some red wine and passata. The result is a deliciously flavoursome vegan mince that everyone can chow down on.
TLDR; This moussaka is FODMAP friendly, nut free, grain free and easily adapted to be dairy free or vegan.
A note on passata specifically: 1/4 cup (72g) is considered low fructose. This moussaka uses 2 cups of passata and serves 8.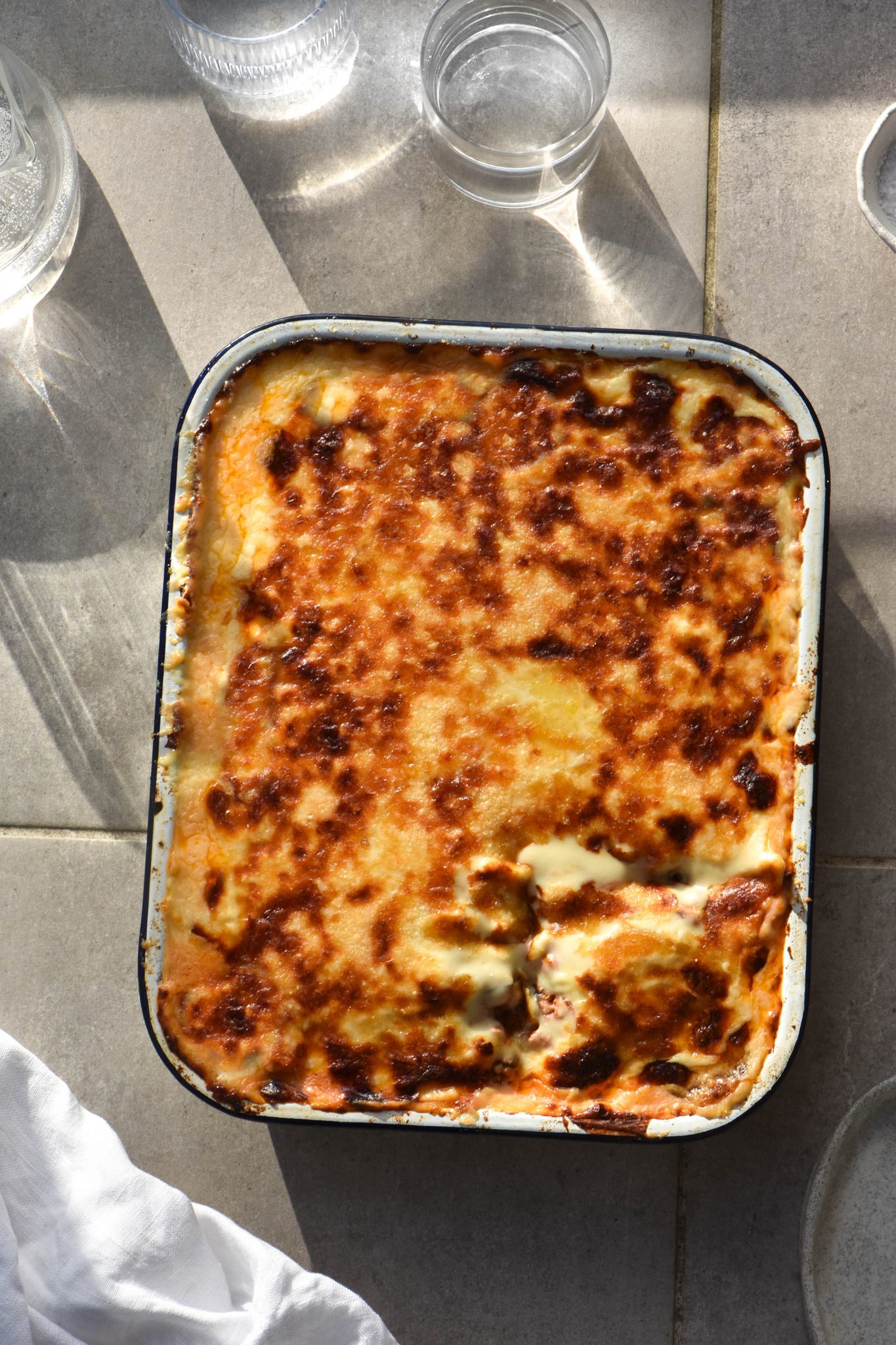 Is eggplant low FODMAP?
Eggplant (also known as aubergine) is low FODMAP in 75g serves, which is roughly 1 cup of eggplant. It contains moderate amounts of FODMAPs (in particular, sorbitol) in servings of 182g (or approximately 2 1/2 cups).
Notes for your vegetarian Moussaka
Moussaka is not something you whip up in 30 minutes. While it is straightforward, it is also time consuming. I suggest making it on a Sunday or a day you will be home to intermittently check the oven.
On that note, you can pan fry the vegetables to speed up the process. However, doing so will make it more hands on when compared to simply sticking them in the oven. Plus, veggies like eggplants often need a lot of oil to pan fry, so this method can make the moussaka a lot richer.
Another option is to use a sandwich press, if you have one. I love cooking eggplant this way (as evidenced by my involtini recipe) because it's quick and doesn't need much oil. The downside is that you're missing out on the flavour from the rosemary and the browned bits that the oven provides.
With talk of all this work, you'd think it might be better to cook the vegetables and mince the night before to assemble the next day. I found, however, that this resulted in dry vegetable layers (particularly potatoes). The moussaka didn't meld together as well as when they were fresh. If you wanted to save time on the day, I would recommend making the mince the night before, but not the vegetables. They are best fresh.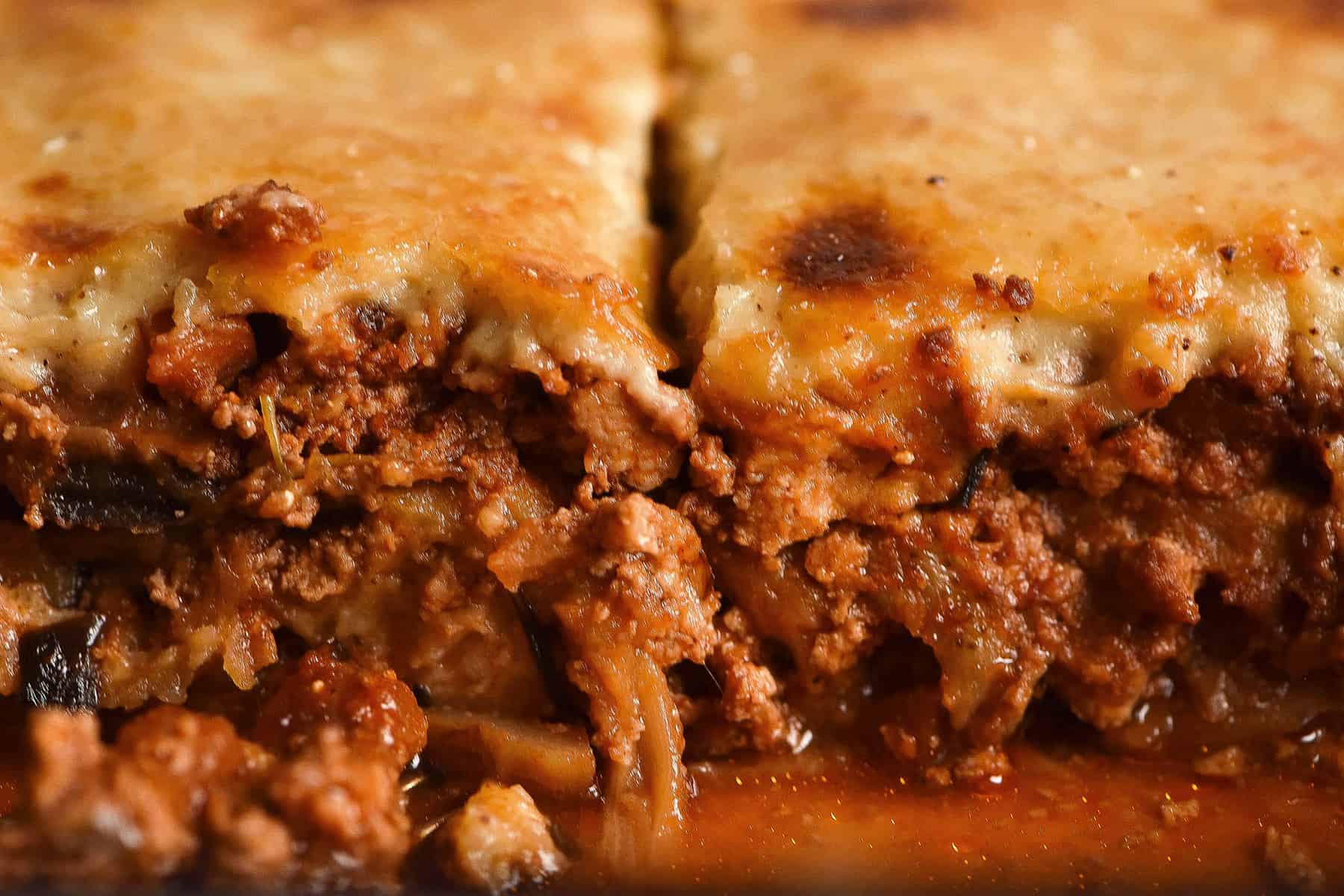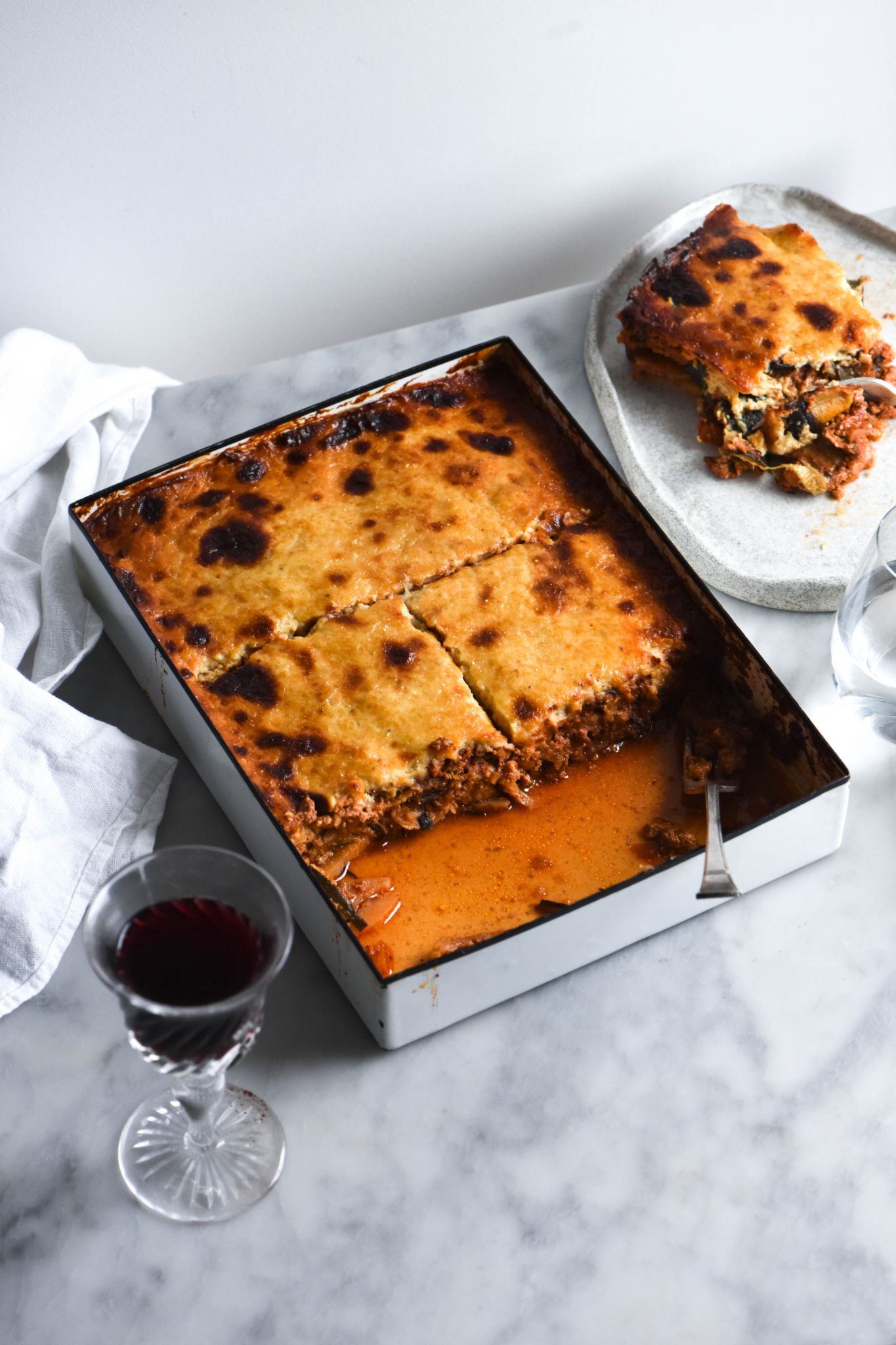 General recipe notes
I highly recommend the rosemary and thyme additions to the tofu mince. They go such a long way in adding a depth of flavour that their omission would be practically criminal. If you really can't find them then I will accept that, but if you can source them I would suggest you do.
Always use extra firm tofu when making tofu mince. The firmer the better, really. Some brands hold up better than others, so it can sometimes be worth crumbling the tofu into slightly larger pieces if you get the sense it will break down during cooking.
Although previous renditions of this mince have used fennel as the base, I choose to use carrot these days. It's less of a FODMAP concern and just easier all round. I love adding spring onion greens (not the whites) for flavour development, as they have no detectable FODMAPs. They're not quite as pungent as the whites, but they do go a long way in adding a nice hit of flavour.
Finally, the red wine. You can omit it if you absolutely must, but it adds such a critical layer of umami flavour. Most of the alcohol content will cook out during cooking, leaving just the richness of flavour. If you can't use wine, I would recommend perhaps using a low salt stock in it's place and adding a tablespoon less Tamari. You can also just add water.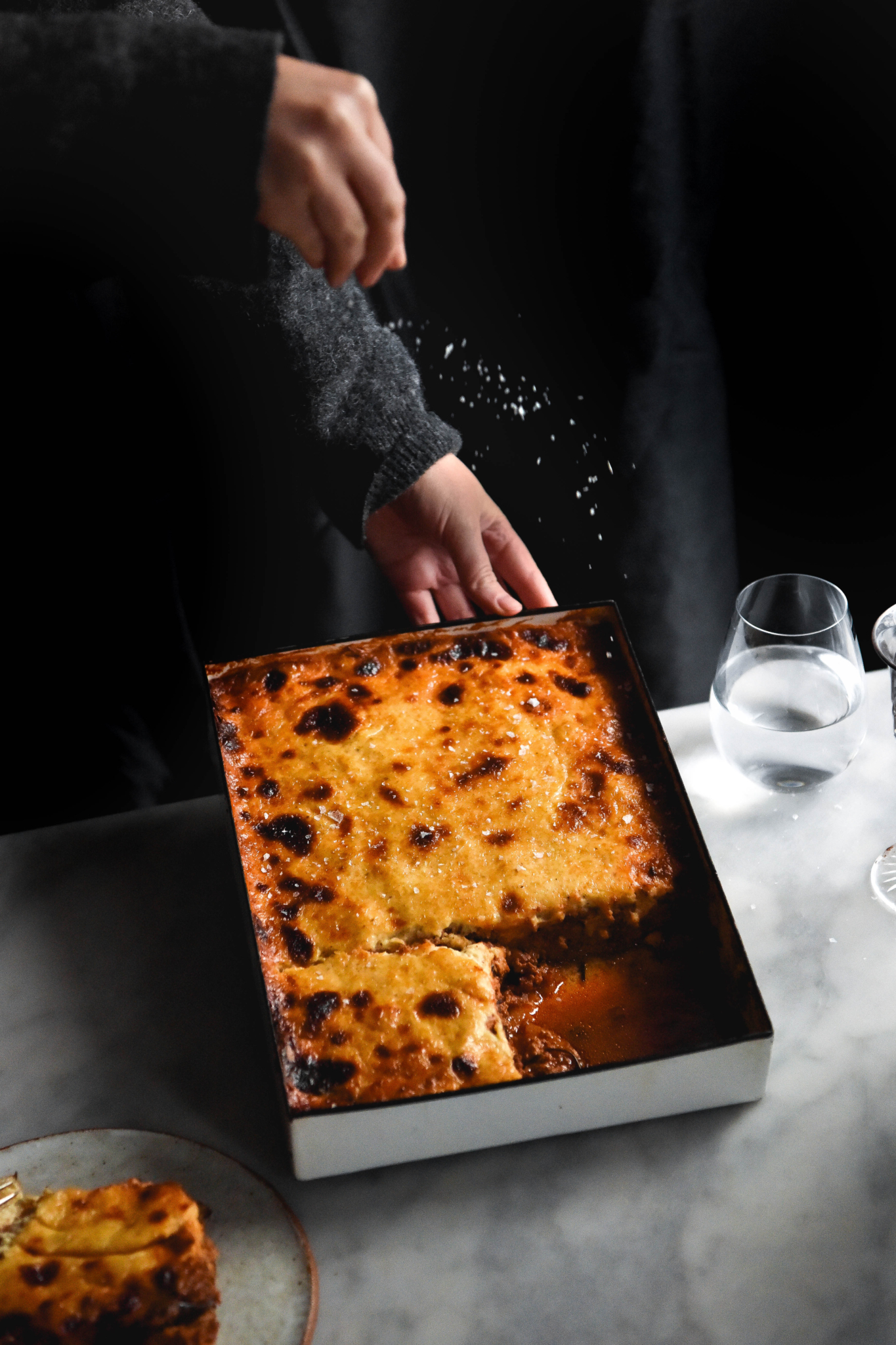 Notes for the gluten free roux
Cornflour is by far the best starch for making a roux, but lots of people have corn allergies. In my tests, I found that using potato starch was the next best bet. Tapioca flour was a gloopy in an unpleasant way, I thought. Make sure you buy gluten free cornflour if you need it to be.
Traditionally, moussaka is made with Kefalotyri cheese. I have used parmesan so everyone can access it, but if you can find Kefalotyri and you want to use it, please do.
Butter and parmesan are almost negligible in their lactose content, so unless you have a dairy allergy as opposed to an intolerance, they should present no issue. Yes, vegetarian parmesan does exist, even though it shouldn't according to the rules. Generally the cheaper brands are the ones that use a plant based enzyme.
I like using lactose free full cream milk in this roux, but you can use any milk that suits you. I recommend soy milk if you're going the plant milk route, as it's creamy, higher fat and quite bland in flavour. If you need some tips on making an entirely vegan roux, see my vegan lasagne recipe.
Finally, from all my 'important research,' I have found the best way to get an attractive, well browned top for your FODMAP friendly vegetarian moussaka is to use half the cheese in the roux and half on top.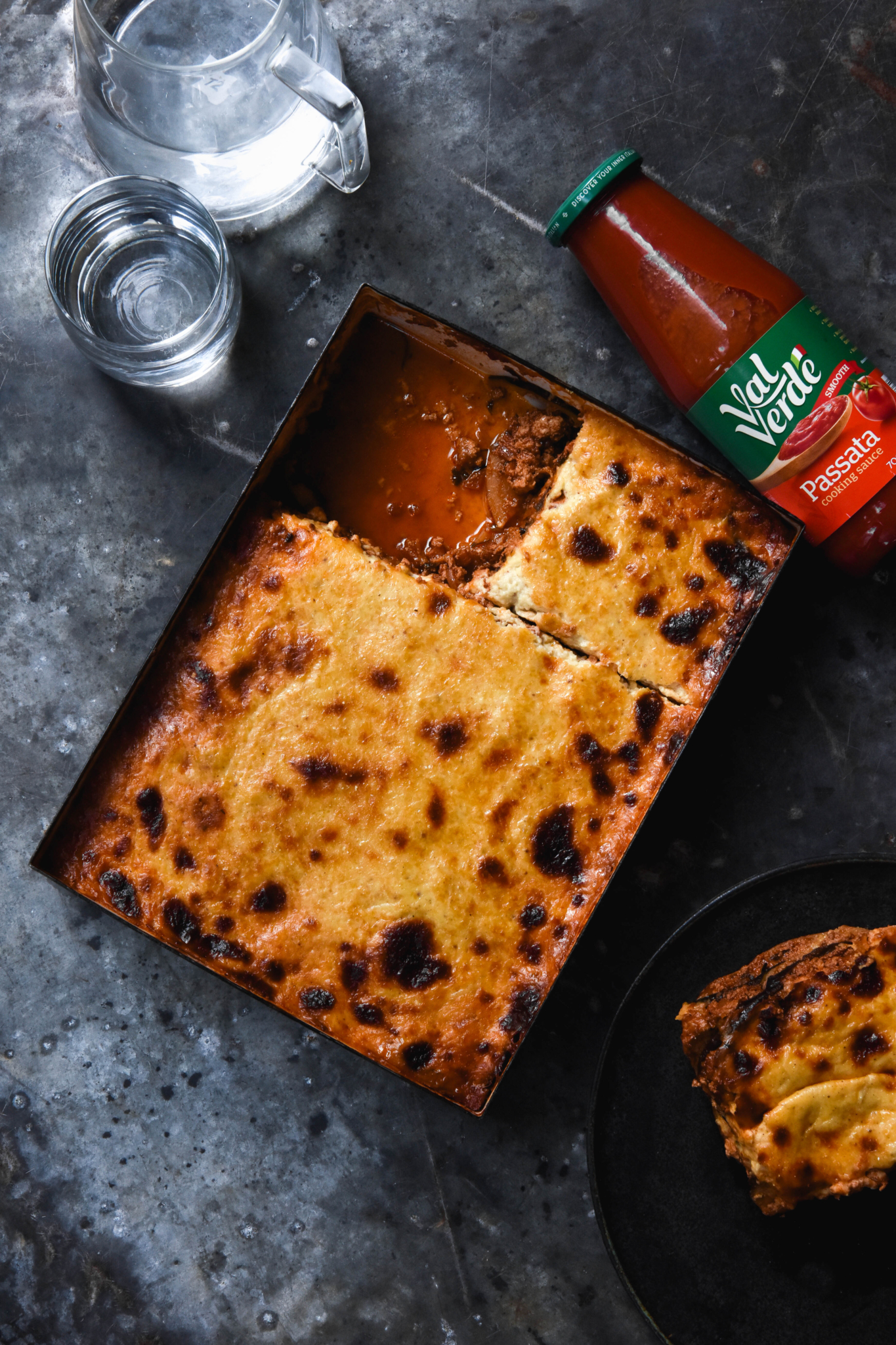 More hearty low FODMAP vegetarian recipes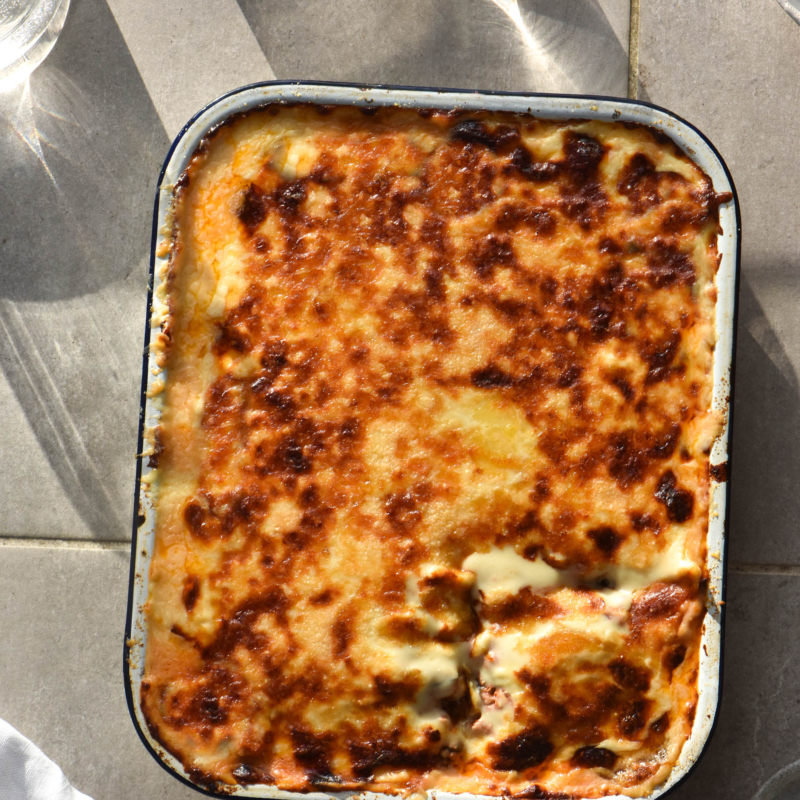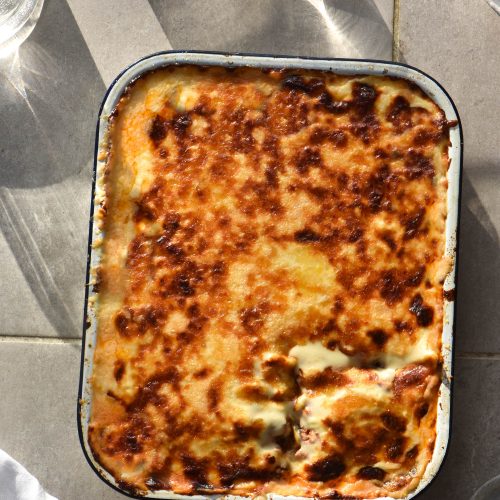 FODMAP friendly vegetarian moussaka
Nut free, gluten free, grain free, dairy free/vegan adaptable
Ingredients
For the vegetable layers:
Plenty of olive oil

4-5

large potatoes

thinly sliced

4-5

zucchini

sliced lengthways

3-4

medium/large eggplant

sliced thinly lengthways

Half bunch rosemary sprigs

remaining half used in the mince

Half bunch thyme sprigs

remaining half used in the mince
For the vegetarian mince:
2

large carrots

finely chopped

4-5

green parts of spring onion

chopped

2-3

sprigs rosemary

woody stalks discarded and then chopped

2-3

sprigs thyme

woody stalks discarded and then chopped

2

tablespoons

Tamari or gluten free soy sauce

1

tablespoon

mushroom oyster sauce

1

tablespoon

balsamic vinegar

1

tablespoon

light brown sugar

2

tablespoons

tomato paste

500

g

extra firm tofu

crumbled into small mince like pieces

250ml

(1 cup)

red wine

see notes

500ml

(2 cups)

passata (see notes)

Seasoning

to taste

Asafoetida

to taste (optional)
For the bechamel:
50

g

butter

3

tablespoons

gluten free cornflour

3

cups

milk

1/2

teaspoon

ground nutmeg

use less if you're grating it fresh

100-200

g

parmesan

use divided (reserve half to top the moussaka)

Salt and pepper

to taste

1

extra large egg
Instructions
To bake the vegetables:
Preheat the oven to 180C/360F. Thinly slice your vegetables (around 1/4-centimetre width is ideal) and arrange them on 2-3 baking trays. Give each tray a good drizzle of olive oil, some seasoning and a few sprigs of rosemary/thyme. Bake each tray for around 20-30 minutes or until cooked through and golden. Repeat until you have cooked all the vegetables. Keep the oven on.
To make the mince:
Heat the oil in a large skillet or pot over a medium heat. Once warmed, add the chopped carrot and stir to coat. Turn the heat to low and cook for around 10 minutes or until the carrot has softened, shrunk and become a little brown.

Add the spring onion greens and herbs and continue cooking until the spring onion greens have softened and become fragrant, about 2-3 minutes. Add a splash of water at any point if the mixture is sticking.

While this is happening, whisk together the Tamari, mushroom oyster sauce, balsamic vinegar, light brown sugar and tomato paste in a small bowl.

Add the crumbled tofu into the pan and stir thoroughly to coat and combine. Pour in the Tamari mixture and continue stirring until the tofu is coated. It should take on some of the colour from the sauce. Allow it to cook for a couple of minutes until it begins to thicken, then add the red wine to deglaze the pan. Add the Val Verde passata and stir to combine. Leave to cook, stirring intermittently for 10-15 minutes or until cooked through and mince-like in colour and texture. Taste, season and taste again before removing from the heat.
To make the bechamel:
Place a medium- large saucepan over a medium heat. Melt the butter before adding in the cornflour. Whisk to combine and allow the paste to bubble up and cook out for about a minute. Add the milk and whisk to combine.

Cook for around 2-3 minutes or until the roux has thickened considerably. It should be custard like in thickness and should coat the back of a spoon.

Add the nutmeg and whisk through before adding the parmesan. Whisk well to combine and remove from the heat. Taste the béchamel and adjust for salt and pepper. Then allow to cool to a hand comfortable temperature before whisking through the egg. Don't add the egg while the béchamel is hot or it will curdle.
To assemble the moussaka:
Place the cooked potato rounds in your L31cm x W23cm x H5cm baking dish. Arrange them so that they cover the bottom of the dish. You can also divide between two smaller dishes if thats what you have.

Scatter 1/3 of the tofu mince over the potatoes. I find by far the easiest way is to use a clean hand to spread it evenly. It will be quite a thin layer of mince but all of the potatoes should have mince atop them, even if it is a scraping.

Next, add a single layer of the baked zucchini and repeat with 1/3 of the mince. Finally, add the baked eggplant and the remaining mince.

Pour the béchamel over the top of the mince carefully so as not to disturb it and muddy up the béchamel. Use the back of a spoon to spread the béchamel to all edges.

Sprinkle the moussaka with the remaining parmesan and place the whole moussaka on a large baking tray (this will make it easier to pick up without ruining the nice top at the end). Transfer to the oven and bake for 30 minutes or until the top is golden and bubbling. Serve immediately. The moussaka can be kept in the fridge for a number of days. I see no reason why extra portions couldn't be frozen (although I never have any extra at my house).
Notes
To make the moussaka vegan, omit the egg and use vegan alternatives for the dairy products.
1/4 cup (72g) is considered FODMAP friendly. This moussaka uses 2 cups of passata and serves 8.
You can also use my low FODMAP Nomato sauce recipe to replace some or all of the tinned tomato. One batch of Nomato sauce makes approximately 1.2kg, which is equivalent to 3 x 400g cans of tinned tomato.