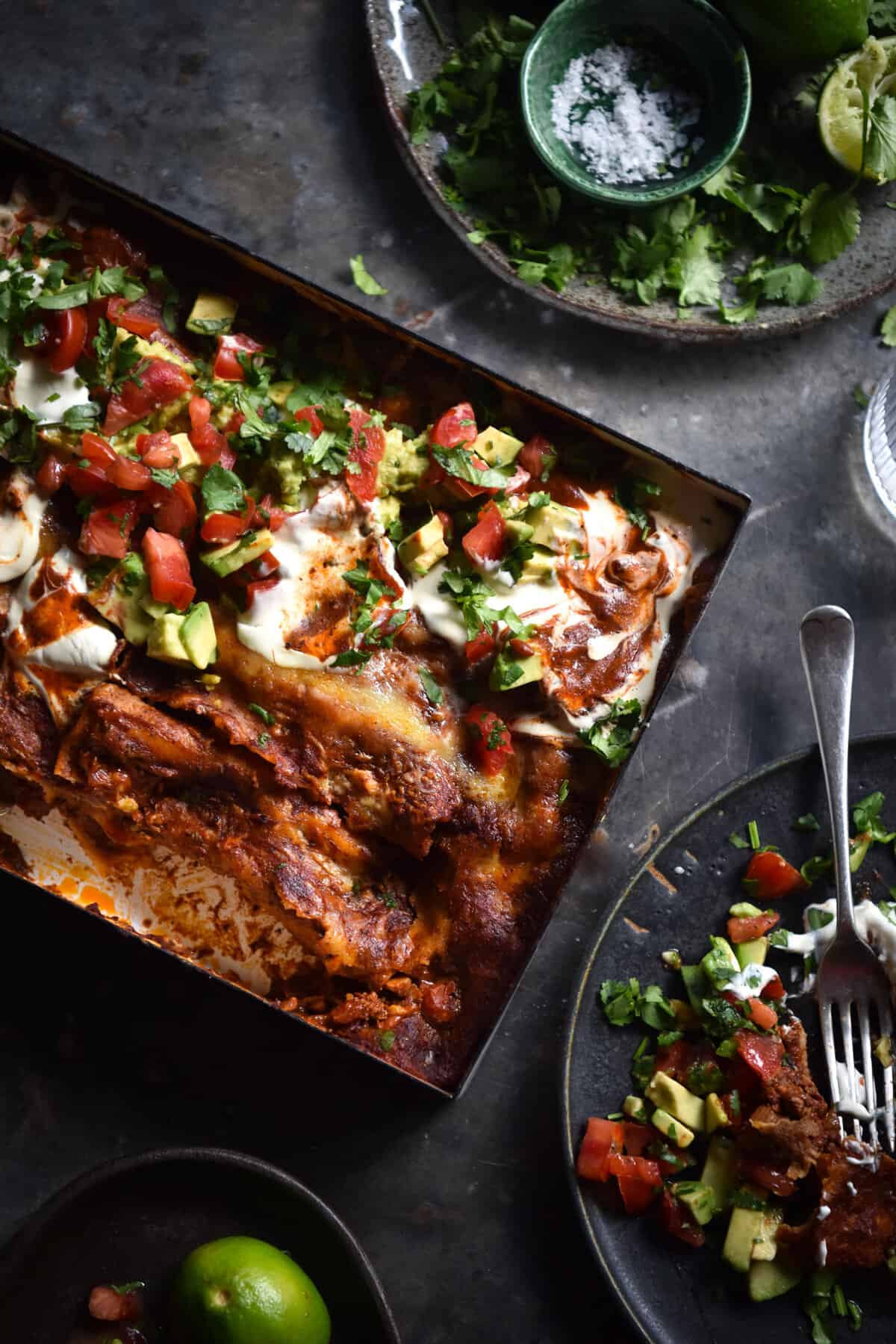 I've probably written before about the only meat I'd eat prior to going pescetarian: taco mince. Not all mince – solely heavily flavoured, 'minced-up' mince that bore little to no textural resemblance to the raw product. Basically, I wanted taco mince without the confronting reality of texture of meat. Fast forward 5 or so years later and I'm positively boring my audience with all the uses for vegetarian taco meat I can think of. Today, that use happens to be in FODMAP friendly, vegetarian enchiladas.
Given my love of taco mince, I'm always a bit offended at the vegetarian enchilada offering. Roast vegetables or mushrooms are the standard. They're fine, but they're not MINCE. So, as always, tofu saves the day. I've written about the ol' tofu method in the OG vegan bolognese post. It also gets a run down in the more recent mac and cheese bolognese bake. If you'd prefer an outside source to confirm that the tofu freezing method is actually a thing: this link is for you.
FODMAP friendly vegetarian enchiladas
These enchiladas, as the title suggests, are vegetarian and FODMAP friendly. They're also gluten free, nut free, and made vegan simply by using a vegan cheese substitute. A dinner party home run, or the week's worth of work lunches of your dreams.
I would like to point out, however, that these are not particularly authentic enchiladas. Here in Australia (or in Melbourne, at least) we have a particularly basic array of chillies available (I remember how excited I was when jalapenos started appearing at the big supermarkets.) While a traditional enchilada sauce is thickened with the properties of certain chillies, this one is very much a cheats version using gluten free corn flour. As for the innards – they're tofu. That's all that needs to be said on the authenticity front.
If you, like me, are heavily into tofu mince, allow me to list all of my tofu mince recipes. My knowledge of tofu freezing is randomly interspersed on each, so please enjoy an easter egg hunt of tofu information!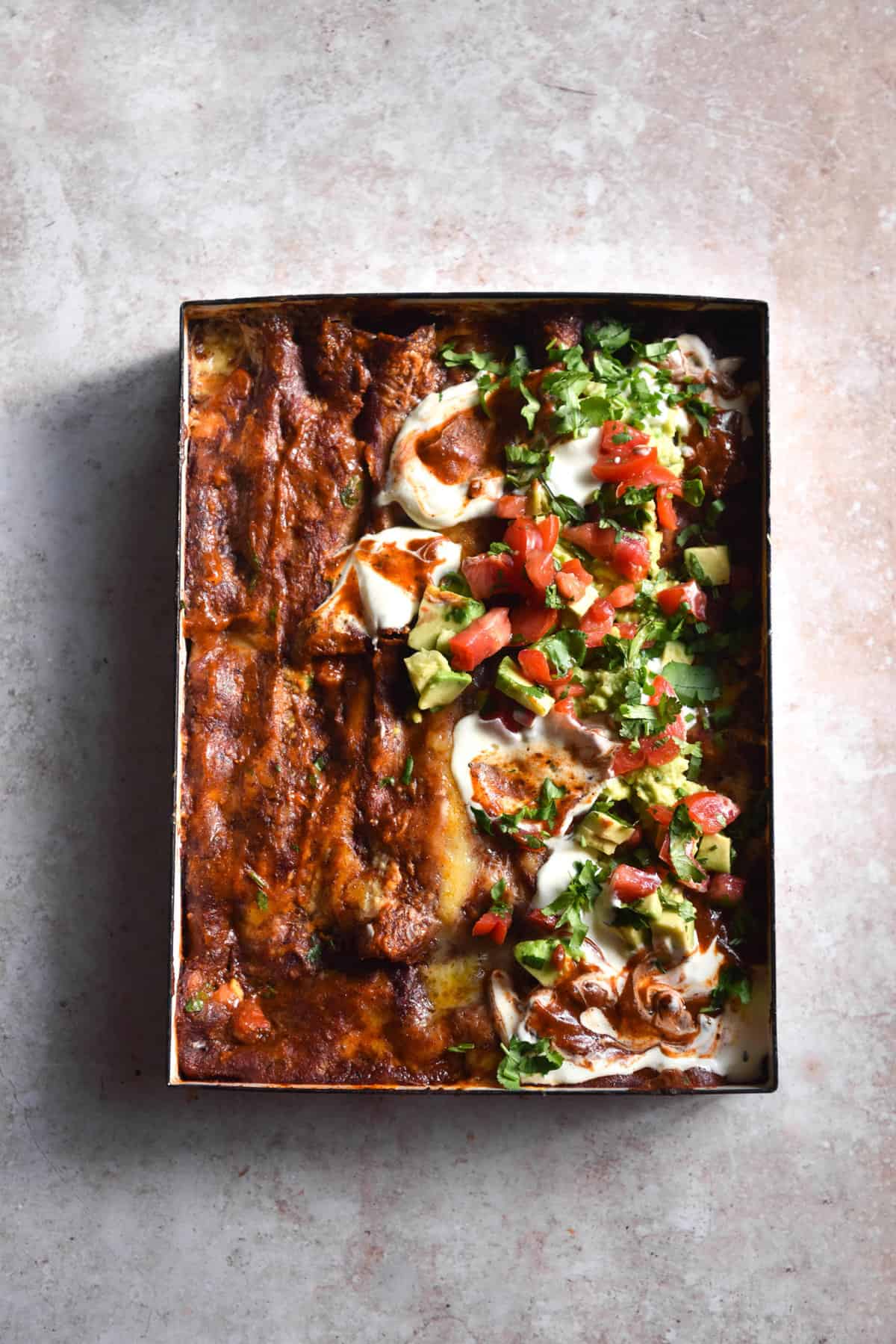 FODMAP friendly enchilada notes
A few essential notes to get us smoothly on our way:
I have used white corn tortillas for this recipe. They're naturally gluten free, authentic, and taste amazing with a few nifty tricks. If you're in Melbourne (or if you see them in Australia in a specialty store) I highly recommend La Tortilleria. They're made the traditional way which means they're a lot more flexible and generally delicious than the other white corn varieties.
On the note of white corn tortillas, the secret to making them bendy and not heinously dry is to lightly shallow fry them in hot oil. This has the double bonus of coating the tortillas so they don't become soggy. Don't try and skip this step – you'll end up with broken, soggy mess. Not a good time.
Freezing the tofu is a necessary step in achieving the mince like texture, and for minimising the water content of the tofu. I discovered a good trick to speed up the thawing – throw the (sealed) packet into the water before/after/during doing the dishes. Saves water, saves time, thaws tofu.
On the note of tofu, make sure you buy FIRM tofu, and chuck it in the freezer the night before. Anything else – semi firm, silken – won't thaw in the same way and will be a giant mess.
As mentioned, you can easily make this vegan by using vegan cheese and sour cream/coconut yoghurt. There are no animal products in the main components of the dish.
You could add some grated carrot, zucchini (drain it first) or other vegetables to bulk out the mince, if you like. You could probably also add a bit of cooked rice. Without extra veg, this bake makes 15-16 fully stuffed enchiladas, so you could definitely stretch the mince with additions.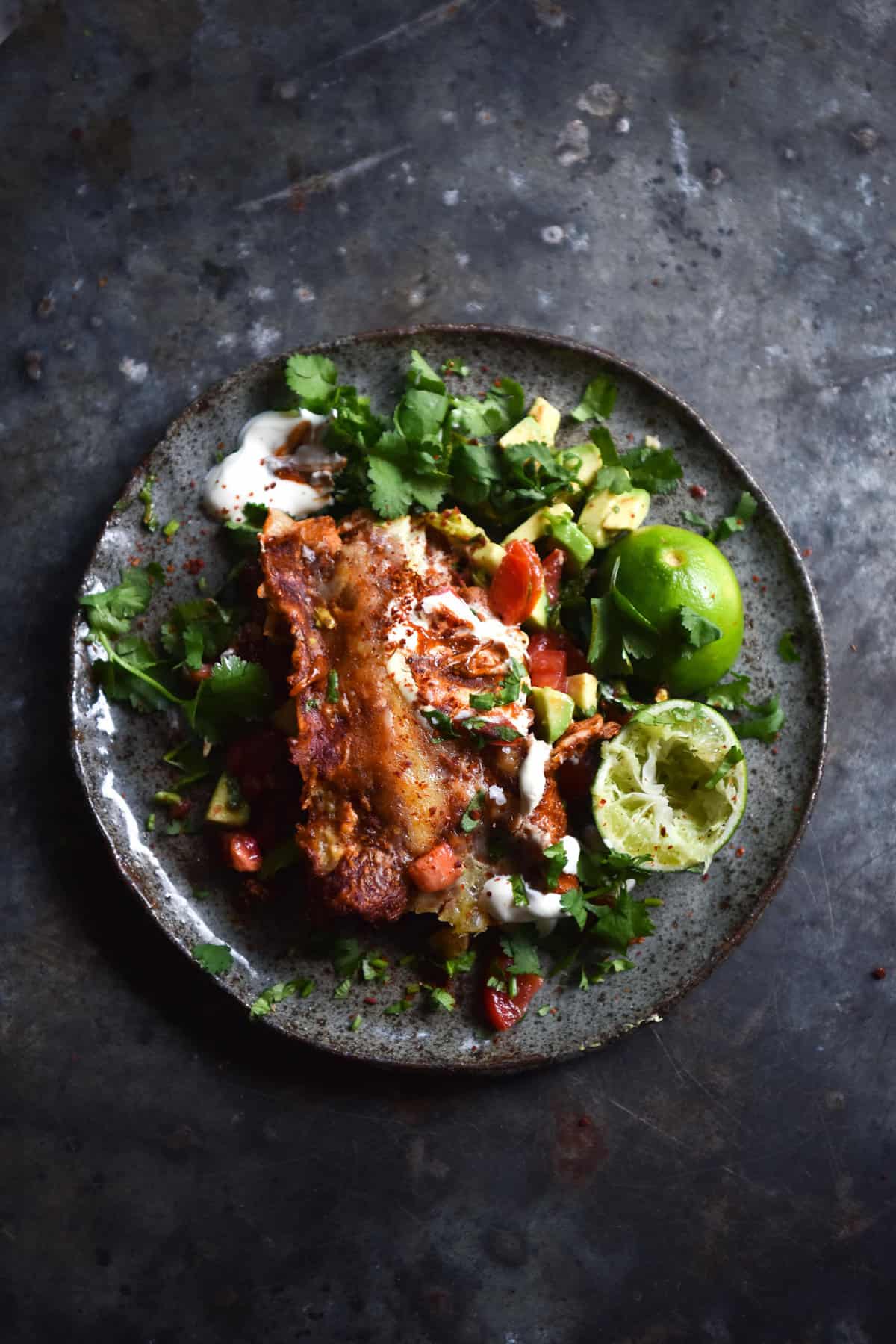 FODMAP notes
To keep the lactose content of the dish down, you have a few options. Firstly, it's worth noting that cheddar is naturally quite low lactose, so that's what I use. If you're particularly intolerant, you can buy lactose free cheese and sour cream. If you want to go further, you can also use vegan substitutes, although check the labels for any high FODMAP ingredients first.
This dish contains 500g of tofu, spread amongst 16 enchiladas. Tofu is FODMAP friendly in 160g (2/3 cup) serves per person, so this is well within acceptable limits.
Make sure your cornflour specifies gluten free if it needs to.
You can also use my low FODMAP Nomato sauce recipe to replace some or all of the tinned tomato. One batch of Nomato sauce makes approximately 1.2kg, which is equivalent to 3 x 400g cans of tinned tomato.
More of my vegetarian tofu recipes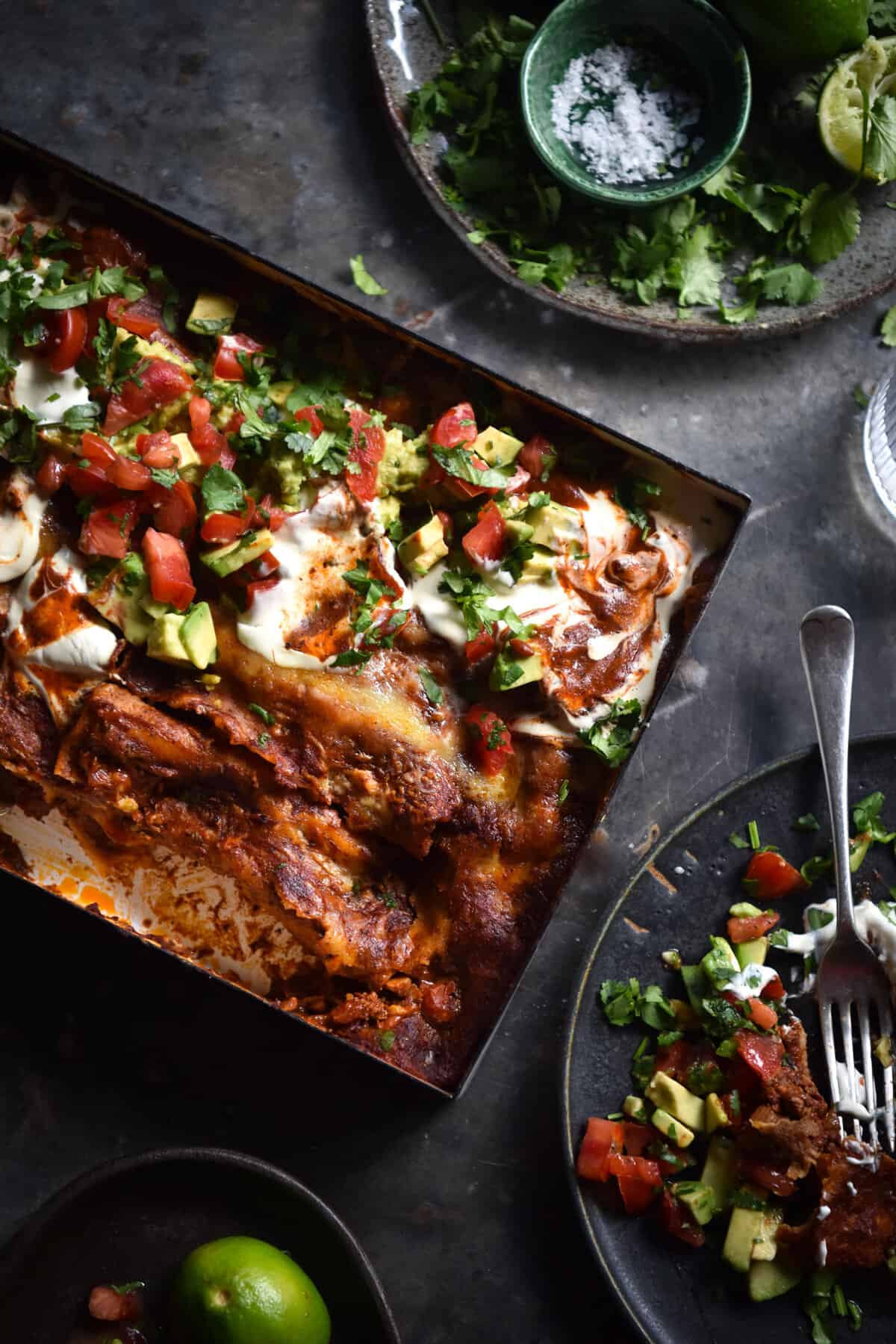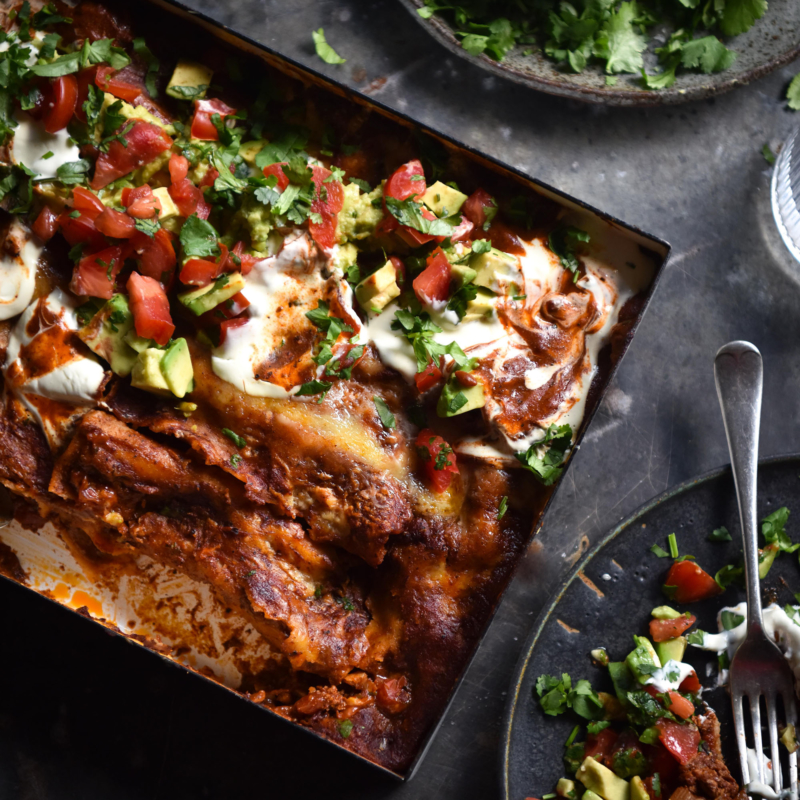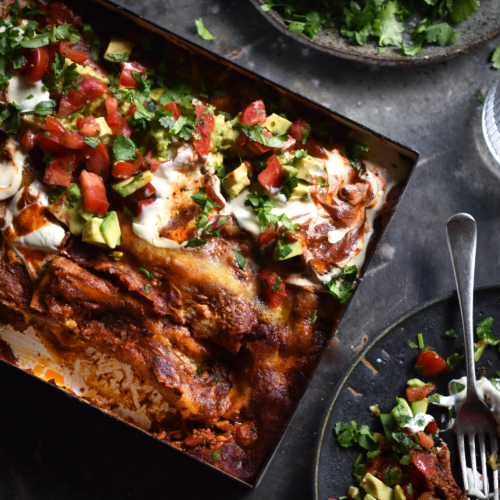 FODMAP friendly vegetarian enchiladas
FODMAP friendly, vegetarian, gluten free, nut free, vegan adaptable
Serves 6-8
Ingredients
For the vegan taco mince:
1 X 500

g

block tofu

frozen and then thawed and drained

3

tablespoons

olive or plain oil

2

medium carrots

finely sliced and chopped

3

teaspoons

smoked paprika

2

teaspoons

dried oregano

2-3

teaspoons

cumin

1

teaspoon

ground cinnamon

2

tablespoons

brown sugar

3

tablespoons

apple cider vinegar

2

tablespoons

Tamari

3

tablespoons

tomato paste

1-2

tablespoons

cocoa

optional but highly recommended

Chilli

to taste

2 X

400g

tins of plain canned tomatoes

(see notes)

Generous freshly cracked pepper
For the enchilada sauce:
3

tablespoons

(60ml) olive oil

2

tablespoons

gluten free cornflour

3

teaspoons

smoked paprika

3

teaspoons

dried oregano

3

teaspoons

cumin

1-3

teaspoons

ground chilli

I used 2 teaspoons of Kashmiri chilli which has less heat

1

teaspoon

cinnamon

1

teaspoon

cocoa

optional

1

teaspoon

sea salt flakes

3

cups

(750ml) FODMAP friendly vegetable stock

1

tablespoon

apple cider vinegar

1/2

teaspoon

Tamari

to taste (only if you need a salty umami kick)

3

tablespoons

tomato paste

Generous freshly cracked pepper
To finish:
16

white corn tortillas

Freshly grated cheddar cheese

smoked would be delicious

1-2

large tomatoes

chopped

1-2

ripe avocados

mashed or chopped

Coriander

chopped

Sea salt flakes

Sour cream

lactose free or vegan if you'd prefer
Instructions
To make the vegan taco mince:
Defrost your tofu as per the instructions in the Bolognese post (linked above in the notes.) Break it into little pieces, similar to the size and texture of cooked mince. Set aside.

Heat the oil in a large skillet over a low-medium heat until shimmering, and then add the finely chopped carrot. Cook for around 10-15 minutes, until the carrot is bronzed and shrivelled.

While the carrot is cooking, combine the spices, salt and cocoa in a small bowl. Open the tomatoes, measure out your tomato paste. The next few steps happen in quick succession.

Once the carrot is cooked, add the spices and stir thoroughly to coat. Next, add the apple cider vinegar, Tamari and tomato paste. The mixture will sizzle and evaporate rapidly as the liquid hits the pan, so work quickly. Add the tinned tomatoes and stir thoroughly to combine fully before seasoning for taste.

Add the tofu 'mince' to the skillet and stir thoroughly to coat. Allow to cook for around 5 minutes or until the tofu has completely taken on the colour of the sauce. This mince can be used to fill tacos straight off the bat, or you can follow along to make it into enchiladas.
To make the enchilada sauce:
Measure your spices, cocoa and salt into a small bowl, prepare the stock and have the liquid ingredients at hand. This recipe moves quickly once it gets going.

Heat the oil over a low-medium heat in a large skillet (I see no reason why you couldn't just decant the tofu mince and reuse the same one – more flavour, less dishes.) Once the oil is shimmering, add the cornflour and use a spatula to combine. At first the mixture will seem dry, but eventually the flour will start to bubble up and form a sort of paste. It is essentially a vegan roux.

After a minute or so, add the spices to the mix, and stir to combine. Mix in the Tamari, apple cider vinegar and tomato paste, pouring the stock over the top. Stir to combine, and allow the sauce to cook for around 5-10 minutes or until it has thickened. Remove from the heat, let's make some enchiladas.
To make the enchiladas:
Take a large baking tin and ladle about half the enchilada sauce into the base of the tin. Preheat the oven to 180 degrees Celsius or 356 Fahrenheit.

Place a nonstick pan over a medium high heat, and coat the base with oil. Once the oil is shimmery, drop in 1 tortilla at a time, cooking each side quickly until it is bubbly and coated in oil. This will stop the tortillas from breaking as you roll them, and prevent them from becoming exceedingly soggy. I like to do this is an assembly line format – cook 1 tortilla and then stuff it with the mince, roll it and place in the tin while the next is cooking. I think the tortillas are best rolled while warm, which is why I do it this way.

Either way, stuff each tortilla generously with mince. Place the mince towards one side of the tortilla, not in the centre. This helps ensure they don't unfurl when you roll them. Roll the tortilla and place it seam side down into the tin. Repeat with the remaining tortillas until the tray is full.

Top the tortillas with the remaining enchilada sauce, and then cover with as much freshly grated cheese as you fancy. Pop the bake into the oven for around 15-20 minutes – all the elements are cooked, so you're basically just waiting for the cheese to melt and go brown.

While you're waiting, chop the avocado, tomato and coriander, and place it in a large bowl. Spritz with lime juice and season with sea salt flakes, to taste.

To serve the bake, either plonk the salsa on top or serve it as a side. Either way, scatter with generous sour cream and go to town.
Notes
Plain tinned tomatoes are considered FODMAP friendly in 100g serves per person. This recipe uses 800g tinned tomatoes (2 tins) and serves 8 people, which puts it within an acceptable FODMAP limit. 
You can also use my low FODMAP Nomato sauce recipe to replace some or all of the tinned tomato. One batch of Nomato sauce makes approximately 1.2kg, which is equivalent to 3 x 400g cans of tinned tomato.