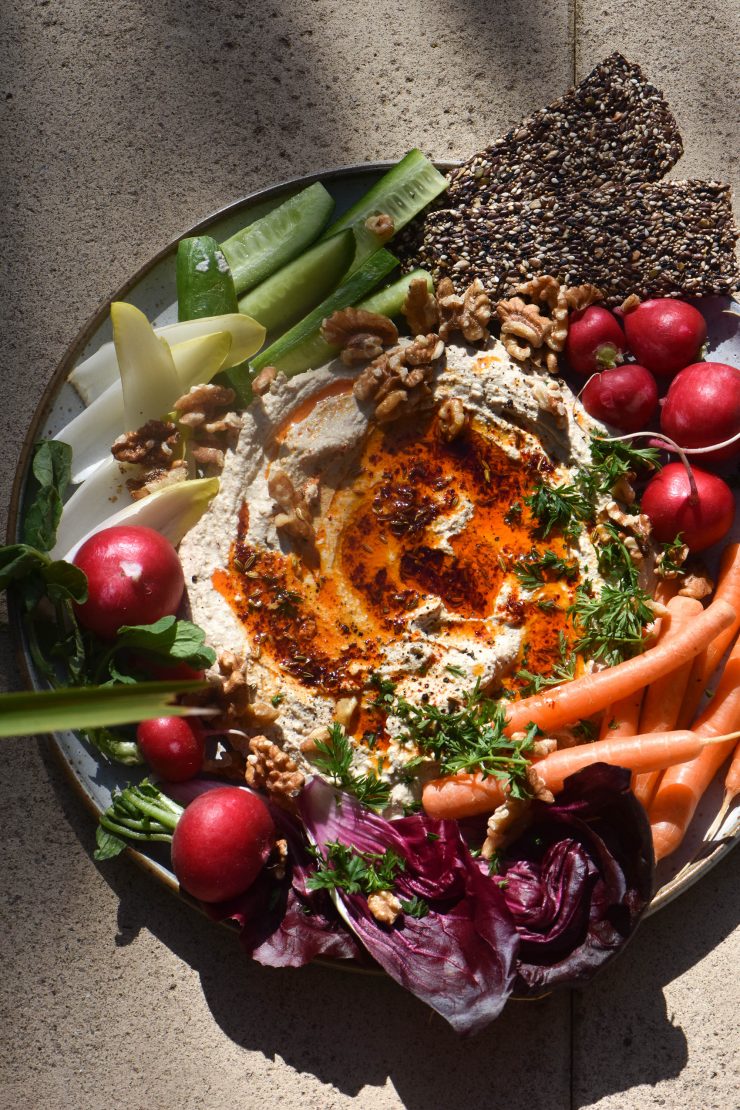 Many moons ago I published a recipe for a FODMAP friendly hummus made from zucchini. I still love that recipe, but I wanted to better emulate the filling, protein packed delight that is hummus. Let' be clear: this should be considered faux-mus rather than hummus. Hummus has centuries of tradition and is deeply embedded in Middle Eastern cultures and traditions. This is a hummus approximation for people who feel horrendous after eating things like chickpeas and garlic.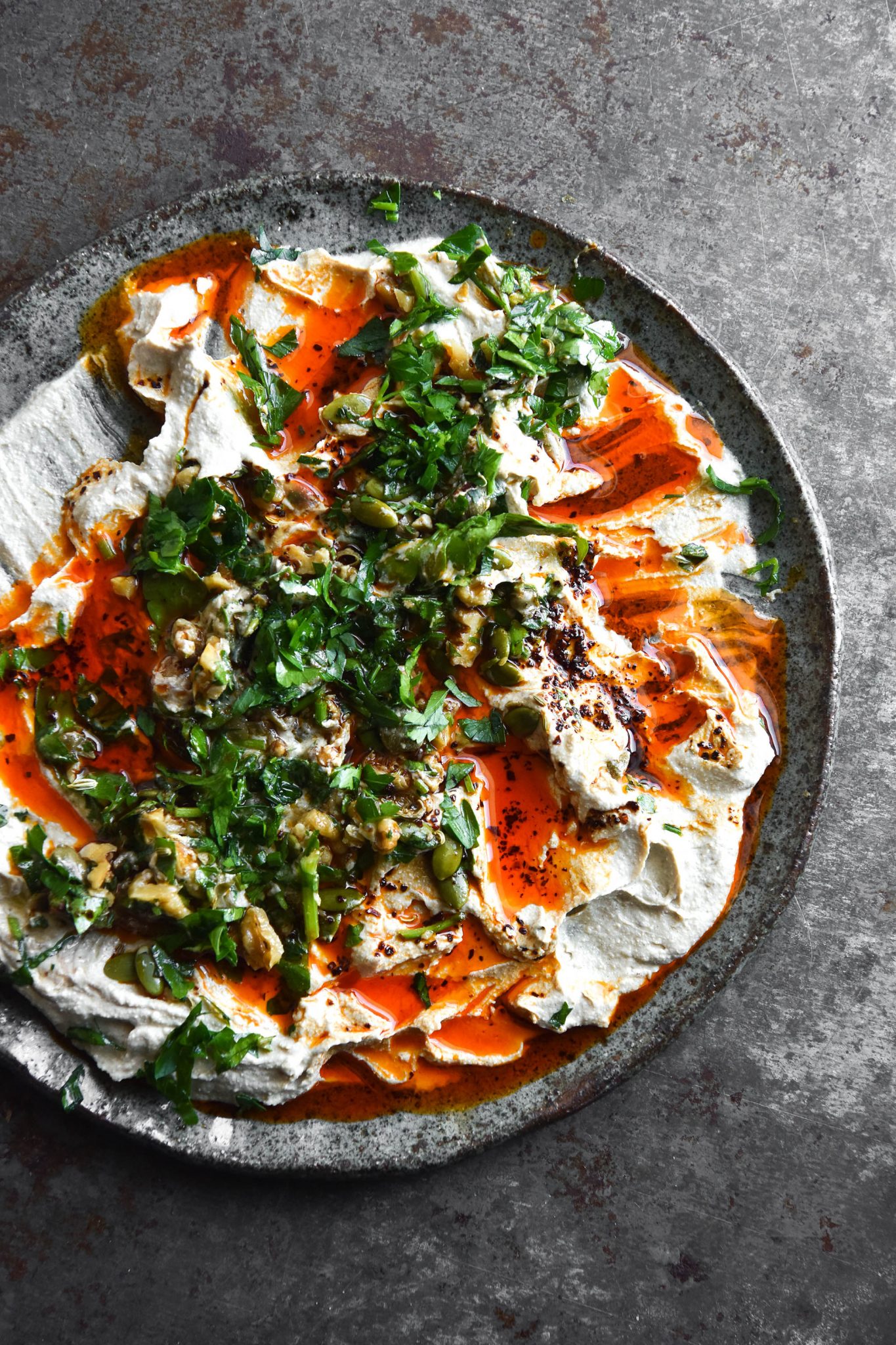 FODMAP friendly hummus
In what will come as a shock to approximately 0% of you (given the vegan bolognese, enchiladas, et al) I have used TOFU to make this FODMAP friendly hummus. Soybeans are a legume, like chickpeas, meaning they have considerable protein content. Tofu is bland in flavour and can really be moulded in any way you fancy. What is a little different from my regular tofu recipes, though, is my newfound love, infused garlic and onion oil. The fructans in onion and garlic are water soluble but not oil soluble. This means that you can infuse your oil with their flavour without any adverse effects. A game changer!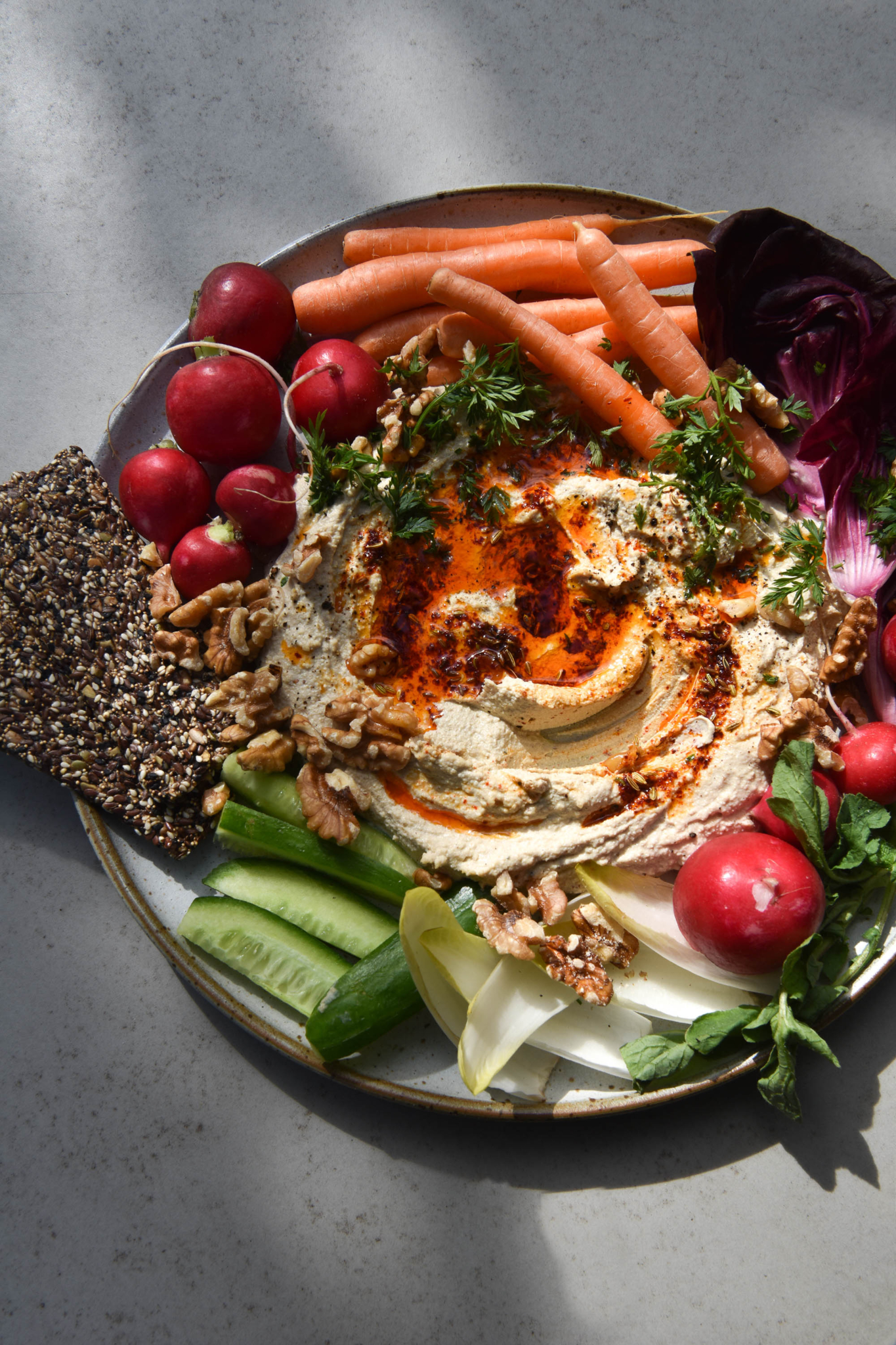 FODMAP friendly hummus ingredient notes
Firstly, we will be using firm tofu. Firm tofu is the most FODMAP friendly of the bunch – 1 cup or 170g per serve. Given that most packets here in Australia are 400-450g, that's a fair old shake of the sauce bottle.
Tahini! What is hummus without tahini. 2 tablespoons or 30g are considered friendly by Monash, but then 185g or 3/4 cup contains only a moderate amount of GOS. This, to me, reads like you can get away with a little more than 2 tablespoons per serve (although you know your tolerance best). You can use the lesser amount of tahini specified, or you can just eat less hummus!
As we've discussed, onion and garlic oil is an optional but delightful addition to this FODMAP friendly hummus. Because the hummus is raw (yes, you can eat raw tofu) the oil brings a bit of that garlic magic without the flavour cooking out. You can absolutely make this with regular oil if you prefer – it's just a nice way to bring a traditional element to the hummus.
If you're not into onion and garlic oil, consider using asafoetida. Asafoetida powder is a gum traditionally used in Indian cuisine. It mimics the taste of cooked onion and garlic, so it is a really nice addition to FODMAP friendly dishes. Make sure you choose one that is gluten free if it needs to be.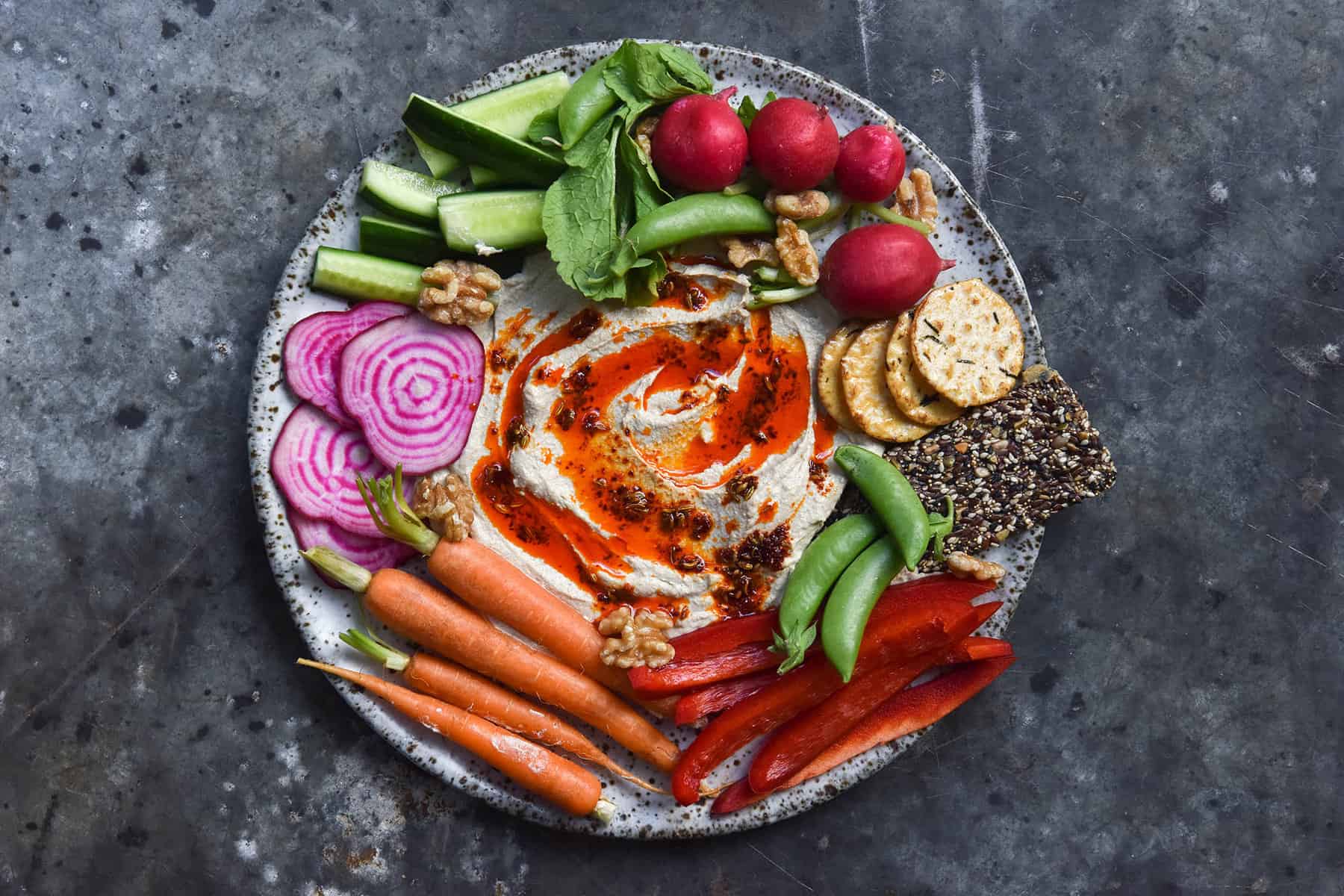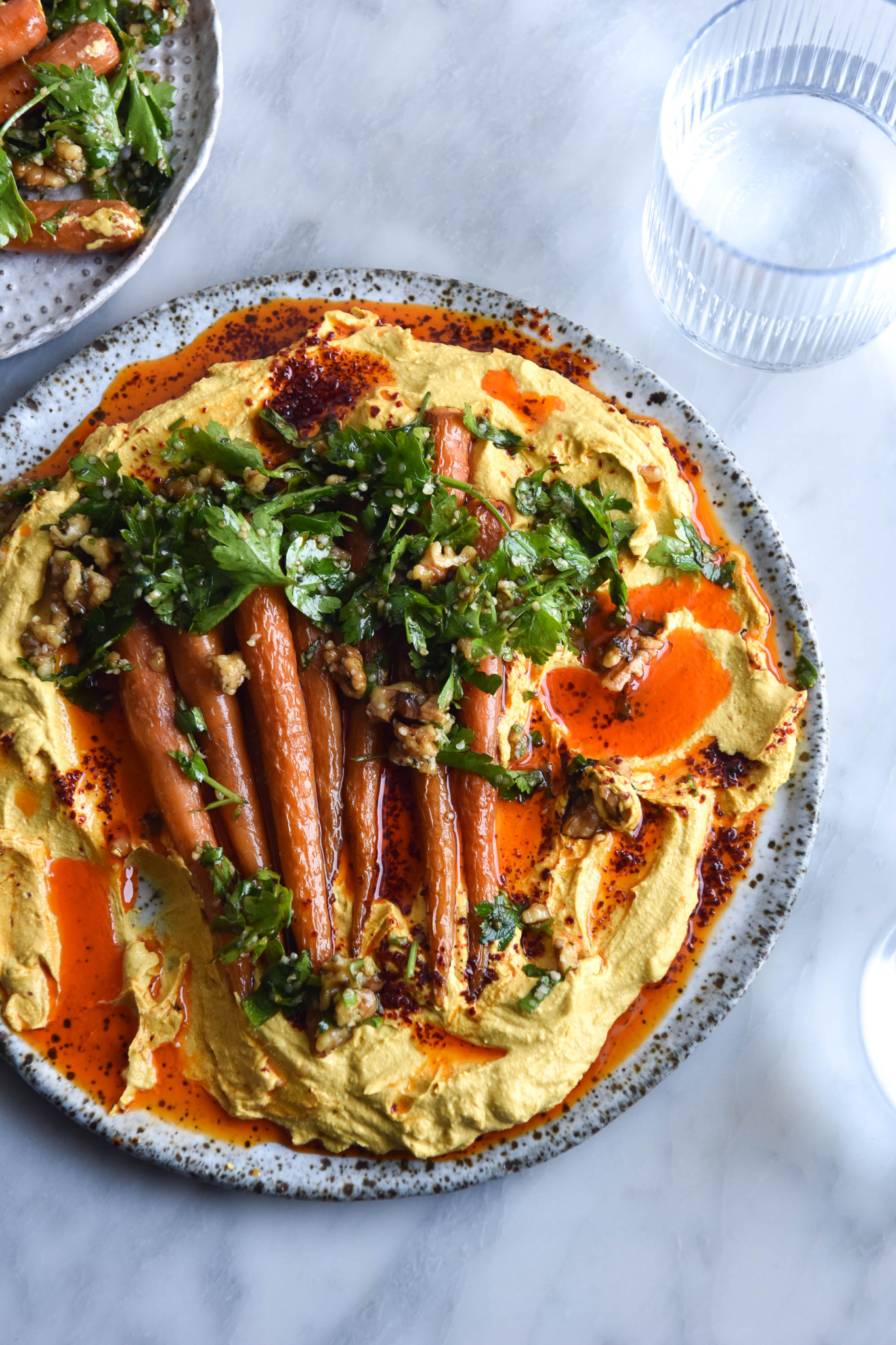 Things to consider when using homemade onion and garlic oil:
If you're planning to use garlic and onion infused oil, your hummus has a shortened shelf life. This is because garlic oil, if left for too long, can run a risk of developing botulism. Botulism can be fatal, so it's worth erring on the side of caution here, always. If you use the onion and garlic oil, make sure you eat the hummus within 3-4 days and keep it refrigerated.
Perhaps you want it to last a little longer? Just use a bit of asafoetida (or not) and regular olive oil instead. There's at least one hummus on the market in Australia without garlic (Pilpel) and honestly it's delicious. Garlic oil is a fun and delicious addition, but it's not strictly necessary.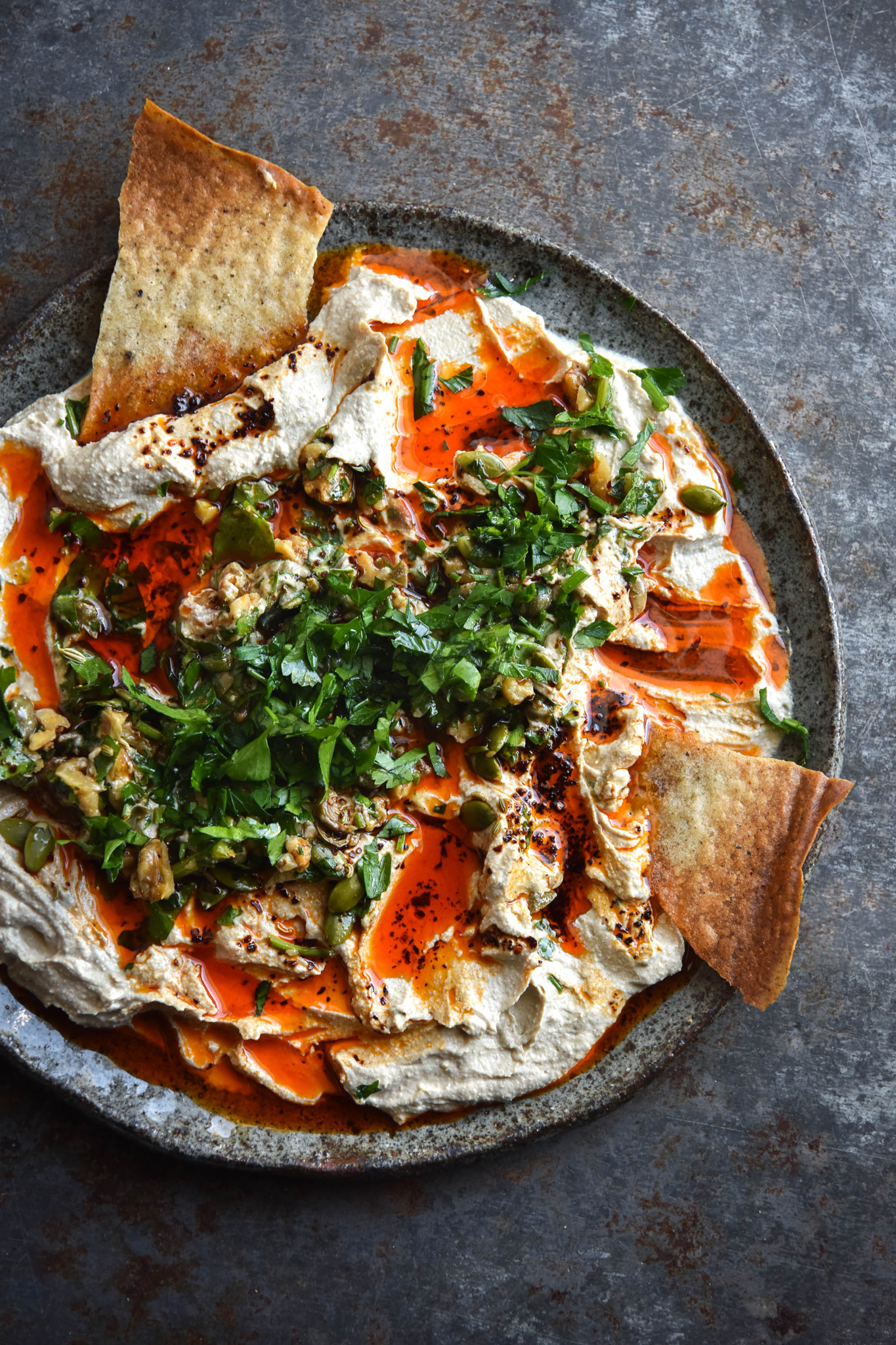 Recipe notes
This recipe uses firm tofu. If your firm tofu is a little squidgy, you might find you don't need to add any extra liquid. Add liquid according to the need and according to how thick you like your hummus.
It's a pain, but you can make this dip in a Nutribullet. The extra liquid helps here.
You can divide the recipe for a smaller batch, easy peasy.
As always, adjust according to your taste! I generally end up adding extra lemon juice and cumin because I like a very punchy hummus.
I don't have access to good quality fresh spices, so you might need to add less cumin if you use fresh spices. Add gradually and to taste.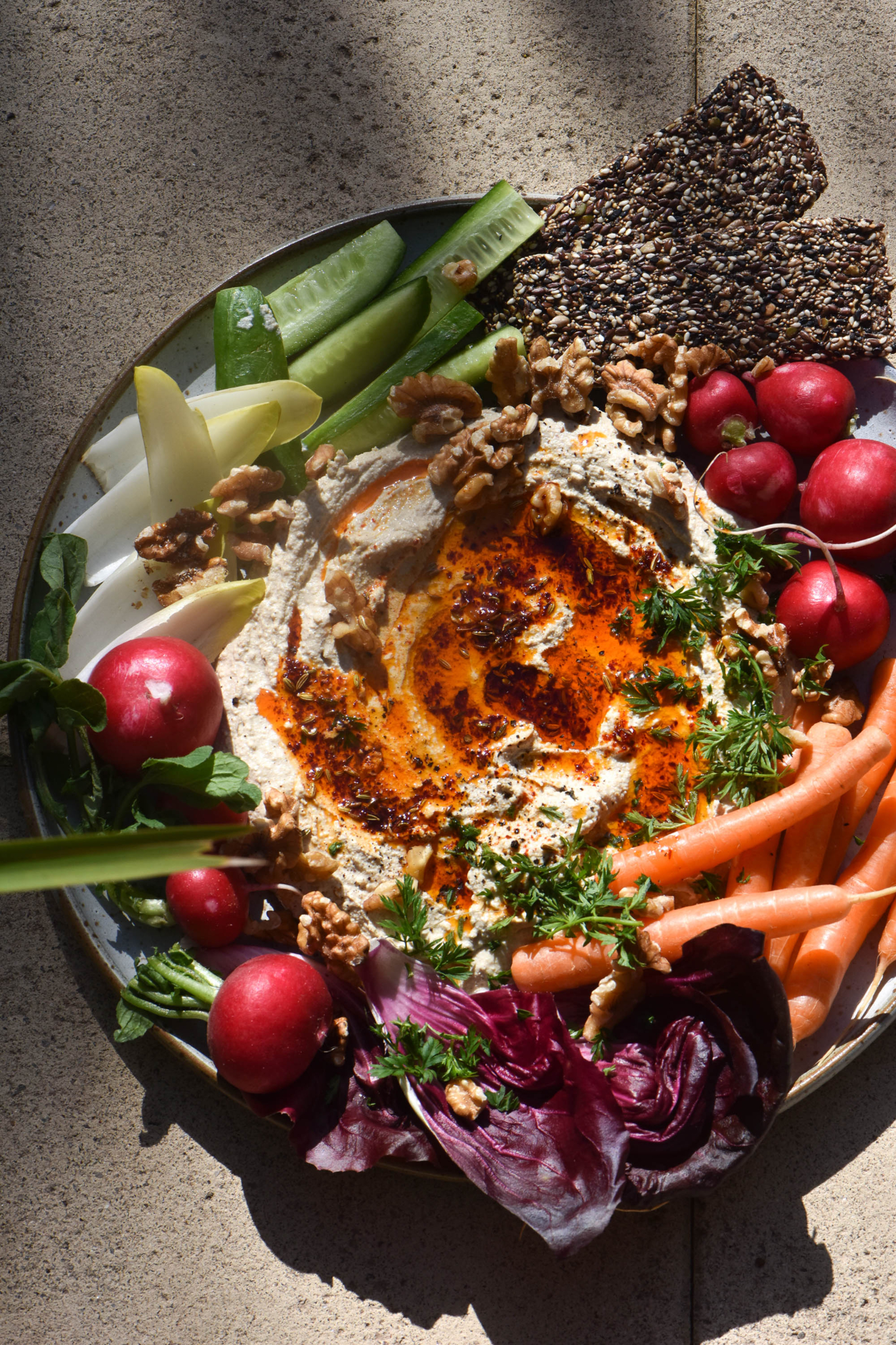 The secret (but optional) ingredient
FODMAP friendly hummus isn't quite as light and fluffy as hummus made with chickpeas. Tofu tends to blend up into a slightly more cloying (but still incredibly good) hummus. You might not notice it unless you compare the two side by side (which I did).
How to counteract that? Baking soda. Please, stay with me! I'm really not reinventing the wheel here: baking soda is well known for making a good hummus (Ottolenghi uses it, so it must be good).
The key difference, though, is that traditionally baking soda is used to soak the chickpeas, but here it is used as an ingredient. Why? Hummus is naturally acidic due to the lemon juice content, which makes it a perfect companion to a bit of a baking soda. The lemon juice reacts with the baking soda to produce an airy and lighter FODMAP friendly hummus. It's not compulsory, but it is a fun little trick for a fluffier hummus.
That said, more isn't more when it comes to baking soda. If you add too much, you'll get that soapy, salty baking soda taste. No good.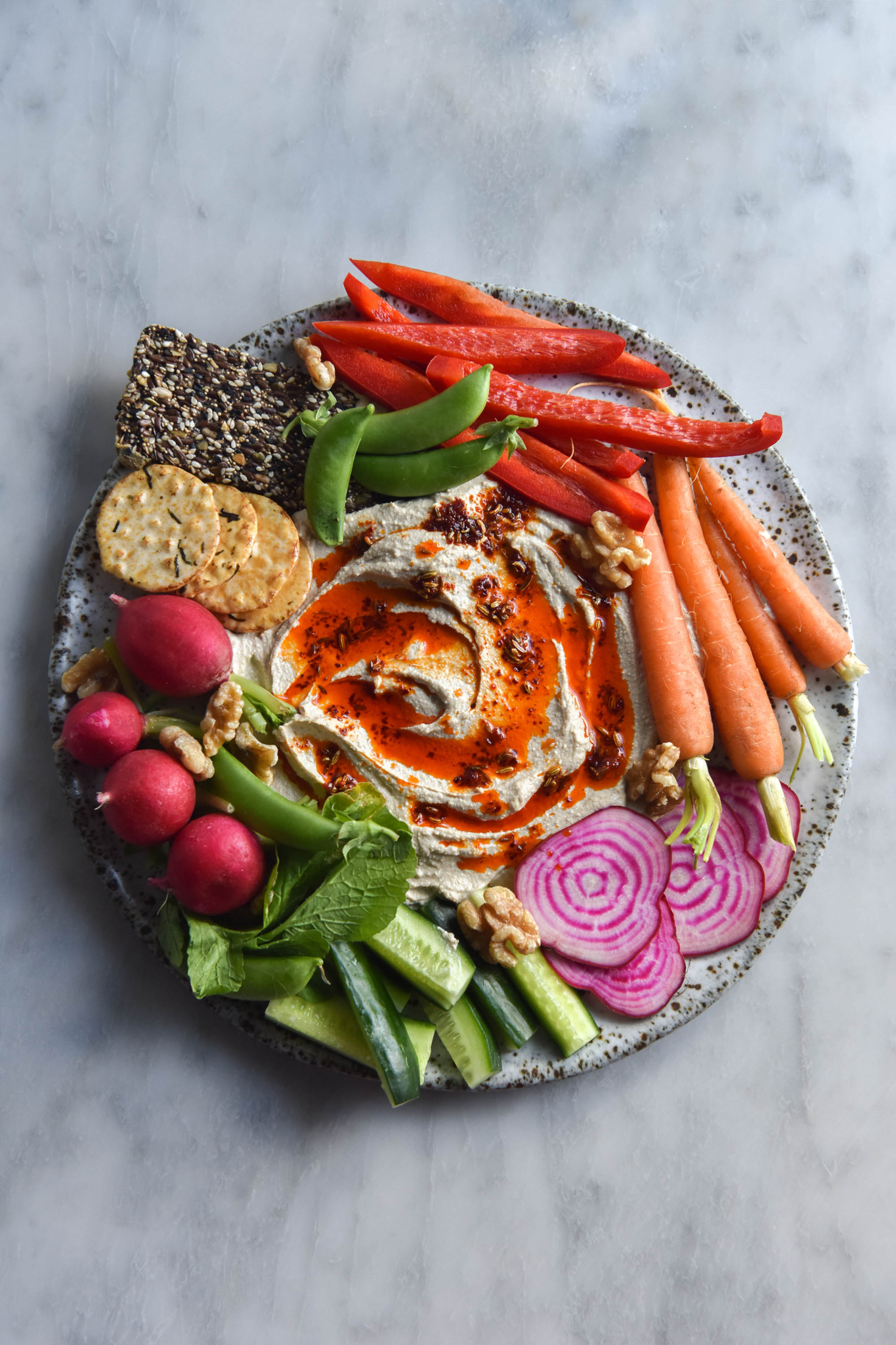 More FODMAP friendly vegan recipes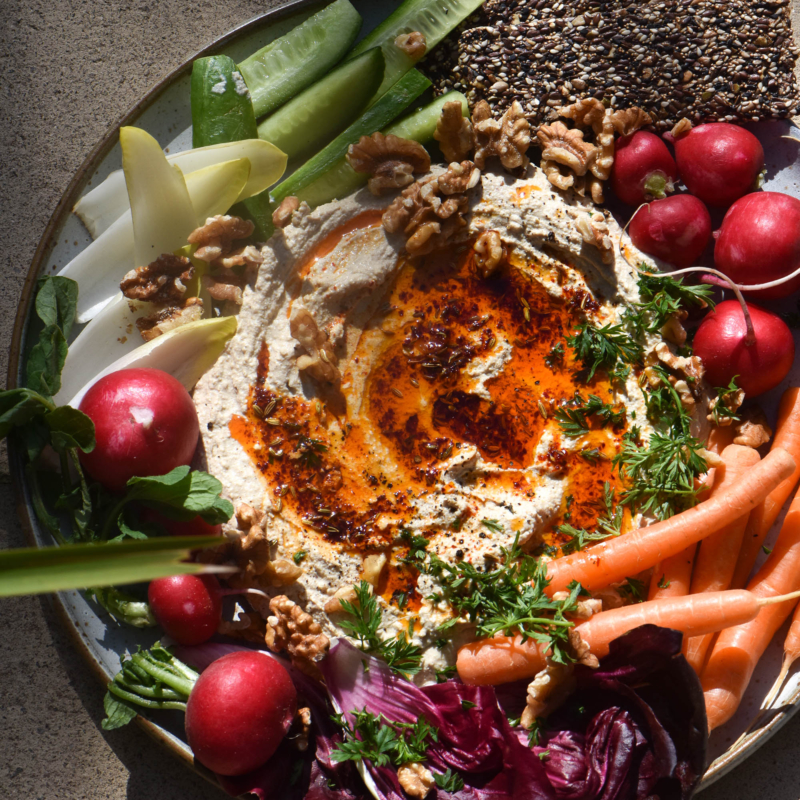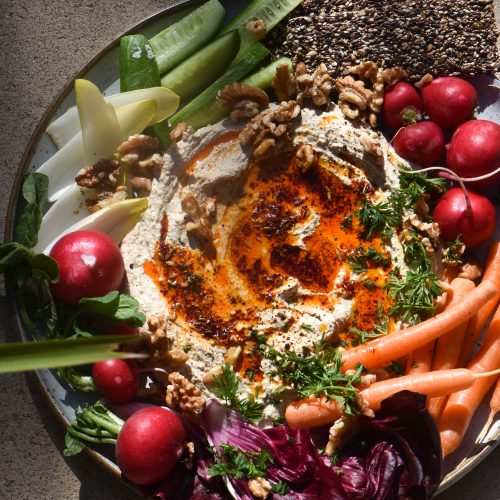 FODMAP friendly hummus
Gluten free, dairy free, nut free, vegan
Ingredients
For the (optional) onion and garlic oil (yes, it is FODMAP friendly)
5-10

garlic cloves, peeled and sliced (as many as you like/feel comfortable with)

1/2

white onion, sliced

1/2

cup

(125ml) olive oil (any sort)

OR just use the olive oil
For the hummus:
500g

firm tofu

(see notes)

1/3 – 1/2

cup

(125g) tahini, hulled or unhulled

1/2 – 3/4

cup

(60-125ml) fresh lemon juice, to taste (3-5 large lemons)

1-2

tbsp

cumin powder (dependent on taste and quality/freshness of the spices you use – I use 2 tablespoons)

1/4 – 1/2

cup

(60-125ml) soy milk or plant based milk of choice

(only as necessary, see notes)

1/8 -1/4

tsp

baking soda (optional)

salt and pepper, to taste
Instructions
To make the (optional) onion and garlic oil:
Peel and slice your onions and garlic. Heat the oil in a small saucepan over a medium heat. Add the onion and garlic and cook until fragrant and lightly browned, about 5 minutes. Take the mixture off the heat and allow to cool and sit for 10-15 minutes.

Strain the oil, making sure you don't squash or squeeze the garlic or onion.

Allow the strained oil to cool for 10 or so minutes, particularly if you're using a NutriBullet to blend. Feed the confit garlic and onion to a regular, non FODMAP household member (they'll love it, I promise!)
To make the hummus:
Add all your ingredients to the blender and blitz until smooth. Adjust for taste and thickness. I like to transfer the mixture to a bowl for the final adjustments, but that's because I use a NutriBullet and the shape of it means it is tricker to ensure the flavours are evenly distributed.

Add the baking soda and stir thoroughly to combine. Serve with crackers, crudite or whatever you fancy. Keep leftovers well refrigerated and eat within 3-4 days.
Notes
Tofu is completely fine to eat raw, just in case you are wondering.
Homemade garlic oil runs a risk of developing botulism if not prepared and stored properly. Botulism can be fatal. If you're using onion and garlic oil, make sure you eat the hummus within a few days. 
Make sure your garlic is good quality and doesn't contain any green sprouts in the middle of the clove. 
If you'e not comfortable with the onion and garlic oil, simply use 1/2 cup (125ml) in the main hummus and skip the infusing step.
Store leftovers in the fridge at all times. 
To make make pumpkin hummus, add 200-300g of steamed or roasted pumpkin to the blender. I found I needed to add 1 extra tablespoon of cumin to balance the flavours