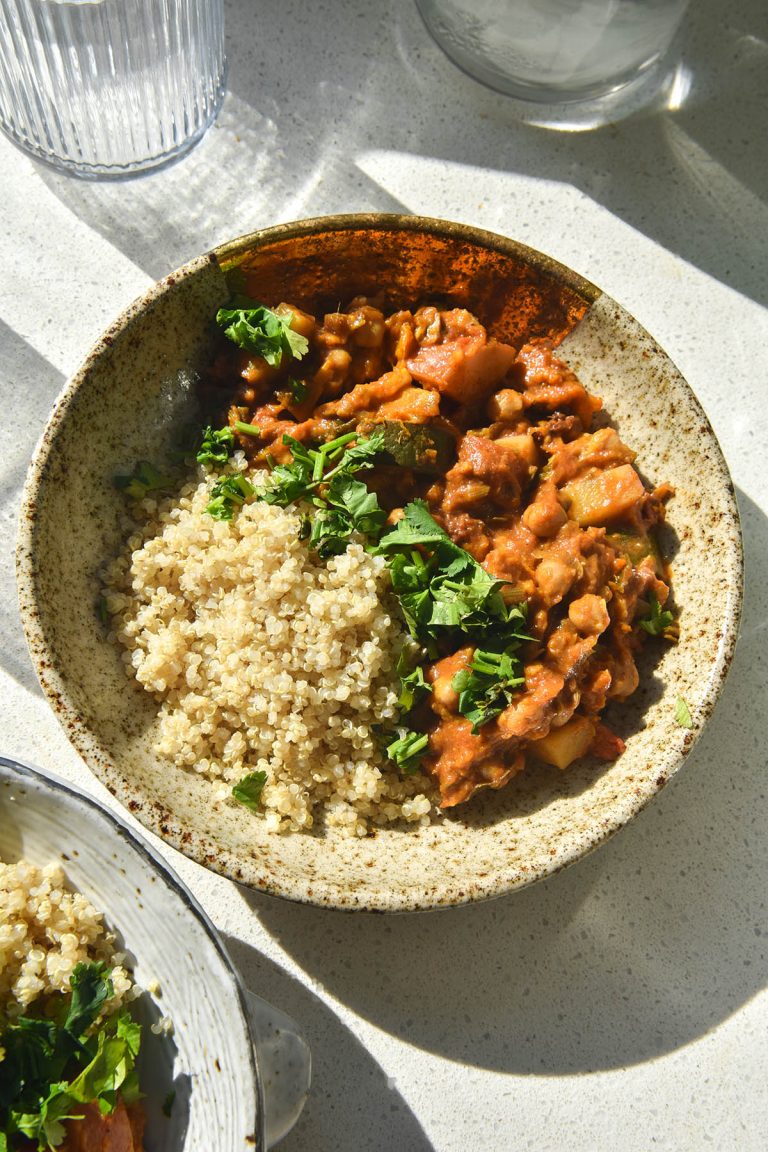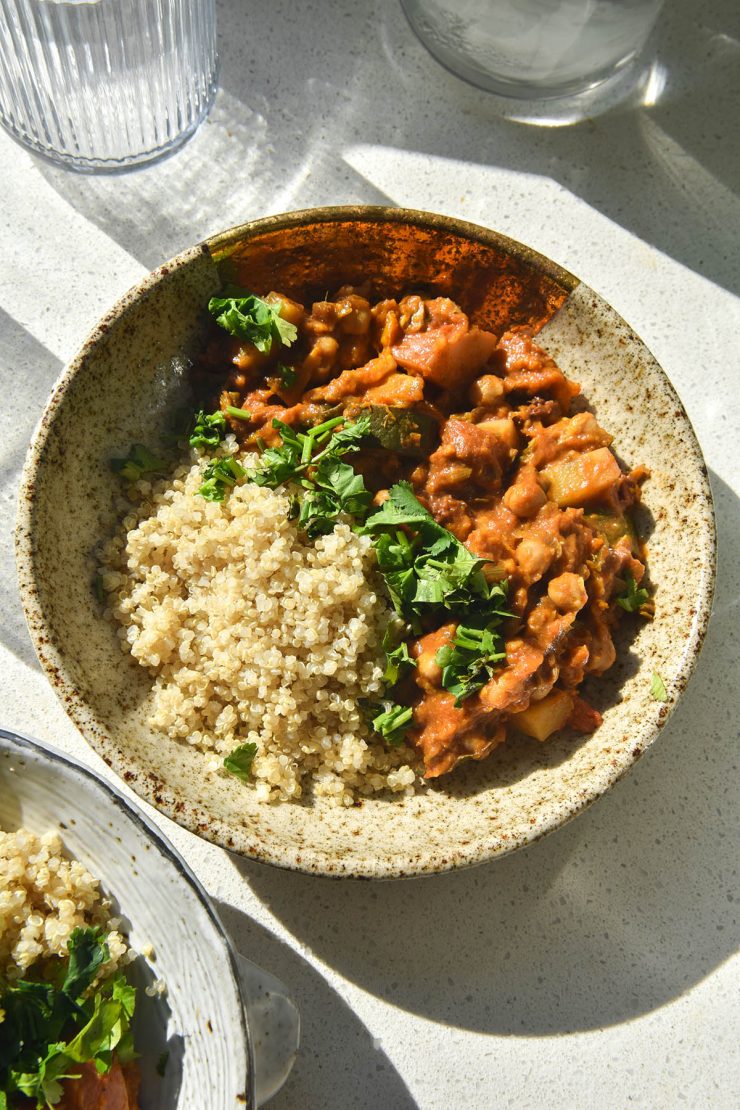 Before we begin, a bit of housekeeping: this FODMAP friendly vegetable tagine is best considered tagine style. To keep it within acceptable FODMAP limits, I have had to change up some of the ingredients. As such, it is in no means a traditional vegetable tagine.
Tagine is a North African dish akin to a stew, often made with meat and vegetables. It also refers to the cooking vessel using for making tagine – a flat earthernware cooking dish with a conical lid. I have made this FODMAP friendly vegetable tagine in a pot since I don't have a tagine.
As always, my recipe differing from tradition is never with the intention of making a dish 'better'. It is to ensure people with dietary restrictions can enjoy a vegetable tagine as well.
This vegetable tagine is grain free and vegan, as well as being low FODMAP. It is made without onion and garlic, so it is suitable for people who avoid these ingredients. It is well spiced and bold in flavour. The Moroccan inspired dish is served with rice or quinoa to keep it gluten free, although it is traditionally served with couscous.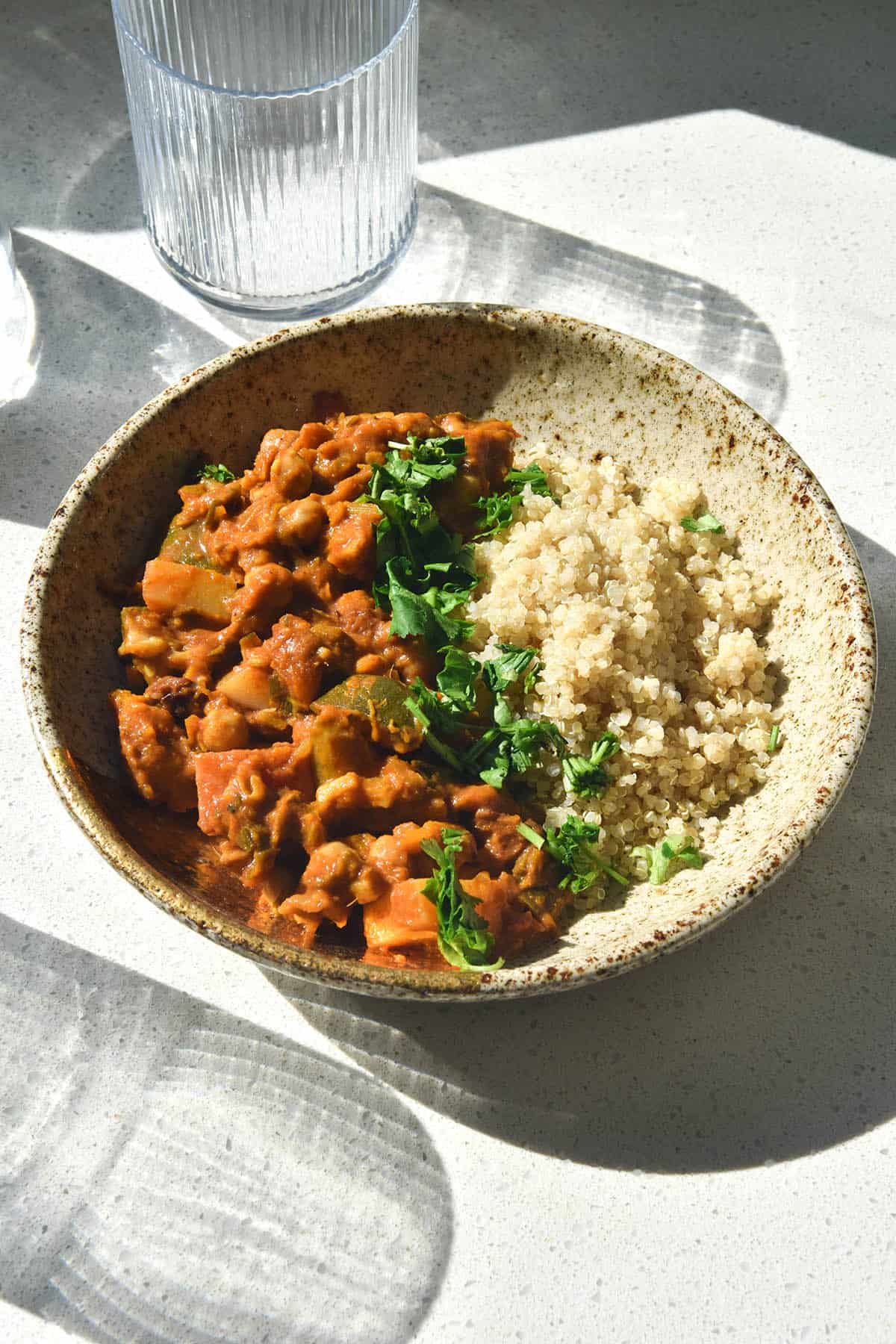 FODMAP friendly vegetable tagine notes
This tagine uses spring onion greens, coriander roots and ginger as the flavour base. While not necessarily traditional, ginger gives the tagine a delicious base note of flavour once cooked.
Canned chickpeas are used here to keep the FODMAP content down. They are considered FODMAP friendly in 42g serves per person. A 400g can of chickpeas weighs approximately 250g once drained. So 250g of chickpeas needs to serve 6 people, which this tagine does. If you'd like, you could use less chickpeas and simply stir the remainder into the bowls of people in your household who can eat them without issue. See below for some of my recipes that use chickpeas for leftover use ideas.
I have used 75-100g of raisins in this recipe. Raisins are considered FODMAP friendly in 13g serves. As with the chickpeas, you can use less if you'd prefer, or stir them into the bowls of the non-FODMAP household. I haven't tried omitting them entirely as I think they add a lovely sweetness and complexity. You could try adding 2-3 teaspoons of brown sugar or maple syrup in their place.
A note on the spices
I know that the list of spices looks long and intimidating, but they all add a little something, I promise! That said, if you're looking for something to cull, I'd suggest the coriander powder and the fennel seeds. I understand not everybody has the budget to jam pack the spice cabinet.
To omit the coriander powder, I'd suggest adding 1/2 tablespoon extra cumin and cardamom powder. On the note of that, cardamom powder in Australia is not particularly strong or pungent. This is why the recipe calls for 1 tablespoon. If you've made your own from pods or have access to incredibly fresh spices, add it to taste. I have not tried using cardamom pods here, but add them to taste.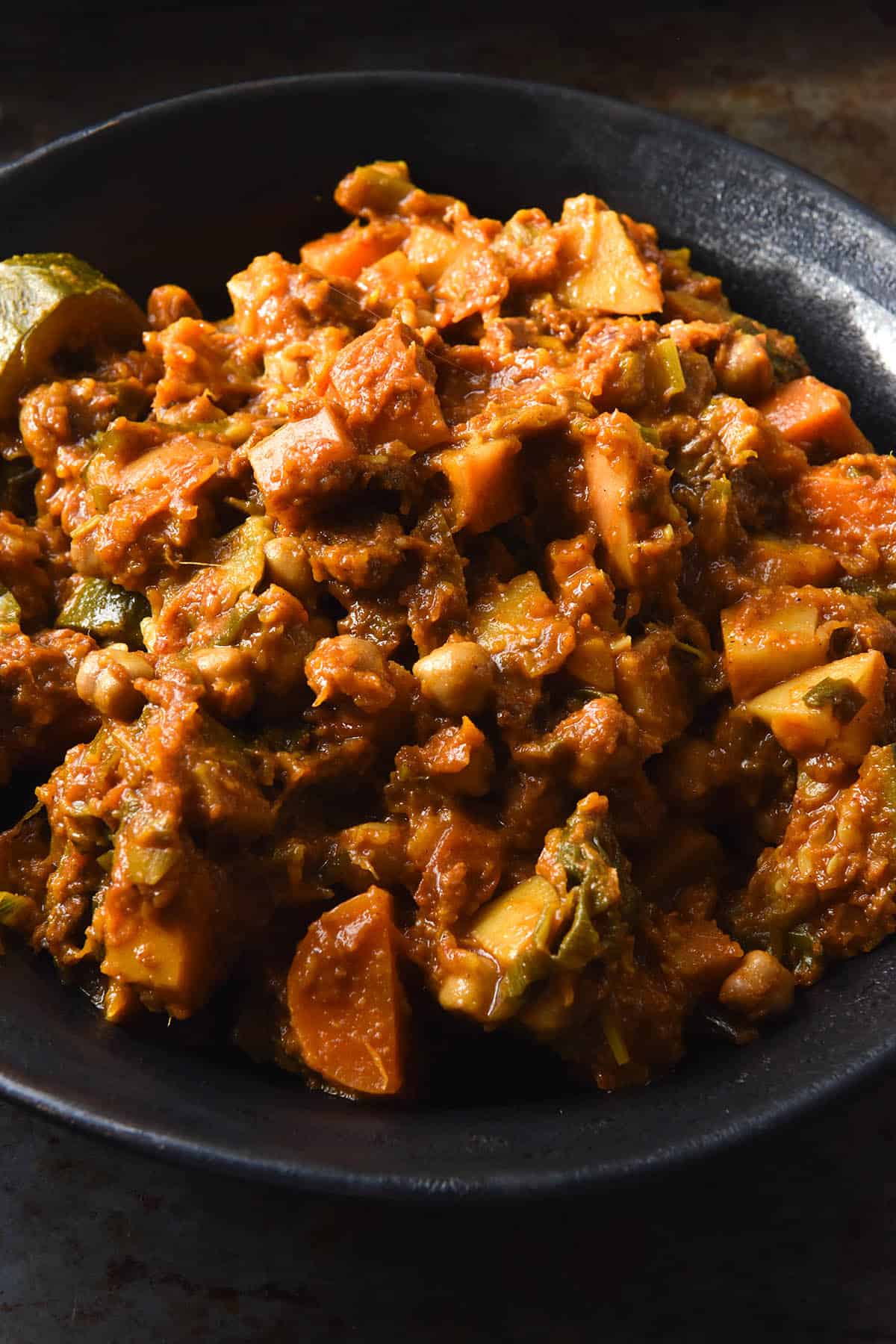 A note on preserved lemon
Preserved lemon is really the star of this dish. It adds zing, flavour and complexity, and I really don't recommend omitting it. You can buy preserved lemon from specialty grocers in Australia. You can often buy it at the supermarket too. It's rare that recipes call for as much preserved lemon as this tagine does, so it generally lasts for ages.
If you happen to be flush for lemons, you can easily make your own preserved lemons. They take a while (about a month) to do their thing, but the process is very simple. All you need is lemons and salt!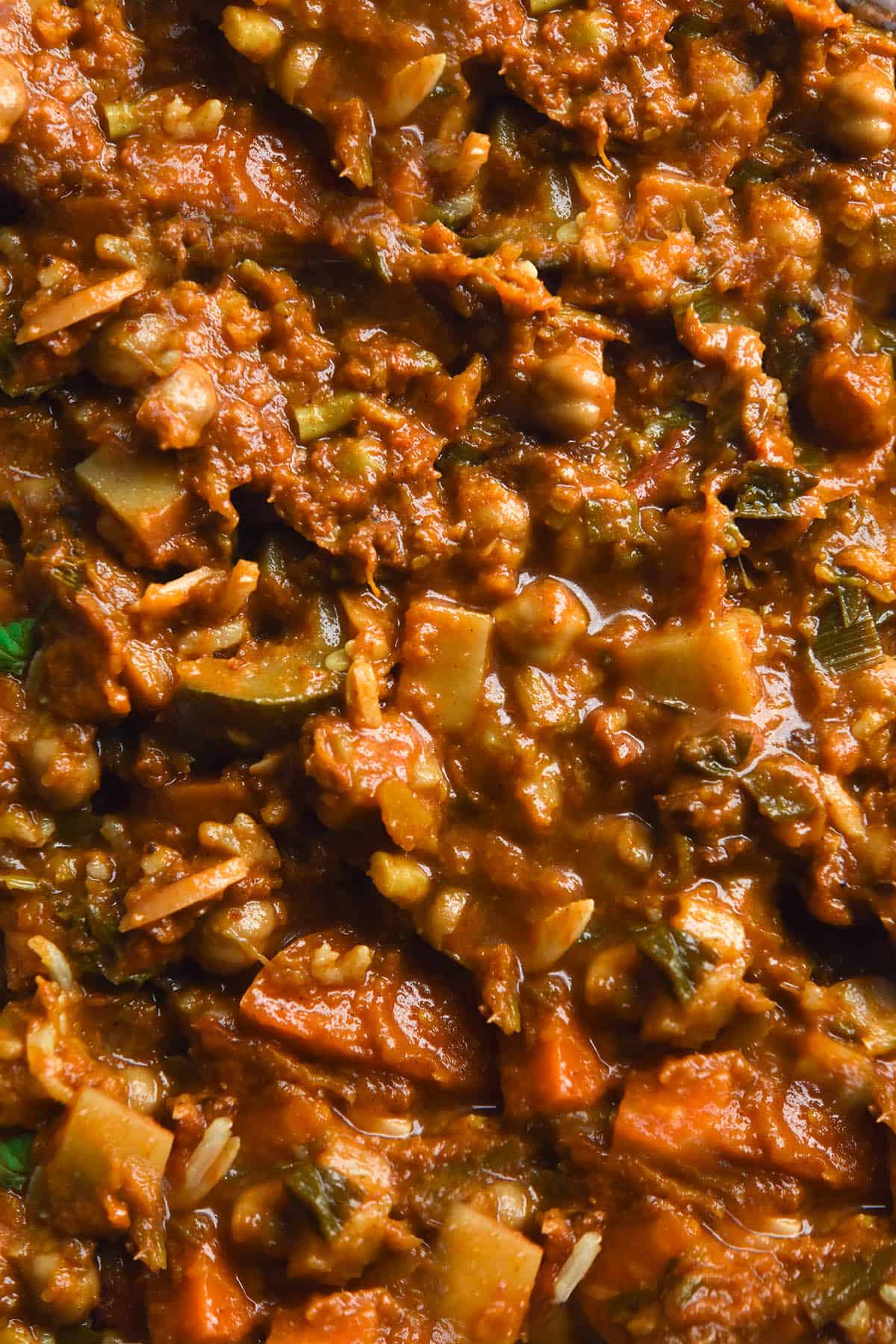 What to serve with your FODMAP friendly vegetable tagine
This isn't one of those annoying, unhelpful space fillers, I promise. If you need this dish to be gluten free, you cannot use the traditional cous cous. Cous cous is made from durum wheat, and is therefore not gluten free. However! There are always options, hence this section.
Arguably the easiest substitutes are rice and quinoa. Although it is quite different to cous cous, it still works really nicely here. You can flavour it, but I quite like leaving it plain. The tagine has a delightfully strong flavour, so it's nice to have a basic grain to go with it.
I also recommend serving your FODMAP friendly vegetable tagine with some yoghurt. This is particularly important if you've added heat, as it's a nice cooling ingredient.
Finally, the coriander leaves that you've got leftover from using the roots. It adds some freshness and a bit of colour. The roots also add a lot of flavour to the base of the tagine.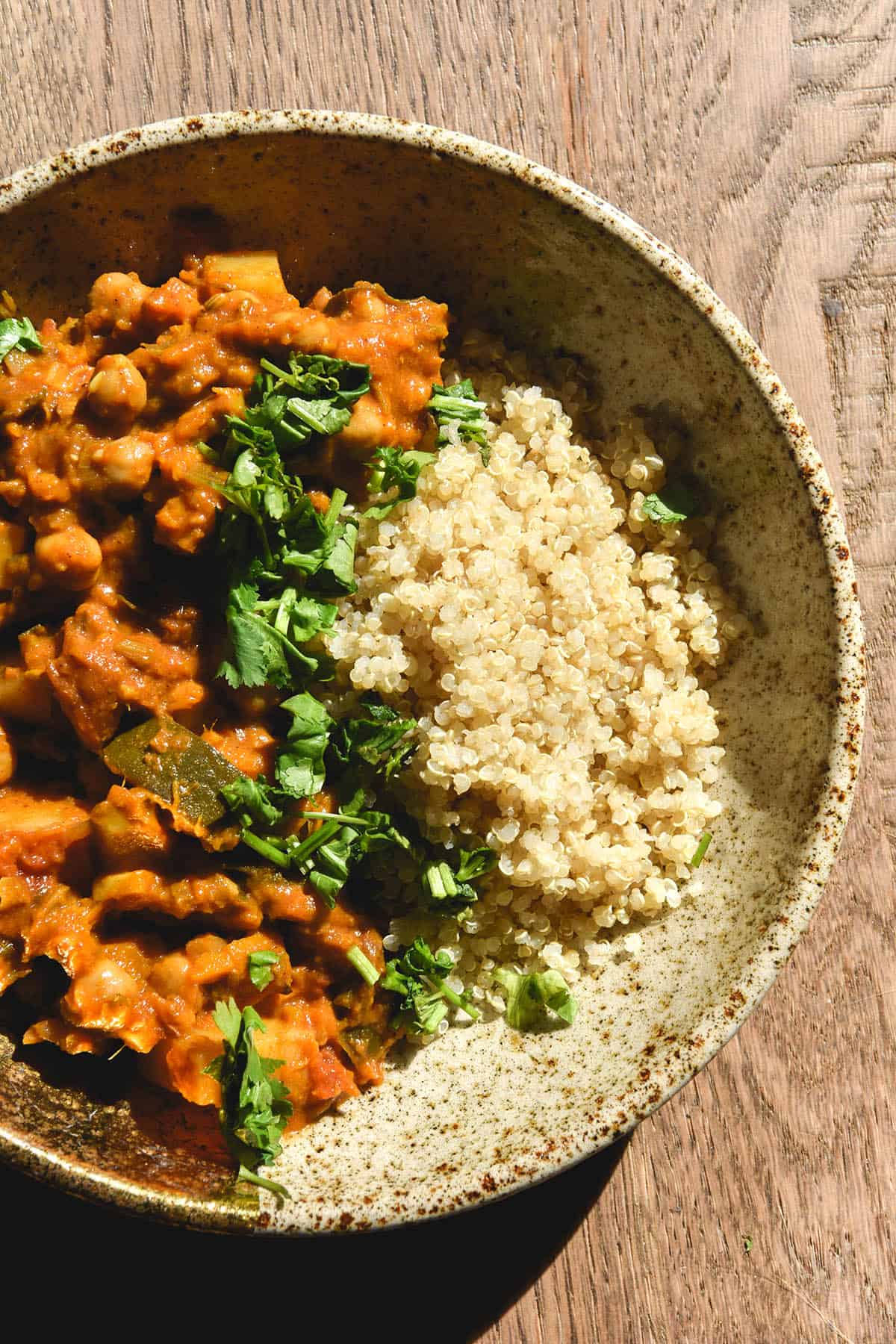 Other hearty FODMAP friendly recipes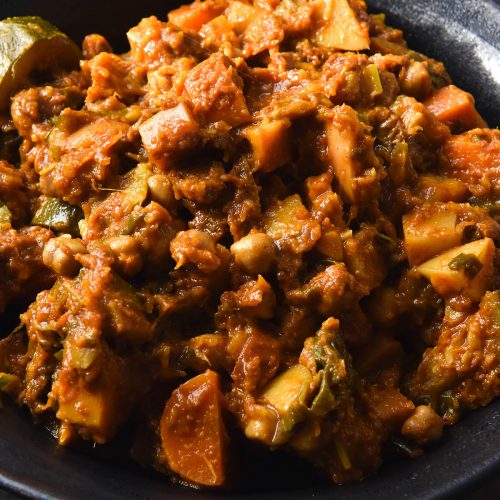 FODMAP friendly vegetable tagine
Vegan option, low FODMAP, gluten free
Ingredients
For the spice mix:
1

tablespoon

cumin

1

tablespoon

cardamom powder

1

tablespoon

ground coriander

2

teaspoons

fennel seeds

1

teaspoon

ground cinnamon

1

teaspoon

smoked paprika

1

teaspoon

turmeric

1

teaspoon

salt

1/4 – 1

teaspoon

nutmeg
For the vegetables:
500

g

Kent pumpkin

cubed into small bite sized pieces

2

medium potatoes

cubed into small bite sized pieces

2

medium carrots

see notes cubed into small bite sized pieces

2

zucchini

cubed into bite sized pieces
To finish:
75

g

butter or 3-4 tablespoons oil

1

bunch spring onion greens

chopped

50

g

ginger

finely chopped or grated

1

bunch coriander stems

reserve greens for topping

75-100

g

preserved lemon

chopped

1

X 400g

tin tomatoes (see notes)

1

X 400g

chickpeas

drained and rinsed

100

g

raisins

see notes

1 1/2 – 2

cups

(375-500ml) water

Seasoning

to taste
Instructions
Combine the ingredients for the spice mix in a bowl. Cube all the vegetables and have them ready to go.

Heat the butter or oil in a large pot or tagine. Once heated, add the spring onions, ginger and coriander roots. Cook for 2-3 minutes until softened and fragrant. Add the mix spice and a splash of water (subtract it from the 2 cups worth). Cook for a minute until the spices are aromatic.

Add the preserved lemon and tomatoes and stir to combine. Add all the vegetables, the chickpeas and raisins. Stir thoroughly to combine. Add the remaining water as you see fit (use less for a thicker tagine, more for a slightly runnier one). Pop the lid on and cook for 20 or so minutes on a low-medium heat. Stir intermittently to prevent burning.

After the 20 minutes, remove the lid and continue cooking until you have reached your desired consistency and the vegetables are all soft. Serve with a grain, yoghurt and the coriander leaves.
Notes
Ensure all the vegetables (in particular, the potatoes) are chopped into SMALL bite sized pieces that are roughly even in size. If you have big random chunks of potato, you might be in for a raw potato surprise. 
You can also use my low FODMAP Nomato sauce recipe to replace some or all of the tinned tomato. One batch of Nomato sauce makes approximately 1.2kg, which is equivalent to 3 x 400g cans of tinned tomato.