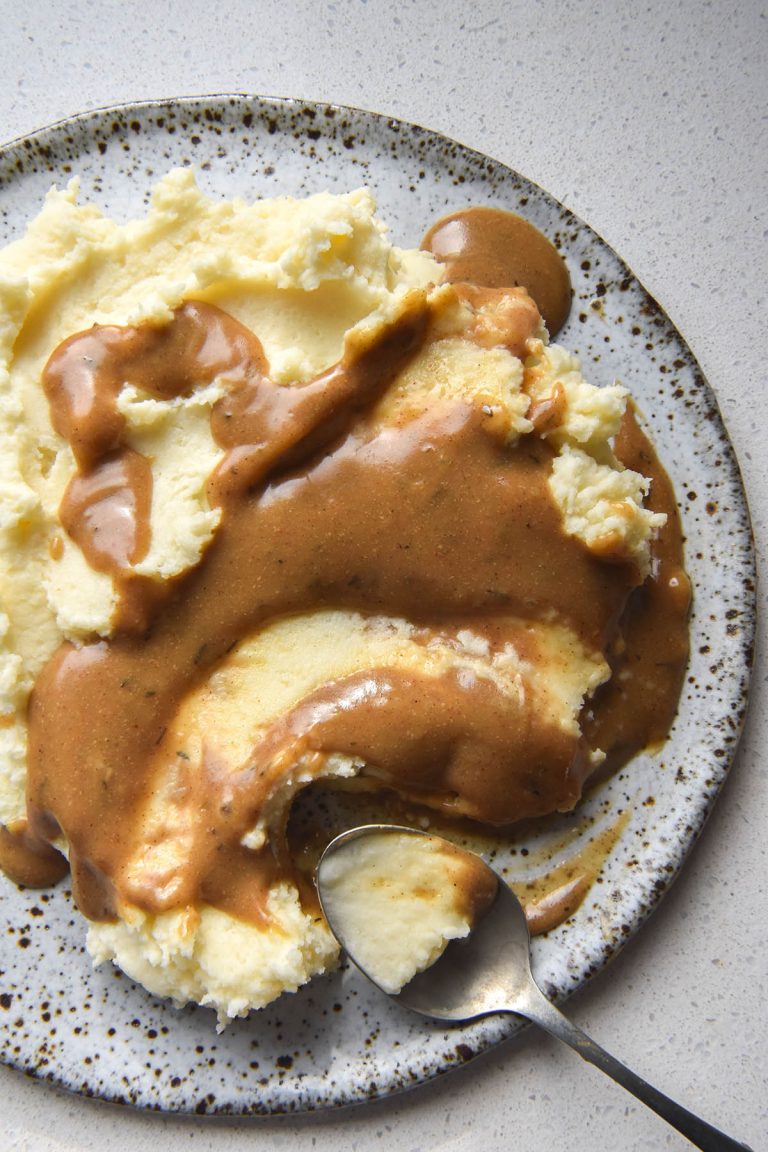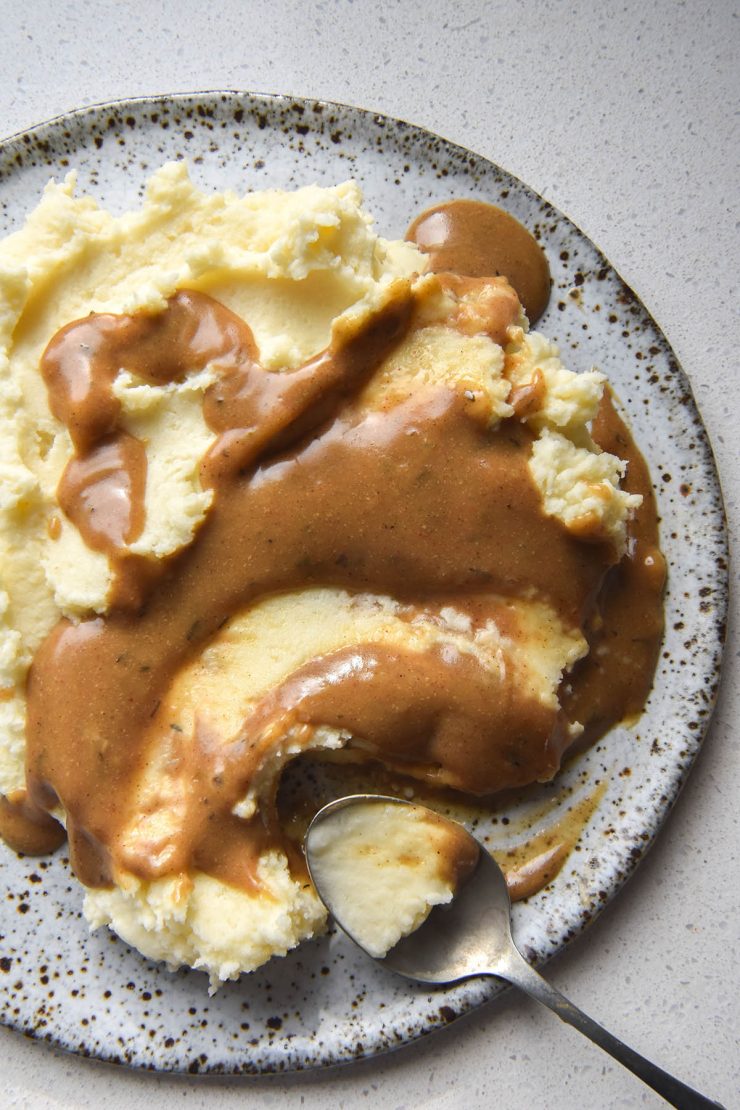 There's never not a time globally where gravy isn't relevant. Winter in the Southern Hemisphere? Gravy. Winter in the Northern hemisphere? Gravy. Festive season? So today, I had to share this FODMAP friendly vegan gravy.
Firstly: this gravy is wholly inspired by this recipe that my Mum made for me recently. It was so astonishingly meaty to me, particularly given that it had taken her 5 minutes to make.
This FODMAP friendly vegan gravy is the quick, roux style sort of gravy. No sauteeing mushrooms or mashing steamed potatoes, just a quick 5 minute gravy from basic pantry ingredients.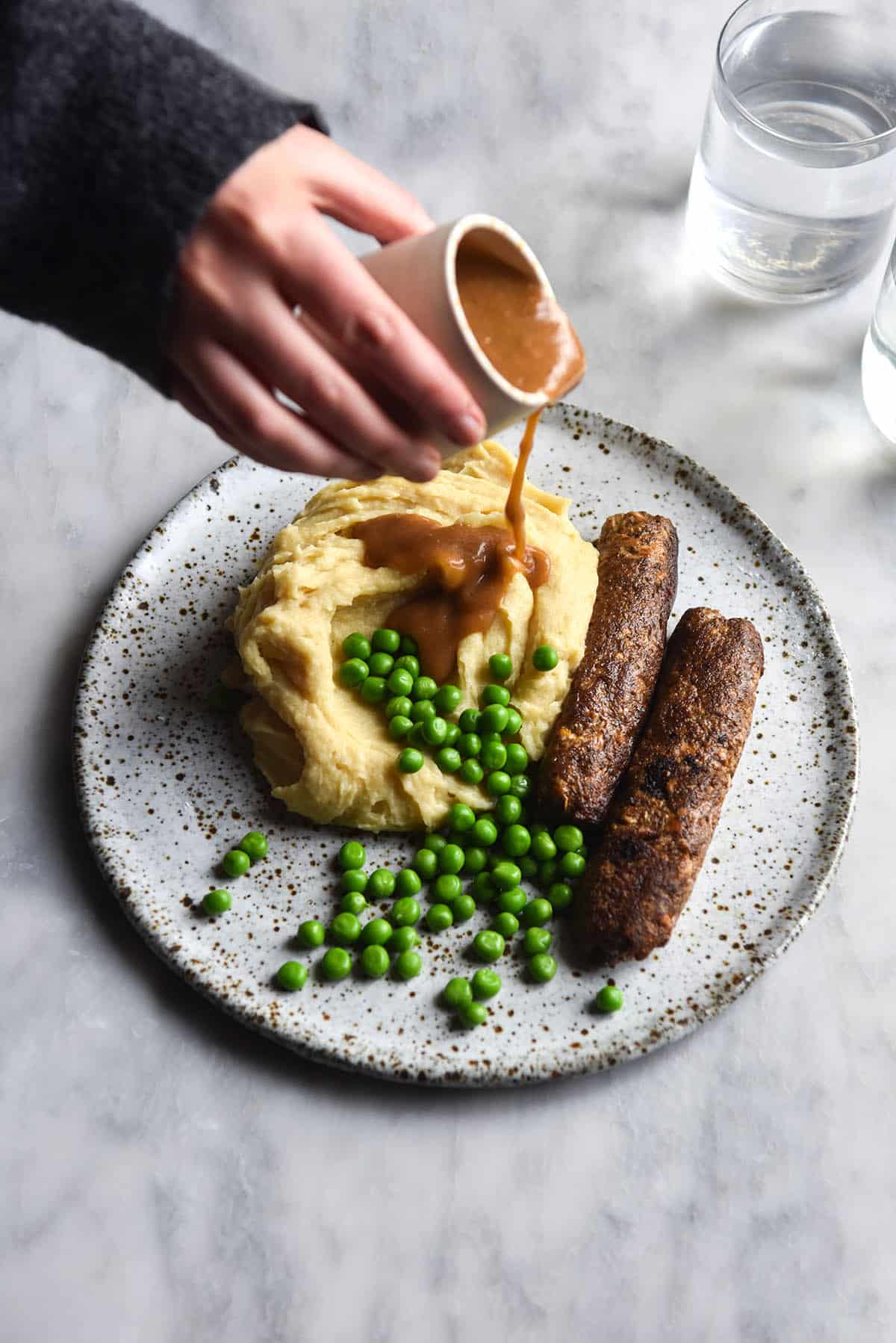 FODMAP friendly vegan gravy that's gluten free
Recipe notes
The toasted nutritional yeast is a critical component of this FODMAP friendly vegan gravy. I don't recommend omitting it. It is worth noting, however, that it does leave tiny little white flecks in the gravy. Nothing to be concerned about, and nothing to be done. I have tried soaking the nutritional yeast in the broth prior to use. I have also tried blitzing it in my spice grinder before use, all to no avail. It is only noticeable if you look closely.
All store bought broths have different salt levels, so it's hard to say with any certainty how salty your gravy will turn out. I recommend buying a salt reduced option if you can. This way you can better control the salinity.
On the note of broth, there are (in Australia, at least) FODMAP friendly options out there. I love Massell (who are certified by Monash) and I love using their plant based beef stock in this FODMAP friendly vegan gravy. All of the meaty flavour without any meat.
Dried thyme and dried sage powder go such a long way to adding depth of flavour in this recipe. I really recommend including them.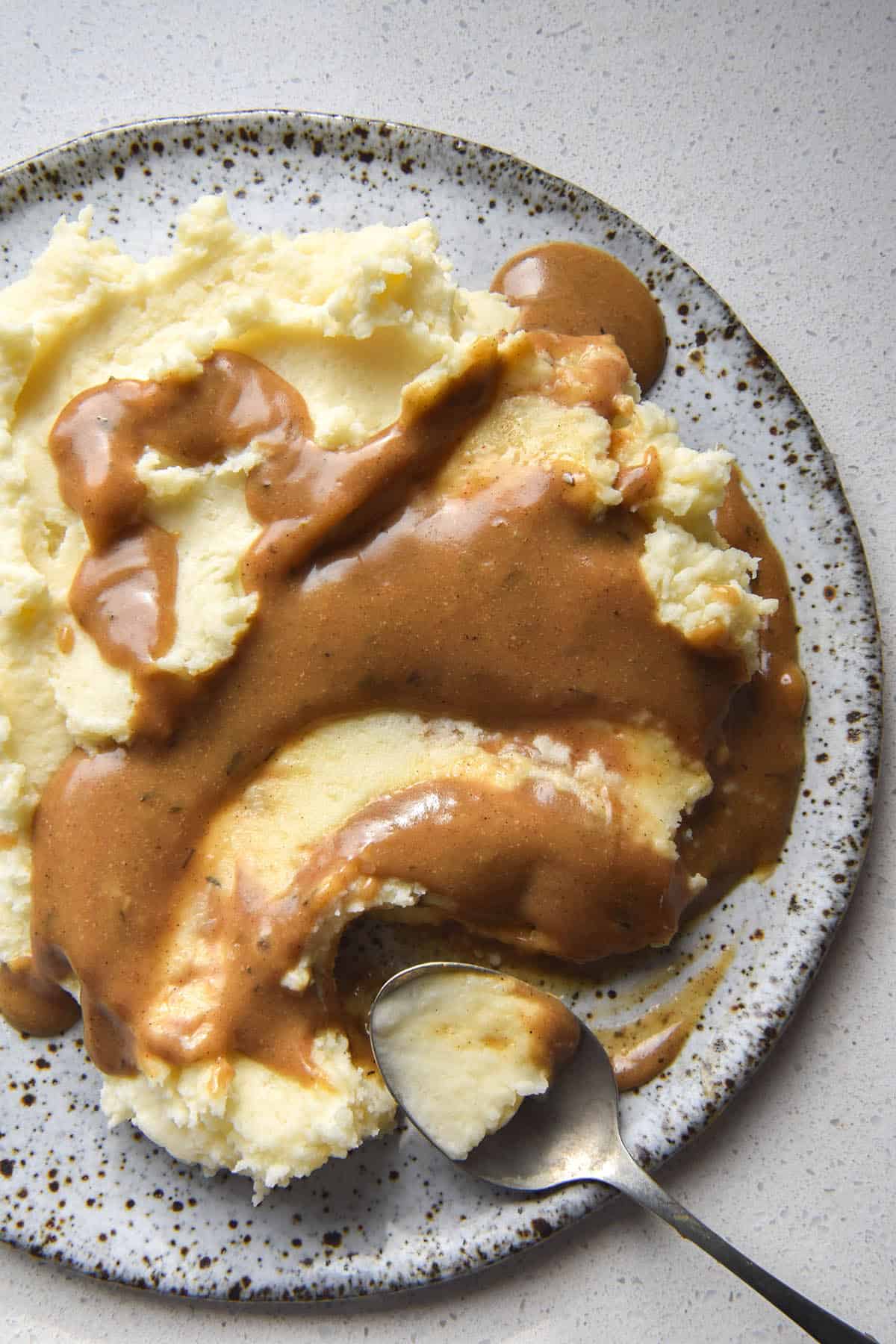 Which starches can I use to make gluten free gravy?
I've tested potato starch and cornflour/starch in this FODMAP friendly vegan gravy. Personally, I find potato starch far superior. It thickens way more and adds a realistic consistency to the gravy. I really recommend the potato starch option. Corn starch also works, though, if that's all you have.
In my experience, tapioca flour made for a really gloopy, unpleasant thickener in roux and I don't really recommend it.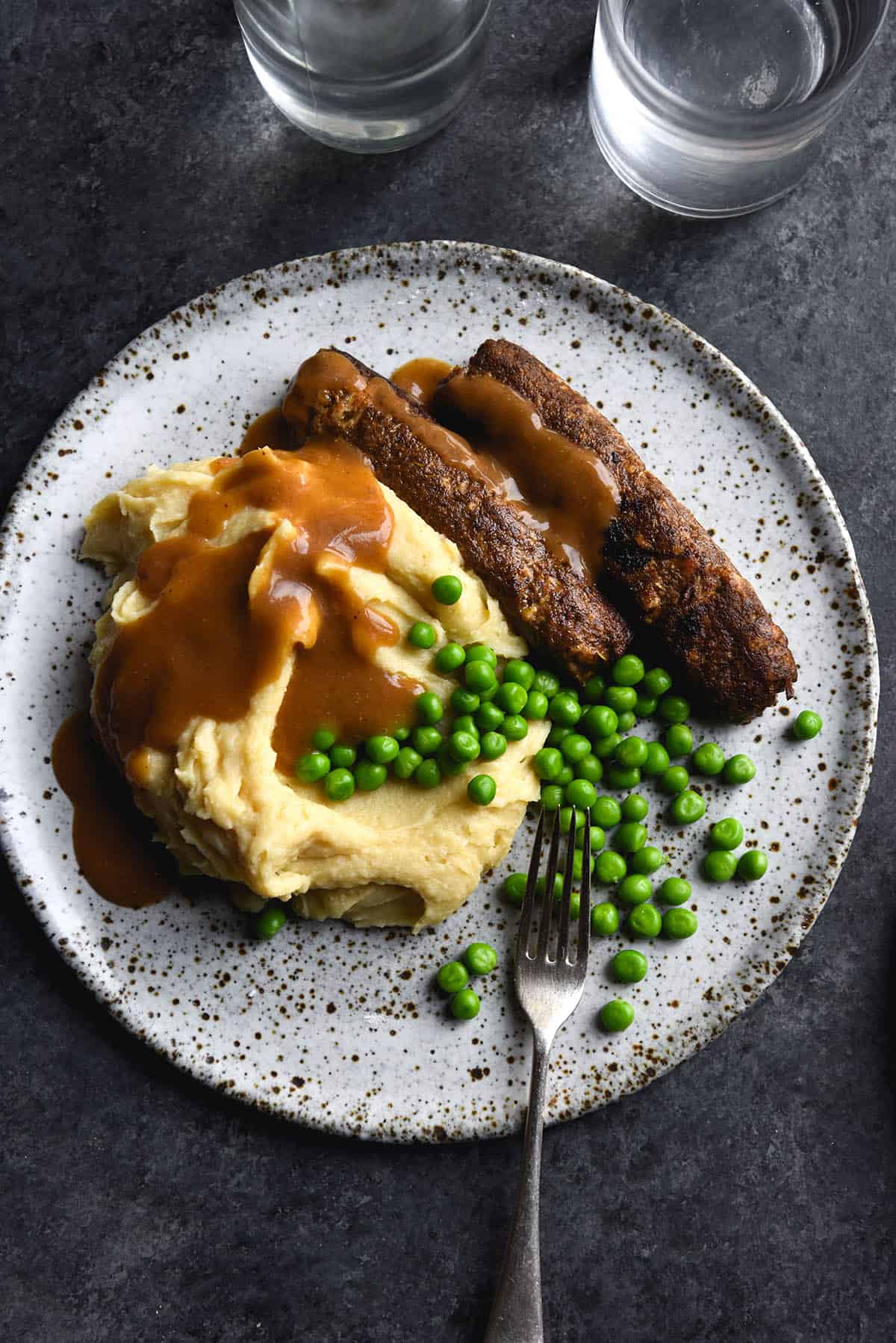 Recipes to serve with your FODMAP friendly vegan gravy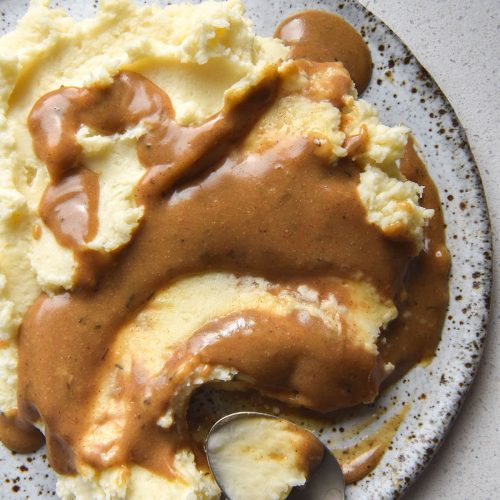 Gluten free, vegan and FODMAP friendly gravy
Ingredients
2

tablespoons

nutritional yeast

20ml

(1 tablespoon)

neutral oil (olive, vegetable, canola are all great)

1 x 2.5

g

FODMAP friendly vegan beef flavoured stock cube

I used Massell

1 1/2

cups

(375ml) boiling water (you can always add more later)

1 1/2 – 2

tablespoons

potato starch

depending on how thick you like your gravy

1

teaspoon

sage powder

1

teaspoon

dried thyme

1/2 – 1

cup

(125-250ml) plant based milk, depending on how much starch you add and how thick you like your gravy

2

tablespoons

gluten free dark soy sauce

or 1-2 tablespoons Tamari, to taste
Instructions
Pour the boiling water over the stock cube and allow it to disintegrate. Add water conservatively as you can easily adjust the thickness of the gravy later.

Put the nutritional yeast in your saucepan and toast for a minute or two until it darkens slightly in colour and smells fragrant. Watch it – it burns very easily. Once toasted, add the oil and whisk to combine.

Mix the potato starch and spices together in a small bowl. Add to the warmed oil.

Have a whisk at the ready and whisk thoroughly as the starch hits the pan. Cook it briefly until it bubbles a little, then pour the stock into the sauce and whisk until it begins to thicken.

Add the milk, a little at a time, and then the dark soy sauce, whisking to combine. Taste and adjust as necessary. Add a little maple syrup if you feel the gravy needs balancing out. Continue cooking until it reaches your desired thickness.
Notes
Gravy made with starch tends to thin out and separate if you make it ahead of time. Because it's so quick to make, I recommend making it right before you need it.