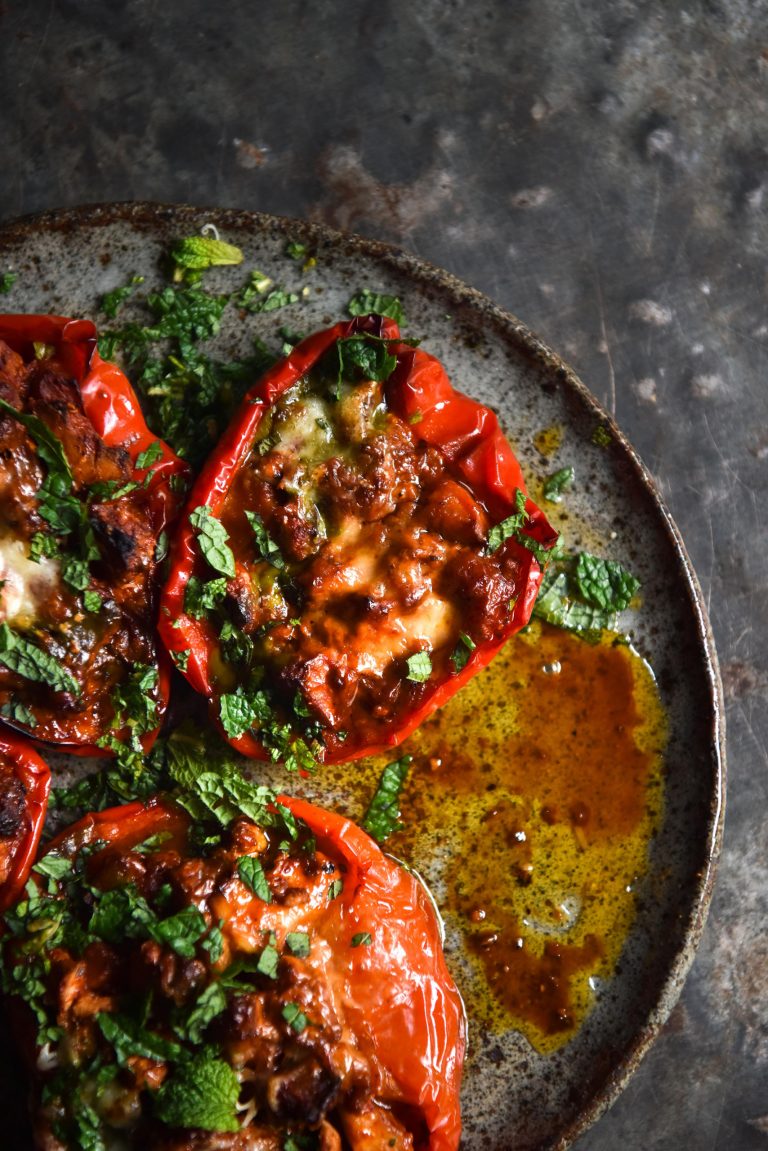 Provided you're not new around these parts, you'll be well accustomed to me claiming that this vegan mince has changed my life. Truly, I am obsessed. And truly, I will put it with absolutely everything and anything. Prior to going vegetarian, mince meat (for tacos) was the only meat I tolerated. It makes sense then that I'm back today with ANOTHER edition/addition of the vegetarian mince chronicles. Say hello to my newest best friend, vegetarian mince stuffed capsicums.
Vegetarian mince stuffed capsicums
These stuffed capsicums use a vegan, FODMAP friendly mince sauce made of tofu.
This vegetarian mince uses carrots as the aromatic base to replace onion and garlic in traditional mince.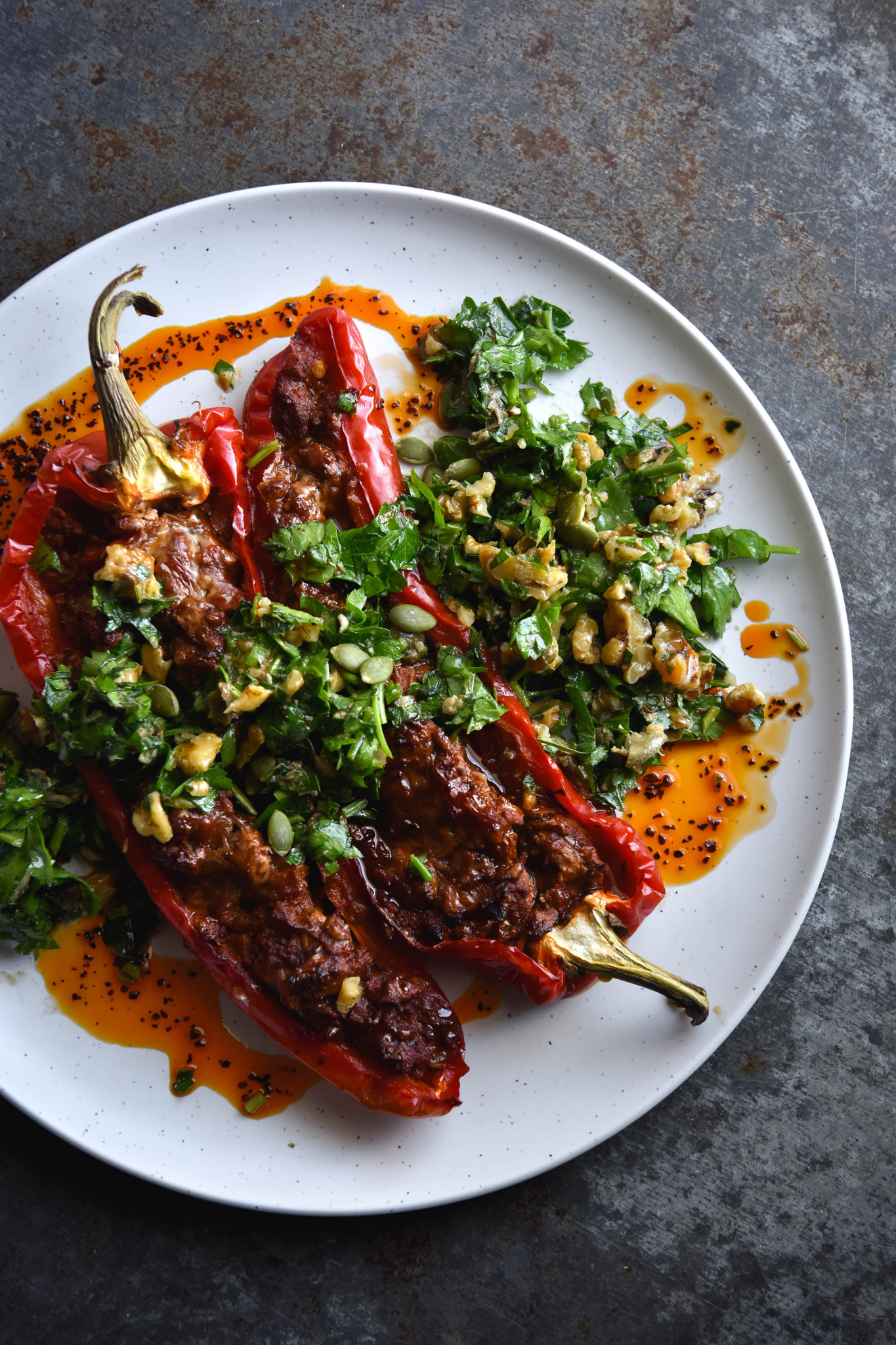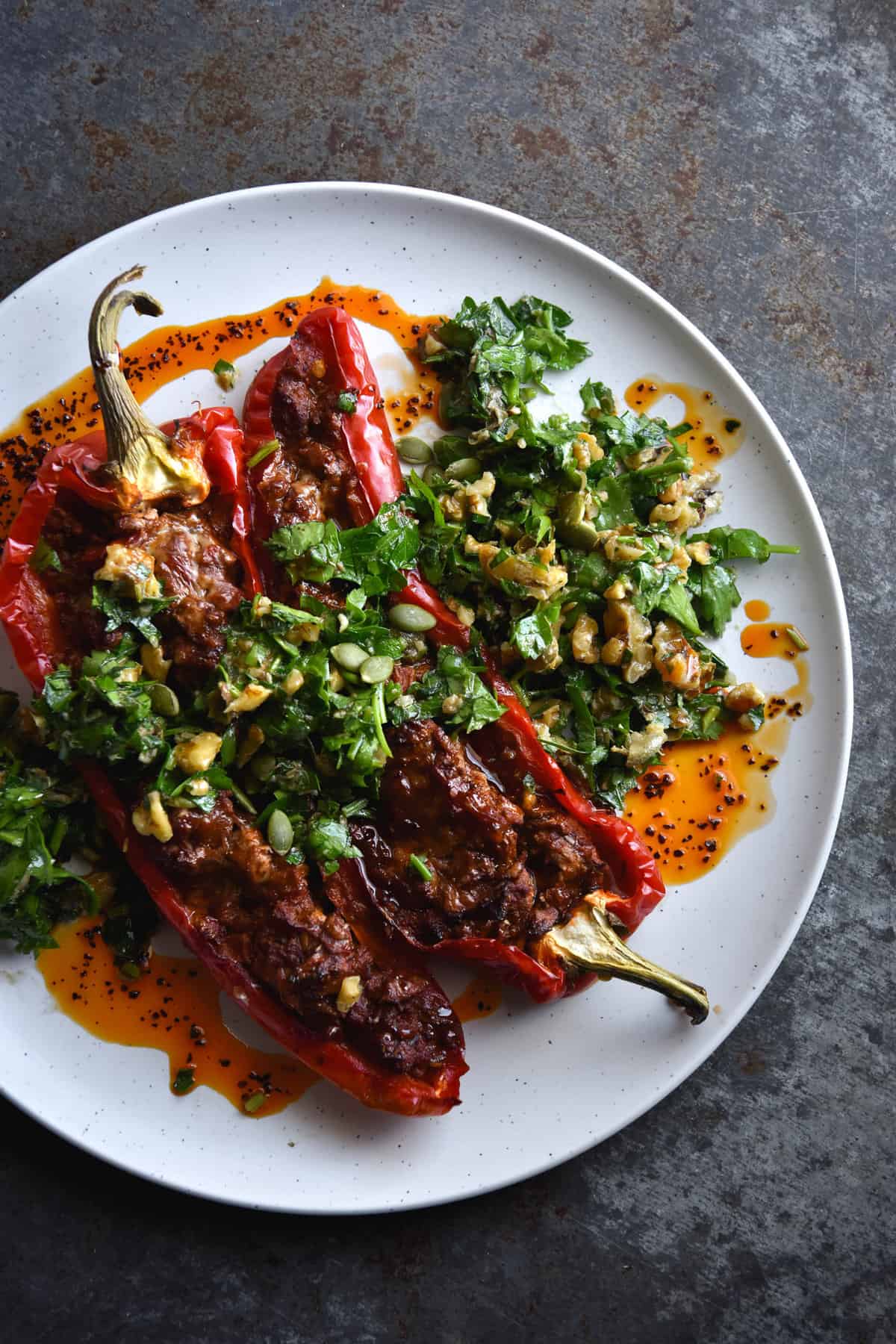 FODMAP notes for your vegetarian mince stuffed capsicums
These vegetarian minced stuffed capsicums are gluten free, grain free, vegetarian and FODMAP friendly. They're also very easily made vegan and/or nut free.
By using carrot as opposed to fennel, we're keeping the FODMAP content of the vegetarian mince down. Carrot, like onion and celery, is an aromat, so it helps develop a depth of flavour in the mince. Everybody wins.
You can also use my low FODMAP Nomato sauce recipe to replace some or all of the tinned tomato. One batch of Nomato sauce makes approximately 1.2kg, which is equivalent to 3 x 400g cans of tinned tomato.
To keep these vegetarian mince stuffed capsicums vegan, simply omit the sprinkle of cheese at the end. To keep them nut free, leave off the decorative parmesan.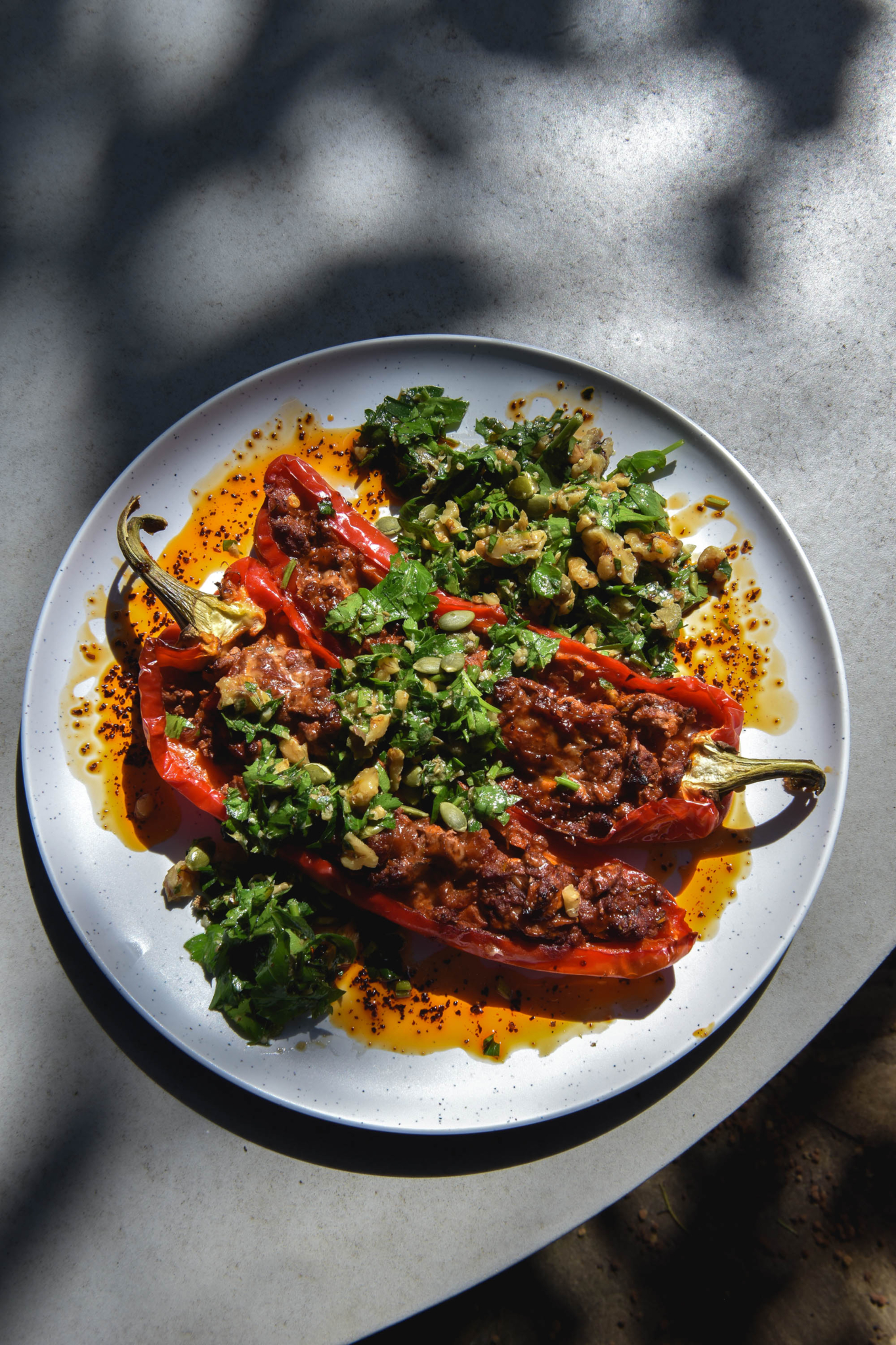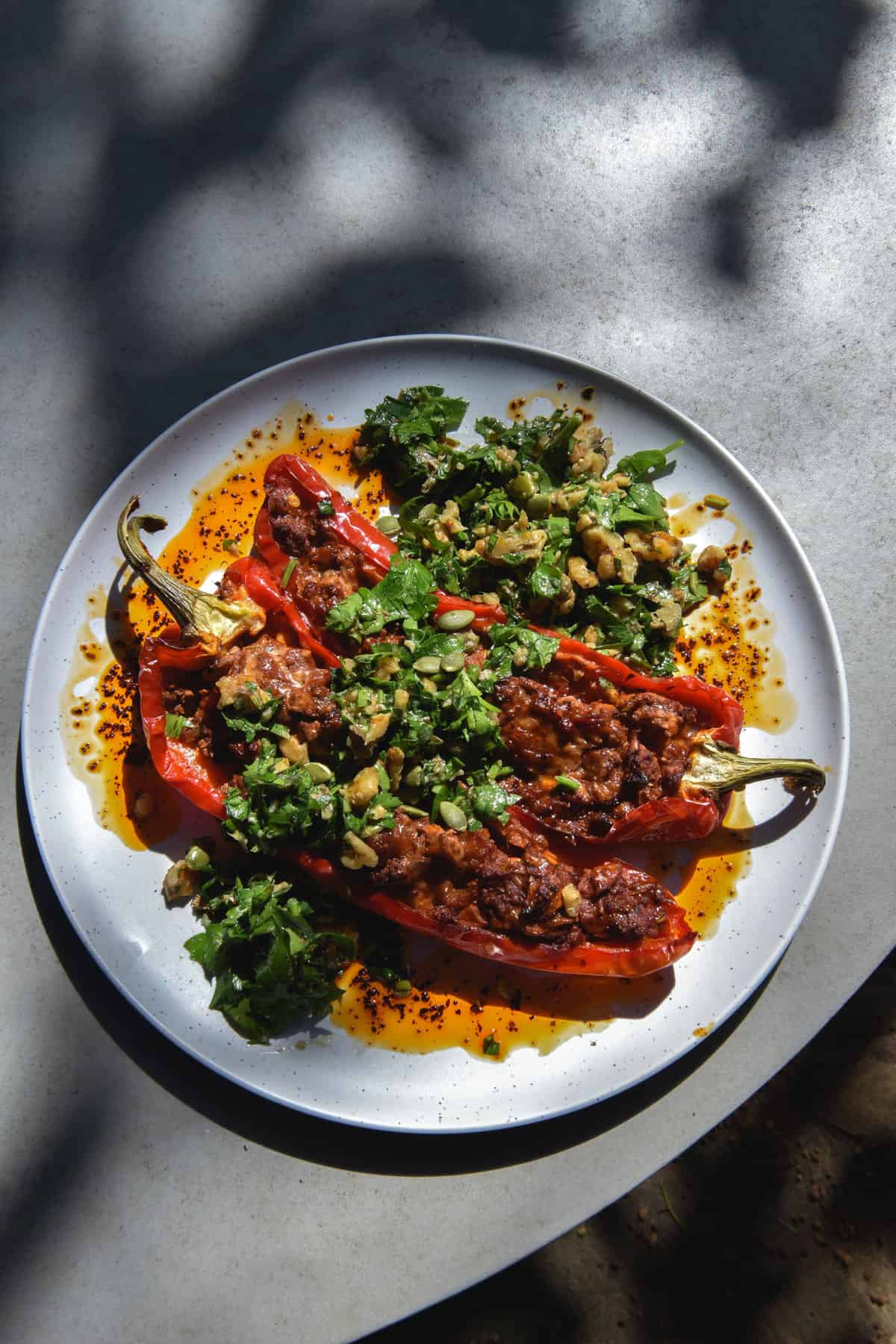 Monash FODMAP update
Monash has recently lowered the FODMAP friendly threshold for capsicums. 43g of red capsicum is now a FODMAP friendly serve. Boo. Anyway, if you have had no issues with capsicum in the past, there is no need to change anything! Continue as you were. If you have, consider using green capsicums, which have a higher FODMAP threshold. Otherwise, I would recommend using the mince on pasta instead.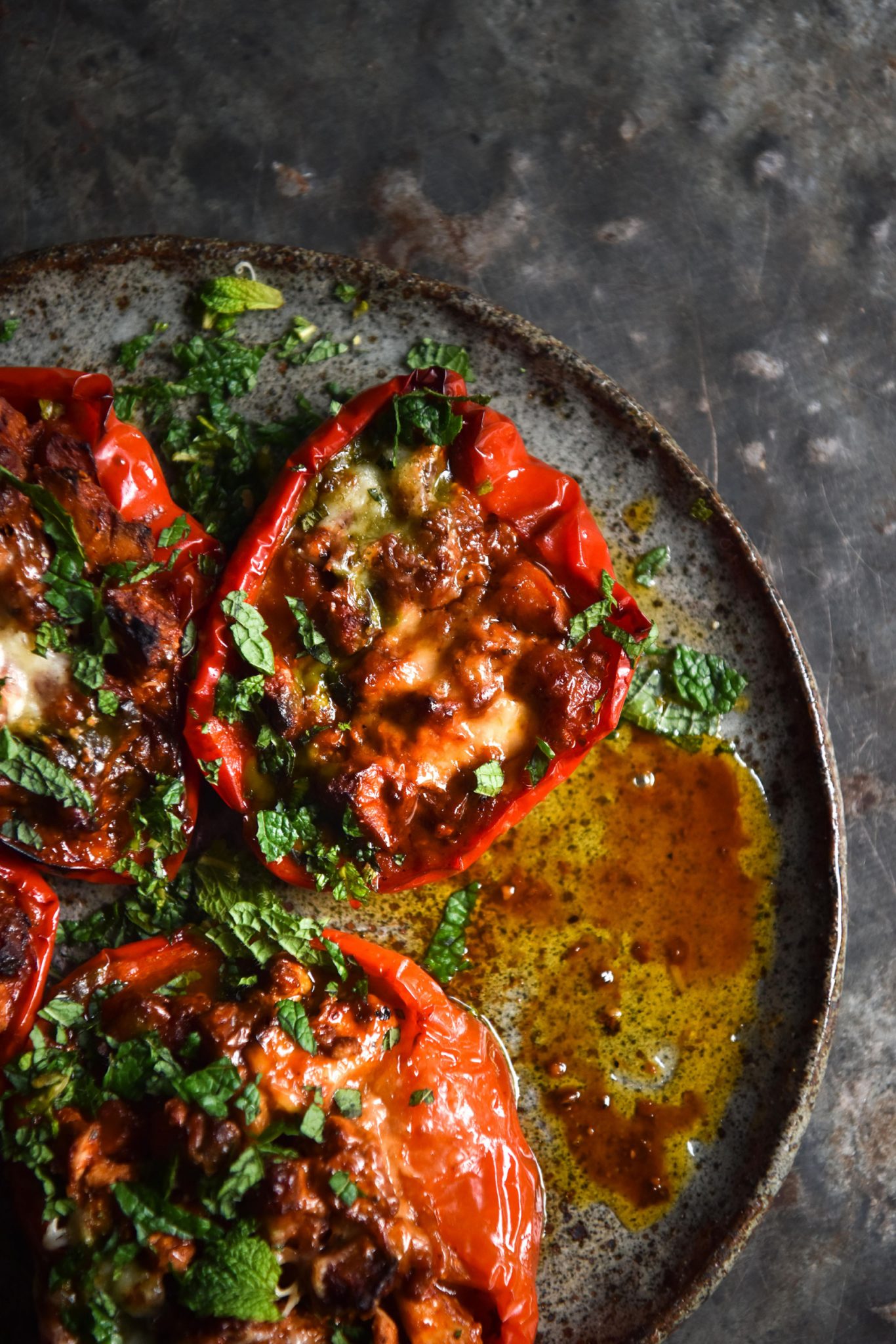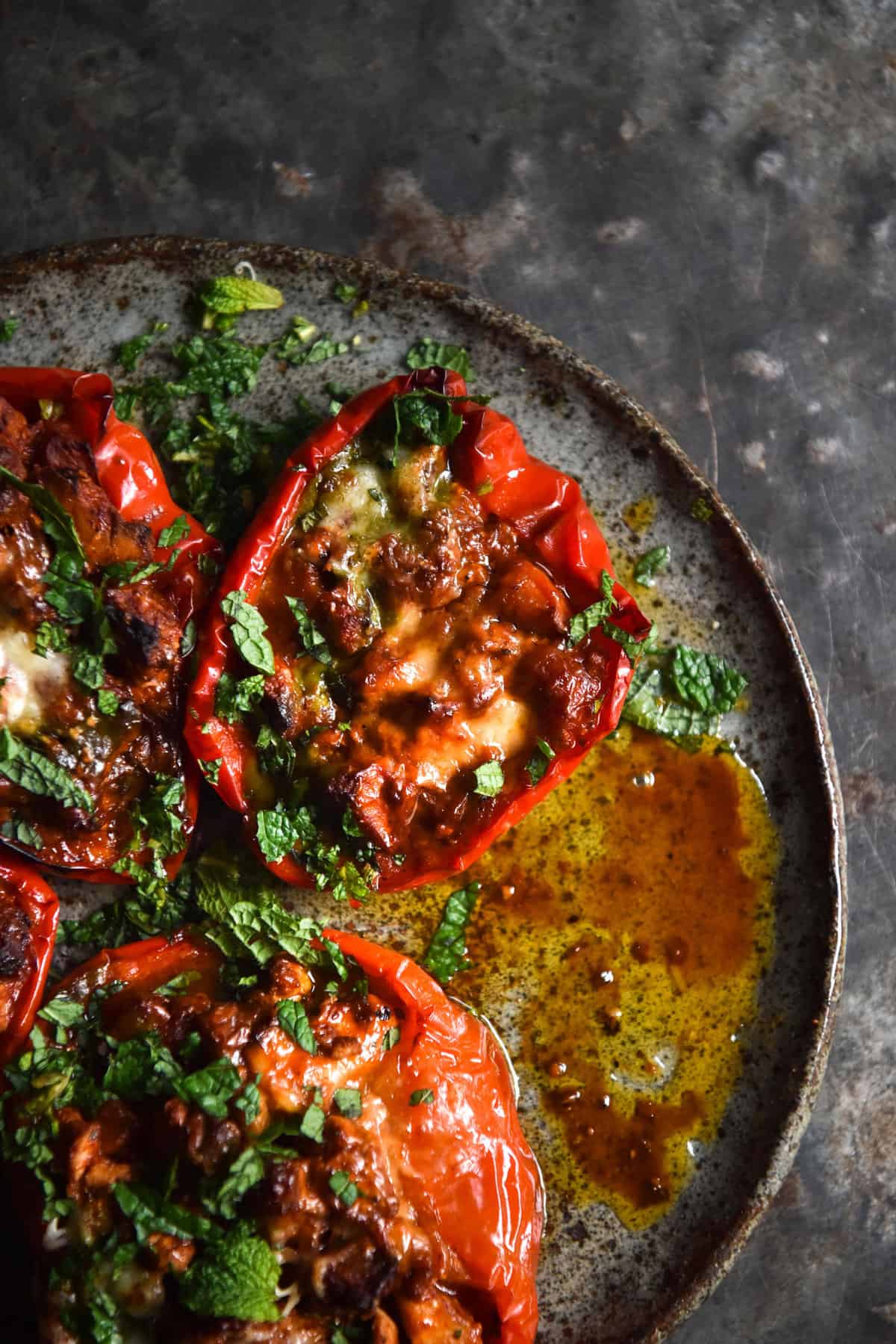 Recipe notes
A few little handy hints to get you on your way to vegetarian mince heaven:
Buy firm tofu that isn't heinously chewy and tough. I'm assuming that you're a seasoned tofu connoisseur here, obviously.
I like to keep a couple of large packets of tofu in the freezer at all times. Treat it like frozen meat – leave it out to defrost during the day so you can cook with it upon your return.
Another way I like to defrost my tofu is to throw the packet in the sink as I'm doing dishes. The warm water defrosts the tofu and I'm not wasting extra water solely for defrosting purposes.
If you're not sure why I'm so hellbent on you freezing tofu, here's a refresher. Bullet point version? It creates a mince meat like tofu texture that more readily absorbs flavours.
Buy the largest red capsicums you can find, and look for individual capsicums that look like they'll be easily to cut into boats. That said, this isn't a precise art. As long as they can hold the mince, you'll be fine.
You can season the mince with whatever you like – dried oregano, basil, smoked paprika, the list goes on.
This dish goes particularly well with pesto. I have a FODMAP friendly vegan pesto recipe available here.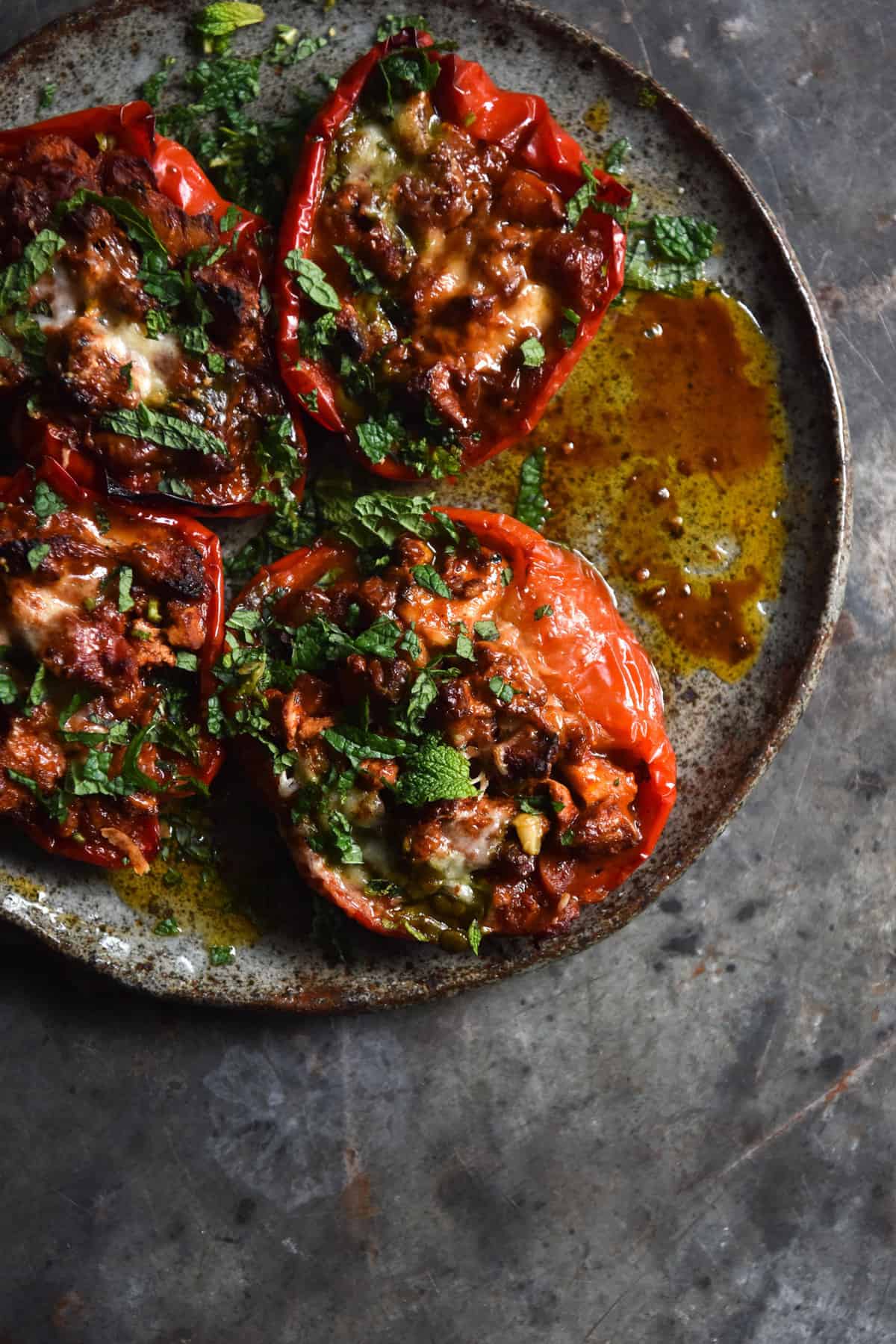 More hearty vegetarian recipes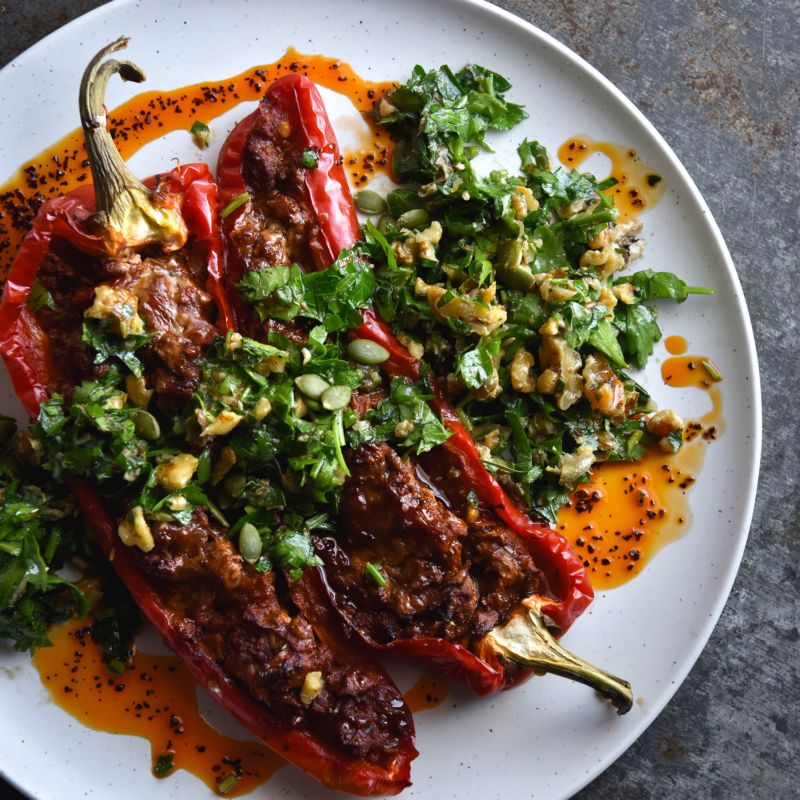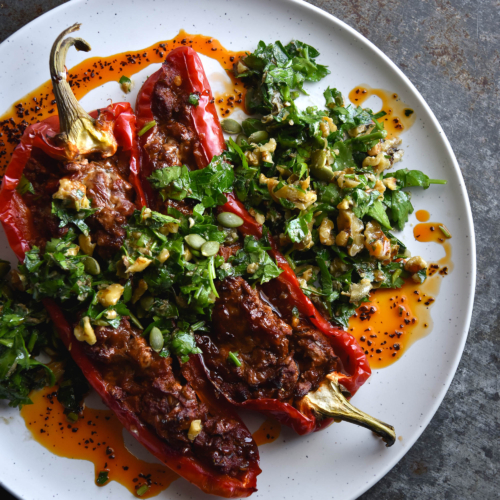 Vegetarian mince stuffed capsicums
Gluten free, grain free, FODMAP friendly, vegan and nut free adaptable
Serves 6-8 people as a side dish
Ingredients
For the mince:
1 x

500g

packet firm tofu

frozen and defrosted

2

medium carrots

finely chopped

3

tablespoons

olive oil

2

tablespoons

Tamari

1/2 – 1

tablespoons

balsamic vinegar

1

tablespoon

brown sugar

2

tablespoons

tomato paste

1/2

tablespoon

dried rosemary

optional

1/2

tablespoon

dried thyme

1

teaspoon

dried sage powder

800

g

plain tinned tomatoes or 1 cup (250ml) passata

(see notes)

1

cup (250ml)

of red wine (or water)

Generous pepper
To finish:
7-8

large red capsicums

A thin layer of oil seasoned with salt

pepper and chilli flakes, for the bottom of the dish

Cheese for the top

optional, I used gruyere because it melts well for pictures lol
Instructions
To make the mince:
First and most importantly is to ensure that you've frozen and defrosted your tofu, ready to go. See the recipe notes if you're a little lost on what to do.

Once the tofu has defrosted, squeeze as much excess liquid as you can out, and tear the tofu into very small, mince like pieces. Set aside.

In a large saucepan or skillet, preheat the olive oil, and add the chopped carrot. Cook for around 10 minutes until the carrot has shrivelled and become golden in colour.

While the carrot is cooking, mix together all the ingredients except for the water and tinned tomatoes. This makes it quick and easy to add then the time is right.

Once the carrots are cooked, stir in the liquid. It will sizzle and bubble a little. Once you have stirred it all to combine (the tomato paste should have assimilated into the mixture) add the tinned tomatoes. Stir until combined, and finally add the tofu and water. Stir thoroughly and cook for around 10 minutes until the tofu has taken on the colour of the sauce. Season to taste, adding generous cracked pepper. You could add a bit of salt or more Tamari here, if you think it needs it. You could also add some chilli, smoked paprika, or any other dried herbs you see fit. Remove from the heat.
To finish:
Preheat the oven to 180 degrees Celsius or 356 degrees Fahrenheit. Slice your capsicums into boats – how you do this will depend on the size of the capsicums you have, but I generally sliced mine into 3 large 'cheeks' ensuring they each had a 'wall' so the mince didn't spill out. You could also cut the capsicums in half, or even just slice the lid off. This will yield significantly less individual capsicum boats, but it might be easier if you have smaller capsicums. Whatever you do, make sure you've removed the seeds and the white pith, if it's getting in the way.

Place the seasoned chilli oil (I used Aleppo because it's quite mild) in the base of your baking dish, and arrange the capsicums, inside up. You will likely need to use two baking dishes. Divide the mince evenly between the capsicums, filling them up. You might have leftover mince, which you can stir through pasta, eat with rice, or just on it's own.

Top the capsicums with some finely and freshly grated cheese, and place into the oven. Cook for 20 minutes and then swap the baking dishes, top the bottom, to encourage even cooking. You might not have a tiny oven like me, so only do this if you need to.

Cook the capsicums for an additional 20 minutes, or until the sides are cooked but not soggy. You can pop the grill on the brown the cheese, if you like. Once done to your liking, remove from the oven, top with pesto and serve.

These capsicums will keep in the fridge for a few days, and make an excellent lunch the next day. You could serve with rice, a salad, or just eat solo.
Notes
You can also use my low FODMAP Nomato sauce recipe to replace some or all of the tinned tomato. One batch of Nomato sauce makes approximately 1.2kg, which is equivalent to 3 x 400g cans of tinned tomato.