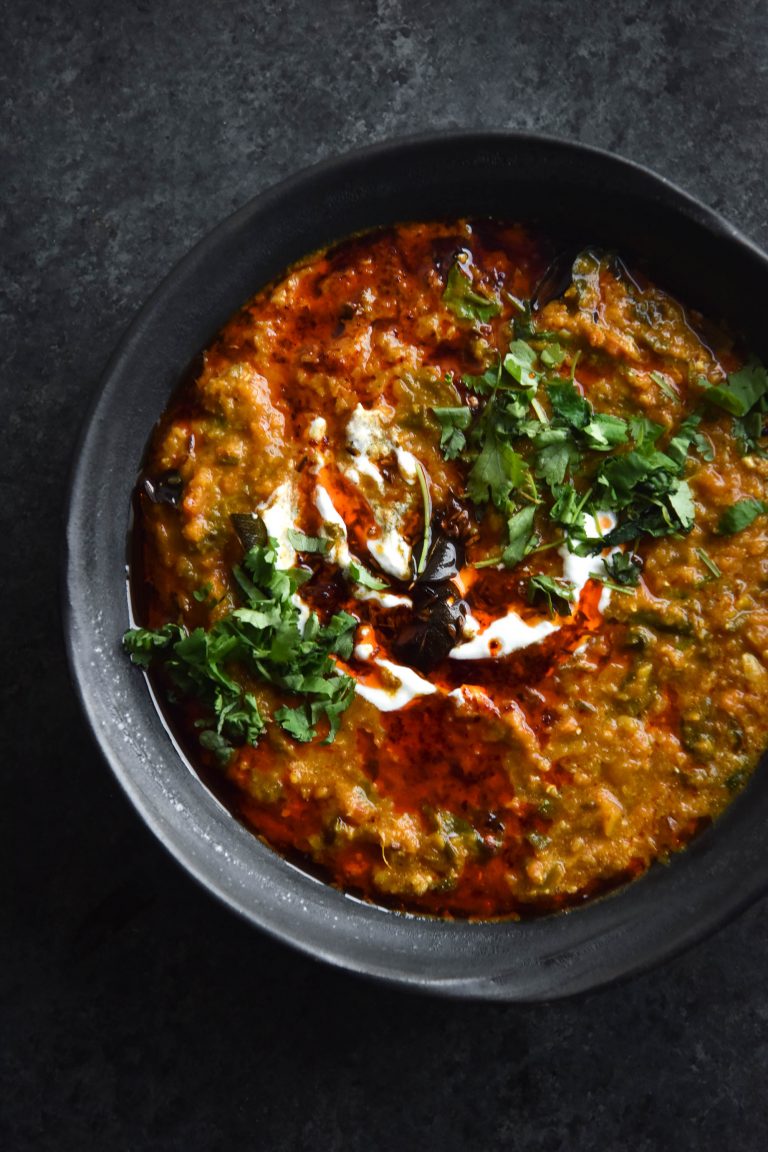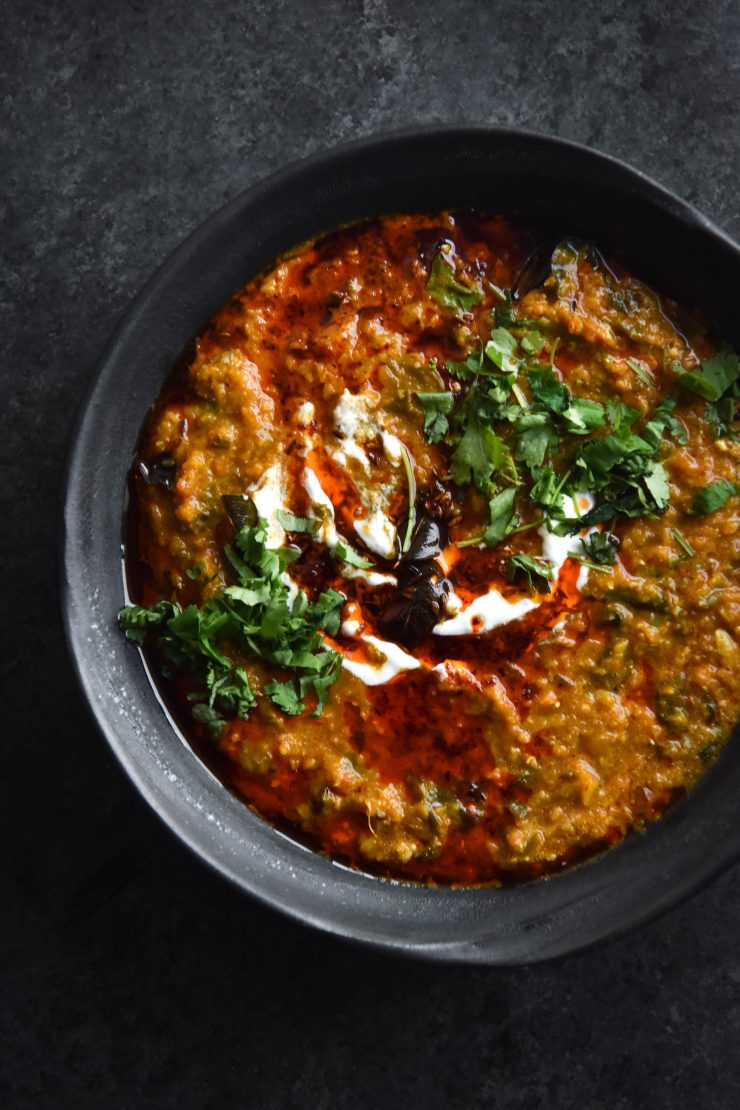 This FODMAP friendly daal is part of my suite of FODMAP friendly vegetarian Indian recipes. Indian is one of my favourite cuisines, and I wanted to create versions of my favourite dishes without onion, garlic or meat.
That said, I'd like to make it abundantly clear that this FODMAP friendly daal is in no way traditional. I have tried to retain the spirit and tradition of the dish, but this is quite tricky to do with the constraints of FODMAP. So, this dish is best called not quite daal or kind of daal. It's a cross between daal, a vegetable stew and a chunky vegetable soup. Please know that I haven't messed with the original to make it 'better' – I've just tried to find a way to ensure people with dietary constraints can enjoy a kind of daal, too.
Shall we start with the key differences?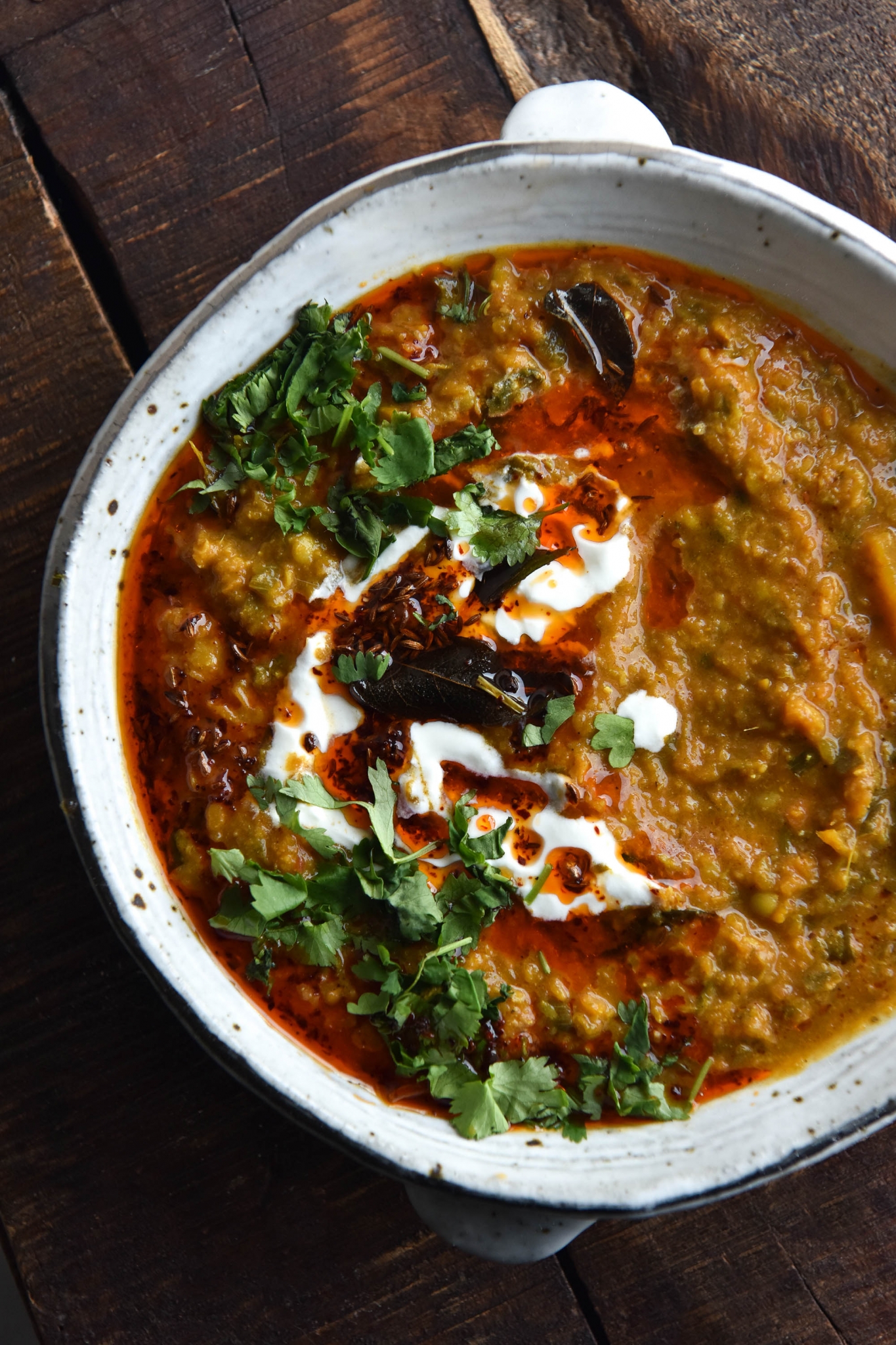 FODMAP friendly daal
Firstly, this FODMAP friendly daal contains no onion or garlic. A given for FODMAP, really.
Secondly, it uses a hefty dose of grated vegetables to form the bulk of the daal. This is because lentils can be high FODMAP in large serves, particularly for people with fructose or GOS intolerances.
Finally, a can of coconut milk and plain tomatoes help bulk out the dish. One of the things I used to love about daal was eating a giant bowl of daal alone. I wanted to be able to eat a whole bowl of this, instead of having to bulk it out with mostly rice. It is very nice with rice, though.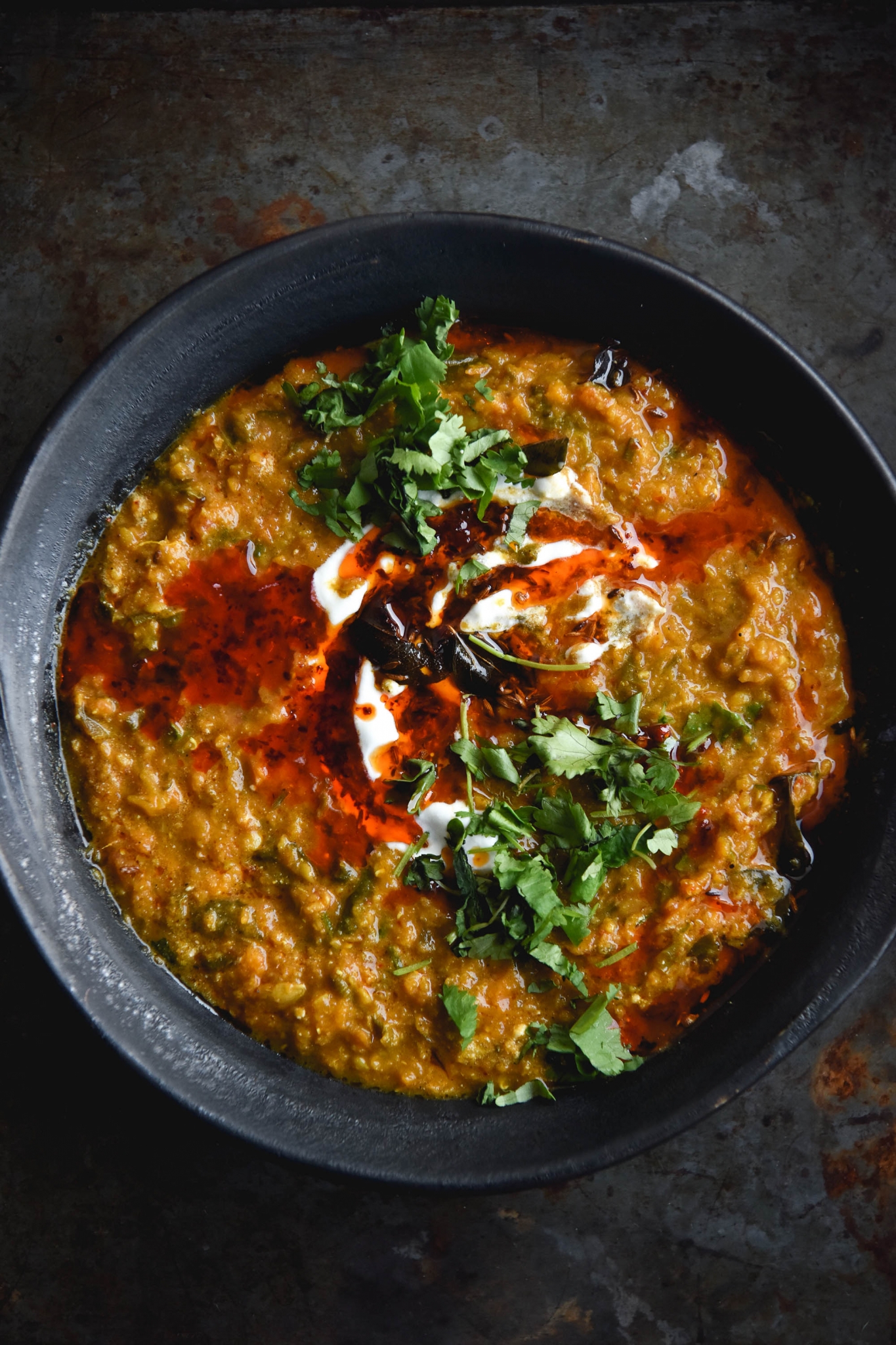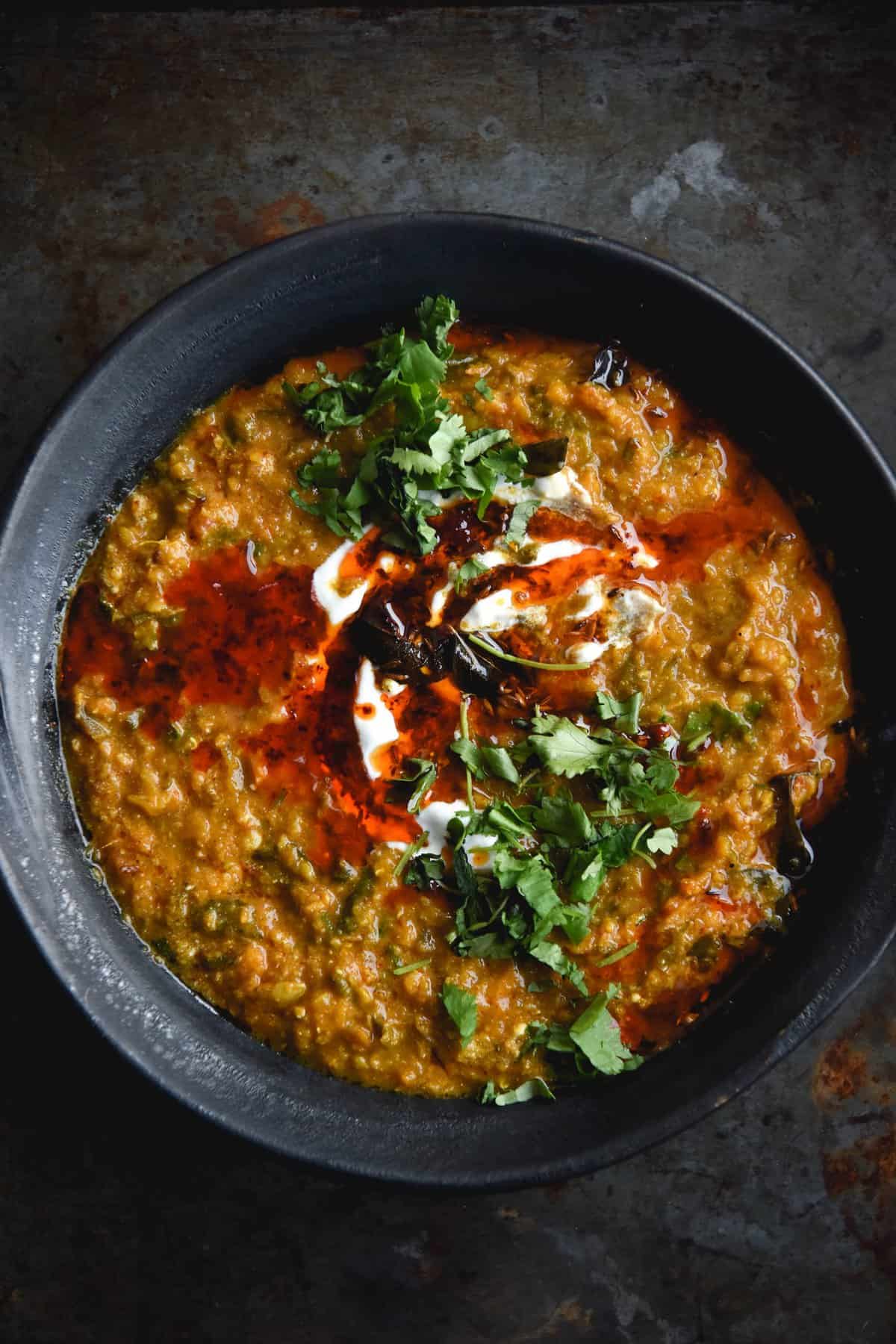 A special note on the lentils
I was initially testing this recipe with a can of brown lentils. Canned lentils are considerably more FODMAP friendly, because the fructans leech out in the canning process. Brown lentils are not remotely traditional to daal, but canned red lentils are not available. The brown lentils made a decent substitute, but I really wanted to try and stay as close to the original as possible. As such, I started experimenting with red lentils.
Un-soaked red lentils are FODMAP friendly in 25g serves per person. This daal contains 150g red lentils, so it serves 6. You can experiment with adding less lentils if you'd prefer, or more if they are not an issue for you. I also decided to include the step of soaking the lentils the night before making the daal. Although Monash hasn't published a conclusive study, they do say that soaking lentils overnight can help lower their overall FODMAP content. This is why I recommend that for this recipe.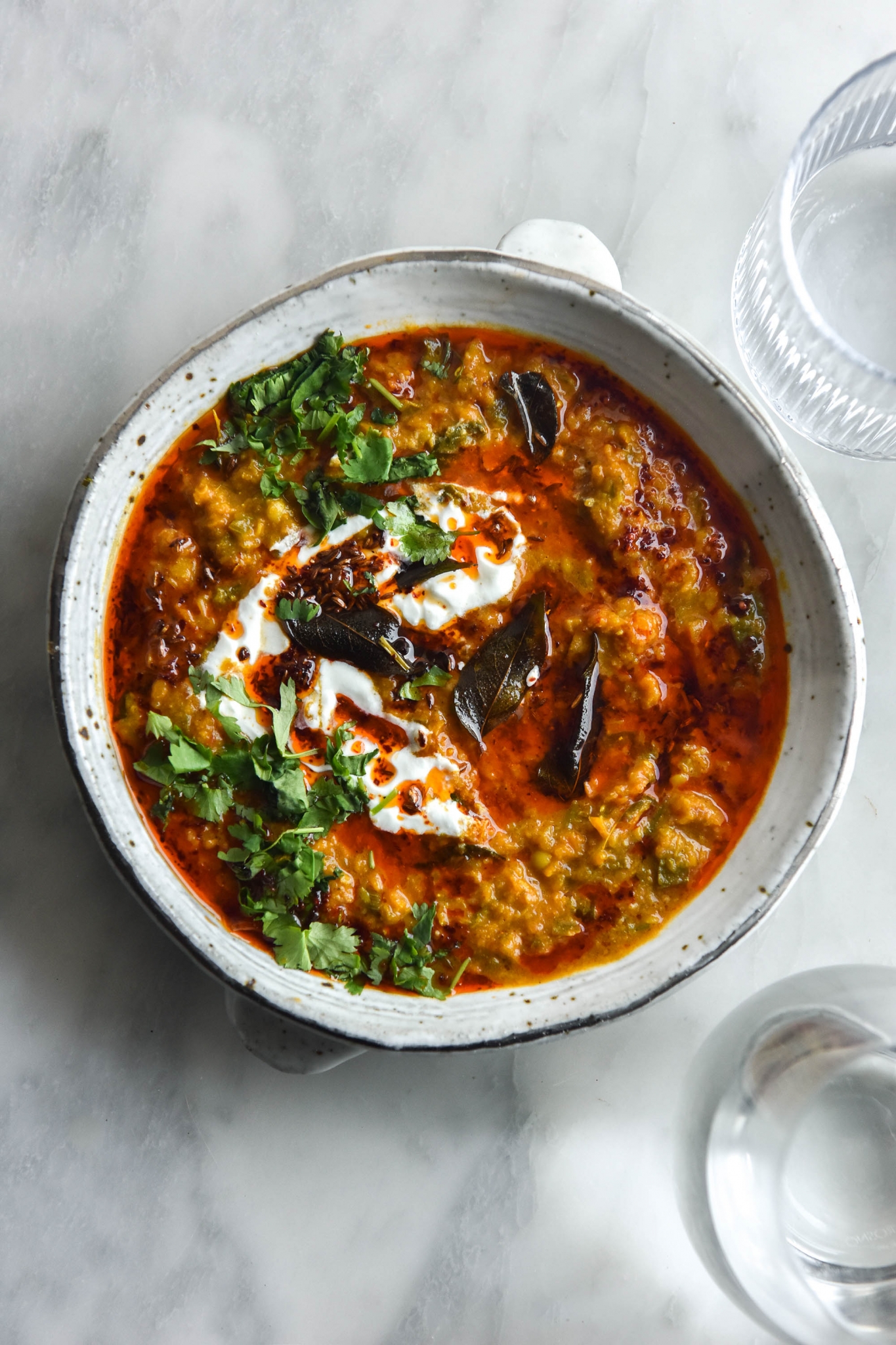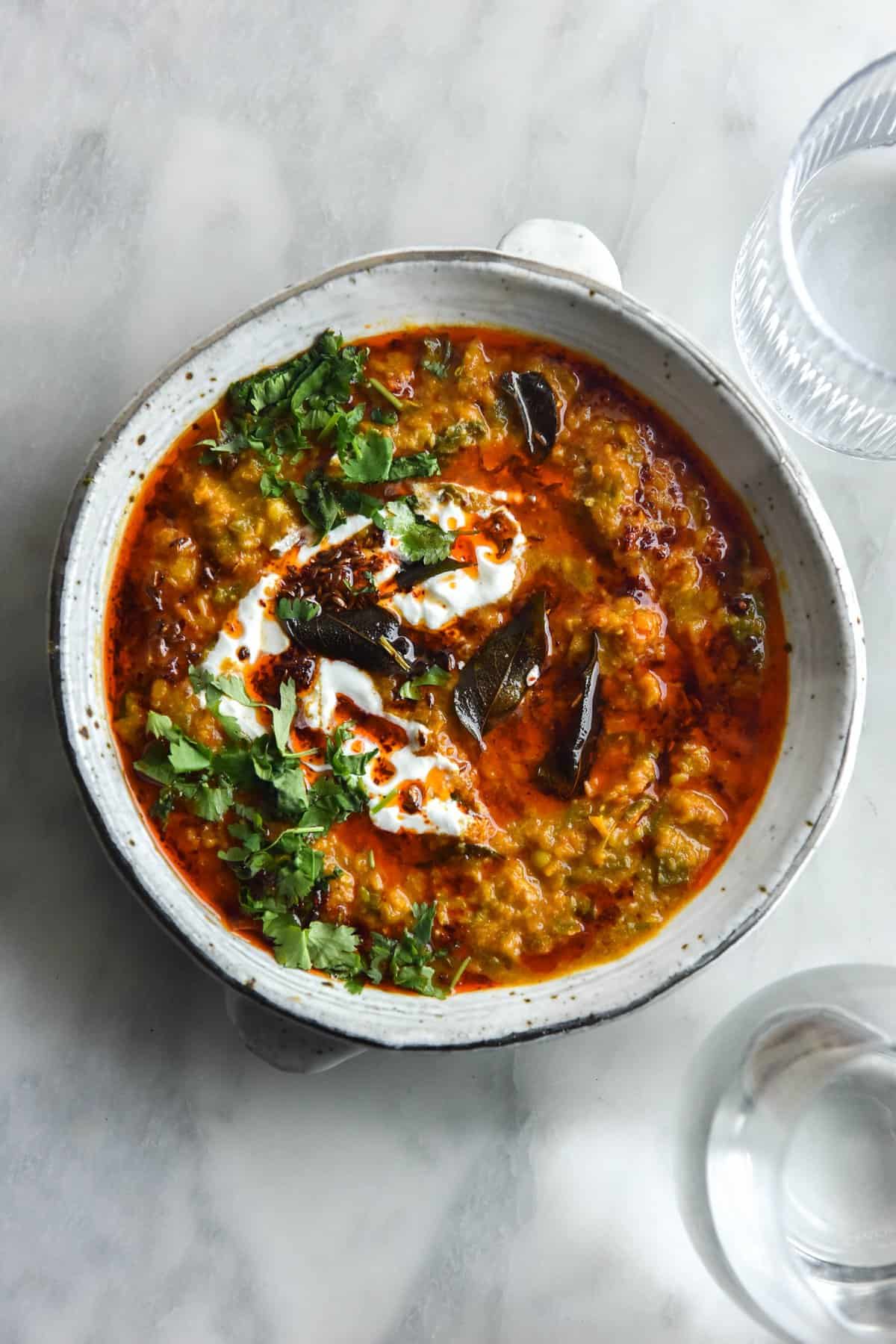 Ingredient notes
Kent or Japanese pumpkin, common tomatoes and a FODMAP friendly green like spinach are all recommended to keep the FODMAP content down.
Make sure you buy plain canned tomatoes and a coconut milk without inulin, chicory or any weird additives/ thickeners. I like TCC brand and Ayam brand – both contain just coconut kernel extract and water.
The curry leaves are totally optional but very delicious. These days, they're often at the supermarket in the fresh herb section.
Spring onion greens (not whites) are a FODMAP friendly 'eat without limit' food. They add a nice touch of flavour without any FODMAPs, so I highly recommend adding them.
I tried a version of this FODMAP friendly daal without the tinned tomatoes, and I actually liked it far less. There is something about the tinned tomato addition that makes the daal a little richer. It also seems to disguise the fact that you're essentially eating vegetable soup.
You can also use my low FODMAP Nomato sauce recipe to replace some or all of the tinned tomato. One batch of Nomato sauce makes approximately 1.2kg, which is equivalent to 3 x 400g cans of tinned tomato.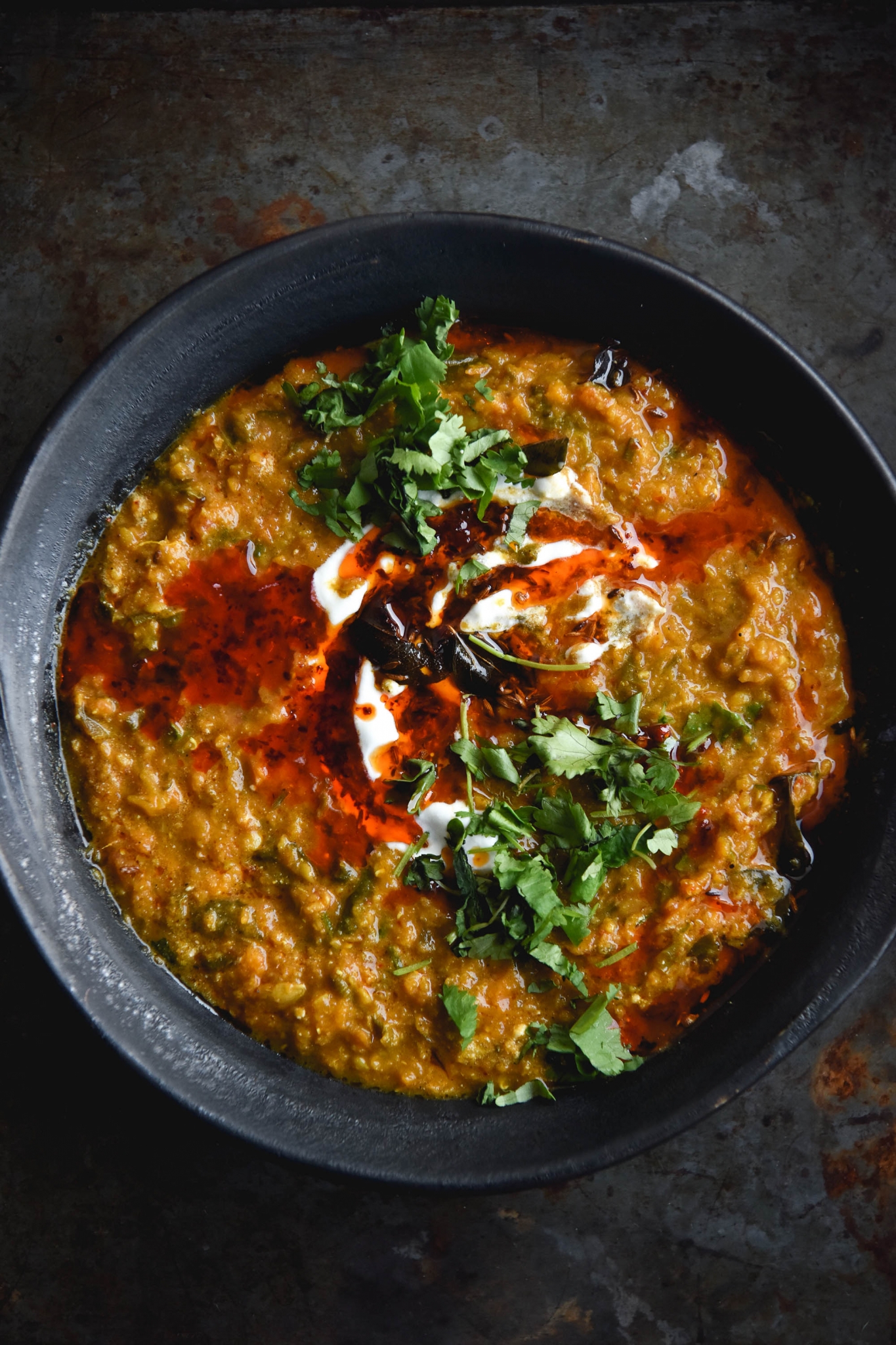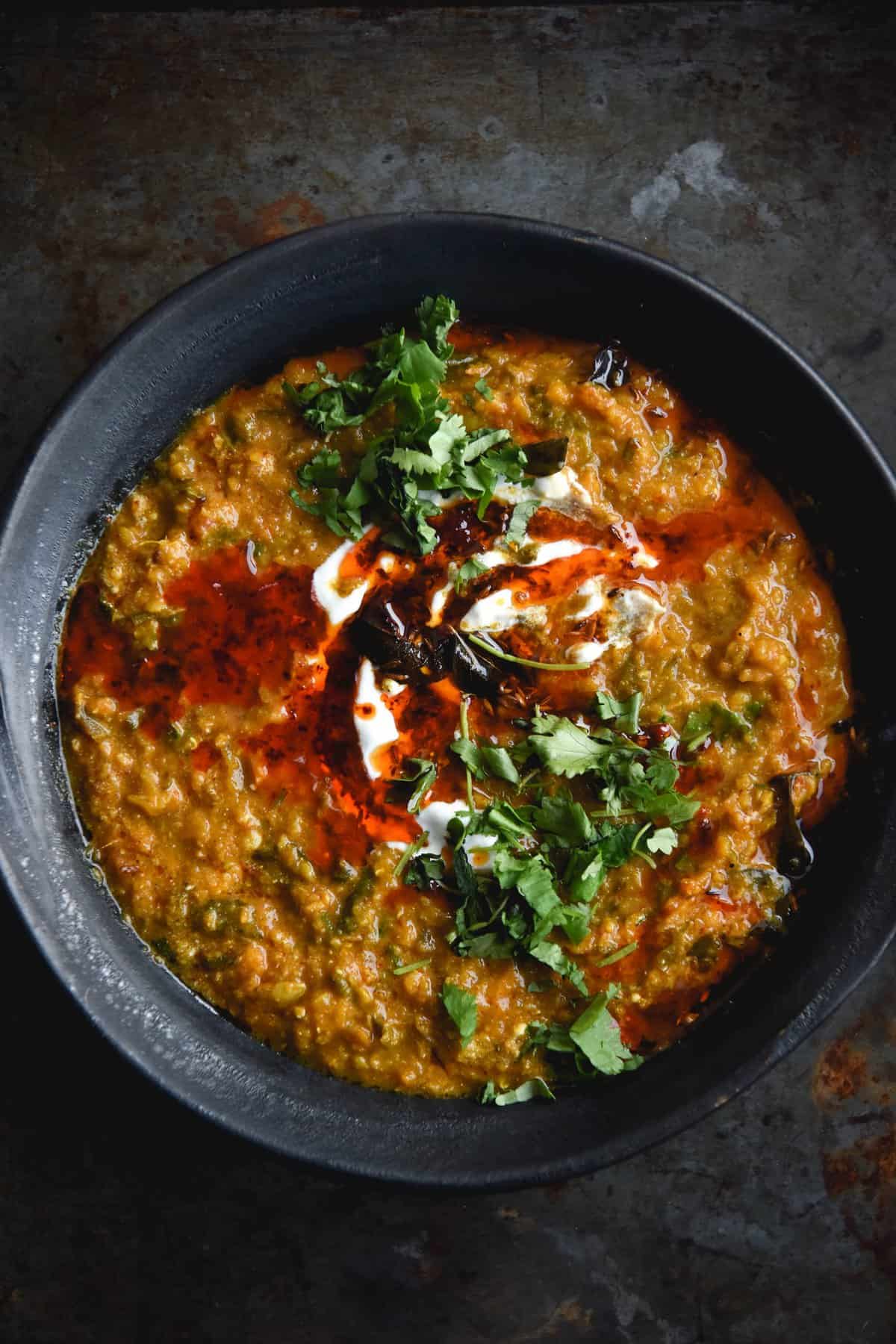 Recipe tips
Yes! 60-100g of ginger seems like a lot, but I promise it melds away into the dish to create flavour without any spicy ginger-ness. And yes! That much cumin really is necessary to give what is basically a stew a daal like flavour. I promise it's not overpowering.
And yes! 4 tablespoons of cumin powder seems like a lot. It is a lot! But this FODMAP friendly daal style dish serves 6-8, so the quantity is warranted.
If you're using coriander as a garnish, add the stems to the daal. They go a long way in amping up flavour. Thoroughly wash them and trim the roots, then chop the stems finely and throw them in after the ginger and spring onion greens. An easy way to add extra flavour.
For a real dahl texture, this recipe needs a light blend once cooked. I use a stick blender so I can control how much of it is blended. If you don't have a stick blender, you could use a real blender, although it only needs a quick whizz. If you have a Nutribullet, you'll need to wait until it cools before blending (Nutribullets have no air hole so hot things will cause pressure which might subsequently cause a hot dahl explosion).
Making a tadka for your FODMAP friendly daal
A Tadka is defined by Cooks Illustrated as an Indian cooking technique whereby spices are bloomed in hot oil or ghee to extract bold flavours. I learned about a variation, Chhonk, by watching Priya Krishna back in the Bon Appetit YouTube Heyday.
Because a tadka is best made fresh, I haven't included a recipe. This dish serves 6 and it would be difficult to determine how many people a person is cooking this daal for at any one time. Plus, I think it's kind of fun to riff on what you have and see what the end result is. It doesn't need to be a static recipe; you can experiment with flavour and ideas.
I love using curry leaves, cumin seeds and cardamom seeds in a tadka. I also like to add a bit of salt and to finish with a squeeze of lemon, cooking it off a little before taking it off the heat. These are all things I enjoy, but you might like to play around and see what works for you. An important note: if you add lemon, be very very careful. It will spit vigorously as the liquid hits the oil.
I also LOVE using garlic infused oil or garlic infused ghee here. It adds such a nice finishing touch to a FODMAP friendly daal. If you need more information on how infused oil or ghee works, see the posts linked.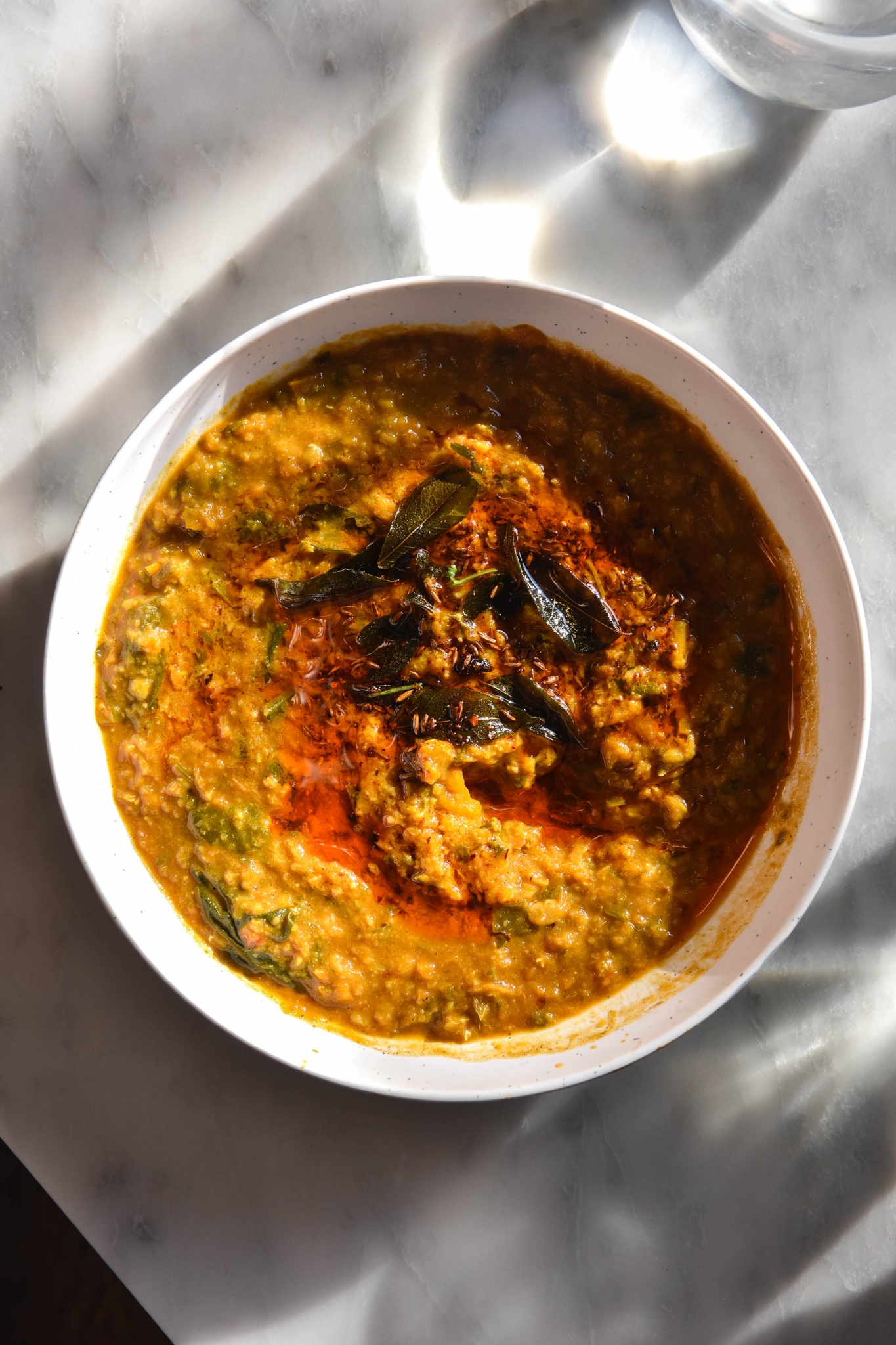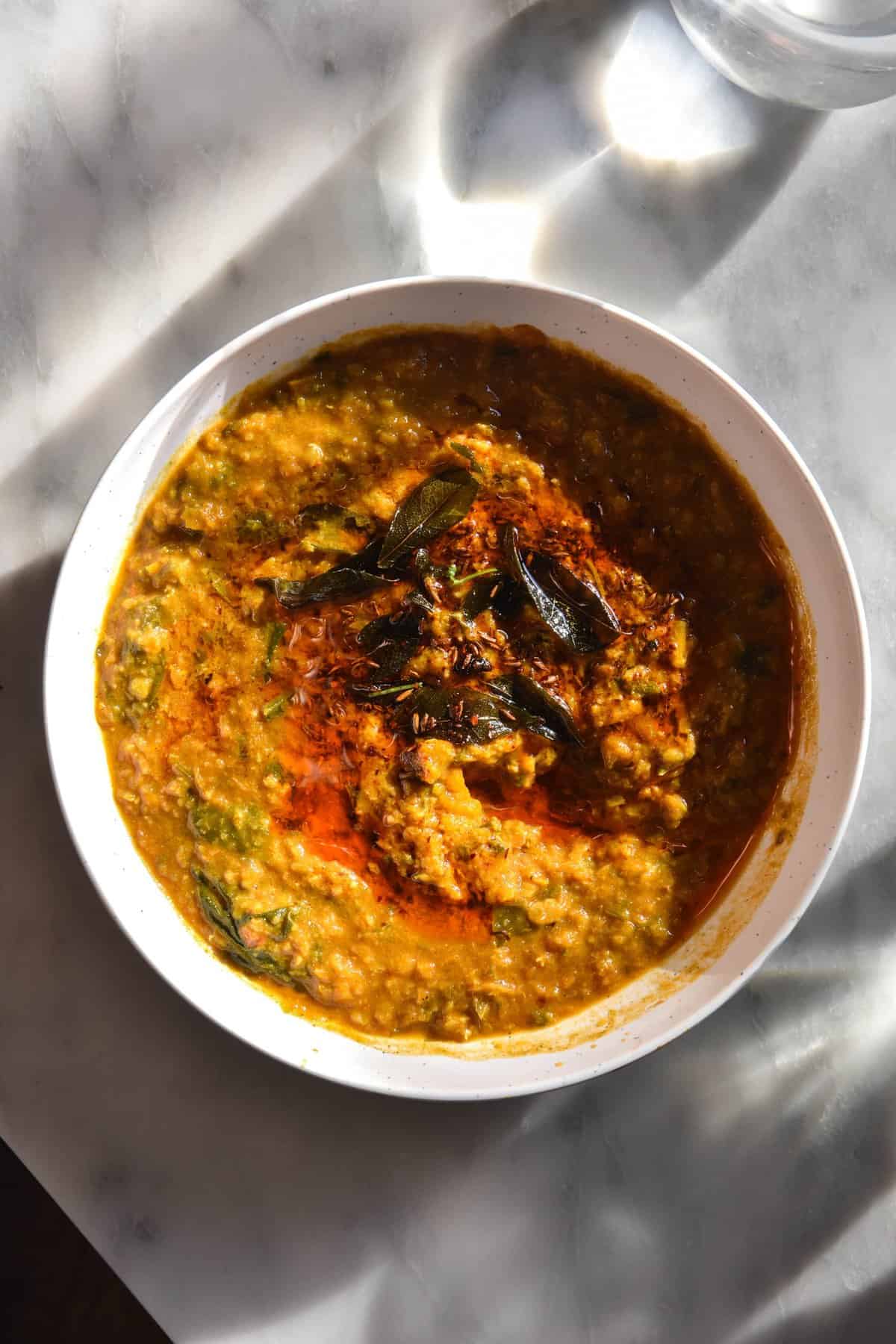 More low FODMAP Indian vegetarian recipes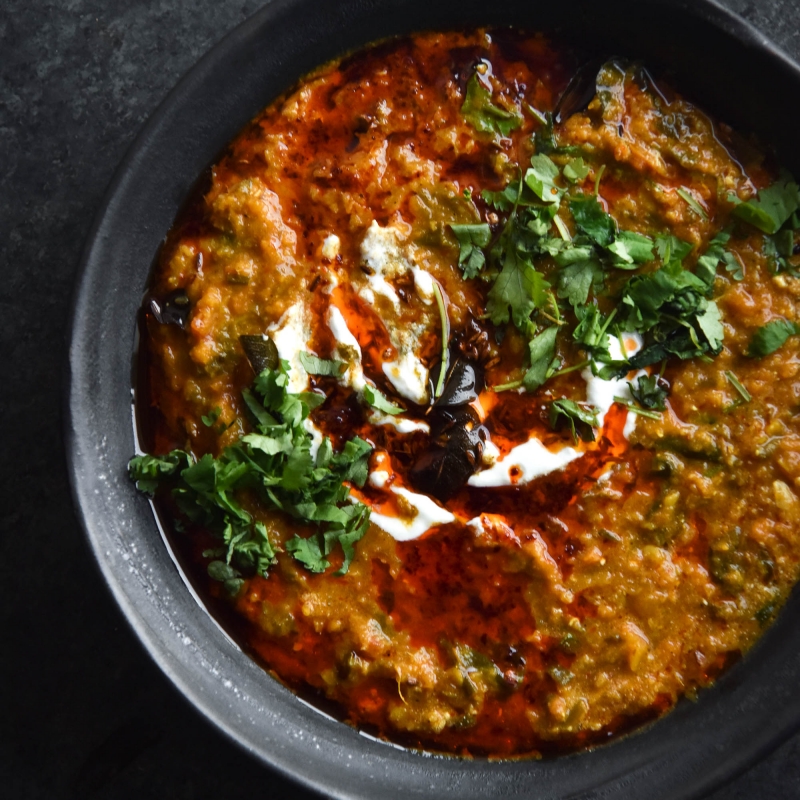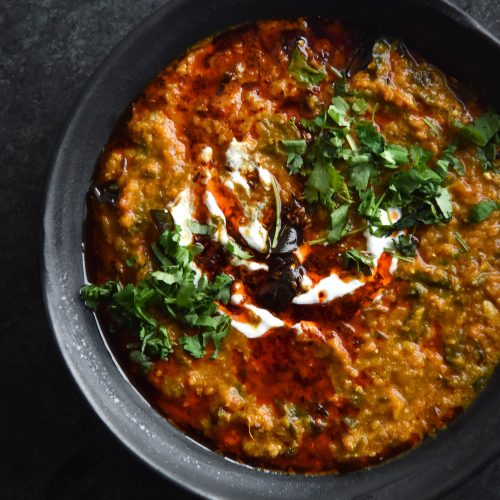 FODMAP friendly Daal (or not quite daal)
Vegan, nut free, FODMAP friendly
Ingredients
For the daal:
100-150

g

red lentils

soaked overnight (see notes)

2-3

tablespoons

oil of choice

I used vegetable oil

20

or so curry leaves

reserve the remainder for the top optional

Coriander stems

washed and chopped (only if you're garnishing with coriander, can be omitted)

1

bunch of spring onion greens

50-100

g

freshly grated ginger

2-4

tablespoons

(yes, tablespoons) ground cumin

1/2 – 1

tablespoon

garam masala

use less for fresher spice blends

1/2

teaspoon

ground turmeric

you could also use fresh to taste

Chilli flakes or powder

to taste (optional)

1 – 1 1/2

teaspoons

salt (or to taste)

I used table salt

Fresh pepper

to taste

1-2

cups

(250-500ml) water

2

medium carrots

grated

300-400

g

Japanese or Kent pumpkin

grated (see notes)

1

X 400g tin plain chopped tomatoes

1

X 400g tin coconut milk

check that it doesn't contain inulin

Juice of 1/2 a lemon

to taste
To finish:
Remaining curry leaves

1

bunch coriander

optional

Tadka

optional (see notes)

Lactose free greek yoghurt or plant based yoghurt

optional

Rice

to serve
Instructions
Thoroughly wash and rinse your lentils from the night before. Grate and chop all your ingredients and have them ready to go.

Heat the oil in a large soup pot over a low-medium heat. Once warmed, add the curry leaves, coriander stems (if using) spring onion greens and ginger and stir to combine. Cook until softened and fragrant or for 2-3 minutes. Add a splash of water if they start to stick at any time.

Add the spices and seasoning and stir to combine. Allow them to cook off for a minute before adding the lentils, water, grated vegetables, chopped tomatoes and coconut milk. Stir to combine, then turn the heat down to low and pop a lid on. Cook the daal, stirring occasionally, until the pumpkin is soft, around 10-15 minutes.

Once the vegetables are soft, use an immersion blender (a soup stick) to puree the daal to a more daal like consistency. You can also use a blender, but you might need to cool the daal first (particularly if you are using a Nutribullet).

Add the lemon juice and taste the daal. Adjust the seasoning, spices and lemon juice to suit your tastes.

Serve with rice (or without) coriander, a bit of yoghurt and a tadka with the curry leaves, if you're using it. See the section on tadka above for more information.
Notes
Red lentils are FODMAP friendly in 25g per person per serve. This dahl uses 150g red lentils to serve 6 people. Monash theorises that soaking them helps make them more digestible, so you might be able to eat a bit more than 25g per serve.
The daal uses carrots and pumpkin to bulk it out in a FODMAP friendly way. They are plain enough in flavour, FODMAP friendly, but also starchy enough to thicken up the daal as it cools (much like lentils normally do).
Japanese and Kent pumpkin have no consumption limit FODMAP wise, which is why I recommend them. 

Pureeing the daal helps create a thicker, more daal like consistency. The daal thickens up further as it cools, so I like to make it ahead of time if I can.
I only have access to supermarket spices, which aren't that fresh. If you have access to good quality fresh spices, add them to their tastes as they will be stronger than the spices I have used.
100g of ginger is a lot! I know. I find that it works so well to create a nice flavour base for the daal, but you can use less if you like.
Some brands of coconut milk contain inulin, which is not FODMAP friendly. In Australia, I like TCC brand, which contains only coconut and water.