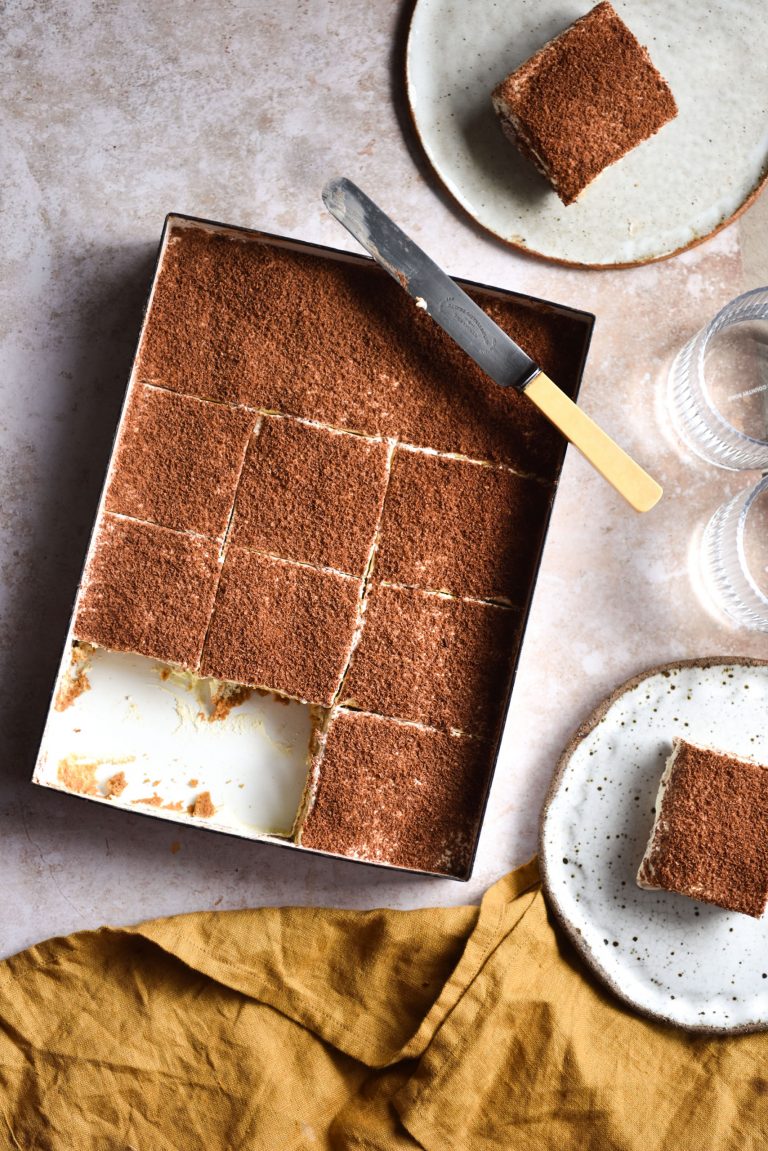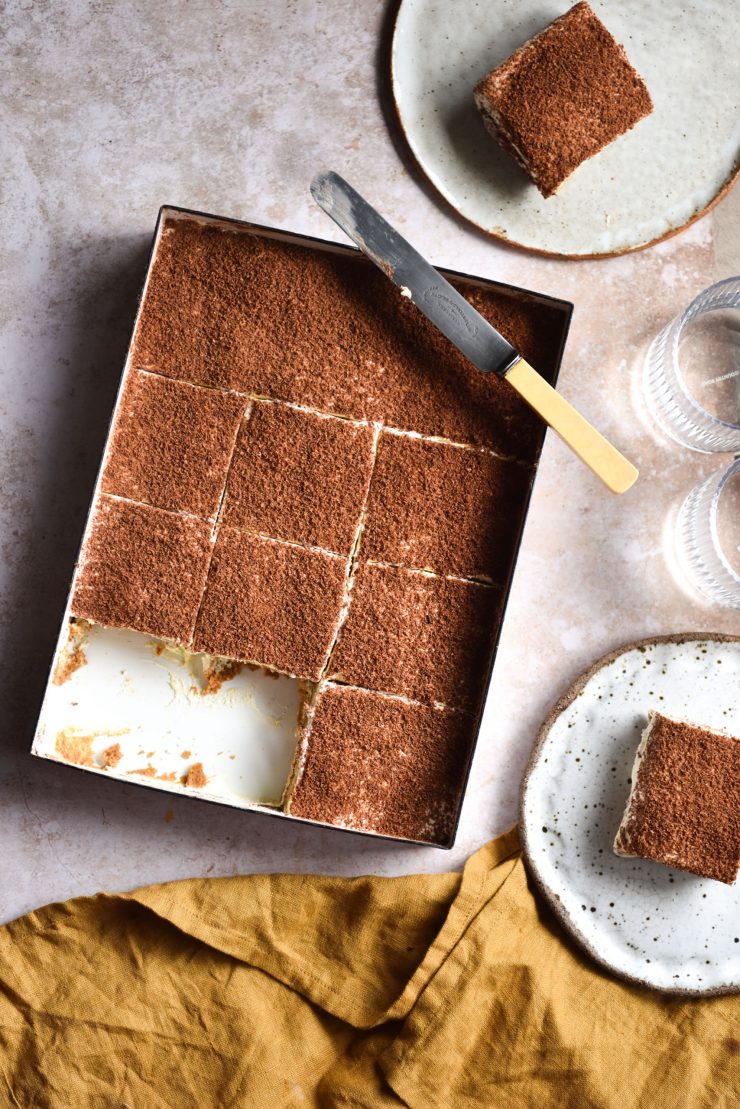 A FODMAP friendly, vegetarian Christmas is not a particularly easy feat. Given that the prized dishes are basically either meat, garlic, dried fruit or (for the vegetarian lady) a token bean salad, it is quite the opposite of smooth sailing. Fear not! This roundup of FODMAP friendly Christmas recipes (that are vegetarian) is here to save the day and save your stomach.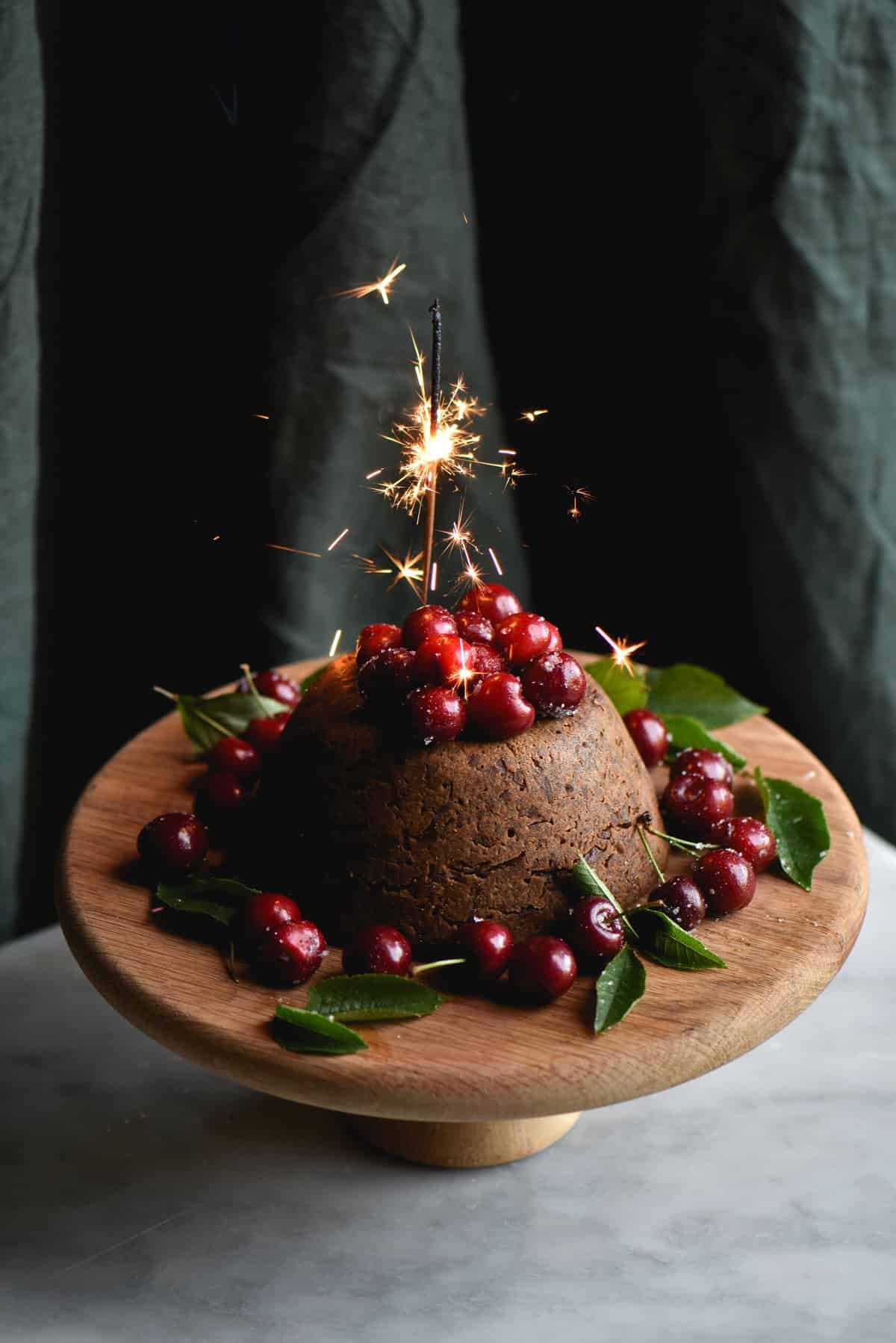 I've collated my favourites from the year and beyond – half sweet and half savoury. I hope you find something that will make Christmas day a little easier. So, without further ado, let's begin the countdown. Or count-up, because I'm not tech savvy enough to go backwards.
FODMAP friendly Christmas recipes
Starters
Whipped garlic infused ghee with gluten free baguettes
This garlic infused ghee is a FODMAP friendly way to get garlic back into your life. Bonus? Add a little hot honey (1 teaspoon serves per person are FODMAP friendly) and bourbon for a festive, addictive treat.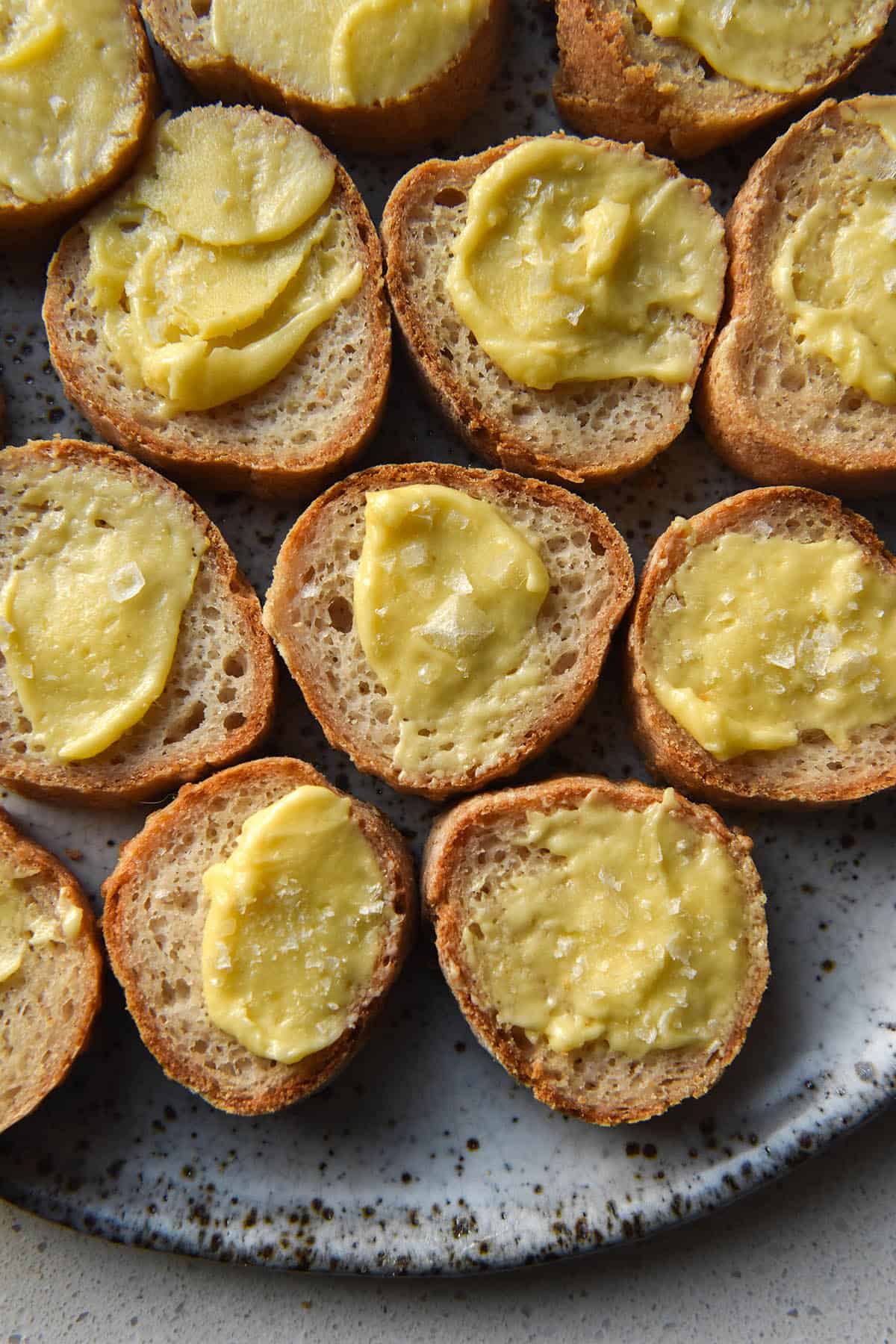 Vegetarian sausage rolls with gluten free pastry
Vegetarian sausage rolls are an easy Australian Christmas starter. The perfect finger food, they are one of my delicious FODMAP friendly Christmas recipes.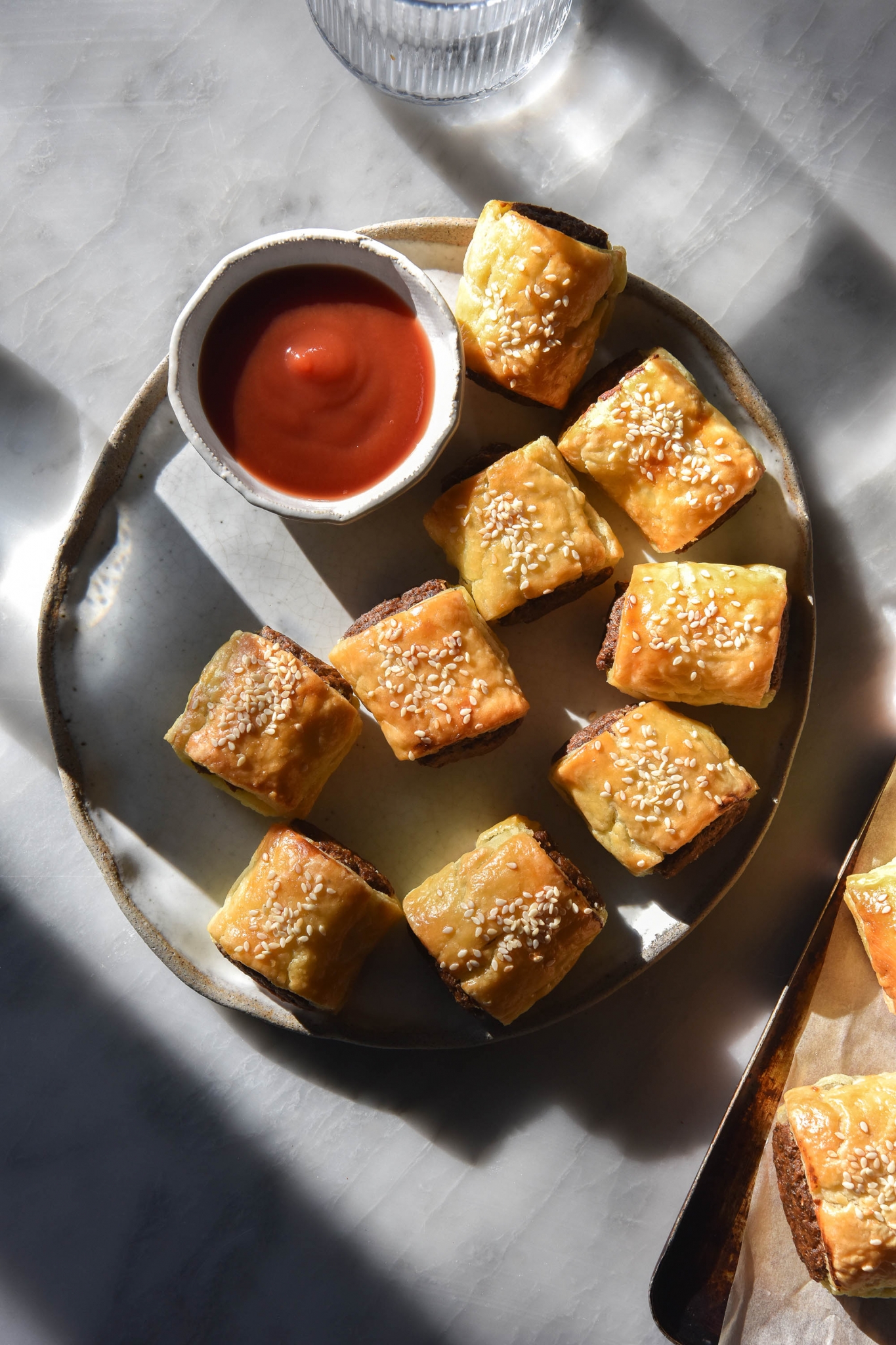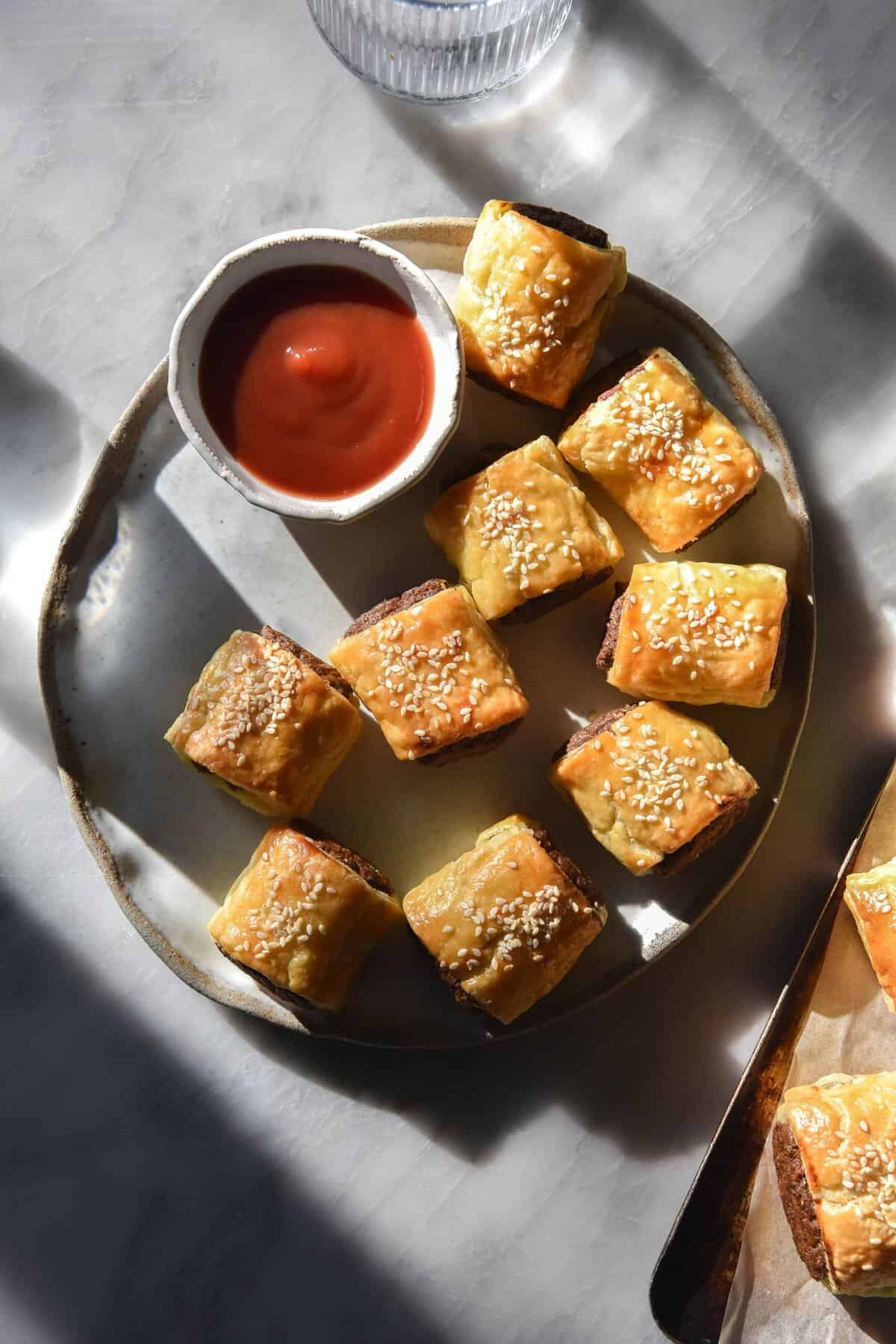 Feta and spinach rolls (gluten free)
Another easy little piece of finger food, these spinach and feta rolls are low FODMAP, gluten free and nut free. They can also be made ahead of time.
Gluten free tomato, pesto and gruyere tart
This Gluten free tomato, pesto and gruyere tart is the perfect finger food that is conveniently Christmas themed. Speaking from experience, this will be gone before you know it. Use vodka in place of the water to create an extra flaky pastry that gluten tolerants and intolerants alike will enjoy.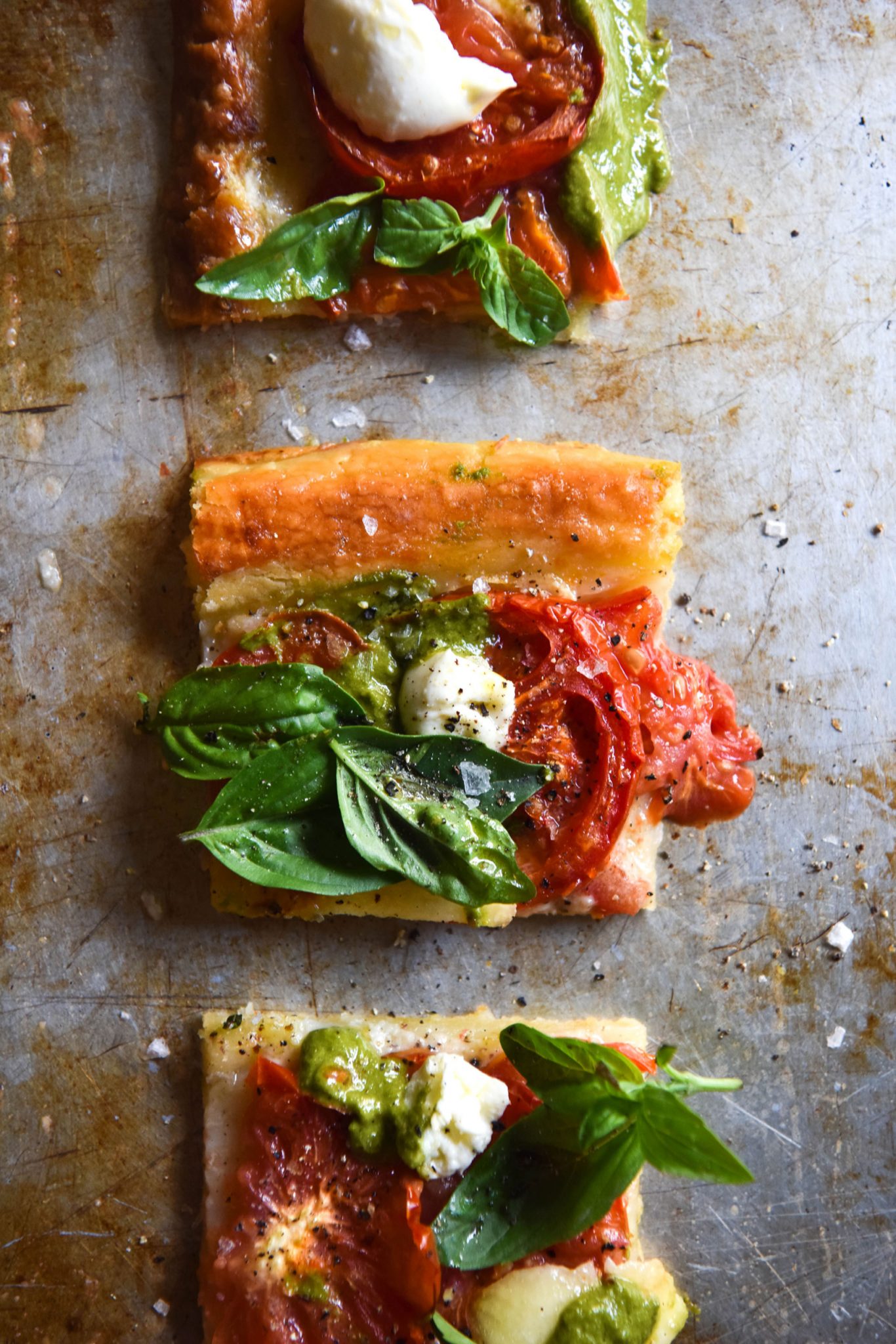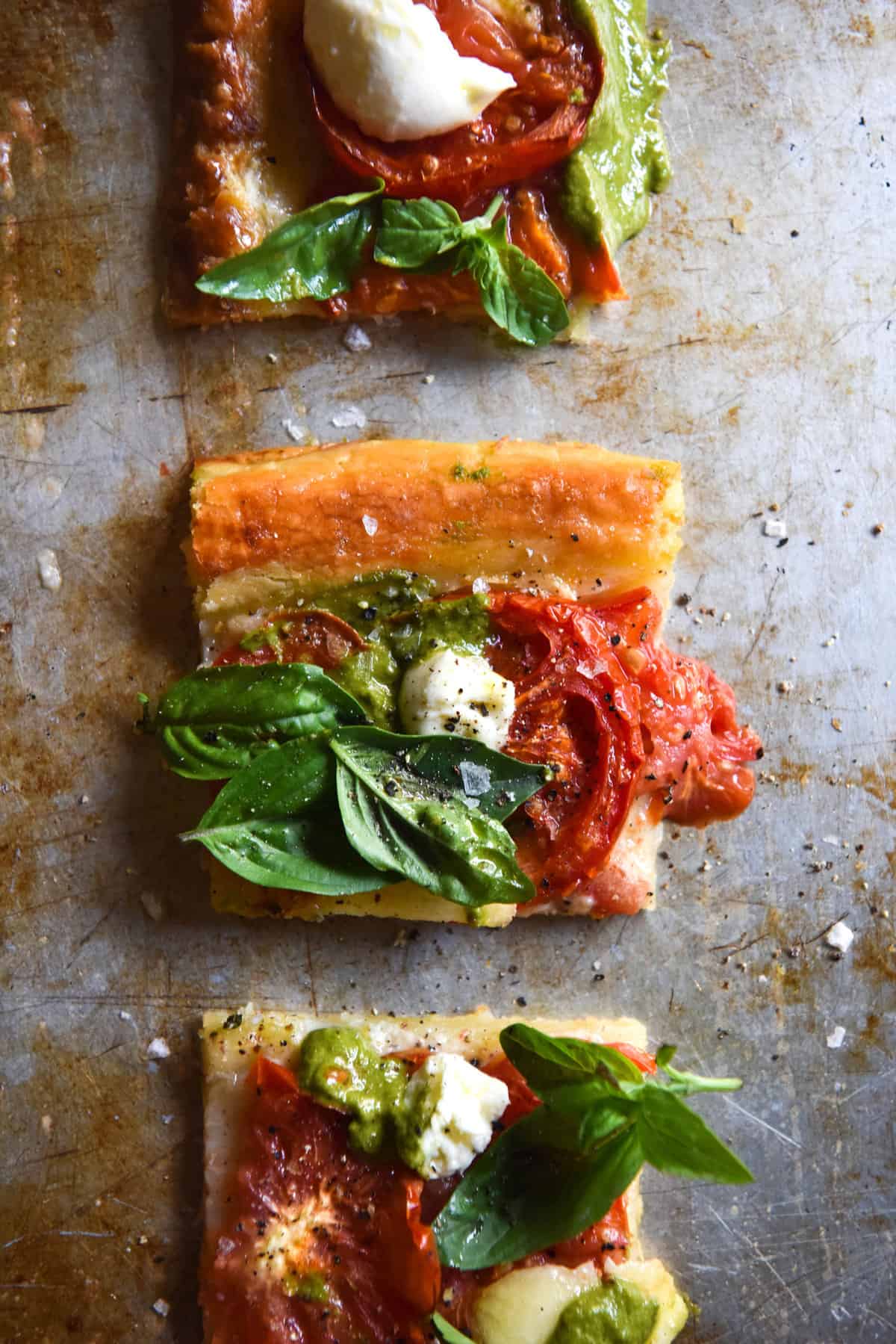 Gluten free brie and cranberry wreath
Brie and Cranberry wreath. I served this at Friendmas in Australia and my friends weren't aware that cranberries were such a festive ingredient. I think I've been spending too much time on the internet. This recipe is a heavenly, festive Christmas that uses homemade, super flaky gluten free pastry. You can use the technique and fill it with whatever you fancy, if you haven't heard of cranberries either.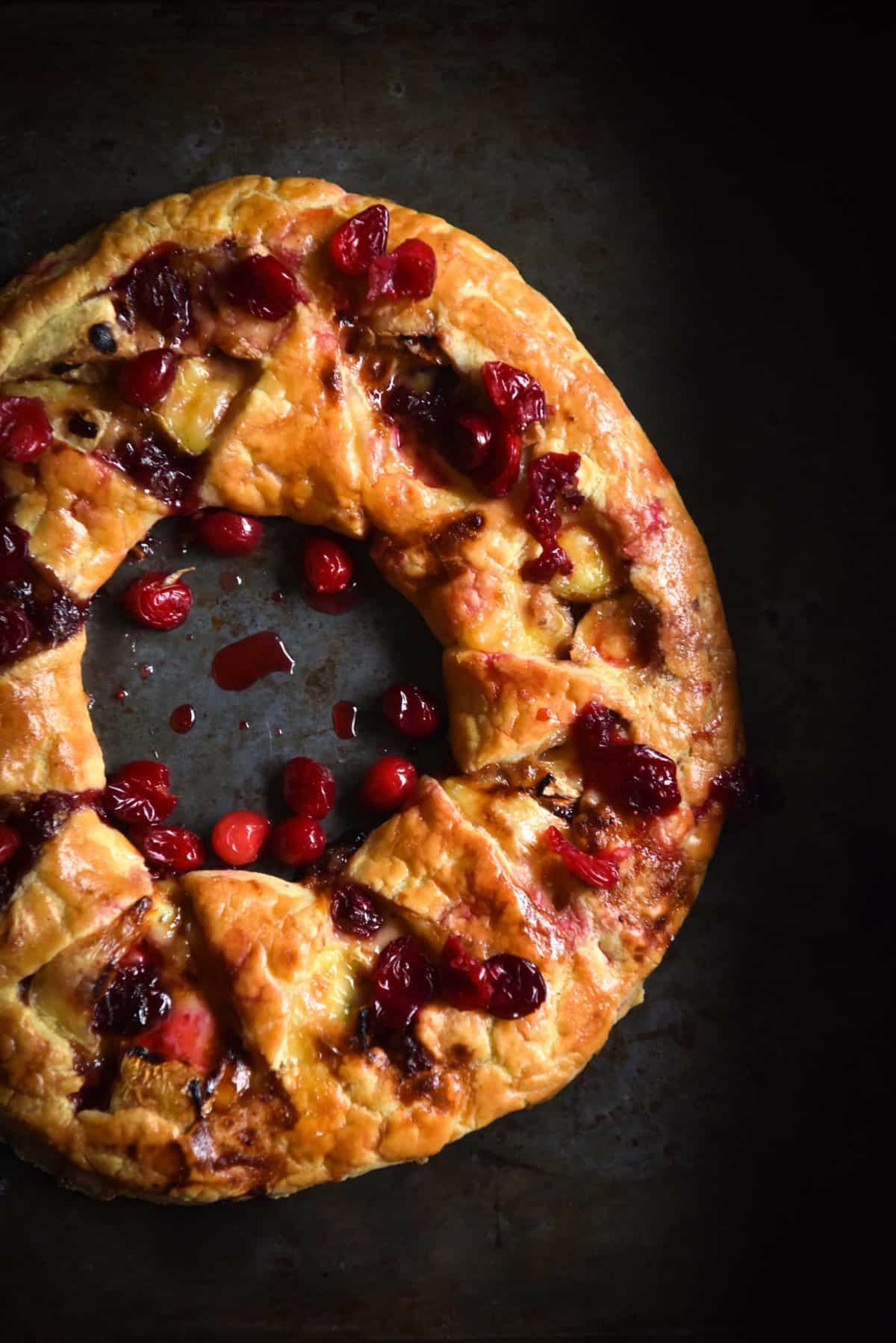 Low FODMAP vegan mozzarella
This low FODMAP vegan mozzarella is made with raw macadamias for a mild and creamy vegan cheese. It uses no yoghurt or nutritional yeast to ensure a creamy, salty and neutral flavoured mozzarella akin to the dairy version.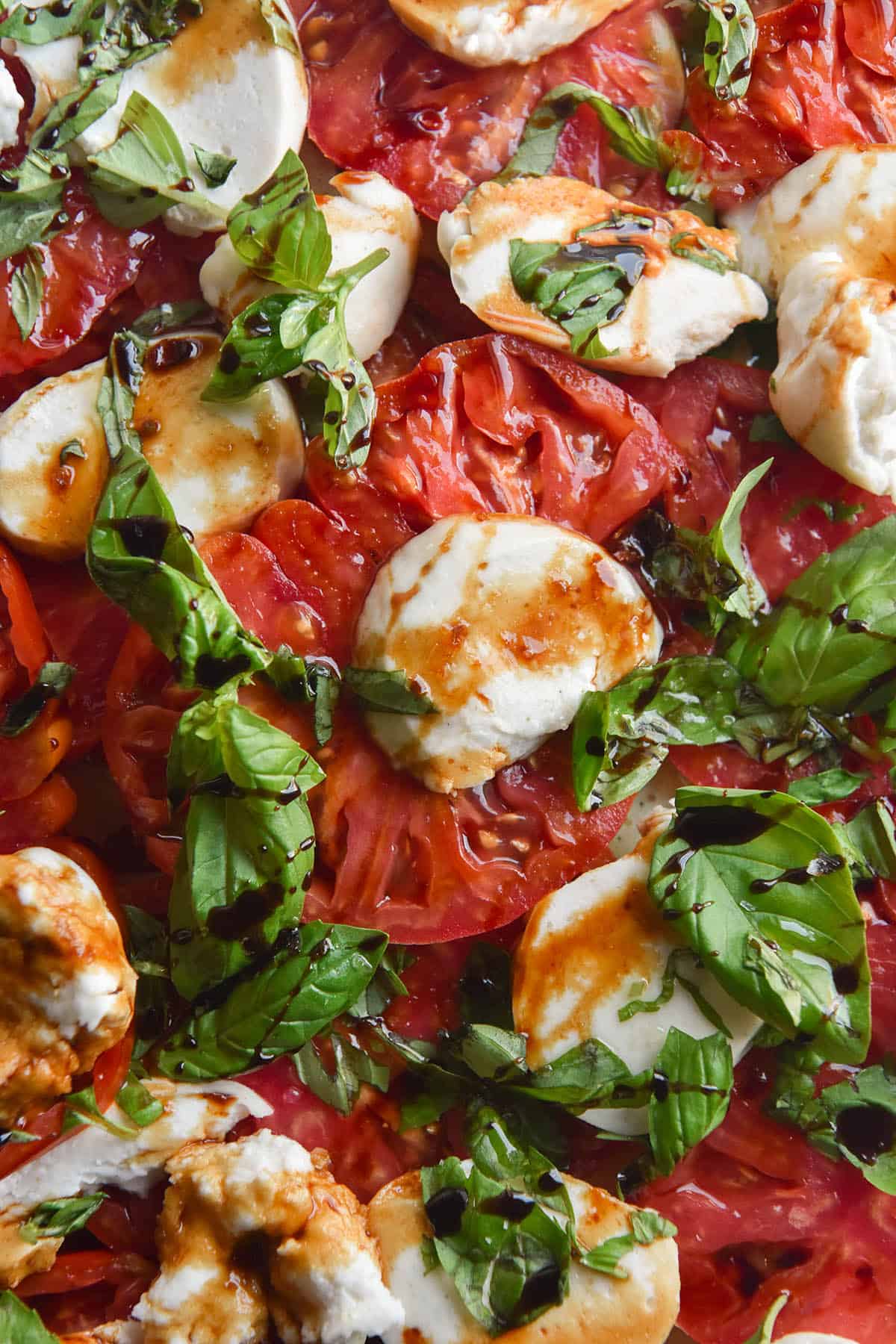 Savoury mains
Gluten free pumpkin, sage and goat's cheese tart
First off, this pumpkin, sage and goats cheese tart. It's made with an easy butter and yoghurt pastry, and the filling is packed full of flavour thanks to (FODMAP friendly) leek greens and fresh sage. A deeply comforting festive treat.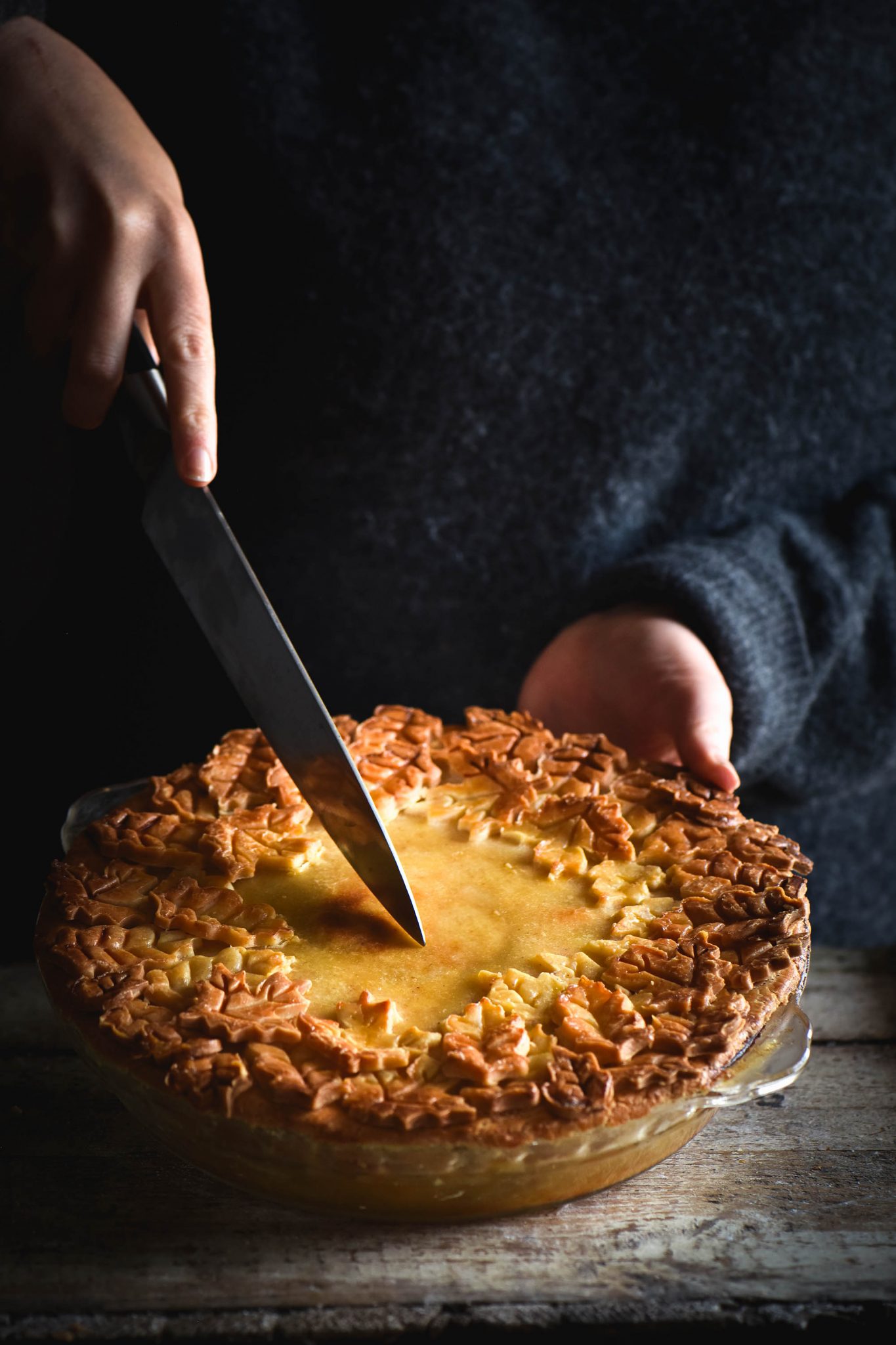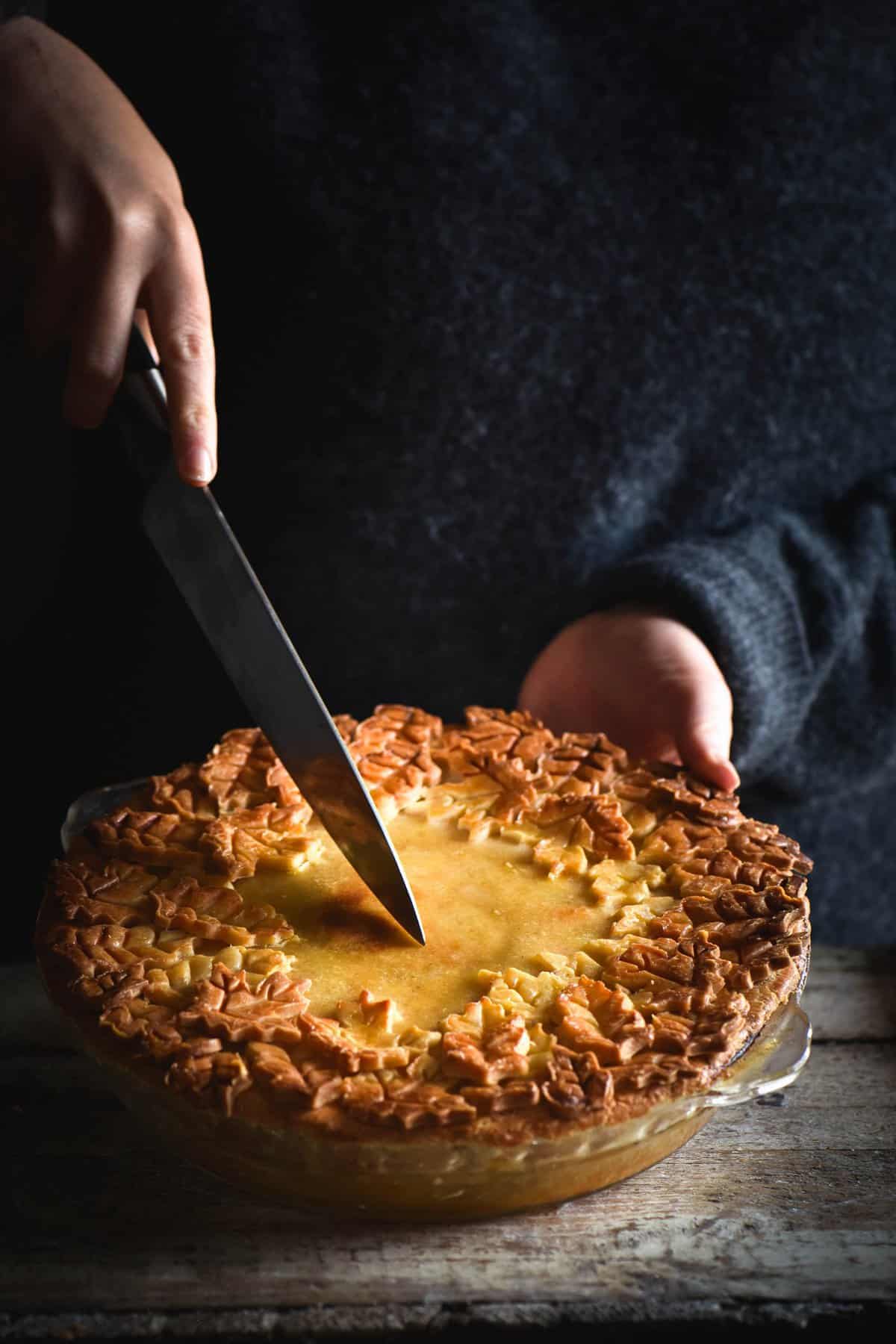 Spanakopita style tart with easy gluten free yoghurt pastry
If the above flavour combination doesn't appeal to you, how about a spanakopita tart? It's fresh, filling, full of greens and easy to make ahead of time. You can keep it simple by not bothering with a pastry lid, too.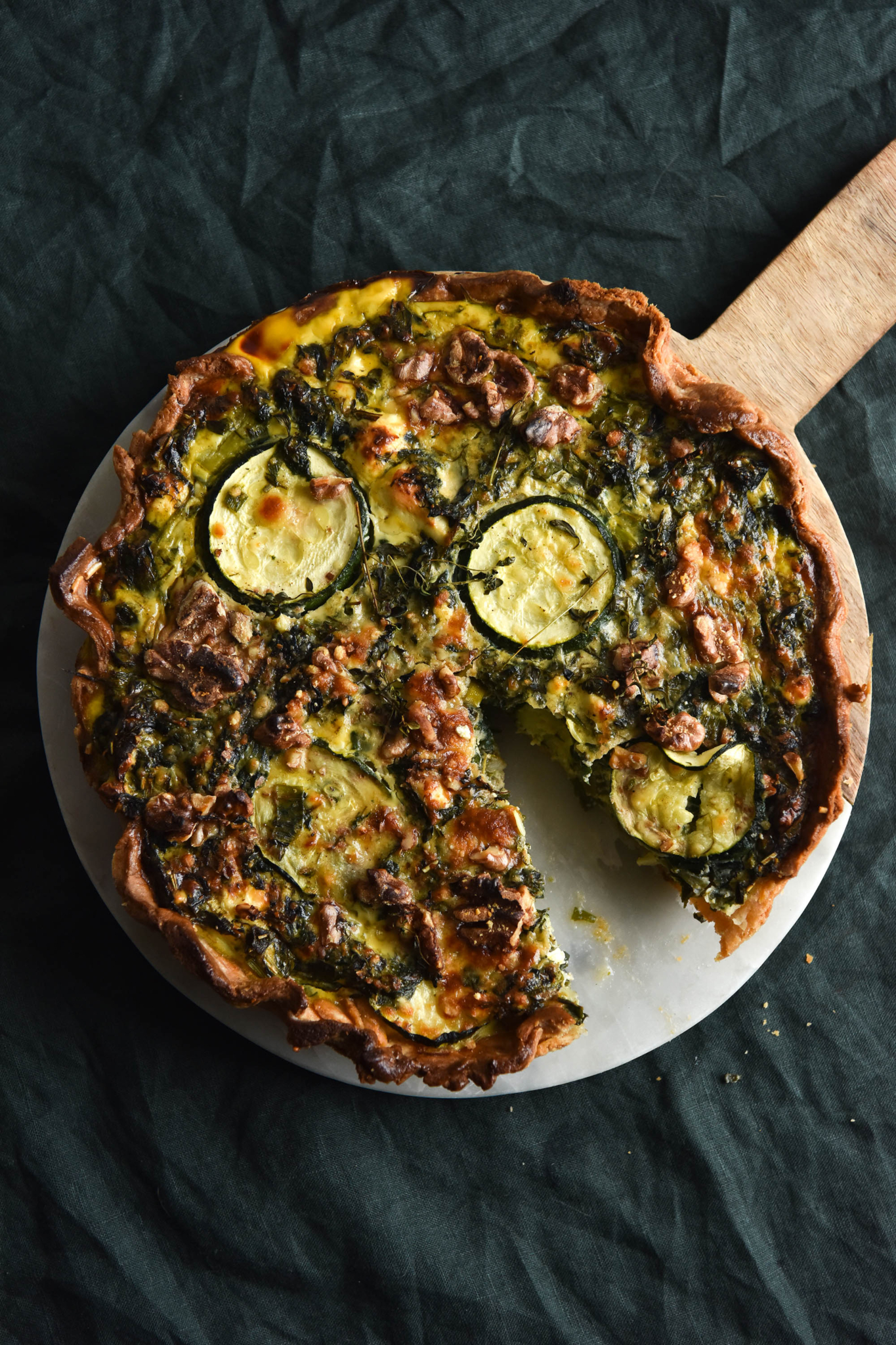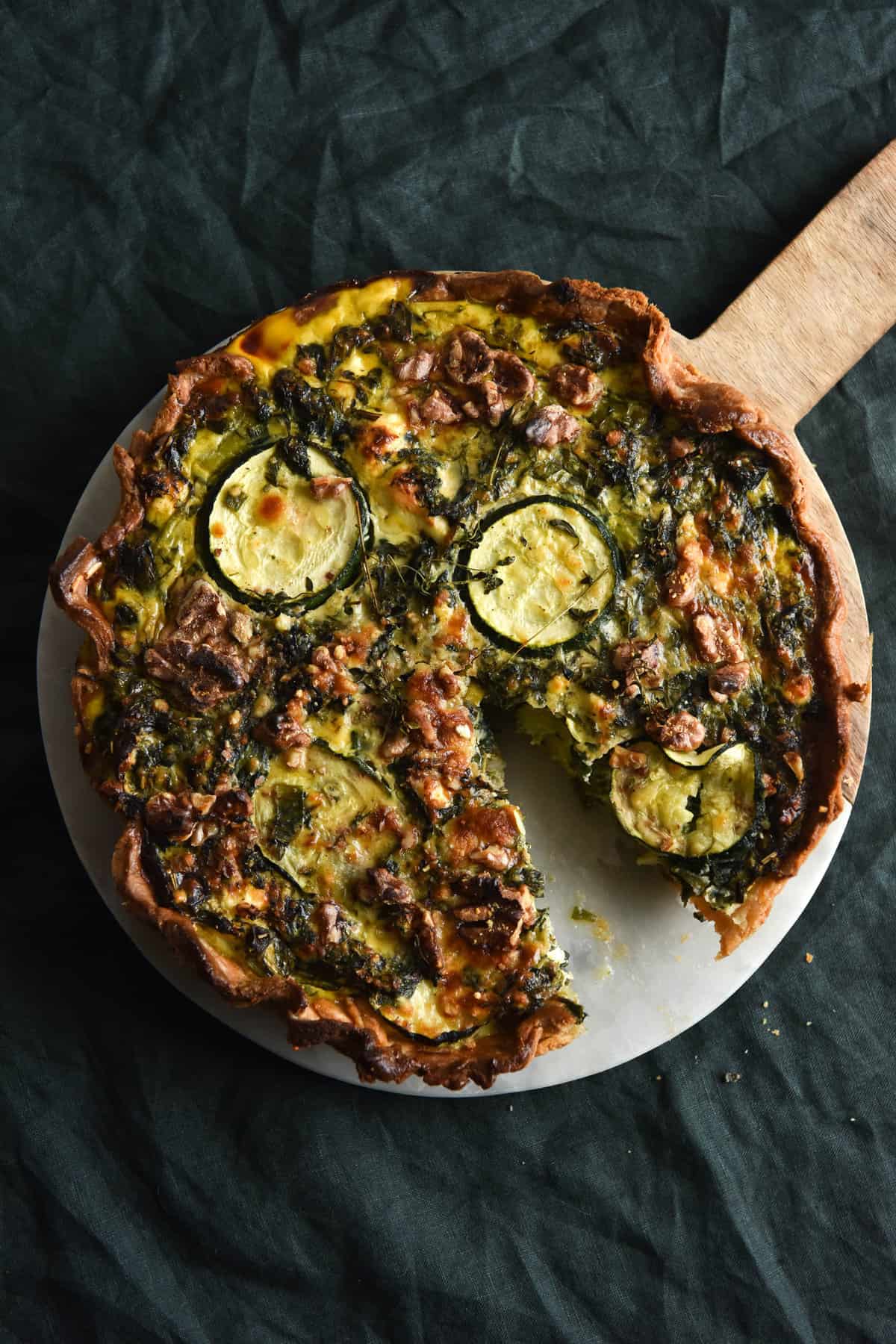 FODMAP friendly, gluten free and vegetarian moussaka
When you're catering to a large vegetarian crowd, it can sometimes be easier to go big. Enter: the FODMAP friendly vegetarian moussaka, complete with vegetarian mince meat and a smokey bechamel. It can easily be made vegan by making a vegan bechamel, too.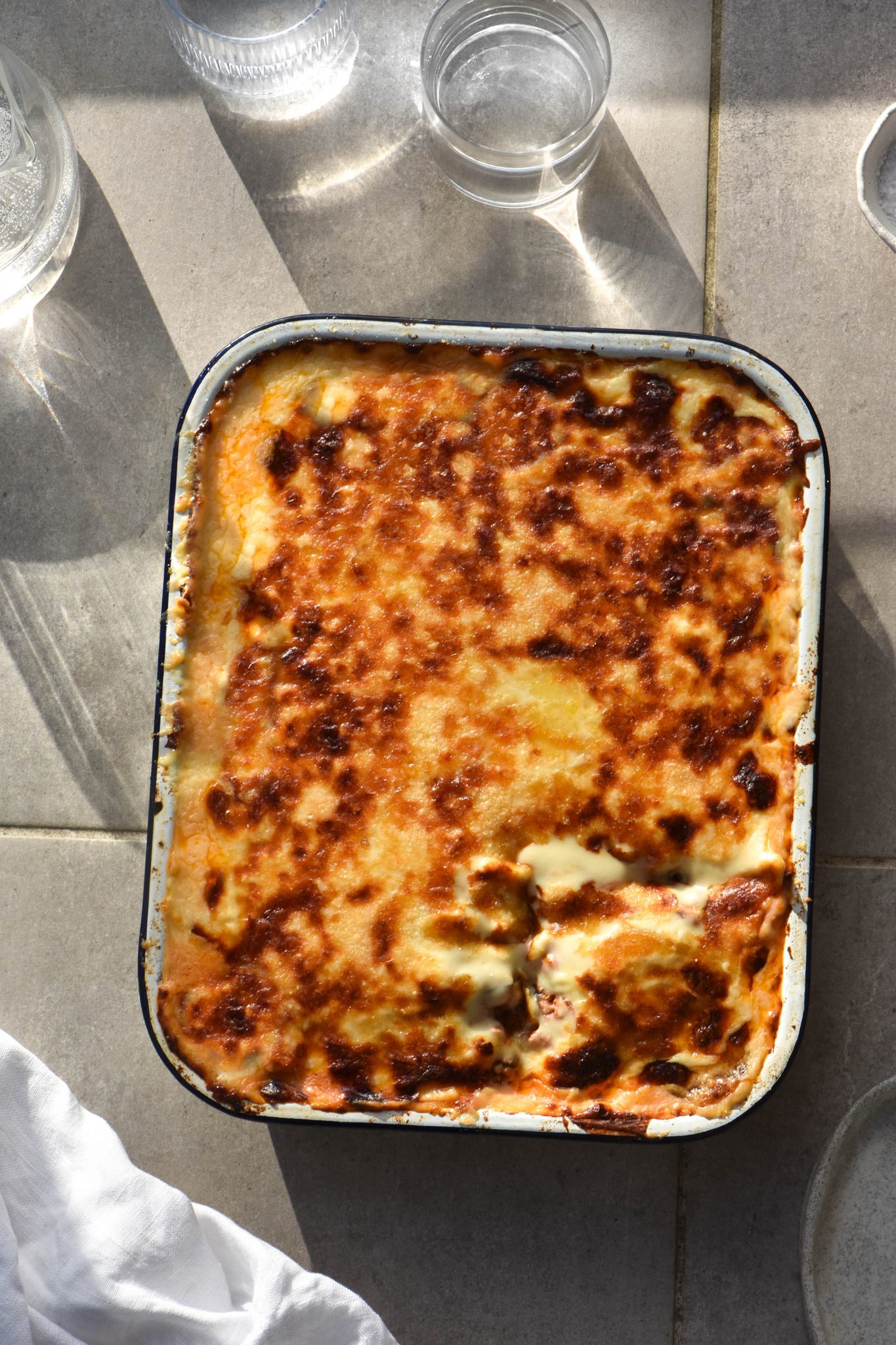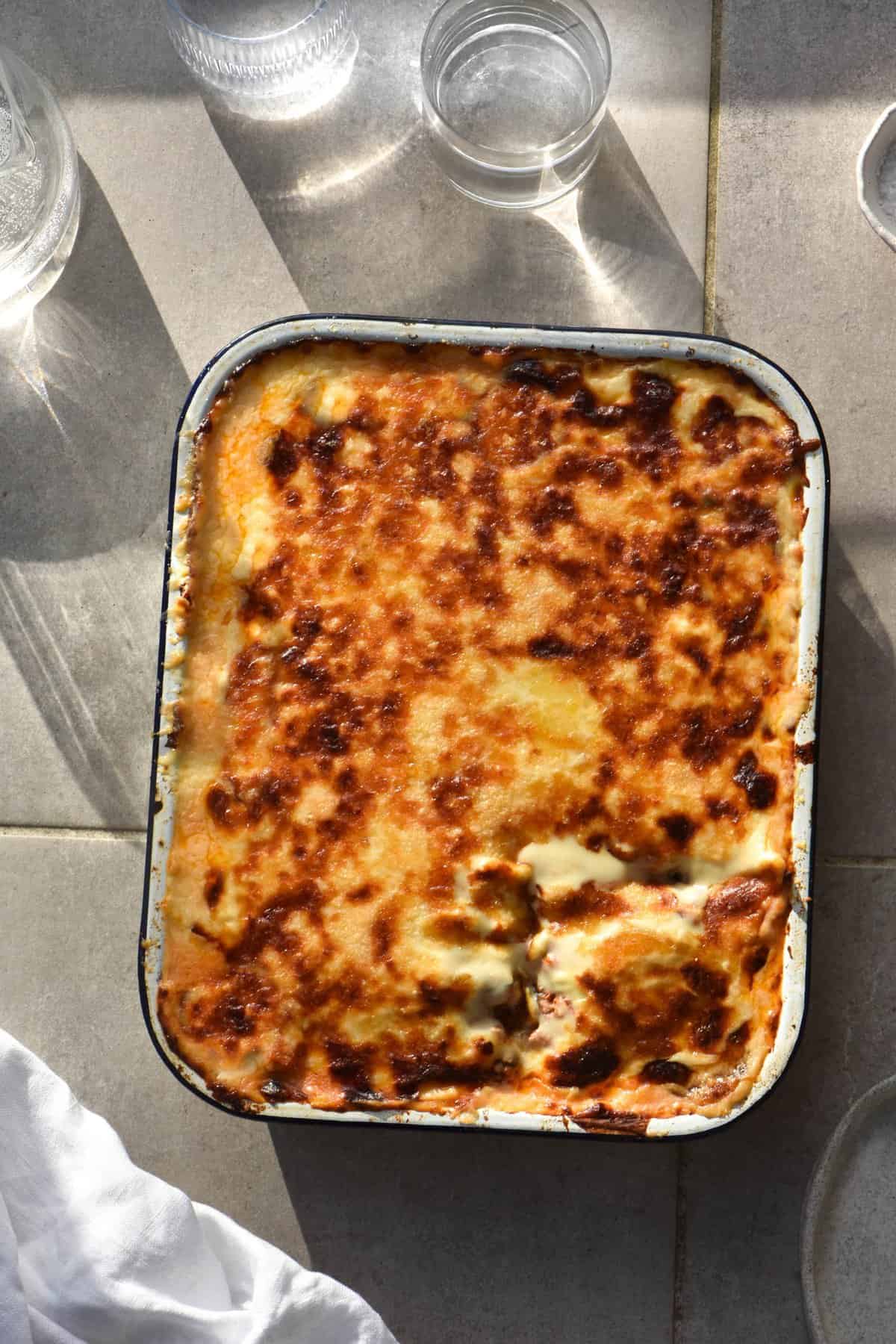 Vegan, FODMAP friendly lasagne
For when you're feeding a large VEGAN crowd, this vegan, gluten free and FODMAP friendly lasagne should be in your future. It's filling, delicious and feeds a crowd. Add a festive touch by grating some fresh nutmeg into the bechamel and adding some fresh sage to the mince meat. I also have a recipe for a vegetarian, veg and mince filled lasagne if that's more your thing.
FODMAP friendly vegetarian nut loaf
Ah the classic vegetarian Christmas dish – nut loaf. Although it never looks appealing, I'm very fond of the meaty umami hit that is a good nut loaf. An easy one to make ahead, too.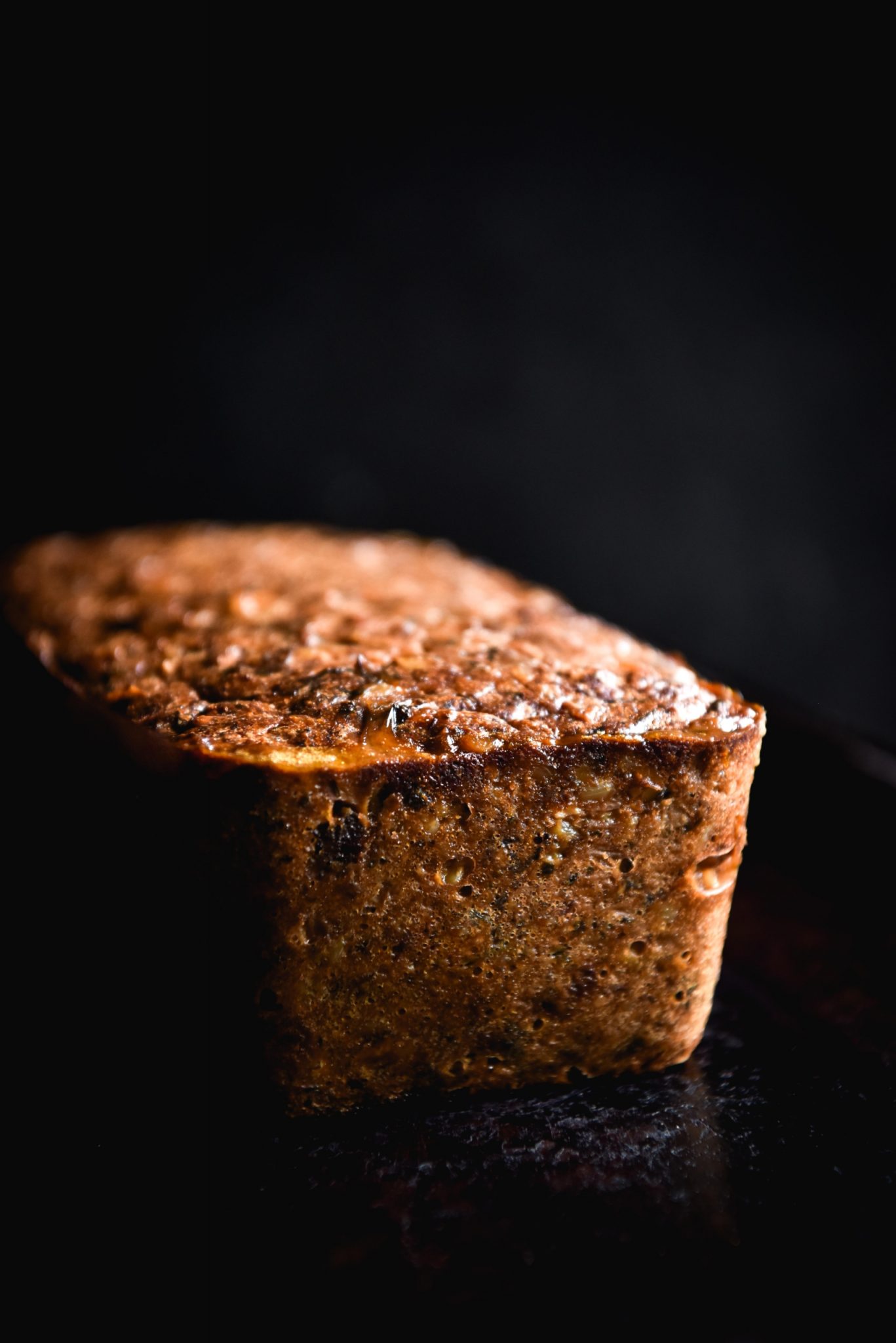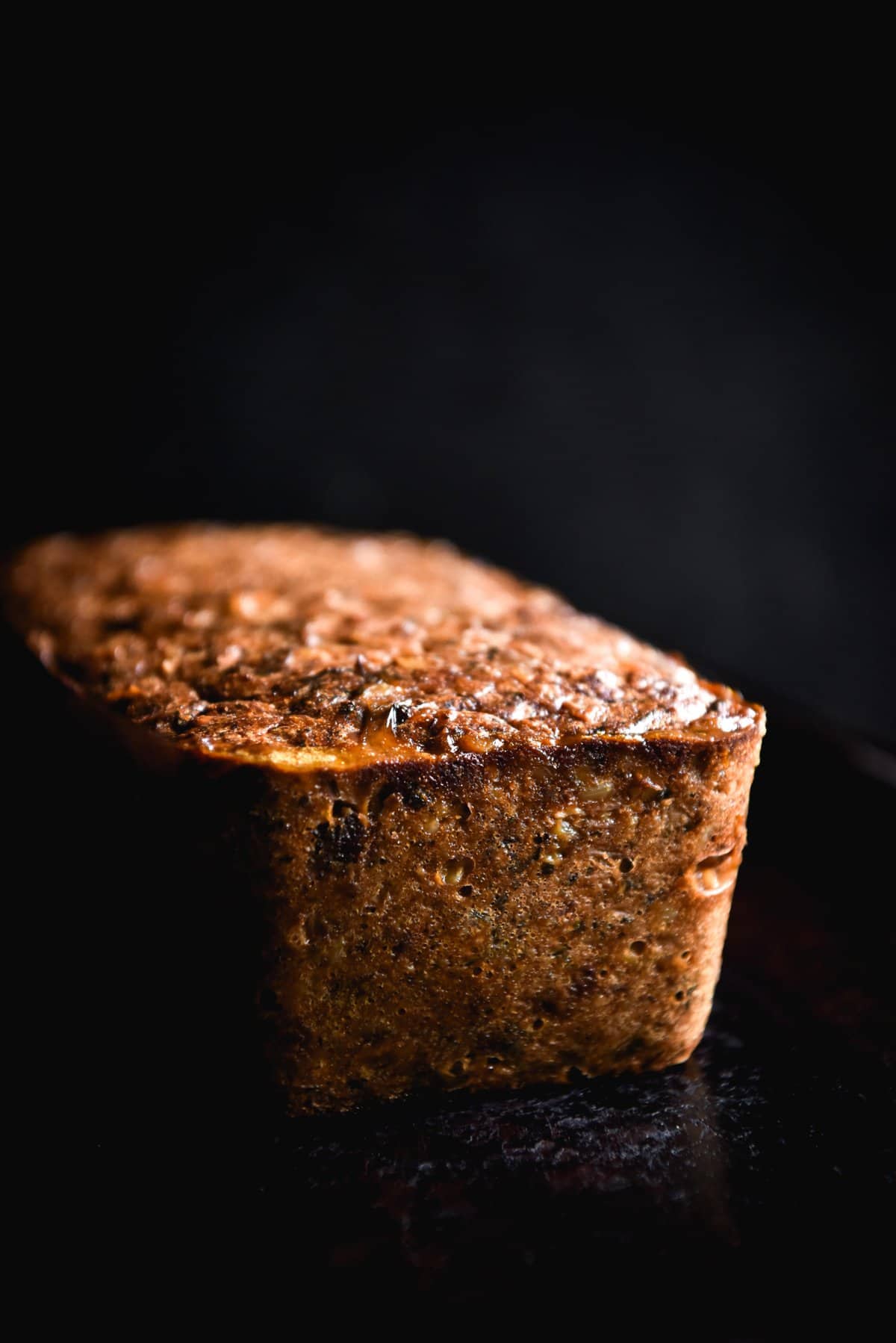 FODMAP friendly Christmas side dishes
Quick and easy vegan gravy
A super speedy and delicious vegan gravy that is also gluten free and nut free.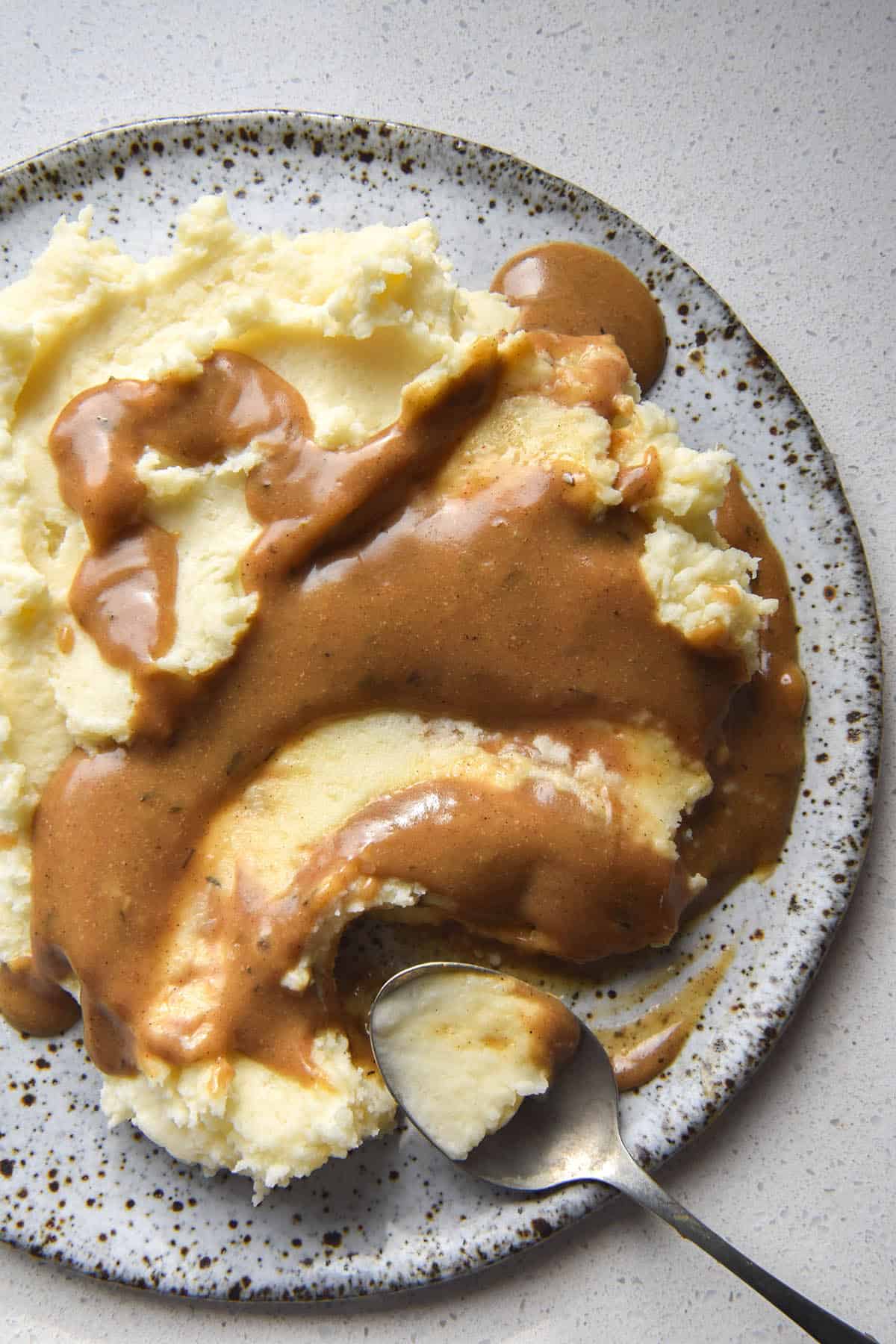 Crispy kipfler potatoes
The all important potatoes get first place in the side section. I have, in fact, previously dedicated an entire roundup purely to potatoes. These crispy bois are one of my most popular recipes and I understand why. Nothing beats an earth shatteringly crispy potato with the perfect amount of salt, and this recipe will help you on your way.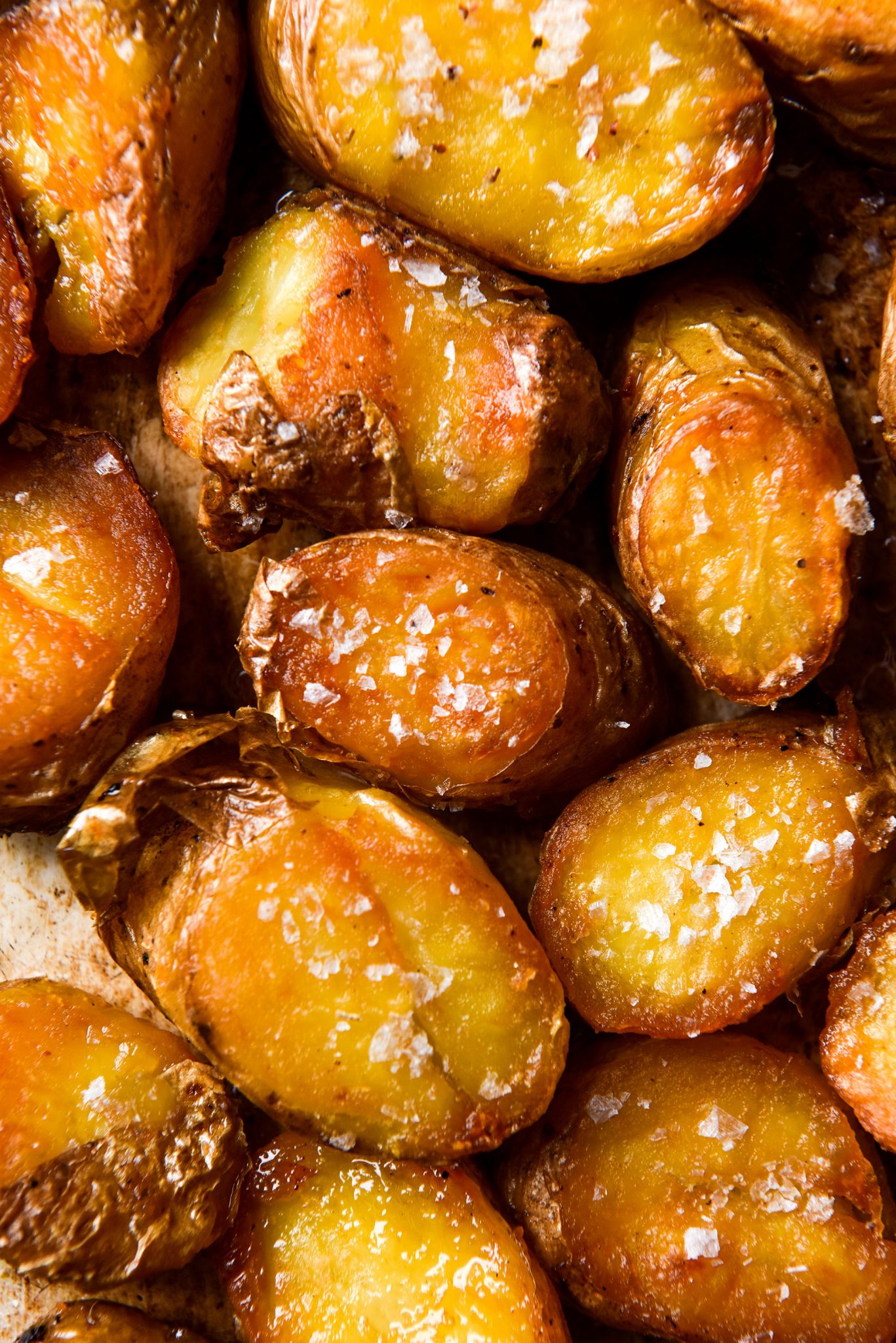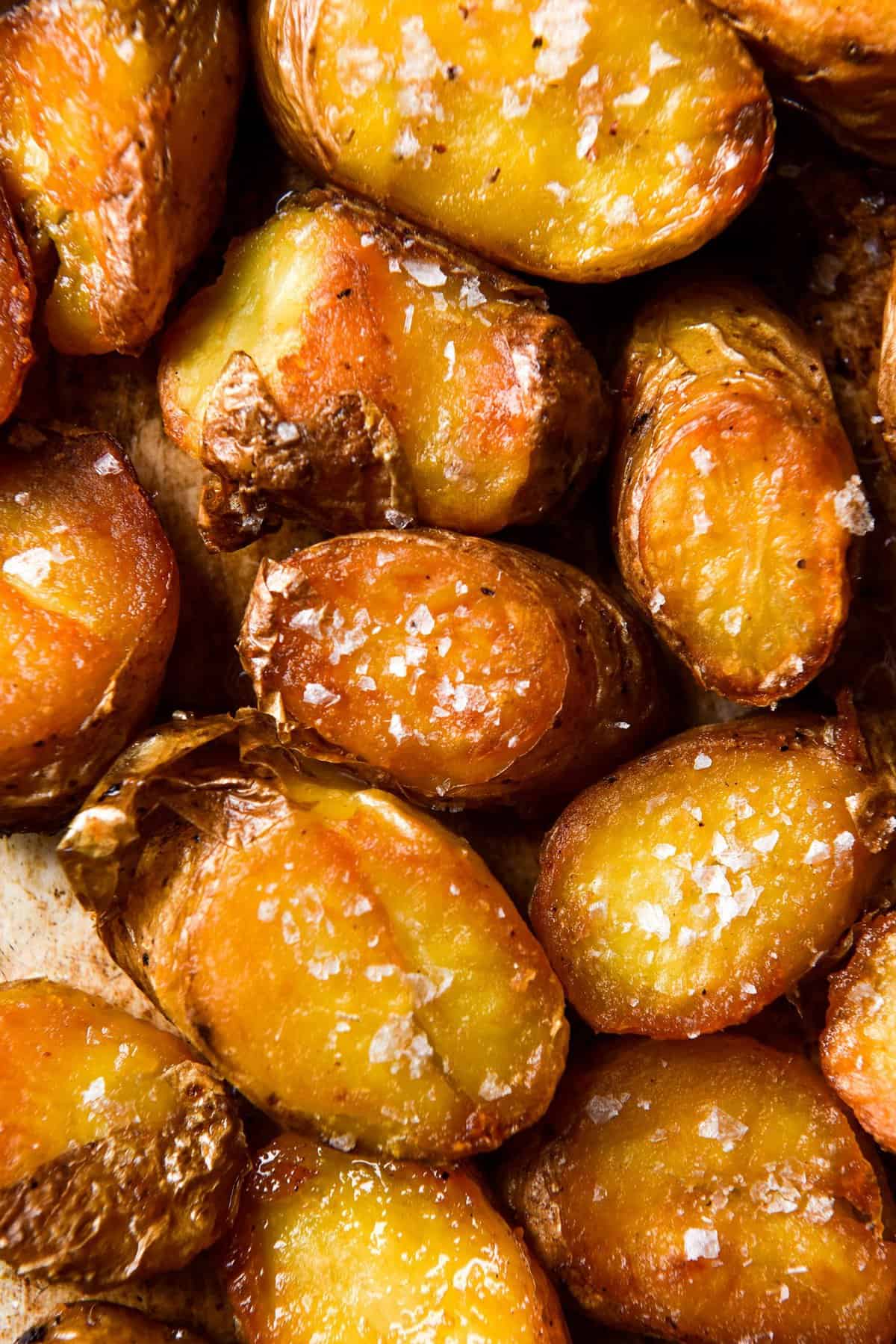 Crispy roast potatoes (with a magic trick to help them stay fresh)
The oven is hot real estate on Christmas day, and at my family Christmas potatoes tend to suffer in favour of the meat (boo). Enter: this crispy roast potatoes. The magic of a secret ingredient helps the potatoes get crispy yet stay soft inside long after they have cooked.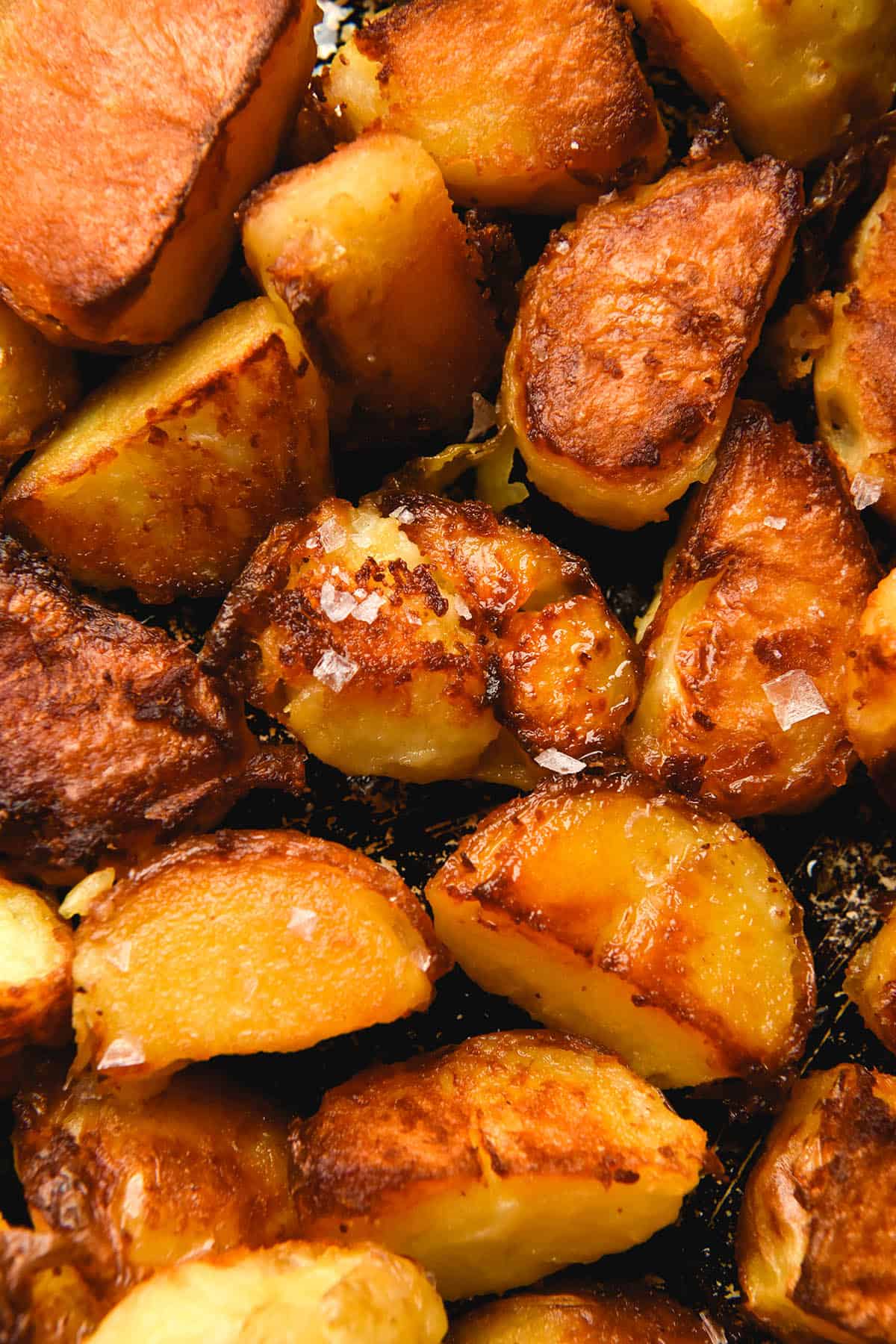 Lemon and rosemary roasted potatoes
These are one of my newest obsessions, and the cooking method can be used for just about any vegetable. The potatoes make a great Christmas table addition, but the method will serve you year round.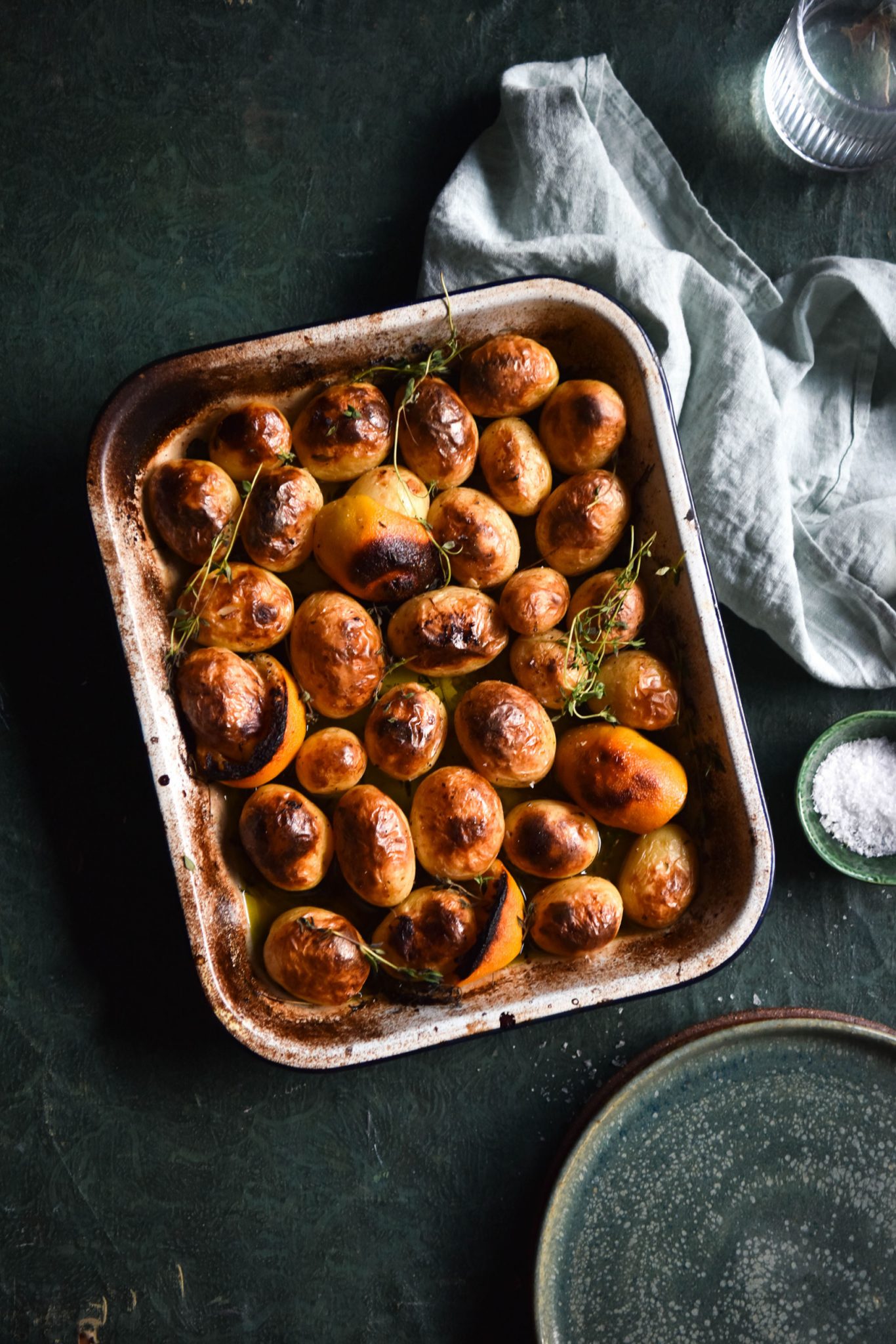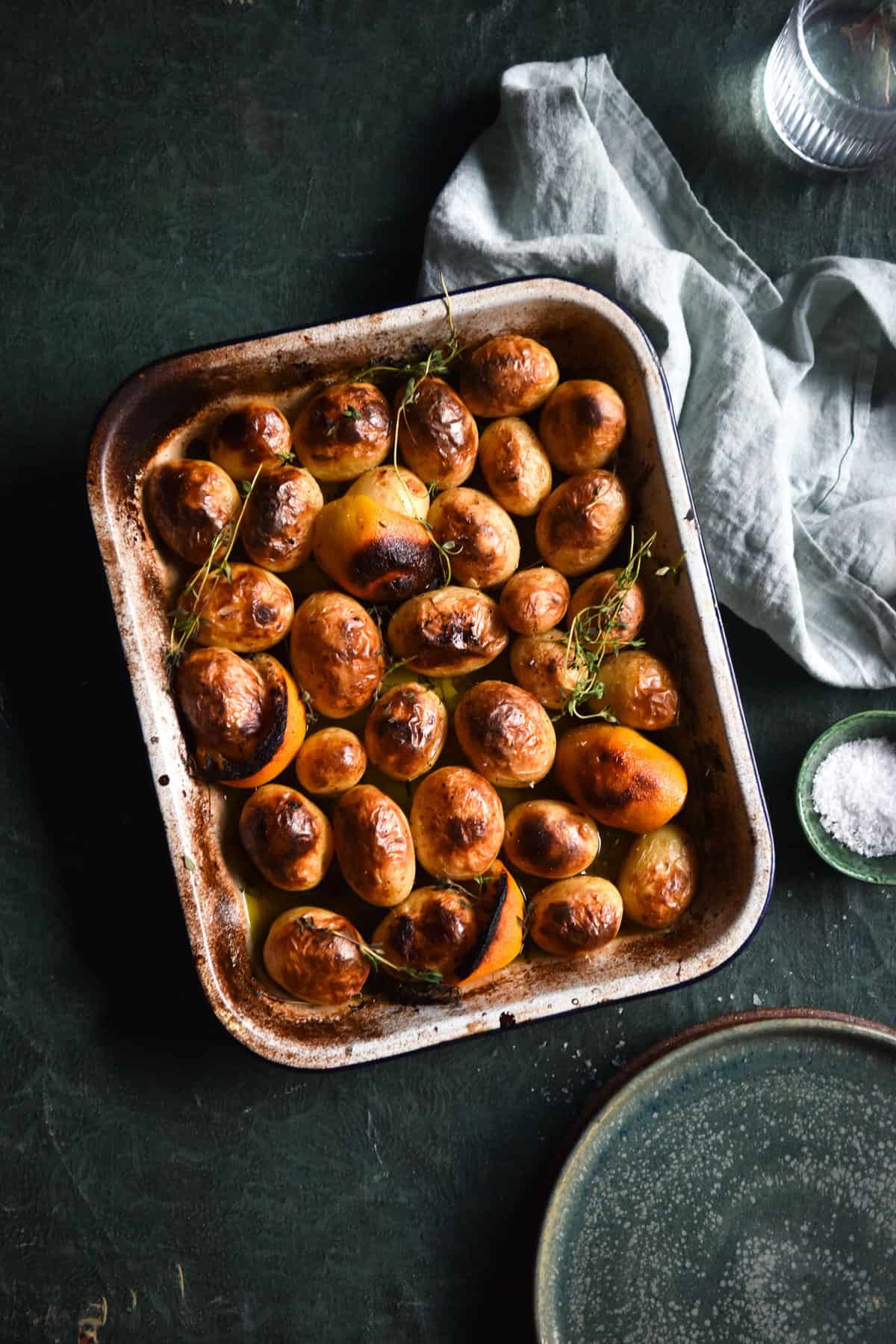 Salt and vinegar crispy potatoes
I mean, is there anything better? We love potatoes, we love salt, we love vinegar. These babies have been a staple at my house ever since I developed the recipe many moons ago. They're as simple as par boiling potatoes in vinegar, then roasting them until crispy. Top them with flaky salt and that is the definition of a chef's kiss.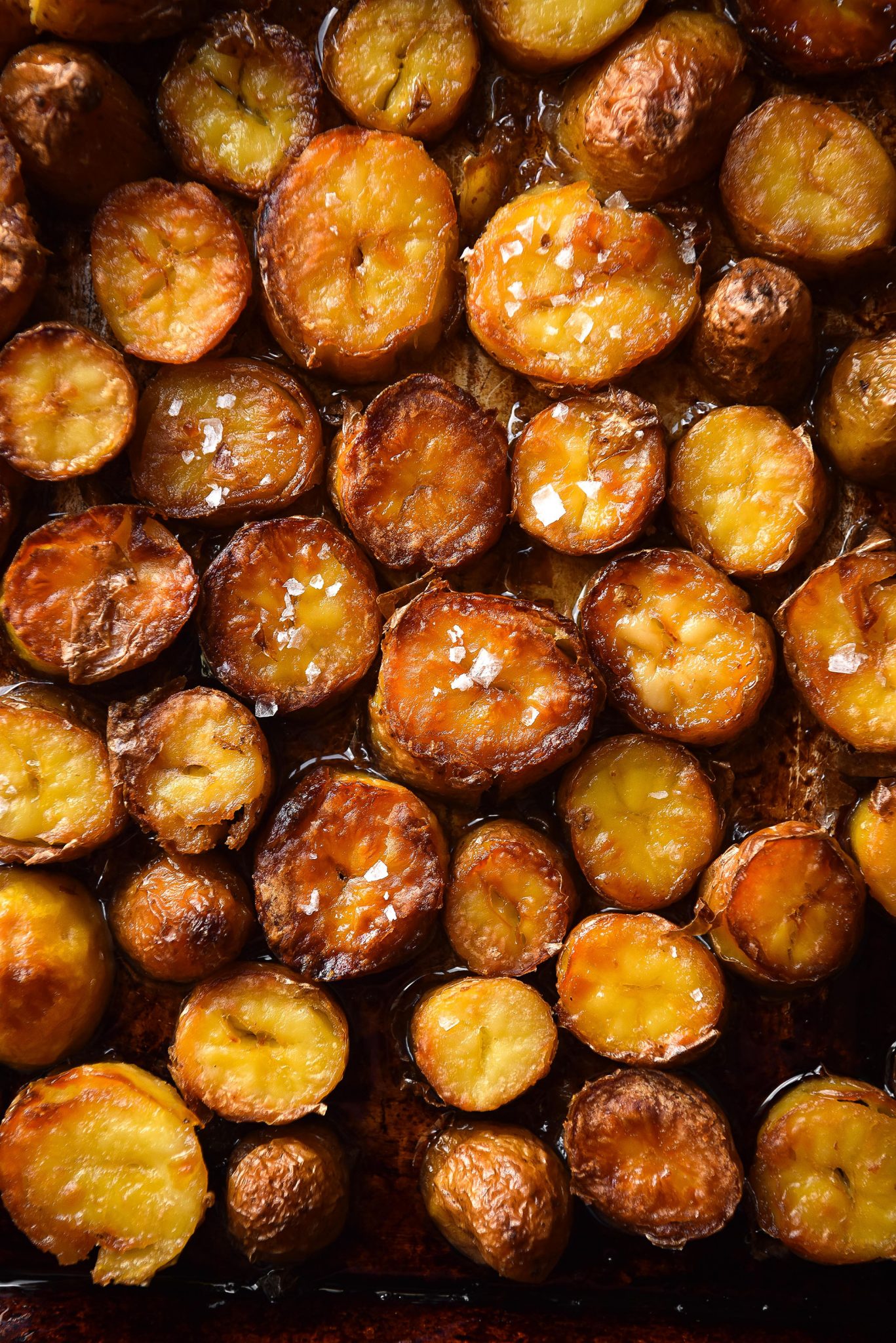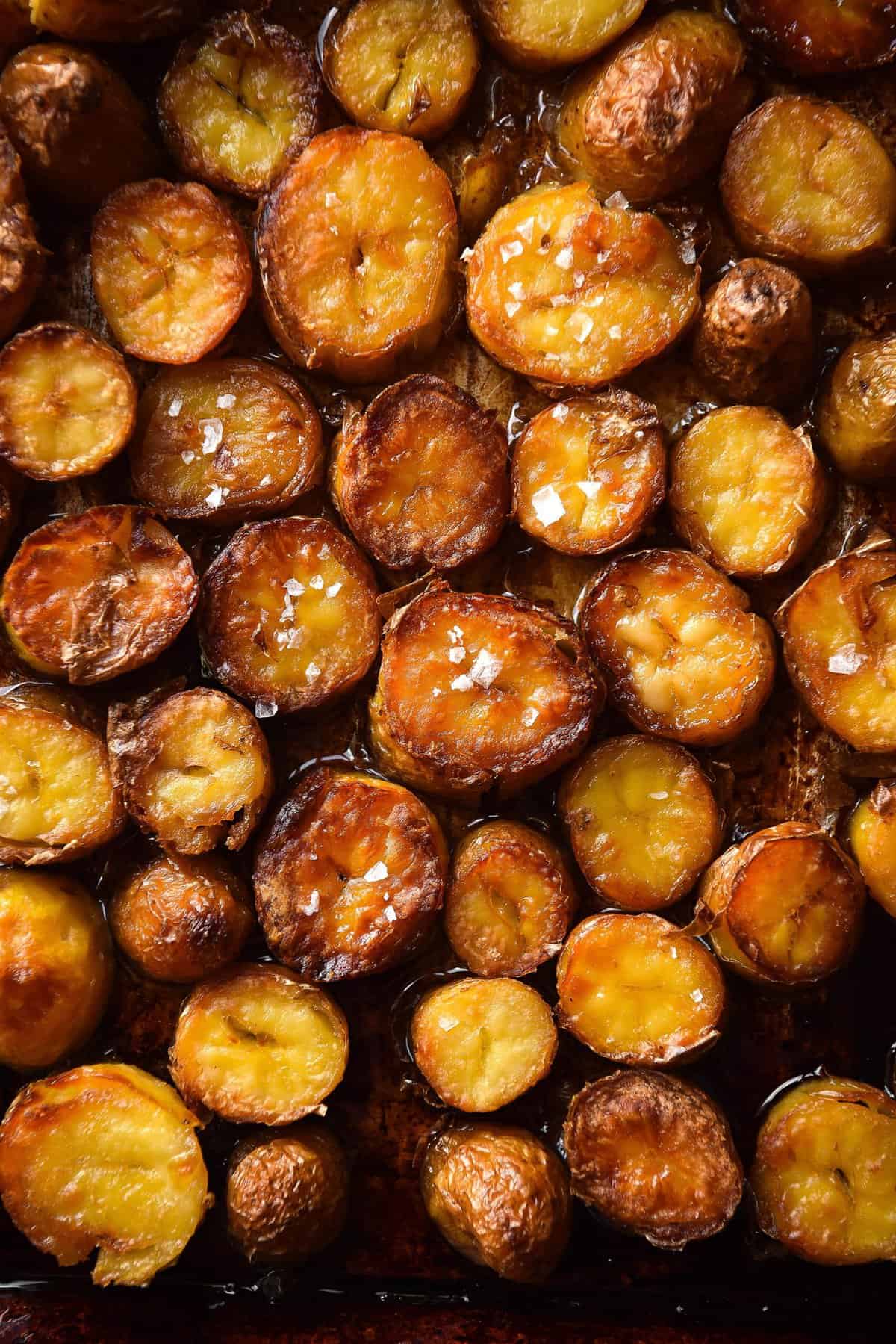 Blood orange, burrata and pine nut salad with a Christmas flavoured dressing
This saucy and aesthetically pleasing blood orange, burrata and pine nut salad with Christmas dressing. A festive occasion is not a festive occasion without someone doing a boomerang of a burrata being sliced open, quite frankly.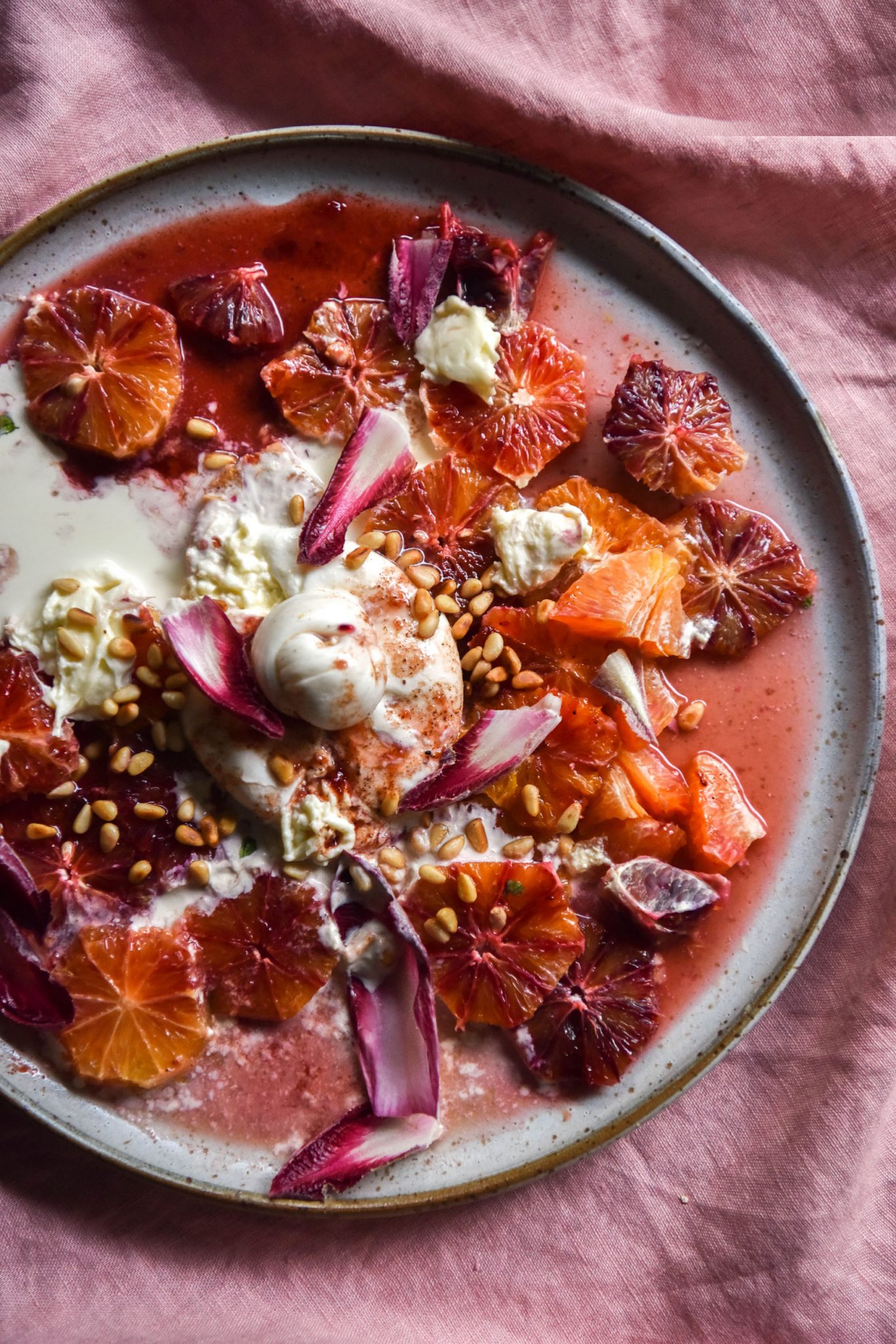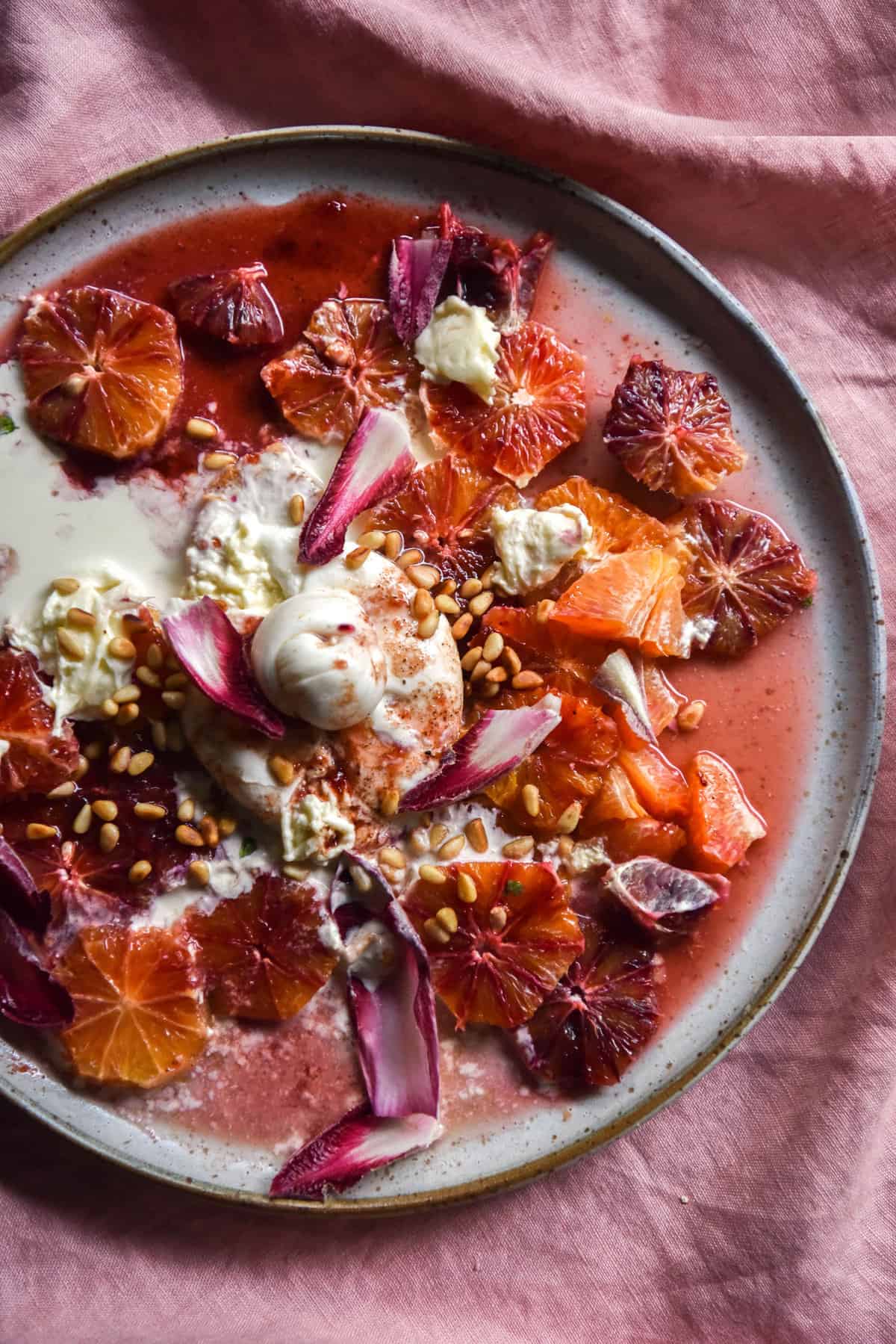 Summer tomato and lemon whipped lactose free ricotta salad
This festive summer tomato salad with lemon whipped ricotta is as lovely to look at as it is to eat. Strictly a southern hemisphere Christmas dish courtesy of the need for summer tomatoes, it's a quick and easy addition to your table.
Please note that Monash has changed the threshold for tomatoes – something to keep in mind if you don't react well to them.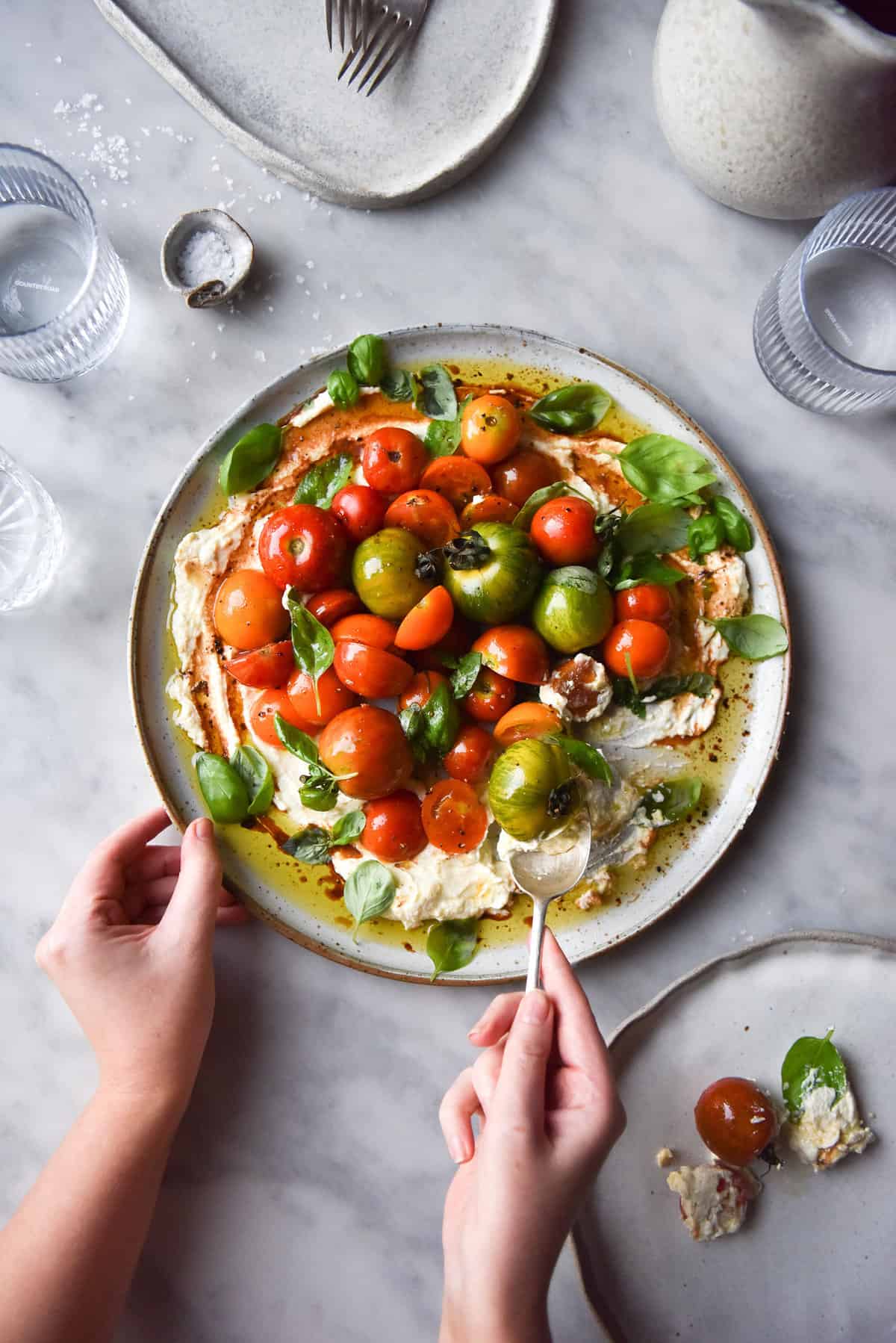 Radicchio, blue cheese and walnut salad with a honey balsamic dressing
I could honestly eat this salad everyday. It combines all of my favourite flavours into one bold and beautiful Christmas side dish. The bitterness of the radicchio contrasts so nicely with rich Christmas food, as well as the sweetness of the honey in the dressing. You could use a hard cheese like a good quality parmesan (shaved freshly) to save any richness for main dishes, too.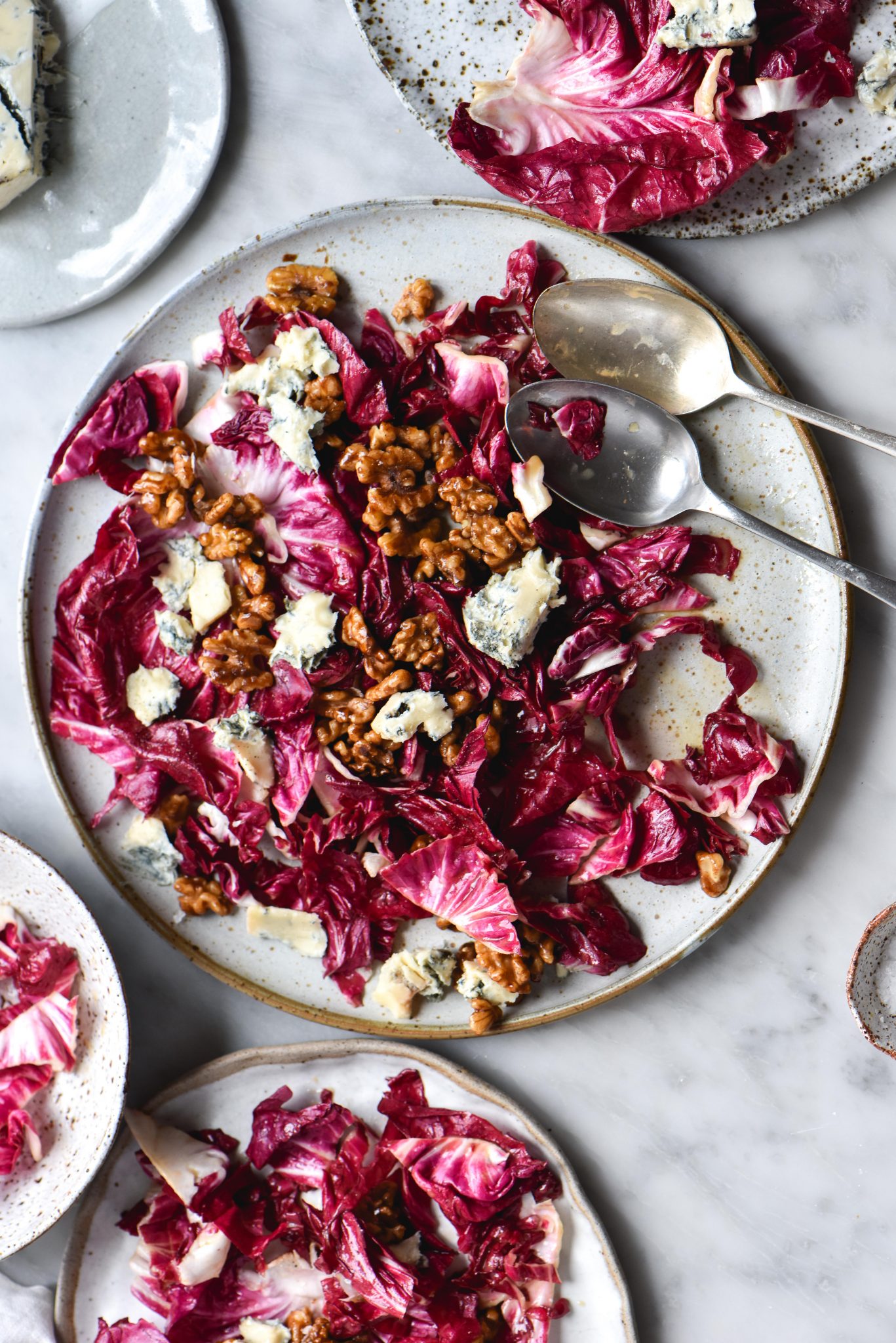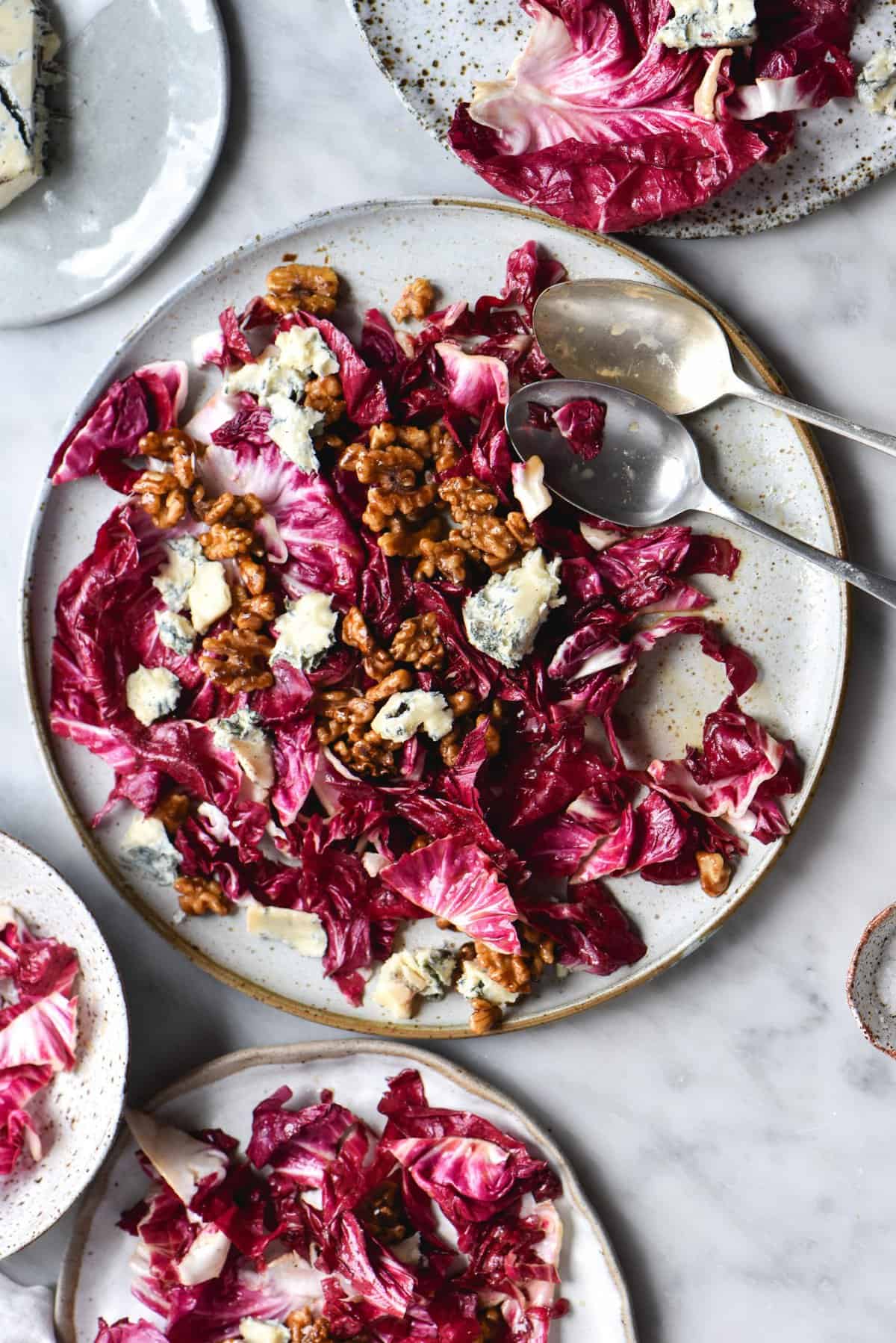 Dukkah roasted carrots with lactose free labne and Aleppo chilli oil
These roasted carrots are a dramatic and delicious addition to a festive table. Aleppo chilli is a milder, fruity and vibrantly red chilli, which makes it great for a chilli oil that everyone can handle.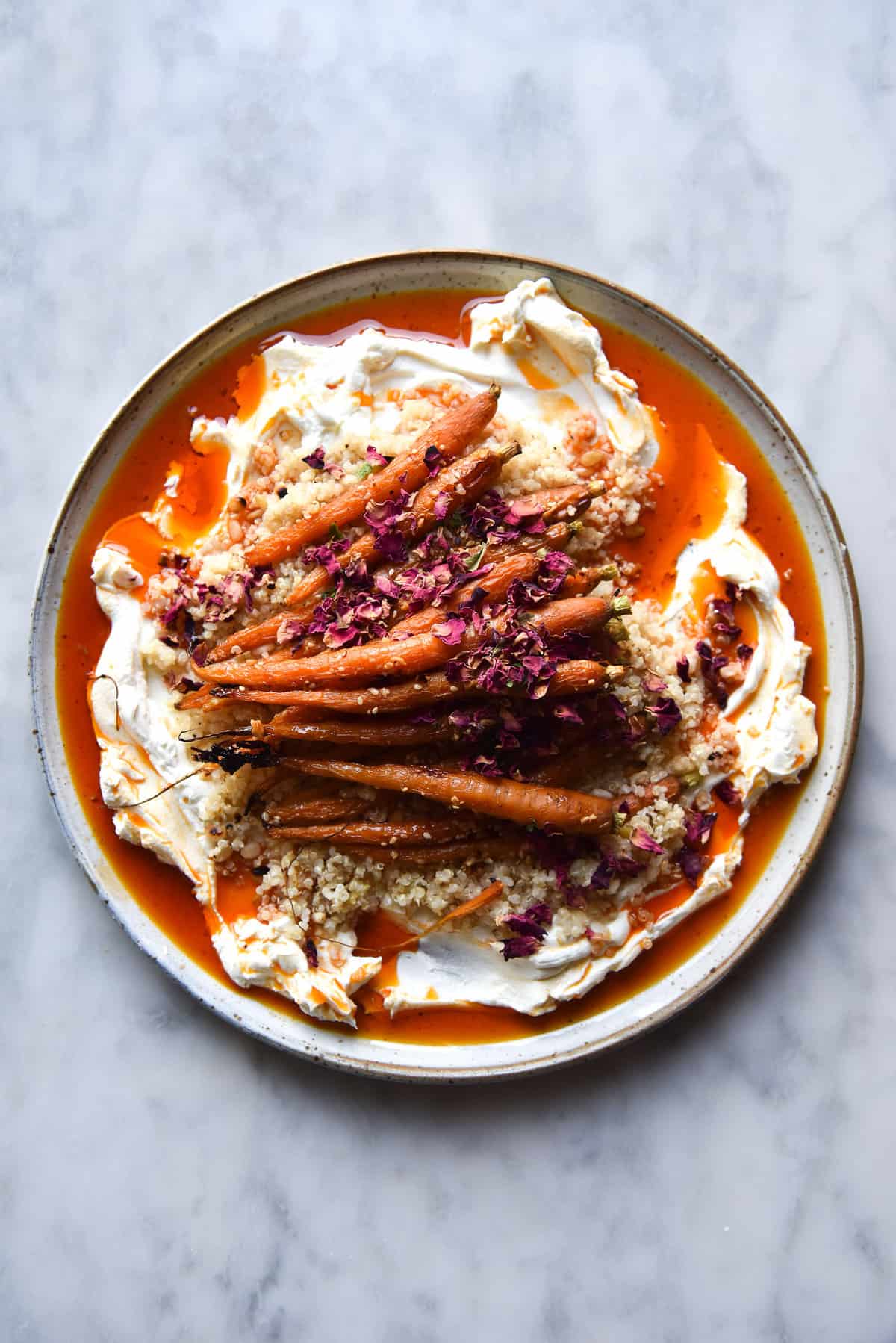 Kale salad with crispy chickpeas, feta, raisins and walnuts
Christmas day always needs some dishes that can be made ahead. This kale salad is not only delicious, but it lasts exceptionally well in the fridge.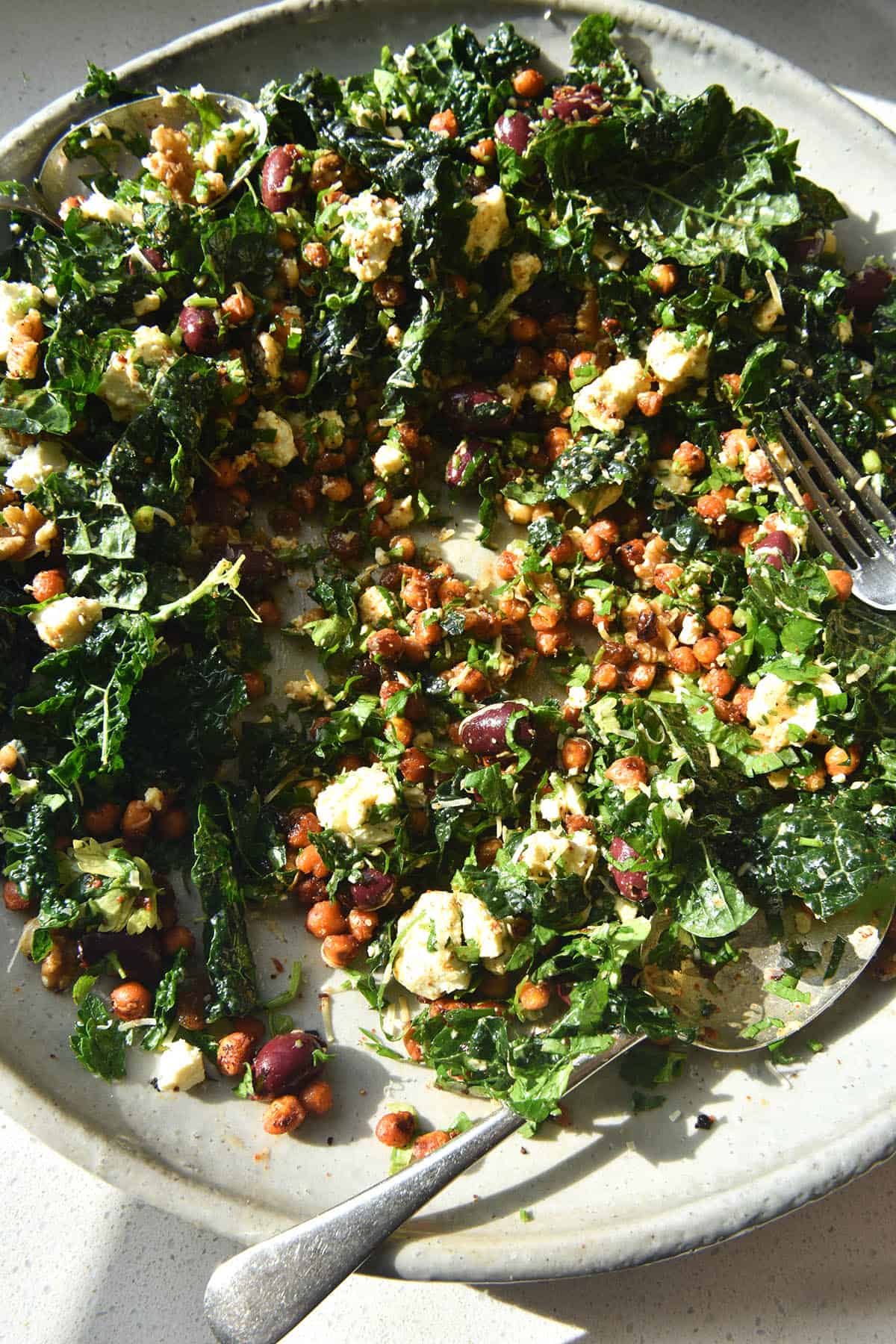 Desserts
FODMAP friendly Christmas pudding
The crown jewel of my festive achievements this year. The pudding is completely fruit free, using candied pumpkin to form the base of the mince. The recipe is also gluten and grain free, making it suitable for a whole bunch of different dietary requirements.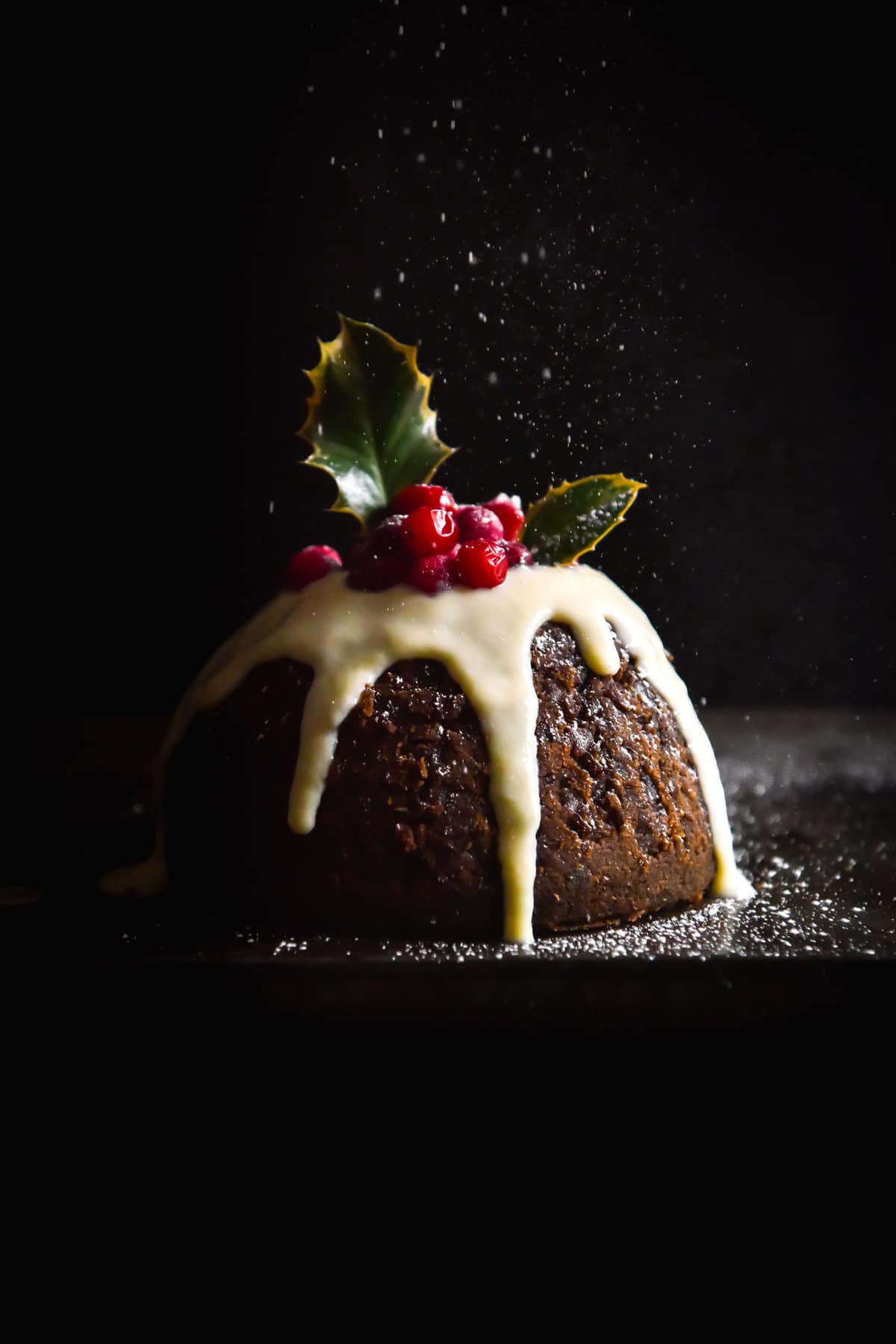 Fruitless, FODMAP friendly and gluten free mince pies
My second favourite child: the fruit free mince pies! I absolutely love this recipe and how 'normal' these mince pies taste – while they are gluten free, FODMAP friendly and contain no fruit whatsoever.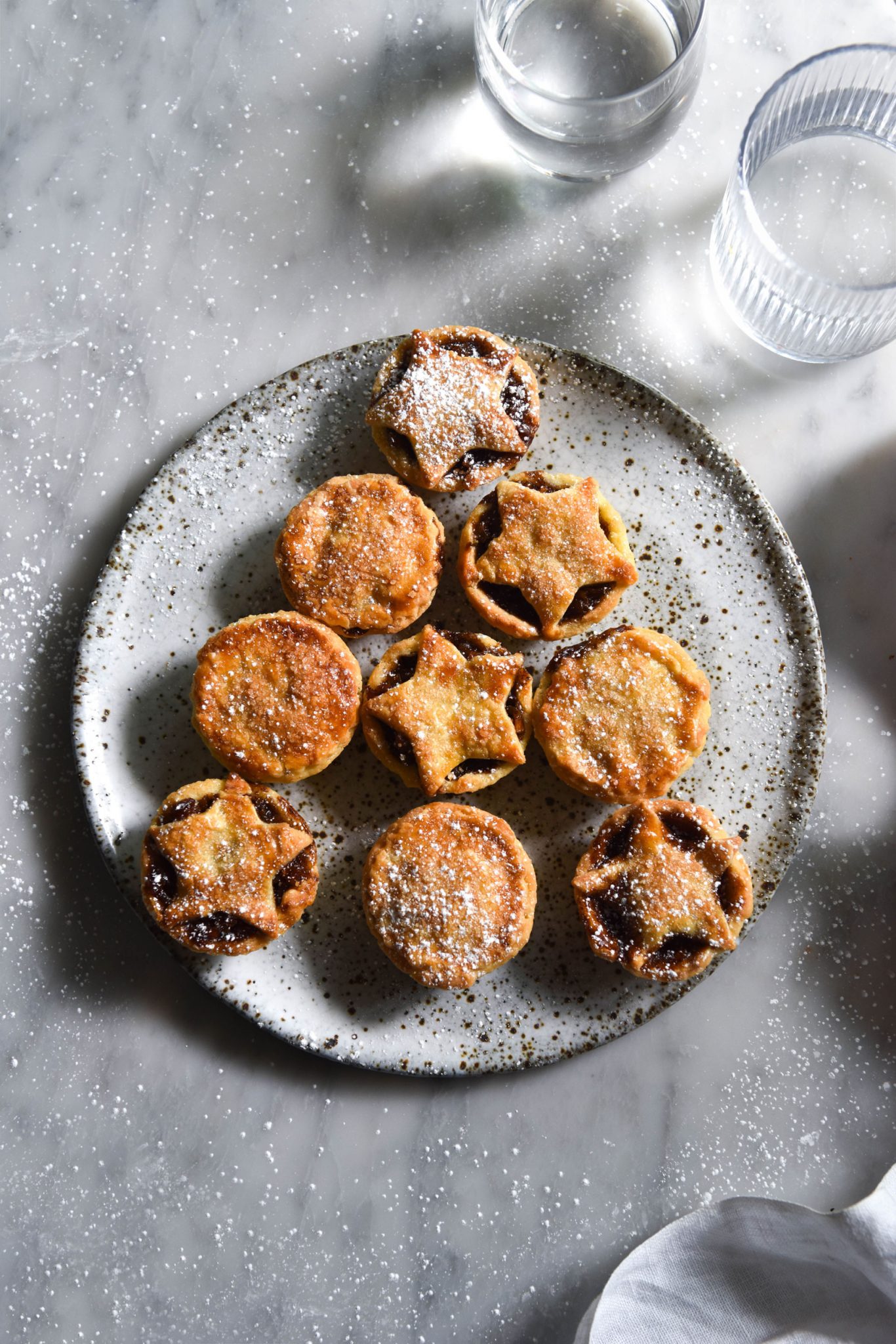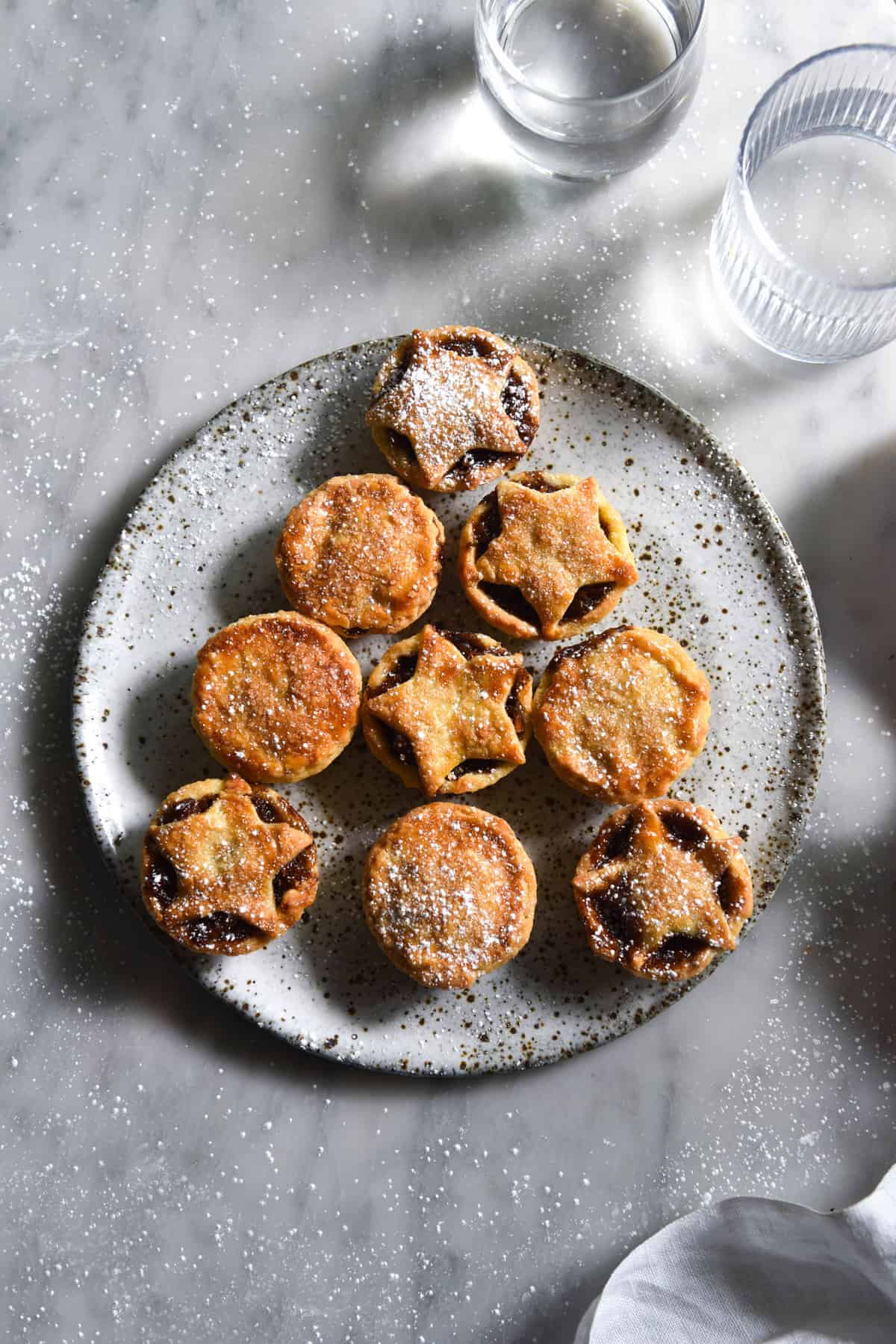 Meringue, flourless chocolate cake and peanut butter celebration cake
The Celebration cake from my cookbook. This is probably one of my favourite things in my first cookbook. It's grain free, gluten free, FODMAP friendly and far simpler than it looks. Get the recipe from the book.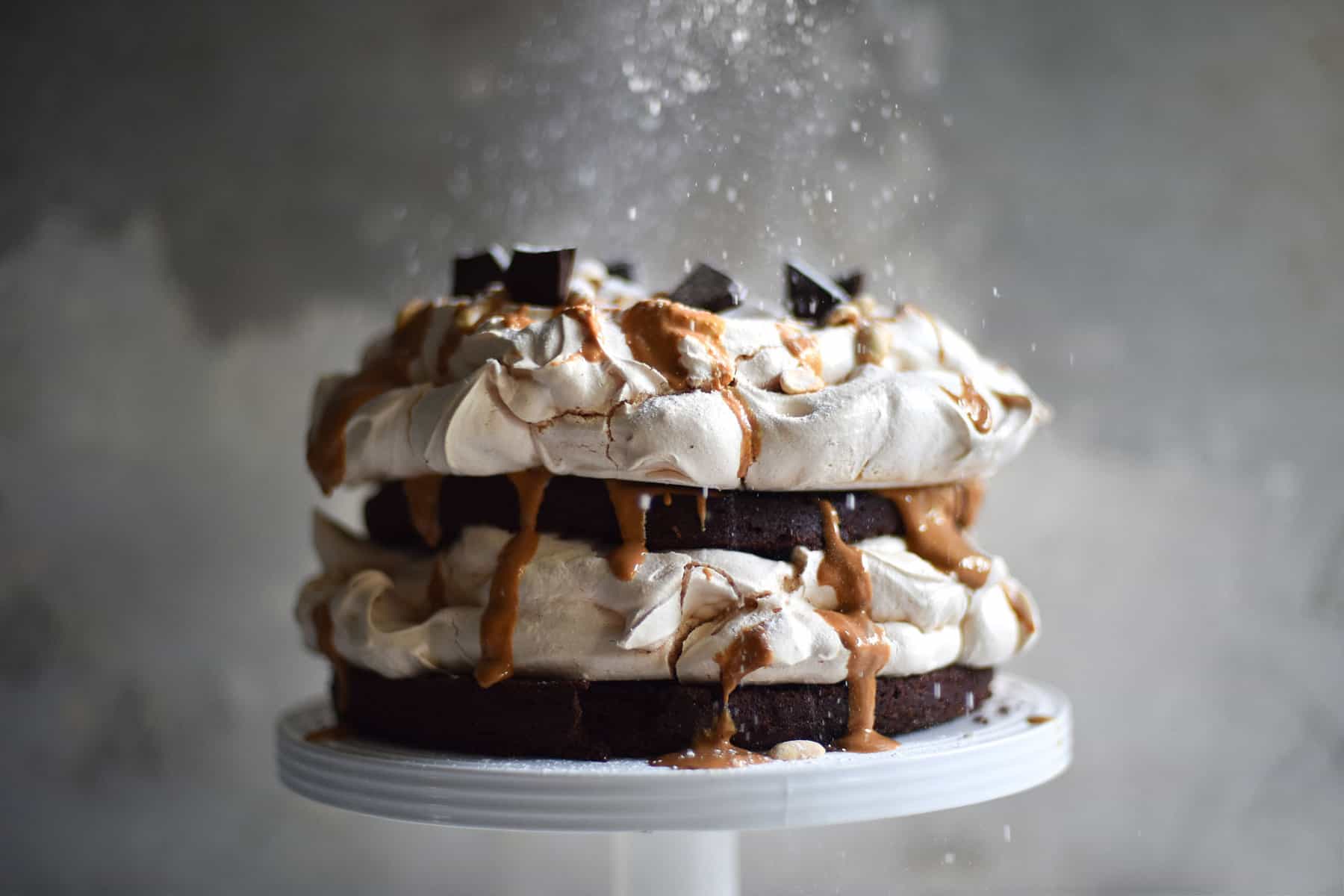 No waste pavlova with lactose free berry curd
It wouldn't be an Australian Christmas roundup without a pav! This one uses the yolks leftover from the pav making for a tart yet sweet dairy free berry curd. I could eat the curd with a spoon, quite frankly.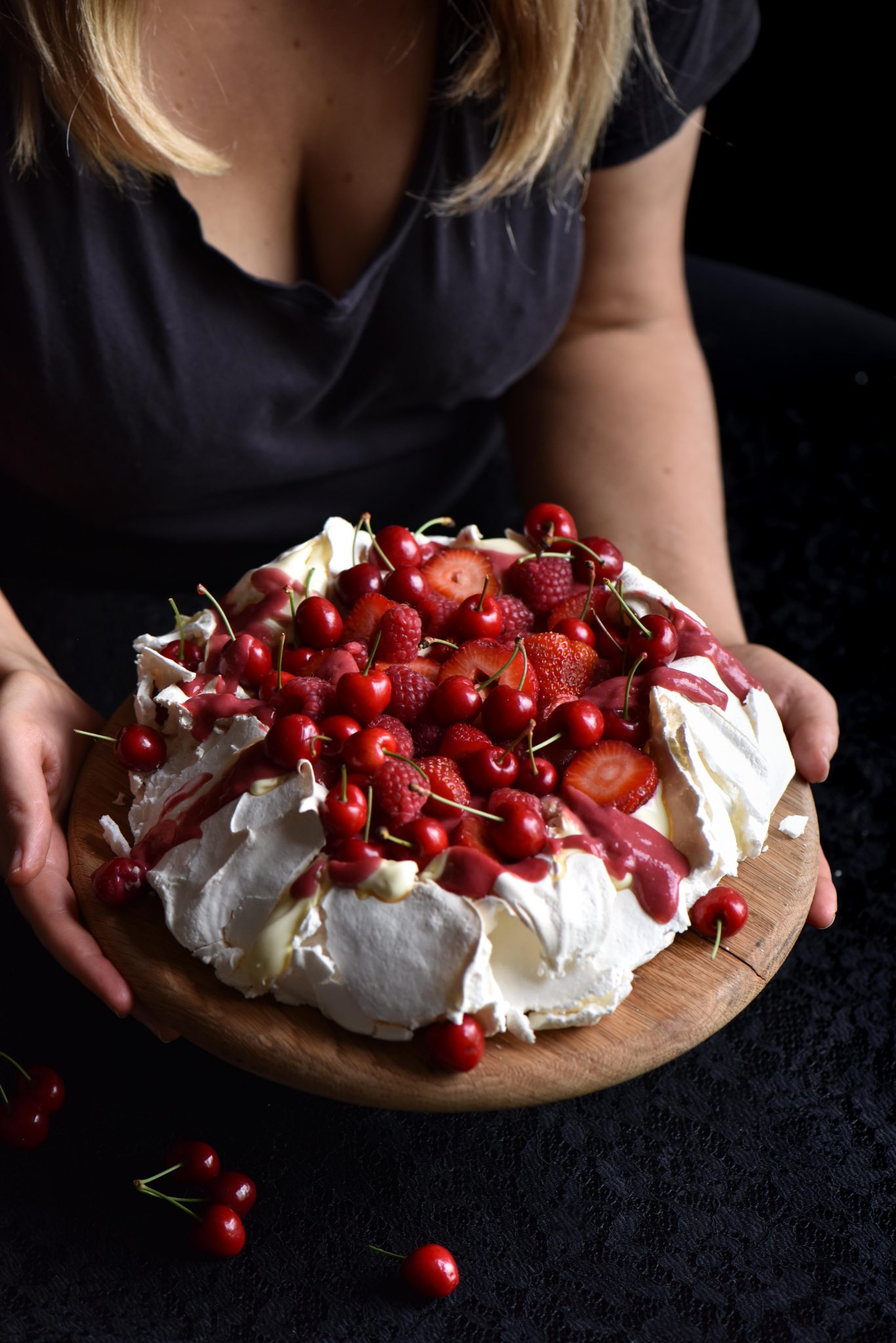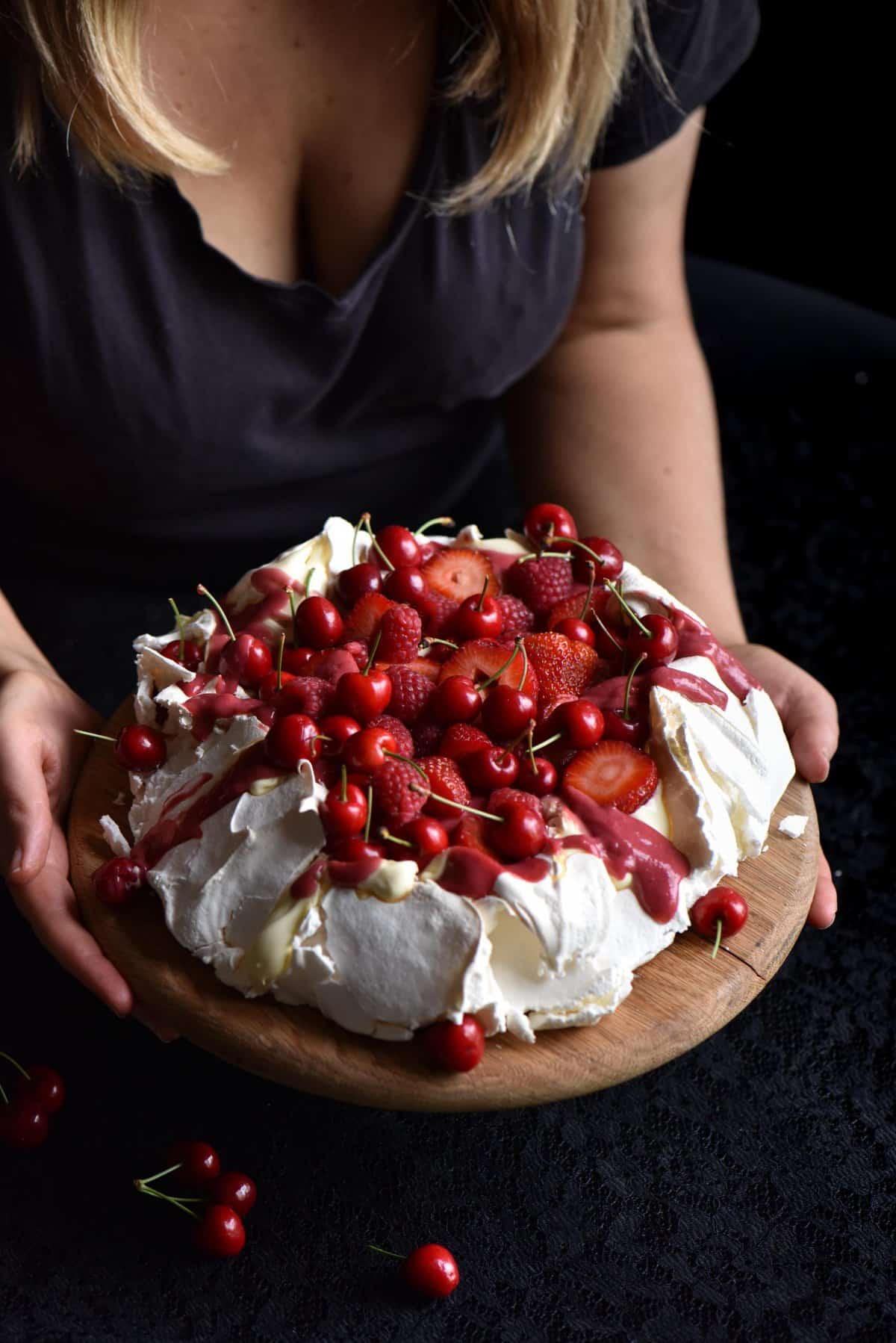 Grain free brownies
Honestly? These are not a festive dessert per se. HOWEVER, I can guarantee that they will disappear from the table, win the love and affection of your friends and family, and cater to all dietaries to boot. Furthermore? They are decidedly delicious made with Lindt mint chocolate for a festive twist. There's a grain and gluten free brownie, a gluten and nut free brownie, and a gluten free vegan brownie.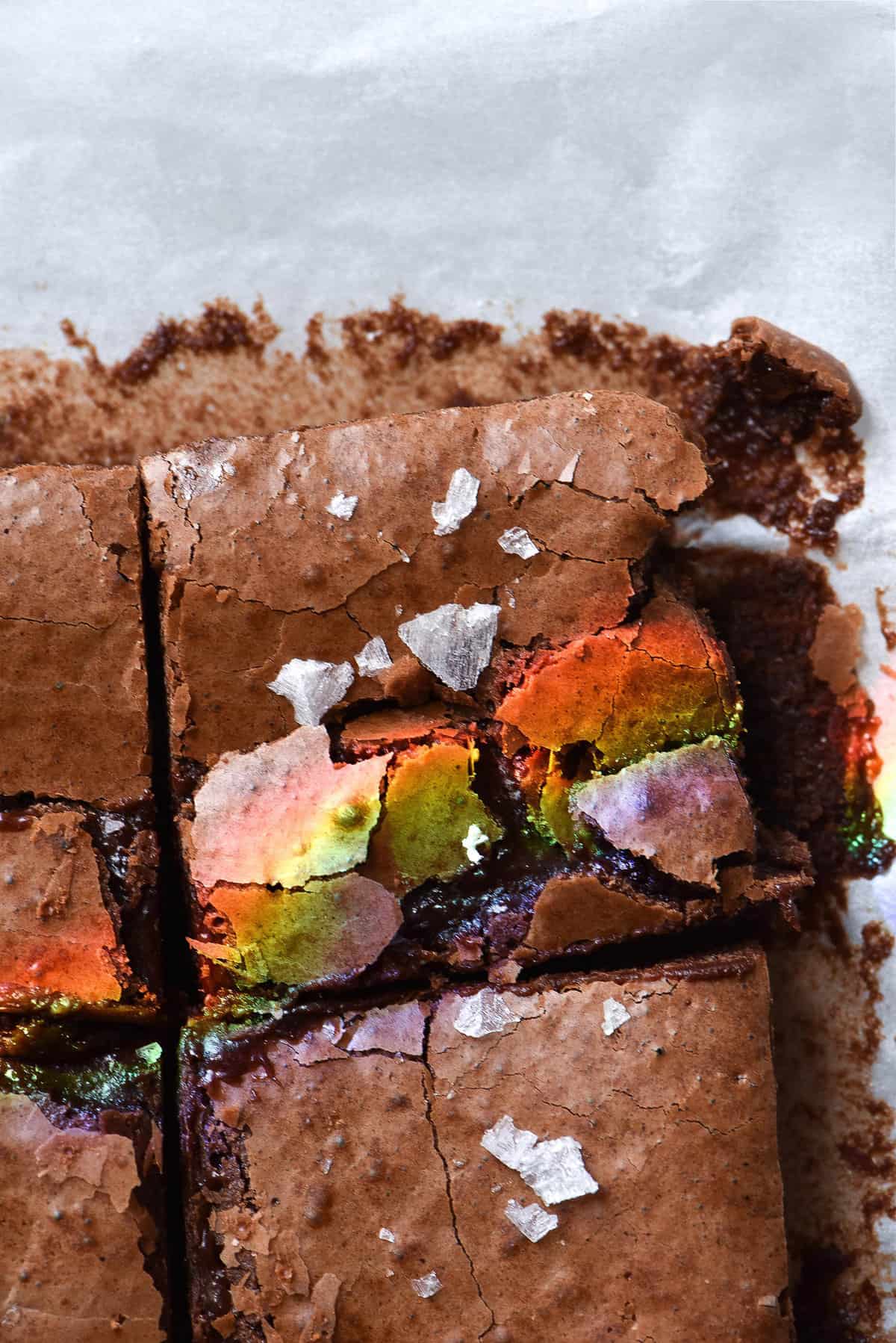 FODMAP friendly, gluten free Hedgehog slice with a vegan option
So, on that chocolate note! My FODMAP friendly Hedgehog slice is a little more involved, given there are a few homemade aspects. These days, though, you can buy vegan condensed milk at the supermarket, which solves the dilemma of making your own lactose free condensed milk. If you can't find either, fear not: I have a recipe for both lactose free condensed milk and plant based condensed milk.
For a festive touch, I like to make my Hedgehog slice with the shortbreads above and some Lindt dark mint chocolate. You could also add some freeze dried berries for a fruity touch. I have a recipe for regular Hedgehog slice and vegan Hedgehog slice, too. One of my personal favourite FODMAP friendly Christmas recipes.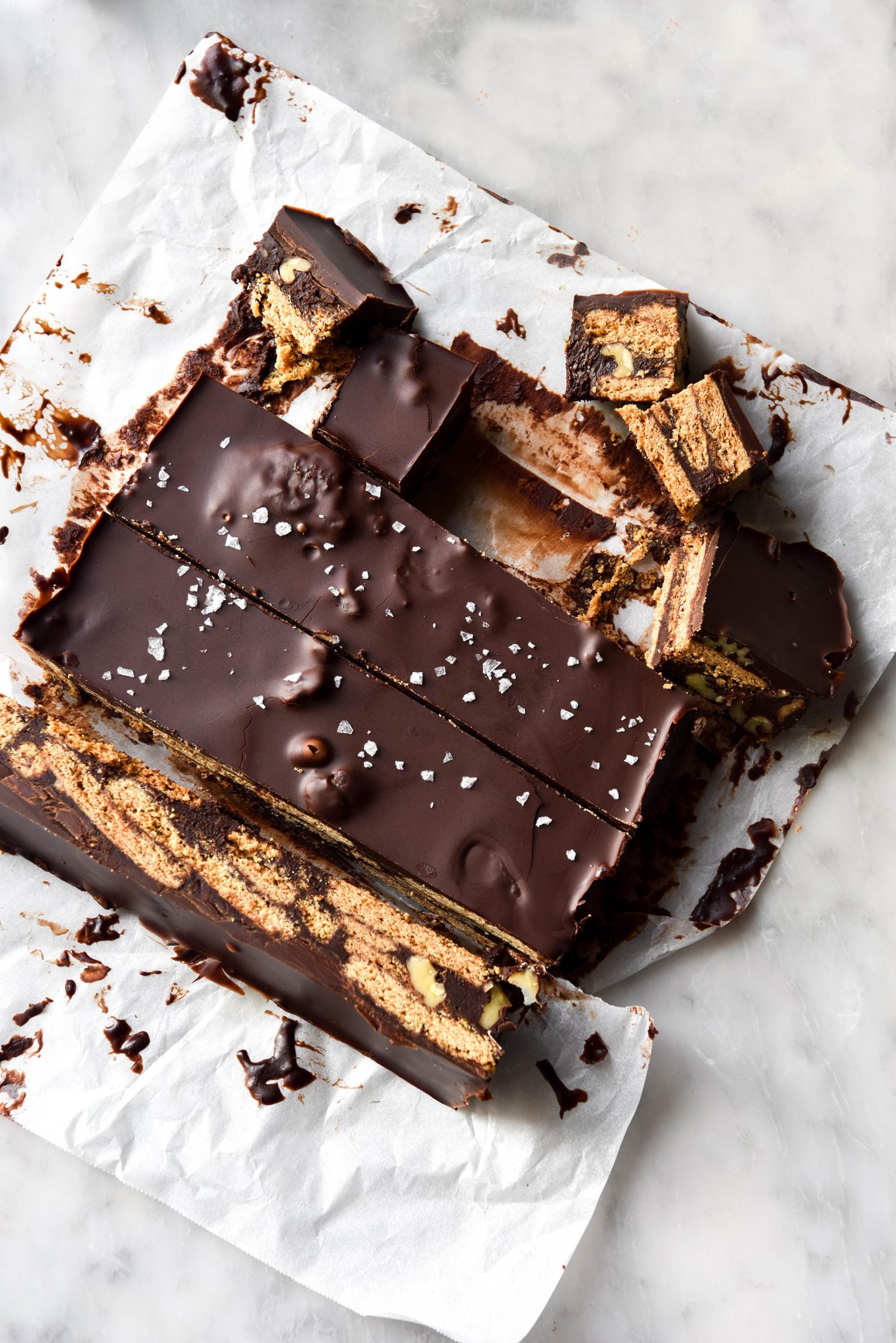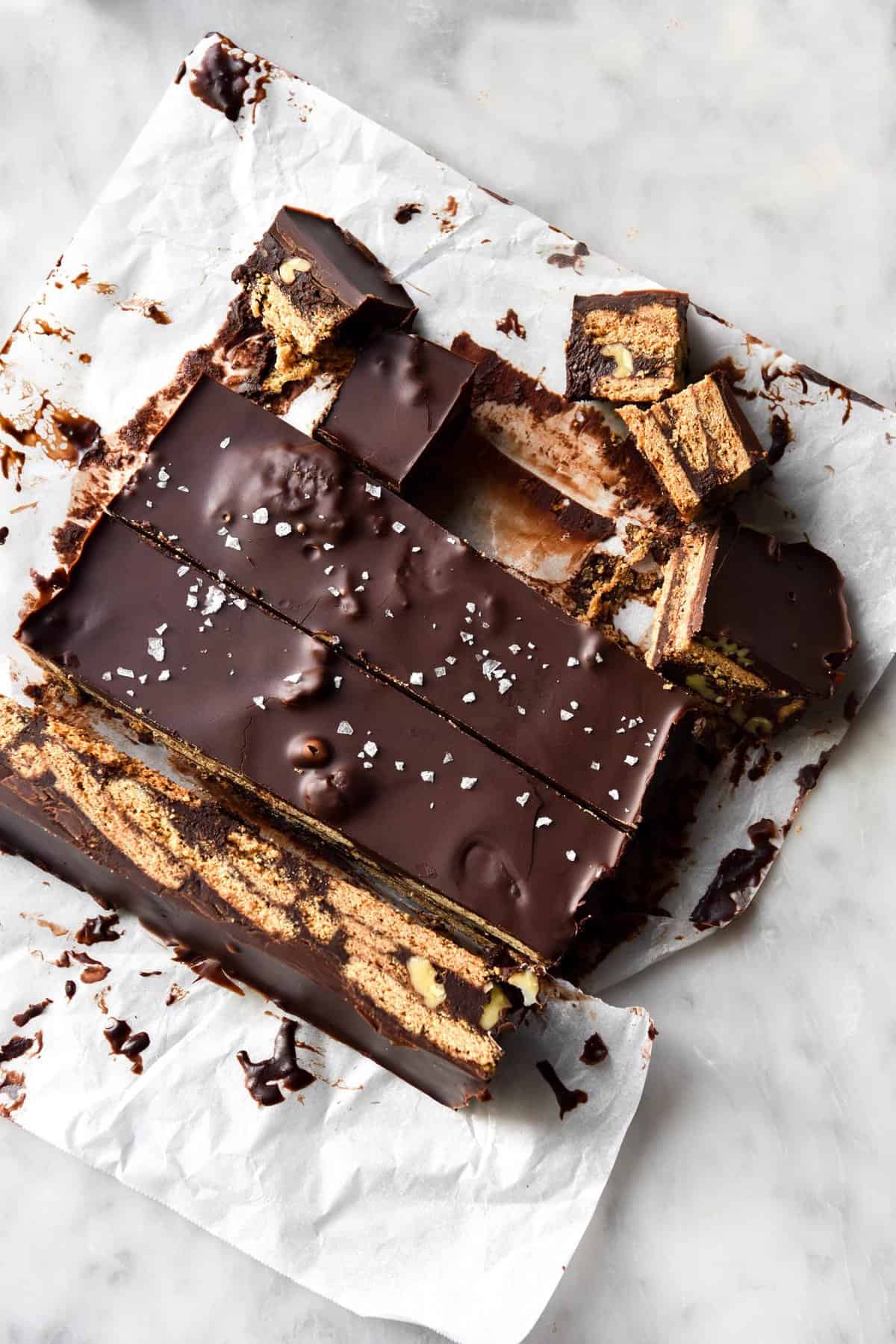 Tiramisu
Everybody loves tiramisu, and what better time of year to combine coffee, booze and sugar? This recipe uses homemade savoiardi gluten free biscuits that can also be used in trifles and the like. This has been earmarked for my Christmas table and I hope it makes it to yours, too. Find the recipe here.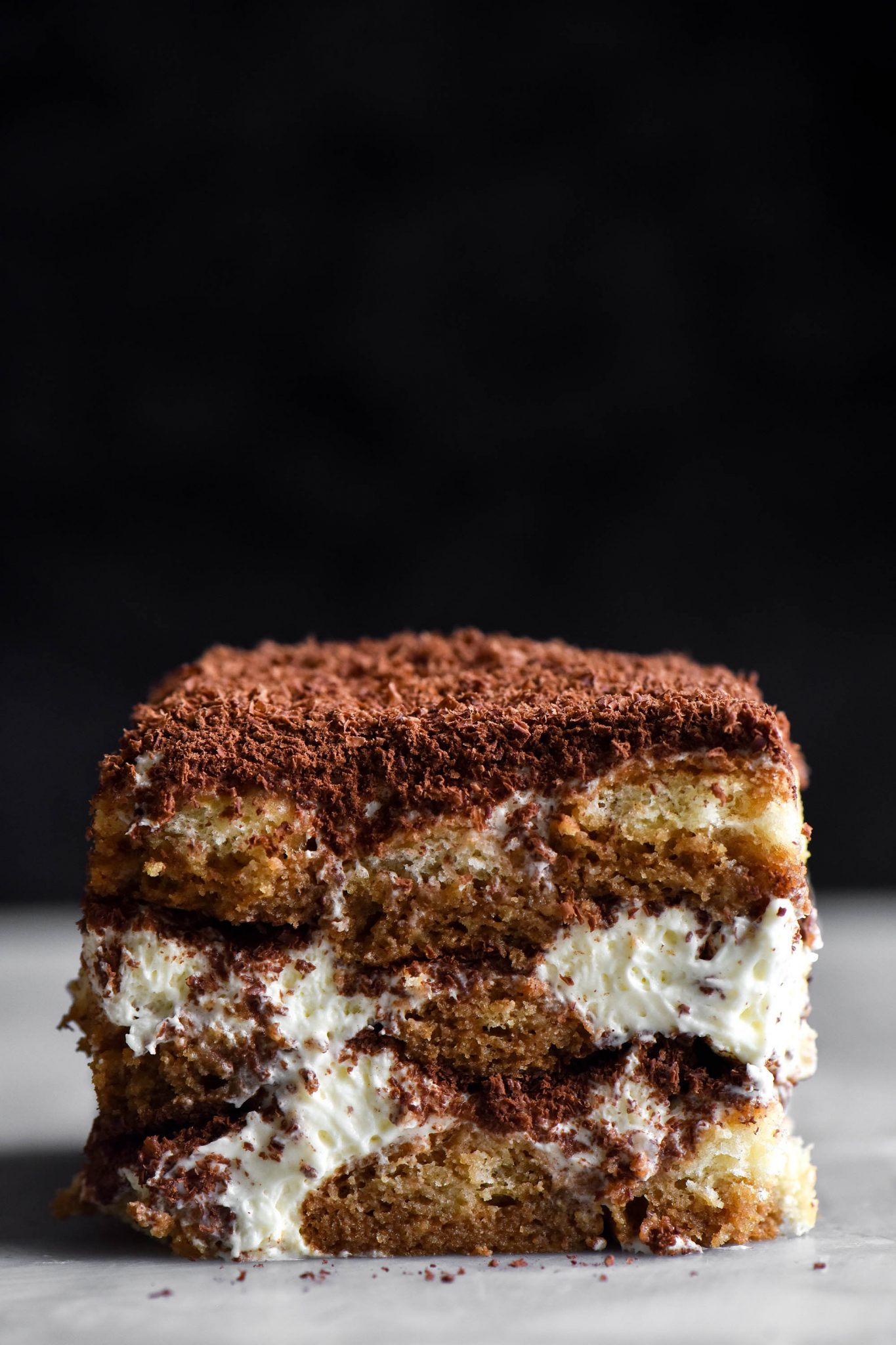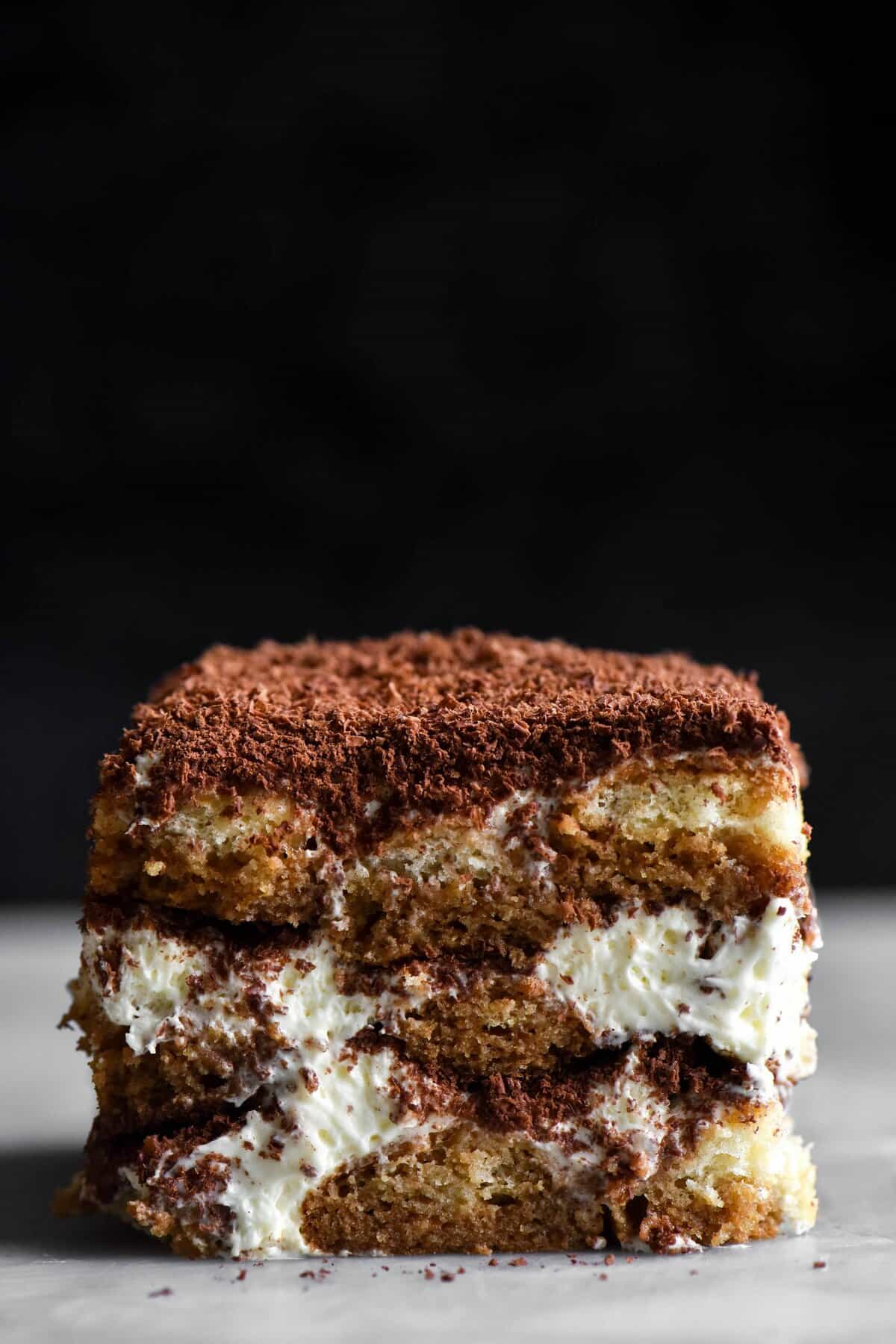 Vanilla bean cheesecake with a gluten free shortbread base
One last dessert that ties in nicely to the preceding cookie section – this gluten free, lactose free cheesecake with a shortbread base. The cheesecake uses lactose free (not dairy free) cream cheese and dairy to create a luscious and rich cheesecake. You wouldn't even know it was lactose free.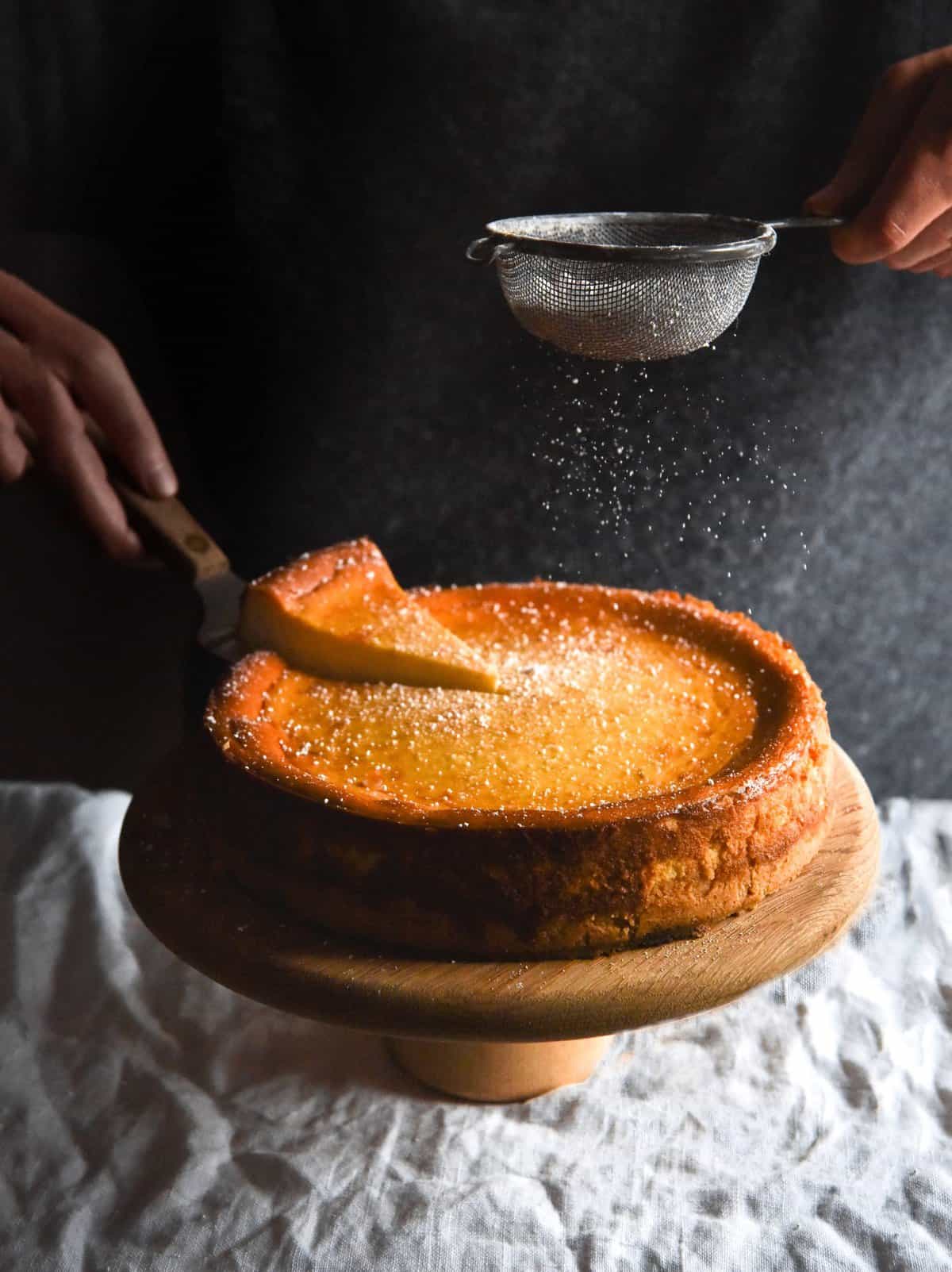 Gluten free, gum free shortbreads
Because no roundup of FODMAP friendly Christmas recipes is complete without some shortbreads. These shortbreads are incredibly light and buttery, easy to make and gluten free. They also go particularly well in the Hedgehog slice above. Just saying.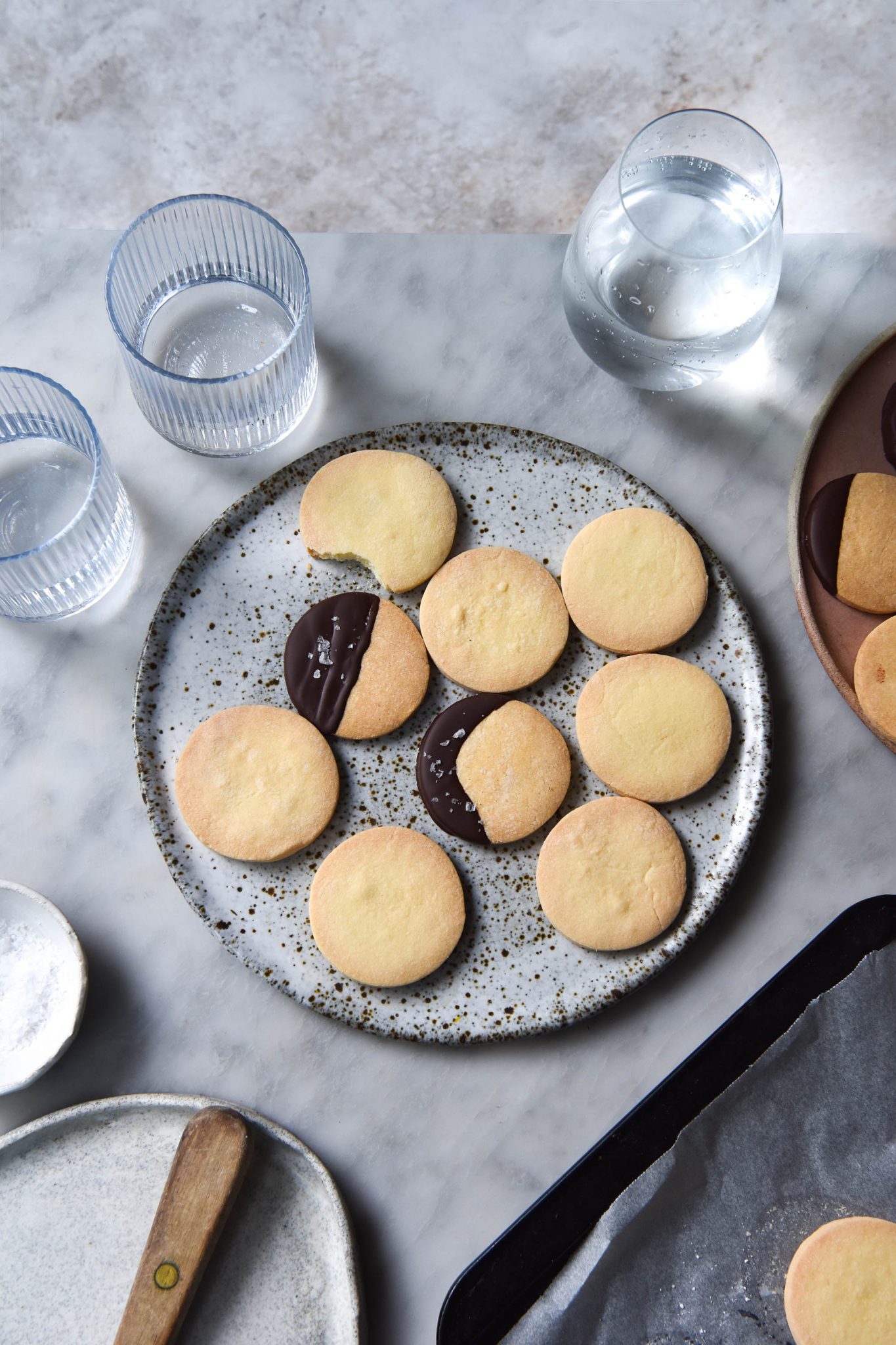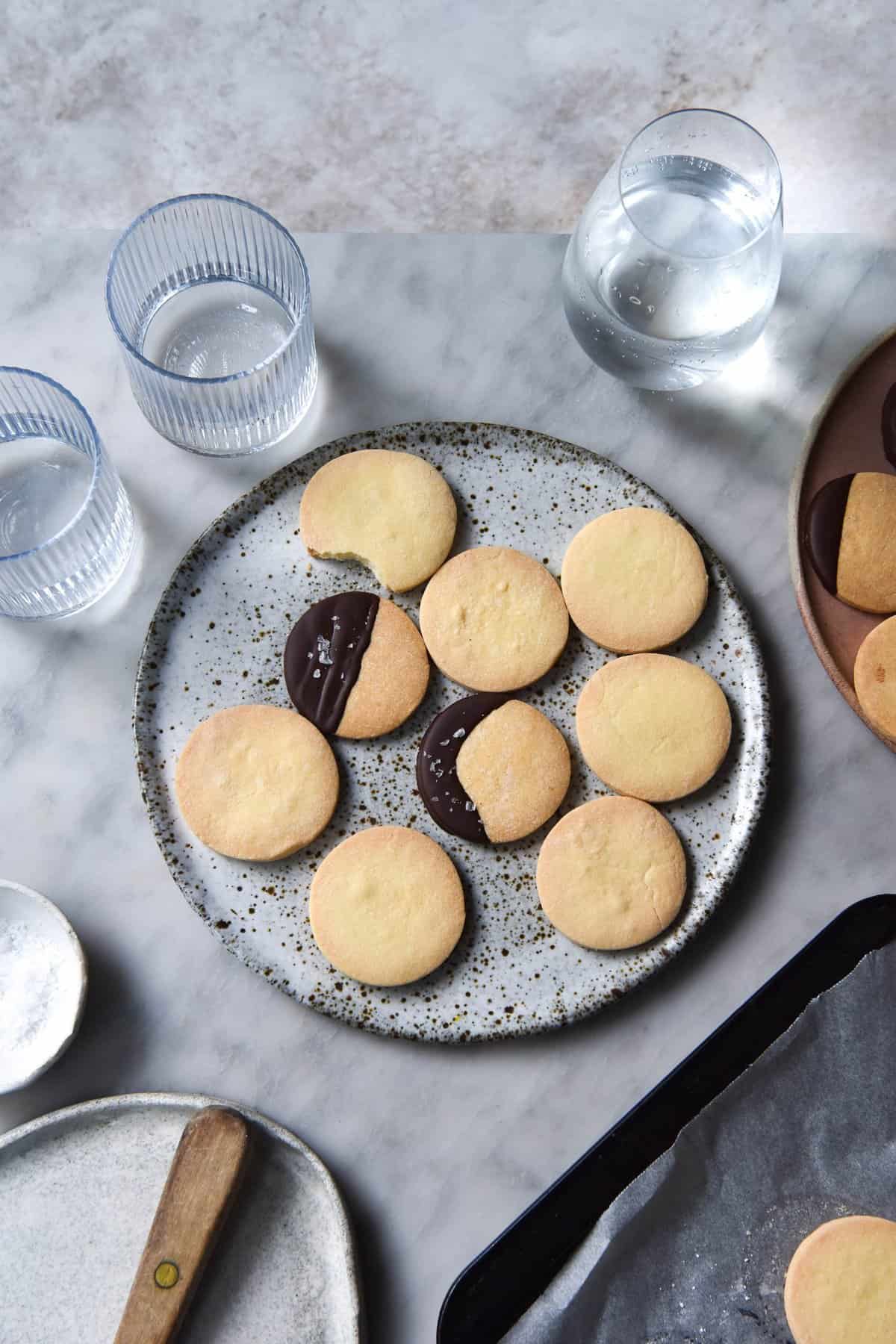 Gluten free, gum free Linzer cookies
Ah yes, Linzer cookies. I will warn you – there are finnicky to make. You could use the shortbread dough for a slightly more pliable option, but these are made in the style of traditional Linzer cookies. They contain almond meal, though, so use the shortbreads for a version without added nuts.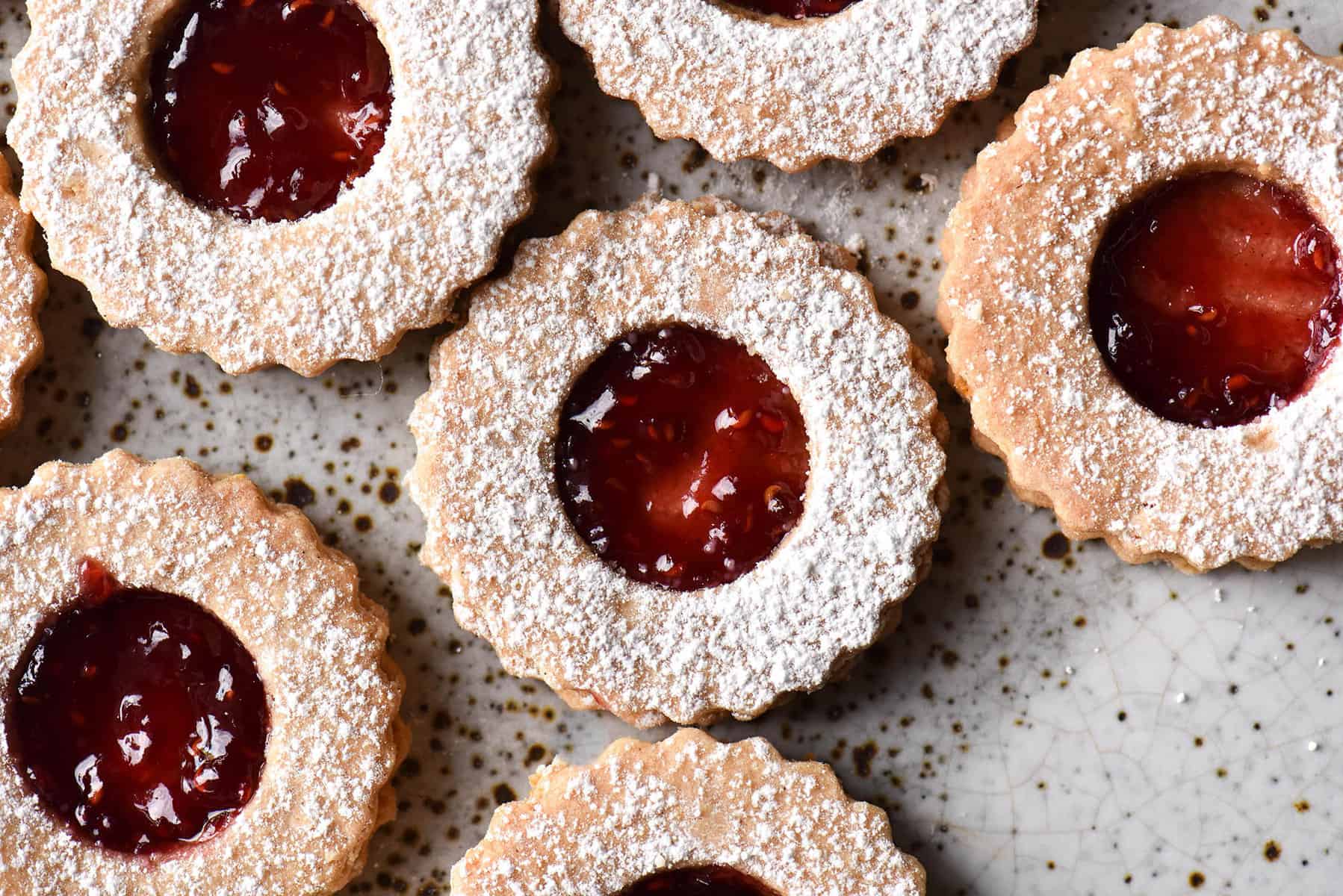 Chocolate crinkle cookies (with flourless and vegan options)
I love me some brownie cookies, and as it turns out, they make a very easy chocolate crinkle cookie. You can make the crinkle version with my original brownie cookie recipe, the flourless version or the vegan version. They all work like a charm.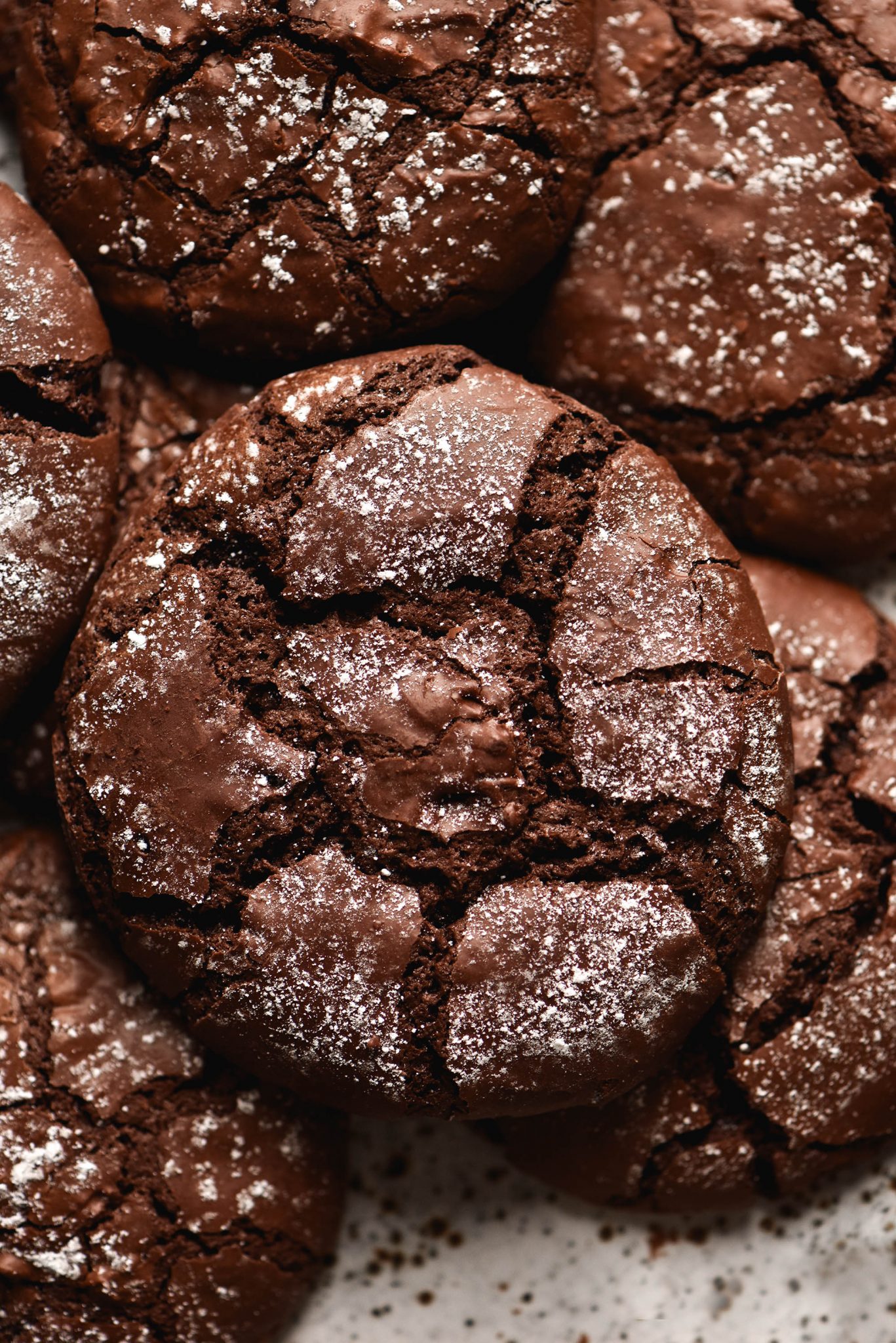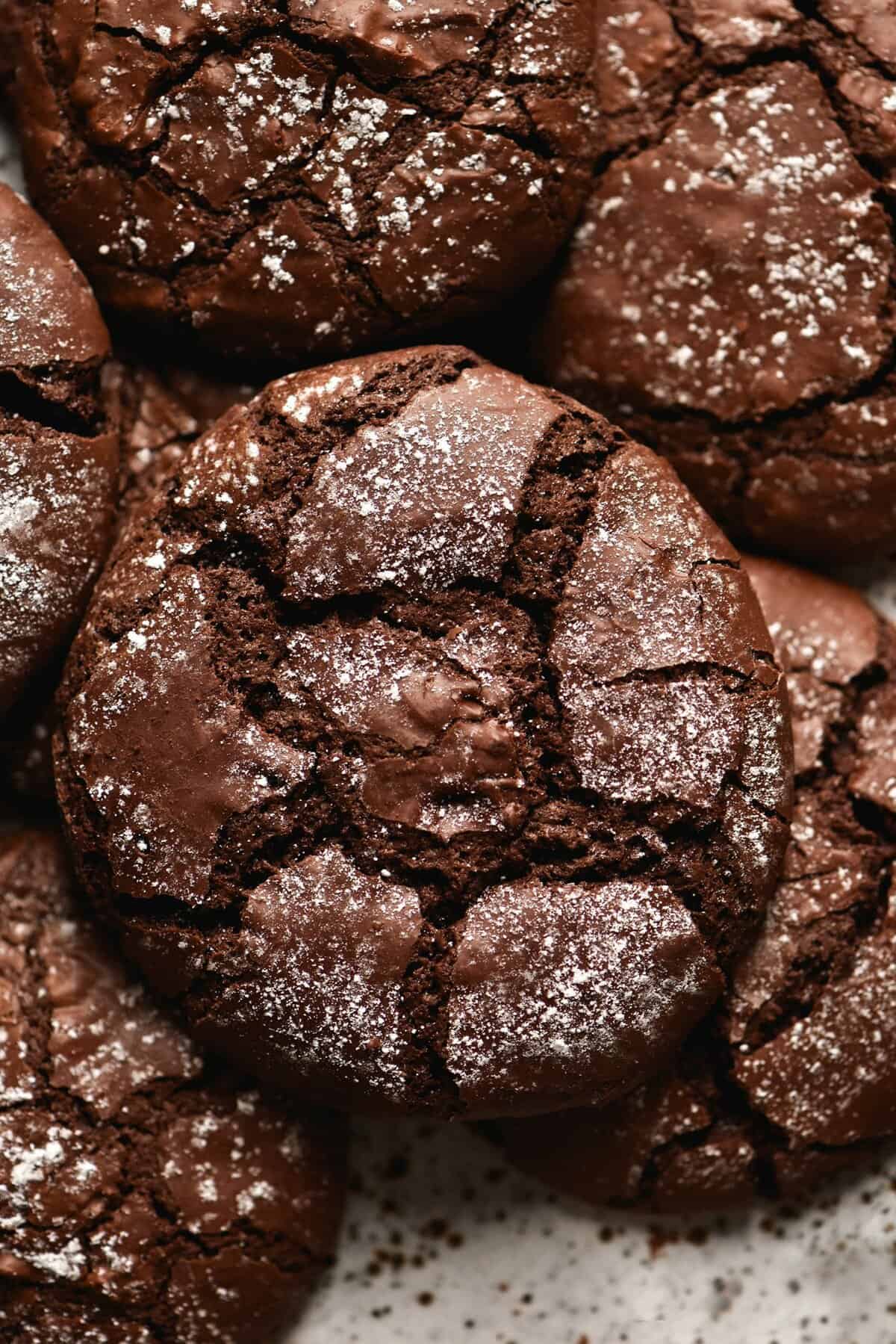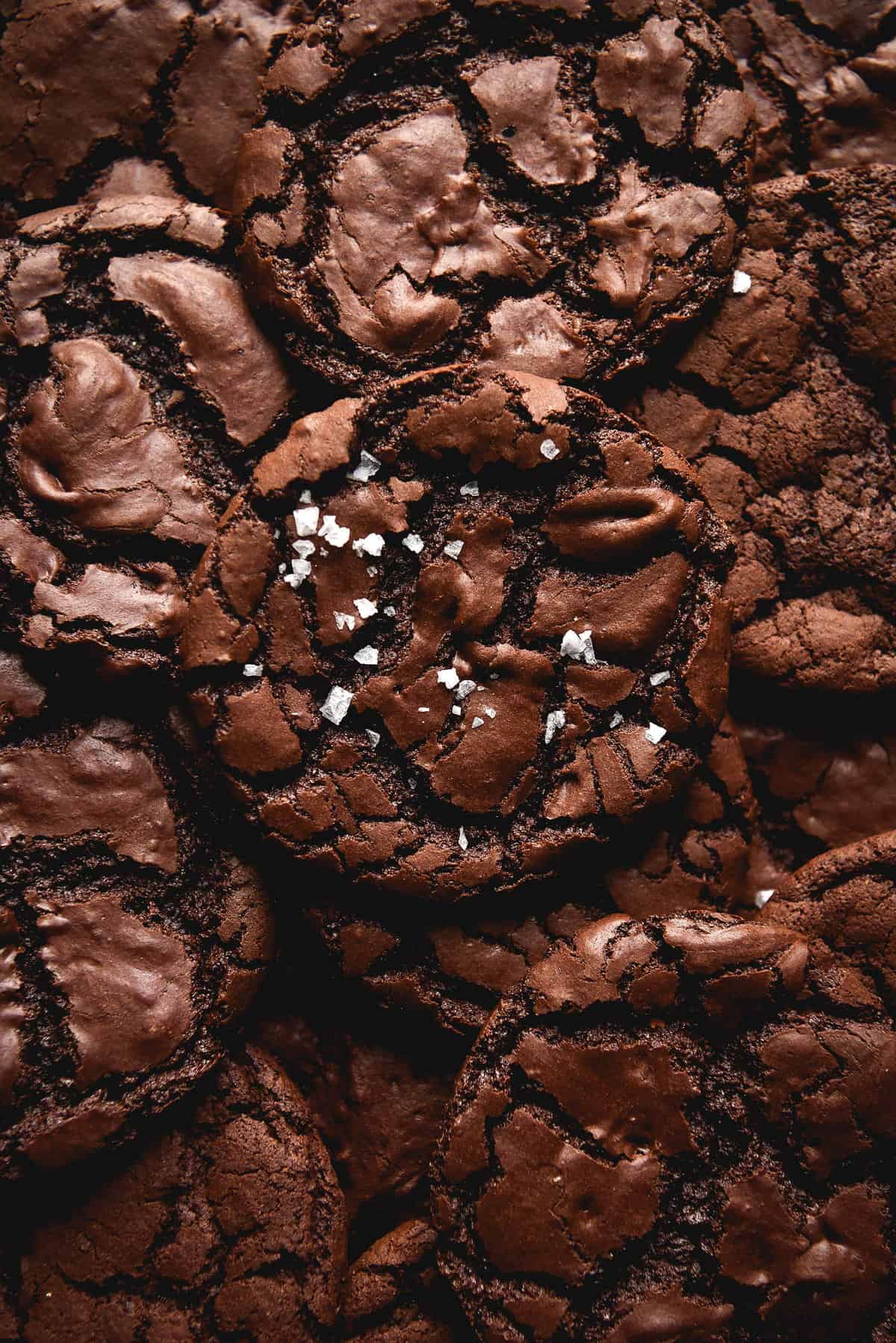 Grain free, refined sugar free gingerbread
Finally, a healthier, super simple recipe for gingerbreads I developed many moons ago. Gingerbread themselves can be notoriously tricky to make gluten free, so these ones are a riff on my vegan snickers cookies. Made with almond butter and loads of powdered ginger, they're a healthier festive fix.