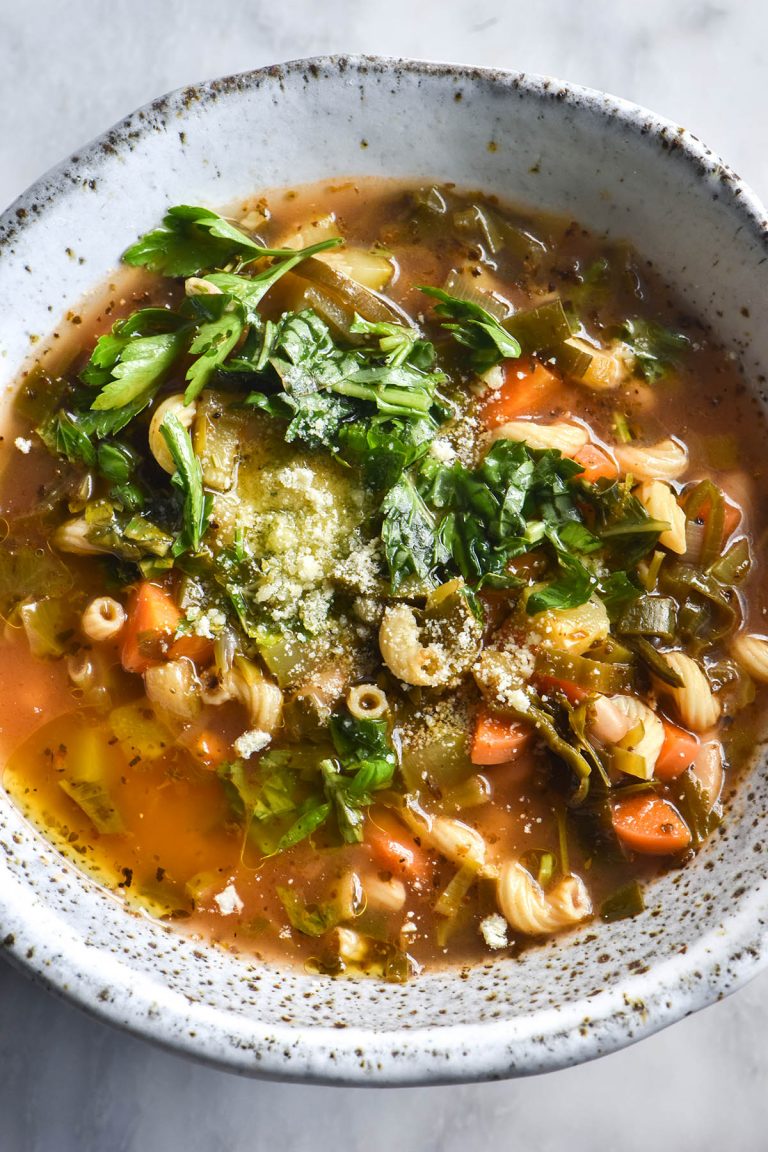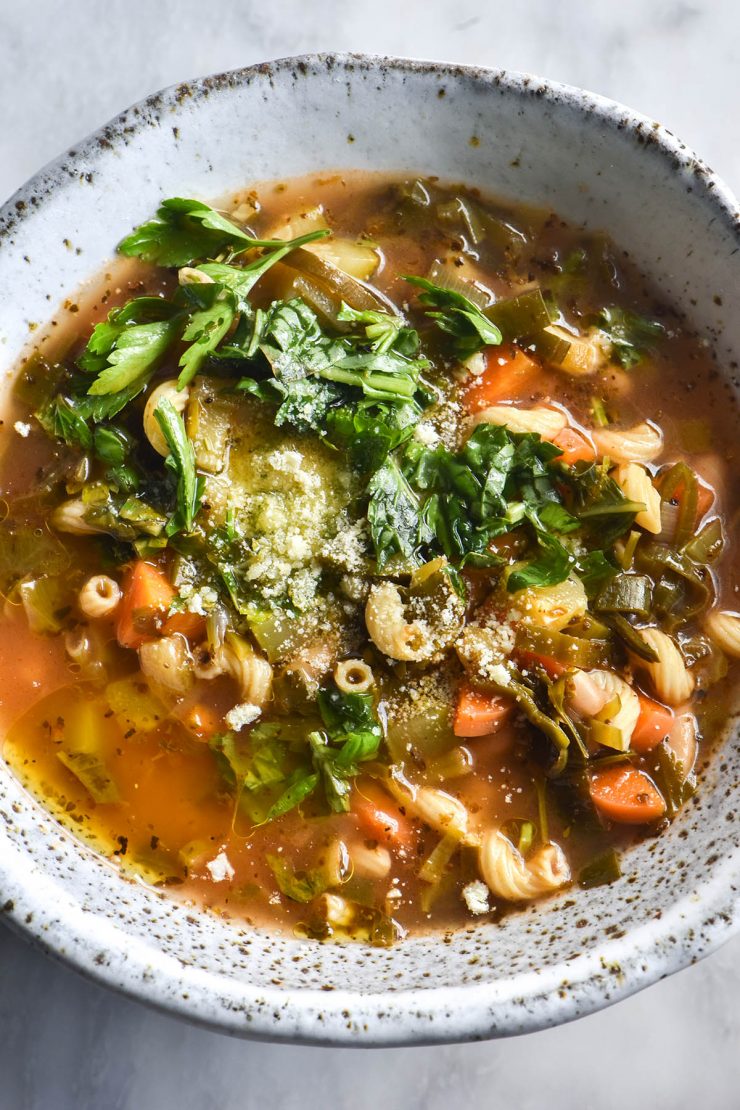 This Low FODMAP minestrone soup is inspired by the eternally wintery conditions we're having in Melbourne. It is also made in partnership with Monini Olive Oil, using their Classico olive oil.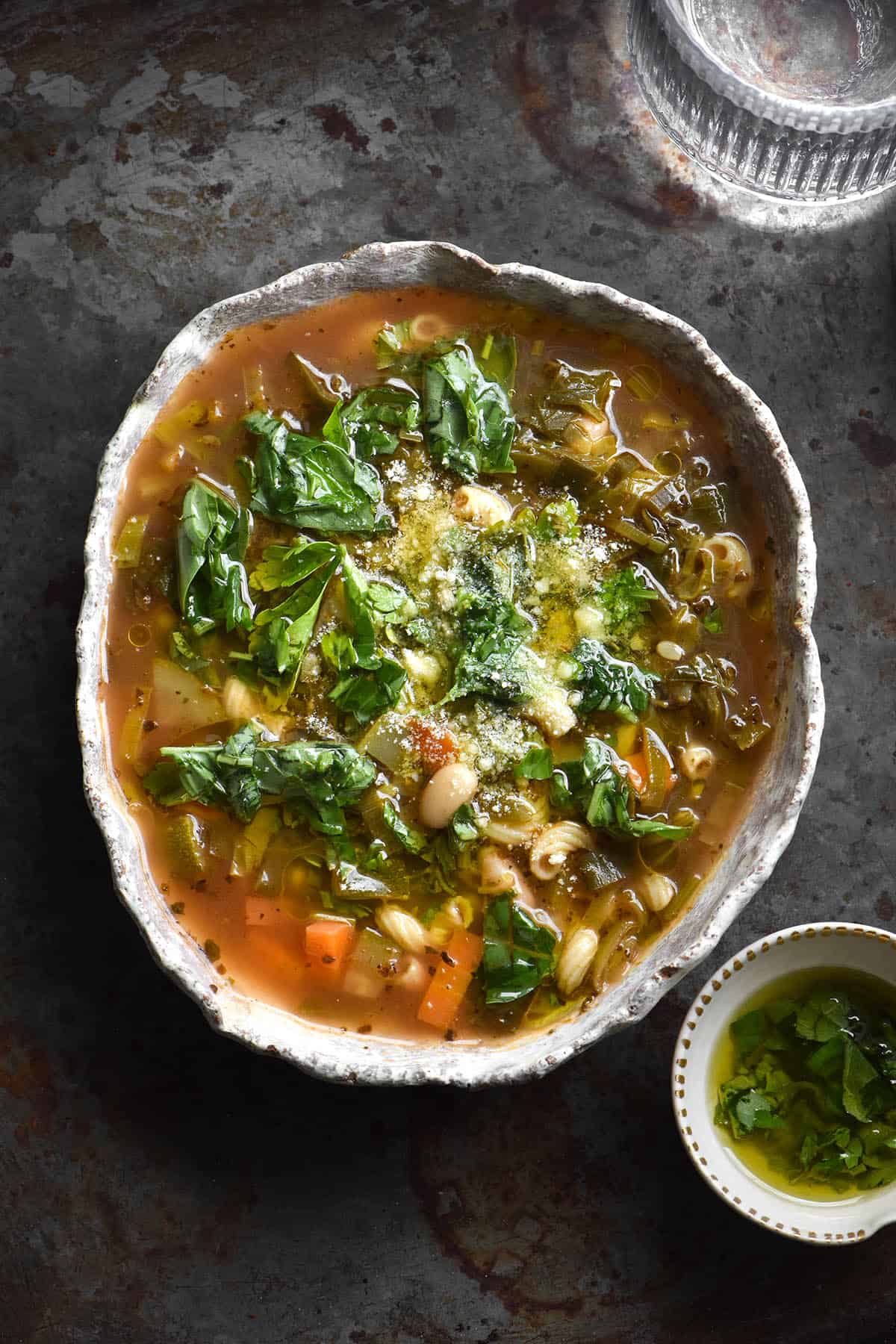 Low FODMAP minestrone soup
Minestrone generally contains onion and garlic, pasta and beans. These ingredients are generally off limits for someone on a FODMAP diet. As such, this low FODMAP minestrone soup recipe uses leek greens, spring onion greens, gluten free pasta and canned beans to keep the FODMAP content down. It is vegan, gluten free, and made without onion and garlic. The piece de resistance? A finishing drizzle of garlic infused olive oil.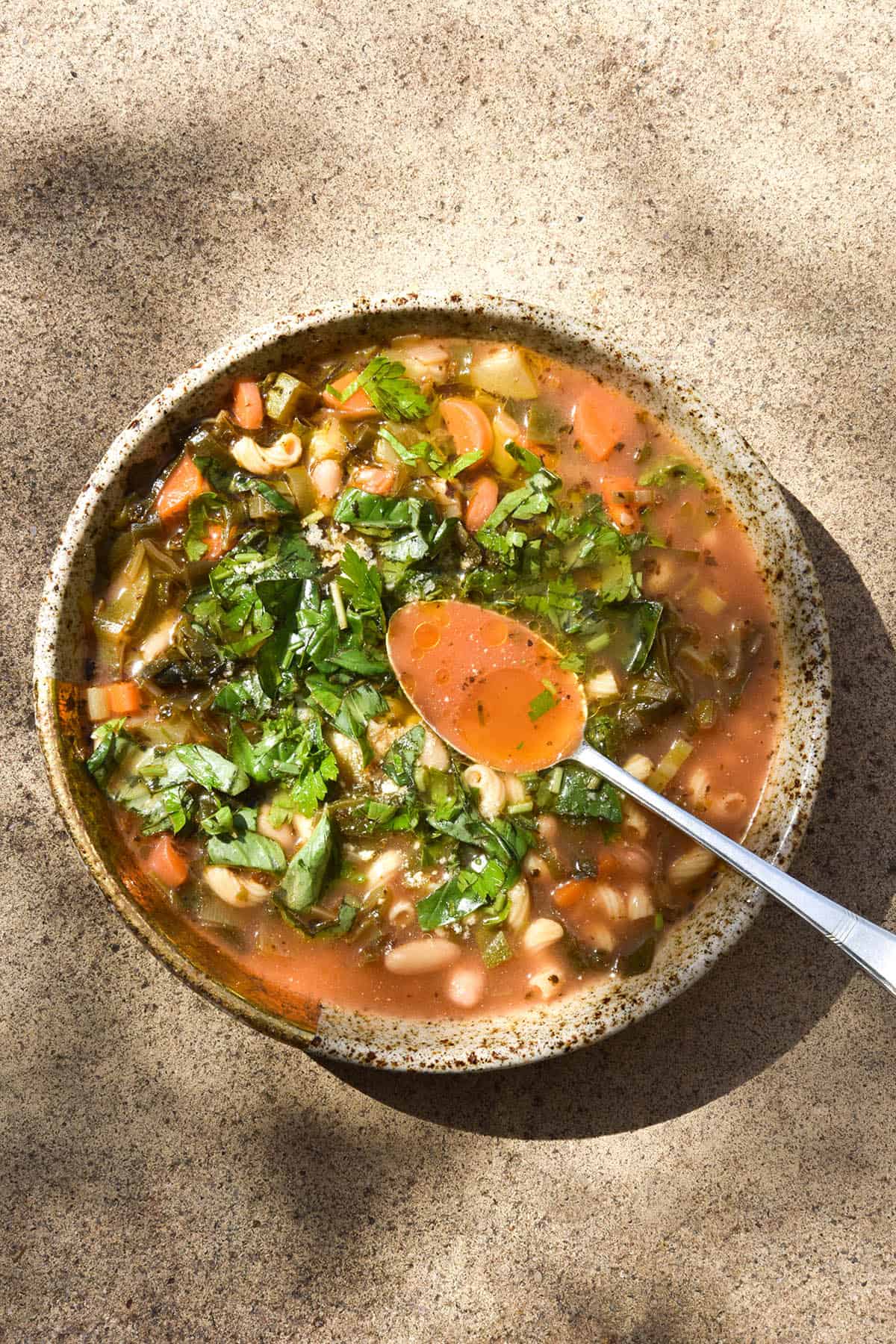 Garlic infused olive oil
Infusing garlic in oil is a fantastic way to add the flavour of garlic to dishes without the FODMAP content. We will go into the mechanics of this below.
Making your own garlic infused oil results in a much stronger garlic flavour. Store bought garlic infused oil uses stabilisers to ensure the food safety of the product. As such, the flavour isn't as strong as homemade.
The fructan content of garlic is water soluble but not oil soluble. This means that if you use garlic cloves in a soup, the fructans leech out. However, if you use them in oil the fructans cannot escape. The result is all of the garlic flavour without any of the fructans.
Ingredient notes for your low FODMAP minestrone
I decided not to use stock in this recipe, as I find it can sometimes leave me with a dry mouth. If you have a low FODMAP stock you love, feel free to use it. Just make sure you add less salt to suit.
Leek greens and spring onion greens add an onion like flavour without the FODMAP content contained in the whites. Make sure you thoroughly, thoroughly wash the leek greens, as they are notorious for hiding dirt. Seriously: peel each layer off and wash as you go. You would be surprised by how far into the core the dirt can go.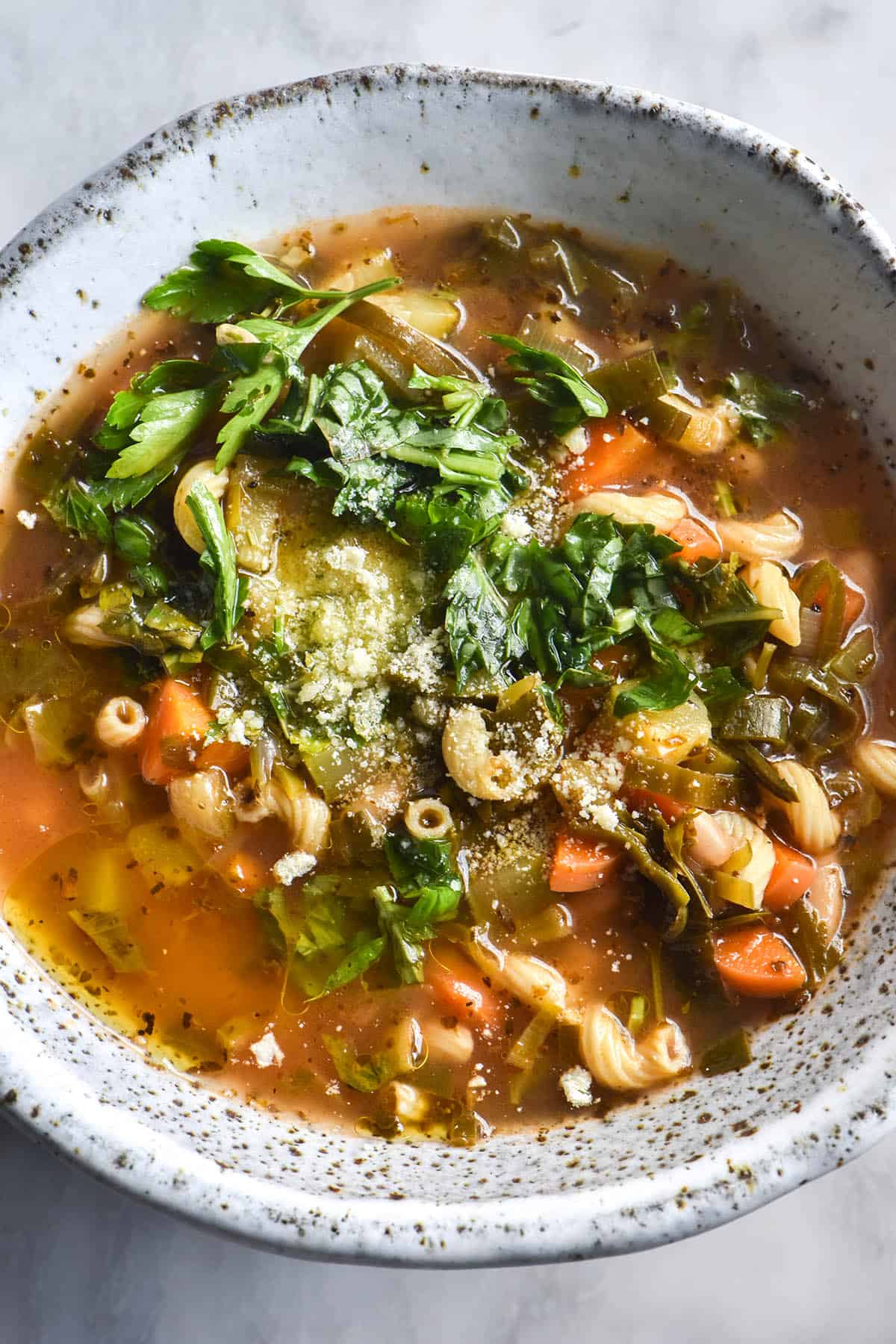 FODMAP notes
To keep this minestrone soup low FODMAP, I have made a few amendments. Firstly, it uses leek greens and spring onion greens to replace the onion and garlic in the soup. Secondly, it uses gluten free pasta. Thirdly, the minestrone uses canned beans instead of soaked beans. Canned beans are lower FODMAP than soaked ones, which we will go into below.
The base of this low FODMAP minestrone uses tomato paste. I find that is brings flavour and umami, without making the soup overwhelmingly tomato flavoured. Tomato paste is FODMAP friendly in 2 tablespoon (28g) serves. This soup uses 4 tablespoons, which puts it safely within the threshold.
I have seen a number of different beans added to minestrone. I actually found it hard to decipher which beans are traditional to minestrone – there is so much variation in online recipes. I decided to use canned butter beans. Butter beans are slightly outside the threshold for low FODMAP (this soup serves six, there is 240g of beans in a can and a low FODMAP serve is 35g – 5g extra bean per person). This works for my digestive system, so this is what I did.
Of course, you can add less beans, a different type of beans or no beans, if you'd prefer. I will go into the beans below.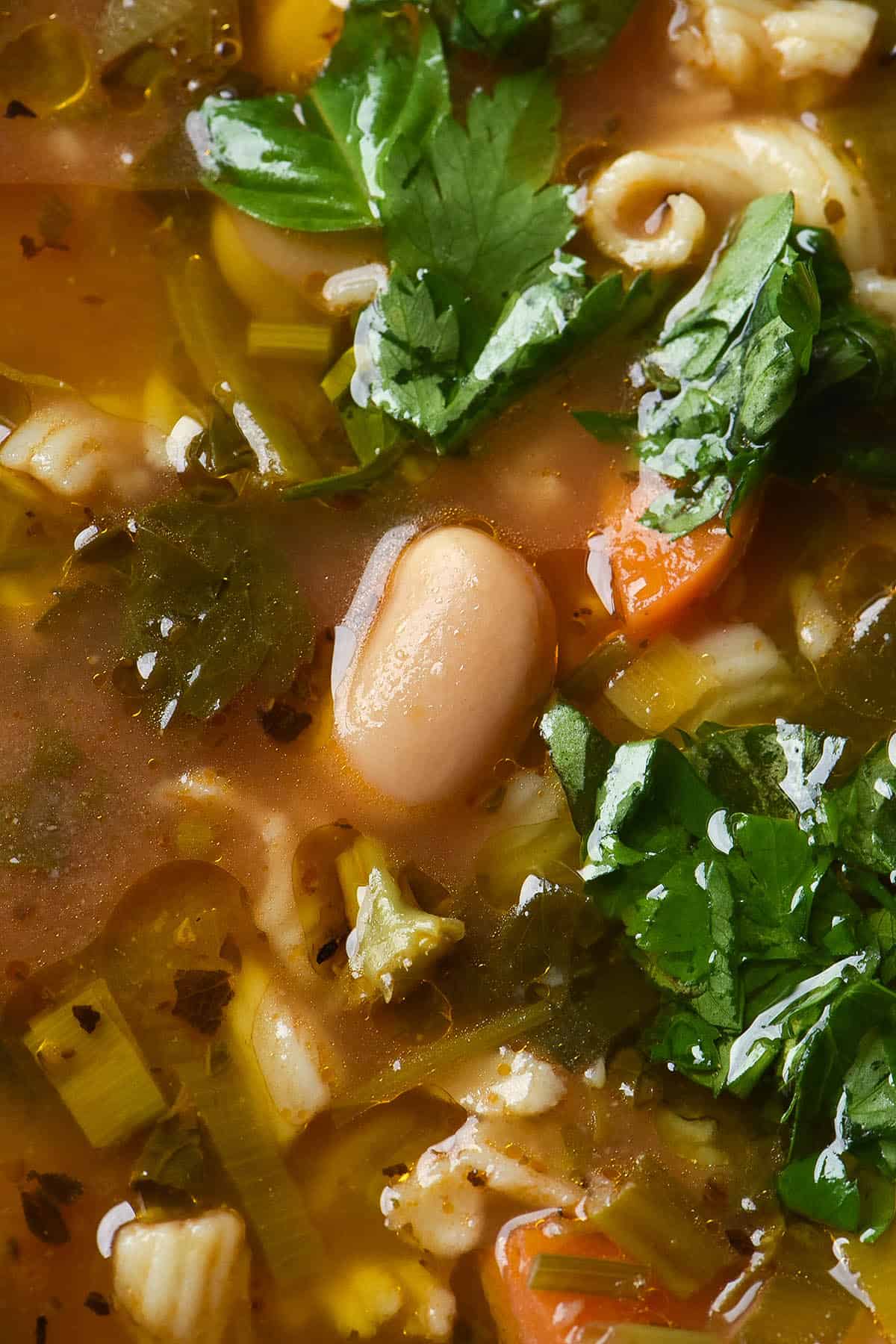 Which beans are best for this low FODMAP minestrone soup?
We have discussed a little about the beans to use in your minestrone soup above, but I wanted to give some more options. You can use whatever works best for you, even if it isn't traditional. A minestrone soup without garlic or onion is fairly untraditional, after all.
Firstly, you can get a bit of bang for your buck if you boil lima beans (also called butter beans). These are low FODMAP at 39g per serve.
Canned black beans are low FODMAP at 40g per serve, which slots them in nicely with the recipe. The recipe serves six, and 240g of beans divided by six people is 40g.
Canned chickpeas are low FODMAP at 42g per serve, and lentils are low FODMAP in 46g per serve. Choose what works for your digestive system.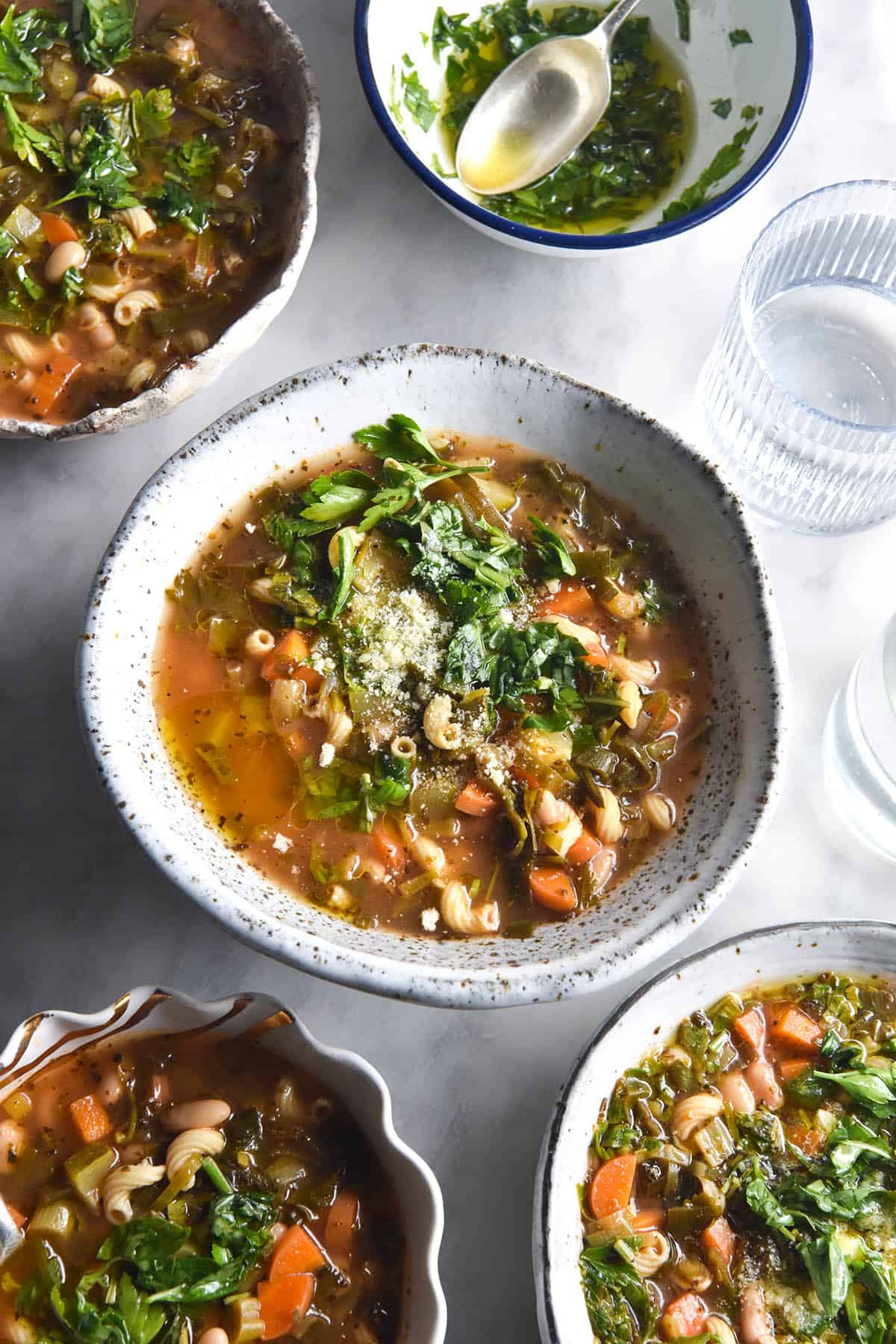 How to add flavour to low FODMAP minestrone soup
Let's be real: broth based soups without onion or garlic can be bland. Here are my favourite ways to add flavour back in. These tips are particularly important if you use water instead of stock, like I did.
As we've discussed, tomato paste is added here for a layer of umami.
Loads of dried herbs help enormously in adding layers of flavour. I use oregano and dried sage. I know it's annoying to be asked to buy loads of dried herbs, but I promise they will be so helpful in low FODMAP vegetarian cooking.
Fresh herbs – the more the merrier. I settled on a combination of basil and parsley, as I felt it gave me most bang for buck. I tried sage and was a little disappointed, but I'd love to be wrong.
If you happen to have a rosemary bush on overdrive, add a sprig! It all adds up.
Miso paste is one of my favourite ways to add flavour and umami. I used a dark miso paste here.
Nutritional yeast is another great flavour booster that adds a cheesy umami.
Garlic infused oil to finish the soup adds in a layer of garlic flavour without the FODMAP content. I also finish the soup with fresh herbs dressed in garlic infused oil, lemon juice and sea salt flakes. It adds a vibrant fresh contrast to the minestrone that I absolutely love.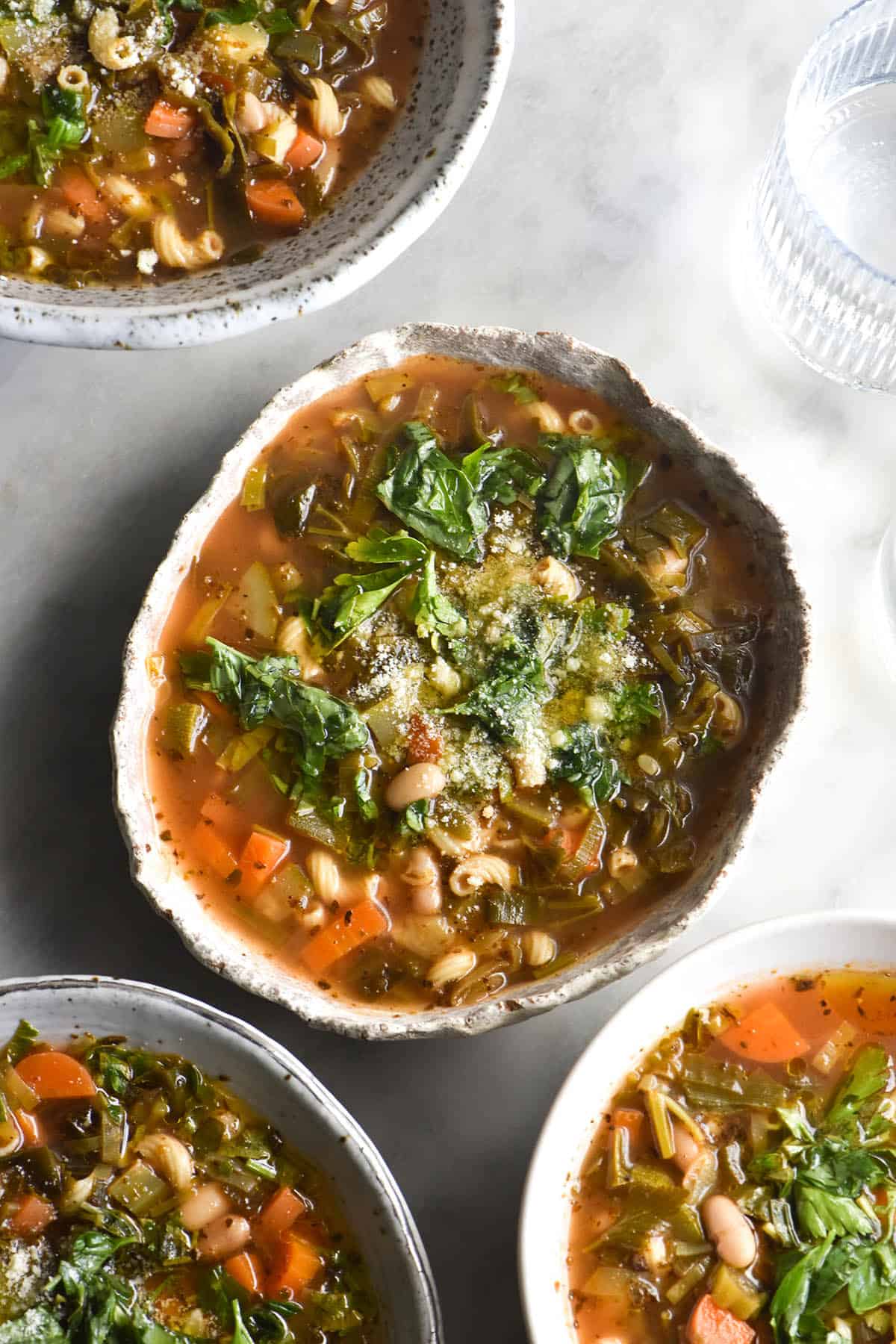 More low FODMAP vegetarian and vegan recipes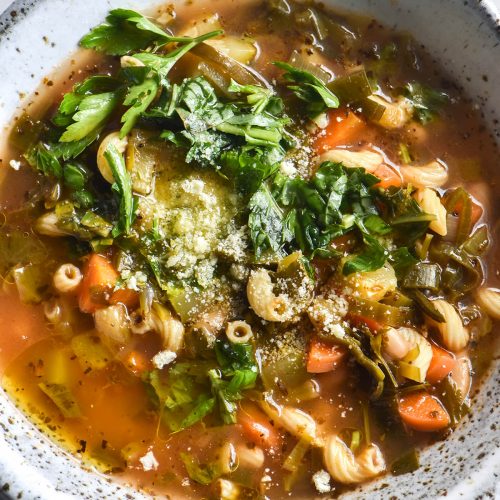 Low FODMAP minestrone
Vegan, gluten free, nut free
Serves 4-6
Ingredients
For the garlic infused olive oil:
1/2

cup

(125ml) olive oil

1/2 – 1

head garlic cloves

papery skin removed and sliced
For the soup:
3

tablespoons

(60ml) olive oil

2

leek greens

thoroughly washed and sliced thinly

1

bunch spring onion greens

sliced

1/2

bunch basil

soft stems and leaves (reserve remaining 1/2)

1/2

bunch flat leaf parsley

soft stems and leaves (reserve remaining 1/2)

4

tablespoons

tomato paste

200

g

carrot

small cubes

1

zucchini

small cubes

1 – 1 1/2

litres

(1000-1250ml) water or low FODMAP vegetarian stock

1-2

tablespoons

nutritional yeast

1/2 – 1

tablespoon

gluten free dark miso

2-3

teaspoons

dried sage leaves

2-3

teaspoons

dried oregano

1 – 1 1/2

teaspoons

salt

to taste (to taste if you use stock)

Fresh pepper

to taste

Squeeze of fresh lemon juice

1

x 400g

can beans of choice

see body of post drained and rinsed

100

g

gluten free pasta

I used mini macaroni
To finish:
Juice of 1/2 a lemon

Remaining herbs

Sea salt flakes

Vegetarian parmesan

optional
Instructions
To make the garlic oil:
Combine the oil and garlic over a low heat in a small saucepan. Cook for 5-10 minutes or just until the garlic is golden brown. Set aside to cool. Once cooled, separate the oil and garlic. You can add the crispy garlic slices to household members who can eat garlic. Allow to cool.
To make the soup:
Heat the oil over a medium heat in a large soup pot. Once warmed, add the leek and spring onion greens and cook for 3-5 minutes until softened and fragrant.

Add the herbs and stir to combine.

Add the tomato paste and dried herbs and stir to combine. Allow the tomato paste to caramelise for a minute or two before adding the remaining vegetables, water or stock and remaining flavourings. Cook for however long you'd like – some minestrone cooks for hours, some until the vegetables are just tender. I prefer just tender vegetables. Do whatever you prefer, noting you might need to add more liquid (and thus perhaps more flavourings) if you cook your minestrone for a longer time.

Take the minestrone off the heat and stir in the beans of choice and gluten free pasta. Allow the soup to sit for about 5 minutes before serving so the pasta cooks. Check that the pasta is cooked through before plating up.
To serve:
Chop the remaining herbs finely, and pour 1/4 cup (60ml) of the garlic oil over the top. Add a good squeeze of lemon (to taste) and a good pinch of sea salt flakes. These add flavour and texture.

Top each bowl of soup with the remaining garlic oil and the dressed herb mixture. Add some finely grated parmesan, if you like.

Leftovers keep well in the fridge for a couple of days. See notes below on the pasta if you plan to have leftovers.
Notes
Brothy soups can be trickier to add flavour to, so make sure you add as many of the flavour options as you can. Dried and fresh herbs are your best mates here.
Your pasta might need to cook for more or less time depending on the brand and shape. This method has worked for me with Barilla gluten free Macaroni.
If you don't need six servings of minestrone, I recommend cooking the pasta separately and adding it fresh to each batch of soup. It goes soggy and breaks apart very easily, so cooking it separately ensures this doesn't happen.
Whatever beans you use, make sure they are cooked before you add them to the soup. The FODMAP content of beans leeches off in the water they cook in or are canned in, so we don't want that in our soup.