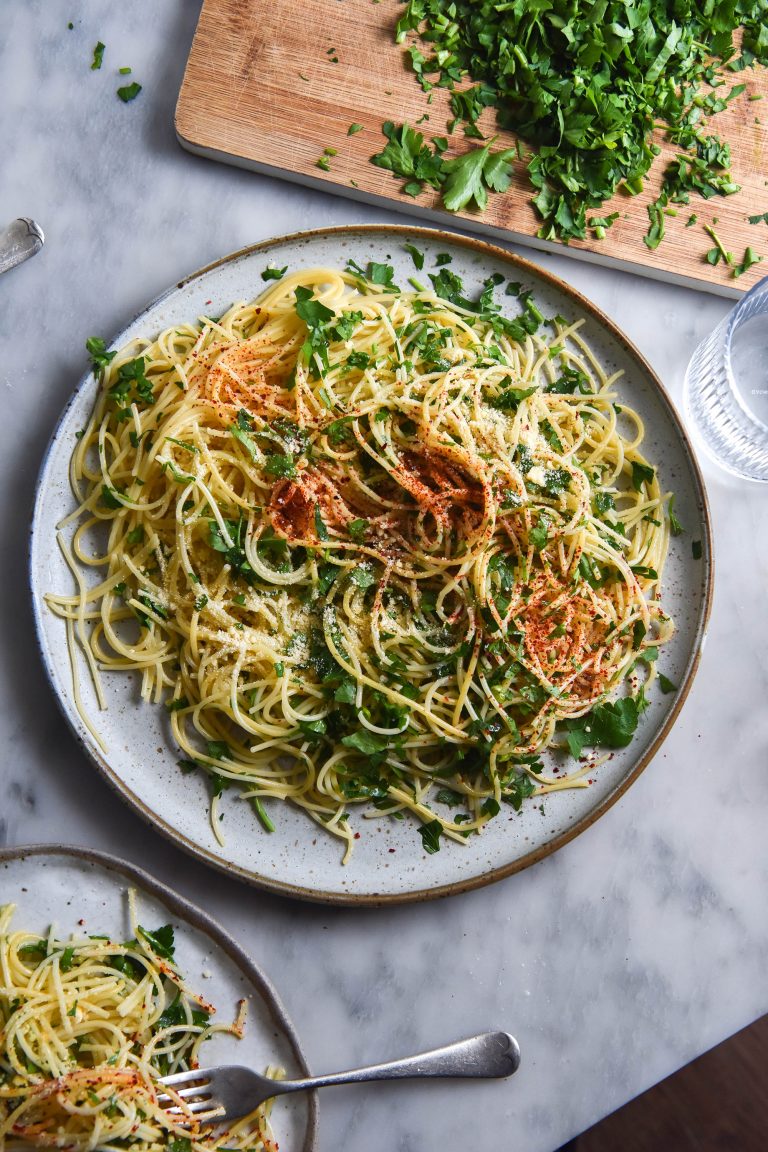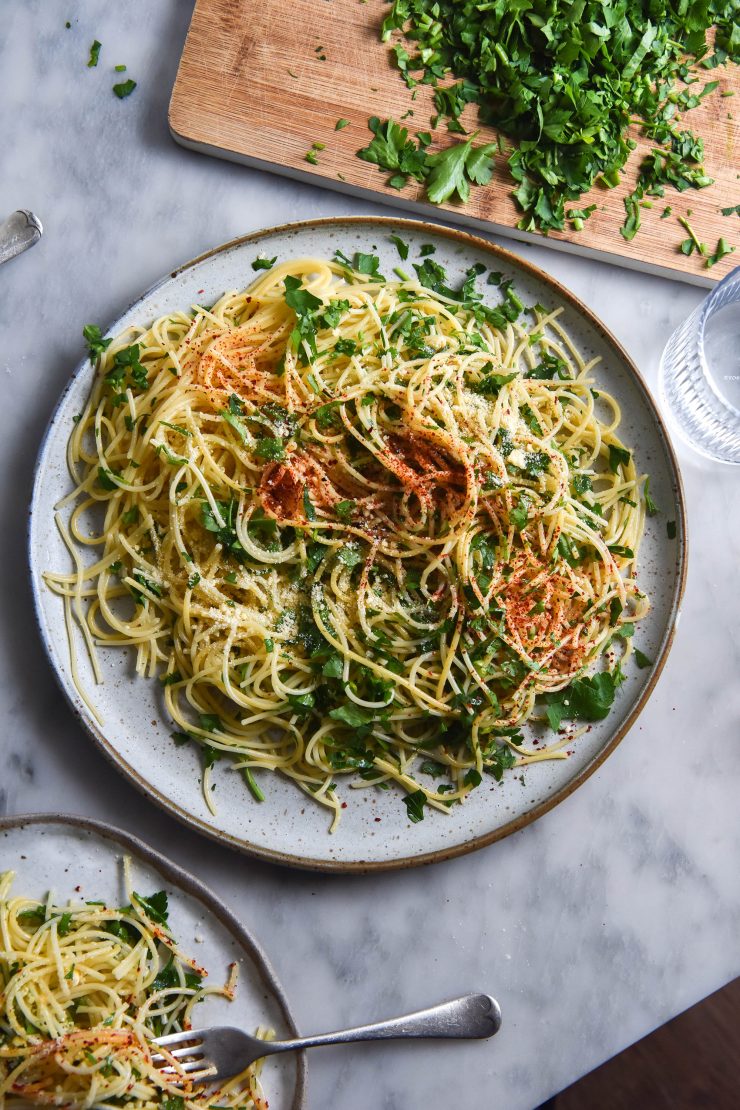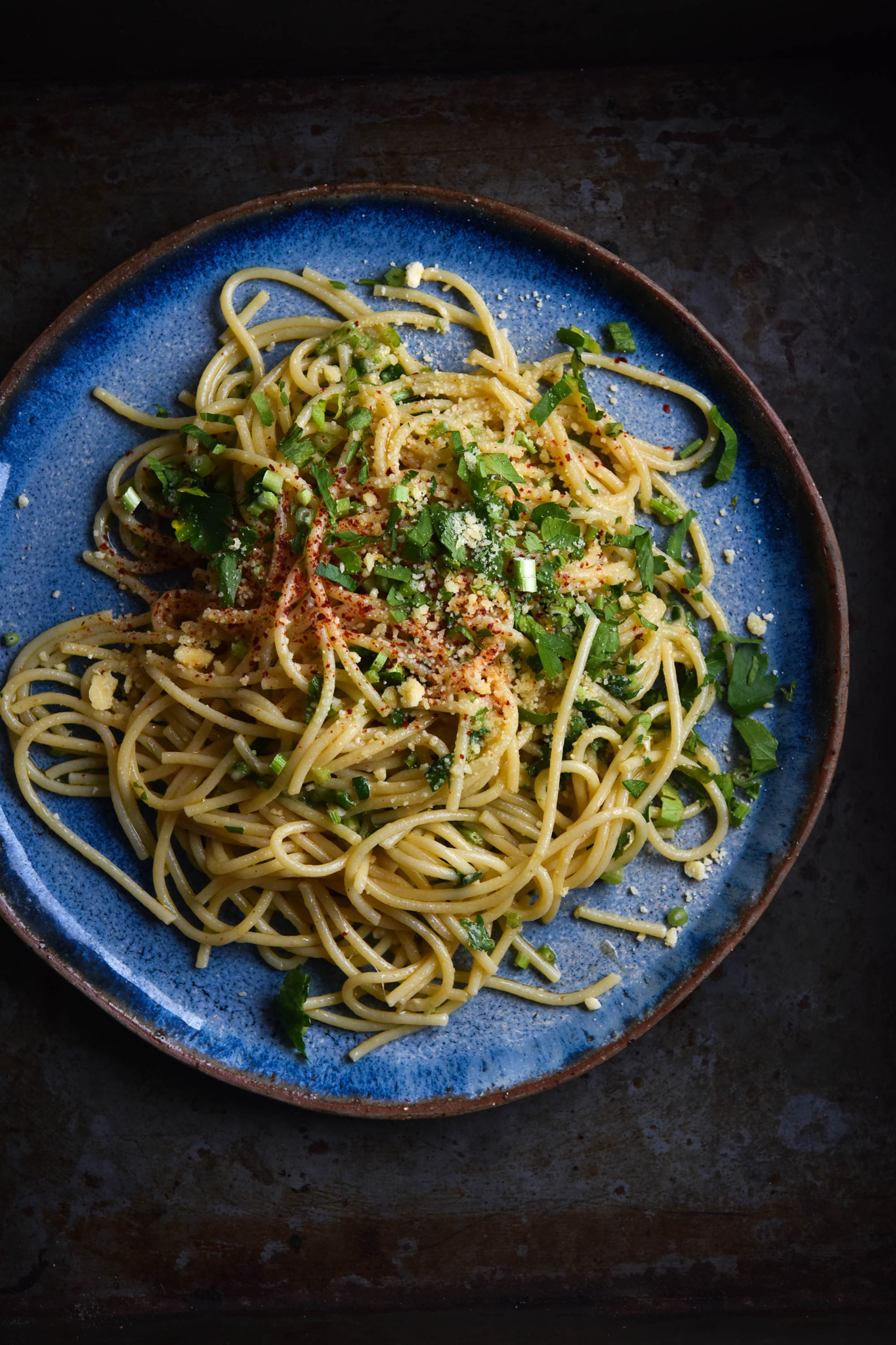 It seems like an oxymoron, but yes; today we're making FODMAP-friendly spaghetti aglio e olio. Which, to the uninitiated, translates to pasta with garlic and oil. Yes, garlic. 'But how?' you ask me. Simple! By using homemade garlic oil.
If you're on the gram, you might have seen me use garlic oil in my FODMAP friendly hummus recipe recently. I have to say I am fairly new to infused oils – I had tried a bunch of commercial ones previously and they didn't do it for me. Homemade, though? Ooooooof, that garlic hit!
The fructans in garlic and onion are water soluble, but not oil soluble. That means that the component of them that makes you feel sick can't leech into the oil. The end result? Olive oil that is infused with all of the flavour and none of the FODMAPs. Nothing short of a digestively challenged miracle (but here's a link to Monash if you don't trust me).
This is a really straightforward and delicious dish that is also gluten free, nut free and easily made vegan. It is made with pantry basics and can be whipped up on a whim. You can prepare the garlic oil while the pasta water is boiling, so the whole thing takes 20 minutes maximum. You can also build on the dish as you see fit – add in some roasted vegetables or a protein, for example.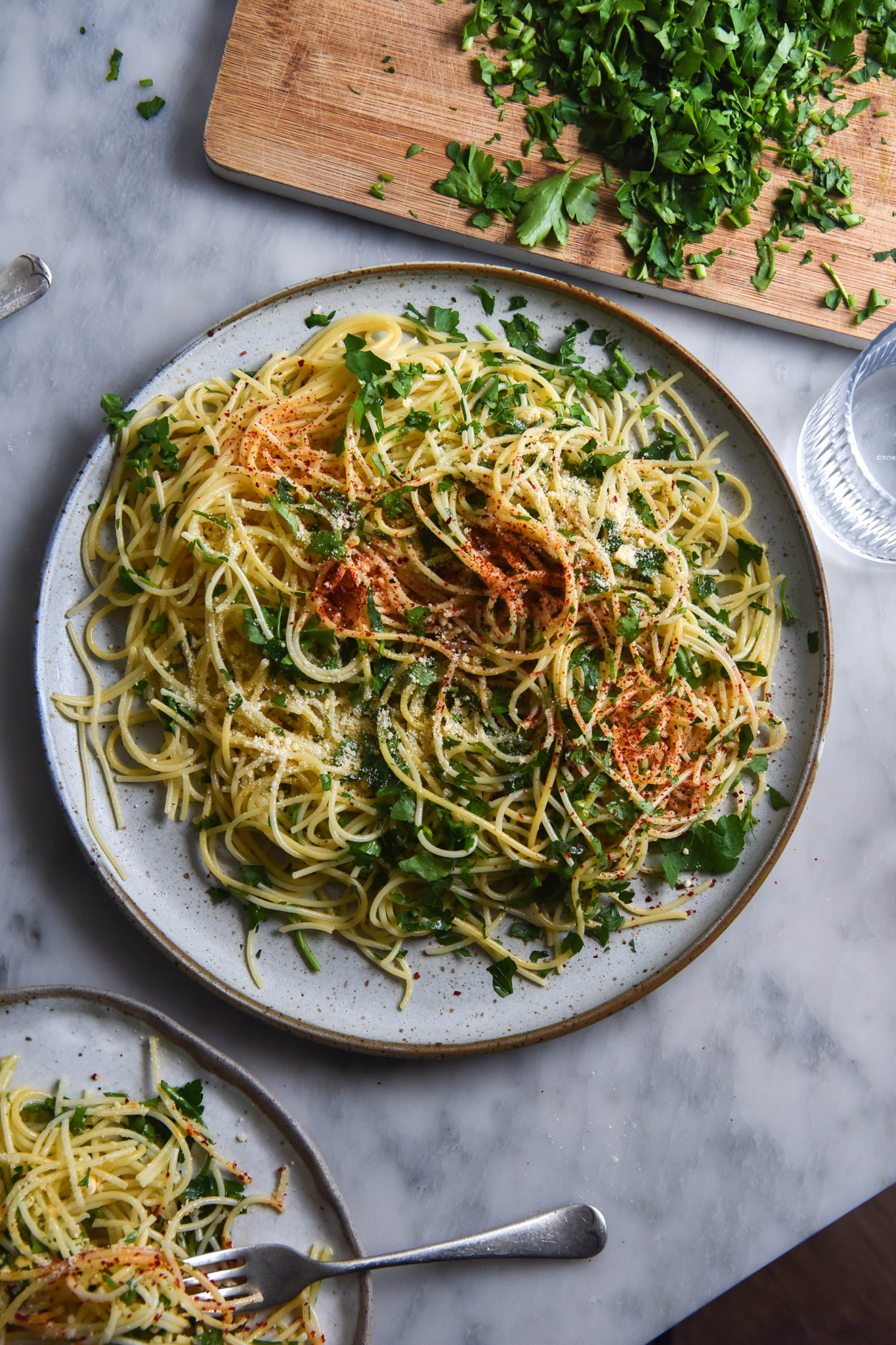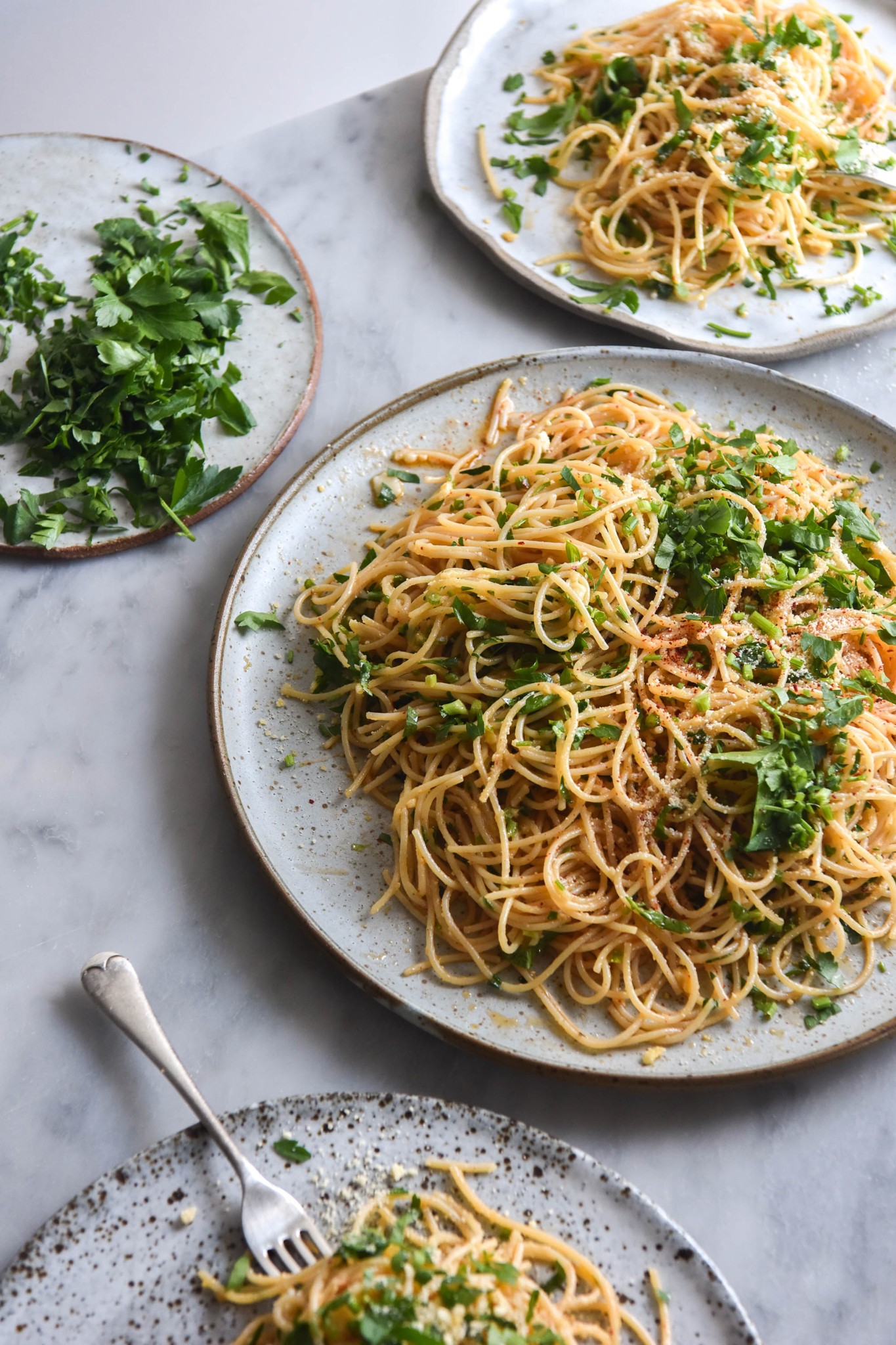 FODMAP-friendly spaghetti aglio e olio recipe notes
I know that it feels weird buying and using garlic. I understand. Please rest assured that this is a FODMAP free way to get some garlic back into your life. A note, however: don't compress or squeeze the garlic after cooking it in the oil to drain it. This runs the risk of squeezing some of those dreaded fructans into the oil, in my experience. I couldn't find any information on this specifically, but when I wrung out the garlic to drain it of any oil, I found this was the case. So, set the garlic in a sieve over the oil, and allow it to drain on it's own terms.
If you need to, use gluten free pasta. If you don't, don't!
Personally, I found that the chilli flakes, parsley and parmesan really rounded out the dish. I used Aleppo chilli flakes for their mild and sweet chilli hit and bright red colour. If you're a bit of a chilli wimp like me, I recommend using a milder chilli (like Aleppo, Kashmiri or Korean red chilli flakes).
The variety of olive oil doesn't matter too much here. Extra virgin or not, it all works. I would recommend, if you can, using a good quality oil, as it really carries the dish. That said, I've used all sorts for this and still turns out nicely.
As we've discussed, you can add in extra ingredients to bulk out the dish as you see fit. Some leftover roasted vegetables wouldn't go astray, for example. That said, the more you add, the more you will dilute the garlic oil. You can make extra oil to compensate, but otherwise you'll risk losing that garlicky hit.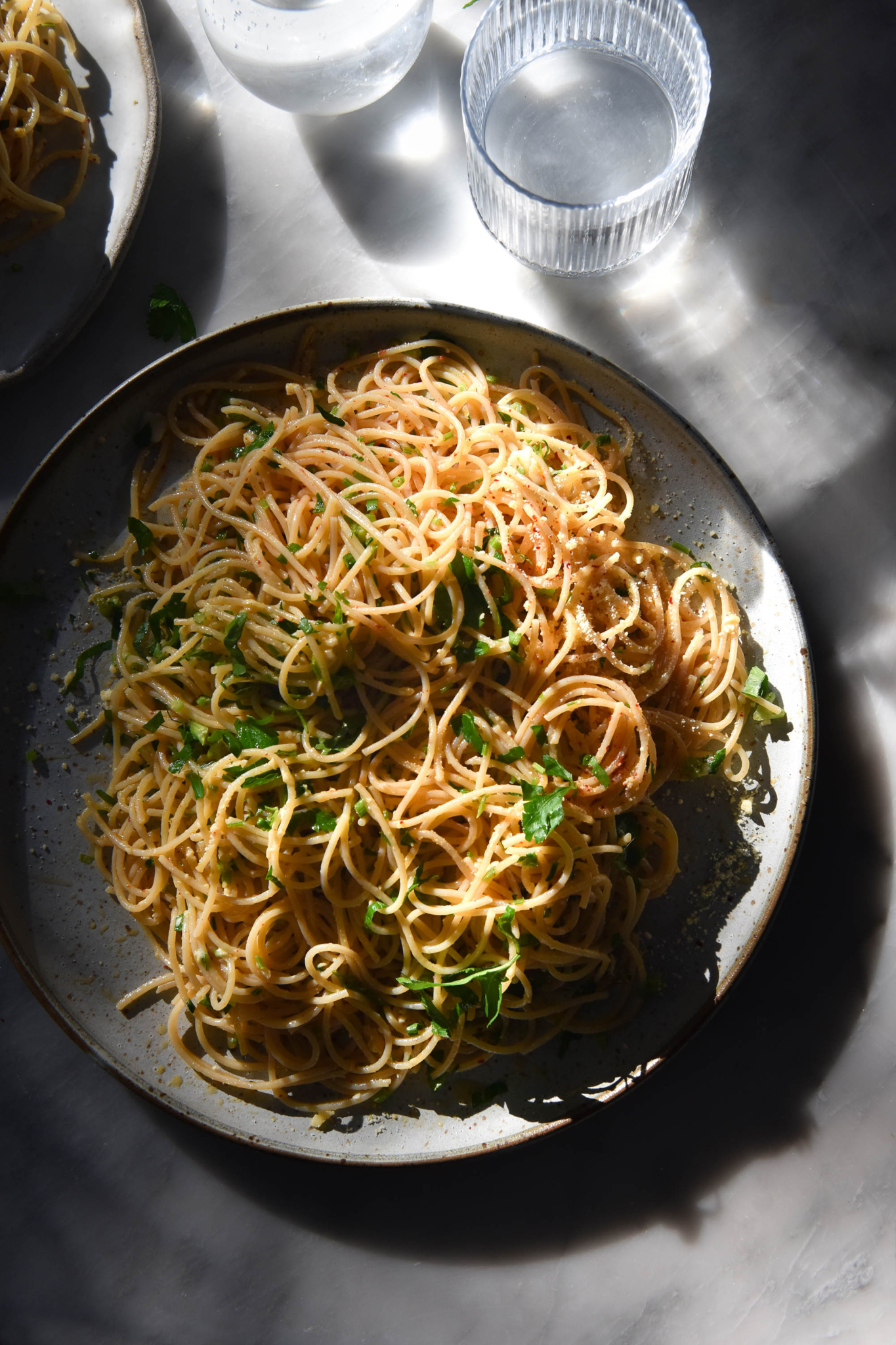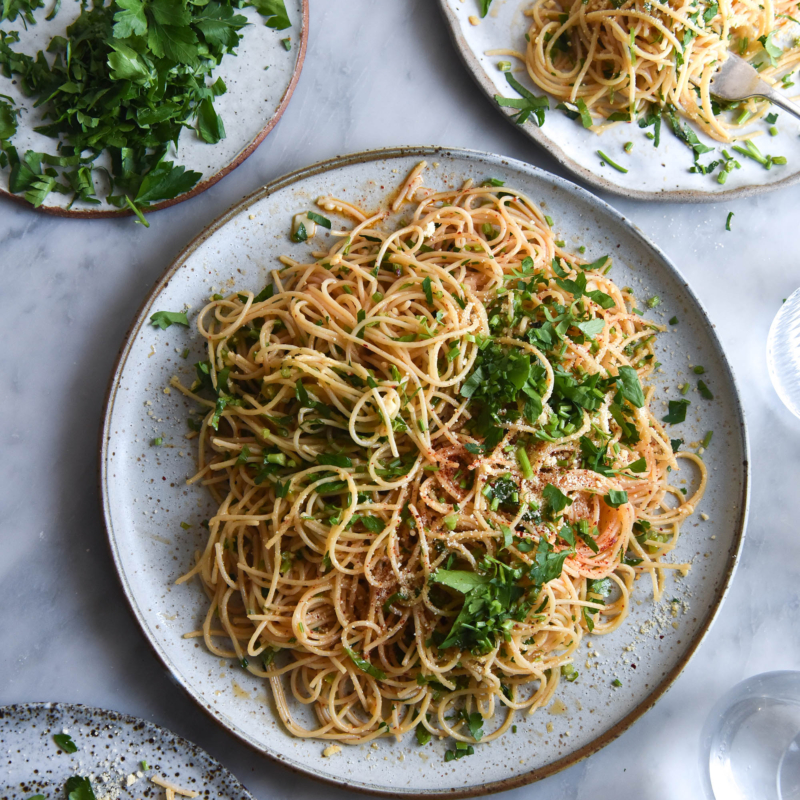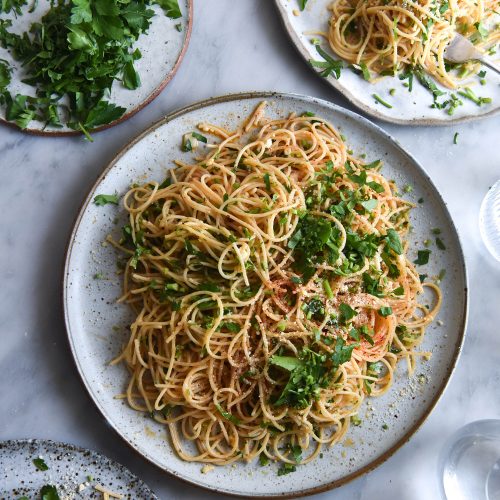 FODMAP-friendly spaghetti aglio e olio
Ingredients
For the garlic oil:
up to 8

garlic cloves, peeled

1/2

cup

(125ml) good quality olive oil
To finish the dish:
350

g

spaghetti (gluten free if it needs to be)

1/2

tsp

salt, or to taste

chilli flakes, to your taste (I like Aleppo, Kashmiri and Korean for their vibrant red colour and mild chilli hit, but any will work

1

small bunch

finely chopped flat leaf/continental parsley, to taste

Finely grated parmesan, to your taste (use vegetarian or a plant based alternative)
Instructions
To make the garlic oil:
Add about 2 tablespoons of the olive oil to a small saucepan over a medium-low heat. Cook for around 2 minutes or until lightly browned and fragrant.

Add the remaining oil and turn the heat to low. Cook for 3-5 minutes, stirring occasionally. You're looking to infuse the oil with the garlic without overheating the oil.

Once cooked, remove from the heat and set aside for the flavours to meld for around 10-15 minutes. Pour the garlic oil through a sieve into a large mixing bowl and set aside.
To finish the dish:
Prepare the spaghetti in well salted water as per packet instructions. When the pasta is nearly cooked, scoop out 1/2 cup (125ml) of pasta water and set aside. Once cooked, drain the pasta well.

Add the salt, chilli and half the pasta water to the garlic oil and whisk to combine and form an emulsified sauce. Taste and adjust for your preferences, then add the pasta. Use tongs to coat the pasta in the sauce, using the remaining pasta water if necessary. and finish with a good handful of parsley and parmesan. Serve while warm.