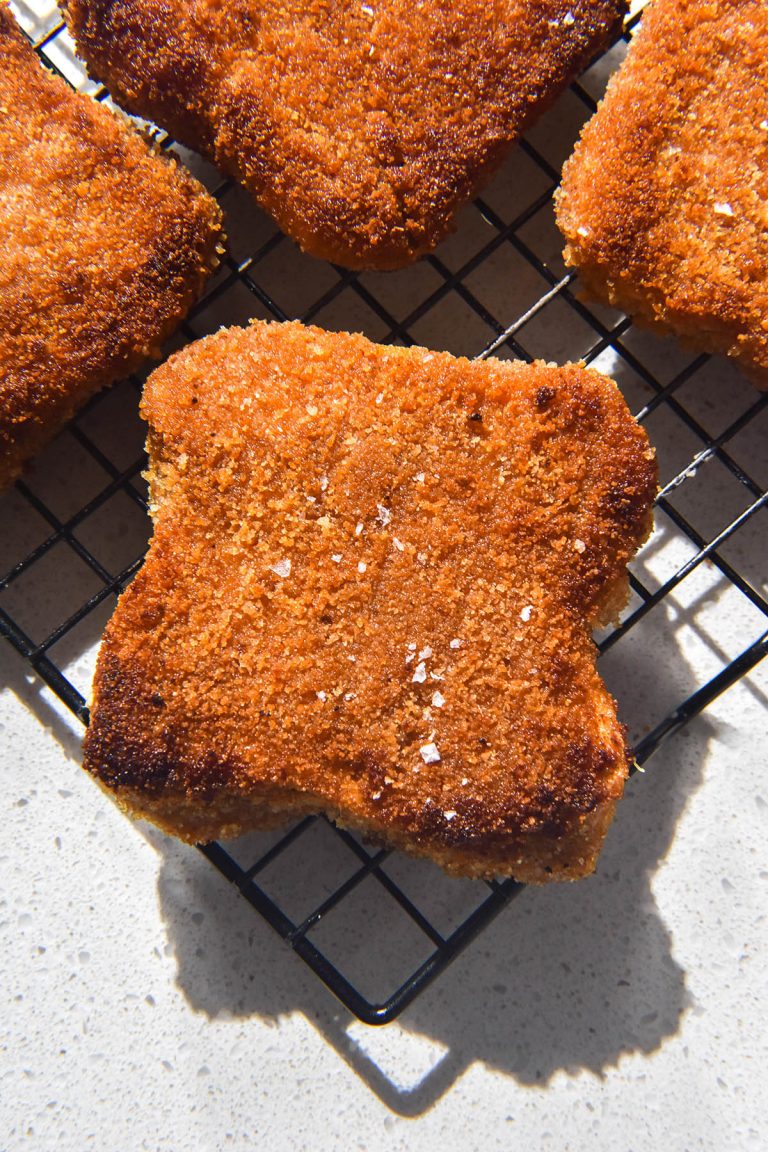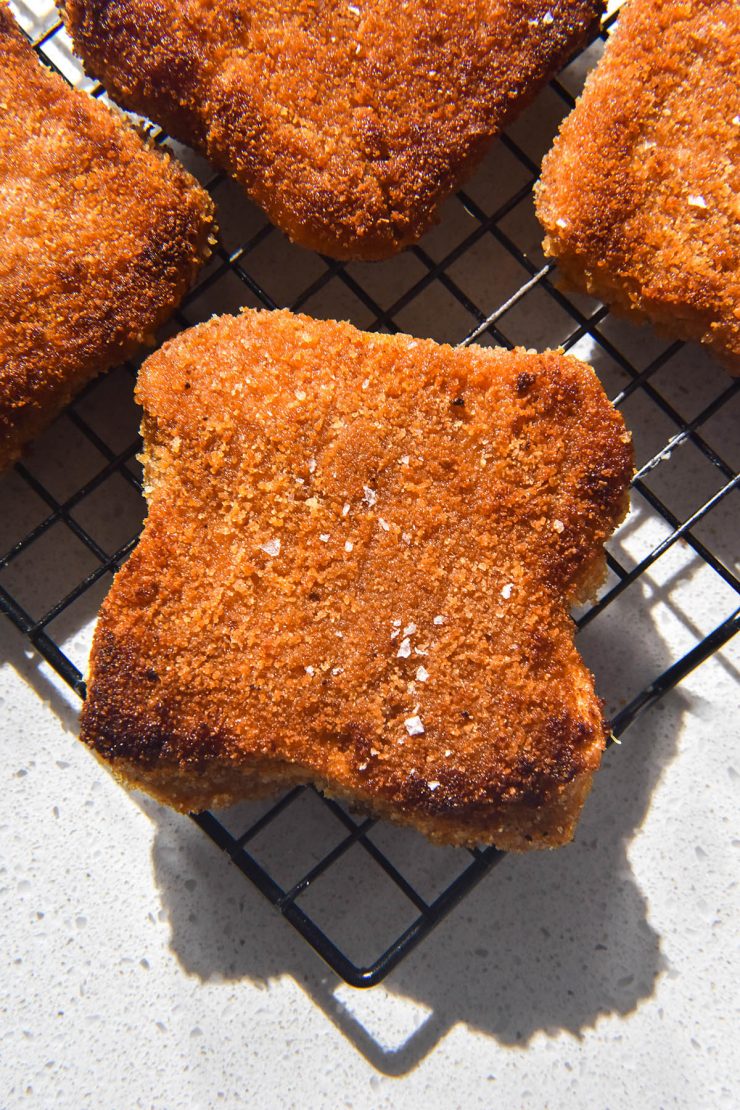 I've been on a breaded tofu kick of late. I recently shared my vegan nuggets and vegan fish fingers, both of which are gluten free. So today I am very excited to share this recipe for vegan schnitzels (that are also gluten free). They're a fun, low FODMAP dinner for the vegetarian and vegan amongst us.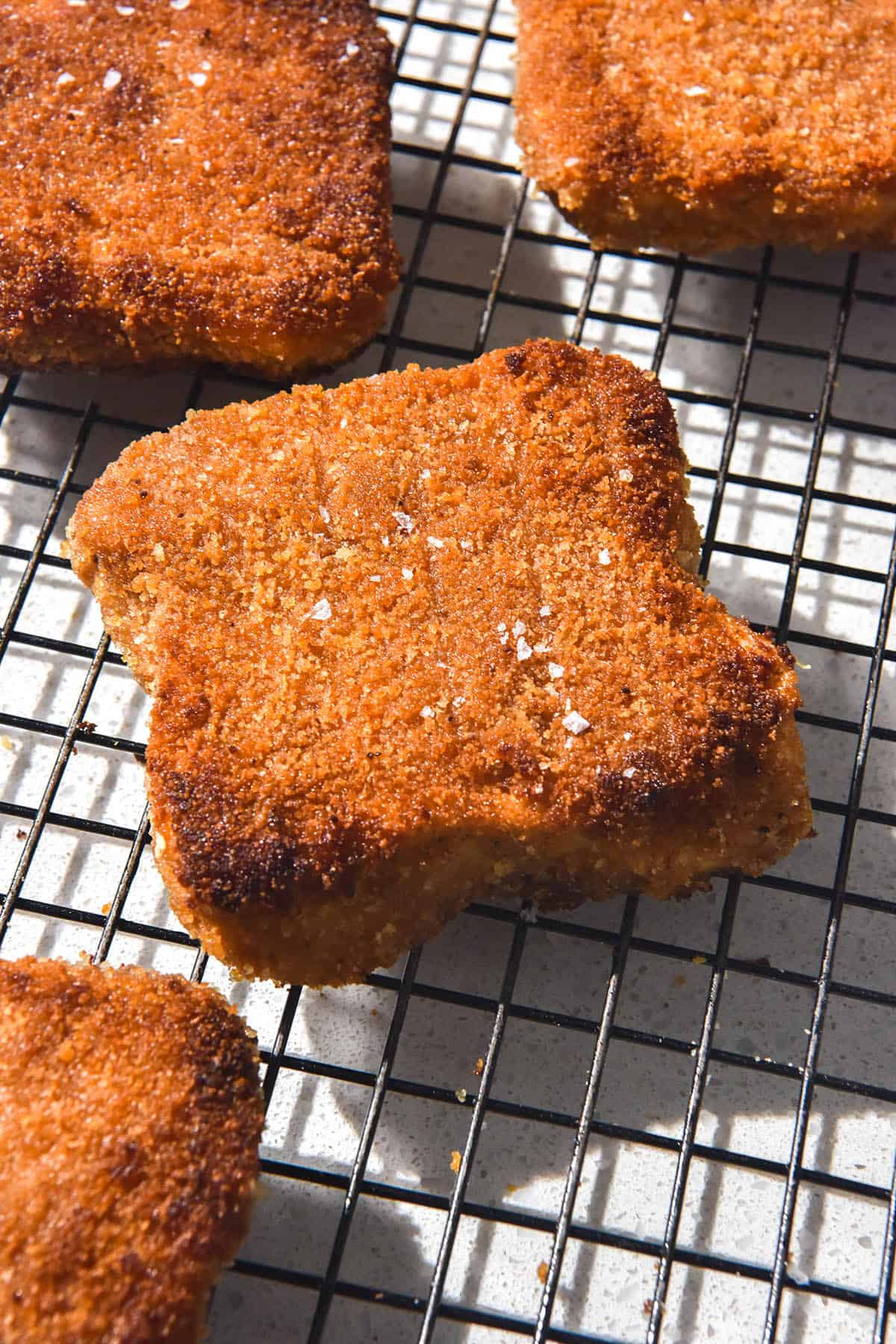 Vegan schnitzels (gluten free)
These vegan schnitzels are gluten free, nut free and low FODMAP. These schnitzels are, of course, made with tofu. Tofu is an easy low FODMAP vegan protein that's easy to acquire and also gluten free. I'd love to tinker with my own gluten free seitan style concoction, but tofu is our protein of choice for now.
The schnitzels are dredged in a flavoured liquid egg replacement. They are then dipped into a flavoured flour mixture, back into the liquid, and then into gluten free breadcrumbs. We will go into the different crumb options below.
The schnitzels are then shallow fried in a neutral, high smoke point oil. This gives them a crispy finish and a rich mouthfeel. Because tofu doesn't contain any fat (like meat does) we need some of that fat added back in for an authentic taste.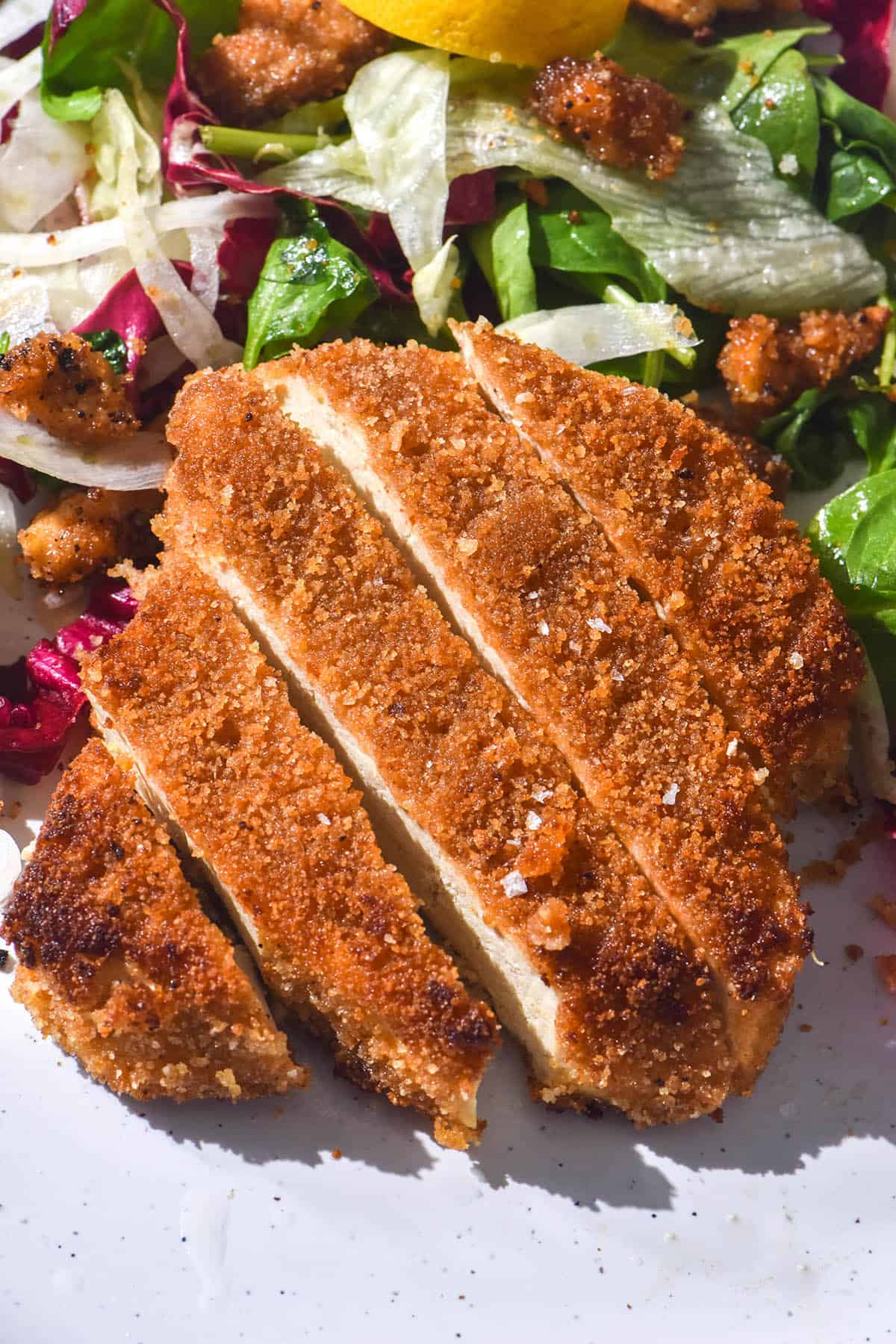 Tips for your vegan schnitzel
I find that a square slab of tofu is best for creating schnitzels. This is because it gives you a more schnitzel sized slice to work with.
Tofu that has been frozen and then boiled in water to defrost has the most meaty texture. I highly recommend not skipping this step.
A firm tofu with a softer consistency is best here. By this I mean: buy firm tofu, but not extra firm. If you find your schnitzel too tofu like, try a different tofu next time. Different brands of tofu have different consistencies, and some firm tofu brands are softer than other brands.
Personally, I wanted my schnitzel to look like a scnhitzel. I like to trim the edges to give it a round shape as opposed to a square one, but this is very optional.
I don't have an oven baked option for this recipe. The shallow frying is the only fat in the recipe and it's necessary to create the same mouth feel as the original.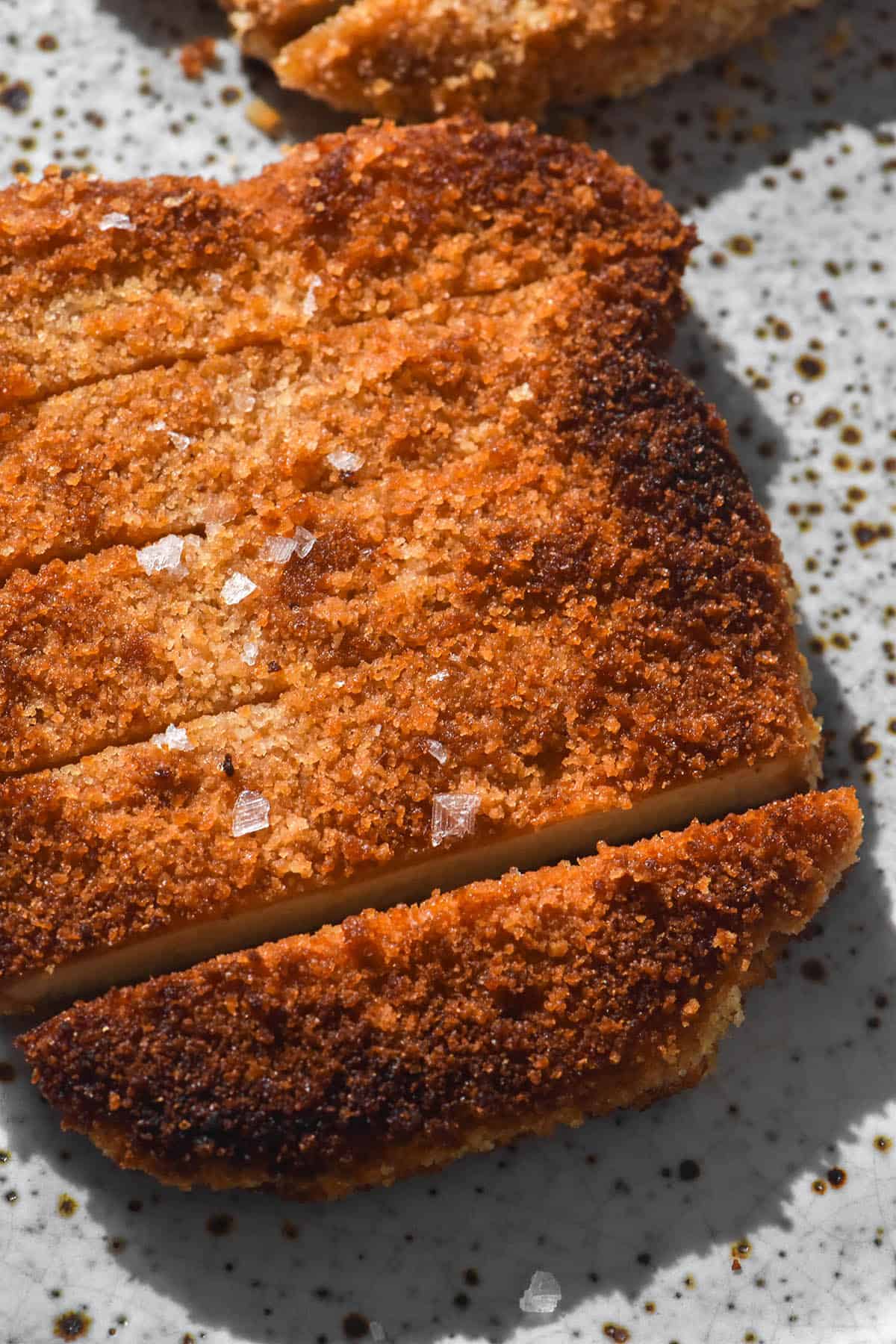 Tips for cooking your vegan schnitzels
My number one tip for a crispy schnitzel without any 'corn starch' taste is to control the heat. For the best results, I find that these crumbed tofu recipes need to be cooked twice on each side to ensure they become crispy. Corn starch that is cooked less than this tends to have a pasty, soggy end result.
This means that the pan needs to be hot enough to cook the schnitzels, but temperate enough that you can cook the schnitzels twice on each side without them over-browning. You need to keep an eye on the heat and turn it down if the schnitzels are fully browned after being cooked once.
This is really the key to success here: cooking out the corn starch without over browning your schnitzels. Master this, and you'll have a delicious crispy schnitzel on the table in no time.
Another equally important tip is in regards to the oil temperature. The oil needs to be nice and hot and the nuggets should sizzle enthusiastically as they hit the oil. If the oil isn't hot, you're more likely to end up with oily nuggets. This is because the nuggets have time to soak up the oil before they start frying. When you use hot oil, the nuggets begin to fry immediately.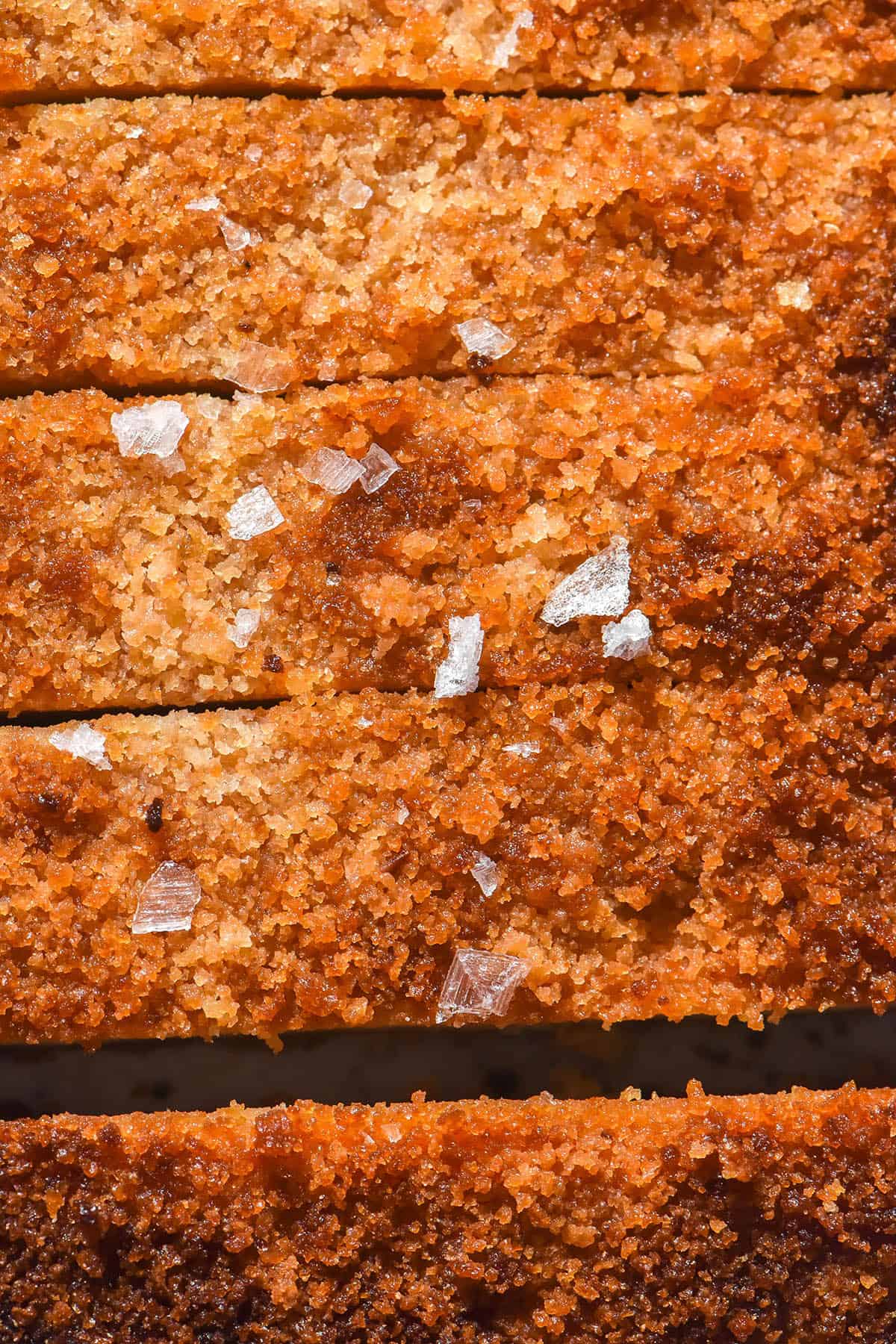 What gluten free ingredients can I use to crumb my schnitzel?
I'm not sure what the gluten free crumb situation looks like in other countries, but in Australia it is BLEAK. Store bought gluten free crumbs leave a lot to be desired. First off, the ingredients list can be WILD for what they really are, which is just bread crumbs. Secondly, they often taste terrible. Also not ideal.
I have given options for a gluten free breadcrumb version here. However, you can also substitute this for the cornflake or rice bubble options in the vegan fish finger recipe.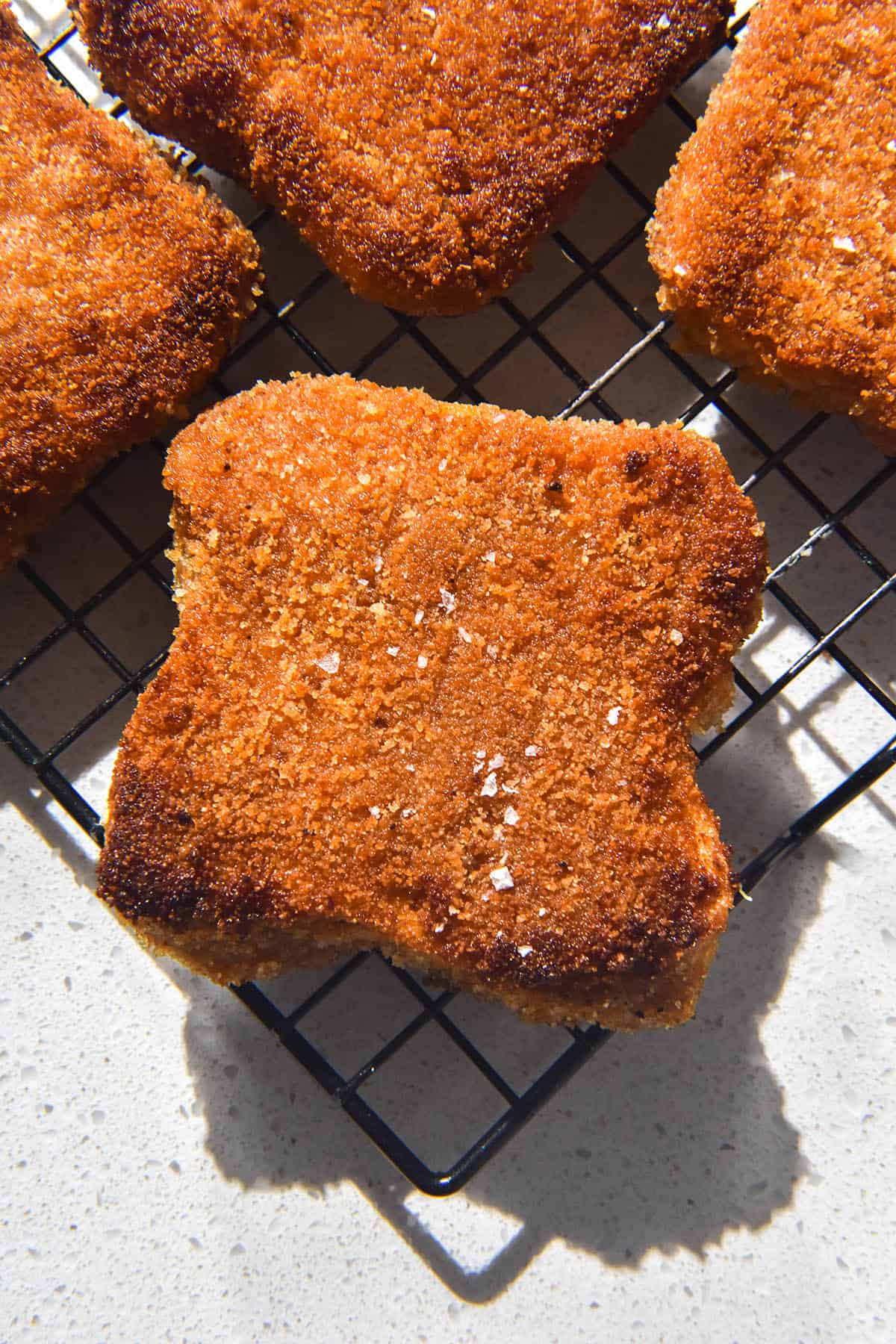 More gluten free vegan recipes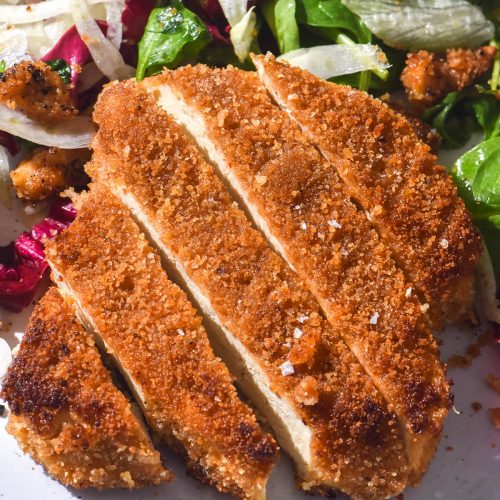 Vegan schnitzels (gluten free)
Gluten free, egg free, dairy free, vegan
This recipe uses Australian measurements. Use gram and ml weight for international accuracy.
1 Australian tablespoon = roughly 4 American, New Zealand and British teaspoons (so 1 extra teaspoon + your regular tablespoon)
Ingredients
500

g

firm tofu

frozen overnight then boiled
For the flour mixture:
100

g

gluten free corn starch (see notes)

6-8

g

fine salt see notes – important!

1/2

teaspoon

(2.5g) smoked paprika

freshly cracked black pepper to your tastes

1

teaspoon

(1.5g) porcini powder or mushroom powder (optional, see notes)

1/2

teaspoon

(2.5g) MSG (optional, see notes)
For the dredging liquid:
125

ml

(1/2 cup) milk of choice (I have tested soy and lactose free whole milk)

20-40

ml

(1-2 tablespoons) Tamari or gluten free soy sauce

1/2

– 1 teaspoon liquid smoke
To finish:
100-150

g

plain gluten free bread crumbs
Instructions
Bring a medium pot of salted water to the boil.

Cut the tofu out of the packet and place it into the boiling water. Boil for 15-20 minutes or until the tofu is defrosted and the corners of the tofu have started to flick upwards. Place the tofu on a cake rack and allow to cool to a comfortable hand temperature.

Combine the ingredients for the dredging flour in a shallow bowl. Do the same with the dredging liquid, and place the bread crumbs in a third bowl.

Place the cooled tofu onto a chopping board with the short facing upward. Slice this into 4 rectangles – they should be roughly schnitzel sized. This will depend a little on the shape your tofu comes in.

If you want to, trim the tofu pieces into slightly abstract shapes to replicate a schnitzel. You can crumb and fry the leftover pieces, so there is no waste involved. In fact, I find it helps use up the excess crumbing ingredients, if there are any.

Place the first schnitzel into the dredging liquid and allow the excess to drip off. Place it into the flour mixture, then back into the liquid. Let go of the piece of tofu fully so that you don't leave dry edges from where your fingers were.

Allow the excess liquid to drip off, then transfer the nugget into the bread crumbs. Toss to coat completely, ensuring all sides are covered. Place your coated nugget on the cake rack.

Personally, I like to dip my schnitzels into the bread crumbs twice. Skip the flour mixture, but dip the breaded schnitzel back into the liquid and then into the breadcrumbs again before returning to the wire rack. This results in a nicely crumbed schnitzel.

Repeat with the remaining tofu pieces until all your schnitzels are coated.

Pour a thin 1/2 centimetre layer of vegetable oil into a large solid bottomed skillet or pan over a medium heat. Make sure your space is well ventilated.

Once the oil is shimmering hot, add about 1-2 schnitzels (pan size dependent) evenly spaced.

Allow the schnitzels to cook for two minute or so, then turn them. They should be lightly golden on the first side. Cook them on the second size for a minute or two, then turn them again. Cook them again on the first side for minute or two, then turn them one last time to cook on the second side. Cooking them twice on each side ensures the corn starch is cooked through and not pasty or floury.

It's important to control the heat so they are not overly browned by the time the flour is cooked through. They should only be lightly browned after the first round of cooking, then golden brown after cooking again. Adjust the heat as necessary.

Transfer the cooked schnitzels to the cake rack to cool and repeat the process of cooking the remaining schnitzels.

Best eaten fresh but they keep well for a few days.
Notes
How much salt you add depends heavily on a number of factors. If you don't have the nutritional yeast, mushroom powder or MSG, your nuggets will be less salty tasting, so add the higher amount. With that said, salt is very subjective, so add salt based on your general preferences. You can always lightly salt each nugget at the end if you need to.
How meaty your tofu ends up is quite dependent on the brand. I have tried some that worked really well and some that were just ok (I don't remember which was which!). If your tofu doesn't have a meaty texture, try a different brand (and always make sure it is firm tofu!)
Read the notes in the body of the post about a corn free option.
Read the notes in the body of the post about oil temperatures and cooking. A nugget cooked on a lower temperature will end up soggier than a nugget on a higher temperature.