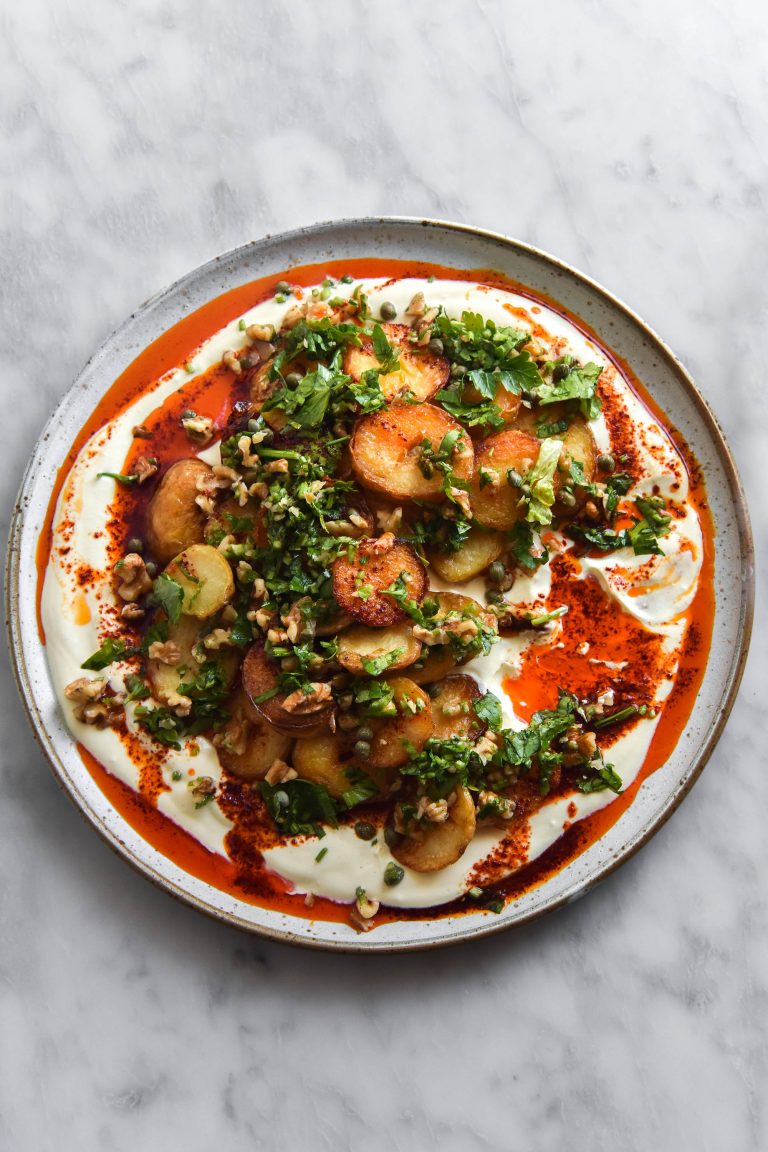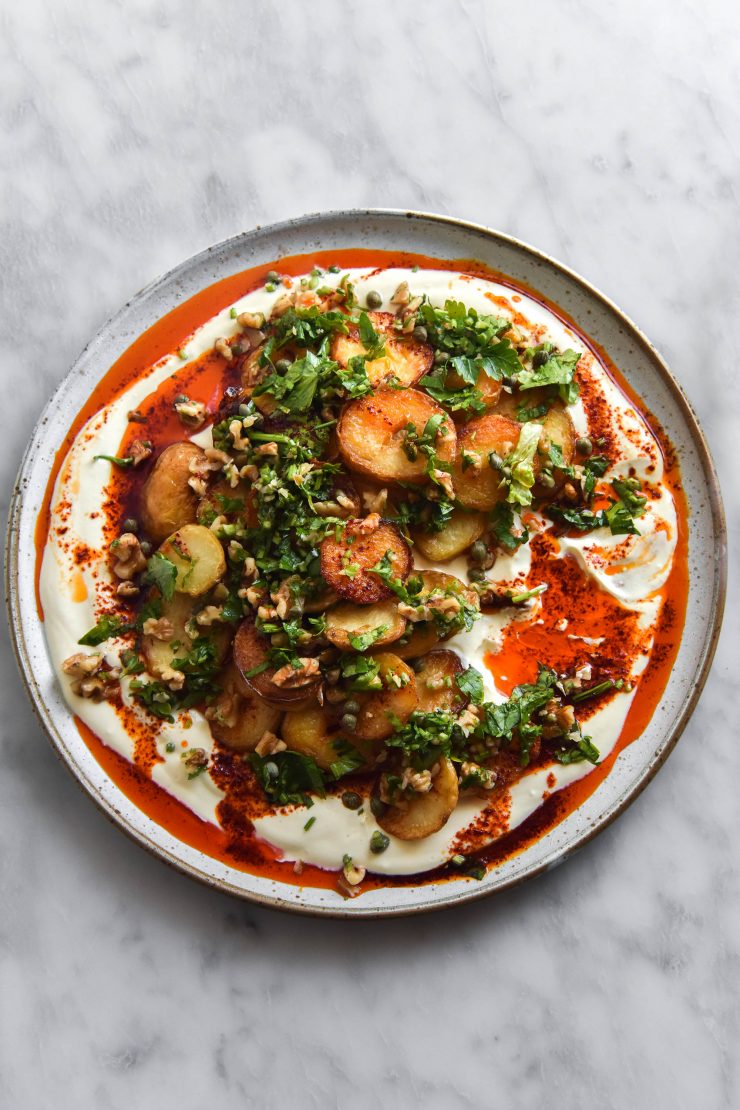 I made these FODMAP-friendly garlic oil potatoes recently as a throw together mash up dish. One part crispy potatoes, one part garlic oil and one part flavoured creamy dairy. They were a take on these zingy sour cream smashed potatoes, based on the ingredients I had on hand. The potatoes were so delish, however, that I decided I had to write up a recipe.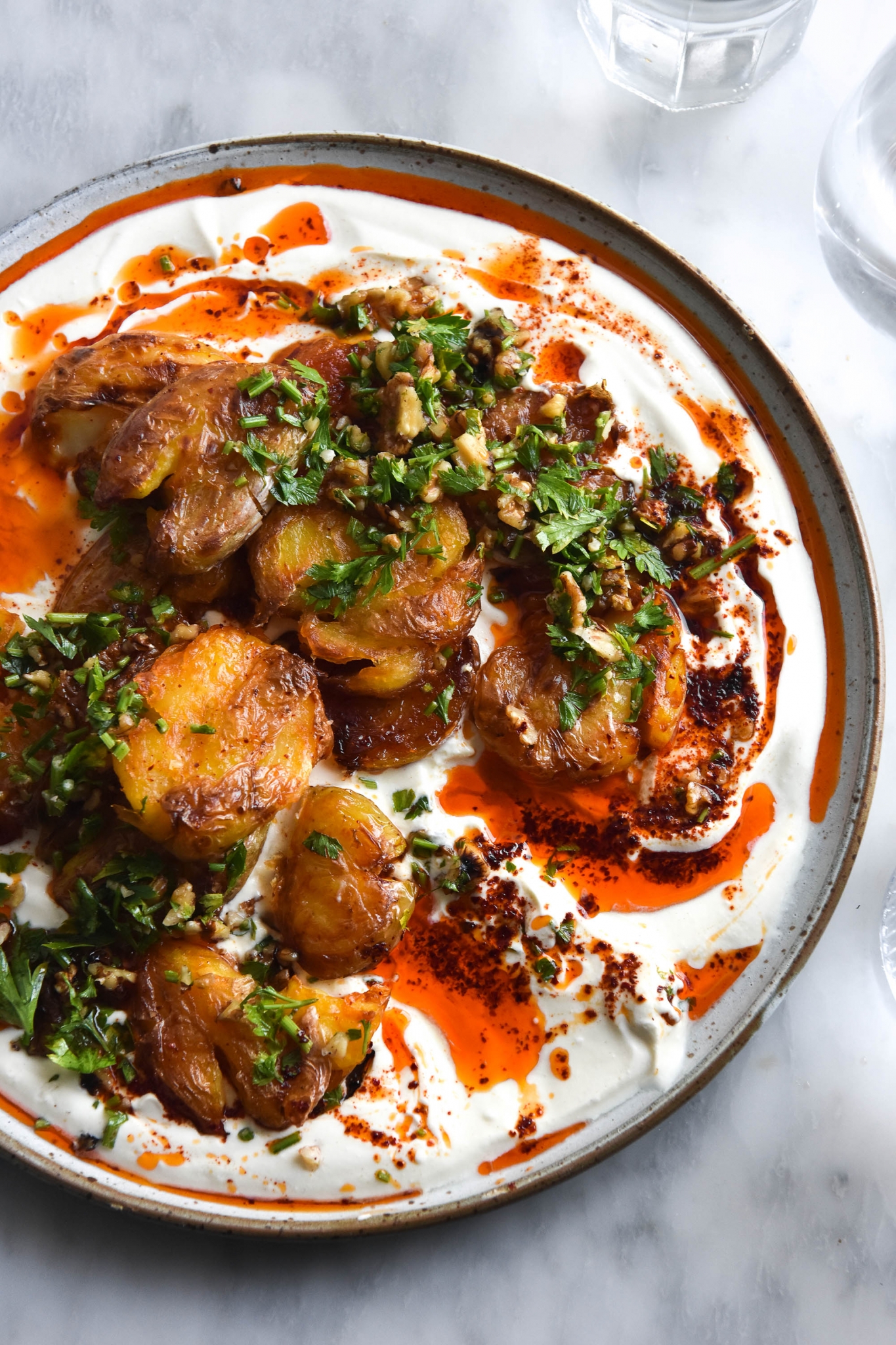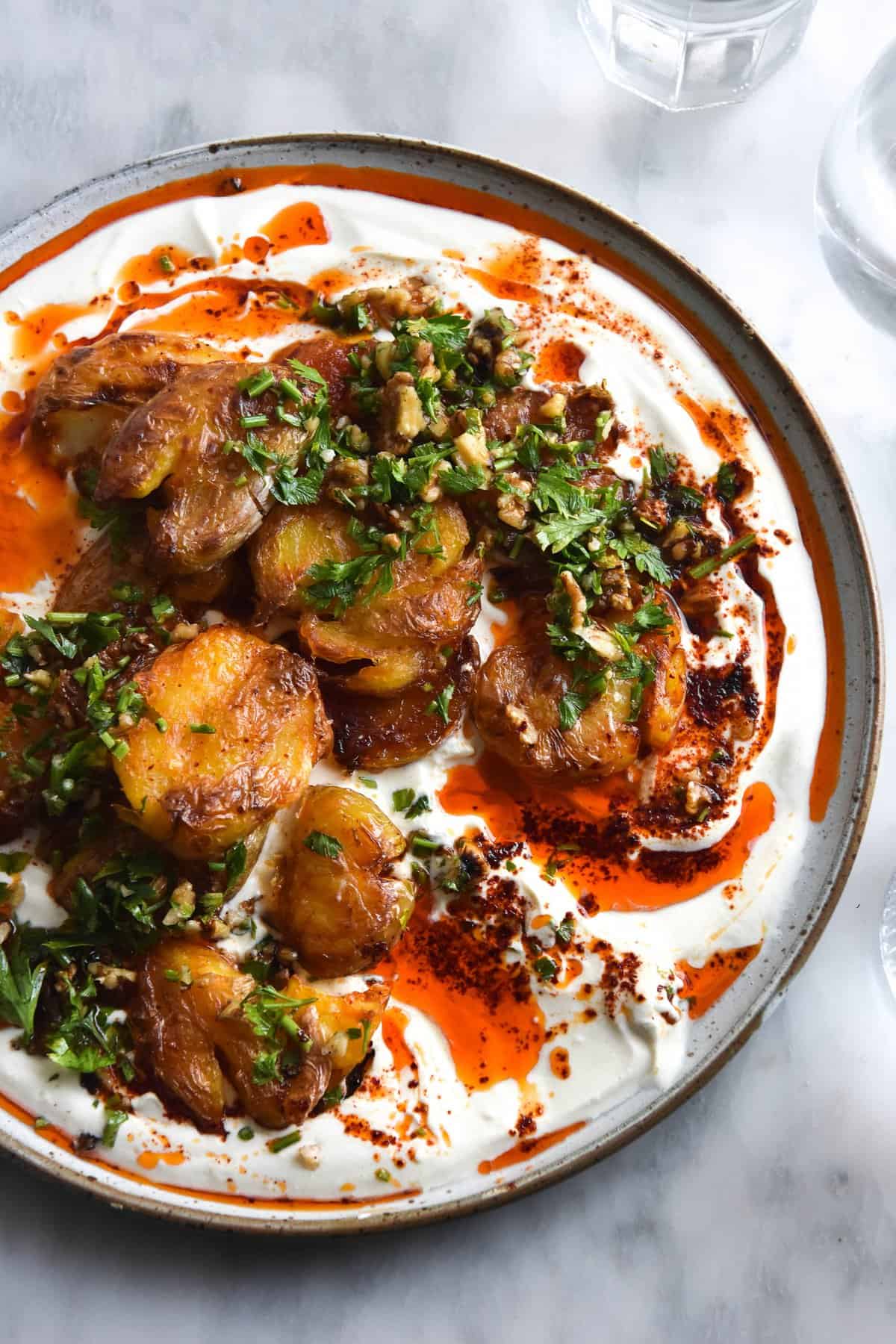 FODMAP friendly garlic oil potatoes
The name FODMAP-friendly garlic oil potatoes doesn't quite do these justice, but I couldn't think of anything better. Think shatteringly crunchy roasted potatoes on a bed of creamy, zingy honey and mustard yoghurt. Top that with a pungent (yet FODMAP friendly) 2 minute garlic and chilli oil. Finally, finish it all off with a chopped parsley and nut (or seed) salad. These potatoes have it all: creaminess, spice, crunch and a hit of garlic.
Of course, we've got options! This dish can easily be made vegan by using a plant based yoghurt and maple syrup instead of honey. It can be without added nuts by substituting pumpkin seeds or sunflower seeds for the walnuts. If you don't like parsley, use rocket! Don't fancy greens? Don't add them! You really can customise this dish to suit your needs.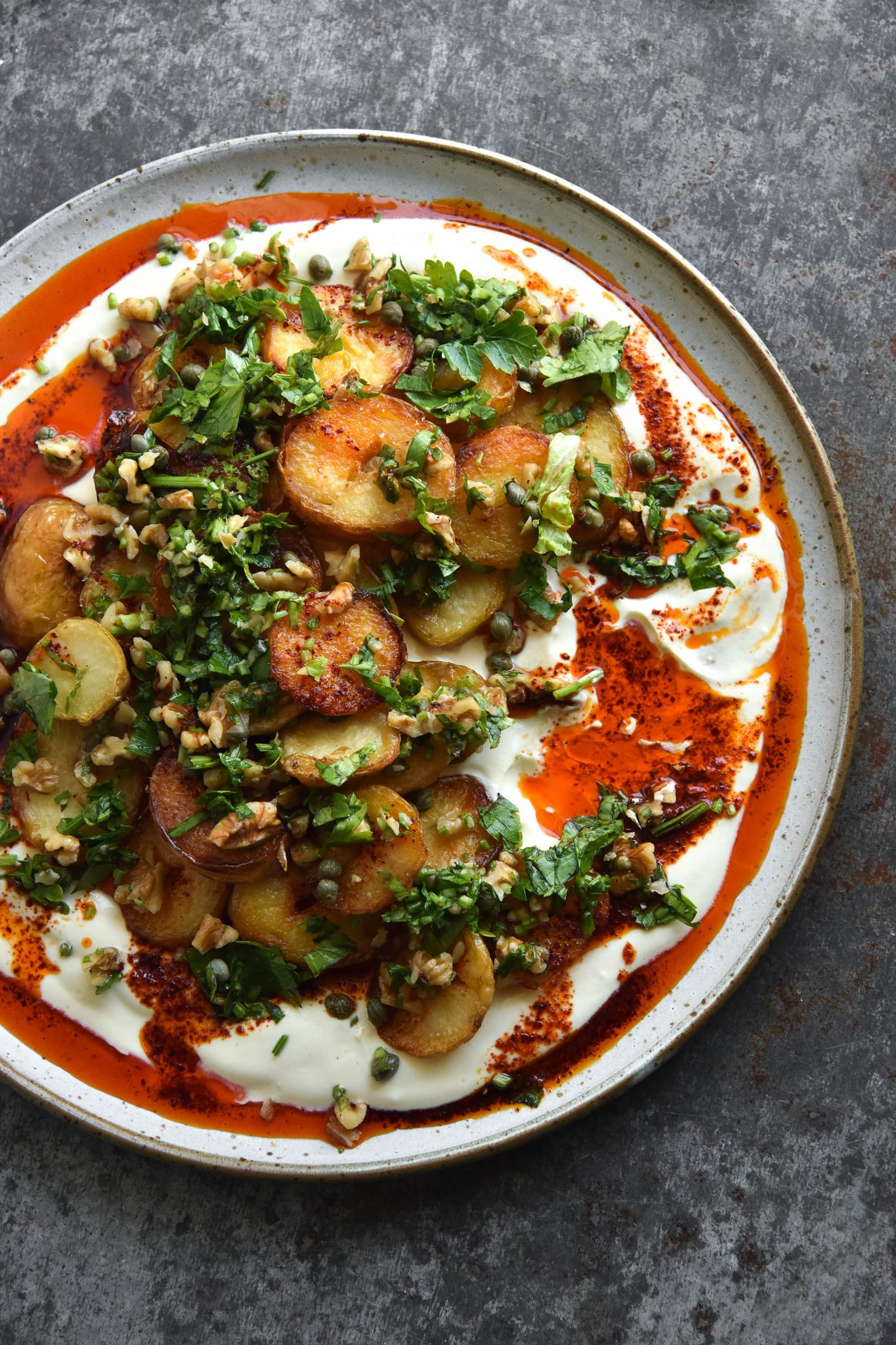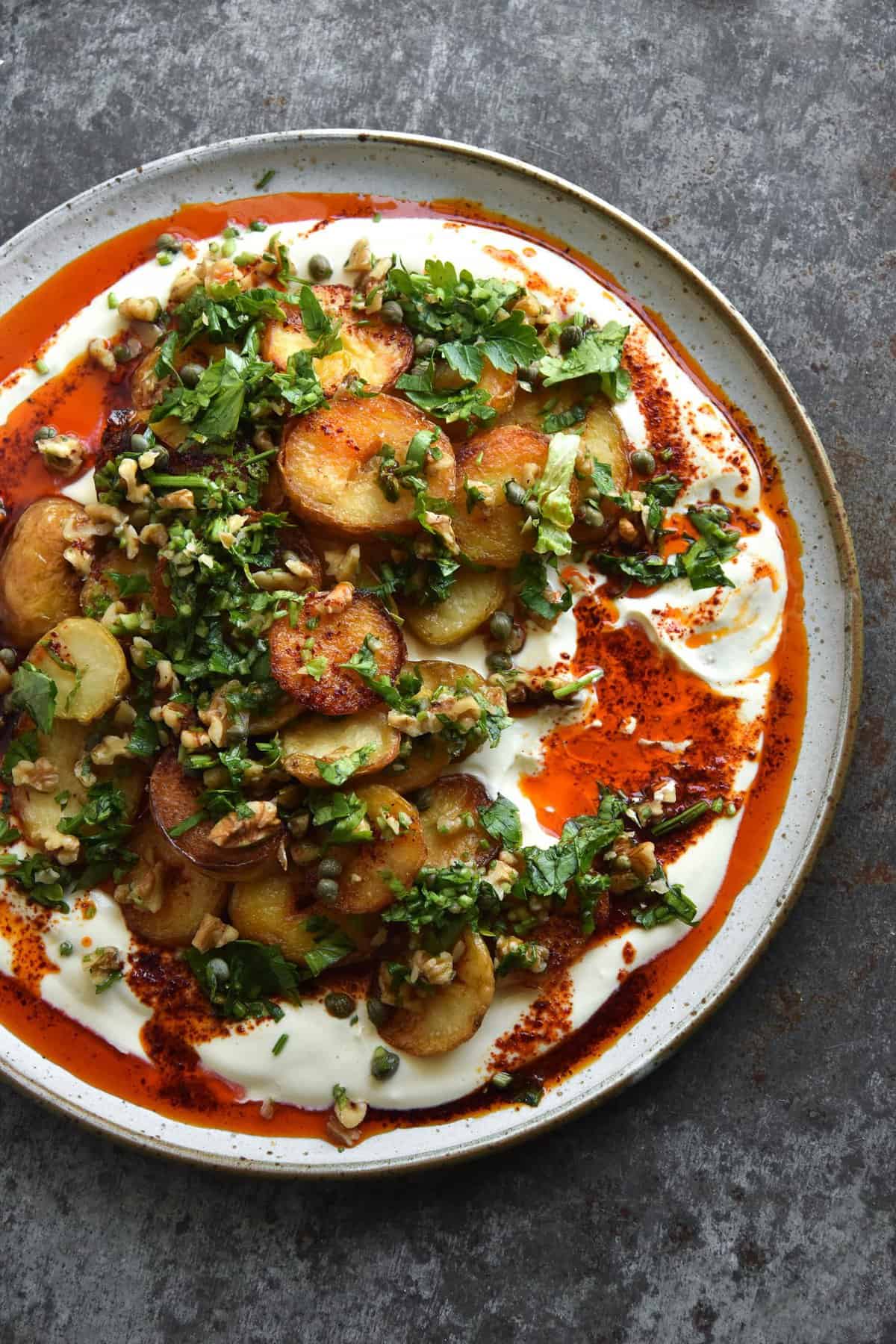 Ingredient notes for the FODMAP-friendly garlic oil potatoes
Any smaller sized all rounder potatoes work for this recipe. I have used Russett Burbank and Nicola varieties.
In a similar fashion, you can mix up the dairy component based on what you have on hand. I am loving that Jalna sells a lactose free, full cream Greek yoghurt these days, so thats what I have been using.
Any nut or seed works in the greenery component. If you don't like flat leaf parsley, rocket/arugula is a decent substitute. The hardiness of each stands up nicely to the potatoes.
Personally, I love using Korean chilli flakes. Not only are they milder in terms of heat (and more fruity in flavour) they're also a vibrant red, which makes a beautiful chilli oil. I buy a bulk pack from my local Asian grocer and it lasts me about a year. A very cost efficient purchase. Kashmiri chilli flakes and Aleppo chilli flakes are good alternatives.
If you're apprehensive about using garlic in the oil, may I direct you to the FODMAP friendly garlic oil post to allay your fears? TLDR: the fructans in garlic are water soluble, not fat soluble. This means that the flavour can leech into oil, but not the fructans/general FODMAP content.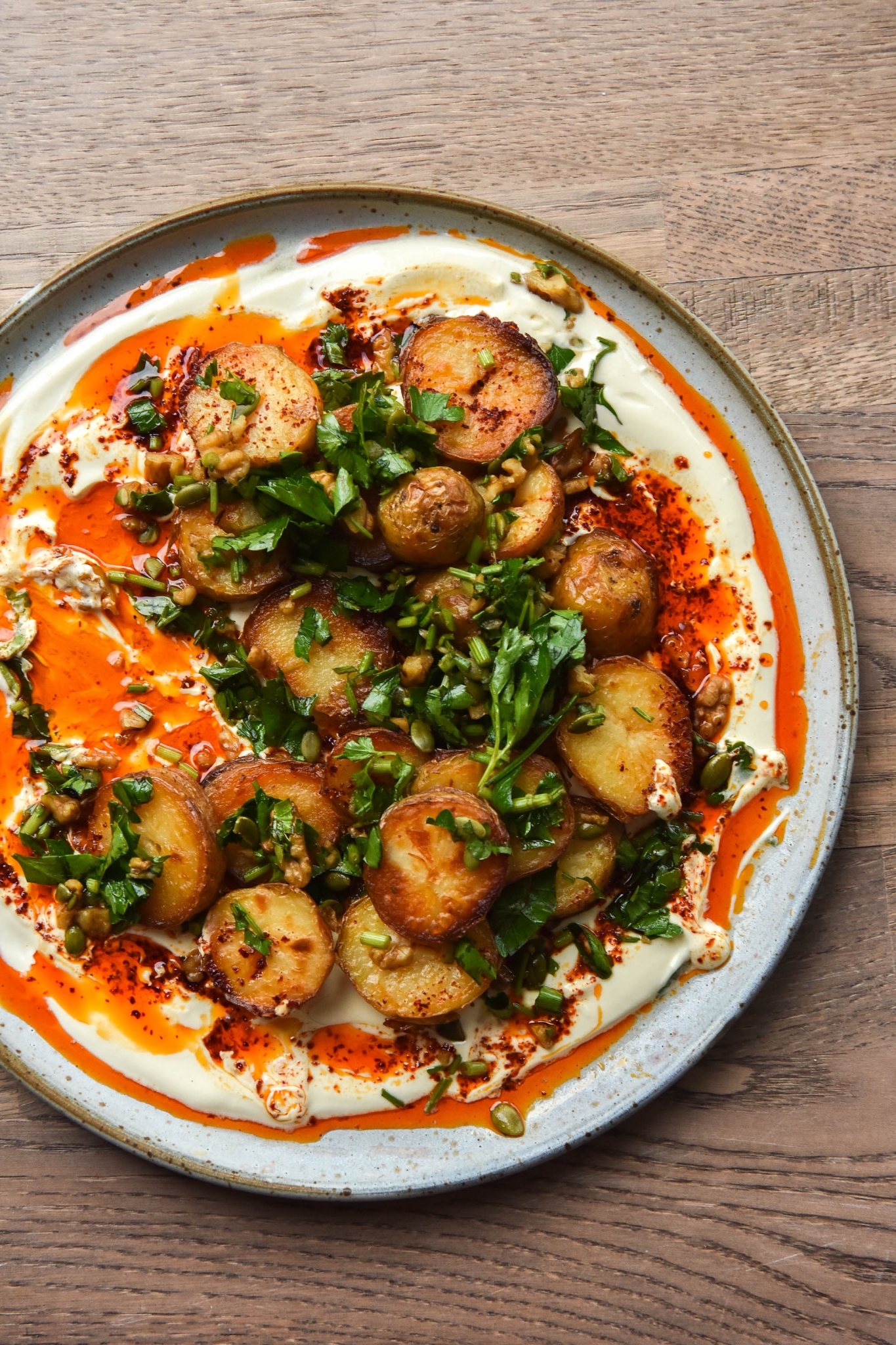 All rounder potato varieties
It's worth noting that the most commonly available all-rounder variety will be different in every country. In Australia, Sebago, Desiree, baby potatoes (or new potatoes) are all good places to start.
Here are a few articles to get you started: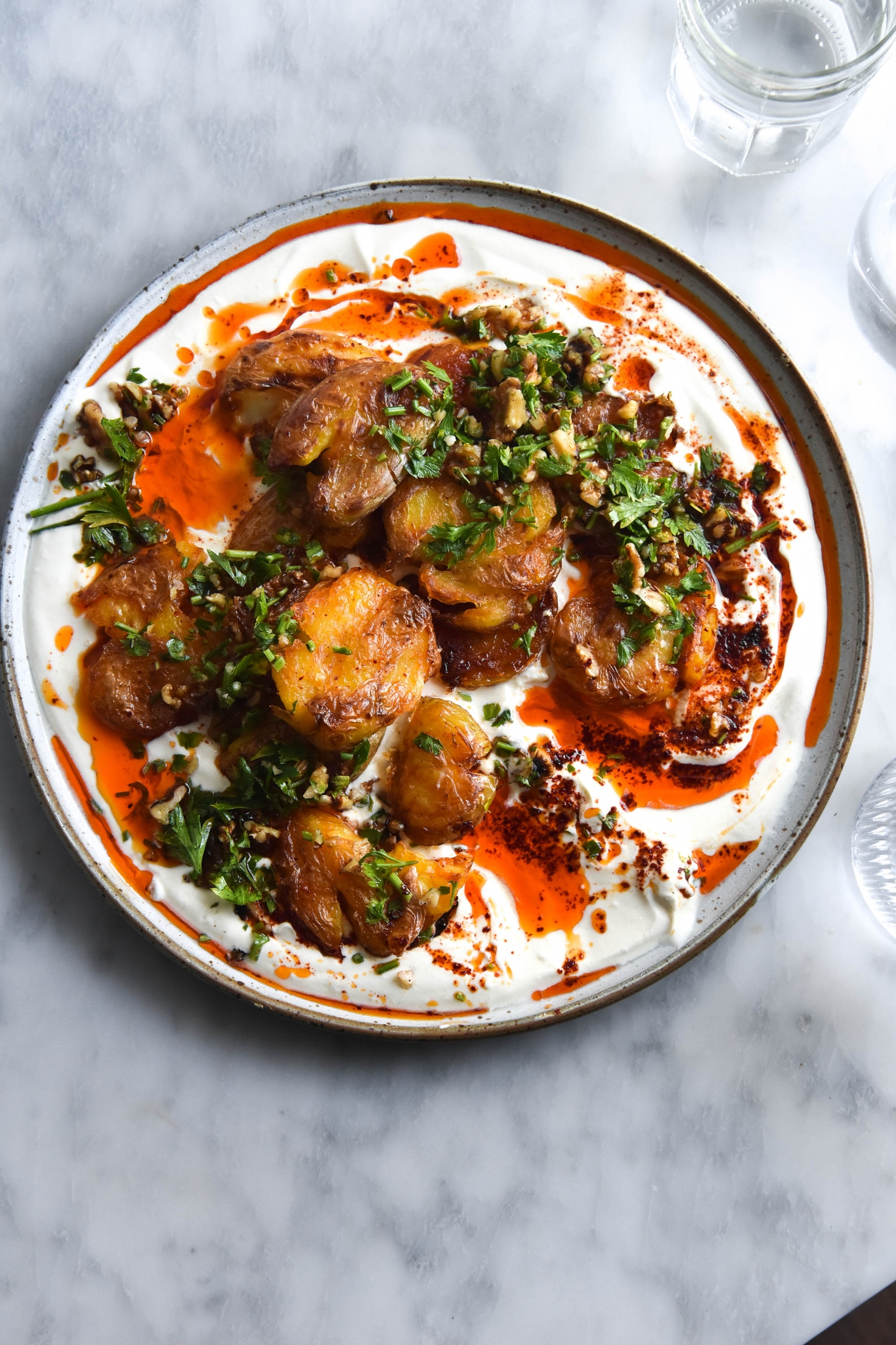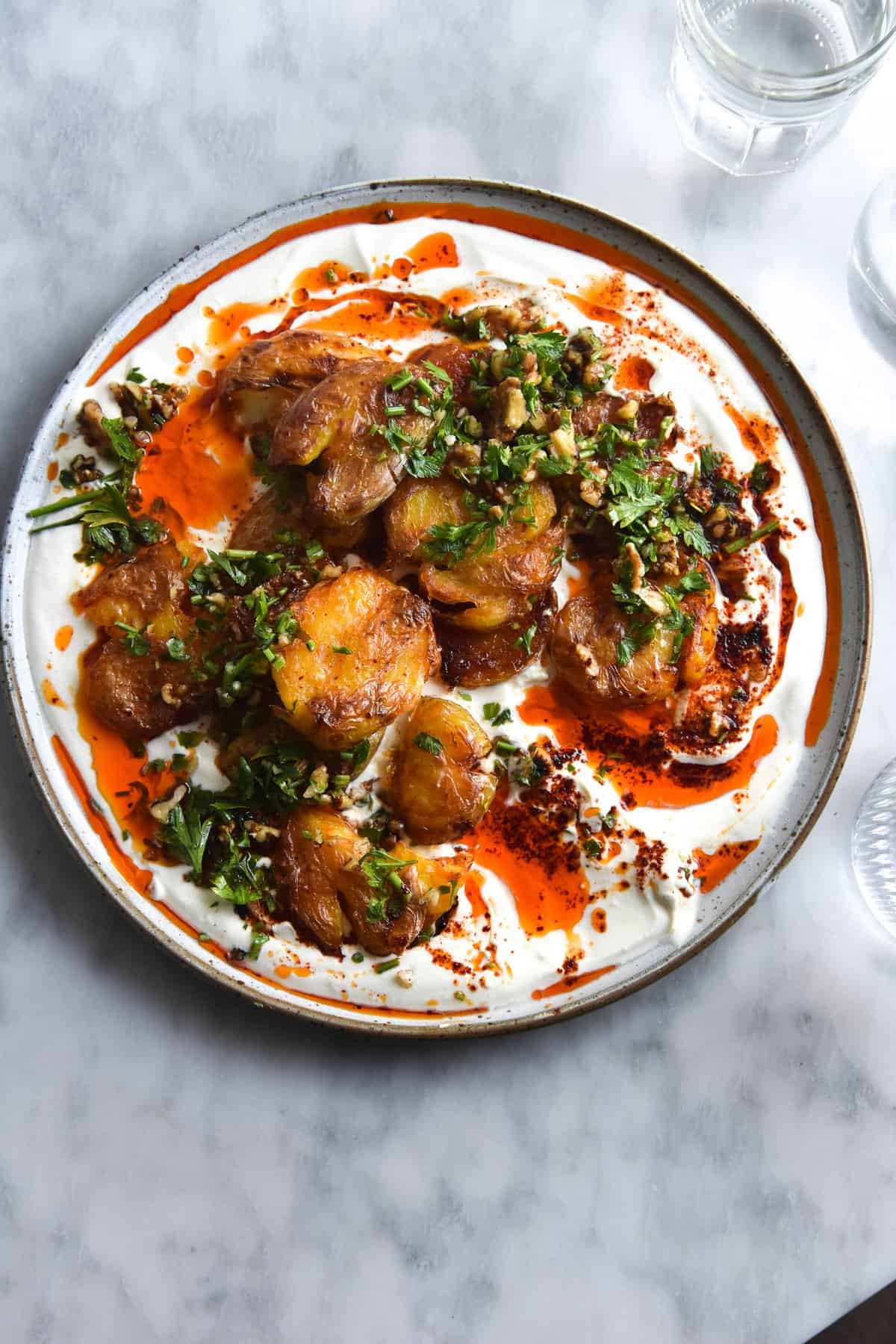 How to make a cinnamon roasted pumpkin version of this dish
Yes, there's more! I had some leftover pumpkin after Christmas, so I decided to treat it in the same way as the potatoes. Lo and behold, it is an absolute delight. I will probably write up a full recipe, but in the interim here is the lowdown:
Preheat the oven to 180C/356F. 
Whisk 2-3 tablespoons of oil (use all the oil for the whole 1.5kg pumpkin, less for less pumpkin) along with 1- 2 teaspoons of cinnamon and 1 teaspoon of salt. If you have any oil leftover from a marinated vegetable (like artichoke or sundried tomatoes) use it. It adds an extra layer of flavour.
Add 1.5kg of larger bite sized pumpkin cubes (I use Japanese or Kent pumpkin) to the oil and use your hands to toss and coat. Transfer the pumpkin to a baking tray and pop it in the oven for 30 minutes or until soft but still holding it's shape. 
Make the garlic oil with 1/4 cup oil. Because pumpkin is soft instead of crispy, I find it needs less. Proceed with the recipe as written!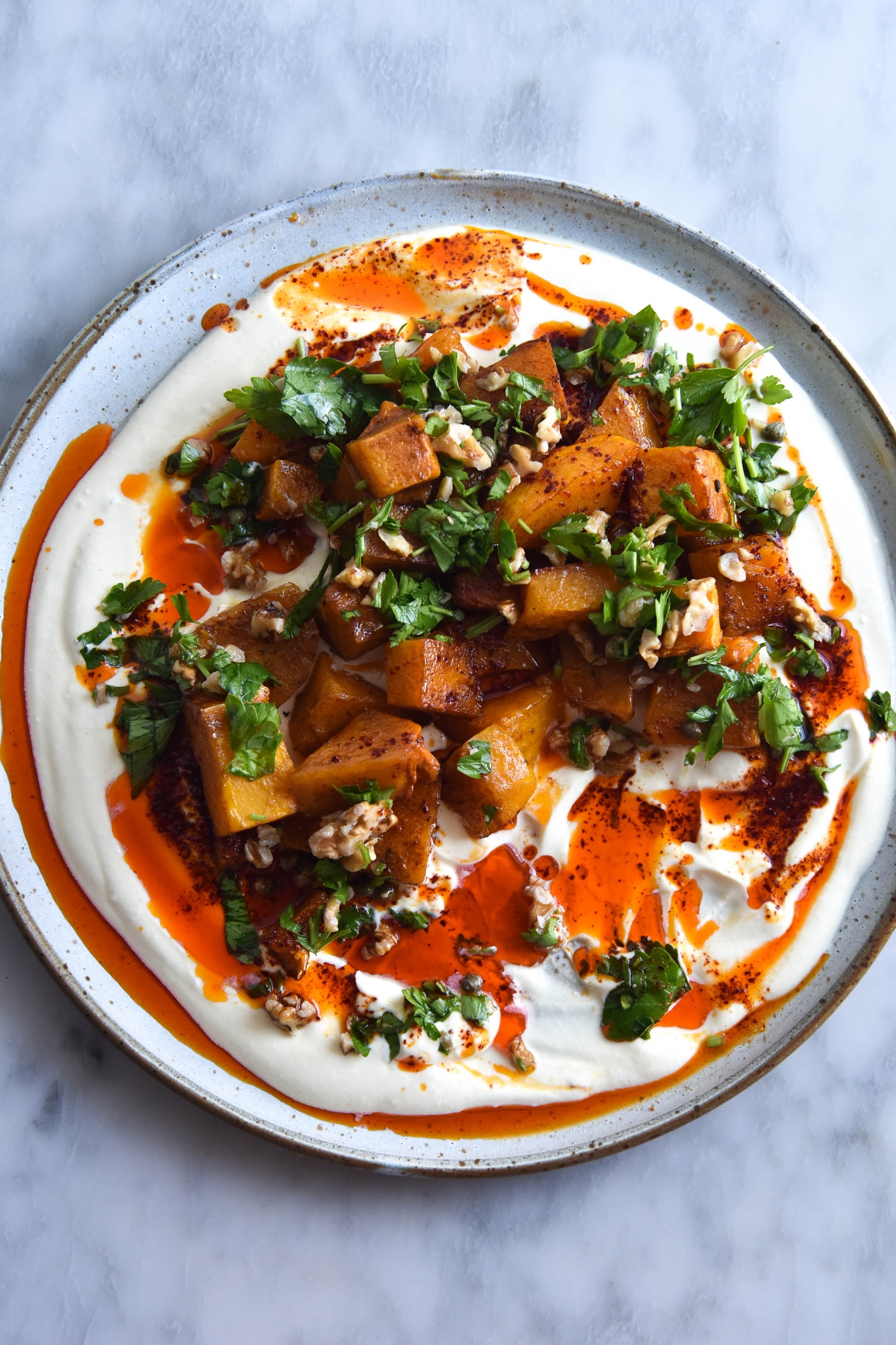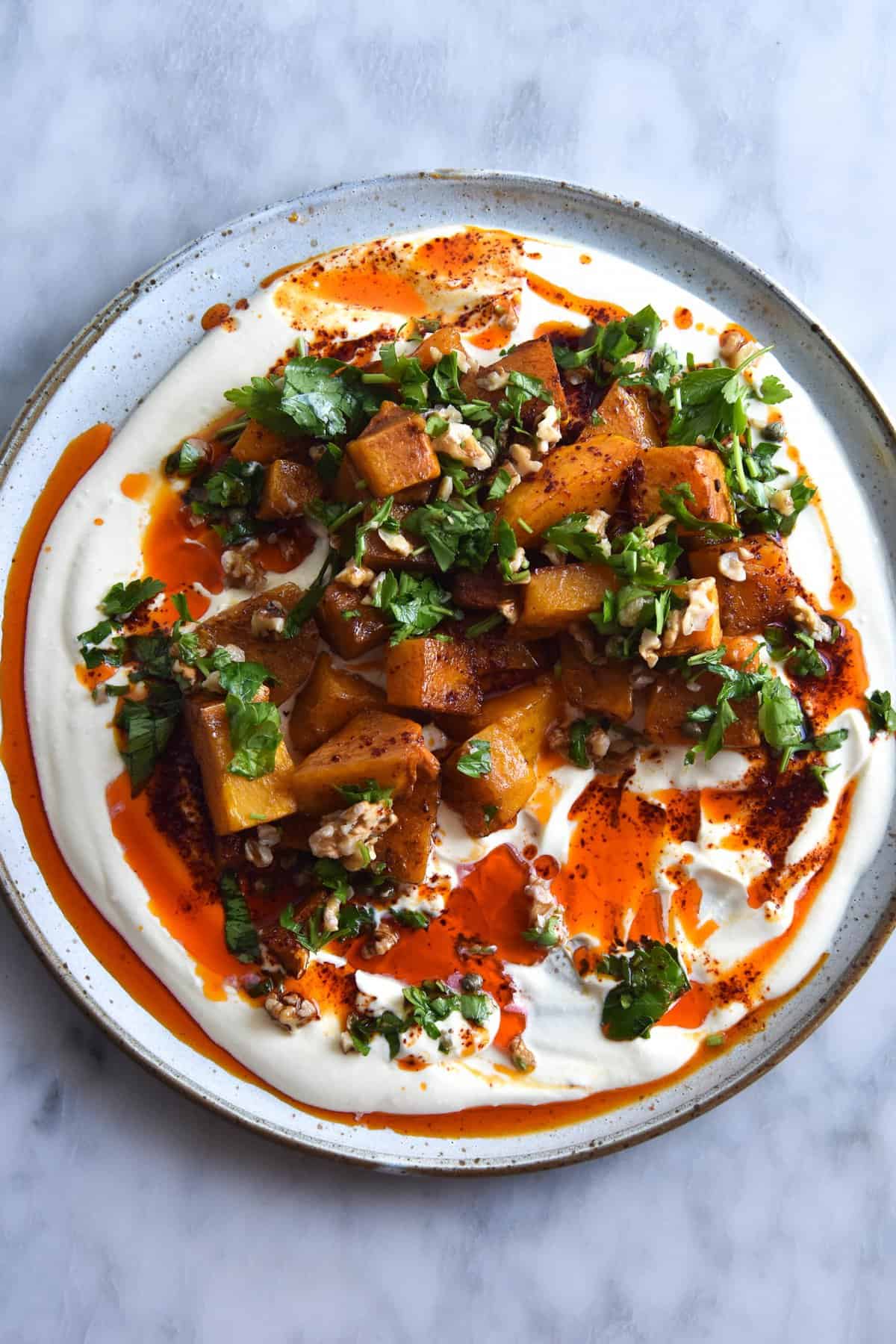 How to roast potatoes with less oil
Trying to use less oil? Fair play! You can make these potatoes with a lesser quantity. Simply proceed with the instructions as written, but preheat your oven to 200C/400F.
Drizzle 2-3 tablespoons of a high smoke point oil onto your cold baking tray, then add the potatoes. Use your hands to flip each potato and ensure both sides are covered in the oil. This means neither side will be leathery or dry. Cook the potatoes for 20 or so minutes, flip and repeat. Remove from the oven when the potatoes are golden and crispy and continue on.
Using smashed potatoes
As you can see in some of the photos, I recently made these FODMAP-friendly garlic oil potatoes with smashed potatoes. It was easy and delicious and probably quicker than slicing them all up nicely. It also saves time as you don't need to wait for them to cool as you would if you were touching hot potatoes to slice them.
Firstly, I find it far easier to use baby potatoes if you intend to go this route. Larger potatoes tend to smash in more uneven ways and take longer to cook. They also make it a bit harder to get an even distribution of sauce and what not.
Secondly, I found the smashed potatoes easier using the cold oil option above. Brush the cold baking tray with oil, then space your potatoes evenly on a tray. Use the base of a glass and even pressure to gently squash each potato down. Don't press too hard or you will break the potato apart completely.
Use a pastry brush to baste the top of each potato with residual oil from the tray or a little bit of extra oil. Bake for 30-40 minutes without turning (too much margin for error/broken up potatoes).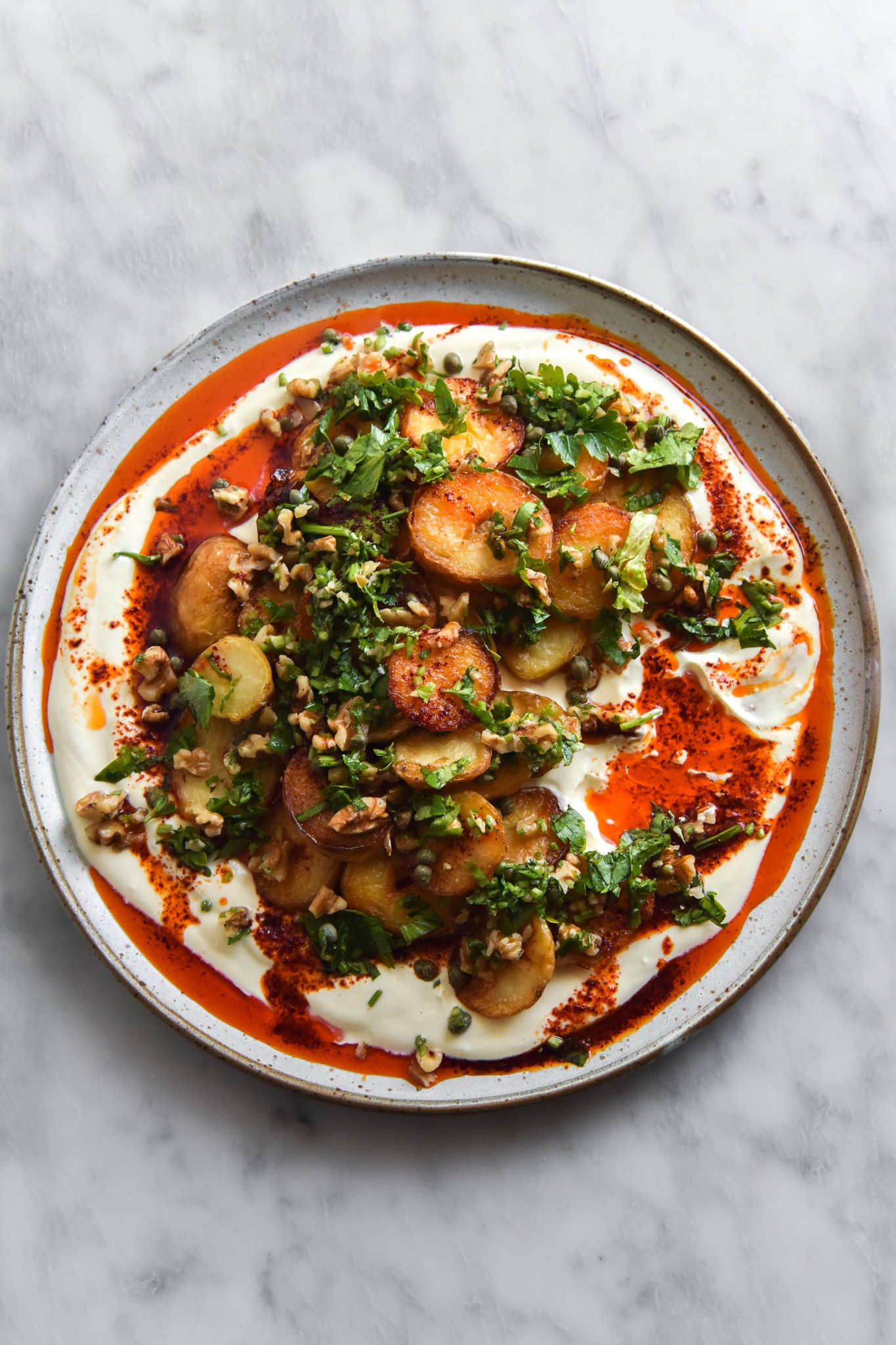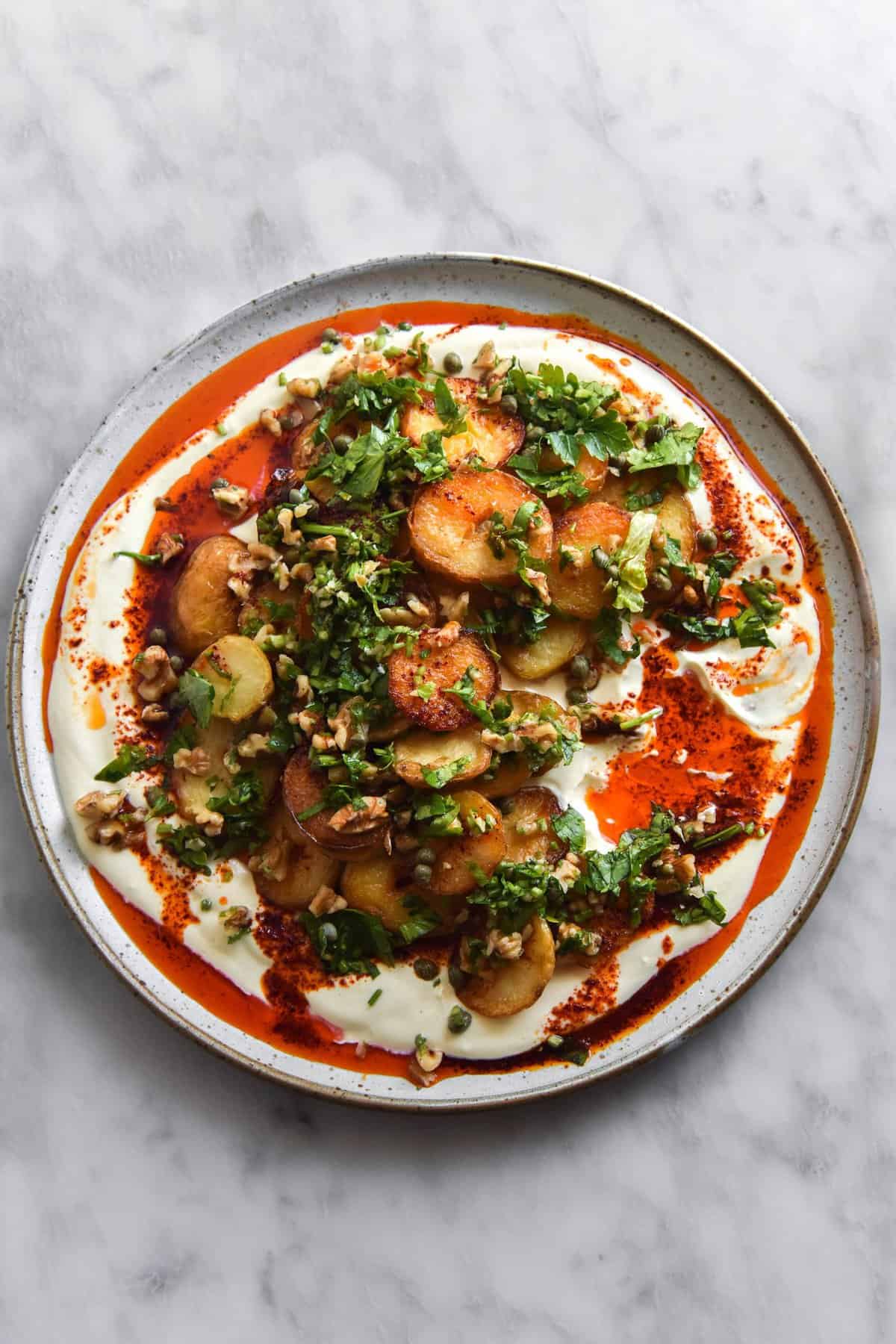 More low FODMAP vegetarian recipes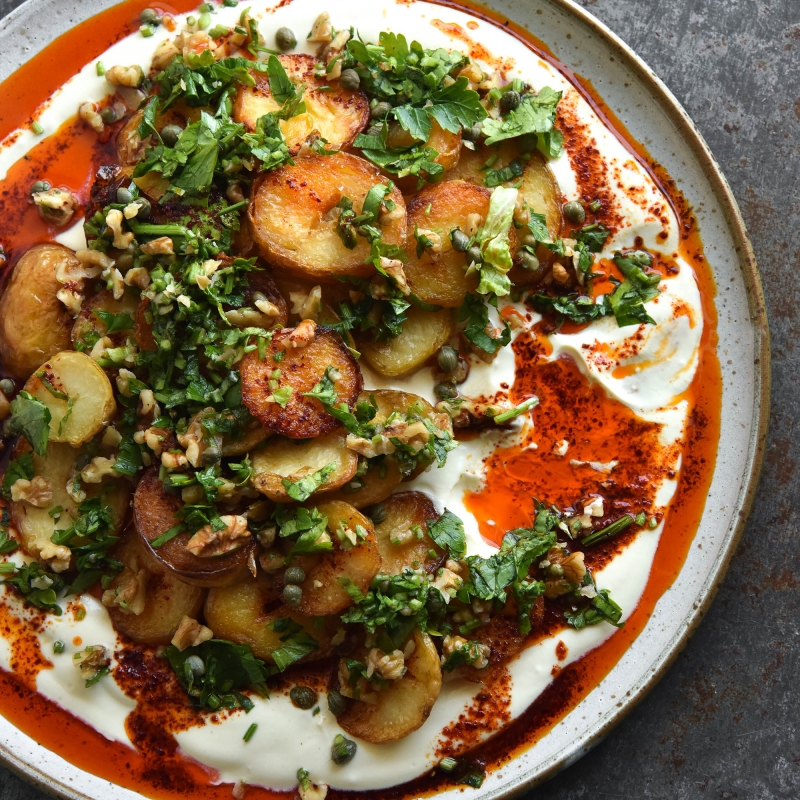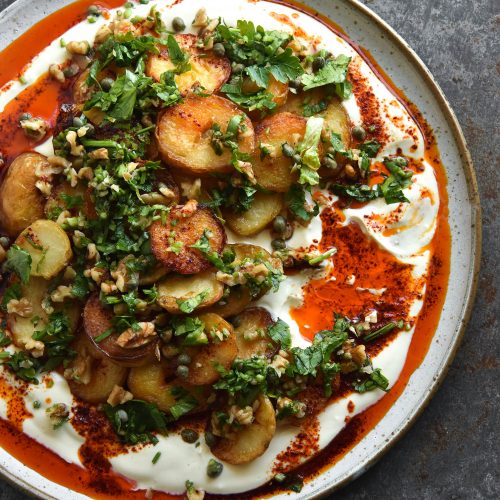 Crispy garlic oil potatoes with honey and mustard yoghurt and a herb salsa
Gluten free, grain free, vegetarian, vegan option
Ingredients
For the potatoes:
Oil

for roasting

1

– 1.5kg all-rounder potatoes

see notes

Fine salt
For the mustard and honey yoghurt:
1

– 1 1/2 cups lactose free full cream yoghurt

3-4

teaspoons

Dijon mustard

1-2

teaspoons

honey or maple syrup

Salt

to taste

Squeeze of lemon juice

to taste
For the garlic chilli oil:
1/3

cup

oil

I like vegetable or olive oil for this

4-6

garlic cloves

crushed

1-2

teaspoons

chilli flakes

I use Korean because they're mild in flavour and a vibrant

1/4

teaspoon

salt
For the herb and walnut salsa:
Handful of flat leaf parsley

finely chopped

1/3

cup

walnuts

chopped (see notes for a nut free option)

1-2

tablespoons

capers

optional

Lemon juice

to taste

1-2

teaspoons

honey or maple syrup

Seasoning

to taste
Instructions
For the crispy potatoes:
Boil the potatoes, whole, in well salted water until they are completely cooked. While they're boiling, preheat the oven to 180C/356F.

10 minutes before the potatoes are ready, cover the base of two baking trays with oil (ideally vegetable for the higher smoke point). Allow the oil to heat for 10 minutes for crispy potatoes. Hot oil tends to sting the eyes, so stand back when you open the oven. You can also cook the potatoes at 200C/400F using cold oil (and less of it) if you prefer. See the notes above.

Once the potatoes are cooked, drain them and allow them to cool a little. Slice each potato into rounds.

Place the potato slices into a large bowl and gently coat them with a little extra oil. This will ensure neither side of the potato becomes dry and leathery.

Working quickly, divide the potatoes between the two trays. Make sure the flat side is down and the potatoes are evenly spaced. Return them to the oven for 20 minutes, then turn the potatoes over and swap the trays on the oven racks. Cook for another 20 minutes or until crispy and golden. The minute the potatoes come out of the oven, sprinkle them with fine salt. It will cling to the hot oil and create the perfectly seasoned potato.
To make the mustard and honey yoghurt:
Pop all ingredients in a bowl and whisk to combine. Taste and adjust according to your preferences.
To make the garlic chilli oil:
Place the oil and garlic into a small saucepan over a low-medium heat. Cook for 5 or so minutes, stirring intermittently, until the garlic is deeply fragrant and lightly golden. It shouldn't be too hot or it will burn the chilli flakes, so let it sit for a few minutes if it's very hot.

Place the chilli flakes and salt in a small heatproof bowl. Once the oil is ready, strain it into the heatproof bowl. Give the cooked garlic pieces to a garlic starved housemate.

Set aside.
To make the herb and walnut salsa:
Combine all the ingredients in a bowl and stir to combine. Season and adjust according to your preferences.
To assemble:
Spread the yoghurt mixture on the base of a large serving platter. Top with potatoes, then drizzle over the chilli oil. Finish with the herb and walnut salsa and extra seasoning before serving.
Notes
An all-rounder variety of potatoes is best for this recipe. All-rounders are fluffy when roasted, but they also hold up well to slicing after being boiled. Starchy potatoes make great roasties, but they will fall apart when you go to slice them.
To make this dish vegan, use a plant based yoghurt and the maple syrup option. To make the dish nut free, use pepitas, hemp seeds or your seed of choice. Add to your discretion – 1/3 of a cup will probably be too much.
I like using vegetable oil for this dish because it has a high smoke point, so it stands up nicely to being heated. You can also use sunflower or olive. Hot oil tends to sting the eyes, so stand back when you open the oven.